Here's a handy wedding reception timeline, based on a traditional cocktail hour and a four-hour reception, to give you an hour-by-hour guide to the day's post ceremonial events.
One of the most important parts of wedding planning is creating a timeline for your wedding reception. This timeline can help you and your wedding planner ensure the reception moves smoothly. It can also help you incorporate all the activities you're hoping to enjoy during this special part of the day.
As you create your timeline, think about how you see each aspect of the reception playing out and plan your time accordingly. For example, if you want four people to give a toast, you should allocate more time for the toast. Creating a time buffer of five to 10 minutes between each celebration phase is also wise.
To help you kickstart this process, here's our guiding template for how to create a wedding reception timeline.
Grand Entrance. After the wedding guests have entered the reception and taken their seats, it's time for the grand entrance! 

First Dance. 

Parent Dances. 

Toasts and Speeches.

Cake Cutting. 

Bouquet Toss and Garter Toss.

Anniversary Dance. 

Guest Book.
Typically, the banquet will include a speech from the parents, the best man, the maid of honour, and the guest speaker. In addition, there will be cake cutting, toasts, a tea ceremony, and dancing. The two tables at the centre of the room are for the groom's and bride's families.
Blue is the colour of love, purity, faithfulness, and modesty. To keep with tradition, the bride can wear a blue piece of jewellery. But for a modern take, you can write a little note or another small message in blue on the bottom of her shoes.
The tradition of a bride wearing "something old, something new, something borrowed, something blue" comes from an Old English rhyme. Something old represents continuity; something new offers optimism for the future; something borrowed symbolises borrowed happiness; something blue stands for purity, love, and fidelity.
Many couples also ask, "what time do receptions usually start?" In most cases, the answer is between 5 pm and 6 pm, but your specific wedding reception timeline will depend on several factors. For example, if the ceremony is at a different location than the reception, you must consider that.
00:00 | The Cocktail Hour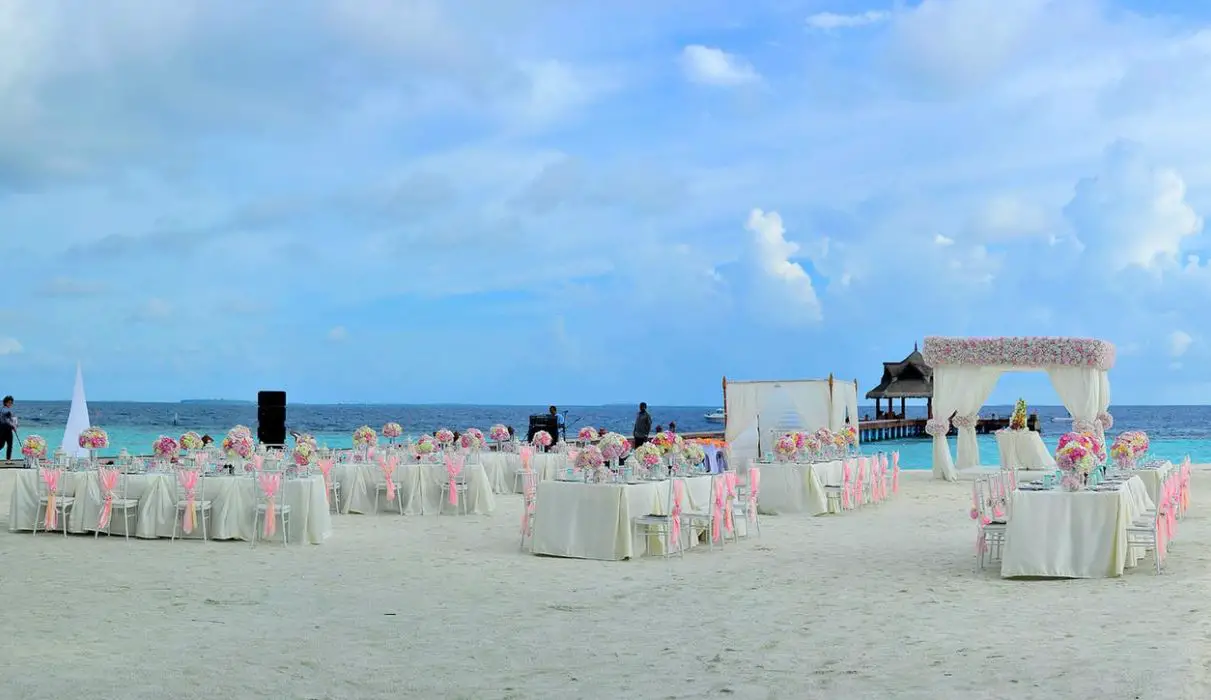 After being pronounced husband and wife, you're often the first to leave the wedding ceremony, heading off (with a photographer in tow) for pictures together before the partying gets underway. Next, your guests will head to the reception site for cocktails. Depending on the event's logistics, your cocktail hour will begin immediately (if the ceremony and reception are held at the same venue). It might start more than half an hour later (if there's travel involved). Cocktails will kick off your reception and last for at least an hour. During this time, the staff will serve stationary or passed appetisers and drinks, which will get people mingling and in the mood. When you've sealed that first dance with a kiss, it's time to move on to the welcome toasts. These toasts are typically made by the wedding hosts, your parents or in-laws or you and your spouse. At many weddings, the father of the bride speaks first. Immediately after the wedding ceremony, guests move to the reception area for cocktails and light appetisers. It gives the newlywed couple and their wedding party time to take treasured photographs around the breathtaking grounds of The Club at ArrowCreek.
These toasts don't have to be too long. They're just an opportunity to express a quick "thanks" to all the guests who came and get them excited for the fun to come.
As dinner will follow, this is also the time to give instructions for the meal. For example, if it's buffet style, you can let everyone know that the emcee will call out table numbers when it's their turn to hit the buffet.
01:00 | Newlyweds' Grand Entrance
Here's the part where you make your grand entrance. The coordinator will usually ensure guests are seated before the emcee alerts them to your imminent arrival. Generally, both sets of parents and the wedding party are introduced, followed by the announcement of you both for the first time as a married couple. It is not only one of the most special parts of your day as you are officially introduced as newlyweds, but adhering to this timeframe on your wedding reception timeline is especially important. It will help set the pace for the events that follow. Now is the time for the newlyweds to make their grand entrance. When the emcee gets the go-ahead, they'll announce you and your partner. You'll then walk into the reception space to a chorus of whoops and applause. As soon as you enter, it's customary to go straight into your first dance. When the couple is ready, guests will be asked to sit, and the bridal party, followed by the newlyweds, are announced to the gathering, officially starting the reception.
If you want to enjoy some dancing with guests before moving into the rest of the reception, add another 30 minutes to this part of the reception.
01:10 | First Dance
In many cases, your newlywed first dance will begin as you step out onto the floor and into the spotlight after being announced. Alternately, you can wait until after the first course of the meal is served, but since everyone is already cheering you as you enter the reception, use the applause as encouragement enough to skim away any shyness and step on out. Need some song inspiration? Don't miss the list of our favourite first dance songs!
Also, during this portion of the reception timeline, some couples like to switch partners and invite their parents on the dance floor for their parent dances, and others prefer to do so after dinner to help encourage guests out on the dance floor. Many weddings take advantage of the attention from the arrival to fit in the couple's first dance. This dance can also take place after dinner, depending upon what best suits the event. During the dance, guests should take care to reduce noise and keep all eyes focused on this moment. 
01:20 | Cheers & Toasts
Following your first dance, you might want to take the opportunity—while all eyes are still on you since hopefully no one yet has had too much to drink—to thank everyone en masse for taking part in your wedding:
A family member, often a bride's parent, will say a blessing (depending on the family's faith).

Since toasting signifies a transition in the course of an event, the mother and father of the bride will thank guests for attending and invite everyone to enjoy the celebratory meal. Remember that the toasts given by the best man and the maid of honour should occur between courses to spread out all the high-emotion, much-anticipated moments and keep guests in their seats.
See who destiny selects to be the next lucky lass and lad to find true love by tossing the bouquet and garter belt. Many couples choose a special song to play as all the single ladies gather for the bouquet toss, and they choose another song when the bride or groom removes the garter from their leg and tosses it to the single men.

Your emcee will announce that it's time for the toasts as dinner winds down.
It's best to give those who are giving toasts a heads-up about 10 minutes before this announcement; that way, they have time to finish their dinner and look over their speech.
In terms of speeches, it's customary for the best man and the maid-of-honour to share a bit about the happy couple, but you can also ask parents or other loved ones to say a few words. Note that you'll want to make this request well before the wedding day so they have time to prepare something. Then, after your loved ones wrap up their speeches, you and your spouse can say a few words.
Toasting allows the family and wedding party to thank the guests for attending, tell fun stories about their relationship with the couple and wish the newlyweds happiness. At a minimum, the best man and maid of honour should provide a toast. Often the parents of the bride and groom will also provide words of good wishes. Ensure you know who will give a toast in advance and notify your DJ. It can be a dangerous game opening the mic up to any in the bridal party, and it can also get monotonous for your guests.
Tip: Let the people giving toasts know how long they have. Five minutes is often a good amount of time for a speech. It's also wise to not open up the toasts to anyone who wants to talk. It can stretch out the toasts.
01:30 | Mangia, Mangia
Time to dig into the main course. The band or DJ will play subdued, conversation-friendly background music if you're having a seated meal as the waitstaff makes the rounds. If you're having a buffet, your coordinator, DJ, or bandleader will dictate how the rotation will work by calling each table when it's time to head to the front of the line. Remember: You need to do everything possible to take their seats and eat! During dinner, food is provided, and conversation is encouraged. Depending on the event, you may choose to do a plated dinner or a buffet. If you do a buffet, it is good to work with your DJ to release the tables in an organised fashion, so there is not a long line to get dinner. Also, this is a good opportunity to offer wine service during dinner so guests can enjoy themselves without getting out of their seats for their next drink.
02:30 | Parent Dances
Suppose you didn't already take a spin on the dance floor with your parents; after dinner is the prime time to squeeze it into your wedding reception schedule. This special dance number will draw everyone's attention to the dance floor, and there's a good chance there won't be a dry eye in the room! Check out our suggestions for some of the best father-daughter dance numbers and mother-son dance tunes. Once you and your partner have taken turns dancing with your respective partners, invite your guests to join you on the dance floor. You can time this portion of your wedding reception timeline just right to get everyone grooving post-dinner seamlessly. You've now checked all the normal reception activities off the list and are ready to dance the night away. Get the dancing started by gathering your wedding party on the dance floor and requesting an upbeat song that's sure to pull more guests to the floor. The DJ then likely alternate between fast and slow songs until it's time for the last dance. The emcee will announce when it's time for this special moment.
Tip: Ask your wedding planner or emcee to give you a heads up about 15 minutes before the DJ plays the last song, so you have time to start saying your goodbyes. 
02:45 | Party Time
Monkey-see, monkey-do is how this game is played. Guests are going to follow your lead. Once dinner dishes are cleared, and you have had your partner dance, you should stay on the dance floor, so people know it's time to start partying. The music will stop for any extracurricular activities you've planned in your wedding reception schedule throughout the dancing.
After dinner, it's time to start dancing! The newlywed's first dance will occur if it has not yet occurred after their entrance. It will be followed by dances with the couple's parents and possibly a "money dance" where guests dance with the bride or groom and slip them cash for their honeymoon. After these are complete, the dance floor is open to wedding guests. The party organisers will also announce any games or secondary entertainment.
03:30 | Bouquet And Garter Toss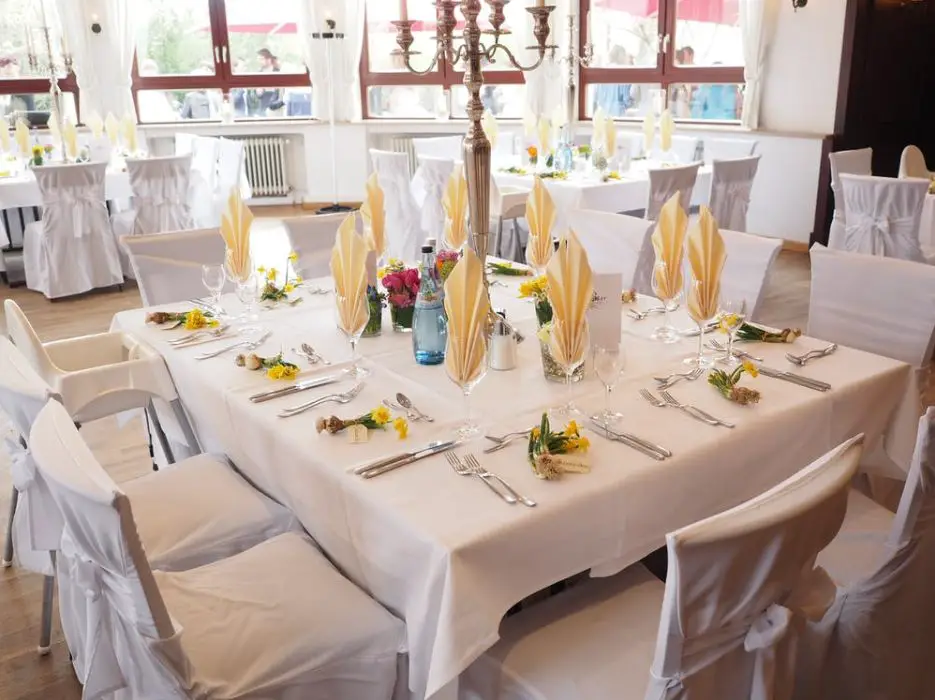 Once everyone has had sufficient time to let loose on the dance floor, the bouquet and garter toss can be the next events in your reception timeline if you choose to do them. These activities are steeped in tradition. However, keep in mind that they aren't mandatory. You can always skip them if they don't suit the style of your reception. If you do choose to toss the bouquet, make sure to get a tossing bouquet from the florist so you can keep your original one as a souvenir and be sure to choose the perfect bouquet toss song.
04:00 | Cake Cutting
About one hour before the reception's conclusion, your waitstaff should start preparing tables for coffee and dessert when the party starts getting a little rowdy. Since the cake cutting generally signals guests that it's okay to leave soon after that, please don't do it too early, or things could start wrapping up before you're ready. Now it's dessert time. Following the parent dances, the emcee will announce the cake cutting, and you and your spouse will make your way to the cake table. Most couples choose to hold the cake knife together as they cut that first slice. You can then go wild by smooshing the cake in each other's faces or opt for the less messy version of simply feeding each other a bite. The wedding party will cut and serve the cake close to the end of the event, followed by approximately an hour more of dancing and celebration.
When you're done, the caterers can move in to cut up the rest of the cake for guests. Let the caterer know if you'd like to save the top tier from freezing and eating at your first anniversary.
04:15 | Shake A Leg
Once the cake is cut, the band or DJ should jump back into more music for those wanting to trade in their slices for another turn on the dance floor. 04:45 | Last Dance Don't just cut the music when it's time for everyone to leave. Schedule the last dance into your wedding reception timeline to signal that it's time to go home (or head to the after-party!). End your wedding on a high note and choose a dance song to leave a lasting impression. You'll want everyone to have a chance for one last twirl, so select something fast and festive.
05:00 | Final Farewell
Now it's time to say goodbye. Your coordinator will usher everyone into the foyer or onto the steps outdoors. As you make your grand exit from the reception, friends and family can blow bubbles, light sparklers, toss rose petals—and cheer for your successful celebration and future together.
Conclusion
Now that you know the traditional wedding reception timeline, etiquette for each evening stage, and some fun ideas to make your celebration unique, it's time to plan your perfect day! We hope this guide has been helpful as you take these next steps. If you have any questions or need more advice, don't hesitate to reach out to us – we are always here to help. Congratulations on your upcoming nuptials!