Having a dessert table at your wedding reception makes a) a gorgeous and efficient wedding cake display and b) more room (aka the perfect excuse) to add several more dessert options in addition to (or other than) cake. The beauty of it all? Whether you line your dessert table with five single-tier wedding cakes, locally made pies, a DIY candy bar, or piles of cookies and doughnuts is completely up to you. Do we have to twist your arm? Whether your wedding venue is a laid-back ranch or a luxe ballroom, there's always room for a designated sweets table.
There's more to wedding desserts than cake alone. And while that iconic dessert will always have a place in our hearts, sometimes it's nice to add a little variety to your reception sweets menu. Just consider the options at your disposal! Cupcakes, pies, cookies, and more unexpected sweets like doughnuts or ice cream sandwiches. The sky's the limit, so why not include them all because you never know which dessert will hit the sweet spot?
A wedding dessert table is one of our all-time favourite ways to incorporate options into the big day. And as long as there's space on the table, you have room to make your favourite additions. The best part about this idea is that it's easy to include that classic wedding cake, whether you opt for a smaller cutting cake or go all out with a statement-making confection and other treats you love. Sounds too good to be true? Fortunately, it's not. And to prove it, we've rounded up some of our favourite dessert table ideas from real weddings to help you find all the sweet inspiration your heart desires. Cheers to a celebration that satisfies every style of a sweet tooth.
Fill a table with chocolate-dunked goodies like Rice Krispies bars and caramel apples. Or have a chocolate fountain with dippers like fruit skewers, bite-size brownies and soft pretzels (for that delectable salty-sweet combo). And if chocolate brown doesn't fit your wedding palette, choose a different hue.
Choose your space wisely. Place your dessert table against a plain wall or a window with a view. 

Harmonise Colours. 

Design your backdrop. 

Design with height in mind.

Serve mini desserts.

Display candy with Apothecary Jars.

Add Floral Decor.
Cookies. For the people in your life who don't like cakes, a selection of cookies is a great way to feed people with varying tastes. 

Pies. Pies can be a great way to have dessert while providing variety. 

Ice Cream Sundaes. 

Cheese and fruit.
And as long as there's space on the table, you have room to make your favourite additions. The best part about this idea is that it's easy to include that classic wedding cake, whether you opt for a smaller cutting cake or go all out with a statement-making confection and other treats you love.
A good rule of thumb from Sweet and Saucy Shop is: For a table full of mini-desserts (no cake), allocate about 3-4 mini-desserts per person. (Editor's note: take this down to 1-2 mini-desserts per person if you also have cake.)
Make Your Cake The Centrepiece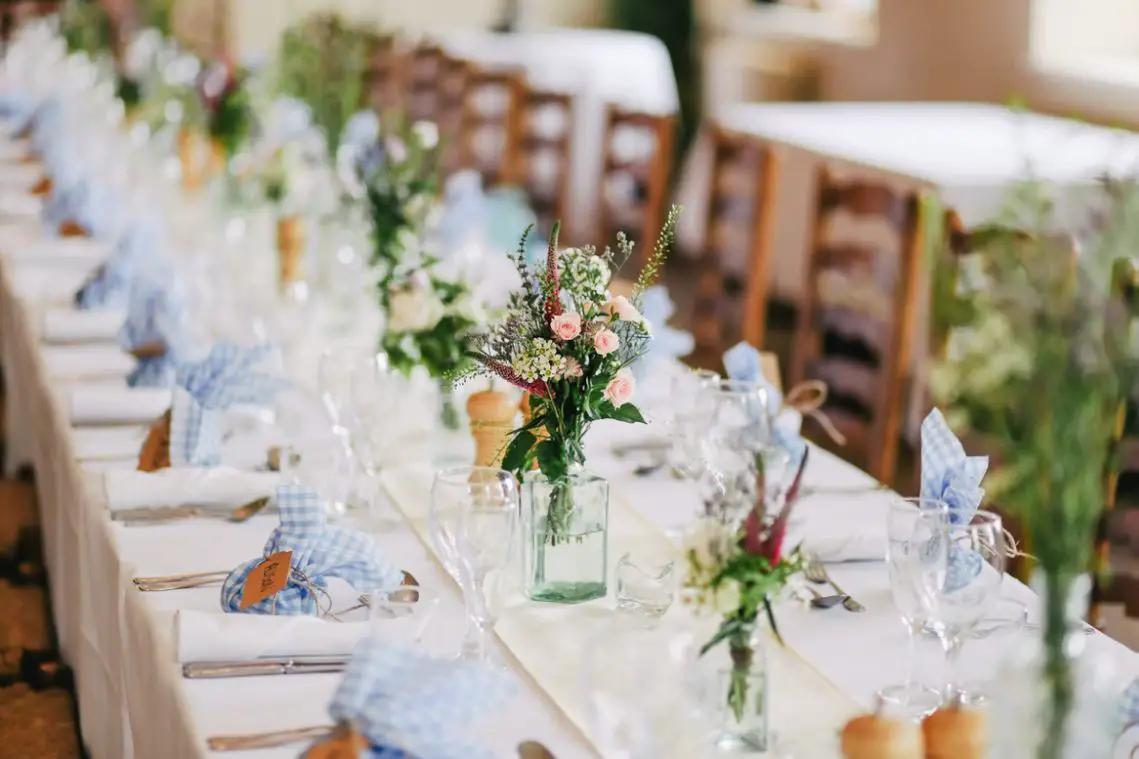 If you planned on a big, classic wedding cake, you could still have a unique dessert table. Make your cake the centrepiece, and choose your other desserts to match or better accentuate your dream cake!
Your cake should be the focal point of your wedding dessert table, with secondary desserts artfully surrounding the main attraction. Two-tier stylish wedding cakes don't need much else, so keep the other desserts simple and avoid bright colours. This dessert bar would make a lovely backdrop for the cake cutting!
Display A Donut Wall
A popular new wedding trend is a doughnut wall – picture a pegboard with doughnuts hanging from each peg! It is an easy DIY project, or you can find doughnut wall options and even rentals online. In addition, a doughnut wall acts as a cool backdrop to the rest of your dessert table, so you have room to add more or keep it simple. 
Some couples even use doughnuts as their main wedding cake!
Check out our favourite doughnut walls on Etsy! There are plenty of customisable doughnut boards so that you can find the perfect decoration for your wedding dessert table.
Create Dessert Towers
Creating towers of desserts is another way to add some height to your wedding dessert table. These towers look amazing, but they're not too hard to make at home. It is one of our favourite dessert bar ideas that you can DIY!
You can use a styrofoam cone and toothpicks to create a DIY dessert tower that looks professional. Cover your tower with cake pops, doughnut holes, cream puffs, macarons, or any small dessert you love!
If you don't want to create your tower, there are plenty of unique options to find online, like these dessert displays below:
Serve Mini Desserts
Miniature desserts are a great way to let guests try a taste of everything you have to offer at your wedding! Some of the best wedding dessert tables feature mini desserts because guests will be more comfortable grabbing one and can try more!
A small, pop-able dessert is easier to eat, so guests can stop by the dessert table and try everything from mini cupcakes mini doughnuts, small cookies, tarts, etc.
Add chocolate-covered strawberries or even mini pies for your wedding reception if you love fruity desserts! 
Incorporate Your Wedding Colours
To match your dessert table to your wedding theme, tie in your wedding colour palette! For example, you could ask your bakery to use icing that matches your bridesmaids' dresses or stick with a white cake and add colourful accent desserts.
Wedding cakes can come in any style, so don't be afraid to incorporate a colour palette into your main attraction. While some prefer white wedding cakes for tradition's sake, there are no rules here! No one will be offended by wedding dessert tables with lots of colours.
Most desserts can add a splash of colour with a little bit of food dye so that you can add macarons, cupcakes, or any dessert for a colourful display. You can also use cake stands and other displays to add colour to your dessert tables if the sweets are neutral-toned. 
This cupcake stands from Etsy come in a wide range of colours so that you can find some pops of colour for your dessert display!
Use Wooden Decor
Use natural wood decor to decorate your wedding dessert table for a rustic or outdoor wedding. Wooden cake stands, dessert displays, and other wooden fixtures are a great way to decorate your table, and you can even make some yourself with some basic woodworking skills.
White desserts and other pastels will pop against the wood for a lovely contrast. It is one of the most popular dessert bar ideas for country or barn weddings! Create a rustic dessert table with wooden accents.
There are lots of handmade wooden displays on Etsy to make a beautiful, rustic wedding dessert table.
Add Metallic Accents
If natural wood doesn't fit your wedding's style, consider metallic accents instead for your dessert bar. Whether you prefer gold, silver, brass, or copper metals, there are plenty of options for metallic decor.
Cake stands and dessert displays are a great start, but get creative to find cool, even antique gems. For example, some couples have used antique bird cages, candelabras, and more to create memorable sweets tables.
You can find metallic dessert stands and other decor on Etsy!
Decorate With Flowers
Many couples deck their wedding out with flowers in full bloom. If this is your plan, don't skip the dessert display table! Instead, add floral accents to the desserts themselves, or surround your dessert displays with wedding flowers that fit your colours and theme. 
You can even add florals to your cake and other desserts directly, so this is not only a dessert table idea but an idea for the desserts themselves! Wow, guests at your wedding reception with a gorgeous floral display at the sweets table.
Consider buying wholesale flowers so that the cost of wedding flowers doesn't limit you, or decorate desserts with these edible flowers!
Use A Statement Table
Use a statement table to hold the desserts for a unique wedding dessert display! You can search in thrift or antique stores for vintage tables, desks, cabinets, or other old furniture to add a special touch to your dessert table!
You could also choose a modern piece or any style that fits your wedding decor. 
Serve Desserts In Decorative Glasses
Get creative with your desserts! If you're serving treats like mousse or ice cream, consider using unique containers like glass jars, shot glasses, martini glasses, coupe glassware, or a mixture of glasses for a mismatched look. 
Check out some of our favourite dessert glasses on Etsy!
Feature The Couple's Favourite Desserts 
A cute idea for your sweet desserts is to feature the bride's and the groom's favourite sweet treats. Label each couple's favourite dessert, especially if it's an old family recipe!
Frame your wedding cake with the groom's favourite doughnuts on one side and the bride's favourite cookies on the other.  
Offer Desserts As Wedding Favours
You could double down on desserts if you have a sweet tooth by offering sweet treats as a wedding favour! Incorporate other ideas from our list, like a doughnut wall or candy bar, but add in to-go bags so that guests can pack themselves a sweet snack for the ride home or the after-party. 
Serve Brunch Sweets
Consider using brunch-like desserts for those planning a daytime wedding or even a brunch wedding featuring breakfast and lunch favourites! Some morning weddings even feature pancake or waffle cake creations instead of traditional wedding cakes. 
Create a brunch themed dessert table complete with doughnuts, danishes, waffles, and pancakes, perhaps in a miniature size, or mix in other popular breakfast pastries! 
Milk And Cookies Bar
There's no more classic dessert than milk and cookies, so you can't go wrong with this idea! Consider a dessert bar of assorted cookies and milk for the loving cookie couple. Include milk alternatives if you have non-dairy dietary restrictions amongst your guests. 
Family Recipes Only
A dessert table full of family recipes only is a warm and charming option. So pay homage to your families and enjoy your favourite childhood treats with a family dessert table. You can even ask special guests to bring desserts for a DIY wedding to make your favourite family sweets right. 
Bring In An Ice Cream Truck
Food truck weddings are all the rage lately, so consider bringing an ice cream truck for your big day! An ice cream truck makes for a great photo backdrop at a summer wedding. Adding in a food truck is even easier at an outdoor wedding, and it's a unique sweet treat and experience for guests. 
S'mores Station
A great addition to any backyard wedding is a bonfire and a s'mores station! If you can't safely hang out around a fire pit, you can use other indoor s' mores cooking methods. S'mores are an affordable and beloved treat, making them a great addition to your wedding. 
Decorate With Signs 
Spruce up your dessert table with plenty of signage! You can use a larger sign to alert guests to the desserts, smaller signs to label each treat or both. If you or a bridal party member has good handwriting, you could even use a chalkboard sign and make it your own!
There are plenty of options for dessert table signs, so you can find something to fit any theme, style, and colour scheme. Go for a classic "Love is Sweet" slogan, or get punny with your desserts!
You can find plenty of customisable dessert signs on Etsy, from wooden signs to glass and metal.
Set Up A Candy Shop
Turn the dessert bar at your wedding into an old school candy shop for guests to enjoy! There are many ways to make a cute candy bar at your wedding, from old fashioned signs and candies to creative jars and containers for all of your favourite sweets. You can even use a bar cart on wheels to roll out the candy bar.
A candy bar can also function as your wedding favour giveaway. Leave bags for guests to fill and encourage them to grab their favourite candy bars on their way out as a parting treat!
Stack Desserts Vertically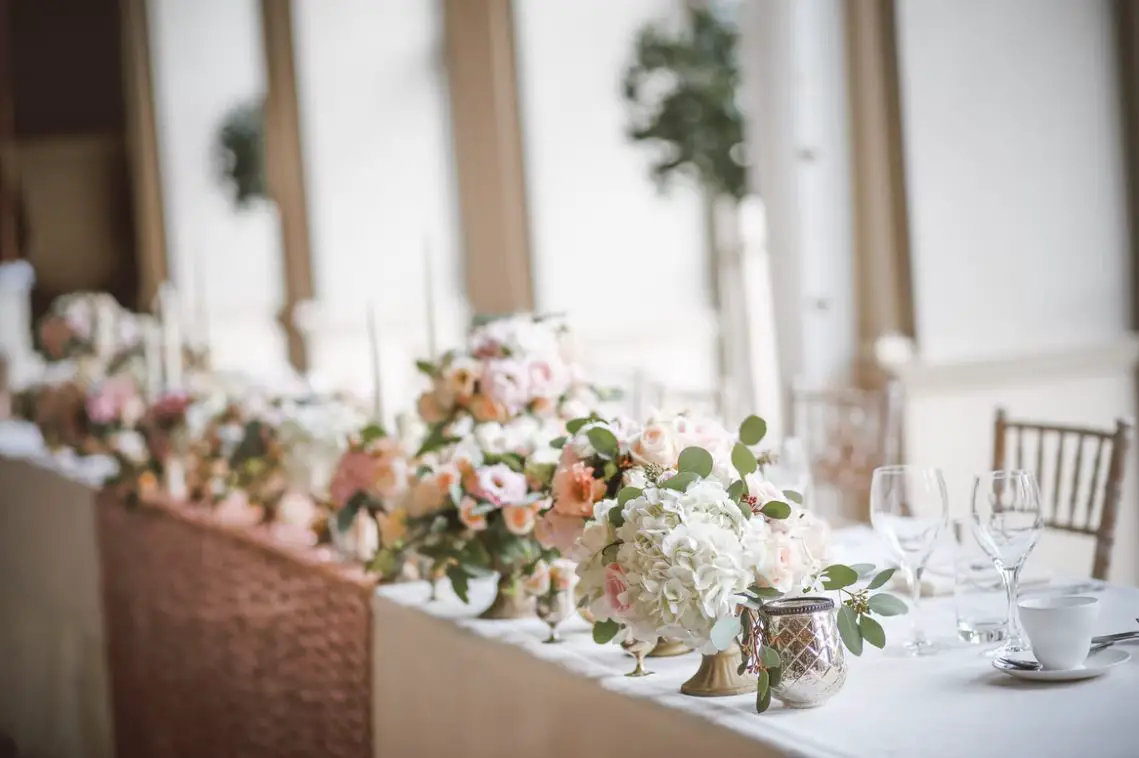 If you're planning out your dessert table and it falls a bit flat of what you expected, add some height! While you might not need stands and shelves to fit all of your desserts, consider stacking them vertically to add depth and excitement to your dessert bar. 
There are cake stands and dessert displays to fit any style online! Add these to your sweets table.
Colourful Cake Pops
Cake pops are a fun new dessert. These pop-able mini cakes are a great way to add colour to your dessert table. You can get cake pops made, or even make them at home, with different colour icings to make a colourful dessert table.
Stack them up, make a cake pop tower, or display them like a bouquet – there are many options to sweeten up your dessert bar. 
Find cake pop stands to display your colourful cake pops at the dessert tables!
Rustic Dessert Bar 
If you're planning a rustic wedding with a natural, unfinished look, make your dessert bar look the same! For weddings featuring a lot of wood, consider a wooden dessert bar topped with desserts like mini pies, caramel apples, whoopie pies, or even a cookie bar.
Dessert bars make it easy for guests to serve themselves in a dessert buffet style, and a wooden bar is a great look for the fall or at an outdoor reception. So incorporate fall colours and flavours, and get inspired by down-home desserts!
Drinkable Desserts 
Drinks can be desserts too! If you're planning a winter wedding, consider a hot cocoa station for a sweet treat to keep your guests warm. You can find drinkable desserts for any season, whether milkshakes, slushies, ice cream floats, dessert wines or other boozy concoctions. 
Consider using a bar cart that can move around your wedding reception for a more mobile option, offering these drinkable dessert options!
Candlelit Cakes 
For a whimsical glow, add candles to your dessert table! If your venue is dimly lit or if you're hosting a wedding outside, candles will light up your dessert table and make the sweets look even more appealing.
If you love a candlelit wedding, consider a candlelit cake table! Just be sure that the flames are safe and guests won't burn themselves, reaching for a sweet treat.   
Dessert Cart On Wheels 
Provide desserts on the go with a wheeled dessert cart. With some research, you can find plenty of carts on wheels, so there's something to fit any wedding theme and style.
Your cake can make a grand entrance with a wheeled dessert cart, so you can prepare the dessert table but keep everything fresh and untouched until the perfect moment. 
Consider Your Backdrop
The dessert table isn't the main focus of your big day, but it's still a good idea to consider the backdrop behind all of your beautiful desserts! Consider where you will place the dessert bar in your wedding venue and what's behind it.
You could create a flower wall or a wall of vines, use mirrors, signs, curtains, and more to make a picture-perfect wedding dessert table.
Dessert bars are naturally gorgeous if filled with beautifully decorated dessert options, but there's nothing wrong with going the extra mile. Wedding cakes don't have to be the focal point, so decorate away!
Vary Flavours And Ingredients 
While the happy couple may love all things chocolate, not every guest at your wedding will have the same taste in desserts. So when creating your dessert table, consider adding an assortment of flavours and ingredients so that there's something for everyone!
If your wedding cake is all chocolate, consider adding non-chocolate desserts like fruits and fruity, vanilla options, or other flavours.
Aside from just flavours, you should also consider the ingredients in your sweets. Consider if your guests have any dietary restrictions, like lactose intolerance, gluten intolerance, etc. Try to make sure that you have options for everyone to enjoy!
Tips For Choosing Dessert Ideas
Creating a wedding dessert table takes some thought. Don't forget these essentials:
If you want a classic wedding cake, choose this first. It will likely be the main focus and biggest dessert, so start here!
Other Desserts: Choose other desserts in addition to your cake, and be sure to include different flavours and ingredients so that everyone can enjoy them. Anything from a candy bar to fresh fruit to brownies will work!
The table: Consider what table you want to use – whether the table itself is a statement piece of decor or you cover a plain table with a tablecloth or other decorations.
Displays: Add cake stands or other unique dessert displays to add height levels to your table and a decorative touch.
The dessert bar is another chance to add decor to your wedding reception! Use cake stands and other table decor to display your desserts and add a touch of elegance. You can also incorporate your wedding reception theme and colours.
Love flowers? Add a floral design to your table or the desserts themselves. You can even use the dessert as decor – romantic macarons in different colours, chocolate-dipped strawberries, or even white chocolate with food colouring can add colour and style to your dessert bar. 
Wedding dessert table decorations are a fun way to spruce up your wedding reception, so don't forget to consider how you will display your treats!
Conclusion
Wedding dessert tables are becoming more and more popular for a good reason. They provide a fun and unique way to show your guests some of your personality as a couple while also satisfying their sweet tooth. We've got you covered if you're looking for some wedding dessert table ideas. There's something for everyone on this list, from classic options like cake and ice cream to creative choices like doughnuts and churros. So what are you waiting for? Start planning your dream dessert table today!