You deserve a wedding limousine that reflects the love you have for each other-timeless, exciting and memorable. Amore limousines specializes in luxury vehicles for weddings, anniversaries, surprises, engagements, honeymoons, and other meaningful occasions. Celebrate any event with one of our gorgeous cars.
Located in Melbourne, Victoria and currently on the search for wedding transport that'll see you arrive in style on your big day? Look no further! To take the stress out of choosing, here's the top 25 most popular Melbourne wedding cars, as ranked by their customer reviews.
Located in Melbourne, Victoria, planning a wedding and looking for wedding limousine? When you are planning your big day, you probably want everything just perfect. One of the best ways to make sure that it all turns out the way you dreamed is to select every vendor yourself personally. This way, you can choose the ultimate location, the best entertainment and the most delicious food, and craft your ideal wedding day.
We've created an ultimate list of wedding limousine suppliers to save you time and money.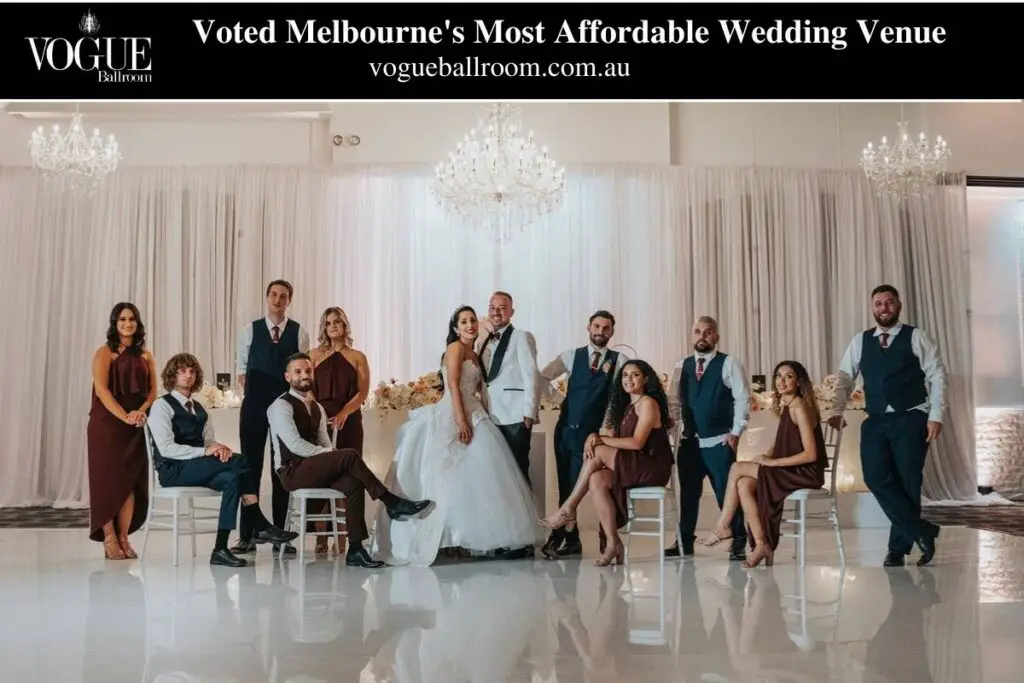 Add a header to begin generating the table of contents
Euro Limo Wedding Car & Limousine Hire Melbourne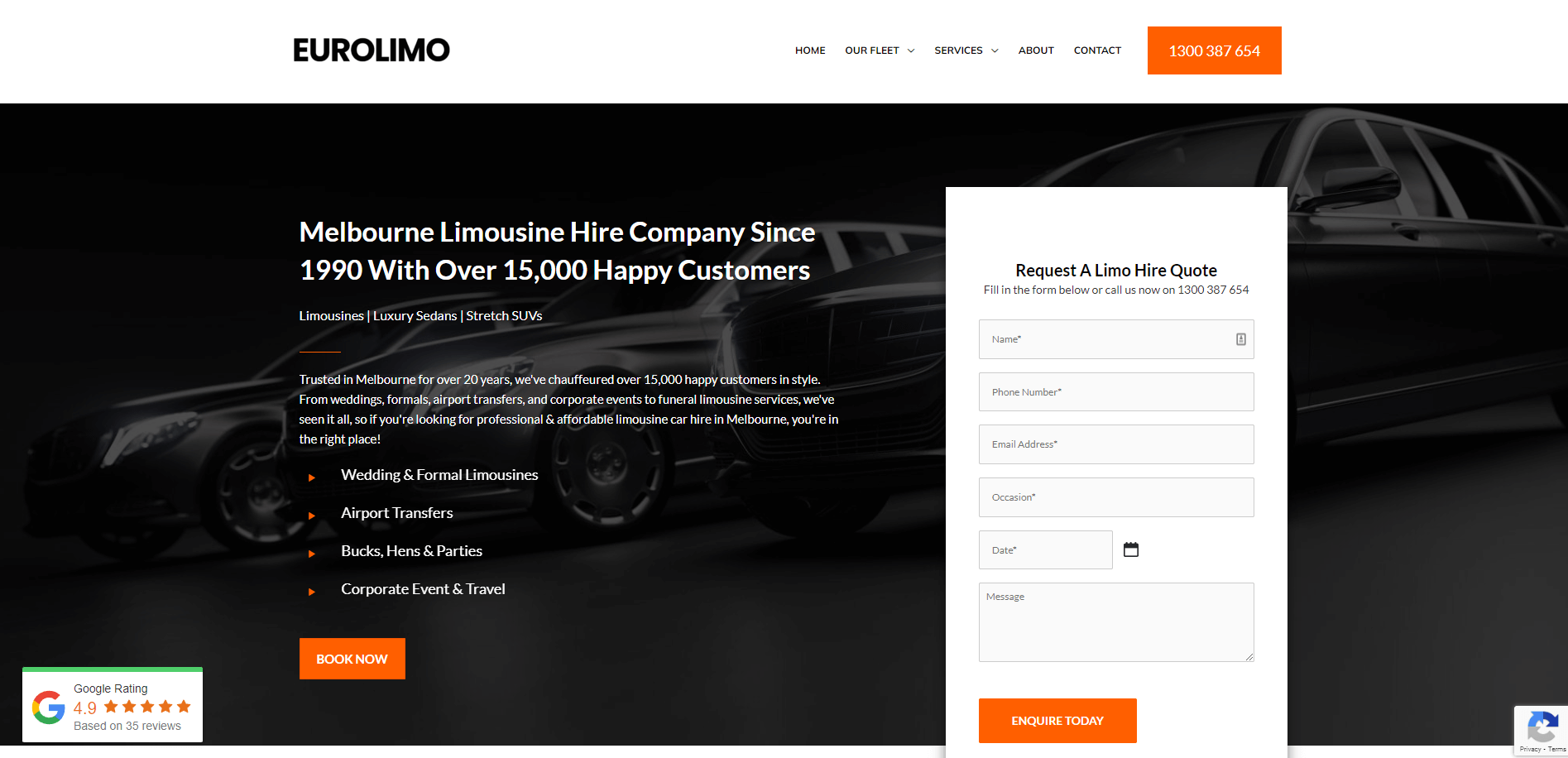 1300 387 654
Euro Limo Melbourne stands as the premier provider of chauffeured luxury limousines and cars in the Melbourne & Victorian region. They maintain a dedicated fleet of opulent limousines and cars, staffed with professional chauffeurs who pay meticulous attention to even the smallest details. This dedication ensures that every trip undertaken with them is nothing short of perfect.
Melbourne Limousine Hire Company Since 1990 With Over 15,000 Happy Customers
Trusted in Melbourne for more than two decades, the company has chauffeured over 15,000 satisfied customers with style and grace. Their services have encompassed a wide array of events, including weddings, formals, airport transfers, corporate events, and even funeral limousine services. Anyone in search of professional and affordable limousine car hire in Melbourne would find themselves in the right place with this company.
Their offerings include:
Wedding & Formal Limousines

Airport Transfers

Bucks, Hens & Parties

Corporate Event & Travel
Limousine, Chauffeur & Car Hire Services In Melbourne
For individuals seeking top quality and an unparalleled limo hire experience, Euro Limo Melbourne offers the finest limousine hire service in the area. With a team of dedicated and professional chauffeurs, they pride themselves on catering to the highest standards of customer service.
Euro Limo is equipped to assist with all hiring needs at the most reasonable prices. The confidence of their clients has been earned through the consistent provision of courteous, well-trained, and uniformed chauffeurs.
Exoticar 
Wedding Car & Limousine Hire Melbourne
1300-2-39684
Exoticar – Wedding Car Hire Melbourne
While providing high quality wedding car hire Melbourne service for many years, we at Exoticar saw a need for a more contemporary and Exotic style of wedding cars, general luxury car and chauffeured cars in Melbourne. Thus, Exoticar was born. Exoticar is not just a business, it's a grand passion.
Now into our Newest range of Range Rover Stretche and Limousines SUV's and the latest Porsche Cayenne Stretch limousines along side with our Mercedes and New Chrysler collection. These cars are more exciting and luxurious than ever. Exoticar's commitments to wedding limousine hire and chauffeured cars are second to none. We will provide you with all necessary paperwork upon the booking, thus giving you complete peace of mind. When you look for wedding limo hire, all of our drivers will assist you in making your special day truly memorable..
RSV Limo- Wedding Limousine Hire Melbourne
1300778546
HUMMER LIMOUSINE
The ultimate Black Beauty – The stretch Hummer is the most sought limo for Bucks and hens night parties, a fun night out with you family and friends, Hummer Wedding Cars Melbourne, Deb Balls and School Formals, or why not celebrate your birthday in the Mighty Hummer Limo.
MERCEDES BENZ LIMO
Arrive in style at your next elite red carpet event in the amazing Mercedes Benz stretch limo. The Ella really defines luxury, panache and glamour. Her elegance will surely impress your any of your clients and all audiences whilst acquainting them with your impeccable taste.
CHRYSLER 300C LIMO
Feel like a Star, when you travel in the Chrysler 300c stretch limousine and explore the sights and sceneries of urban Melbourne. Ideal for Bucks or Hens Parties, Wedding car hire and formal occasions, this vehicle ensures a Red Carpet experience like no other. The brand new, World exclusive Maserati Quattroporte Stretch Limo is here, and available only at RSV Limo Hire Melbourne.
We at RSV Limo have done something that no one else has been bold enough to do… We created the brand new Maserati 'Cinqueporte' (five door) Limousine. We have spared no expense in creating the only current shaped Maserati Stretch Limousine available for hire worldwide. This one is the ultimate vehicle when it comes to luxury transport!
RSV Limo's exclusive flagship vehicle, the Maserati limo, is the pride and joy of an amazing fleet of prestige limousines and it will only take a glance to see why.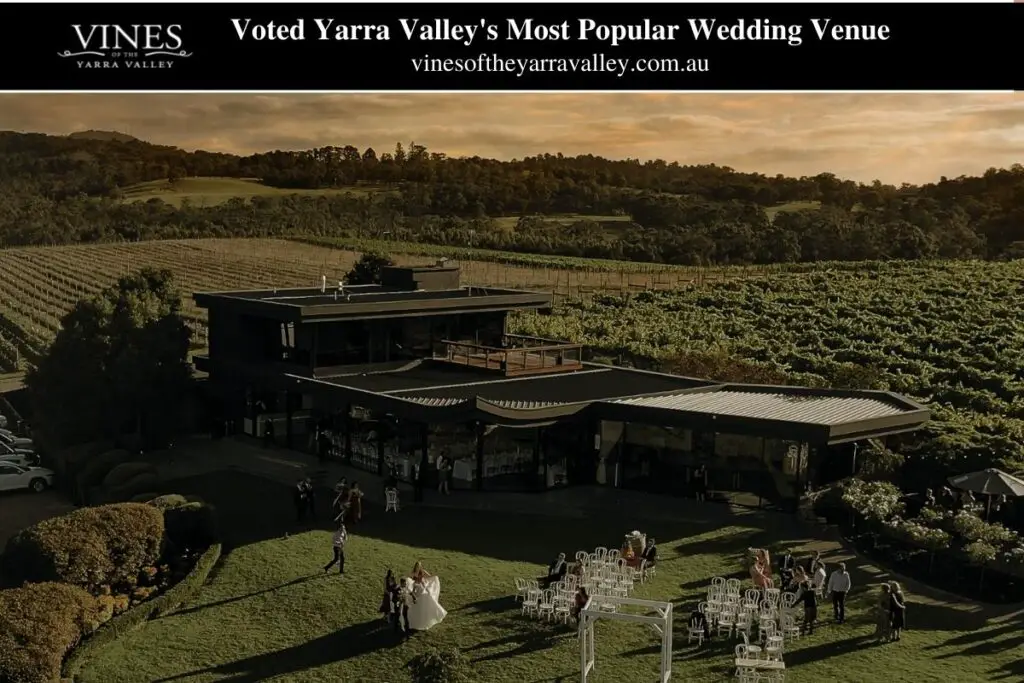 Limo Zone Wedding Limousine Melbourne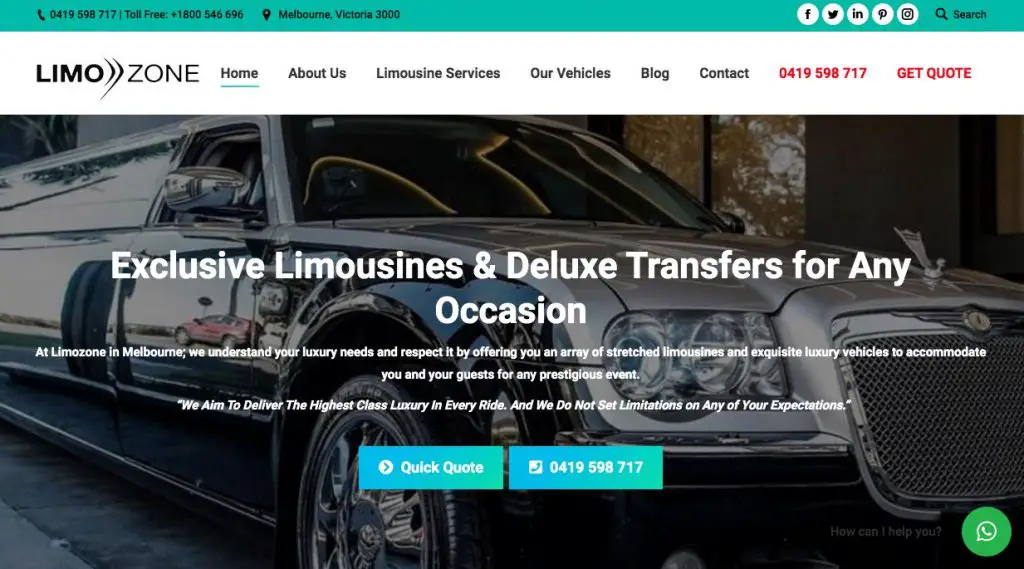 limozone.net.au
419598717
We Specialise In Making Your Occasions Memorable
One key aspect of any special occasion is making the right preparation for it. Whether it is a big or small wedding, a memorable anniversary, a lavish birthday party or even a posh corporate meeting/gala; we offer you some special luxuries to indulge yourself in.
To help you reach your event in-style; we offer you top-of-the-line limo hire services all across Melbourne ranging from 10-seater Chrysler, Black Hollywood style Ford Limousine to exotic Euro and Chrysler Sedans. That's not all- we even fulfill customised requests such as red-carpet arrangements or sending out elegantly dressed chauffeurs to collect and then escort you to your esteemed event.
At Limozone, what we do isn't just a job or professional obligation towards you. We regard it as a vocation and back that up with our heart, soul and unmatched fleet of luxurious vehicles and quality customer service. Our chauffeur-driven limo vehicles featuring all desired luxury specs and amenities are mainly to ensure you travel like a King/Queen. And the best part- you rental rates are fairly competitive for each hour; thus ensuring affordability for even tight budgeted passengers.
On Time Corporate Cars and Chauffeur Hire - Wedding Limousine Hire Melbourne
1300513249
About Ontime Corporate Cars & Chauffeur Hire
Ontime corporate cars & chauffeur hire have access to over 60 late-model luxury executive Sedans such as the Holden Caprice,BMW seven series, Mercedes S class providing comfortable seating for 1-4 passengers with 2-3 suitcases. These cars are air-conditioned, have plush leather interiors, reading lights, and mobile phones. All the cars are maintained by professional, well groomed and courteous chauffeurs who have been individually chosen for their professionalism.
We cater for almost every occasion, from Airport Transfers, which is our speciality, Meet & Greet, sightseeing tours, winery tours, weddings, Spring Racing Carnival, Grand Prix, and almost any other occasion where a luxury chauffeured car is required. Ontime corporate cars & chauffeur hire, covers the entire area of Melbourne and beyond, 24hrs a day, 7 days a week. Our access to over 60 cars gives us the edge over our competitors.
Affinity Limousines - Wedding Limousine Hire Melbourne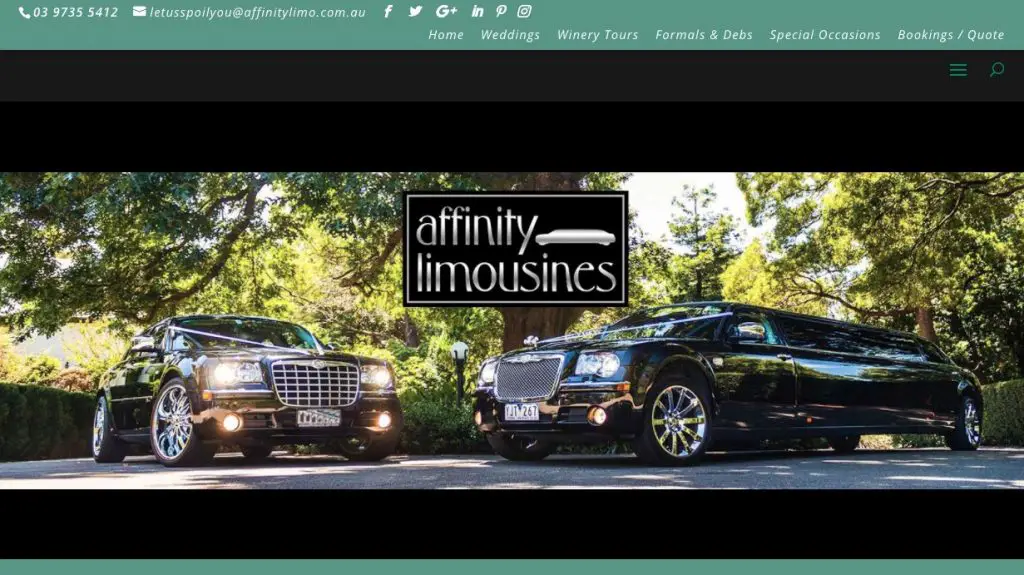 affinitylimousines.com.au
1397355411
An experience that will last a lifetime!
Choose Affinity Limousines for your Melbourne Wedding! Or Anywhere in Victoria including Geelong, Ballarat, Shepparton, Mildura & Echuca!  Your wedding day package will be fully tailored to your needs.  We work hard to maintain our Chrysler 300c Stretch Limousine & matching Chrysler Sedan to the highest standards. We are prepared for anything!  Some of the inclusions in our package are Complimentary Sparkling Wine or Moscato, choice of Ribbon Color plus much more!  Don't be afraid to ask for any requests, we've heard them all before!
The uses for Affinity Limousines are endless and are only limited by your imagination! Don't be afraid to ask us, we are flexible! Formals, Debutante Balls, Birthday Parties, Anniversary Dinners, Airport Transfers, Corporate Events, Christmas parties any occasion or event you can think of, we can make it an extra special experience that you will never forget!
We can offer you a Uniquely Tailored Winery Tour just for you OR we will go to whatever Wineries You Choose!  You will have your own Private Personal Chauffeur for the day that will do what you want to do.  If you want to stay somewhere longer, we can do that.  Don't like one of the wineries, well lets go somewhere else! We are there for you! Our Private Winery Tours usually commence at 10am from your pick up location.  We then travel out to the beautiful Yarra Valley or Mornington Peninsula and visit approx. 3-4 wineries, stopping for lunch, returning to your destination by approximately 4.30-5pm.
Horse Drawn Wedding Limousine Hire Melbourne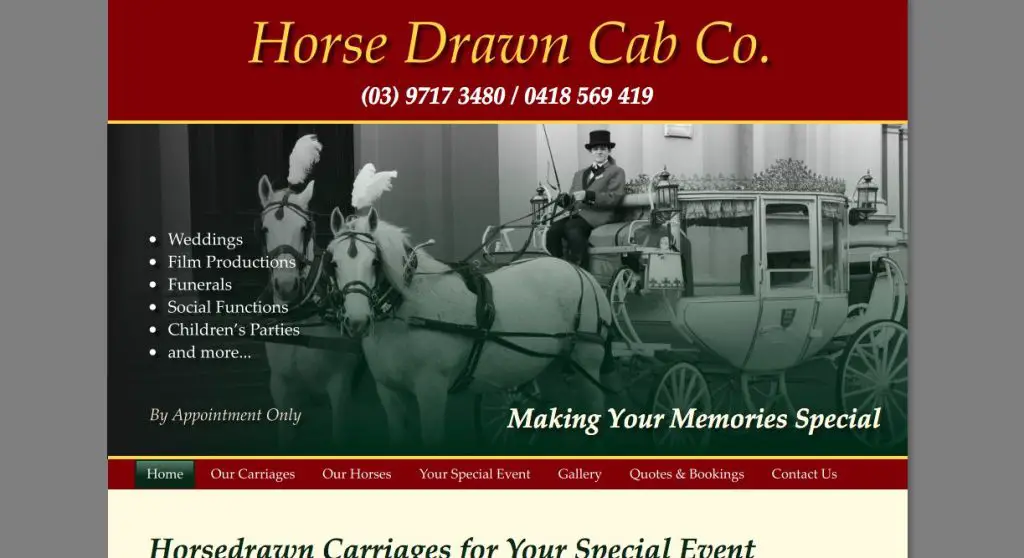 418569419
Horse Drawn Cab Co. offer beautiful horsedrawn carriages and horses for weddings, film productions, funerals, social functions, children's parties and more. Owners John and Cheryle Baird take great pride in their horses and carriages and will greet you at your special event in their fashionable top hats.  All drivers are knowledgeable and courteous, and will offer every assistance to you on your special day.
The beautiful white fairytale 'Cinderella' carriage and magnificent maroon 'Barouche' carriage are available for weddings. These carriages are drawn by two horses and driven by a uniformed driver. Feather Plumes can be fitted to the harness should you wish. Tails can also be braided upon request. Both carriages seatsix people, with the option of seating a further two people on an external rear seat.
Horse Drawn Cab Co. also have an extensive collection of period horse drawn vehicles, horses and assorted props available for film and television productions. With over 50 years experience in this field, we are well placed to meet the needs of your production. Horse Drawn Cab Co. offer a Victoria-wide service including Melbourne metropolitan, suburban, country and regional areas, Craigieburn, Mickleham, Tullamarine, Eltham, Whittlesea, Essendon, Olinda, the Dandenongs, Werribee, Hoppers Crossing, Epping, Sydenham, Point Cook and more. Other locations are also available by negotiation.
Wheels of Fortune - Wedding Limousine Melbourne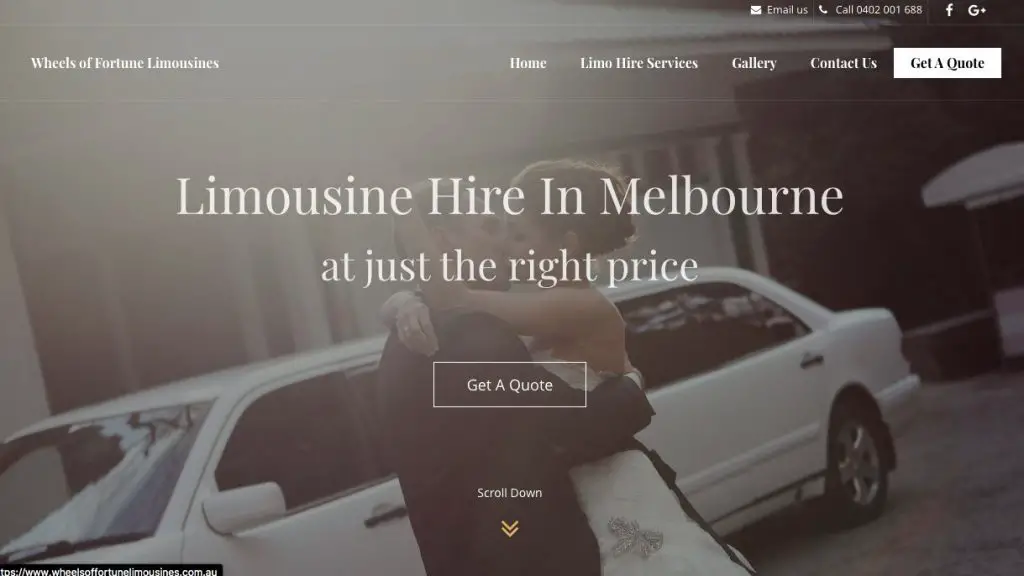 wheelsoffortunelimousines.com.au
402001688
Make every occasion memorable by hiring one of our luxurious limousines. Our limousine hire in Melbourne will make any occasion extra special. Wheels of Fortune Limousines have fully air conditioned stretch limousines that can luxuriously accommodate up to 18 passengers.
Each of our limousines comes with a professional chauffeur who is dedicated to providing great service and getting you to your venue on time.
Limousine Hire Company Melbourne
Explore Melbourne in a luxurious limousine from the premium limo hire Melbourne specialist, Wheels of Fortune Limousines. If you need a limo hire service in Melbourne with professional chauffeurs, then you have landed at the right place. We offer flawless limo hire experiences all across Melbourne.
Providing efficient limousine hire in Melbourne, we are undoubtedly the first choice for Melbournians. Whether you are looking to hire a limo for weddings, parties or special events, we have got it all. Arriving in our exclusive fleet of limousines will make your big day more special.
A Touch Of Silver Limousine - Wedding Limousine Hire Melbourne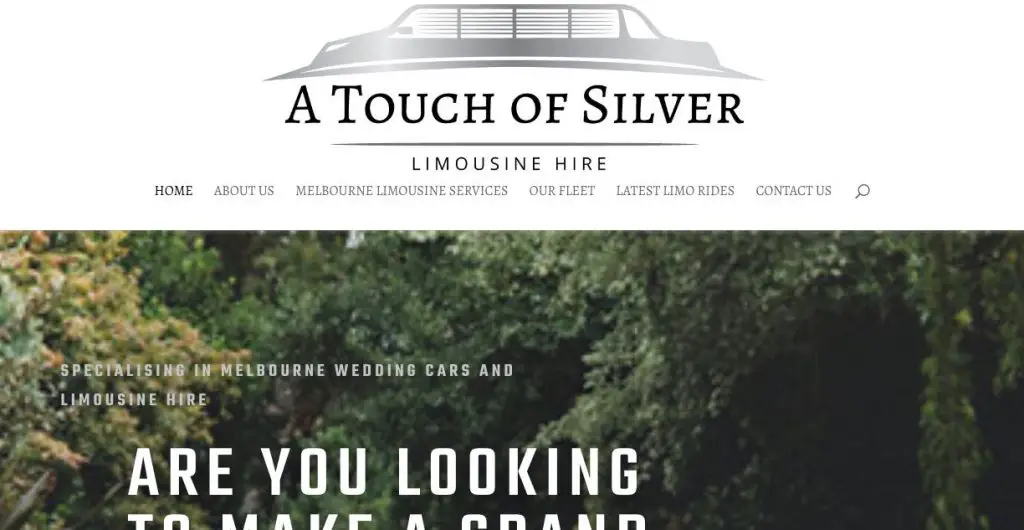 silverchryslerlimousines.com.au
1393334191
ARE YOU LOOKING TO MAKE A GRAND ENTRANCE ON YOUR BIG DAY?
We provide clients with the ultimate VIP treatment during their formal special occasions. Operating since 2007, we have been providing the finest possible & cheap silver limousine service to clients with distinguished tastes.We are proud to operate a stunning fleet of Chrysler limos, which suit your budget, travelling throughout the city and beyond by special appointment.
VIEW OUR FLEET
All of our wedding limousines are spacious, luxurious and come complete with a range of features to ensure your Wedding Day with us is a perfect one. We take great pride in maintaining and presenting our vehicles at their very best, so you can travel in elegance and create a grand impression upon arrival for your special day.
SPECIAL OCCASSIONS
As well as catering to bridal parties, we are happy to customise our limousine service to your transport or touring requirements. Whether you are planning a birthday celebration, want to travel in style to your formal, or want to organise group travel for a corporate event or any other special occasion, we have the perfect luxury transport solution to suit you.
Bentley Wedding Cars - Wedding Limousine Hire Melbourne
418544328
BENTLEY FLYING SPUR WEDDINGS
Create your day exactly as you dreamed, with memories that endure long after the speeches are over and the honeymoon has begun.
Bentley Wedding Cars and VIP transport offer Melbourne's most exclusive and luxurious wedding cars that will transport you to another world – one normally preserved for wealthy celebrities, captains of industry and those of significant privilege. Our black-on-black Bentley Continental Flying Spurs exude a level of presence and style that is unmatched in the industry.
For those who understand and appreciate genuine style, the choice of wedding car is a critical part of the wedding plan. It's a reflection of their own style and says as much about them as it does the event.
YOUR WEDDING DAY IS OUR TOP PRIORITY
Take the stress away and enjoy your special day knowing you are in safe hands; our professional licensed chauffeurs are here take care of every detail and guarantee a professional service. Our Bentley Flying Spurs are extra special, but the service we deliver is what matters on your wedding day.
We thrive on exceeding our customer's expectations and making your wedding day one that you'll never forget! We genuinely care about you! We want you to be 100% happy and promise to go above and beyond to ensure you are satisfied with our service!
Close your eyes and picture this…
You are ready for your wedding ceremony, you walk out of the hotel, and a beautiful Bentley Flying Spur is waiting for you at the door, beaming in the sunlight. Your wedding vehicle is waiting for you, he opens the door, and you are on to your magical day in the best possible way… that sounds pretty good, right? We tend to agree.
Bu Cadi Wedding Cars - Wedding Limousine Hire Melbourne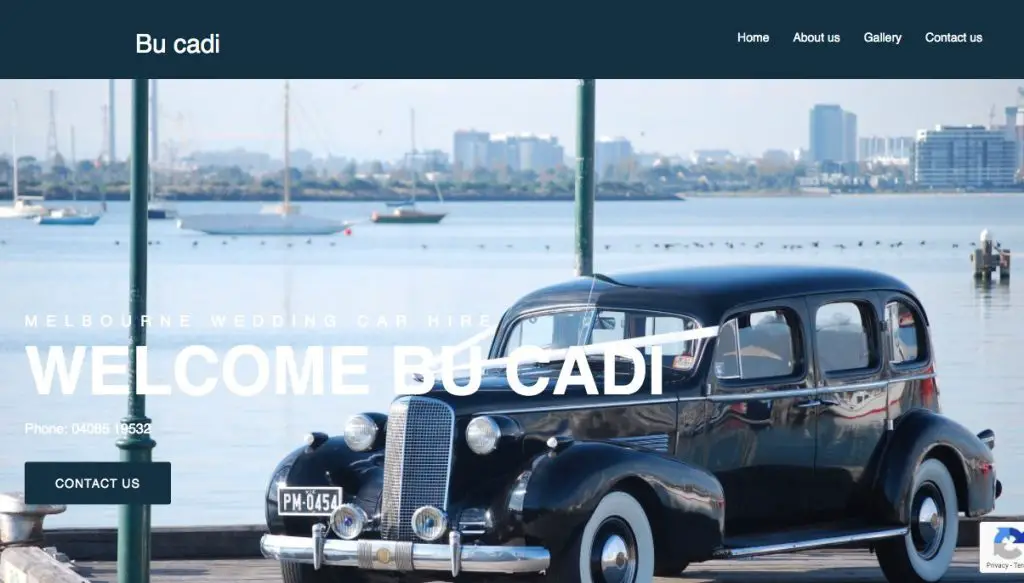 bu-cadi.com.au
408519532
Bu Cadi Wedding Cars is a Melbourne based car Hire Company. You may select from two Classic Black 1937 Cadillac 7 passenger chauffeur driven vintage limos.
Both Cadillac limos are air conditioned for your comfort and with more than 30 years of experience we will provide you with a day to remember. In 1937 only 16 series 75's were produced, more than half of these exist today. For any enquiries please contact our wedding transport services on 0408 519 532.
CJ Limousine Service - Wedding Limousine Melbourne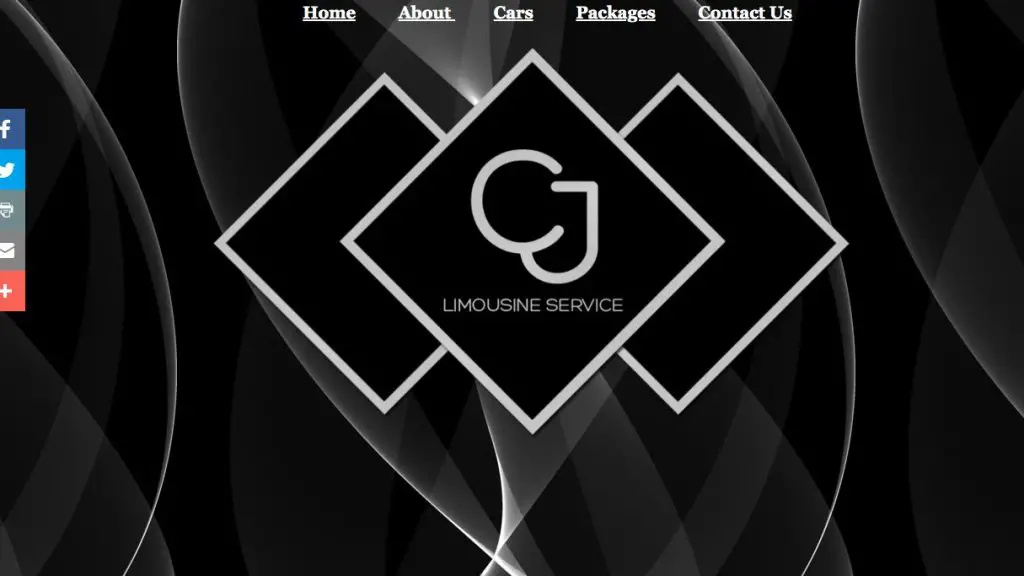 cjlimo.com.au
436487002
Let us introduce ourselves.  We are a family owned and operated business.  David and Natasha have been successful in business for almost 20 years.  This experience helps us to be able to provide a superior service.  We are also married.  So we understand the tensions and stressors that build up during the planning process of your wedding day.
​Our main objective is to provide the ultimate service experience from the first point of contact right through until the day.  On the day we want you to be able to sit back, relax and enjoy the ride.  We have a passion for all types of vintage cars, and we pride ourselves in delivering our pride and joy for you to enjoy.
​​We hope you would take the time and browse our collection of beau
tiful cars, thus far, and we offer a range of packages to suit all occasions.   Please feel free to contact us to discuss your special occasion.
Mornington Chauffeured Limousines - Wedding Limousine Hire Melbourne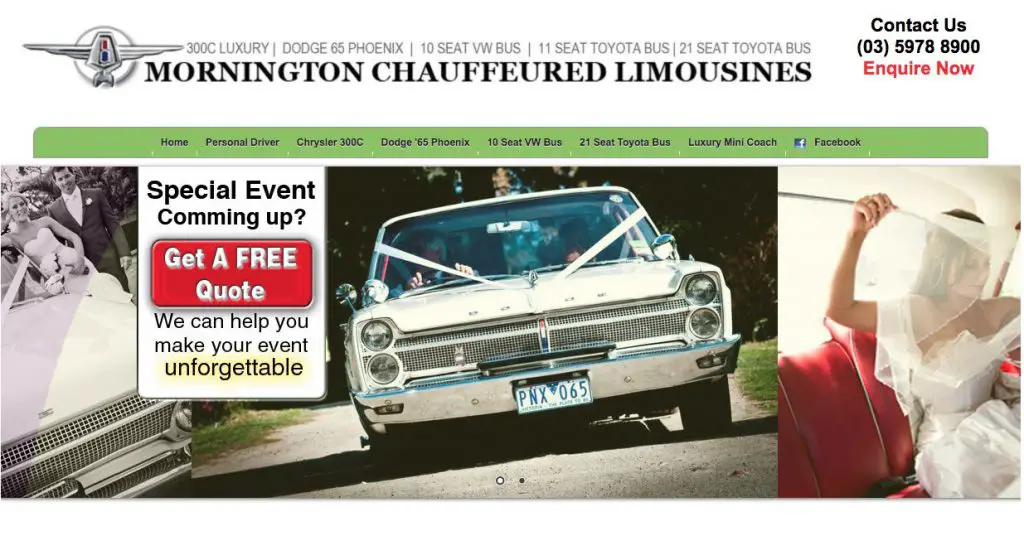 morningtonlimo.com.au
1359788901
As a Proudly Accreditied Member of The Wedding Car Assosiation and Mornington Peninsula Wedding Assosiation we would love to discuss your special event with you. Mornington Chauffeured Limousines wants to make your special occasion memorable and elegant by providing a quality chauffeured limo service in one of our very special cars. We offer 3x 300c limos, a 1965 Dodge Phoenix and for group transportation a 21 Seat Bus and a Luxury VW Transporter with 10 passenger seats.
Established in 2008 we are a family owned and operated business that aims to give you a reliable, comfortable and friendly service. Large enough to cater for your big events, small enough to help you customise your small events to create memories that will last a lifetime. Based on the Mornington Peninsula we are available to take you anywhere in Melbourne you might like to go and if transfers to or from the airport are required we will get you there comfortably 10mins early and stress free.
We are Fully Accredited with the Victorian Taxi Directorate, We also have current public liability insurance. We only use accredited drivers who hold current Police Criminal Checks.
Personal Driver Hire in Melbourne
Wether it is a short Business trip to Melbourne or a longer assignment, it is alway much more efficient to be recieved by a Personal Driver, with extensive experiance in and around Melbourne. We offer pre-booked Tours in Melbourne and the Mornington Penisular with the option of all Victorian Airport Transfers.
We also cater for larger groups, we have 3x Chrysler 300C Luxury, a Volkswagon Luxury Transporter and a 21 seat Bus (Please check under Vehicle for seats per vehicle).
High Marque Classic Vehicles - Wedding Limousines Hire Melobourne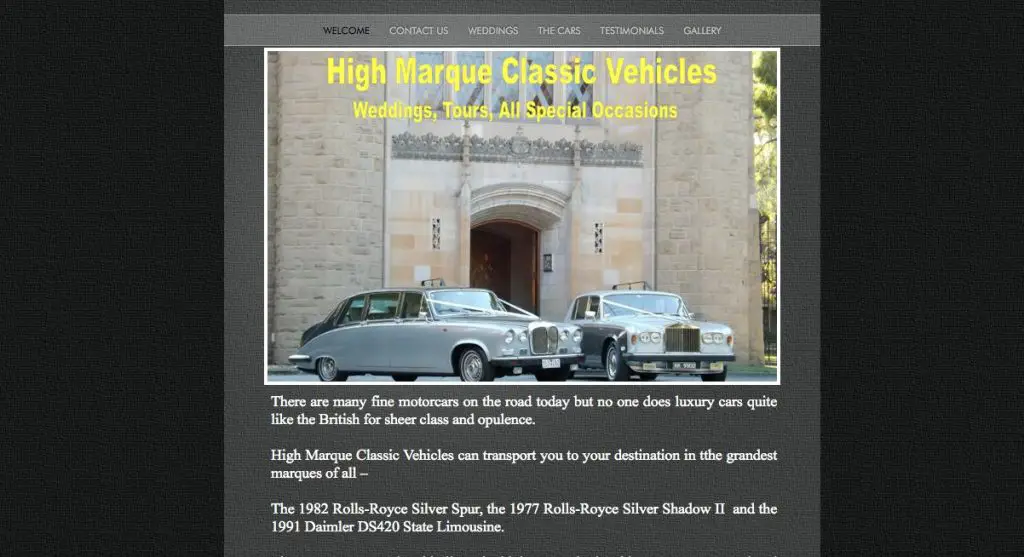 highmarque.com.au
410662385
There are many fine motorcars on the road today but no one does luxury cars quite like the British for sheer class and opulence. High Marque Classic Vehicles can transport you to your destination in tthe grandest marques of all –
The motorcars were hand built to the highest standards with no expense spared and the comfort of ride is unparalleled with any other make of motorcar. The Rolls-Royce and Daimler motorcars are ageless in design, coupled with modern comforts such as air-conditioning and climate control so that midsummer cruises are not an issue (the heaters in mid winter are cosy and warm as well).
Of course, the world's best motorcars can only be as good as the drivers behind the wheel. High Marque Classic Vehicles don't employ 'drivers', we employ fully trained Chauffeurs with many years of experience (Our Head Chauffeur has been in continual service since 1978 and is one of the most experienced in the industry).
We, at High Marque Classic Vehicles echo the spirit in which these vehicles were designed and reflect the company's endeavours with class, style and attention to detail.
29 Vintage Limousines - Wedding Limousine Hire Melbourne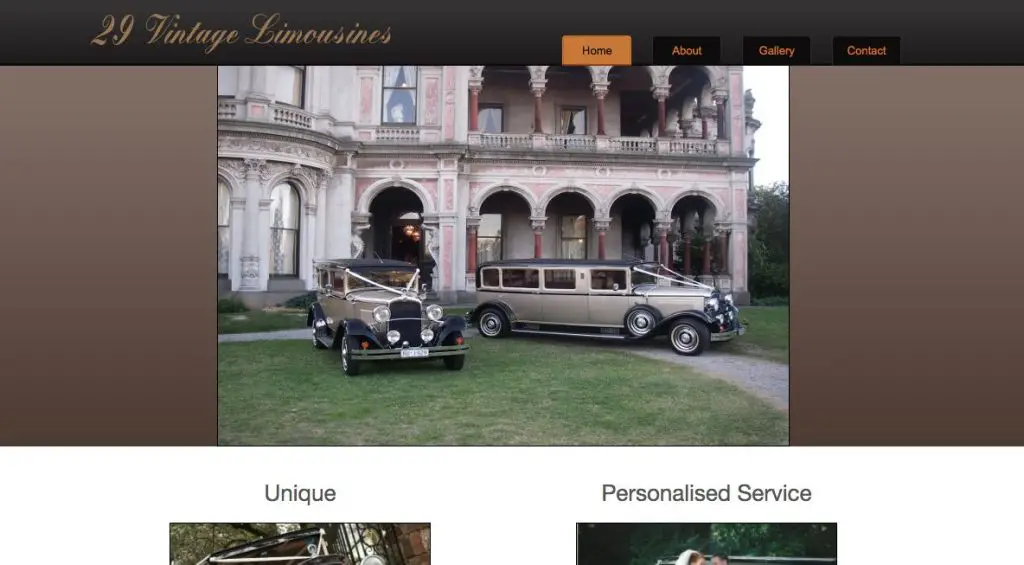 29vintagelimos.com.au
397395992
Unique
Our Vintage 1929 Dodge Limousines provide a unique and memorable experience for any occassion. With their classic style and distinctive gold and black finish they are Vintage Chic!
Personalised Service
With a wealth of experience we understand what makes any occassion special. Whether it is your wedding day or a luxurious outing we take extra care in ensuring it is truely memorable by tailoring our service to your needs. 29 Vintage Limousines started out as High Society Limousines in 1989. We are a family run business that has expanded over the years.
We began with white Ford stretched LTD's and now have extended our fleet to include two fully restored 1929 black and gold vintage Dodges with modern running gear. Our vehicles add a touch of elegance to any occasion, whether it be a wedding, debutante ball, birthday celebration or any other special occasion.
Frequently Asked Questions