You deserve a wedding limousine that reflects the love you have for each other-timeless, exciting and memorable. Amore limousines specializes in luxury vehicles for weddings, anniversaries, surprises, engagements, honeymoons, and other meaningful occasions. Celebrate any event with one of our gorgeous cars.
Located in Melbourne, Victoria and currently on the search for wedding transport that'll see you arrive in style on your big day? Look no further! To take the stress out of choosing, here's the top 25 most popular Melbourne wedding cars, as ranked by their customer reviews.
Located in Melbourne, Victoria, planning a wedding and looking for wedding limousine? When you are planning your big day, you probably want everything just perfect. One of the best ways to make sure that it all turns out the way you dreamed is to select every vendor yourself personally. This way, you can choose the ultimate location, the best entertainment and the most delicious food, and craft your ideal wedding day.
We've created an ultimate list of wedding limousine suppliers to save you time and money.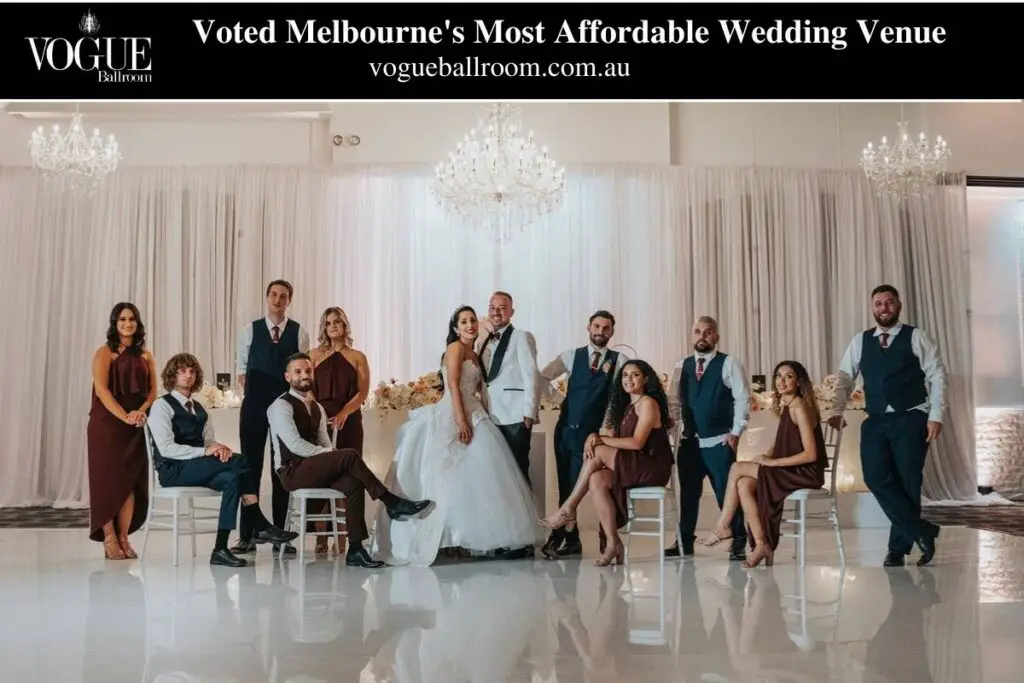 Add a header to begin generating the table of contents
RSV Limo- Wedding Limousine Hire Melbourne
rsv.com.au
1300778546
Limo Hire Melbourne
OUR POPULAR LIMOUSINES
HUMMER LIMOUSINE
The ultimate Black Beauty – The stretch Hummer is the most sought limo for Bucks and hens night parties, a fun night out with you family and friends, Hummer Wedding Cars Melbourne, Deb Balls and School Formals, or why not celebrate your birthday in the Mighty Hummer Limo.
MERCEDES BENZ LIMO
Arrive in style at your next elite red carpet event in the amazing Mercedes Benz stretch limo. The Ella really defines luxury, panache and glamour. Her elegance will surely impress your any of your clients and all audiences whilst acquainting them with your impeccable taste.
CHRYSLER 300C LIMO
Feel like a Star, when you travel in the Chrysler 300c stretch limousine and explore the sights and sceneries of urban Melbourne. Ideal for Bucks or Hens Parties, Wedding car hire and formal occasions, this vehicle ensures a Red Carpet experience like no other.
The brand new, World exclusive Maserati Quattroporte Stretch Limo is here, and available only at RSV Limo Hire Melbourne.
We at RSV Limo have done something that no one else has been bold enough to do… We created the brand new Maserati 'Cinqueporte' (five door) Limousine. We have spared no expense in creating the only current shaped Maserati Stretch Limousine available for hire worldwide. This one is the ultimate vehicle when it comes to luxury transport!
RSV Limo's exclusive flagship vehicle, the Maserati limo, is the pride and joy of an amazing fleet of prestige limousines and it will only take a glance to see why.
This stunning machine was created from the latest model Maserati Quattroporte Supercar. The Quattroporte is a car admired by motorcar enthusiasts the world over, that is why we have worked tirelessly to ensure that our Cinqueporte maintains all its sleek and stylish characteristics.
READY TO BOOK?Don't worry. We provide very nice deals and the most competitive price just for you!
OUR SERVICES
WEDDINGS
RSV Limousine & Hummer Hire Melbourne offers a fleet of high quality limousines and hummer limousines available for your special day. Our Limousines range from sedans, stretches and hummer limousines. From our 1955 Chevrolet Belair Convertible, 1957 Chevrolet Stretch Limousine, our 300C chrysler stretch limousine right through to our 16 seater Black Stretch Hummer.
AIRPORT TRANSFERS
Landing at Melbourne Airport and in need of a prompt, professional limousine service? At RSV Limousines Melbourne, we provide you with on time service pick up and drop off to your destination. From our mercedes Benz sedan limousine, through to our chrysler limousine. RSV Limousines Melbourne have a fleet of limousines available for any type of transfer from or to Melbourne Airport.
SCHOOL FORMAL & DEBUTANTE BALL
You have just finished your examinations and are preparing for your School Formal or Debutante. What better way to rock up at the event in a stretch hummer limousine, or perhaps a stretch mercedes. At RSV Limo Hire Melbourne we have the right limousine for your special evening. Why not get a group together and opt for the 16 seater stretch hummer?.
NIGHT PARTIES
Celebrating a bux party or hens party and looking for the perfect limousine to hire for the event. At RSV Limo Hire Melbourne we have the right limousine to suit your party or event no matter where you are located in Melbourne.
BIRTHDAYS
Celebrating a birthday party and looking for the perfect limousine to hire for the event. At RSV Limo Hire Melbourne we have the right limousine to suit your party or event no matter where you are located in Melbourne.
CASINOS
RSV Limousines Melbourne offer a range of limousine transfers to Crown Casino. With our fleet of limousines available for hire in Melbourne, RSV Limousines can pickup and drop you from your hotel to the casino.
TOURS
Don't mess about by driving to the vineyards of the Yarra Valley or Mornington Peninsula. Let RSV Limo and Winery Tours take you on your next Victorian Winery Tour.
SPECIAL OCCASIONS
Gather a small group of friends together and think chic Melbourne dining. There are also plenty of cheap and cheerful flavours to savour. Why not be picked up by RSV?
FUNERAL HIRE
Occasionally, a family wishes to honour their loved one by hiring a particular vehicle the deceased liked. This helps keep the family members close for the day.
FEEL LIKE A CELEBRITY & MAKE HEADS TURN WHEREVER YOU GO
At RSV, we take pride in our fleet of limousines and corporate cars. Most importantly RSV Limousines offer a HUGE range of high quality, reliable and on-time limousine services at very competitive prices. When you travel in any of our limousines you can rest assure that you will receive exceptional service and the best value for your hard earned money. Our customers are number one priority! Get the service you deserve with RSV Limo Hire Melbourne.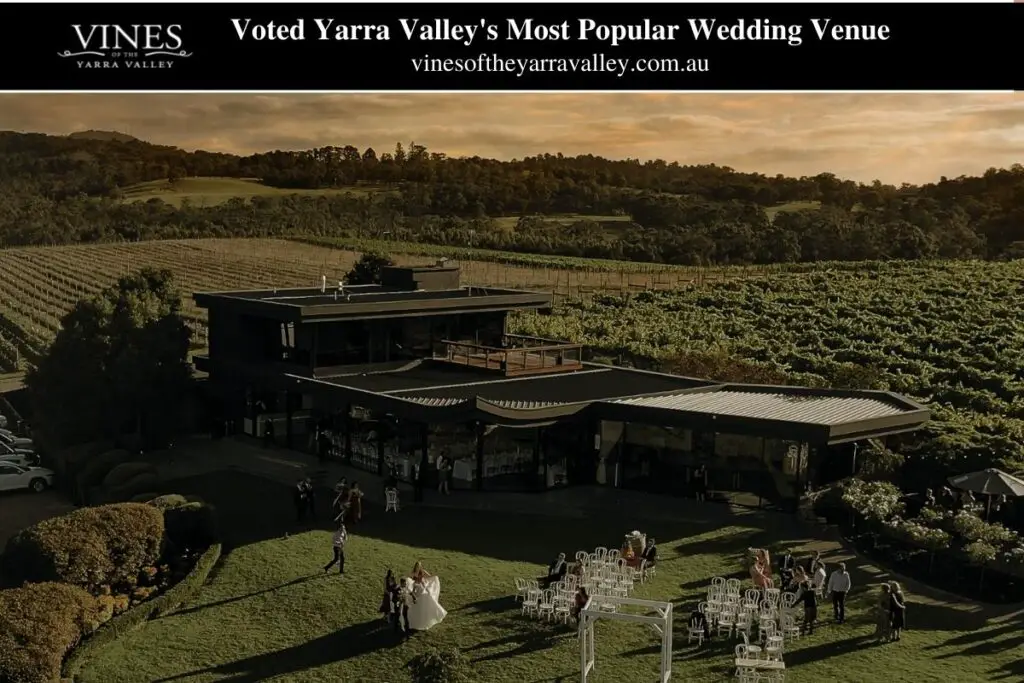 Limo Zone Wedding Limousine Melbourne limozone.net.au
419598717
We Specialise In Making Your Occasions Memorable
One key aspect of any special occasion is making the right preparation for it. Whether it is a big or small wedding, a memorable anniversary, a lavish birthday party or even a posh corporate meeting/gala; we offer you some special luxuries to indulge yourself in.
To help you reach your event in-style; we offer you top-of-the-line limo hire services all across Melbourne ranging from 10-seater Chrysler, Black Hollywood style Ford Limousine to exotic Euro and Chrysler Sedans.
That's not all- we even fulfill customised requests such as red-carpet arrangements or sending out elegantly dressed chauffeurs to collect and then escort you to your esteemed event.
At Limozone, what we do isn't just a job or professional obligation towards you. We regard it as a vocation and back that up with our heart, soul and unmatched fleet of luxurious vehicles and quality customer service.
Our chauffeur-driven limo vehicles featuring all desired luxury specs and amenities are mainly to ensure you travel like a King/Queen. And the best part- you rental rates are fairly competitive for each hour; thus ensuring affordability for even tight budgeted passengers.
The Best Limousine Services in Melbourne
When it comes to luxury, it's the little things that really make a difference. At Limozone, we understand this and we take care so that the perfect ride is experienced, every single time.
It starts from the very first client interaction. We believe that if we can make you feel important on the phone or email then that's a good start and then you should also expect the same when we collect you for your limousine transfer. Our friendly team ensures that you have a smooth experience throughout the whole process of booking your exciting limo service in Melbourne. We also understand that every customer is unique, and our team delights in customizing limo rides so that everyone receives the best Limousine experience.
There are many other benefits when you select Limozone.
Professional chauffeurs
All our chauffeurs are professional but they do love having a good time so there's no chance you'll get stuck with some grumpy person that doesn't enjoy driving you. We are known for our courteous and fun service and we're up to date with traffic routes so you can expect a hiccup-free ride.
No-obligation cancellation
We understand that things don't always go to plan before your limo ride comes up. Should you be unable to go ahead with your limo experience after paying the deposit, please tell us as soon as possible and then we can work out a solution – there maybe just an admin fee applicable or we can even offer a credit to you that you can use the limo at a more convenient date.
No hidden charges
Our affordable Melbourne Limousine service includes all tolls, taxes and fees so that you are not faced with any rude shocks or hidden charges.
Traffic problems are our problem (not yours) so we don't expect you to pay for something that you cannot control.
If you are wanting or needing extra time due to extra stops or pickups then that is payable by you on the day as that is something within your control.
Complimentary waiting time
Our pick-ups can include a complimentary waiting time that just depend on the times you have booked the limo. We always suggest building in some extra time so that you don't have to stress about rushing out in hurry when your limo arrives. It can sometimes take 5-10 minutes extra when accessing or exiting the limo at either end of the ride and quite often great photos can be taken at this time..
Limozone offers a variety of options to suit varying needs:
From different numbers of passengers to different luggage sizes also with options to book single and or return trips. We want to make it easy and affordable for everyone to experience our limo service in Melbourne. No matter what you are thinking, do not hesitate to call us just to get some ideas.
In a bustling city like Melbourne, travelling and parking can be quite a challenge so leave it to Limozone with our limousine service., You can be assured of a comfortable, safe and easy ride no matter where you want to go to. You'll be feeling relaxed and ready for the big occasion that you are celebrating. You can choose our affordable luxury limo hire service in Melbourne for a whole range of things like:
Airport transfers to and from Melbourne airport
Formal school and corporate events
Business meetings and conferences
Bucks and Hens parties
Bride and groom entry at weddings
Stretch
Special events
Winery tours
Funerals, and many more!
On Time Corporate Cars and Chauffeur Hire - Wedding Limousine Hire Melbourne
ontimevhacars.com.au
1300513249
About Ontime Corporate Cars & Chauffeur Hire
Ontime corporate cars & chauffeur hire have access to over 60 late-model luxury executive Sedans such as the Holden Caprice,BMW seven series, Mercedes S class providing comfortable seating for 1-4 passengers with 2-3 suitcases. These cars are air-conditioned, have plush leather interiors, reading lights, and mobile phones.
All the cars are maintained by professional, well groomed and courteous chauffeurs who have been individually chosen for their professionalism.
We cater for almost every occasion, from Airport Transfers, which is our speciality, Meet & Greet, sightseeing tours, winery tours, weddings, Spring Racing Carnival, Grand Prix, and almost any other occasion where a luxury chauffeured car is required.
Ontime corporate cars & chauffeur hire, covers the entire area of Melbourne and beyond, 24hrs a day, 7 days a week. Our access to over 60 cars gives us the edge over our competitors.
Rest assured that whatever the occasion, Ontime corporate cars & chauffer hire will do their utmost to make your trip pleasurable.
Chauffeured Car Hire Services for
Airport - Hotel - Airport transfers
City to Suburbs transfers
Corporate & VIP Services
Tours - Winery , Shopping, Restaurants/Bars
Birthdays
Weddings
Formals
Parcels
Or any other event on your calendar that is special to you we can make it even more special.
All bookings taken 24hrs , 365 Days a year
We are the best alternative transport at reasonable rates.
All cars are professionally maintained by experienced chauffeurs who take pride in their profession and have a vast knowledge of Melbourne and beyond.
Sightseeing tours and corporate multiple hour bookings, are charged by the hour with a minimum of three hour. (Saturdays, Sundays, Public Holidays and hours between 22:00 to 05:00am extra charges apply)
Advanced bookings are appreciated.
Please advise us of your itinerary or preferences for places you wish to visit.
We can quote you a fixed price or an hourly rate.
Pick ups from Airport incur additional charges $5.00 Domestic, and $25 International (no waiting time is charged). Baby seat extra $20.00.
Conferences
Your Complete Conference Transport Solution
Ontime Corporate Cars & Chauffeur Hire are Melbourne's conference transport experts. We understand the importance of detailed conference transport planning and we not only make these plans but provide all sizes of luxury transport you may need to fulfil your transport planning needs. All our luxury hire cars are driven by professional chauffeurs. Ontime specialises in providing superior transport for all your delegates, VIPs and guests.
We believe that professional and reliable conference transportation is essential for the successful scheduling of any conference. This is why we work closely with all our conference clients to create a flexible transport solution that can handle all the usual conference hiccups. The transport logistics is an essential part of any event planning and Ontime Corporate Cars & Chauffeur Hire takes this pressure off your shoulders.
For over 15 years Ontime Corporate Cars & Chauffeur Hire has provided transport for some of Australia's largest and most prestigious conferences. We are happy to arrange all the ground transport you require for your next conference. Benefits include
Personalised service – you will deal directly with a dedicated Events Co-ordinator throughout the entire process. They will work with you to create and execute a detailed logistical plan.
Access to luxury hire cars, well-appointed sedans, luxury people movers and a variety of coaches to suit your demands.
A professional and experienced onsite coordinator to ensure the transfers run on time, and to assist you wherever necessary.
Arranged meet and greet service to welcome your delegates or guests to your conference upon arrival.
Reliable, dedicated chauffeurs sure to impress your colleagues or clients with their professional service.
Flexible payment options.
Peace of mind knowing that you are leaving your transport requirements in the hands of an industry leader with over 15 years of experience.
Efficiently transporting your delegate groups, whether large or small is Ontime Corporate Cars & Chauffeur Hire speciality. We can provide 7 to 61 passengers luxury air-conditioned modern coaches as well as a full list of luxury sedans and people movers to cater for any sized group.
Affinity Limousines - Wedding Limousine Hire Melbourne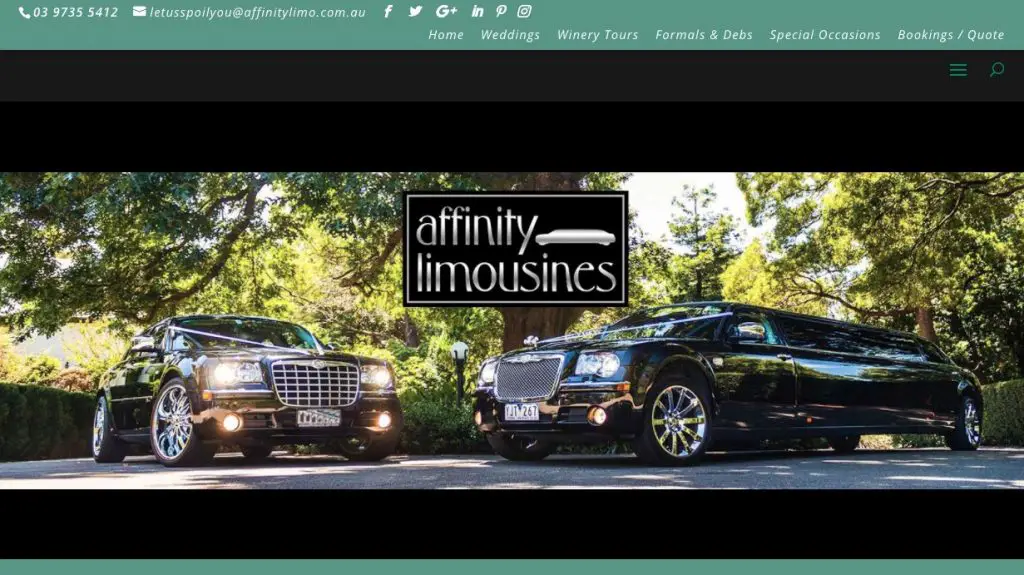 affinitylimousines.com.au
1397355411
An experience that will last a lifetime!
Choose Affinity Limousines for your Melbourne Wedding! Or Anywhere in Victoria including Geelong, Ballarat, Shepparton, Mildura & Echuca!  Your wedding day package will be fully tailored to your needs.  We work hard to maintain our Chrysler 300c Stretch Limousine & matching Chrysler Sedan to the highest standards. We are prepared for anything!  Some of the inclusions in our package are Complimentary Sparkling Wine or Moscato, choice of Ribbon Color plus much more!  Don't be afraid to ask for any requests, we've heard them all before!
The uses for Affinity Limousines are endless and are only limited by your imagination! Don't be afraid to ask us, we are flexible! Formals, Debutante Balls, Birthday Parties, Anniversary Dinners, Airport Transfers, Corporate Events, Christmas parties any occasion or event you can think of, we can make it an extra special experience that you will never forget!
We can offer you a Uniquely Tailored Winery Tour just for you OR we will go to whatever Wineries You Choose!  You will have your own Private Personal Chauffeur for the day that will do what you want to do.  If you want to stay somewhere longer, we can do that.  Don't like one of the wineries, well lets go somewhere else! We are there for you! Our Private Winery Tours usually commence at 10am from your pick up location.  We then travel out to the beautiful Yarra Valley or Mornington Peninsula and visit approx. 3-4 wineries, stopping for lunch, returning to your destination by approximately 4.30-5pm.
All our Vehicles are licensed with the Victorian Taxi Directorate & have full Public Liability Insurance cover, regularly serviced & meticulously maintained.
2011 Black Chrysler 300c Stretch Limousine
Matching 2011 Black Chrysler 300c Sedan
At Affinity Limousines, we are here to help you. Our dedication and unrivaled service will ensure travel on your special day is luxurious, elegant and stylish. Our Black Chrysler 300c Stretch Limousine or matching Black Chrysler Sedan will form an integral part of your wedding photographs so don't settle for second best! Our Bentley grilles and 22″ Chrome Rims look fantastic. We take pride in the service we provide to you and work hard to maintain our cars to the highest possible standards. We are proud to be part of the industry we serve. Your wedding day package will be fully tailored to meet your exact requirements. (we are used to bizarre requests, so don't be afraid to ask!!) We can not only get you to your wedding venue on time, but also transport you and your bridal party for photographs around Melbourne's lovely city and to your reception afterwards.
What about transport after the reception?
We also offer a relaxing After Wedding get-away service in your choice of the Black Stretch Limousine or matching Chrysler 300c Sedan, to transport the newly wed couple to their final destination at the end of their special day.
What is included in the Wedding Packages?
All our Wedding Packages come complete with:
Fully licensed chauffeur
Red carpet service
White satin ribbons (or your choice of alternate colour)
Wedding Tulle
Complimentary Moscato or Sparkling Wine, Chilled Water & Ice
Lace Umbrellas with matching Fans in White or Ivory
iPhone, iPod or Smartphone compatibility for music
Tyre covers to protect your dress
Umbrellas for inclement weather
Our cars have full PUBLIC LIABILITY INSURANCE & are registered with TAXI DIRECTORATE
Whilst doing your research please ensure you ask two questions:
"Can I come and inspect the cars in person?" and "Are the cars shown on your website, the cars that will turn up on the day?" If you get a NO to either of these questions, we suggest you think carefully about the service you can expect to receive on the day!
Horse Drawn Wedding Limousine Hire Melbourne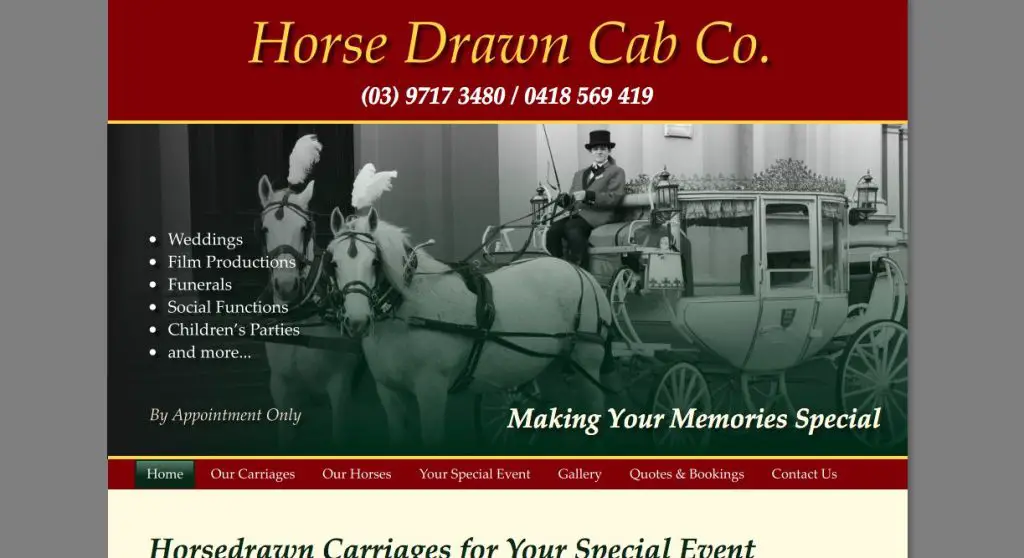 horsedrawn.com.au
418569419
Horse Drawn Cab Co. offer beautiful horsedrawn carriages and
horses for weddings, film productions, funerals, social functions,
children's parties and more.
Owners John and Cheryle Baird take great pride in their horses and
carriages and will greet you at your special event in their
fashionable top hats.  All drivers are knowledgeable and courteous,
and will offer every assistance to you on your special day.
The beautiful white fairytale 'Cinderella' carriage and magnificent
maroon 'Barouche' carriage are available for weddings. These
carriages are drawn by two horses and driven by a uniformed
driver. Feather Plumes can be fitted to the harness should you
wish. Tails can also be braided upon request. Both carriages seat
six people, with the option of seating a further two people on an
external rear seat.
Horse Drawn Cab Co. also have an extensive collection of period
horse drawn vehicles, horses and assorted props available for film
and television productions. With over 50 years experience in this
field, we are well placed to meet the needs of your production.
Horse Drawn Cab Co. offer a Victoria-wide service including
Melbourne metropolitan, suburban, country and regional areas,
Craigieburn, Mickleham, Tullamarine, Eltham, Whittlesea,
Essendon, Olinda, the Dandenongs, Werribee, Hoppers Crossing,
Epping, Sydenham, Point Cook and more. Other locations are also
available by negotiation.
Wheels of Fortune - Wedding Limousine Melbourne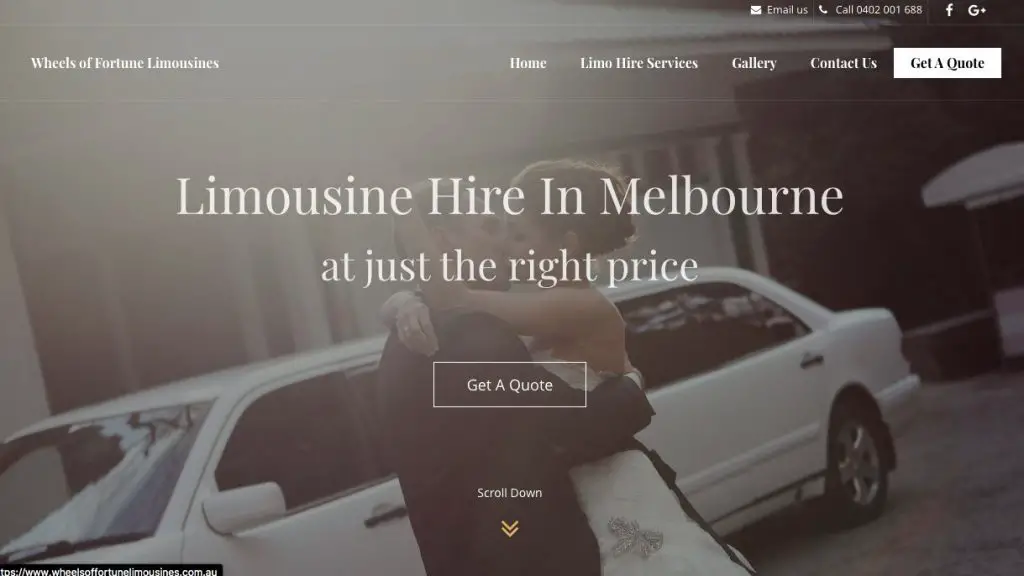 wheelsoffortunelimousines.com.au
402001688
Make every occasion memorable by hiring one of our luxurious limousines.
Our limousine hire in Melbourne will make any occasion extra special.
Wheels of Fortune Limousines have fully air conditioned stretch limousines that can luxuriously accommodate up to 18 passengers.
Each of our limousines comes with a professional chauffeur who is dedicated to providing great service and getting you to your venue on time.
Limousine Hire Company Melbourne
Explore Melbourne in a luxurious limousine from the premium limo hire Melbourne specialist, Wheels of Fortune Limousines. If you need a limo hire service in Melbourne with professional chauffeurs, then you have landed at the right place. We offer flawless limo hire experiences all across Melbourne.
Providing efficient limousine hire in Melbourne, we are undoubtedly the first choice for Melbournians. Whether you are looking to hire a limo for weddings, parties or special events, we have got it all. Arriving in our exclusive fleet of limousines will make your big day more special.
Highest levels of customer satisfaction at the cheapest prices.
Wheels Of Fortune Limousines provide outstanding service, so if you're looking for a limousine in Melbourne that is a truly elegant vehicle, exudes luxury, is extremely comfortable and stylish and seats up to 11 people, then look no further. With our attention to every detail, we'll ensure your journey is a memorable one.
We provide a highly well-maintained fleet of limos hire Melbourne, including:
Fully Comfortable Stretch Limousines in Melbourne
Enjoy our fleet of wedding stretch limo in Melbourne. They come with a modern design and complement any style of themed weddings. As an expert service provider for wedding stretch limo hire in Melbourne, we are committed to ensuring an unforgettable experience as you arrive in absolute luxury and style.
Classic Chrysler limousine Hire Melbourne
Sleek and bold, the Chrysler limousine is a real head turner if you want to make an impact where you go. Easily recognizable, the Chrysler limousine is the first choice when it comes to limousine hire in Melbourne. We at Wheels of Fortune Limousines offer the stylish Chrysler limo hire in Melbourne designed to seat up to 11 passengers. We are the most renowned service provider for Chrysler limo hire in Melbourne.
Call us for a Limo Booking today!
Limousines available to hire in Melbourne
Melbourne Limo Hire Service for Any Occasion
Wedding Stretch Limo Melbourne
Your wedding is the most important day in your life; ensure that your special day is as luxurious as possible by opting for a limousine hire for a wedding in Melbourne. Entrust one of the most incredible days of your life to our team at Wheels of Fortune Limousines. We take pride in providing the best limo hire for a wedding in Melbourne with experienced chauffeurs. Our chauffeurs take care of every detail of your wedding and ensure that you get the best limousine service and right on time.
With our personalized limousine wedding packages, you can choose a huge range of added benefits including flowers, champagne, ribbons and more.
Special events
No matter what kind of special event you have, our luxury limo hire service in Melbourne will make it even more memorable. Whether you are celebrating an anniversary, a birthday, hen's night, winery tour or a night out with friends, our limousine hire will make your event more special. At Wheels of Fortune Limousines, we provide you stretch and Chrysler limo hire service in Melbourne for adding an extra comfort to your special event.
Trust your wedding day to an experienced, professional limousine hire company.
All of our limousine wedding packages come complete with a professional licensed chauffeur, wedding ribbon, interior tulle, red carpet, tyre cover, (to protect the brides dress as she enters and exits the car) sparkling wine, basic refreshments, umbrellas and all of our cars carry first aid and sewing kits….for those last minute emergencies!
We specialize in wedding cars and Limousines in Melbourne.
Book Your Favourite Limousine Today!
Want to arrive at your special occasion on time without the fuss of parking or driving around? Book your favourite limousine today. Contact us at 0402 001 688 and get the best service for limo hire in Melbourne from Wheels of Fortune Limousines.
A Touch Of Silver Limousine - Wedding Limousine Hire Melbourne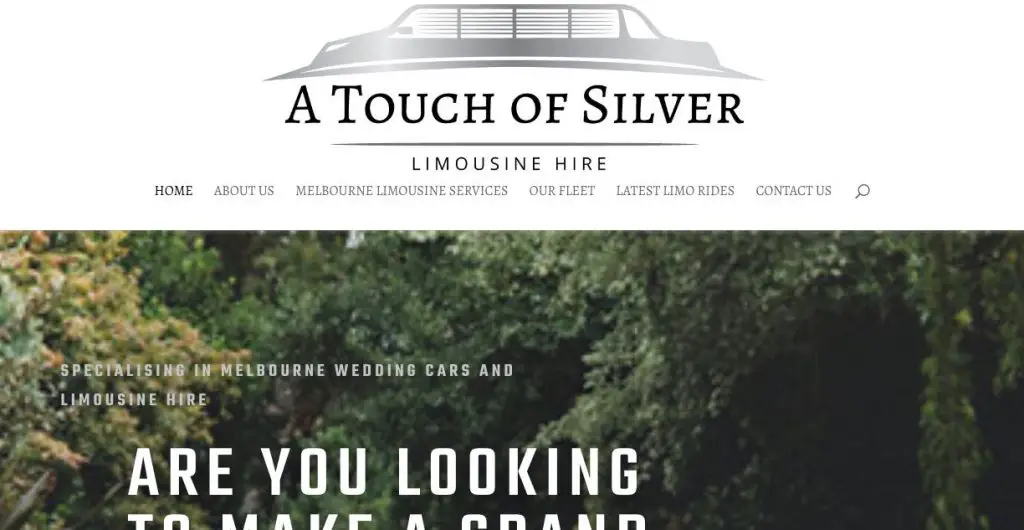 silverchryslerlimousines.com.au
1393334191
ARE YOU LOOKING TO MAKE A GRAND ENTRANCE ON YOUR BIG DAY?
We provide clients with the ultimate VIP treatment during their formal special occasions. Operating since 2007, we have been providing the finest possible & cheap silver limousine service to clients with distinguished tastes.We are proud to operate a stunning fleet of Chrysler limos, which suit your budget, travelling throughout the city and beyond by special appointment.
VIEW OUR FLEET
WEDDING CAR & LIMO HIRE
All of our wedding limousines are spacious, luxurious and come complete with a range of features to ensure your Wedding Day with us is a perfect one. We take great pride in maintaining and presenting our vehicles at their very best, so you can travel in elegance and create a grand impression upon arrival for your special day.
WEDDING CARS
SPECIAL OCCASSIONS
As well as catering to bridal parties, we are happy to customise our limousine service to your transport or touring requirements. Whether you are planning a birthday celebration, want to travel in style to your formal, or want to organise group travel for a corporate event or any other special occasion, we have the perfect luxury transport solution to suit you.
Bentley Wedding Cars - Wedding Limousine Hire Melbourne
bentleyweddings.com.au
418544328
BENTLEY FLYING SPUR WEDDINGS
MELBOURNE LUXURY WEDDING CAR HIRE
Create your day exactly as you dreamed, with memories that endure long after the speeches are over and the honeymoon has begun.
Bentley Wedding Cars and VIP transport offer Melbourne's most exclusive and luxurious wedding cars that will transport you to another world – one normally preserved for wealthy celebrities, captains of industry and those of significant privilege. Our black-on-black Bentley Continental Flying Spurs exude a level of presence and style that is unmatched in the industry.
For those who understand and appreciate genuine style, the choice of wedding car is a critical part of the wedding plan. It's a reflection of their own style and says as much about them as it does the event.
YOUR WEDDING DAY IS OUR TOP PRIORITY
RELAX, WE WILL TAKE CARE OF THE REST!
Take the stress away and enjoy your special day knowing you are in safe hands; our professional licensed chauffeurs are here take care of every detail and guarantee a professional service.
Our Bentley Flying Spurs are extra special, but the service we deliver is what matters on your wedding day.
We thrive on exceeding our customer's expectations and making your wedding day one that you'll never forget!
We genuinely care about you! We want you to be 100% happy and promise to go above and beyond to ensure you are satisfied with our service!
Close your eyes and picture this…
You are ready for your wedding ceremony, you walk out of the hotel, and a beautiful Bentley Flying Spur is waiting for you at the door, beaming in the sunlight. Your wedding vehicle is waiting for you, he opens the door, and you are on to your magical day in the best possible way… that sounds pretty good, right? We tend to agree.
Bentley wedding cars for wedding and special events are the ultimate way to put the final touch on your special day. Who hasn't dreamed of sitting in the back of a Bentley, on one of the most important days in your life?
ROOM FOR EVERYONE
Our Melbourne Bentley Hire Cars will accommodate up to four passengers each. If you have a large contingent that requires transportation, we have a solution.
Our black 10-seat 300C stretch limousine is an ideal accompaniment to the Bentleys. Able to transport an entire entourage, it provides a practical supporting role to the lead vehicle/s, without stealing any of the limelight.
Presented in a similar colour to the Bentleys, the stretch limousine won't look out of place; rather, it blends in beautifully with the same understated elegance as its more exclusive siblings.
Bu Cadi Wedding Cars - Wedding Limousine Hire Melbourne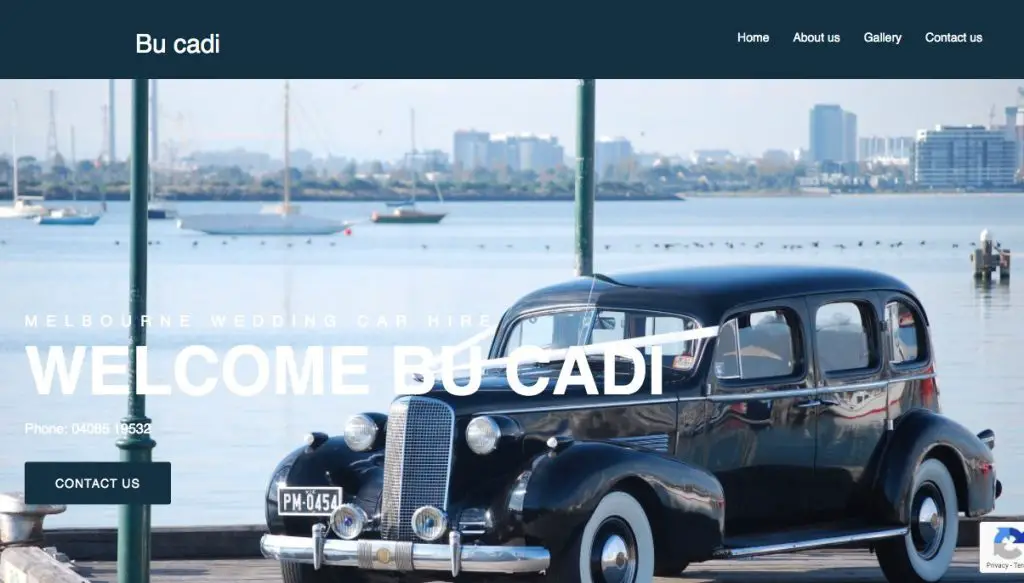 bu-cadi.com.au
408519532
Bu Cadi Wedding Cars is a Melbourne based car Hire Company. You may select from two Classic Black 1937 Cadillac 7 passenger chauffeur driven vintage limos.
Both Cadillac limos are air conditioned for your comfort and with more than 30 years of experience we will provide you with a day to remember. In 1937 only 16 series 75's were produced, more than half of these exist today. For any enquiries please contact our wedding transport services on 0408 519 532.
CJ Limousine Service - Wedding Limousine Melbourne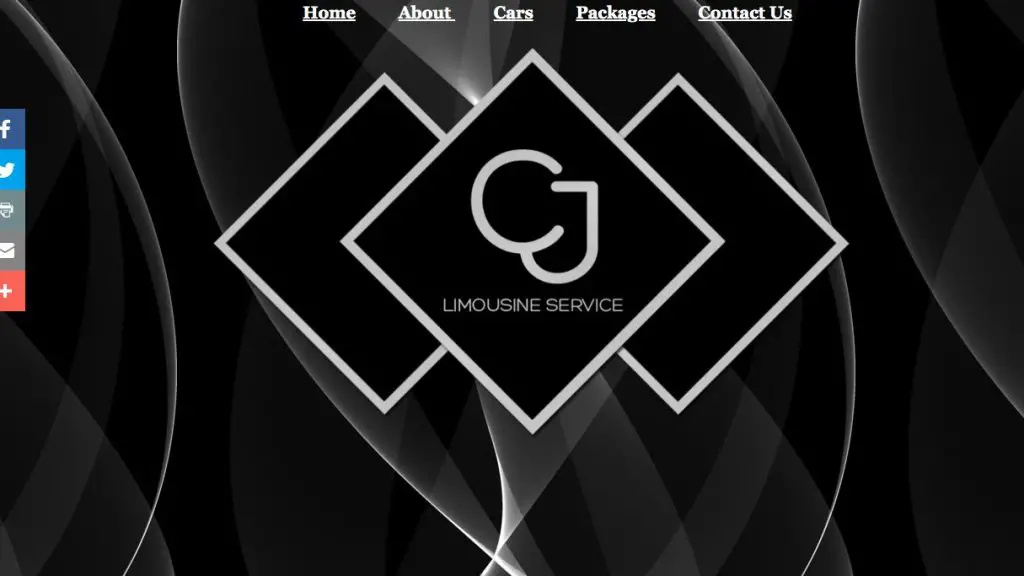 cjlimo.com.au
436487002
Let us introduce ourselves.  We are a family owned and operated business.  David and Natasha have been successful in business for almost 20 years.  This experience helps us to be able to provide a superior service.  We are also married.  So we understand the tensions and stressors that build up during the planning process of your wedding day.
​Our main objective is to provide the ultimate service experience from the first point of contact right through until the day.  On the day we want you to be able to sit back, relax and enjoy the ride.  We have a passion for all types of vintage cars, and we pride ourselves in delivering our pride and joy for you to enjoy.
​​We hope you would take the time and browse our collection of beau
tiful cars, thus far, and we offer a range of packages to suit all occasions.   Please feel free to contact us to discuss your special occasion.
Mornington Chauffeured Limousines - Wedding Limousine Hire Melbourne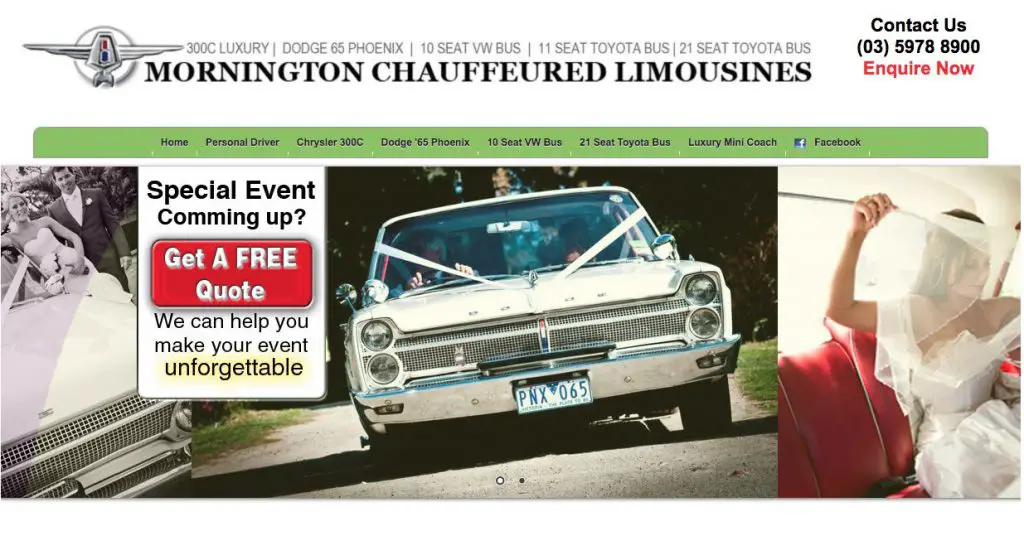 morningtonlimo.com.au
1359788901
Welcome to Mornington Chauffeured Limousines
As a Proudly Accreditied Member of The Wedding Car Assosiation and Mornington Peninsula Wedding Assosiation we would love to discuss your special event with you.
Mornington Chauffeured Limousines wants to make your special occasion memorable and elegant by providing a quality chauffeured limo service in one of our very special cars. We offer 3x 300c limos, a 1965 Dodge Phoenix and for group transportation a 21 Seat Bus and a Luxury VW Transporter with 10 passenger seats.
Established in 2008 we are a family owned and operated business that aims to give you a reliable, comfortable and friendly service. Large enough to cater for your big events, small enough to help you customise your small events to create memories that will last a lifetime.
Based on the Mornington Peninsula we are available to take you anywhere in Melbourne you might like to go and if transfers to or from the airport are required we will get you there comfortably 10mins early and stress free.
We are Fully Accredited with the Victorian Taxi Directorate, We also have current public liability insurance.
We only use accredited drivers who hold current Police Criminal Checks.
Personal Driver Hire in Melbourne
Wether it is a short Business trip to Melbourne or a longer assignment, it is alway much more efficient to be recieved by a Personal Driver, with extensive experiance in and around Melbourne. We offer pre-booked Tours in Melbourne and the Mornington Penisular with the option of all Victorian Airport Transfers.
We also cater for larger groups, we have 3x Chrysler 300C Luxury, a Volkswagon Luxury Transporter and a 21 seat Bus (Please check under Vehicle for seats per vehicle).
Hosting a VIP in Melbourne?
Our Highly experianced Chauffeurs will Transfer your VIP for a sigle trip or even a full day. We offer descreet transfers with full 24hour on-call holds, to be of your disposal when ever you need us throughout your stay.
Chrysler 330C Luxury Wedding Car Hire in Melbourne
2 Premium Vehicles Avaliable
From the moment it made its entrance on the automotive stage it has stood for standing out, for connecting style with accessibility, attitude with grace, poise with confidence, and power with efficiency.
Both immaculate vehicles are presented in Brilliant Black Crystal Pearl,  fitted with matching Bentley Grills, with the option of one vehicle fitted with 22" Chrome Alloy wheels.
This vehicle is suitable for Anniversaries, Birthdays, Bridal Showers, Debutant Balls, Engagements, Formals, Funerals, Graduations, Honeymoons, Weddings, Conferences, Corporate Events, Private Parties, School Functions, Sporting Events, Wine Tasting Tours and After Event Late Night Pickups
Car Hire for Wine Tasting Tours in Melbourne
Dodge 65 Pheonix (White)
1 Vehicle Avaliable
When your event requires a unique entrance consider this immaculate 1965 Dodge Phoenix. Presented in Persian White with Red and white Leather Interior. For your convenience this car has been fitted with air conditioning, CD Player and 19" Chrome (100) Spoke Wheels.
With seating room for 5 plus driver, wide opening doors and a bench seat with ample leg room, this vehicle is ideal for transporting a bride to her wedding or presenting a debutant to her ball.
This vehicle is suitable for Anniversaries, Birthdays, Bridal Showers, Debutant  Balls, Engagements, Formals, Funerals, Graduations, Honeymoons, Weddings,  Conferences, Corporate Events, Private Parties, School Functions, Sporting Events, Wine Tasting Tours  and After Event Late Night Pickups
Volkswagon Luxury Transporter in Mornington
1 Vehicle Avaliable
If you need to move a small group of people in comfort this Volkswagon Transporter is just the right size,  wine tours and corporate events without the hassle of multiple cars.
Bucks nights, Bridal shower? If you have a big night planned don't risk your licence or your safety. With sitting room for 10 people, we can comfortably get you to your destination and then home again.
Fitted with 16"  Chrome Wheels,  Tinted Windows, 2 Independant Air Conditioners,  8 Bucket seats + Room for 2 on the  front bench seat, CD Player / USB Connection.
Bridal Showers, Bucks Nights, Birthdays, Deb Balls, Formals, Weddings, Wine Tours, Chauffuers, Transfers, Wine Tours, Party Tours, Group Tours, Sporting Events, Private Parties, Conferences, Corporate Events,  School Functions, Airport Transfers   and After Event Late Night Pickups.
High Marque Classic Vehicles - Wedding Limousines Hire Melobourne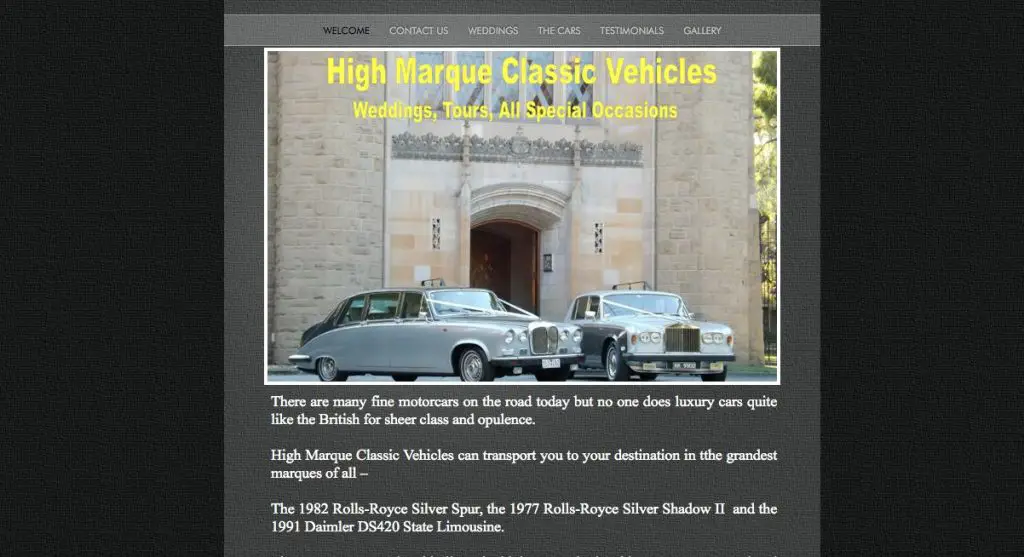 highmarque.com.au
410662385
There are many fine motorcars on the road today but no one does luxury cars quite like the British for sheer class and opulence.
High Marque Classic Vehicles can transport you to your destination in tthe grandest marques of all –
The 1982 Rolls-Royce Silver Spur, the 1977 Rolls-Royce Silver Shadow II  and the 1991 Daimler DS420 State Limousine.
The motorcars were hand built to the highest standards with no expense spared and the comfort of ride is unparalleled with any other make of motorcar.
The Rolls-Royce and Daimler motorcars are ageless in design, coupled with modern comforts such as air-conditioning and climate control so that midsummer cruises are not an issue (the heaters in mid winter are cosy and warm as well).
Of course, the world's best motorcars can only be as good as the drivers behind the wheel. High Marque Classic Vehicles don't employ 'drivers', we employ fully trained Chauffeurs with many years of experience (Our Head Chauffeur has been in continual service since 1978 and is one of the most experienced in the industry).
We, at High Marque Classic Vehicles echo the spirit in which these vehicles were designed and reflect the company's endeavours with class, style and attention to detail.
WEDDINGS
You are not just another customer with High Marque Classic Vehicles.
Our chauffeurs have had many years of experience and have catered to all individual requirements.
You have spent a great deal of time and money planning for your wedding so, on the day itself, let High Marque Classic Vehicles help you relax and enjoy the moment and not worry about the details.
We will always arrive in a timely manner; it's our policy to arrive before the appointed time to assure you that we have kept our commitment to you.
Our cars are equipped at no extra cost with:
Ribbons
Red Carpet
Bridal Ribbons
A Bottle of Bubbly (Please advise us if this is not permitted at your ceremony)
Light Refreshments
Wedding Photos (A handy tip):
Our chauffeurs have always enjoyed an excellent relationship with photographers and videographers.
To ensure that you get to your photo venues in a timely and worry free manner, please ask your photographers to let our chauffeurs know the location in advance.
High Marque Classic Vehicles also caters for:
All Social Occasions including:
Birthdays or Anniversaries
Debutante Balls
School Formals
THE CARS
Daimler DS420 7 Passenger State Limousine
A favourite of Royalty and Heads of State the world over.
The Daimler DS420 (Also known as the Royal Limousine), can be used to accommodate three passengers in the rear compartment with enormous legroom, or you can have up to 6 passengers comfortably with the utilisation of its fold-away occasional seats. A seventh passenger? No problem, there is one more seat at the front.
Air-conditioning and heating both front and rear to keep you comfortable all year round.
Rolls-Royce Silver Spur
The 1982 Rolls-Royce Silver Spur is a 4 passenger long wheelbase saloon that offers extra legroom in the rear compartment .
The Silver Spur is the epitome of what Rolls-Royce is famous for with its smooth, quiet ride and 'waftability' .
Stepping into a Silver Spur is like stepping into another world; a world of peace and tranquillity that closets the passengers from the chaos of the outside world. Its climate control will ensure that the temperature inside will always be 'just right'; rain, hail or shine.
It truly is the best that motoring can offer.
Rolls-Royce Silver Shadow II
The Rolls-Royce Silver Shadow II is two tone silver in colour and is a favourite with Brides when working in conjunction with similarly coloured Daimler Limousine.
This particular Silver Shadow also offers you the choice of the standard Spirit of Ecstasy bonnet mascot or a special illuminated one.
The choice is yours.
7 passenger Statesman Caprice Stretch
A real Aussie classic. This stretched 7 passenger Statesman Caprice harks of the times when a statesman really did look the part of the flagship of the General's fleet.
This vehicle is perfect for Holden lovers.
Finished in black; it has an all leather interior.
It has two rows of opposite facing rear seats that can carry 6 passengers and a 7th passenger can be accommodated in the front with the chauffeur.
29 Vintage Limousines - Wedding Limousine Hire Melbourne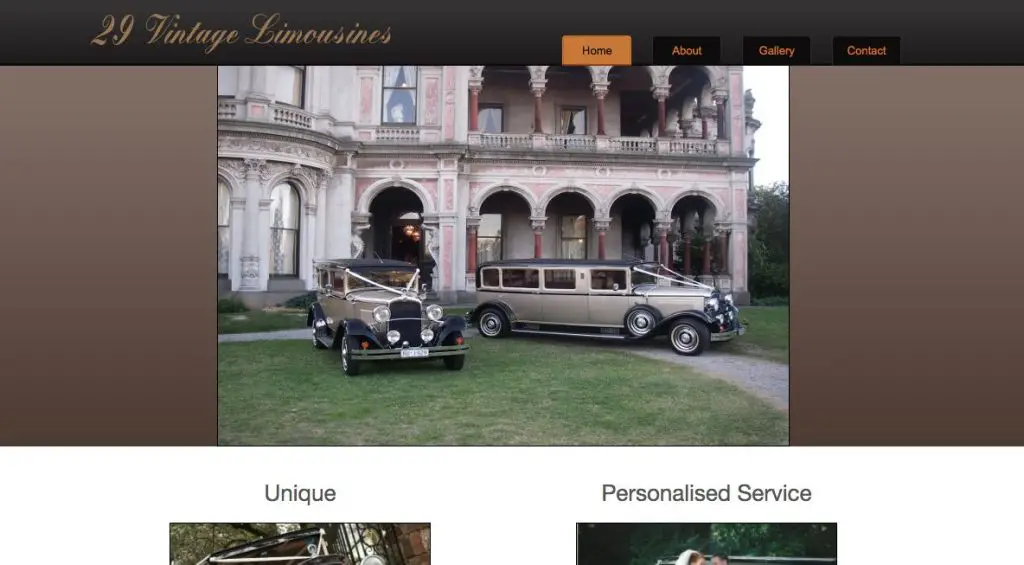 29vintagelimos.com.au
397395992
Unique
Our Vintage 1929 Dodge Limousines provide a unique and memorable experience for any occassion. With their classic style and distinctive gold and black finish they are Vintage Chic!
Personalised Service
With a wealth of experience we understand what makes any occassion special. Whether it is your wedding day or a luxurious outing we take extra care in ensuring it is truely memorable by tailoring our service to your needs.
29 Vintage Limousines started out as High Society Limousines in 1989. We are a family run business that has expanded over the years.
We began with white Ford stretched LTD's and now have extended our fleet to include two fully restored 1929 black and gold vintage Dodges with modern running gear.
Our vehicles add a touch of elegance to any occasion, whether it be a wedding, debutante ball, birthday celebration or any other special occasion.