Say the words "Wedding Singer", and the first thing that comes to mind might be the cringe-worthy characters in the 1998 Adam Sandler film.
Located in Melbourne, Victoria, planning a wedding and looking for the best wedding entertainment company? When you are planning your big day, you probably want everything just perfect. One of the best ways to make sure that it all turns out the way you dreamed it to select every vendor yourself personally. This way, you can choose the ultimate location, the best entertainment and the most unique, and craft your ideal wedding day.
With these wedding entertainment companies, your wedding will be just as memorable – but for all the right reasons. Here's the list of Melbourne's most trusted and in-demand wedding entertainment companies that can organise a professional wedding singer, a DJ, MC and more for your big day. Our musicians are young, energetic and degree-qualified, ensuring that you're in safe and experienced hands.
Every wedding needs entertainment and music to get the good times rolling. Whether you're after an acoustic duo for your ceremony, a full eight-piece band for the reception or a DJ with an impressive repertoire of genres, you'll find your perfect fit here. 
Booking Melbourne's best wedding entertainment companies should be the easiest part of coordinating your wedding. That's why We've created an ultimate list of Wedding Entertainment Companies and Singers suppliers in Melbourne, Victoria to save you time and money.  
Add a header to begin generating the table of contents
Ultimate List of Wedding Singers In Melbourne
Melbourne Entertainment Company - Wedding Singers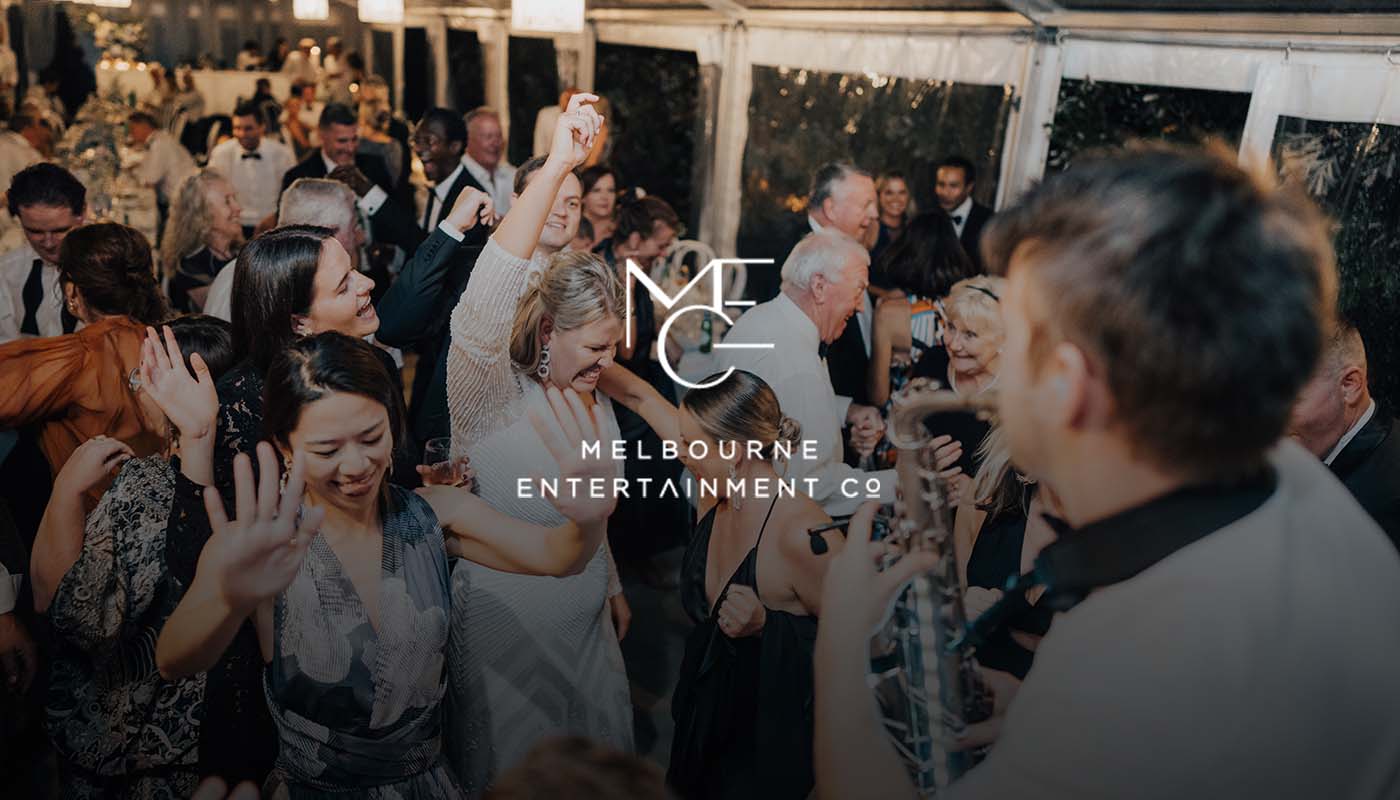 melbourneentertainmentco.com.au
1300 858 981
The Melbourne Entertainment Company is a comprehensive wedding & events entertainment supplier. We deliver a refreshing, personalised service to each client for every event. We are highly active in the Melbourne wedding/event market delivering over 700 events last year. With a more than a decade of experience, we understand the need for a bespoke, memorable and premium service.
Offering elite DJs, DJ-Sax, Acoustic Solos, Duos, Trios, Bands, Singers, Guitarists, Saxophonists, Percussionists, Photographers and Roving Performers. MEC is your friendly, reliable and knowledgeable go-to provider for seamless corporate, wedding and function entertainment.
TO BE MELBOURNE'S BEST AND MOST RESPECTED WEDDING & EVENTS ENTERTAINMENT PROVIDER BY 2023.
This will be achieved by providing a consistent and reliable service to our customers time and time again, and fostering our strategic relationships with various venues and partners. Our youthful and professional staff are committed to ensuring each event is entertaining and enjoyable for all guests through every performance.
We will continue to use only the highest quality entertainers, musicians, performers and staff. It is our benchmark that 100% of our clients will receive an outstanding and energetic performance which everyone will remember and talk about for years to come.
YOUNG, FRESH, FLEXIBLE, RELIABLE
Our core values are to be young & fresh, flexible and reliable. Our business was formed over a decade ago on the premise that nobody should have to put up with a daggy, out-of-touch has been DJ who's playing the chicken dance to a dead dance-floor. Nothing made us cringe more than seeing some of the poorest, unprofessional budget entertainers that ruined the evening.
Entertainment unfortunately doesn't have the luxury of being unprofessional and has the potential to ruin up 60-70% of your wedding if done poorly. Many couples will try to save on entertainment, willing to risk their $30-$40,000 wedding on a cheap DJ. If you're wanting to create memories that last and have your guests raving about the best wedding of the year, then you need to invest in high quality entertainment.
YOUNG, FRESH, FLEXIBLE, RELIABLE
100% satisfaction is the benchmark that we hold ourselves accountable to. Our standard can be viewed across the more than 800 5-star reviews we hold across Google, Facebook and Easy Weddings. Our vision is to have our talent going above and beyond for every single client, ensuring that we're doing everything within our power to keep them ecstatic about the level of service they're receiving.
EVENT & LIVE WEDDING BANDS
Nothing beats the performance and the crowd interaction that an incredible live band can provide. The experience that the music is actually being made, produced & delivered live right before your very eyes! It's encapsulating, invigorating & all encompassing.
The most talented professional event and wedding bands Melbourne has to offer will create a vibe that your guests will not shut up about at your hangover brunch the next day. "How incredible was that Cover Band Singer!?" "The drummer was so hot!" "What about that Sax solo in the Jazz Band?!"
It's our job to create the memories that last a lifetime. It's our job to guarantee when you hire a band Melbourne Entertainment Co ensures that everyone from your grandma, to bridal party, to your niece/nephew is dancing around to your favourite requests and d-floor hits.
When it comes to looking for an Acoustic Duo or the best wedding singer Melbourne Entertainment Company has the most talented artists and greatest diversity of choice. Hire an incredibly talented Event / Wedding Acoustic Duo or guitarist who will knock your socks off. These Acoustic soloists and duos will serenade you down the isle, or provide the perfect chill background vibes at your cocktail event. There are vocal virtuoso's who can play guitar, piano or use loop pedals to create a multi-instrumental soundtrack live before your very eyes. With so much acoustic talent on offer, you'll have trouble narrowing it down to your favourite soloist. If you're not sure sure about whether or not to book a DJ or an acoustic musician, and don't have the budget or both: check out our amazing complete soloists who can tick both boxes for you.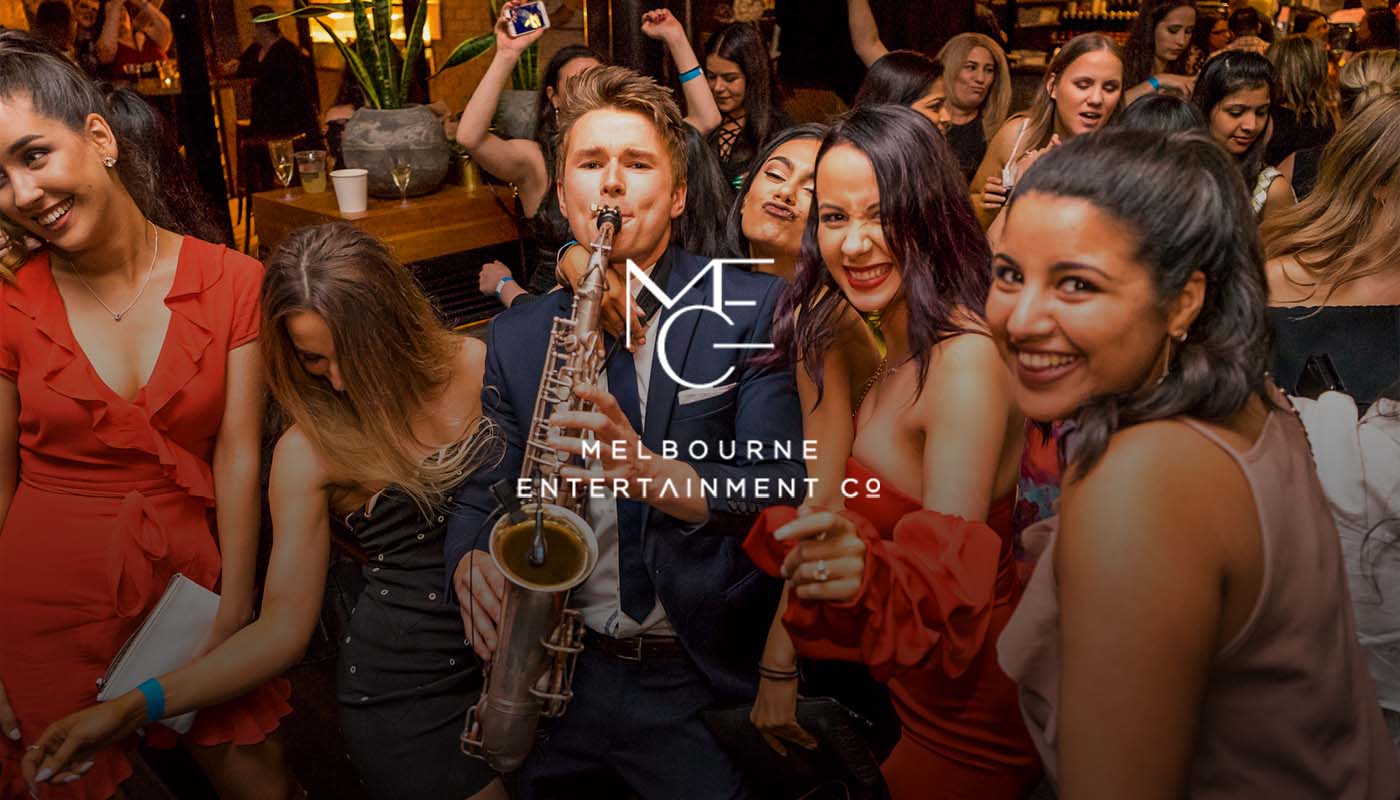 Explore some of Melbourne's most incredibly talent performers available for hire. Our artists are committed to creating the most memorable and magical of experiences whenever they perform.
Celestial Band Wedding Singer Melbourne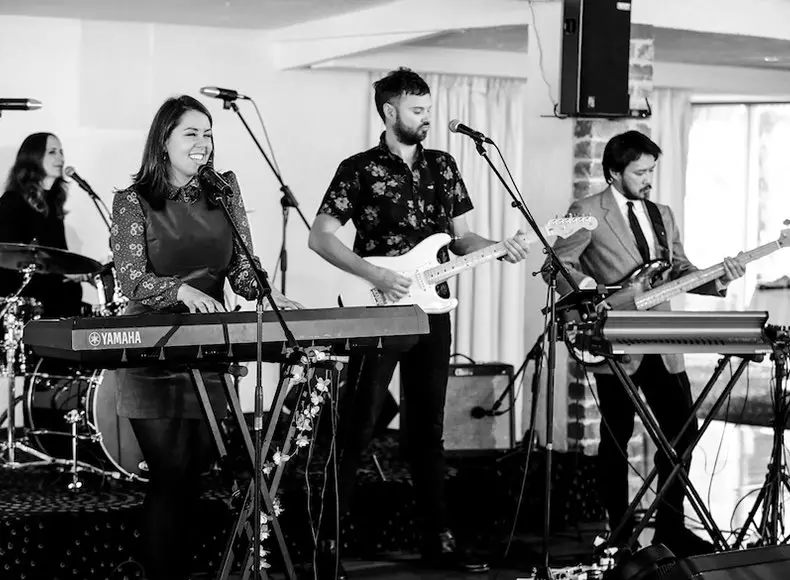 0467 375 489
Your Day, Your Way
Congratulations, you've just gotten engaged to the love of your life! It's time to begin making plans for the wedding of your dreams! The Ms. Lexi & Celestial Band specialises in offering top-notch, all-day live music for your wedding.
Our Acoustic Duo or Solo artist often begins the day with music at the Ceremony (including guest arrival, aisle song, signing song, and exit) and continues playing during your Canapés hour. This is completely customizable.
Wedding Band Packages from Ms Lexi & Celestial Band
Below are just some ideas of our different wedding band packages you may like to choose for your Wedding or Special Event. Enquire with Ms Lexi & Celestial Band today and tell us about your ideas. You might like to book a 4 or 5 piece band for your reception as well as an Acoustic Duo for your Wedding Ceremony. With Ms Lexi & Celestial Band, we'll do our best to make your entertainment dreams come true!
Ron Kingston - Wedding Singer Melbourne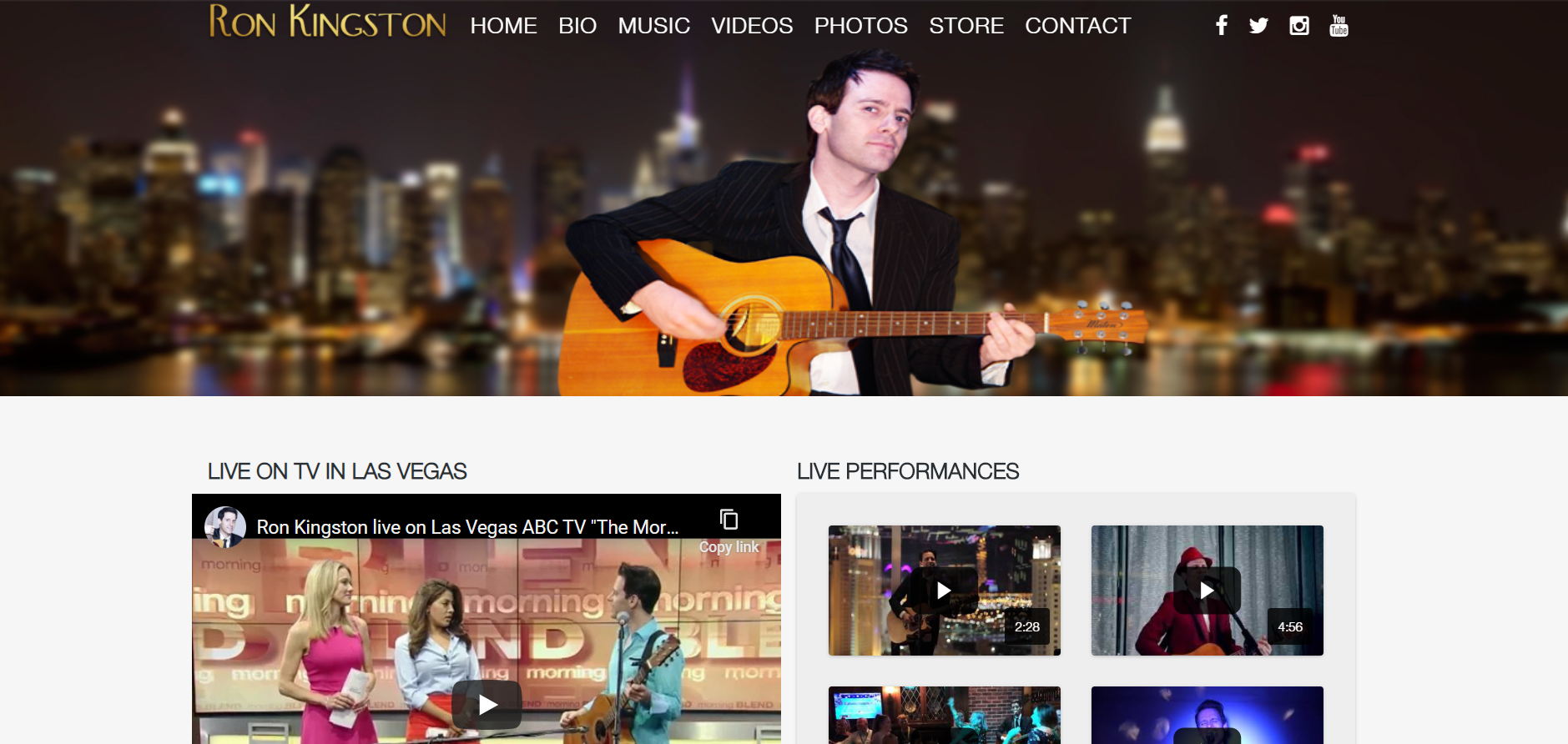 ronkingstonmusic@gmail.com
Ron Kingston is the ideal option if you're looking for a "all in one" live music solution. He is a singer, guitarist, and performer. He travels with a fully functional PA sound system and has performed everywhere from Australia to Las Vegas casinos, hotels in Asia and the Middle East, and cruise ships in the Caribbean and Europe.
His 1,000+ song catalogue includes hits by today's biggest musicians including the Beatles, Bruno Mars, Michael Buble, Eric Clapton, Ed Sheeran, Stevie Wonder, Justin Timberlake, Adele, and many more! Pop, soul, vintage rock, R&B, smooth jazz, country, reggae, and ballads are also included.
Your occasion will be a success thanks to Ron's performance and top-notch PA sound and lighting equipment, and it will be an unforgettable occasion!
FAQs About Wedding Singers
Ms Lexi and Celestial Band & Wedding Singers Melbourne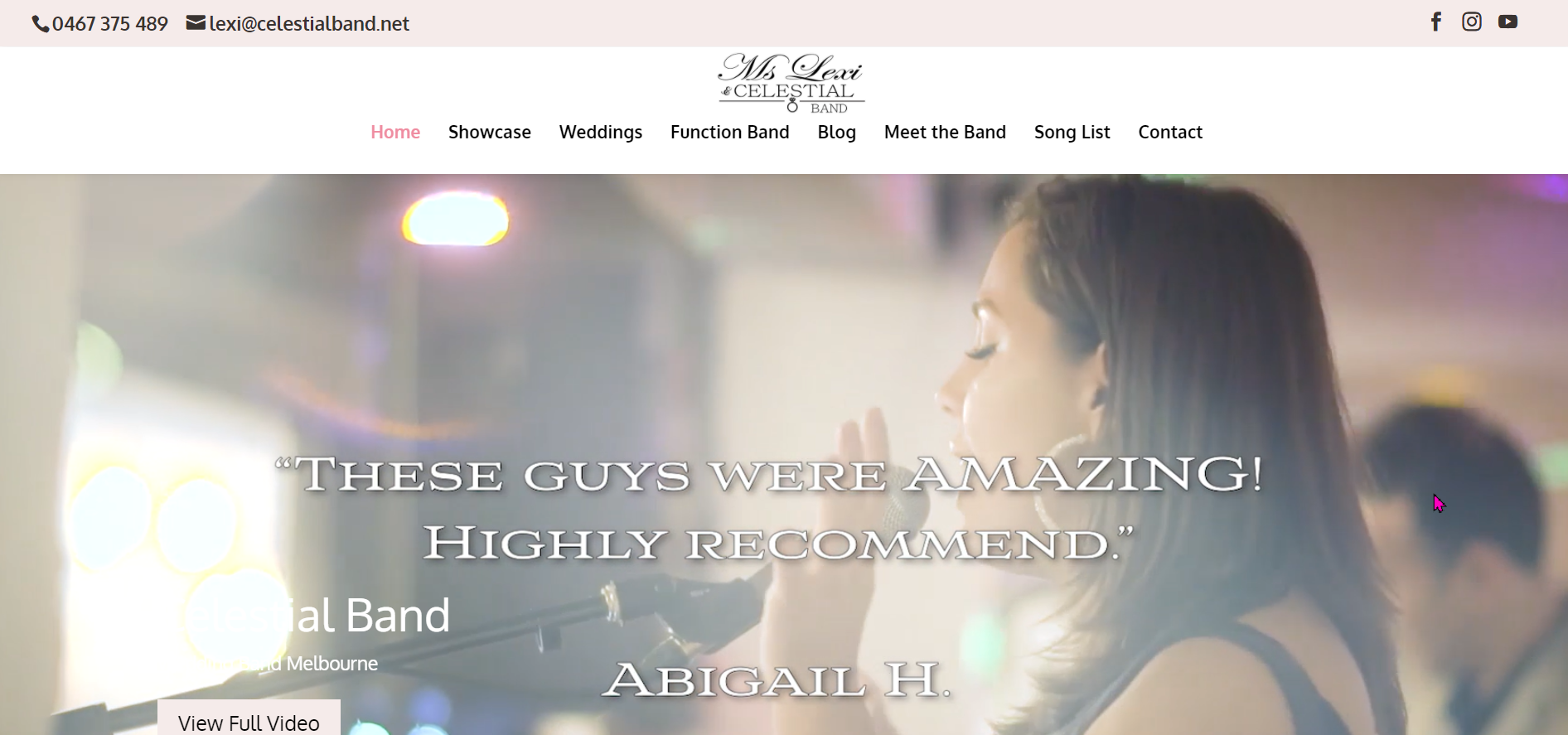 0467 375 480
Ms Lexi & Celestial Band is an exciting Melbourne based band for Weddings and Corporate Events!
Ms Lexi & Celestial Band's skilled musicians and singers first connected in 2017 and have been performing live music together ever since. With four singers among their customisable band of 6, Ms Lexi & Celestial Band is guaranteed to get everyone up and dancing at your next event! Whether you are looking for a soloist, acoustic duo, or full band, we have your entertainment covered!
Your Day, Your Way
Congratulations on finding the love of your life and getting engaged recently! It's now time to begin making plans for your ideal wedding! On your wedding day, Ms Lexi & Celestial Band specialises in offering top-notch, all-day live music.
Our Acoustic Duo or Solo artist often begins the day with music at the Ceremony (including guest arrival, aisle song, signing song, and exit) and continues playing during your Canapés hour. This is completely customizable.
One Fun Band - Wedding Singers Melbourne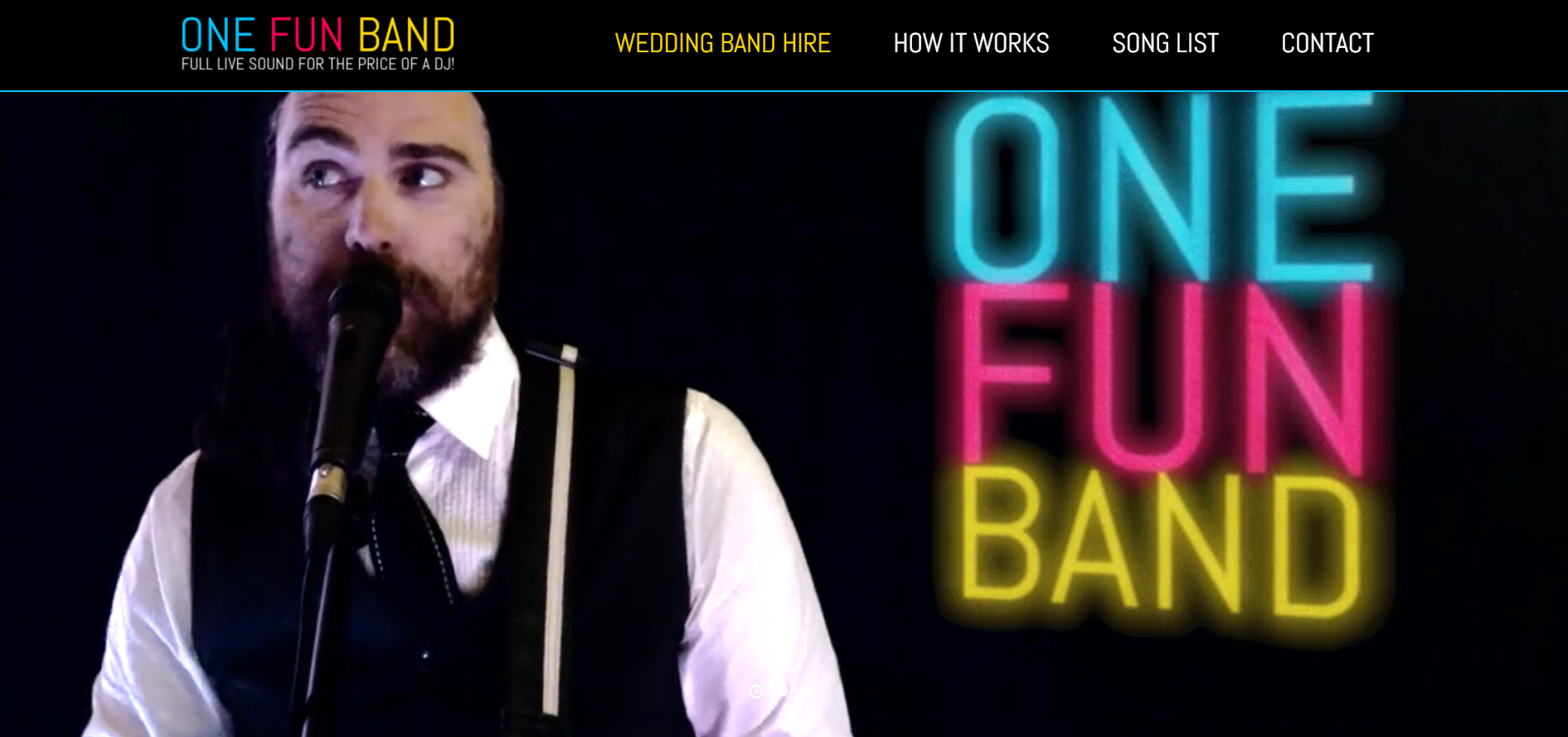 0402 405 991
LIVE PARTY BAND ENTERTAINMENT FOR THE PRICE OF A DJ!
In search of a fantastic entertainment choice for your wedding, party, or business event without having to shell out a fortune for a band? Within the price range of a DJ, One Fun Band provides superb live musicians to captivate your audience and rock your party all night long!
Our soloist package will get all of your guests up dancing for just $1100 including GST for 5 hours - all lighting & PA included! Band choices are also available; get in touch with us right away for a quote!

QUALITY ENTERTAINMENT
Earlier in the night, the music will set the scene. After formalities, the party lights switch on, the energy levels kick right up, and the dance floor becomes the focus. Don't book entertainment that hides in the shadows – our live energy and audience interaction start the party from the word go and will get even your conservative guests up on the dance floor. Great music is what a lot of people will remember about your wedding reception, party or corporate event, and you can trust us to strike the perfect chord. Over 70 5-star reviews mean you're in good hands – contact us now to check availability and get an itemised quote.
The Lily Road Band - Wedding Singers Melbourne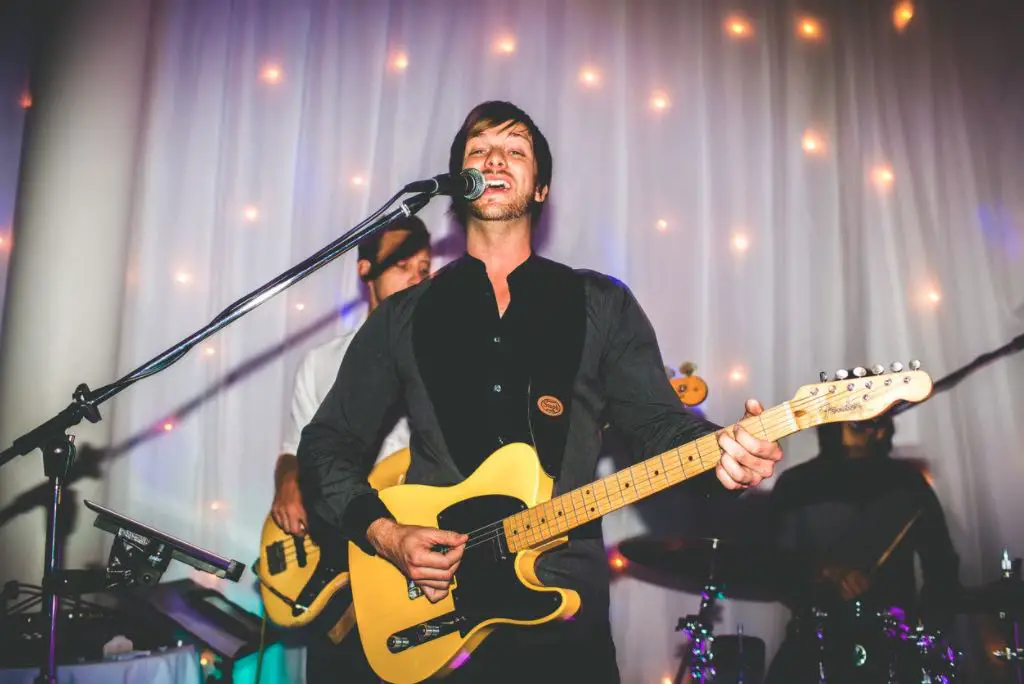 0403 859 967
A PRO DJ & A PRO MUSIC BAND – FOR A ROMANTIC WEDDING TOUCH
Your wedding ought to be a special occasion. Your favourite songs and the best dance tracks will be played for you in a unique and unforgettable style thanks to the beautiful union of our DJs and professional band.
from welcoming your guests to entering the location, through the first dance, and everything in between. We'll perform all your favourites using a combination of fantastic live music, vocals, and contemporary beats.

Make your wedding extra special. 
Numerous weddings have been performed by our DJs and musicians. It's a match made in heaven when you have a fantastic live band playing until the wee hours of the morning and a DJ setting the mood with subtle backbeats and easily recognised choruses!
Your attendees will be posting positive reviews of your event online and, more importantly, dancing all night long. Make the day of your wedding special. Today, reserve our Melbourne DJ and live band package!
Something Borrowed Wedding Singers & Event Entertainment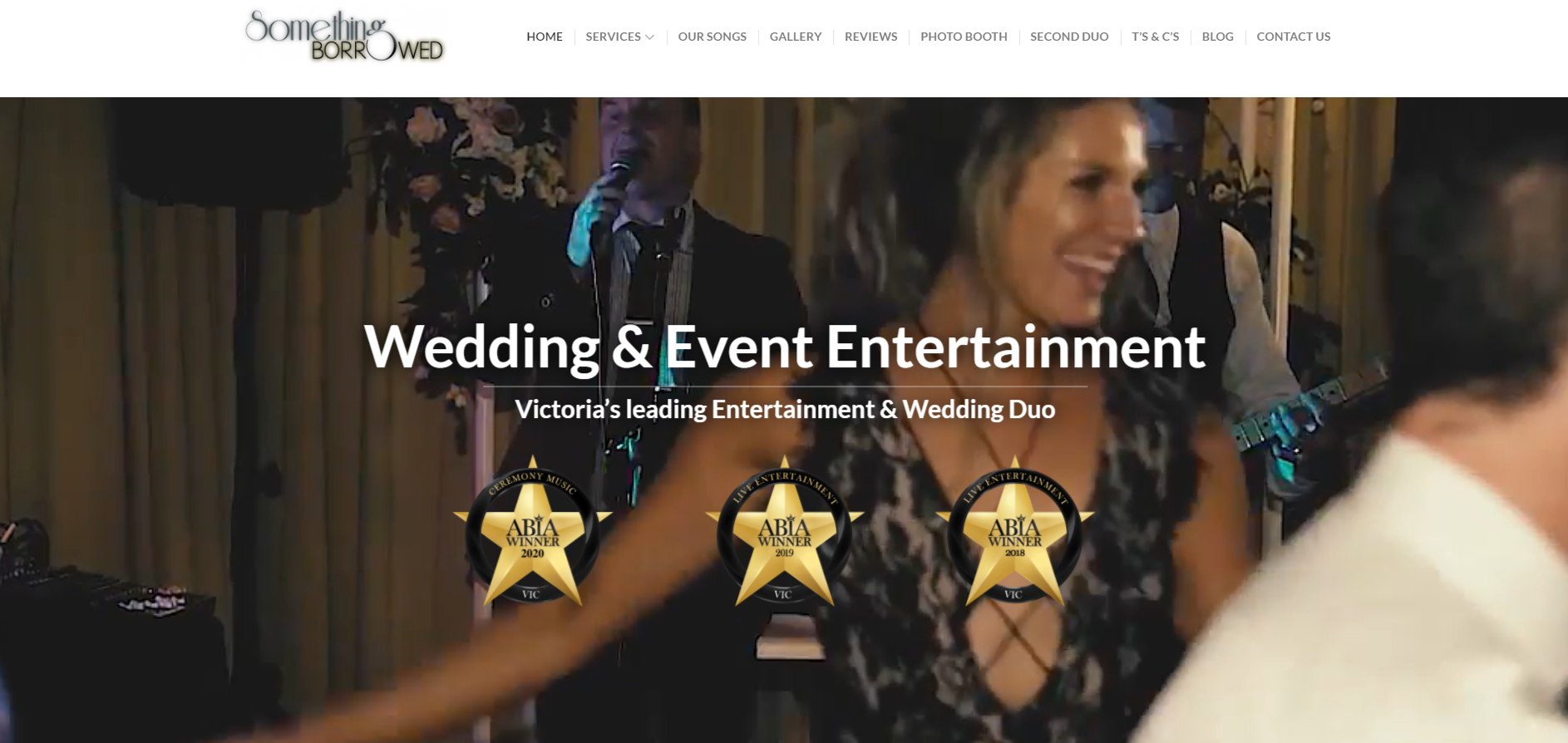 0424 517 411
Wedding Ceremony & Reception Entertainment
As guests arrived for the wedding, we set the tone by playing a few appropriate songs. Then... the big moment arrived. You go down the aisle to our lovely rendition of your song. Whatever that is. It's entirely up to you. We then play during the registration signing and when you leave the altar as Mr. and Mrs.
We are incredibly adaptable and will work with you to make your special day unforgettable. The reception usually consists of four 45-minute acts. In 90% of situations, we perform two acoustic sets while guests eat their entrees and main courses, then kick it into high gear with the full band sound once the formalities are over.
Groove Junction Entertainment - Wedding Singers Melbourne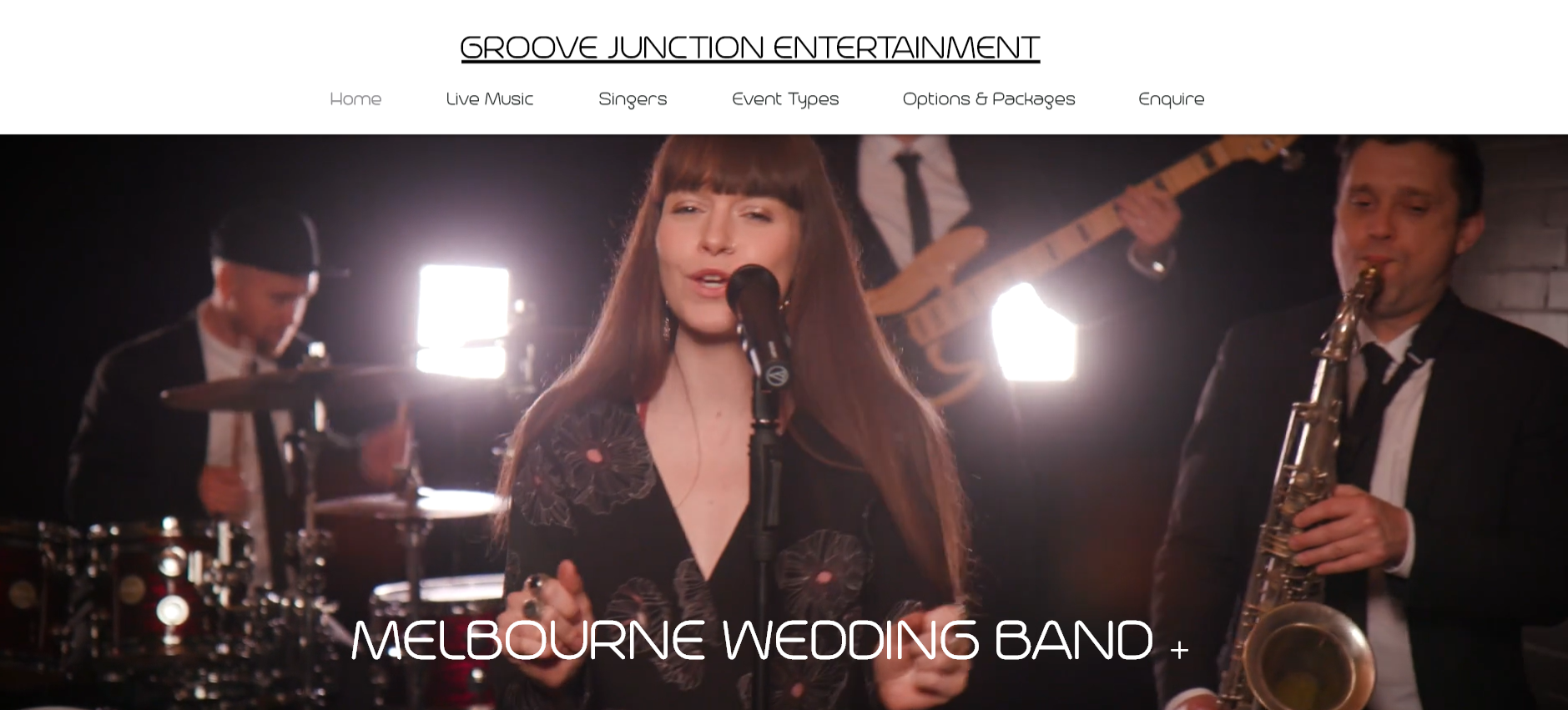 groovejunctionentertainment.com.au
0424257288
CREATE YOUR PERFECT WEDDING ENTERTAINMENT EXPERIENCE
Our Wedding Entertainment is offered in a range of packages designed to match the mood at each stage of the day.
Create an intimate and romantic atmosphere with our Acoustic Duos and Solo Artists as your ceremony unfolds or as guests mingle over canapes. Music is the life and soul of any party, and there is nothing like a live wedding band at your reception to get everyone, young and old on the dance floor. Then, keep the party going with our wedding DJ who knows how to keep the night alive.
Groove Junction is not just a Melbourne wedding band. We have enjoyed performing in the Yarra Valley, Mornington Peninsula, Ballarat and Bendigo. Don't hesitate to contact us no matter the location. 
Fedora Productions - Wedding Entertainment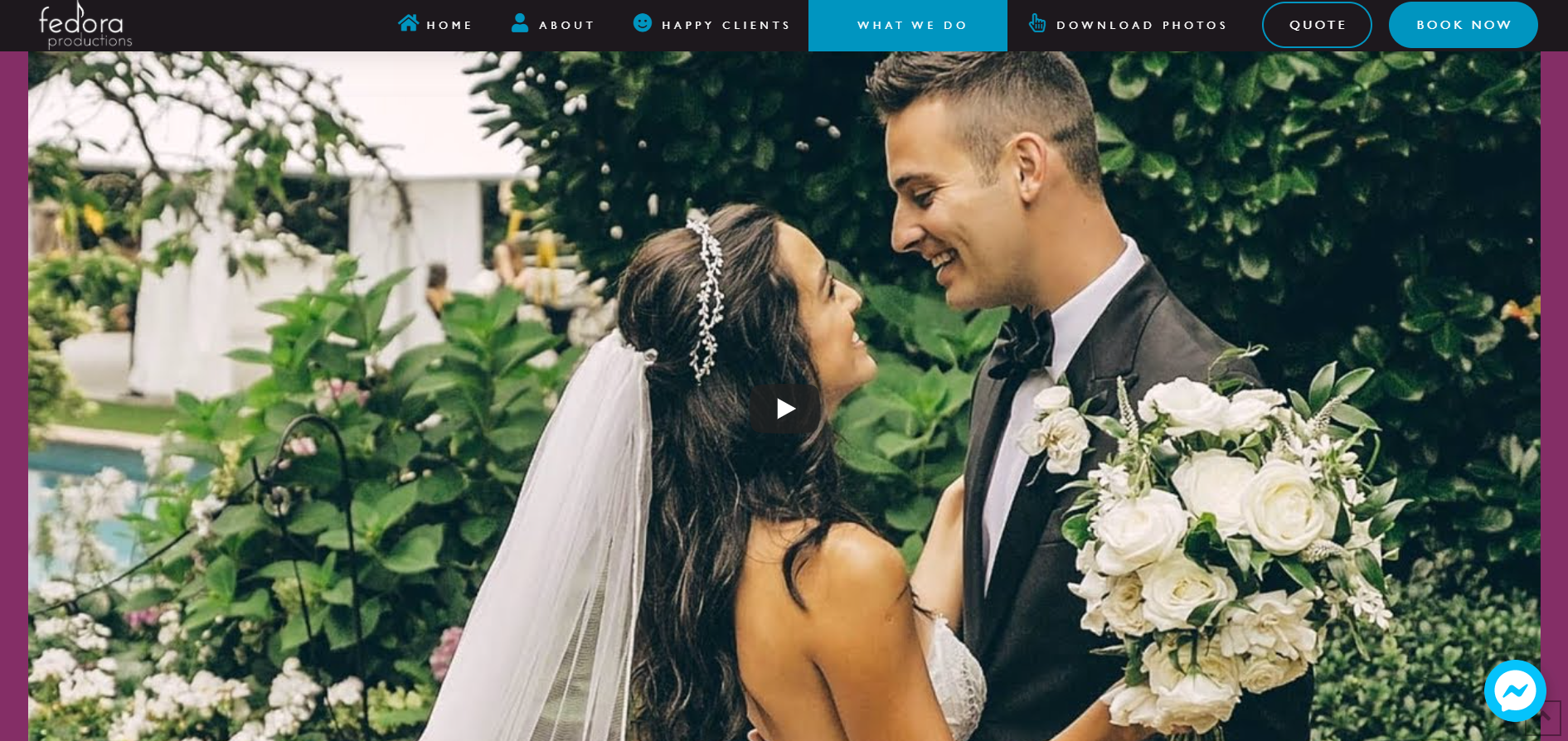 0458 333 670
Weddings
We know weddings. We love weddings! Whether your celebration is formal or cocktail, big numbers or small, we know how to cater to your needs to make your night unforgettable, seamless, and most importantly, fun for all!
Mobile DJ
Our Mobile DJ Hire Services cater for all function types from Weddings, Engagements, Corporate Functions, Presentation Nights, Debutante Balls, School Discos, Birthdays and even Kids Parties. Our highly skilled Disc Jockeys are trained to cater to their audience. They will play what you want to hear and what is required for the moment. We also offer professional Wedding MCs for your very special day. Let our experienced Master of Ceremonies help keep your wedding reception alive and running to schedule. Fedora Productions only use the highest quality sound and lighting systems to date.
All of our equipment is Tested and Tagged periodically. We also follow Australia's strict OH&S standards to ensure the safety and well-being of all who are a part of the function.
We are Fedora Productions.
We provide an exceptional Pro Audio service. Fedora Productions has been providing excellent sound engineering and DJ services throughout Melbourne for many years, which has allowed us to significantly expand our service offerings. Any event, no matter how big or little, is covered by Fedora Productions.
We here at Fedora Productions love what we do. We have the opportunity to work our dream job in an industry that has no boundaries or limitations. This enables us to consistently be creative in all aspects of our fields which allows us to give you an experience that will exceed your expectations.
Kellie Anne Music - Wedding Singers Melbourne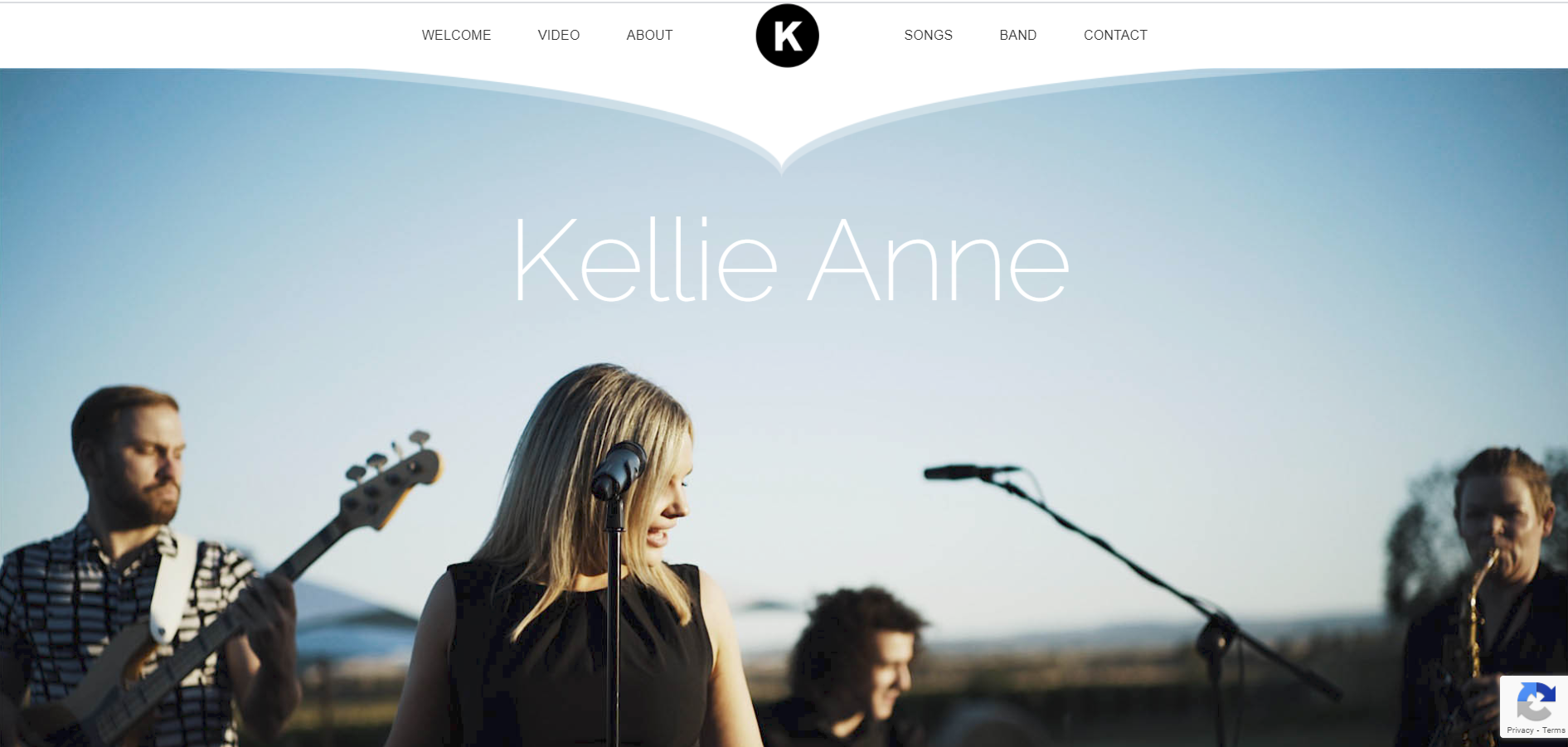 0439 636 680
Kellie Anne Band is an incredible Melbourne based band made up of Australia's best musicians. Whether you choose an acoustic duo or a 7 piece band, we aim to deliver quality music, fun-filled dance floors and high energy performances that captivate any audience and create an unforgettable experience. Each wedding playlist is built around you and can be customised to suit all the music you love.
Mixing rich vocals, killer high energy and the warmest heart, each performance is.. just unforgettable.
We know that planning an event is a lot of work! So we hope to be involved and make the music part an easy, reliable process for you.
Mercury DJ Hire - Wedding Singers Melbourne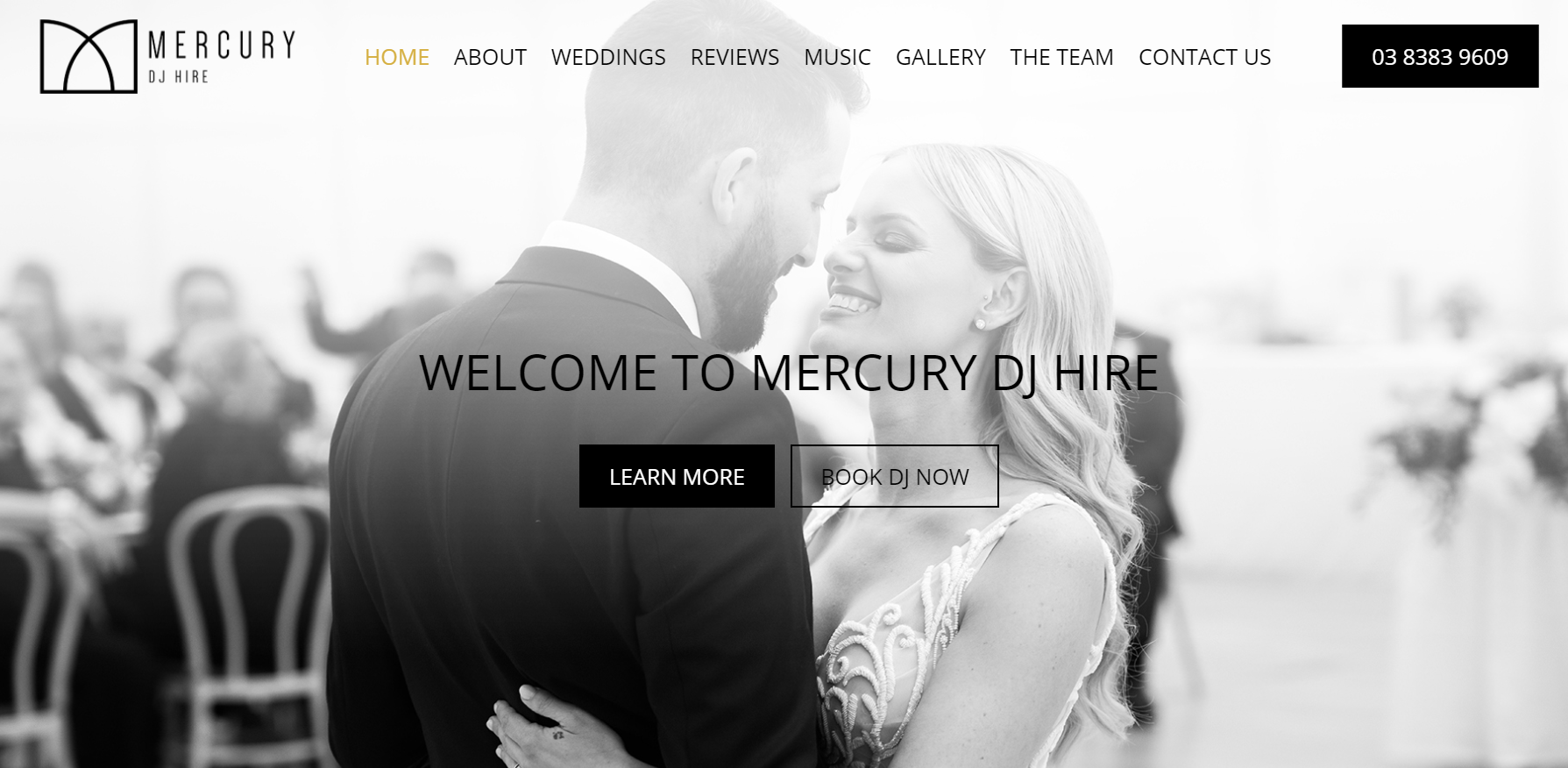 03 8383 9600
WEDDING DJs FOR THE MOST SPECIAL MOMENTS IN YOUR LIFE
From the most extravagant wedding celebrations to the most intimate ones. We treat every wedding as if it is our own and pay attention to every detail to ensure you have the best experience possible.
Since we can remember, our group of buddies and I have been DJing. We still have a strong interest for playing music and communicating with people from various backgrounds. We have decided to become full-time DJs in order to pursue this career path.
Our aim for your event is to go above and beyond to create the atmosphere you've always dreamt of. We treat every event as if it were our own, paying attention to every detail to ensure you have the best experience possible. During our one-on-one consultation, we love to help people create wonderful and unique ideas for their event.
Michael Ferguson Music - Wedding Singers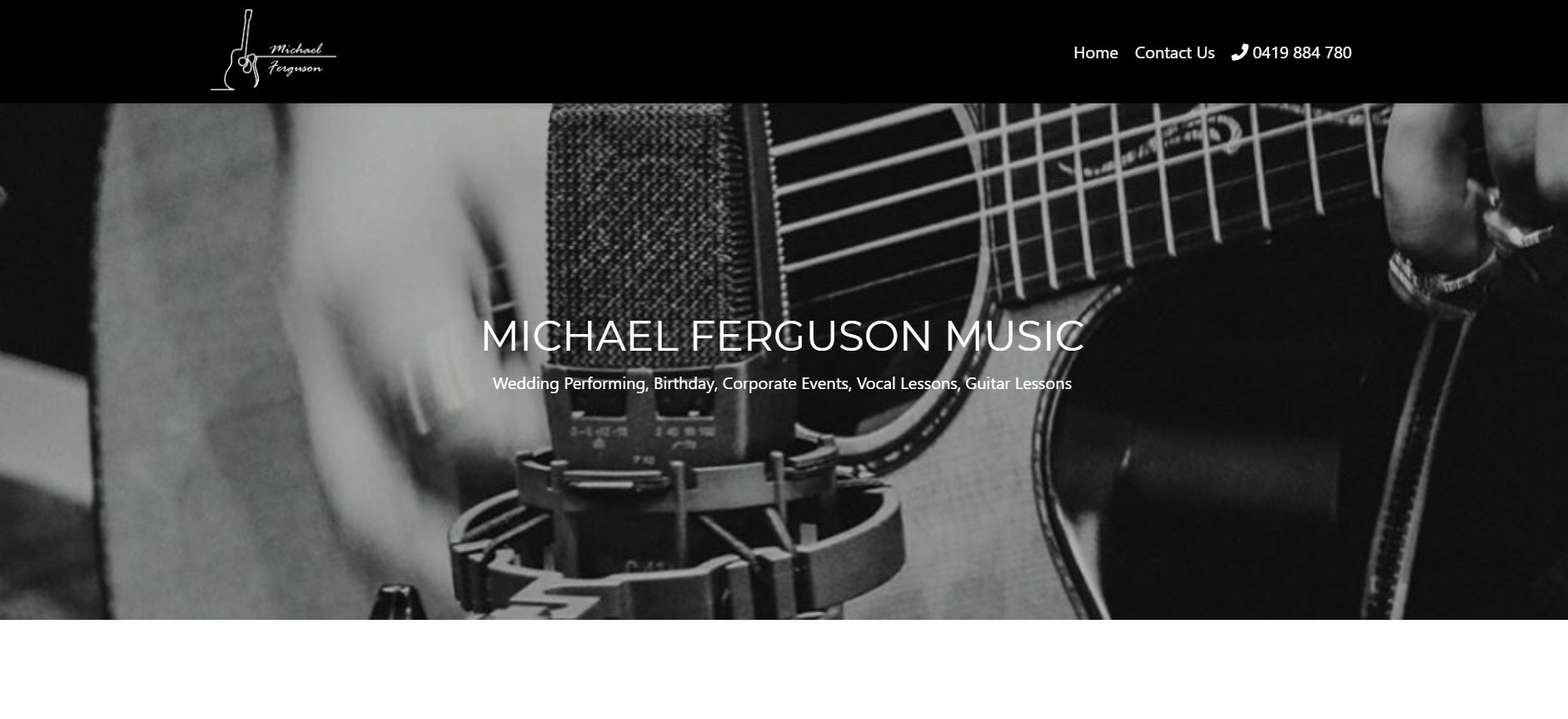 0419 884 789
MICHAEL FERGUSON - MUSICIAN 
Michael Ferguson might be the right choice if you're looking for a superb musician in your neighbourhood. Michael, a musician with over 15 years of experience, specialising in weddings, parties, birthdays, and more. He also offers guitar and voice lessons in Warrnambool, Victoria, and the nearby suburbs at reasonable prices.
Give Michael a call if you want some relaxing music for your special day or if you want a live musician to provide the perfect finishing touch to your birthday celebration. Michael instructs people of all ages. Guitar and voice lessons are included with this. Michael has the class for you, whether you want to learn alone or with a group.
Black Tie Events - Wedding Singers Melbourne

0400 447 551
DJ & MC Services
For weddings, corporate events, gatherings, parties, and birthdays, Black Tie Events provides event entertainment, including expert DJ & MC services. Additionally, we can conduct trivia game shows, which are ideal for corporate team-building activities.
Although Black Tie Events is situated in Melbourne, we are willing to travel to any event in Greater Victoria and can handle destination gatherings in the Yarra Valley and Dandenongs.

Midnight DJ's - Wedding Entertainment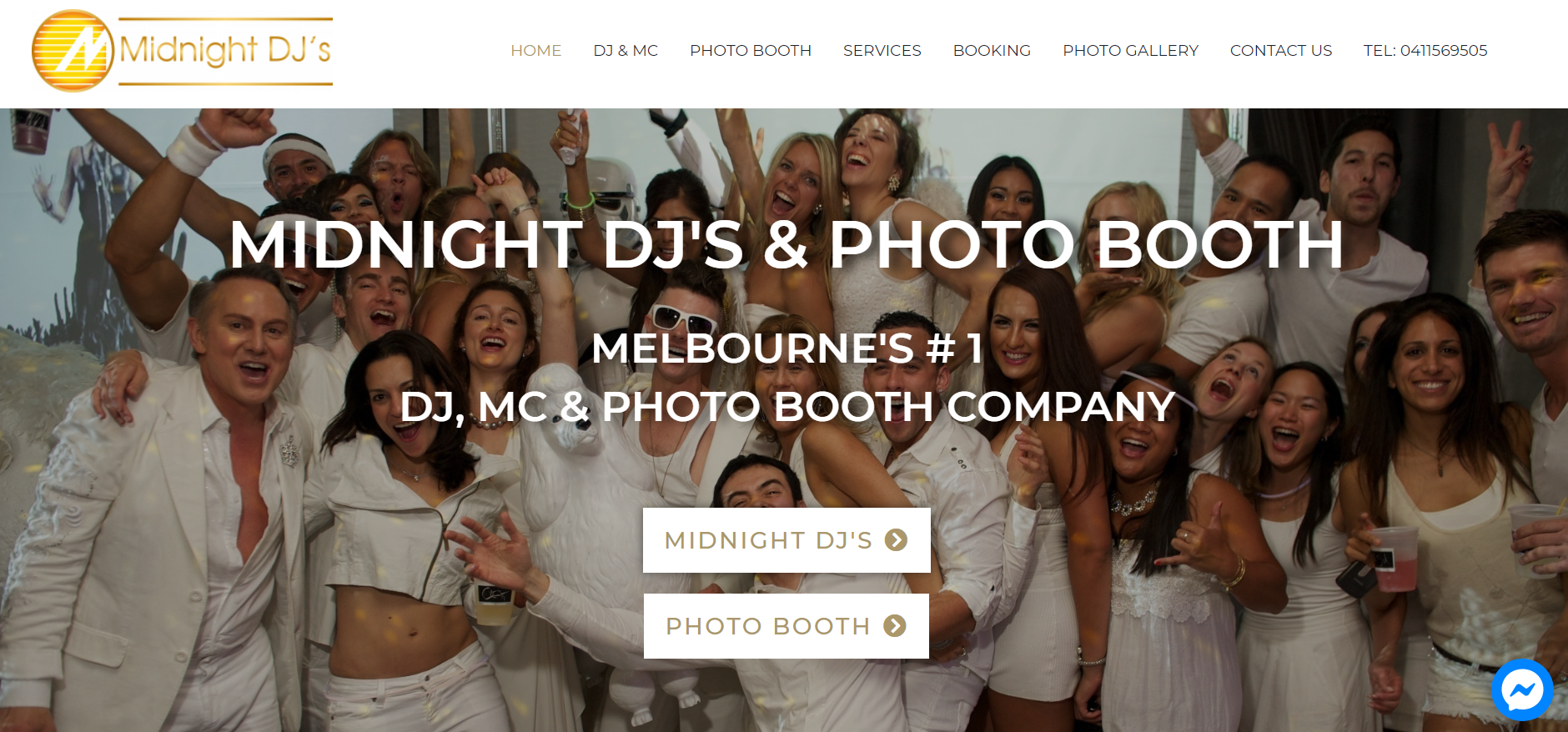 0411 569 506
YOU WANT THE PERFECT WEDDING!
Let Us Help You With Everything. Stress-Free No Headaches. We'll Even Save You Money Along The Way.
BAND & DJ
Are you on the fence about hiring a DJ or a band? Why not combine the two? We can entertain your guests with a live band or singer while also generating a lively environment with a DJ and MC. Let's discuss this today.
Wouldn't it be great if you can hire that one person who you share your dream wedding details with and have them deliver it on the night perfectly exactly how you want it?
At Midnight DJ's there more than just DJ Company.
There your Wedding Coordinator …There Wedding Planner … There Personal Assistant … There your Entertainment … There your Masters of Ceremonies …They take ownership in assisting and managing your night from start to finish.
They know your function is very special and important to you; that's why they offer you a more personalised and comprehensive service that you've never experienced before.
Prior to event evening, they will ask you a serious of questions in developing an understanding of how you would like your special night to unfold yet they will make suggestions on what works best and in what order. After they have covered everything from Times, Events though out the night and music selections … they will then put together a formal Running Sheet or schedule for everyone to follow by at your event.
Louie Bulzomi - Wedding MC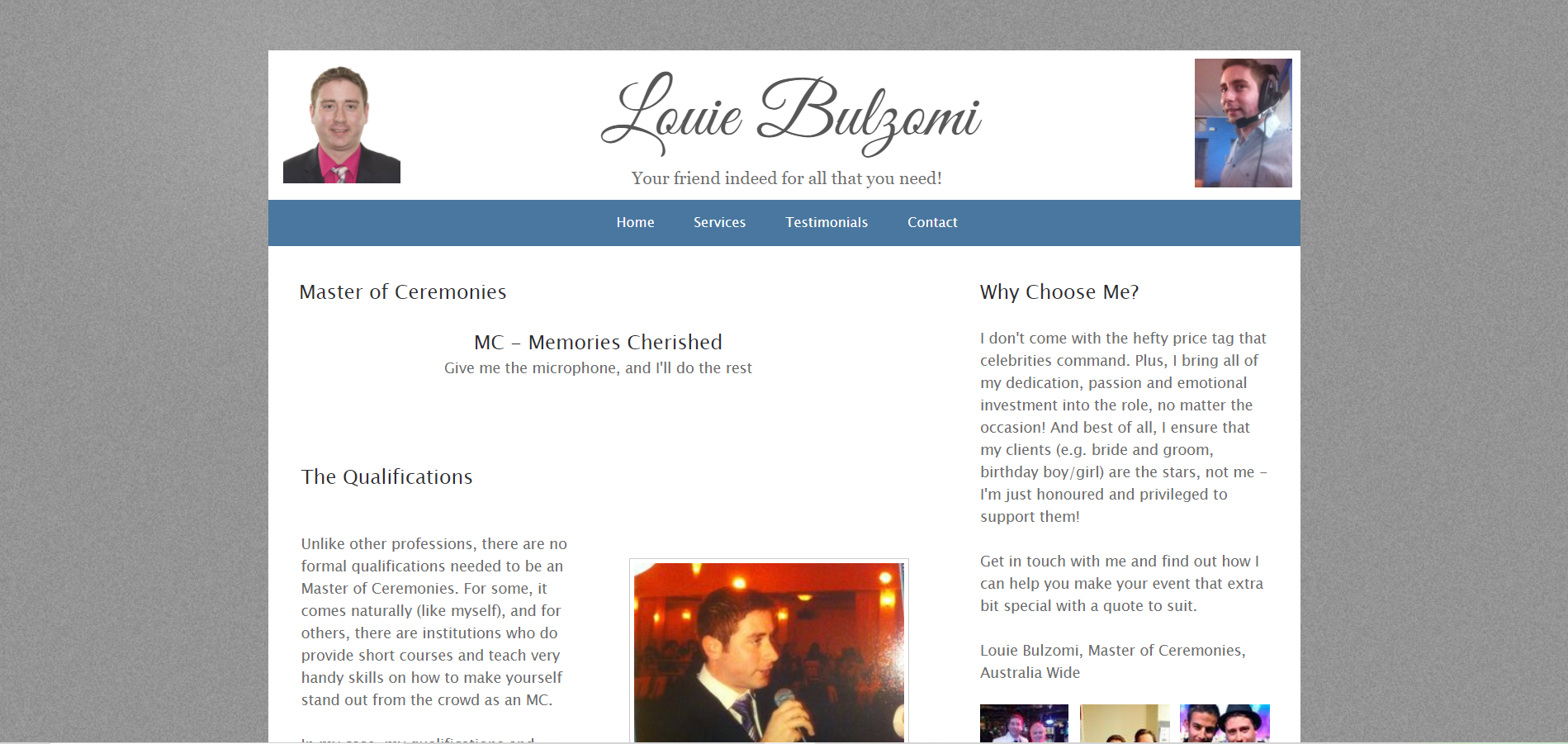 0400 642 251
The Qualifications
Unlike other professions, there are no formal qualifications needed to be a Master of Ceremonies. For some, it comes naturally (like myself), and for others, some institutions do provide short courses and teach very handy skills on how to make yourself stand out from the crowd as an MC.
In my instance, the skills and abilities I possess as an MC have been aided by the credentials and experience listed on my TV, Radio, and Voice Over Artist website. Every time I have the honour and luxury of organising a special event, whether it be a wedding, birthday party, corporate event, sports presentation, school valedictory dinner, or as a keynote speaker, they have enabled me to continue developing my confidence and knowledge of how to be even better.
The Reason I Do It
The more I became at ease in social situations, the more natural I felt as a communicator and all-around speaker. And learning how enjoyable being a Master of Ceremonies can be has influenced me to focus on my own art in order to become someone deserving of the title.
As a guest at an event, often I will pay great attention to detail to the MC for that event, and embrace whatever I learned from what they did (or in some cases didn't do) to ensure I deliver on any and all promises I make to my clients when I assume the position and hold that microphone.
Miss Rosie Events - Wedding Entertainment

0418 565 147
Modern ​DJ, Singer and Master of Ceremonies packages for Melbourne Weddings and Events.  With over 15 years of entertainment experience, including touring Australia as a professional vocalist, my wedding and event packages are tailored to suit my client's style and aesthetic. 
Melbourne Female Acoustic Singer with quality backing tracks
Female Singer, Rosie Kalber is available to provide elegant + stylish live vocals for your Melbourne wedding or event, accompanied by quality acoustic piano + guitar tracks. Rosie has over 15 years as a professional vocalist, having toured Australia as both a lead + backing vocalist.
If you seek a wedding ceremony singer, reception entertainment or event entertainment, our acoustic female singer package is a wonderful + cost-effective live music option for your next event.
Melbourne Wedding, Event + Party DJ
With over 10 years of experience as a DJ + Entertainer in the Melbourne + Australian Industry, I specialise in personalised, stylish + fun DJ Entertainment.
My packages accommodate all party music styling + provide assistance in music selection.  I specialise in RnB, HipHop, Commercial Dance + the 80s, 90s + 2000 plus music mixes. 
Rosie Kalber will keep your event flowing with a Wedding Master of Ceremonies Service that provides effective time management, + keeps guests involved + entertained throughout your function.  
Lovegrove Entertainment - Wedding Music & Singers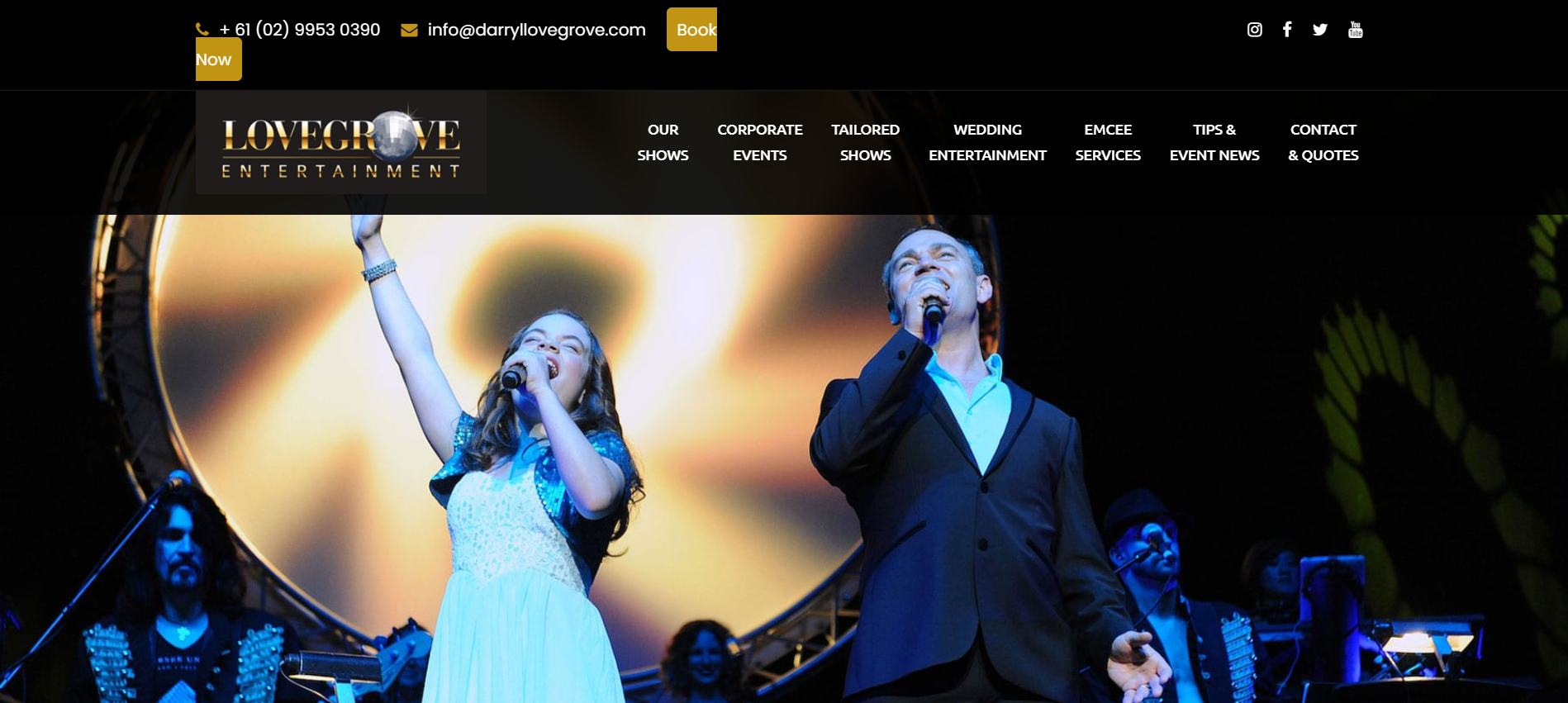 + 61 (02) 9953 0396
UNIQUE WEDDING ENTERTAINMENT IDEAS.
Regardless of whether your wedding is small-scale or extravagant, we will pay attention to your needs and work within your budget to provide the ideal entertainment for one of the most significant days of your life.
In Sydney and Melbourne, we have experienced wedding performers. Every concert is mobile throughout the Asia Pacific area.

The Love Groovers
What would a gathering and party be without Sydney's top wedding band? This party band will provide the necessary style, refinement, and energy to make your reception one to remember.

The Leading Men
The Leading Men, a group of four award-winning male musical theatre stars, will enthral audiences of all ages with some of the most famous showtunes and love-themed songs ever written.
These leading males are past Australian Event Awards 'Entertainer of the Year' finalists and have all performed prominent parts in some of the most beloved musicals in the world. Not only a favourite for exclusive corporate events, but also a charming wedding band.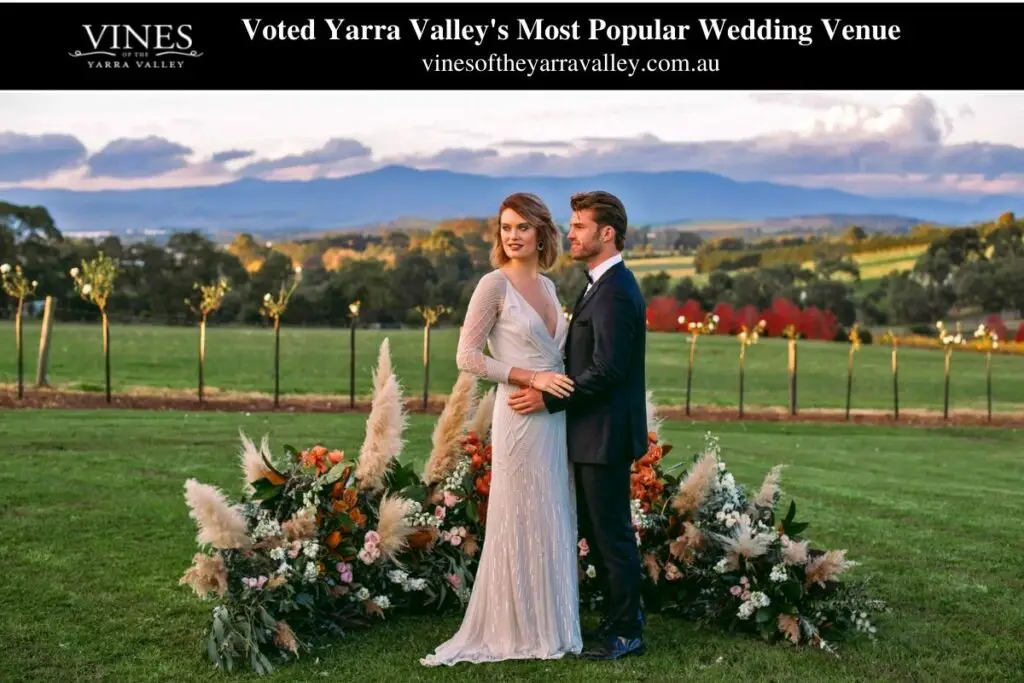 Ben Fox Band - Wedding Singer Melbourne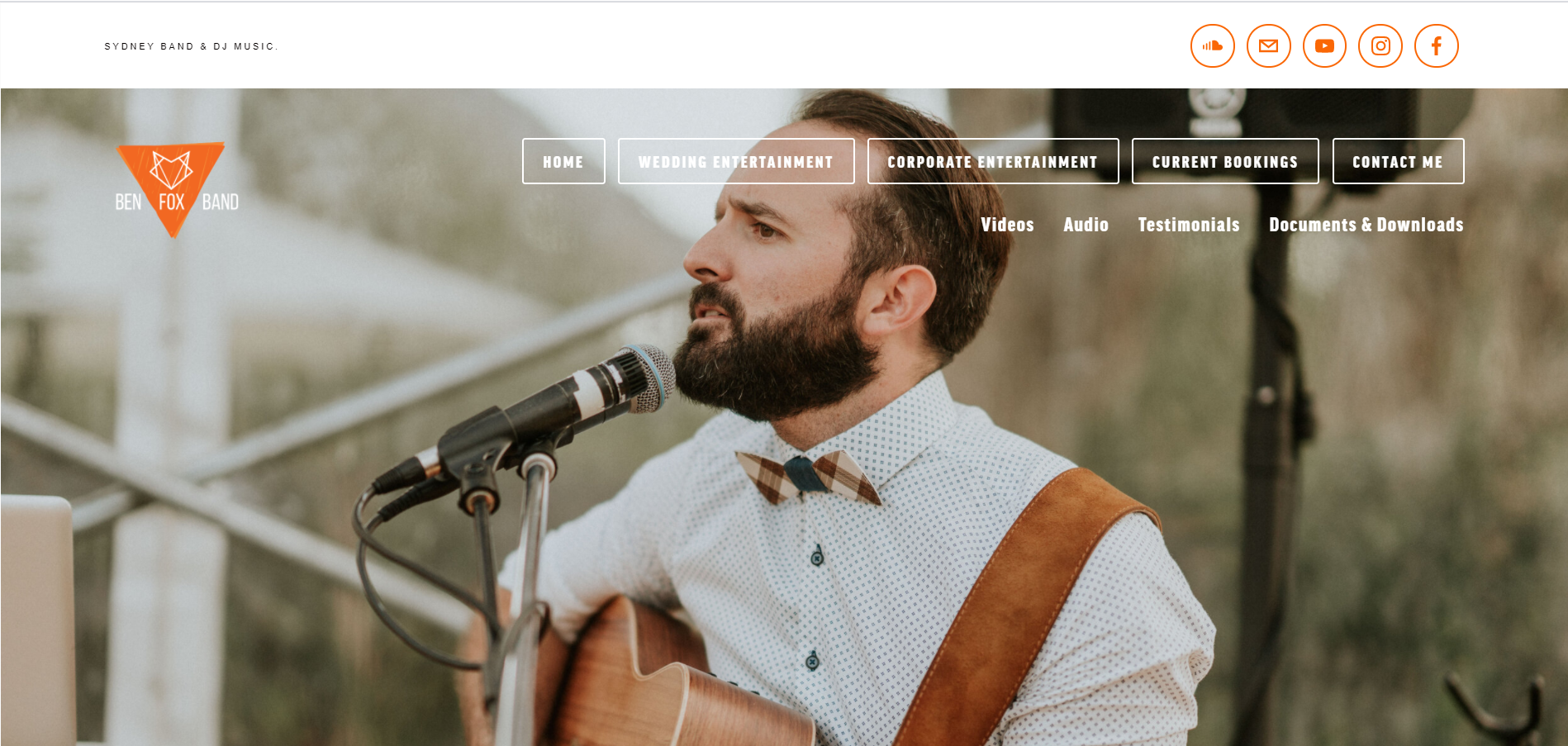 0427670342
About Ben Fox…
Music has always been my love, even as a little child. At the age of 14, my parents got me my first guitar. From there, I explored my father's CD collection and learned Hendrix and Led Zeppelin songs. I recall spending the majority of my free time as a child jamming out in my bedroom to my favourite guitar solos, much to the chagrin of my neighbours.
I'm surprised I still have heard, I used to turn my amp up near full and play for hours.

After high school, I went on to complete a Bachelor in music at my local TAFE, where I found my love for live performance, recording and audio engineering. I went from Cairns to Sydney after receiving my TAFE diploma because I felt like I needed a change of scenery in order to finish my bachelor's degree in jazz performance at the International Conservatorium of Music (AICM). Through some incredible performing chances that I managed to stumble into, I was introduced to the lovely world of weddings and corporate parties.

One More Song - Wedding DJ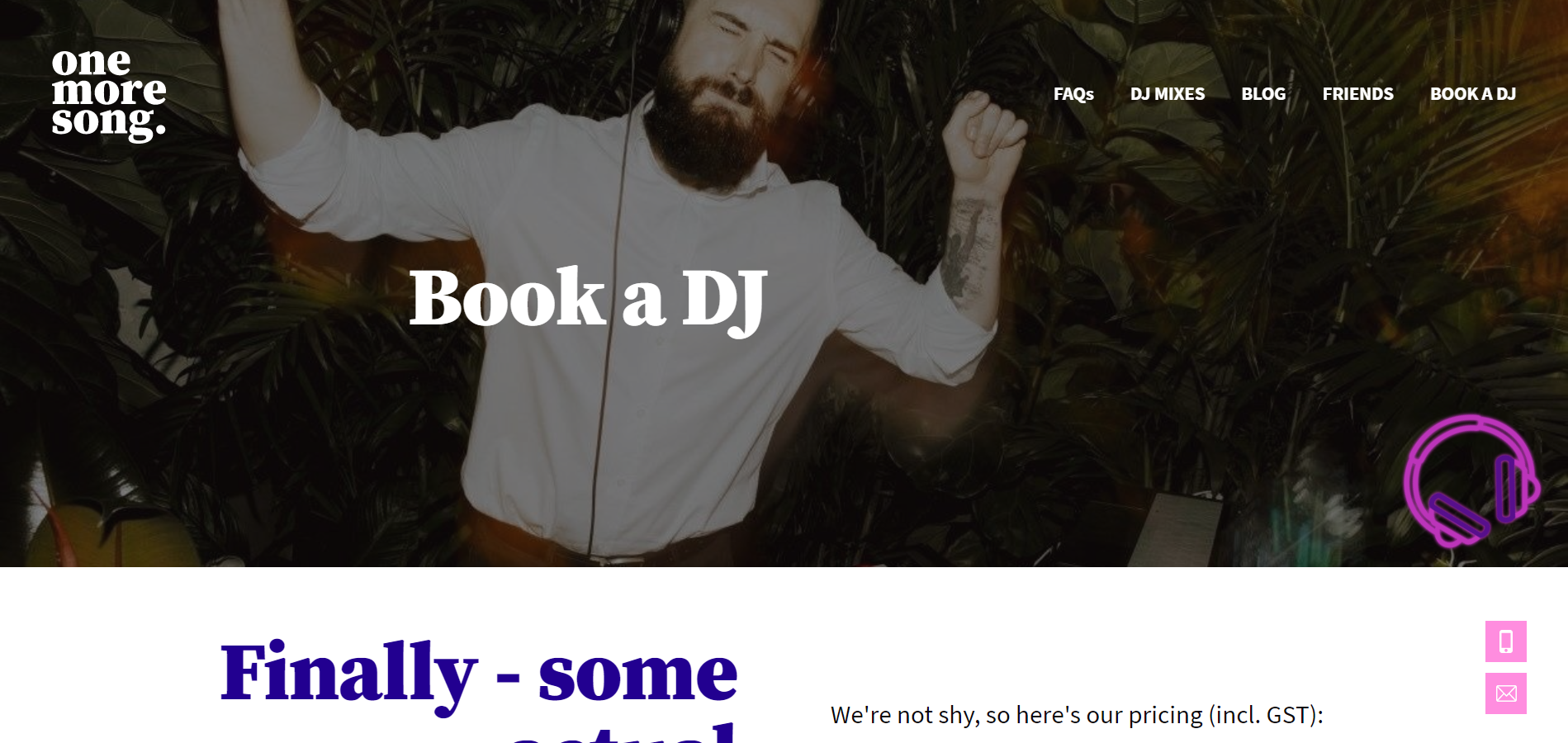 03 9018 5338
Business owners Eddy and Aleks Mac are DJs themselves and involved in every aspect of the business – no desk-based "entertainment managers" here! If they're personally not playing at your wedding, they handpick one of their rockstar DJs to set the perfect vibe and get people dancing.
There are no pre-prepared playlists – only live mixing.
In the lead up to your wedding, Eddy and Aleks can be as hands-on or hands-off as you like. One More Song's service includes face-to-face or meetings via phone/video, help in picking music for your day, high-end speakers and DJ decks and a mic for speeches. One More Song also works with your venue and other suppliers to make sure everything runs smoothly!
Want something a little extra? One More Song also offers sax players and percussionists to add to your DJ, lighting and acoustic artists for your ceremony/canapés.
The Best Men - Wedding Singers Melbourne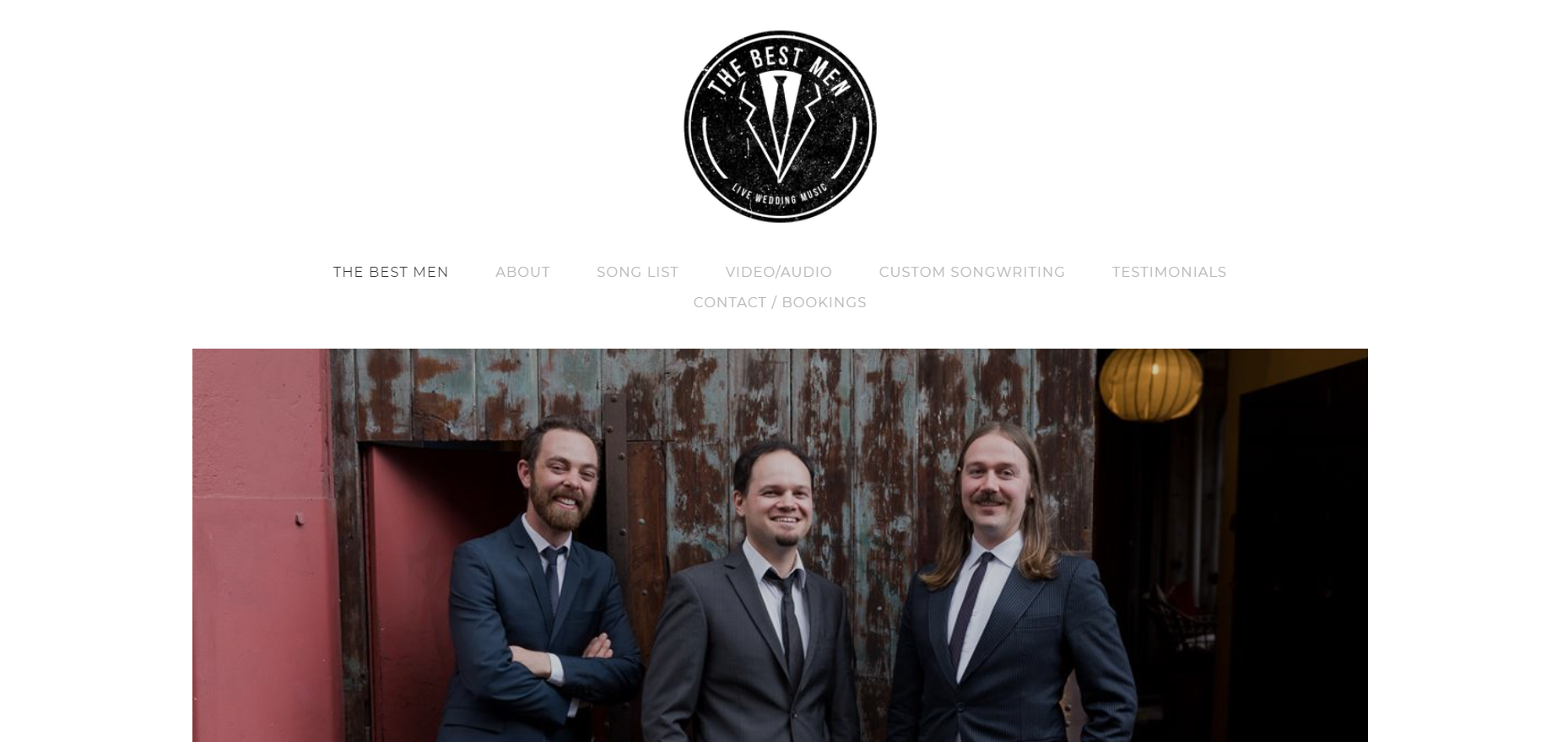 0410 659 021
For weddings, receptions, functions, parties, and corporate events, The Best Men provide the best live music. From jazz to Top 40, rock to acoustic ballads, our repertoire offers either engrossing entertainment or mood-enhancing background music.
We are here to make organising music for your event simple and easy while personalising to your unique tastes, and helping you create the perfect atmosphere for you and your guests.

We can even write a 100% original, a custom song with you for the big day! We've also had the pleasure of providing music as part of personalised surprise wedding proposals. Available as a 4 PIECE, 3 PIECE, DUO or SOLOIST, contact us for a quote and secure your date today.
Wedding Singers for Hire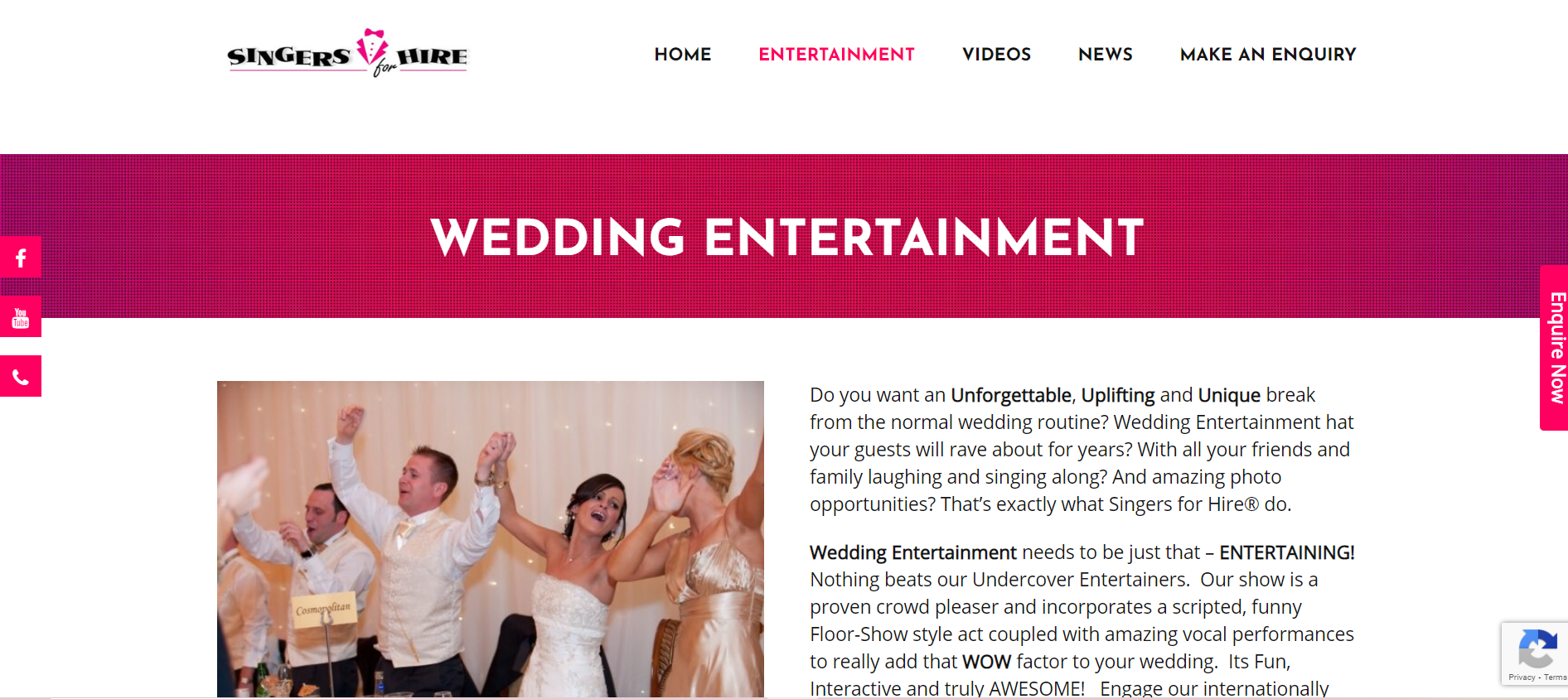 (03) 9005 8484
We make a celebration out of your event! Singers for Hire can offer one-of-a-kind entertainment options for any occasion, including designing wedding entertainment or business event entertainment. We can make your dream a reality if it calls for top-notch singers.
When you're in search of something wholly unique for your next event, consider the thrill of hiring your own singers. Professional entertainment solutions are available for wedding receptions, birthday parties, corporate events, singing telegrams and much more. Our singers will provide the WOW factor you are after.
Do you desire a memorable, uplifting, and distinctive diversion from the typical wedding ritual? Wedding entertainment that will have your visitors raving for years? With all of your family and friends joining in on the laughter and song? and wonderful chances for photographs? Singers for Hire® perform precisely that.
Wedding entertainment should be exactly that: ENTERTAINING! Our Undercover Entertainers are unrivalled. Our presentation is a crowd-pleaser that combines a planned, hilarious Floor-presentation style routine with incredible vocal performances to really give that WOW factor to your wedding. It's entertaining, interactive, and absolutely AWESOME! For your main dish of wedding entertainment, hire our globally recognised "Singing Waiters" and Undercover Entertainers!
Call us now to discuss our wedding entertainment options and how we can help you make your wedding a truly memorable and unique occasion for you and your guests. We provide Wedding Entertainment options all over Australia.
Feel Good Events - Wedding Singers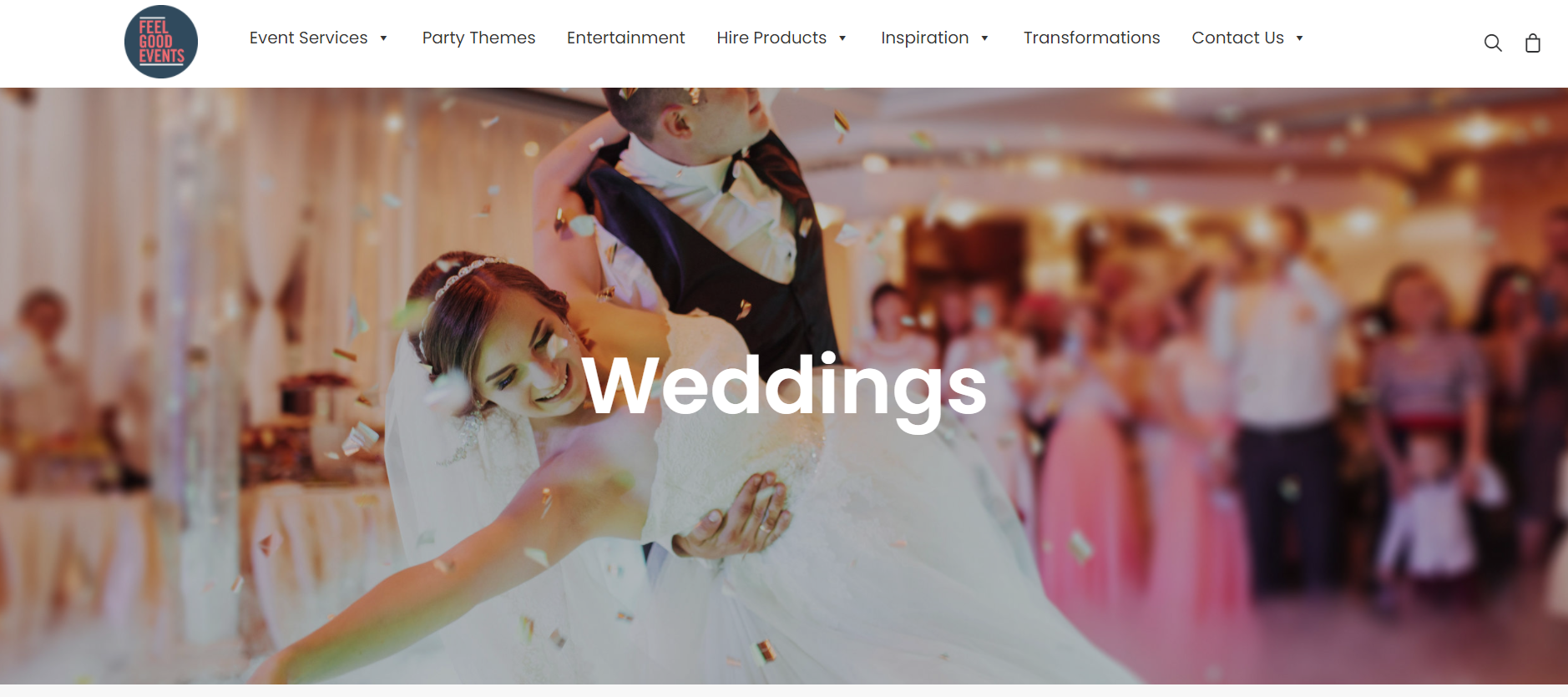 1300 134 498
One Of The Biggest Parties Of Your Life!
So you're putting together your big fairy tale wedding. You've decided on a location and gathered all of your inspiration images from Pinterest and Instagram. You have a solid concept of how you want your wedding to appear, but you're not sure where to begin.
Most brides will tell us that they want their wedding to be One Big Party and so it should be as it is a major milestone and usually costs lots of money. The easy part is helping you make your wedding look pretty, but this doesn't always create the best party experience.
The good news is we can not only help you make your wedding look fantastic, but with the right advice from our party experts, you will also give your guests the ultimate party experience as well.
Evoke Entertainment - Melbourne Wedding Singers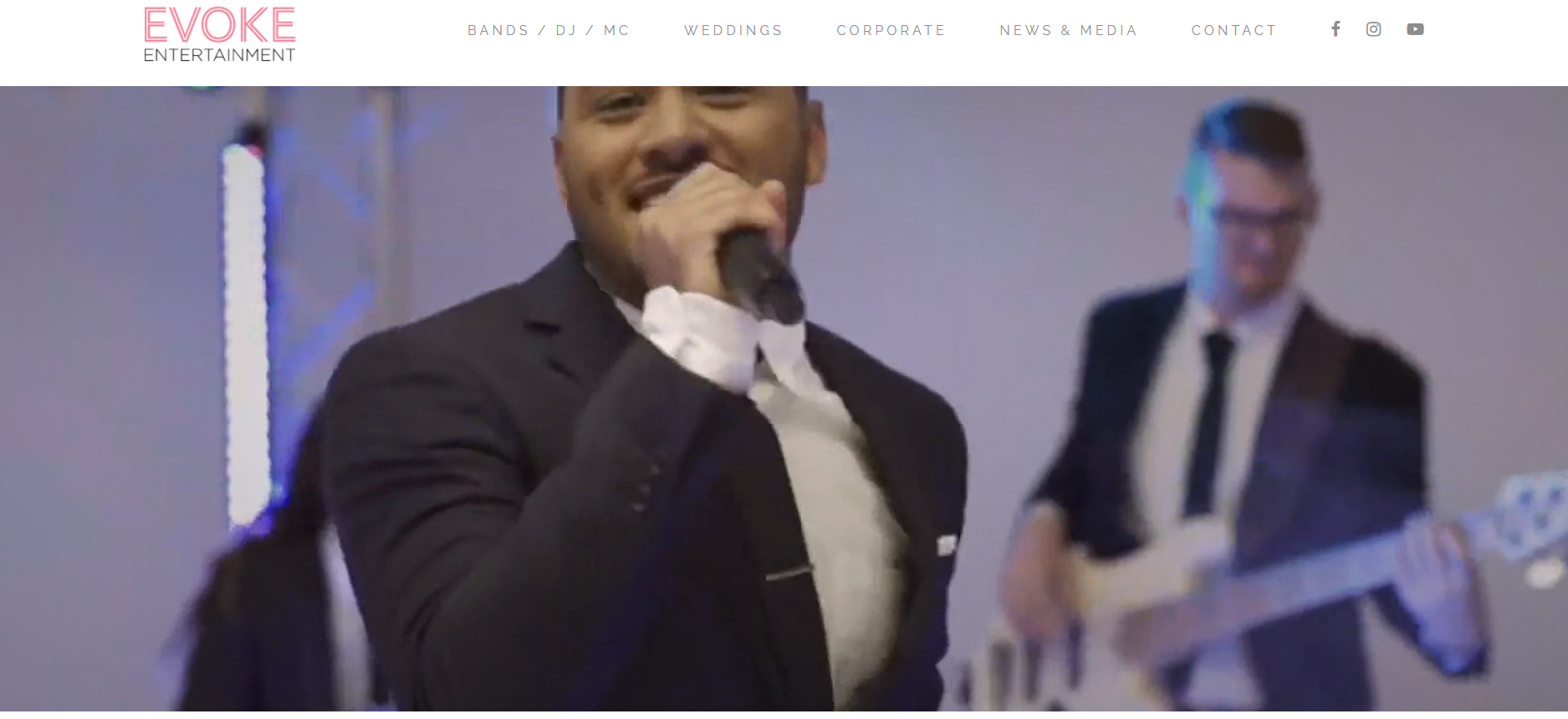 04 9580 1462
MAKE IT MEMORABLE' IS WHAT WE DO AT EVOKE ENTERTAINMENT
Premium wedding bands and corporate entertainment share many attributes of a successful sporting, sales or even marketing team. There's no disputing that a team that trains together, performs week-in, week-out and reaches set targets together are a champion team. Evoke Entertainment embodies this philosophy throughout our customer service, production and of course our acts. Our passion for quality ensures we exceed client expectations every time.
More than just a booking agency, Evoke Entertainment is a family business which exudes Chris Ninni's passion for performance & Alison Ninni's expertise in corporate management. For over a decade, Chris has successfully forged his own path in the entertainment industry bringing all of his professional experience to every facet of Evoke Entertainment.
Chris has performed and toured internationally with the acclaimed Broadway musical 'Burn The Floor' as the lead male vocalist, been a member of 'Team Joel Madden'  as a contestant on 'The Voice Australia' in 2012, and has entertained thousands of satisfied wedding, and corporate giants such as Ferrari, IBM, BMW, Nestlé, Holden, Channel 9, Ernst & Young, Macquarie Bank and AstraZeneca both nationally and internationally.
Rutherford Entertainment - Melbourne Wedding Singers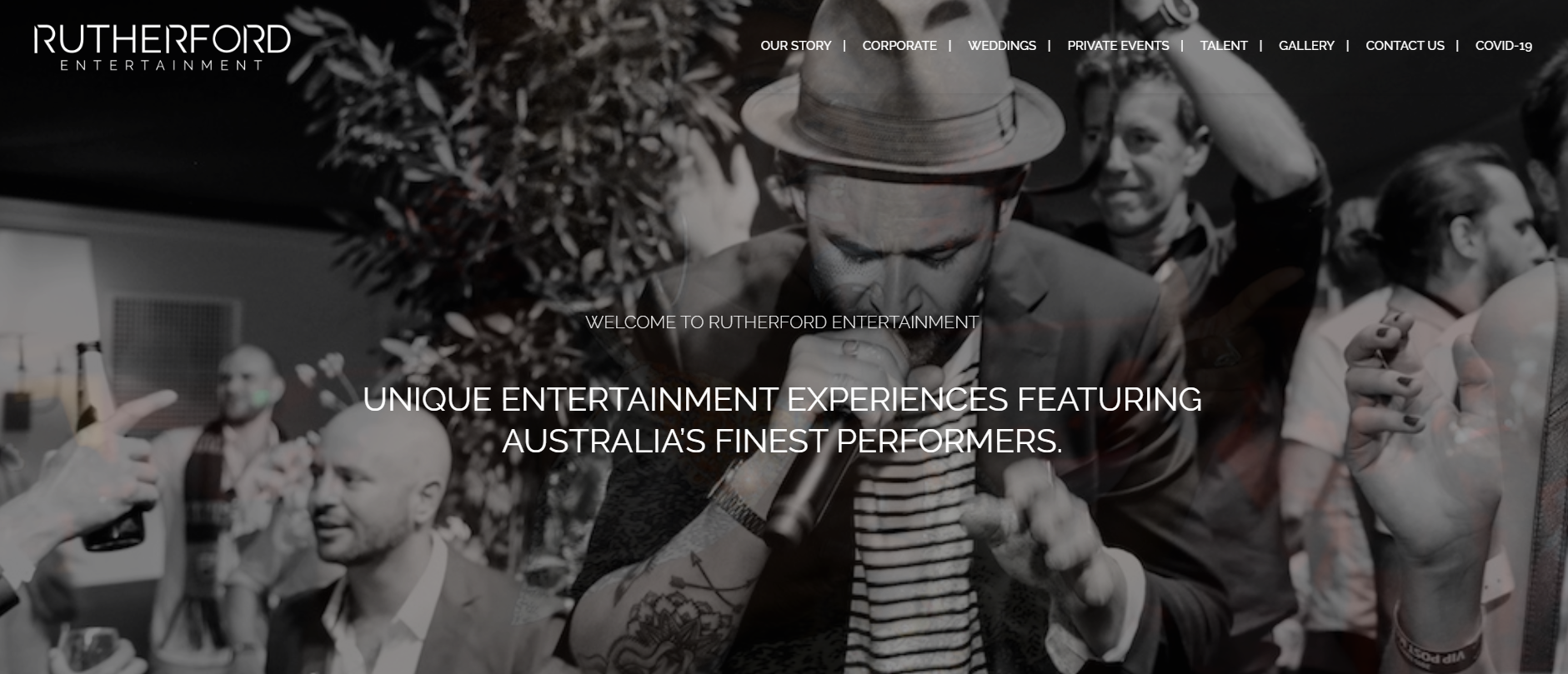 rutherfordentertainment.com.au
1300 736 683
The phrase "Creating Memorable Moments for Your Private Event"
Our dedicated team looks forwards to collaborating with you to handpick the greatest talent for your perfect day, from playing the appropriate music as you walk down the aisle to creating an exciting party atmosphere to celebrate your wedding day with family and friends.
We endeavour to provide customised entertainment experiences that will make your wedding feel one-of-a-kind from start to finish, leaving your guests talking about it for years to come.
Ten years later, Rutherford Entertainment has expanded to provide customised, high-end entertainment experiences around the world, all while steadily growing our talent pool to offer our customers the best entertainment in Australia. 
The Mood Merchants - Wedding Singers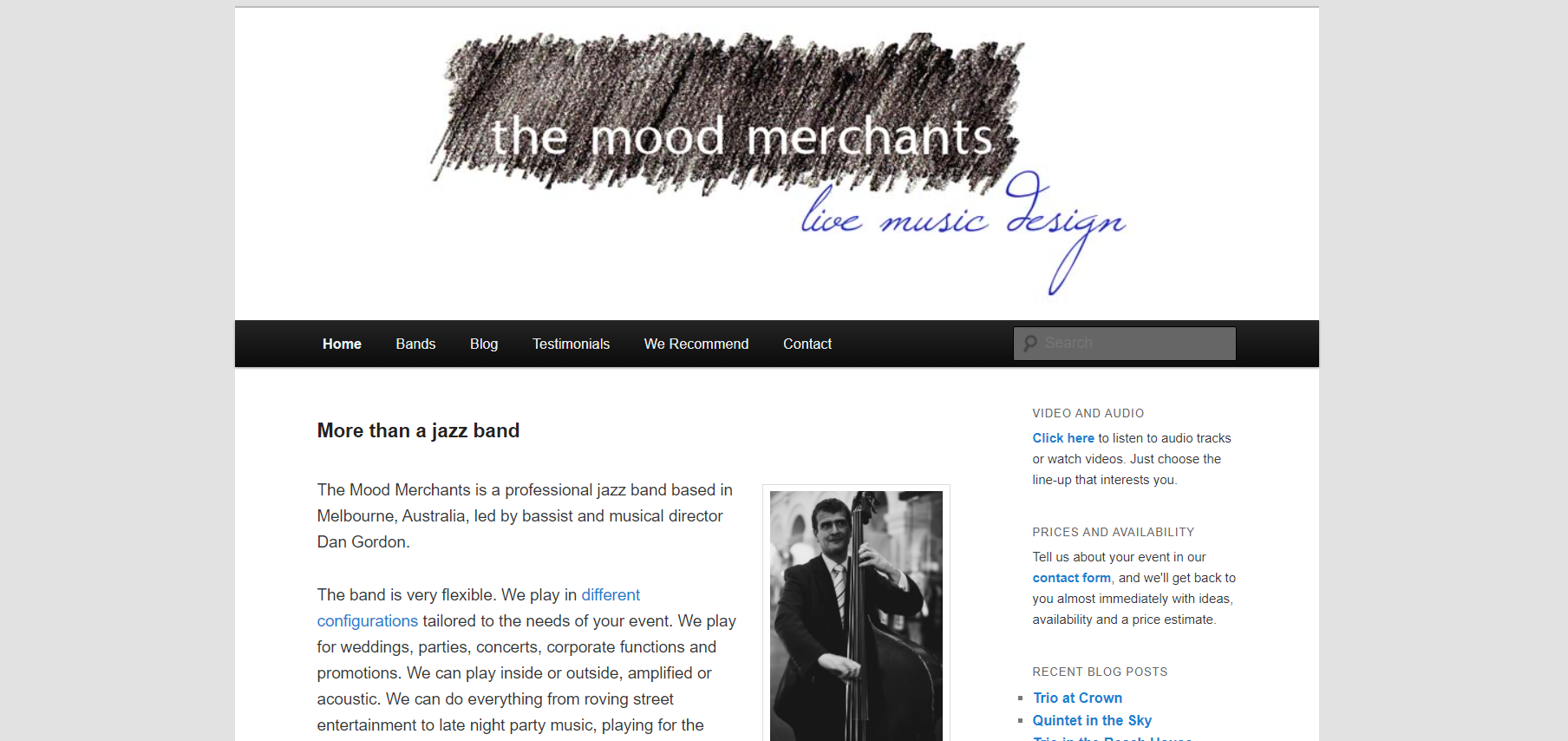 0409 095 638
We play at dozens of functions all around Melbourne and Victoria, and we're fortunate to work with lots of great people and businesses who come together to make those events successful. Here are some who really stand out.
Mary Louise Hatch's exquisite vocals are featured on the Mood Merchants Quintet's tight arrangements of traditional jazz tunes as well as jazz-influenced Latin, pop, and soul songs. Everything from soft, private background music to energetic dance sets can be played on it. It is ideal for business gatherings and weddings held in medium- to large-sized venues.
There are three different lineups for the Mood Merchants Trio, each with its own instrumentation and specialised musicians. A swinging background music ensemble is available that is ideal for setting the mood for weddings, events, and business gatherings.
A modest, entirely acoustic trio that can move from table to table and entertain guests informally and interactively is devoted to restaurant roving. Another option is a street roving ensemble, a movable, entirely acoustic trio that may give outdoor events and marketing a carnival-like feel.
The Bombastics - Wedding Music & Singers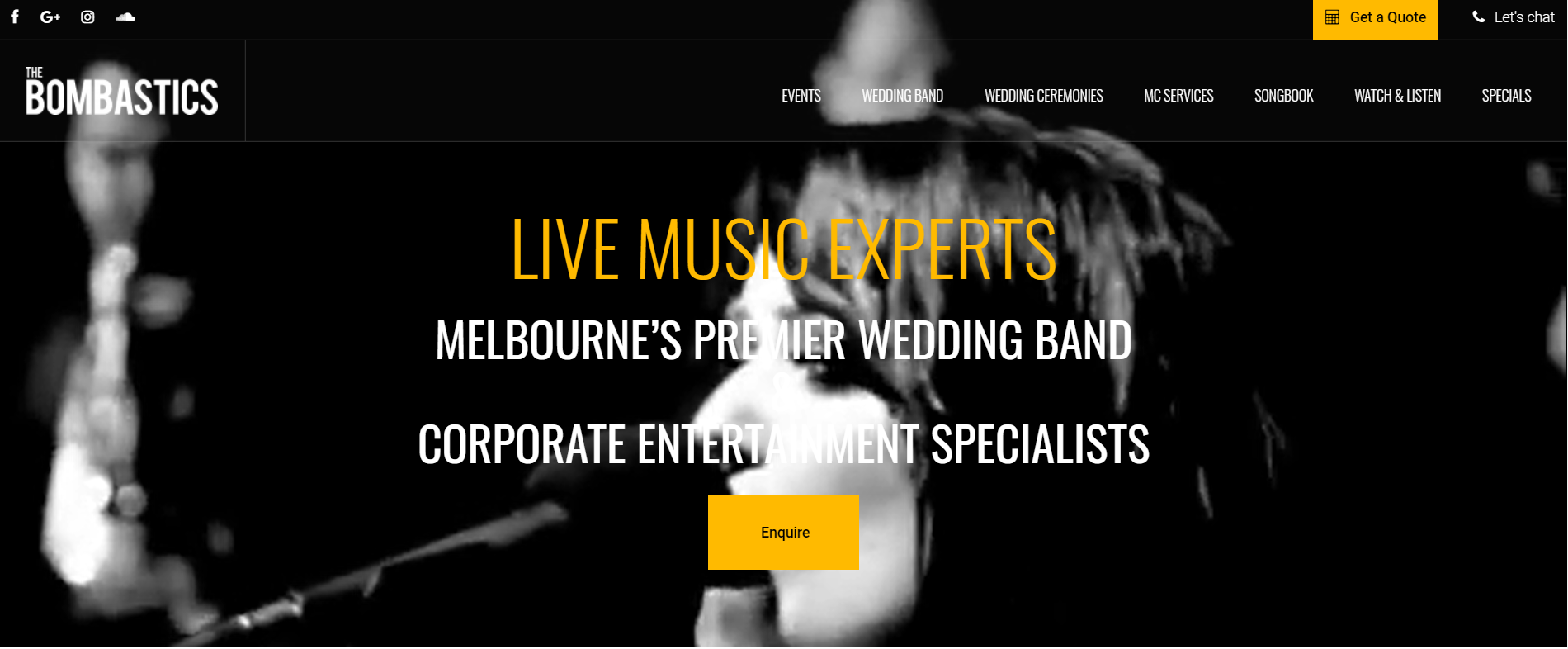 +61 407 045 160
The Bombastics are a multi-award winning Melbourne band. We're a collective of Melbourne's finest musicians, meaning you get choice, flexibility and above all, reliability. Choose The Bombastics, and you know the music is in safe hands.
Finding the right band for your wedding or corporate event can be a painful process. The internet is flooded with good and not-so-good options. Save yourself hours of planning time by getting in touch with The Bombastics today. Discover our exceptional service, attention to detail and best of all, our great sound.
THE BOMBASTICS WEDDING BAND
At The Bombastics, a Melbourne wedding band, we pride ourselves on making every bride and groom's reception the dream party they've always imagined. If you've spent hours scrolling the internet looking at all the wedding music on offer you're probably starting to feel a little overwhelmed. Look no further.
As Melbourne's leading wedding band, couples continue to choose The Bombastics to provide live music like no other. However, being great wedding music performers is only part of the reason. We offer very competitive prices and exceptional service that you won't get from other Melbourne wedding bands.
Cedar Music - Wedding and Corporate Event Entertainment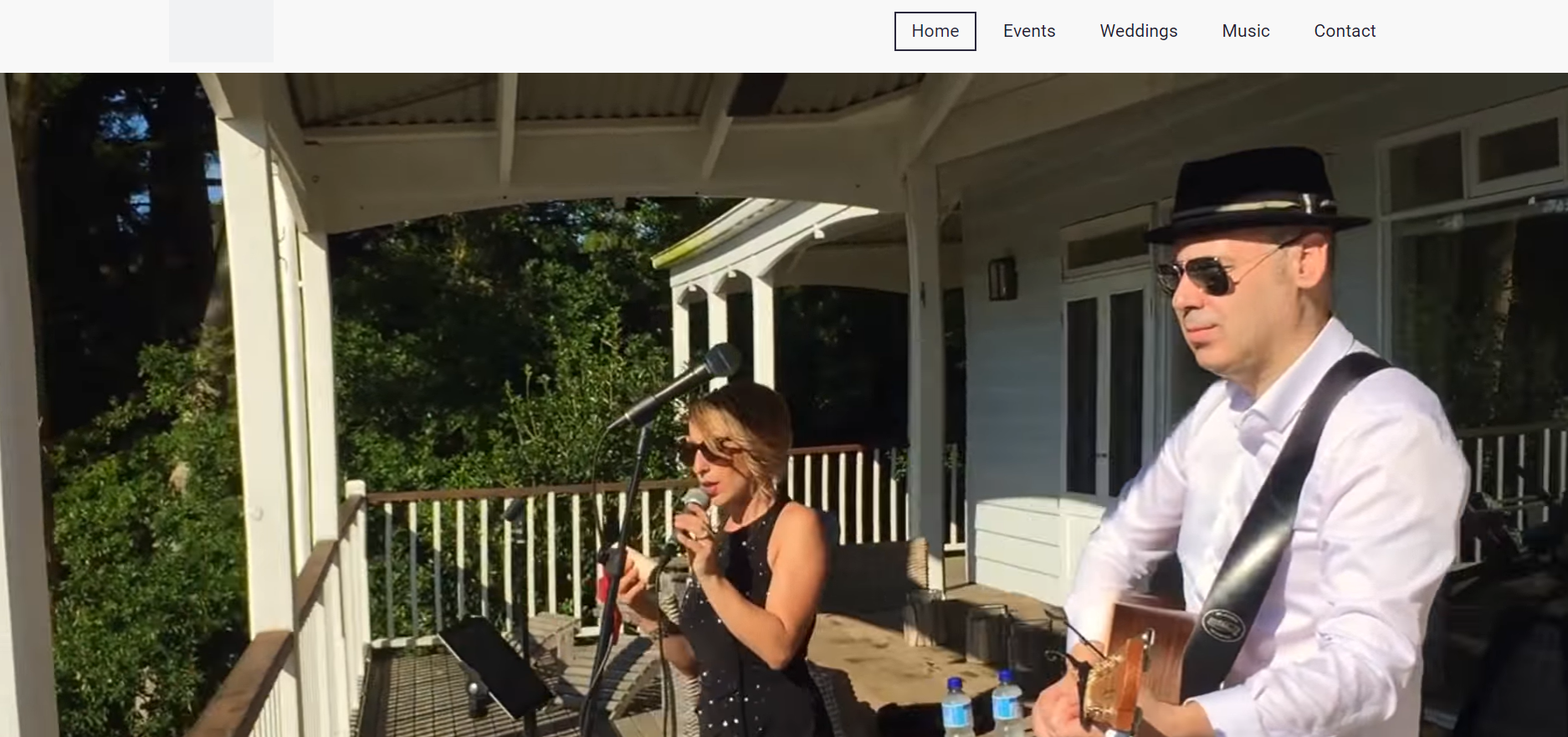 0412 303 671
Cedar - Music For Every Occasion
For whatever occasion, Cedar is Melbourne's go-to entertainment option. Every member of Cedar has years of professional performance experience under their belt, making them a hand-picked band of some of Australia's top musicians.
Boasting a résumé that extends for miles, Cedar has graced the stages of venues all across Australia as well as having taken on live TV and radio. Cedar can provide the perfect entertainment for Corporate Events, Weddings, Birthdays, Anniversaries, Pubs and Clubs.
Cedar has supplied premium entertainment for The Australian Open,  Australian F1 Grand Prix, The Spring Racing Carnival and The AFL Grand Final.
The Fun Starts Here
With thousands of weddings under Cedar's belt, why would you risk your special day with anyone else?  Cedar has the expertise,  knowledge and song list to make the music a highlight of the night. Together with you and your event planner, Cedar will make sure everything goes smoothly on the big day. Therefore, Cedar has all of these options, whether you want the closeness of an acoustic pair, the groove of a DJ with a vocalist and saxaphone, or the powerful sound of a fully-loaded ten-piece band.
DJs Function and Events Melbourne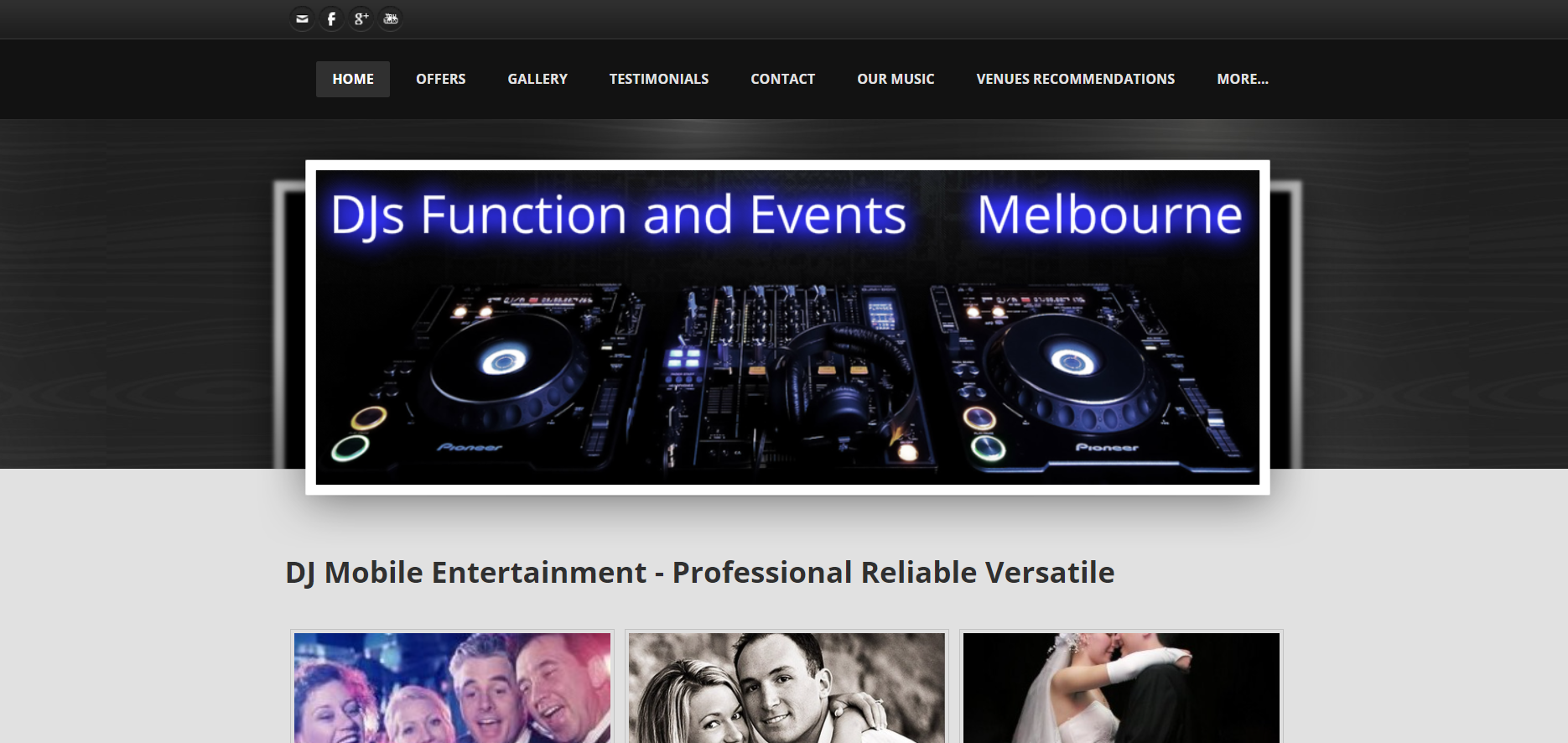 0427 433341
Professional, Versatile & Reliable DJ with over 25 years experience. We represent value for money and treat all weddings with the highest standard of service no matter the size or budget. We care and pay attention to detail when it comes to offering good old fashion service.
Our aim is to take the stress out of organising your special Wedding day. We can assist with planning your itinerary and referrals are available upon request with proven experience Wedding planners and Celebrants.
Melbourne Bellydance Glamorous

0403 686 132
ALL CULTURAL BACKGROUNDS ARE SUITABLE FOR BELLY DANCE WEDDING ENTERTAINMENT.
Are you looking for a unique way to entertain your wedding guests? Simply said, a bellydancer is a "party starter." She serves as a visual cue to indicate when your guests are invited to join you on the dance floor.
Music can obviously be tailored to suit a particular cultural background, and costumes can be worn that are fully covered.
Josie has conducted courses for people at all levels of Middle Eastern Dance, Seventh Veil, Hawthorn and Hip to Hip Dance Studio, Richmond. Josie also conducts speciality workshops for advanced students featuring sword and veil work, as well as holding courses and workshops for intellectually disabled clients, Helping Hand Association, Coburg.
BRENTWOOD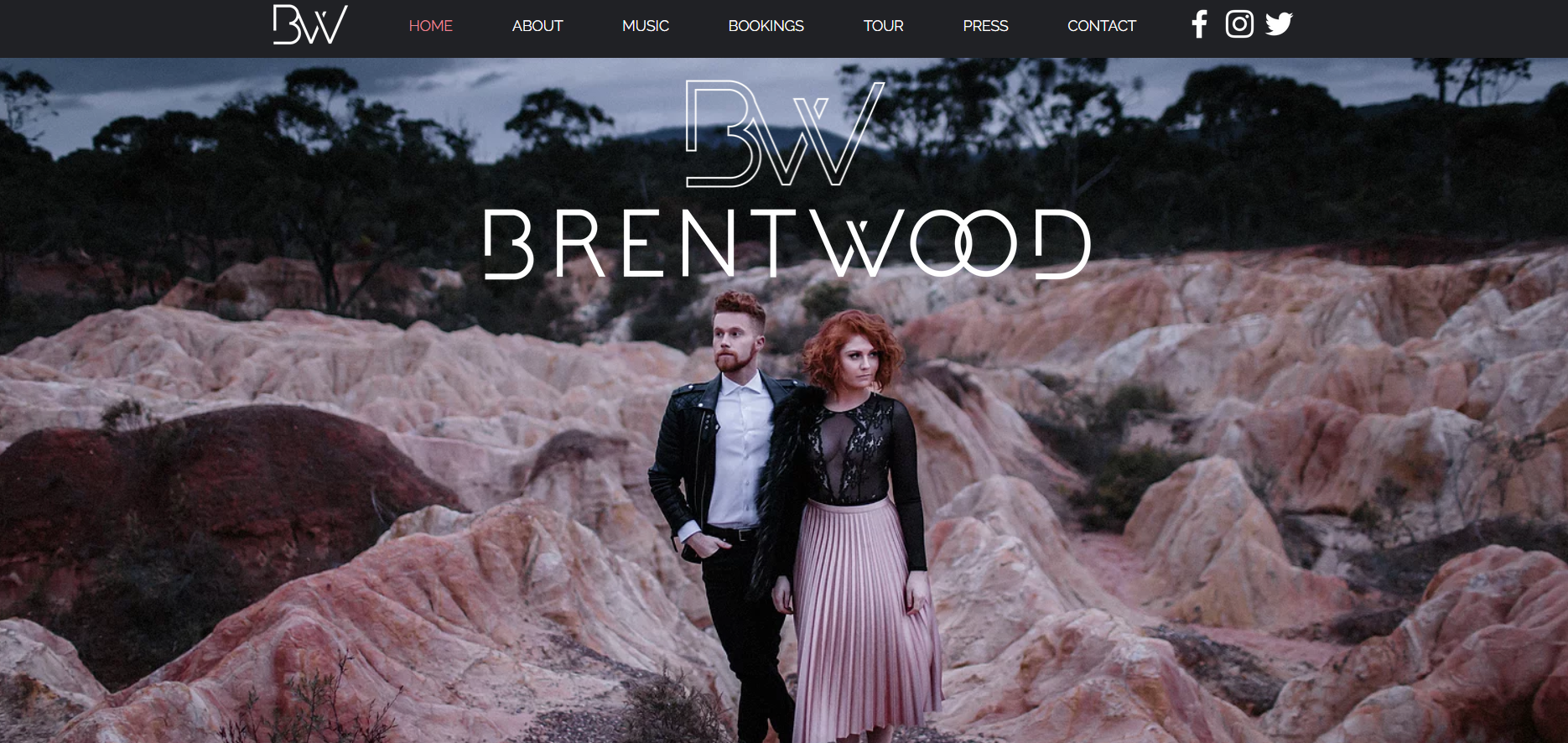 0402 719 115
Brentwood performs unique arrangements of classic songs guaranteed to blow your guests away.
Contact them, tell them about your wedding or event, and they'll give you a tailored quotation. To create the ideal entertainment for you and your guests, BRENTWOOD and their staff will work directly with you to provide a quality, professional, and personalised service.
Finley and Isla Brentwood are a pair of Kiwi singer-songwriters based in Melbourne, Australia, well-known for their melodic, stripped-back style with crisp harmonies to die for.
The Brentwood siblings became well-known online for their energetic acoustic rendition of the "Deadpool Rap," which caught the attention of actor Ryan Reynolds and led to their inclusion on the soundtrack for the movie "Deadpool Reloaded."
Following their debut on "The X Factor Australia" in 2016, BRENTWOOD continued to dazzle audiences in Australia and New Zealand. They raised the bar for the competition as the first act to receive a standing ovation.
With their self-titled EP, Brentwood's most recent musical endeavour sees them go beyond their acoustic roots and explore a wider pop sound. With their distinctive harmonies and a new pop-driven direction, the twins navigate love, sorrow, escapism, and anxiety.
Chantelle and Jon Melbourne Acoustic Duo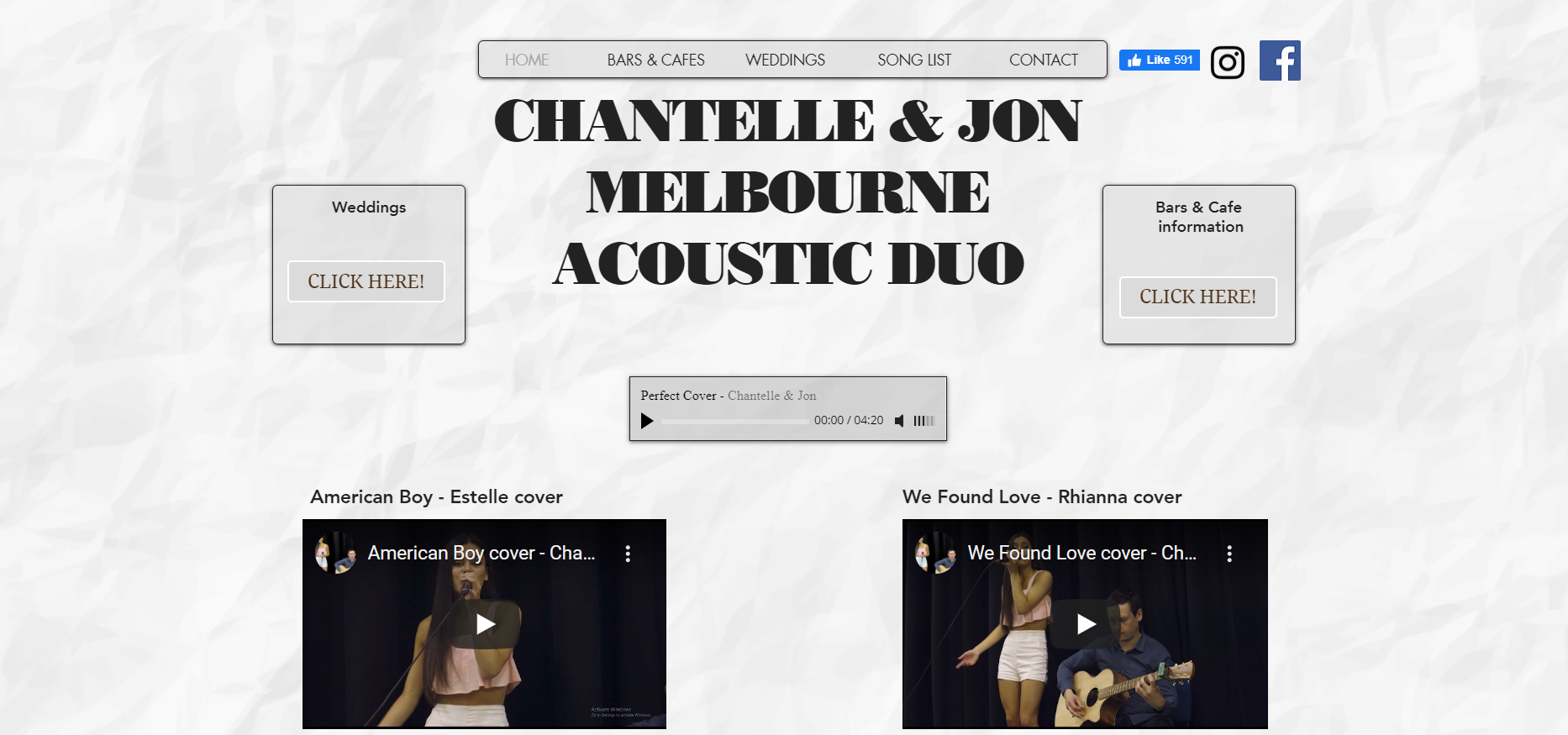 0401489431
Chantelle & Jon Acoustic Duo...
The best acoustic cover duo in Melbourne, fusing modern tunes with timeless classics. Whether you're looking to book a band for your wedding, bar event, or party, this duo offers a diverse choice of live music to satisfy all tastes.
Choosing the best entertainment for your event is important.  An acoustic duo can significantly enhance your customers' experience at your bar/café and can create a memorable event. 
Melbourne Mobile Music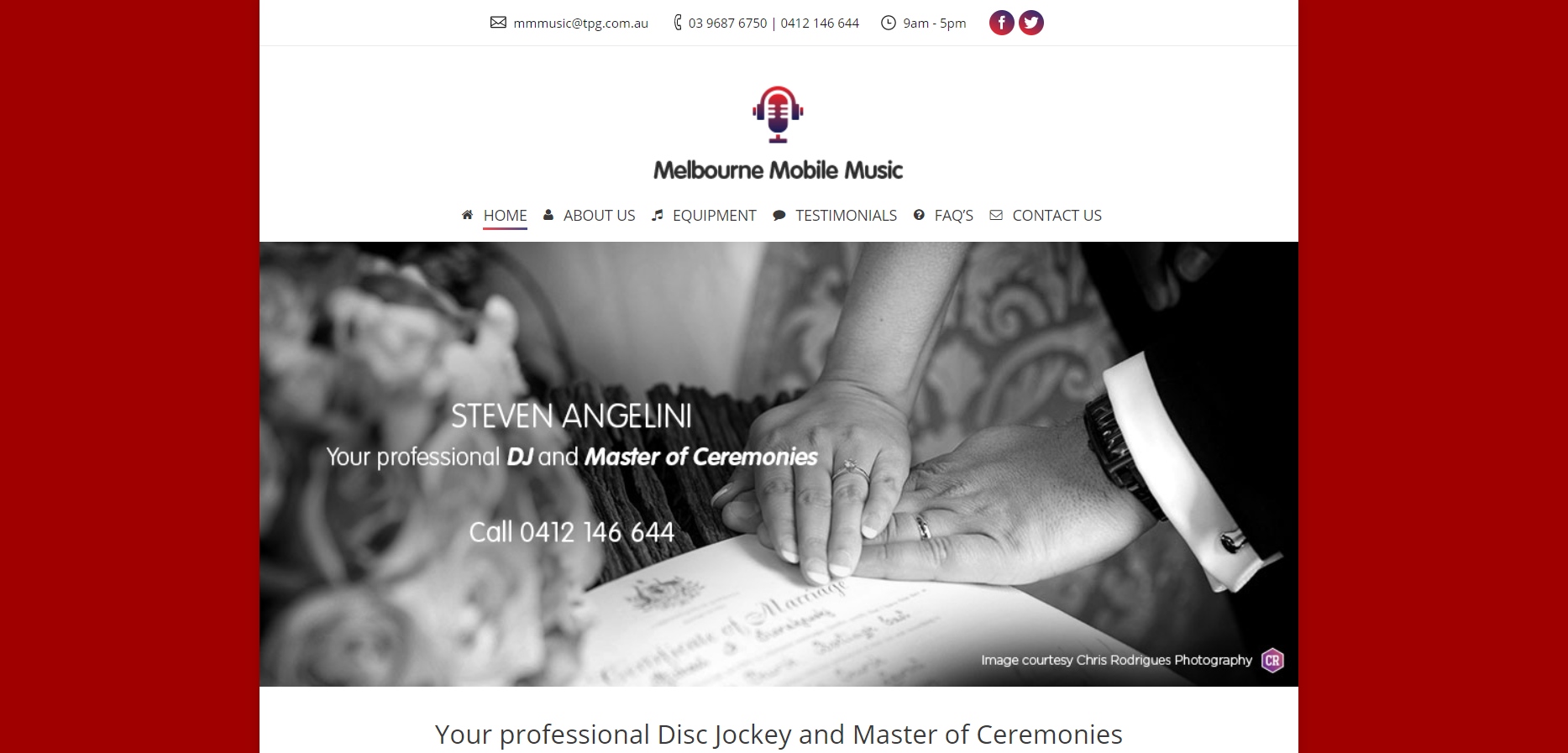 0412 146 647
Your professional Disc Jockey and Master of Ceremonies
expert in organising weddings, parties, formals, corporate events, year-end bashes, and a variety of other events.
Full-time DJ and MC
Steven Angelini is a professional, fun-loving, reliable, full-time Dj and MC with over 16 years of experience.
Pick your own music
If you've never heard us perform, we can discuss your playlist for the occasion, and you can even choose your own music.
Radio Active Mobile Disco - Melbourne Wedding Singers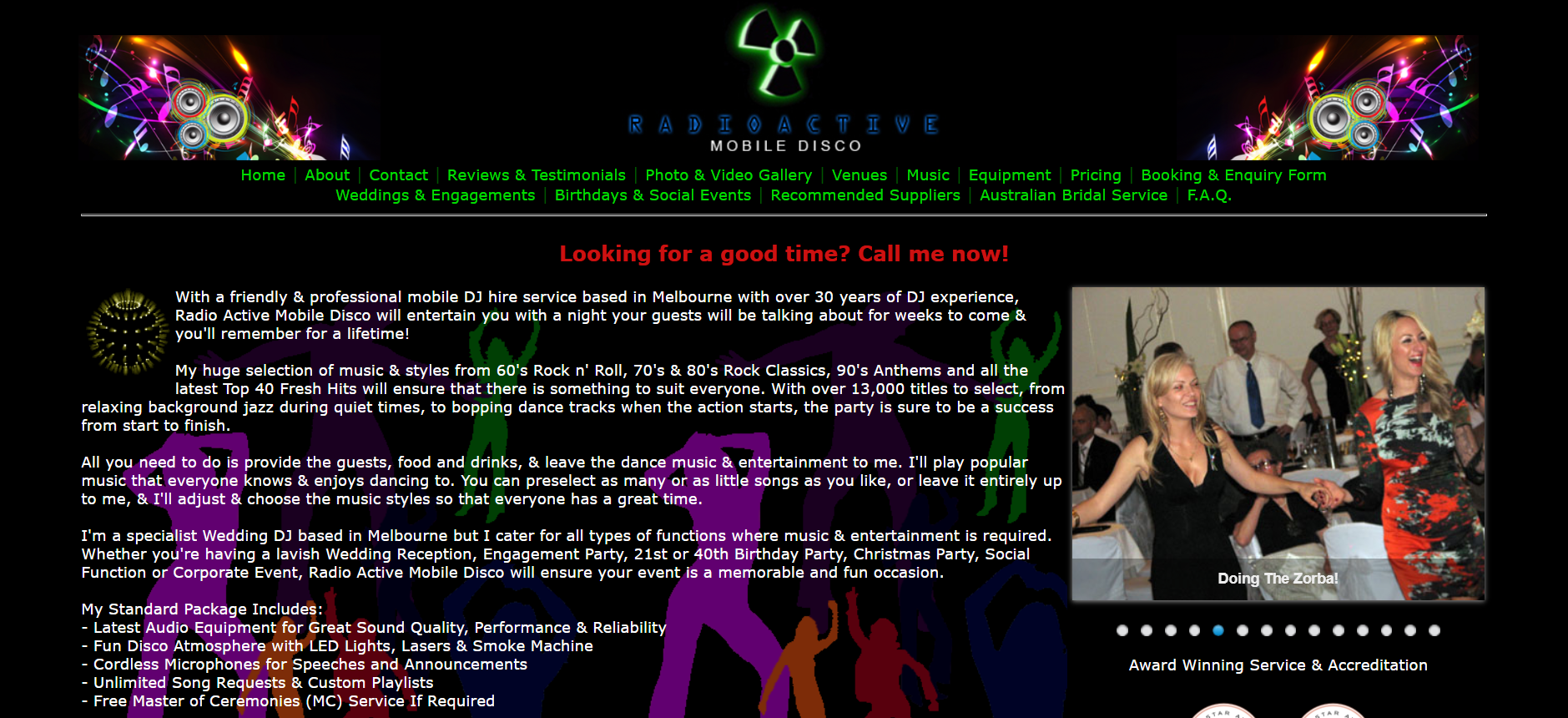 http://www.radioactivedisco.com.au/
0414 686641
With a friendly & professional mobile DJ hire service based in Melbourne with over 30 years of DJ experience, Radio Active Mobile Disco will entertain you with a night your guests will be talking about for weeks to come & you'll remember for a lifetime!
My huge selection of music & styles from 60's Rock n' Roll, 70's & 80's Rock Classics, 90's Anthems and all the latest Top 40 Fresh Hits will ensure that there is something to suit everyone. With over 13,000 titles to select, from relaxing background jazz during quiet times to bopping dance tracks when the action starts, the party is sure to be a success from start to finish.
All you need to do is provide the guests, food and drinks, & leave the dance music & entertainment to me. I'll play popular music that everyone knows & enjoys dancing to. You can preselect as many or as little songs as you like, or leave it entirely up to me, & I'll adjust & choose the music styles so that everyone has a great time.
Tillee Music - Wedding Singers Melbourne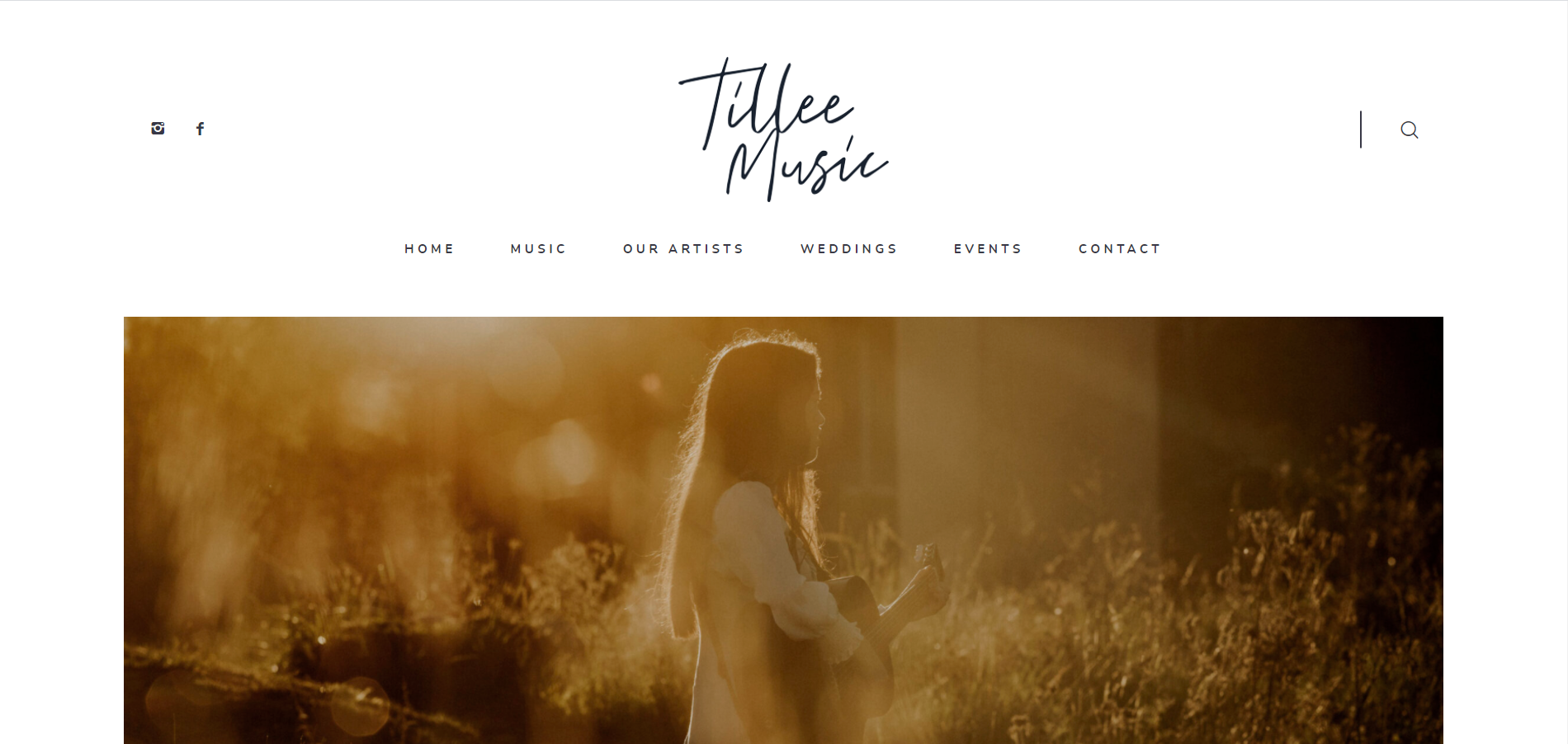 +61 408 828 943
Ever walked into murmurs of polite conversation between a host of strangers in a too-quiet room? Maybe you noticed space felt a little lifeless or even a bit… well… awkward… Here at Tillee Music, we believe that music has the power to change the world – or, at the very least, the atmosphere.
With over 15 years of experience as the soundtrack to romantic weddings and smooth corporate functions, let our signature acoustic sound give your event the life and soul it's begging for.
How long should a band play at a wedding reception?
Weddings and music go so well together. Whether it is a string band playing during your vows, or a rock band whiling the night away, music is great for matrimonial occasions. But, when you plan to book a band, you need to work out how long you need them for.
Do you want the band to be the main entertainment? How long will they take to set up? Can the same band play at both your ceremony and your reception?
You're bound to have a number of questions about the logistics of your wedding night, especially when it comes to the wedding entertainment. How long does the band play for? When will they set up? When does the band start? These are all familiar questions, and unless you're working with a reliable wedding planner, you may be looking for some advice.
When does the wedding band play?
If you're looking at a traditional wedding band set up, then you're looking at a minimum of four musicians. This will include drum kit, keys, guitar, bass with one or more of those doubling up as a singer. For that size, you would assume it's too large to perform during the ceremony or as background music during reception drinks and dinner. So your wedding band is likely to be the ones getting you on the dance floor for a boogie. In my experience, you are likely to expect an earlier hour's set dancing after dinner but before dessert. And then your wedding band can play anything from an hour to two hours for a final dancing set to finish the night.
If you have a good wedding band, then you will be offered a smaller setups during the day. With these smaller ensembles like a solo, duo or trio they can perform at the ceremony, reception and throughout dinner. In my experience, a wedding band offering that service makes your life a whole lot easier rather than booking different musicians for different parts of the day. If you have the extra solo, duo and trio option then you're looking at twenty minutes during the ceremony, 45 minutes to an hour for the reception and another 45 minutes during dinner.
What to expect from your wedding band?
As a wedding couple, you should expect your wedding band to know the sort of music you like. And with that knowledge cater their sets throughout the day to your musical tastes. If you like a large range of music, then you should expect your wedding band to mix it up during the day. Aside from your musical tastes, your guests are likely to have a wide range of ages. So you should expect your wedding band to factor this into the sort of music they perform. I would also say that if your wedding band is experienced, then they should be setting up the energy throughout the day. Earlier on you would want your band performing more chilled numbers slightly before building towards the up-tempo dance sets.
If you are looking for a wedding band or smaller musical setups like solo, duo or trio feel free to get in touch. I'd be happy to chat with you about anything you need to know.
What Time Should The Band Start?
Even with the most meticulous of planning, weddings inevitably run later than planned, speeches can run over amongst all kinds of other unexpected hiccups. That's nothing to be worried about as there's still plenty of time to get the party going. Although you may be eager to get the band up as soon as possible, we find it's good to start at around 8/9 pm, depending on how long your band is booked to play for.
After many years of experience, we often observe that guests head to the bar or outside for some fresh air after the wedding breakfast. After sitting down for 2-3 hours having eaten a lot of food, coupled with a smorgasbord of drinks, it makes sense that guests won't be making a beeline for the dance floor.
Of course, everyone will gather for the first dance, but it's a similar story once this has concluded so the later, the better has always been our motto. However, every wedding day is different, and our dedicate agents are here to help you organise the perfect schedule for your reception, so you get the most out of your band.
How long does a wedding play for?
We find 2 sets usually works the best, often 2 x 45 minutes or 2 x 60 minutes depending on what packages the band offers. You may even find you prefer to split your sets up into 3 x 40 minutes to spread it out over the evening. However, some bands will offer additional seats for an extra fee, and this can either be another live set (3 x 60 minutes or 3 x 45 minutes) or an acoustic warm upset. An acoustic set can consist of the whole band performing or a trio/duo depending on their acoustic repertoire.
If your venue has the option of staying open until 1 is, then you may find that an additional set is really worth investing in. Staying later often incurs an additional cost and may even result in the band requiring accommodation depending on the location of your wedding.
However, most bands offer a DJ service or an add on DJ which would be a more cost-effective way of keeping the party soaring into the late hours. Every wedding is different so, whatever your plans, the band will do their absolute best to work around you and your guests.
How many songs fit into a set?
A question that is frequently asked by our clients is 'how many songs can be played in a set?'. Although there is no definitive answer to this, we have been able to work out a rough number in order to help our clients pick enough favourites for the band to include on the night. If a song is roughly 3-4 minutes long, then you'd be looking at 15-20 songs per-hourly set. If your band is performing 2 x 45-minute sets, then it would be roughly 10-15 songs per set.
Of course, if your wedding is really shaking the walls and the band are in the zone, then you may find they perform for slightly longer with extended solos for each member for the band on certain songs. If your guests keep the dance floor full and the drinks flowing then anything could happen - you may even get an encore if you're lucky!
Can we choose the setlist?
You'll no doubt choose your band based on their repertoire, and so you're bound to have a number of requests which is absolutely fine. The only thing we try to discourage politely is when brides (and grooms) email through the exact setlist. This makes it very difficult for the band who would usually choose their set based on a number of factors. When a band puts a setlist together, they'll consider their audience, which songs go well together, which are nice to start with and which really end the night well. A setlist is something that needs careful consideration which is why it's nearly always best to leave it up to the band.
Do we need to feed the band?
It's something that's queried time and time again, and the simple answer is 'Yes please'. Although it may seem that your band is only playing for a couple of hours, with travel and time spent hanging around at the venue, their day will almost always be between 10-12 hours long, and so they need to have a proper meal to keep energy levels up. Having played a few hundred weddings myself in my time, I can honestly say that a well-fed band is a happy band and that will come across when they're up on stage performing.
Do we need a stage and how big should the stage be?
A stage isn't essential, and function bands are used to playing on the floor, so don't worry too much about it. It's an added expense that can be avoided, but if budget isn't an issue, then a stage is always a nice touch and will really add to that live gig atmosphere.
You should always speak to your band about the stage size, but as a guide, we'd recommend about 1-meter width for each band member so a 4-piece band would require at least 4 x 3 meters to give them sufficient space.
Why are the prices quoted higher than the website?
I'm sure you've spent many hours trawling through the hundreds of wedding bands on the net and after submitting your first few enquiries have found that prices quoted are often higher than the advertised fees. The main reason for this is that bands will advertise their base rate but may charge more when travelling. First of all, there are fuel costs, but then they also need to consider the extra time spent travelling and whether the accommodation will be required.
Our venue has a sound limiter, can the band still play?
Sound limiters are the bane of the musicians' existence, but where there's a will, there's a way. In case you're not familiar with sound limiters, they're trip switches installed at venues that turn the power off when the volume reaches a certain level. Some people like to refer to these as 'Fun limiters', and I am akin to agree.
It all depends on how low your sound limiter is set but most bands are able to deal with sound limiters by either using soft drum sticks or electronic drums. It does mean the volume will be lower than you're used to so always make enquiries with your venue before booking up.
What time should they finish?
Work out if your chosen venue has any noise restrictions. These could be all-day or only start at a certain time. Some places even have a sound limiter, which means power is cut if the noise goes over a certain volume. It would be awful to book a big rock band, only to discover that you can't play loud music.
How long will a live band play for?
Work out what time you have your venue until and work backwards. You can't arrange for the band to play their last song at five minutes to midnight if you are expected to all be gone by the hour; the band will need time to pack up and leave. However, the band announcing the last dance is a great way to tell your guests it's time to go subtly.
If you have a strict finishing time by your venue, pass this information on to the band. They will be able to tell you how long they will need to pack up so that you can be safely out in time.
How much will it cost?
Because most bands are used to playing for two hours over three or four hours, you are unlikely to get a discount if you want them for less time. Factor in their setting up and travel times and you can see why they may refuse to play for less. Most bands and musicians will book an entire day for one wedding.
However, certain bands playing specific musical styles might offer a shorter performance for a reduced price. For example, steel bands will commonly offer two 40-minute sets of live music within a two-hour period; some other musicians may be willing to do something similar.
How long do other musicians play for?
We represent a variety of popular wedding musicians on our website for hire, and they all offer slightly different packages, so we do advise getting in touch directly to discuss in further detail if you're interested in a particular act.
However, below is a rough guideline on how long acoustic acts, pianists, harpists and string musicians perform for and the most popular wedding packages they offer.
Acoustic Acts
Acoustic guitarists, duos, trios and beyond tend to offer 2 x 45 or 2 x 60-minute sets (with the option of splitting the latter up into 3 x 40-minute sets). They typically arrive an hour prior to the performance, as they don't take as long to set up (roughly 20-30 minutes), and will perform their live sets over a set time period, i.e. 2 x 45-minute sets over a 2 hour time period or 3 x 40-minute sets over a 3 hour time period.
However, if you want them to perform a set during the drinks reception and then a set after the wedding breakfast, you may find that the price increases. This is because they will be on-site for longer and will need to increase this time period in order to accommodate your schedule, i.e. 2 x 45-minute sets over a 5 hour time period.
Pianists, Harpists & other Solo Musicians
Our wedding soloists offer similar packages to both our acoustic acts and our string ensembles. Harpists and pianists are ideal for wedding ceremonies and will often put forward packages that include some, if not all, of the following; Pre-Ceremony performance (20-30 minutes), Ceremony (roughly an hour) and Drinks Reception or Wedding Breakfast (2 x 45-minute sets over a 2 hour time period).
Also, you'll also find that some musicians will even offer a full day package to cover the entire wedding. This would consist of the following; Pre-Ceremony performance, Ceremony performance, Drinks Reception, Wedding Breakfast, Evening Reception + DJ service until midnight. We highly recommend enquiring about Spenser by clicking here if you're interested further in receiving a quote for an all-day wedding package.
String Ensembles
Bands For Hire has a superb selection of wedding string quartets and string musicians for hire. Our string ensembles and musicians tend to offer their time per hour, so you'll find that most quotes include pricing for a 1 hour, 2 hours and 3-hour booking as standard. To clarify, this does not include arrival time and set up, and we ask all musicians to arrive an hour prior to the performance.
For a 1-2 hour booking, most musicians will typically play straight through, but for longer periods of time, they will require rest breaks (10-15 minutes at most). For bookings much longer than 3 hours, musicians will require a lunch break (30-40 minutes), so please do discuss this further prior to booking to understand their requirements.
Weddings can run later or earlier than expected, so be prepared for potential changes in schedule. Taking into consideration the setup, breakdown, and performance time will give you the best idea of how much time needs to be allotted for the band. Coordinate with your entertainment group to make sure everything is set for your wedding day!