But don't worry, we're here to help! We'll share some tips on throwing a virtual wedding reception that will impress your guests in this post. Read on to learn more!
You are wondering what the proper Zoom wedding etiquette is for this situation. First, you want ALL of your guests to feel special and included in the celebration. Perhaps the easiest way is to invite only your immediate family to the in-person celebration and invite the rest virtually.
Please provide a link to where they can RSVP virtually on your wedding website.
Prove a separate paper mail-in RSVP card.
Provide both options and allow your guests to choose whatever feels more comfortable.
Yes, even a virtual wedding is an event you should dress up for. However, your attire shouldn't be too different from what you'd wear in person (although nixing the heels is probably okay this time). The same general rule applies to couples getting married.
You don't have to send out save the dates (though you should if you have a destination wedding or expect a lot of out-of-town guests), but it's customary to send out these invitations six to eight months ahead of your wedding. So you should send the official invitation out about eight weeks before the event.
A Zoom wedding can be as simple as a live-streamed backyard ceremony—or it can broadcast just one component of your big day (like a toast) to a larger group. While a virtual wedding is invariably a different kind of celebration than a big in-person one, it still holds so much potential to be a memorable, fun event.
Virtual Reception Etiquette
Who Throws A Virtual Wedding Reception? 
Commonly, a combination of the couple's parents will "co-host" the virtual reception. However, Stillwell says that many couples decide to throw the virtual wedding and celebrate themselves in today's world.
When Do You Throw A Virtual Wedding Reception?
"Even the most traditional 'non-virtual type couples' are realising how some type of a digital component makes sense right now," Stillwell says. I feel that the future for most weddings and events will be a combination of a part live/part virtual celebration as this may also be the perfect plan for a couple who never wanted a big (and expensive) wedding.
Who Gets Invited To A Virtual Wedding Reception?
Since virtual wedding receptions are still novel, one of the benefits of this event type is having no hard and fast rules dictated by tradition. You can plan this wedding however you like and invite whomever you want! Many keep the in-person guest count low, consisting of close relatives and friends, with virtual invites to distant relatives and work friends—no feelings hurt, no budget bloated.
Do You Need To Send Formal Invitations? 
Stillwell feels strongly that a virtual wedding reception should include an actual mailed invitation (not an event). He says it's important to send virtual guests something tangible, especially for an event as important as a wedding.  
Should You Include A Dress Code? 
A dress code can help set the tone for this momentous occasion and create a togetherness for all guests. In addition, Stillwell says, "the more the virtual guests can be in line with the live guests, it simply makes for a better party!"  
How Can You Make Virtual Guests Feel Involved? 
It's a nice gesture to mail each virtual guest a surprise package for the wedding week. Based on your budget, this can be as simple or grand as you're able but think: a beautifully wrapped box with a mini wedding cake, small bottles of Champagne and a program to follow during the ceremony. You can also organise virtual toasts, although Stillwell recommends limiting this to two live and two virtual toasts, no longer than five minutes each.
Do You Still Need A Cocktail Hour?
Suppose the hosting venue has two rooms equipped with projection. You wouldn't need to have a cocktail hour. It allows live guests to move directly to the dining room after the ceremony with a quick camera angle switch for virtual guests. However, if only one room is equipped with the necessary technology, you would need a cocktail hour to flip the space from the ceremony venue to the dining room. You can still imbibe with virtual guests during that time by sending them a recipe card of your signature drink or having cocktail kits delivered to their homes. 
What Happens During Dinner? 
If budget allows, you can conduct your entire event with both the live and virtual guests enjoying the full experience with delivered catering. For a leaner budget, the run of the show may consist of the first dance, followed by a few dance songs that everyone can enjoy, speeches, cake cutting (with virtual guests enjoying their mini version at home) and then the online celebration would conclude with the couple saying goodbye to the virtual viewers.
Steps To Planning A Virtual Reception 
Pick A Date
Virtual wedding reception data can be communicated by inviting a few weeks less than a non-virtual wedding since guests won't need to travel or take time off work. However, you may want to consider confirming the timing as many guests could be joining from different time zones. 
Send Invitations 
A virtual invite should go out 6 to 8 weeks before the wedding. If you plan to incorporate in-person guests, you'll need two invitations: one for the live guests and a second for the virtual guests (don't forget the time zone!). The dress code should be included just as it would be for an in-person wedding, and you may also want to note that you may record the event to ensure guests dress to impress. The wedding website should be on the invitation to provide additional details and access to the wedding registry.  
Choose A (Virtual) Venue 
To execute a spectacular hybrid reception having the right venue is a must, even if most of your guests are conferencing. Venues such as LAVAN541 in New York or The Temple House in Miami offer high-quality projection and 360 photo mapping capabilities. You can set your wedding ceremony in a cherry blossom orchard, then transport to a private sunset-lit beach in Maui for dinner. If hosting the event at your home, work closely with your planner or a hired tech team to ensure that your tech specs are up to the challenge.
Find Your Virtual Vendors
Virtual events have pushed industry vendors to new creative limits, experimenting with new technology and creating innovative experiences for digital events. As a result, many wedding planners, caterers, and technology companies are beginning to add "Zoom Weddings" to their service offerings, so you'll want to seek vendors with experience in virtual entertainment and event technology. 
Decide Who Is Emceeing
With a virtual reception, it's necessary to incorporate a master of ceremony. It needs to be someone with a dynamic personality who can keep guests' attention as they are responsible for narrating the event for the virtual guests. Because online guests won't be able to see all angles, the emcee will explain what will happen throughout the evening, walking them through every segment of the wedding while also communicating any "behind the scenes" happenings. Without this, your virtual guests will feel disconnected.
Plan The Menu
Seasoned caterers have created exciting ways to involve at-home wedding guests in the dining experience so that you can plan your menu just as you would for an in-person wedding. For example, vendors such as Thomas Preti Events in New York have introduced a three-course "dinner in a box" concept. In contrast, Bill Hansen Catering and Event Production has created Zoom wedding menus with free delivery in Miami. These curated meals are beautifully packaged and seamlessly delivered to the virtual guests in concert with the live guests' dinner.
Set The Scene
In addition to decor and catering, you can create a stunning scene for guests in person and at home with the right tech in place. Stillwell often works with companies like Total Entertainment that have immersive events down to a science with the ability to create custom backgrounds for online guests that match projections in the physical venue. At the same time, a three-camera filming process can give digital onlookers a sense of being right there in the room. 
Have A Tech Rehearsal 
Perhaps even more necessary than the traditional rehearsal dinner, the tech run-through is vital to a smooth-running virtual reception. Your planner or tech team should contact every virtual guest at least a week before the event making sure everyone has the proper equipment in their home (ask if they can supply missing equipment to guests if needed). You'll also want to schedule a quick tech rehearsal on the wedding day to work out any issues before starting. 
Capture The Celebration!
Even though your guests may not physically be able to join you in photos, there are certain times you'll want to capture reactions of virtual guests cheering or applauding in key moments, so make sure your photographer is well-versed in doing so. And instead of a videographer, make sure your tech company or event planner can record and share the event with you at the end of the production.
Specific Time Zones And Timelines
Imagine exchanging vows and toasting to your newlywed status at sunset, while most of your guests will have to get up at the crack of dawn due to distance. Consider the time of your wedding in the virtual guests' time zones," says Hirata-Sung. One of the advantages of having a virtual wedding is that it enables loved ones to attend, regardless of where they are geographically… Hopefully, your venue will offer different ceremony and reception times to choose from so that you can select a time that will best accommodate your guests in their respective time zones.
Along with time zones, the timeline is an important consideration as virtual weddings are different in format. "Remember that the virtual attention span is shorter, so look at more concise timing for your wedding," she adds.
Your Original Vendors
Since you could combine a virtual wedding with a minimony or a micro wedding, couples are encouraged to work with their vendors to implement their original style and vision into the ceremony. It can include asking your florist to build a backyard-friendly installation or having your caterer send menus and meals to local guests. Outfits are another alternative. Perhaps a bride will consider a more casual version of her wedding dress or accessorise outside of her original wedding plans.
Finally, if you move forward with your vendor team for your virtual marriage, connect all respective vendors to coordinate the various moving parts as you would with any event. "You'll want to put your photography, videography/streaming and production teams in touch before your wedding," says Hirata-Sung. "With the virtual wedding, they may want to plan and collaborate on the best camera angles given the placement of the device or the various cameras streaming the feed. They may even choose to do a site visit in advance."
Virtual Updates
Along with a change-the-date notice, an FAQ page and constant communication are crucial during COVID. Says Hirata-Sung, "Create a wedding website for sharing info, as with the complimentary site available through The Knot. For those who RSVP to attend your wedding virtually, you can share helpful tips for attending virtually and convey the appropriate information to subsets of attendees, especially if some guests attend in person, others via live streaming, and others via video conferencing.
Investing In Good Technology
It is one of the most important aspects of a successful virtual wedding. Sound quality, great lighting, and a stable internet connection are essential to this event. Talk to your vendors about what is necessary to ensure all three components will not be disrupted, especially as you exchange vows.
Test the wifi capabilities at the wedding venue in advance. If the bandwidth is insufficient or the wifi capabilities are "spotty," you can consider bringing in a separate hotspot," says Hirata-Sung. "Having stable and solid wifi is key to the success of your virtual wedding and to ensuring that your remote guests can enjoy your day with you to the greatest extent possible."
"Invest in an AV Screen, which is available for rent, or Chrome Casting the virtual wedding guest gallery, to showcase attendees so the couple can see and communicate with those watching," suggests Monica Vanderbeck of Virtually Wed.
A Decisive Platform Type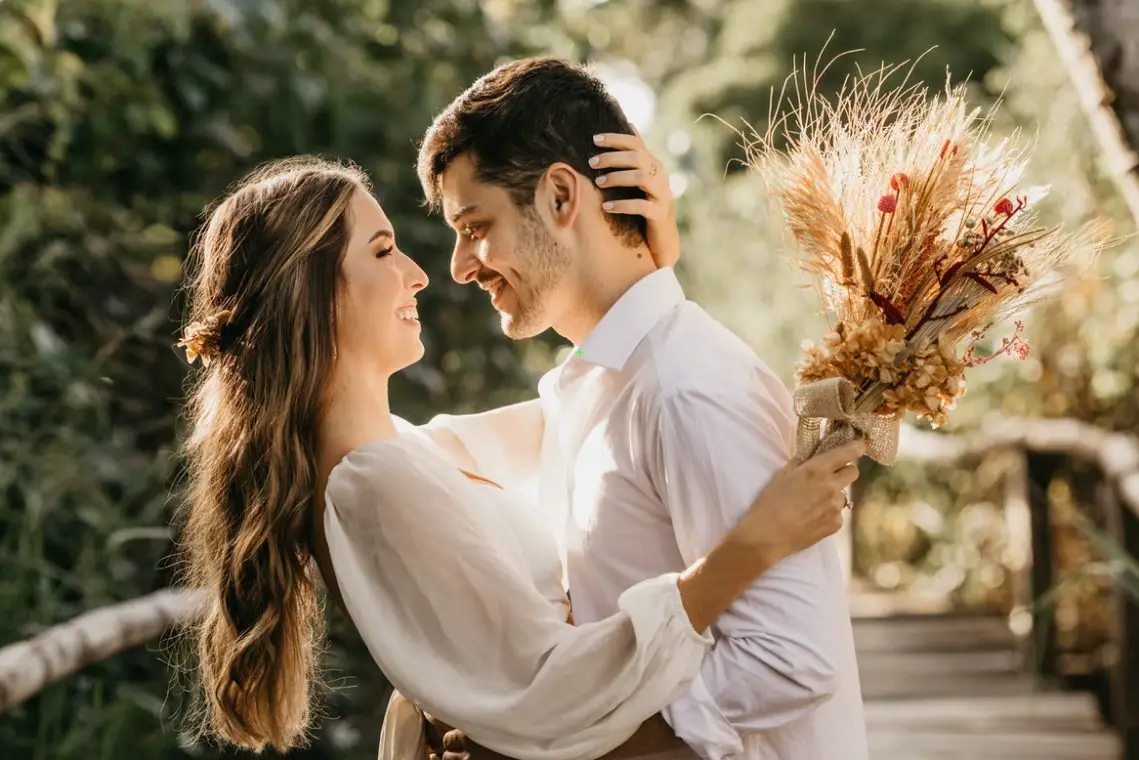 You and your partner will decide between a live-streaming or video conferencing platform. There are benefits to both. "Live streaming, such as through Facebook Live or Twitch.TV enables guests to view and chat with others through the chat feature. In contrast, video conferencing through Zoom, Skype and Google Hangouts, on the other hand, allows everyone to see and speak with each other and is a more interactive option than is live streaming," says Hirata-Sung. "If choosing the video conferencing option, think of ways to engage and involve guests."
A Dedicated 'streaming Administrator.'
Along with the right technology, the right folks to help facilitate virtual marriage will ensure a smoother process. "Have a dedicated person or professional services as the streaming administrator," suggests Hirata-Sung. "This person can be there to help guests with questions and can mute and unmute microphones. They can also choose the appropriate feed to show if opting for a more robust, multiple camera productions."
If select guests aren't familiar with live streaming or video conferencing (say, your grandmother or great aunt), ask the administrator to host a practice streaming session with those guests. One of the things I did not anticipate for my hybrid virtual wedding was that a few of my guests wanted to gather at their parents' homes, so having multiple devices meant that there was feedback from each other's microphones," the pro admits. "During the practice session, they determined how far apart they could be within the same house to maximise participation."
A Virtual Waiting Room Or 'lounge.'
Certain platforms now offer virtual waiting rooms for guests to mingle before the event starts. As guests await the arrival of you, the couple, they can join the lounge and partake in conversation before the event begins. It allows the atmosphere to be more open and friendly as guests participate in the overall ceremony.
Virtual Experiences For Guests
An interactive activity is especially appreciated in a virtual wedding, including guests' contributions to a video montage. For example, have your guests pre-record messages in advance or have your videographer capture their video messages for a keepsake from your day.
"You can also have online guests participate by reading during the ceremony, saying a blessing before the meal, doing some performance, offering a toast, or delivering a speech," notes Hirata-Sung.
Hiring a professional host or emcee to facilitate the evening is considered. "Enlist the services of a professional emcee to provide directions and involve the guests attending virtually," adds the planner. "With the virtual wedding still being so new, it is helpful to convey basic instructions, and an emcee or host can facilitate this. It's also helpful if this person provides commentary and builds audience engagement to bridge the physical distance."
A Virtual Wedding Dress Code
For couples, it's important to ask your guests to abide by a theme if you decide to move ahead with one for your virtual wedding. In reverse, and as with an in-person wedding, guests should dress according to what the couple has requested.
If any updated information is unavailable, the best place is via the couple's invitation or wedding website. The Knot Editors recommend guests accessorise with a cute bowtie or a pair of fun earrings since most participation will be seen from the waist up.
Home-Delivered Meals And Cocktails
Safely prepared bento boxes with menu inserts, pre-mixed specialty cocktails and delivery options are one way to engage guests who are local to the area (or those afar) as it's yet another interactive virtual experience that could delight your loved ones.
Couples could incorporate food elements that are easy to ship, such as mini dessert boxes with treats found at the wedding, a charcuterie display filled with cured meat, cheese, mustards, dried fruits and nuts," says Virtually Wed's Vanderbeck. "An extra special touch might include working with a local company to assemble and deliver to-go style meals for guests to enjoy while virtually viewing. These items might include instructions or times to be enjoyed."
In addition to edible treats, perhaps ship your virtual wedding guests mini floral arrangements to brighten up their homes and wedding favours as a keepsake from the day.
Conclusion
So, you've just tied the knot and would like to celebrate with friends and family near and far. But how do you throw a virtual wedding reception? It may seem daunting at first, but it can be an enjoyable event for all with careful planning. We hope this guide has given you some ideas on getting started!