Getting married and looking for the perfect wedding reception venues located in Melbourne?
Located in Melbourne Victoria and currently on the hunt for your dream wedding venue? Look no further! To take the stress out of choosing, here are the top 100 Melbourne wedding venues ranked by their customer ratings on Google.
We're proud to be working with some of the best wedding venues in Melbourne. Whether you're looking for an exclusive five-star hotel, a sophisticated restaurant with spectacular harbour views or even a luxury vessel, you'll find your perfect Melbourne wedding venue for 2020 at Real Weddings.
Real estate experts always say location matters. When it comes to a wedding reception, we agree, as your choice of venue is what can turn an enjoyable celebration into a memorable extravaganza. To help make your choice, here are the top 100 wedding venues in Melbourne and surrounds.
Melbourne – the capital city of Victoria and the 2nd largest city in all of Australia – provides what seems like an endless supply of wedding venue options.
If you've decided to get married in this expansive and dynamic city, you may have a hard time choosing from the long list of top-notch wedding locations. Check out the list below for narrowing down options that you can't go wrong with!
Choosing one of these top best wedding venues in Melbourne guarantees you a marvellous day that nobody will soon forget.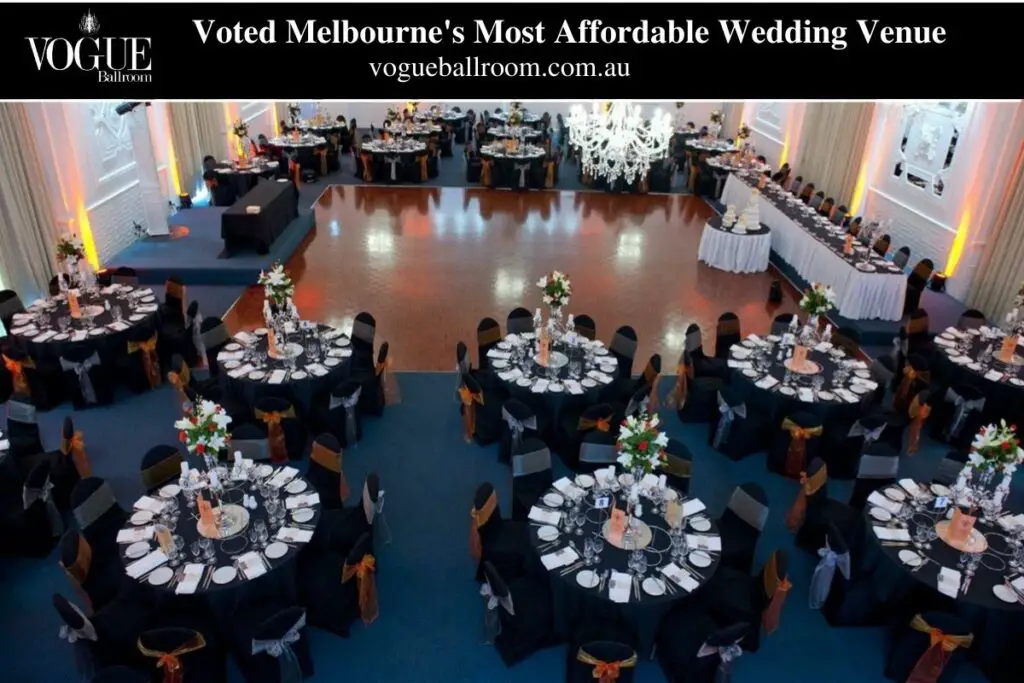 The latest list of wedding reception venues in Melbourne
Vogue Ballroom is a venue for wedding receptions and celebrations in Melbourne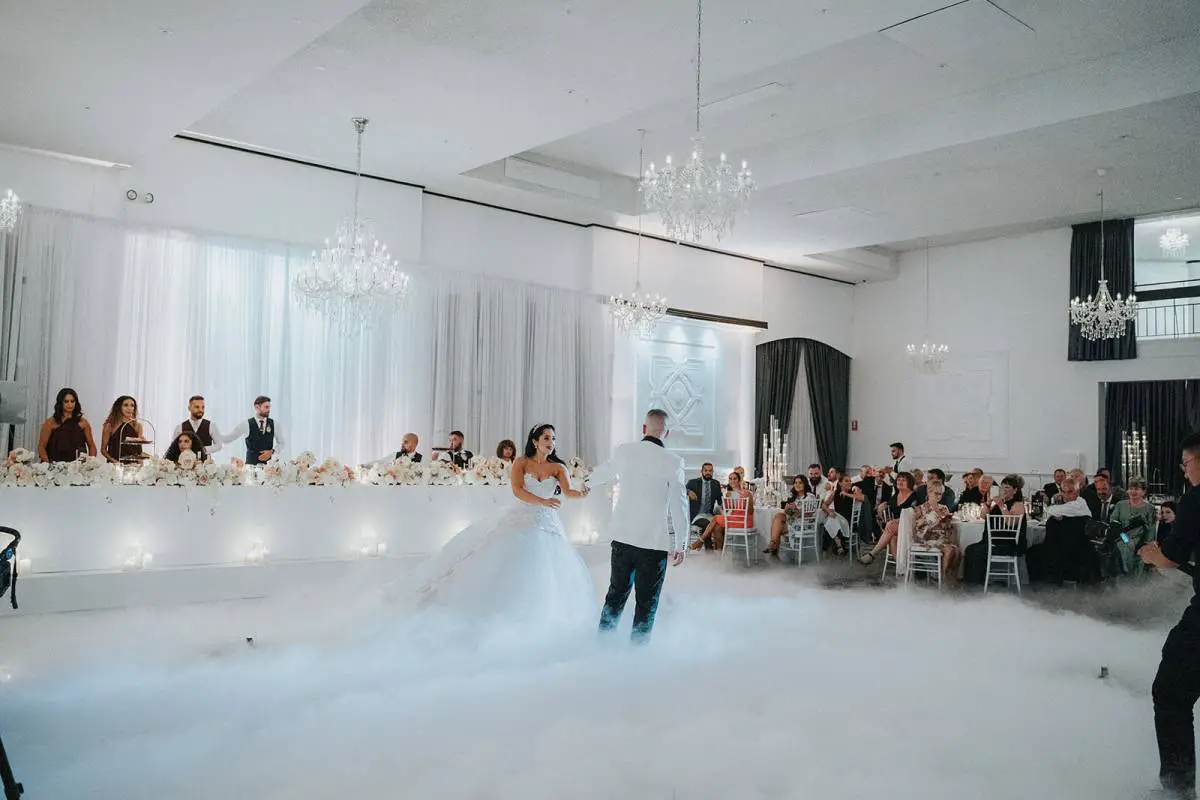 Vogue Ballroom
399 Blackburn Road, Burwood East, Victoria
03 9802 2477
events@vogueballroom.com.au
Vogue Ballroom is the ultimate luxury wedding venue in Melbourne. The Vogue Ballroom features opulent stone rooms, crystal chandeliers, high ceilings and a mezzanine balcony overlooking the festivities.
Vogue Ballroom, an exciting wedding and reception venue, is located in Melbourne's south-eastern suburb of Burwood East, 20 minutes from the city centre.
No expense has been spared in its opulent decor, from the opulent stone bathrooms, the exquisite bridal suite and en-suite and the unobstructed 6m French Provincial crystal ceiling lined with crystal chandeliers to the mezzanine balcony that overlooks the entire ballroom hall. Wedding and event professional, owner George Ross states, "My sole ambition is to bring beauty, passion and grandeur to every wedding, engagement, christening, school and corporate event.
Our team of highly trained professionals, from my chefs to my function/operations coordinators and our exceptional wait staff, are always ready to make sure your special event is one to remember forever.
Yarra Valley Vineyards - Yarra Valley Wedding Reception and Celebration Venue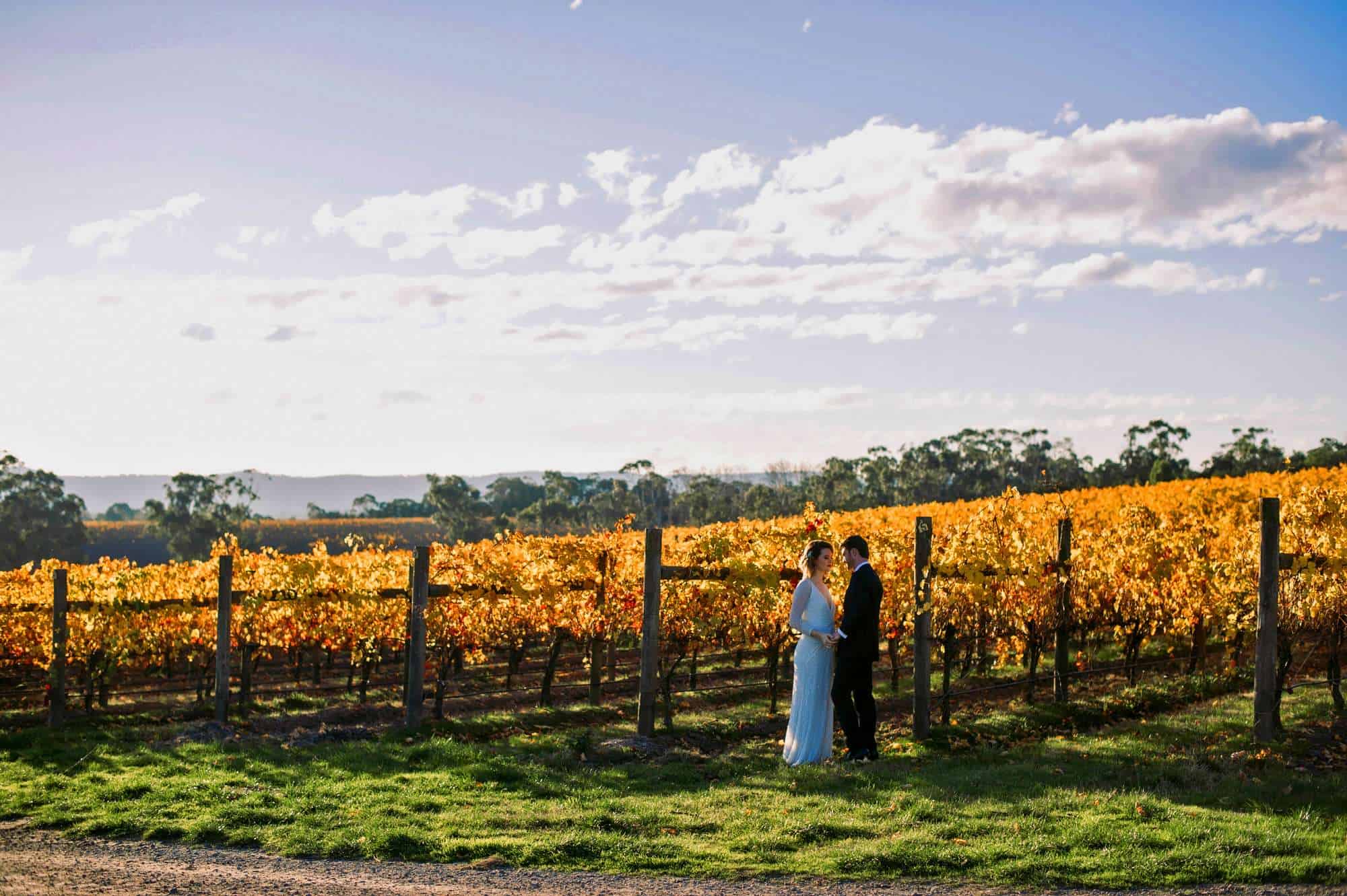 Vines of the Yarra Valley
16 Ingram Rd, Coldstream VIC 3770
0397390222
Surrounded by 150 acres of vineyards with a breathtaking 360 degree backdrop of the Yarra Valley, Vines of the Yarra Valley offers unforgettable beauty on your wedding day. Exchange your vows surrounded by friends and family and the beauty of nature. The wedding location of your dreams will be remembered through the stunning photos taken against the backdrop of the Yarra Valley. Toast your wedding with wine grown at Helen's Hill Estate Vineyards and Winery. And dance under the stars at the end of a perfect day.
The rustic, vintage charm of the breathtaking vineyard makes it one of the most popular wedding venues in the Yarra Valley. Photographers love to shoot weddings here, with fairy lights twinkling both indoors and over our unique patio dance floor. We offer great food, a full liquor license, lovely wet weather options, and a variety of ceremony areas – the list of what we offer is simply amazing.
Whether you're looking for a 'country style' long table reception, a wine barrel style cocktail reception, an intimate vintage themed gathering, or any combination of these, Vines of the Yarra Valley sets the standard for style and elegance.
Wedding Showtime Event Group Wedding venue Melbourne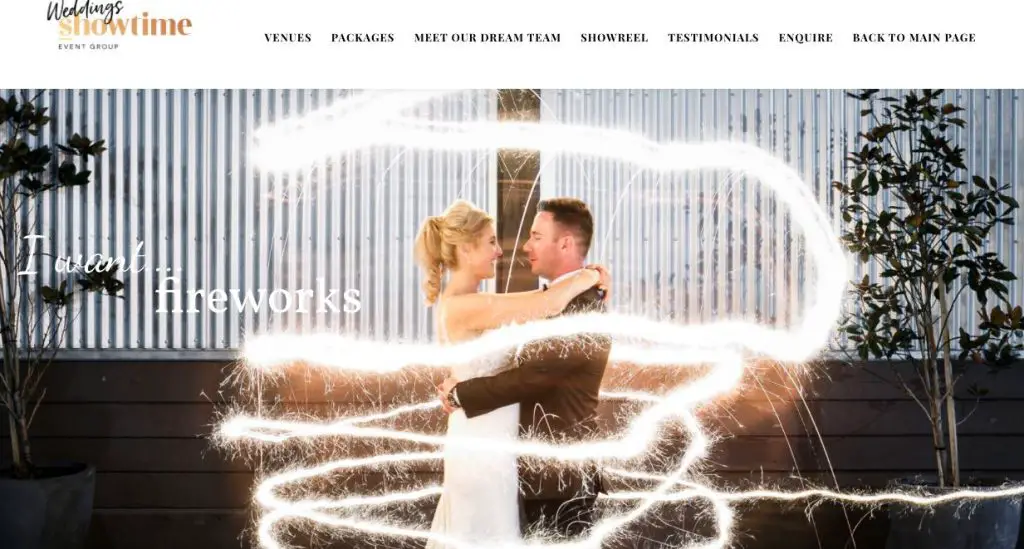 weddings.showtimeeventgroup.com.au
1396821777
From inquiry to the big day, the production team at this wedding planning company is dedicated to meeting every need with excitement and attention to detail.
Their portfolio of wedding reception venues is diverse and includes spaces like the award-winning Showtime Events Centre, the riverside warehouse Cargo Hall, and the historic Ian Potter Queen's Hall at the State Library of Victoria.
The entire team, including wedding planners, chefs, service staff, and more, is committed to personalizing every aspect of the wedding day to exceed expectations and create an unforgettable experience. This commitment is their "Official Investment Promise," and they pour their passion into making every wedding a journey to remember.
Fenix ​​Events Wedding Venue Melbourne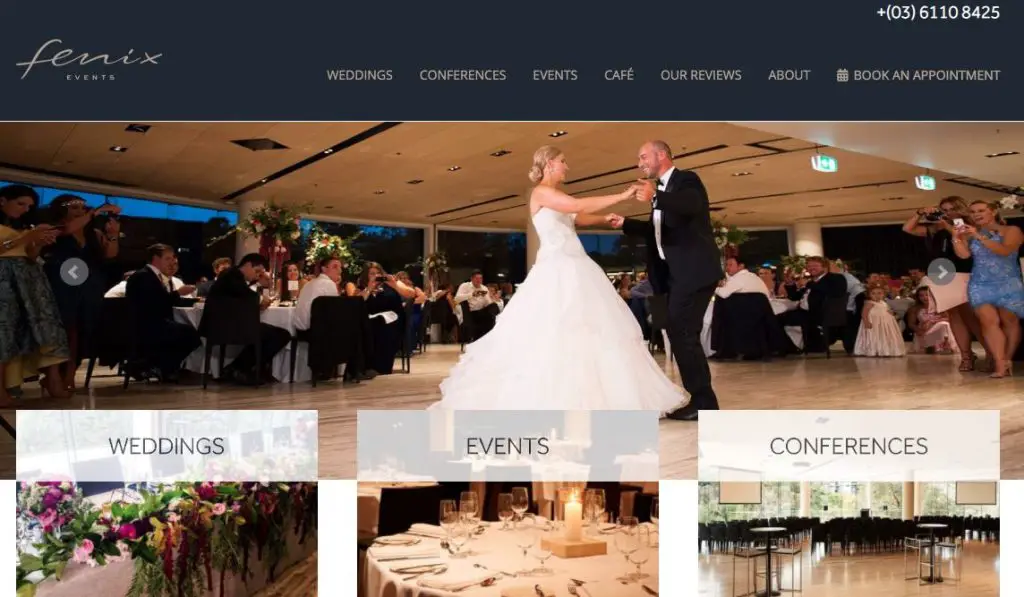 fenix.com.au
1361108425
Fenix Events is a modern and unique Melbourne wedding venue, situated in the bustling suburb of Richmond, right on the banks of the Yarra River. Its location offers a perfect combination of a peaceful natural setting and easy accessibility, just 10 minutes away from the central business district.
Owned by Maple Event Group, Fenix Events was previously a restaurant, but has undergone a million-dollar refurbishment to become a modern, food-focused venue that exclusively specializes in private events for Melbourne's inner-east.
Fenix's contemporary design and waterfront location overlooking the Yarra River, make it a standout Melbourne event venue. The venue features unique amenities like heated outdoor areas, off-street parking, floor-to-ceiling windows and steps leading directly to the river.
With two function rooms capable of catering for 80 to 350 guests, Fenix Events has a true wow factor and is sure to impress guests with its national award-winning menu and picturesque location.
Ballara Wedding Reception, Melbourne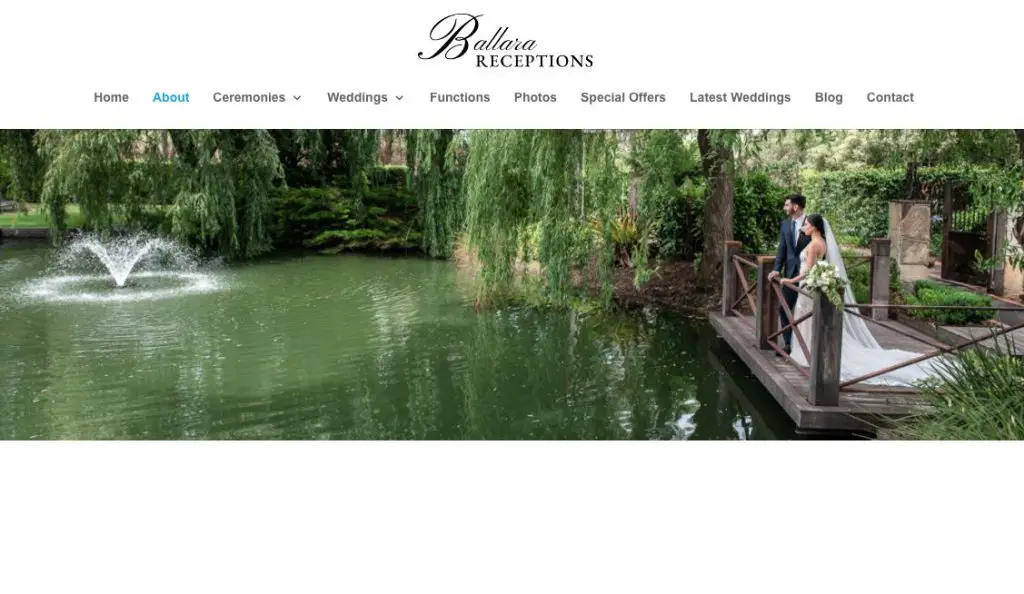 ballaraweddingvenue.com.au
1394311503
Located in the foothills of the Yarra Valley, Ballarat offers an all-in-one wedding destination that is sure to exceed your wildest dreams. With a variety of beautiful venues on-site, including a stunning chapel and English gardens, you can say "I do" in the perfect setting without ever leaving Ballara.
Capture every magical moment of your special day with ease, thanks to the picturesque spots that abound on-site. From cascading waterfalls and lakeside piers to giant swings and rose arbors, the options for beautiful photos are endless.
After your ceremony, take a leisurely stroll around the lake and explore the property's many charming features. Whether it's the rustic LOVE sign or the beautiful rose arbors, you're sure to find plenty of photo opportunities without the stress of visiting additional locations.
End your special day on a high note with a reception in Ballara's enchanting ballroom. Featuring sparkling chandeliers, a large central dance floor, and windows overlooking the stunning gardens, it's the perfect place to relax and enjoy your reception with loved ones.
Bramleigh Estate Melbourne Wedding Reception

bramleighestate.com.au
1398443013
Located in the scenic Warrandyte, Bramleigh Estate boasts 10 acres of natural bushland and is situated just a stone's throw away from the meandering Yarra River. The estate offers a stunning new wooden terrace that will serve as the perfect rustic outdoor setting for your wedding ceremony.
With its timeless 10-acre property and 180-degree views, Bramleigh Estate provides a relaxing and picturesque atmosphere for your guests to enjoy as they witness the start of your beautiful journey. By booking your reception at Bramleigh Estate, you can also take advantage of a complimentary ceremony.
The well-appointed ballroom can accommodate 100 to 350 guests, and their chef-prepared menu offers an exciting selection of dishes to suit almost any taste. You can treat your guests to some of the best dining in the industry, delivered straight to your table, with hot plates and exquisitely presented starters and main courses that are sure to impress.
Poets Lane Melbourne Wedding Reception Venue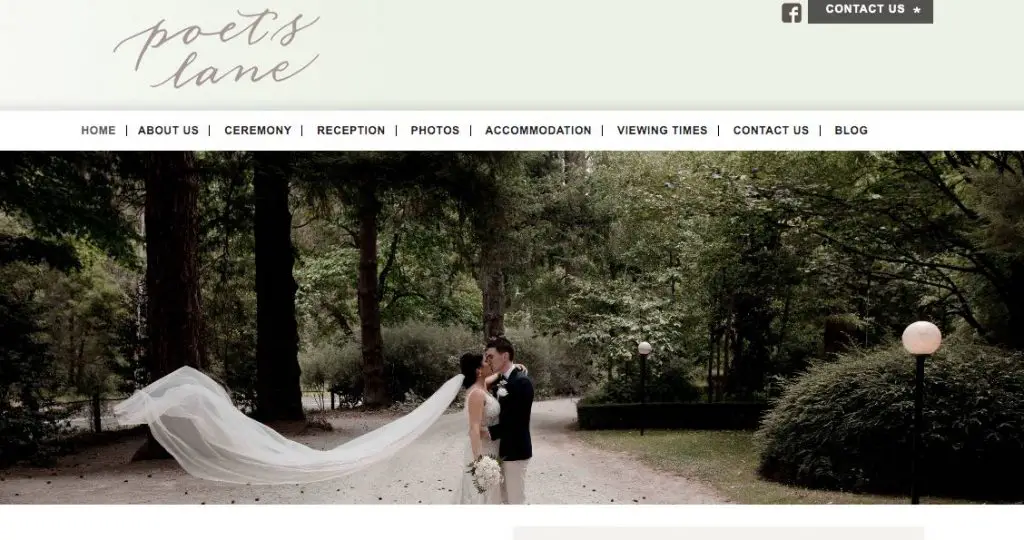 poetslane.com.au
1397552044
Poets Lane, located in the heart of the majestic Dandenong Ranges, is a highly sought-after wedding and reception venue just 50 minutes from Melbourne. The venue is managed by the same team that oversees Lyrebird Falls and Tatra, two other popular wedding venues in the same area only 35 kilometres from Melbourne's CBD.
The magnificent oak tree, pristine lanes, picturesque bridge, and elegant water features are some of the features that attract couples to Poets Lane. However, what sets Poets Lane apart is the personalized and expert service offered by the dedicated wedding coordinators. The experienced wedding coordinators work closely with couples to turn their wedding dreams into reality.
As there is only one on-site wedding ceremony per day, couples can be assured that their wedding coordinator will give their undivided attention to make their special day unforgettable.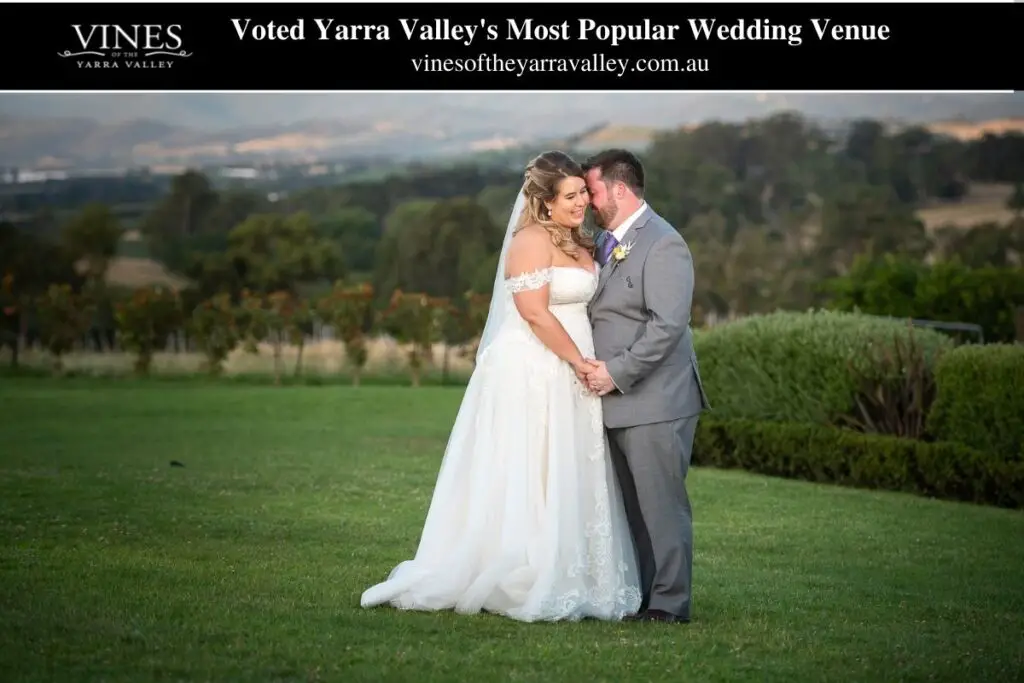 Aeriel Food and Desire Wedding Reception in Melbourne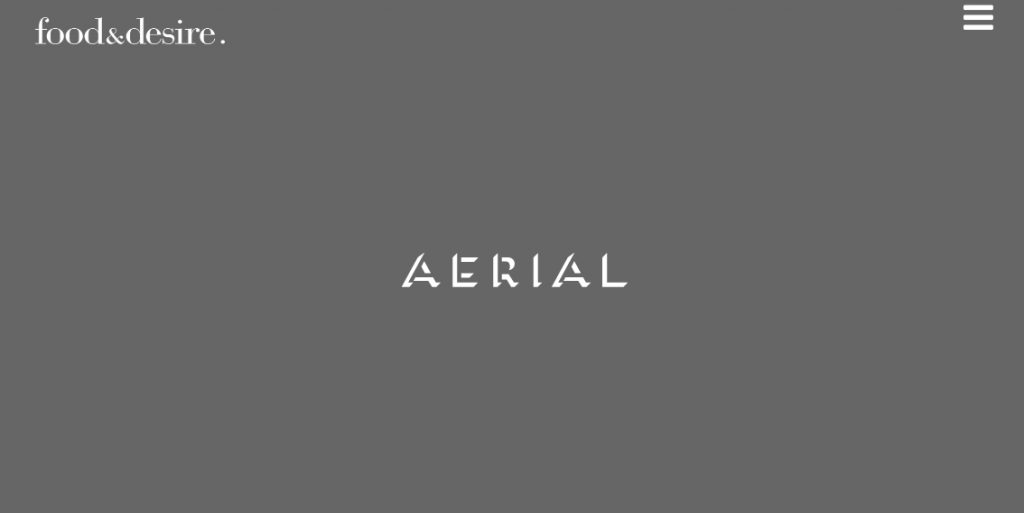 foodanddesire.com.au
455044398
As a reputable hospitality group in Melbourne, Food&desire places high emphasis on delivering exceptional service, food and beverage, and event management. Founded in 2000, the catering brand has since expanded to include venues such as Carousel in Albert Park, Harbor Room in St Kilda, Half Acre in South Melbourne, and Aerial in South Wharf.
Owned and operated by Asaf Smile and Leigh Worcester, Food&desire's mission is to foster connections, facilitate celebrations, and be exceptional hosts to its clients.
Conveniently situated in the heart of South Wharf, Aerial provides easy access to numerous landmarks, such as the Melbourne Convention Center (MCEC), Novotel Melbourne South Wharf, Pan Pacific Melbourne, DFO South Wharf, and the Docklands, just a footbridge away.
Project 3488 Wedding reception in Melbourne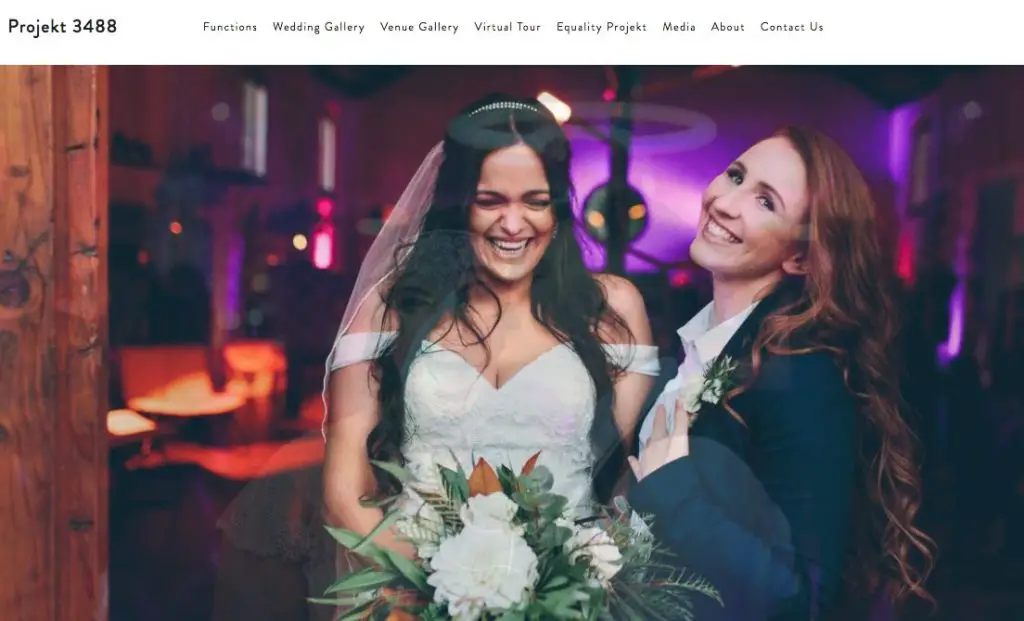 projekt3488.com.au
400215785
Projekt 3488 is a charming Masonic Lodge conversion located in the picturesque Yarra Valley. It is an ideal destination for guests seeking a warm and welcoming atmosphere. The converted lodge blends the natural beauty of the surroundings with an eclectic interior that features contemporary lighting, industrial furniture, and reclaimed wood.
The property boasts a breathtaking garden that provides an ideal backdrop for all types of events, ranging from intimate gatherings around the cast-iron fire pit to larger cocktail parties on the observation deck. The garden comprises interconnected ponds, century-old grasses, and a maze of snow gums.
The main hall at Projekt 3488 features grand Oregon banquet tables suspended on a concertina, making it a versatile space for any occasion. Guests can enjoy a seated dinner before the tables are removed to create a dance floor, making it an ideal space for celebrations of any kind.
The events team at Projekt 3488 is dedicated to bringing artistic innovation and creativity to every event. Their goal is to create a comfortable and unforgettable experience for every guest, whether it's a wedding, corporate event, or private party. From start to finish, they are committed to guiding guests through every step of the planning process.
Red Scooter Wedding Venue Melbourne
redscooter.com.au
1395276846
A unique event venue in Melbourne
Red Scooter, a unique event venue in Melbourne, prides itself on its fusion of New York style and eclectic décor that promises to leave your guests surprised and delighted. The team at Red Scooter is dedicated to providing its guests with the best possible experience and strives to create unforgettable events that reflect the client's vision.
Red Scooter has received numerous accolades, including the 'Best Event Venue' award from Restaurant and Catering Victoria and the Victorian Sustainable Business Award from the EPA for their commitment to environmental practices.
Red Scooter's team of experienced event planners can help bring your ideas to life, whether it's a corporate event, wedding, or private party. They'll work with you every step of the way to ensure your event is a success and that your guests have an unforgettable experience.
San Remo, Melbourne ballroom wedding venue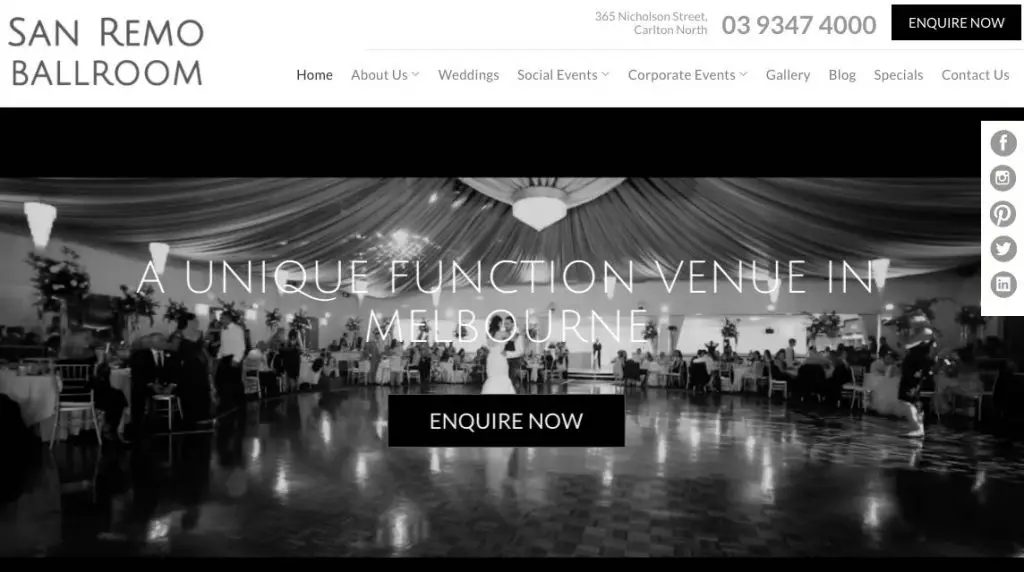 srbevents.melbourne
1393474000
Located just a stone's throw away from Melbourne's bustling CBD, the San Remo Ballroom is an iconic conference venue that seamlessly blends old-world charm with contemporary functionality. Boasting a recent renovation, this magnificent location is the ideal setting for any social or corporate event.
When you enter the San Remo Ballroom, you'll be mesmerised by the exquisite Art Deco decor, high decorative ceilings, and opulent chandelier lighting that the space boasts. One of Melbourne's largest dance floors is also found in the ballroom, giving visitors plenty of room to dance the night away.
Our dedicated staff at the San Remo Ballroom takes pride in providing exceptional customer service. They are dedicated to customising packages to your specific needs and requirements, ensuring that your event runs smoothly from beginning to end. To create exquisite dishes, our experienced international chefs use only the finest ingredients and freshest produce, ensuring exceptional kitchen standards.
With its unbeatable location and stunning interiors, the San Remo Ballroom is the perfect choice for any event, be it a corporate function, conference, or social gathering.
Werribee Open Range Zoo Wedding Venue Melbourne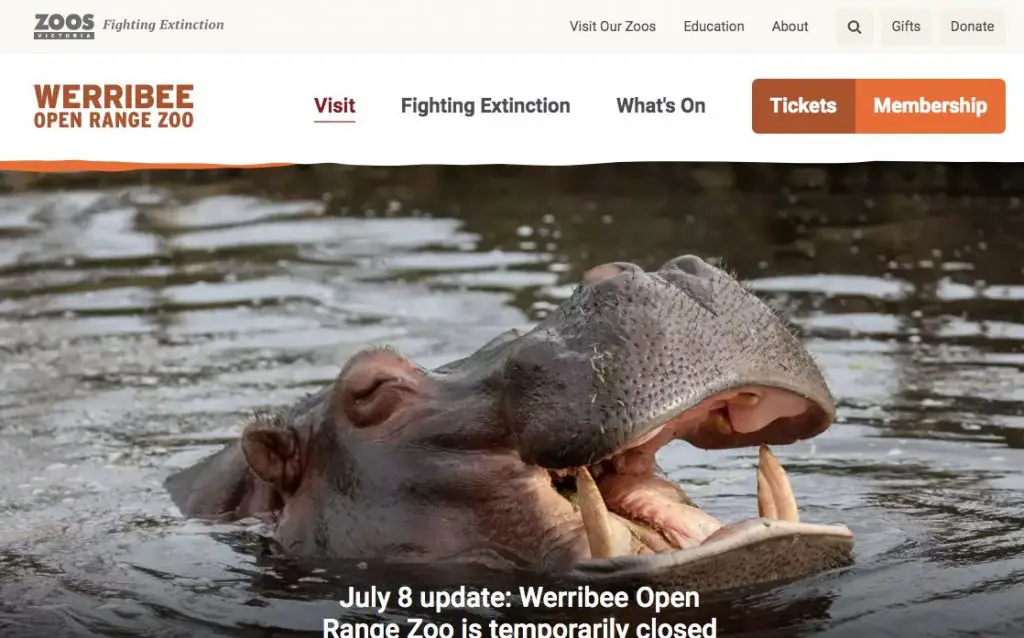 zoo.org.au
1392859440
Zoos Victoria is the world's leading zoo conservation organisation, working to prevent wildlife extinction.
Our three zoos are Werribee Open Range Zoo, Werribee Sanctuary, and Melbourne Zoo. Visitors come here from all over the world because each one offers a unique and thrilling experience.
Our core work includes breeding and recovery programmes; we have formed alliances with local communities, fellow conservationists, and like-minded organisations both locally and globally.
Macedon Ranges Hotel and Spa Wedding Venue Melbourne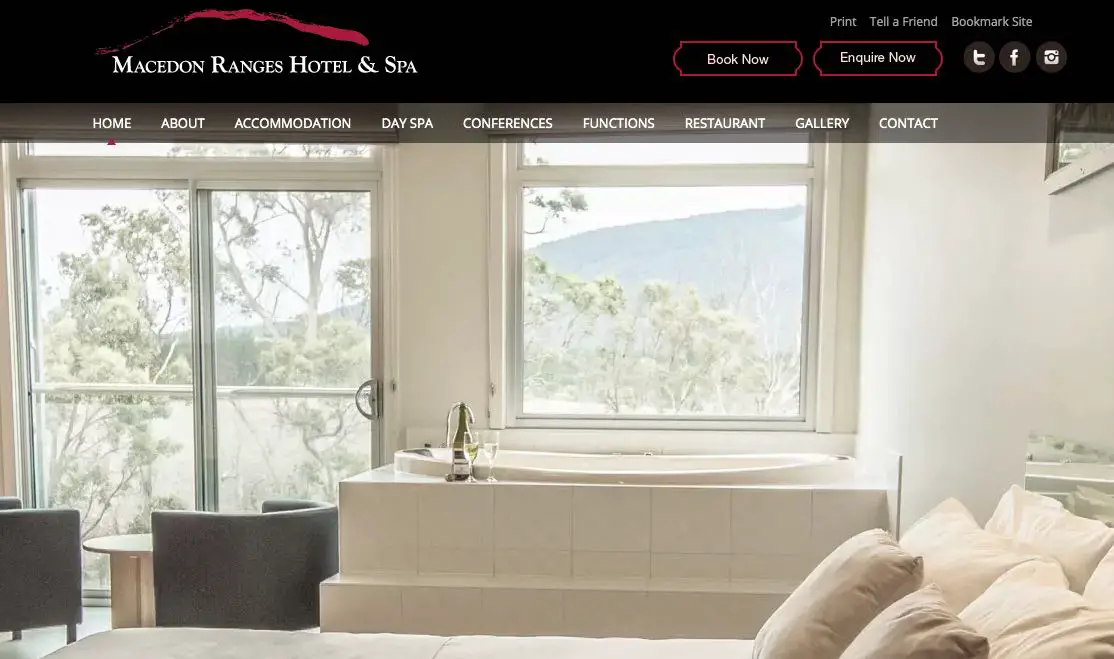 macedonrangeshotelspa.com.au
1354264044
Macedon Ranges Hotel & Spa is a beautiful hotel and spa located in the scenic Macedon Ranges, just an hour's drive from Melbourne and 30 minutes from Tullamarine Airport. The hotel features 36 comfortable rooms and a private three-bedroom farmhouse, as well as a relaxing day spa, meeting and event facilities, beautiful views, and a warm welcome.
Each room is spacious and features a double spa bath for two, allowing guests to soak in the view while enjoying the serene atmosphere. The hotel's day spa offers a wide range of treatments provided by expert therapists, ensuring that guests leave feeling refreshed and rejuvenated.
The region surrounding the hotel is full of exciting activities, including historic towns, award-winning wineries, farm-fresh produce, boutique shops, specialty art galleries, and the stunning natural beauty of Macedonian Ridge Regional Park and Hanging Rock. Macedon Ranges Hotel & Spa is the perfect destination for a romantic weekend getaway, a special event, or a conference, providing a peaceful retreat in a beautiful setting.
Wedding venue The Elizabeth Lodge Melbourne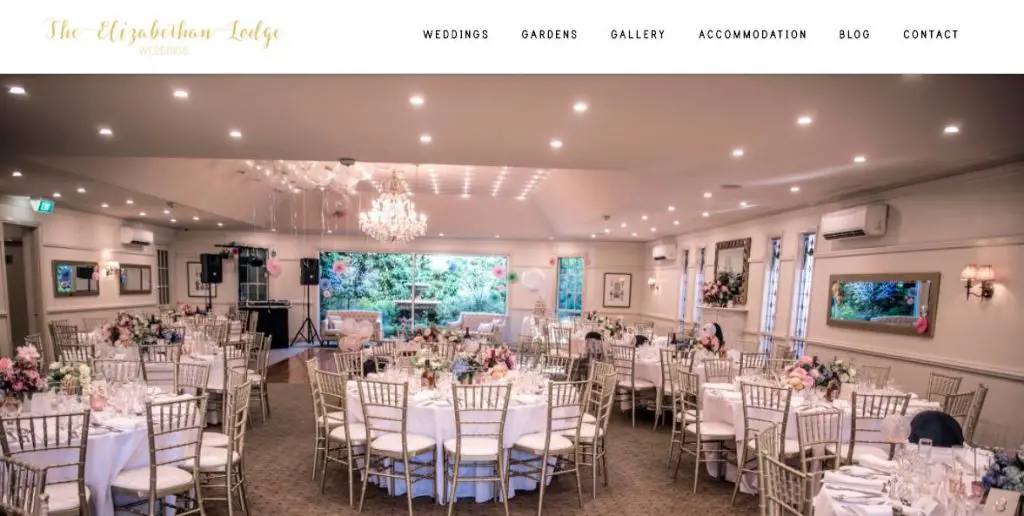 elizabethanlodge.com.au
1398989551
The Grand Heritage Ballroom can accommodate up to 220 guests, and it features elegant chandeliers, a built-in dance floor, and a stage for live entertainment. Our menu options are extensive and can be customized to suit your taste and dietary requirements, ensuring that your guests are delighted with every aspect of your event.
At Elizabethan Lodge, we also specialize in hosting corporate events and conferences. We have a range of meeting and conference rooms equipped with the latest audiovisual technology, making them ideal for business meetings, seminars, and workshops.
Our team of experienced event planners will work closely with you to ensure that your event is a success, whether it's a wedding, corporate event, or social gathering. We are dedicated to providing exceptional service and attention to detail, ensuring that your event is memorable for all the right reasons.
Lyrebirds Fall Wedding Venue Melbourne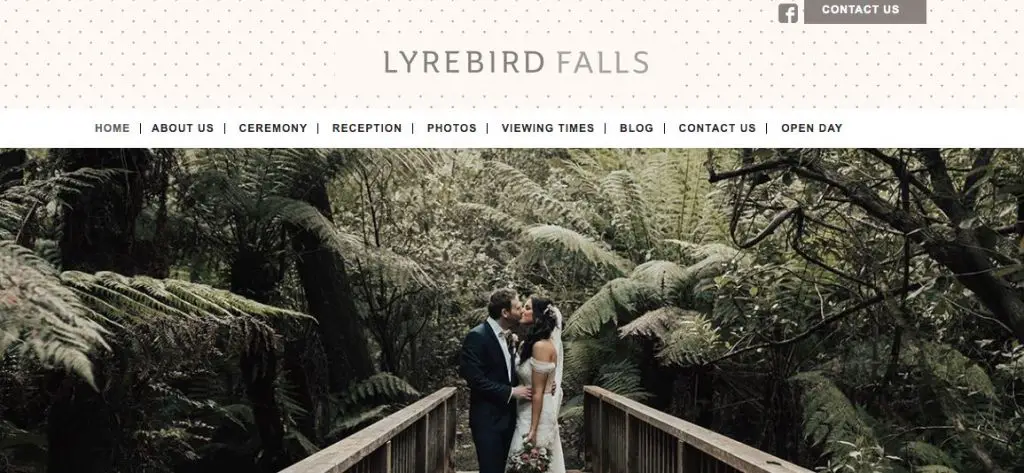 lyrebirdfalls.com.au
1397552505
Nestled in the verdant Dandenong Ranges on the outskirts of Melbourne, Learbird Falls is a boutique wedding venue that offers a stunning natural setting for your special day. Towering trees, lush ferns, and babbling streams are just a few of the features that draw visitors to this idyllic location. However, what truly sets Learbird Falls apart is the exceptional service provided by their team of experienced wedding coordinators.
Year after year, Learbird Falls' wedding coordinators are voted the best in the Australian Bridal Industry Awards. They know exactly how to make your dreams come true and work tirelessly to ensure that your wedding ceremony and reception are truly unforgettable. Many of their coordinators have been with the company for years, allowing them to build strong relationships with their clients and ensure that each wedding is uniquely tailored to the couple's vision.
Learbird Falls offers a range of ceremony options to suit any style, from a serene garden setting to an elegant gazebo or intimate chapel. With only one wedding ceremony hosted on-site each day, you can be assured that your coordinator will have their undivided attention on your special day. The venue can accommodate up to 120 guests, ensuring an intimate and exclusive experience for you and your loved ones.
Capture the magic of your wedding day with photos taken amid the enchanting Dandenong Ranges. With its exquisite natural beauty and exceptional service, Learbird Falls is the perfect venue to create memories that will last a lifetime.
Nathan Springs Wedding Center in Melbourne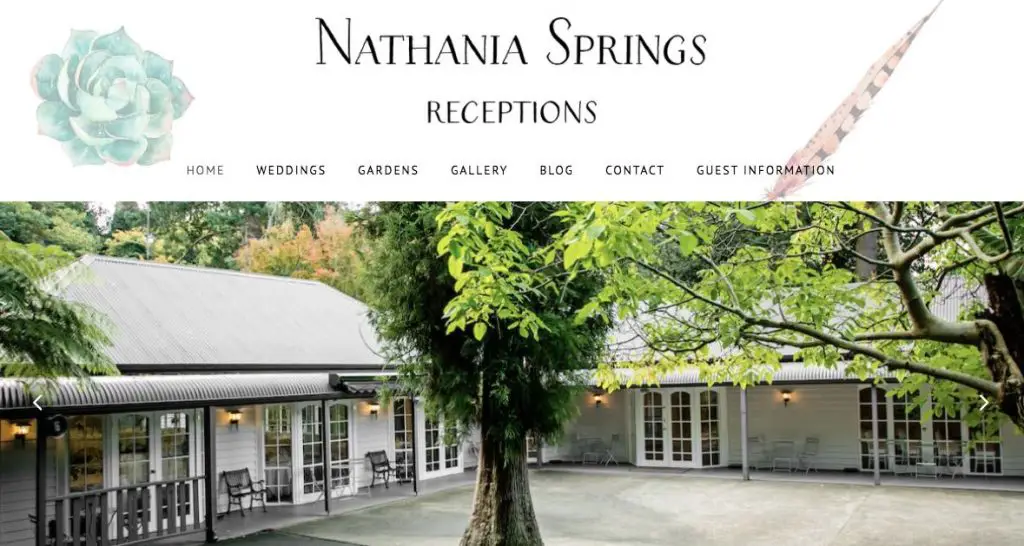 nathaniasprings.com.au
1397521000
With a rich history dating back to the 1890s, Nathania Springs is steeped in tradition as one of the first settlements in the Dandenong Ranges. The original landowners held the natural mineral springs in high regard, believing in their healing properties.
As one of the main tourist destinations in the area during the early 1900s, Nathania Springs was renamed to Netanya Springs, meaning "gift of God."
Today, Nathania Springs is a unique location for wedding receptions with acres of gorgeous gardens that date back more than 200 years. Nathania Springs is conveniently situated just one hour's drive from Melbourne's central business district, amidst breathtaking botanical plants, floodlit gardens, and the enchanted Dandenong Ranges forest. It is a member of the same family as other renowned Dandenong properties like Tatra Receptions, Poets' Lane, and Lyrebird Falls.
With a comprehensive all-inclusive wedding package, private chapel, spacious dining room, and outdoor ceremony area, Nathania Springs offers a unique wedding venue tailored to each couple's individual preferences.
Grand Hyatt Wedding Venue Melbourne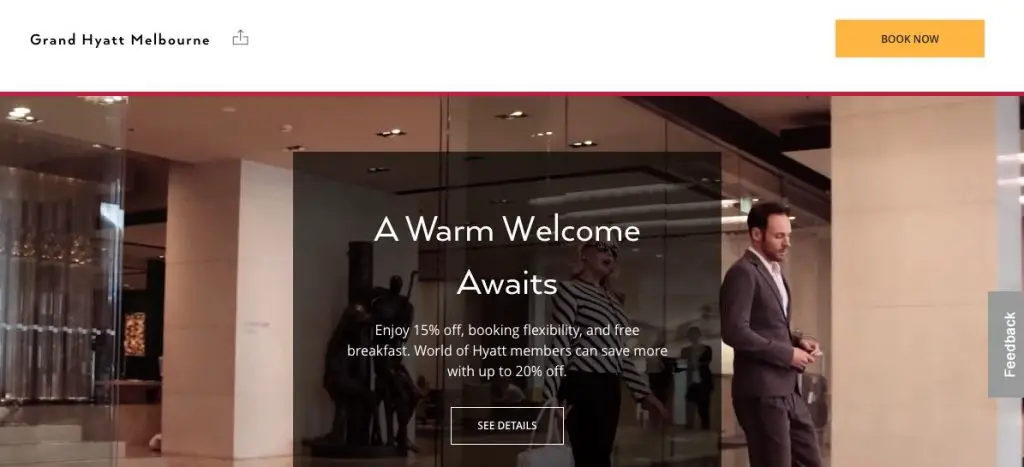 hyatt.com
396534480
At Hyatt, people are at the forefront of our business as we continue to grow and evolve. As a family-run company, we prioritize creating a workplace where colleagues become friends and take care of our guests every day. Our commitment to exceptional guest experiences is what sets Hyatt apart as one of the world's best hospitality brands.
Entrepreneur Jay Pritzker established Hyatt in 1957 after buying the first Hyatt House Motel. The Hyatt brand was created by Pritzker and his brother Donald with a focus on the value of family and compassion. As of March 31, 2020, Hyatt will be a leading global hospitality company with over 900 hotels, all-inclusive resorts, and health resorts across more than 65 nations and six continents.
Hyatt provides Meetings On Demand, a tool that makes meeting planning and confirmation quick and simple, for smaller groups of fewer than 20 people. Customers at Hyatt hotels around the world can pick their prefered area or room, as well as food and beverage packages, room decor, and other amenities.
For larger events, Hyatt offers access to world-class conference venues, exceptional dining, and exciting spaces by leveraging the collective power and strategic expertise of ten landmark Hyatt hotels.
Avalon Castle Wedding Venue, Melbourne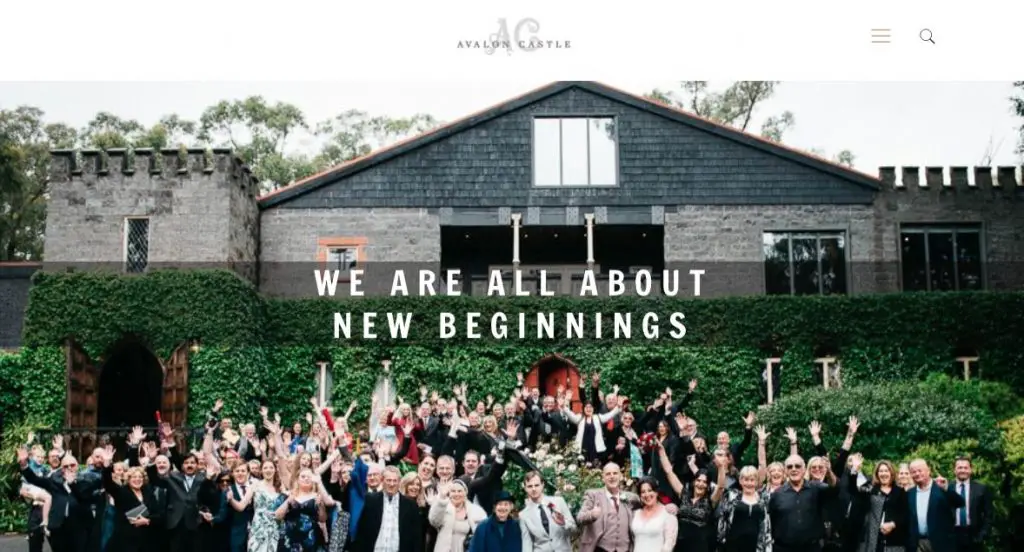 avaloncastle.com.au
439526800
Your Melbourne wedding destination
Located in the heart of the Dandenong Ranges, this Melbourne Castle is a visually stunning wedding venue that is perfect for outdoor wedding ceremonies and affordable wedding reception packages. The venue is customizable to cater to various styles of weddings, including forest weddings, themed weddings, and classic weddings. With a customized budget to suit individual needs, this award-winning venue is a popular rustic wedding destination in Melbourne, voted Victoria's Best Wedding Ceremony Venue by brides.
The Melbourne wedding venue is set on two acres of picturesque grounds with sumptuous gardens that are open all year. The Rose Terrace is an exceptional venue for small wedding ceremonies, complete with a rustic outdoor bar for guests to enjoy before dining upstairs. The venue can accommodate weddings for up to 120 guests, and weekday weddings are popular due to Melbourne's recent demand for mini weddings. In addition, intimate weddings, pop-up weddings, small weddings, and mountain elopements are popular.
Both wedding ceremonies and receptions can be held at this historic Melbourne wedding venue. To accommodate couples with hectic schedules, the venue offers all-inclusive wedding packages, allowing them to focus on the personal details of their wedding day. The venue's experienced team understands the importance of every detail and takes pride in providing exceptional service to ensure that every guest has an unforgettable experience.
Waterfront on the Pier Wedding Venue Melbourne
 
1396819058
Williamstown Pier Farm is a beautiful wedding venue located in Melbourne with breathtaking waterfront views of the city. The venue has unique spaces and offers several capacity options for both cocktail and sit-down receptions, making it the perfect solution for couples looking for a special place to celebrate their big day.
The entire venue is available for exclusive hire and can accommodate up to 200 guests for cocktail-style weddings or 120 guests for seated receptions. The venue also has a heated and covered outdoor all-season terrace that overlooks the waterfront, making it an ideal location for wedding ceremonies.
The restaurant is perfect for wedding parties of up to 70 seated guests or 120 guests for cocktail receptions. The restaurant also features a waterfront, outdoor all-season terrace that is heated and covered, offering stunning views of Melbourne's western suburbs.
For more intimate weddings, the private function room can seat up to 40 guests or accommodate 70 guests standing. Guests can enjoy the intimate outdoor waterfront terrace with unparalleled views of Melbourne's CBD skyline during boutique wedding ceremonies.
Williamstown Pier Farm offers comprehensive menus, beverage packages, and restaurant-quality food to ensure that guests have an unforgettable dining experience.
The Post Office Hotel Wedding Venue Melbourne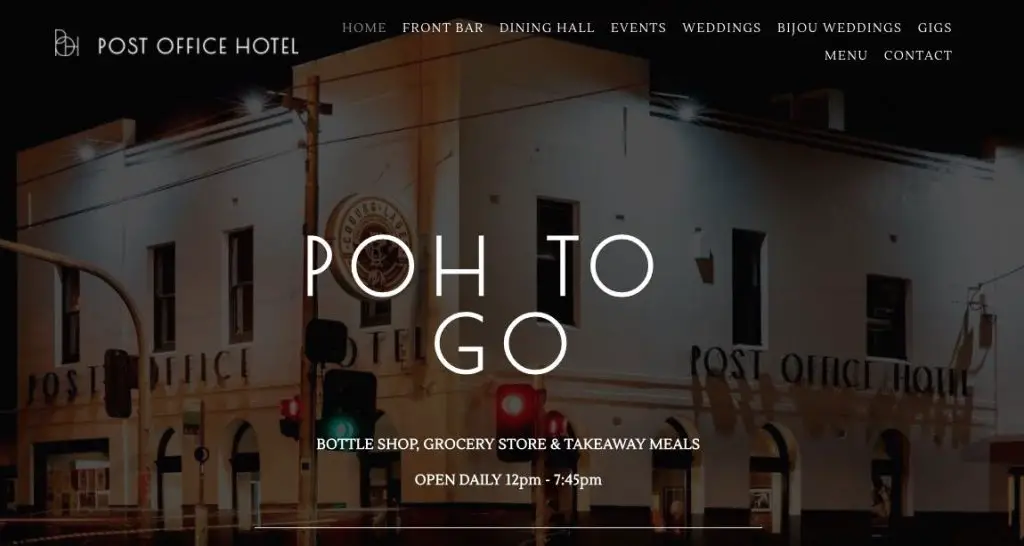 thepostofficehotel.com.au
1393865300
It sounds like The Dining Hall is a beautiful and unique venue for a wedding or event. The exposed beams, vintage pendant lights, mosaic floors, and cathedral ceilings create a stunning atmosphere that can be personalized to fit any vision. It's great to hear that there is a responsible manager who will ensure that everything runs smoothly on the big day.
It's also exciting to hear about the upcoming Bijou Weddings package at POH Events. It sounds like a great option for those looking to have a more intimate wedding. I'm sure many couples will be interested in registering their interest.
Potters Melbourne Wedding Venue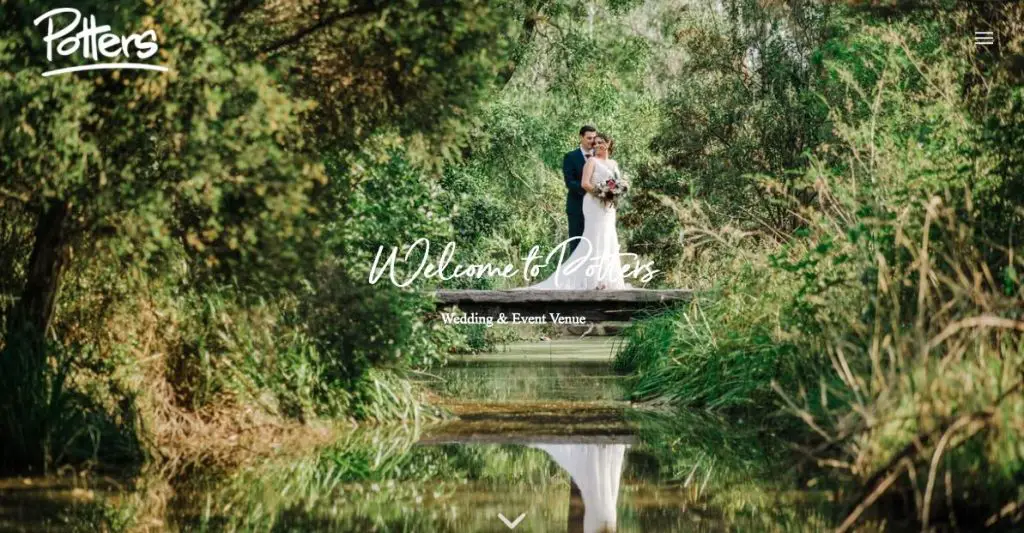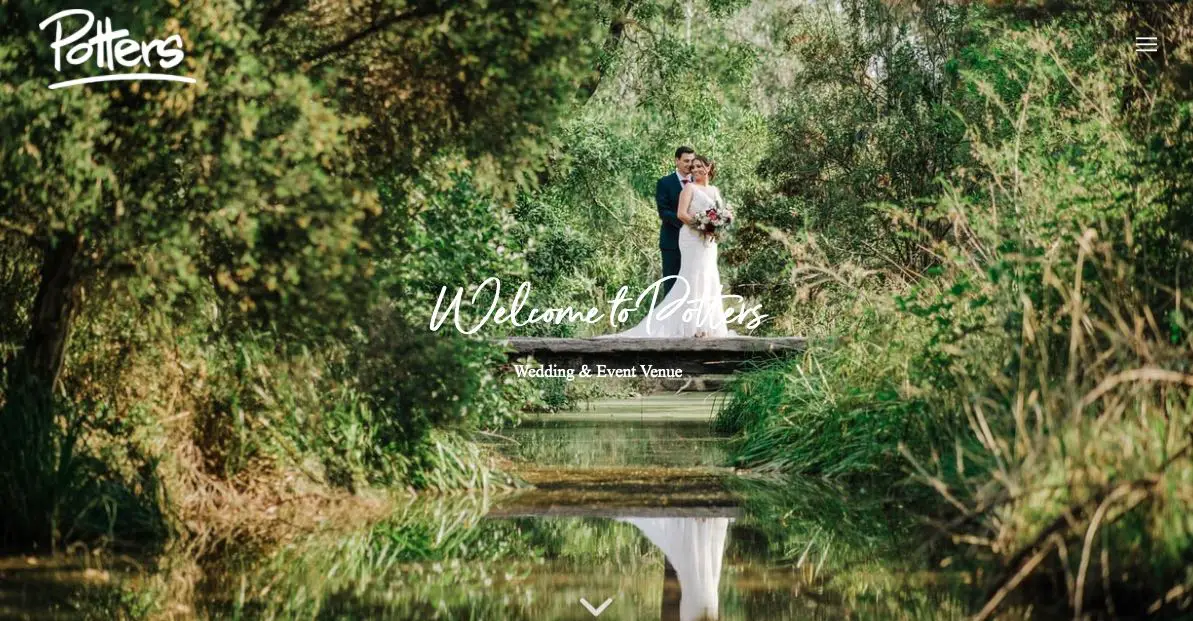 potters.com.au
1398441222
Our charming chapel will enchant you from the moment you walk through the doors with its romantic canopies, manual pews and sliding glass doors overlooking the landscaped gardens and manicured lawn. If you prefer an outdoor ceremony, we also have other options, such as our Gazebo Lawn or our stunning Wisteria Courtyard, perfect for a large wedding.
All of these properties are connected by brick-paved walkways with detailed wrought-iron railings that meander through 6 acres of native Australian gardens with stunning waterfalls. The grounds have been designed to capture the daily and seasonal changes in light, making the Potters exceptionally photographic all year round, whatever the weather or climate.
Our experienced wedding coordinators will guide you through every step of your wedding day from start to finish.
Our team of chefs have created a stunning menu of the best local produce that is sure to impress even the most discerning palate.
The Ivory Elsternwick Wedding Centre, Melbourne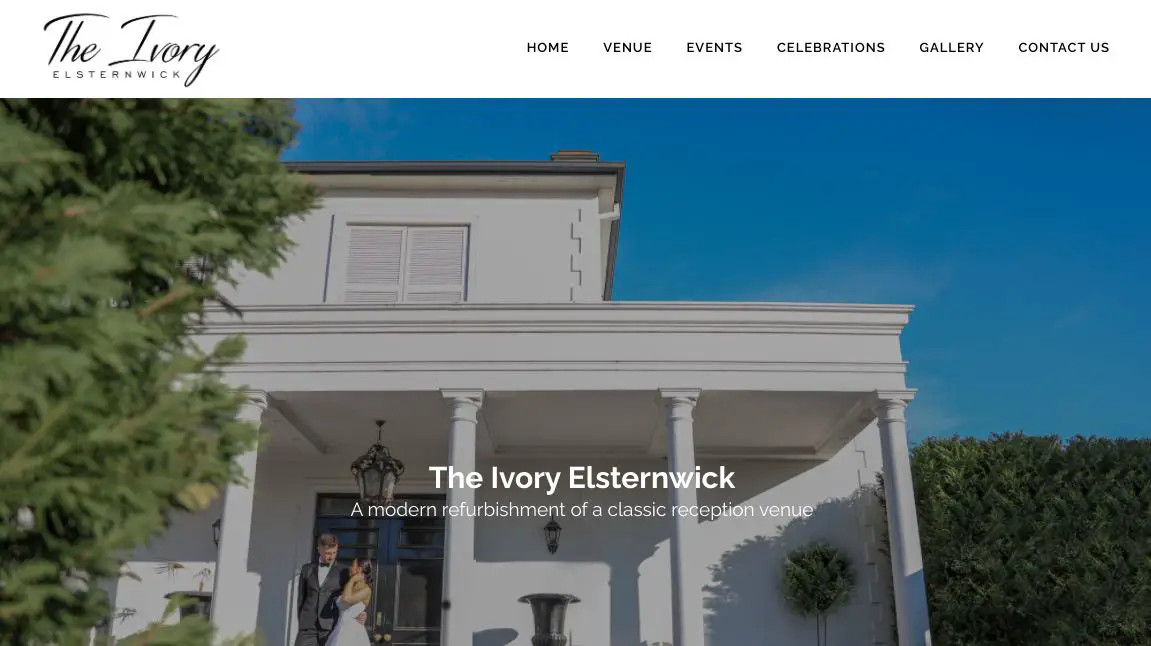 theivoryelsternwick.com.au
421446550
The Ivory Elsternwick also offers a range of all-inclusive wedding packages, so you can relax and let their experienced team take care of all the details. From catering to décor and entertainment, they can tailor everything to suit your unique style and preferences. They also offer a range of optional extras, including photo booths, flower arrangements, and more.
The venue's location in Elsternwick makes it easily accessible by car or public transport, with plenty of on-site parking available for guests. And with nearby attractions such as the beautiful Elsternwick Park and the vibrant St Kilda and Brighton beach areas, there are plenty of opportunities for stunning wedding photos.
Contact The Ivory Elsternwick today to book a tour of this beautiful new wedding venue and start planning your dream day.
St Andrews Conservatory, Melbourne Wedding Venue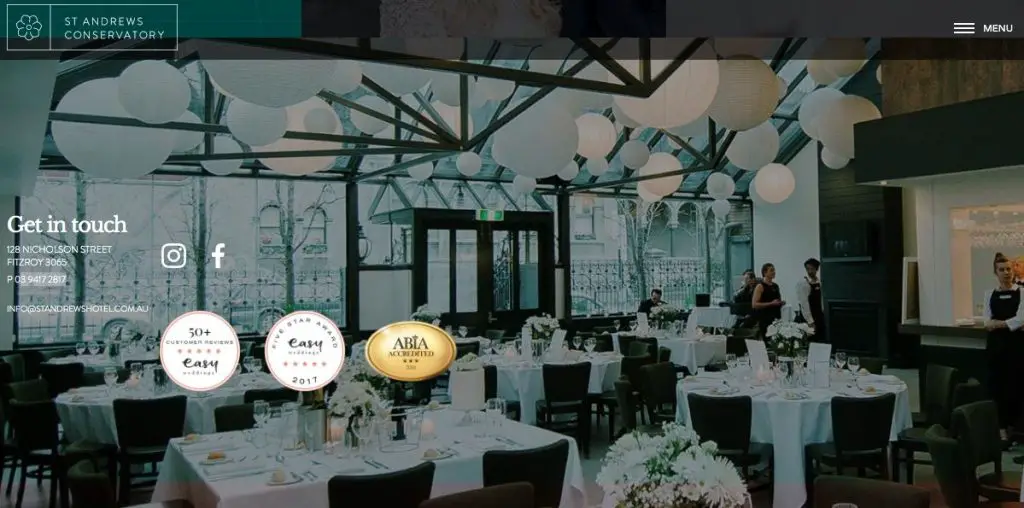 standrewsconservatory.com.au
1394172817
With its impressive and modern design, ample natural light, and cosy fireplace, the St Andrews Conservatory appears to be an ideal event space for any special occasion. The bamboo lanterns add a touch of elegance and romance to the space, which can seat up to 120 seated guests and 160 for cocktails, with plenty of room for dancing.
The venue prides itself on catering to clients' unique needs and can host a variety of events, from weddings and engagements to birthdays, christenings, and corporate events. The cocktail wedding menu offers a wide selection of options to impress guests, ensuring that they are satisfied and leave with a memorable experience. Overall, St Andrews Conservatory is a unique and intimate award-winning venue in Melbourne that promises exceptional service and quality.
Hotel Windsor Wedding Venue Melbourne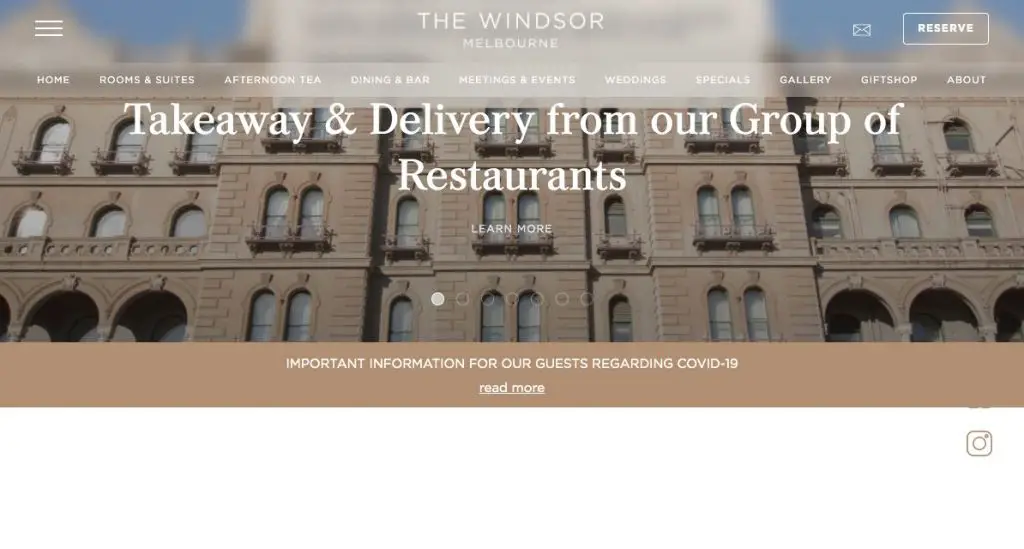 thehotelwindsor.com.au
1396336000
The Windsor Hotel also boasts an impressive range of accommodation options, from classic rooms to luxurious suites. All rooms are individually designed and furnished, with many featuring beautiful marble bathrooms and original artwork. Guests can enjoy modern amenities such as high-speed internet, flat-screen TVs and air conditioning, while still appreciating the charm and character of the building.
The hotel also features a range of dining options, including the award-winning One Eleven Spring Street restaurant, which offers contemporary Australian cuisine in an elegant setting. The Cricketers Bar is a Melbourne institution, with a cozy and inviting atmosphere, while The Grand Ballroom is perfect for weddings, conferences and other events.
The Windsor Hotel has been a landmark in Melbourne for over a century, and its timeless elegance and charm continue to attract visitors from around the world. Whether you are visiting for business or pleasure, The Windsor is the perfect choice for a luxurious and unforgettable experience.
Epocha Wedding Venue Melbourne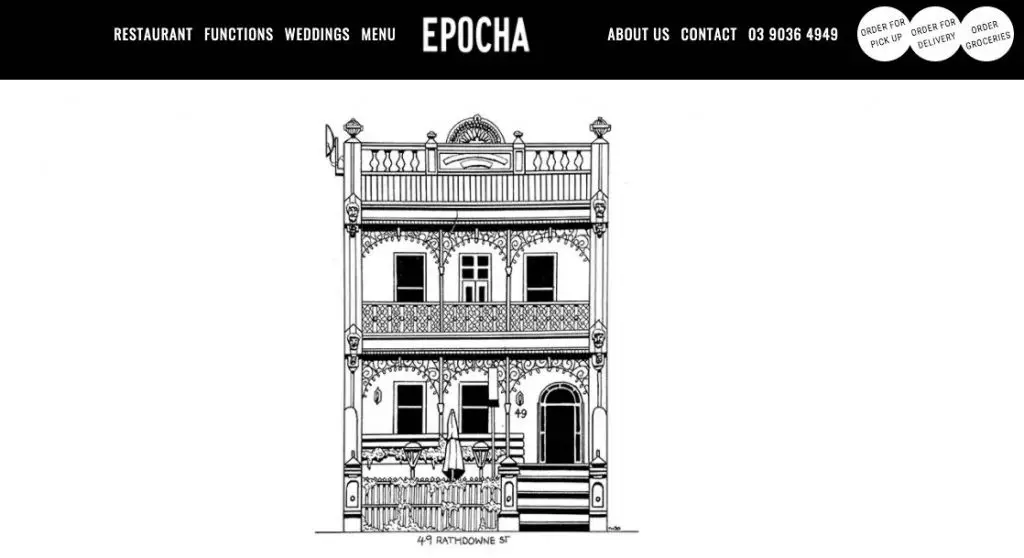 epocha.com.au
1390364949
Our offerings draw inspiration from our European culture and cuisine, using the best local Australian produce.
Our restaurant is currently closed to visitors due to the Covid-19 pandemic. However, we operate a delicious takeaway menu and a click and collect grocery store to support our local community.
Epocha is an intimate Melbourne wedding venue set in a stunning Victorian terrace on the outskirts of Melbourne. Our location overlooking Carlton Gardens and within walking distance of the central business district makes us an ideal choice for weddings, receptions and ceremonies.
Epocha is a flexible space with a variety of spaces for both large and small groups that can accommodate both sit-down events and cocktail parties. Our skilled and knowledgeable team is here to make sure that every aspect of your special wedding day is perfect and unique.
Arco Wedding Restaurant, Melbourne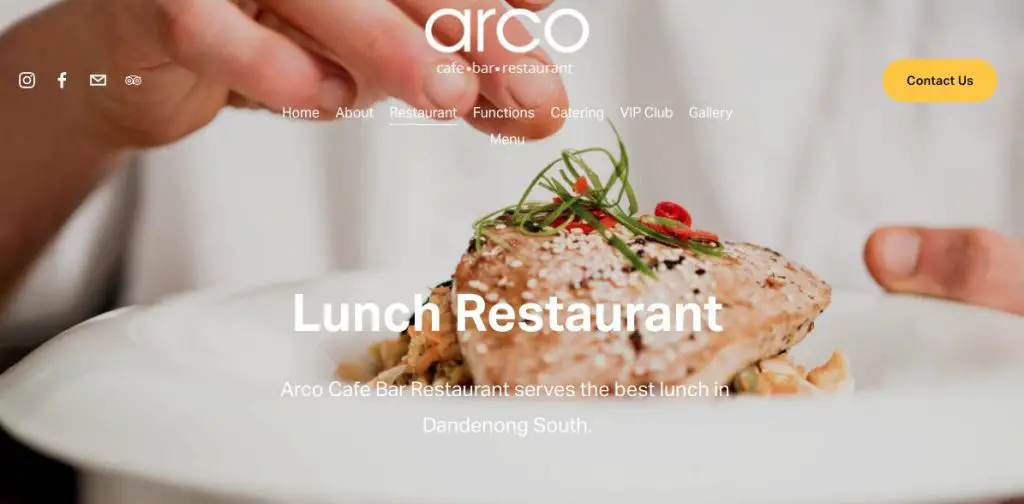 arcorestaurant.com.au
1397998799
Arco Restaurant-Cafe-Bar seems like a great place for breakfast, brunch, and lunch, offering a full a la carte menu with mainly Italian cuisine and dishes from around the world to suit your taste. Located in south Dandenong (Lyndhurst), this modern restaurant offers a relaxed and sophisticated atmosphere with excellent staff and cuisine.
Moreover, restaurant weddings are becoming increasingly popular in Melbourne, and Arco Restaurant-Cafe-Bar is a great option for such events. With the ability to hold everything on-site, from a wedding ceremony to a banquet for up to 130 guests, the restaurant offers a relaxed setting, incredible food, and great service.
True South Wedding, Melbourne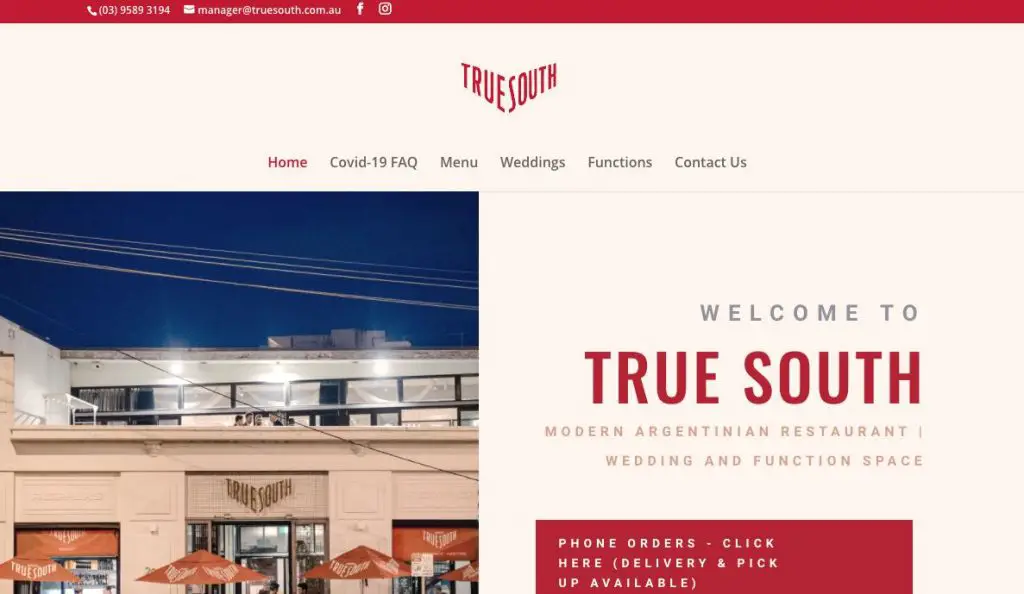 truesouth.com.au
1395893194
True South in Black Rock is a renowned restaurant, bar, and event space that has undergone a significant renovation to create a spacious and modern gastropub while retaining its original facade. The venue offers stunning views of Port Phillip Bay, making it a popular choice for weddings and other events.
The restaurant's menu features a mix of modern and traditional dishes, with a focus on Argentinian cuisine, and the seating arrangements can be customized to suit both indoor and outdoor settings. True South is known for its shared atmosphere and is an excellent choice for events that bring family and friends together.
The venue provides a variety of catering options, including sit-down events and cocktails, and can customise its menu to meet specific requirements. The new industrial event space can be transformed into a personalised and stylish environment that reflects the personality and style of the event. True South provides an exceptional culinary experience and is a must-see for anyone looking for a memorable dining experience in a stunning setting.
Wedding receptions in Sherwood, Melbourne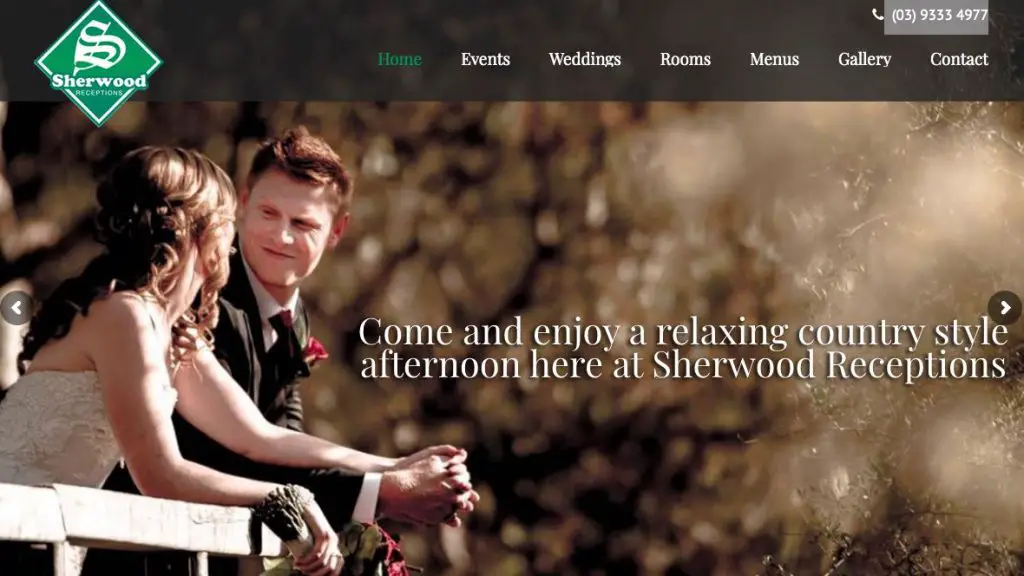 sherwoodreceptions.com.au
1393334977
Sherwood Receptions appears to be a lovely and historic wedding and event venue. The natural bushland setting opposite Woodlands Park, as well as its proximity to Melbourne Airport, make it a convenient and accessible location.
The outdoor patio provides a charming spot for intimate wedding ceremonies, while the fully air-conditioned conference hall is suitable for larger weddings in any season.
Sherwood Receptions' event coordinators can work with couples to design a package that meets their individual needs and budget. Overall, it seems like a lovely and versatile venue for a memorable wedding celebration.
Little Henri Melbourne Wedding Venue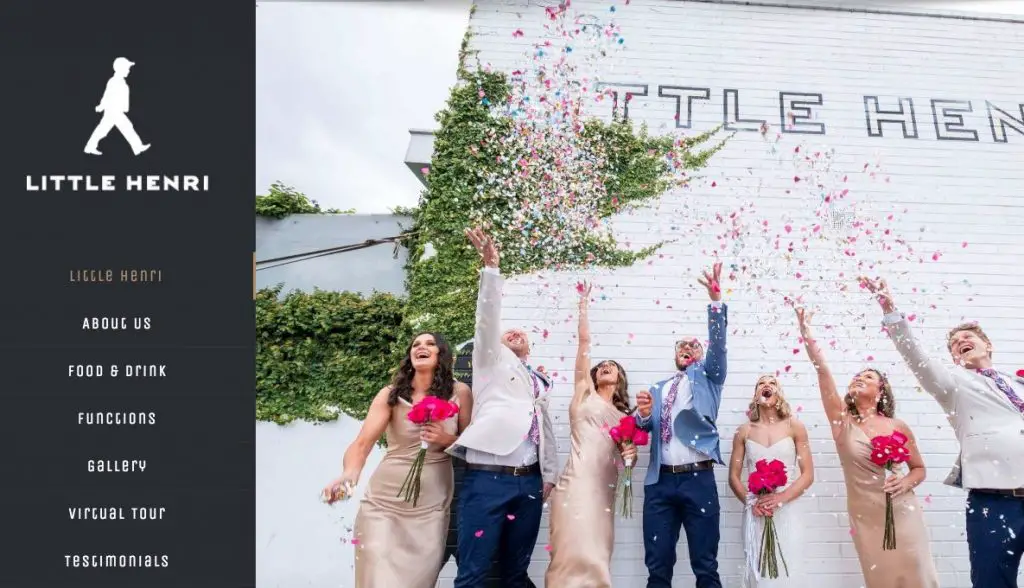 littlehenri.com.au
1394848857
Little Henri sounds like a unique and inviting cafe that blends vintage finishes with trendy design elements. The original vault doors from its previous life as a bank add a touch of history and character to the space. The interior design is described as having deep textures and natural light, while the outdoor covered patio and green patio area provide a peaceful and welcoming atmosphere. Little Henri offers great food, drinks, and service, making it a popular destination for various events, including weddings. Whether you're looking for a quiet coffee break, lunch with friends or colleagues, or a place to celebrate a special occasion, Little Henri seems to have something for everyone.
Rupert at Rupert's wedding venue in Melbourne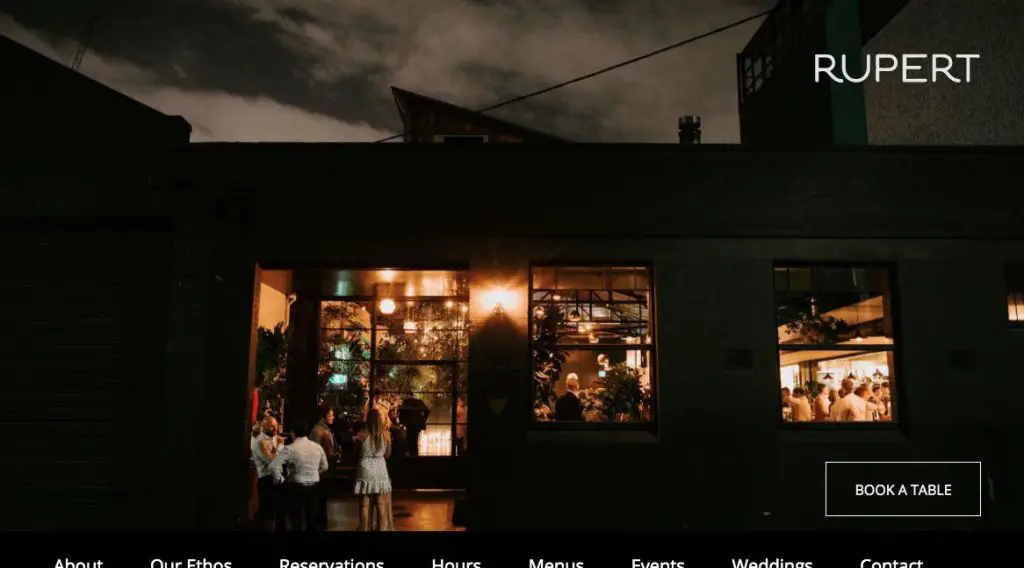 rupertonrupert.com.au
1394197702
Rick and Mali Korinaldi founded Rupert on Rupert, a converted warehouse restaurant in Collingwood, Melbourne. With vintage furniture, polished concrete floors, and a mix of steel, copper, and glass, the restaurant has an industrial aesthetic that is both inviting and mysterious. The design of the restaurant is intended to create a space that could exist in any city around the world and attract both social gatherings and romantic rendezvous.
Rupert on Rupert features a variety of seating options, including cozy corners, communal tables, and spacious rooms, making it a versatile venue for intimate or large events, personal or business. With its unique ambiance and sun-drenched warmth, Rupert on Rupert is the perfect place to create unforgettable moments.
Greenfields Albert Park Wedding Venue, Melbourne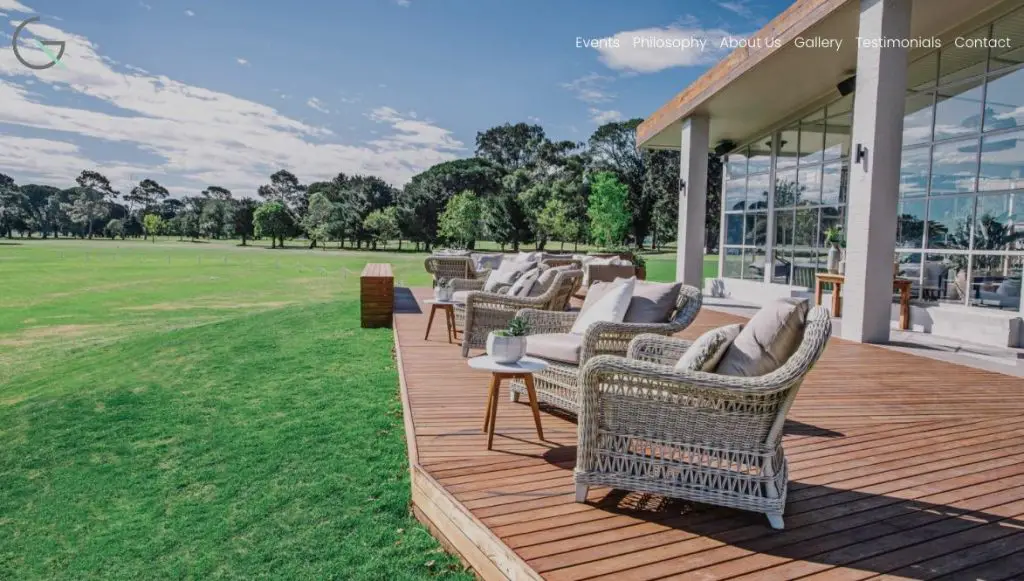 greenfieldsalbertpark.com.au
1395108416
The decor and finishes at this venue have been carefully crafted from around the world, with a variety of custom handmade and hand-finished pieces created by local artisans. This venue offers stunning views of Albert Park Lake and the city skyline, as well as adjacent access to the Albert Park Golf Course.
Greenfields Albert Park provides different spaces for every occasion, including a huge sunset terrace, a covered outdoor barbecue grill, a lower interior terrace with mosaic tiles and a hanging fireplace, and a suite for the bridal party. This venue offers a warm and tactile environment that encourages relaxation and connection.
Greenfields Albert Park's team is dedicated to treating you like family and making your wedding day unforgettable. They will do everything in their power to give you peace of mind and ensure that your special day is unforgettable.
Chapel 1885 Wedding Venue Melbourne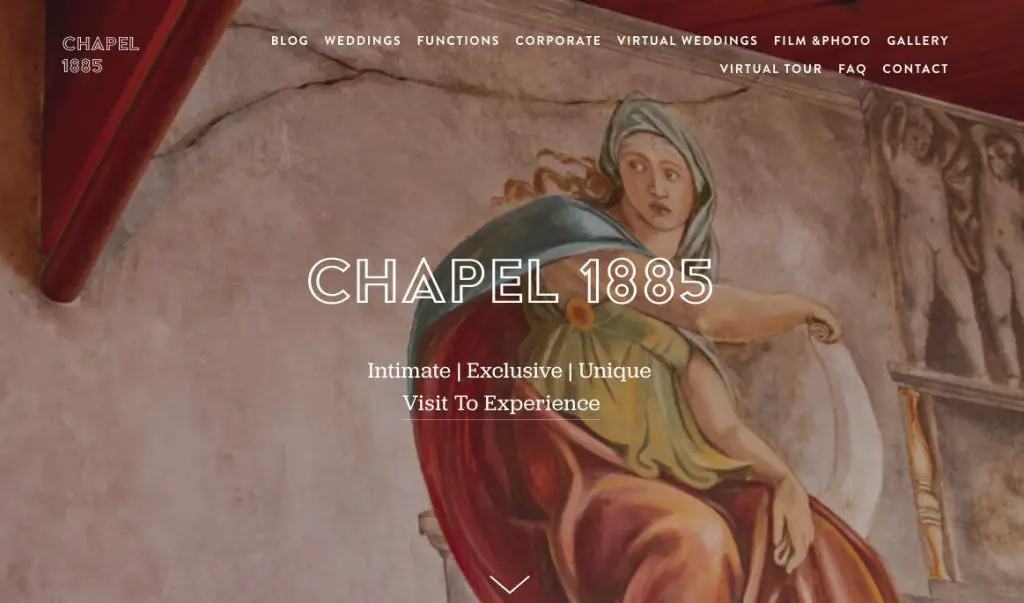 chapel1885.com.au
478668371
The chapel has a neo-gothic style and features exposed brick walls, a stunning wooden ceiling crafted by 19th-century shipbuilders, and large arched windows that fill the space with light. The interior is decorated with exquisite paintings and chandeliers, creating a romantic backdrop for photos with a magnificent view of Clifton Hill.
The chapel is equipped with a grand piano, a fireplace, two lounges, a bar, a kitchen, and a private dressing room for brides. A small courtyard is also available on the premises away from the restaurant for the convenience of guests.
In addition, the chapel offers a virtual wedding service for those who cannot attend the ceremony and reception. The team provides a way for loved ones to connect online via Zoom to enjoy the day and ensure that no one misses a thing. All they need is an internet connection and a connected device to join the celebration.
Lanсеmore Wedding Center Melbourne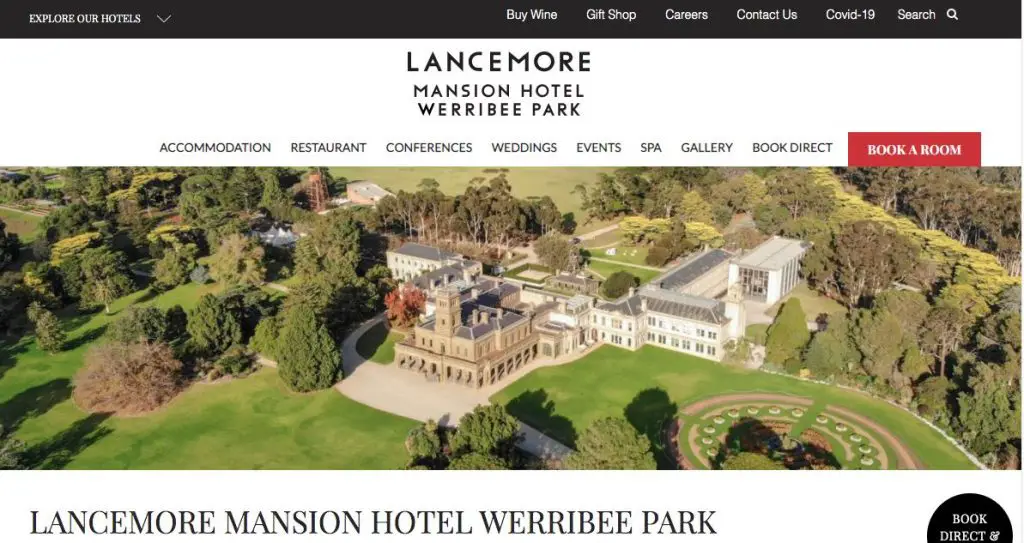 lancemore.com.au
397314000
Our award-winning boutique hotel collection is as unique as you are. We understand that you travel for a one-of-a-kind, personalised experience tailored to your specific requirements, so it's difficult not to feel special when you stay with us.
With our genuine service and informal professionalism, timeless design, and spectacular venues for mouthwatering food and wine, we strive to get the little things right and recognise that your time is the ultimate luxury.
Our property is your theatre, the stage for realising your dreams. It helps that we have years of experience planning weddings, and our beautiful hotels are the ideal setting for your special day. From the ideal location for your ceremony and photos to a stunning reception venue brimming with joy, it's all here, including a luxuriously appointed bridal suite and suites for everyone.
Few wedding venues can provide you and your groom with a one-of-a-kind experience, complete with ethereal day spas or private areas to make you feel as good as you look.
Melbourne's Dingley Hotel wedding venue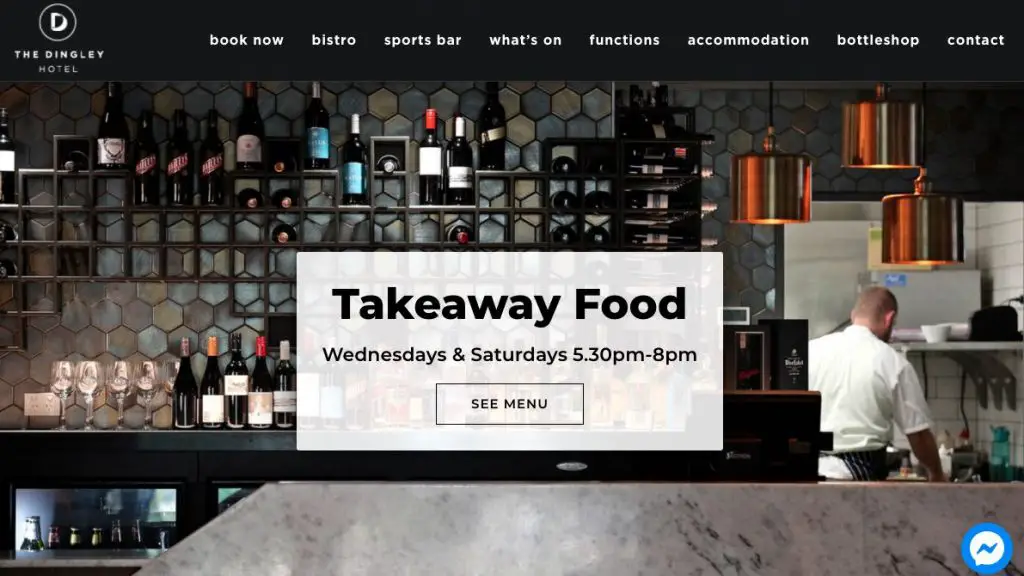 dingleyhotel.com.au
395522000
Dingley is located at the gateway to some of Victoria's finest natural attractions. It is just minutes away from Moorabbin Airport, and offers easy access to world-renowned sandbar golf courses, shopping centers, beautiful wineries, and surf spots of the Mornington Peninsula. Whether you are planning a relaxing getaway or an adventure-packed trip, the Dingley Hotel is the perfect base for your next escape to the South East.
Our venue has four distinct functional spaces: The Mason Room, Grange Bar, Forum Room, and Alfresco Dining. We have the ideal space for your cocktail party, formal banquet, wedding, meeting, conference, or after-work drinks event.
For weddings, the Dingley Hotel offers a full wedding package in the Grange Bar and Forum Room. Our experienced manager and her team will work closely with you to help plan your special day, from creating menus to designing floor plans and choosing room decor. With over twenty years of experience in hosting weddings, we know how to make your big day unforgettable.
Studley Boathouse Park Wedding Venue Melbourne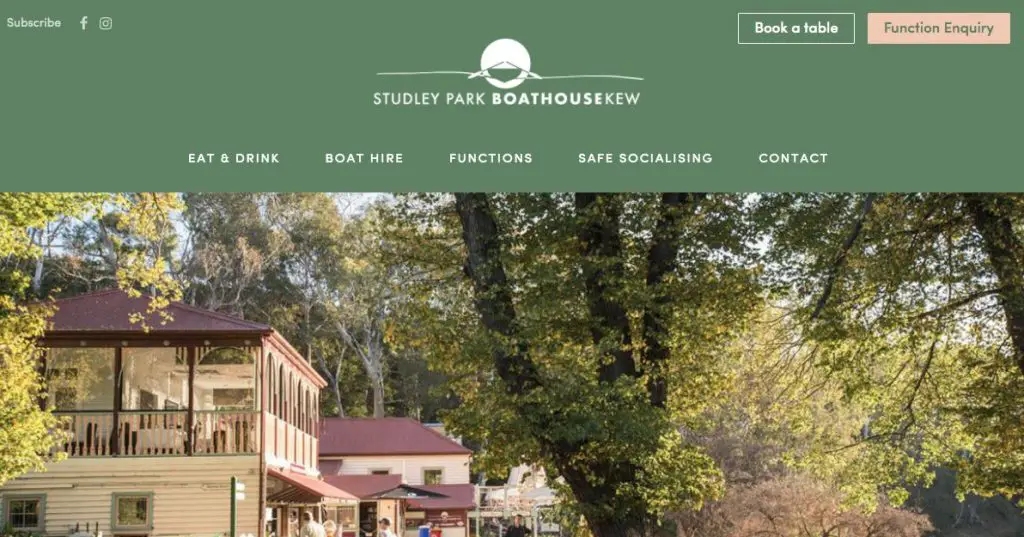 studleyparkboathousekew.com.au
1385630028
BEST RIVERSIDE MEAL IN MELBOURNE
Studley Boathouse, Melbourne's first boathouse, has been a popular destination for boating and diving enthusiasts for decades. The boathouse is a 10-minute drive from Melbourne's Kew CBD and features a cafe, restaurant, and event spaces for all occasions.
Nestled on the serene upper reaches of the Yarra River, surrounded by nature's beauty, Studley Boathouse features three dynamic spaces for your next function or event. Whether it's a corporate event or your dream wedding, our experienced function team will help you plan and execute your event flawlessly.
Our venue offers unparalleled attentive service and a unique blend of old-world charm and modern amenities. We provide customized menus and a variety of venues to help you create an unforgettable experience on your special day.
Choose from our three versatile spaces: The Balcony Room, which can seat up to 76 people and host 120 guests for a cocktail party; The Terrace area, perfect for an intimate gathering of up to 80 guests or a cocktail party of 120 people; and The Riverbank, an ideal venue for a cocktail party of up to 120 guests.
The Bank Оn Collins Wedding Center Melbourne

thebankoncollins.com.au
90703980
The Bank of Australia building, designed by Reeds and Barnes, was built in 1876 with imported Omaru stone. This two-story classical building features a rusticated base, projecting cornice, and clustered corner pilasters, and is considered one of Joseph Reid's masterpieces. Reid was also the architect behind the Melbourne Town Hall, the State Library, and the Exhibition House.
The Bank on Collins Bar and Restaurant now occupies the first floor of the building. This venue provides exceptional service, delectable food and beverages, and a stunning setting for weddings and events. The high ceilings and elegant decor will captivate you as you dine on contemporary Australian cuisine. You can start with oysters and end with a traditional parma with a sophisticated interpretation of classic dishes.
Bank on Collins is a popular destination for business lunches, events, and leisurely weekend brunches. After a long day, join us for happy hour Monday through Saturday from 5:00 PM to 7:00 PM. Whether you're looking for a quick bite or a memorable dining experience, Bank on Collins has something for everyone.
The Gables wedding venue in Melbourne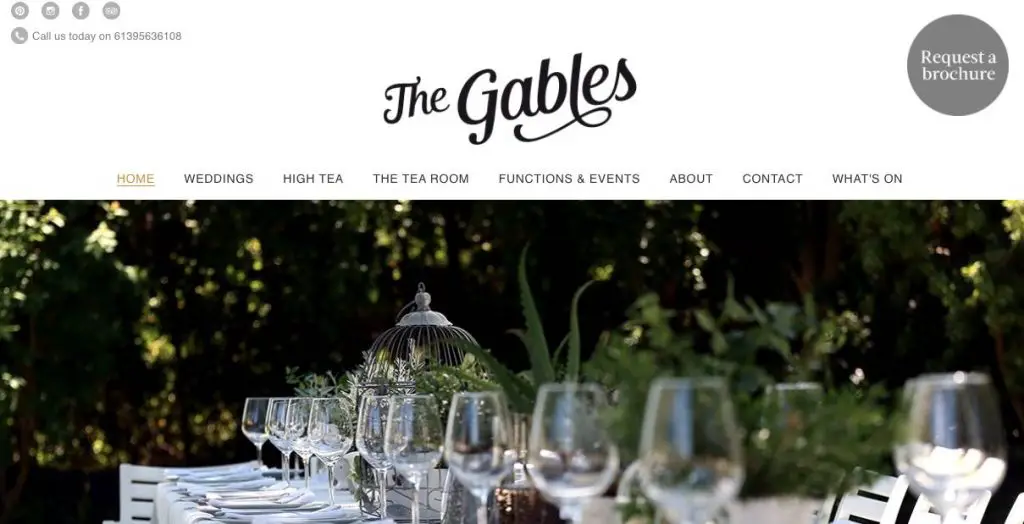 thegables.com.au
1395716631
The Gables is a stunning example of Queen Anne Victorian architecture and is highly recommended for weddings, business events, or private dining. It is situated in the Gascoigne Estate of East Malvern. The venue is absolutely stunning with its 100-year-old cypress trees and intricate details.
Every aspect of this century-old mansion has been carefully preserved, from the ornate stained glass windows to the inviting open fireplaces, and classic furnishings. The Gables exudes charm and sophistication that will leave a lasting impression on guests.
The property boasts a long driveway, serene garden, and gazebo, which is an ideal setting for wedding ceremonies. The staff at The Gables are dedicated to providing a unique and personalized experience to guests, accommodating up to 120 people with their first-class menu that includes a wide selection of formal dinners, cocktail parties, and afternoon tea.
The Gables is the first of its kind to offer a la carte options for smaller, more intimate groups. The attention to detail and personalized service of The Gables is unparalleled, and their commitment to excellence is reflected in every aspect of the venue.
Cleveland Winery, Melbourne Wedding Venue
clevel andwinery.com.au
1354299000
For those looking to experience the best of the Macedonian Ranges, a stay at Cleveland Winery is highly recommended. Nestled in the historic rural town of Lancefield, less than an hour's drive from Melbourne's CBD and 40 minutes from Melbourne Airport, the location is perfect for exploring the area.
Guests can start their adventure by exploring the variety of antique shops and art galleries in downtown Lancefield. The region is also known for its acclaimed local food and wine, and guests can indulge in the gastronomic delights of the area. Natural landmarks like Hanging Rock are a must-see for those looking to marvel at the beauty of the region.
Cleveland Winery offers 50 spacious and beautifully decorated suites with comfortable double beds and en-suite bathrooms. In addition, the original country house built in 1887 can accommodate up to 12 guests, providing a truly unique and authentic experience. The underground cellar offers guests the opportunity to taste the best wines from around the region, while the hotel's a la carte restaurant and wood-fired pizza oven are perfect for a delicious meal.
The hotel also boasts a range of activities, including a tennis court and fitness center, guest lounges with pool tables, darts, and table tennis. With comfortable country accommodations, tranquil vineyards, spectacular rolling landscapes, and delicious local food and wine, Cleveland Winery is the perfect place to experience the best of the Macedonian Ranges.
The wedding venue above Castle Newton in Melbourne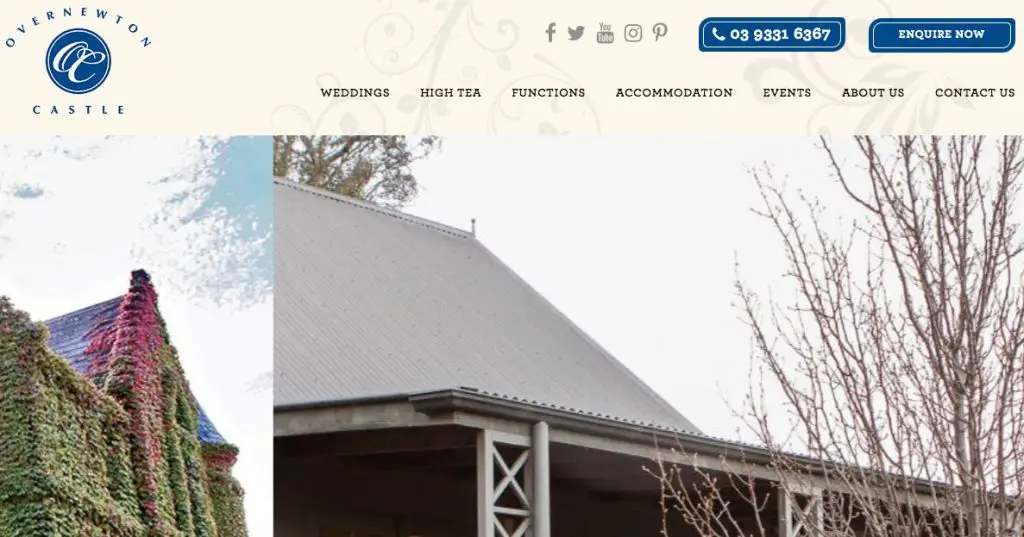 overnewtoncastle.com.au
1393316367
Private Wedding Venue and Hotel in Melbourne
Overnewton Castle has hosted thousands of weddings since 1961 and is one of Melbourne's premier wedding venues. It's a picturesque backdrop for a castle wedding in Melbourne, with open fireplaces for the cold winter months and over 4 acres of pristine English garden.
You can't always rely on the weather when you live in Melbourne. If you are unable to hold your wedding ceremony in our garden, we have a one-of-a-kind non-denominational chapel available, which was originally built as a Billiard Room by William Taylor and prefabricated in Scotland. The walls are adorned with twelve etched pen and ink portraits on oak panels. It's unlike any other wedding venue in Melbourne, or even in Australia.
Quat Quatta Wedding Center Melbourne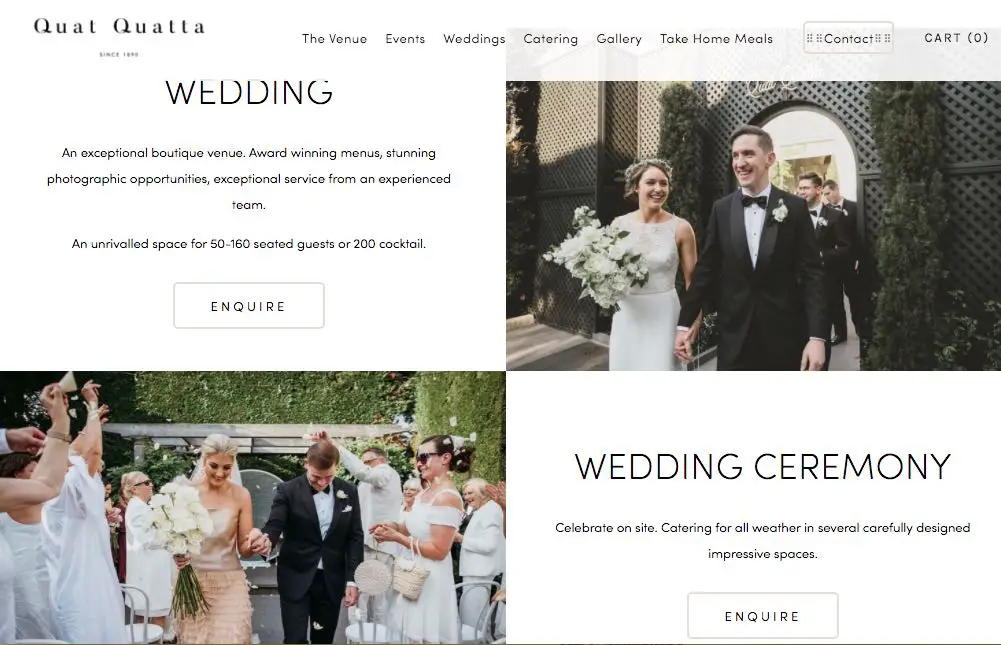 quatquatta.com.au
1395286483
This exceptional boutique location offers guests an award-winning menu, stunning photography, and great service from an experienced team. The space is dramatic yet neutral, providing a beautiful canvas for any event.
Garlands and long tables or classic white linens and Georg Jensen chandeliers are just a few of the options available to make your event unforgettable. With high ceilings above a huge parquet dance floor, this venue is perfect for those looking to dance the night away.
For a more romantic and intimate experience, the venue offers a unique outdoor space complete with plaster lighting, a bronze fountain, and pop-up bars. It's the perfect setting for a wedding ceremony and drinks reception.
Goona Warra Wedding Centre, Melbourne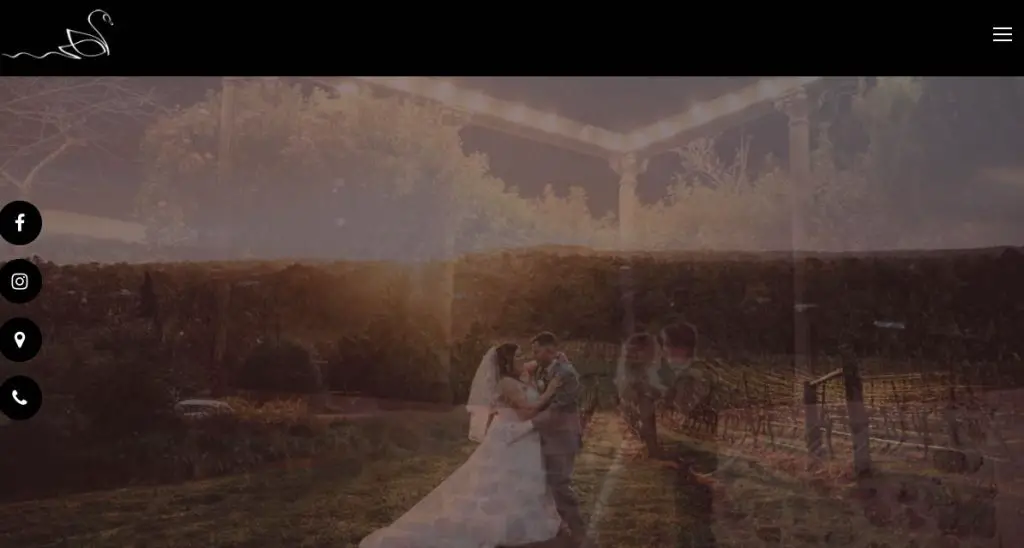 goonawarra.com.au
1397407766
Goona Warra Vineyard, located in Goona Warra near Sunbury, Victoria, is not only a winery, but also a beautiful event venue steeped in history. Tradition, authenticity, and integrity guide everything that we do, from our events to our wine.
The stunning grounds and rustic bluestone buildings create a festive atmosphere reminiscent of the hills of Tuscany, despite being only half an hour away from Melbourne. Wedding ceremonies can be held on the picturesque terrace or in the historic barrel-vaulted barn, followed by celebratory drinks and delicious treats in the Great Hall.
In addition to weddings, we host a variety of events including birthdays, christenings, engagements, reunions, work events, and Christmas parties. A minimum of 40 people is required for a reservation.
MV Pearl Wedding Venue Melbourne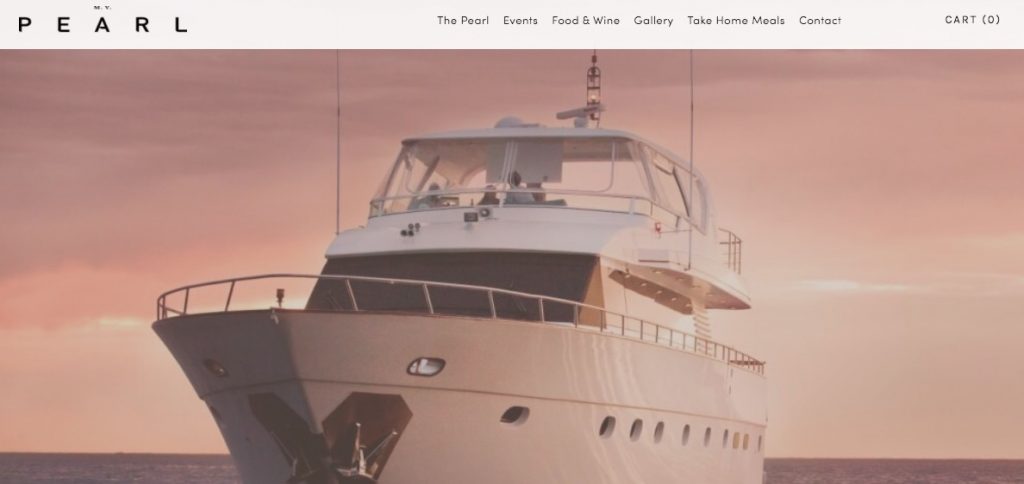 mvpearl.com.au
425817151
The vessel offers a unique and memorable venue for weddings, corporate events, and individual parties.
Corporate entertainment reaches new heights aboard this floating venue. Impress your guests with great food, wine, and entertainment while enjoying stunning views of Melbourne's skyline. The experienced team can create bespoke events for clients of all sizes, from an intimate master chef experience for 20 guests to a dance party for up to 67 guests.
With three levels, the floating venue offers a unique sense of space and versatility. Lounge in the sun during the day, relax on the panoramic terrace, or dance the night away under the stars with your very own DJ, overlooking Melbourne's fairy lights and docks. Whatever your occasion, this floating venue promises to deliver a one-of-a-kind experience.
Plaza Ballroom Melbourne Wedding Hall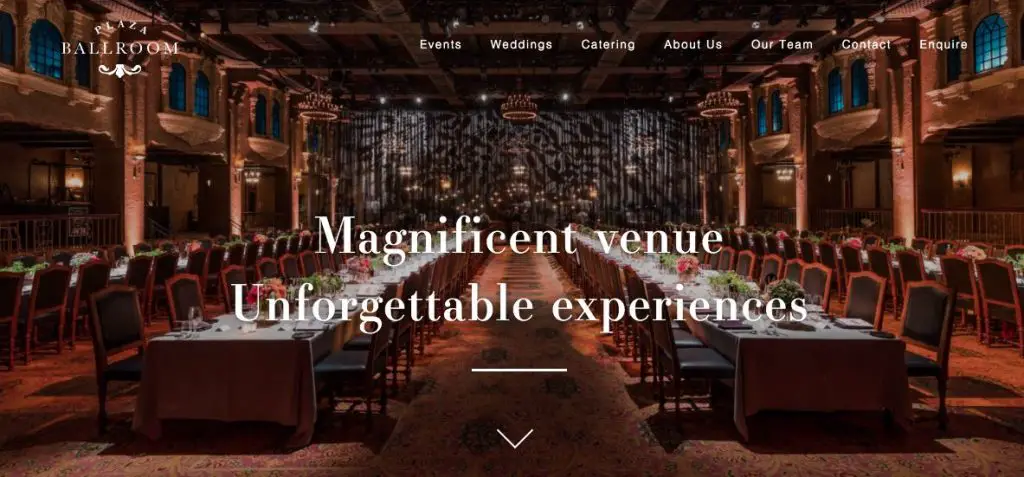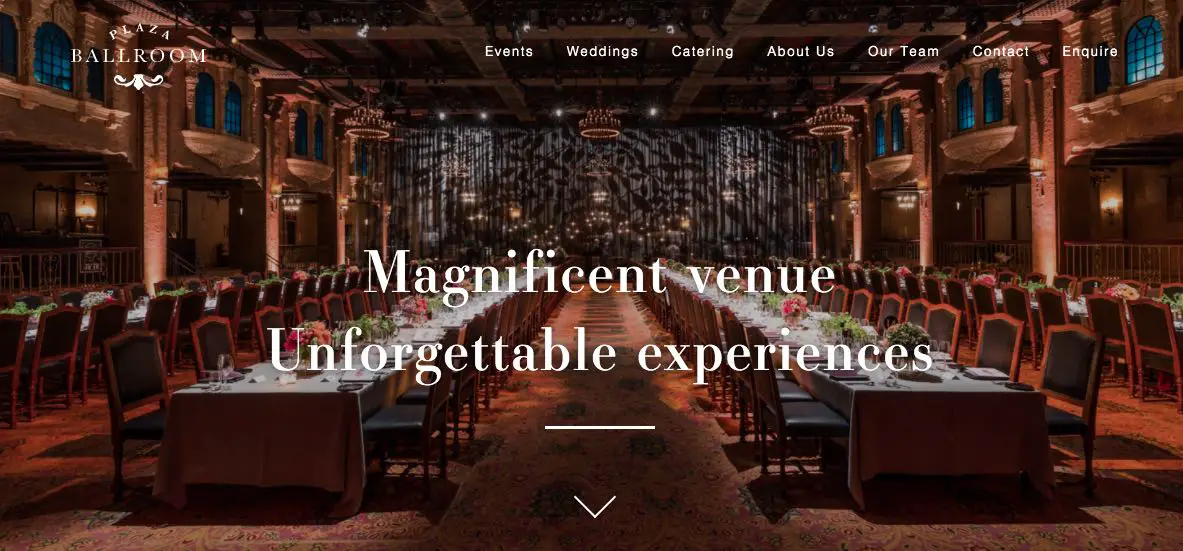 plazaballroom.com.au
1392999860
The Plaza Ballroom is ideal for hosting galas, awards nights, cocktail parties, lunches, and presentations. Because of its large open floor plan, the venue can accommodate a variety of events with a capacity ranging from 200 to 1,200 people.
The venue is well known for its wedding catering, providing an unrivaled historic setting, elegance and grandeur, ensuring that your event will be an unforgettable celebration.
As soon as your guests enter the venue, they will be transported into a world of magic, with its Spanish Rococo style, grand staircase, and magnificent chandeliers.
Rippon Lea Estate Wedding Venue Melbourne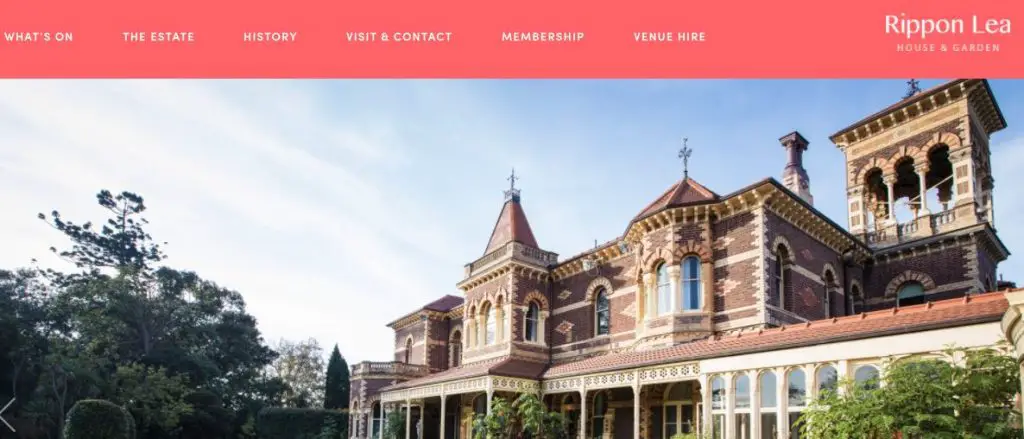 ripponleaestate.com.au
1395236095
Rippon Lea Estate, a national heritage site, is one of Australia's grand suburban estates, with sweeping lawns, magnificent trees, and a tranquil lake. This location, which is only ten kilometres from Melbourne, provides a great location close to the central business district.
This classic venue features picturesque gardens with an ornamental lake, orchard, ferns, and sweeping lawns, where elegance and splendour combine to create the ideal setting for your special event.
Rippon Estate is the ideal setting for your next vacation, with a grand hall opening onto an impressive 14-acre swimming pool and over acres of entertaining gardens. Many areas of the grounds are suitable for garden weddings, birthdays and picnics, family reunions, and Christmas celebrations. The ballroom is a stunning setting for wedding receptions, corporate entertainment, and festive evenings.
Brookwood Reception Melbourne Wedding Place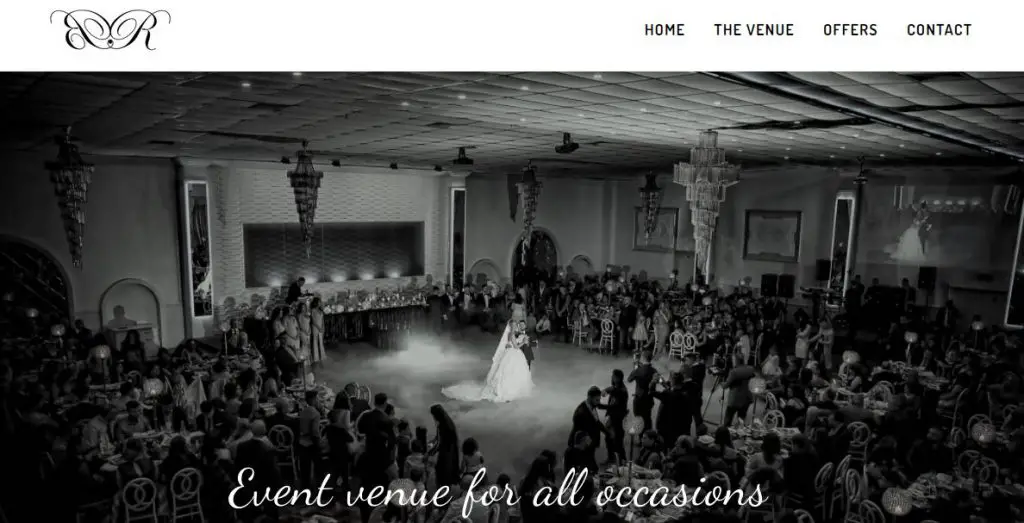 brookwoodreceptions.com.au
1394602946
At Brookwood Receptions, the focus is on bringing dreams to life through special events. The belief is that the perfect atmosphere, place, and setting are vital to making an event memorable. The establishment offers two rooms, the Nova Room and the Ballroom, with a capacity of up to 550 guests. The experienced function coordinators are available to guide guests through every step of the process.
The Ballroom offers a classic and romantic atmosphere with custom wedding table backdrops, stunning chandeliers, and a ballroom-sized dance floor. The space is perfect for lunch, dinner, entertainment, and dancing. The dance floor and stage are great for live music or a DJ after a meal. To cater to the needs of newlyweds, a separate room is available for them, complete with bridal suites and complimentary food and drinks upon arrival.
For smaller events, the Nova Room provides a cozy atmosphere for guests from 30 to 120 people. The room features a dance floor and is suitable for bands, DJs, or acoustic music. The balcony provides fresh air and a great view for wedding guests. The room is also ideal for other events like birthdays, graduations, and school functions. Additionally, a private room for honeymooners is available.
Both rooms are connected by large dance floors and decorative lighting with selected colors. This feature allows guests to watch the party on the big screen. Brookwood Receptions provides the perfect space and atmosphere to create unforgettable memories for any special event.
Beacon Hills Golf Wedding Course in Melbourne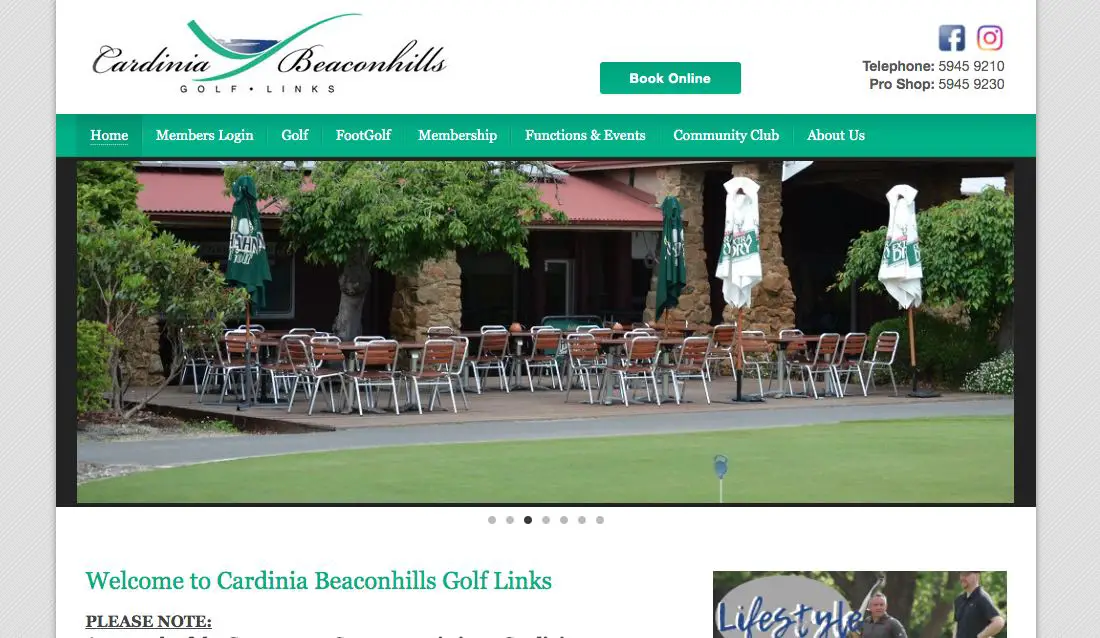 beaconhillsgolf.com.au
59459210
Cardinia Beaconhills Golf Links is a warm and reasonably priced golf club in Victoria that provides breathtaking views and a welcoming environment. The club is sure to make an impression, whether you're an experienced golfer or interested in trying footgolf for the first time.
The course is open to the public and offers memberships that are reasonably priced while providing exceptional quality and opportunities. The focus is on delivering the best possible outcomes for members while continuously improving the course and providing excellent customer service.
For those looking to relax and socialize, the terrace is an excellent option accommodating up to 50 guests. It's perfect for enjoying pre or post golf drinks, pre-dinner drinks, and barbecue lunches.
Cardinia Beaconhills is also an ideal venue for weddings. The charming clubhouse and picturesque gardens offer a stunning backdrop for a wedding ceremony on the manicured lawns. The course provides numerous photo opportunities at no extra charge. The team at Cardinia Beaconhills understand that your wedding day is a once-in-a-lifetime event, and their focus is on making it stress-free and unforgettable.
Melbourne Park Wedding Venue
theparkmelbourne.com.au
1385630091
The serene lakeside views, magnificent chandeliers, and stylish warehouse interiors with arched windows providing ample natural light make The Park a sought-after venue.
With a capacity to host receptions ranging from 50 to 500 guests, The Park also offers parking for up to 1,000 vehicles. The flexible walls allow for customization to accommodate more intimate wedding parties. For a romantic and unforgettable ceremony or a relaxed cocktail hour, the outdoor covered balcony provides the perfect setting.
The chef at The Park uses local suppliers and seasonal ingredients to create a modern and innovative menu. A bespoke menu or interactive food station can add a touch of uniqueness to your event and leave your guests impressed.
The experienced events team at The Park takes care of all the finer details leading up to and on your special day. They provide comprehensive advice and ensure that everything runs smoothly. To experience The Park, contact the team today to arrange a one-on-one meeting and a tour of the venue.
The wedding venue is Sir Paz's estate in Melbourne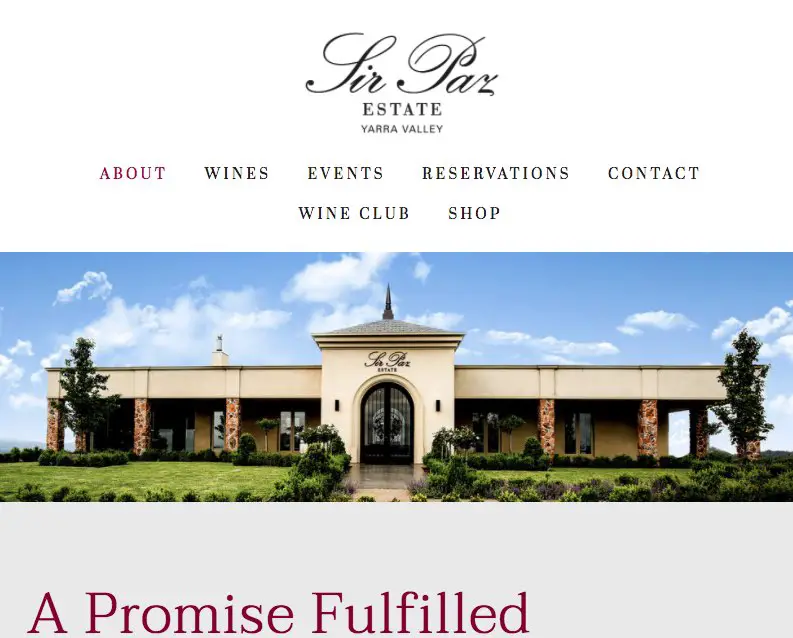 sirpaz.com
1359642339
Sir Paz Estate is a visually stunning event venue that prides itself on delivering exceptional customer service with an impeccable attention to detail. The venue caters to all types of events, from intimate celebrations to corporate functions, formal parties, and weddings. The venue works with some of Victoria's best catering companies, offering quality and variety while tailoring packages to meet specific needs.
Imagine walking across the lawn with loved ones by your side, the sun shining overhead, exchanging tender vows and sharing your first kiss. Sir Paz Estate is the perfect setting for such an occasion - beautiful, joyful, and an eternal memory. The venue provides everything you need for a perfect day, including flowers, vases, ribbons, music, lace flower girls, satin shoes, sighs, smiles, laughter, toasts, long hugs, and a long life together. The experienced team will be happy to participate in planning your wedding day to make it an unforgettable experience.
The estate offers beauty and privacy, ensuring that you and your guests have an ideal surroundings to enjoy. The rental includes exclusive access to the all-weather outdoor deck space, covered tasting room, and expansive outdoor lawn. The venue can host up to 80 people for a seated reception and 120 for cocktail parties, with larger numbers possible by adding a tent.
Captain Melville Wedding Center Melbourne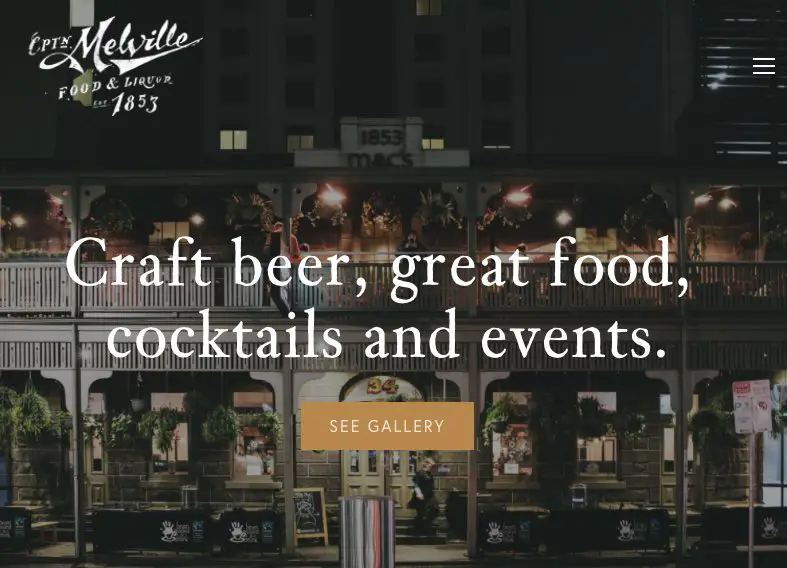 captainmelville.com.au
1396636855
The Captain Melville Hotel is conveniently situated just north of Melbourne's central business district, close to parking and public transportation. It is a great location for events because it offers excellent food, a wide variety of drinks and cocktails, and lovely settings that appeal to event planners.
Our historic home boasts Melbourne's best self-contained function space, with a spacious and light-filled covered patio, cosy en-suite, and unique balcony. Additionally, we have a rare 24-year license, which allows us to host parties late at night without having to find other venues.
We offer a number of event spaces in addition to a balcony bar that is open until early morning. We can fit up to 355 people, whether you need a smaller space or the entire venue.
West Beach Wedding Pavilion, Melbourne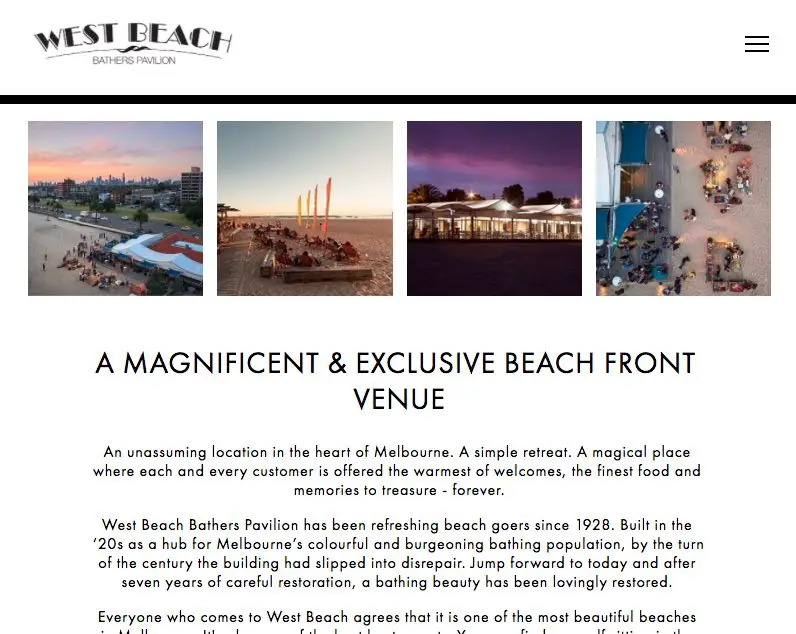 westbeachstkilda.com.au
1395938833
A simple location in the heart of Melbourne. A simple haven. A magical place where every customer receives a warm welcome, delicious food, and memories to cherish for a lifetime.
Everyone who visits West Beach agrees that it is one of the most beautiful beaches in Melbourne. It is also one of the world's best-kept secrets. Families, businessmen, musicians, media personalities, artists, and even famous celebrities may be seen sunbathing. Everyone comes to enjoy the scenery and to get away from the hustle and bustle of everyday life. It is a place for us to love and cherish, just as it was for our forefathers.
Four Points by Sheraton Melbourne Wedding Venue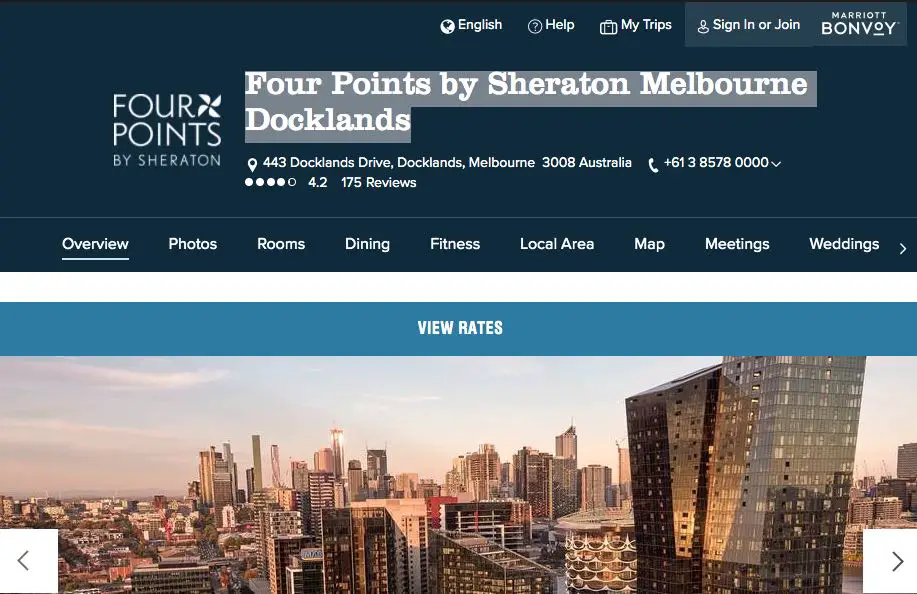 marriott.com
1385780000
We are dedicated to bringing your vision to life with the assistance of our dedicated team of professionals who pay attention to even the smallest details. Our experience also allows us to keep up with the latest culinary and decorating trends. We have relationships with dependable suppliers who have a track record of bringing event concepts to life, and we're always open to new and exciting ideas.
Every love story is special and unique in its own way. You'll never forget the first time you met, your first kiss, or all the other signs that it was true love. Your walk down the aisle should be as special as your love for each other, whether it's your wedding, vow renewal, or anniversary. You know exactly what you want for your wedding or engagement ceremony, and our event planners can make your vision a reality. We can help you find the ideal venue, the best wedding theme, floral arrangements, and everything else you need to make your special day unforgettable.
Au79 Cafe Wedding Place Melbourne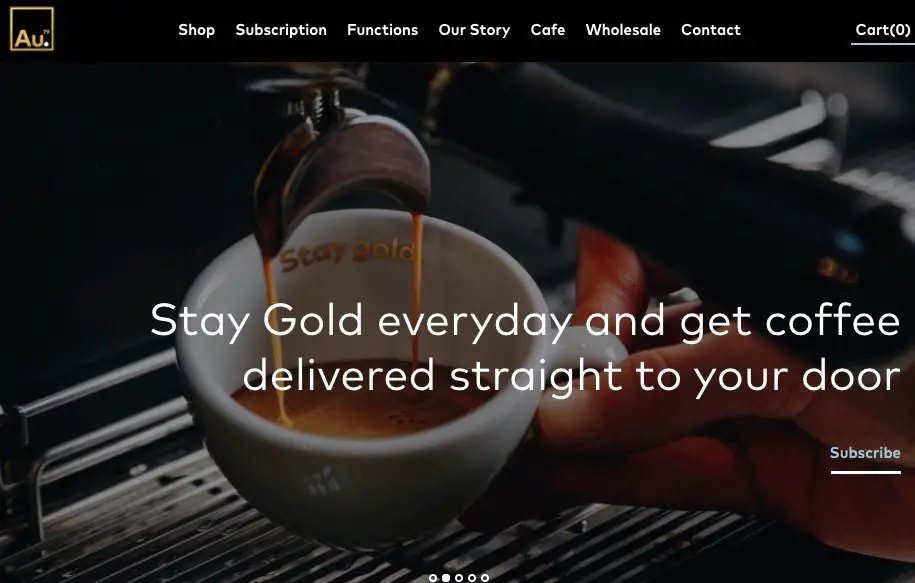 au79cafe.com.au
1394290138
The simple idea was to separate our coffee roasting by having a roasting factory on-site and sourcing the best coffee beans from all over the world. This idea quickly grew into an ambitious project under the leadership of a passionate and dedicated team, where these same values were infused into every aspect of the café.
Our new ambition was to set the gold standard in everything we did. As a result, a bakery, pastry shop, chocolatier, and conference hall were added to the site, which can accommodate more than 200 people. A fantastic fairytale was brought to life. We now have the privilege of sharing this story with our customers and guests on a daily basis, and we can't wait to continue this journey with each of you.
Wedding venue Fair Field Boat House Melbourne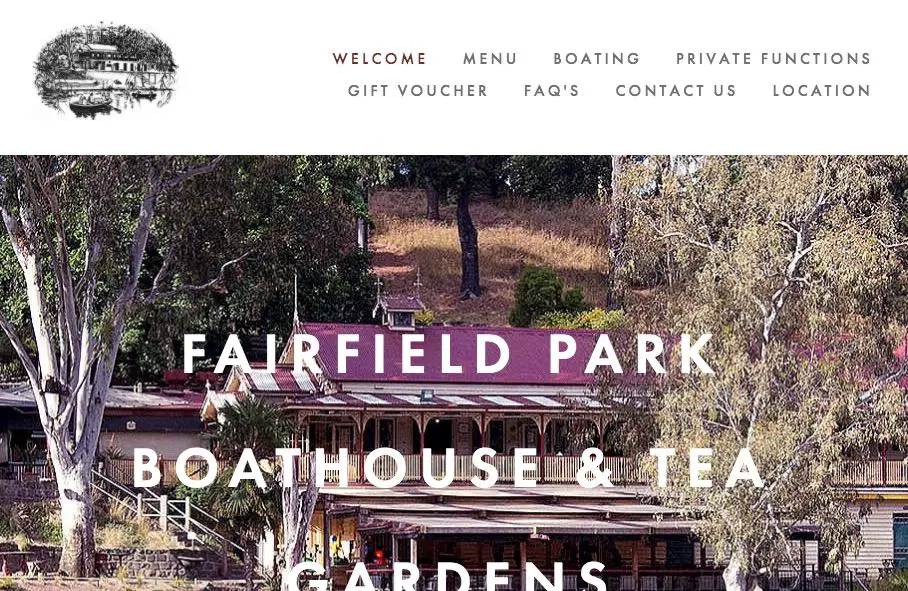 fairfieldboathouse.com
1394861501
River breezes gently blow over the verandah and south-facing terraces that overlook the winding Yarra on warm nights. In this relaxed atmosphere and picturesque setting, we have a long history of providing wedding services and receptions. We would like to be a part of your day.
We have a dedicated ceremony area as well as a wet-weather option for your celebration. We will not charge the bridal party for using the boats for photos after the ceremony. You can even treat your guests to a fun rowing skiff ride up the Yarra for a small fee!
On cold days and nights, we lower the sheer blinds on the deck and porch and turn on the heaters to keep you warm. With a microphone and speakers, our two reception areas will meet your audio needs.
For every occasion and price range, we offer a tasty selection of food and drinks. Please find our wedding package listed below.
We welcome any additional questions or comments about your requirements. We work hard to make your wedding day memorable for you and your guests because we understand how important it is that everything runs smoothly.
National Gallery of Victoria, Melbourne Wedding Venue
ngv.vic.gov.au
1386202222
We welcome any additional questions or comments about your requirements. We work hard to make your wedding day memorable for you and your guests because we understand how important it is that everything runs smoothly.
The NGV, founded in 1861, now houses the region's largest art collection, a vast treasure trove of over 70,000 works spanning thousands of years and a wealth of ideas, disciplines, and styles. This collection is available to the public for free. We cordially invite you to partake in these riches by attending the many events, exhibitions, and programmes planned at the NGV for all of us.
Lux Foundry Wedding Venue

Melbourne
luxfoundry.com.au
1393878075
Our large backyard is ideal for sunny days and is dog-friendly. We source our coffee beans from Proud Mary and are committed to supporting our wonderful local suppliers. Lux Foundry is a fully licenced cafe and event space housed in a one-of-a-kind heritage structure.
Our open interior space with high ceilings and plenty of space for movement is ideal for a variety of events, while our spacious front patio is a sun-drenched space where you can relax with a glass of wine.
The Industrique Wedding Center in Melbourne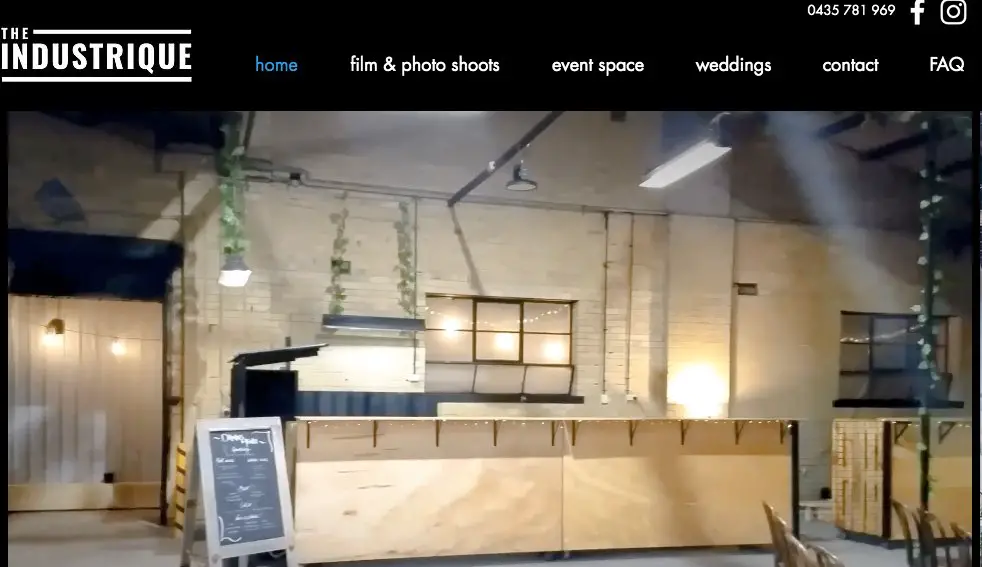 theindustrique.com.au
435781969
Melbourne New Industrial Warehouse
Only 20 minutes from Melbourne's central business district is Industrique, a licenced industrial warehouse with a 1,250 sq. m. floor area and a capacity of 550 (seated and standing). For your ceremony, wedding, or party, you can completely customise the platform at Industrique because it was designed to be an extremely adaptable space.
It has plenty of natural light thanks to its 88 square metres of south-facing windows, which provide magical photo opportunities of Harmon Park and the nearby Velodrome. The rustic industrial touch adds to its versatility. It's sleek and simple without sacrificing visual appeal.
Scotchman's Wedding Melbourne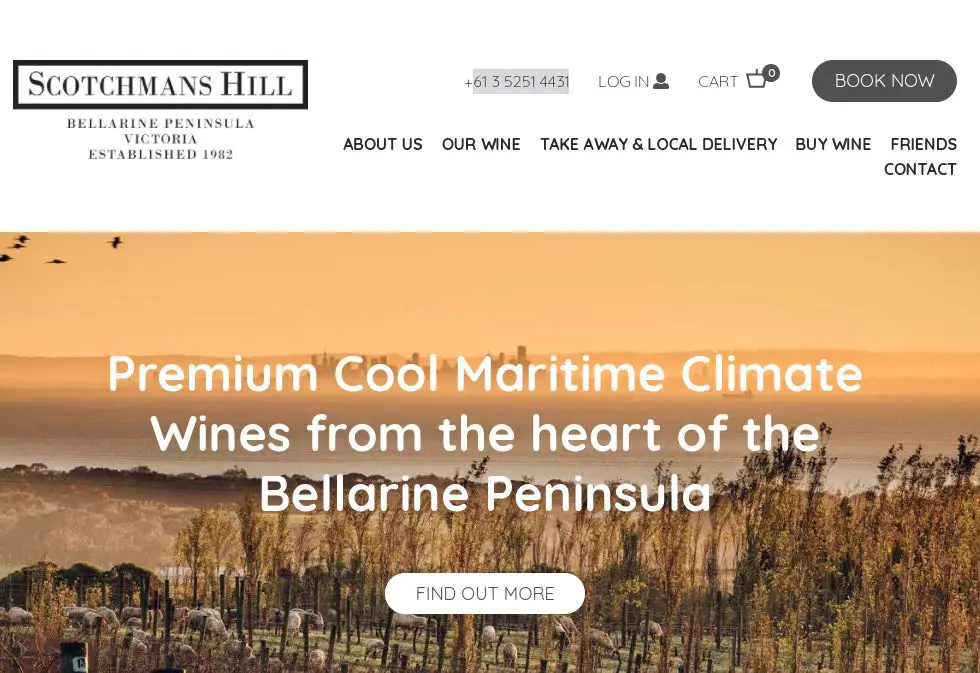 scotchmans.com.au
1352514431
The Bellarine Peninsula's prominent Scotchmans Hill Winery, which was founded in 1982, is well known for producing high-quality cool-climate wines. The winery has a long history in the Australian wine industry and has earned a place on James Halliday's Top 100 Wineries list. With an emphasis on quality, Scotchmans Hill creates a wide variety of wines that are distinguished by their distinctive flavour profiles and reflect the special terroir of the Bellarine Peninsula.