Planning a wedding in Melbourne soon? We have put together the only list of marriage celebrants in Melbourne that you will need to read.
No one but the very best have made our discerning list.
When you are planning a wedding, there can feel like you have a millions choices to make, and so many little details to arrange. But if you broke it down to the bare necessities, most of the aspects of your wedding you are planning don't even need to be there!
Things that have become traditions are actually just fun add-ons, and almost all of them you could leave out if you wanted to. Can't decide on a cake? Don't have one! Nervous about a first dance? Skip that part! Can't choose your bridal party? Who needs one anyway?
One of the few things you have to have however is a marriage celebrant. This person who guides you through the legalities of the promises you make to each other is an absolute essential. So you want to get this choice just right.
Located in Melbourne,Victoria, and currently on the search for a marriage celebrant to officiate your ceremony? Look no further! To take the stress out of choosing, we've compiled a list of the top 15  most popular marriage celebrants in Melbourne ranked by their number of customer reviews.
Our awesome knowledge of weddings doesn't just stop at reception venues – we also have the inside scoop on the most loved and highly-recommended marriage celebrants in the biz.
If you need to choose a marriage celebrant in Melbourne, this is the list for you.
Add a header to begin generating the table of contents
Pete The Celebrant - Wedding Celebrant Melbourne
0421 760 023
Melbourne Marriage Celebrant
Your young male Melbourne celebrant and MC with 5-star reviews
Pete is a young Melbourne marriage celebrant and MC who creates relaxed, chilled out and easy-going wedding ceremonies.
Your ceremony should be the highlight that starts your wedding day where your friends and family will be in stitches and tears as he shares your story in an authentic and engaging way, hilarious yet with the sentiment.
MELBOURNE CELEBRANT SERVICE
The biggest day of your life can look different for each couple, however, whether it's with a large group of friends and family or escaping for an intimate elopement – the right celebrant will make all the difference.
It's not that you don't trust your uncle or mate, it's just better left in the hands of those who are happy to hold the mic for an evening and not a stubbie. After an incredible ceremony, it makes sense to trust your reception with the same person that everyone now trusts for a great evening.
Celebrate the life of a loved one with a funeral or memorial service that blends the experience of sharing captivating stories along with humour, warmth and love. Whether it's preparing the eulogy or reading them on behalf of the family, help is here.
Matt Finch Wedding Celebrant Melbourne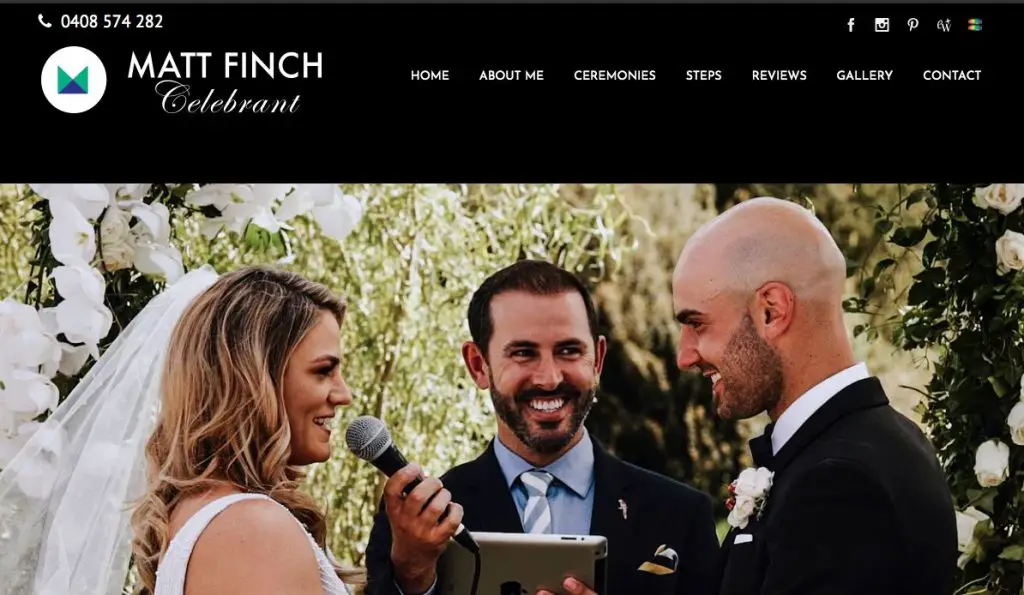 mattfinchcelebrant.com.au
408574282
CEREMONIES & SERVICES
As a modern-day celebrant, I'm free of rules and tradition.  I am open to ideas, and it's my job to create a ceremony that's right for you and your beliefs, inclusive of race, religion or lifestyle.  From a classic ceremony with a twist to something more daring, your wedding is what you want it to be, and I'm here to inspire, guide and support you on this journey.
I'm passionate about getting to know people and their story.  A wedding is the beginning of a new chapter in your life, and as your celebrant, I'd be honoured to be part of that story.  I look forward to meeting you.
GET MARRIED IN SIX EASY STEPS
STEP ONE
When we first meet, you can throw as many questions at me as you like, to decide if I'm the guy for you. I can show how it all works and let you know what you need to start thinking about.
STEP TWO
Once booked: lucky you! I will complete all the legal stuff for you and just show you where to sign.
STEP THREE
Over a drink, you can tell me just how this journey of yours flowed and your thoughts on one another.   I'll write a personal wedding script detailing the 'who, what, when' of your ceremony.
STEP FOUR
We can run through everything at a wedding rehearsal, so that you're more at ease on the big day.
STEP FIVE
Using my own professional sound gear, I ensure that all of your wedding guests can clearly hear and enjoy the bespoke, real warm ceremony that you have imagined.
STEP SIX
I'll do my very best to make your wedding ceremony happy, stress free and forever memorable.
Julia's Celebrant Agency - Wedding Celebrant Melbourne
juliascelebrantagency.com
402916245
Celebrants with Pizazz!
Celebrants who really add sparkle to your ceremony! Highly recommended, wonderfully professional and super lovely. What more could you ask for?!
With wedding industry events running every single month, this social calendar will surely excite those who love to mingle, create and challenge themselves as small business owners.
Anthony Cribbes Wedding Celebrant Melbourne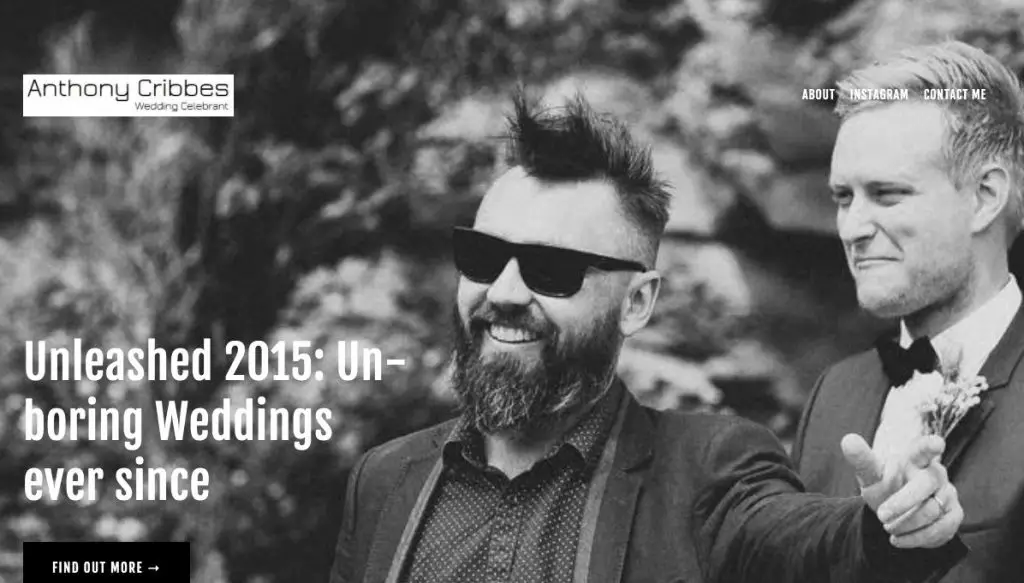 anthonycribbes.com.au
410494225
Why I believe a wedding ceremony is the most important part to your day...
Before my own wedding, I can tell you that my experience of wedding ceremonies could be described as either: forgettable or cringe-inducing. Sadly this was all too common, until I had my own little personal moment of enlightenment!
I discovered something when my wife and I got married - that the ceremony can be both amazingly awesome and the highlight of the day.
This experience taught me what a great ceremony can do for a wedding. It sets the vibe of the day and it engages all of your guests. But most importantly it truly ensures that your wedding is a proper celebration of the one thing that matters above everything else - how much you bloody love each other!
How it all works from here
STEP 1: LET'S MEET
I like to keep the process nice and easy, if you want to know more about my views on weddings and why I became a celebrant we can set-up a completely obligation free meeting.
If we're a good match for each other and you want to proceed, that's music to my ears and we will lock your date in!
STEP 2: LET'S CREATE YOUR WEDDING
We will sit down together over a coffee (or something similar if that's your tipple...it might be mine!) and we will create your ceremony as a team. It's my job to guide you through the process, but ultimately we will create your wedding, how you had always wanted it to be.
We can meet us much as you like to make your wedding happen...there are no additional or hidden charges.
STEP 3: LET'S MAKE A WEDDING
This is the best part, we make you wife and husband, husband and wife, wife and wife or husband and husband or spouse and spouse!
It is my job to make this the best day ever for you, your guests and whoever else is involved in the wedding. I love weddings, they are the best moments in the world!
Fiona Garrivan Marriage Celebrant - Wedding Celebrant Melbourne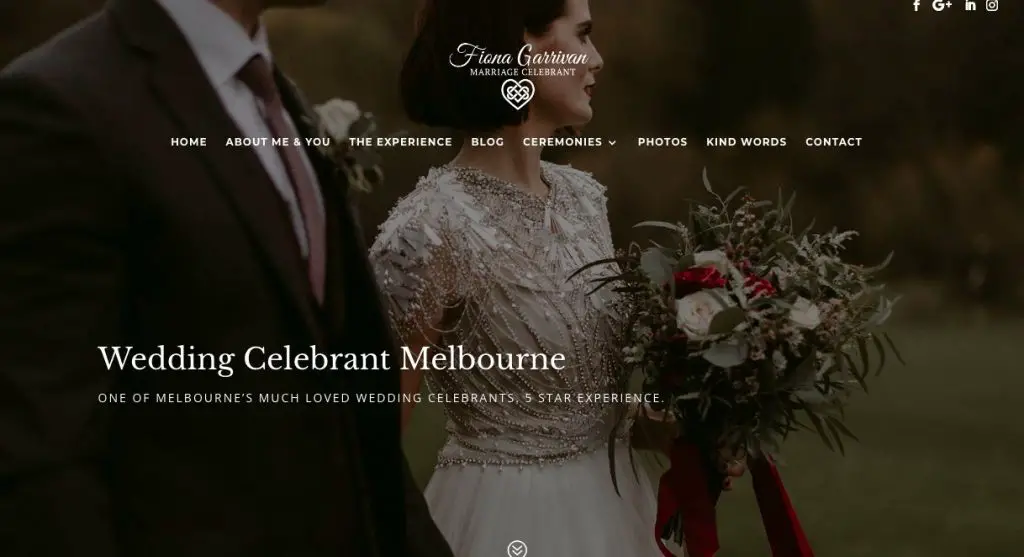 fionagarrivancelebrant.com.au
433777794
SERVICES
CEREMONIES
Behind every wedding is a unique couple.  A wedding looks different for every couple.   If you and your guests are able to walk away having laughed, cried and really enjoyed yourselves and are looking forward to the celebrations, then I know I have done my job.
ELOPEMENTS
Having a big wedding is not for everyone. If you are looking for a meaningful way to commit to one another without all the fuss, maybe eloping with just a few of your closest family and friends is the perfect way for you to start your married life.
Erin Rollason Marriage Celebrant - Wedding Celebrant Melbourne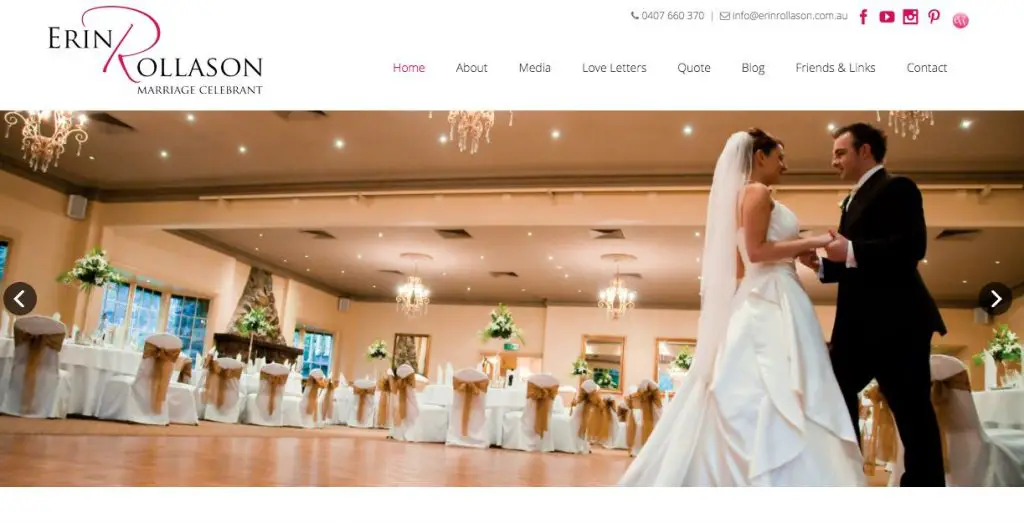 celebrant.erinrollason.com.au
407660370
On your wedding day you want to look amazing, but also feel amazing with a great sense of enjoyment and ease as you're guided throughout the ceremony!
Your ceremony is the first official start of your wedding day and your marriage- you want to get it right from the very beginning with no regrets!
GUIDES YOU SEAMLESSLY THROUGH THE PROCESS AND ON YOUR BIG DAY?
IS RELIABLE, EASY TO RELATE TO, FRIENDLY, FLEXIBLE, GENUINE, FUN, THOROUGH & PROFESSIONAL?
THAT LISTENS TO WANT YOU WANT?
GIVES YOU IDEAS AND TIPS TO MAKE IT A STRESS-FREE EXPERIENCE?
ONLY DOES ONE WEDDING PER DAY-FOCUSING ON YOU?
With my expertise and experience you will feel that the ceremony process and your Wedding day will be smooth sailing, reducing stress, reducing anxiety and not feeling overwhelmed as I have everything under control in regards to your ceremony. You will actually find working with me throughout the process and on your big day enjoyable and fun- the way it is meant to be.
Rebecca Mayo - Wedding Celebrants Melbourne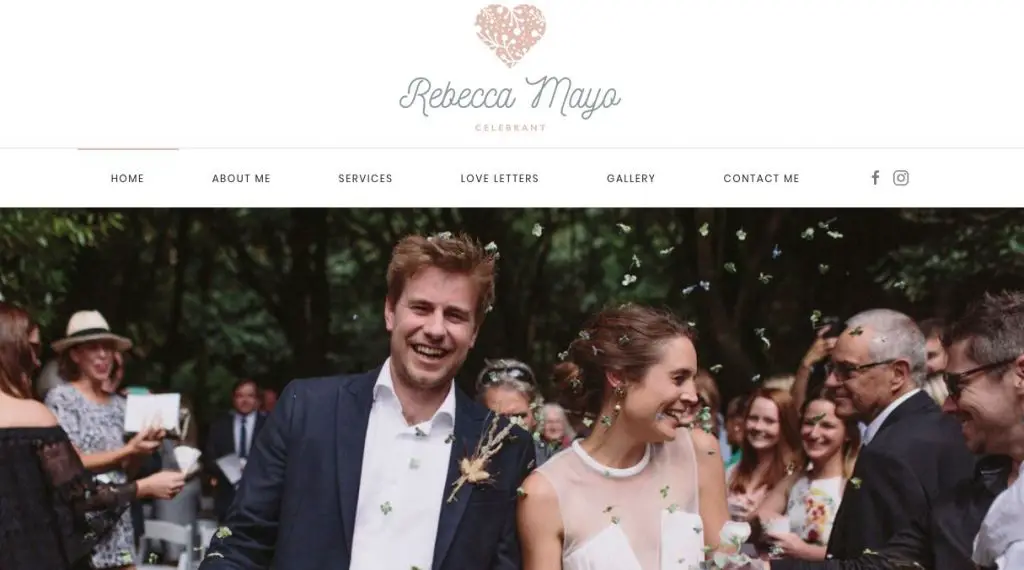 rebeccamayocelebrant.com.au
420744573
Meet
Let's have a chat and get to know each other! We'll chat about you, chat about me, and chat about your i-do's. We can do this via FaceTime or Skype, or if you want to meet in person then I'm always up for a coffee or a wine!
Book
Once you've decided we're a perfect match, you can lock me in with a booking fee. Then we will meet face to face to sign and lodge your Notice of Intended Marriage which must be done a minimum of 1 month before your wedding. At this meeting, I will give you your super awesome wedding kit, packed full of sample vows, readings, rituals, and other fun stuff.
Create
Let's get creative! You can have as much or as little input as you want. I will write your ceremony from scratch, ensuring it to be completely unique, fun, and personal to you. I will send you a draft to check over and make any changes you wish until its perfect.
Hitched
Your big day is here! This is the biggest celebration of your lives, and I believe it should be fun and enjoyed by you and your guests! So, let's do this!!!
Weddings by Jay Allan - Wedding Celebrants Melbourne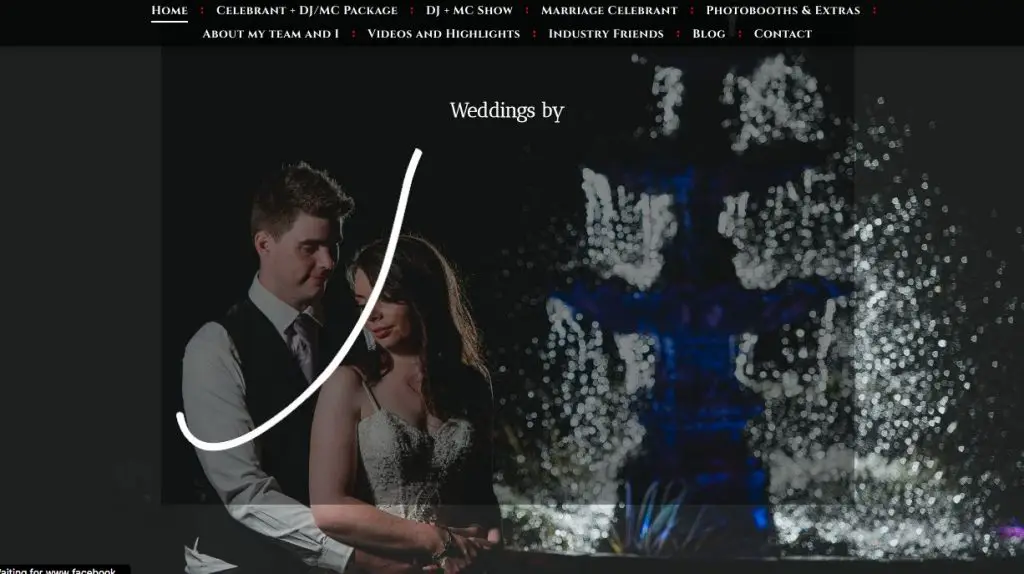 jayallen.com.au
437771876
"It's all about YOU!!! Celebrating YOU, bringing YOUR dream to life and giving YOU a day/night to remember. No Stress, Lots of Fun + All Love"
As a celebrant I don't over-do-it, or under-do-it. I listen to you and create the ceremony that suits you best.
Simple, Easy, Stress Free + Fun
I take care of all the legal stuff, and help you with planning your big day.
20 + years of wedding planning and performing experience and expertise.
Since becoming an Authorised Marriage Celebrant, I have been able to be more than just the partyman at the reception, I have been able to share in the wonderful moment when two people become one couple. It is such an honour!
Stand-Up - Wedding Celebrant Melbourne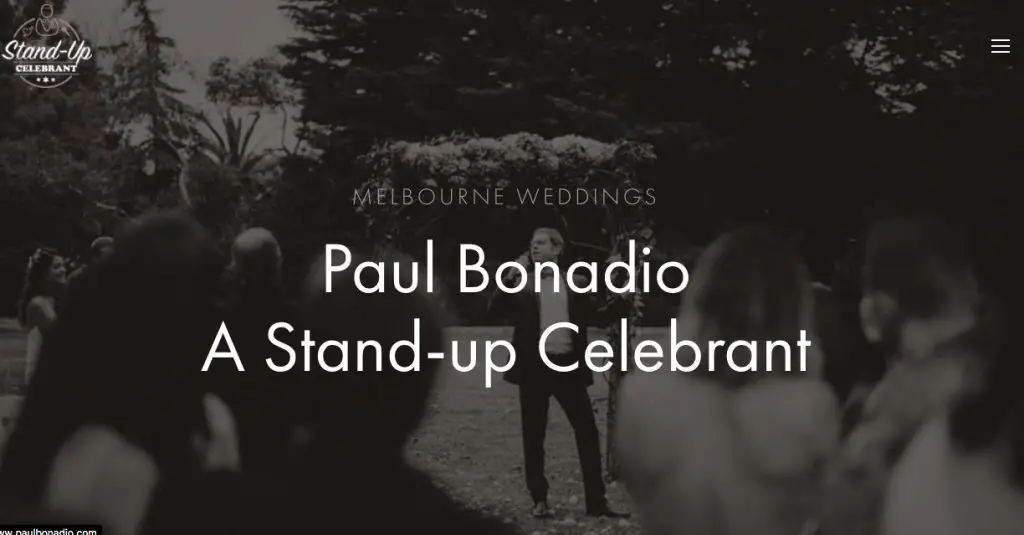 paulbonadio.com
417502921
Hello there.
My name's Paul and I'm a full-time celebrant based in Collingwood, Melbourne.
I'll be flat-out honest with you – I have selfish reasons for wanting to be your celebrant.
I dig the stage. As a stand-up comedian I've been lucky enough to support the likes of Fiona O'Loughlin and Dave O'Neil. Getting up on stage scares a lot of people. Understandably so. I love it. It's a thrill.
I love writing. I'm a natural storyteller and have written features for Bernard Fanning, Jimmy Barnes, The Rubens and Gareth Liddiard (excuse me while I pick those names up off the floor).
As a celebrant I get to combine those two things.
For me that's like hitting a triple-word score with two q's and a z. It's like slapping down a draw-four wildcard. It's like finding the Gameboy key in A*mazing. It's like beating Rainbow Road on Mario Kart. It's like… you get the picture.
I'm Melbourne based. I live in Collingwood but can travel from the Peninsula to the Yarra Valley to Geelong. I do weddings in Melbourne. I live in Melbourne. I'm repeating the word Melbourne because it's great for Google search.
I have some cool features like 'Pimp My Celebrant' - it lets you choose exactly what you want me to wear! I also have more than 100 five-star reviews over on my Easy Weddings page.
I want to be at your wedding and create a ceremony your guests won't stop talking about. I want to write about how you met, what you enjoy about each other and why one of you snores like a German trooper.
I can't build a cupboard. I'm awful at fractions. I barely know how to cook a jaffle.
The things you are passionate about in life are the things you do best.
This is what I do best.
Yvonne Adele Productions - Wedding Celebrant Melbourne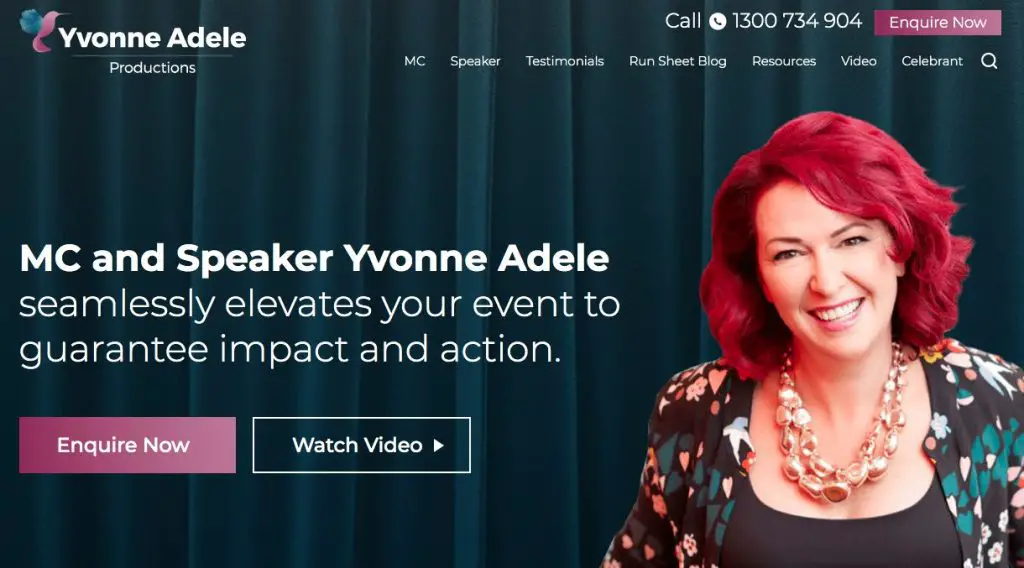 yvonneadele.com
1300734904
I've been a Professional Speaker for over 15 years – working with
events large and small, in Australia and overseas.
Ideally, your Conference MC acts as a 'theme-weaver', ensuring all
the elements of your event are tied together.
In addition to the traditional role an emcee plays, your MC should be a
team-player and enjoy being part of your event team, interviewing speakers,
delegates and exhibitors in the lead up to your event and on-site.
Tell me more about your event and I'll let you know how I might assist you.
Who is Yvonne?
Yvonne began her career with Microsoft Aus, UK + USA training tech-support and education teams. Armed with this deep wealth of knowledge and experience, she returned home on a mission to help Australians learn to love technology. She invented the Ms Megabyte persona leading to a national media profile and best-selling book.
This national profile led to invitations for corporate events. Working so closely with event teams and corporate leaders Yvonne naturally began consulting in many of these businesses and now brings this diverse, rich and abundant well of knowledge back into her presentations.
MC for your Conference/Event
A female emcee brings an extra dimension to your event. Your MC should weave your speakers together in an overall story to support your conference theme. You need a productive, bright, multi-tasking MC at the helm.
Speaker
(Keynote/Workshop)
For Yvonne's topics of Creative Thinking and SWITCH, she has been described in client testimonials as inspiring, interactive, vibrant, thought- provoking, well- researched, experienced, memorable, flexible, friendly and 'a breath of fresh air'.
Event
Professional
Yvonne is passionate about events, creating blog posts and podcast episodes across a wide range of topics from speakers to catering to delegate experience ideas.
Meant For You Marriage Celebrant - Wedding Celebrant Melbourne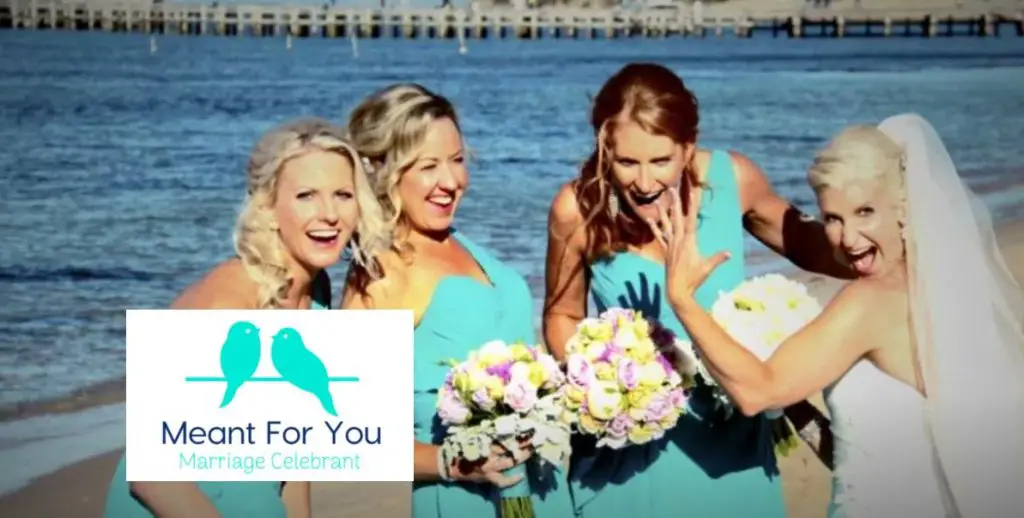 meantforyou-marriagecelebrant.com.au
408490074
Shell Brown
The first thing to know about me?
I l♥ve Weddings!
I have always loved weddings!
The dress, the rings, the vows, the necessity for champers….. all of it!
But the thing I love the most are the looks on the faces of the gorgeous couple when they see each other for the first time just as the ceremony is beginning.
That look of pure love.
A look that says 'You and I are a team and we're in this thing together, no matter what"
I see admiration and devotion in their eyes and I just know that their hearts are racing.
It makes me smile because I know that they are looking beyond this one day, as special as it is, and into their married future where there is an unlimited number of teamwork quotes in store for them…. "There is no I in T.E.A.M." and my favourite…"Teamwork makes the Dream Work", because that's what these wedding days are for.  They are a pre-celebration for the start to your marriage and when you see two people coming together, having made the decision to do life as a team – that makes me smile – every time.
I Don't Just Do Weddings…
When I started out, sure it was all about the weddings, but since then I have evolved along with the couples that I marry which turns into the circle of being a Family Celebrant.
I can be with you through every major stage in your lives, celebrating events such as:
Expecting a baby = Blessingway Ceremony
Welcoming a new baby into your family = Naming Day Ceremony
Adopting a child = Welcoming/Naming Ceremony
Buying a new home = House Warming/House Blessing Ceremony
Coming out as LGBTI =  Coming Out Ceremony
Changing your name/gender identity = Naming/Coming Out Ceremony
Turning 18 or 21 = Coming of Age Ceremony
Nana is turning 80 = 'This is Your Life' Birthday Ceremony
Wedding Anniversary = Vow Renewal Ceremony
My Background
I grew up in a Western Australian country town where I spent all of my time playing sport.  Since then I have lived in various places around Australia and in the UK and have travelled the world in between.  I feel that travel really opens up your mind and gives you a much clearer picture of how the world is joined in a rich tapestry of culture and tradition and food.
I come from an eclectic background careerwise, from working with babies and young children in child care to primary school teaching to retail sales and hospitality, including assisting the caterer at a lot of weddings.  All these positions have required a similar set of skills – patience, kindness and a firm understanding of keeping the client happy.
Being able to help couples make their wedding day as memorable as possible has been a real joy to me.
Why I Became a Celebrant…
After being a part of so many weddings, be it helping at the reception or in the role as Bridesmaid, I wanted to become more connected with the business end of things.  However it was meeting the loveliest celebrant at a friend's wedding that finally helped me take the plunge, so I attained my registration to become an authorised Commonwealth Civil Marriage Celebrant.
I like to work with, and get to know my couples to make each and every celebration personal and unique and I pride myself on the service I provide – you should check out the testimonials!
I have recently moved back to my home state of Western Australia and am love… love… loving the sunshine.  I am primarily based as a Marriage Celebrant in Mandurah, and in Geraldton as a close second.  I am also willing and able to travel anywhere in Australia and would jump at the chance at being a part of your overseas destination wedding/celebration.
Benny Roff - Wedding Celebrant Melbourne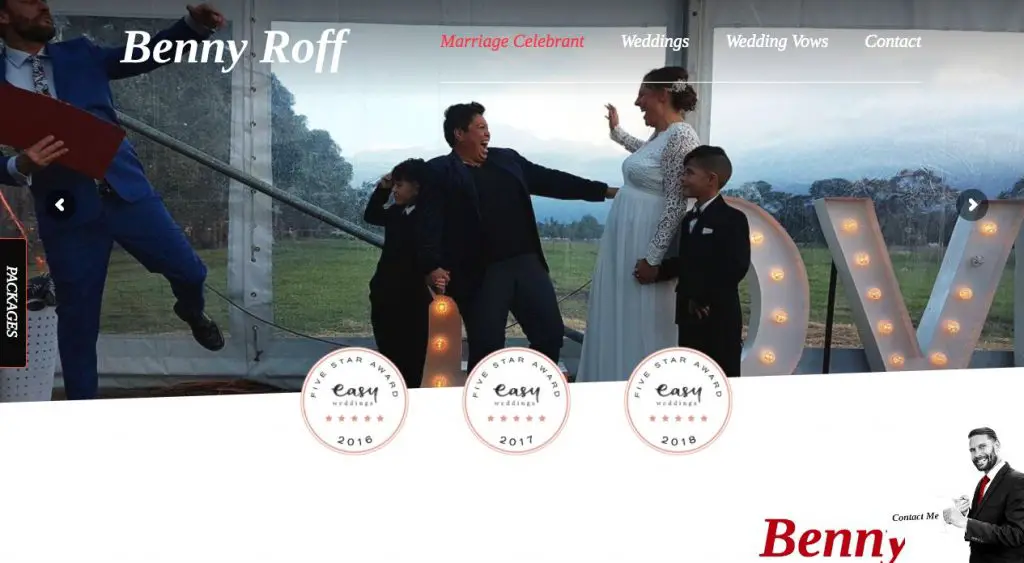 bennyroff.com
418365128
Benny Roff is a Melbourne Marriage Celebrant specialising in Fun Weddings for Interesting People
Benny is a Melbourne marriage celebrant who seems to always be getting mistaken for an old friend of the people he's marrying. It's a simple trick being a fun marriage celebrant (just figured I'd slip that phrase in there), Benny gathers your stories and repeats them back to the crowd in his very distinctive, enthusiastic style, and most of the time the crowd hardly thinks about beer at all during the ceremony! Drawing on his experience as a writer and performer, Benny takes the time to write very personal marriage ceremonies that are also highly entertaining.
It's as easy as
1 Give me a shout
Let's meet up and see how we click. I'll explain the process and the legal side. Ask me anything you want, like seriously anything!
2 We'll plan your wedding!
We meet again to plan your wedding, I actually write a lot of it on the spot while we're together, it's more fun that way!
3 Let's get this show on the road!
I'll send you through a ceremony in the weeks leading up to the wedding to have a final look over, then it's show time!
It's Benny's mission as a marriage celebrant to fully engage your guests. They should be cheering and laughing within the first minute of the ceremony, and asking how long you've known your celebrant by the end. Having conducted hundreds of awesome weddings around Victoria over the last six years, Benny has managed to navigate the topsy-turvy world of Melbourne weddings without having set a foot wrong as a wedding celebrant. He also promises to use the word 'wedding' a lot less in your actual wedding ceremony!
The Stellarbrant Professional Marriage Celebrant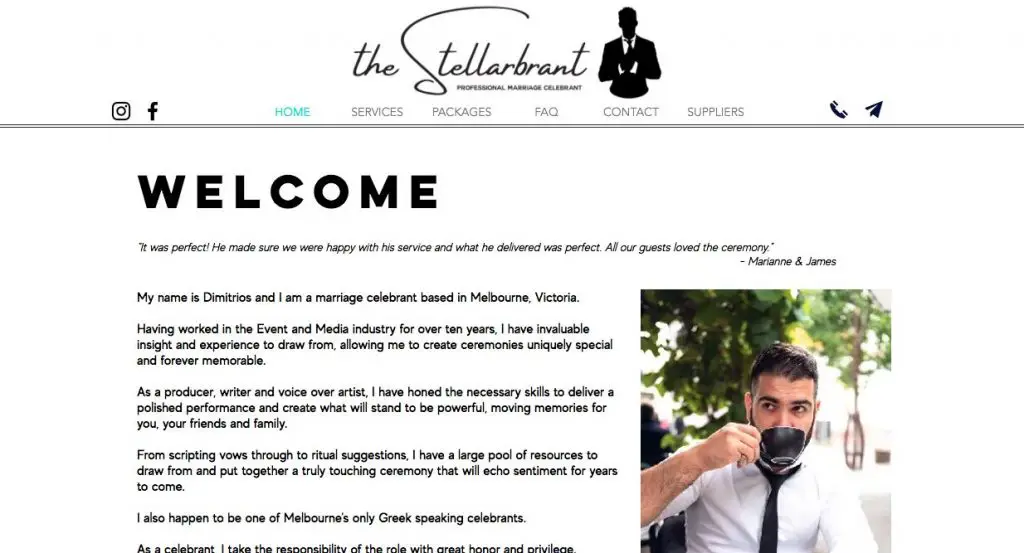 thestellarbrant.com.au
431711401
My name is Dimitrios and I am a marriage celebrant based in Melbourne, Victoria.
​Having worked in the Event and Media industry for over ten years, I have invaluable insight and experience to draw from, allowing me to create ceremonies uniquely special and forever memorable.
​As a producer, writer and voice over artist, I have honed the necessary skills to deliver a polished performance and create what will stand to be powerful, moving memories for you, your friends and family.
​From scripting vows through to ritual suggestions, I have a large pool of resources to draw from and put together a truly touching ceremony that will echo sentiment for years to come.
​I also happen to be one of Melbourne's only Greek speaking celebrants.
​As a celebrant, I take the responsibility of the role with great honor and privilege.
I am a true professional, a seasoned performer and most importantly, completely understanding of the importance and significance of your special day and will remain focused, organized, attentive and driven through to the "I Do's.''
​Aside from weddings, I am also available to officiate funeral services, vow renewals and baby naming ceremonies.
​I'm also a podcaster, a footy fan, an avid traveler and a tattoo collector!
Whether it's a traditional approach or something with a bit of edge, I consider myself fortunate enough to have been a part of many diverse weddings, of rich cultural ties and amazing ritual and simply cannot wait to help you plan your perfect ceremony.
​My ceremonies have style, flair and come with a professional approach.
Whatever the theme, look and feel, I will dress the part and deliver the ceremony you've wanted.
​Where I specialize is in scripting intimate but moving ceremonies by incorporating stories and poems that truly represent my clients and their guests.
​Having traveled extensively, I respect and appreciate ceremonies that feature rituals aligned with a couple's cultural identity. To date I have been privileged enough to be a part of traditionally Greek, African and Jewish ceremonies.
​I do have one rule though; No Dad jokes.
Olivia Ferraro Marriage Celebrant - Wedding Celebrant Melbourne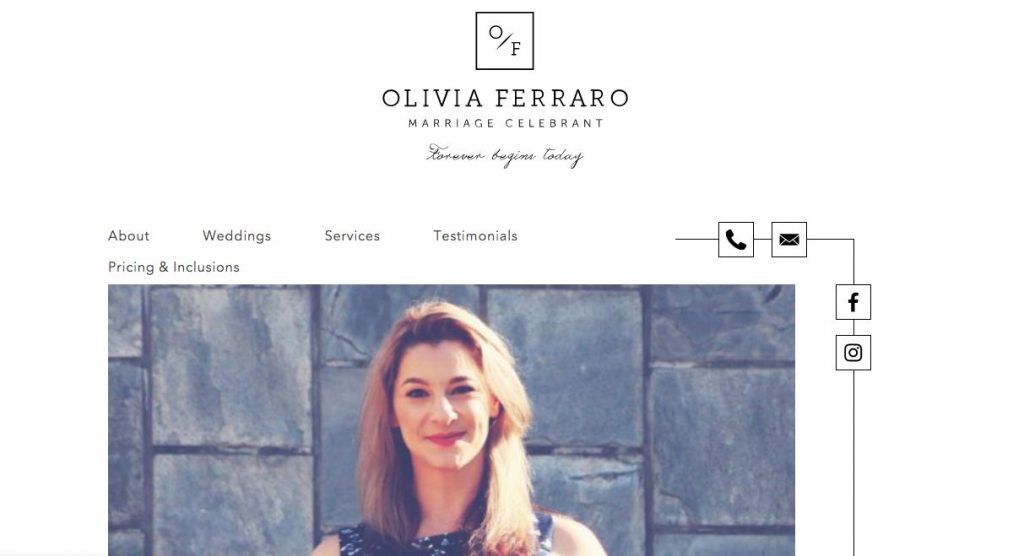 oliviaferraro.com.au
413805843
The connection between you and your celebrant is
the key factor in creating the ceremony you want.
My name is Olivia Ferraro. I'm professional, vibrant, organised
and happy Marriage Celebrant. I deliver a highly personalised and memorable
ceremony with style, warmth and personality.
Weddings
No two ceremonies are ever the same. I bring my experience and passion for ceremonies to your love story in an authentic and unique way, ensuring that your wedding ceremony is truly yours.
Your wedding ceremony is about you, for you. Its your special day and it should be exactly what you want and more.
I will look after all your legal paperwork including registering your wedding with Births, Deaths and Marriages Victoria.
Celebrating Your Life - Wedding Celebrant Melbourne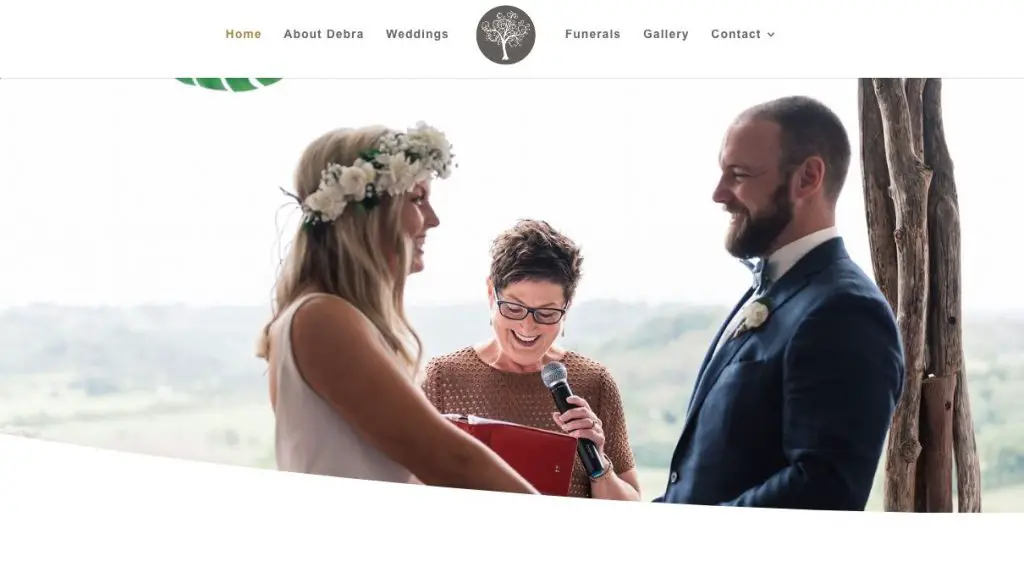 celebratingyourlife.com.au
402285112
HELLO! I'M DEBRA
Whatever you need my services for, my job is to assist you to pull together a ceremony that reflects the people we are there to celebrate and honour.
Having conducted over 800 weddings and commitment ceremonies, and over double that of funerals in the past 11 years, this is no hobby for me; it's my profession and a delight to be able to offer a caring, organised and seamless service.
Having come from a human services and teaching background, people have always rocked my world! I have lots of experience and practical support to offer, having worked with diverse communities from all walks of life.
I've also benefited enormously from my voluntary commitments; in palliative care – providing companionship and support to the terminally ill through to Boards of Management in not for profit organisations.
I  embrace diversity in our community and delight in the myriad of ways that people from all backgrounds and walks of life celebrate life, death and everything in between.
Whether it's formal or lighthearted, or somewhere in between, my job is to assist you to pull together a ceremony that reflects you as a couple and also meets the legal requirements under the Marriage Act 1961. The venue, style and content of the ceremony is entirely up to you
Planning a wedding can be overwhelming at times! I have developed an easy-to-use online tool to guide you through each element of the ceremony. It helps remove some of that stress by assisting you to tick all the legal boxes, choose meaningful words, craft a ceremony that you are both happy with and deliver that ceremony on the day and in the manner in which you choose.
Having conducted over 800 weddings and commitment ceremonies throughout the past 11 years, this is no hobby for me; it's my profession and a delight to be able to offer a caring, organised and seamless service. Having come from a human services and teaching background, people have always rocked my world! I have lots of experience and practical support to offer couples, having worked with diverse communities from all walks of life.
My ultimate aim is to see a happy and stress-free couple not only on the day but in the lead-up to your wedding.
Whether it's formal or lighthearted, or somewhere in between, my job is to assist you to pull together a ceremony that reflects you as a couple and also meets the legal requirements under the Marriage Act 1961. The venue, style and content of the ceremony is entirely up to you
Planning a wedding can be overwhelming at times! I have developed an easy-to-use online tool to guide you through each element of the ceremony. It helps remove some of that stress by assisting you to tick all the legal boxes, choose meaningful words, craft a ceremony that you are both happy with and deliver that ceremony on the day and in the manner in which you choose.
Having conducted over 800 weddings and commitment ceremonies throughout the past 11 years, this is no hobby for me; it's my profession and a delight to be able to offer a caring, organised and seamless service. Having come from a human services and teaching background, people have always rocked my world! I have lots of experience and practical support to offer couples, having worked with diverse communities from all walks of life.
My ultimate aim is to see a happy and stress-free couple not only on the day but in the lead-up to your wedding.
Eternal Flames Ceremonies - Wedding Celebrants Melbourne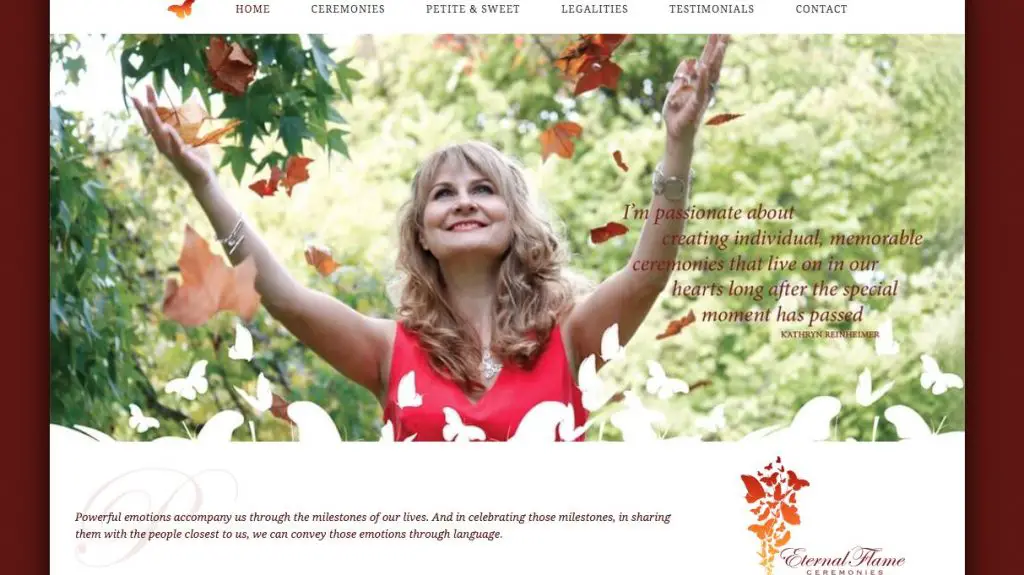 eternalflameceremonies.com.au
408533332
Powerful emotions accompany us through the milestones of our lives. And in celebrating those milestones, in sharing them with the people closest to us, we can convey those emotions through language.
At Eternal Flame Ceremonies, my desire as a civil celebrant is to help you tap into and express your most heartfelt feelings through well-chosen words—those spoken by you, and those by me.
The ceremonies I can help you create include:
Weddings, including Same Sex Weddings and my 'Petite and Sweet' package, for those watching their budget
Commitment Ceremonies
Renewal of Vows
Naming Ceremonies
Funerals
Or any other ceremonial occasion!
Sub-Ceremonies
Within your ceremony, we can create a sub-ceremony, such as:
Handfasting
Sand Ceremony
Unity Candles
Hand Blessing
Time Capsule
Chinese Tea Ceremony
Other Cultural Ritual
Or you may have your own ideas!
What can you expect from me? Enthusiasm, humour and compassion. I don't just hear—I LISTEN to what you want and work hard to help you capture your most personal vision. Together, we will create memories that will live vividly in your heart and in the hearts of your friends and family for life! This is my goal. This is my passion.
See my 'Ceremonies' page for more information!
About Kathryn
How we see ourselves can differ somewhat from how others see us. Some have told me I'm bright and sunny, with an ever-present smile and laugh. Others have said I'm a bit of a flower-child, groovy and cool. As for how I see myself, I would say I am a deep thinker (with definite hippie tendencies!) whose outer, effervescent persona often hides the empathetic and compassionate person within.
By the time I was 10 I had lived in three countries and attended many schools in each. I learned to make friends quickly and grew up sharing friendships with people of many different races and religions. During my 30 years of professional life I have worked in a wide variety of office environments, from law to retail to real estate. I engaged closely with people from all walks of life—a huge array of backgrounds, personalities, and sexual orientation. These experiences have helped me shape a curious and open-minded attitude towards the impressive kaleidoscopic nature of people. When we meet, what you see is what you get!
Look at my 'Testimonials' to read what my clients say!
Same Sex Marriage!  Yes, Yes, Yes!
I am so thrilled for all of you from the Gay and Lesbian community at this sensible, long-overdue decision. I can soon conduct a wedding ceremony for you!  Get your booking in quickly!  Your rights as human beings have finally been recognised. Well done to all those forward-thinking 'Yes' voters. And a personal congratulations to all those Gay and Lesbian people I have met over the years, worked with and that I am proud to call my friends. I think of you at this time.
Rhianna Hoyle Celebrant - Wedding Celebrant Melbourne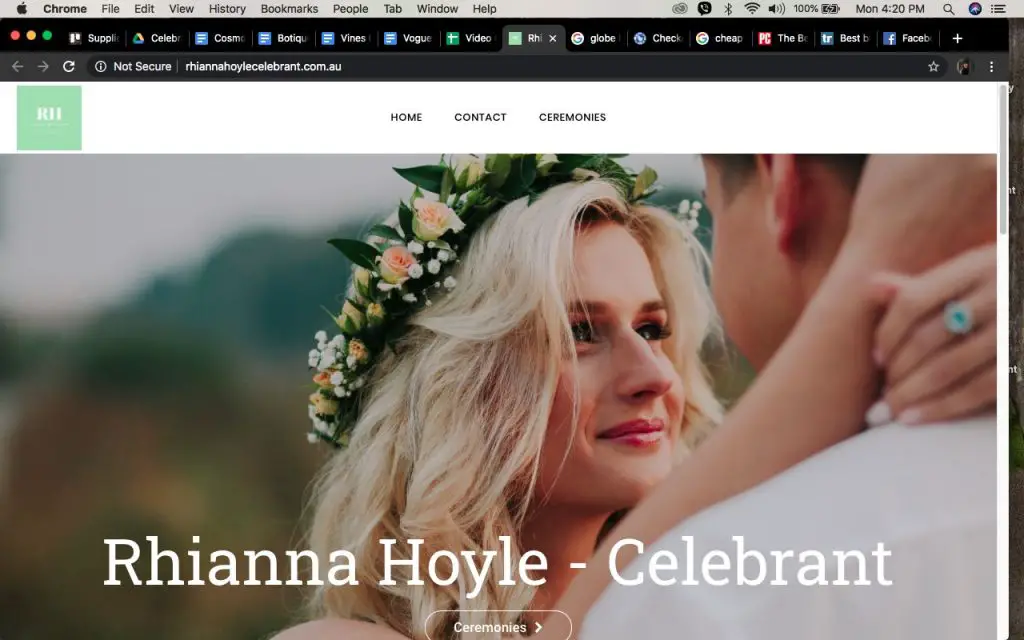 rhiannahoylecelebrant.com.au
408100583
About Me
Hi, I'm Rhianna Hoyle. I love weddings
I love seeing smiling brides and grooms that shed a tear.  I love the bridal party outfits and the way every single tiny detail has been thought of.  Most of all, I love seeing two people in love commit to spending the rest of their lives together.  This is what marriage is all about and I love that I am able to bring that joy to the couples that I am lucky enough to work with.
Getting married is one of the biggest occasions in your life and I know that it can get stressful at times.
I work with you and together we will design the perfect ceremony for you. Whether that be vibrant, relaxed, full of humor, slightly more traditional or a meaningful and unique Instagram worthy ceremony.  Working with me is a chance for you to build the wedding ceremony to compliment you and your style.
I am no stranger to working with people and spent the past 15 years working in recruitment and also as a buyers advocate. Working with people is what I do best and what could be more special than helping two people create their perfect day.
I will take care of all the paperwork, stay in contact with you, and on the day ensure all your guests are relaxed and ready to celebrate your moment.  I am Melbourne based and always happy to travel to your desired location to make your wedding day the most amazing day of your life.
If you would like to have a chat or learn more about what I am all about please contact me.  I am looking forward to creating many memorable moments for you and a wedding day filled with celebration and love.
Step By Step
Fall in love
You have done the hard part, you have found the one you want to spend the rest of your life with
Let's chat
Let's get together and plan your perfect day. If I am your perfect fit, I will get started on creating your perfect day.
Best day ever
Everything is organised, it's time to get married! I will take care of the boring paperwork.
How Does It Work?
On the day, I will help set up and provide everything necessary for your ceremony to run beautifully. I also take care of all the legal requirements so you don't need to worry about a thing.
A deposit will be required upon booking me and confirming the date (I only do one wedding a day), with the balance to be paid in full 7 days prior to the day.
My main purpose is to tailor the ceremony to you. I love getting to know you both, learning how you met and hearing about your life that you've built together so far. To then bring your story and personalities into the ceremony, getting as many or as little family and friends involved and really building a ceremony that is designed by you.
I am a supporter of marriage equality and look forward to the near future when everyone has equal rights in Australia.
Whilst we wait for this time to come, let me help you both tailor a ceremony that befits your relationship and personalities. And help you create a day that celebrates your love with your family and friends.
Other Ceremonies
Renewal of vows
Naming ceremonies
I am excited to help you create this special celebration for you and your families. A day that is one to cherish and enjoy moment.
​​​​​​​Robyn Meikle​​​​​​ Marriage Celebrant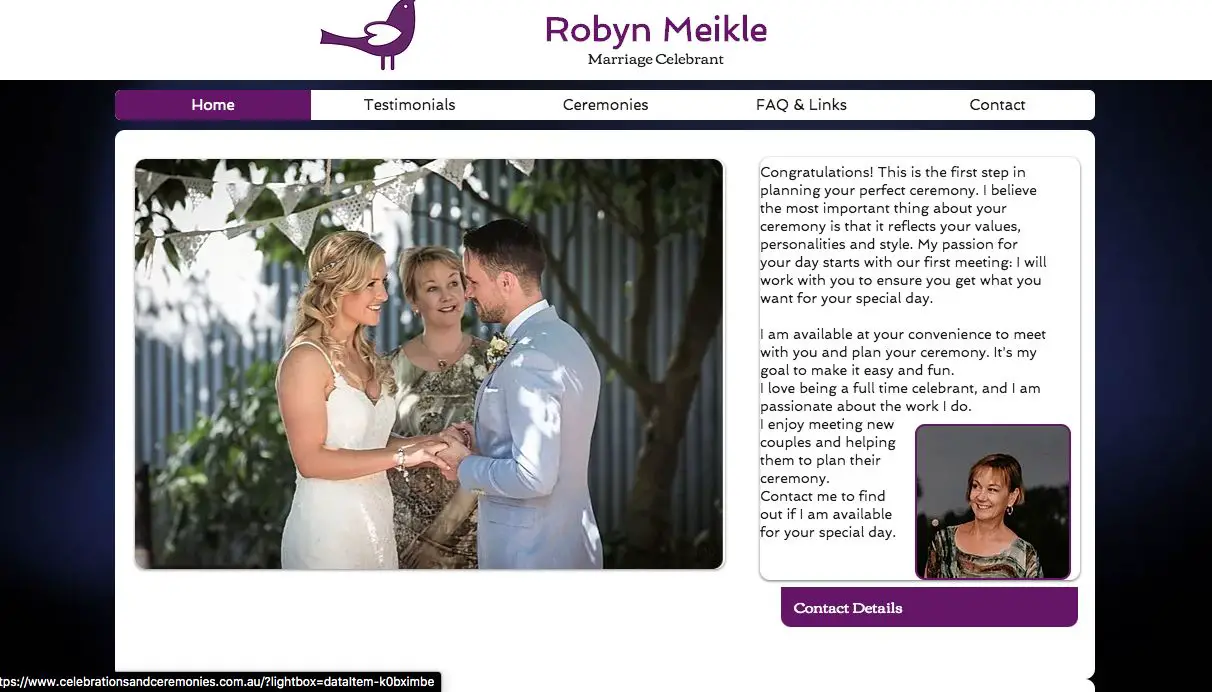 celebrationsandceremonies.com.au
488773959
Your Celebrant
Choosing the right marriage celebrant is an important part of planning your wedding day.  Afterall, the ceremony sets the tone for the celebration of your marriage.  It should convey your personalities, and reflect the unique story of you as a couple.
The  first step is to find out if I am available for your date, then we can meet and discuss your plans (no obligation). Contact me today!
The first meeting is no obligation, to give you the opportunity to decide what you want from your wedding celebrant. You can have as much or as little help as you require.
- Meet for coffee
- Discuss your existing plans for the wedding day.
- Learn about the ceremony options available.
- Talk about your story – How did you meet? What is important to you about the ceremony?
The rest is a piece of 'wedding' cake!!
From there, I will guide you and assist with the ceremony as needed. A full draft ceremony based on our discussions is provided well before the big day. Additional options, vows, readings are all offered as part of the service. You can edit the ceremony, write your own vows, or work together with me on this.
Ultimately, the ceremony is finalised before the wedding date, music selected, legal paperwork taken care of, and all the finer details discussed and decided on.
Most importantly, your wishes and instructions are taken into the planning of the ceremony, and there are no quirky surprises on the day. Everything runs smoothly to ensure that your wedding ceremony is memorable for all the right reasons.
Please contact me today to find out if I am available for your special date!
Ceremonies
Your wedding ceremony can be conducted anywhere and tailored to suit your needs. I offer a friendly and professional service that is unique and enables me to help as much or as little in the lead-up to the big day.
Weddings
You are already married but want to re-express your lifelong commitment to each other. I can help you to do this in a way that reflects your current lives and references the journey you have already travelled together.
Vow Renewals
I am strong believer that anyone in love should be able to formalise their commitment through the institution of marriage, and to deny any person this right on the basis of gender or sexuality is discrimination.
I am so thankful that marriage equality exists in Australia. I am available to help any couple declare their love and life commitment in a formal, unique ceremony.
If for any reason you do not wish to have a legal ceremony, there is still the option for a commitment ceremony and includes the same care and attention to detail.
Commitment Ceremonies
I can supply the following for your ceremony:
PA System
Celebrant microphone
Cordless Microphone Wireless Music
Table and Chairs (2)
Included Extra
Life is worth celebrating. If you are having a special birthday, graduation, anniversary, or any major life event, it is a great time to celebrate. These ceremonies are a chance to capture the "story so far" for your loved one. Make your celebration extra special and entertaining for your friends and family.
"This is Your Life"
Your Day By Debbie Wedding Celebrant Melbourne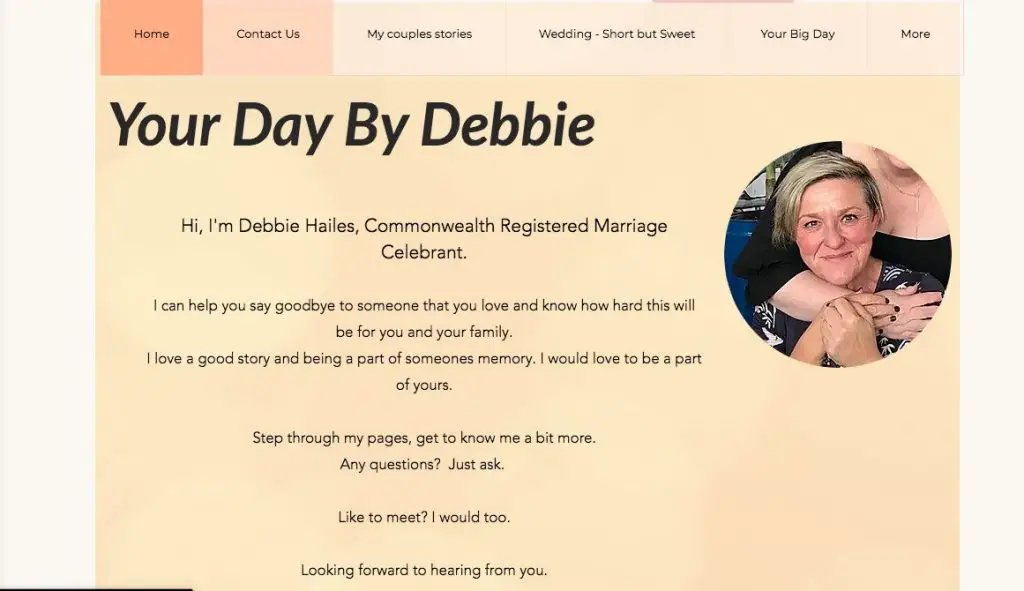 yourdaybydebbie.com
407825815
Your Day By Debbie
Hi, I'm Debbie Hailes, Commonwealth Registered Marriage Celebrant.
​I can help you say goodbye to someone that you love and know how hard this will be for you and your family.
I love a good story and being a part of someones memory. I would love to be a part of yours.
​Step through my pages, get to know me a bit more.
Any questions?  Just ask.
​Like to meet? I would too.
​Looking forward to hearing from you.
The Joyful Celebrant - Wedding Celebrant Melbourne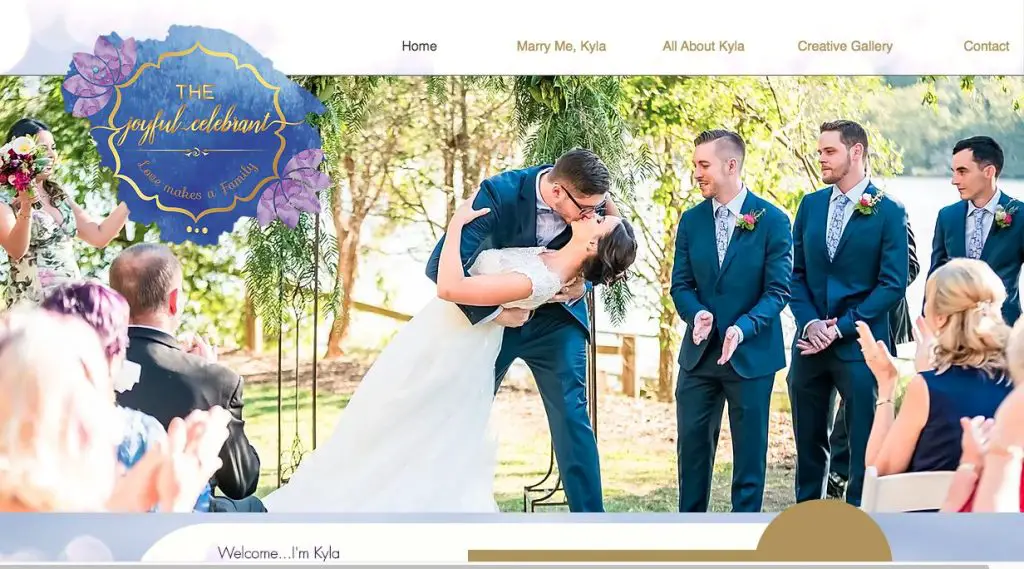 thejoyfulcelebrant.com.au
435111500
Welcome! I'm Kyla
the Joyful Celebrant
Its been a fresh and inspiring experience becoming a
Commonwealth Registered Marriage Celebrant. I enjoyed 14years as a natural therapy practitioner and yoga teacher. Then gained a degree in counselling psychology and worked for 10yrs as a counsellor in the community service sector.
Now I am The Joyful Celebrant and I can highlight your unique bond with your partner and assure you and your guests of lots of giggles and happy tears on the day.
STEP 1
CONGRATULATIONS!
The Journey Begins
I am able to offer personally tailored options for your bespoke ceremony and fill you
in on the essential and legal parts of the ceremony, which I will complete with you.
​I will be able to offer creative and unique options, all of my secrets of conducting ceremonies and fill you in on the essential parts of the Marriage Ceremony.
It is important that you have;
1) a firm Date for the Ceremony to take place and the location,
2) Offical ID such as a passport, birth certificate, drivers licence,
3) Complete the Notice  of Intention to Marry forms between 18months before your ceremony date up until 1 month and a day. Unless you require a Shortening of Time request due to certain personal circumstances.
Book a Call Back
STEP 2
LET'S GET CREATIVE!
Together we construct your sacred wedding ceremony.
​I will listen to your dreams and ideas and be able to align with your dream ceremony. I have collected many suggestions and secrets of holding a ceremony that is truly memorable for you and your guests.
​You will have unlimited contact with me to develop and design your dream ceremony to your one and only.
Then we can rehearse the ceremony so that on your Wedding Day the "I do's'   go very smoothy. It is recommended to rehearse the ceremony, so that you can relax and truly enjoy the moment of becoming married to the love of your Life.
​We will do this work together to ensure  the important details for your marriage are collected and confirmed with the Dept of Birth, Deaths and Marriages and any individual circumstances are clarified with the Attorney General's Department.
​STEP 3
SAY I DO!
Your special day is here.
​I really encourage you to enjoy yourself and take it all in. Now that the moment is here, some nerves and excitement are very common. But I will be there with you and all of your loved ones to support your life long union.
The important part is to  really enjoy your ceremony.
Share the love and laughter, and the beautiful moments between you two, and all the people who love and support you.Enjoy the social and intimate moments through out your wedding day. Your ceremony will be full of special couple moments that make your ceremony truly special.
​At the end of the Wedding Ceremony itself I will ask you to sign the marriage certificates with your newly wed Mr or Mrs and your witnesses, and I will sign your documents also. I will submit to the Dept of Births, Deaths and Marriages on your behalf
and you will be legally married to the one you love!
Weddings With Adam - Wedding Celebrant Melbourne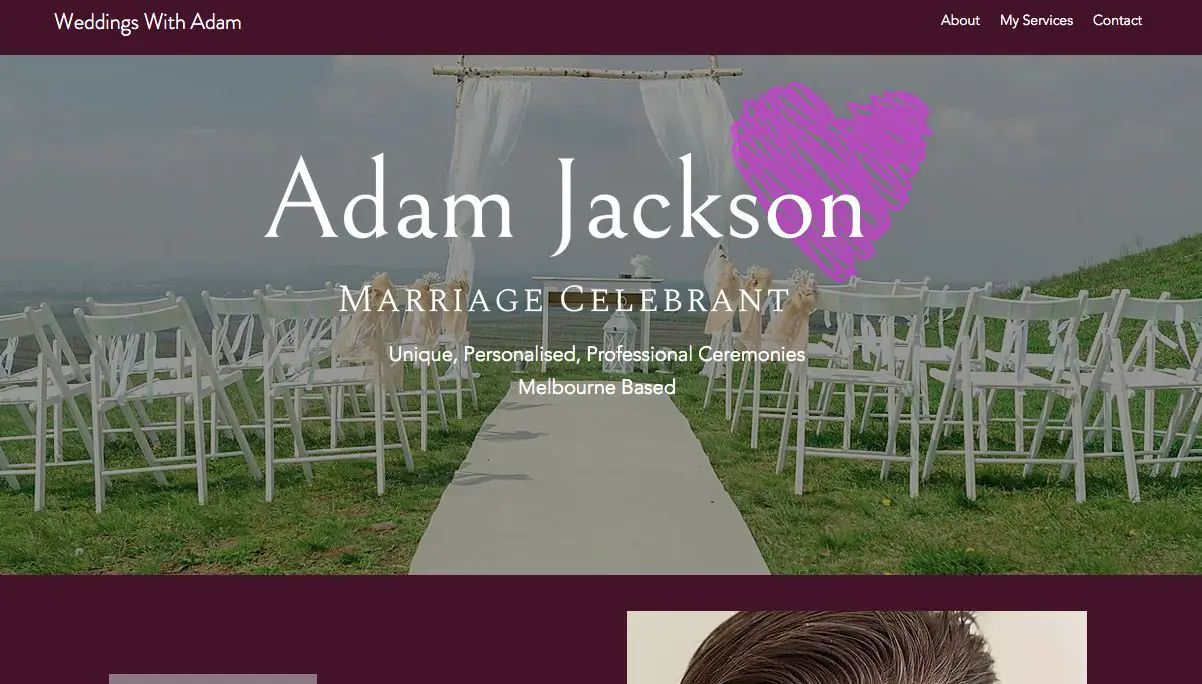 weddingswithadam.com.au
411033393
ABOUT ME
My name is Adam Jackson and my job is to work with you to create and present a unique, personalised ceremony for your wedding, naming or commitment ceremony. Working closely with you I will write and present a unique ceremony just for you.
​My background is in performance, having worked as a theatre-maker, children's entertainer, event host and MC for over 15 years. With this experience I can cater to any style of ceremony, be it traditional, light-hearted or even themed (I can happily dress up for your event as well!)
​Being married myself, I know that for some couples preparations for a wedding can be a stressful time, but my goal is to make the ceremony one less thing to worry about by being there every step of the way for you.
​I live in Melbourne with my lovely wife and daughter and can happily travel outside the area for your special day.
MY SERVICES
Let's Plan Your Special Day
CREATE A PERSONALISED CEREMONY
I will be working with you to create the ceremony that you have always wanted. Through our meetings and questions I will learn your couple's story and use it to create a unique ceremony for you, in the tone you desire, be it solemn, fun or anything in between.
LARGE SELECTION OF READINGS
Not sure where to start? I will provide you with a large selection of readings, poems, lyrics and other writings that can be chosen from to either use in your ceremony or set you on the parth to find just the right readings for your day.
ALL THE EQUIPMENT YOU NEED
I have a full PA and microphone setup that is used for your ceremony. This equipment can be used in a conventional venue and also in unconventional areas without power. I can also supply items such as microphone stands for readings and a table for the certificate signing.
WITH YOU EVERY STEP OF THE WAY
I will be contactable by you at every step through the process through email and phone and will be happy to help you with any inquiries or concerns you may have. For a small additional fee I will be available to you for a rehearsal of your special day prior to the event.
Christopher J. Blain Marriage Celebrant - Wedding Celebrant Melbourne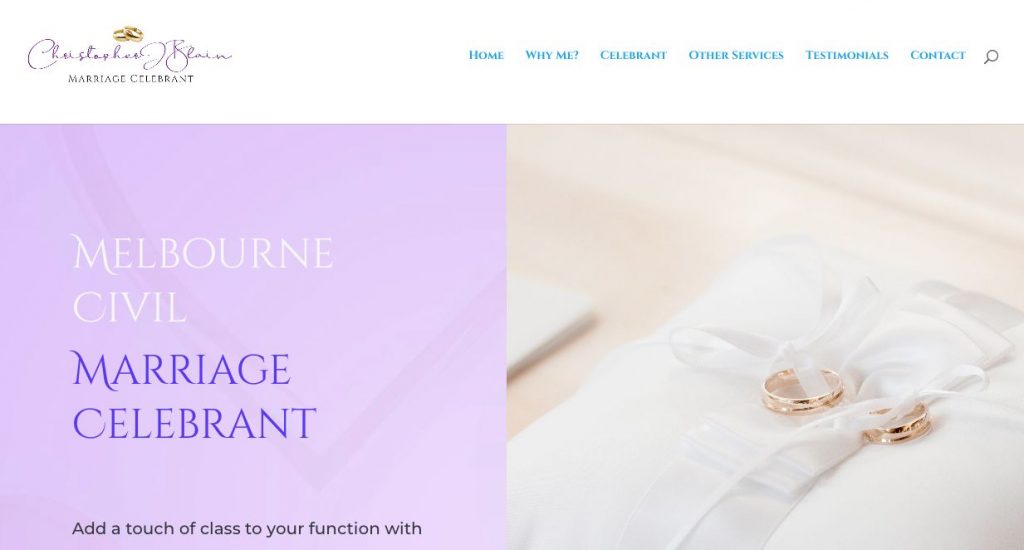 christopherjblain.com
414687115
Melbourne Civil
Marriage Celebrant
Add a touch of class to your function with unforgettable personalised words. Weddings, funerals, birthdays and ceremonies for all occasions.
Why me?
I have been a performer, educator, MC, and public speaker for over thirty years. Over the journey I have had countless jobs at weddings:
MC / Wedding Singer / DJ
Photographer / Videographer
Best man, Groom, Groomsman
Audio Visual Technician
You can trust that I can assist you in any way you need to make your event run smoothly, and be assured that everything I do as a celebrant will work in seamlessly with the rest of the team.
What Can I Do For You?
What exactly does a civil celebrant do?
How can I help make your ceremony unforgettable?
Personalised Ceremony
It's your special day – why should it be like anyone else's? I can write you a personalised ceremony that means something to you.
Legal Requirements
Legal marriages require a lot of paperwork to be completed. Any mistakes and your marriage could be void. I can make sure everything is submitted correctly, and at the right time.
Experienced Delivery
I have been an entertainer and public speaker for over thirty years – trust me to deliver your beautiful words with the respect and dignity they deserve.
Other Services
Organising a wedding is tough. So many people to talk to, contracts to sign, emails to answer, and invoices to pay. If you'd rather save yourself some time, money, and stress, chat with me about being your:
Celebrant
Preparing and personalising your ceremony, covering legalities.
MC
Providing a consistent voice to host your ceremony and reception.
DJ
Setting a mood, then keeping the dance floor full until the bar closes!
Live Musician
Add a touch of class with live music options for your ceremony and/or reception.
Audio Tech
Ensuring everyone in the room can hear, and the dance floor can shake!
Taking the stress out of the logistics, communications and bookings for you.
Why feel overwhelmed when you're organising the best day of your life?!
I've had nearly 20 years experience, so let me take some of the headache away, and let you focus on the important stuff like friends, family and your future together.
Most importantly, you can save yourself a LOT of money and time.
Jan Maree Mason Civil Celebrant - Wedding Celebrant Melbourne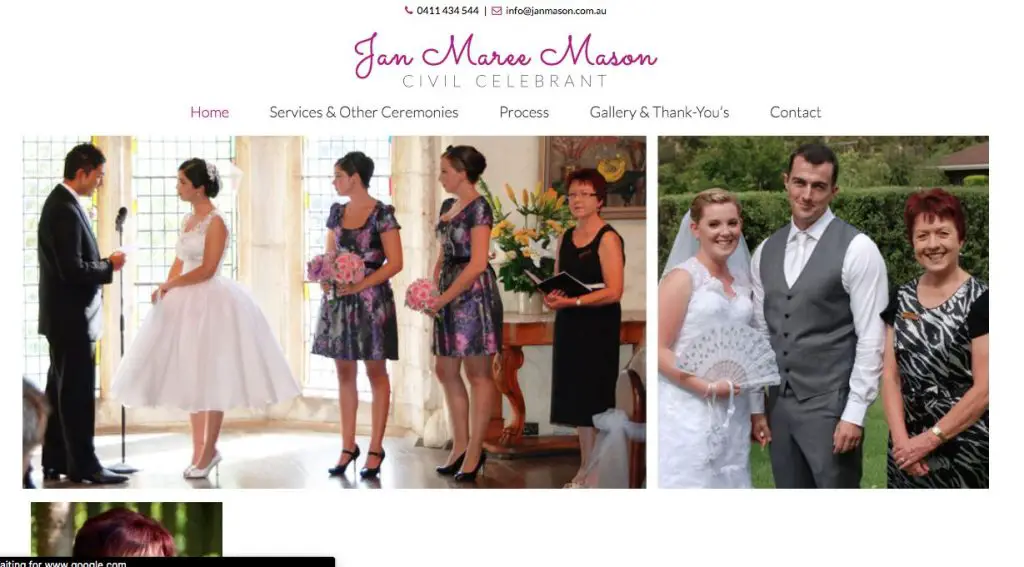 janmason.com.au
411434544
Melbourne Marriage Celebrant
Ceremonies with Style and Character
The most important gift as a marriage celebrant that I can bring to your ceremony is to ensure
that it truly belongs to you.
Your ceremony is not like any other and will be tailor-made with sensitivity and skill.
So why choose me to be your Celebrant?
Easy going, friendly and relaxed
Fun loving with a healthy sense of humour
Offer an obligation free consultation so you can check me out and so I can show you what I can do for you
Professional, experienced and confident
Enthusiastic in ensuring your ceremony is exactly how you wish it to be
Make the planning of your day easy and stress free
Specialise in creating elegant, modern and personal ceremonies
Highly organised with a meticulous attention to detail
Provide a comprehensive folder of information and other resources
Happy to include children or animals
Specialise in Weddings, Name Giving, Renewal of Vows and Commitments
My Services
As part of my package there will be …..
Complete choice of ceremony with all your wishes incorporated.
A Resource Book containing a range of different ideas and wordings for each section of the ceremony.
Guidelines on how to write your own Vows.
Explanation and inclusion of symbolic ceremonies or rituals.
Willingness to accommodate children and animals.
Powerful public address system with built in CD player, using a discrete hands free lapel microphone. Assistant operator included at no extra cost.
An on-site rehearsal (within 1.5 hours travel).
Commitment certificate laser printed with your choice of font.
Optional Appreciation Certificates for everyone involved.
Cue cards for Vows and Poems / Readings.
Signing table and chairs provided.
Complimentary Presentation Folder, containing a personalised front cover, your personal ceremony, guest congratulations and wishes pages, guest attendance list, guest gift list, presentation Vows Certificate and presentation Commitment Certificate.
A personal guarantee that I will deliver the ceremony in a professional and confident manner.
Marry Me Sean - Wedding Celebrant Melbourne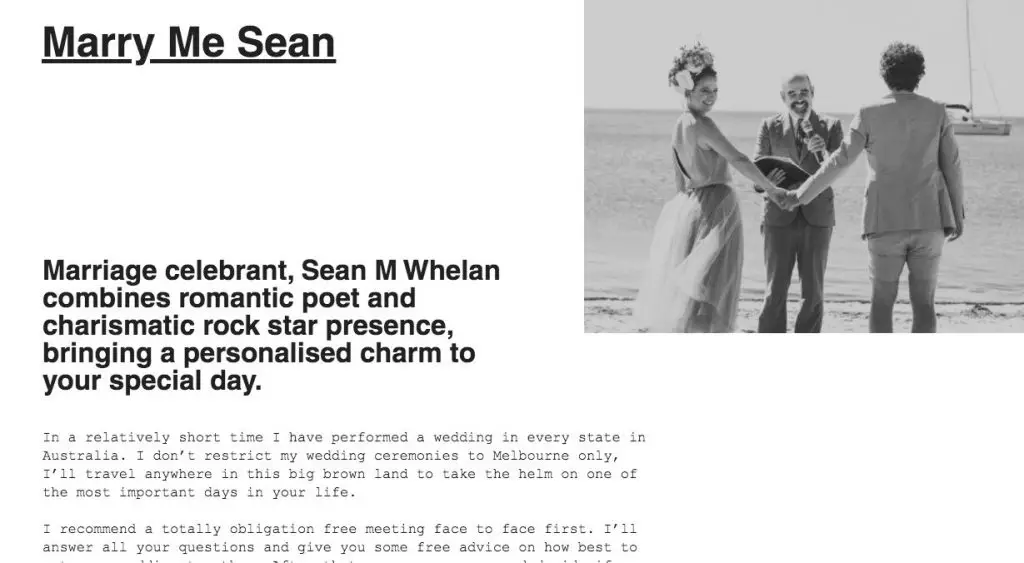 marrymesean.com
414796022
Marriage celebrant, Sean M Whelan combines romantic poet and charismatic rock star presence, bringing a personalised charm to your special day.
In a relatively short time I have performed a wedding in every state in Australia. I don't restrict my wedding ceremonies to Melbourne only, I'll travel anywhere in this big brown land to take the helm on one of the most important days in your life.
I recommend a totally obligation free meeting face to face first. I'll answer all your questions and give you some free advice on how best to put your wedding together. After that you can go away and decide if we have the right chemistry together. If we do then all I ask is a 50% deposit to secure the booking, with the balance of the fee paid in the week before the ceremony. I make myself available for as many meetings as necessary to put the ceremony together and for a short rehearsal before the date, which I thoroughly recommend.For me weddings are a serious occasion but I think it's important they are conducted in a joyful manner.Please don't hesitate to contact me for any enquiries at all.
I specialise in…
* A comfortable, relaxed environment
* Sense of compassion, humility, humour and professionalism
* Tailor making your ceremony to suit your style and personality.
Most marriage celebrants perform an average of six weddings a year. This is because it is very competitive and there are so many celebrants to choose from. In less than 3 years as a registered marriage celebrant I have performed almost 100 weddings already. I believe this is because I absolutely LOVE my job. I feel it's an honour and a privilege to be in my position.I also thoroughly believe in making your wedding reflect your personality as much as possible. I want your day to be specifically YOUR day. There is so little in an Australian civil marriage that is compulsory, therefore I think it's important that you include only the elements that are meaningful to you. This might mean a low key wedding, a high key wedding or something in in between!