Looking for your dream wedding dress designer?
When it comes to searching for wedding inspiration, it's sometimes hard to know where to start. Scrolling through Instagram and seeing so many beautiful dresses, locations, flowers, table decorations (look, as you know, it's a neverending list) can tend to become overwhelming.
It's every bride's dream to have the perfect wedding dress, but there are just so many to choose from! Knowing what you want can be difficult and frustrating, especially if you've been to what feels like 1,000 showrooms and haven't seen what you had envisioned.
Now, we've taken the hassle out of your search. From dresses to general wedding inspiration, these Australian bridal designers and boutiques are your marriage go-tos.
When it comes to planning your wedding, one of the most important aspects is finding the one! And by the one – we mean the DRESS!
We have gone ahead and listed our top couture wedding dress designers, to make 'saying yes to the dress' easier!
Stunning, magnificent, and captivating are just a few of the words you can use to describe the intricate wedding gowns that are being created by Melbourne's best wedding designers.
A good wedding dress designer is inspired by wedding trends, but a great wedding dress designer creates the trends. Some of Melbourne's best wedding dress designers successfully navigate the fine line between couture fashion and bridal wear. And, when they pair their creativity with a professional and bespoke service, they create the perfect breathtaking moment for a bride.
Here is our selection of Melbourne's best wedding dress designers!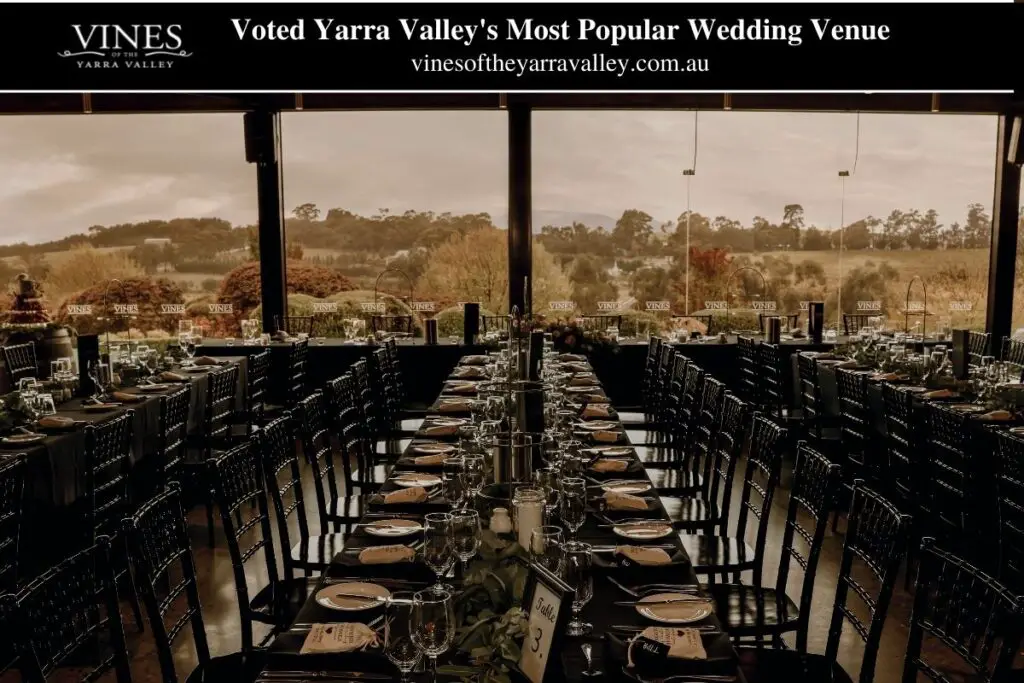 Add a header to begin generating the table of contents
Ronald Joyce Wedding Dress Shop Melbourne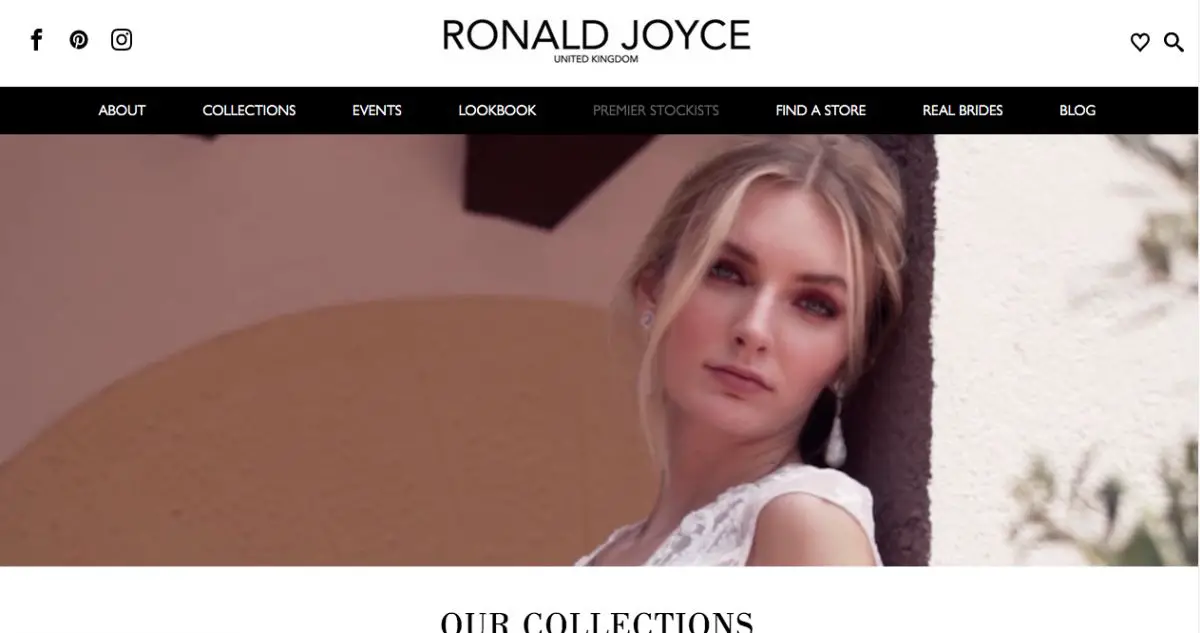 ronaldjoyce.com
Upon Request 
MEET OUR DESIGNER
The incredible creator behind all our Ronald Joyce collections, Veni Infantino has fashion running through her veins. Born in Italy, raised in the UK and a London College of Fashion graduate, she credits the genes from her Italian grandmother for her artistic flare and eye for the most avant-garde trends, which she incorporates in her beautiful designs.
With a busy calendar and travelling around Europe, Veni kindly cleared her schedule to sit with us and answer some of our burning questions…
What's the first thing you do every morning?
Due to working with so many different countries across varying time zones like the Far East and New York, as soon as I wake up I check and reply to various emails – even while I'm in bed – before having my much needed coffee.
Why did you decide to become a designer?
When I was at secondary school a teacher spotted my talent and applied for me to go to the London College of Fashion and University of Arts. There I flourished and fell in love with designing and was lucky enough to secure a job straight away.
What inspires your collections?
Travelling. When I travel I see such a variety of interesting colours, colour schemes and an array of shapes. When I attend designer days I get to see real brides and how their figures differ. It inspires me to think outside the box when I listen to what they want and I ask myself how I can make it work not only for that specific bride but others as well.
Did you always know you wanted to work in fashion?
Yes I did. Always. Ever since I was a child. All I did when I was about 8 or 9 was sew clothes with my grandmother.
Where is your favourite holiday destination?
I love Rome and New York. I really look forward to those places when I have to go.
What about your interests outside of work?
I always say to my kids if you find a job you love you never have to do a days' work in your life. I've been very fortunate in my life that I have found that so to be honest, the one thing I love other than my job is spending time with my family.
What's most important when it comes to designing a new collection?
Probably doing as much research as possible. Making sure I understand my market and who I am designing for. That for me is the key and once I understand that... I can go into my sketching mode and literally sketch for days.
Who are your favourite designers outside of Bridal?
Ellie Saab is probably my favourite designer. Zuhair Murad is also up there.
One Day Bridal - Wedding Dress Shop Melbourne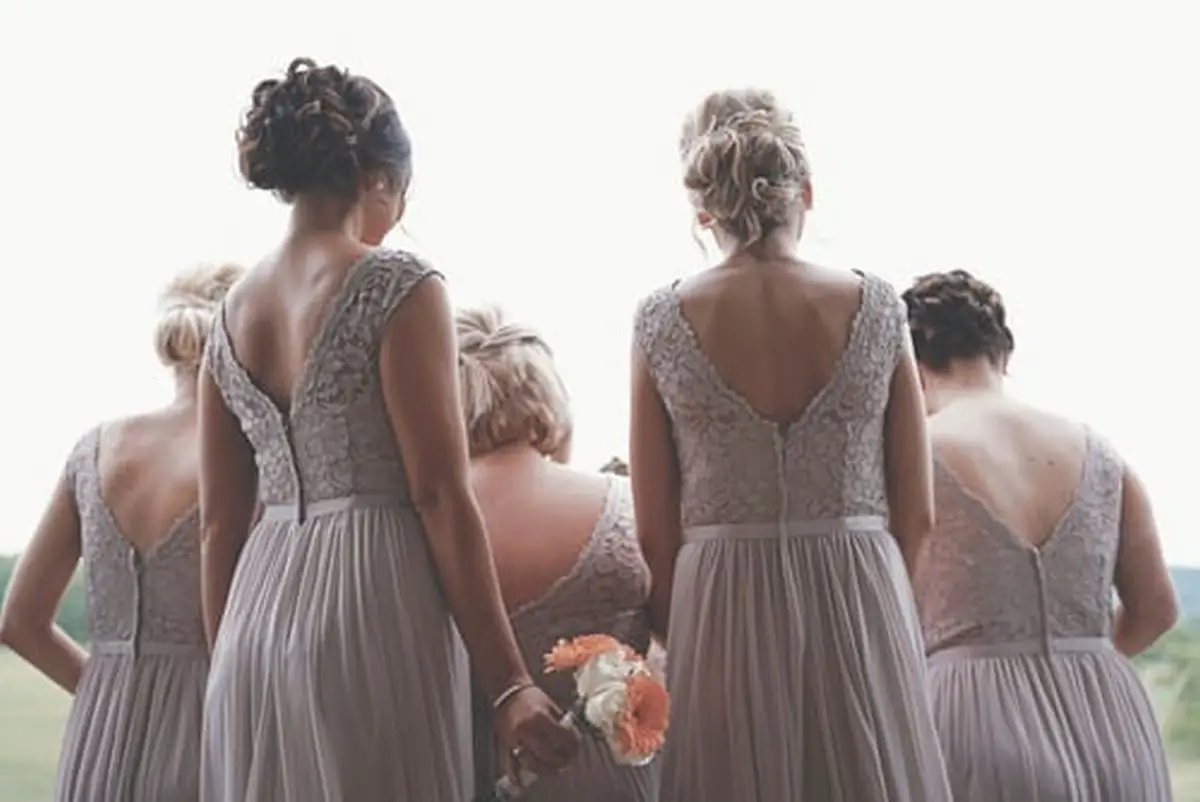 onedaybridal.com.au
1381035046
ABOUT
Established in 2011, One Day has cemented itself in the fashion industry as a leader of uniquely designed wedding and event gowns across both the One Day and Chosen by One Day brands.
Founded by Creative Director Kyha, One Day evolved from her personal experiences as a bride. Tired of tulle and traditional gowns, Kyha's vision was to create a brand that reflected her personal style.
She wanted brides to have an alternative option to the traditional white gown and create an unforgettable experience in the process. Her eye for detail and stunning silhouettes has helped countless brides find their way down the aisle.
Since its beginnings in Melbourne nearly ten years ago, One Day and Chosen by One Day pieces are now available in over 20 countries around the world, online and at its flagship boutique in South Melbourne.
CHOSEN & ONE DAY
Chosen has been built on the personal experiences of creative director, Kyha who founded One Day Bridal back in 2011. After going through the process of planning her own wedding, Kyha struggled finding a dress that represented her personal sense of style.
Through this journey Kyha identified the ideas and misconceptions illustrating what a bride should look like. We are told what shape the gown should be, what material and what colour, but it doesnt need to be that way...
There are other ways to express yourself as a bride but there werent enough options out there. So Kyha decided to create a brand that was not your typical wedding style but was exactly what modern brides were looking for.
One Day is now a leading bespoke bridal house in Melbourne, Australia.
However, due to an in depth fitting process one day has been unable to service brides interstate or internationally and hence Chosen was created.
Launched in October 2016, Chosen is paving the way for the modern day bride with our range of bridal accessories and highly sort after clothing and is now available worldwide in a selection of hand picked boutiques..
WHAT WE VALUE
Our core values are communication, curiosity, passion, equality, innovation, integrity and impact. We listen well and seek to understand. We remain calm and posed in stressful situations to explore clear thinking and a suitable plan of action. We adapt our communication style to work well with people from around the world.
We learn rapidly and eagerly. We seek alternative perspectives and aim to continually challenge ourselves. We inspire others with our thirst for excellence and we care intensely about our brides and those we work alongside.We are always searching for new and innovative ways to design and develop. We thrive on change and adapting to the ever changing world around us.
We collaborate effectively and are known for authenticity and candor. We nurture and embrace differing perspectives to make better decisions for better outcomes. We value equality and inclusiveness. We do not discriminate and seek to eliminate these boundaries. We are committed to arousing awareness and gaining support.
We pursue an ethical and meaningful existence within the fashion industry. While trends change we dont believe fashion is disposable. We give back to foundations and projects that reflect our core values as we strive to make an impact.
As a team we conquer all challenges with teamwork and we treat all people with respect.
Fairytales Bridal Boutique Wedding Dress Shop Melbourne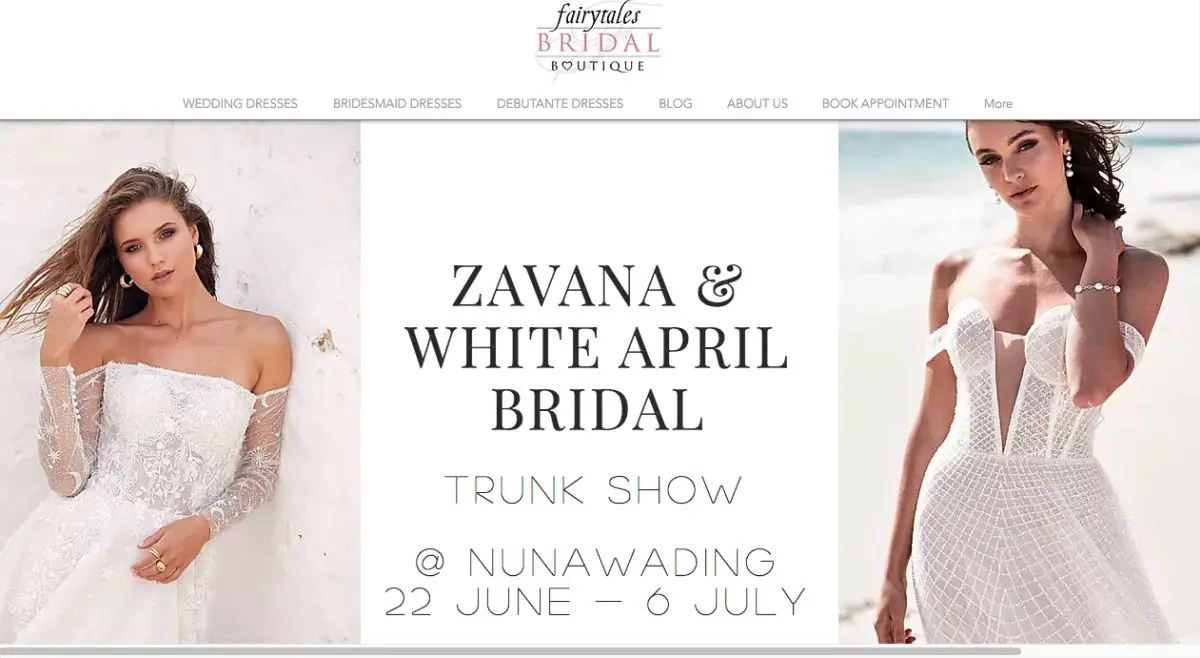 fairytalesbridal.com.au
139874001
ABOUT US
Fairytales Bridal Boutique was established in December 1995 and has grown from a small boutique into Melbourne's leading wedding dress store. We have two boutiques in Melbourne, located at Moonee Ponds and Nunawading, and are committed to giving our brides the very best in quality gowns, accessories and service.  Our friendly, experienced staff will guide you through picking your wedding gown to tailoring the fit in alterations, providing an overall fairytale experience.
Book your appointment today to find the wedding dress of your dreams.
WEDDING DRESSES
Fairytales Bridal Boutique is one of Melbourne's largest wedding dress stores. We stock a variety of labels and have 400+ gowns in store to choose from. Our experienced team will help you through the process of finding your dream wedding dress, tailoring the fit and accessorising to complete the look for your special day.
Become a Real Fairytales Bride Today. Book an appointment with our Bridal Stylists to begin your Fairytale.
Bridesmaid Dresses
We stock the Sorella Vita bridesmaids dresses. They are available to try on and order at our Nunawading Boutique Only.
The Sorella Vita Bridesmaid Collection was created to bring the latest red carpet trends and hottest runway styles to the aisles of the most fashion-forward weddings. Every dress is the perfect addition to an elegant wedding party.
Oleg Cassini Wedding Dress Shop Australia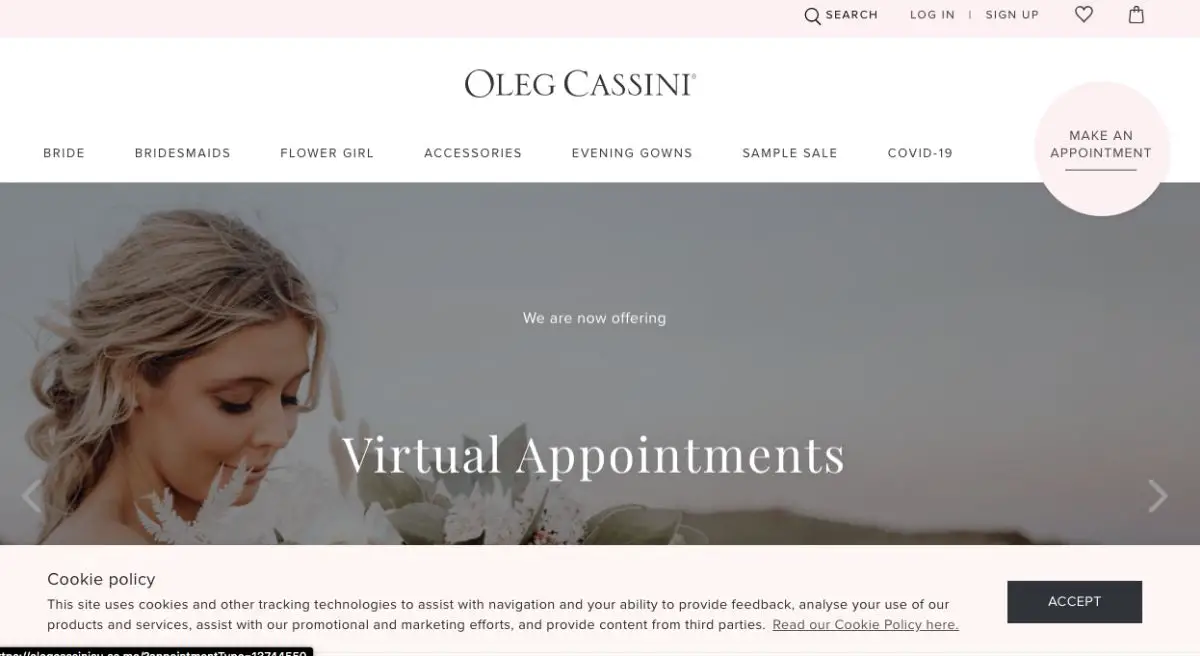 olegcassinistore.com
293173156
Who Is Oleg Cassini?
Oleg Cassini is a style icon and known for creating some of the most memorable fashion moments of our time including as the designer for both Grace Kelly and First Lady Jacqueline Kennedy.
Cassini's unique designs ushered in a new era of timeless simplicity based on clean lines and crisp forms with opulent and luxurious fabrics.
He was famed for being a fashion trendsetter and many of his designs became popular worldwide.
He is world renowned for his wedding gowns that have graced Hollywood beauties and style icons. He introduced a number of the classic bridal gown silhouettes and in many ways was the father of the current wedding gown styles we wear today.
Every bride will find her style with an Oleg Cassini gown. There are numerous different designs from classic ballgowns, modern sheaths to daring mermaid gowns. Beautiful lace, intricate beading and gorgeous fabrics are some of the standout features of the Oleg Cassini gowns. Always elegant and stylish. To wear an Oleg Cassini wedding dress is truly special and will add a royal touch of something beautiful to your special day.
About Viola Chan
Viola Chan has become an internationally celebrated designer of bridal gowns. Loving nothing more than dressing brides in the very finest, Viola Chan's wedding gowns bring edge, sophistication and a red carpet look to the bridal industry. Viola's rise to become a worldwide celebrated designer began after attending the London College of Fashion and was able to work with different design houses.
Viola has said "The bridal gown is one of the most important dresses in a woman's life. It represents love, trust and faith and I love creating a gown that will put a beautiful smile on her face when she finds 'the one.' Her gown is a reflection of her style so it is essential that every last detail is thought through, down to the tiniest bead or button. It is these intricate details that are going to give her a unique wedding day look and make her feel special when wearing the dress."
Viola's gowns have a modern style combined with unique beading or stunning lace. Wearing a Viola Chan gown will make you feel truly unique as your look combines a contemporary gown with classic features.
Belle et Blanc Bridal Boutique - Wedding Dress Shop Melbourne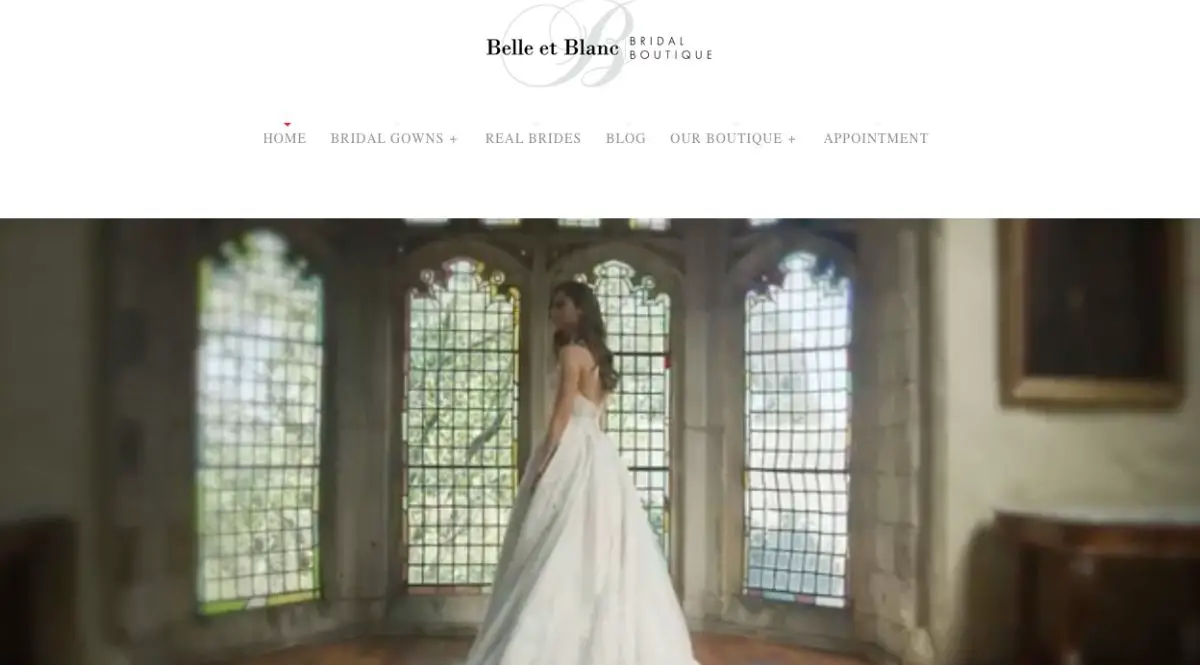 belleetblanc.com.au
390776831
About Us
Inspired by fashion and vogue, the directors envisioned to provide classic and elegant bridal wear with integrity. While we offer the finest quality of fabrics, we guarantee competitive and fair prices on our dresses. Clients praise our personalised consultations and attention to detail, as our team continues to develop exceptional one on one services. Therefore, it is our goal to ensure every bride's dream comes true!
Love, Commitment and Dedication
Belle et Blanc, Bridal Shop Brunswick features an exquisite range of bridal wear with delicate fabrics, superior quality and most of all, feminine designs. Gowns can be either measured to order or ordered in a standard size. In addition to this, gowns can be customised to suit any of your needs. Our dresses are always delivered with TLC, and as a result, ensures your gown is of the highest quality. Our team at Belle et Blanc is willing to go the extra mile to establish a relationship with our clients. It is our only wish to make sure your wedding day will be the most memorable.
Our staff aim to work within a reasonable production and delivery time. This allows for minimal stress leading up to your wedding. Belle et Blanc features luxurious collections include Ball Gown, Mermaid, A-line, Sheath and Fit and Flare.
Melbourne's Exclusive Wedding Dresses Melbourne Boutique
Standout bridal wear for your special day from one of Melbourne's favourite boutiques. We don't take being one of Melbourne's best wedding dress shops lightly and continue to create stunning dresses and bridal gowns to suit your style perfectly. At Belle et Blanc, we are committed to helping brides find the wedding dresses of their dreams. Belle et Blanc Bridal Boutique provides exquisite bridal gowns made to the highest quality. Our designs are inspired by fashion and a drive to create elegant wedding dresses of the highest possible level of quality.
Our bridal gowns are made from the finest selection of fabrics, and our designs ranges from classic and elegant through to on-trend shapes and details for the fashion conscious brides. The Belle et Blanc look is distinctly feminine, and our gowns feature amazing delicate fabrics, finishes and intricate detailing.
We create wedding dresses in six main silhouettes – A-line, ball gown, fit and flare, mermaid, princess, and sheath – to suit brides of all shapes and sizes. Our beautiful wedding dresses are available at our Melbourne boutique, at very competitive prices.
Wedding Gowns Styled To Match Your Taste
To see the wedding dresses in person, we invite you to make an appointment for bridal consultation at our Melbourne boutique, where you'll be treated to outstanding personal service, and advice to ensure you find a gown that you will absolutely fall in love with. 
At Belle et Blanc, we provide one-on-one consultations with the bride-to-be, ensuring you walk away with your dream gown, altered to fit. You are guaranteed a wedding dress that fits you like a glove as we also offer made-to-measure services. Not only that, your wedding dress can be customised to suit your needs. 
Here at Belle et Blanc Bridal Boutique, our wedding gowns are always delivered with TLC, ensuring that your dress is of the highest quality. 
Furthermore, we're proud of our reputation as one of Brunswick's established bridal boutiques, giving you the chance to turn your vision into a reality. Our staff and designers are backed by years of experience in the industry and from other shops and carefully craft each wedding dress with the attention and care that they deserve for the best result every time. 
Inspired by a combination of grace, fashion and classic styles, our Brunswick wedding gown boutique is located in the heart of Sydney Road – an established destination for personalised bridal gowns that are altered to fit with the utmost care and attention. 
Judith Penak Couture - Wedding Dress Shop Melbourne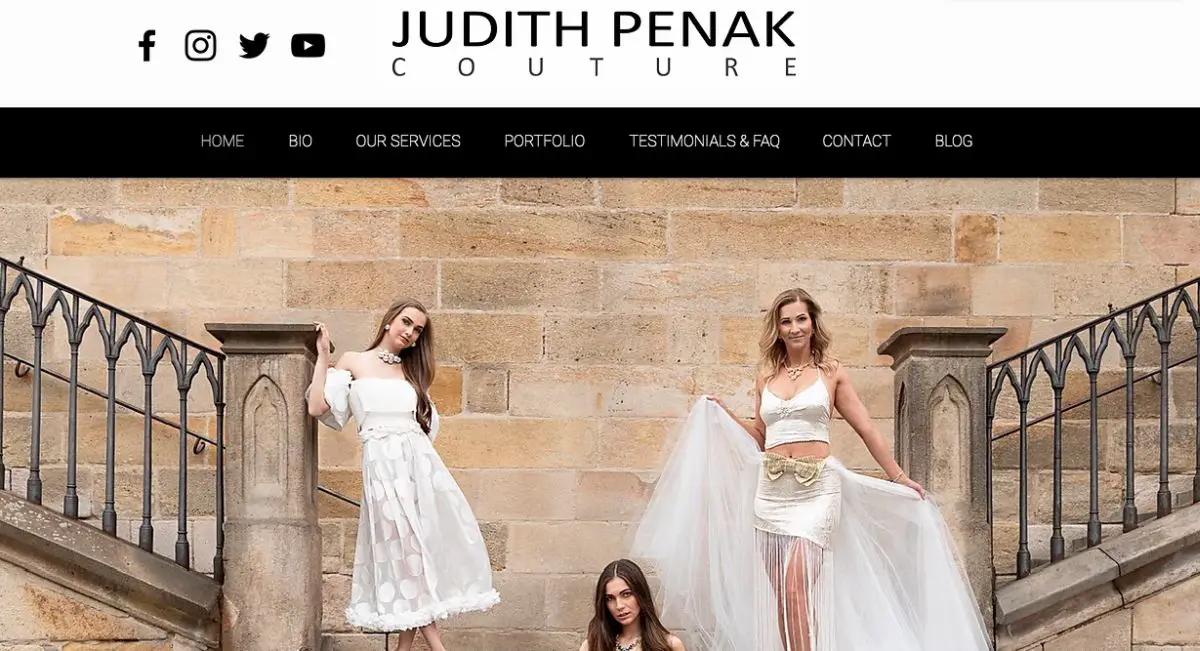 judithpenakcouture.com.au
421493051
ABOUT JUDITH PENAK
CZECH-BORN DESIGNER & COUTURIER
Judith Penak was born and raised in the fashion capital of Prague, Czech Republic before she came to Australia in 1983. Judith inherited the artistic genes of her mother and grandfather. By delving into fashion from a young age, she quickly mastered her skills in dress-making and expert tailoring. Judith started her brand in 1991 before officially rebranding it to Judith Penak Couture in 2013.
ACCOLADES & AWARDS
Judith many fashion accolades include 2007 Australian Masters of Fashion Awards "Best Designer of the Year", the winner of 2011 "BMW Caulfield Cup Classic Style Award", runner up for "Best Dressed Lady" in 2016 Jaguar Style Stakes – Dubai World Cup. Most recently Judith Penak Couture won, by public vote, the designation of Most Popular Bridal Gown Designer - second place in Australia.
"Gowns are like a unique, individual one-off piece of art; they awaken our fantasies of being surrounded by beauty, happiness…" -  Judith Penak
WEDDING GOWN
Bring your dream wedding gown to life for your special day. Every dress is made to order, unique to each bride. Created with care and artistry.
RACE DRESSES
Ready, get set, present the dress! 
At the races, the real show is the catwalk of the and there's only one spot for first place.
MOTHER OF THE BRIDE
Moms need to shine on their daughter/son's special day too! Design a custom dress that complements the bridal party perfectly.
SPECIAL EVENTS
Red carpet, milestone birthdays, debutante - all opportunities to dazzle and delight in a custom couture dress made especially for you.
ALTERATION
High-quality tailoring and alterations to transform any piece into a bespoke, 
perfectly-fitted dress or outfit
KLOVIA Wedding Dress Shop Melbourne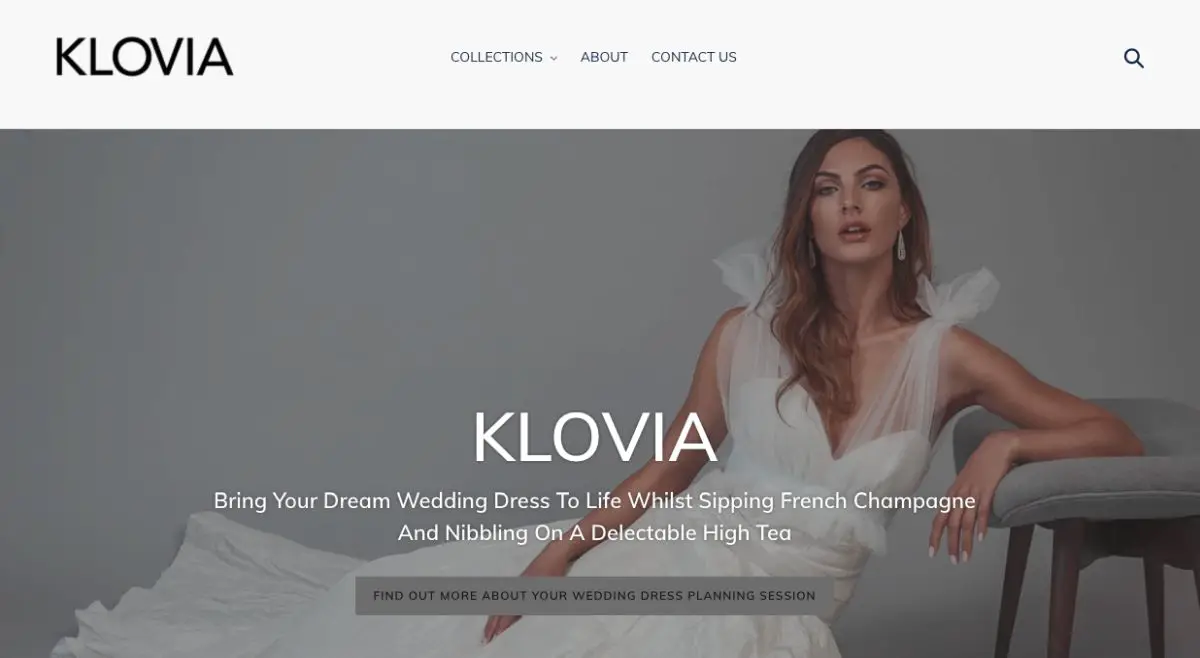 klovia.com.au
405888808
OUR STORY
KLOVIA is the collaboration and vision of designer Sylvia Ktori of Private Liaison™ Intimate Apparel and Kony Diaman, a renowned seamstress couturier. 
The brand name is also an amalgamation of Sylvia and Kony's names – representing the accord of their influence. 
"We have been working together on my Private Liaison lingerie brand, and were encouraged by one of the ladies from the Real housewives of Melbourne who characterised our working style as parallel to Domenico Dolce and Stefano Gabbana  (of Dolce & Gabbana) who made her wedding dress. She identified the creative dynamic between us and encouraged further collaboration, to power our skills and launch a couture brand. 
With regular travel abroad, we recognised the demand for Australian Designers and the gap in Australian Haute Couture at an International level. It was a logical decision to establish this brand as our skills are 'the perfect fit.' We both have substantial experience working with the finest materials including French leavers Lace, Silks, beaded and intricate trims. Our designs represent feminine modern style, combining levers lace appliquéd onto silk and feature embellishments throughout our range"
Wedding Dresses
The gowns of the House of KLOVIA are nothing short of magnificent, playing with textures of French Leavers Lace, 100% silk, hand beaded fabrics and intricate trims sourced from around the world. Made to order, the House of KLOVIA celebrates the luxury of Haute Couture, with our designs being both versatile and custom made in Australia.
Eternal Weddings - Wedding Dress Shop Melbourne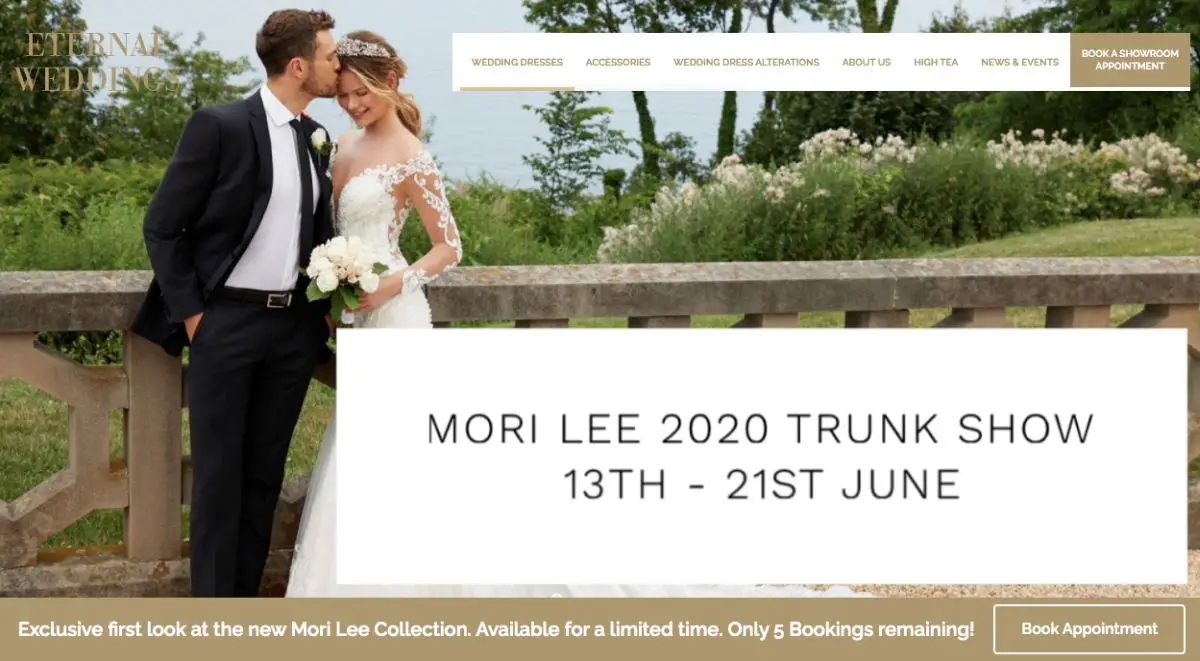 eternalweddings.com.au
1398820862
Best Wedding Dresses in Melbourne
Choosing the best wedding gown is one of the most important decisions a bride has to make when planning her big day. At Eternal Weddings, we encourage our brides to bring along the most important people in their lives, mothers, future mothers-in-law, sisters, friends, bridesmaids, to help them with this momentous decision. Every bride wants to look her very best on her wedding day, so it's crucial that she has the people around her that will be honest in what suits her.
Professional Alterations
We understand it can be difficult trying to find the best gown and know finding where to start can be one of the biggest challenges a bride can face. At Eternal Weddings we understand every bride is unique in her shape and size and are experts in finding the right dress to suit every figure, whether it be tall, petite, curvaceous or slim.
Eternal Weddings knows that there are many brides
 that come to see us not really sure of what they are wanting. If that is you then don't panic. You are not alone.  We will always guide and help you to find that perfect wedding gown. Often it is a style that you may never have considered.  We encourage our brides to try all styles of gowns on as it will help in the process of elimination, that is, discovering which gowns don't suit you or that you simply don't like will make the selection or your perfect gown easier.  Only then will you truly know that you have chosen the perfect wedding gown for you.
Brides Of Brunswick -Wedding Dress Shop Melbourne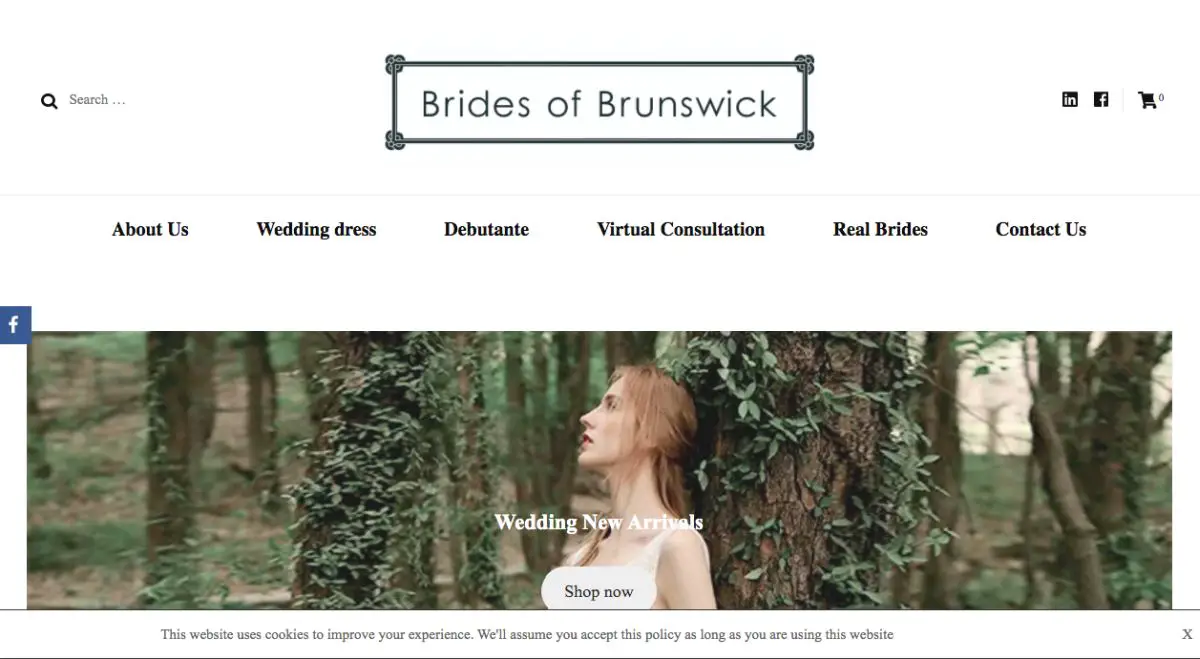 bridesofbrunswick.com
1399396172
About Us
Who are we?
Brides of Brunswick first opened in 2015 specialise in Wedding Dresses, Debutante Dresses and Accessories.  Made up of a diverse team of professionals with experience in the bridal industry of 35 years we strive and succeed in providing a new, unique and fulfilling experience for every Bride that walks through the door. From the very moment you walk in the door to the moment you leave we guide you all the way making sure you leave with the perfect dress and experience.
What we offer?
At the moment we offer a diverse range including our own home label Brides of Brunswick, Brides by Mancini (Australian-based) & Sugar & Spice (Australian-based). Starting from $399 our dresses don't go over $3000. In saying that though we still offer a wide range of styles that are specially selected by our beautiful team every season. Our dresses are carefully selected with a heavy emphasis on quality, diversity and trend.
 Alterations
Our in-house alterations department offer accessible, fast and prompt services with experienced staff of 30 years experience. We provide you with a true and genuine quote on the day that is not subject to change without your knowledge.  All our staffs in store have knowledge in pattern making and tailoring allowing us to understand better your needs and assurance that what you want we will do until perfect. 
Heather Sellick Bridal Couture - Wedding Dress Shop Melbourne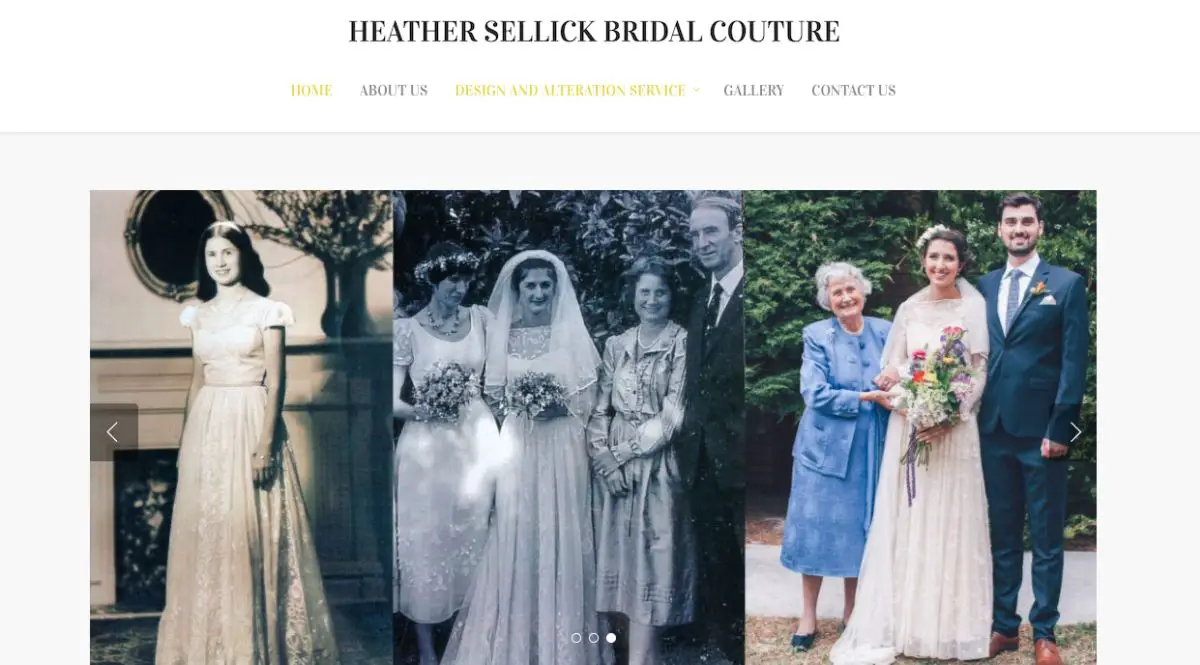 heathersellick.com.au
1397284471
PROFILE
In a career spanning over 30 years, Heather's experience within the Bridal Industry is complete. From designing, creating custom made patterns and making your Wedding dress to specializing in how to remake or alter modern or vintage Wedding dresses for her clients who already have their gown, but need assistance to make the 'fit' perfect…her skills, experience and expertise make her an authority within her field.
Her knowledge is both formal (Graduating with Distinction in "Arts & Fashion", RMIT, 1982) and is backed with experience as a Designer & Patternmaker in Bridal, Formal Wear & Debutantes (having made literally thousands of Gowns), is a Colour & Image Consultant and, in the past, a Trainer (specializing in Women's Body Shape Analysis – Design, Colour, Fit, Fabric and Wardrobe Selection for their particular "figure").
Whilst vastly experienced in many areas of women's fashion over the years, due to her large workload and her love for making every Bride feel and look beautiful & incredible on her wedding day, Heather has narrowed her work exclusively to everything involved with….Wedding dresses.
The secret to a continually successful career has been that she genuinely loves her work, spending quality time, one-on-one, with her clients, aiming wherever possible to meet every one of their needs, regardless of how small or large the request for her assistance may be.
CUSTOM MADE BRIDAL GOWNS
Custom made wedding dresses are created by combining your ideas with Heather's expertise, to result in a Wedding Dress absolutely perfect for you in every way… made to your own specific measurements.
After the excitement of announcing to your family & friends that you will soon be a bride… along comes the exciting, but sometimes daunting decision you now face… What will I wear! What style or design am I after? Modern, classic or vintage? What colour do I want to best suit my complexion & the design to most flatter my figure? What is my realistic budget?…. all these aspects need to be considered.
When searching for 'the' Wedding dress for your special day, you will possibly search endlessly online for ideas and designs, and decide on a girls day out to scour the Bridal Boutiques to see what is available. If the design or price does not quite suit, you may explore the option of having your wedding dress made for you.
If you would like to recreate the essence of a particular design but with a few changes (necessary if the intent is to 'copy' a Designer Gown, as there are both legal & ethical issues) and would like some advise, please feel free to email me a picture of the Gown (details on my "Contact Us" page). I will quickly be able to let you know the possibilities and approximate pricing to have such a Wedding Dress made.
As a pattern maker your Gown will be made and designed to your own personal measurements.
It is important to note that I often get requests for 'all over' lace designs with clients hoping they will be significantly less expensive than an original Designer Gown, or that I can purchase the lace for them. Unfortunately this is rarely so as I cannot purchase laces other than retail, as all my Gowns are one-off designs, and therefore I do not buy bulk amounts that will reduce the cost of the lace. Most other times, I can supply all other fabrics for you, within your quote. But if cost (within reason) is not a massive issue to you, with so many beautiful laces available, it is best for you to select yourself, and have the ultimate participation and involvement in creating your custom made Wedding Gown! All of course with my guidance.
Therefore, your quote will be dictated by the fabrics used, the amount of work and any hand detailing but generally, you will be looking at approx. $2500 – $3500 for a custom made Wedding Gown. All fabrics, except lace, will be provided within the quote, or otherwise stated. If you would like to supply your own fabrics, this is also an option, and quoted accordingly.
Once this is established and this range suits your budget, please forward your design ideas and I would be delighted to have a look at your thoughts, ideas and designs, and give you an approximate quote. If this is acceptable, then I will look forward to your totally obligation free appointment at my Studio in Melbourne's Eastern Suburbs, within an hours drive of the CBD, to discuss further, where I shall give you a fixed written quote, and we shall make all your fitting appointments. Your written quote will not change unless at your request, there are major changes to those set out in the quote, and of course will be discussed prior to any changes.
PROFESSIONAL WEDDING DRESS ALTERATIONS & REDESIGN
From minor to extensive alterations to your pre purchased Wedding dress…. never underestimate the importance of "fit", and how incredible that will make you look and feel on your wedding day.
Heathers vast experience & skill developed over 30 years, will ensure that no-one will ever know your Wedding dress has been altered, repaired, redesigned or not made exclusively for you… perfect.
All gowns no matter where they are purchased and no matter what the pricetag, require alterations, as none of us are a "standard" size. I therefore wish to offer you a service of both minor and complex "Alterations" that may be required to your Wedding dress, as well as a service to "Redesign" your Wedding dress….. they are all a little different and explained below….
MINOR ALTERATIONS to your pre purchased Wedding Dress
Wedding Dress Alterations are required when you purchase your Gown, and you love it ….but it just doesn't fit perfectly…yet!
This may mean generally refitting to your size, altering the length, adjusting the bust area for a different cup size or inserting bra cups for a fuller bust look to support the bodice of the Gown or repairing some beadwork. Your hemline may need to rise, as well as lace borders that need to be hand removed, then applied back on at the correct length, with no visible signs of alterations at all, of course!
All Wedding Dress alterations are possible and will make an enormous difference to your Gown making it look as if it were made for you. This is because I am a qualified pattern maker and designer and the alterations are made as the body adjustment requires it not just taking it in a little at the side.
This type of alteration, will naturally depend on the amount and type of work required, are generally from about  $400 – $550.
COMPLEX ALTERATIONS to your "DESIGNER" pre purchased Wedding dress
Traditionally, "Designer" Gowns are beautiful complex Wedding dresses with specialized detailing and fabrics, often with many layers of fabrics and petticoats or simple exquisite soft Silk and lace that warrant the higher price tag than some other equally beautiful Wedding dresses available.
The alterations can be complex but this is a great way to have the Designer Gown you love at a reduced price as it may be second hand or a Store 'sample' gown, and then have the alterations you require done.
I have altered many Gowns in this way from Vera Wang designs, Alex Perry, Colette Dinnigan, Jenny Packham and the ever delicate Anna Campbell Gowns to name a few, plus many many more over my 30 years in this Industry I love. I am delighted to say all my clients leave happy & smiling as if they are wearing a Gown especially designed for them. I love that!
As a designer & pattern maker myself, I will know exactly where to alter and change design elements to fit you perfectly. This is a very viable option to have the gorgeous Designer Gown you have always wanted.
Just ensure you purchase the Gown a little on the larger side, rather than smaller, and accommodates your shoe height as well. All these little tips widen your options for fit and alterations.
For this type of alteration, simply due to the complexity of the existing design, your quote may well be a little higher than if it were for a minor alteration of perhaps simply a size or length adjustment. This may be from $400-$750, however of course each quote will be based purely on the work needing to be done, and quoted accordingly at your totally obligation free initial appointment.
WEDDING DRESS "REDESIGN" for your pre purchased Wedding dress
Wedding Dress Redesign is when you have a Gown you have bought, but you want some changes to make it reflect your own personality and style for your wedding day that may be more than just a fit and length adjustment.
You may want a different shape skirt or additional layers/textures/fabric or embellishments. You may want to add colour, or change the design by removing/adding straps. Perhaps adding lace or "bling" to add detail to what may have been quite a plain design for your liking initially, or completely changing the neckline or bodice for that matter. Your Wedding dress may be pre loved from your local charity store or a gift from a friend who would love you to wear it, and you wish to modernise or personalise it, to more reflect your style…
This 'redesigns' the Wedding Dress into a gorgeous new design that is exclusively yours.
If you are unsure of what can actually be done and would like advice on the possibilities and prices, I would be more than happy to give you a totally obligation free appointment and quote to meet with you personally at my Studio in the Eastern Suburbs of Melbourne, within an hours drive of the CBD.
At your initial appointment, all options will be discussed and if you have a certain budget we will design and fit your alterations to within your budget of course. Minor changes may be as little as $500, or for more substantial alterations, or in fact "redesign" your whole Wedding Dress more or less, your quote will naturally be higher but will entirely depend on the work and additional fabrics required, and it may be $1000 or $1500 if just about totally remade.
Payments are split over your appointments, and will not change, unless the design does at your request throughout the process together, and of course, this will only be if the changes are major to those in your written quote. We have Eftpos for your convenience (Visa, Mastercard & Debit Card, as well as accepting Internet transfer and cash.
Should you like a more definite quote and to discuss you options, please call 9728 4478, or make contact through her "Contact Us" page, to see what is really possible with your near perfect Gown.
By accepting my offer of a totally obligation free appointment to discuss your options in much more detail, at very least, you will know what is possible construction wise for the existing dress, and what options you have, and the cost to create the Wedding dress of your dreams!