If you're planning a corporate function, special event or meeting in Melbourne, Victoria,  this the list of unique corporate venues to choose from.
Melbourne, Victoria  is the epicentre of business and home to some of the best corporate venues in Australia. From the iconic views to the lavish event spaces book your next event with ease by looking no further than the following list of venue.
When it comes to corporate functions in Melbourne, we have a list of the best. Whether you're organising a large scale industry conference, a small board meeting, a product launch with a bang or an Amazing Race inspired corporate challenge event – our collection of the best business event venues in Melbourne is sure to come in handy. We've taken the sting out of things meaning you no longer have to trawl the internet for hours on end because with us it's all just a few clicks away. Hiring the perfect spot for your next corporate event is now easier and faster than ever. Why don't you try?
On the hunt of corporate venues and conference in Melbourne, Victoria? Finding the right conference room can be a stressful endeavour.  So, finding the best corporate functions that offers supreme service and a carefully curated selection of corporate functions.
To help you get started on your, we've rounded up our best corporate functions from right across Melbourne, Victoria.
Read on to discover where to start your search.
Add a header to begin generating the table of contents
Sandown Regency and Function Centre Corporate Function and Conferences Melbourne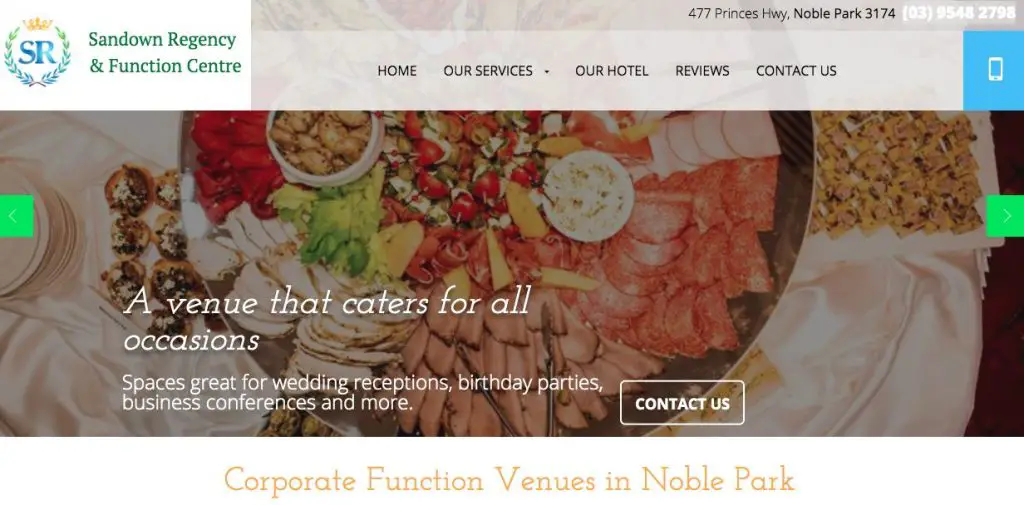 sandownregencyfunctions.com.au
039548 2798
Sandown Regency Function Centre in Noble Park is the ideal choice for function room hire in Melbourne's eastern suburbs! About Our Event Center Sandown Regency Function Centre, with two accommodating function rooms, is the ideal Melbourne venue for your events.
Our flexible function rooms, which are available throughout the week, are ideal for business conferences, family gatherings, wedding receptions, Christian gatherings, and other events. We will pay close attention to the outcome you want to achieve in order to create a package that is customised to your needs! Our knowledgeable staff will make renting a function room a breeze. Contact us right away.
80 Collins Corporate Functions and Conference Melbourne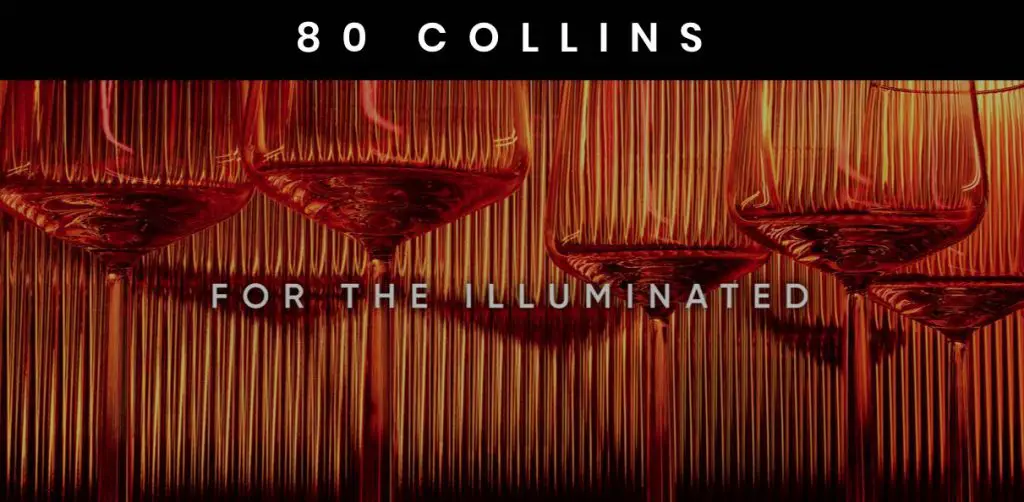 80collins.com.au
80 Collins is for illuminated, world-leading businesses, brands that are industry influencers. It is a new address that will engage the city, bringing to life a transformative new destination, day or night, alongside iconic luxury retailers and curated experiences. Where distinctive luxury, cutting-edge fashion, and one-of-a-kind dining experiences collide.
A new landmark will illuminate the city skyline as it rises above Melbourne CBD's Paris End. Its faceted crystalline facade, designed by Woods Bagot, is a reflection of the dynamic businesses within, a premium grade office for a new era. Large floor plates with exceptional facilities and amenity in the main address provide flexible layouts for varying ways of working.
Alto Events Corporate Functions and Conference Melbourne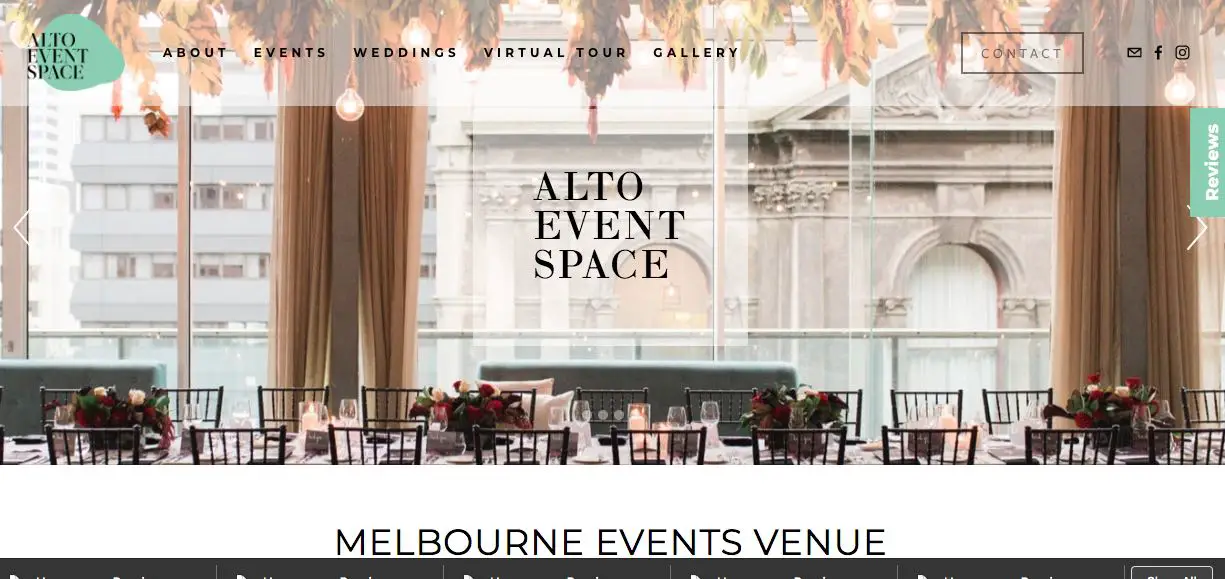 altoevents.com.au
0392811400
MELBOURNE EVENTS VENUE
ALTO Event Space is located on the top floor of the GPO building in Melbourne's CBD. High ceilings, polished concrete floors, a striking brass bar, and an outdoor terrace with city views characterise this warehouse-style venue.
ALTO is operated solely by DAMM FINE FOOD Co. and can accommodate up to 400 guests for cocktail-style events and 150 guests for sit-down dining experiences. Please contact us as soon as possible with your event requirements.
ALTO is a warehouse-style venue with concrete floors and exposed ceilings. It is the ideal venue for your next event when combined with stylish, contemporary furniture and ALTO's large outdoor terrace.
The space can be transformed to accommodate everything from glamorous product launches to intimate private dining experiences. ALTO can accommodate up to 400 guests for a cocktail-style event and up to 150 guests for a sit-down dinner. Alto is a versatile space with moveable partitions that can accommodate a variety of guest numbers.
Mr. Hobson Corporate Functions and Conference Melbourne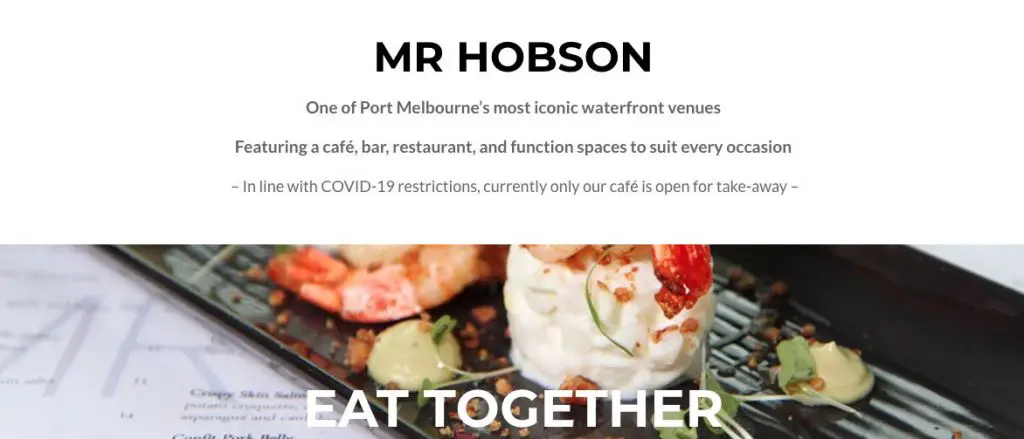 mrhobson.com
61396466299
SPECIAL EVENTS & PRIVATE PARTIES
Catering and Events are opportunities for us to collaborate more closely with our guests, as well as occasions for us to share our commitment to celebration in exciting new ways.
THE PRIVATE FUNCTION ROOM (ground floor):
Our private function room downstairs is ideal for smaller groups for your Corporate Function or Birthday Party. This function room, located on the same level as the restaurant but with your own remote access, offers you and your guests uninterrupted exclusivity. The boardwalk is right outside, as is the breathtaking view of the ocean and the magnificent Port Melbourne sunset. The cocktail room can seat approximately one hundred seated guests or up to 140 for a stand-up cocktail function.
Carlton BrewHouse Corporate Function and Conference Melbourne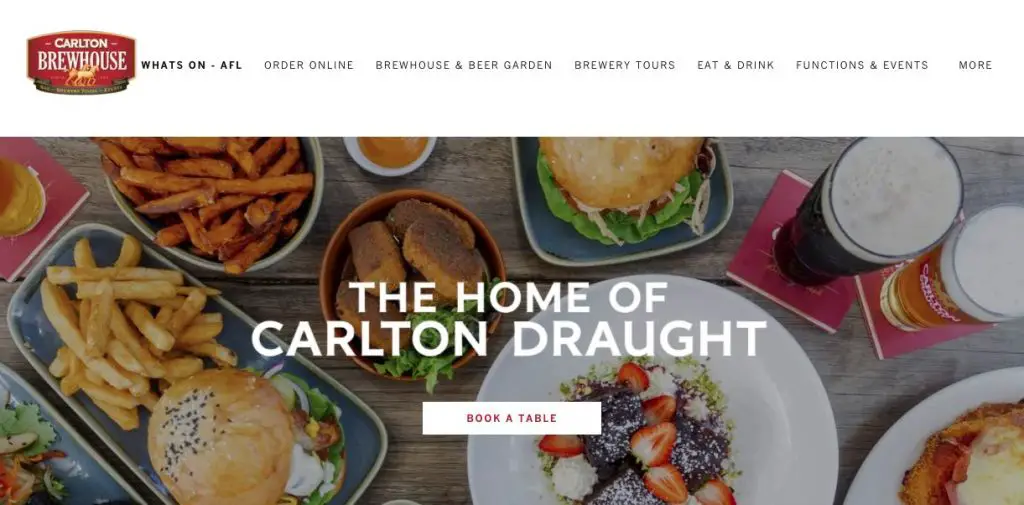 carltonbrewhouse.com.au
0394206800
The Carlton Brewhouse is one of Melbourne's top-rated attractions, offering a variety of ways for tourists and locals alike to enjoy a great brewery experience.
Guests are welcome to tour the brewery or simply join us to enjoy great food, beer, and cider, browse the displays and Beer Gear, and relax in the beer garden.
Functions, events, celebrations, parties, soirees, gatherings, shindigs, or ceremonies are all examples of functions. We can do whatever you call it! The Brewhouse will impress your guests and delight your delegates with adaptable spaces and menus to suit any occasion, budget, or requirement.
Looking to throw a one-of-a-kind night? For the ultimate private brewery experience, try exclusive use of the entire Carlton Brewhouse, just 10 minutes from Melbourne's CBD.
From engagements, networking, and product launches to large-scale Christmas parties with all the trimmings, we specialise in stand-up cocktail functions.
Richmond Union Bowling ClubCorporate Function and Conference Melbourne
rubc.com.au
0394281951
RICHMOND UNION BOWLING CLUB IS ONE OF MELBOURNE'S BEST BOWLING CLUBS.
Located in the heart of Richmond, and on direct tram routes out of the CBD, Richmond Union Bowling Club is the ideal destination for all your bowling activities. Fine food, first-rate facilities, and a genuine friendly atmosphere contribute to our status as one of Melbourne's best bowling clubs.
Whether you are a serious bowler or simply want to enjoy a day on the greens, explore our website and come enjoy our hospitality. We specialise in competitive lawn bowling, barefoot bowling, trivia nights, team building activities, presentations, and training seminars at Richmond Union Bowling Club.
RICHMOND UNION BOWLING CLUB CAN ACCOMMODATE ALL YOUR FUNCTIONS.
Richmond Union Bowling Club's function packages are suitable for all events, including Corporate Training Days and Off-site activities, Christenings, Trivia Nights, Weddings, Parties, and Anything!
The View Corporate Function and Conference Melbourne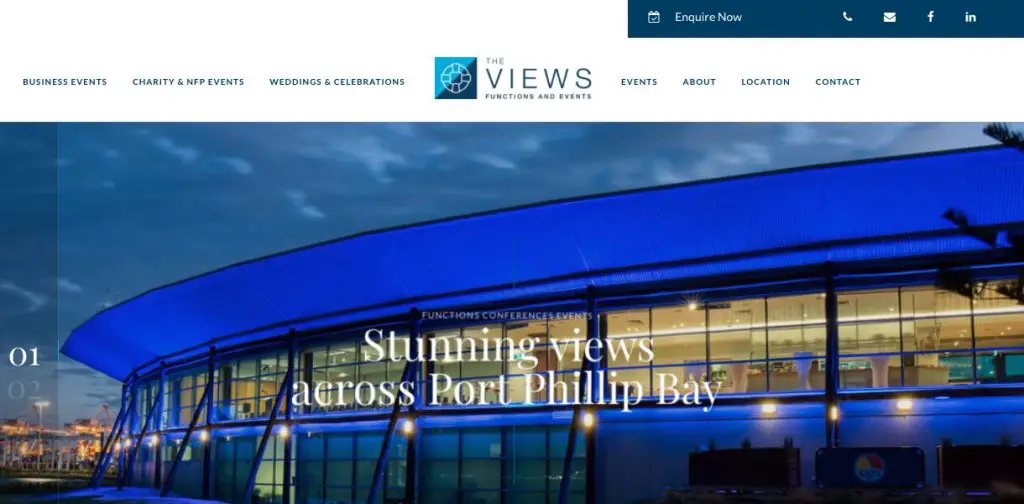 theviewslsv.com.au
0396766960
The Views is Port Melbourne's only beachfront function venue, and it's only a few minutes from the CBD. Beautiful elevated views of Port Phillip Bay complement flexible meeting and function spaces, a modern menu, free parking, and the attentions of an experienced event management team to ensure your meeting, function, or event runs smoothly.
Corporate Event Venues Melbourne
Our corporate meeting rooms all have breathtaking views of Station Pier, Port Phillip Bay, and the Port Melbourne to Brighton coastline. We offer relaxed yet professional event space in Melbourne for your delegates to meet, create, plan, and develop your next big idea, with an abundance of natural light from our floor to ceiling windows overlooking the water.
CQ Functions Corporate Functions and Conference Melbourne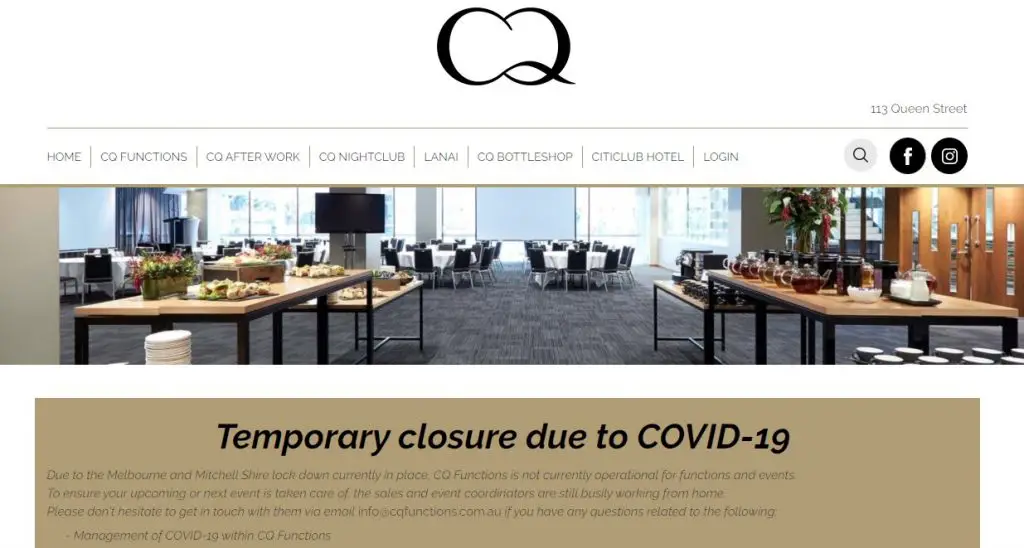 cqmelbourne.com.au
0386012721
CQ Functions is built on a vibrant events team with over 30 years of experience executing events in Melbourne. Our forward-thinking team has created a recipe for success, with modern menu options, boutique drink selections from local suppliers, expertly trained staff, and versatile simplistic spaces as the ingredients.
We have 15 spaces in one location and can accommodate groups of 20 to 1,200 people. Our contemporary and distinctive event spaces can accommodate an early morning breakfast meeting, lunch, conference, dinner, cocktail function, and much more. Each room is outfitted with cutting-edge PA and audiovisual technology, allowing you to conduct your event with complete confidence.
524 Finders Corporate Functions and Conference Melbourne 524flinders.com.au
416155568
A UNIQUE WAREHOUSE SPACE IN MELBOURNE'S CBD
A clean slate for your next event. The venue does not exclusively work with event vendors. You are free to use your prefered caterers or furniture suppliers from the Melbourne area.
You can go with a blank canvas hire, which allows you to use your prefered suppliers. Alternatively, you can contact our event management company, which can create a custom package tailored to your specific needs.
Monash University Corporate Functions and Conference Melbourne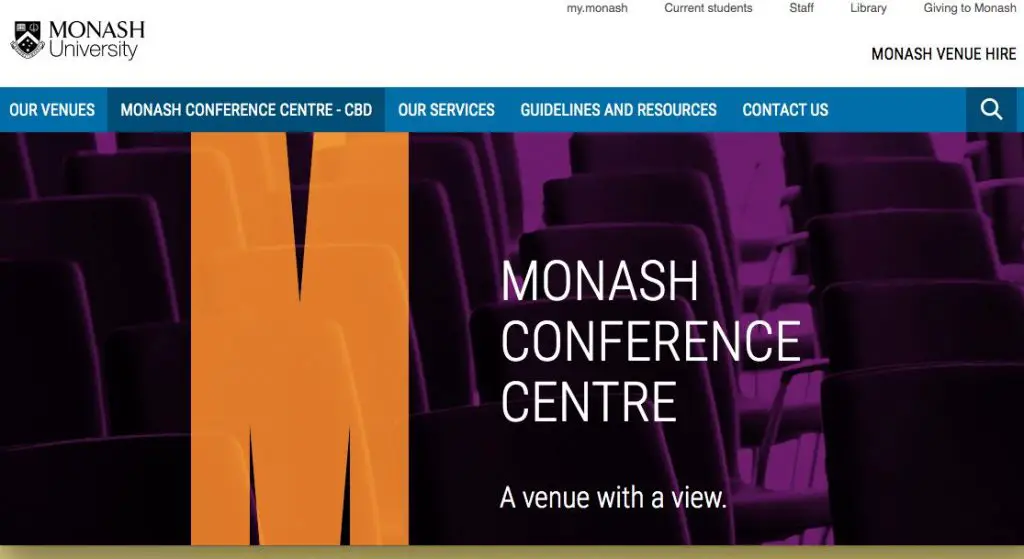 monash.edu
1399038000
We have a variety of flexible and modern venues for hire across our campuses, ranging from lecture theatres to conference rooms and even a multi-faith centre and cinema.
Our adaptable spaces, which include executive offices, boardrooms, and seminar rooms, can accommodate up to 100 guests.
We are conveniently located at the top end of Collins Street, close to public transportation, and offer premium city views.
We collaborate with award-winning caterers to provide a diverse menu ranging from canapes to buffet lunches and private dining options.
You'll have access to a variety of AV equipment for presentations, including projectors, video conferencing, electronic whiteboards, free WiFi, and more.
Bond Nightclub Corporate Function and Conference Melbourne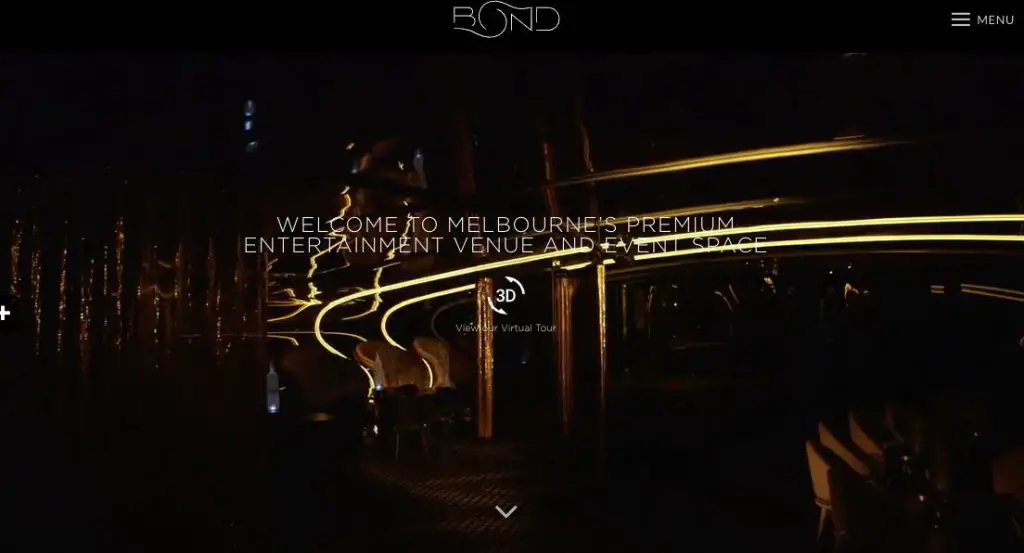 bondmelbourne.com.au
99819007
Bondi Junction is the heart of Melbourne's nightlife as you walk through the doors. Melbourne's electrifying luxurious atmosphere and cutting-edge design. The charming staff at Bond offer a premium service that matches the lavish layout of its space, making it an infectious setting unlike any other Melbourne bars or nightclubs. Bond welcomes a glamorous crowd through its doors, creating an elegant event experience with the vibrancy of an arena. The opulent interior design, combined with private spaces and two live music rooms, creates a one-of-a-kind concept in Melbourne's nightlife industry. Are you looking for high-end clubs for a Saturday night event? Bond nightclub is an aesthetically superior space that can be anything you want it to be and more. Hide
Saturday Night clubs in Melbourne: Melbourne's Premium Destination
Enter the world of Bond nightclub, a destination of class that no other Melbourne bars or clubs can compete with. Discover a superior experience unlike any other in this sought-after entertainment venue and uncover the exhilarating secrets of Melbourne's CBD. Bars and clubs throughout the city welcome partygoers, but Bond nightclub goes above and beyond.
Join us in the city's most distinctive and unforgettable CBD bar and club, designed by the award-winning team at Hachem. In this iconic venue, expect intimate booths, extravagant lighting and interior décor, as well as a menu of contemporary drinks and canapés. Choose one of the city's premium private function spaces for corporate events or hens nights and enjoy a night of luxury.
One Seven One Corporate Functions and Conference Melbourne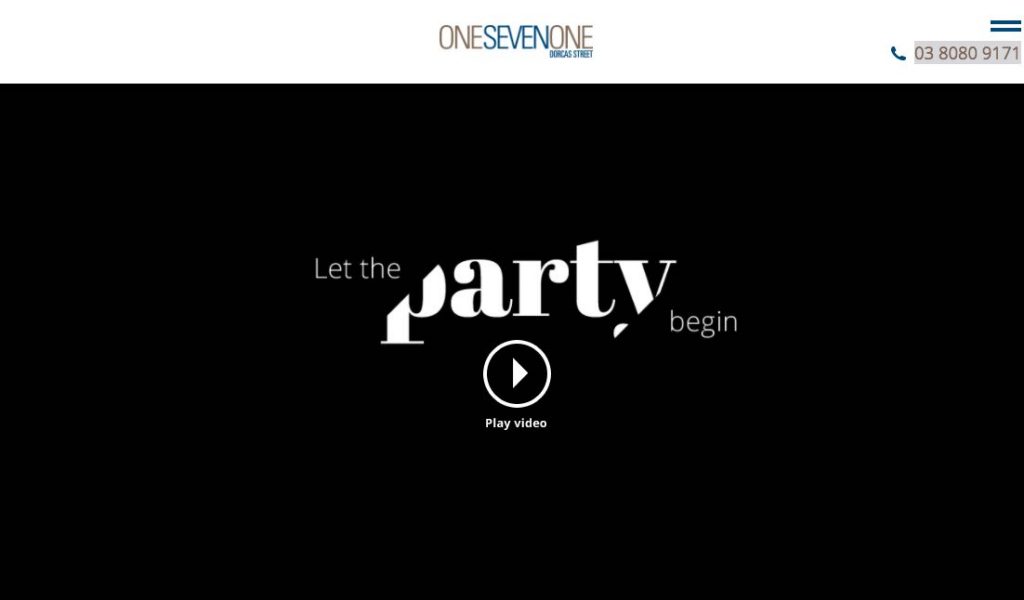 onesevenone.com.au
0380809171
OneSevenOne is a boutique space that can accommodate the launch of a car, a new jewellery showcase, a skincare line, or a tablet app. Every product launch at One Seven One has been a huge success for the company.
Come take a look around; it's incredibly inviting and intimate enough to spark conversations with customers and team members that lead to business success. If team building is what you're after, bring out the table tennis tables and have a good time.
If it's a seminar, make the most of the AV and enjoy our catering for an hour at the end. Consider a reason to celebrate and allow us to assist you in impressing your clients or reinforcing the fact that your team members are part of a fantastic organisation.
Zinc Fed Square Corporate Functions and Conference Melbourne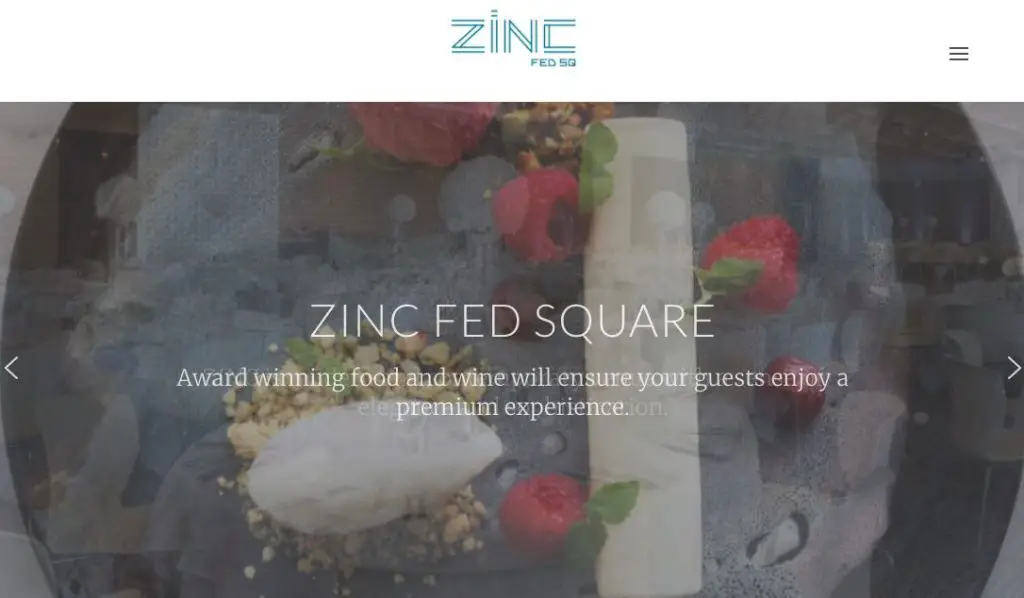 zincfedsq.com.au
1392296300
ZINC, located on the riverfront side of Federation Square, provides a unique private events venue in the heart of Melbourne.
We'd love to create an experience that will wow your guests, whether it's an elegant wedding, an intimate dinner with friends, or a corporate gathering. Our space is completely adaptable, and our team is creative and accommodating. Your guests will enjoy our award-winning food and wine while admiring the stunning views of the Yarra River and city skyline from our uniquely Melbourne venue.
We have a wide variety of enticing menus to suit all events, but we also enjoy creating bespoke packages if you have something special in mind. The space is adaptable, with the ability to be divided into two separate studios, allowing for a more intimate setting as well as a separate room for breakout sessions or catering breaks during your conference or meeting. Alternatively, you may use the entire venue, including the complimentary use of the boardroom. We also collaborate with Federation Square and the Deakin Edge auditorium to make the space larger for large events.
William Angliss Institute Corporate Functions and Conference Melbourne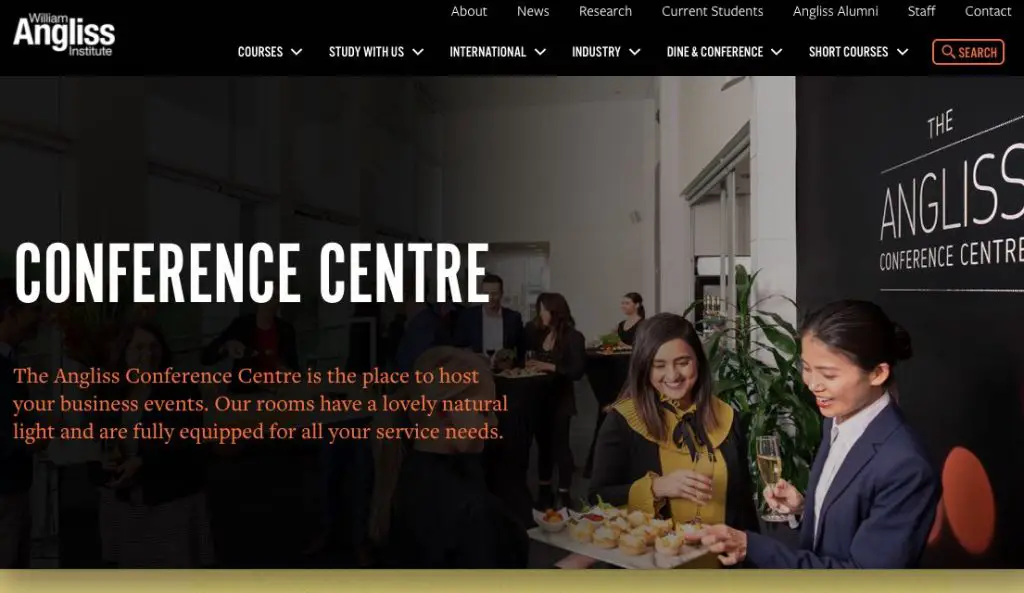 angliss.edu.au
61396062111
Your business events will be held at the Angliss Conference Centre. Our rooms have plenty of natural light and are fully equipped to meet all of your service requirements. The Angliss Conference Centre is the ideal location for your next trade show, corporate meeting, exhibition, event, or training workshop.
Taste our delectable cuisine and discover why we are the industry leaders in hospitality and professionalism. Sit back and enjoy the event atmosphere as our staff serves you with a big smile and professionalism.
See our high-quality facilities and take in the lush, green view of Flagstaff Gardens on one side and Docklands on the other. The Angliss Conference Centre can easily accommodate up to 300 people for your event and offers five conference rooms with high-quality facilities.
The room, which includes an in-built data projector, PC, ceiling speakers, and a lectern, can seat up to 160 people in theatre style or 70 in cabaret style.
The Conference Centre, which has plenty of natural light and four equal-sized breakout rooms, can be configured in u-shape, cabaret, theatre, boardroom, or classroom styles to suit your event needs.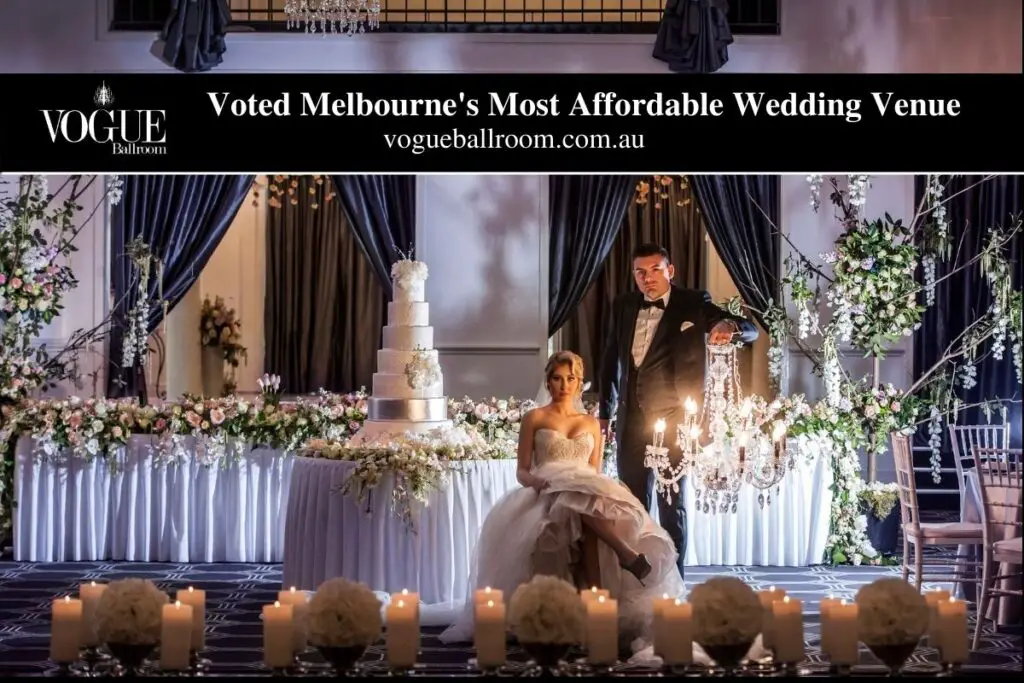 Locanda Corporate Function and Conference Melbourne
locanda.com.au
0396351246
Locanda Private Dining offers relaxed dining in a sophisticated Italian inspired setting in the heart of Melbourne CBD. Locanda Private Dining's team is led by Executive Head Chef Paul Griffiths, who brings a wealth of knowledge, experience, and acts as the Locanda team's backbone, with one simple mission: to create memorable events.
Locanda Private Dining is located in the restaurant's back corner and has a private entrance, two floor-to-ceiling glass wine cellars, and a large marble share table. Our Melbourne Private Dining Room is perfect for corporate dinners, birthday celebrations, milestone events, and creative meetings. Breakfast, lunch, and dinner events are available.
Syracuse Restaurant Corporate Function and Conference Melbourne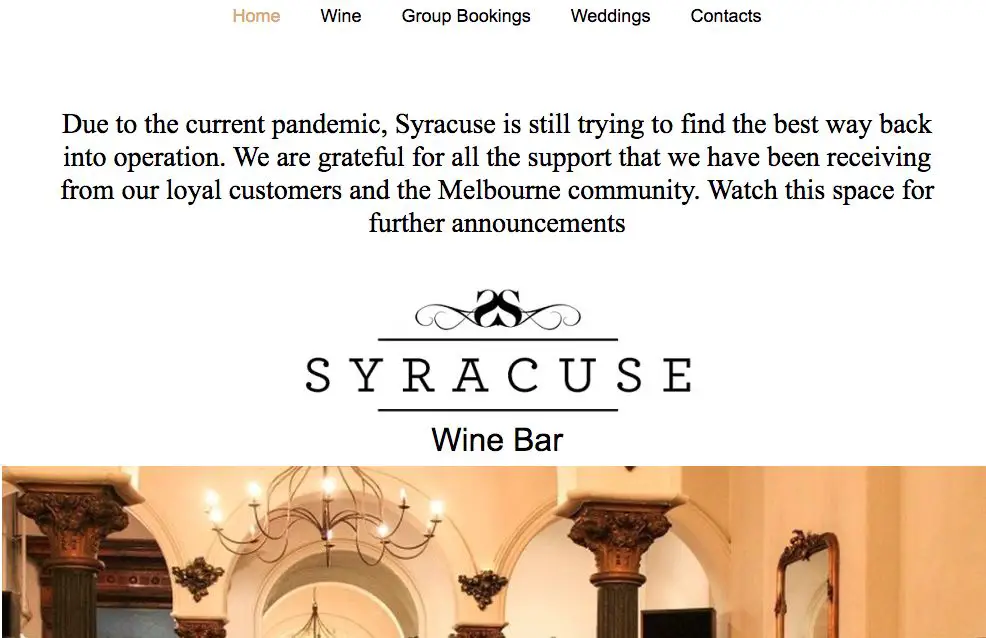 syracuserestaurant.com.au
0396701777​
Due to the current pandemic, Syracuse is still attempting to determine the best way to reopen. We appreciate all of the help we've gotten from our loyal customers and the Melbourne community. Keep an eye on this space for future announcements.
Syracuse is a wine and tapas bar in the heart of the city that shares a passion for seasonal and authentic food made simply. Your home away from home in a setting of wine bottles displayed in various nooks and crannies alludes to Syracuse's varied and interesting wine selection, with a food menu to match. Syracuse Restaurant and Wine Bar has become a haven of relaxation for both visitors and locals. We will change the dishes every couple of weeks to reflect the season.
Rydges Corporate Function and Conference Melbourne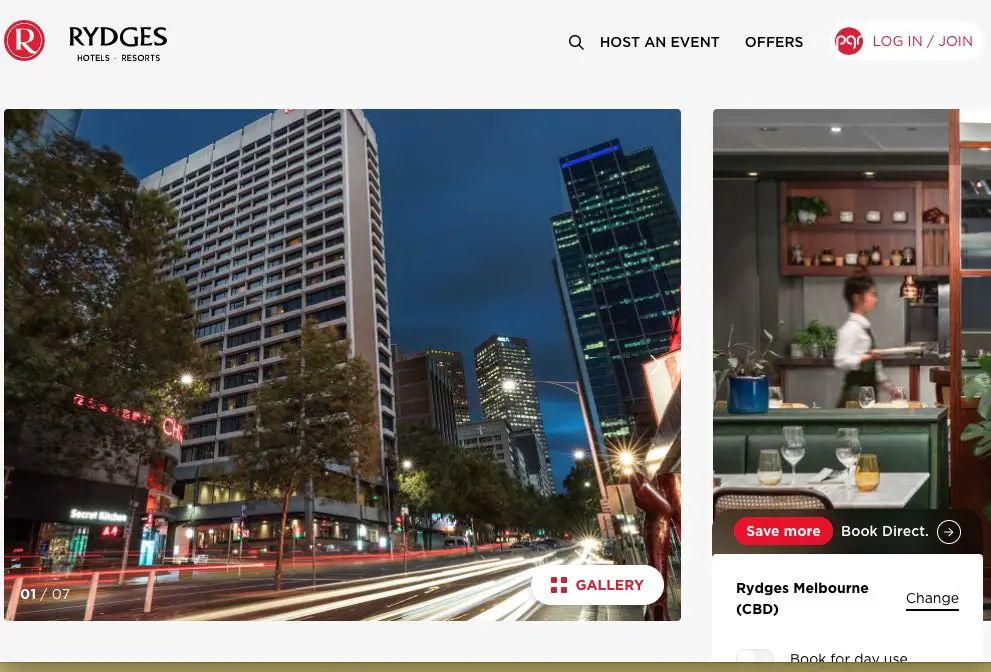 rydges.com
61396620511
Looking for a stylish yet reasonably priced hotel in Melbourne's CBD? There is no need to look any further! When visiting our Australian capital, let the stylish surroundings and convenient location of Rydges Melbourne envelop you. Our Melbourne CBD hotel is located in the heart of the city's vibrant theatre district, just steps away from Her Majesty's Theatre, Comedy Theatre, Princess Theatre, Athenaeum, and Regent Theatre.
Our Melbourne CBD accommodation is ideal for leisure travellers, and shopaholics will appreciate being close to the exclusive Collins Street boutiques and the world-famous Bourke Street Mall. If you enjoy cricket, tennis, or football, our luxury Melbourne sports accommodation is conveniently located near the Melbourne Cricket Ground (MCG), Etihad Stadium, Rod Laver Arena, and Melbourne Park.
With our versatile Melbourne function rooms, including the eclectic Bobby McGee's and Locanda Private Dining, you'll be spoiled for choice.
Rydges Melbourne is serious about events, devoting the entire first floor to lavish wedding ceremonies, social soirees, and productive business and board meetings. Our Melbourne function venues and accommodation provide contemporary amenities in elegant settings. Her Majesty's Theatre, the Princess Theatre, the Comedy Theatre, the Athenaeum, and the Regent Theatre are all within walking distance of our Melbourne CBD location. Guests will appreciate the close proximity to the vibrant Federation Square, as well as the short walk to world-famous shopping at Bourke Street Mall and designer boutiques on Collins Street.
Oak Hotels Corporate Function and Conference Melbourne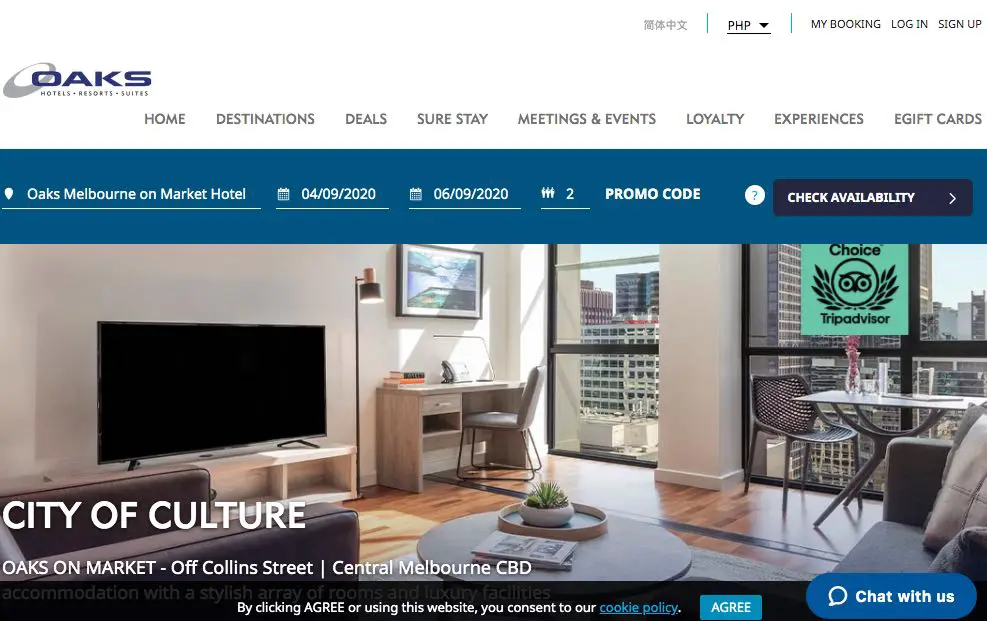 oakshotels.com
61732461700
Oaks Melbourne on Market Hotel is the ideal venue for your upcoming event, located near the leafy tree-lined corner of Market and Collins Streets and discreetly positioned in the heart of Melbourne's central business precinct.
Our cutting-edge conference facilities can accommodate events with 10 to 200 guests. The function area's concept is to promote a conducive meeting space with innovative, functional, and creative elements such as specially designed menus, an abundance of natural lighting, and flexible floor space, with a total of three function rooms.
CONFERENCE VENUE INFORMATION
The versatile facilities at Oaks Melbourne on Market Hotel offer complete flexibility for any conference, banquet, or meeting, with three multi-purpose conference and banquet rooms and a large function foyer.
Citadines Corporate Function and Conference Melbourne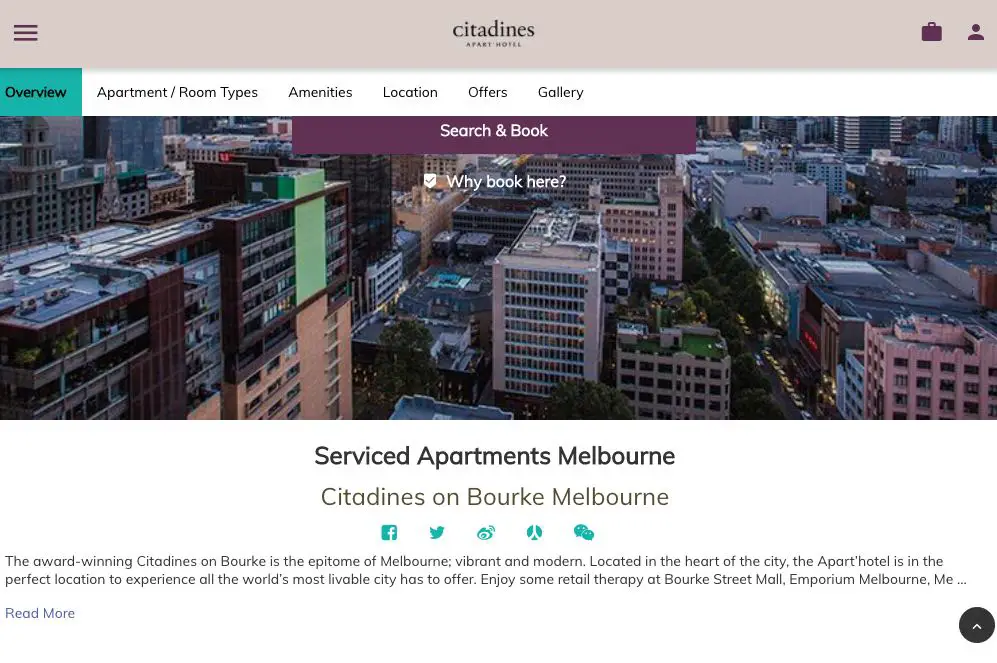 citadines.com
61390398888
The award-winning Citadines on Bourke is a vibrant and modern representation of Melbourne. The Apart' hotel, located in the heart of the city, is ideal for experiencing everything that the world's most liveable city has to offer. Discover the magic of Melbourne Cricket Ground (MCG) and Marvel Stadium with the Australian Football League (AFL), cricket, tennis, and world-class concerts at Rod Laver Arena; and indulge in some retail therapy at Bourke Street Mall, Emporium Melbourne, Melbourne Central, and the QV shopping precincts.
Relax and embark on a culinary adventure with Melbourne's one-of-a-kind dining experiences; all of this and more is right on your doorstep. If you're in town for business, Citadines is close to Parliament House, Collins Street, and the heart of Melbourne's Central Business District.
Citadines Melbourne also provides pet-friendly lodging. Our pet-friendly rooms come equipped with a pet bed, food and water bowls, a welcome pack, and access to our rooftop courtyard. Everything you could possibly need for a weekend away with your four-legged companion.
Citadines has 380 serviced apartments, each with its own living and dining area, fully equipped kitchenettes, and modern amenities. You will have the privacy of your own apartment while enjoying the convenience of a hotel at Citadines. A fully equipped gym, indoor pool, sauna, and outdoor sundeck are also available, as are conference and meeting rooms, a Business Corner, and complimentary wireless internet.
Rokeby 100 Corporate Functions and Conference Melbourne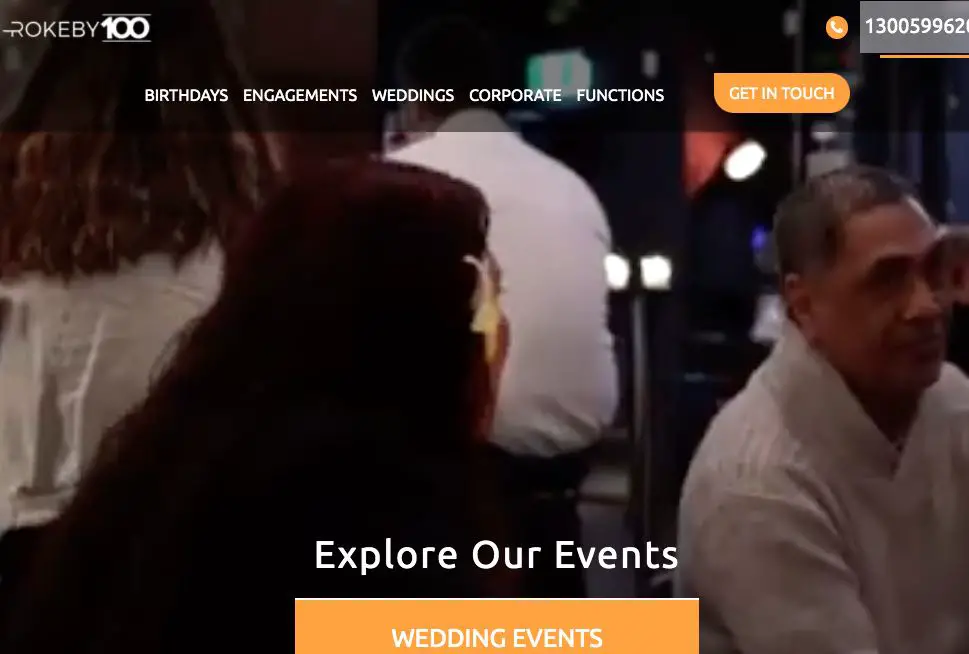 rokeby100.com.au
1300599620
Rokeby100 is a blank canvas with solid finishes, concrete floors, and numerous overhead fixing points to accommodate any activation.
With full street frontage and a larger roller door at the front of the venue, bringing in your equipment and staging is quick and easy.
An event at Rokeby100 will have full access to our onsite commercial kitchen, or we can provide catering if that is prefered. There are also DJ points located throughout the venue, allowing for a variety of layouts.
An event at Rokeby100 will have full access to our onsite commercial kitchen, or we can provide catering if that is more convenient. There are also DJ points throughout the venue, allowing for a variety of layouts.
Plan is light, bright, and open. Our modern warehouse serves as a blank canvas for you to create your ideal event. Our modern warehouse can accommodate a variety of function styles, from stand-up events to candlelit banquets, thanks to its modern interiors, ambient internal lighting, and polished concrete floors.
Loop Corporate Functions and Conference Melbourne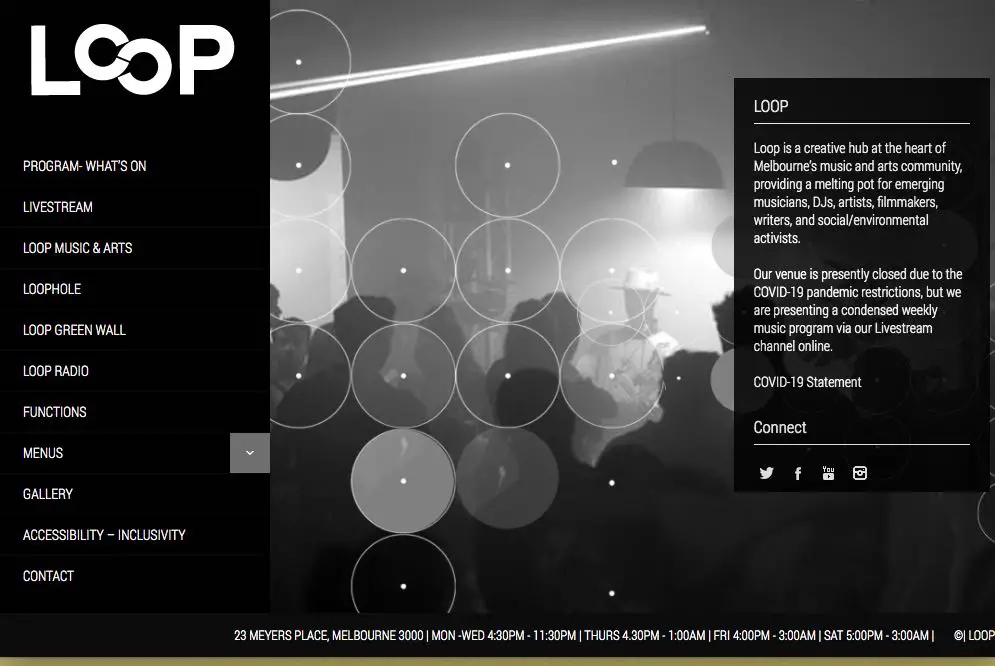 looponline.com.au
0396540500
Loop opened its doors in 2003 and has established itself as a piece of iconic laneway music and screening venue over seventeen years- and is an ideal space to hold your function.
Loop is tailor-made to accommodate all of your customised function needs, with our peerless Void surround sound system, intricate lighting, modular staging, superior DJ/AV facilities, large-format built-in screens, a selection of catered menus, exquisite cocktails, extensive craft beer range, international wine list, recently renovated bar, and highly flexible layout.
The space is ideal for any event, including a birthday party, corporate function, technology event, launch, or special occasion.