The formal wedding reception comprises a one-hour cocktail party and a four-hour reception usually centred around a meal. There's still plenty of flexibility to make it your own–the couple, the cultures, the venue, and the wedding size all play a role in how the night unfolds. The key is to customise a timeline that makes sense within those parameters. And while there's no one-size-fits-all schedule for weddings, we surveyed planners from all over the country to weigh in on a basic framework that works for just about any couple.
Here, experts share an hour-by-hour rundown of the ultimate wedding reception timeline.
Your typical wedding reception runs about 4-5 hours—plenty of time for cocktails, dinner, toasts, and dancing! Follow this foolproof wedding reception timeline to ensure a smooth, fun-filled evening of celebration for you and your guests.
Cocktail Hour. After the ceremony, the couple, families, and the wedding party head off with the photographer to pose for pictures. 

Arrivals

Dinner. 

Toasts. 

First Dance.

Dancing. 

Bouquets & Garter Tosses

Cake Cutting.
Because the 4 P.M. ceremony time, 10 P.M. reception end (with both ceremony and reception in the same venue), with secular ceremony and photos beforehand is a pretty common format, let's start with that wedding timeline.
It's possible to fit a single-location ceremony, cocktails, dinner and dancing into 6 hours if you have a planner or a DJ who is good at keeping everything on schedule. On the other hand, if it's just a reception for a few dozen close friends and relatives, then 5 hours may be enough.
Many wedding venues have a curfew of 10 P.M., and some are even earlier, depending on zoning restrictions. However, 10 P.M. is not nearly late enough for most couples to stop the party.
Cocktail Hour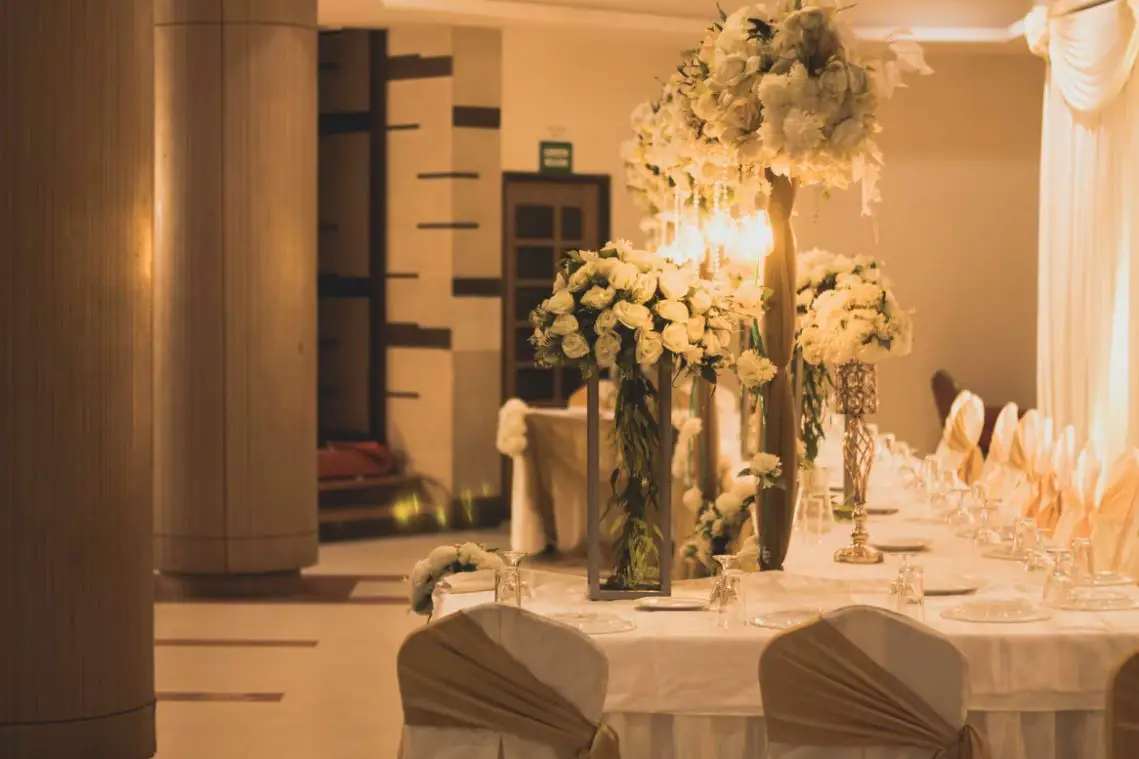 Welcome Guests 
With getting ready photos, first look, wedding party photos, and family photos completed before the ceremony, you can enjoy conversations, drinks and hors d'oeuvres during your cocktail hour, says Lizzy Liz Chan, wedding planner and designer Lizzy Liz Events.
While your guests are mingling with each other after the ceremony is a good time to do your couples session and formal family photos. Although the bride and groom typically won't be able to attend the cocktail hour, it's still a nice time for your guests to relax and enjoy some hors d'oeuvres and drinks before they go into the main reception.
Reception Hour 1 
For the reception, Chan advises getting all the formalities done in the beginning so you can get to the partying portion as soon as possible. Additionally, It's important to get the main events done as early as possible if you have a time limit with your photographer or videographer. Finally, your wedding coordinator and DJ/MC will get all of your guests rounded up and seated in the reception hall to be ready for the party to start. If necessary, they will explain how guests can find their seats and will give any other special announcements during this time. The start of getting your guests into the reception and the estimation of how long this will take based on how many are in attendance is an essential part of your wedding reception timeline.
Grand Entrance 
At the beginning of the reception, the parents, bridal party, and the couple are introduced. In traditional American weddings, this process might take five to 10 minutes, depending on the size of the party. However, according to Lola Akingbade of MasterPlan Events, depending on the traditions the couple wants to include, you may have to shift things a bit. "In a Nigerian wedding, this process takes much longer; anywhere between 15 and 30 minutes, as they are dancing in and when they get to the dance floor, 'money spraying' also takes place." 
Your DJ/MC will announce your family and wedding party entrances here. It is a fun time for your wedding party and immediate family members to enter the reception hall with a funny dance or action that gets your guests excited and ready for your grand entrance.
It is your time to celebrate being introduced as the newlyweds. So pick your favourite party song and strut your stuff! Ensure the bride and groom entrance is separated from the other wedding party entrances on your wedding reception timeline to have your shining moment in the spotlight!
First Dance
After the couple is introduced into the room, they usually have their first dance. This allows the couple to have 'something to do once introduced," says Camille Ross, wedding planner and owner of Elsie Event Co. "But save the parent dances for later as a way to organically kick up the dance floor post-dinner." 
After making your grand entrance, all eyes are on you, and it is a perfect time to go straight into your first dance as a married couple. Whether your dance is choreographed or just a slow and sweet moment to a sentimental song, this is your moment to shine together.
Welcome Speech/Meal Blessing
Ross says the emcee will likely usher the parents right after the first dance for a brief welcome speech followed by prayer or blessing before dinner. "The officiant prayer is a way to keep guests at their seats, and the [catering] team can use it as a cue to begin service," Ross shares. "It's also very common in any wedding where the couple and their families are religious."
Now you and your forever honey are seated at your head table, and it's time to thank your guests for coming. It can be done by the bride and groom or the mother and father of the bride. In some cases, this is also a good time for a blessing from a family member to commence the meal!
Start Meal Service
It is when the caterers should drop the first course. The cocktail hour should hold hungry guests over through the welcome formalities, but it's best to get the main meal started soon after so guests are occupied before the dance floor opens. 
Make sure you grab your food first, chow down and be sure to enjoy the wedding meal you selected! Then if you want, you can make your rounds and greet your guests before returning to your table for the toasts. So it is if you haven't set aside other time to mingle with your guests somewhere else in your wedding reception timeline. If you choose to take the mealtime to greet or take photos with each table, make sure you allow yourself at least 3 minutes per table and adjust the meal time accordingly.
Reception Hour 2 
Change Of Outfit
It's quite common for modern brides to switch their look for the reception. Slipping into something more comfortable just before dinner ends makes for a smooth transition for dancing the night away. 
Many Asian couples will also change into their traditional attire during this portion of the night. However, Chan says you may have to factor in time for outfit changes depending on how intricate the ensemble is. "Keep in mind, some Brides will have their MUAH [makeup and hair] artist onsite to do different hair changes and makeup touch-ups, so factor in glam time too!" 
Wrap-Up Meal Service
To keep the momentum going (so that the dining does not drag on for too long), Akingbade recommends swiftly moving on to the next item on the program once the last plate has been served. It should be the toasts or family dances; this way, most guests have eaten, and the remaining guests can finish up.
Toasts
It's wise to include buffers at this point in the evening–10 to 15 minutes of padding should be sufficient in case any speakers are long-winded. Giving a time limit to anyone who will give toasts is a good idea that will also help them from going on too long.
While your guests are still in their seats, finishing up their meal is a great time to go through the toasts. It's a good idea to start with the Best Man and Maid of Honor toasts and then follow with anyone else you have asked to toast. If it weren't for the bride and groom that thanked their guests for being a part of their wedding day before the meal, now would be a great time to do so before the dance party starts!
Family Dances/Open Dance Floor
Family dances, such as the mother/son dance or father/daughter dance, are a great way to transition into the open dance floor since the couple is already on or near the floor. "Keep in mind that people go wherever the couple goes," Chan says. "So if you want to have your guests dance all night, then you need to be on the dance floor dancing ALL night too!"
It is a perfect time in the wedding reception timeline to start the dancing portion of your party with the mother & groom and the father & bride dancing. Then, after the last family dance, you can have your DJ ask all your guests to come to the dance floor for a group photo. It gets everyone up and out of their seats and on the dance floor, so when the music hits, you will have a good crowd to get the party started!
Traditional Dances
From the experience of Renae Ouellette, director of catering and events for Conrad Washington, DC, most large cultural weddings feature traditional dances or musical pieces that are done at every wedding. "Be deliberate about scheduling these within the reception time frame," she says. "Ideally, this would be before cake cutting so that the photographer is still present to capture the moment, but it ultimately depends on the couple and the tradition."
In Jewish weddings, the hora is typically done once all the formal photography and other traditions are completed, "It's typically best after dinner to get everyone on the dance floor," says Maureen Stella, director of sales and marketing at The Opus, Westchester. The bride doesn't need to worry about their hair and makeup, and the groomsmen can take off their tuxedo jackets as things tend to get very hot and sweaty during this fun tradition.
Now it's time to get your groove on! First, start the power dance session with an upbeat song that will get everyone in the room moving. Then, in between bursts of high energy songs interlaced with some slow jams is a great opportunity to do your garter and bouquet toss or any other fun activities you have planned on your wedding reception timeline.
Akingbade mentions that if the bride and groom are a part of a historically Black fraternity or a sorority, there usually has to be time allocated for the organisation's members to do a special "stroll" performance that should be factored into the event flow too.  
Cake Cutting
Please keep in mind traditional etiquette dictates that it's acceptable to leave a wedding once the cake has been cut, so this formality is best placed after all the other key moments of the evening. The cake cutting ceremony lets your guests know that the party is almost over and can be done about an hour before your grand exit or the end of the reception. After the bride and groom cut their pieces of cake, have your DJ play some slow to mid-tempo songs while your guests enjoy their dessert. 
Reception Hour 3 
Games/Activities
It is the part of the night where the garter and bouquet toss would take place; many couples are including other reception games and activities throughout the event. 
Latin wedding receptions tend to go into the wee morning hours, so many moments are peppered in to keep the night going, according to Claudia G. De Velasco, lead planner of A Day To Remember. For example, La Hora Loca or "The Crazy Hour" is a party within a party featuring varying cultural themes that may include Brazilian dancers, stilt walkers, or confetti bombs for the guests. It's usually performed later in the night when the party needs new energy. During the last dance set and after dessert is served, the bride and groom are a great opportunity to sneak out for their nighttime couples session. It is important to schedule your wedding reception timeline with your photographer. It is when they will get the romantic nighttime shots that document the perfect end to your beautiful wedding day. Just make sure to come back for your last dance! I
Reception Hour 4 
Late-Night Bites
De Velasco says that the second round of food is served in Mexican celebrations to keep the guests from passing out, so a recalentado or "reheat" is served. Late-night bites are now common in many American weddings, where another round of small snacks is passed, or a food truck may appear during the last hour.
Last Call
The last call is the universal signal that things are winding down at almost any bar or event. You don't have to make it official, but it'll help people prepare to start wrapping up if your venue has a sharp end time. 
Last Dance And Grand Exit 
If you're planning a dramatic departure, Ross says the last ten minutes of the evening is a good time to announce the exit plan. While the couple shares a private last dance, the guests should begin filing out in preparation for the grand exit. After the last dance, have your DJ/MC usher everyone outside for you to make your grand exit to your getaway car. Then, it's honeymoon time, and we will leave that timeline up to you.
The After Party
Most wedding guests are tapped out around six hours of event time from ceremony to reception, but a few folks are always ready to keep the party going. The easiest way to flow into the after-hours is to pick a bar nearby ahead of time, spread the word, and let whoever wants to show up finish the night strong. 
After dessert has been enjoyed and the sugar rush begins to kick in, it's time to keep the dance party going! This last dance set will coincide with your nighttime photo session on your wedding reception timeline. So first, have your DJ announce when he is playing the last song, so your guests know this is their last chance to get out there and dance before the party's end. Then, choose an upbeat, big hit that will get everyone out on the dance floor to shut the party down!
Conclusion
So, what is the ultimate wedding reception timeline? Of course, it's different for every couple, but our guide should give you a good place to start. Planning your wedding reception can seem daunting at first, but it doesn't have to be! Just take it one step at a time and use our timeline as a guide.