Real estate experts always say location matters. When it comes to a wedding reception, we agree, as your choice of venue is what can turn an enjoyable celebration into a memorable extravaganza. To help make your choice, here are the top 20 wedding reception venue in Melbourne  and surrounds.
Melbourne  – the capital city of Victoria and the largest city in all of Australia – provides what seems like an endless supply of wedding venue options.
If you've decided to get married in this expansive and dynamic city, you may have a hard time choosing from the long list of top-notch wedding locations.
Located in Melbourne, Victoria and currently on the hunt for your dream wedding venue? Look no further! To take the stress out of choosing, here's the top 20 Melbourne wedding reception venues ranked by their customer ratings.
Add a header to begin generating the table of contents
Peter Rowland Wedding Caterer Melbourne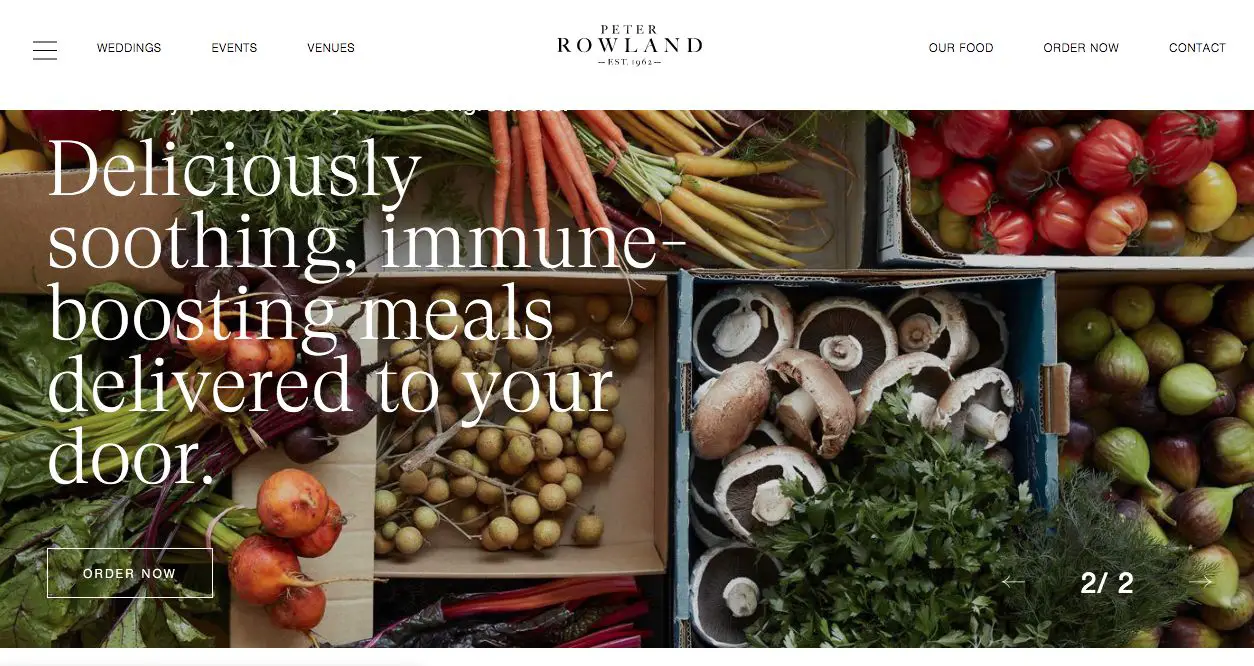 peterrowland.com.au
1398250001
Since 1962, Peter Rowland has been feeding Melbourne. Peter Rowland's business has grown from humble beginnings to become one of Australia's most successful, innovative, and respected food and entertainment companies.
Peter Rowland's story began in Portsea, on Victoria's Mornington Peninsula, when 24-year-old Peter Rowland OAM saw a business opportunity selling sandwiches and cold drinks to local beachgoers.
Peter moved to Melbourne, where he set up shop as a society caterer, buoyed by the success of his sandwich venture. Peter attracted the attention of the cream of Australian business and society because he was born a hospitalitarian, had a Virgo's obsession with logistics, and possessed other-worldly charm. Peter Rowland orchestrated legendary parties for business titans such as Rupert Murdoch, Kerry Packer, Alan Bond, and Christopher Skase from his corporate headquarters and commercial kitchens in South Yarra, as well as iconic major events such as the Melbourne Cup Carnival and Australian Formula One Grand Prix.
Ed Dixon Food Design - Wedding Caterer Melbourne
eddixonfooddesign.com
395109443
MELBOURNE CATERING & EVENT DESIGN
We are award-winning caterers and event managers who have been working with brides, private clients, and large corporations in Melbourne since 2001. Our passion is creating beautiful events and delicious food that people will remember, from intimate morning teas and boardroom lunches to large seated events and Gala dinners, themed cocktail parties, store openings, and city and country weddings.
MELBOURNE WEDDING CATERING
Our team of professional chefs, exceptional event coordinators, and friendly wait staff will make your wedding day a reality. We'll walk you through the process of selecting the perfect menu and handle all of the details on the big day so you can relax and enjoy your time with friends and family.
GRAZING TABLE CATERING IN MELBOURNE
Fantastic grazing! Ed Dixon by Cookes Food has been creating beautiful grazing tables for over 15 years; we are the experts!
Grazing tables are an excellent choice for almost all parties and events. They encourage guest interaction and a friendly atmosphere, are an excellent way to address dietary restrictions, and can be a visual masterpiece in your space. We are big fans of the grazing table and are excited to bring our enthusiasm and knowledge of all things grazing to your event.
The Grazing Fox - Wedding Caterer Melbourne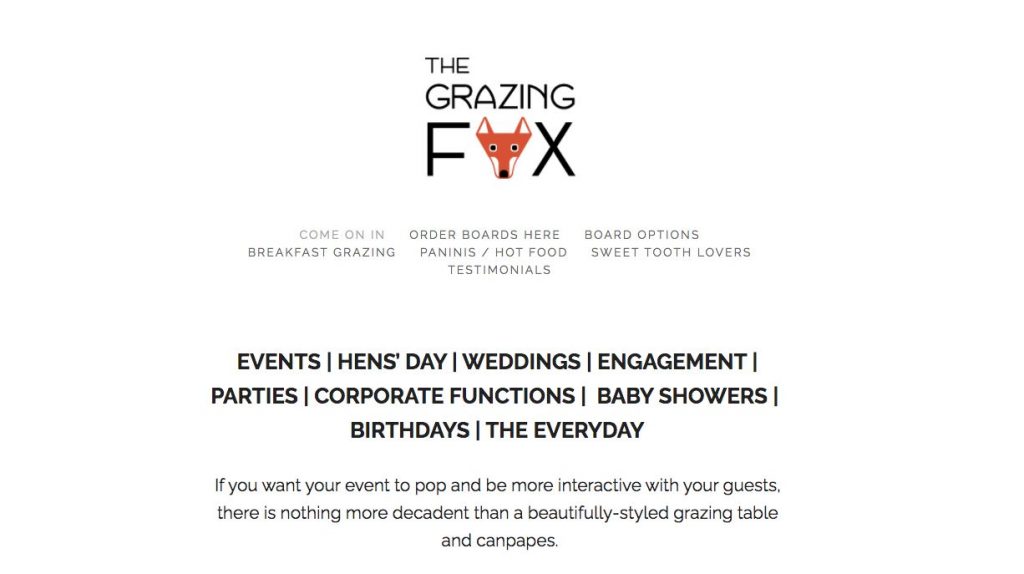 thegrazingfoxmelbourne.com
421168673
Nothing is more decadent than a beautifully styled grazing table and canpapes if you want your event to stand out and be more interactive with your guests.
Samantha Fox runs The Grazing Fox, a local start-up that creates the most beautifully styled grazing tables in Melbourne!
The attention to detail - the food, the foliage, the accessories - all the elements that come together to wow your guests - is what we love about grazing. Samantha's personality, incredible taste, and love of food are reflected in our tables, platters, and boxes.
How adorable is this? Not sure what to do on those nights when you're stuck at home? Don't want to go out but would rather relax with a group of friends, your boyfriend or girlfriend, or even that special Tinder date you've decided to try again? We've got your back. The Date Night Grazing Box is madly in love with her. All you need is wine to go with the cheeses, nuts, dips, crackers, fresh fruits, brownies, and white chocolate (such a treat)!
The Bearded Jaffle-  Melbourne Wedding Caterer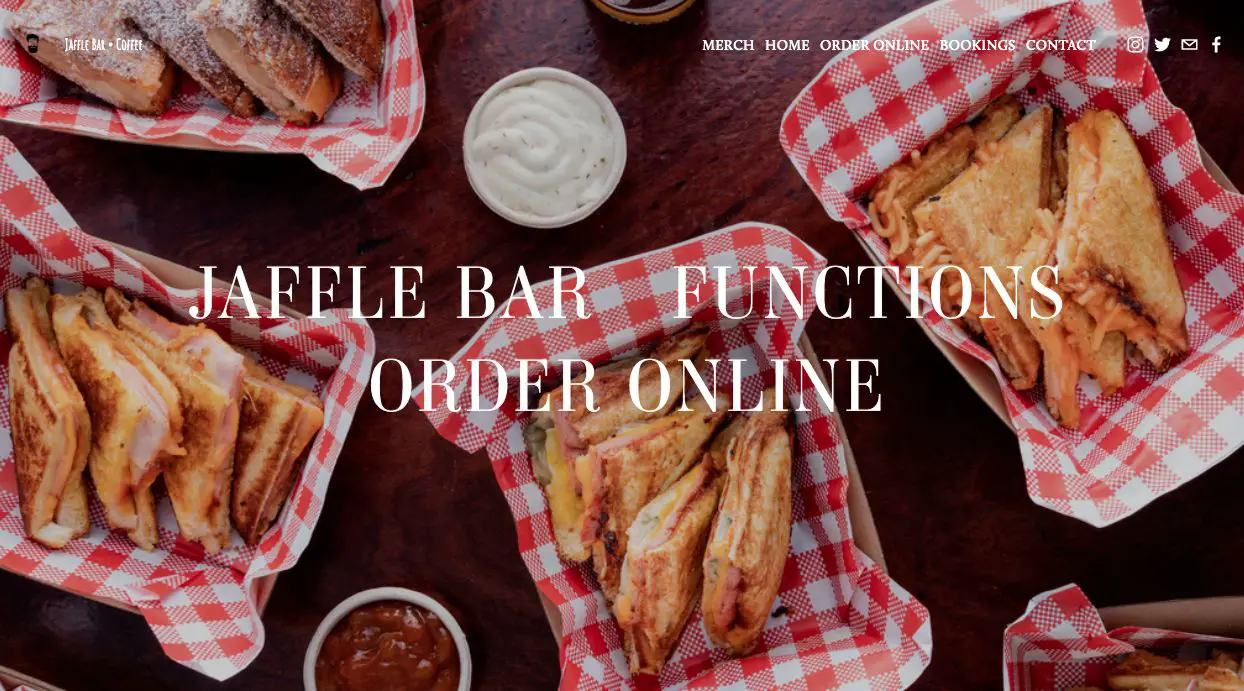 thebeardedjaffle.com
1370203041
What's not to love about our new heated garden oasis, open 7 days a week until super late, with plenty of outdoor seating and an expanded menu? In addition, we now offer ordering from your phone, so you never have to leave your cosy spot.
We're also right next to the famous Ascot Lot, so stop by for a beer or cocktail while you're here.
WE ALSO DELIVER IN THE FOLLOWING VILLAGES: Ascot Vale, Moonee Ponds, Flemington, North Melbourne, Parkville, Brunswick, Essendon, Aberfeldie, Kensington, Pascoe Vale, Footscray, Melbourne, West Melbourne, Maribyrnong, Seddon, Carlton, Princes Hill, Travancore, and Docklands.
Order online for free home delivery or call ahead for takeout.
Street Feast Food Trucks - Wedding Caterer Melbourne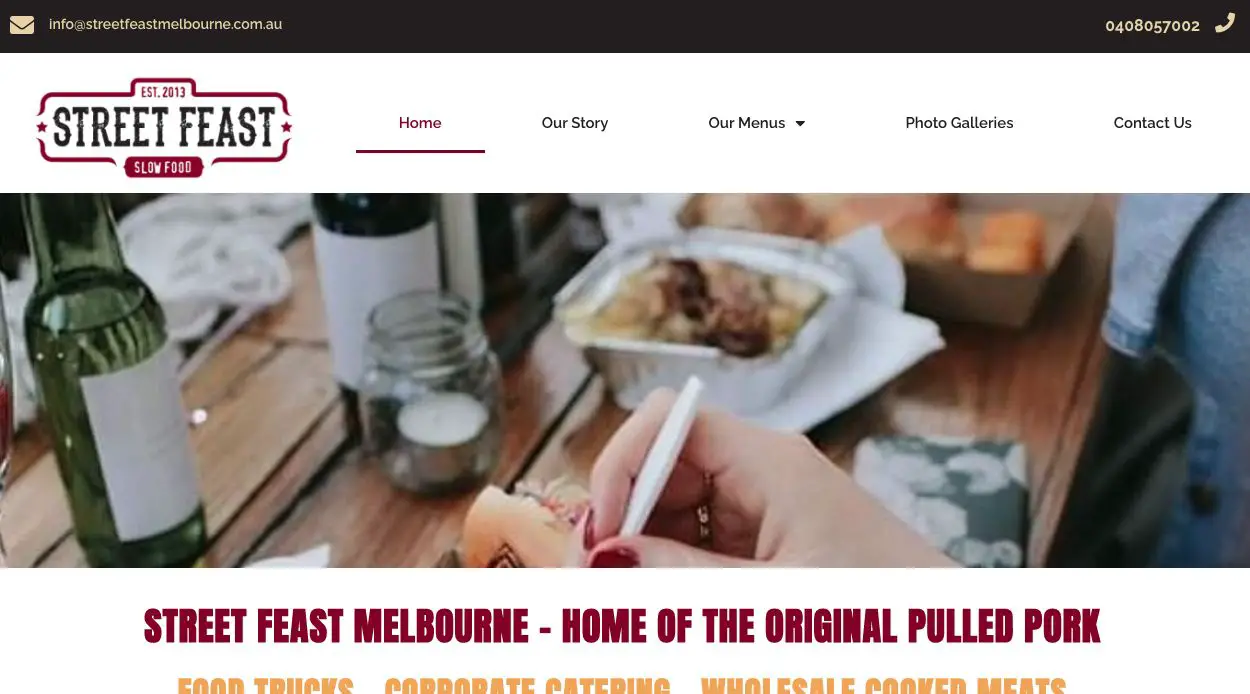 streetfeastmelbourne.com.au
408057002
Dale, Monero Ngarigo, the chef, owner, and entrepreneur behind Street Feast, is passionate about sharing the finest ingredients, particularly indigenous ingredients. He uses local suppliers whenever possible, but much of it is still foraged by members of the community who work on the land. Because there isn't enough mainstream demand for it yet, it's very expensive. He would like to see Indigenous communities across Australia grow their own foods in their own ways, from their own peoples.
We began modestly, but with grand ambitions: to produce the finest slow-cooked meats. And with nothing but a Marquee and this dream, we've grown and grown and exploded to the point where you're probably salivating as you read this.
What is our secret? It's not one, to be sure. The best ingredients play an important role. Another important factor is an unwavering passion for food. We believe we have covered all of our food bases with those two.
But it turns out that we also like people. We don't make these delectable creations to not share them with our human brethren. In fact, we hope to share them with you. As our calendar fills up with private events and weddings, you will see us on the road less and less, so if you want to try our food for your upcoming event, simply book a tasting with us. Contact Jenni to set up a time that works for you.
HLB Catering - Wedding Caterer Melbourne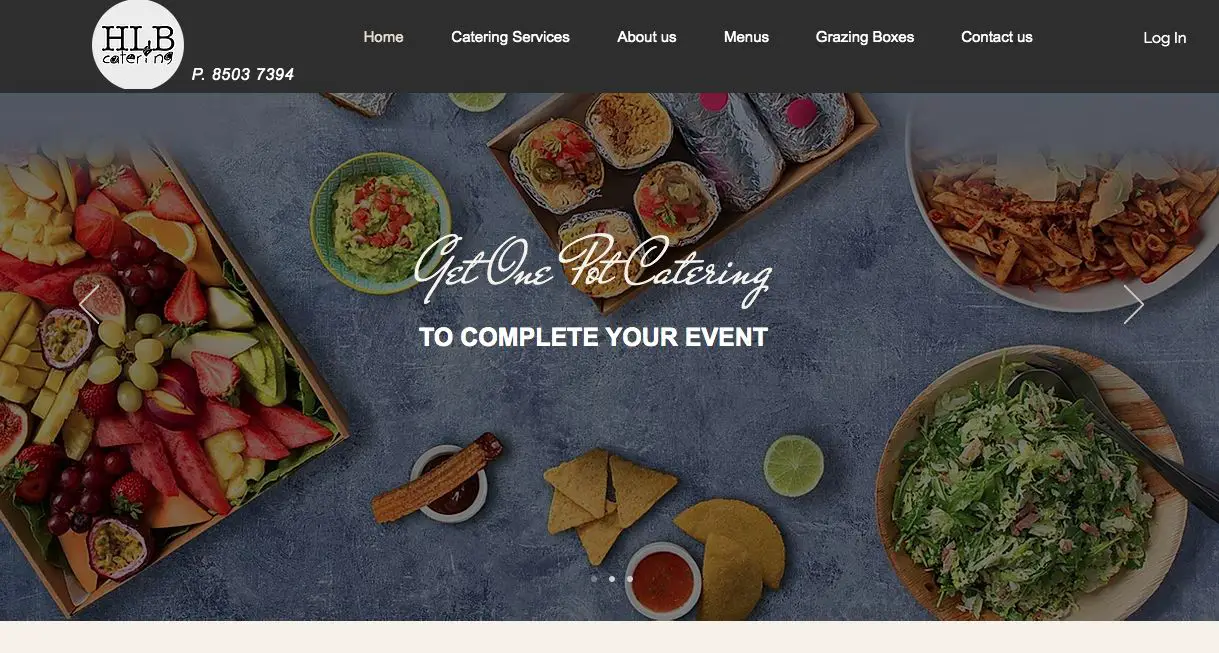 hlbcatering.com.au
385037394
With an efficient service, great quality food prepared by our professional chefs, and a friendly staff working with you, your function is already off to a good start!
Catering Melbourne
With the exciting and enticing options available from the experts at HLB Catering, you can get catering in Melbourne that caters to your specific needs and tastes! With over 15 years of experience serving up a diverse range of culinary solutions, we are the team you want to cater your next event.
HLB Catering strives to provide a smooth and enjoyable catering experience for all of our customers. From start to finish, we are proud to provide the high-quality, premium, and affordable catering that Melbourne residents have been looking for.
Catering by Chefs - Wedding Caterer Melbourne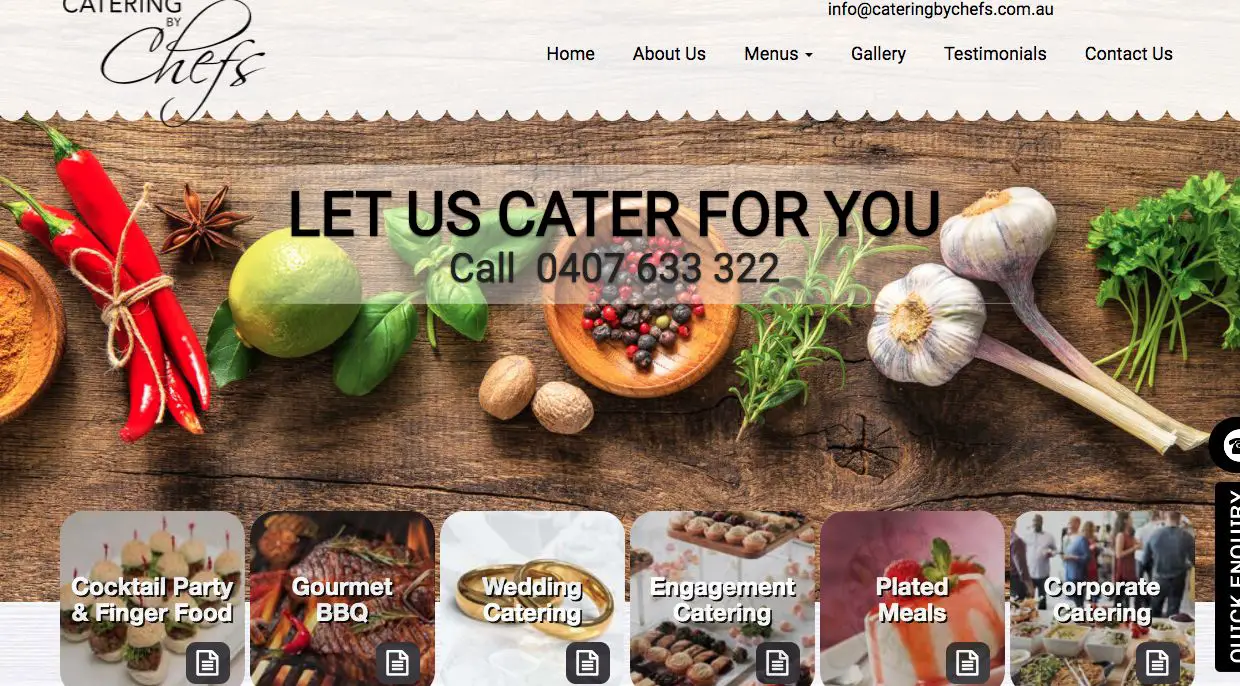 cateringbychefs.com.au
407633322
Catering by Chefs is a one-of-a-kind combination of highly experienced chefs and wait staff, as well as the finest, freshest quality ingredients and food. Our team brings decades of experience from some of Melbourne's most renowned fine dining restaurants, event caterers, and hundreds of one-of-a-kind weddings, in-home celebrations, and corporate functions.
Furthermore, we have a list of vendors from which we source our ingredients, allowing us to cater to any event (we recommend a vendor management system).
Modern and international influences, such as Middle Eastern, Mediterranean, and Asian cuisines, inspire our cooking. We can provide a variety of catering services in Melbourne for almost any occasion:
Melbourne's Best Wedding Catering Service
Are you planning a wedding in the near future? Fortunately for you and your partner, we have specialised in wedding catering since our inception. For your special day, we can provide you with Melbourne's most exquisite buffet. With our extensive menus available for selection from our expert chefs, we've got your wedding catering concerns covered, from full meal serving to simple platters and canapés.
We can also accommodate themed marital events or bridal parties, providing meals that complement the style of your big day in Melbourne.
The Little Bar Cart - Wedding Caterer Melbourne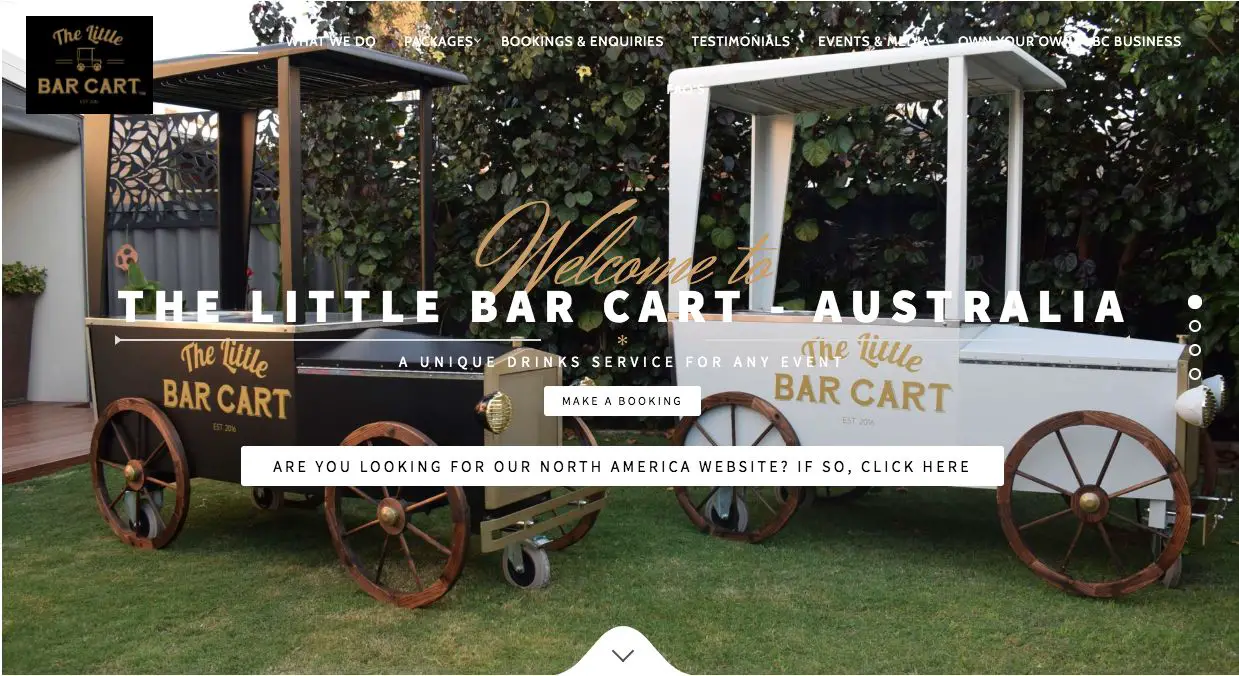 thelittlebarcart.com.au
411846785
We are delighted to introduce you to The Little Bar Cart. Our custom designed and built Cart is a mobile bar service that is currently operating in Perth, Melbourne, Brisbane, Sunshine Coast, Gold Coast, and Byron Bay in Australia, but will soon be expanding across the country and around the world. The Little Bar Cart can be used almost anywhere, both indoors and outdoors.
We provide a one-of-a-kind, polished, and professional service that will make your next event stand out. We specialise in celebrations, and for hundreds of years, Champagne has been an essential part of any event or celebration, which The Little Bar Cart brings to you with elegance, class, and style. We love Champagne, but it's not all we do! We cater to any event, offering beer, wine, spirits, cocktails, and soft drinks to suit your ideas and requirements. We can also attend public events and sell directly to customers; please see our packages page for more information. Toast
Look no further if you're looking for something unique to surprise your guests with at your next event! The Little Bar Cart is at your disposal and would be delighted to contribute to making your next event memorable and special. Please contact us to discuss your suggestions.
Dough Slingers - Wedding Caterer Melbourne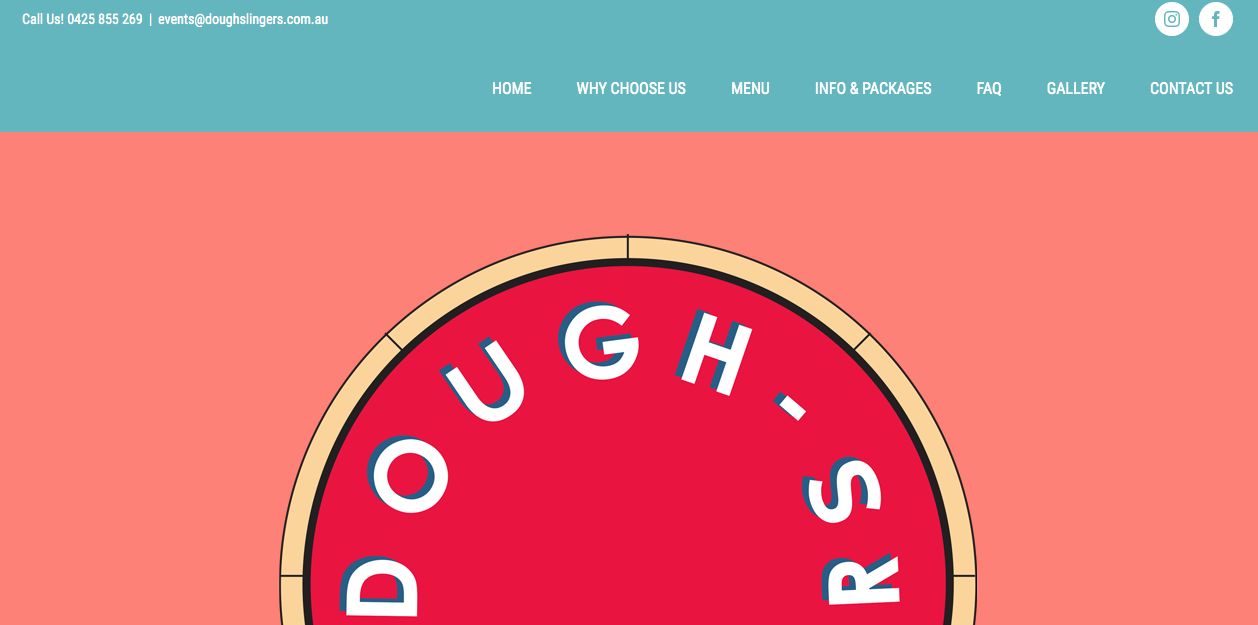 doughslingers.com.au
425855269
Woodfire Pizzeria & Cucina and Son of a Pizzaiolo's team is now delivering pizzas and Antipasto boards throughout Melbourne. We believe that good food is at the heart of all good memories, and as such, we would like to be present at your next event.
Dough Slingers is the team's third venture, with the goal of bringing their unique pizzas directly to you! We've been serving all-natural Neapolitan pizzas and Antipasti to North Melbourne residents since 1999, and we're now coming to you in our mobile Wood-fired ovens.
Our passion stems from many years of perfecting this art, and our product is the result of a process that takes at least 48 hours to produce the dough that forms the base of each perfectly wood-fired pizza. Try our pizza at one of our locations to see what we mean.
The Spit Roast Catering Company - Wedding Caterer Melbourne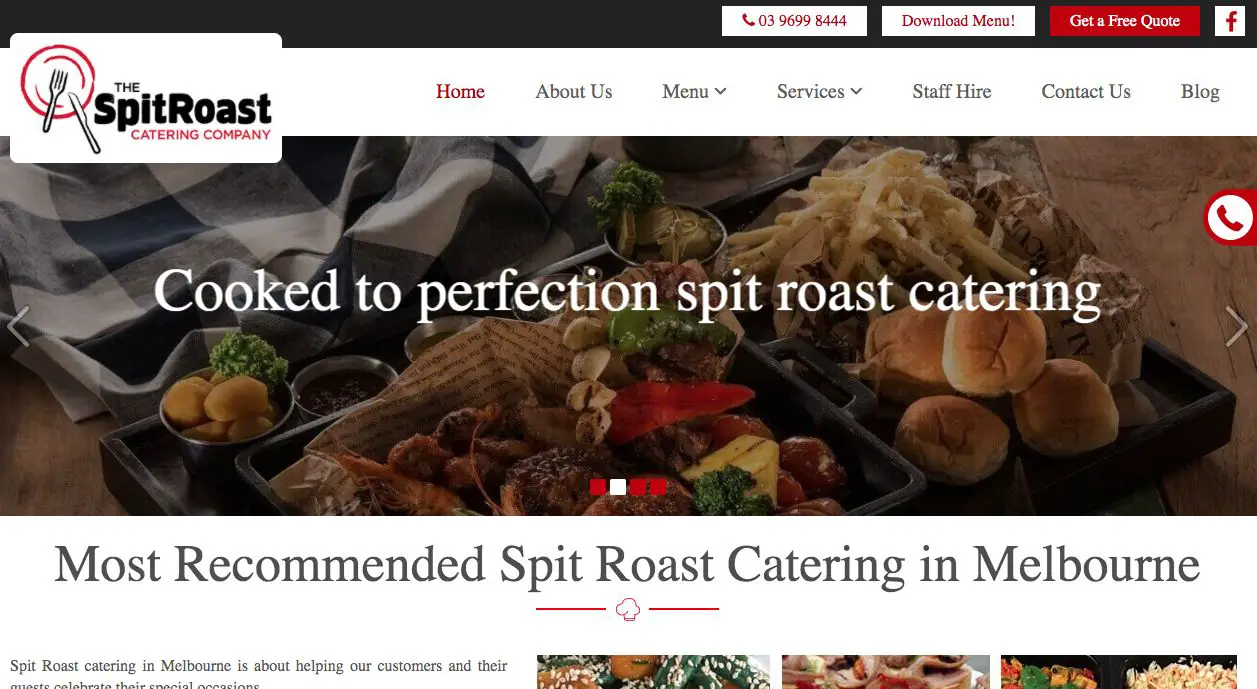 spitroast.com.au
1396998441
Brian MacDonald founded Mac's Roving Roast in 1982, and the company was renamed The Spit Roast Catering Company in 1983. For over 35 years, The Spit Roast Catering Company has provided exceptional Catering Services throughout Greater Melbourne.
We took over from Brian in 2002 and have run it as a family business ever since. We are extremely proud of the delicious food we produce! We have catered for events of all sizes and types, including the St Kilda Film Festival (1000 guests), the Planet Shakers Conference (1500), and several Corporate Christmas Parties with over 1200 guests.
However, we specialise in catering for events with 15 or more guests. But, more importantly, we can cater anywhere: on the Yarra River, in the Botanical Gardens, at a local bowling club, or even in your office or home! We have always been located across the street from The South Melbourne Market, ensuring that you are getting the freshest produce available.
Wide Selection Of Wedding Catering and Engagement Catering Food
We understand how stressful it can be to plan your wedding or engagement party. Allow us to tailor our engagement and wedding catering services to your specific requirements. From sit-down meals to self-serve buffets to cocktail-style wedding receptions, our versatile menu can be tailored to your preferences.
Tempt your guests with our wedding catering's classic finger foods and gourmet platters. Try our tender spit-roasted meats. Alternatively, you can host a sit-down banquet with your guests and our buffet setting or filling roast meals.
Traditional Finger Food: Served hot or cold. Sushi rolls, point sandwiches, and frittatas are available, as are samosas, cocktail spring rolls, and honey soy chicken medallions.
 Vanilla & Co. - Melbourne Wedding Caterer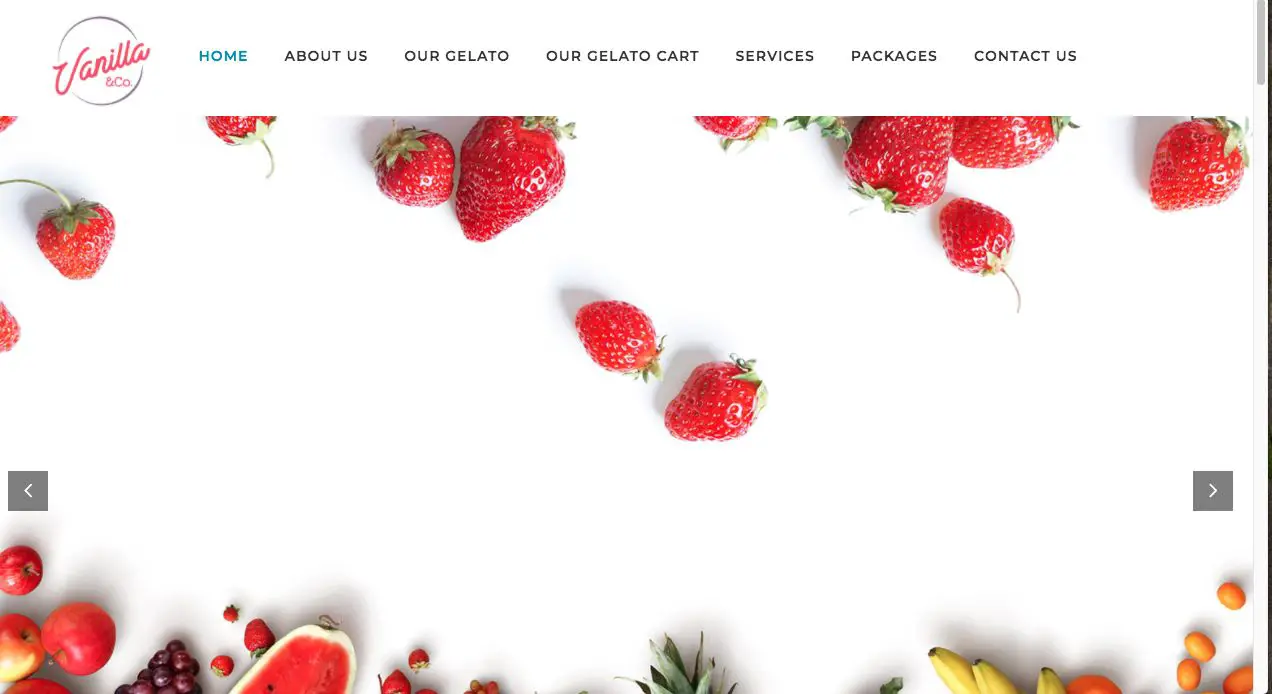 vanillanco.com.au
420290635
Gelato is a universally adored dessert. It brings joy to all and brings people together; we have a simple but clear goal: to bring our beautiful Italian carts filled with artisan gelato to Melbourne, providing a fun and "cool" Summer experience. Although we draw inspiration from our experiences in Italy, our customers are the true sources of inspiration. Allow us to share the joy of artisan gelato with you by booking us for your next party or event.
Our artisan gelato is made in Melbourne from 100% fresh Australian milk and the finest local ingredients. Our gelato is smooth and has a crisp fresh taste because we use traditional gelato making techniques. Vanilla gelato is made fresh to order and includes over 15 of the most popular and sought-after flavours.
Made and engineered in Italy, our gelato carts feature a patented lid with a luxurious silver finish and are distinguished by beautiful vintage Italian design.
Our gelato carts have a 7-hour autonomy and charge overnight, allowing us to cater your party or event without the use of electricity or cables. The ice cream carts can also be plugged in to provide unlimited service.
The carts are designed to serve six flavours and store enough ice cream to serve 400 people.
Big Flavours Catering - Wedding Caterer Melbourne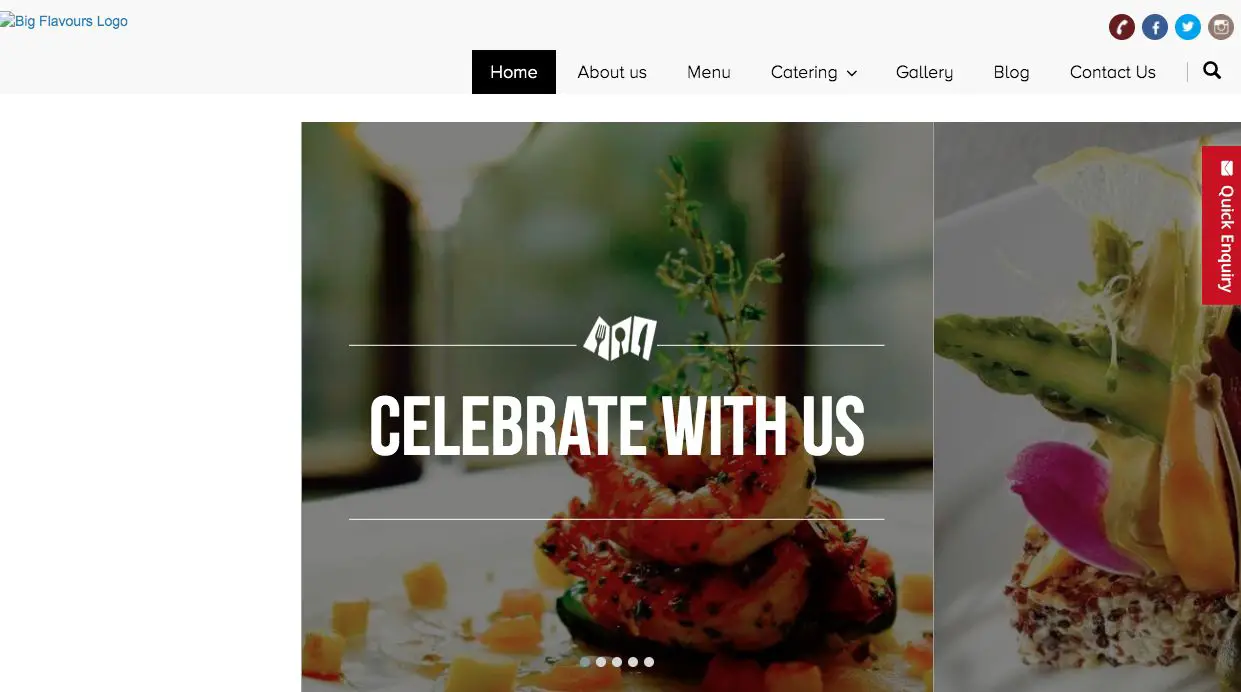 bigflavours.com.au
399961655
BIG FLAVOURS – CATERING COMPANY IN MELBOURNE
For better or worse, one of the first things that comes to mind when thinking of an event is the food. You recall the flavours, the presentation, and the sensations elicited by each bite. Food should be celebrated! When it comes to event planning, one of the things that will be remembered for a long time is the food. If no one contacts you afterwards to enquire about the event catering company that provided your food catering or barbeque delights catering, it wasn't that memorable. We want to be asked about your event, and we want people to talk about it for a long time afterwards.
Big Flavours is a 14-year-old catering company in Melbourne dedicated to providing our customers with amazing food and impeccable service. Our head chef has cooking experience from some of Melbourne's best dining establishments, so we never compromise on quality, taste, or quantity.
'Big Flavours' is the theme of our cuisine. To create our signature dishes, we believe in using only the best and freshest ingredients. To provide our clients with a unique and memorable experience, we put all of our passion and magic into the food we cook. Our extensive menu offerings reflect seasonal flavours and are suitable for all occasions. Every dish we prepare reflects our passion for food and our desire to provide our customers with an extraordinary dining experience."