Whether it is the overall décor, an outdoor or inside setting, wedding party ideas can provide special moments for you and your guests.
Wedding decorations, activities for guests and surprises can make your wedding reception a memorable experience for everyone. The reception is the perfect occasion to bring in elements that will showcase the personality of the newlywed couple; plus, it's where family and friends can fully participate in the celebration.
We've curated a list of fun, unique and touching ideas that may spark some inspiration for your very special day!
Be You! Every bride and groom is different.

Decide on Cocktail Hour.

Put Thought Into Seating.

Have Fun, Favours.

Have a Photo Booth.

Get Creative With The Entertainment.

Set Up Games.

Invest in Music.
When planning an unforgettable wedding, you will need to think about the reception hall, your dress, music, photography, etc. But, what might surprise you is that the most important element contributing to a wedding reception's success is the food!
Wardrobe change. 

Switch up the bouquet toss and garter toss. 

Try this fun spin on table numbers.

Organise games for each table.

Set up a satellite bar. 

Book your favourite food truck.

Have a campfire. 

Try a fun alternative to a photo booth.
One of the best ways to keep your guests busy during a gap between the ceremony and reception is to plan an activity, like a trolley tour of the city or a group visit to a local museum or garden.
The most popular months to get married are from May to October. More specifically, September takes at 16 per cent, followed by June with 15 per cent, and lastly October at 14 per cent. The most popular wedding seasons are Fall/Autumn and Summer.
Eclectic Table Décor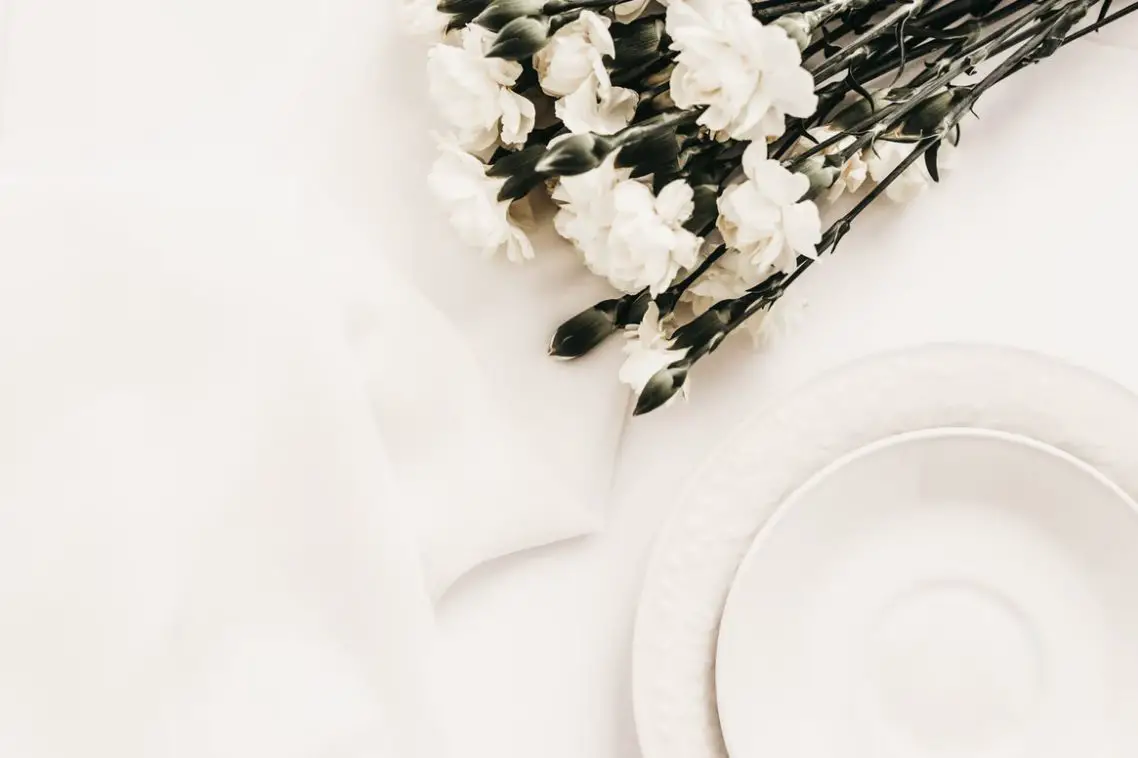 The mix of contradicting flowers in various table arrangements makes for a breathtaking outcome – think elegant red roses, green leaves with berries and an array of wildflowers. Add vintage stemware in different hues mixed with gold accents to achieve a stunning display.
Magical Lighting
The right lighting is key for receptions in the evening and outdoors. Consider strings of delicate lights mixed with large hanging bulbs to achieve an enchanting look everyone will rave about.
Modern Romance
This table décor is ideal for those couples that crave romance but have a contemporary style. Flower centrepieces in blush tones, pink tablecloths and elegant personalised candles mixed with modern white chairs will do the trick.
Confetti Filled Fun
When it is time for the newlyweds to leave the reception, have someone hand out confetti-filled containers. Use colours to complement those used at the wedding or bridal party. It makes for a fun and colourful honeymoon send-off for the couple!
Children Activities
Consider the children that will be attending the wedding reception. Print out fun wedding-related colouring sheets and place crayons at the kid's table to keep them engaged. If the location permits, you can also have fun games or swings for them to enjoy.
The Newlywed Getaway
Plan a fun way for the newly married couple to leave the reception. Traditionally couples drive away in fun little sports or vintage cars. But a non-traditional motorcycle getaway can certainly be a thrilling moment to the delight of your guests!
Woodsy Table Décor
Bringing the woods onto your table décor is as easy as incorporating moss garlands with leaves and delicate branches. The greenery on a wooden table, intricate crystal stemware and muted greys will feel as fresh as walking in the woods.
Herb Centrepieces
Flowers tend to be the go-to to dress a wedding reception table but using herb plants in terracotta pots will surely delight your guests. This idea works best for a daytime reception with plenty of natural light and wood tables.
Wood Plank Seating Chart
Natural wood can be a stunning accent to welcome guests at a woodsy inspired reception. A rustic piece of varnished wood is the perfect backdrop for a seating chart. Add moss, logs and natural fibre string to add more magic.
Transparent Accents
Fine details can elevate a modern table setting. Look into transparent boxes that feature the menu and the couple's initials for each place setting. Clear glass plates and white accents will complete the airy look and feel.
Picture Perfect Backdrop
A chalkboard backdrop with fun props can be the perfect way for a bridal party and guests to capture quirky, fun-loving moments of the special day. The bride and groom can initiate the activity and show everyone how it's done!
Celebratory Ribbon Wands
You can use ribbon wands to welcome the newlyweds to the reception, the dance floor or a fund honeymoon send-off. A fun and beautiful way to have participation from party attendants. Plus, this is a great do-it-yourself project!
Mason Jar Photo Display
Mason jars are great containers, making for charming wedding accents. Use them as holders for vintage pictures of family members to be displayed on the welcome table. Add a few floral arrangements around the pictures to bridge the wedding decor nicely to this idea.
White-On-White Table
A white-on-white table looks clean and fresh, especially for a garden wedding reception. Looks especially crisp when paired with a wooden table and chairs. Add a few elements of green around the table, such as lush greenery in the centrepieces and a delicate branch with a few leaves on the plate.
Silver Dollar Eucalyptus Garland
Silver dollar eucalyptus garlands are a simple yet splendid way to decorate the sweetheart table. Add a few candles and small white flower arrangements to add a spark of romanticism. You can easily implement this look to guest tables, especially communal dining style seating.
Book Lover Details
Vintage books are a great way to add accents with charm and a lot of character. Stack them on a side table at the reception lounge or use them as bases to showcase the wedding wine selection for the day.
Vintage Wood Boxes
Decorate with a flair of rustic elegance by arranging a few vintage wood boxes for the cake or guest book tables. Add some lanterns, candles and plenty of greenery for a perfect arrangement.
Wood Log Card Holders
Rustic wood logs used as a name and table number cardholders can bring a beautiful feeling to any table. Match it with flower prints and wildflower arrangements. Complete this aesthetic with log slices as bases for your floral centrepieces.
Barn Backdrop
Barn weddings are full of charm and personality. Maximise the venue by picking the most interesting backdrop for the wedding cake table, and add some festive paper garlands and a banner with a meaningful message for the day.
Colourful Table Runner
Add some charm to the table with an elegant and colourful table runner. You can even customise it to go with your party décor. Incorporate tall glass vases with a few leaves, branches and single flowers for a delicate touch.
Ceramic Tile Table Signs
You can use customisable ceramic tiles as table number assignments. Pick a different picture for each table, and choose pictures that relay your style as a couple – think vacation, Halloween couple costumes or pictures with your lovely pets!
Personalised Table Runner
Take your engagement pictures and turn them into lovely customisable blankets that you can use as table runners at each table. This idea brings a very personal touch to the reception. Try using different pictures to alternate between the tables to break up the monotony.
Lounge Pillows
Many reception venues have areas dedicated to setting up a nice lounge where guests can enjoy each other's company. Follow the same reception décor for this area and incorporate a personal touch with customisable pillows to make your guests even more comfortable.
Special Touches
Add special touches around the venue for your guests to enjoy. For example, birdcage floral arrangements can brighten up your gift table. Rolled up blankets in a tin bucket are a thoughtful guest gift at an outdoor reception.
An Ode To Writers
Adding a vintage typewriter as welcome table décor is a meaningful touch for a family of writers. Including a single rose and delicate leaves will complement the arrangement.
Tropical Vibes
If you're going for a tropical feel for your reception, a few selections can go a long way for a beautiful outcome. A single flower in each place setting, combined with green and golden details, can make your tropical dreams come together perfectly.
Birds & Greenery Table
Lush greenery centrepieces with crystal candle holders and porcelain bird figurines at every place setting can give all the fairytale wedding feels. Add a rustic wood base, white plates and antique style utensils to complete the look.
Photo Collage Décor
Create a photo collage of all the places you've visited as a couple and place it at the entrance or welcome table. A great way for your guests to see what adventures you've had as a couple!
Sweet Seating Directions
A clever way to get your guests to their assigned seats is by using party favours. Place a bright sign with clear directions, and attach a card to the gift with guests' names and corresponding tables number. Make sure to arrange it in alphabetical order for an easy process.
Practical Diy Pouches
A great do-it-yourself project is to create individual pouches with an activity set of games and coloured pencils for the little ones at the wedding. A great idea also for utensils at each plate setting.
Worldly Centrepieces
Crystal globe centrepieces paired with simple greenery can make for stunning table accents or centrepieces. If you find hollow ones, fill them with coloured sand to match your wedding colours.
Special Guests
Depending on your reception location, you can plan for baby animals to make a special appearance to delight your guests. For example, baby goats at a barn wedding would be adorable. You can also help your local animal shelter by getting some kittens and puppies adopted. There will surely be a lot of love in the air with this idea!
Peachy Details
Peaches are a summertime staple and ideal to dress a table in summer weddings. Both colourful and soft, peaches can look elegant when included in flower centrepieces and placed on each plate setting accompanied by delicate bougainvillaea blooms.
Block Table Signs
Personalise clear acrylic blocks to turn them into the perfect table signs. Just pick your favourite black and white engagement photos and customise them. Assign a different pose for each number, and consider using candid shots to make it more fun!
Photo Display Board
A photo display board is a great addition to the welcome table at a wedding reception. Include pictures of the couple that tell their love story and pictures of family members for both sides -parents, grandparent, siblings, nieces and nephews.
Thank You Sign
Place a thank you sign at the exit of the reception. If guests don't get a chance to say goodbye to the bride and groom, they can receive your appreciation as they leave. A chalkboard with a beautiful, elegant frame will still look appropriate for special occasions.
Nature Inspired Seating Chart
Welcome your guests with this naturally chic seating chart. Print table numbers and guest names on thin plexiglass cards and use white ink. Decorate with lush green for a simple, clean board.
Photo Guestbook
Create a photo book with pictures of your journey as a couple for your guests to look through and sign. It will also make the perfect coffee table book in your newlywed home!
Polaroid Guestbook
Have your guests take a Polaroid picture to include in your guestbook with a special message. Provide metallic ink pens, tape and extra film cartridges to keep the fun going. A fantastic way to make your guests feel involved in the day's festivities!
Unique Guestbook
Have guests write notes to put into a message in a bottle guest book. Include a sign with easy instructions and encourage them to write advice, fun memories or anything they wish to say to the bride and groom.
Family Portraits Guest Book Table
Arrange framed pictures around your guest book table. Include old pictures of the bride and groom's parents and grandparents on their wedding day. A great way to honour those family members that were not able to attend.
Puppy Presence
Include your puppy in the day's festivities by taking a picture of your furry-kid holding a sign with a special message. Then, place it at the guestbook or welcome table and watch everyone in awe at the adorable sight!
Map Guestbook
Twist the guestbook by framing an artsy world atlas map and having your guests sign along with their good wishes. An ideal guest book for couples afflicted with the travel bug!
Dessert Wall
A delicate way to display the wedding cake table while setting the day's tone with a beautiful quote. Bring it all together with flowers, a few shelves and fruit accents. It makes a perfect photo backdrop after everyone has enjoyed the sweet desserts.
Enchanting Cake
Cakes can be a good showcase of the couple's personality, whether traditional or quirky. Picking the cake décor can be fun for the bride and groom. A unique cake topper like two love birds can certainly bring an enchanting feel to the reception.
Shot Glass Welcome
Let your guests know it is time to start the party by welcoming them to the reception with a tequila filled shot glass. Then, include their name and table assignment to make it even more fun!
Cheese Tower
Serve nice stacks of cheese for guests to enjoy as an appetiser before dinner. Make it look like a wedding cake with fruits such as strawberries and raspberries. Don't forget the crackers and some sweet jam!
Doughnut Display
Doughnuts have become a very popular addition to wedding dessert and cake tables. It is a fun and delicious way to delight guests. Include a variety of doughnut shapes and flavours. Think of placing your wedding cake alongside this creative display.
Sweet Tart Seating Cards
Have a sweet fruit tart waiting for your guests at each place setting. Pick a fruit that complements your wedding colours and add its name on a fondant plaque. A great way to decorate and personalise the table.
Wedding Cheese Cake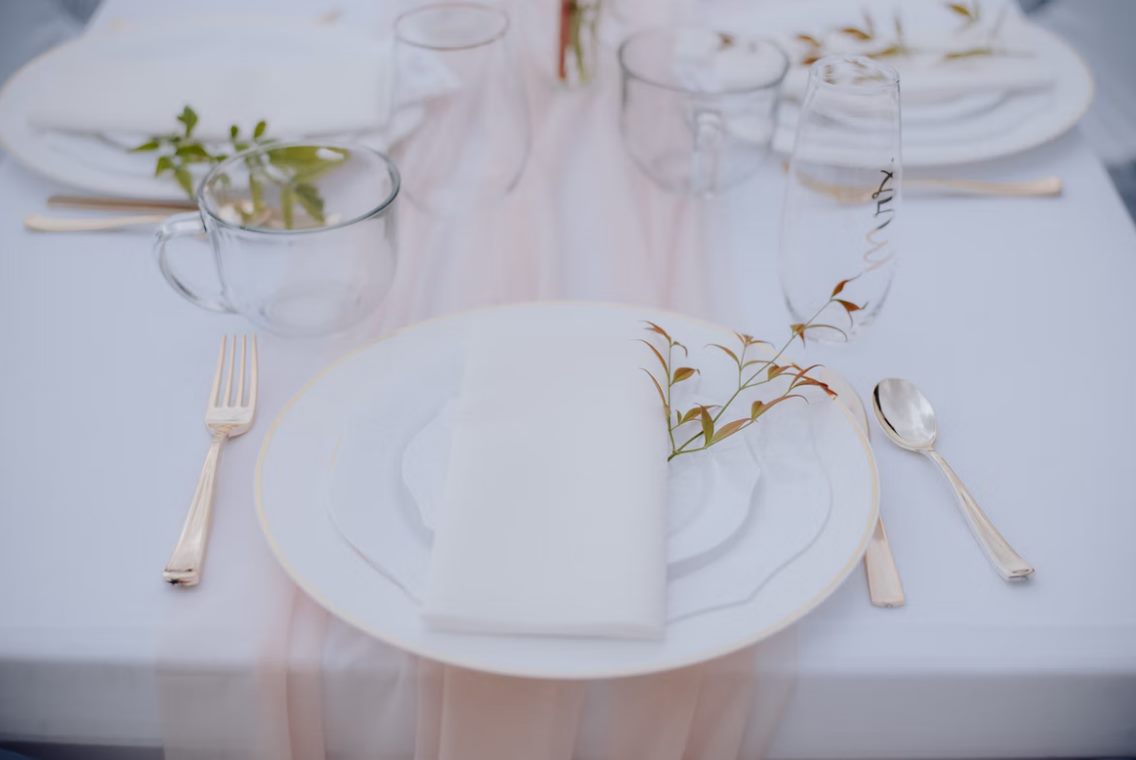 If the newlyweds have a brie, manchego or stilton cheese obsession, then a wedding cheesecake is necessary for the reception. These cheese towers look beautifully assembled and taste delicious once disassembled – an appetiser everyone will enjoy!
Personalised Wood Boards
Customised food wood boards are perfect for placing at each guest table with delicious fruits, cheese and meats. Decorate with edible flower petals and honey.
Wedding Cupcakes
Cupcakes can be just as divine as wedding cakes and can serve your guests easier. Arrange them in towers and around a smaller wedding cake; you can even dress up two cupcakes as the bride and groom for the cake topper!
Vibrant Wedding Cake
Wedding cakes don't always have to be unicolour; think vibrant colours with stripes and polka dots. You can also have several cake towers in different sizes and heights. A unique way to brighten an already perfect day!
Monogrammed Napkins
Personalised napkins will add a special touch to the reception. You can customise details, colours, script and message. Perfect for use at the appetiser table, the bar and the dessert table.
Quirky Details
Adding quirky details as decor around the wedding venue will give your reception a lovely personal touch. For example, unique Lego bride and groom cake toppers will show your playful nature. Plus, it will make everyone want to come and check out the cake. Quirky touches can make a wedding immensely memorable!
Show Off Cocktail Glassware
Finding a way to display your specialty cocktail glassware can be a highlight of the bar area. For example, place the liquor bottles that will be available and incorporate a flower arrangement in that area.
Dessert-To-Go
Provide your guests with fun takeout boxes to take some dessert to go. Include a plastic fork and a paper napkin for the perfect midnight snack!
Image Coasters
Select images of your favourite destinations and make a personalised vacation bucket list on beautiful image coasters. Perfect for placing at the reception lounge or high-tables by the bar!
Gold Silhouette Cake Topper
A great way to incorporate your pets into the reception is by including them in your cake topper. A simple gold silhouette with their faithful furry friends in tow will warm every heart!
Combining Cultures
A wedding is often a celebration of two cultures coming together. Honour traditions and customs by incorporating details that speak to both sides – bilingual wedding cake toppers can be a fun way to highlight the significance of the union.
Doggie Themed Drink Menu
Beloved four-legged family members cannot always make it to the wedding reception; if this is the case, then including them in some way is a beautiful gesture. Think of naming wedding signature cocktails after your furry friends. Then, make a sign with their likeness and drink names to display by the bar.
Cake Cutting Fun
Make sure to enjoy every single moment of your wedding reception. The cake cutting ritual can certainly lend itself to fun and candid moments. So have your photographer capture every minute of it!
Conclusion
Wedding receptions can be so much fun, but they can also be a lot of work. We've got you covered if you're looking for some wedding reception ideas to make your day memorable. From unique food options to creative ways to entertain your guests, we've gathered some of the best tips to help make your big day perfect. So before you start planning your wedding reception, take a look at these ideas and get inspired!