To many, planning a wedding is an exciting process that can be full of joy and laughter. But to others, it may feel like the most stressful endeavour they've ever attempted.
With so much on the line- from your big day to your reputation in society- you want to make sure everything goes off without a hitch. One of the key components for any successful wedding reception is dancing with your partner or guests.
How do you decide which dances to do at your wedding? Do you want the first dance with your significant other, a father and daughter dance, or even a mother and son dance? These are all common questions that couples have when planning their weddings.
In this blog post, we'll discuss the following: what is considered customary for each type of dance, how long they typically last, and the order in which they are done during the reception.
The wedding dance is a time for the bride and groom to have someone on one time with their loved ones. But how do you plan the perfect dance?
For starters, think about what songs you want to play during your first dance as husband and wife. Then decide whether you will be having a formal or informal reception. Finally, choose between an American style of dancing or an international style of dancing.
Wedding dances can be a lot of fun, and the first dance is typically reserved for you and your spouse. However, the father-daughter dance, mother-son dance, first dance with your new partner, last song with each other are all special moments to celebrate. This blog post will guide you through planning out these important dances so that they happen smoothly on the day of your wedding.
Planning your wedding dances can be a fun way to get creative and make the day personal. The first dance is typically done after the ceremony as you leave the church, or it may happen before dinner at a restaurant if there's no reception planned.
When planning this dance, think about what song means something special to you two- maybe it was playing when you met or when you fell in love with each other again.
It's always nice to know their role at a wedding, so we have some tips for coordinating this moment too! We'll then talk about why it's a good idea to have two people in charge of making sure things go seamlessly during the ceremony.
Here are some tips for planning these important moments during your celebration!
Wedding Dance Etiquette
Weddings are events that linger in people's minds long after they are over for obvious reasons. They're heavily photographed, video recorded, and talked about for years. But, they are also the beginning of a new chapter for two people and their families.
The wedding is possibly one of the first memories of the families coming together, and the dance gives them a chance to make it a fun experience.
One of the most fun elements in many weddings is the dance. Of course, some brides and grooms involve the entire wedding party in a dance production that involves hours and hours of practice, but there is nothing wrong with a more traditional approach to the wedding dance.
Whichever you choose is fine, but make sure you keep in mind that it'll be hard to forget if you do something embarrassing.
Typically, most couples save the first dance until after the sit-down dinner has finished. However, some prefer to head straight to the dance floor at the reception's start, often referred to as the grand entrance.
The next dance is the turn of the bride and her father (or the person who gave her away), while the groom dances with his new mother-in-law.
For those who decide to do their first dance at the reception, this should be done after the wedding breakfast. It is then the turn of the mother and father of the bride to dance, while the groom dances with his mother and then the groom's parent's dance with each other.
The best man may then dance with the chief bridesmaid and the bridesmaids. These can be for entire or partial songs, and finally, all the wedding guests are invited up to the dance floor.
If either of you are feeling at all nervous about your first dance, you should both practice dancing to the song before your wedding. If the bride is wearing a long wedding dress or has a train, she should ensure that the bustle is fitted to avoid tripping over it and wear shoes that are comfortable for dancing.
For those who want to be a bit more creative with your wedding dance, you could take up dance lessons. For example, you could start with a slow shuffle and then break into a humorous choreographed routine to help kick-start the reception, alternatively surprise guests with traditional ballroom dance.
If, however, you both hate dancing, then have your master of ceremonies or the DJ invite the wedding party, family and friends to join you on the dance floor about 30 seconds into your first dance. This allows the photographer time to get a few of those all-important shots and takes the focus off you.
If either of you are musically inclined, for example, you could perform a song that you have written for your better half. Alternatively, you could rent a trampoline and have the first bounce. Sporty couples could get the evening going with their favourite game (be it virtual such as Guitar Hero or recreational activity like rounders) and then ask the entire wedding party to join in.
Frequently Asked Question About the Wedding Dance
What is proper wedding dance etiquette?
There is more than one answer to this question, depending on what you choose: the traditional dance or what's currently in style. Traditionally, there's a proper order for brides and grooms to dance with each other. However, dances at more contemporary weddings are totally up to the couple.
Traditional Wedding Dance Order
Although there's a specific order for the traditional wedding dance, any part of it may be changed according to the needs and tastes of the couple. So please make sure everyone in the entire wedding party understands their position.
Remember that all of these traditions are editable. There may be variables that prevent tradition, such as a disabled or deceased parent. Remember that the main goal of dancing at weddings is for the guests to celebrate the new couple and often create a tender moment that will have everyone swooning.
The song for the first dance should be personal to the bride and groom, it does not necessarily have to be classically romantic either as long as it is of sentimental value. If couples are stuck for ideas, there are plenty of suggestions online – from the classic to the quirky and contemporary.
Of course, there is no reason to follow tradition at all, and there are many alternatives to the first dance, especially if you want to do something completely different. Whatever you do, choose something that reflects both of your personalities.
Tips for a Fun and Flawless First Dance
1. Pick a song that suits you both
Don't choose one because it's popular at the time or conforms to older traditions. On the other hand, if you both love a song or an artist in particular but think it may not be 'wedding appropriate', you may find a cover or acoustic version that is just perfect.
Also, don't get trapped thinking it has to be slow and soppy – your first dance should reflect your personalities and be about you both having fun and enjoying the moment.
2. Keep it short and sweet
Your wedding is a celebration, and you want to keep those party vibes in full swing. So don't let the song play out for four and a half, five minutes – it just dulls the mood.
Even with the most impressive choreography, two to three minutes is the perfect length to leave everyone engaged and wanting more. Entertained guests are more inclined to jump straight onto the dance floor and continue the party with you after!
3. Think about your outfit and shoes
If you have a few moves planned, make sure your dress allows for them. Long trains, many fishtail or mermaid style gowns or off-the-shoulder designs can be quite restrictive for certain dance moves.
Also, plan ahead by wearing your shoes a couple of times to see how confidently you can move around the dance floor in them. It's no good practising some great moves barefoot in your lounge room and then realising you can't actually do them at night!
Remember, you can always change your outfit if you have your heart set on certain choreography (as if you needed an excuse for a second dress!).
4. Learn a few basics
Having a lesson or two at the very least will get you both on the same page and eliminate the awkwardness factor. It does make all the difference! Classes can be scary, but you'd be surprised how fun it is – on countless occasions, couples have commented just how much fun they had learned and practising together in the lead up to the big day that they hadn't anticipated.
If you really don't have time or can't convince your partner to do a private lesson, try some moves together at home. Get comfortable with swaying together (on the spot and moving around), a few simple turns and a dip. Remember, the more practice, the more natural and at ease, you'll be even with lessons!
5. Be present in the moment and enjoy
There will be some nerves, champagne consumed, different flooring, and the dress always brings another element of complication. So let it be, smile and relax. Whatever happens at the end of the day, you've just married the love of your life and get to dance the night away with them!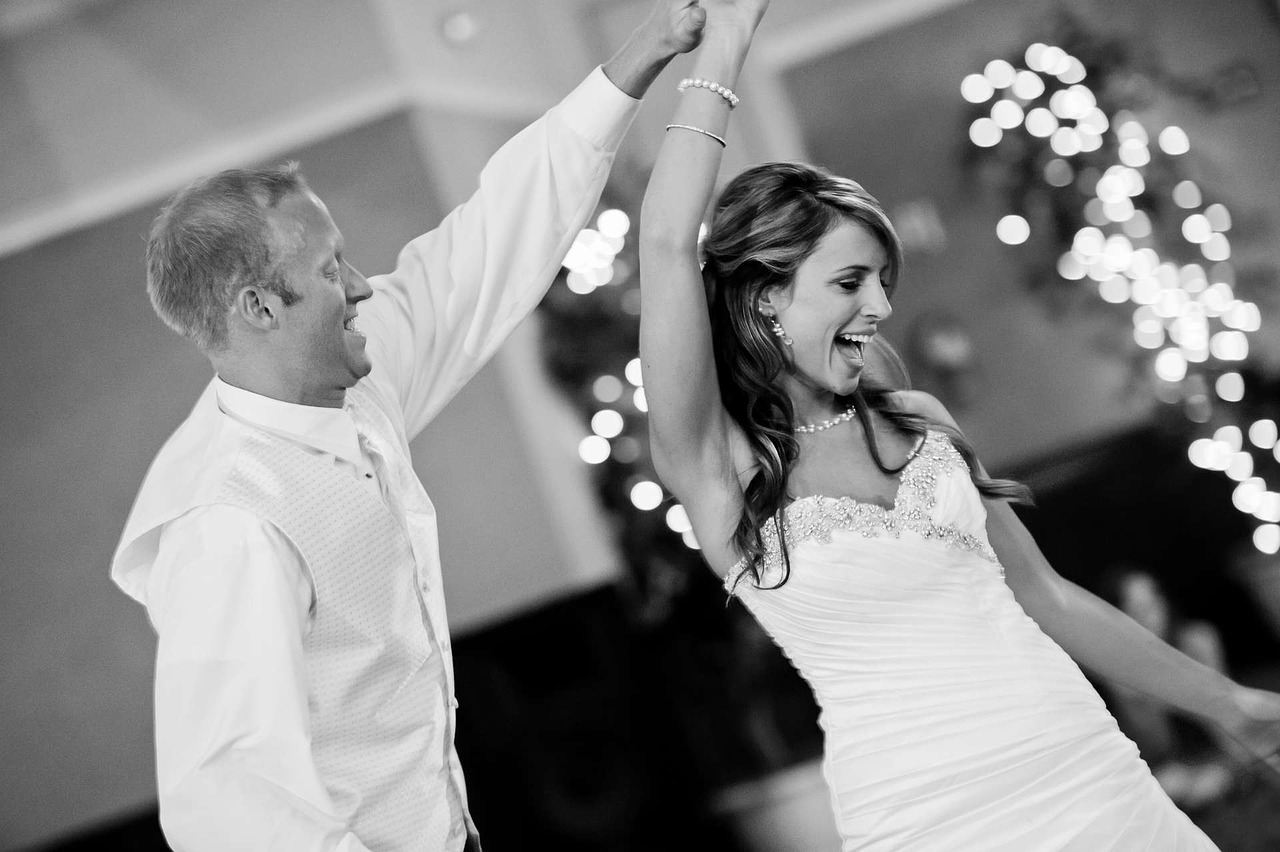 Fun and Contemporary Wedding Dance Trends
Couples are getting more creative with their wedding dances, and you're likely to see various moves on the dance floor. Some of them post to social media and YouTube, so you can search to see what others are doing.
Any of these trends may be copied or used for inspiration:
General Wedding Dance Tips
Timeline After the Traditional Wedding Party Dances
After the bridal couple dances and all of the traditional dances are satisfied, many couples choose their song list for dancing based on who will be attending and their sensibilities.
Although the wedding and reception should be focused on the couple, it is always good to show respect for the people who have taken time out of their busy lives to share the experience.
Choose a song list that suits your tastes and the sensibilities of the guests:
Other Dancing Alternatives
This is basically the traditional sequence of wedding dancing. It is not unusual for couples nowadays, however, to do some variation on this pairing order.
Sometimes if parents are divorced, this kind of sequence might cause some awkwardness on the part of the parents. This is why in most weddings today, the traditional first dance of the newlywed is observed. After that, there is no particular sequence to be followed.
The bridal entourage can join. At times the guests participate with the entourage too. This setup is more informal, and most couples prefer it this way.
Another alternative to dancing at a wedding is after the full dance routine of the bride and groom; the wedding entourage will also perform a full routine. This, however, will take time to learn and might be expensive too. But this is one of the popular alternatives used in weddings these days.
The first wedding dance of the couple is usually done after the serving of the main course. Often, it is performed right after the cake cutting. First, the Master of Ceremony must announce the cake cutting. This will signal that the dance is about to happen.
If the couple does a full dance routine, the guests should not cut in while dancing. Instead, the MC should announce that the guests cannot cut in or join the floor until the dance is finished. This will ensure that the couple will have the floor to themselves, and the dance routine will not be interrupted.
The couple has free rein on how the order will go in dancing. After all, it is their wedding, and they can invent a tradition if they want. However, the couple must let the people who will dance know in advance.
They should be instructed as to when they are supposed to cut in or join in the dancing. The MC can announce the order by calling the next participant to the dance. If the order of people dancing is long, then expect to play several wedding dance songs.
Enjoy the Dance
Regardless of what style of dance order you choose, enjoy it. This is a celebration, and everyone on the dance floor should have a good time.
And lastly, while the wedding and reception should be focused on you and your partner, bear in mind your guests when selecting the song list for your evening's entertainment and think about including your parents, as well as the groom and chief bridesmaid, in the song selection.