However, brides and Grooms realise that just because they don't want an ultra-formal, black tie plated reception doesn't mean their only option is something that feels makeshift, basic or less than perfect.
We've put together these tips to help you formulate a plan to ensure that your buffet reception is as elegant and refined as possible.
As far as your wedding meal goes, you have a few different options: Some couples prefer a plated dinner, while others like the freedom a buffet afford. If you're thinking about a big-day buffet, know that this style of meal service can be as simple or as elaborate as you'd like. For example, while you can set out just a few chafing dishes with two mains and a few different sides, you could also select several dishes and offer attended options like a carving station. Of course, this meal service has unique pros and cons, so we talked to two wedding professionals to determine what you need to consider before deciding for or against a big-day buffet.
There are several ways! For more intimate affairs, Cantrell likes to introduce takeout containers so guests can depart with leftovers. "When things are starting to wind down, and everyone is full, we'll announce," he says. Cantrell has also worked with Atlanta-based organisations (Goodr is especially well-known in the city) to pick up leftover food and redistribute it to homeless families.
Food donations come with specific requirements: "Once something is out for a certain amount of time or passes through a certain amount of hands, it's not food safe," explains Miller. So caterers have also started composting dishes they are not able to donate.
"Dishes with a lot of moisture are good for buffets," says Cantrell. "Shrimp and grits, chicken with gravy—dark meat hold better than breast—and things with sauces, like meatballs, can handle heart beating." Chafing dishes—metal pans that use an outer layer of hot water to keep Food warm—are a staple of buffet lines, but they can dry out foods like salmon and broccoli when they aren't served in a broth. So instead, per Miller, a buffet menu typically includes salad, bread, two proteins, and accompaniments. The accompaniments, or sides, are often a combination of veggies, starches, and grains selected to complement the main proteins.
Miller plans for one buffet table for every 50 guests to keep things moving efficiently. Wherever possible, the buffet tables should be double-sided. Events with a large guest count may include more than one buffet table, but all buffets will feature the same dishes.
Miller prefers to stack plates at the beginning of the buffet line rather than setting them out on tables. "It's annoying to go to your table and then the buffet," she says. However, if you are hosting a socially distant wedding, plates will likely be filled with Food and distributed directly to guests. Expect flatware to be rolled up in napkins and picked up individually.
Food Wastage: Food wastage is one of the most significant disadvantages of having a buffet service. A buffet meal typically requires large quantities of food offering single or multiple cuisines. However, there is no guarantee of the entire meal being consumed in a single day.
Hire A Wedding Planner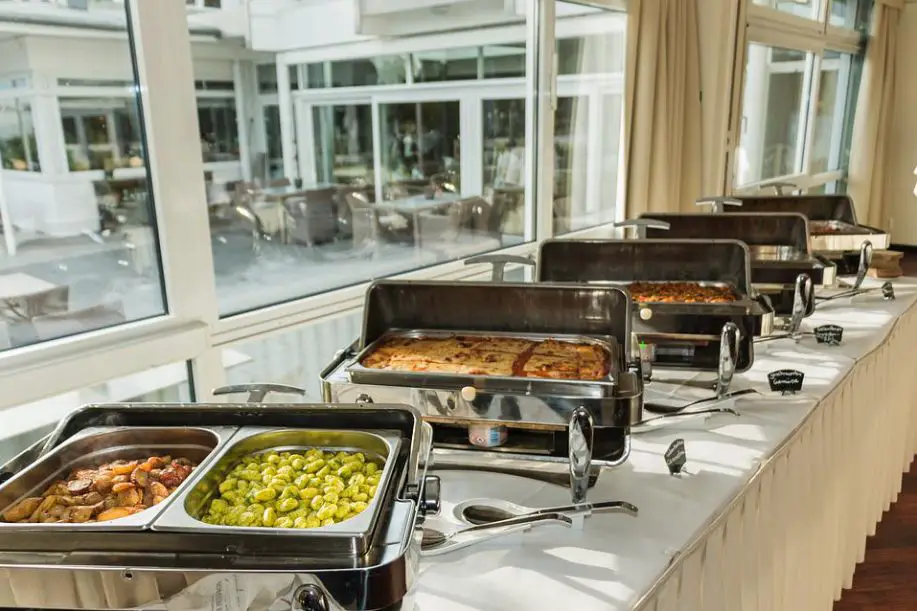 It is tip number one for any service style – make room in your budget and hire a wedding planner ASAP. It doesn't matter how organised of a person you are in your regular day-to-day life. They know the wedding planning process like the back of their hand, and the value of having someone with experience to help synchronise the numerous vendors and decisions on your biggest day ever is immeasurable.  
They will be there to keep track of details, make recommendations, and keep you from losing your mind or making emotional, irrational, and costly decisions. As a result, you will save more money in lost time and costly mistakes than you spend on their service in the long run.
Then Hire An Experienced Full-Service Caterer
Suppose you want delicious food and drinks, top-notch service and fabulous decor; you need to hire an experienced full-service caterer, plain and simple. There are plenty of great drop-off delivery caterers, but they deal with Food only, and for an elegant wedding, that just won't cut it.
There are also many restaurants out there that are trying their hand at catering, and while you may love the Food and service at their restaurant, you're bound to get an entirely different experience at your wedding.  
We may be biased, but full-service, off-premise catering is an art form. First, we have to move your wedding in and then move your wedding out. There are hundreds of moving parts that only an experienced caterer knows to account for and how to manage.  
Make It A Sit-Down Dinner.
Buffet reception and sit down reception do not need to be two different things! Having your buffet reception seated makes for a much more formal feel. It also gives you the upper hand by allowing you to manage some of the chaos through your seating chart.
Ask For Full-Service For The Head Table
Communicate with your caterer that you would like to have the head table served full-service style if you would like. For example, you may want to have a sweetheart table for you and your fiance, or you may choose to seat your entire wedding party at a head table. Either way, it's a classy touch.
Make It Personal
Themes, hashtags, branding, cohesive stationery designs, and thoughtful favours all add to the overall guest experience and give the notion that you just threw none of this together. The little personal details make your wedding "you" and keep things fun for you and your guests.  
Don't Want Fingers In The Food? Then, You're Going To Need Servers.
The number one complaint that we hear about buffet receptions revolves around fingers in the Food. The best way to solve that is simple: don't allow guests to serve themselves. Having servers there to serve your guests plays multiple roles – they can help move guests along, keep an eye out to make sure none of the platters ever go empty and answer questions or concerns about ingredients.  
Ditch The Double-Sided Buffets
While we're on the subject, stick to single-sided buffets. Visually, they are much more appealing, and if you have servers, double-sided buffets are unnecessary.  
Design Your Table Settings As If It Were A Plated Dinner
Each dining table at a buffet reception can be just as formally set as a plated dinner. Work with your caterer and wedding planner to create tablescapes to fit your vision, complete with linen, florals, china, flatware and glassware.  
While You're At It, Add Chargers.
Chargers will complete the look if you want to go all out, especially if you pair them with a fun napkin fold.  
Create Menu Cards For Each Place Setting
Menu cards at each place setting are as functional as they are beautiful. They give your guests a heads up about their options, which is especially appreciated by those with allergies or special dietary restrictions. If you take the extra step to add photos, illustrations, or even stories about specific menu items, they become one of the most memorable "little things".
Use A Member Of The Catering Team To Release Tables One At A Time
Forget the goofy games, and let your DJ stick to the music. The best way to orchestrate a seamless buffet reception is to have a catering team member (Banquet Captain, Coordinator, etc.) call each table. They are trained and experienced in knowing how fast to call each table to ensure that no lines form.
Plan Your Menu Wisely
No one wants the Food to be an afterthought, so work with your caterer to create a seasonally appropriate menu that fits your overall theme and vision. Don't be afraid to ask about customising some menu items, from specialty drinks to entrees.  
Keep The Food Coming
An empty platter of Food is a missed opportunity (and a waste of food and money, in the long run), so be sure to work with a caterer who plans to keep the Food constantly refreshed and filled. Offering guests the chance to get "seconds" from the buffet is a great way to make sure no one leaves hungry, and it makes sure you will have a little Food wasted as possible. It is a major win-win.
Think Outside The Box 
Imagine a buffet beyond just a row of chafing dishes. Add pops of colour, expressive florals, fun props, antique risers and platters, vintage candelabras, and picture frames for each menu description. Then, the sky's the limit.  
End With A Bang
It might be quite literally, with a fireworks display (dependent, of course, on the rules and regulations of your venue) or something more tried-and-true like bubbles, confetti, bells, or even paper aeroplanes. The Late-Night Snack is another increasingly popular way to end the reception with an edible wedding favour. It is usually something simple like your favourite food delivery or mini sliders served from mini fry baskets.
Buffet-Style Wedding Reception Cost
When it comes to the most common forms of event catering, buffet-style is typically a more affordable option than plated, station, or family-style. "With plated, you have to hire more staff to take orders and carry plates out to guests," says Cantrell. "With a buffet, you might need half the amount of people to serve food." In addition to requiring more staff, Miller notes that station-style and family-style catering also typically require more equipment and serveware to pull off, which further ups the pricing.
Pros And Cons Of A Buffet-Style Wedding Reception
Pros
Informality. A sit-down, multi-course plated meal conveys a certain level of formality at a wedding. If yours will be a more casual affair, a buffet-style meal will add to the vibe. It is especially true if you aren't interested in assigned seating for your event. With a buffet, guests can feel free to mingle, hit the bar, and fill their plates at their own pace. 
Flexibility. A buffet gives guests the freedom to make their plates according to their preferences. Bonus: Vegetarians and vegans can skip meat dishes and fill up on accompaniments like truffle mushroom risotto and farro salad without a special request for an alternative meal. 
Cons
Longer wait times. Waiting for your table to be called up and for others to serve themselves can take longer for guests to get their Food. To ease bottlenecks, Miller prefers to set up double-sided buffets, so twice the number of people can build their plates simultaneously. 
Abundance. It is both a pro and a con of buffet weddings. Guests that require more Food will leave your wedding feeling satiated, which means you will generally prepare more Food. "With [a plated dinner], if guests RSVPed, I know the amount of food I need," says Cantrell. "With a buffet, we have to prepare more than enough." That can lead to excess food waste, but there are ways to mitigate that, as you'll see below.
Pro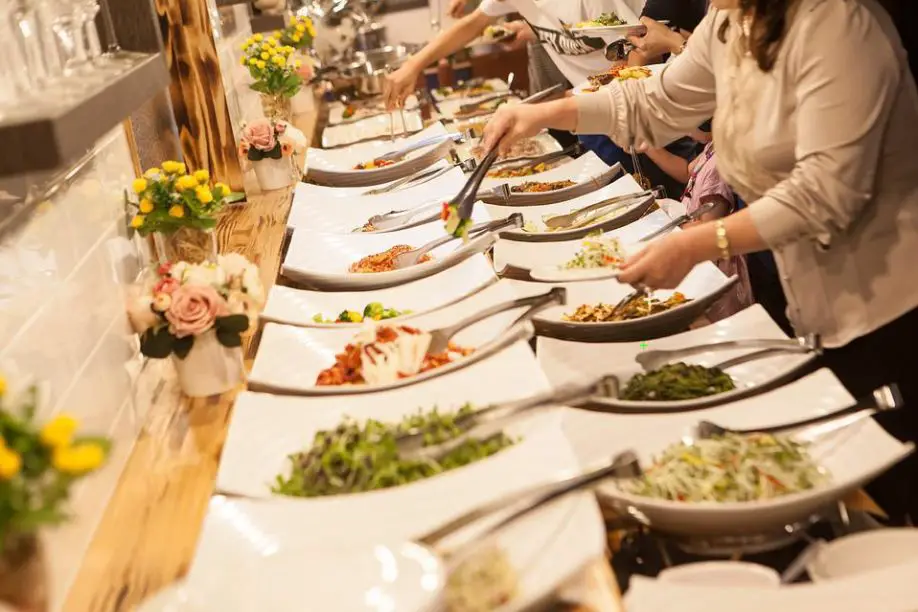 A buffet may better reflect your wedding style.
Tommy Waters, an event coordinator for The Renaissance, says that buffet-style meals are a great choice for couples who want a more informal reception. If a multi-course meal doesn't feel like you, or else you want your guests to be able to get up and hit the dance floor as soon as they're ready, then a buffet might be a better fit in terms of the style you're going for.
Con 
You have to think carefully about food safety.
Of course, keeping Food for an extended period can cause some ingredients to spoil. "You want to avoid keeping food out longer than necessary and make sure that your caterer is up-to-speed on how weather can affect the freshness of the food itself," Heather Jones of Wente Vineyards says. She also adds that an open buffet may lead to uninvited guests like bacteria and critters, making your dinner service memorable for all the wrong reasons.
Pro
There's plenty of room for personalisation and options.
Choosing a buffet does not mean you have to serve something standard. You don't have to skimp on extras, either. You can add personalised options like a carving station or even action stations where guests can make their mashed potato combinations or select a custom-made pasta dish. Even if you don't add in attended options, you can still serve a selection of your favourite foods-an option you don't have when you're picking one or two plated meals.
Con
It can be harder to accommodate guests with allergies.
Serving your meal buffet-style means it's harder to accommodate guests with food restrictions or allergies. In addition, allergen-free dishes shouldn't be placed on the same buffet table as the rest of the Food due to the risk of cross-contamination. "While you can certainly provide alternate dishes for those that are vegan, for example, it may feel a bit isolating to have their food displayed away from the rest," Jones explains. In this case, it would be worth talking to your catering team to see if they can prepare plates for those with allergies in the kitchen so that they skip the buffet line entirely.
Pro
Guests can take what they like.
Another perk of choosing the buffet plan is that you may be able to cut down on waste. While it's true that your caterer often has to make more Food overall to ensure everyone is fed, Jones adds that allowing guests to serve themselves means they'll generally take only as much food as they'll eat. It may also mean that your guests can go back for seconds. "Keeping an open food display also decreases guests' chance to go hungry after the initial food rush," Jones adds.
Con
It may take everyone some time to eat.
Waters also points out that while buffets can get your guests up and mingle, it can be a slow process for each person to get through the buffet line and back to their seats. The last thing you want to see on the dance floor is a traffic jam caused by guests traversing back and forth to the Food.
Conclusion
So, what's the verdict? Buffet-style wedding receptions are a great way to save money and please your guests. So, if you're on a tight budget or want to give your guests plenty of choices, a buffet is the way to go. Just be sure to have enough servers on hand so that everything runs smoothly. And don't forget to set up some beautiful displays for your Food!