Once your engagement news is out, everyone you love will want to congratulate you—and let's be honest, and a party's a lot more fun than a phone call. An official engagement party is also the perfect time to introduce key loved ones (like your parents) who are about to be seeing a lot of each other—and possibly helping plan your wedding together—over the next few months (and years!). 
On the lookout for the best engagement party venues in Melbourne? You've just found them! We've listed a wide choice of engagement party venues available for private hire. No matter if you're keen on a big boozy bash or a low-key, relaxed celebration, we're stoked to help you find just the perfect spot. So, why not have a look at our collection and see what Melbourne has to offer when it comes to engagement party venue.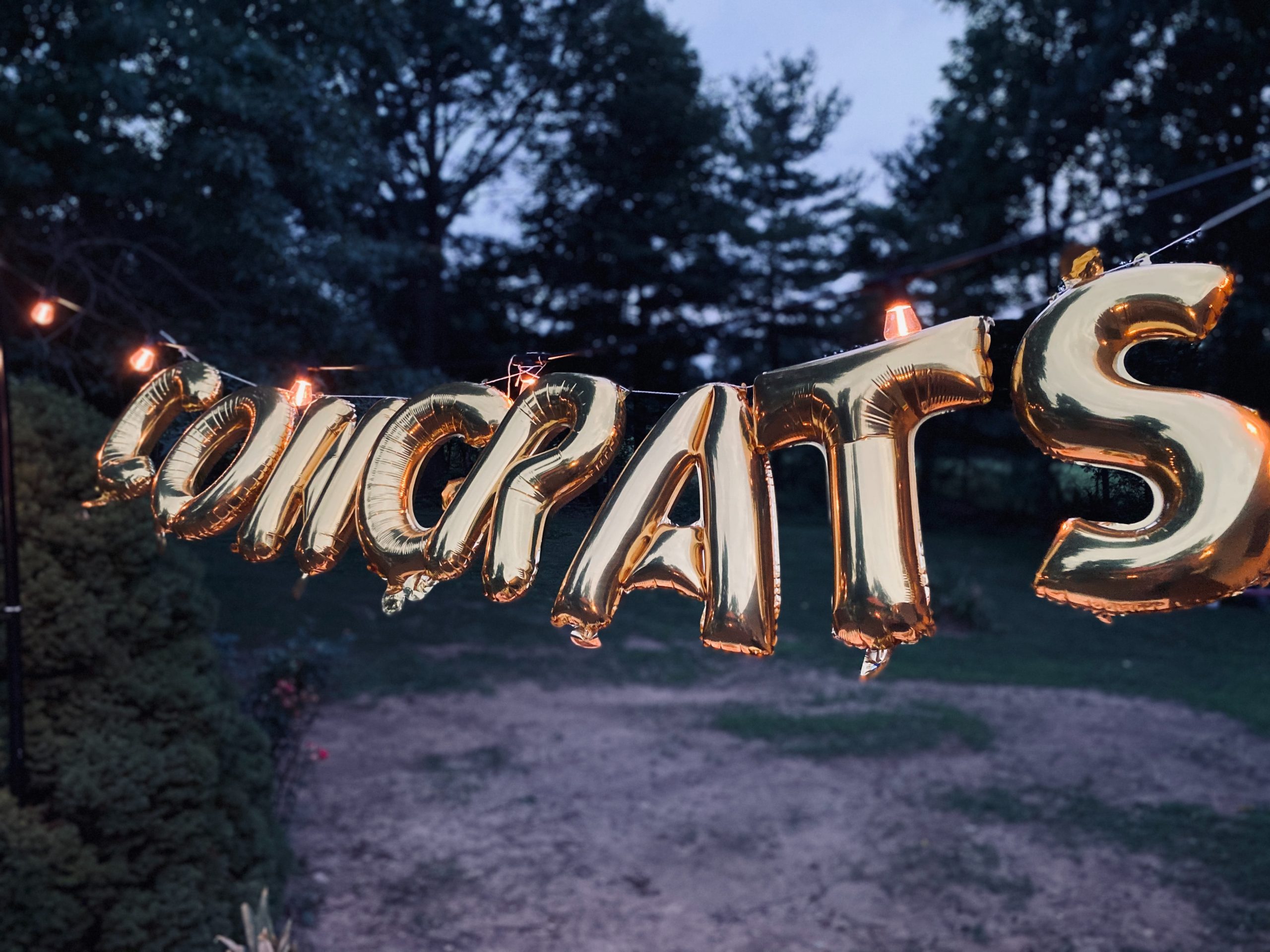 Add a header to begin generating the table of contents
Ultimate List of Engagement Party Venues in Melbourne

Vines of the Yarra Valley Engagement Party Venues Melbourne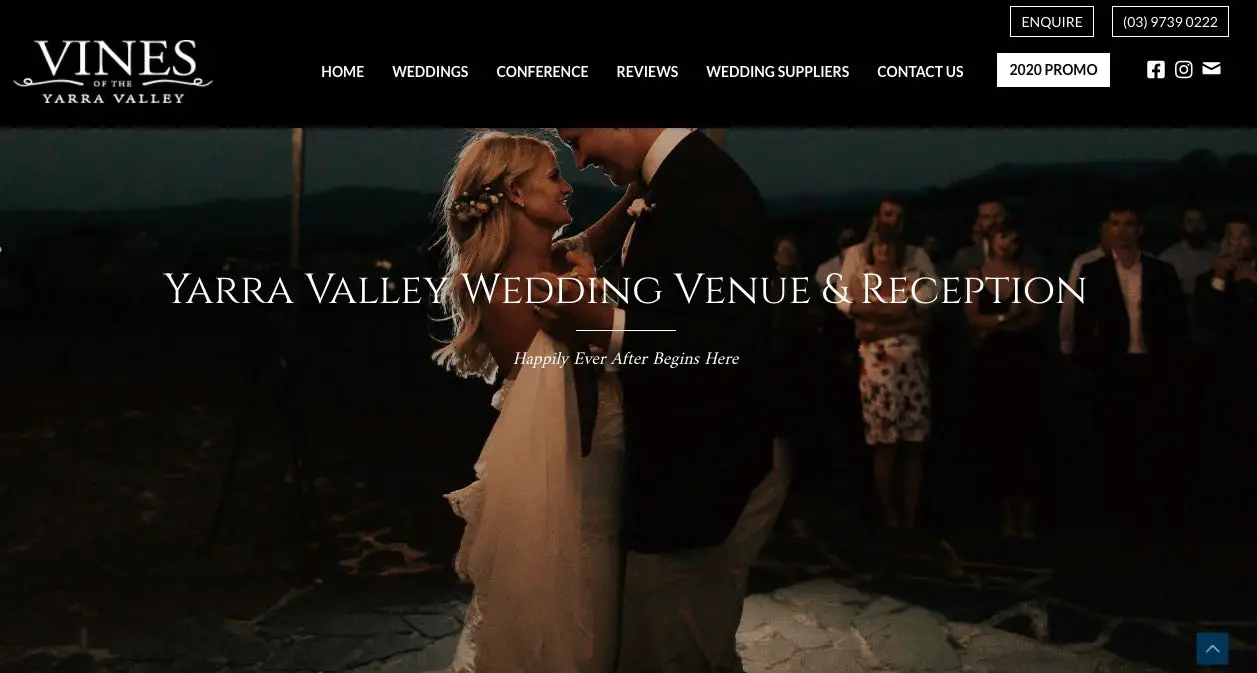 Website: vinesoftheyarravalley.com.au
Number: (03) 9739 0222
Email: events@vinesoftheyarravalley.com.au
Address: 16 Ingram Road Coldstream, Yarra Valley, Victoria
Happily Ever After Begins Here
Premier Yarra Valley Winery Wedding Venue
Vineyard Wedding Venue, Breathtaking Backdrops, Exclusive Location, Romantic Experiences
Vines of the Yarra Valley Wedding venue is a stunning property located at the Yarra Ranges gateway just 45 minutes from the Melbourne CBD. Surrounded by acres of vineyard in every direction, lush lawns and magnificent rose gardens, we provide everything you need in one location, including free ceremony time. We offer a ceremony location on-site with 360 panoramic views of the valley and mountain ranges.
Witness The Best Views of the Yarra Valley All Year Round
Vines floats above vineyards on Helen's Hill and offers the Yarra Ranges' best views, making it a perfect location for your Yarra Valley wedding reception. We host stunning Yarra Valley weddings year-round at Vines, taking advantage of our various indoor/outdoor facilities, depending on the weather. Our facilities are versatile and accommodating, designed to maximise spring and summer's open-air freshness and fall and winter's crisp light and a cozy warmth.
Over 30 Years of Experience Delivering Memorable Victorian Weddings
Over 1000 Happily-Ever-After Couples
Vines of the Yarra Valley is owned and operated by wedding professionals George and Angela Ross who also run Vogue Ballroom Wedding Venue in Melbourne's South East. Vogue Ballroom has earned a five-star reputation in Melbourne for delivering elegant receptions and is the larger wedding venue of the two capable of seating up to 400 people. 
The couple has been delivering memorable Victorian weddings for over 30 years to over 1000 happy-ever-after couples. George and Angela have brought the same attention to detail, experience, and professionalism to Vines of the Yarra Valley that made Vogue Ballroom the best wedding venue Melbourne. Now couples can experience the same in breathtaking Yarra Valley setting.
Yarra Valley Wedding Receptions at Vines is as Unique as the Couples who Marry Here
All-Inclusive Packages to Suit All Weddings
Our all-inclusive Celebration Package, designed with 'no hidden fees' will ensure that all of the details for your day, are taken care of under one price per guest. You will be pleasantly surprised at all the little touches we include.
Our prices vary depending on the season and day of the week, so it would be my pleasure to discuss your personalised needs and budget to tailor a quotation and package that is perfect for you.
The main room at Vines of the Yarra Valley seats 120 guests, and 140 can comfortably be served for a stand-up cocktail style event. Our upstairs scenic function room sits 50 and is perfect for cocktail style corporate events, engagements and birthdays.
Winery Wedding & Function Venue To Remember
Exchange your vows surrounded by the beauty of nature
With breathtaking views of the Yarra Valley and Yarra Ranges beyond, Vines of the Yarra Valley provides a set of unforgettable beauty for your magical wedding day. We specialise in exclusive, romantic, and personalised weddings to make your big day simply perfect in every way, with everything you need in one fabulous location. 
Sophisticated Understated Rustic Glam Elegance
Your guests will be hosted in our romantic, sophisticated rustic-lam space while sipping wine made on the premises. Our events team will carefully assist with all of the details, from helping you select your individual wedding menu to ensure every element is perfect when it's time to walk down the aisle. We've expertly designed our weddings to provide you with a full-service experience as we help you craft the day you've always imagined. You will remember the Vines of the Yarra Valley wedding venue of your dreams with photos taken against the backdrop of our wineries and Yarra Valley. Enjoy estate-grown wine and dance your way into the night under the stars.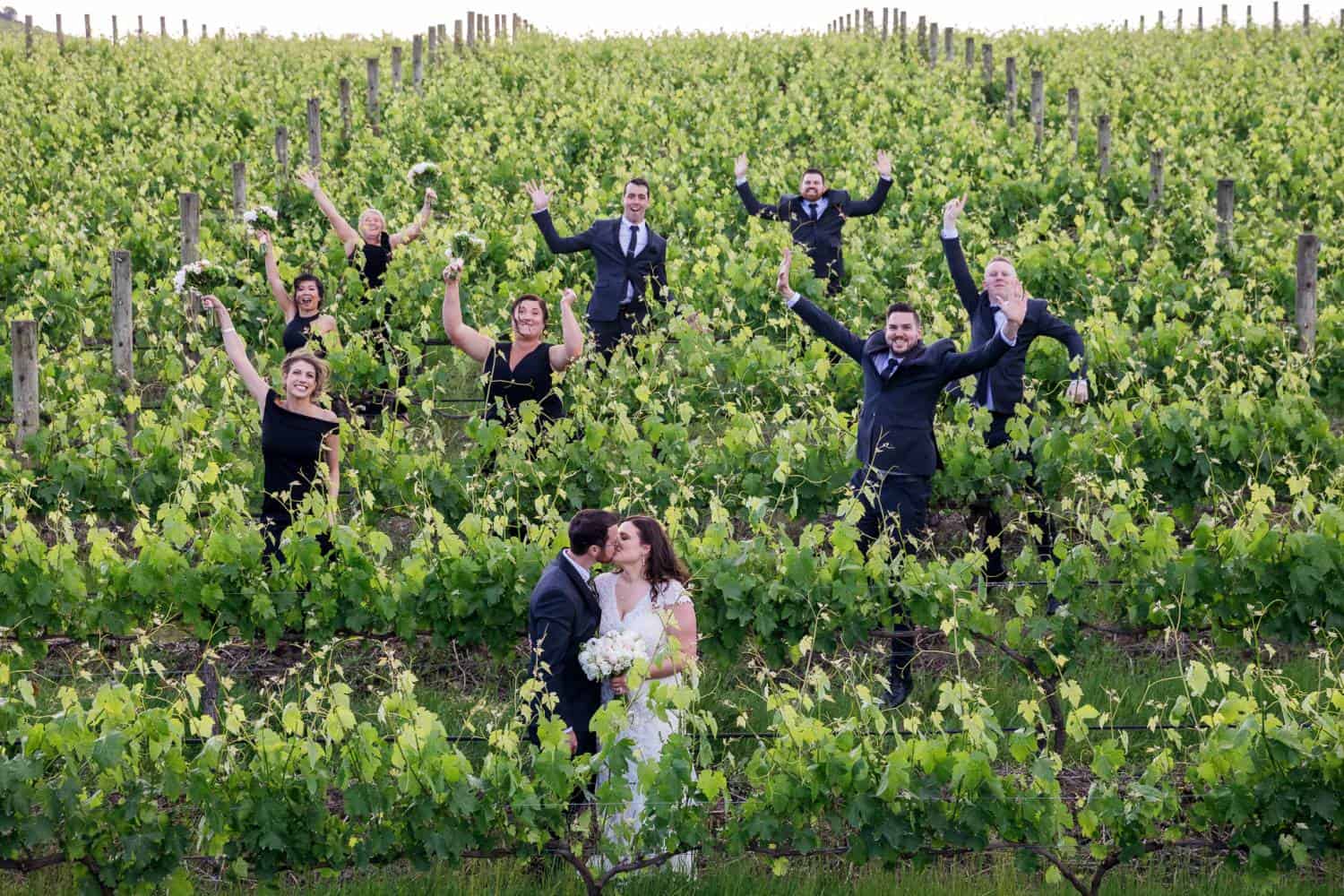 Best Reviewed Wedding Reception's in Yarra Valley
Perfect for Corporate Functions a mere 45 minutes from Melbourne CBD
Hold your next event, function or accommodate your conference in a spectacular setting overlooking the Yarra Valley. Vines of the Yarra Valley is an events & function venue located on Helen's Hill within a family-owned and operated vineyard. The site offers a spectacular 360-degree vista of the valley and the mountains beyond. With the main room that seats 120 for meals or 140 for stand up cocktail functions, Vines of the Yarra Valley can accommodate your conference, work Christmas party, cocktail party, or wedding. There are upstairs rooms for extra seating or a little more privacy that will seat up to 50.
We're committed to creating a truly unique experience for you and your guests. Vines of the Yarra Valley offers you a perfect venue for your function or corporate event. We are renowned for serving the finest quality cuisine, focusing on fresh, local produce and Estate-grown wines. We are guaranteed to leave you and your guests delighted with our level of service and guest experience, which is second to none. A stunning vineyard backdrop gives you a myriad of photography options, and the view from the top of the hill is stunning.
Vogue Ballroom Engagement Party Venues Melbourne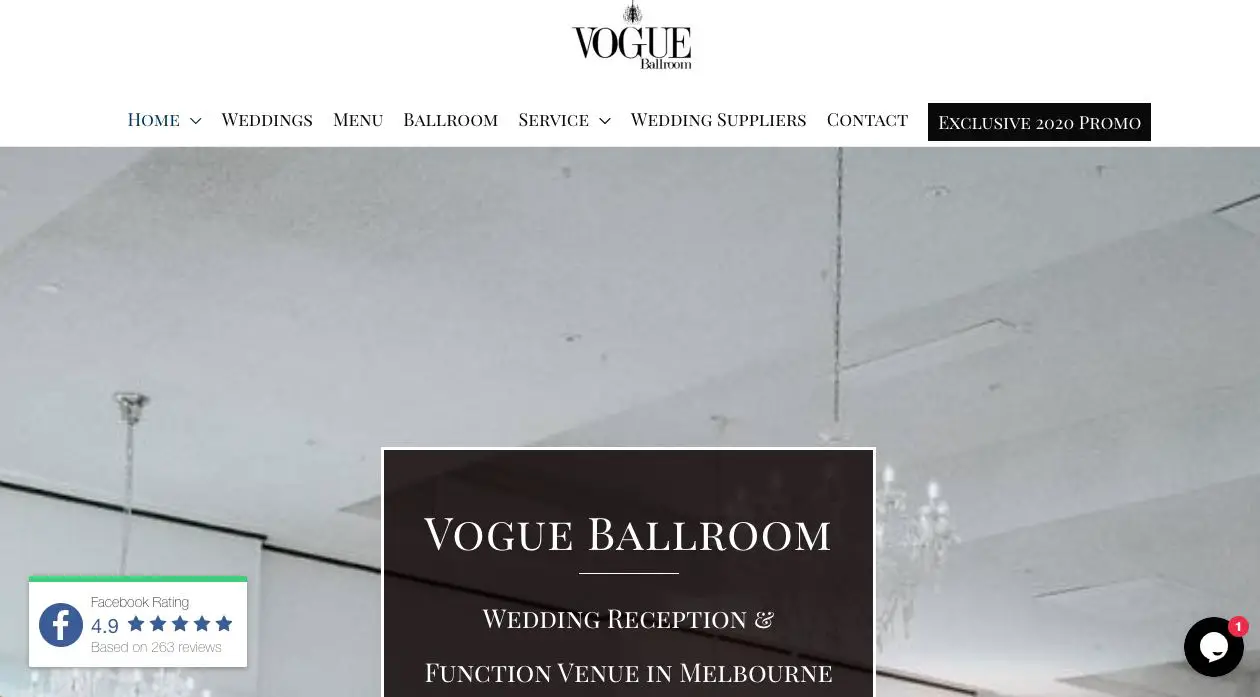 Website:vogueballroom.com.au
Number: (03) 9802 2477
Email: events@vogueballroom.com.au
Address: 399 Blackburn Road Burwood East Victoria 3151
Are you looking for an elegant wedding reception venue in Melbourne?
It is all about creating the right ambience for your magical Melbourne wedding day.
At Vogue, our grand ballroom is exclusively yours. A beautifully presented and decorated free-standing building with its car park facilities. Our team of expert wedding specialists, event planners and chefs will work closely with you to create a wedding experience that is truly magnificent, ultimately unforgettable and lives up to your expectations and dreams in every way.
We will assist you every step of ensuring that you have the perfect ingredients for your wedding day.
Melbourne's Iconic Wedding Reception Venue
Vogue Ballroom, an exciting wedding and reception venue located in Melbourne's south-east suburbs of Burwood East, a short 20 minutes from the city centre.
Vogue Ballroom is where Melbourne "happily-ever-after" begins in grand style. The moment you say "I do," weddings at Vogue Ballroom are an elegant and luxurious affair.
From our Grand Ballroom with its exquisite details, sparkling crystal chandeliers, and majestic staircase, brides-to-be have a wealth of elegant options in the selection of their wedding venue for their special day.
Vogue Ballroom has proven itself to be an iconic wedding venue and function centre in Melbourne with a highly reviewed track record when it comes to your special day.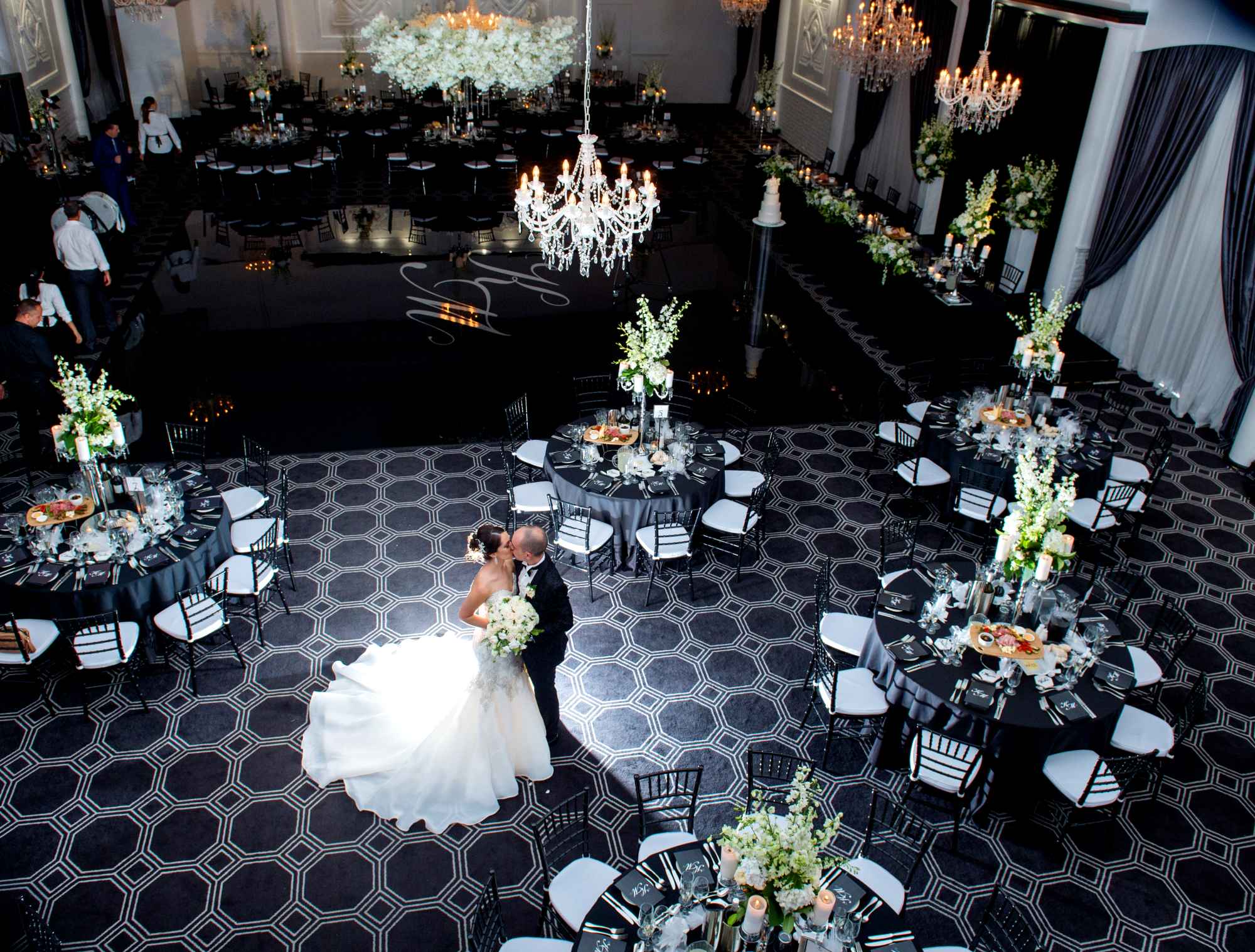 Every Vogue Wedding is as Unique as the Couples that Marry
With 30 years of experience in the Melbourne wedding and hospitality industry, George and Angela Ross have a long history of delivering memorable Melbourne weddings with over 500 5-star reviews. Vogue Ballroom is their success story in Melbourne, Australia – an elegant wedding venue that has justifiably earned a reputation as "Melbourne's Best Wedding Venue."
We've gained a reputation for being one of the best and most respected wedding venues in Melbourne.
Our ballroom is unique for all party sizes for the wedding and reception you have planned. You and your guests will enjoy your special day surrounded by the elegance and style representing Vogue Ballroom.
A wealth of experience surrounds you.
Our team of Melbourne event planning specialists stop at nothing to ensure the event you put on at Vogue Ballroom is a unique and memorable one. We want people to leave our function venue saying "wow, that was the best wedding I've ever been to," and therefore we go to extra special lengths when planning your event to ensure this. We take care of every detail; the trusted and highly-experienced team at Vogue will make sure that you and your guests have a stellar evening.
Your perfect events venue for a range of occasions
The elegance displayed in the Vogue Ballroom is nothing short of breathtaking. The tall ceilings are adorned with crystal chandelier. The marble foyer is a sight of grandeur. The balcony overlooking the whole ballroom makes the perfect spot to showcase a newly married couple. This building was designed to showcase the grace and sophistication that most brides seek for their big day.
If you've been searching for a unique wedding ceremony or other event venues in Melbourne, our ballroom is the best option for almost any special event you can think of.
Need a stylish, unique or intimate venue for the perfect wedding reception?
Are you putting on a lavish school formal?
Want to put on the biggest Christmas Party your company's ever seen?
The elegant ballroom at Vogue is the perfect location for you.
Over 2000 Happy-Ever-After Wedded Melbourne Couples
Our ballroom is unique for all party sizes for the wedding and reception you have planned. You and your guests will enjoy your special day surrounded by the elegance and style representing Vogue Ballroom.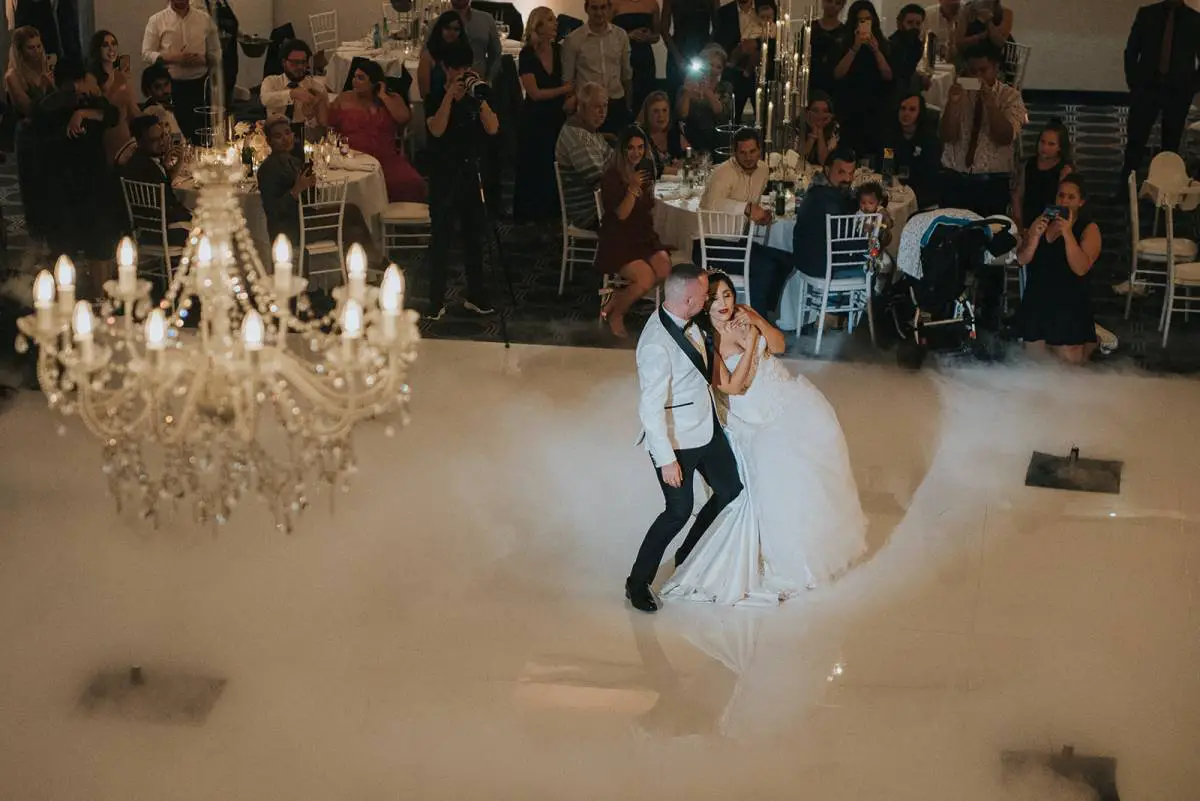 A professional events team in one of Melbourne's best function venues
Our executive international a-la-carte chef has decades of experience in world-renowned kitchens and will create a mouthwatering menu that will suit your taste. Our award-winning managerial team boast working together for number years. They have collaborated on hundreds of weddings, reflecting a flawless experience, ensuring all your worries and concerns about the big day are put to rest.
A banquet supervisor will oversee your reception, and a senior waiter will be dedicated to looking after the bridal party.
The Brighton Savoy Hotel Engagement Party Venues Melbourne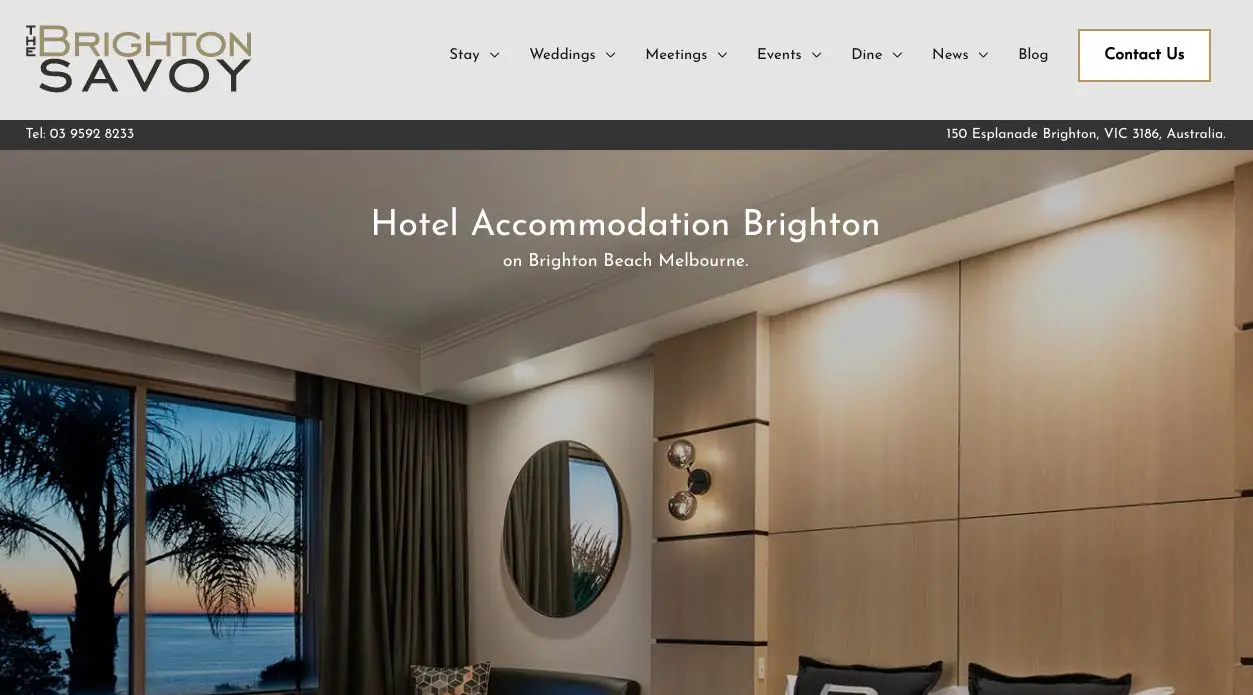 Website: brightonsavoy.com.au
Number: 03 9592 8233
Address: 150 Esplanade Brighton, VIC 3186, Australia.
Brighton Savoy: Hotel Accommodation in Brighton, Melbourne
Family-owned for over 50 years, Brighton Savoy is a beachfront hotel and an award-winning events & wedding reception venue.
Beachside Accommodation, Weddings & Hotel Services
Bayside hospitality, weddings, corporate events in Melbourne, Victoria.
Brighton Savoy is a 4-star hotel in the Bayside suburb of Brighton, Victoria in Australia. It is located opposite Brighton Beach at 150 Esplanade, overlooking Port Phillip Bay. Brighton Savoy has been in operation as an accommodation complex since 1959. It has hosted several high-profile events during that time, such as the second TV Week Logie Awards presentation ceremony in 1960. Brighton Savoy has hosted various notable guests, including English glamour model Sabrina and Australian politician Bob Hawke.
Enjoy the fresh air and Brighton beach's wide-open spaces | Superb Beach Accommodation & Hotel in Brighton.
The Brighton Savoy is the area's only full-service boutique hotel and is located directly on the beachfront.
During your stay, we invite you to enjoy our full range of services including 24-hour front desk, free high-speed WiFi Internet, Seaview dining, daily housekeeping and free on-site parking, and much much more.
The Brighton Savoy has been a long-standing Bayside icon since 1967, our award-winning facilities serve as a wedding reception venue, full-service function & conference centre with hotel accommodation, and Seaview Restaurant making us one of the finest Hotels Brighton has on offer.
Owned exclusively by the Lee Family, the Brighton Savoy is one of the premier hotels in Brighton which features the best of contemporary design with unparalleled customer service and attention to detail that only a 4-star hotel can provide.
Brighton Accommodation & Hotel Rooms - Choice of Beachfront Hotel Rooms
Brighton's only Full Service Hotel - 24-hour reception. Free Undercover Parking, Free WiFi Internet. The Brighton Savoy is the perfect beachside accommodation. Offering 4-star accommodation with 24-hour reception, we are located directly opposite Brighton Beach, one of Melbourne's safest swimming beaches, with the historic and unique Bathing Boxes. Offering two accommodation levels, the Standard rooms are fitted with all the details you would expect.
Award-Winning Wedding Venue & Receptions Melbourne, Victoria
The Brighton Savoy is located directly opposite Middle Brighton Beach where you will find the iconic, colourful and world-famous Bathing Boxes. Host your wedding at one of Melbourne's premier wedding venues, featuring waterfront and beachfront ceremonies, four event spaces catering from 30 to 220 guests.
We have celebrated with many bridal couples over the last 50 years in the Wedding Industry and look forward to hosting your special day with your family, friends and loved ones.
Be assured that you will have access to an experienced wedding and events team to make your wedding day one to remember.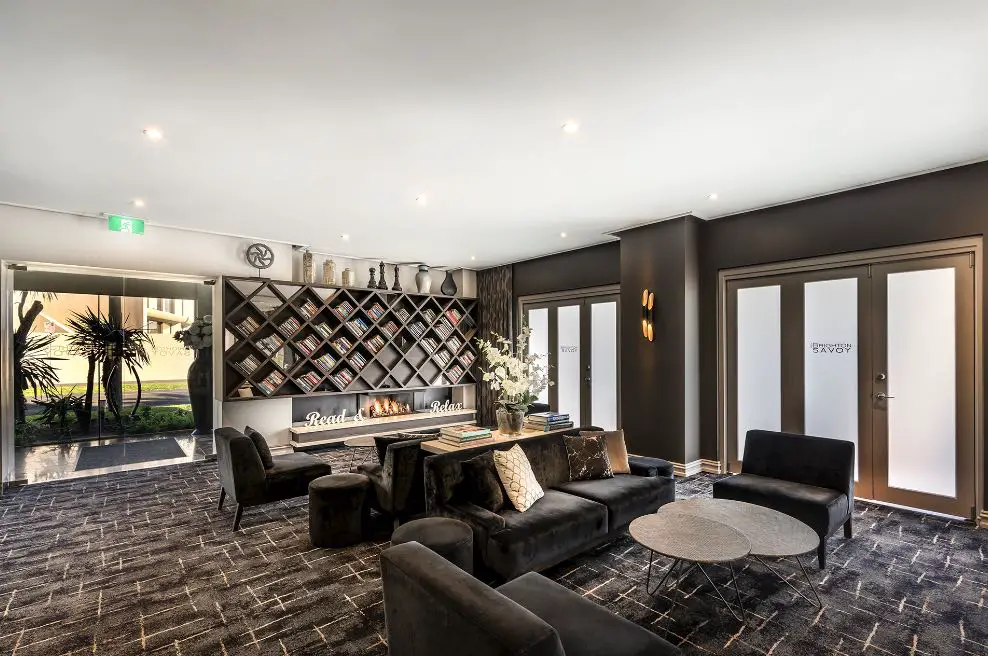 Brighton Savoy Wedding Reception Venue Highlights
Owned and operated by the Lee family for over 50 years.

Located 12 km from Melbourne CBD on prestigious Brighton Beach.

Hosting your wedding from 30 – 220 guests.

Wedding reception and ceremony packages available

Beach ceremonies in conjunction with the City of Bayside

Photos opportunities at world-famous Brighton Bathing Boxes

Elegance & contemporary style

Free on-site venue parking for guests
Melbourne's best bayside function venue in Brighton
The Brighton Savoy has been hosting special events and celebrations for many years. We offer a range of packages to suit any occasion. Why not reach out to our events team to discuss your next event.
Corporate
Financial or annual year balls

Company presentations or award nights

Breakfast Meetings

Victorian Police graduation balls

Christmas dinner dances or celebrations
Family Celebrations
Engagement parties

Wedding anniversaries

21st birthday parties

Milestone birthdays 50th, 80th, 100th

Afternoon or high tea
Remembrance Events
Tertiary Events
University balls

Graduation nights

Valedictorian dinners
The Seaford Hotel - Engagement Party Venue Melbourne

(03) 8770 5999
The Perfect Place For A Drink With Mates
Sitting on Frankston-Dandenong Road, the Seaford Hotel is a local favourite down the coast. A community base for many of our locals and visitors alike, we've been serving those who call Seaford home and beyond for years, and it's what we've built our old-school hospitality on the back of. Head into our Family Bistro to catch up with the family, or have a bite with mates. Our menu features all the pub classics you know and love, along with a selection of succulent steaks, fresh seafood, healthy salads and much more.
Our Sports & Public Bar are well stocked to keep you happy, take a look at our selection of ice-cold beer on tap and well-rounded spirit and cider lists. We have a huge wine choice, with a nod to the local producers on the Mornington Peninsula and across Australia. Our Saloon Bar is perfect for a night out, with live music to entertain the masses every Friday and Saturday night. If the game is on, you can be sure that our Sport's Bar will show all the action on our 20 televisions around the room. Here you can order from our refined Sports Bar menu, with the perfect choice of pub grub meals available over the counter. 
At the Seaford Hotel, everyone is welcome for a drink. Whether it's a family dinner, stop in on the way home from work, an intimate date night or a lazy Sunday lunch, we have something for everyone.
Functions
Located on Frankston-Dandenong Road and just a stone's throw from the Mornington Peninsula beaches, The Seaford Hotel offers modern, newly renovated facilities, perfect for all corporate and social events. Our head chef has created various exciting menus at competitive prices, allowing you to make the perfect choice for your next business event or special occasion. We can tailor our rooms to suit your needs and work with to make sure everything runs smoothly, and you can relax and celebrate. Get in touch with our events team now and start planning your event.
The Ballarto Room
With floor to ceiling windows offering an array of natural light, The Ballarto Room is perfect for birthday parties, engagements, training seminars, networking events, presentation dinners, weddings and more! Fitted with a fully stocked private bar, private bathrooms, projector and screen, wall-mounted plasma TV, surround sound, complimentary WiFi, stage and dance floor, The Ballarto room has everything you need in one convenient space.
The Precinct Hotel - Engagement Party Venue Melbourne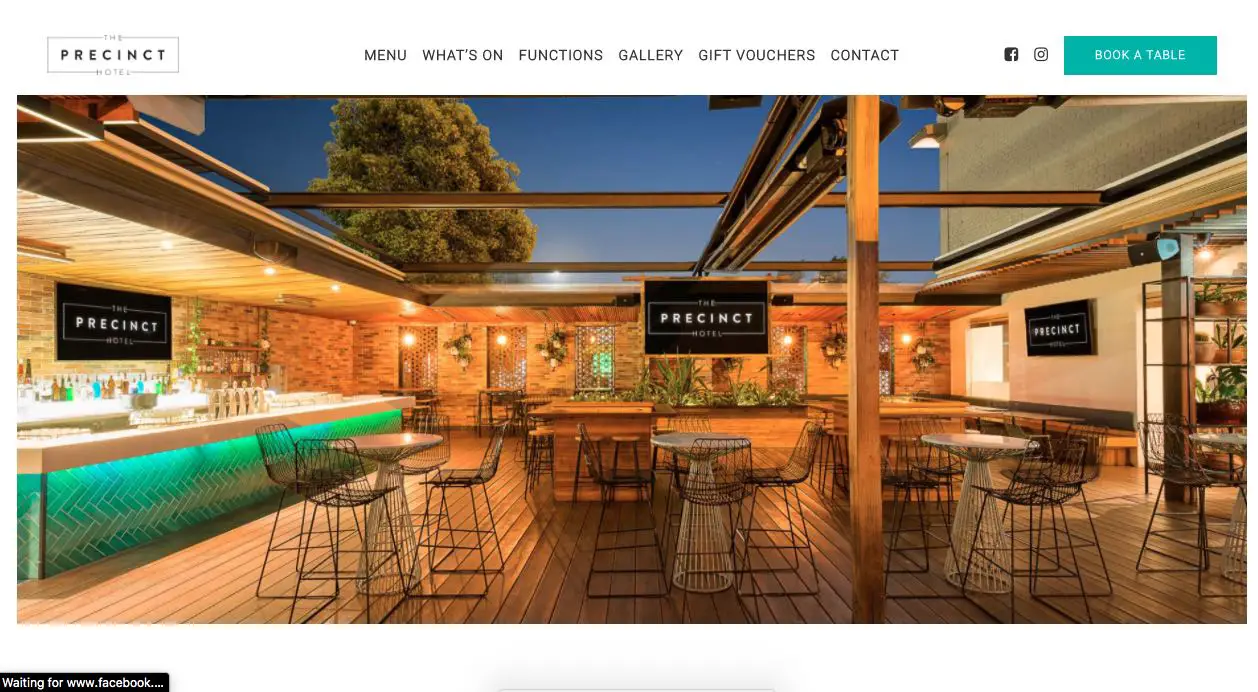 03 9429 163
Whether you're celebrating a milestone; birthday, engagement, christening, wedding, bidding farewell to a friend or colleague, or paying homage to a loved one – we will are excited to be taking function enquiries again!
We are continually updating our function options to align with Covid-19 capacity and social-distancing restrictions. As such, we will treat all function enquiries on a bespoke basis to tailor something that works for your group.
COURTYARD
Newly refurbished, our award-winning courtyard has all the trimmings for the perfect occasion; boasting an impressive new big screen, fully retractable roof and overhead heating to cater for Melbourne's notoriously fickle weather. This cosy sanctuary can accommodate up to 200 guests for a cocktail event with exclusive access to the bar, and a tucked away, private entrance available to your guests.
DINING ROOM
Tucked away in a cosy corner of the main bar, the dining room blends cosy family dining with rustic Richmond flair. Keep it intimate with close family and friends, or invite the entire workplace to feast from our delectable set menu options. Entertain up to 50 guests for your seated occasion – this bright and beautiful room is the perfect elegant setting for a birthday, christening, baby shower, life celebration and presentation dinner.
STAGE
Freshly relocated to provide endless possibilities with full audio and visual capabilities, our brand new stage can entertain the entire venue. Ideal for live bands, presentations and panels, luncheons and award dinners, fashion shows and large scale corporate events, this event space has been designed for its versatility to transform into any unique experience seamlessly. Make your event truly spectacular by adding the main bar for a lavish affair up to 400 guests.
BOARDROOM
Completely private and tucked away on the first floor, the boardroom offers prime views of entertainment stadiums framed by a CBD backdrop. This transformable space hosts meetings and workshops and moonlights as a private dining space in the evenings. A perfect space for intimate dinners, it can easily transition from morning tea to champagne on arrival, presentations to interactive activities, and a working lunch to a long table sit down feast.
Berth Engagement Party Venue Melbourne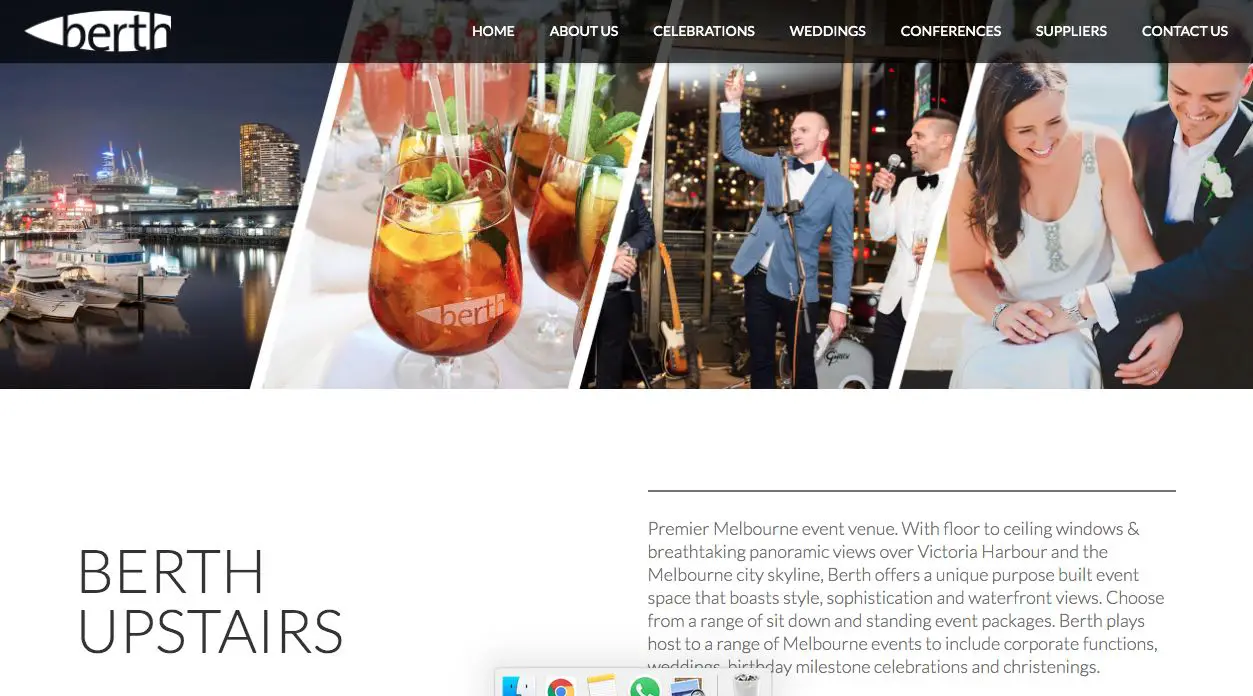 (03) 9670 0199
BERTH UPSTAIRS
Premier Melbourne event venue. With floor to ceiling windows & breathtaking panoramic views over Victoria Harbour and the Melbourne city skyline, Berth offers a unique purpose-built event space that boasts style, sophistication and waterfront views. Choose from a range of sit down and standing event packages. Berth plays host to a range of Melbourne events to include corporate functions, weddings, birthday milestone celebrations and christenings.
CELEBRATIONS
Berth hosts cocktail engagements, big age birthdays, corporate parties and anything else that gives reason to celebrate!
Berth understands the importance of your special day, offering a wonderful variety of restaurant-quality finger food & by incorporating the delightful handheld mini-meals, guests are guaranteed to be well fed!
If you would prefer a traditional style dining experience offering the elegance of a formal occasion with the option to welcome guests with canapés on arrival or add shared table starters. Our team will ensure they go above and beyond to provide exceptional service & first-class food to suit your needs.
WEDDINGS
Berth Upstairs will make you fall in love all over again…
Specialising in Melbourne weddings, Berth understands the importance of your special day, offering restaurant-quality food backed by a professional team that will provide the highest level of service to make your day a truly memorable experience. Our wedding venue plays host to a range of sit down dining and cocktail standing events. Choose to host your wedding day in the heart of Melbourne at Berth. Book a site visit with our events team today and start planning your special day in Melbourne's premiere waterfront wedding venue.
Waterslide Bar - Engagement Party Venue Melbourne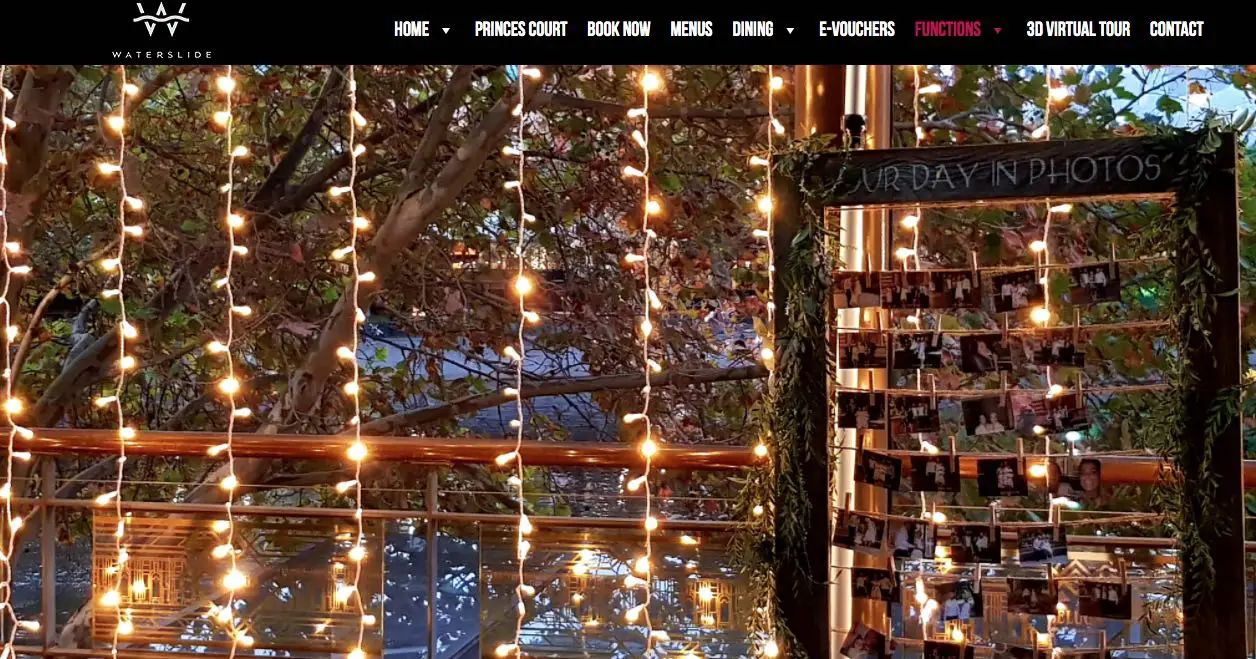 412289417
History
The name "Waterslide" hearkens back to the historical water chute that used to be located on Southbank, propelling fully-dressed adventure seekers into the Yarra. Once home to waterslides, toboggan rides, and the world's third-largest ice skating rink, Melbourne's Southgate has a long history of adventure and fun.
Uncover the history behind the world's most liveable city. For generations, the city of Melbourne has been renowned as an entertainment destination for Australia. Since our booming Victorian gold rush, we've enjoyed a culture rich in celebration, with each new experience and event delighting locals and visitors alike. Our colourful history has a combination of inspiring characters that pioneered the district with a unique sense of style, which carried over the decades, turning Melbourne into a hive of entertainment.
Weddings
Looking for a cocktail wedding venue in Melbourne?
Waterslide Bar at Southbank is the perfect solution with stunning Yarra River & City skyline views.
Look no further than Melbourne's premier waterfront events space. With stunning million-dollar views of the Yarra River and of the city skyline, Waterslide is the ideal venue for your wedding reception.
Our spaces offer great flexibility with a balcony for groups of up to 80 and full venue hire of up to 250.
At the Waterslide Bar Southbank, our main priority is for you and your guests to have a memorable moment when you book with us. Our highly qualified staff have over 10 – 15 years of experience in the hospitality industry. We aim to understand your demand and deliver a high-quality product and service to you and your guests.
Our Events Manager is here to help you organise your function from start to finish.
Contact us to discuss cocktail food and beverage packages.
Overnewton Castle - Engagement Party Venue Melbourne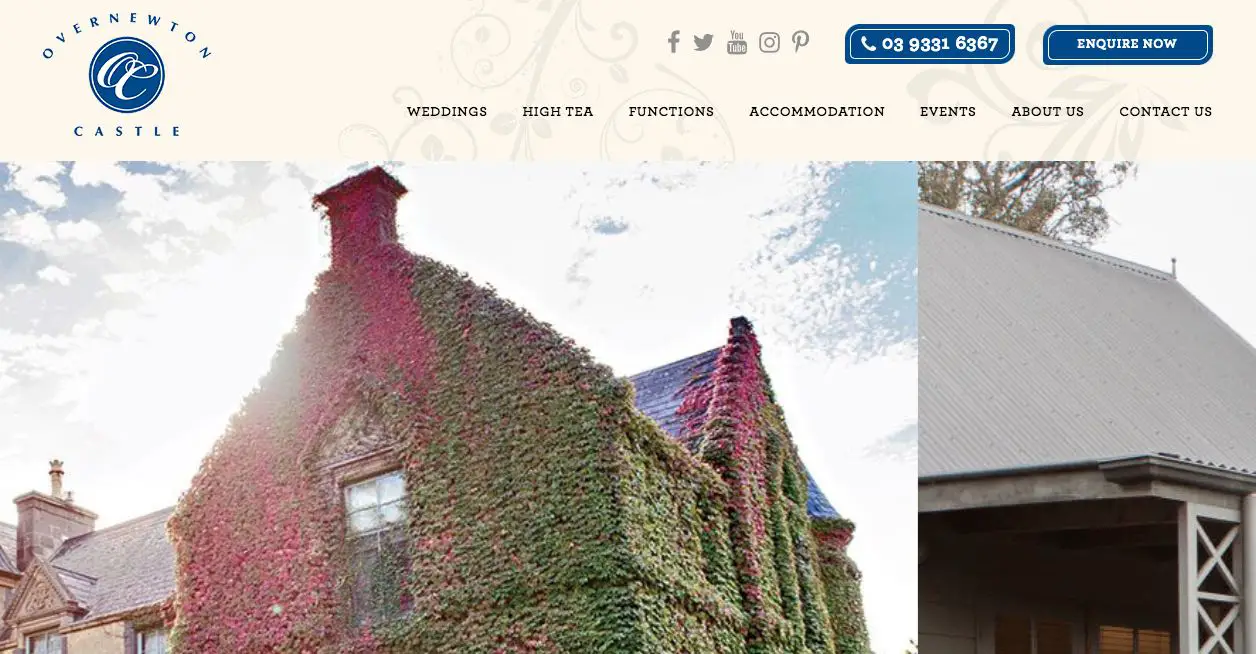 03 9331 6367
Private Wedding Venue & Hotel in Melbourne
As you plan one of the most special events of your life – your wedding day – you'll want to make sure it's an unforgettable experience. Everything from the time and date through to the photography and the reception plays its part towards creating a day full of romance and celebration. One of the most important points of consideration for your wedding day is the location. When deciding on venue hire in North Melbourne, you want a location that not only looks breathtakingly stunning but also accommodates everything from the needs of the bride and groom through to the city's dynamic weather patterns. If you're looking for gorgeous wedding ceremony locations in Melbourne that will make your day perfect, arrange an appointment to view Overnewton Castle.
Overnewton Castle – The Perfect Engagement Party Venue to Capture Every Moment
If you have recently become engaged and want to celebrate your new status at a stunning venue with your closest friends and family, Overnewton Castle can accommodate your needs. As one of Melbourne's leading engagement party venues, we can help make your celebration an occasion to remember for many years to come. Situated in Keilor, close to the city, our venue is a perfect choice when food, atmosphere and elegance matter. If you've been searching for venues for engagement parties, your search is over!
Why Choose Us Over Other Engagement Venues?
When you choose Overnewton Castle for your engagement party, you can be sure of a memorable celebration that you and your loved ones won't soon forget. Unlike some other engagement party venues in Melbourne, we can tailor our packages to suit the style of party you and your partner are looking to throw, from small celebrations with family to large parties that allow you to celebrate with all your friends. With several different sized rooms available, we can accommodate a range of guest numbers and ensure your celebration fits within the budget you have available.
Rossdale Golf Club - Engagement Party Venue Melbourne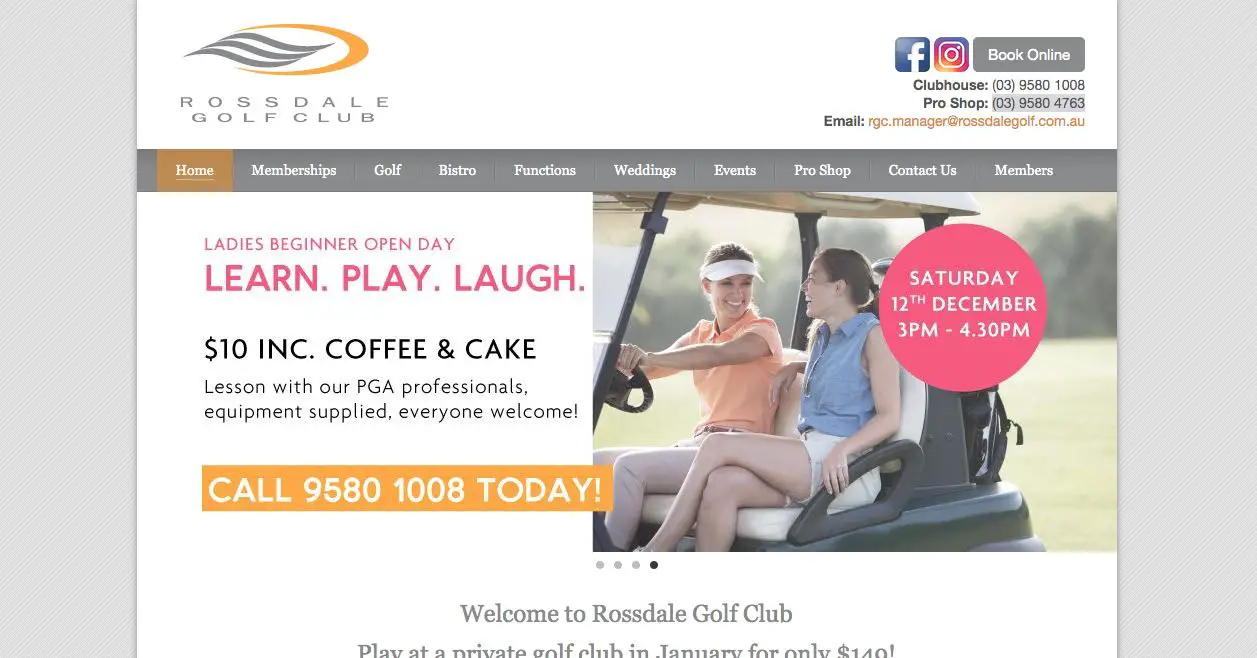 (03) 9580 4763
In Melbourne's bayside suburbs, Rossdale Golf Club is a picturesque course, weaving through corridors of pines, eucalyptus, and coastal banksias. Renowned for its inclusive and friendly club culture, Rossdale is a club for the whole family. New members, visitors, social groups and green fee players are always welcome. Our newly renovated, modern clubhouse and facilities with beautiful golf course views and private outdoor areas make Rossdale the perfect place to hold your wedding, corporate golf day or social function. Our family-friendly restaurant and outdoor events ensure that Rossdale Golf Club truly is one of a kind. Our broad range of membership options offer unrivalled value and flexibility for the traditional golfer and ensure that Rossdale is the most affordable golf club membership in Melbourne. So come and experience the warmth and friendliness that is the Rossdale Culture and see for yourself.
Why everyone is talking about Rossdale! 
Complementary Function Room Hire 
Rossdale Golf Club is the ideal venue for building and improving your business, whether it be a half-day seminar or a three-day conference. We are proud to provide you first-class service that remains value for money, ensuring your business is showcased in the best light, and your guests are impressed. Our large spacious clubhouse can be divided into several different configurations and cater to 180 people. With easy access to public transport and amply on-site, free car parking, we provide a tranquil setting for all your conference and seminar needs.
Function Room area is 15 x 12m with a 3m ceiling height. This room can hold up to 140 people in a theatre-style setup. 
Board Room area in 7 x 4m with a 3m ceiling height. This room can hold up to 14 people. 
Venue facilities offer: 
On-site free car parking

Wall-mounted TV monitor

Whiteboard

AV equipment

Lectern and microphone

Internet

Dance floor
At Rossdale Golf Club, we understand that every wedding is a special and unique experience. That is why our experienced event team are the perfect group of professionals to guide you through your most special occasion. Successfully conducting multiple weddings and garden ceremonies every year, Rossdales team of professionals know exactly what is required for everyone from the bride, to the families and friends present, to experience carefree and memorable events.
We pride ourselves on organising, creating and running sophisticated, fun and stress-free weddings and receptions throughout our newly renovated clubhouse and grounds area. Our multiple outdoor areas are the perfect spaces for you and your guests to enjoy the picturesque surrounds of our beautiful golf course. Only a short walk from multiple of Melbourne's best beaches Rossdale provides some of the most breathtaking backdrops for wedding photos that will last a lifetime.
Our all-inclusive and detailed wedding packages provide you with the sound of mind as we build the weddings of your dream. 
Please complete the 'Wedding Enquiry' below or download our 2019 wedding pack to contact our event team today. 
True South Engagement Party Venue Melbourne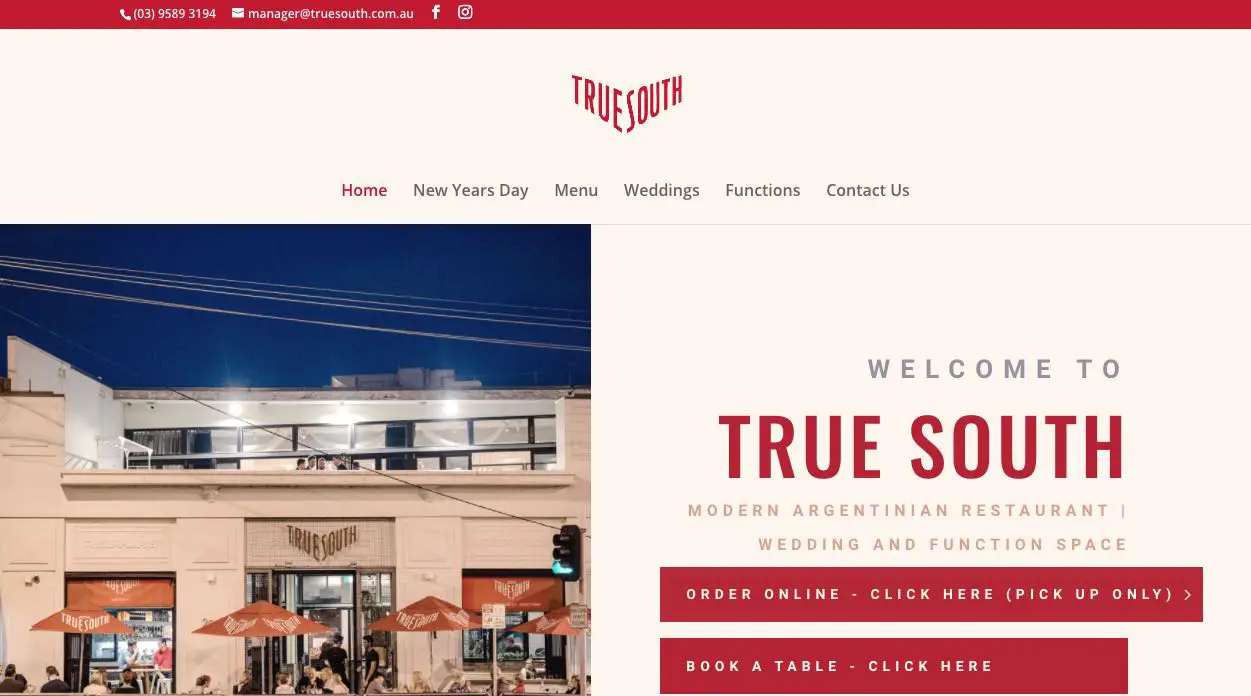 (03) 9589 3194
Private Dining
Private dining is the perfect way to turn a special occasion into a memorable dining experience.
Located on the ground floor, The Dining Room takes up the entire back section of the restaurant. It is a multifaceted space ideal for group dining and cocktail parties. It boasts a private bar, kitchen views and wrap-around glass windows, providing noise protection, without taking away from the atmosphere. 
The Dining Room's benefit is that its design allows you to select your music to run through the sound system. Tailor your playlist to suit the occasion and match your celebration in the comfort of a private space. The glass windows encasing The Dining Room allow your guests to see out to the restaurant, so they do not miss out on the True South atmosphere and excitement during their dining experience.
The room can be set up to be used for formal or informal dining, for 40 seated guests for a meal, with a 'welcome' gathering area. Alternatively, the tables can be cleared and the room set for a Cocktail Party for up to 50 people, with canapés, private bar access, bench seating and high tables.
Space can also be decorated to your liking, and the events team can assist you in ordering & styling the room to ensure your event looks incredible. Whether you are booking a Birthday, Engagement Party, Product Launch, Media Event, Bridal Shower, Baby Shower or more, private dining at True South is the way to go.
The Bay View Room
A True South event is truly memorable for its location, the beautiful room and the culinary experience. The exposed ceiling, industrial-style finishes, large balcony and stunning views with floor to ceiling windows make this room so remarkable for Functions by the bay. With views across Port Phillip Bay, your guests will be blown away.
We offer flexible seating arrangements and indoor and outdoor options. Our approach to dining is a fusion of the modern and traditional; our dishes are designed to share with family and friends in a communal atmosphere.
We specialise in both cocktail and seated events and will tailor our Argentinean menu to suit. Our fresh, industrial event space is the perfect canvas to transform into a space that reflects your personality and style.
The Bay View Room features include a private bar, private balcony with sea views, space for a band, fairy light feature wall, and more!
If you're unsure where to start, our friendly Functions Coordinator is an expert and can help you plan your event from start to end!
History Of True South
Located in the picturesque Bayside suburb of Black Rock, True South holds a prime position as the areas best and biggest Restaurant, Bar and Function Space.
Once used as an auto repair shop, this modern gastropub has undergone a colossal renovation, keeping the original facade. Still, completely stripping back the inside to create the incredible space it is today.
The talented chefs at True South offer a modern Argentinean/South American menu served in the newly converted setting. The food is designed to share with a mix of small and large dishes creating a communal dining experience.
With a range of spaces, True South is the perfect venue for any event. Our Bay View Room is a favourite for Weddings with striking views from the first-floor balcony over Black Rock beach. Smaller groups fit perfectly into our Dining Room, complete with its own bar, which can be transformed from private dining to a stand-up cocktail event.
Encore St. Kilda - Engagement Party Venue Melbourne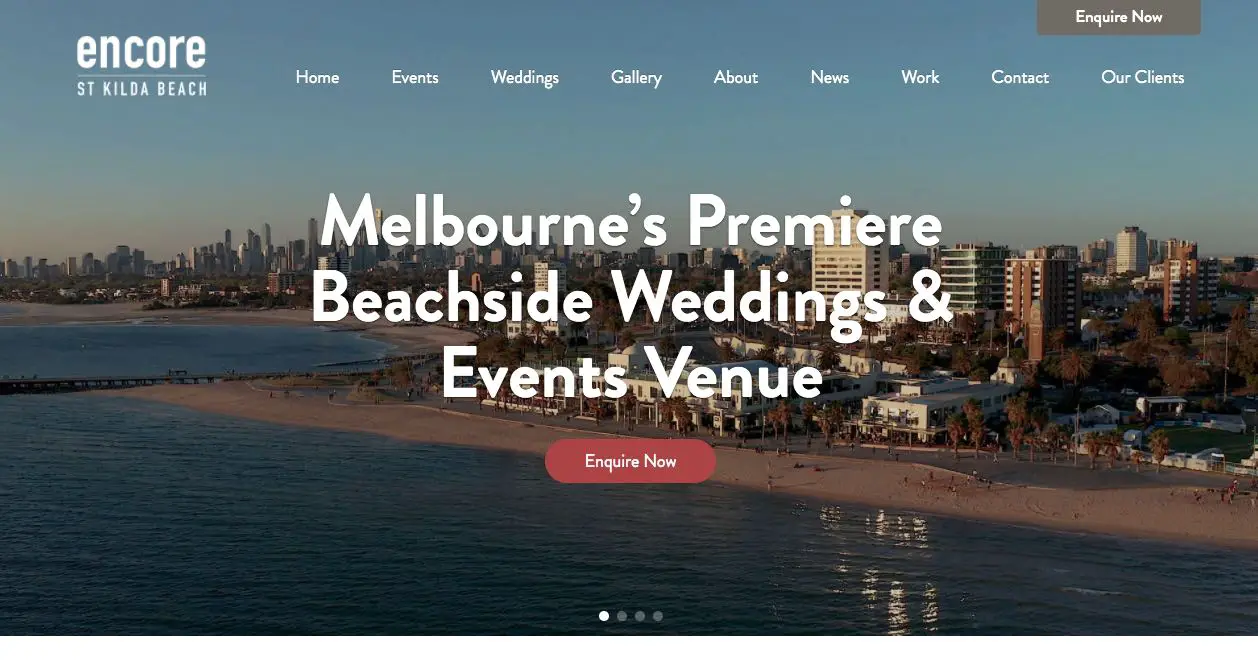 (03) 9593 9033
Are You Looking To Find An Iconic Beachside Wedding Venue In Melbourne, Victoria?
Encore St Kilda provides a premium location for celebrating your special day and delivering unmatched food & wine, along with leading planning and hospitality services in the unique beachside location on St Kilda Beach.
Encore St Kilda's vision is to offer Melbourne an event space like no other, moving away from what people have come to expect from standard venue hire offerings. Encore St Kilda has been created with the look and feel of an iconic Melbourne beachside venue designed to have personality, natural light and amazing views.
Encore St Kilda is pure of intent, unique and romantic. The design is inspired by the natural Melbourne Bayside and bright sunny cultures of the southern hemisphere. Each function area has been custom-designed to extend interior spaces into an alfresco outdoor wedding experience.
Our award-winning wedding catering and event staff are the ultimate hospitality professions and have years of experience in customising our wedding function rooms to reflect your personality. We help you to create a unique space that feels intimate and is aesthetically breathtaking for all to enjoy. Our event function room design can be brought to life with additions like hanging florals, drapes, mood lighting and much more.
Our beachfront St Kilda wedding venue has a capacity of 300 guests seated or 700 cocktail style events and catering for smaller groups.
Encore has a backdrop of shimmering water, swaying palms, sailboats and kite surfers silhouetted against the glinting sunset over Port Phillip Bay.
Encore St Kilda was crowned the 'best wedding caterer' in Victoria & Tasmania in both the 2016 and 2018 Savour Australia™ Restaurant & Catering Hostplus Award for Excellence. Winning the award recognises Encore as the premier Melbourne Wedding Venue and the number one Victorian Wedding Venue and Tasmanian Wedding Venue.
For couples seeking a chic beachside setting for their reception, Encore St Kilda will not disappoint. Located only 10 minutes from Melbourne CBD within the iconic St Kilda Sea Baths.
Encore offers flexible room layouts, an abundance of natural light and modern décor. The venue has a capacity of 300 guests seated or 700 for a cocktail event, but intimate spaces can be created for smaller groups. We will help you design the perfect menu from our award-winning selection of canapés and grazing options or treat your guests to a lavish feast bound to impress.
Encore St Kilda is a proud supporter of marriage equality.
Middle Brighton Baths - Engagement Party Venue Melbourne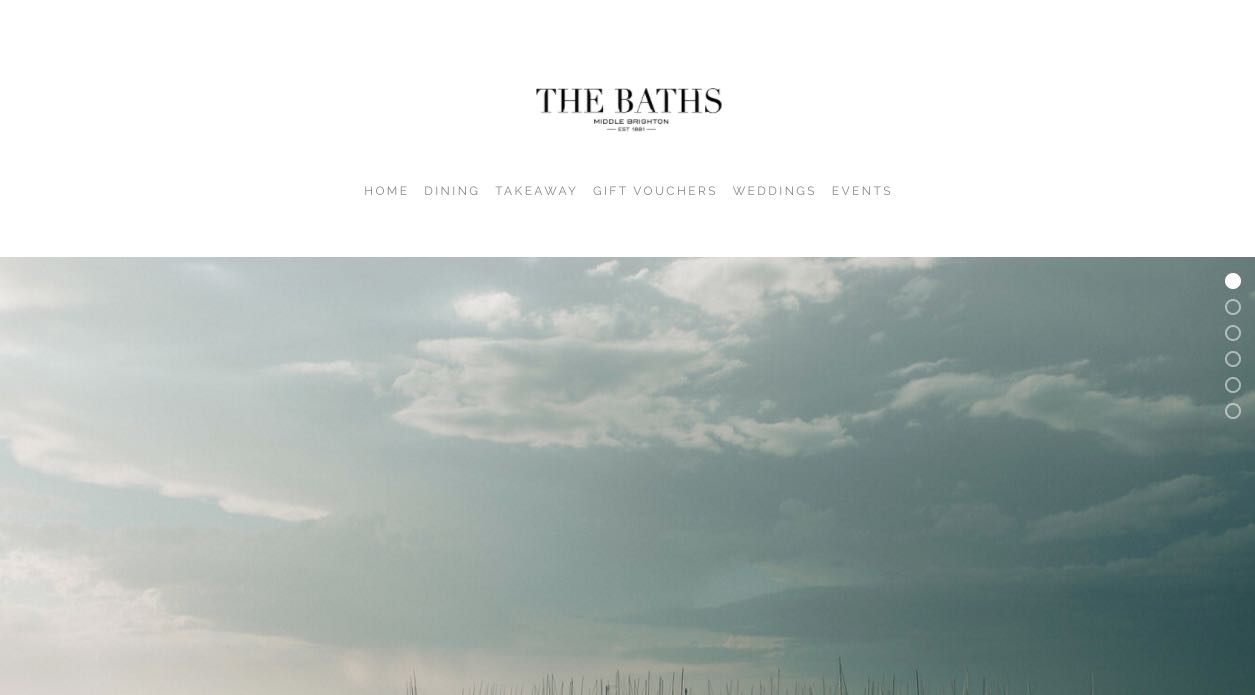 (03) 9539 7000
Welcome To The Baths Upstairs From Birthdays, Mitzvahs, Product Launches, Corporate Events, Anniversaries To Everything In Between.
Upstairs at The Baths is a unique event space, perfect for any event big or small. Situated directly on the waterfront, Upstairs features floor to ceiling glass windows and a dramatic backdrop of the bay and cityscape. The beautiful view can also be enjoyed from the large outdoor decking that wraps around the venue.
PRIVATE DINING
The Upstairs private dining room is suitable for smaller, more intimate events. Entertain your guests with canapés and drinks on arrival before settling into the dining room.
EXCLUSIVE USE
Wow, your guests with that bay and cityscape view and hire out the entire Upstairs venue or the City Room. The Upstairs Art-Deco styled venue with Portuguese cork flooring, and a slick timber interior includes a large open plan space that leads to two separate outdoor decking areas.
Melbourne Zoo - Engagement Party Venue Melbourne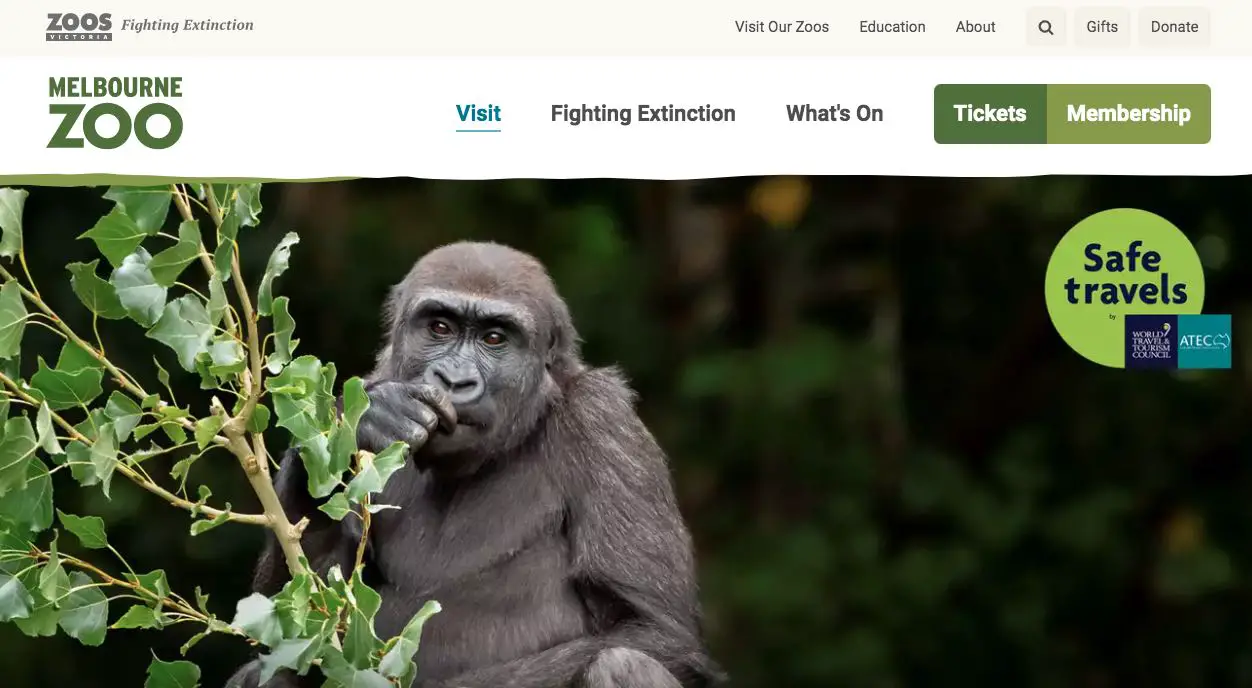 1300 966 784
Make your next event truly unique at Melbourne Zoo.
The Zoo Events team provides guests with unique wildlife-inspired venues and experiences, and restaurant-quality food, just minutes from the CBD.
We have a range of beautiful indoor and outdoor function spaces and a team of dedicated event professionals and chefs who work to create the perfect menu for your event.
Whether you're after a small high tea, a relaxed lunch, cocktails and canapés, a large gala dinner or a family day, we have a function space and event package for your budget and taste.
Celebrate your big day in space, unlike any other, and give your guests an unforgettable experience.
With its beautiful natural surroundings, manicured centuries-old gardens, and various habitats, Melbourne Zoo provides a magnificent setting for truly memorable weddings (not to mention wedding photographs!).
Whether you're planning a lavish banquet or an intimate gathering with close family and friends, we can help you to create a unique and personal celebration.
Choose from a range of Wedding Packages to suit your taste and budget.
You also can order your wedding cake through our very own Zoo Bakery.
Functions and Events
Melbourne Zoo is renowned for its natural beauty, from centuries-old manicured gardens to tropical habitats. We also have stunning indoor and outdoor spaces available, so start with our Function Packages and go from there!
The Zoo Events team is here to help you create the perfect event to suit any taste, style or budget. And don't forget we can arrange personalised cakes, cupcakes and special treats from our very own Zoo Bakery.
Use the online form below or call us on 03 9285 9440 to create an event your guests will never forget.
The Noble Experiment - Engagement Party Venue Melbourne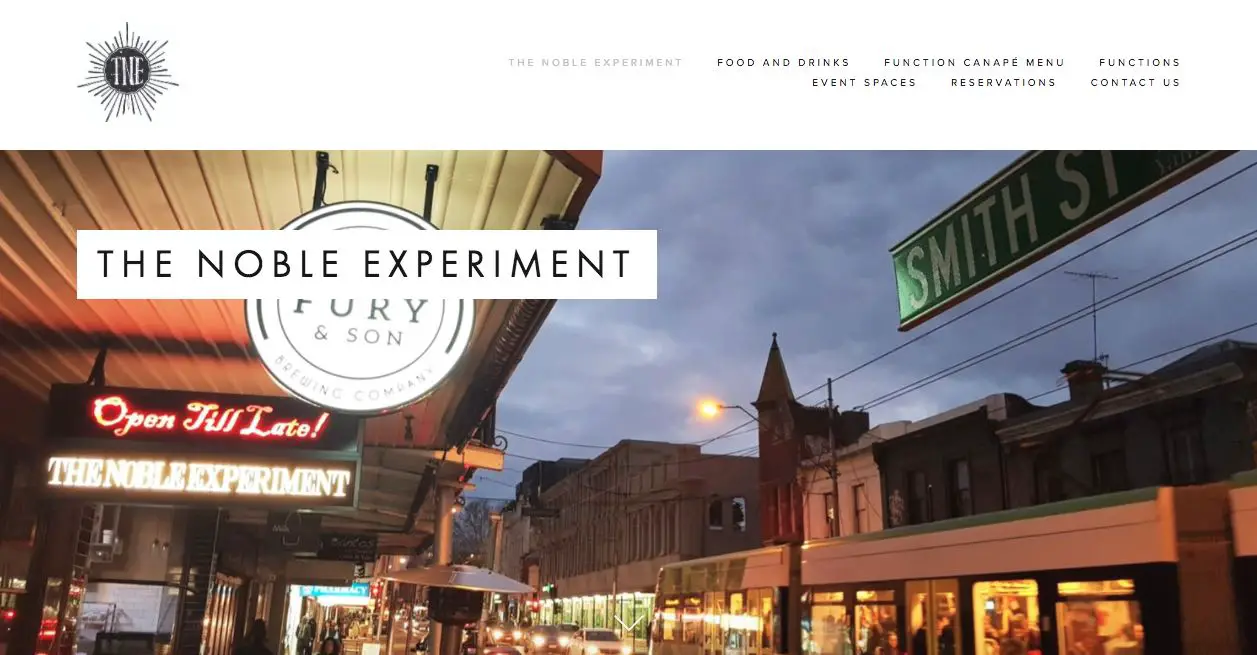 (03)9416 0058
Your Local Neighbourhood Late Night Watering Hole With A Splash Of Style.
Laid out in a warming prohibition-era setting is a plethora of inspiring environments. With drinks, games and food 'till the wee hours of the morning, we have all the makings of a good time.
When it comes to running the venue, we approached it with the idea of something for everyone. We love a sense of camaraderie & friendship with our guests. To keep the dream alive, we regularly host poker and club events in our hidden underground alcove (look for the bookshelf) which is also the perfect spot for your next function.
Upstairs we have even more private areas, made cozy with chesterfield couches to sit back and relax under a little mood lighting. On the mezzanine level, the birdcage room has a chill vibe, desirable for a smaller group to kick back in a booth.
Be welcomed to the venue by our friendly staff, enjoy a pool, Daytona or pinball, and embrace the happy mood. Whatever you need, we have something for everyone at The Noble Experiment.
Event Spaces
The Noble Experiment has three distinct spaces. Upstairs is an intimate mezzanine lounge perfect for private drinks, the ground level restaurant is an ambient space for groups big and small, and the basement is the life of the party, catering everything from a dance floor to semi-private booths.
Special Events & Private Parties
Throwing a party is fun, but it can be hard work and meticulous. Here at The Noble Experiment, we are more than happy to make your special event a little easier to manage. From a small cocktail affair to a garden party wedding in the basement, we can facilitate all kinds of requests. 
Every celebration is unique and important, and we will make your experience with us sensational and seamless. 
The kitchen can cater accordingly, and our team will look after the drink service with good old-fashioned aplomb. 
We can tailor a package to suit your needs and would love to hear from you. 
The Birdcage
A small and intimate space in the quiet of upstairs, this private room can cater for up to 16 people for dinner and is ideal for shindigs such as private dinners, hens, baby showers, pre racing/ post-racing carnival cocktails and birthdays. 
Mezzanine Lounge
Our mezzanine lounge is a cosy, intimate space with an atmosphere of old-school glamour and can comfortably hold up to 55 guests. It is located on a private level upstairs and has its own amenities on this floor.
Large chesterfield lounges and smoked glass tables, a beautiful hand-crafted, timber bar and tea, light candles throughout to add to the ambience. It is a special and unique space, sure to impress your guests.
The Underground Experiment
Our venue's biggest surprise is our large underground bar- catering to groups of up to 170 people with the added bonus of a 3 am weekend license. This is a fully catered space separate from the streets' commotion for those looking for something completely private.
With projector screens, booth seating, sound system and DJ booth all ready to go, this space is ready for anything. Past events have included engagement and birthday parties, burlesque shows, album launches and spirit tastings. It's a very versatile space.
Functions
The Noble Experiment has three distinct spaces. Upstairs is a quaint and intimate cocktail bar perfect for private drinks, the ground level casual drinking bar space with arcade games and the pool table is an ambient space for groups big and small, and the basement is a bit of a chameleon; used for innovative functions and semi-permanent installations.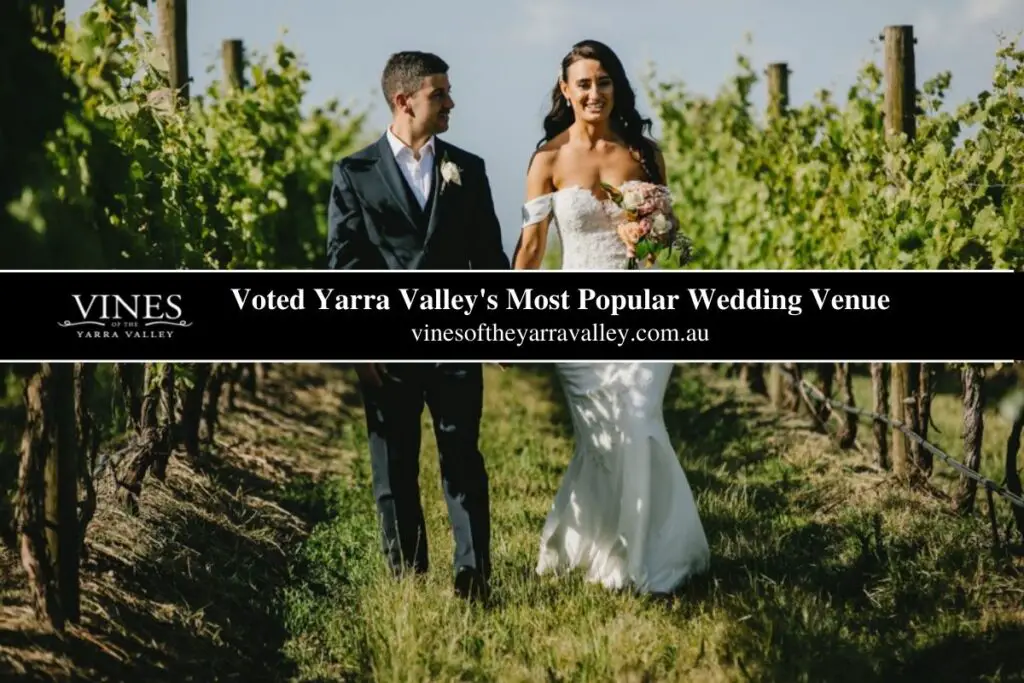 Leonda By The Yarra - Engagement Party Venue Melbourne 
03 9819 1933
Melbourne's Premier Wedding Venue Leonda By The Yarra
Where your dream day will come true
Create the most memorable day of your life within the surrounds of the willows on the banks of the Yarra River, where the culmination of riverside surrounding, restaurant-style cuisine and exceptional service will ensure all aspects of your special day are perfectly realised in one of Melbourne's leading elegant wedding reception venues – Leonda By The Yarra.
Captain Melville Engagement Party Venue Melbourne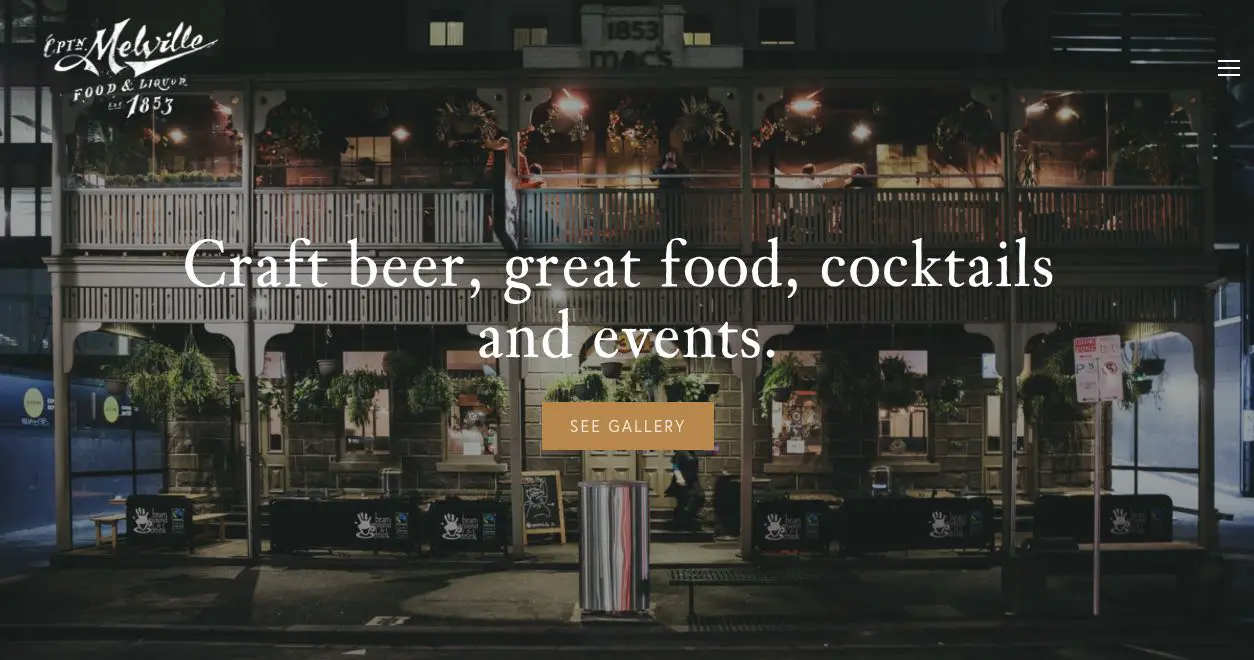 03 9663 6855
Captain Melville Est. 1853
For over 150 years, this famed establishment's bluestone walls have provided solace and sustenance to Melbournians and visitors alike. Now housing Captain Melville, it has become a popular destination for accessible dining, imbibing and revelry – all within Melbourne's oldest public house.
Captain Melville captures our country's spirit, providing the space and atmosphere for like-minded people to relax, meet, drink & dance.
Your perfect venue for functions & private events.
Ideally situated at the Northern edge of Melbourne CBD, with convenient public transport links and parking facilities nearby, Captain Melville offers the perfect venue for events. Mouthwatering food, an extensive drinks & cocktails list, and beautiful spaces that event organisers love.
Our historical house features Melbourne's best self-contained function space and includes a spacious & light-filled indoor courtyard, a cosy front bar, a private room and a unique balcony bar. Additionally, we have a rare 24 hours license that allows us to accommodate after parties without the need for searching other places in the middle of the night.
Function Space & Floor Plan
We have multiple event spaces available for you to choose from and a balcony bar that's open 'till morning. Choose from smaller areas or the entire venue to accommodate up to 355 guests.
We make hosting large events easy, our dedicated functions team and experienced staff can help you maximise the venue and your budget.
Important Highlights
We have a dedicated events team who can work closely with you from the beginning until the end.
Experienced chefs can customise unique menus to accommodate your themed events.
AC & heaters in every space to make your event runs smoothly and comfortably in any season.
Events We Do
Personal Functions
Birthday, Anniversary, Reunion, Family Community Event, Wedding, LGBTIQ Wedding, Engagement Party, Farewell Party, Fundraiser, New Year's Eve Event, Wakes/Life celebration, Beer tasting & Master class, Surprise Party, social class, book launch, comedy.
Corporate & Group Events
Breakfast, Charity Event, Christmas Party, Corporate Lunch, Corporate Private Dining, End Of Financial Year, Farewell Party, Networking Function, Post Conference Dinner & Drinks, Presentation Night, Awards Night, Private Dining, Product Launch, Retirement, Staff Training, Team Building, Trivia, Themed Event, Workshop, Market Day, Panel discussion.
Normanby House - Engagement Party Venue Melbourne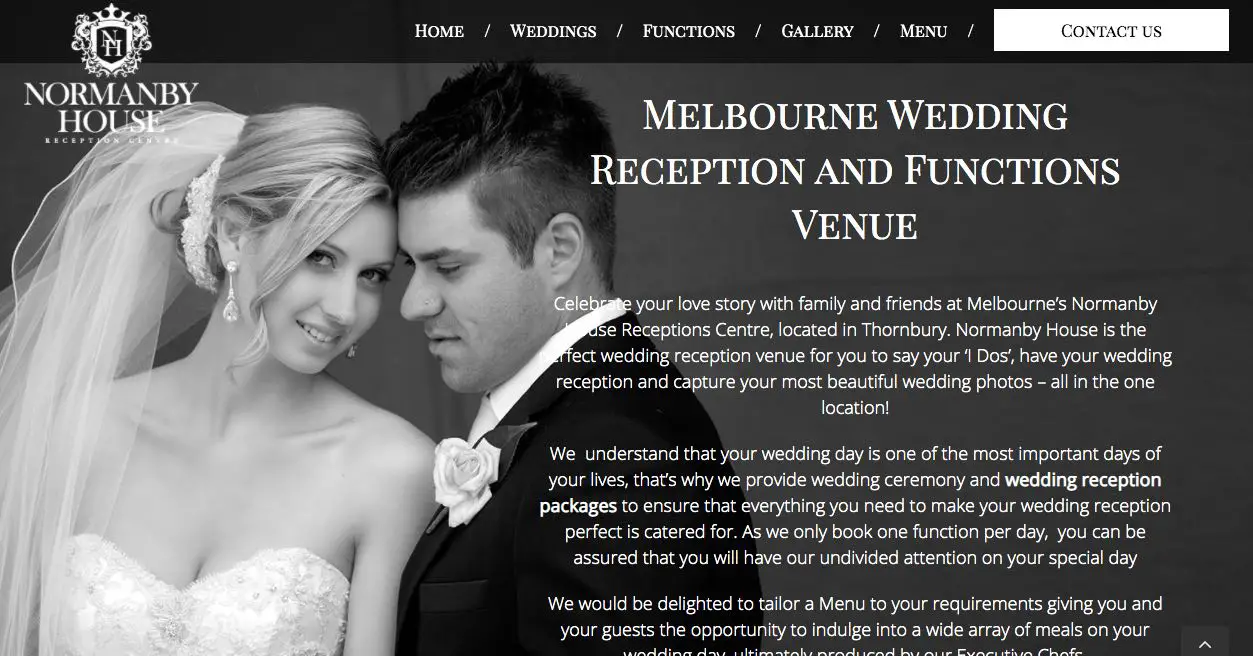 03 9484 3144
Melbourne Wedding Reception and Functions Venue
Celebrate your love story with family and friends at Melbourne's Normanby House Receptions Centre, located in Thornbury. Normanby House is the perfect wedding reception venue for you to say your 'I Dos', have your wedding reception and capture your most beautiful wedding photos – all in the one location!
We understand that your wedding day is one of the most important days of your lives. That's why we provide a wedding ceremony and wedding reception packages to ensure that everything you need to make your wedding reception perfect is catered for. As we only book one function per day, you can be assured that you will have our undivided attention on your special day.
We would be delighted to tailor a menu to your requirements, allowing you and your guests to indulge in a wide array of meals on your wedding day, ultimately produced by our Executive Chefs.
Normanby House Receptions can cater to any event you wish to host
We will tailor every event to suit your budget. Come in and speak to our friendly staff about your next event, or simply sit down, enjoy your coffee, whilst you peruse our menus for the above events. Our chef is open to suggestions and can customise a menu of your desire.
Waterfront On The Pier Engagement Party Venue Melbourne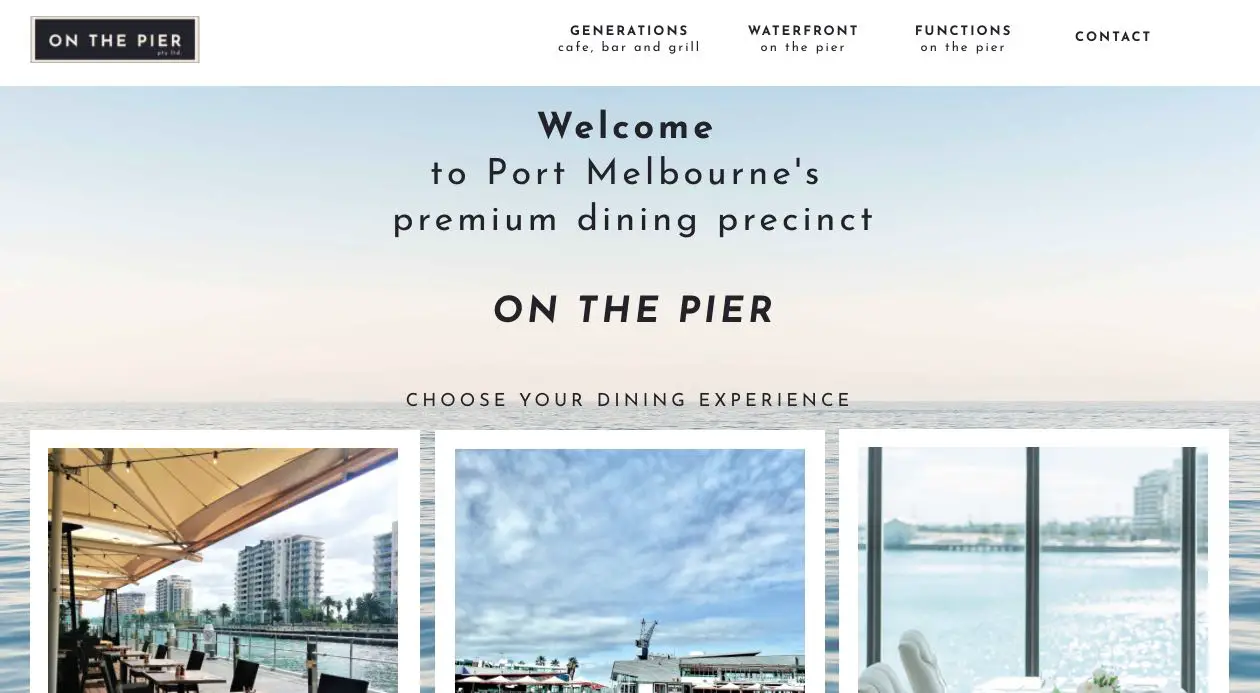 03 9681 9058
About us
Memories are made with family and friends. 
The perfect setting makes them magical! 
Memories are made with family and friends. The perfect setting makes them magical! 
Waterfront on the Pier's elegant function space caters to up to 200 guests. We specialise in events such as Weddings, Engagements, Christenings & Bah mitzvahs. Alternatively, if you're after a more intimate experience, exclusively for your nearest and dearest, our O'Dea room is for you. 
Our dedication to curating a one of a kind experience for you and your guests is what sets Functions on the Pier aside from the rest. Contact our events team today to start planning your event.
Flexible Options
Our dedicated team of event specialists can accommodate any kind of celebration from Weddings to intimate private dining.
Superior Event Management
Planning an event can be overwhelming, which is why we pride ourselves in ensuring the experience is enjoyable for all guests, including you! Our events team have a wealth of experience proving events. On The Pier are always seamless and beautiful.
Bespoke Events
Whether you have your dream event 'storyboard' ready to go or you prefer to leave all the designing to the experts, your event will be truly unique.
Tips for Hosting an Engagement Party Venue 
Work with the couple to build the guest list. 
Typically, all of the invited to the engagement party are also invited to the wedding. Make the guest list accordingly, so that there are no surprises for anyone down the road.
Decide gifts. 
Decide ahead of time whether or not guests should bring gifts to the party for the couple. Gifts for an engagement party can be a source of confusion for guests. They often wonder about the etiquette regarding bringing gifts to an engagement party. To avoid messy situations, explicitly state "no gifts please" on the invitation OR list where the couple is registered. Either way, guests will know how to handle the gift situation.
Keep the decorations simple. 
Flowers are perfect for a table centrepiece. Something as simple as sunflowers would add to this sunny occasion. Another nice touch...set up a table with framed pictures of the couple at various stages of their relationship.
Be prepared to give a toast at the party. 
As the host, you should be prepared to welcome everyone and thank them for coming to share in the celebration of the couple's happy engagement. There may be other guests that are interested in making toasts. Try to find out ahead of time if others are interested in making engagement party toasts so you can allocate time.
Take lots of photographs.
 As the host, you may be busy doing other things during the party, so delegate another guest to do it for you or leave disposable cameras out for people to take their pictures. You can also hire a professional photographer for a few hours to provide the photography for the engagement party.