Want to make shore your beach bash goes swimmingly? Read our top tips for having a successful beach wedding.
Dreaming of saying 'I do' with the sand between your toes and the salty wind in your hair? You'll need the perfect beach wedding venue to match. 
When you are planning your big day, you probably want everything just perfect. One of the best ways to make sure that it all turns out the way you dreamed it to select every detail yourself personally. This way, you can choose the ultimate location, the best entertainment and the most delicious food, and craft your perfect wedding day.
Are you located in Melbourne, Victoria planning a wedding and looking for the best beach and waterside wedding venue? 
We've created an ultimate list of Beach and Waterside Wedding Venue in Victoria, Australia to save you time and money. For those located in Melbourne, we have you covered!
Here is our list of the Top Melbourne Beach Wedding Venues you should visit this weekend.
Make sure your guests know that the wedding is actually on the sand, so they can dress appropriately. This can be communicated with the invitation (included with the map/directions), on your wedding website and through word-of-mouth.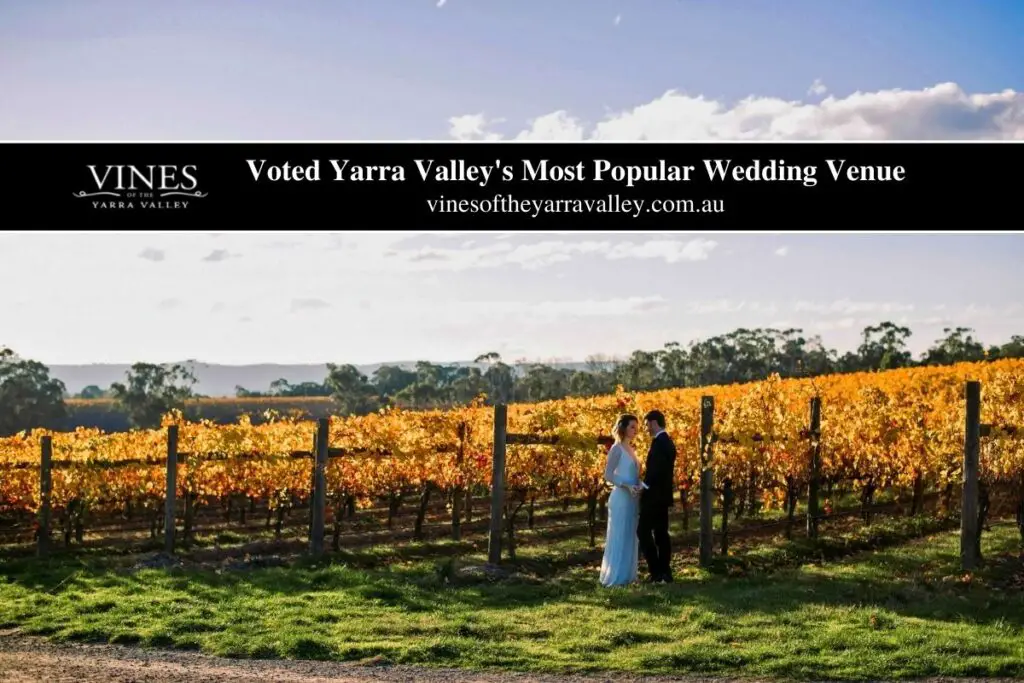 Add a header to begin generating the table of contents
Top Beach Wedding Reception Venues in Melbourne, Victoria
Brighton Savoy - Beach Wedding Venue Melbourne

395928233
Superb Wedding Reception Venue & Beach Hotel in Brighton
The Brighton Savoy is the area's only full-service boutique hotel and is located directly on the beachfront.
During your stay, we invite you to enjoy our full range of services including 24-hour front desk, free high-speed wi-fi internet, Seaview dining, daily housekeeping and free onsite parking, and much much more.
The Brighton Savoy has been a longstanding Bayside icon since 1967, our award-winning facilities serve as a wedding reception venue, full-service function & conference centre with hotel accommodation, and Seaview Restaurant making us one of the finest Hotels Brighton has on offer.
Owned exclusively by the Lee Family, the Brighton Savoy is one of the premier hotels in Brighton which features the best of contemporary design with unparalleled customer service and attention to detail that only a 4-star hotel can provide.
Award-Winning Beach Wedding Receptions Melbourne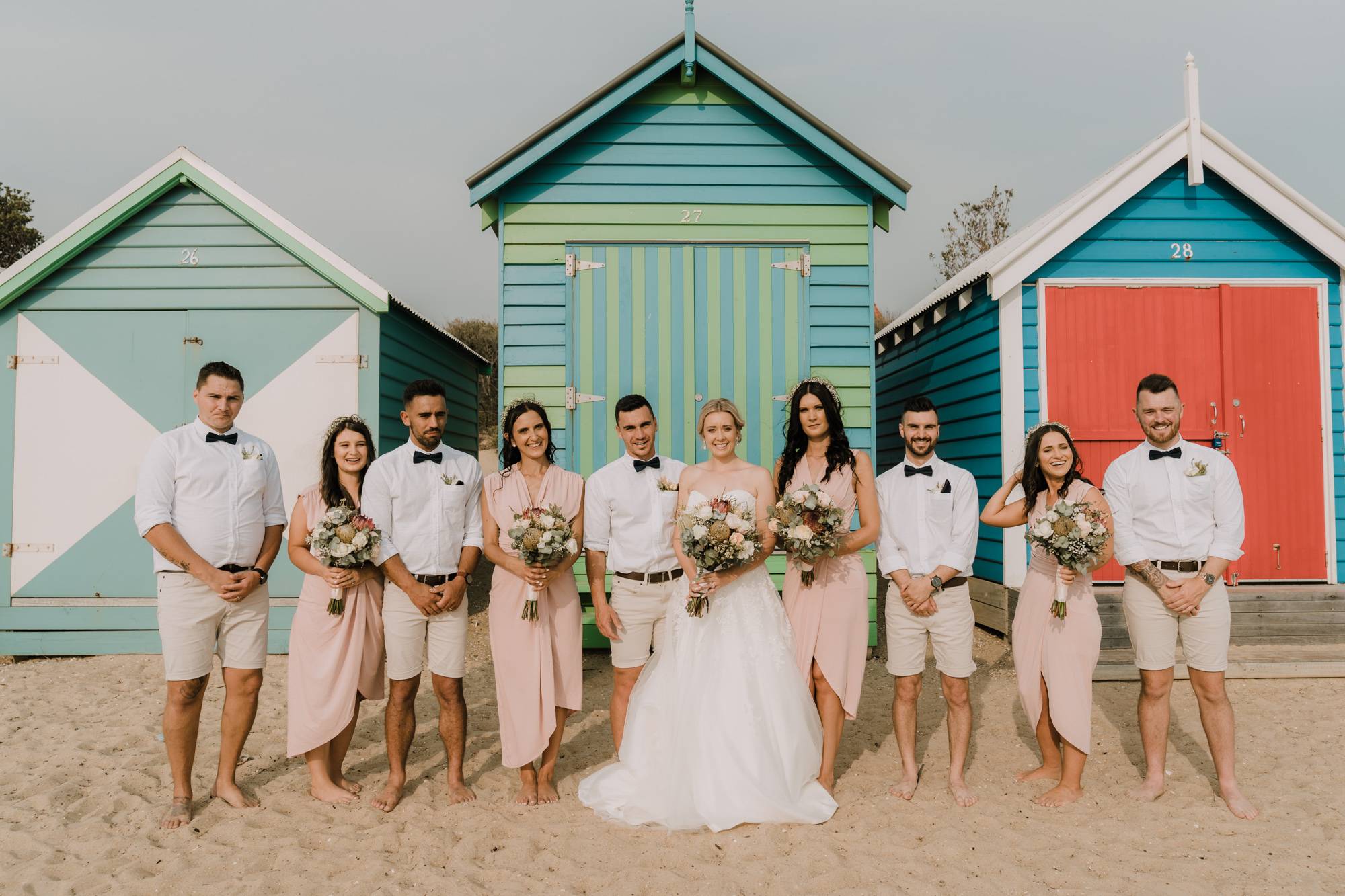 The Brighton Savoy is located directly opposite Middle Brighton Beach where you will find the iconic, colourful and world-famous Bathing Boxes. Host your wedding at one of Melbourne's premier wedding venues, featuring waterfront and beachfront ceremonies, four event spaces catering from 30 to 220 guests.
We have celebrated with many bridal couples over the last 50 years in the Wedding Industry and look forward to hosting your special day with your family, friends and loved ones.
Be assured that you will have access to an experienced wedding and events team to make your wedding day one to remember.
Wedding Venue Highlights
Owned and operated by the Lee family for over 50 years.
Located 12 km from Melbourne CBD on prestigious Brighton Beach.
Hosting your wedding from 30 – 220 guests.
Wedding reception and ceremony packages available
Beach ceremonies in conjunction with the City of Bayside
Photos opportunities at world-famous Brighton Bathing Boxes
Elegance & contemporary style
Free onsite venue parking for guests
Beach Wedding Receptions Package
Brighton Savoy was the winner of the "Best hotel wedding reception venue from the Australian Bridal Industry Association.
Served on Guest Arrival:
Hot Savouries

De Bortoli Willowglenn Sem. Sauvignon Blanc

De Bortoli Willowglenn Shiraz Cabernet

De Bortoli Willowglenn Sparkling Brut

Carlton Draught and Cascade Premium Light

Soft Drinks and Iced water
Three-Course Dinner:
Soup or Entrée as a First Course

Main Course (Select Two)

Dessert (Select Two)

Coffee, Tea & After Dinner Mints
Beverages During Dinner:
DeBortoli Willowglenn Sem. Sauvignon Blanc

DeBortoli Willowglenn Shiraz Cabernet

DeBortoli Willowglenn Sparkling Brut

Carlton Draught and Cascade Premium Light

Soft Drinks and Iced water
Also Provided:
Hostess to overview your function and act as a Master of Ceremonies (M.C) if required

Elevated and decorated bridal table

Table centrepieces on the round mirror, with tea light candles

Central silk floral arrangement on the bridal table

White Linen Serviettes

Honeymoon Suite Package Including a Deluxe Bay view Suite with Full breakfast for two and a bottle of De Bortoli Willowglen Sparkling Brut.
Wedding Reception & Ceremony Package
Brighton Savoy was the winner of the Best hotel wedding reception venue from the Australian Bridal Industry Association.
5.00 pm ceremony commences (30 Mins)
Hostess to assist in the coordination of the ceremony and for the duration of your wedding

Skirted table, silk flower arrangement for the registry signing table

Red Carpet and 24 Americana chairs for guests (no chair covers provided)
5.30 pm Hot & Cold Savouries & Beverages (60 mins)
Hot Savouries

De Bortoli Willowglenn Sem. Sauvignon Blanc

De Bortoli Willowglenn Shiraz Cabernet

De Bortoli Willowglenn Sparkling Brut

Carlton Draught and Cascade Premium Light

Soft Drinks and Iced water
Whilst guests enjoy pre-dinner service, there is time for bridal photography At locations around the hotel or on Brighton Beach Foreshore, upon your return guests are seated, and the Grand Bridal introduction commences.
Three-Course Dinner:
Soup or Entrée as a First Course

Main Course (select two)

Dessert (select two)

Coffee, Tea & After Dinner Mints
Beverages During Dinner:
DeBortoli Willowglenn Sem. Sauvignon Blanc

DeBortoli Willowglenn Shiraz Cabernet

DeBortoli Willowglenn Sparkling Brut

Carlton Draught and Cascade Premium Light

Soft Drinks and Iced water
Also Provided:
Hostess to overview your function and act as a master of Ceremonies (M.C.) If required

Elevated and decorated bridal table,

Guest table centrepiece on the round mirror, surrounded by tea light candles

Central silk floral arrangement on the bridal table.

White Linen Napkins.

The cutting and serving of your wedding cake on platters – one per table

Honeymoon Suite Package Including a Deluxe Bay view Suite with Full breakfast for two and a bottle of De Bortoli Willowglen Sparkling Brut
Total Package duration is 6 hours.
Beach Ceremony Back Up
Beach weddings in Melbourne are becoming a great way to celebrate the marriage of a bride and groom.
When booking your wedding reception at Brighton Savoy, you may also wish to consider a beach wedding ceremony with a picturesque view of Port Phillip Bay and the Melbourne skyline. After your unique ceremony, your guests arrive at your pre-dinner function area and relax and enjoy pre-dinner drinks and canapes in the lush surroundings while you and loved ones are off taking photos in the exquisite settings of a beautiful day on Brighton beach.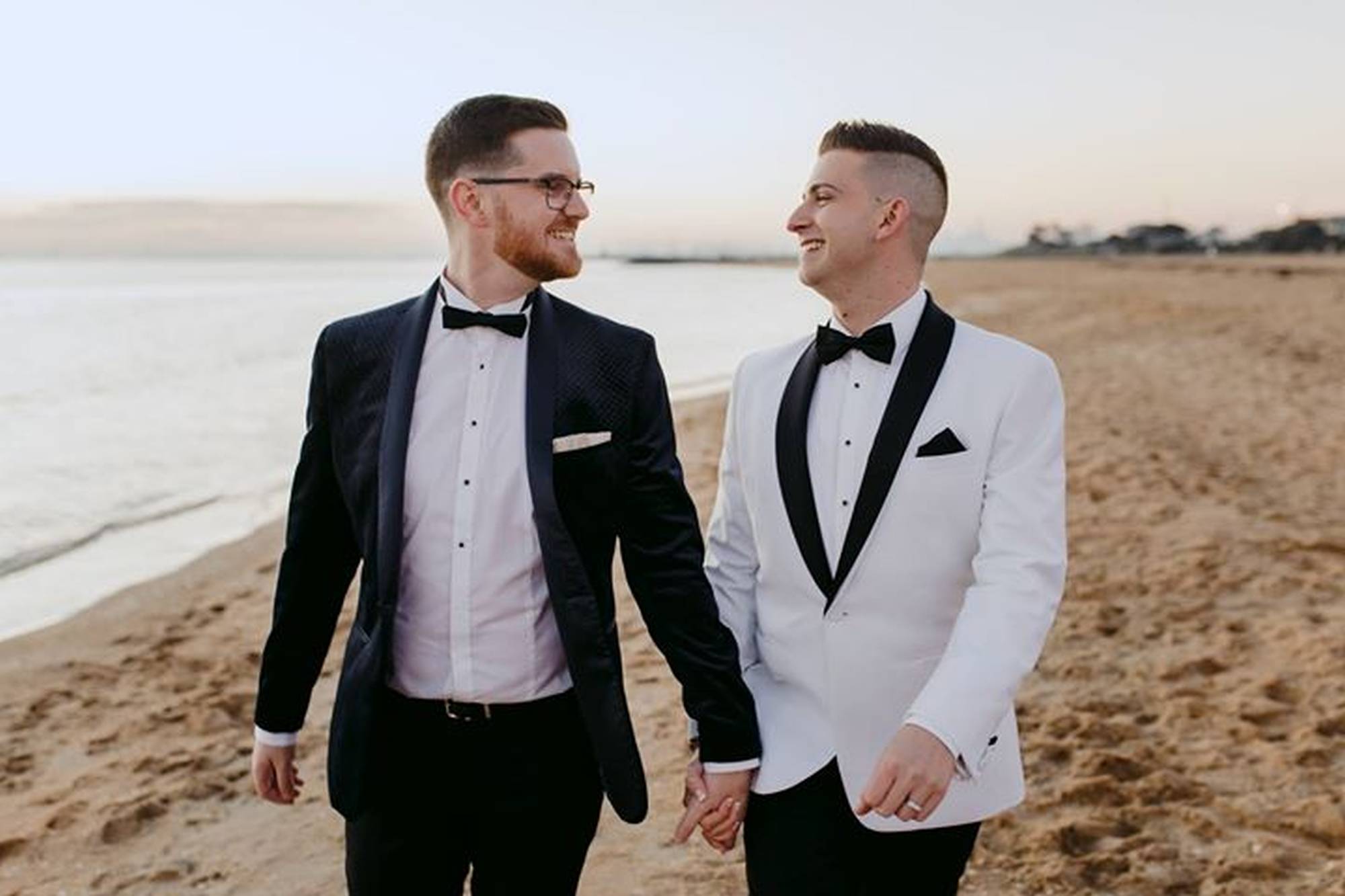 MV Pearl Beach and Waterside Wedding Venue Victoria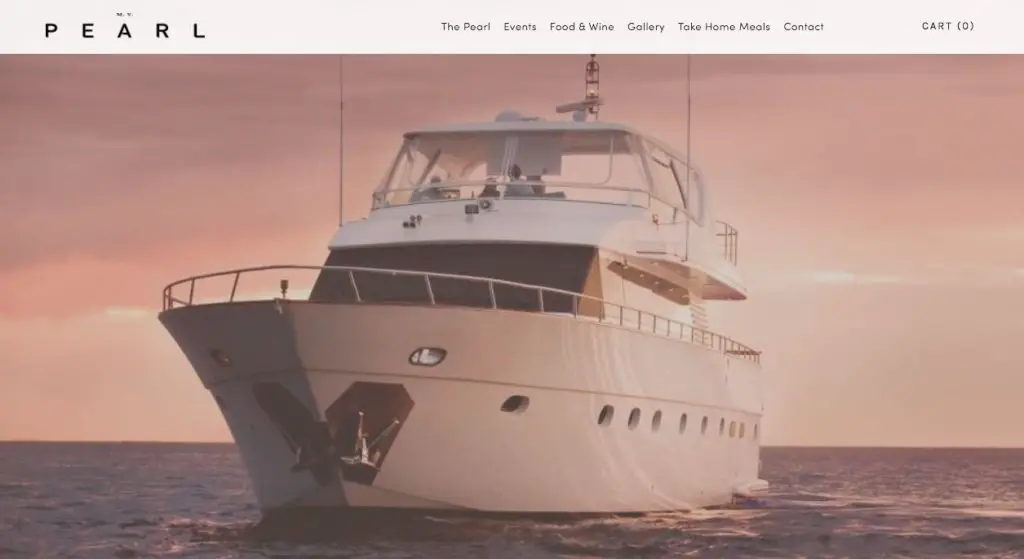 425817151
THE PEARL
Dreaming of a day or night aboard a super luxury yacht or fun & exciting celebration with a difference. 'The Pearl Experience' is a must for anyone wanting to party on the water .. anything from the outrageous to simple good fun.
DESIGN FEATURES
International designer Paul Hecker (Hecker Guthrie) has completely refurbished the Pearl detailing Swedish woven flooring, black oak cabinetry, Calcutta marble & Westbury fabrics. The result is a chic & sophisticated interior; a fabulous environment to party.
The three levels give you an impressive sense of space & the ability to choose how you want to spend your time. Sun bake on the lounges during the day or party on the sky deck at the bar. Dance the night away under the stars with your D.J. taking in Melbourne's fabulous city lights & docklands
MAIN DECK
Sunbeds, alfresco dining, a chic saloon & bespoke marble dining table – a luxurious escape.
SKY DECK
Designed for serious entertaining, the Sky Deck features an oak dining table for 10, fully serviced cocktail bar, day beds & giant drop-down flat screen for movies, sports, product exhibition & fun.
PERSONALISATION
The Pearl is a versatile space with endless unique marketing opportunities. From decals & flags to videos or specialty cocktails. The event team on board will assist in sourcing elements, leaving your guests talking.
WEDDINGS
"…Romantic, intimate & elegant with ever-changing backdrops…"
Set off in style and escape into Melbourne's beautiful waterways. A ceremony on the sky deck followed by the bridal waltz under the stars kicking off celebrations. Award-winning chefs will impress with incredible food, wine & French champagne.
This floating venue belongs to an intimate, boutique catering group with over 30 years experience… you can relax – we know how to get it right.
CORPORATE
The pinnacle of corporate entertaining – a day or night experience to impress guests with fabulous food, wine & entertainment.
Bespoke events are tailored to all clients from a Master Chef experience for 20 right up to a dance party for 67.
CHARTERS
Showcasing some of Victoria's finest food & wine, combined with sightseeing, fishing, swimming, sun baking or punting – a truly Melbourne experience.
CELEBRATIONS
Engagement parties, birthdays, anniversaries.
A dynamic, comprehensive team provide unlimited support & assistance in planning a celebration with your stamp on it.
CHRISTMAS
Unique, unforgettable Christmas Party space, fully equipped with music system, award-winning catering options for anything from 2-67 guests. The search for the perfect space stops here.
Ballara Wedding Venue - Beach and Waterside Wedding Venue Victoria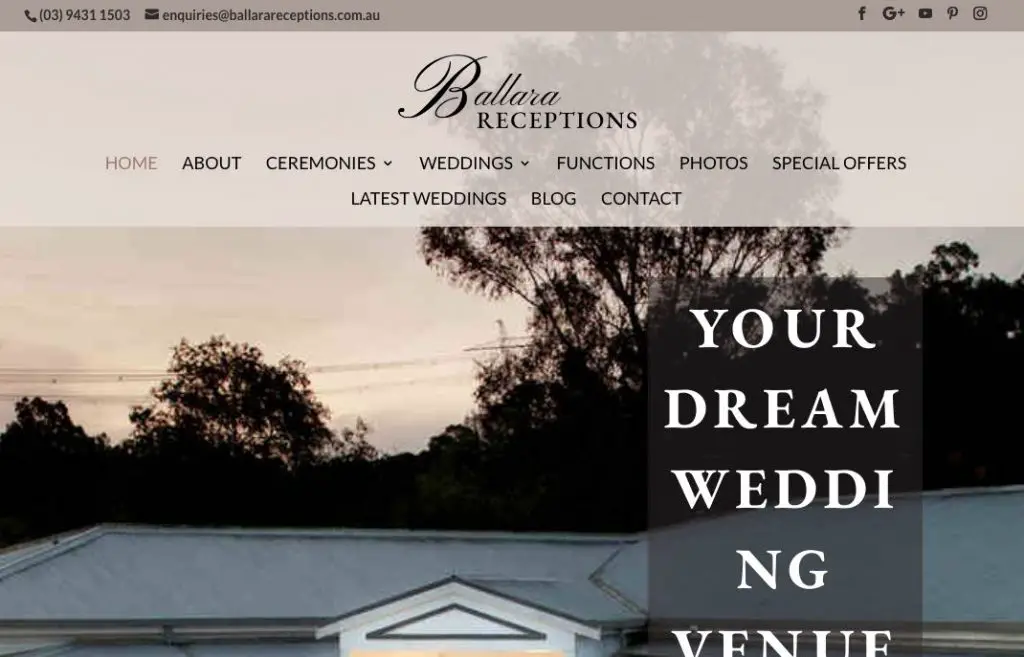 394311503
BALLARA RECEPTIONS
Ballara is a family-owned and operated business established in 1987. Our experience and professionalism have earned us one of the best reputations in the industry.
We are aware of how exciting planning your wedding can be, but also how it can become an overwhelming and stressful experience at times. This is where our years of experience and professionalism will come into play, and our fully inclusive packages will be invaluable. From ceremony to reception, we work closely with you to bring your inspirations to life in our beautiful wedding venue and help you coordinate an exquisite tailor-made wedding.
The team at Ballara look forward to helping you plan a beautiful and unforgettable day of celebrations for you and all your guests.
Our mission is "To give our clients an experience of a lifetime, by always exceeding their expectations by providing exceptional service and high-quality food."
OUR FUNCTIONS TEAM
Ballara has been a family run business for over 30 years. We are a close-knit team so that you can feel comfortable and supported throughout your wedding planning process as well as on the big day itself. We have a team of staff who work full time – Amanda, Fiona, Jan & Stacey – and then part-timer Isabella. So whenever you email, call or come in for appointments you will be in touch with one of us!
At Ballara Receptions, we know that no two weddings are the same. For this reason, we work with each couple to tailor a package to their individual needs. We have options for traditional sit-down packages, cocktail, grazing style or even high tea receptions.
Having been in the industry for over 30 years, we have seen all sorts of different trends come and go and have personalised celebrations to include many different cultural traditions. We have a long list of recommended suppliers we have worked with who can help you take your vision into reality. Our function managers are with you every step of the way – from the first inspection all the way through to the end of your reception & beyond. We even provide you with a bridal host for the day who is your personal assistant, who will take care of all of those little details for you to make sure your day runs smoothly!
The reception room seats 60 – 160 guests in a large open plan with a central dance floor. Stunning chandeliers and classic neutral colours mean you can have any colour scheme in the space and it will look amazing. Luxury finishes and our attention to detail means everything will be perfect for your big day. Large windows look out onto the floodlit gardens filled with fairy lights so that you can enjoy the gardens all through the reception.
Wedding Ceremonies
We can cater to all types of wedding ceremonies – from the chapel to garden and gazebo to stunning water views with our own lake and Jetty.
The Carousel Geelong - Beach and Waterside Wedding Venue Victoria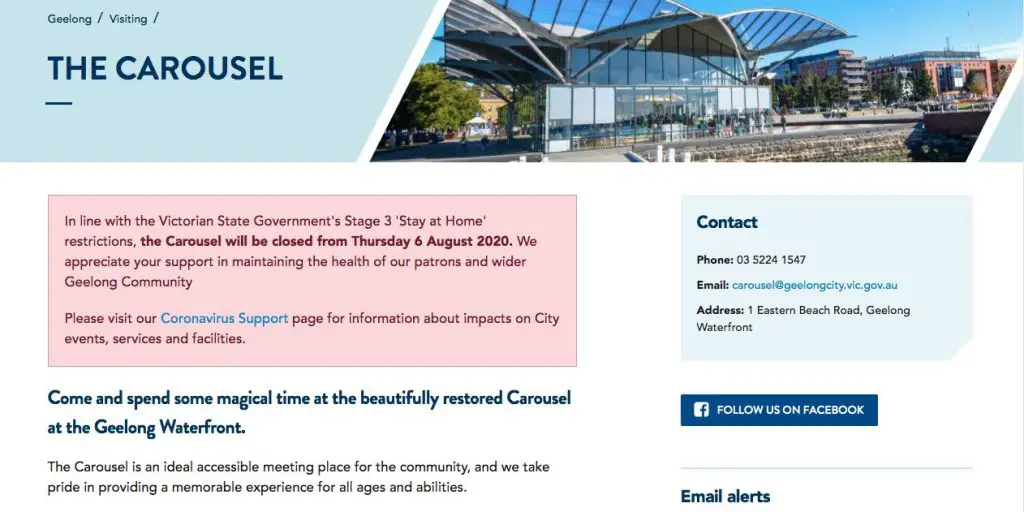 352241547
Come and spend some magical time at the beautifully restored Carousel at the Geelong Waterfront.
The Carousel is an ideal accessible meeting place for the community, and we take pride in providing a memorable experience for all ages and abilities.
This has been made possible with improved access to the Pavilion, the welcome installation of a mobility lift and recharge point. The mobility lift enabled a wheelchair to go on the Carousel ride and was specially designed to respect and complement the history of the Carousel.
Event hire and birthday parties
A spectacular venue for wedding ceremonies and receptions, photoshoots and private or corporate functions.
History of the Carousel
The Carousel restoration took three years and thousands of hours of painstaking research and workmanship.
A wedding on the beach, whether held at an exotic destination or your summer getaway home, can be a great experience for both the couple and their guests. After all, it's like a mini-vacation for everyone involved. However, pulling off a flawless event at the shore isn't without its unique challenges. We tapped destination wedding designer Michelle Rago for her expert advice on the most important things to know about how to plan a beach wedding.
Lake House - Beach and Waterside Wedding Venue Victoria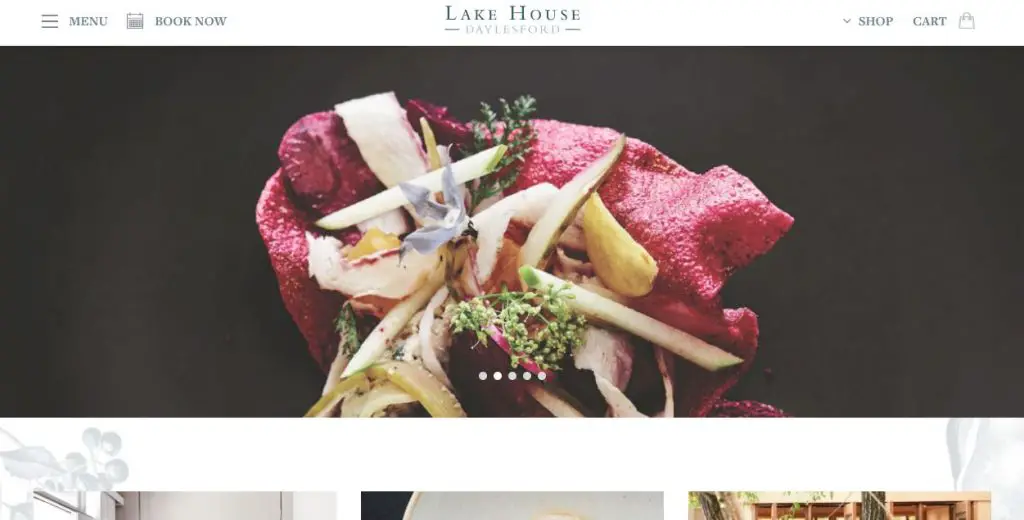 353483329
Restaurant, Hotel, Spa, Weddings, Events, Cellar, Retreats
Six acres of country gardens extend down to the waters of Lake Daylesford and provide guests with immediate access to the lakeshore and the Wombat State Forest beyond.
Exploring the property is in itself an adventure. Guests may like to have a hit of tennis followed by tea and refreshments in the tennis pavilion, a glass of wine by the fire in the Argyle Library Bar. Given the opportunity to explore the gardens you will come upon significant trees, a myriad of sculptures and artwork from many of the region's top artists, extensive outdoor terraces overlooking the lakeshore and established country gardens with everything from koala-loved stringybarks to lilac, Daphne, quince, plum and apple trees.
The renowned restaurant draws appreciative foodies from Australia and around the world. In the kitchens, a talented team under the guidance of co-owner and Culinary Director Alla Wolf-Tasker AM work from the ground up producing cutting edge, modern Australian cuisine with an emphasis on seasonal and regional ingredients.
The Award-Winning Cellar and its list with over 1000 references keep wine buffs happy with its edgy and interesting selection of wines from around the world and of course closer to home.
Co-owner and resident artist Allan Wolf-Tasker whose work hangs in private and public collections around the world has a studio on site which is open by invitation and appointment to Lake House guests. Wolf-Tasker's canvases are on display throughout the property as are works by other artists from the family's private collection.
In amongst the cool fern gully and surrounded by waterfall fed streams and springs – The Spa is an oasis of tranquillity.
Accents of blond wood and splashes of "Tiffany" blue in the furnishings combine with large nudes by renowned local painter David Bromley to create airy relaxation spaces around nine treatment areas. Hydrotherapy in private treetop mineral water spas, advanced performance facials and seasonal signature body treatments provide for easy on-site indulgence.
Event Spaces
Lake House, situated in Victoria's tranquil and picture-perfect Spa Country region, provides an idyllic backdrop with its mountain air, starry skies, lush forests and crystal clear sparkling mineral waters. Combining magnificent views, award-winning cuisine, cellar and the impeccable service of Lake House, your next special event will be a resounding success.
One of Australia's most awarded and romantic boutique hotels, best known for its beautiful lakeside location, two-hatted destination restaurant, award-winning cellar and impeccable service we're also only 80 minutes from Melbourne.
The Prince Deck - Beach and Waterside Wedding Venue Victoria 
395361135
WHERE THE OUTSIDE IS WELCOMED IN, & THE INSIDE FOREVER WELCOMING
Prince Deck is one of Melbourne's best-known and best-loved wedding and event venues.
A heavenly setting to enjoy earthly delights, its floor to ceiling windows and doors open onto an expansive timber deck boasting picturesque panoramas of the Melbourne city skyline and out to Port Phillip Bay.
Superbly stylish, Prince Deck is surprisingly versatile, ready to be reinvented for cocktail parties, family feasts, product launches and corporate events.
WEDDINGS & EVENTS
The Prince Deck is a place to enjoy earthly delights, whether on the timber terrace overlooking Fitzroy Street towards the bay or inside enjoying a seasonal menu from Executive Chef Dan Hawkins.
EVENT SPACES
There's a part of The Prince to suit everyone. Talk to our team about your event, and how we can tailor a space to make it one to remember.
PRINCE DECK
Our premier events space. St Kilda's best view, an outdoor terrace, an indoor oasis and a menu from our executive chef Dan Hawkins. It's a space fit for royalty.
PRINCE DINING ROOM
Inspired by the glamour and grime of St Kilda and its eclectic history, The Prince Dining Room has multiple spaces to host your next private event, whatever the occasion.
SAINT HILL ROOM
Perfect for private dinners and smaller cocktail events the Sainthill Room can seat groups of 12-40 guests. Gorgeous French doors open onto a private balcony with views over Port Phillip Bay.
ATRIUM BAR
Perfect for cocktail style receptions The Atrium Bar features a lush indoor garden, lounge-style seating, full-length glass doors and a bespoke glass ceiling.
PRINCE BANDROOM
Host to some of the most memorable music gigs in Melbourne's history, The Prince Bandroom will give rock 'n roll cred to your next event.
Fenix Events - Beach and Waterside Wedding Venue Victoria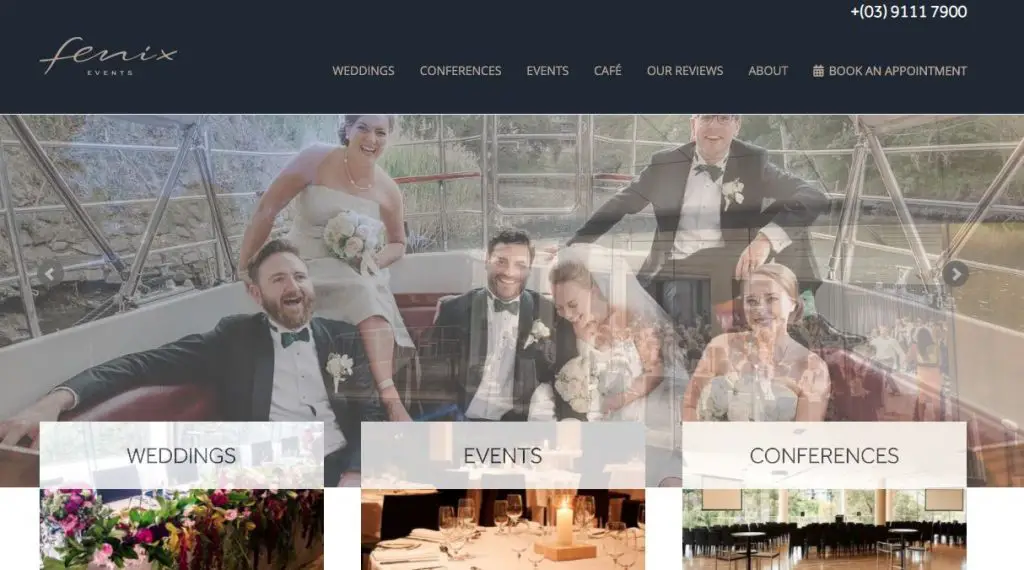 391117900
We are located in a beautiful position in bustling Richmond but on the banks of the Yarra River.
Surrounded by nature, and the tranquil sounds of bellbirds and rosellas, Fenix has all the benefits of a country wedding. Still, we are also only 10 minutes from the CBD, so your guests will find it easy to get here and will be amazed at the experience we offer. 
Our rooms are contemporary and unique, with floor to ceiling curved windows, and covered outdoor areas so your guests can truly enjoy the river views, no matter what time of year it is.
A million-dollar makeover giving you new, stylish and contemporary rooms to choose from
Nationally award-winning menus to wow your taste buds (don't worry, you'll get a menu tasting too!)
All-inclusive packages for dinners, lunches, cocktail parties and/or ceremonies
 Seated capacity of between 80 and 220 (with a dance floor)
 Cocktail/standing capacity of up to 350 (with a dance floor)
 The collaborative wedding planning process, so that you are a part of every decision
 Your own wedding coordinator to help you along the journey
 Off-street, secure, undercover parking for your guests
 Restaurant-style service, so your guests feel like royalty
Melbourne's Award Winning Events Venue
Fenix Events is Melbourne's newest, unique wedding venue, owned by Maple Event Group. Previously a restaurant, Fenix was put through a million-dollar makeover and transformed into a contemporary, food-focused venue now specialising exclusively in private events, for Melbourne's inner east.
Featuring a contemporary, modern design, Fenix is famous for its waterfront location overlooking the Yarra River and its nationally award-winning menus. Including unique features such as heated outdoor areas, off-street parking, floor to ceiling windows and a staircase alongside the avenue leading directly to the river, Fenix is a Melbourne events icon that is here to stay.
Comprising of two event spaces and with the ability to cater for as few as 80 people and as many as 350 people, Fenix is sure to impress as a Melbourne event venue with a true wow factor.
Weddings And Ceremonies
Fenix Events is a beautiful option for unique wedding ceremonies in a natural, riverside setting. With a spectacular view of the river, surrounded by greenery, your ceremony will be one to remember!
Wedding ceremonies at Fenix Events can be held outdoors or indoors, both with beautiful views and modern comfort. Couples can marry outside on our River Terrace and then move indoors for their reception as the sunsets. Or, if you're just after a ceremony only location, you can say 'I do' inside the venue with up to 300 friends and family looking out through floor to ceiling windows at the Yarra and treetops.
Fenix's riverside setting creates an effortlessly beautiful ceremony backdrop. The architecturally stunning building will impress guests as they approach, whilst our experienced team will ensure your friends and family are well looked after and ready before you arrive at the ceremony.
You've basically won the wedding venue lottery if you are going to have a beach wedding. Whether held at an exotic destination or your summer getaway home, it's like a mini-vacation for everyone involved spending the event next to crashing waves and a stellar view.
Peter Rowland - Beach and Waterside Wedding Venue Victoria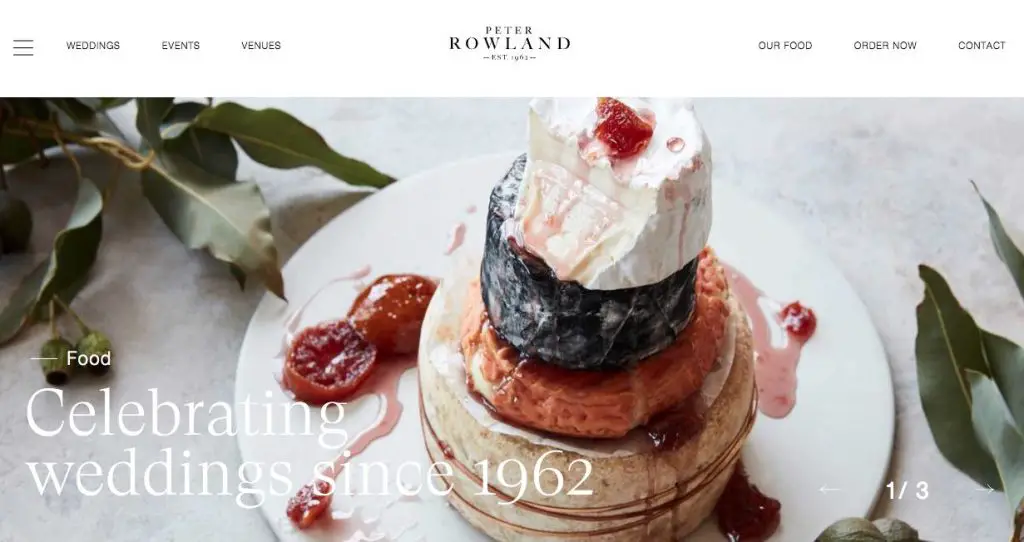 398250000
Peter Rowland has been feeding Melbourne since 1962. From humble beginnings, the Peter Rowland business has grown to become one of Australia's most successful, innovative and respected food and entertaining companies.
The Peter Rowland story began in Portsea on Victoria's Mornington Peninsula where 24-year-old Peter Rowland OAM saw a business opportunity to sell sandwiches and cold drinks to local beachgoers.
Buoyed by the success of his sandwich venture, Peter headed to Melbourne where he set up shop as a society caterer. A born hospitalisation, with a Virgo's obsession with logistics, and possessed with other-worldly charm Peter attracted the attention of the cream of Australian business and society. From corporate headquarters and commercial kitchens in South Yarra, Peter Rowland engineered what would become legendary parties for business titans including Rupert Murdoch, Kerry Packer, Alan Bond and Christopher Skase as well as major iconic events such as the Melbourne Cup Carnival and Australian Formula One Grand Prix.
One thing Peter was clear about from the word go was that everyone who crosses his path is an individual, with different needs and wants. No two Peter Rowland events have ever been the same. The Peter Rowland brand built its reputation on creativity and theatre, elevating catering to unseen and unique new heights.
Over the years, the business has grown from a boutique catering and events company to a multi-faceted food and entertaining business. The group's portfolio includes exclusive private event management, major event catering, retail and hospitality consultancy, restaurant, café and venue management and e-commerce. From 2019 after feeding Melbourne for more than 50 years, the iconic Peter Rowland experience is now also available in Sydney.
Weddings -
The Perfect Partnership
It's our privilege to be part of your wedding! Whether you desire an elegant champagne reception with chic canapes, a refined three-course sit-down dinner, a welcoming buffet with all the trimmings or friendly bowl food we will work with you to create the perfect wedding catering menu. Our wedding planners also help you with inspiration for floral, styling and entertainment to match your personal style.
Ask us about our same-sex wedding celebration packages.
Venues
It's impossible to imagine a more personal and individual event than a wedding – we understand that. We can help you find exactly the right place for it, whether that's a gallery, a country estate, industrial warehouse, by the beach or somewhere you've never even dreamed of. We create weddings Australia-wide and work exclusively with these iconic venues. Drop us a line or give us a call and we'd love to go through the options of Sydney and Melbourne wedding venues with you, as well as possibilities elsewhere.
Menus
We will help create a menu that suits your style, whether you're after a three-course sit-down dinner, a cocktail party, a champagne reception with canapés, a buffet, casual bowl food, or a combination of all of these approaches. See our menu packages or let us customise a menu, especially for you.
Vue Events - Beach and Waterside Wedding Venue Victoria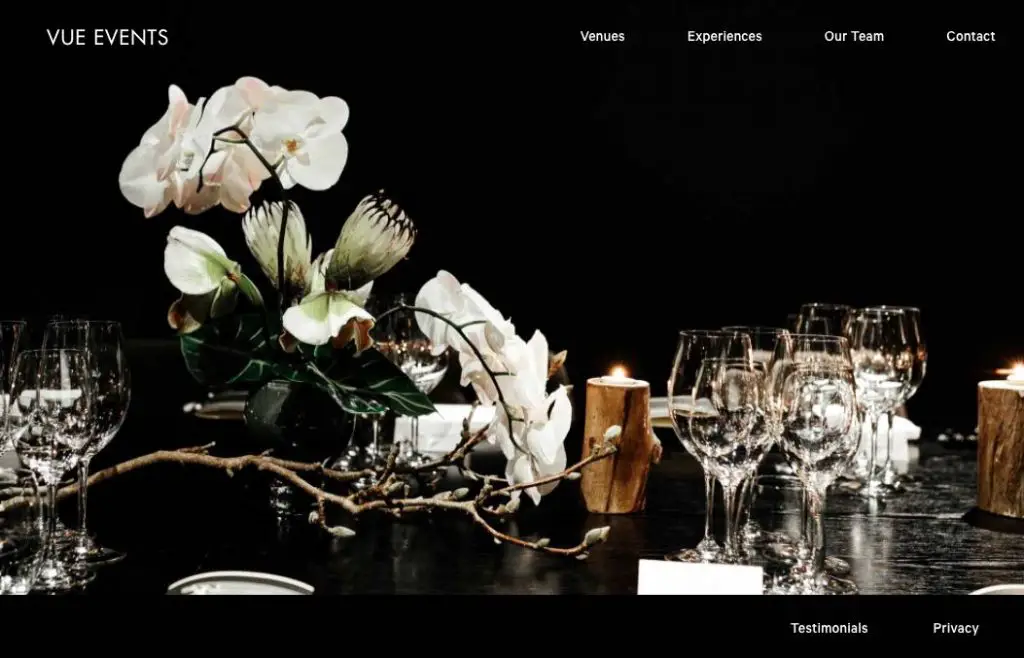 396913812
Weddings
Right down to the place cards, we understand that each wedding is as different as each couple is unique. Combining world-class food, wine and service, Vue Events' portfolio of venues covers everything from tranquil elegance to jaw-dropping views. 
Whatever the needs of your special day, our dedicated team is here to help you with the entire process of creating an unforgettable wedding for you and your guests are dedicated to working with you to ensure every detail is taken care of.
Venues Rialto
A combination of sophistication and scale, Level 55 caters to all events from intimate birthday celebrations to opulent weddings. We also specialise in sunrise breakfasts, corporate lunches, networking events and lively cocktail parties. Our stunning spaces can accommodate parties of 10 through 230.
Recognised as Melbourne's preeminent event spaces, our ethos and commitment to distinction echoes that which has iconised Vue de monde. Our aim is to create an inimitable guest experience every time. We always strive to tailor to each taste, always inspired by the gastronomic journey that has seen our clients continue to return throughout the years.
Vue Events has perched 55 levels above the city and shares the same stunning design and sweeping panoramic views attributed to Vue de monde's revered status. 
Jardin Tan
Set amidst the lush, green embrace of Melbourne's Royal Botanic Gardens, Jardin Tan events explore the dynamic fusion of French-Indochina flavour.
As the leaves change colour with the seasons, so too will our menu. Our chefs celebrate the organic, biodynamic produce from the gardens of our sister venue Burnham Beeches. Jardin Tan represents our farm-to-table philosophy, where tradition meets innovation and freshness.
Jardin Tan sits on the edge of the CBD and caters a full spectrum of events. Our glasshouse, garden deck and entire venue cater to everything from wedding receptions and dinners, corporate breakfasts and lunches, and of course cocktail parties.
Burnham Beeches
A rural paradise set in the lush surrounds of Sherbrooke Forest, Burnham Beeches a rustic farm-to-table menu afforded by our own produce gardens and truffle. A true favourite for picturesque weddings, personal celebrations, corporate activity days and group masterclasses for those near and far.
The venue overlooks a slew of tables lay under heating strobes looking out to lawn bowls, croquet, and bocce pitches. Look even further across the 23-hectare estate and into the distance, and you'll spot the 500 tree truffle, extensive vegetable gardens (now providing organic produce for Vue de monde and other Vue Group restaurants) an emu enclosure, neighbouring alpacas and wandering chickens.
The Riverstone Estate - Wedding Venue Victoria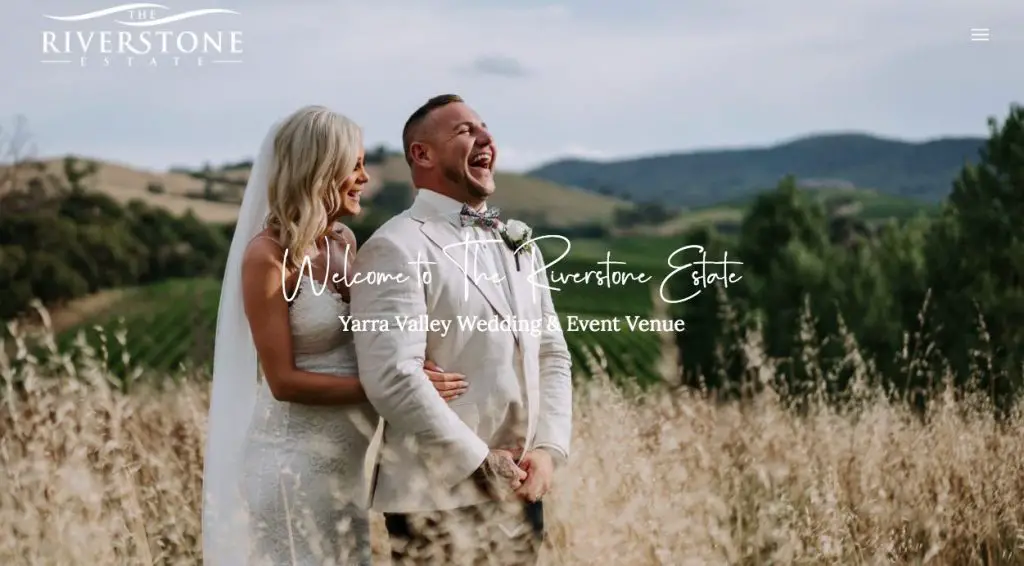 359623947
When it comes to your special day, count on The Riverstone Estate to make it truly unique.
The Riverstone Estate is a 75-acre property set on the banks of the Yarra River, amid Melbourne's famous Yarra Valley wine country.
Building on the reputation and history of the region, The Riverstone Estate is known for producing exceptional food and wine, with breathtaking 360-degree views.
The central showpiece of the property is a classic storybook homestead & function space built from Bluestone and 100-year-old Oregon timber which was reclaimed from the Newmarket sale yards.
The vineyard was established in 1995, with the first vines planted in December of 1996. Winemaking commenced in 1999, supplying local restaurants and exporting small quantities to China and Japan.
To this very day, The Riverstone Estate continues to produce amazing wine and hospitable experiences that delight all visitors.
Come and discover our story with a visit today.
The Riverstone Estate is one of the most sought after wedding venues in the Yarra Valley, surrounded by acres of rolling hills offering breathtaking 360 degrees views of the Yarra Valley.
An elopement or micro wedding at The Riverstone Estate could be your perfect wedding style! 
By getting married at The Riverstone Estate, you can have an intimate and romantic elopement wedding ceremony in one of our stunning locations:
View of the Yarra Valley
In the Vineyard
Sunset Splendour
Giant River Gum
Weeping Willow
We provide a build-your-own elopement package, so you plan exactly the wedding that encapsulates your sense of style. We can add an intimate bespoke wedding reception to any one of our elopement packages catering from 5 to 50 and offering a 1 hour, 2 hours or 3-hour inclusive wedding package. At The Riverstone Estate, we pride ourselves on strong relationships with local producers ensuring the very best quality products being used for your menu. With our estate-grown wines being served along with local beer, our seasonal menus options are built upon locally grown fruit vegetables and game meats and of course Yarra Valley cheeses.
Our packages include everything you need to have a rustic luxury intimate and romantic elopement or micro wedding. If you want a small wedding in the Yarra Valley with friends and family or an all-inclusive elopement package? The Riverstone Estate has got you covered. Planning your intimate wedding with us is simple and stress-free. Whatever you have in mind, we'd be thrilled to help you. Bringing your dream wedding to life at Riverstone could not be easier, with our expert team ready to assist you.
Make your Wedding ceremony truly memorable with an outdoor ceremony in front of the rolling hills of the Yarra Valley, or if the weather is inclement, another option is to hold it inside or on the deck. No matter which option you have, you will still enjoy the stunning views.
All our packages include your ceremony, and we have a range of well-known and trusted celebrants that we can recommend to suit the mood of your ceremony. In the event that the weather is not ideal on your big day, we have a range of alternative options we can provide, to ensure that the weather does not affect your most special day.
Grazing
Give your guests the freedom to mingle with a Grazing Cocktail Wedding Package.
Following a beautiful ceremony overlooking the Yarra Valley, enjoy a 5-hour reception with a grazing menu of your choice and 5 hours of bar service.
While you are away from your guests getting your bridal photography, your guests will have the pleasure of enjoying our special "In off the field" grazing table straight after the ceremony and group photos creating a 6-hour food package at no extra charge.
Once our official 5-hour package starts, our signature roaming menus will be brought to you and your guests by our friendly waitstaff.
Our grazing packages are specifically made to create a relaxing, inviting atmosphere where no one leaves hungry.
Banquet
For a more traditional approach, look no further than our Banquet Packages.
Following your picturesque ceremony, enjoy a formal meal with your guests inside the homestead. Including 5 hours of bar service and exclusive use of the venue and facilities, you'll enjoy expert service from our staff to ensuring a perfect evening.
Following dinner, dance the night away under the stars with your guests—a beautiful way to end the perfect day of your life.
We offer, a variety of banquet menus, with carvery and shared plate options or for the foodies, we can also offer Table D'Host and custom Degustation menus.
Luncheon
To capture more of the Riverstone magic, explore our Luncheon Package.
Offering exclusive use of the venue and facilities, you'll enjoy a seated luncheon following a breathtaking outdoor ceremony under a blue sky. Including 4 hours of bar service and ample space to entertain and mingle with your guests, it's an ideal place to create beautiful memories of your big day.
After your luncheon, you'll enjoy uninterrupted use of our idyllic scenery for bridal photos to capture stunning memories.
Ceremony Only Packages available on application.
Food Gallery
At The Riverstone Estate, we pride ourselves on strong relationships with local producers ensuring the very best quality products being used for your menu. With our estate-grown wines being served along with local beer and cider; our seasonal menu is built upon locally grown fruit vegetables and game meats and of course Yarra Valley cheeses.
During the months of May to September, we have a very special offer to utilise the best time of the day to enjoy the views. This package is perfect for couples who are wanting a more intimate and boutique wedding reception.
Enjoy a late morning ceremony before feasting on a stunning three-course luncheon in our main reception room. This package is created for couples who are wanting 30 to 80 guests to attend their wedding.
The views from our floor to ceiling French doors and windows ensure that all your guests take in the views of the surrounding countryside while celebrating your special day.
We have a lovely bluestone fireplace which adds a very cozy ambience to your wedding reception. We also have clear café blinds and outdoor heaters, so your guests are still able to enjoy our wrap-around deck throughout the wedding reception.
Prices start from $120 per person for a 3-course meal, including a 4-hour beverage package. Contact our sales team to find out more details.
Flowerdale Estate - Beach and Waterside Wedding Venue Melbourne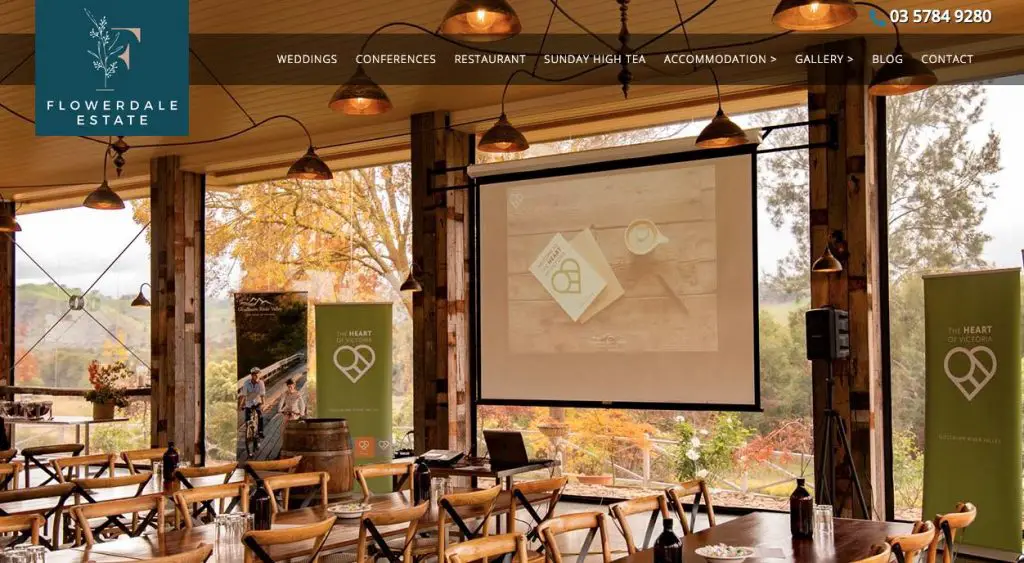 357849280
Magnificent Historical Victorian Country Homestead · Stunning Rustic Garden Wedding · Ceremony and Reception at the same venue · Located just over an hour from Melbourne between the Yarra Valley and Macedon Ranges
Your Garden Wedding Ceremony
Located near the Yarra Valley, Flowerdale Estate is your beautiful garden wedding venue. Your guests will get lost in the magic of this stunning pocket of country Victoria.
Choose from at least two locations on our idyllic property for your ceremony. We have garden beds of stunning white roses which are boarded by immaculate hedges. Our venue offers its North Lawn as the classic outdoor garden wedding setting. The picturesque Lakeside provides a contrast to the North Lawn. Fronting Lakeside, the water glistens whilst the rolling hills reflect the seasons. Here, the native plants and gum trees mirror these surroundings.
For small weddings, we can also offer the lawn under the gorgeous old oak tree on our property. We have a range of different ceremony options for you to choose from, dependent on your personal choice.
Both areas have built-in arbours, shady trees and can be set with white tiffany chairs or more rustic benches. Again, the choice is yours!
Spend the day
Spend the day onsite with your wedding party, in our Homestead Lounge or the new Parlour Room. Both rooms are located in our grand historic homestead and open out onto the North Lawn. Let us pamper you with drinks on ice and light snacks throughout the day. Be sure to have your photographer arrive in time to capture each of you getting ready in your beautiful surroundings. We can also recommend some amazing photographers we work with regularly.
Make your day all about spending quality time with each other and your guests. Flowerdale Estate is a Victoria wedding venue where getting ready, getting married and staying the night is all on one. Our wedding venue with accommodation ensures you and your guests can fall into bed after a fabulous night of dancing!
Your Reception
The Pavilion; architecturally designed and built by a local builder. This building is the ultimate indoor and outdoor wedding space. Appropriately positioned with the hills as your stunning backdrop. For an entrance to never to forget, arrive through the Oak Tree doors to be showered with your guests' congratulations.
Our unique Pavilion can seat up to 180 guests and stand more than 200 guests. With our lavish green lawns and blossoming gardens, your guests will feel relaxed and comfortable. Stunning scenery, natural lighting and heated, polished concrete floors for the cooler months. This space is the most spectacular and versatile room in Victoria for an outdoor/indoor wedding.
Your lavish food & beverage packages
We have a variety of decadent food and drink packages to suit your personal taste and style. Get your guests mingling with our cocktail package, sit down for a traditional two or three-course feast, or do something a little different, with our gourmet BBQ or High Tea wedding packages.
Our festive and distinguished menus utilise locally sourced, seasonal produce, and cater to all your guests' dietary needs, including vegetarian, vegan, gluten-free and lactose-free meals. All of our packages are inclusive of a premium drinks package, including locally sourced ciders and boutique beers.
Whatever option you choose, Flowerdale Estate will ensure you have a country-style feast that your guests won't forget.
While a beach wedding provides you with plenty of natural scenery and décor, pulling off a flawless celebration at the shore isn't without its unique challenges. As if it is not stressful enough to be organising catering for functions and the bridesmaid's dresses, beach weddings present additional challenges. There are many beautiful Melbourne wedding photo locations and ceremony locations, and the beach is one of them. Here is our expertise on the essential things to know when developing the perfect plan for your sandy beach dream wedding.
Tatalia Function Centre - Beach and Waterside Wedding Venue Victoria

354813333
Tatalia Function Centre is situated in the heart of one of Australia's most vibrant, cultural and historic regions, Echuca-Moama.
Our first floor Tatalia Function Centre provides an elegant setting for your next function with stunning views over the West golf course and breathtaking sunsets beautifully captured through the floor to ceiling windows.
Our Executive Chef and his talented team have a reputation for culinary excellence, and together with our experienced and professional floor staff, Tatalia Function Centre provides the highest quality products and services that come together to help make your event truly exceptional.
If you wish to arrange a personalised tour of our venue or have any questions, please contact us. View our testimonials and gallery.
Thank you for considering Tatalia as the venue for your next event. We look forward to meeting you soon.
Onsite Ceremonies
Tatalia Function Centre at Rich River Golf Club offers an idyllic setting to declare your nuptials.
Wedding ceremony fees include seating for up to 50 guests, white linen clothed registry table and complimentary use of 10m red Carpet (optional).
In inclement weather, we have the option to move your ceremony to our first-floor Private Function Space.
The Lakes
The Lakes offers the ideal romantic location for your wedding ceremony. Enjoy secluded lakeside surrounds, nestled amongst picturesque fairways.
Car park located at The Lakes for your convenience.
Hold your reception on-site to receive a $200 discount.
Radcliffe's Function Centre & Catering - Beach and Waterside Wedding Venue

354806720
Welcome To Radcliffe's
Simply Beautiful. Stunningly Romantic.
Radcliffe's is a venue like no other. Whether it's a special occasion, family celebration, entertaining visiting friends, or a dinner for two in an intimate setting, Radcliffe's has got it all.
WEDDINGS
Radcliffe's Function Centre is an impressive and unique wedding venue offering exquisite food in an outstanding location. Our Function Coordinators have a keen eye for detail and will assist you in organising every facet of your Echuca wedding reception.
Radcliffe's fully enclosed Conservatory Garden is the most magical setting for a wedding reception. The lush green canopy surrounding the room adds natural forming chandeliers in the warmer months. Twinkling fairy lights throughout the vines and surrounding the edges present a truly romantic ambience.
Radcliffe's Function Centre can accommodate weddings from 40-400. For weddings of 150+, we recommend you hire our full venue, which is our front restaurant area in addition to the Conservatory Garden. The Conservatory Garden contains a private bar, dance floor, private access for you and your guests plus air-conditioning and heating.
We pride ourselves on trying to accommodate your needs, desires and budget. When arranging your wedding reception, our highly qualified staff will meet with you and tailor a reception to suit your individual requirements. They communicate with you on a regular basis to ensure that your reception runs smoothly.
After all, no two couples are the same, and neither should their wedding day be.
CONFERENCES AT RADCLIFFE'S
The conference experience like no other 
Radcliffe's Function Centre in Echuca isn't your ordinary venue. Take your delegates out of the boardroom and into a green oasis where new ideas and innovative thoughts thrive—a breakaway from the status quo for your next conference or event.
River's Edge Events - Beach and Waterside Wedding Venue Victoria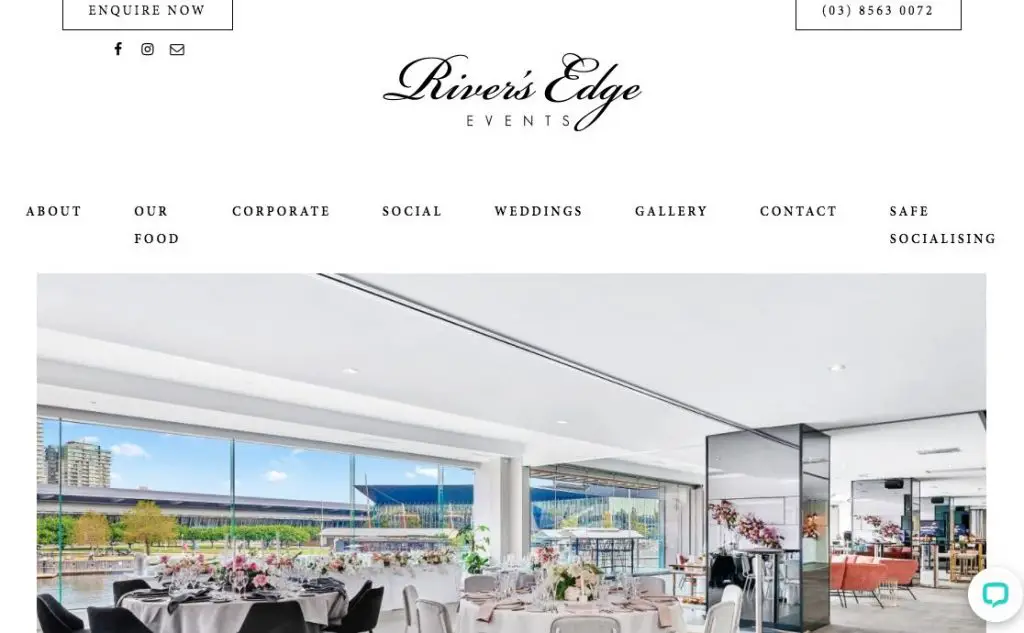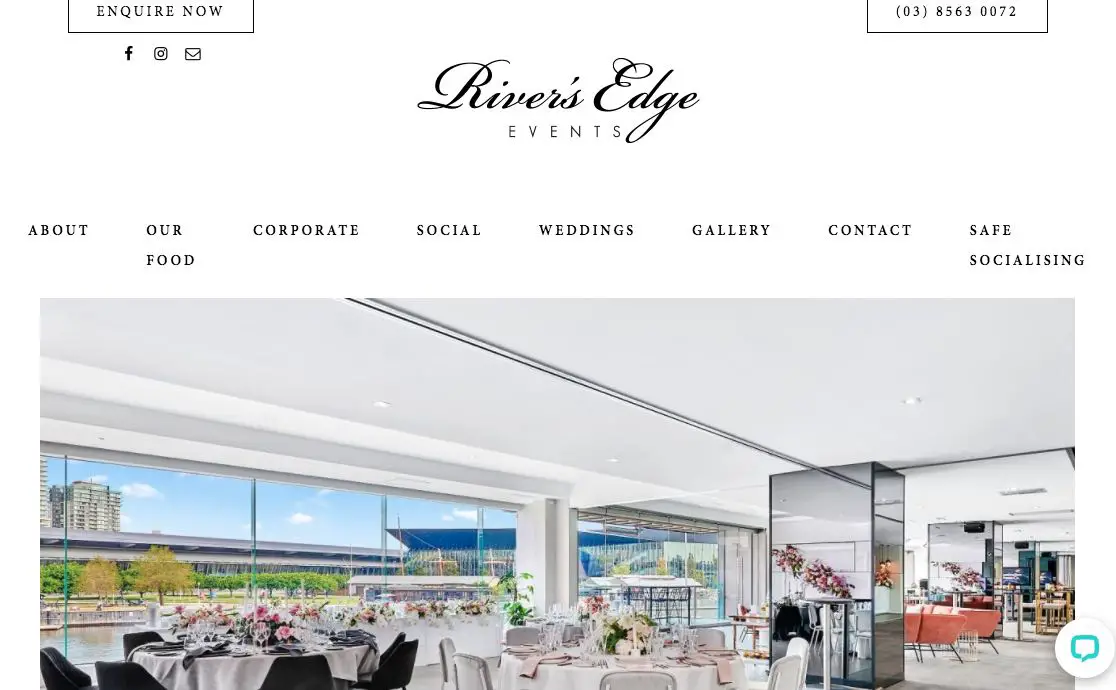 385630072
RIVER'S EDGE EVENTS
River's edge is located within Melbourne's Waterfront development, WTC Wharf, on the fringe of the city. This unique event space is a refreshing and vibrant addition to Melbourne's event industry.
River's edge delights with exquisite sweeping views of the Yarra River and city surrounds and boasts an abundance of natural light through clear floor-to-ceiling glass expanses. Featuring polished concrete floors, neutral tones and industrial style lighting, River's Edge provides a modern and minimalist event space to host your event.
A grand staircase marks the formal entrance to River's Edge with feature lighting and plasma screen. The room extends further towards the river with two stunning Juliet balconies, perfect for a cocktail and canapés upon arrival.
Additionally, operable doors ensure the room can easily be configured to suit more intimate groups as small as 20 guests. Whether it be a meeting, seminar, conference, luncheon, fashion show, cocktail party, or celebratory dinner, the experienced team at River's Edge will ensure your event's success.
With a premier location, River's Edge is sure to impress your guests whether you're after a sit-down dinner or stand up cocktail event. We pride ourselves on delivering unforgettable experiences that can be tailored to suit your taste, budget and style.
WEDDINGS
Boasting 180-degree views over Melbourne's city skyline and Yarra River; sunlight from spring to autumn and sunset panorama over the water during the long summer evenings, a wedding at River's Edge Events is one your guests will long remember. With a sophisticated and minimalistic approach to styling; neutral tones, polished concrete floors and industrial styled lighting, River's Edge Events provides the perfect canvas to add your personal touch.
Rivers Edge Events can host receptions from 50 through to 180 guests with a dance floor or a relaxed cocktail style reception for up to 550 guests. Operable doors allow the room to be easily configured to ensure smaller wedding parties enjoy an intimate and romantic ambience.
The room extends further over the river with two stunning Juliet balconies, perfect for cocktails and canapés upon arrival.
The events team at Rivers Edge Events take care of every detail for your special day, providing comprehensive event consultation in the lead-up, right through to the seamless execution of your event.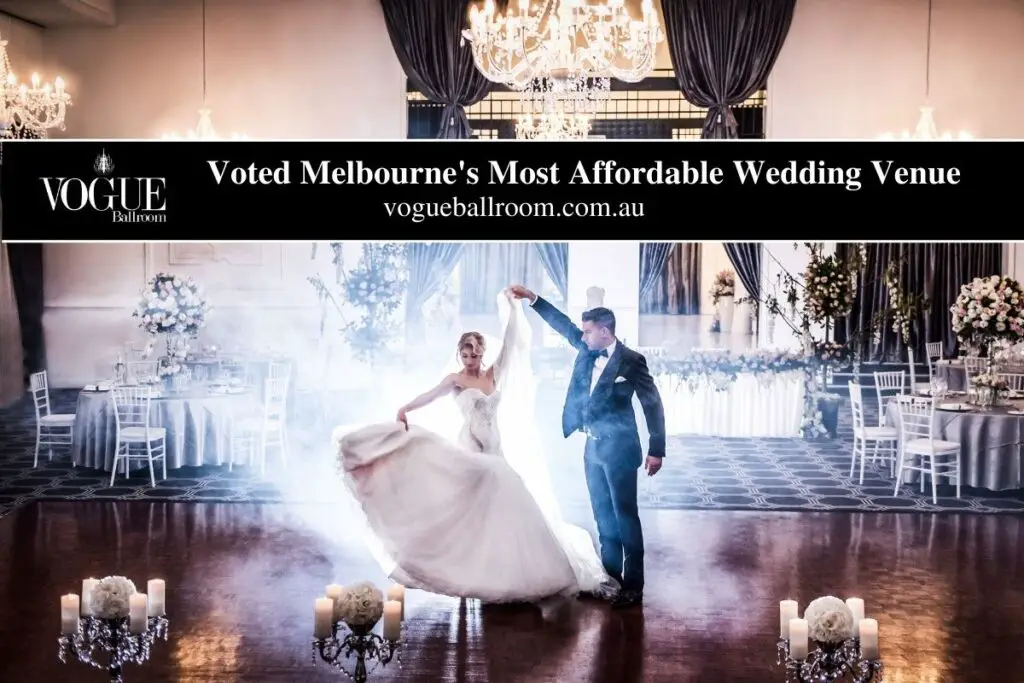 Waterfront On The Pier - Beach and Waterside Wedding Venue Victoria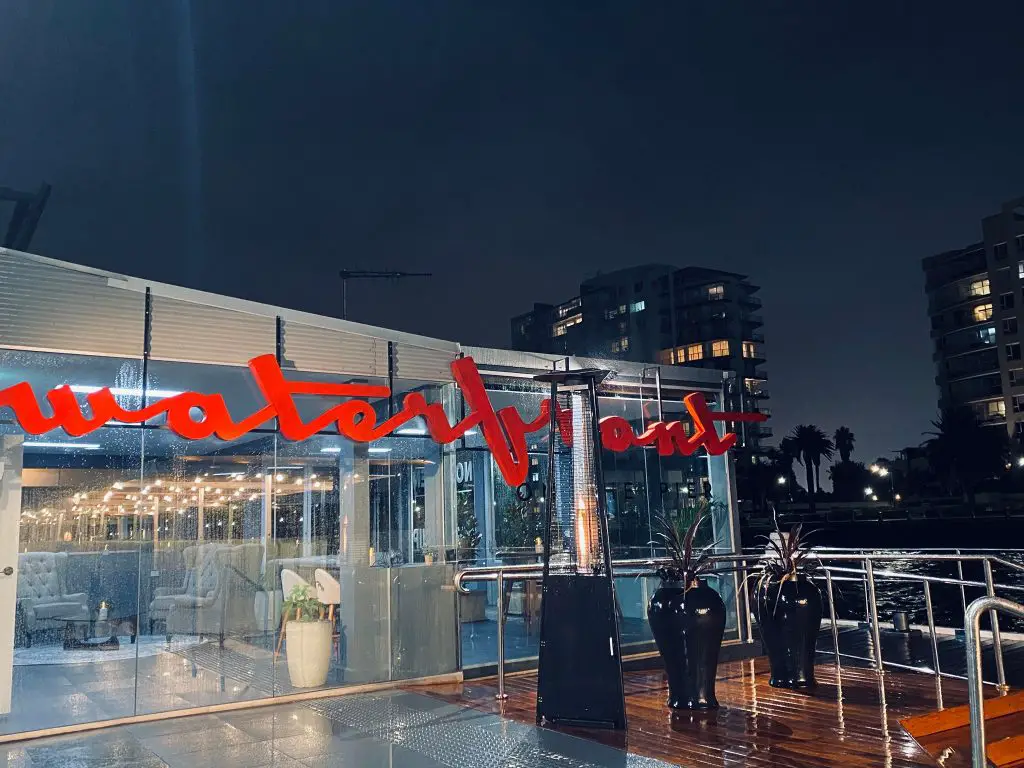 facebook.com/waterfrontonthepier/
396819058
Situated by the water's edge in the stunning Port Melbourne, Waterfront on the Pier specialises in fresh seafood and Mediterranean cuisine, accompanied by great wine and service. Waterfront on the Pier also has ample function space, covering 200 people.
Sorrento Sailing Couta Boat Club - Beach And Waterside Wedding Venue Victoria 
359848200
Home to the largest fleet of Couta Boats in Australia, we enjoy racing every weekend from November to June. SSCBC welcomes Members and their guests. 
Commodore's Welcome
Welcome to Sorrento Sailing Couta Boat Club (SSCBC).
SSCBC's origins date back to 1948, and we feel so proud of our journey over the past 70 years or so. Each stage of SSCBC's growth and evolution has contributed to the Club we now love and enjoy.
One aspect of our Club incredibly important to me is our iconic Couta boats. Couta boats were traditionally used as fishing vessels to catch barracouta along the coast of Bass Strait. The Couta boats would then race back to shore with their catch. Many of our fleets are restored originals, some dating back to the early 1900s, racing regularly against the newer boats in the fleet. Our Club is fortunate to have the largest fleet of Couta boats in Australia, and they are raced most weekends competitively from November to June. I particularly enjoy watching the next generation take the helm, so to speak so that they too can enjoy sailing these iconic boats into the future. SSCBC also owns a Couta boat, Ripple, giving members and visitors to the Club who are interested in learning how to sail a Couta boat the opportunity to have a go.
Another aspect of our Club particularly close to my heart is the warm, welcoming and inclusive nature of our Training Centre. Throughout summer, school holidays and weekends throughout most of the year, you will find our junior and youth sailors making the most of their time on the water, learning to sail or continuing to progress through the more competitive off the beach stages of racing. Our junior and youth sailors are nurtured by an incredible team of accredited instructors, many of whom have grown up themselves at the Club and are now part of our coaching team.
Our Cara na Mara program (meaning "friends of the sea" in Ireland) welcomes children aged from 5 years. It provides their first introduction to sailing and boating in general, in a controlled and safe environment. The Learn to Sail courses leads on from there, providing opportunities for children, teen and adults to begin the journey of sailing. This is where lifelong friendships are formed. Our Training Centre participants return each school holidays to meet up again with their friends, right where they left off, to enjoy their time at the beach.
We feel very fortunate to be situated in one of the most picturesque parts of the world, with the flat waters of Port Phillip Bay ideal for sailing. Our Clubhouse offers incredible views across the bay, and we invite Members and their guests to dine in the Clubhouse or enjoy a meal on the deck. The Clubhouse is also available for private functions for both Members and their guests. Planning is underway for a renovation of our Clubhouse, providing additional space for our Training Centre, boat storage, office administration and a new and improved kitchen and deck area. Stay tuned for this exciting new chapter of SSCBC!
Come visit us, and we will give you a warm welcome.
Membership
Application forms are only issued to current Members who intend to propose an applicant for membership. We invite Members to contact the Club.
Community Engagement
SSCBC's Community Engagement Program continues to be an important part of our longstanding relationship with our local community.
The Dunes Ocean Grove - Beach and Waterside Wedding Venue Victoria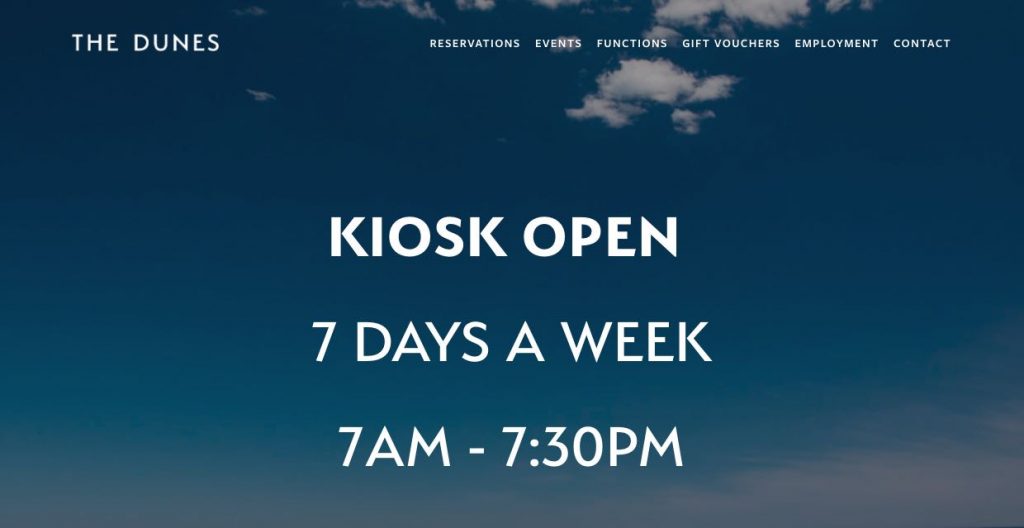 352553122
WELCOME TO THE DUNES CAFE
Unfortunately, with the second wave of COVID-19, we will not be trading in the cafe. Please stay tuned for announcements - as we aim to re-open as soon as it is safe to do so. Our Kiosk will be operating as usual from 7 am-7:30 pm for takeaway.
The Dunes will be abiding by all laws put in place in regards to limited patrons, social distancing, safety and hygiene practices, and will be displaying information accordingly.
Perfectly located in the sand dunes overlooking the Ocean Grove surf beach, The Dunes cafe is the ideal spot all year round. 
Light, open and breezy in summer, warm and cosy in winter. The exterior of the building has been designed by renowned architect Wood Marsh, while Zwei interiors completed the interior. 
Although the building boasts high-end credentials, there is nothing stuffy about the cafe, and it is all about friendly service and great quality food. We have worked tirelessly to create a cafe where everyone can feel welcome and at home while enjoying the best spot in Ocean Grove.
WE LOVE CELEBRATIONS
The Dunes cafe is a perfect function space with the ability to cater for 80 - 220 guests. Our team would be delighted to host your special function, whether it be a Wedding, Birthday, Engagement, Anniversary or Baby Shower. We will be honoured to host your special someone's celebration of life. 
The Dunes is also well equipped to host corporate and work-related functions.
Should you wish to enquire about an upcoming function or event, please contact us via the links below.
RACV Resorts - Beach and Waterside Wedding Venue Victoria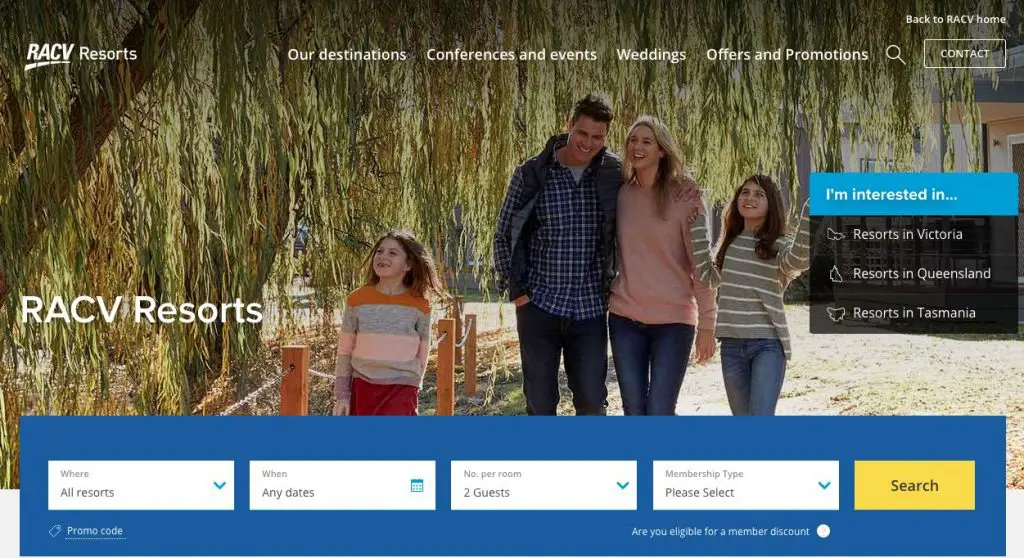 356740000
Stay with RACV in Queensland, Victoria and Tasmania
From fine dining and spa treatments to a broad range of accommodation options, our eight resorts have something for every traveller. Whether you prefer dramatic coastal scenery, rich bushland or a bustling city break, you'll find it at an RACV resort.
Weddings
Whether you want a casual Mornington Peninsula wedding or a cosmopolitan Melbourne reception, RACV Weddings can help you celebrate your big day.
Inspiring venues for every couple
From a black-tie ceremony with sweeping ocean views to an intimate gathering among native bushland, you'll find an RACV wedding venue to suit every couple. With nine picturesque venues and dedicated wedding planners, we have everything to ensure your celebration is the true expression of your unique love story. 
Celebrate with a destination wedding or a local affair at our ideally positioned wedding venues throughout Victoria, Queensland and Tasmania. From the sunny shores of Noosa to the bustling city of Hobart and stunning regions in between, RACV has a venue for your special day.  
The Point Albert Park - Beach and Waterside Wedding Venue Melbourne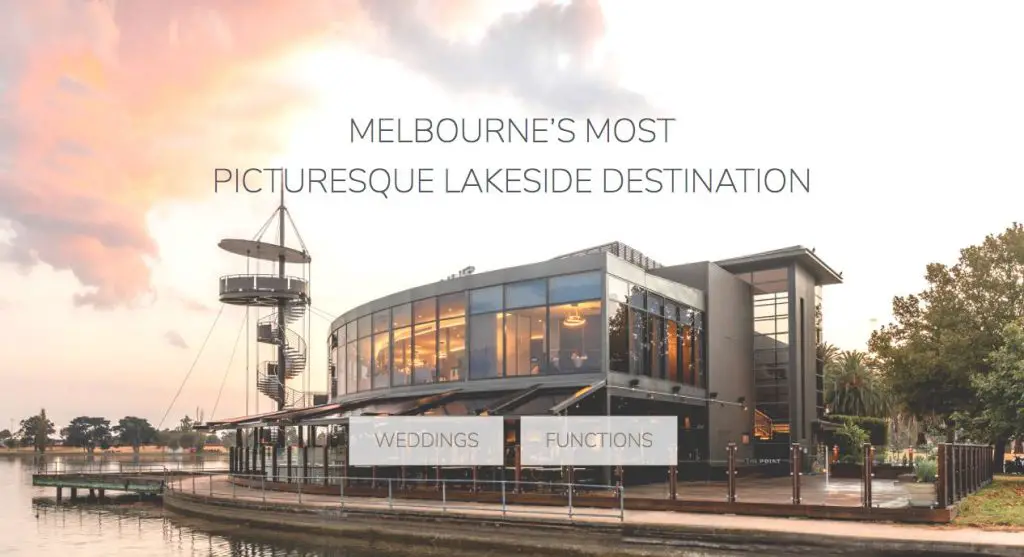 396825566
Right on the water's edge and ensconced in the picturesque nature of Albert Park, The Point is Melbourne's most iconic destination. Magnificent lake views with uninterrupted city skyline together with contemporary interiors create the perfect canvas for your wedding day.
Walk down the aisle, exchange your loving vows and capture the blissful moments of your special day at The Point. Gather your family and friends on the stunning Outdoor Deck for a beautiful daytime ceremony, followed by a romantic cocktail reception at sunset.
Enjoy a magnificent evening with your guests as we deliver a spectacular wedding banquet of award-winning Western, Asian Fusion or Modern Chinese cuisine paired with a world-class wine selection. Our impeccable service will ensure every detail is taken care of.
From intimate parties to extravagant celebrations, The Point's dedicated events team will assist you in creating unforgettable memories.
WEDDING VENUES
Grand Lakes Ballroom
The Point has everything you need to hold your spectacular wedding banquet. Our spacious Grand Lakes Ballroom can cater up to 200 guests and is equipped with a state-of-the-art A.V. system, dedicated balcony and bar, excellent for both daytime and evening celebrations.
Bamboo Hall
Our glorious Bamboo Hall can cater up to 100 guests, ideal for intimate gatherings. Take advantage of the adjoining alfresco for an outdoor reception nestled in blissful nature with panoramic lake view. The Point's dedicated wedding planners will ensure seamless execution of your special day.
Outdoor Deck
Gather your family and friends on this stunning Outdoor Deck for a beautiful daytime ceremony, followed by a romantic cocktail reception or an intimate dinner party at golden hour.
Glen Erin - Beach and Waterside Wedding Venue Victoria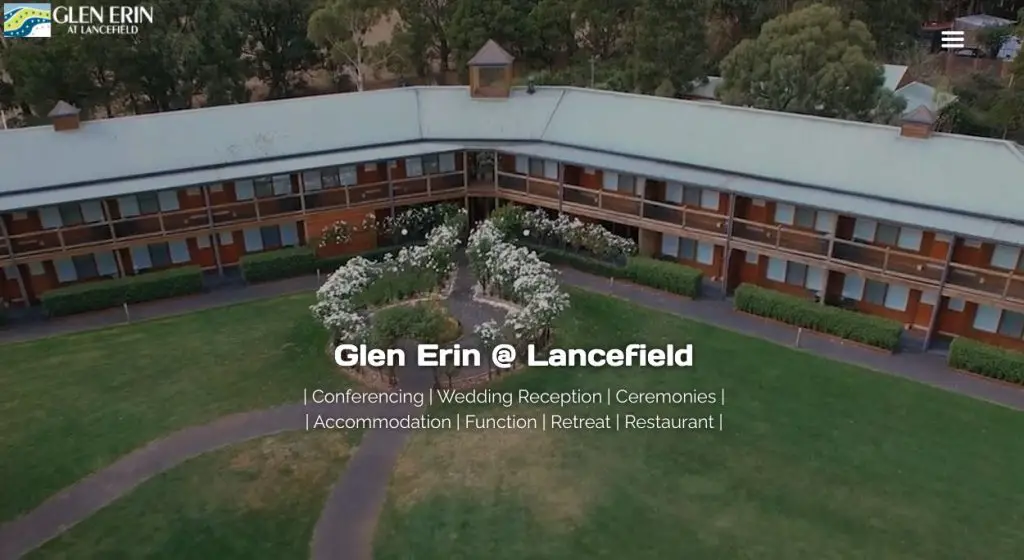 354291041
Wedding Receptions
Glen Erin at Lancefield caters for up to 150 seated and 250 Cocktail style. Options include your choice of a four-course sit-down, buffet, grazing platters or cocktail menu. Whatever individual style or special requests, you may have our chef and wedding coordinator will ensure that all your individual needs are met.
Macedon Ranges Premium Functions & Events Venue
Glen Erin can facilitate catered functions from small intimate dinner parties to a large cocktail or sit-down experiences, offering several function rooms ranging from intimate private dining rooms to the Vineyard Room which can seat up to 150 guests.
Bellbrae Harvest - Beach and Waterside Wedding Venue Victoria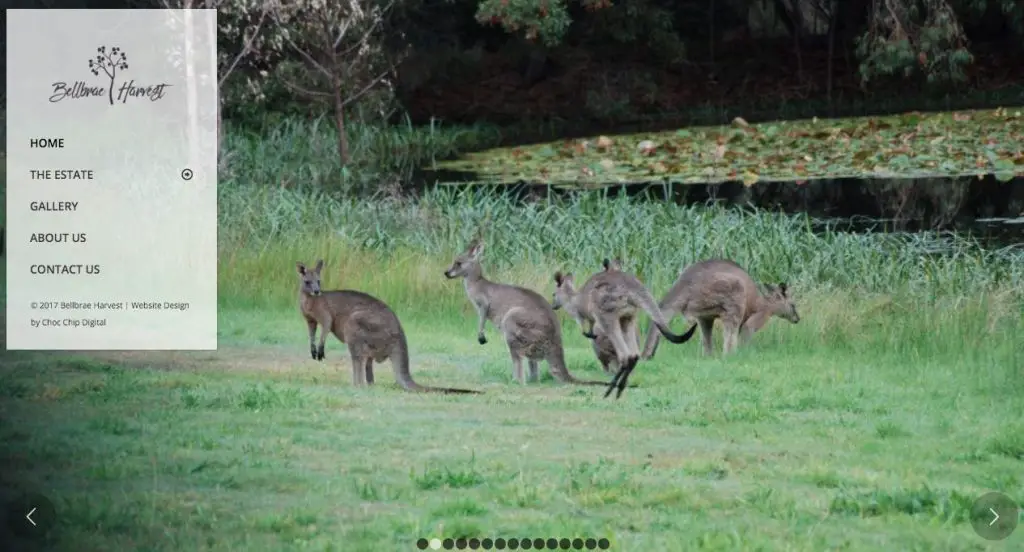 438662090 
Bellbrae Harvest is situated in the rural landscape of the Surfcoast in the peaceful countryside of Bellbrae. It is a short drive inland from the Great Ocean Road and peacefully located between the towns of Torquay and Anglesea, and only a short drive from the beautiful Great Ocean Road coastline and the Otways. It has a rich history of food, boutique accommodation and life celebrations. It was once a berry farm and now operates as a unique cafe offering a magical celebration space. The secluded location is able to provide a beautiful setting to enjoy a peaceful coffee, wine, a restful weekend away or celebrate those special life occasions.
The owners feel privileged to have been given the opportunity to be the caretakers of this tranquil space since 2009. Their journey began with the management of the accommodation, and they are now excited to extend this to the management of the unique mud brick cafe that sits beside the lily pond. This beautiful space will be available as a cafe and a unique boutique location that can cater for intimate weddings, bespoke celebrations as well as a space for unique corporate and wellbeing gatherings.
The owner's vision for the future involves developing a peaceful location into a social enterprise property that will support and welcome all community groups and all people, fostering an inclusive, peaceful space. With an environmental and social focus, the hope is that this property will not only become a business that is warm and welcoming to all but that this will become a supportive community.
They look forward to sharing their journey with you.
Weddings
Bellbrae Harvest is a peaceful 17-acre country property located on the Surfcoast, just inland from the Great Ocean Road perfectly positioned between the towns of Torquay and Anglesea. It is a picturesque 5-minute drive of the Great Ocean Road and only a 10-minute drive from some of the world's most famous and beautiful beaches, coastal towns, and close to the renowned Otways National Park. Bellbrae Harvest is uniquely positioned to offer a place of tranquillity for your special day.
Whether it be the feel of rustic country charm, or a ceremony on a local beach, followed by a country retreat with relaxed elegance and ambience, Bellbrae Harvest is perfectly positioned for it all.
Our charming private mud-brick style space sits beside the lily pond, the home of our lovely geese.
Get married by the lily pond and then enjoy dining or a cocktail party on the terrace surrounded by the country backdrop. Have a sit-down meal under the vines or choose a combination of indoor/outdoor elements.
You are welcome to make use of our lovely interior and furnishings already on-site, or we are very happy for you to organise and customise our space to your own design.
We look forward to chatting with you soon about your special day.
Celebrations
There are lots of reasons to celebrate in life, and our versatile tranquil space can be yours for that next special celebration in your life, whatever the occasion may be.
Significant birthdays – eighteenths, twenty firsts, fiftieths, engagements, retirements, whatever the occasion – our unique location, just off the Great Ocean Road in the countryside of the Surfcoast, would make your special occasion that little more secluded, memorable and unique.
We look forward to chatting with you soon about your special occasion.
Still searching for the perfect venue for you and your husband to be to tie the knot? This is our second round-up of incredible venues to check out before you lock down a date and if you're all about beach wedding vibes, water views and coastal styling, this is the post for you. Once again, we've done some serious research, checked our very helpful (if we don't say so ourselves!) list of our favourite beach wedding venues across Melbourne, Australia. And keep your eyes peeled, as we've still got country and heritage to go!
For now, we have listed these beach wedding receptions venues for you to check out. We've popped a little bit of information beneath each, as well as the location (vital information when it comes to choosing your venue) and links to their websites (because we know that's where you were heading next)- once you're done here of course!
We've pulled a bunch of our favourite beach wedding venues in Australia in this roundup. If a relaxed beach wedding with sand in your toes and a beautiful view for your ceremony is your jam, then do read on and get some tip!
Planning for a beach wedding is fun because you can get creative with the theme, the wedding favours, the food and the decorations.
Here are some tips and thoughts on a beach wedding:
Theme colours such as Aqua, Coral, and Teal have been associated with a beach theme. These colours can be used on the invitations, decorations or even on your wedding cake! But you do not have to limit yourself on these colours. You can also have a colour palette if you have 2 to 3 colours that you want to be placed in on your big day.
Attires for your guests or even for your bridesmaid can range from formal to informal. Same goes for their footwear. They can go barefoot or a simple flip flop. How big of saving is that!
Wedding favours for your guest can be as simple as flip flops, sunglasses or can be as creative as a message in a bottle.
Venue. It is recommended that you contact a beach resort for the venue. You can ask them that you want your wedding to be only you, your groom and your guests. You will be assured that you will have a private ceremony.
Menu. Seafood such as shrimps, mussels, or fish can be the highlight of your menu that you serve to your guests. Barbeques are also a good idea to serve especially Lechon (roasted pork).
Weather. One disadvantage of a beach wedding is the weather. If it will rain on your big day, you can always ask the venue to prepare a tent or move your event to a room. Another thing to keep in mind is the wind. Winds can be unpredictable so plan accordingly.
Considerations for a Perfect Beach Wedding Venue
Work with a wedding planner
You may be tempted to plan your wedding alone because after all, it is your wedding and you want to be on top of everything to ensure that everything runs smoothly. However, doing it alone has several drawbacks that you will only end up with many headaches. For this reason, you should work with a wedding planner instead because doing a beach wedding is not as easy as it may sound.
You can't just go to a public beach, put up some chairs and decors on the sand, and get married at that moment. You may need to secure a permit to use the place, as well as arrange for everything, from food catering to sound systems to photographers and guest accommodations. A wedding planner can handle those things for you more effectively and efficiently given their experiences.
Consider natural elements
Pick a date that will be best suitable for a beach wedding, a time of the year when the weather is not too hot, or there is little chance of rain. Nonetheless, have a backup plan in case the weather forecast for your big day becomes stormy.
Go for a casual event
A beach wedding can still be elegant and chic without the elaborate gowns and heels and tuxedos. It is best to keep it casual so that you and your wedding party will be more comfortable to move around. Use softer fabrics for the ladies' gowns and light-colored suits for the gentlemen to make them more comfortable.
Prepare the sound system
Even with an intimate wedding congregation, you still need a sound system for a beach wedding. It can get windy, which can make it hard for your guests to hear what's going on during the ceremony. Also, you might want to have music to energize the ambience. Don't forget to hire a sound system crew who can provide portable speakers and microphones. This usually comes as part of the wedding venue package, but it does not harm to double-check with your organizer.
Prepare for the cost
You may assume that a beach wedding can cost more compared to the common indoor wedding venues. That may be true, but you can also get a cheaper rate compared to many indoor wedding venues. Many beach hotels can offer you discounts for group rates, and during the off-season, the rates are relatively lower than normal. Don't get discouraged with the cost, and go for a beach wedding if that is what you desire.
A beach wedding is a romantic way to say your vows and seal your marriage. Keep these tips in mind to make sure that your venue is perfect for the occasion. If you are looking for a picturesque beachfront location for your wedding, check out this list of the beach wedding reception venues. Which offers exclusive experiences and personalised services.
After all that planning and organizing, I think it's best you deserve an after-party. You can have a bonfire at the beach and dance the night away with your husband and your guests. Or you can have a small intimate "hang out" moment and cook some hotdogs or smores.