Planning a wedding is no easy task. It takes time, money and patience. But it's worth it in the end when your family and friends are all together to celebrate you as newlyweds. The first step in planning any wedding, whether on land or at sea, is choosing the location.
What's more romantic than a beach wedding? This is your chance to create the perfect day for you and your significant other. The key to planning a great beach wedding is understanding that there are some etiquette rules you need to follow when it comes time for the big day.
If you are planning a beach wedding, there are some things to keep in mind. First of all, you need to find an officiant who is authorized by the state to perform weddings at the location where your ceremony will take place, and they must have a valid marriage license.
You also need to get your marriage license from the county clerk where your ceremony is taking place to be filed with that county's court. Lastly, make sure that there is plenty of space for guests on either side and behind the bridal party because sand can obstruct their view.
Planning a beach wedding can be an exciting and romantic experience. However, it is important to take the time to plan your event so that you are not disappointed when it comes time for your special day.
Weddings are a big deal, but it can feel even more overwhelming when you plan one on the beach. From choosing the perfect location to deciding what type of dress to wear, there are so many decisions involved that it can be easy for couples to get overwhelmed and make mistakes before they've even made their plans official.
In this blog post, we'll discuss how to plan a beach wedding with tips and etiquette in mind so that you're not just throwing your wedding together last minute.
The Beach
Some beaches are true spectacles to the senses… however, some are hidden, lost paradises, so the access to them can be more complicated and time-consuming.
Please do not lose sight of the fact that your guests also have a pleasant experience by accompanying you in the most important moment of your life, so analyze how easy it is to get to the place of your dreams.
Remember there is furniture, food, sound equipment, and a long list of things that will have to be moved to your chosen place.
If you still want the ceremony to take place right in that lost paradise, then, of course, we can make it happen. We are very experienced in organizing weddings on the beach. We will only need more planning and probably more time.
We also suggest that you look over if there are any special requirements for you to sign your vows on the beach. In some, it is necessary from a legal point of view, but also because of the beach privacy regulations, the noise of music, alcohol consumption, and the bonfires.
Some beaches are not private, so you cannot control the access of the people who are there for fun… and there is never a lack of spectators who want to be part of the event.
There are other places where you do not need a permit to celebrate a beach wedding, like, for example, private villas, where you will have all the privacy you want.
What to wear for a beach wedding?
Casual but not too casual is the way to go. For brides especially, beach weddings allow you to experiment with non-traditional gown options – everything from crochet and linen to chiffon and lace. The goal is looking smart and staying cool. Here are some tips from the experts:
1. Skip the princess gowns
– it may not be easy to get around on a beach in a full-skirted dress or with a gown that has a never-ending train. Rather than spending time to figure out how to work around this, get something equally as dazzling but less cumbersome.
2. Go for backless or strappy looks 
– these are perfect on beaches and allow you to keep cool while still looking amazing. A beach wedding gives you room to be more daring with your look, so be sure to take full advantage!
3. Updos are perfect (and super flattering!)
– Especially when you're on a hot, sticky beach. Hopefully, you've set your wedding at a convenient time (early morning or close to sunset), but even if you do not have that option, wearing your hair up will help maintain your hairstyle for longer out on the beach.
4. Ditch the heels 
– need we to say more? Other options include customized beach wedding sandals or gorgeous bedazzled ones you can order online or pick up in-store. You may also opt for espadrilles or wedges.
When planning your wedding, keep in mind that sand heats up significantly at high temperatures. To avoid having to hop over hot sand as you make your way down the aisle, make sure your aisle runner is placed correctly and is thick enough to keep you comfortable throughout the ceremony.
5. Informal groom 
– Sweating it out on the big day is way more common than you think and not always on account of nerves. Keep your guys cool by factoring in the heat and making provisions for less than formal attire. Lightweight cotton pants work well on the beach, or even a linen suit in a light colour, like sand or wheat.
6. Go tan line free 
– before you go tanning as you relax and take in the ambience of your beachside location, keep in mind that the goal is to avoid tan lines as much as possible.
Even if it might seem minor, these can spoil your perfect wedding look, and even worse, if you don't protect your skin, you could get burnt, which will be nightmarish on the day and beyond!
Expert Tip: Consider including a shoe station, where guests can swap shoes for flip flops.
7. Things to keep on hand
Sunscreen (!)
Insect repellent
Bottled water
Towels
Hand fans
Flip flops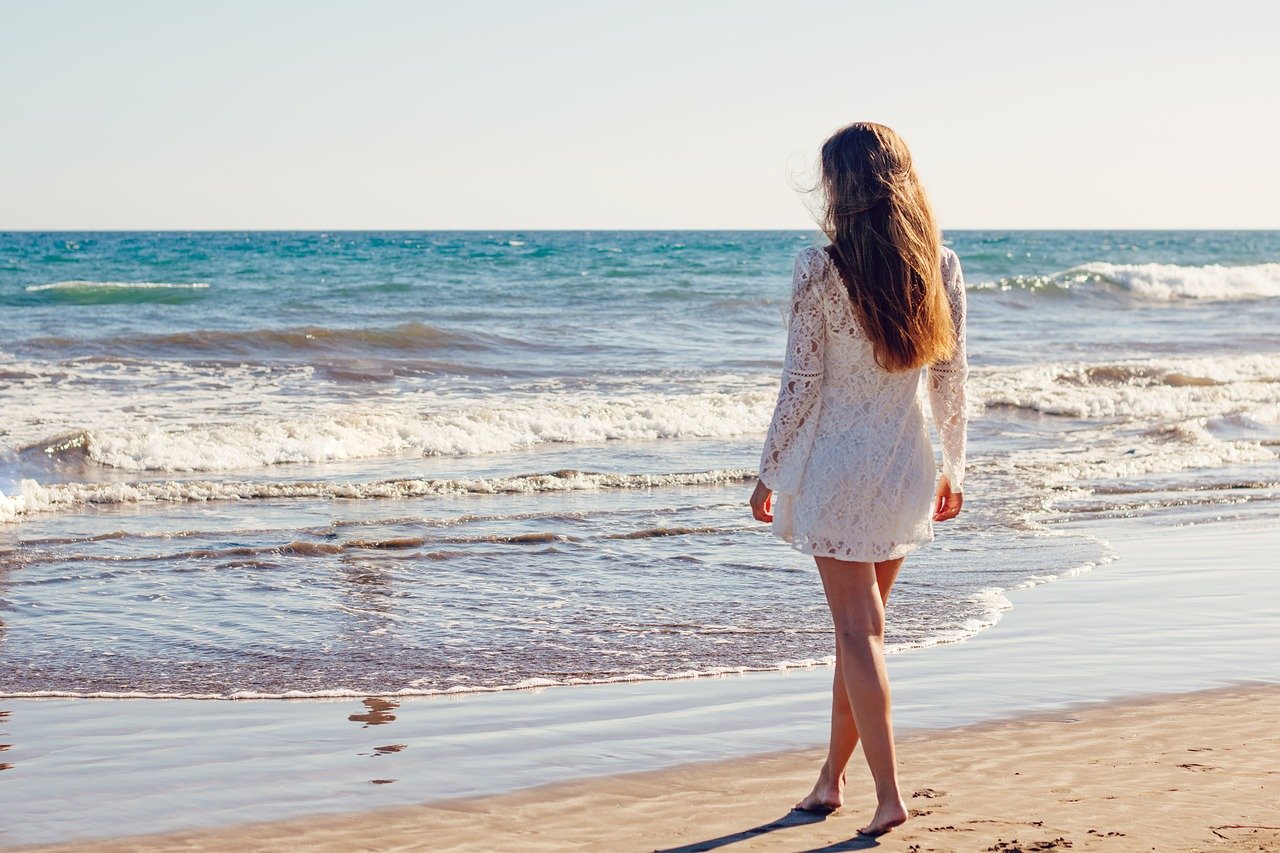 Beach Wedding Etiquette 
1. How far in advance should I send save-the-dates? 
If your beach wedding is also a destination wedding, you'll want to give guests an earlier heads up on your wedding date, so they have time to put in vacation requests at work and get good deals on travel.
A year in advance notice is ideal, especially for VIPs like parents and wedding party members, but if you send out save-the-dates six months ahead of the wedding, that will still be more than enough time.
2. Do I need to book travel and accommodations for my guests? 
The marrying couple is not financially responsible for a guest's airfare, accommodations, or meals while travelling for the wedding, but they will want to help guests make arrangements.
A hotel block is often the easiest and most cost-effective way to ensure your guests have comfortable accommodations that allow for easy access to the wedding ceremony and reception site.
A resort may require a minimum room block to go along with the wedding. In these cases, Durán suggests making the resort the only accommodations option mentioned on the details card of your invitation suite as well as on your wedding website.
Once the room minimum has been met, you can update your website with additional lodging suggestions.
It can also be intimidating to navigate to more remote beach destinations. So, in addition to outlining the best airport to fly into, research car rental companies, driving services, and, if necessary, water taxis and ferry services. (If you're not sure where to start, your wedding planner or venue coordinator will more than likely have suggestions.)
3. What should I tell guests about the dress code? 
Beach weddings are often more casual and carefree vibe, but that doesn't mean yours has to be. Whatever dress code you settle on, state it clearly in your invitation suite and, if necessary, follow up with more specific details on your wedding website.
(Keep guest comfort top of mind, though—if most of the celebration is happening outdoors, asking male guests to wear formal tuxedos might be a bit much.)
If the ceremony—or any other portion of the wedding, for that matter—is taking place directly on the sand, make sure your guests know this from the start. ("If guests are coming to a big resort, they might not assume the wedding is going to be on the beach," notes Durán.).
Share the info on your wedding website and on a paper insert in your welcome gift, and suggest guests bring sunglasses, apply sunscreen, and wear shoes with heels that won't sink into the sand.
4. Is it okay if my beach wedding is entirely outdoors? 
We get it, once you've arrived in paradise, it's hard not to want to spend every waking moment in paradise. That said, you'll still want to prioritize guest comfort when selecting spaces for your celebration.
If the ceremony is going to be outdoors in direct sunlight, Durán suggests moving guests into a shaded patio or a space with indoor/outdoor access for cocktail hour. Then, as the sun goes down, so will the temperature—which means you can send guests back outdoors for dinner and dancing without worrying about anyone overheating.
What to look for in a beach wedding vendor
The magic is in the moment and in small details! To ensure your beach wedding goes smoothly, there are a few things you can do ahead of time. If you're choosing to work with a beach wedding vendor, here are some of the things you'll want to know…
Marriage license and certificates. Find out if they can help you get your marriage license and certificates sorted out before and after the wedding.
24/7 communication. Ask whether you're going to have 24/7 support and communication in case something comes up.
Ask about limitations. Ask about guest limits or if weddings are limited to certain days of the week.
Services at extra costs. Find out what services come with additional expenses (sunset weddings, weekends, bridal aisle way, recorded music, professional photo and videography, etc.).
Is support included? Ask whether meetings, conference calls or emails are included in your wedding planning package.
Get a local beach wedding vendor. Keep in mind that hiring local vendors helps make sure you have everything you need when you need it!
Ask about military discounts for active military, which some vendors offer.
Steps to Planning a Beach Wedding
1. Pick your location
Hawaii, Miami Beach, the Hamptons, the Bahamas—beach destinations exist worldwide, and each one is gorgeous in its own way.
When selecting your wedding locale, you may want to consider returning to the site of a memorable vacation, choosing a place where relatives live or that has special meaning to your family, or maybe even a place with good deals on direct flights from where most of your guests are travelling from.
If it's uncomplicated access to the primo shoreline you're after, Durán is a big proponent of booking with a venue or resort on the water. "You'll want the support, and you'll also want the backups that come with a venue that you might not have when you're just on a beach, and nothing else is there," she says.
While researching resorts, be sure to ask if they have a private place on the sand for your ceremony. A bunch of random strangers cheering while you exchange vows may sound fun in theory, but it's very distracting IRL.
Durán also prefers sprawling resorts to more compact hotels. "The last thing you want is for your wedding to be in one of those common locations—the bar, the pool—because then your guests are going to see it getting set up as well as when it's almost complete," she explains. "Then the magic of them walking into space for the first time is lost."
2. Do your research on the weather 
When is hurricane season? Is there a wet and dry season? When is it too hot to comfortably be outside for more than 15 minutes at a time? These are all questions to ask that will help you determine the best time of year for your beach wedding.
While the lower rates of hurricane season might be tempting, know you're running a big gamble. Because if a hurricane does come—" and with global warming, they're coming more often and stronger than ever," says Durán—you won't be able to move things inside. So instead, you'll have to cancel the entire wedding, and your guests will also have to cancel their trips.
Be sure to get the specifics on the rainy season because it might not present as much of a problem as you'd think. "In the Caribbean, it will rain most likely every single day for at least a couple of minutes," Durán offers by way of example.
But suppose you plan accordingly with a tent for the reception and are flexible with the timing of an outdoor ceremony. In that case, showers won't get in the way of a memorable celebration.
3. Get the necessary permits for a public beach ceremony
Unless the beach is on private property, you'll need to check local township ordinances before setting out an arbour and chairs, as a permit may be required for a larger event.
4. Make sure your reception works rain or shine
"Unless you have the absolute certainty of it being dry all evening, the best decision is for your plan A to be good to go for rain," says Durán. Of course, that doesn't mean you've got to retreat indoors for the main party, but it does mean you should budget for a tent.
5. Travel intelligently with your essentials 
Going by plane? Carry on anything you can't imagine having your wedding without. (Like, say, your wedding dress.) The last thing you need to stress about is lost luggage.
Frequently Asked Questions (FAQ's):
Do you have to pay to have a wedding on the beach?
In most places, no. You may need to get a permit in some areas, granting you all the permissions you need. At beaches with hotels or resorts, you may be required to pay the price to use their facilities, though these services are usually reserved for guests.
How much does a beach wedding cost in total?
A do-it-yourself beach wedding on a public beach could cost anywhere from $200 to $2,000, depending on the number of guests and what your ceremony entails.
A local beach wedding package can range anywhere from $200 to $5,000. Exotic destination weddings, on average, end up costing $17,000, compared to $25,000 for traditional weddings.
It is safe to conclude that beach and destination weddings are less costly than traditional weddings – most of the time.
What is the best time to have a beach wedding?
Early morning ceremonies are the best time for a beach wedding, from 8 am – 10:30 am. The sun will be less intense, so your beach wedding will be less of a sweat!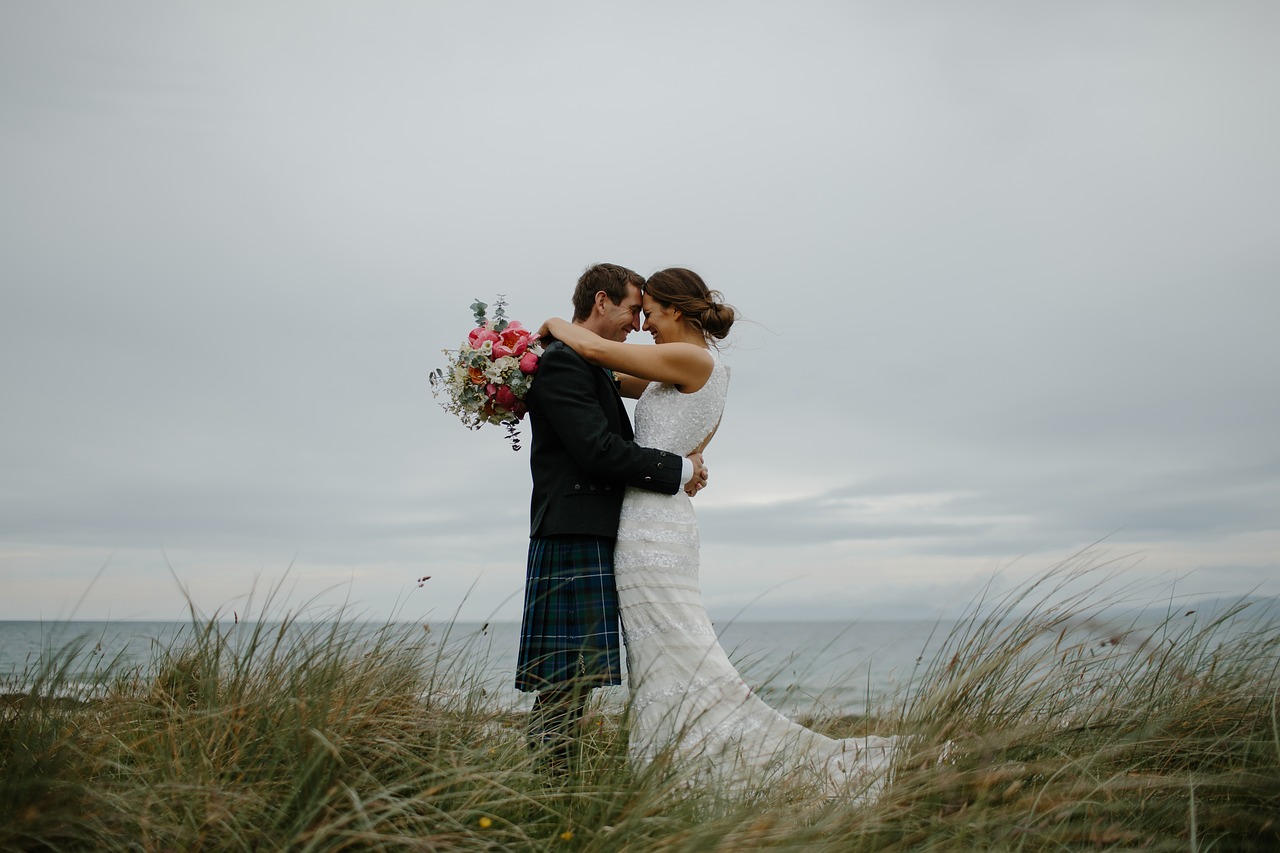 Is it okay to wear black to a beach wedding?
Guests are free to wear whatever colour they'd like for a beach wedding unless the bride and groom specifically request a special theme or colour. Black can be a little intense for a daytime beach wedding, and it is not the best colour for keeping cool.
It may be worth considering opting for a lighter shade which better suits the occasion. Options are unlimited, just as long as you don't upstage the bride!
Can you wear white to a beach wedding if you are a guest?
Times are changing, and it started with the beach wedding. So if you want to wear white at a beach wedding, perhaps choose off-white instead. It's a little more understated, and that way, you will avoid being a distraction or coming off like you're looking for attention.
What should I throw at the couple at a beach wedding?
Biodegradable options are best. If you're staying at a resort, find out which options are available and approved. It is best to buy these and other party favours ahead of time.
1. Lavender / Dried flowers / Rose petals
Traditional and sweet. Dried flowers add a nice scented touch that's also classic. With that, you will never forget the sweet-smelling send off from your wedding day. So scoop and save some of the flowers for later!
Expert Tip: If you're doing this yourself, keep in mind that it takes a few weeks for the flowers to dry.
2. Biodegradable / Sugar confetti
Heart cutouts, sugar sprinkles, and biodegradable confetti. Yup, it's a thing. Unfortunately, there are so many options when it comes to confetti that you'll have to try to contain yourself lest you overindulge in this area.
3. Bird Seeds
Similar to the idea of tossing rice, birdseed is low cost and effective. Plus, we're sure the birds will have a field day after the fact! So get a cute or customizable sack, and lay it out for guests to access easily.
4. Soap bubbles
Bubbles are a highly-rated eco-friendly option for weddings if you're prepared to nix the confetti. Buy several bottles, or a couple of packs with multiple bottles, to distribute within your wedding party.
Bubbles look amazing in wedding photos. You can also purchase customizable bubbles with the name of the bride and groom on the bottles.
5. Mini beach balls
Add some fun to your day by including some mini beach balls. No one will get hurt from the experience, and you're guaranteed to have some laughs.