No matter the venue, planning a wedding takes some hard work. And while planning a beach wedding isn't necessarily harder, it does involve a few unique considerations and specific beach wedding ideas that couples at traditional venues likely won't encounter. 
If you're thinking of planning a beach wedding, then we've got some advice for you. 
Beach weddings are one of the most popular types of wedding that couples choose to have these days, and they're perfect for those who want a laid-back event with an ocean breeze. 
But there are certain things to consider before planning your beach wedding
While a beach wedding provides you with plenty of natural scenery and décor, pulling off a flawless celebration at the shore isn't without its unique challenges. As if it is not stressful enough to be organising catering for functions and the bridesmaid's dresses, beach weddings present additional challenges. 
A beach wedding is a beautiful alternative for those looking to have an intimate and traditional style of ceremony. Beach weddings are often the best option for couples who want something that's small, simple, and without any fuss. Looking for the Top Wedding Planner in Melbourne? Look no further and check out our ultimate list of Wedding Planners here.
There are many beautiful Melbourne wedding photo locations and ceremony locations, and the beach is one of them. 
Here is our expertise on the essential things to know when developing the perfect plan for your sandy beach dream wedding.
Budget Advice for a Beach Destination Wedding 
Having a well-constructed budget is the key to ensuring all your perfect beach wedding ideas come to fruition. As is the case with all wedding planning, setting the budget should be one of the first things you and your partner do when planning. 
Setting the budget goes hand-in-hand with finalising your venue since which beach you choose will impact your budget. 
Many oceanfront resorts have beach wedding packages that take a lot of guesswork out of planning; however, if you're saying "I do" on a public beach and plan to rent out a beach house, you'll need to map out your spending accordingly.  
Cost-wise, beach weddings are monumentally cheaper than venues. To have a beach wedding, all you need is a city permit, typically depending on the beach and the number of people you plan to attend your wedding. 
You have to get creative with decor and things like audio to have a few more additional costs for chairs, tents, and generators. However, you're still looking at an overhead venue cost compared to a traditional venue.
While a public beach will be cheaper than a private beach or resort, you'll incur other charges associated with DIYing the day since nothing will be provided but the sand. 
Although it's another investment, a wedding planner is invaluable for planning a destination beach wedding.
They'll be able to help you create a budget that takes into consideration generators and other equipment you'll need to rent while also helping you stay on top of all your everyday wedding to-dos. 
Have your coordinator or someone assigned to stand guard of your setup. Many onlookers like to crash your wedding spot for pictures and sit in your guest's seats. 
This happened at my wedding so take my word for it. 
Beach Wedding Etiquette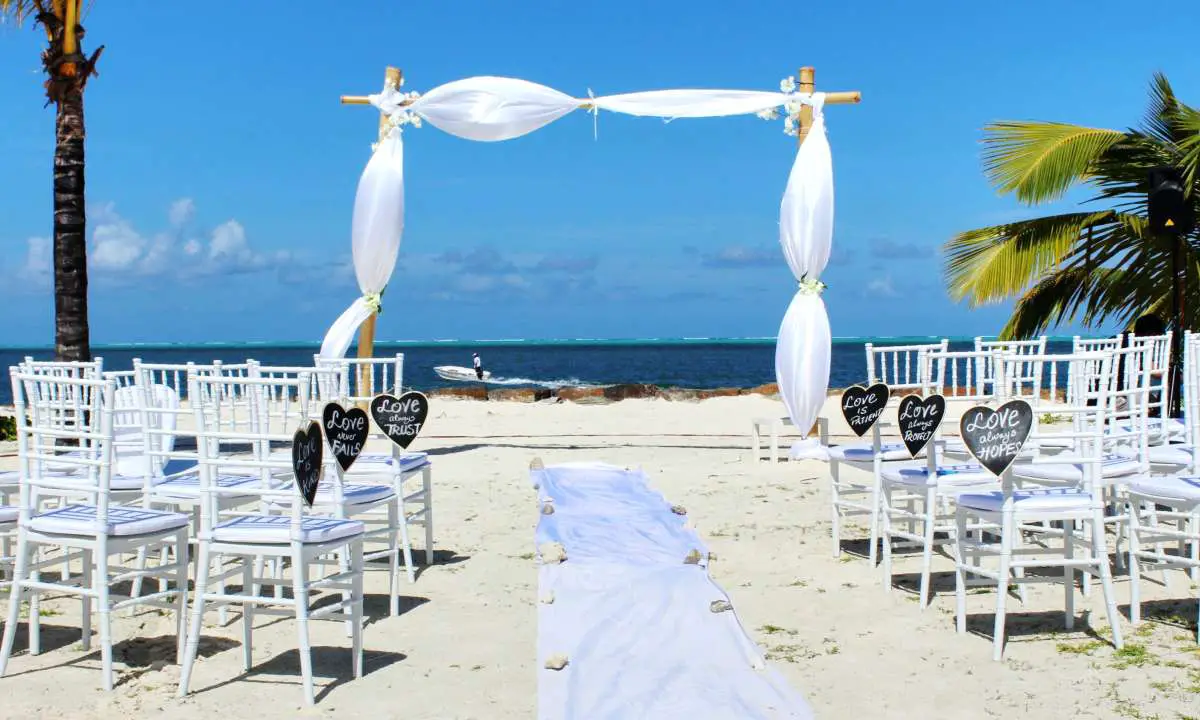 How Far in Advance Should I Send Save-The-Dates? 
If your beach wedding is also a destination wedding, you'll want to give guests an earlier heads up on your wedding date, so they have time to put in vacation requests at work and get good deals on travel. 
A year in advance notice is ideal, especially for VIPs like parents and wedding party members, but if you send out save-the-dates six months ahead of the wedding, that will still be more than enough time.
Do I Need to Book Travel and Accommodations for My Guests? 
The marrying couple is not financially responsible for a guest's airfare, accommodations, or meals while travelling for the wedding, but they will want to help guests make arrangements. 
A hotel block is often the easiest and most cost-effective way to ensure your guests have comfortable accommodations that allow easy access to the wedding ceremony and reception site.
It can also be intimidating to navigate to more remote beach destinations. In addition to outlining the best airport to fly into, research car rental companies, driving services, and, if necessary, water taxis and ferry services. (If you're not sure where to start, your wedding planner or venue coordinator will more than likely have suggestions.)
What Should I Tell Guests About the Dress Code? 
Beach weddings are often more casual and carefree, but that doesn't mean yours has to be. Whatever dress code you settle on, state it clearly in your invitation suite and, if necessary, follow up with more specific details on your wedding website. 
(Keep guest comfort top of mind, though—if most of the celebration is happening outdoors, asking male guests to wear formal tuxedos might be a bit much.) 
If the ceremony—or any other portion of the wedding, for that matter—is taking place directly on the sand, make sure your guests know this from the start. If guests are coming to a big resort, they might not assume the wedding will be on the beach. 
Share the info on your wedding website and a paper insert in your welcome gift, and suggest guests bring sunglasses, apply sunscreen, and wear shoes with heels that won't sink into the sand.
Is it Okay If My Beach Wedding Is Entirely Outdoors? 
We get it: once you've arrived in paradise, it's hard not to want to spend every waking moment in heaven. 
That said, you'll still want to prioritise guest comfort when selecting spaces for your celebration. If the ceremony will be outdoors in direct sunlight, move guests into a shaded patio or a room with indoor/outdoor access for cocktail hour. 
As the sun goes down, so will the temperature—which means you can send guests back outdoors for dinner and dancing without worrying about anyone overheating.
Wedding Day Backup Plan for Your Big Day
No matter how much time you spend crafting Plan A, the chances are that some things won't go as planned on your big day. 
To ensure everything runs smoothly, work with your wedding planner ahead of time to iron out a Plan B and even Plan C in case inclement weather rolls in and a beach wedding ceremony is no longer feasible. 
Beyond simply crafting a wedding backup plan, those details must be communicated to your officiant, wedding planner and all other wedding vendors, in addition to friends and family who are involved in the planning process. 
In addition to a rain backup plan, it's essential to test out all A/V equipment before the wedding so you have time to fix any issues that may arise. 
Couples are advised to test their mics, audio and generators the day before. Some Bluetooth items don't have an excellent signal on the beach and won't sync. 
Small details like relying on Bluetooth seem foolproof, but on the off chance that something goes awry, it's best to know about it a day or two before, so you have time to pivot. Check out our Top Wedding Planners here to help make your special day as smooth as possible.
Most Important Things to Consider While Planning a Beach Wedding
Have a Daytime Ceremony
The beach is one of the most stunning wedding locations out there; couples should have their wedding during daylight hours if they are considering the beach. 
This is because when the sun disappears below the horizon, the water goes dark and invisible.
There are a few things to consider if you are planning to have a daytime wedding. SPF 50 is a must. 
You don't want to get a crazy sunburn on your wedding day. Working with flowers can be challenging when exposed to direct sunlight since they can quickly wither. 
Choose a ceremony design and flowers that can hold up in the heat. Some flowers that are tough and recommended are freesias, calla lilies, orchids, and succulents. Steer away from hydrangeas and roses and other light flimsy flowers, which tend to wilt quickly. 
If you hire an excellent wedding photography business on the day, they especially know how to take the best shots and make the beach look stunning with their local knowledge.
Have a Sound System
With the waves, wind and other noises, beach weddings can be noisy and distracting. Use a microphone for the ceremony. 
Also, make sure you use a windscreen cover for the microphone so that your guests are not frustrated because all they hear is the wind and not your vows!
Public Vs. Private
Most coastal resorts are adjacent to beautiful beaches, so if you want an exclusive, it is best to rent the entire property to prevent other resort guests from sharing the venue. 
If the possibility of other people enjoying the beach and looking on is a concern to you, then it is a good idea to ask the resort to close off the beach for you for the ceremony when you book.
Make Sure the Beach Is Accessible for Everyone Involved.
Many people overlook the accessibility factor once they've found and fallen in love with a beach wedding location. 
Don't forget to think about your guests' convenience and how easy or difficult it will be to make it to the area from the main road. 
This can also affect the ease of setting up and transporting chairs, tables, and even food delivery. Make sure your site isn't too out of the way, and if it is, ensure you make the proper preparations.
Furniture for Your Guests
Don't forget that your guests will need to sit somewhere during the ceremony. Consider looking into outdoor coastal furniture to complement the whole aesthetic.
Don't Let the Sound of Waves Drown Out Your Vows.
There's nothing quite as magical as the waves crashing against the shore while taking a romantic walk down the beach. 
When you're trying to exchange vows, this is an entirely different story. To work around this, get a professional sound system, and look into ways to get it powered up out on the beach. 
You can also rent or buy a wireless microphone and speaker for use by the officiant. Another option is to invest in a windscreen for your microphone, which will ensure the wind isn't louder than what you're trying to say. 
Before you rent or make these purchases, find out if your wedding planner or resort has them available.
Prepare a Wind Plan
Rain may be your biggest concern for a beach wedding, but it is the wind that could cause the most trouble. Windy days can be chilly, sandy and noisy, destroying the vibe of the ceremony. 
Be ready by monitoring local conditions and choose a resort with multiple beach locations, so you have a backup plan. Most alternatives are good at accommodating weather changes as well as preparing meals for guests. 
If you plan to hold the ceremony on a beach without a resort, it would be best to reserve an alternate backup venue just in case.
Make Your Décor Windproof.
You'll need to tweak your décor to suit the outdoors, especially in windy locations. This means you may want to think twice about super lavish flowers, towering candles, and even fancy ribbons and balloons, which may end up getting blown away by the wind. 
Use sturdy décor and avoid breakable items. Anything you can't live without (like name tags, photos, etc.), secure with adhesive, spring, or place something heavier over the top to hold them down. 
In terms of flowers, you also want to make sure you choose varieties that stand up well against high temperatures that won't wilt before the ceremony even begins.
Expert tip: Chrysanthemums, calla lilies, king protea, and orchids do well on the beach. Not convinced flowers will fit your theme or don't want to risk it? Go for things like fruits or even shells to add some colour to the event.
Make Sure There's Some Shade.
Just as important as covering for rainy weather, you'll need to keep in mind that outdoor environments usually mean guests will be exposed to the elements. 
Especially in hot climates, ensure you keep everyone cool by scheduling your ceremony when the sun is most mild – morning or late afternoon is best. You'll also want to make sure shade is factored in as well, especially for the sake of older people and children. 
With beach or outdoor weddings, it's best to monitor the weather, so you know what to expect. You can source a canopy to cover the seating area or get some bamboo poles draped with light, white fabric to help keep everyone calm.
Finger Food Storage: Keep it Cool!
If you aren't getting married at a resort, food storage is a serious consideration. Food that's supposed to be refrigerated will spoil quickly in high temperatures, so you'll need to pick wisely. 
This is also worth keeping in mind for cake selection – cakes made with buttercream may fight a losing battle against the heat. As a rule, don't pick anything that's going to melt or spoil fast.
Expert tip: If you're concerned about food, you can also consider getting married on the beach and having the reception at another location, like a nearby restaurant.
Select Proper Beach Wedding Attire.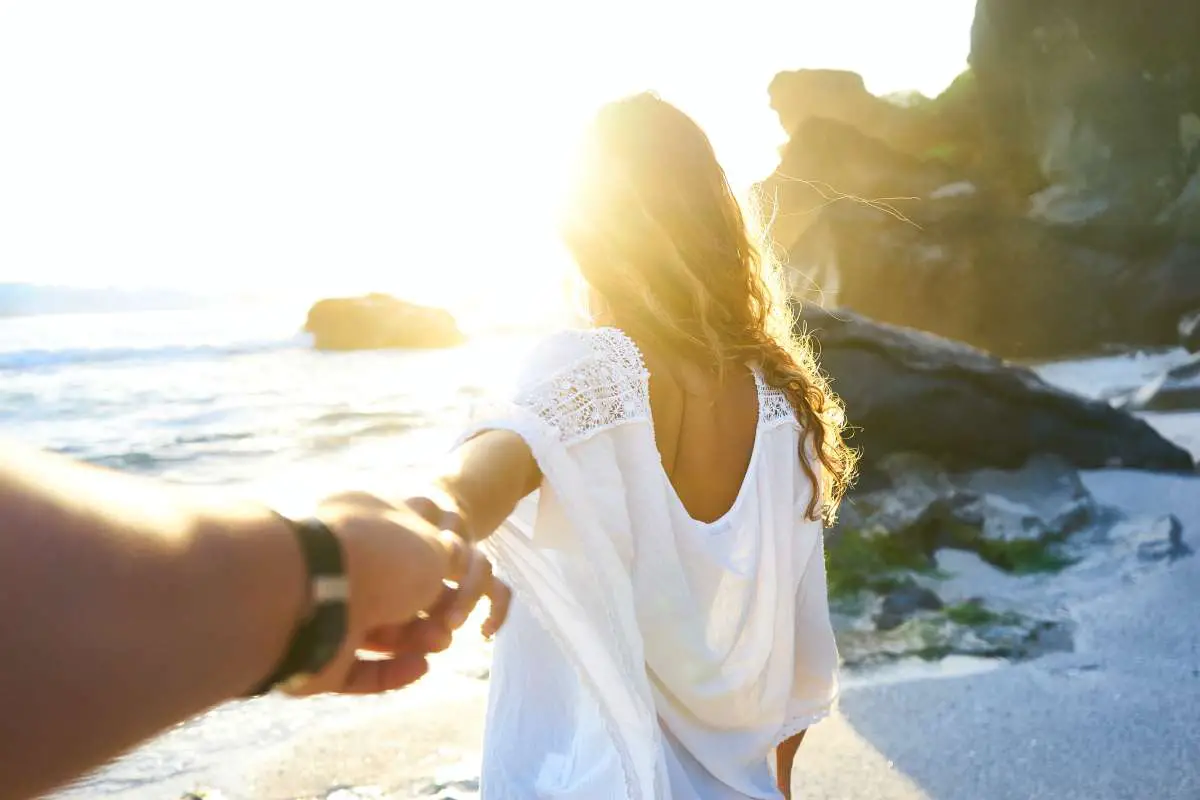 Your wedding day is the most important day of your life, and you're going to want to dress like it; except that you're on the beach, so you're also going to want to wear something that doesn't cause you to overheat. Here are some tips on staying calm and still looking beautiful:
Go for a Lighter Dress.
Long gowns may present challenges out on the beachfront. They may look dreamy, and you may even be able to get down the aisle mostly without issue, but the trouble may start when you try navigating the beach to take photos. 
If you're wearing a super long train, this can be a nightmare. Look for something lighter, or at the very least, ensure your dress can bustle easily.
Leave Out the Big Gowns.
A ball gown belongs in, well, a ballroom. You may be able to get down the aisle in a full dress and long train, but walking on the beach and taking photos won't be easy. If an oversized dress is a must, make sure it can bustle easily. Think light. 
Dresses with lace trim can be problematic because they pick up debris from the beach; instead, choose a lightweight fabric like chiffon or charmeuse so your gown flows in the ocean breeze.
Wear Lightweight Fabrics.
The last thing you want is to wear a dress with lace trim and find out only when you get to the altar that your dress has picked up all sorts of debris from the beach along the way. 
It's better to go with fabrics like chiffon or charmeuse, which will give you an airy feel, as your gown will be able to flow freely.
Skip the Veil.
All brides don't wear veils, but they are an absolute must for brides who want to keep it all the way traditional. 
In windy temperature, an extra-long cover can have you fighting a not so cute bombastic battle. Avoid this by going for fresh flowers or a fascinator instead.
Try an Updo.
Fancy updos have a way of changing your entire look. They go with just about everything, and for a beach wedding, an updo will help prevent your hair from taking on a life of its own during the ceremony. 
If you're set on wearing your hair down, think about hiring a stylist who will be on location throughout, just in case you need a touch-up.
Think of the elements when deciding on a hairstyle. A tried and true updo will keep you looking polished all night. 
Do a trial run on the location to decide the best hairstyle for the big day. Engaging the stylist's services who can do touch-ups throughout the day if wearing your hair down is the only option.
Ditch the Heels.
Sand and high heels are just not compatible. Wear flat-soled sandals, espadrilles or wedges shoes that won't sink into the sand. Put a hem on your gown and go with shoes or barefoot, depending on what you prefer. 
Remember, sand can get hot. Has an aisle runner made of fabric or thick flower petals to help keep your tootsies cool?
But If You Have to Wear High Heels
Though a barefoot beach wedding is lovely, not all brides would want to go unshod. A way to get around this dilemma is to have a wooden walkway buried under the sand down the aisle. 
That way, the gallery looks like a sandy beach, but you have the stability to walk on in your heels. That being said, choose appropriate stable heels that you are confident at walking in.
Stay Tan Line Free.
Tan lines can be a nightmare, especially on a wedding day when you really can't do anything about them. 
Protect your skin ahead of your wedding by wearing sunscreen (waterproof sunscreen recommended) every time you're out in the sun. 
Sunburn or tan lines are two things you don't want on your wedding day, and the same goes for your bridal party. To avoid tan lines, you and your wedding party can plan bathing suits for the trip according to what everyone is wearing on the big day.
Say No to Penguin Suits.
Out on the beachfront, it's less critical to be fancy and more essential to stay calm. Let the groom and his best men opt for a more casual look; think lightweight cotton pants or even. 
Catering Considerations for Beach Wedding Venues
White sand may be picturesque, but no one wants their dinner, and especially not their wedding cake, to come into contact with grains of sand. 
For a wedding reception on the beach, it's crucial to work with a catering company with experience with off-site catering and has worked on a beach before. 
During your catering tasting, ask how the company has handled beach weddings before and inquire about what kind of equipment they would need to bring in. The wedding reception is the "only downside" to a beach celebration. It gets chilly and large tents may not be allowed on some beaches. 
Even if you have your outdoor ceremony on the beach, it's alright to move the second half of the day indoors to make dinner service a more straightforward process. Need help planning your wedding? Check out our list of Wedding Event Planners here.
Many ocean-view restaurants and venues could work to cap off a stunning beach destination wedding; ultimately, the decision is up to you.