Have you ever heard about a couple eloping without telling anyone or secretly getting married at the courthouse? It may seem like weddings are the only way to get married, but eloping is not an uncommon practice or taboo these days. Some couples even choose romantic places or attractive destinations to elope to. This can make the celebration both cheap and merry.  Looking for the Top Wedding Planner in Melbourne? Look no further and check out our ultimate list of Wedding Planners here.
While the technical definition of eloping is "running away," it has a slightly more nuanced meaning in wedding parlance. To elope may also suggest that you forgo a formal wedding and elope for the ceremony instead. In modern times, eloping does not necessarily mean running away. Some couples who choose to elope will inform their families before their ceremony (though not always invite them to attend).
What Is an Elopement Wedding?
An elopement wedding is typically thought of as running away without telling friends or family, but that definition has changed over time. Now, an elopement wedding means that you are tying the knot and celebrating with just yourselves or a small gathering in a minimal, more casual fashion.
The phrase "elopement wedding" most probably sounds like a perfect contradiction. Weddings are large celebrations, filled with seating charts, cake tastings, and everything in between. Elopements are more intimate affairs with a handful of guests and no accurate planning. Well, not necessarily. The beauty of an elopement is blending both traditional and non-traditional elements, making your day exactly what you've envisioned.
Planning an entire wedding can feel like a daunting commitment, but an elopement at times requires some planning, too. Where should you have your ceremony? Who should be invited? What unique details should be incorporated into your day? Fortunately, there are so many options on the wedding spectrum that helps relieve some of the pressures of planning.
So, what is an elopement wedding? Eloping has often been portrayed as spur-of-the-moment courthouse affairs, so how does that marry (pun intended) with a conventional wedding tradition? Below are four critical elements of an elopement ceremony.
Is Eloping a Good Idea?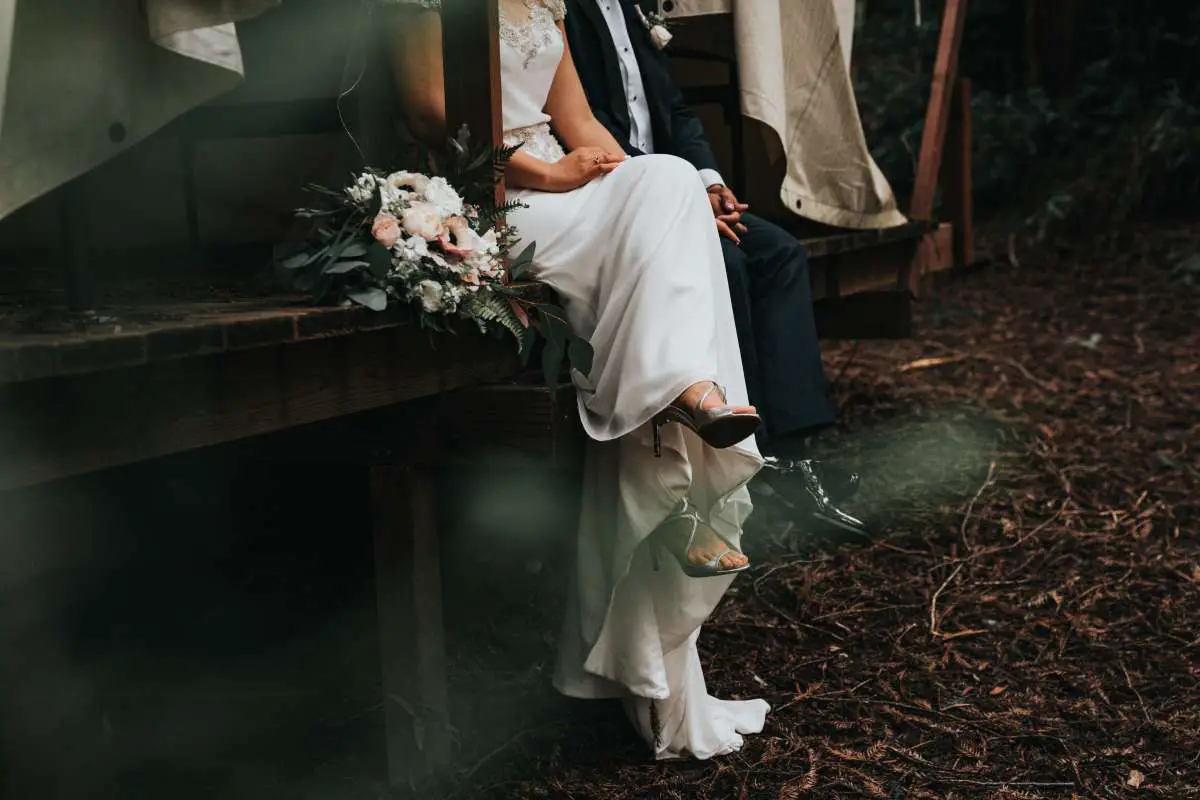 You're now probably trying to decide if you want to elope and if it's a good idea for you. It would help if you considered asking yourself what's essential for you and your partner on your wedding day. If you both want to have a bridal party or include many family and friends, you should probably have a traditional wedding. If you're going to focus on adventures and each other without any distractions, then you should probably elope. There are multiple reasons to elope, and if you agree with these reasons, then planning an elopement is a good idea.
Why Couples Elope
Is the idea of a big bridal bash just not your thing? Perhaps you and your partner are the super spontaneous types always looking for an unconventional adventure. Maybe you're trying to save money for a new life together and just realised your next beach vacation could easily pull double duty as your weddings as well. For these reasons, among others, many couples are opting to eschew tradition in favour of a quick and swift elopement.
Reasons for Eloping
There are many reasons why couples decide to elope. One of the more common is because their parents or families don't approve of the union. Typically, weddings are an occasion when the family comes together. If genuine approval is not received from parents on either side of the family, a couple may decide to not have a wedding at all and elope instead.
Another possible reason is that the couple may feel that they don't have enough money for a traditional wedding. Weddings can be stressful and expensive to plan. If a couple does not have the funds, they may choose to elope to reduce the stress and financial burden. Other couples may decide that they'd rather save the money for their future instead of spending it on a lavish wedding.
Finally, another possible reason to elope is that the bride may be pregnant, though this should never be assumed. In some cases, the couple may decide that they don't want to wait to plan a wedding ceremony and prefer to be married before the baby is born.
Elopement Weddings Don't Need a Proper Venue.
The beauty of an elopement is that there are endless options as to where to hold your ceremony. As a result, elopements can happen in nature, in public parks or buildings, at someone's residence, or even a family member's property. Did you want to recite your vows on a beach in Hawaii? Were you hoping to have the mountains as your backdrop as you say your I-do's? With an elopement, the destination is essentially wherever you'd like it to be, without worrying about a hefty deposit on a wedding venue. As they usually require minimal setup (if any), the opportunities for ceremony locations are open as far as you can imagine.
There's No Need to Have an Extensive Guest List
Some elopement ceremonies feature the couples' intimate family or closest friends. But in many cases, an elopement party consists of the team, the officiant, and the photographer, who often acts as the witness. This doesn't mean you can't invite everyone and their mothers, but generally speaking, the guest list is far more casual than what's expected for a wedding. No seating chart required here!
Vendors Are a Vital Part of the Elopement Experience
The ceremony itself can last only a handful of minutes, but those few minutes can be the most important of your life! That's why many feel that a photographer is vital to capture the essence of the ceremony. It's also common to have a "First Look," and just because you have an elopement doesn't mean you're excluded from this option. Many photographers will work with your schedule to ensure that the moment you first see each other is documented.
The Price Tag Is Unbeatable
The most daunting part of any wedding is usually the price tag. Traditional weddings with a more extensive guest list can get pricey when you add up invitations, decor, venue, food, and time. Elopement packages are an affordable alternative to the couple on a budget — or for the couple who wants to put their funds toward the honeymoon.
How to Elope
Check the Law
Do you need a license? How long will it take? How about a city hall appointment? Are witnesses required, and what are their necessary credentials? These are the questions you should be asking yourself if you want your elopement to go off without a hitch. We recommend possibly booking an officiant unless a friend is ordained and can marry you (doesn't apply at the courthouse), check to see if you need a witness, and consider any waiting periods to obtain your marriage license.
Book Your Travel and Find Your Vendors
Do so as far in advance as possible to save money and relieve stress. While your elopement destination doesn't have to be an exotic faraway locale, it is something to keep in mind. When thinking about elopement, consider a place that will have significance for you both.
Plan the Ceremony
What will you wear? Are rings your thing? How should the exchanging of vows go? Do you want a bouquet? While you may not be walking down the aisle, per se, you'll still want your highly anticipated elopement moment to be unique. Elopements are an excellent opportunity to steer away from tradition and pick an outfit that may be more streetwear chic. Consider tea-length dresses rather than long gowns, bold colours, or patterns rather than white. Or, a bird's cage veil rather than a long and flowy one, menswear suiting instead of a dress; the options are limitless."
Throw a Post-Elopement Party
Maybe that means a private celebration (just the two of you), an all-out reception with friends and family, or some combination of both. Renting out a private room in a restaurant to celebrate with close friends and family immediately after you say "I do." Alternatively, you can always postpone the celebration for a later date. A first-anniversary party is a great way to host an event that feels like a reception without so much of the pressure of hosting an entire wedding. 
If you've gone to a destination where your friends and family aren't close, treating yourself to a fancy dinner for just the two of you can be such a treat. So many top-rated restaurants offer a chef's table where you can have a multi-course menu with wine pairings prepared and served to you, especially by the chef.
When you're phrasing invitations, swap out "invite you to the marriage of…" for "invite you to a celebration in honour of their marriage" so guests know you've already signed the marriage license and that they won't be witnessing your vows.
Send Those Announcements
After you've tied the knot:
Let the world know the big news.

Submit a formal marriage announcement after you've eloped to the local paper, and have cards printed up with a photo and the good news to send to anyone and everyone.

Send an announcement after you've eloped to let friends and family know (you could send a picture of the two of you from your big day), plan a dinner party, and announce it to everyone there. If you have children, consider a thoughtful way to get them involved.
Ceremony and Reception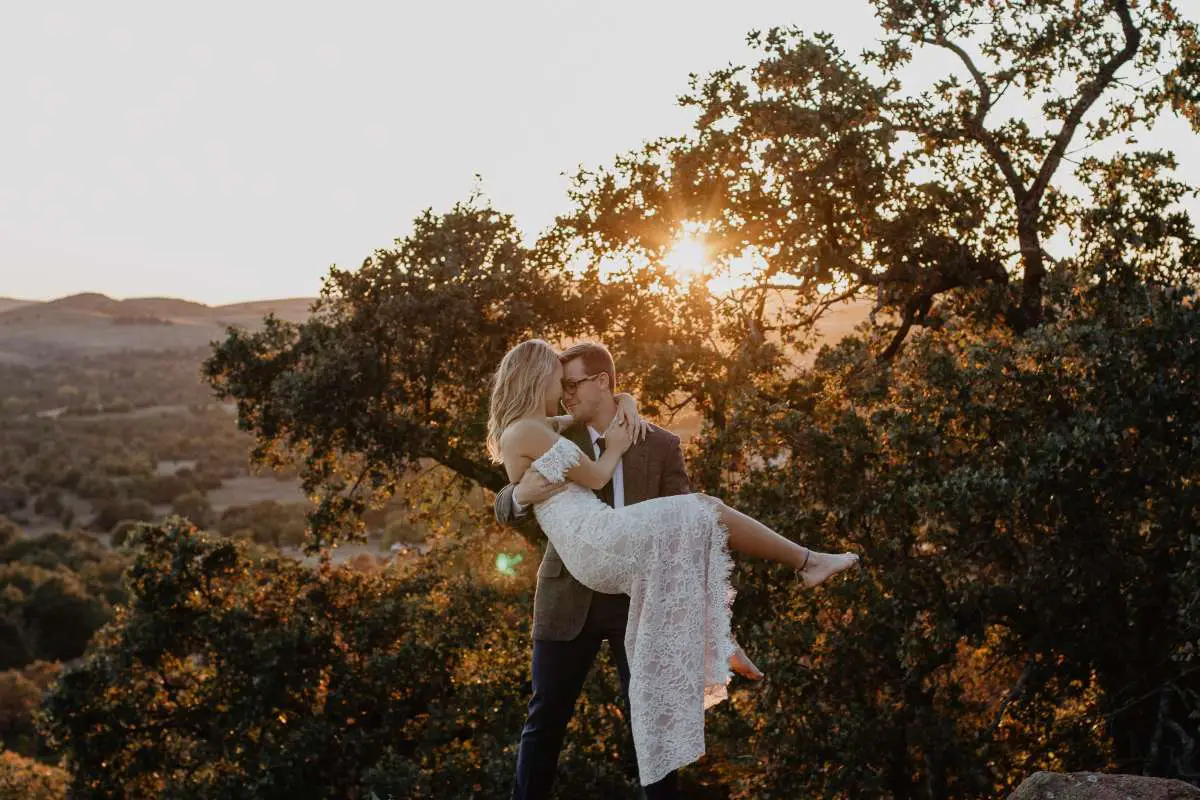 Forgoing a large, traditional wedding to elope does not necessarily mean skipping a ceremony or reception to celebrate the occasion. Sometimes, couples who elope want to have a more intimate and quiet wedding with a limited number of guests. 
Whether it's just a few people or a dozen who witness the couple getting married, there are still a few things to consider. For instance, they may still want to plan to exchange rings and vows or choose wedding-like attire, no matter how casual. Some couples also like to have photographs to capture the memories. Even flowers can mimic a traditional wedding while keeping things simple. Too busy with life to really plan your wedding in detail? Have someone else do it for you and check out our list of Wedding Planners in Melbourne to help take the stress away.
Other couples may elope to a destination, return home and host a small reception that includes family and friends to celebrate their union. You might even find couples who exchange vows in front of their guests, even though they're already legally married because they eloped and had a private ceremony first.
Personal Decision 
Every couple has their reasons and definitions of what it means to elope. While some choose an intimate beach setting on a tropical island, others prefer a quick courthouse wedding. There is no right or wrong answer to eloping and it should not be viewed negatively. What is most important is that the couple follows their desires and whatever path makes them happy. For many, the idea of a traditional wedding isn't a good fit, and they prefer to do it their way.
Making Plans
Even couples choosing to elope will need to make a few plans to ensure that their ceremony is seamless and legal. Depending on the location, the team should contact the local city hall to understand the marriage license requirements. Some places will require an appointment, a waiting time, and designated witnesses to conduct a wedding ceremony or issue a marriage license. The couple will also likely need their birth certificates and official identifications, so if you are planning a destination elopement, be sure to check local laws before leaving for your trip.
Wedding Etiquette
It is not traditional for couples who elope to register for wedding gifts. If the team is celebrating their private elopement, they may still register for assistance. If you hear about a friend or family member's elopement, it is proper etiquette to send a blessing or a card sharing your good wishes. Even though you won't be attending a wedding, this is still an excellent practice and allows you to extend warm thoughts to them.
Do: Prepare Yourself for Family and Close Friends' Reactions
The most challenging part of eloping is the fear that your friends and family will be disappointed they were not a part of your big day. Know that not everyone is going to support your decision, and be prepared for their reactions. We recommend telling your parents before you elope to minimise hurt feelings and surprises after the fact. And try to find a way to involve your closest friends and family somehow—whether that's sharing photos with them first or maybe hosting a post-marriage reception. But shocking your closest friends and family with a social media announcement is a huge no-no: Make sure to tell them in person, and if anyone feels hurt or left out, a handwritten note can go a long way.
Don't: Forget to Take Care of All the Legal Details.
Are you thinking of running away to Europe to elope? Don't forget to swing by your local city hall first. Make sure you check off everything on the legal to-do list. Remember, you still need an officiant and a witness to be legally married. And many countries have different residency requirements to be married there (officially), so don't forget to get your marriage certificate at home before you jet off. Because marriage laws vary by state, be sure to familiarise yourself with each state's legal requirements, especially if you're planning a cross-country elopement. Alternatively, if you're eloping abroad, there's a guide for those stipulations as well.
Do: Hire a Local Planner, Photographer, and Videographer
Just because you have an intimate wedding doesn't mean you're entirely on your own. While many elopements, by nature, tend to be last-minute decisions, we highly advise couples not just to wing it. Hiring a local wedding planner can take a lot of stress off the team. Plus, a planner can suggest unique or under-the-radar places that you might not already know. Also, make sure you hire both a photographer and a videographer to document your day. This is especially important for elopements because it allows you to share the moment with friends and family who could not be there.
Don't: Be Afraid to Ask Vendors for Special Pricing.
Due to the smaller scale and shorter time commitments, most vendors will offer special rates or à la carte pricing for elopements. Especially if you're getting married on an off-day—say a Tuesday at 11 a.m.—don't be afraid to negotiate. You can often find bargain deals simply by failing to mention you're a bride or groom. Say the word "wedding", and many vendors reckon they can jack up the price for their services. Instead of requesting a "wedding" look, you may be able to save money by asking for a "special occasion" hairdo.
Do: Choose Guests or Witnesses
Guests at an elopement? You bet! Whether your state requires witnesses or you want a few close friends or family members there to be part of the moment, you can still bring some friends along and call it an elopement. The rule of thumb is to keep the count under a dozen. Of course, if you're inviting guests, you'll want to make more formal plans and can't simply pop into the courthouse on a whim.
Don't: Shirk Budgeting Responsibly.
Even if you manage to wrangle some discounted quotes from vendors, once you factor in the travel and accommodations, your elopement can run you that small wedding cost you were attempting to run away from in the first place. Be sure to sit down with your partner and discuss any financial concerns. Assuming you've involved your parents from the start, they may be willing to offer some monetary support. Inviting your parents to your elopement if you're not set on it, just being the two of you is another way to involve them and lessen bruised emotions.
Do: Send a Marriage Announcement
Send a marriage announcement after your elopement. Some people might be wondering what happened to your engagement or if they're getting a save-the-date soon. A marriage announcement lets people know that you've already gotten hitched, and it's the perfect opportunity to showcase some of those gorgeous, intimate photos you captured on your special day. And of course, there's always the chance your recipients will send back a reply in the form of presents.
Don't: Downplay Your Elopement.
Just because you're eloping doesn't mean that the day isn't unique—it's still your wedding, and there is reason to be excited and celebrate. Don't forget to indulge in the bridal aspects of your day. Get a particular dress and a bouquet and perhaps even set up a table, complete with your dream centrepiece, a bottle of champagne, and dinner for two.
I'm In, I Want to Elope! How Do I Plan My Elopement?
If you made it this far, we are 100% sure you are pretty sold on planning an elopement. What now? We break down elopement planning into easy steps for you.
Think of Your Ideal Elopement Location.
We have featured elopements around the world. We know desert elopements, mountain elopements, beach elopements, and more. Don't know where to start your search? Check out our best places to elope.
Get Inspired and Stay Connected. 
Our goal is to inspire and assist couples who want to elope. Our site is filled with elopement ideas and stories on how others, like you and your partner, decided to say no to traditional wedding norms. Check out our ultimate list of Wedding Planners in Melbourne to help you organise a stress-free wedding.
Team up With Our Vendors. 
Wandering Weddings offers an array of talented and experienced professionals who are specialised in all things elopements. Search our elopement vendors and connect with them! We are sure they will be just as excited as you about eloping.