In What Order Should You Book Wedding Vendors?
You're engaged and you're about to embark on the next chapter of your life. 
One that is filled with joy, love, and excitement but also a bit of stress. With all the planning that goes into an event as big as a wedding, it can be hard to know what order to book vendors in. Need help planning your wedding? Check out our list of Wedding Event Planners here.
Here's some advice from experts (us) on how you should go about booking your wedding vendors for the happiest day of your lives! 
Ready to get started planning your wedding? 
Yes, it's a big undertaking, but you've got this. 
It's all about staying organised as you move through your wedding vendor timeline and book your wedding vendors—otherwise known as the people who will make your planning process a breeze. 
Read online reviews and schedule interviews to make sure you're hiring the absolute best!
The average amount of time couples spend planning their wedding is 12 months, so that's how we've organised this vendor timeline. 
If you're planning your wedding in less time than that, that's doable (and amazing!).
Feel free to condense the following wedding vendor timeline to fit your needs, but try to stick to the same order if possible.
We like to categorise wedding vendors into two categories: those that can serve one bride per day and serve multiple brides per day.
The number of clients they can do in a day affects how soon you should book these vendors along the process because if a company can only serve one bride per day, you want to get your date confirmed with them first. Plus, one decision may affect the next.
Twelve to Ten Months in Advance
Wedding Planner
There are a lot of benefits to hiring a wedding planner. If you'd like to hire a full-service wedding planner to assist with your entire process (including venue selection), you may wish to hire him or her first thing. 
Many couples choose to book their venue first and then hire a planner, which is another good way to approach your wedding vendor timeline.
Tip: There is a general rule of thumb that you can follow when booking your wedding vendors, 'If it requires a specific person, do it as soon as possible.' 
Certain wedding vendors provide products (like cake, flowers, and invitations) and can deliver those products to multiple couples in a single day. 
Anything else––the services––need to be secured as quickly as you can because they are a scarce resource. Wait too long, and the one you want will probably be booked. 
A wedding planner will have the most significant amount of utility and help with the rest of your purchases, so start here. 
If you're not sure if you need (or want) a wedding planner or coordinator, we highly recommend hiring one––you'll thank us later.
Wedding Venue: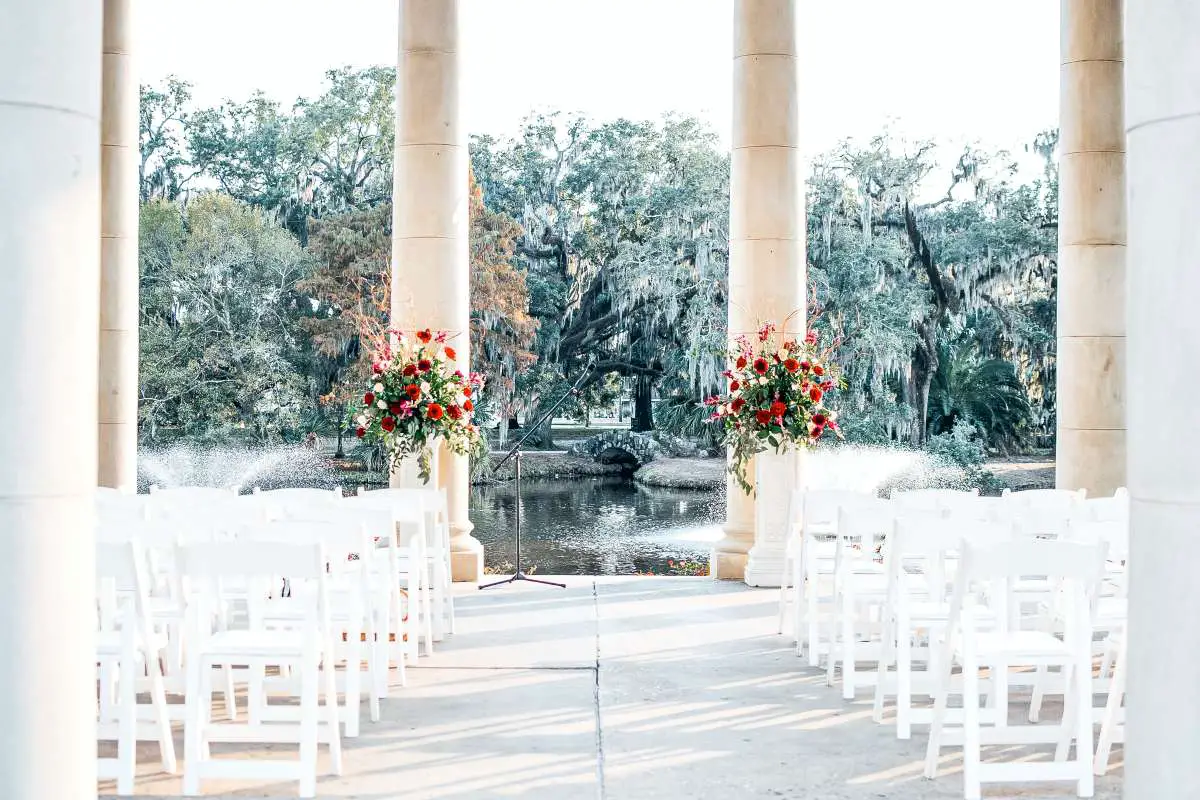 When it comes to the question of when to book your wedding vendors, this is a biggie! Until you've booked your wedding venue (and there are lots to choose from!), you haven't officially "set a date." 
Whether you decide to have the separate ceremony and reception venues or host your wedding all in one location, it's best to book your venue or venues as soon as possible. 
And if you're booking an all-inclusive venue, other vendors like your caterer and rentals may also be included, which can save some time.
The most apparent reason to book your wedding venue next is to reserve your date. If you live in a popular metro area, event venues will likely be booked for weddings up to one, maybe two years, in advance. 
Getting on the calendar sooner than later will take a considerable level of stress off of your shoulders. Secondly, your wedding venue will eat up the bulk of your wedding budget. Knowing how much money you will spend on the forum will give you a remaining budget to work with. 
And lastly, the style of your wedding venue will affect the overall style of your wedding. Whether you choose a glamorous ballroom or countryside barn–everything from your wedding dress, flowers to music selection will be affected.
Ceremony Plans. 
This is when you should also decide what your ceremony plans are too. Will you be married at a separate location (like a church), or will your wedding ceremony take place at the same venue as your wedding reception? Who will perform the ceremony?
Tip: This should also be done as soon as possible. This is another scarce resource, and reception venues will book up to two years before a popular date. 
Contrary to popular belief, simply saying a date is your wedding date does not mean that it is your wedding date – unless it doesn't matter to you where you have your wedding. You do not have a wedding date until you put down a deposit on your ceremony and reception sites. 
Without a firm wedding date, you can't hire any of your wedding-related services. Hence, this is the place to start.
Caterer:
If your venue does not offer on-site catering, it's time to hire an off-site caterer to feed your guests. During this time, you will review their menus, read customer testimonials and brainstorm on setups like buffets, plated or stations and maybe even have a tasting.
Don't let your wedding guests be hungry! If your wedding venue doesn't include a caterer, you'll need to have an outside caterer in your wedding vendor timeline to provide abundant and delicious food for your reception. 
Your caterer will help you decide on your reception's serving style as well as offer a pre-wedding tasting to help you pick out specific dishes. 
Tip: Once you have your reception site booked, you must hire your caterer as soon as possible unless catering is included at your reception venue. 
Every caterer has a limited number of events they can do on any given date, and booking early ensures that you will be able to choose the one you want. 
We would also advise you not to wait for a tasting if it's more than a month into the future–you should be able to get a clear picture of a caterer's quality and style of food from their website and reviews. This is another area where a wedding planner can help a lot. 
They have probably worked with every good caterer in your area and know who is good, who is not, and who will fit your budget.
Photographer:
We all know that wedding photographers play an essential role in your big day—so be sure to allow enough time to ensure you have lots of photographers to choose from. 
When looking for a photographer, it's essential to consider his or her style and cost, but also make sure that you get along well with your photo pro—you're going to be spending a lot of time with him or her on your big day!
Videographer: 
Your wedding videographer will create a cinematic film of your wedding day, featuring motion and sound—an essential memento of your wedding day. 
Videographers tend to book up early, so it's best to start researching these pros sooner rather than later.
Wedding Dress:
Once you decide where you will get married and where the reception will be, it's time to go dress shopping! 
Most bridal stores will need to place an order for your dress from the dress designer at least ten months in advance.
Bridal Party. 
Along with the wedding dress, pick out bridesmaid dresses and what the Groom and groomsmen will wear. 
We recommend picking out and ordering the Groom's menswear at least six months out. This gives vendors plenty of time for any product category they offer: rental, purchased, or custom orders.
Nine Months Before Your Wedding
Reception Music:
A good wedding band or pro DJ will create your reception's ambience with music. 
Whether you choose to hire a wedding band or a DJ is your call, but be sure to allow ample time to find a music pro that you love—whether it's a DJ with a great personality or a band that has a fantastic sound and playlist.
While you might not think about entertainment for your wedding reception at this stage of the game, you should! Your Band or DJ is a perfect example of a wedding vendor who can only service one wedding per day. 
If you have your heart set on a specific brand or love the energy of the DJ you saw at your friend's wedding – book them now. This goes for ceremony musicians too.
Tip: This is a tricky one, so we're going to give a slightly nuanced answer. If you're going to hire a wedding videographer, you need to decide early in the process how important the wedding video is to you. 
Suppose a fabulous, fantastic wedding video is a high priority for you. In that case, you need to treat the videographer the same as the photographer and the wedding DJ and book them as early as possible. 
If it's a low priority and you're just going to hire the cheapest person you can find, it can probably wait until later. 
The same scarcity rule will apply for the top wedding videographers in any area, and they will get booked very early.
Hair and Makeup:
Chances are you are as thick as thieves with your hairdresser and have your cut and colour pre-booked every time you leave the salon, and for a good reason! 
A talented hairstylist is coveted by many and complex to get in with. But does your stylist do bridal updos? Many don't. And if you think your hair girl gets booked, imagine what the schedule of a top bridal hairstylist and wedding makeup artist looks like. Busy. 
Your beauty vendors will likely only be able to serve one complete bridal party per Saturday. So, book them sooner than later.
Eight Months in Advance
Floral and Decor:
Next up are wedding flowers. 
At eight months in advance, you have a reasonable amount of time to get on the schedule for the best wedding florist in your area and brainstorm with them on what the vision of your wedding is.
Those gorgeous flower arrangements you see all over Pinterest? A professional wedding florist probably made those. 
Find a florist whose work you love and who seems best to understand your wedding style, vision, and budget. Check out our list of Wedding Florists to help you select the perfect blooms.
Ceremony Music:
Hiring live musicians to perform at your ceremony will give this special moment a traditional and romantic feel. 
When it comes to ceremony musicians, you have many options—from a solo musician like a harpist or guitarist to a group like a string quartet or jazz band.
Guest Accommodations:
If you're hosting a lot of out-of-town guests, we recommend booking a block of rooms at a few hotels near your wedding venue. 
Not only does this ensure that there are rooms set aside for your guests, but it can also help your guests save money on their accommodations. 
Be sure to list hotel room block information on your wedding website or your save-the-dates or invitations.
Officiant:
Your wedding vendor timeline should also include a licensed, professional officiant. Without one, you won't be married! 
Whether you are marrying in a religious or secular ceremony, it pays to hire an experienced, professional officiant who can help you craft and execute a meaningful and personal ceremony. 
Notes: Finding the fitting ceremony officiant is crucial, assuming that your ceremony site doesn't come with a pastor/priest/rabbi included. 
A perfect officiant can make your ceremony magical. Since you're hiring a specific person, the same rule applies, and we recommend booking them early in the process. 
This is yet another area where a wedding planner (as well as your photographer, videographer, and disc jockey) can help – we've all seen grand (and not-so-great) ceremonies and can offer suggestions based on what type of ceremony you want.
Wedding Dress: 
Buying a wedding dress is far different from purchasing a t-shirt from your favourite store. It takes time (like months) from the moment you order your gown until it's in your hands. 
Allow yourself ample time to shop for a wedding dress (the average bride tries on between four and seven dresses before finding "the one"), and don't forget about alterations!
Stationer (save-The-Dates): 
Time to talk about invitations and stationery. If you're hosting a destination wedding, we recommend sending out save-the-dates as soon as you have your wedding location booked (more like a year in advance). 
If your wedding is closer to home, eight months in advance is an appropriate time frame.
If you would like to send out save the dates, you'll want to choose your stationery designer eight months in advance. 
If a couple is sending out save the dates, those need to be sent out six months before the wedding. In that case, the stationer should be hired at least two months before that date to have time to pick something out, do proofs, have them printed and addressed. 
For invitations only, a bride should start to look at her options six months out as the standard is that invitations should be mailed out at least eight weeks before the wedding date.
Seven Months Before Your Wedding
Cake Baker: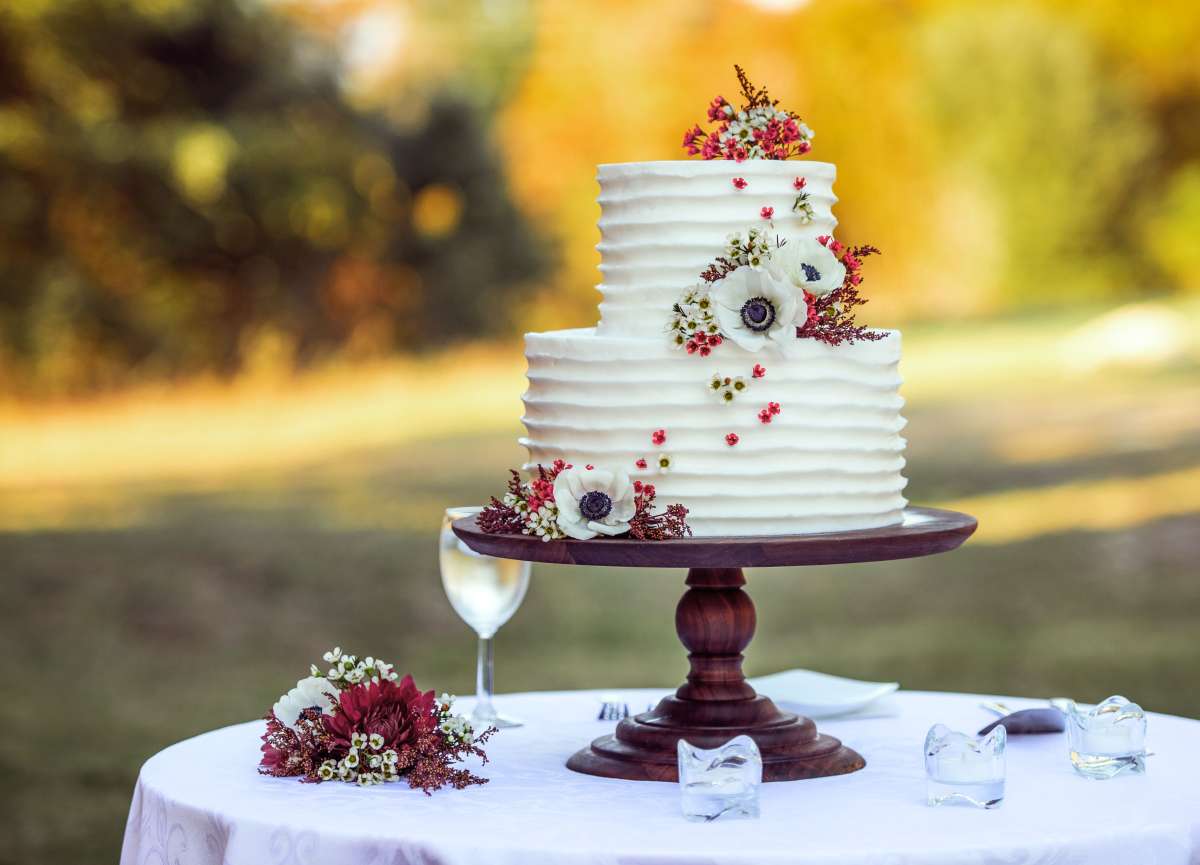 Your cake baker will create a wedding cake that's both gorgeous and delicious—and they only take a certain number of orders per week, so it's best to book far in advance if possible. 
Once you've selected your cake baker, you will schedule a tasting to pick the flavours for your wedding cake (yum!).
While a wedding cake baker can serve multiple weddings at the weekend, chances are they can't do an endless amount. So, we say get on the schedule in advance by signing the wedding cake contract. 
Again, it's likely you'll have your tasting a bit later in the process, but reserving your spot in their weekend schedule ahead of time will make sure you get the cake baker you like the best.
Bridesmaid Dresses: 
While bridesmaid dresses don't take as long to order as a wedding dress, they can take months to arrive. Visit salons with your 'maids to come up with a look that you can all agree on.
Rentals:
If your venue does not provide rentals like tables, chairs, linens, china, flatware, etc., you'll need to hire a rentals company as part of your wedding vendor timeline if you'd like more options. 
Work with your caterer, venue, and florist to ensure that you rent the items you need in the proper quantities.
Honeymoon Travel Consultant: 
It's time to start thinking about your honeymoon! Whether you decide to travel, including a honeymoon travel agent in your wedding vendor timeline, can help plan your trip of a lifetime.
Five Months Before Your Wedding
Men's Attire: 
Suitor tux? To rent or to buy? Whatever you decide, you'll want to lock it down a few months before your wedding day. 
This goes for both Groom and groomsmen—you can often receive discounts if you rent or buy your attire at the same time.
Accessories: 
Veils, headpieces, shoes, undergarments, and more—be sure to purchase any wedding-day accessories you'll need with enough time before your wedding day. 
Brides will want to buy shoes and undergarments to have those accessories on hand for their first fitting.
Transportation: 
Hiring a wedding limo, shuttle bus, or other transportation is a good idea to ensure that your day runs smoothly and everyone arrives safely and on time. 
Finding a reputable transportation company to help you with logistics is an integral part of your wedding vendor timeline.
Ok, you may have thought this one was ridiculous. If you hire professional transportation (limos, shuttle buses, whatever), you need to hire someone good, and you need to do it more than two months before your wedding. 
Any wedding planner will tell you that the wedding vendor they have the most trouble with is limo drivers. The good ones will provide you with a clean, great-looking ride and get you to the church on time. The bad ones will show up late (or not show up), get lost, and make you late for the wedding you've paid so much to plan. 
Our advice is to do this about six months before your wedding and spend a little extra to hire the best company you can find. 
Ask your wedding planner for advice on who to hire; chances are she's had a bad experience with more than one of the limo companies in your area.
Three Months Before Your Wedding
Favours: 
The wedding favours you choose should reflect your wedding style—and there are lots of great ideas to choose from! Be sure to purchase your wedding favours with enough time to allow for any personalisation or special packaging.
Wedding Rings:
Your wedding ring is a piece of jewellery that you'll wear every day for the rest of your life (no pressure!), so take your time shopping for your bands.
The Day Before
Make sure all wedding-day items are packed/laid out and ready to go! (Don't forget the rings and marriage license!)

Figure out tips and final payments for vendors. Put them in clearly marked envelopes and give them to the Best Man or another person you trust to hand out at the reception.

Assign someone to pack up your gifts/belongings after the reception (don't forget the top tier of your cake!).

Thank your BFF for agreeing to return your Groom's tux and other rental items the day after the wedding.

Enjoy a mani-pedi.

Attend the rehearsal and dinner. Now's the time to give out wedding party gifts.

Try to go to bed early…you need your beauty sleep tonight.
Wedding-Day Advice
Allow plenty of time to get ready.

Check out our ultimate list of

Wedding Planners in Melbourne

to help you organise a stress-free wedding.

Do the rounds at your wedding—greet everyone and thank them for coming.

Take a deep breath. Stop to appreciate your new spouse and the day that you spent so much time planning!