Finding a wedding cake baker can be tough. First, you need to figure out what type of design style you want and then find the right baker for your needs. 
Your wedding cake is one of the stars of your reception, so choosing it can be quite the task. 
Before you start considering flavours and tiers, you'll want to make sure you have the proper wedding cake baker for the job. That means putting in a little research time, reaching out and thoroughly reviewing a few contracts. Check out our list of shops to get your Wedding Cake in Melbourne.
If you need a few pointers to get you started, here are some things to consider when picking a wedding cake baker!
Here's How to Choose Your Wedding Cake Baker.
Where to Start
Before you kick off the hunt for the wedding cake of your dreams, you should have some of your main wedding details hashed out. At the very least, you should have the date, wedding budget and reception venue locked down. 
This info will come in handy when you start looking at the costs and availability of different bakers.
Stick to Your Style
Wedding cakes are special snowflakes. They come in many different shapes and sizes and can be customised to fit your big day to a T. 
Knowing the wedding theme and colour palette of your wedding will help you tremendously when searching for your ideal wedding cake baker. Remember, they are like artists who wield piping bags instead of paintbrushes. 
Like Picasso and Matisse, each has its unique style, and you'll want to find one that suits the style of your big day. You want your wedding cake design to stand out, but you don't want it to clash with the rest of the party.
Do Some Research
You don't want to settle for less than perfection, so kicking off your hunt with a bit of research is a must. 
In this phase of the process, Instagram is also your friend—check out popular hashtags specific to your area (i.e., #weddingcakesmelbourne). 
If you've got some time on your hands, going to a wedding show never hurts! You'll get to see a bunch of options IRL and maybe even do a bit of tasting.
Read Reviews and Ask Around
The next step is getting some verbal or written reviews. 
While checking out a baker's portfolio will get you acquainted with their style, you won't glean much else from photos. 
You'll want to look for insights on delivery times and methods, how helpful they were throughout the process, and if the cake was as tasty as it looked in pictures. 
Alternatively, if you were treated to a perfect slice of cake at a pal's wedding, don't be shy about asking for their baker's info. 
There's no need to put in extra work if you already know and love a specific baker's cakes.
Give Them a Follow
Instagram is your friend when hunting for a wedding cake baker. When you've found one or two that you love, throw them a follow. 
Scrolling through their highlight reel will help give you some ideas for your cake.
Get in Touch
Once you've narrowed it down to a handful of skilled wedding cake bakers, you should consider reaching out. 
Yes, getting in touch with a stranger is sometimes uncomfortable, but you'll have to bite the bullet if you want them to craft your dream wedding cake. 
Schedule a Meeting
Once they've replied, it's time to set up a face-to-face meeting. 
Unfortunately, because you're dealing with taste, Skype or Facetime just won't cut it. You can only learn so much about a baker's work from a screen, so meeting in person is critical. 
You'll want to see even more samples of their work, taste their cakes, talk about budget and discuss delivery (among other things).
Look at Their Full Range of Work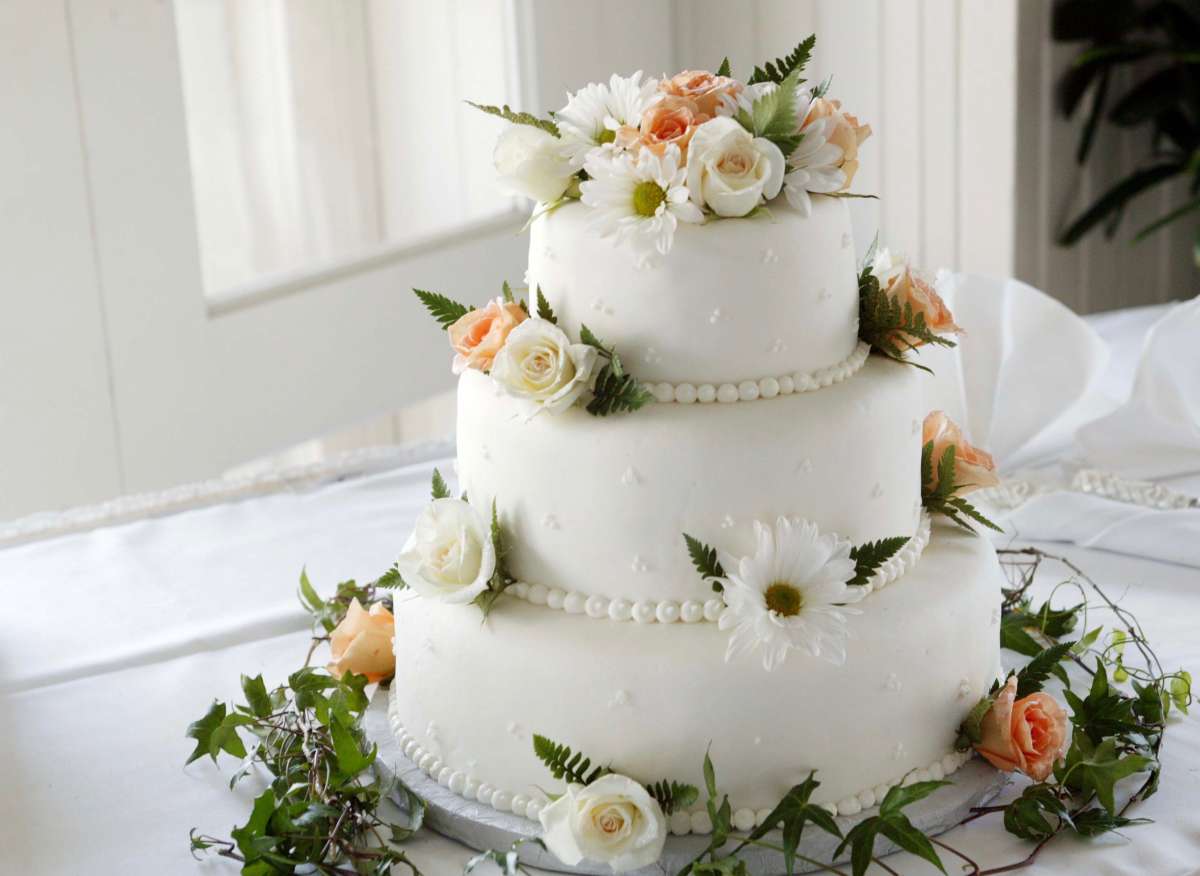 Though you should be focusing on the wedding cakes, you may want to check out the desserts they've made for other events. 
While they may not be as extravagant as you'd like, you may get inspiration from their elements.
Read and Sign the Contract
You made it! You're in the final phases of choosing your wedding cake baker. All that's left is to give their contract a thorough read and sign on the dotted line. 
Before putting pen to paper, make sure you review how much you'll be paying and what the overall service fee includes. 
Be sure to ask if any additional costs may pop up, like additional labour, delivery or equipment charges. Once you feel confident in everything, you're good to go!
Things to Consider When Choosing a Wedding Cake
The wedding cake is often a significant part of any reception. It can serve as a focal point to draw people's attention. 
Many celebrations include a ceremonial cutting of the cake. It's not surprising that people stress over finding the perfect cake. Take a few things into consideration to help with choosing a wedding cake. 
These guidelines will help you get started with your search for a wedding cake baker. 
Choose the Right Baker
If you've been to a wedding where you loved the cake, ask the couple who they used. Word of mouth can be a good starting point. 
Different bakers specialise in various styles of cakes. 
Search for bakers that create the kind of cake you're looking for and meet with them. Ask if they can do what you want in terms of decoration, flavour, and overall design. Take along pictures or make a Pinterest board. 
This gives the baker an idea of what you're looking for and makes choosing a wedding cake easier. Looking for the best Wedding Cake in Melbourne? Look no further, Cosmopolitan events have you covered.
Understand the Timing of Creating a Wedding Cake
Selecting a wedding cake and having it made often takes three to six months. Please don't leave it to the last minute and expect the baker to accommodate you. 
This is especially true if you want a super fancy cake you saw in a magazine or Pinterest. Choose a wedding cake once you have a venue, a theme or colour scheme, and your dress picked out.
Choose the Right Size
The number and size of the tiers determine how many people the cake can feed. Decide what size slices you want first. 
Ask the baker how many stories you need to serve the number of guests given that slice size. Then tell whoever cuts the cake how big to make the slices. 
A three-tier cake typically operates up to 100 people. Larger weddings with 200 guests may need a five-tier cake. If you want a tall cake without too many tiers, consider using columns in between each level. 
Using columns to make a cake appear more significant is a great choice when the reception venue is large with high ceilings.
Think Carefully About Frosting Choices
For warm weather weddings, fondant can be a better choice than meringue, whipped cream, or buttercream, as it doesn't melt as these frostings do.
Fondant is also the best choice for a smooth a. Those who prefer the taste of buttercream but want the appearance of fondant should have the baker frost the cake in buttercream before applying the fondant layer. 
Consider the colours you're using when choosing a wedding cake. People may not want to eat a cake with frosting that will turn their tongue blue or green.
Consider Unusual Flavours When Choosing a Wedding Cake
Choose the flavours you love the best instead of trying to please everyone. The wedding cake reflects you. 
So unless you love vanilla cake with vanilla frosting, opt for something different. Take the season into account. People consider certain flavours more appropriate for the summer, such as strawberry or blueberry, where others are more suited to the fall, like pumpkin. 
Another option is to have different tiers be different flavours. This makes it more likely there's something for everyone but complicates the cutting and serving process.
Once you figure out what size your cake needs to be, then you move on to thinking about wedding cake flavours. 
The exciting thing is, this step allows you to taste multiple flavours of cake until you find the right one – but remember you are having a taste test, not a dessert buffet. And to top that, there are so many exciting flavours of cake nowadays. 
You can be as bold and creative as you like with the flavours. Whether you want a mud cake, chocolate cake, vanilla cake, white chocolate, buttercream – the flavours are endless! But be sure to follow your sense of taste, smell, sight, and even touch when choosing what you both love. 
If you love exotic flavours, think about your guests and make sure that there is at least a layer that everyone would love – a layer of the good old chocolate cake never hurt anybody. 
If you have no idea or are overwhelmed by the list of flavours, you can schedule a taste test with your baker and see what suits you and your partner the most.
Have a Tasting
Once you know what flavours you want for the cake, filling, and frosting, set up a tasting. Then you can see how the cake would taste with the various flavour combinations. 
Ask to taste four or five different flavours that sound good. The exact flavour of a cake can taste very different depending on who makes it. 
Even if you're getting a relatively simple flavour, taste it before choosing a wedding cake and committing to a baker.
Make Sure the Design Fits With the Rest of the Wedding Elements
Before deciding on the overall design of the cake, choose the theme, colours, and other elements of the wedding style. 
You want the cake to fit in with the overall look of the wedding. Use flowers on the cake that match those for the ceremony, or add the gown's lace pattern to the cake.
Take Structural Considerations Into Account
Some cakes won't work well for specific designs. For example, some types of cake are heavier than others. 
These cakes can't have many layers stacked on top of each other. The same is true of light and delicate cakes. These types of wedding cake may need to have each tier on a separate stand. 
They can't always sit stacked on top of each other.
Types of Cake
Here are some of the popular choices of the type of cake. There are more types of cake than in this list; you can ask your baker for more information about these types.
Chiffon 
This is a very light and fluffy cake made with vegetable oil and stored or frozen without drying out.
Sponge 
Sponge cake is another type of light cake but is more firm and is suitable for stacking cake layers on top of one another.
Fruitcake 
It is a rich sponge cake made with dried or candied fruits, chopped nuts, and spices and occasionally soaked in spirits. This cake is commonly used to celebrate weddings and Christmas.
Chocolate 
Chocolate cake is a cake flavoured with melted chocolate, cocoa powder, or both.
Cheesecake 
Cheesecake is a sweet dessert consisting of one or more layers. The primary and thickest layer consists of a mixture of soft, fresh cheese, eggs, and sugar.
If there is a bottom layer, it often consists of a crust or base made from crushed cookies, graham crackers, pastry, or sponge cake.
Theme and Style 
The best way to determine your wedding cake's appearance and design is to consider your wedding theme, style, and colour scheme. 
It should also be a reflection of you as a couple. For example, if you are planning on having a rustic-themed wedding, then a naked cake with a saturated colour would fit the aesthetics of your wedding. 
Make sure that the design and decor of the cake fit with the rest of the wedding elements. 
Before deciding on the overall design of the cake, choose the theme, colours, and other aspects of the wedding. You want to fit the cake with the rest of the elements and not stick out like a sore thumb. 
You can use flowers that match those for the ceremony. If you are having a traditional wedding, perhaps a classic white cake with minimal decor would be perfect for your wedding day. There are so many possibilities and so many talented bakers.
We recommend that you create a board of your wedding cake style with images as references to different cake styles that you like. This way, you can provide your baker with visual respect for the overall look you want. Here are some wedding cake styles and tips to help you choose the perfect wedding cake for your big day.
The Novelty Cake 
The novelty cake is perfect for creative couples who are bold in designing their wedding cake. This can be an alternative to your plain traditional cake, but it can still be a tiered cake but with a surprising factor.
Adding personality to your cake is an excellent way of showing what you, as a couple, have in common. Themed with something you both love, whether it be your favourite movie or where you met, incorporating something you both love or experienced, add a lighter mood for the big day.
The Naked Cake 
For the more selective couple looking for a mixture of overlooked elegance and unconventional style, the naked cake couldn't be more perfect. 
With no fancy fondant icing or overly fancy decor and toppers, the naked cake is a much more reasonable option for a simple wedding.
As vintage weddings are gaining popularity these days, this cake style can significantly complement the vintage theme. 
Bare cakes can be surprisingly pretty and romantic. Decorated with real flowers and slices of fruit, the naked cake is a statement of refined taste.
The Traditional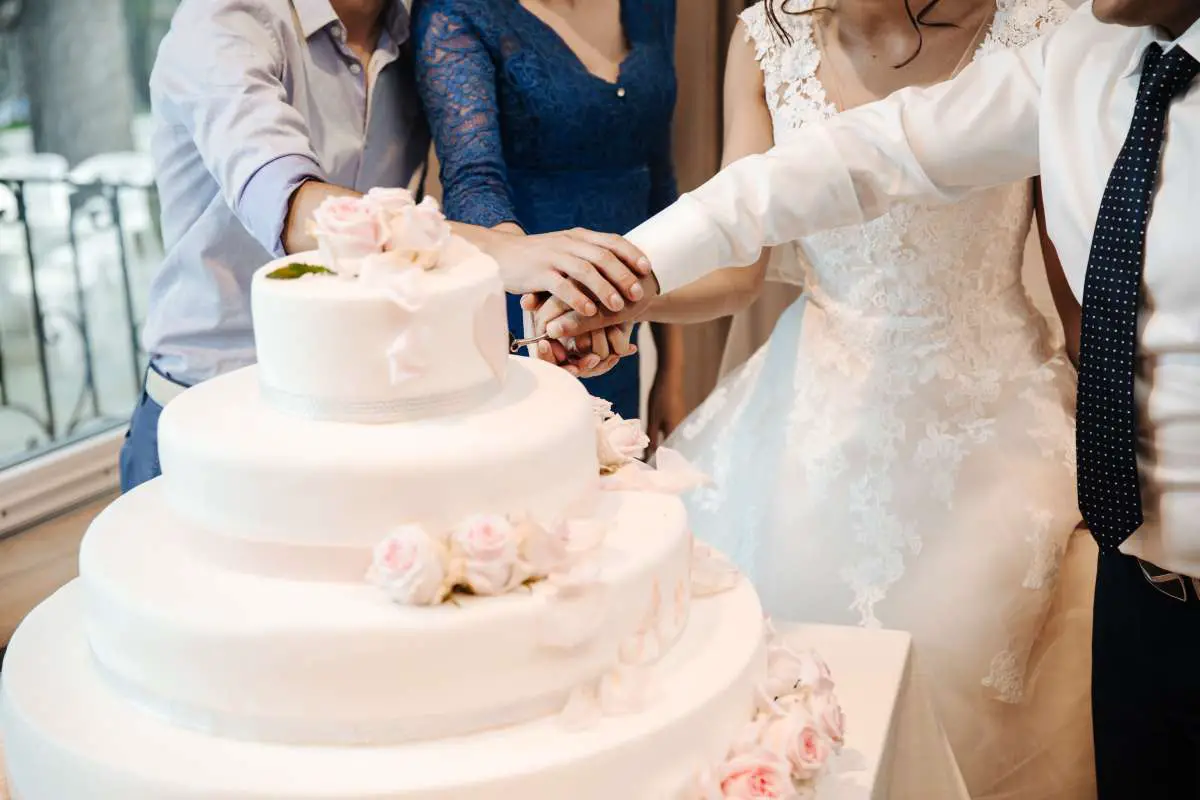 Never underestimate the charm of a traditional cake, and never cross out this style of cake off your list. If you choose to have a traditional wedding in a church, with all the bells tolling – then a traditional wedding cake is the cherry on top. 
Don't worry; you can still vary this cake and personalise it.
Commonly, the cake is decorated with sugar flowers that match the wedding flowers and the bride's bouquet and lace it with icing that matches the bride's gown. It is a tradition worth keeping.
The Contemporary/ Modern 
For those couples who want a traditional cake but want something different, the modern cake is a great choice. 
This cake mixes traditional elements and contemporary designs, which brings a more flexible approach to the conventional way.
You can be creative with the inside of the cake too. So you can deviate from the traditional and have different cake flavours in each tier. 
Having different flavours and fillings in each story is an excellent way of adding an element of surprise to your guests.
Miniature Wedding Cakes 
There are many reasons why miniature wedding cakes are the best option for you and your wedding day. 
It is one of the trending choices that give you the choice of not cutting and dividing the cake for the guests – you simply provide them with a piece. 
If your wedding is off the road, mini cakes can be very easy to transport without worrying about ruining the cake. They can be arranged almost anywhere your wedding venue will be.
Understand the Pricing
Many bakers charge a base fee depending on how many slices the cake will serve. 
This fee can range anywhere from about $1.50 to about $15 for each piece. However, more complicated decorating schemes increase the cost. 
Fondant frosting costs more than buttercream frosting. The more work it takes to create the cake, the more expensive it will be. 
Because much of the work involves decorating, using fake Styrofoam layers instead of cake to make the cake look larger won't make the cake much cheaper than the actual cake.
Opting for a Less Expensive Cake
Some couples opt to have just two tiers of decorated wedding cake. They use sheet cakes in the kitchen to serve the rest of the guests. Just make sure the slices from both cakes look similar. 
Choosing simple decorations, such as seasonal fresh flowers or fresh fruit, can also help minimise the cost. 
Some people opt for one slicing tier and then use another alternative instead of cake to serve the guests. 
These alternatives include cupcakes, cake pops, doughnuts, cookies, or various other sweet or savoury options.
Consider How the Cake Will Be Delivered
Coordinate the cake delivery with both the baker and the reception site. The baker may have to bring the cake in pieces and assemble it on-site, which takes some time. 
The cake may need refrigeration, so make sure the site has a large enough refrigerator. We have the ultimate list of Wedding Cake Shops in Melbourne right here.
Conclusion
Finding the perfect cake baker isn't just about sampling fondant and sponge cake flavours. Before you book your cake baker, you'll want to do your research and make sure the bakery can deliver your dream wedding cake.