Planning an intimate elopement in a remote destination can be the ultimate in nuptial romanticism by its simplicity. Unlike a large wedding, an elopement allows you to focus on your union itself instead of fretting over minute details such as clashing with your in-laws or attempting to calm an angry vendor. But with no entourage to serve as helping hands, essential information can occasionally fall through the cracks. Looking for the Top Wedding Planner in Melbourne? Look no further and check out our ultimate list of Wedding Planners here.
Privacy & Accessibility
The best locations offer privacy and intimacy. You want to feel comfortable and connected, not feeling watched by onlookers. If you choose a more trafficked area, you may have to consider a sunrise or sunset ceremony on a weekday or hiking into a spot further away. If you aren't used to hiking or are worried about bringing in everything you need for your ceremony on your back, you'll have to consider how accessible the location is. However, suppose you're looking for a highly private place without a chance of seeing anyone else around. In that case, we can take an adventure of it and hike into a spot for sunrise or camp overnight.
Scenery
Think about what you love to do together and how you've envisioned exchanging vows. The location you choose should be reflective of your relationship and how you spend your time together. Do you devote summer weekends canoeing, sleeping in tents and sitting by a campfire? Do you love to relax by the beach? Do you mountain bike through forest trails or make frequent trips to the mountains? Or maybe you love trying out new restaurants and appreciate modern interior decor? Your relationship should guide you and help narrow down the type of scenery you want to be surrounded by when exchanging vows. From there, I can help you find epic locations!
Book a Photographer
Having beautiful photographs to show family and friends when you get home will make them feel a part of the day. Hiring a photographer whose work you love will help you feel more relaxed, knowing that they will be there to capture everything so you can indeed be present with your partner. The photographs will serve as memories you can hold in your hands.
Hire an Officiant
The common question is, "do I need an officiant?". In short, yes. You need a legal officiant, minister, justice of the peace or priest to preside over your ceremony to make it official. Depending on the location you choose and how feasible it is, some couples decide to do the legal paperwork back home. This can free up the time constraints if an officiant is only available at certain times of the day and the location requires hiking in. It's essential to look into the legal laws where you're planning to elope so you know how long in advance you need to register, what ID you need to bring if you're going to city hall, how many witnesses you need and who can be a witness.
Invest in Your Vendors
While some elopements are focused on the adventure with minimal vendors, there is a lot of freedom in planning an intimate wedding celebration. Although you have decided to elope, it's essential to realise that eloping still involves planning. If you love the idea of a beautifully styled table setting for dinner, you can have that too, even if you're eloping. Depending on where you have decided to hold your ceremony, you can still get your hair and makeup done and end with a catered meal. By enlisting the help of vendors who excel at their craft, you can eliminate unwanted stress and keep the focus on you two.
Dress & Suit Alterations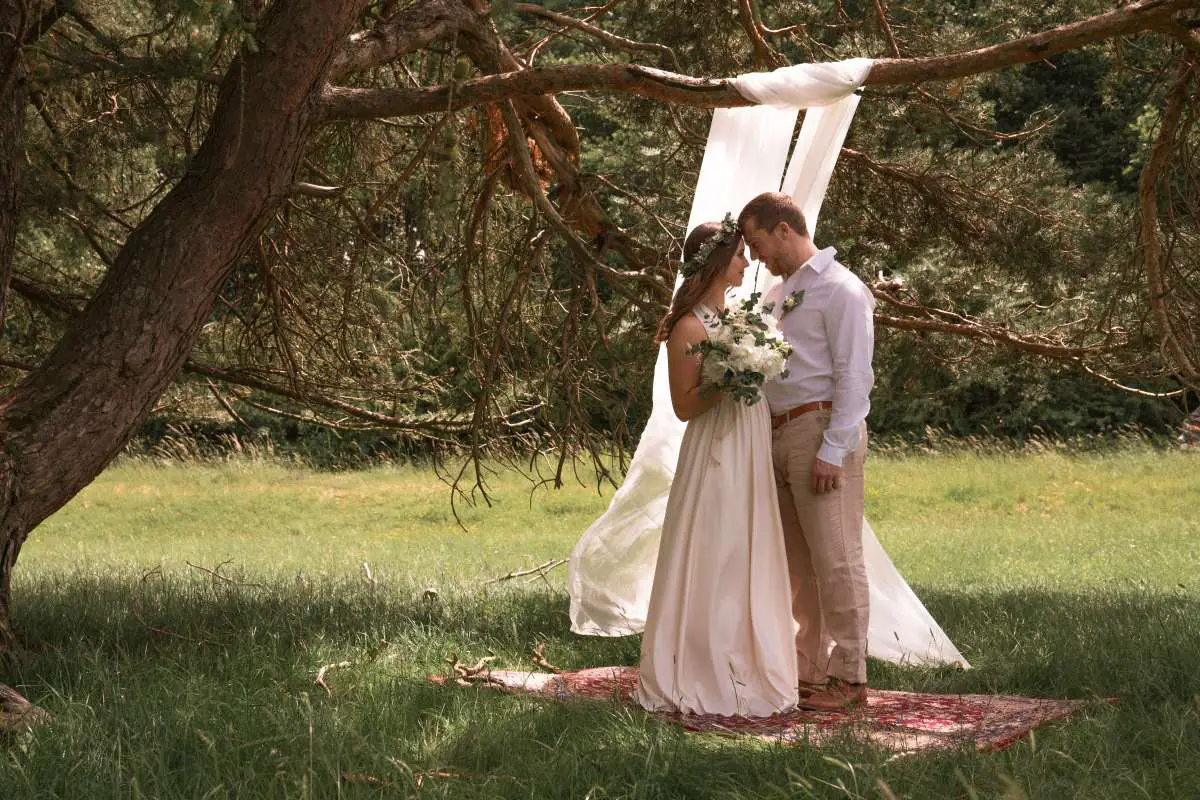 If you're looking for a quick engagement or planning period, make sure you consider the time needed for a made to order dress. Most bridal shops recommend a minimum of 6 months in advance for ordering a dress to give time for alterations once the dress comes in. If you are planning an elopement for a short period, be prepared to pay rush fees for dresses. A way around this would be to purchase a dress stock from a website. You may be able to get away wearing it as is, or you can bring it to a sewist for minimal alterations.
Create an Elopement Timeline
Thinking of the structure of your day will help make the most of it. Every elopement is different. If intimacy and photographs are most important to you, we can plan for sunrise or early morning ceremony followed by portraits. 
There must be a flow to your day so we can keep the momentum. The beauty of eloping is that you are in complete control, and you have no one else to consider on the day except you two!
Sunset Ceremony Elopement Timeline
Have breakfast

Do an activity together (hike, canoe, yoga, massage)

Have lunch

Get ready

Head to the ceremony location

Short portrait session

Ceremony

More portraits at sunset

Head back for dinner (campsite, restaurant, order in)

Full-Day Adventure Elopement Timeline

Early morning wakeup before sunrise

Drive to the ceremony spot

Get ready and hike to spot OR

Hike and change at the ceremony location
Sunrise ceremony
Portraits

[can finish here or break for lunch/midday activity]

Head to the second location

Get dressed and take more pictures at sunset/dusk

Head back for dinner (campsite, restaurant, order in)
Have a Plan for the Reveal
Deciding to elope is a big & exciting step, and it's important to acknowledge that not everyone may feel the same as you on the topic. This shouldn't be taken personally, so my best advice is to be kind and considerate of how others may react. Having a plan for revealing your new status can make it exciting for family and friends. Some ideas that previous couples have done:
Postcard Announcement
Send postcards announcing you eloped a few days before you return home, so when you arrive back home, everyone has recently found out! This is a fun way to let people know, and they have a little keepsake to make them feel a part of the celebration. 
FaceTime / Video Chat
On the day of your elopement, please take a few minutes to FaceTime, Skype or video chat with your family and close friends and surprise them with the news!
Party Reveal
Invite everyone over for a BBQ and reveal your news. This can be super fun since it's in person, and you'll get many amazing reactions.
Post a Photo Online
After calling or FaceTiming your parents and siblings (they shouldn't find out via text or social media), post a picture of the two of you on the day of your elopement to let everyone else know the exciting news. This can be a great way to let many people know without having to individually call/text.
How to Plan an Elopement
Plan a Gathering to Celebrate With Family
It doesn't have to be extravagant; it can be as simple as a backyard BBQ or booking out your condo's party room and inviting your family and close friends. Not only is it fun to get together, but it also gives everyone a chance to congratulate you in person and for you to show them photographs of the day.
Elopement Checklist
1. Choose a location & date
2. Apply for your marriage license
3. Book a photographer
4. Book an officiant
5. Figure out your witnesses
6. Book travel arrangements
7. Buy dress/suit
8. Buy your rings
9. Book a florist
10. Book dinner plans
OPTIONAL: Hire a planner
Dos & Don'ts on Planning An Elopement
You need to figure out where to do it, what to wear (important!), how to make it unique, and what to do afterwards while handling all the emotions that come with it. And, of course, you've got to make a plan for telling your parents and pals. That's why we've put together a little guide on how to elope – the must-dos and the most definitely don'ts! Check out our Top Wedding Planners here to help make your special day as smooth as possible.
Please do it for the Right Reasons.
Eloping can be something of a statement in itself, so if you're planning to get married without your friends and family by your side, make sure it's something you want and that you're doing it for the right reasons. Saving money, avoiding fuss, keeping things intimate and personal, or avoiding family drama, are all completely valid reasons to elope – make sure you've thought a lot about your decision, and it's what you both want.
Don't Feel Bad About It.
There can be a lot of guilt associated with elopements, so this might be easier said than done, but try not to feel bad about your decision – you don't have to justify it to anyone. Of course, some friends and family might be initially disappointed with the idea of not sharing your day with you, but once they get over the shock, chances are, they'll be nothing but chuffed to bits for you. The adage of "prepare yourself for the worst but expect the best" is key for this. Hopefully, everyone will be rooting for you, but try not to be upset if a couple of people aren't as excited about your news as you'd hoped.
Do Have a Reveal Plan
You might want to throw a big party when you get back and let all your pals know you've eloped, you may like to send out announcement cards, or perhaps you want to quietly tell you're nearest and dearest about your good news and leave it at that. However, you let people know about your elopement, make a plan. When it comes to parents, siblings and close friends, they must hear the news from you, ideally in person, and not through the grapevine or worse, on Facebook! Have a bit of a script ready to go, you don't need to explain yourself, but you both need to be on the same page when it comes to letting friends and family in on your big surprise.
Don't Dismiss the Legalities.
Make sure you read up on the legalities of where you're getting married, how long you need to register in advance, what ID and paperwork you need to bring, and whether the marriage will be valid in your jurisdiction. We all have a romantic notion of an impromptu wedding where you book your flights and say "I Do", but sadly, even the most fanciful gestures require some forethought. Oh, and don't forget to collect your marriage cert before you fly home!
Do Think About the Destination (and Avail of Local Knowledge)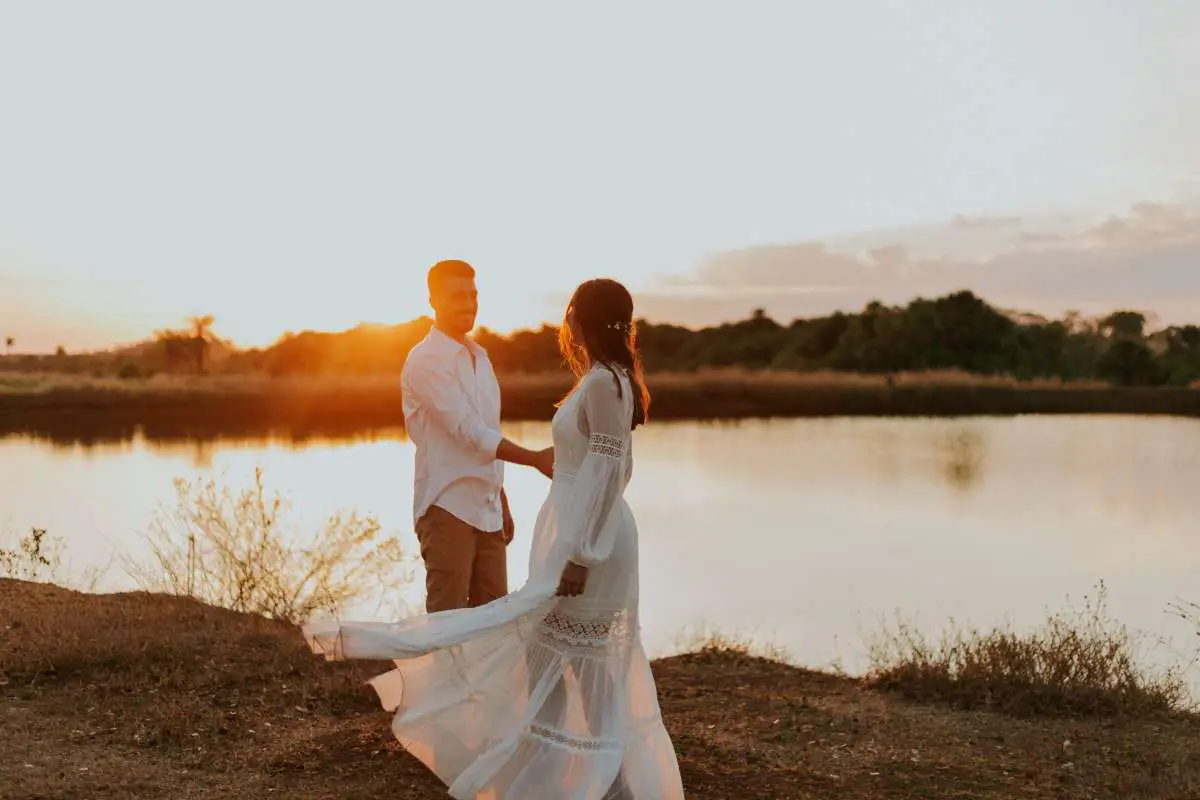 Do you want a chic city elopement in Paris or New York, island vows in the Caribbean or Thailand, or would you prefer to tick a destination off your bucket list and go to New Zealand, South Africa or Japan? Once you've decided where you want to go and the feel you want from your elopement, you can start building a plan from there. 
It's not a bad idea to invest in a local planner who will advise you on the legalities, set you up with a celebrant, photographer, and any other vendors you might want, and arrange on-the-day transport and dining. They'll also know some quiet locations for your vows or portrait session, so take advantage of their insider know-how. You don't want to spend your trip looking for a florist and booking taxis.
Don't Forget to Book a Photographer.
We always think booking a photographer is a sound investment for your wedding day, and even more so if you're eloping. Having pictures to show your friends and family will make them feel part of your day. Plus, you'll have keepsakes of your vows to keep the memories alive. After all, if you don't have photographic evidence, did it even happen? I jest!
Do Make it Special
Just because you don't have 120 guests to wine, dine and entertain doesn't mean your elopement shouldn't be unique. Whether it's writing personalised vows, splashing out on a fancy limousine, eating wedding cake for breakfast, or going to a Michelin star restaurant for dinner, do whatever it is that will make your wedding day feel unique and truly memorable. The best thing about eloping is that you can do whatever you want, so make sure you do!
Don't Meet Your Vendors for the First Time at Your Wedding.
So this isn't a strict one, but it's highly advised! Different resorts and planners will do things differently, and maybe you don't care about such things. Still, if you want your elopement to feel intimate and romantic, we suggest trying to meet anyone who'll be in attendance ahead of time.
Do Rock Something Gorgeous
It doesn't have to be white or formal. It doesn't have to be a dress or a suit. And it certainly doesn't have to be "wedding appropriate". But do make sure you wear something special to you on your wedding day, whether it's a sequin bridal jumpsuit, a little white dress, your granny's pearl necklace, your favourite Hawaiian shirt – or indeed full formal wedding day attire. Have some fun with your look, and make sure you feel incredible on your wedding day, even if you're only dressing up for yourself and your other half.
Don't Write-Off a Wedding Day Timeline.
You might not think you need one – after all, eloping is about throwing out the rule book. – but thinking about the structure of your day is the best way to make the most of it. If the ceremony takes 15 minutes, and dinner takes two hours, there are still many days to fill. Take time with your hair and makeup, have a long breakfast or pre-ceremony lunch, have a couples' massage, or go all out with your photography session – make sure there's a flow to your day so you can keep up the excitement and momentum.
Do Expect Some Costs
Many couples will plan an elopement to save on the expense of a big wedding, but that doesn't mean there won't be costs. Your wedding license, bouquet, outfits, hair, makeup and celebrant will all cost the same, no matter how many guests you have – though, do ask your planner and photographer if they offer elopement rates, as you may require less of their time on the day. That said, if you can afford it, it's no harm splashing out and upgrading to a fancy hotel or a plush suite on your wedding night, treating yourself to a fabulous meal or going all-in on the Champagne – what's the point in eloping if you can't indulge a little?!
Please don't Book a Package Without Looking it Over.
Lots of resorts – and some planners – offer dedicated elopement packages. These often include the ceremony, an in-house photographer, local flowers and a romantic dinner, sometimes along with accommodation. These packages can be handy and cost-effective, especially if you're not really into the details, but make sure you're happy with all the elements – especially the photographer! – before you book.
Do Be Prepared for a Bit of a Comedown
All weddings are anti-climactic, but we have a feeling that the comedown after an elopement is particularly strong. With all the excitement and build-up of hatching a plan between the two of you and the energy of keeping it a secret, it might feel a little strange when it's all over and the time comes to share your news with the world. You might also have some weird pangs that you should have done it differently or that you missed out on some aspects of a traditional wedding. It's normal to feel that way; it doesn't mean you have any regrets, and it might not happen, but it's good to be prepared, just in case.
Don't Expect Gifts
But you know, if people are kind enough to send something nice your way, great! (And make sure you send a thank-you card if they do!). Check out our ultimate list of Wedding Planners in Melbourne to help you organise a stress-free wedding.