For couples with a knack for all things current, a modern wedding theme is a great way to showcase your love for contemporary design. 
You're a lover of all things fresh and trending, and your wedding should reflect that! So how do you host a modern wedding?
There are few events with quite as many traditions as a wedding, but that doesn't mean you can't still make your day your own. 
If you're looking to plan a wedding with a classic structure but the right hint of modernity, know that you're not alone. 
Whether they're trying to appease older generations of family members who have strong opinions on what a wedding looks like or want to follow traditions they love but ditch others that don't work for them, plenty of couples are searching for ways to bring their big days into the 21st century.
Clean lines, Lucite décor, and an overflow of fresh greenery are just a few tricks that can turn any event into a modern retreat. 
Design your stationery to feature bold text and a monochromatic colour scheme, plan for a ceremony backdrop that's minimal and elegant, and curate a cocktail menu that features the latest in custom creations.
Some of the standout advice included ditching traditional black-tie attire in favour of something more contemporary. 
No, that doesn't mean you can't have a formal event, but it does mean you can be a little more playful. 
Consider swapping black tuxes for navy blue ones and be more forgiving with wedding guest attire requests. 
Another genius idea? Think outside the box in terms of entertainment. 
A live band is sure to get the party started, but a silent disco reception is one way to ensure your reception is talked about for years to come. 
Think about the food you serve, too. 
Almost everyone loves being treated to a decadent three-course meal, but if you know that your guests will be ready to party, work with your caterer on ways to speed up the serving process and get everyone out on the dance floor faster.
 From there, consider keywords that will be vital to your planning experience. Check out Cosmopolitan events Wedding Venue for your ultimate wedding reception.
For more modern wedding ideas, we gathered our best tips from wedding planning experts on making your nuptials chic and contemporary.
Ways to Make Your Wedding Feel More Modern
Use Ghost Chairs
Using unexpected variables such as vellum, concrete or acrylic (to mimic Lucite) can bring a modern feel to your event. 
Acrylic chairs allow all the elements around them to shine as they are pretty transparent!
The look of a floating ceremony built on top of a garden fountain helped bring a modern edge to this setup with acrylic ghost chairs.
Go for a Mismatched Bridal Party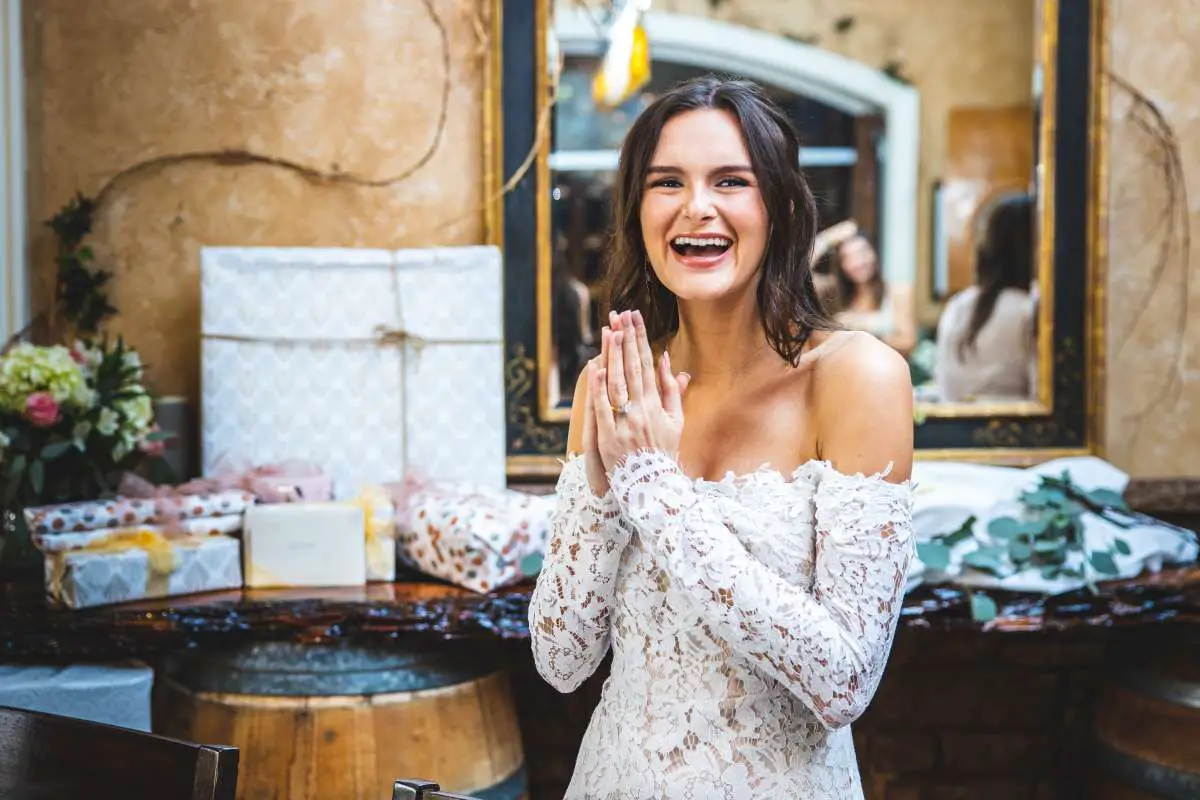 A trend that doesn't look like it's going anywhere anytime soon is outfitting your bridal party in various (and chic!) bridesmaids dresses. 
It's a feature that will add a whimsical element to your wedding day and the photos. 
Whether you let your bridal party pick their dresses, or you prompt them on a specific colour/style/design that you encourage them to wear, the result will be something playfully elegant.
Wear a Minimalist Wedding Dress
Your wedding dress can also be a nod to your minimalist wedding style. 
Clean lines and a minimalist design created the perfect focal point for the bride's wedding portraits. Were you looking for a minimalist wedding dress?
Set the Tone With Stationary
What better way to send the message of a modern wedding design than with your invitations? 
As the first indication of your wedding style, invitations are a crucial element in your wedding theme. 
For a modern event, bold text set against a minimal design will project a new and straightforward method for your stationery.
Use a Simple Backdrop
Sleek lines, a minimal background, and a sophisticated colour palette can make or break a modern ceremony setting. 
Keep the focus on your couple, your venue, and your minimalist design by reducing your decor use.
Use Greenery Instead of Florals
A literal take on a new reception, create your centrepieces with an overflow of greenery. 
One of the best ways to turn your reception into an example of a contemporary style is to use arrangements filled with vines, leaves, and other lush, green foliage.
If you still want to include florals into your tablescape design, vary each arrangement in height to create multiple levels of centrepieces.
Eliminate Décor Entirely
Why not eliminate the need for decor when it comes to finalising your modern ceremony setup? 
One modern approach to your ceremony would be to keep the focal point solely on your couple. 
The result of a scenic backdrop without the use of decor will result in striking final photos.
Follow a Monochrome Color Palette
Using a mix of materials in a monochrome colour palette is one of the easiest ways to emphasise a modern wedding. Apply this palette to everything from your flatware to the florals.
Focus on Interesting Flavors
Enhance the food and beverage experience by channelling the excitement of a pop-up dinner for a modern, discerning foodie crowd. 
Plan perfectly paired passed bites and sips at cocktail hour, curated wine pairings, or seasonal/locally sourced foods.
Enhance the look of your presentation by creating a fuss-free tray organised by quality treats and hors d'oeuvres.
Go for All White Everything
Sticking with an all-white design, whether in your florals, tablescape décor or reception and ceremony backdrops, is a modern wedding technique that is always in style. 
Using an all-white palette can bring the spotlight to other details throughout your day (especially on your tablescape), including linens, glassware, centrepieces, and other uses of décor.
If you want to add a pop of colour, fresh greenery is a great option that works with any season.
Think About Your Venue
One of the best ways to convey your wedding style is through your choice of venue. Choose an undeniably contemporary space. 
When you go with a space that's already adopted a modern feel, you don't have to adapt your area with any unnecessary decor.
For this wedding, the clean lines, heightened ceiling, and refined feel of the space lent themselves to the wedding's modern aesthetic.
Try a Modern Cake Design
Make sure you carry a modern element throughout every detail of your day—even in the cake! 
The patterns and textures created on this simple two-tier cake created a chic element to the reception. We have the ultimate list of Wedding Cake Shops in Melbourne right here.
A perfect balance of playful and elegant, the design of your cake can create a contemporary focal point to your dessert table.
Give Your Planner a Set of Words to Live By
One of the best ways to stay on theme with your modern style is to develop a collection of design-oriented keywords. 
Our favourite modern wedding buzzwords are clean, geometric and simple. 
The beauty of sticking to these descriptive words is that they will never fail in a modern reception space.
Plus, your wedding planner will know exactly what you are expecting from the final product.
Add Personalisation
Nowadays, personalising your big day goes way beyond the day itself. 
Capture your wedding with a live painter who will render all of the memorable scenes and moments from your celebration. 
Not only is an artist the perfect cocktail hour entertainment, but you'll also have a one-of-a-kind keepsake to take home with you!
Contemporary design does focus on the little details!
Pay Attention to Flatware
You may want to consider your tablescape details when finalising a modern wedding style. 
Trading traditional flatware and glassware is an unexpected and straightforward way to add a contemporary twist to your wedding reception. 
For example, by using black metal cutlery and stemless glasses, guests will draw attention to these small details as they're so far removed from typical place setting offerings.
Go Trendy With Cocktails
Pair your elevated hors d'oeuvres with a cocktail menu worthy of the latest trends.
Whether it's the latest in cocktail infusions, bold flavours, or custom creations, a cocktail menu that can stand on its own in a modern setting is unique and distinctive to any event. 
Play around with glassware and garnishes for an added touch of modern flair.
Don't Be Afraid of Negative Space.
Create visual interest with clean lines, striking colours and negative space. Feature a contemporary tablescape with minimal decor and a sophisticated yet straightforward place setting.
Keep the Tables Minimal
Centrepieces bursting with greenery, varying white florals, and a slate-inspired colour scheme are just a few of the elements that make this tablescape fresh and contemporary. 
Pay Attention to Special Details
You can adapt all the little details to fit your modern wedding theme. 
For example, we gave these table cards a contemporary twist by incorporating a geometric design with bold colours.
A pop of colour is a great way to add a modern touch to your place cards, invitations, or other stationery elements on your big day.
Use Black as an Accent
Black is the perfect colour for a modern wedding. It reads elegant, chic, fashion-forward and sophisticated all at the same time. 
We use it often to create depth and character in our designs.
Whether adding a touch of colour to the outline of a menu card or using it to adorn an entire Lucite placemat, black is one hue that will always create drama.
Go Bold With Candlelight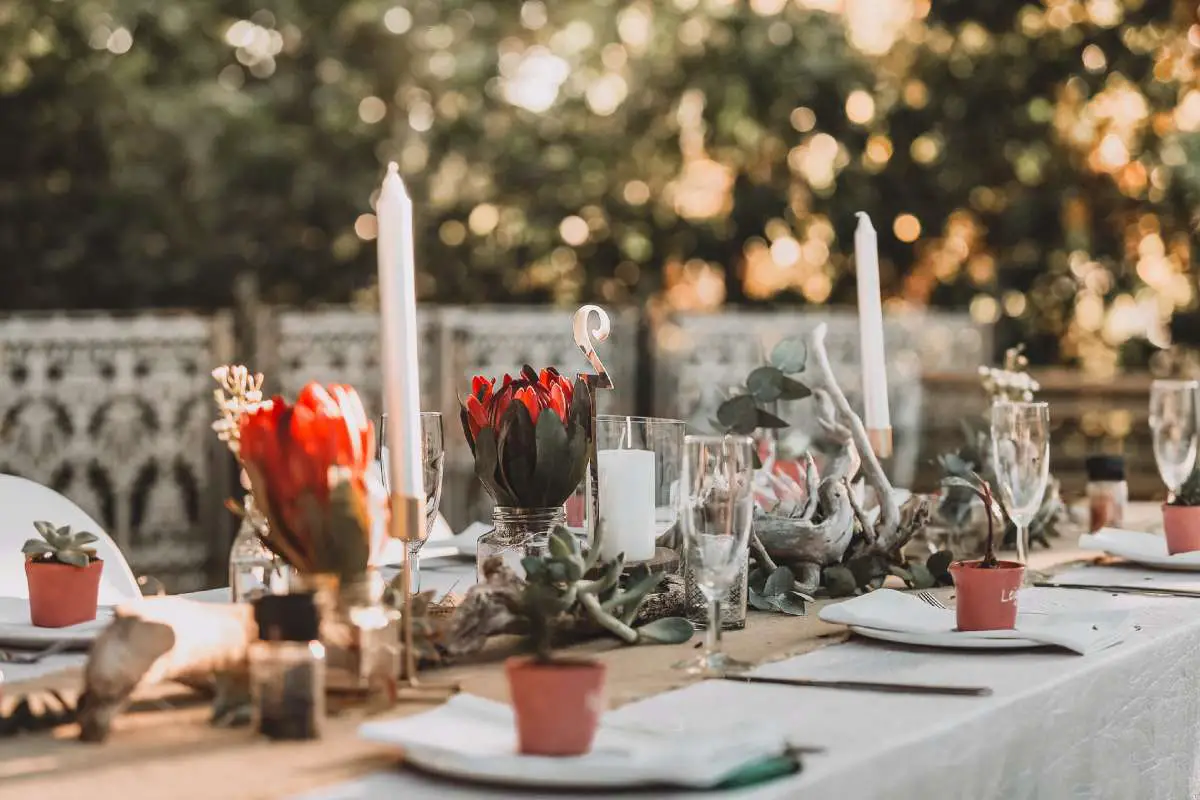 Clean lines and candlelight galore are the very definitions of modern romance. Glass votives in varying heights will give your candlelit tablescape plenty of dimension and diversity.
Go Digital
Technology is increasingly an integral part of our lives, and there is no way to make your wedding feel more modern than with a chic, timeless wedding website. 
Before guests even arrive, you will have set the tone. 
To create a seamless experience for your guests, make sure to work with a company that can help pull your overall wedding design into both the website and invitations, creating a cohesive look from start to finish.
Start With Your Venue
Select a wedding venue that has a clean, neutral palette. Think white walls, concrete floors, and vaulted ceilings. 
You can build upon this modern environment to create a beautiful and sleek setting for your ceremony or reception.
Ditch Traditional Bridesmaid Attire
Unify the bridal party by giving your bridesmaids a colour palette instead of dressing them in matching gowns. 
This allows everyone to express their individuality while keeping their colour vision for the wedding intact.
Opt for the Unexpected
Mixing a natural setting with the unexpected décor elements is a great way to make your wedding modern yet timeless.
Say "yes" to White
All-white everything is always the cleanest, most sophisticated way to portray a modern vibe throughout your wedding design."
Dress up Your Band
We think band backdrops are the ultimate way to modernise and freshen up a wedding's vibe.
Make Your Entrance Grand
Transform the entrance to your reception to make a statement. When we think of modern, we think of clean lines, noticeable contrast, and minimal focal points. 
For example, I was updating a standard set of doors with the help of sheer fabric, wild greenery and clean, sophisticated lanterns.
Stray from a Black Tux
Black tuxes are timeless, but a colourful, fitted tux is perfect for a modern wedding.
Play With Color
If you are looking for ways to modernise your table décor but still want to keep, guests feeling comfortable, stick with a formal place setting to keep things timeless but focus on clean lines. 
Rethink Your Ceremony Backdrop
Look up, think high. Instead of a standing mandap or chuppah, hang one from the ceiling."
Tweak Your Bouquet
Choose an ombré bouquet or one in an unconventional shape, like the cascade.
Plan Interactive Entertainment
Interactive entertainment is a huge hit! 
Whether a confetti pop or ceiling drop at the end of the first dance or a well-orchestrated transition from reception to an afterparty by Silent Disco DJs and headsets, these modern touches add such life. 
We love keeping guests entertained and excited throughout the entire celebration.
Combine Metallics
We love metallics; it's a trend that remains timeless year after year. A way to make metals modern is to have fun with where you use them. 
Gold- or silver-dipped light bulbs hanging over the reception tables are fun statement pieces and are sure to set the mood.
Twist Your Place Settings
Try to incorporate modern 'twists' into timeless classics. A place setting, for example, contains many tiny elements to change up, like the napkin and the place card. 
Rather than fold the napkin flat with straight lines, please give it a simple twist for a modern feel that is fresh yet still classic. Instead of a traditional paper place card, consider playing with different materials and textures, such as leather, marble, or capiz shells.
Incorporate Your Personalities
By incorporating their relationship and personalities elements into the day, couples can instantly modernise their weddings while still paying tribute to timeless traditions. 
My groom was a pilot in the U.S. Marine Corp. at this wedding, so we designed a paper aeroplane program for guests to fold and toss as the couple exited the church.
Look to Interior Design
Use home décor pieces to create a modern lounge area. We are constantly inspired by interior design and love to mix classic and contemporary furniture for a timeless look. 
Guests will feel at home and appreciate a place to rest their feet between dancing!
Design an Innovative Menu
A great way to make your wedding feel modern is through the food you serve. Catering has come a long way from the old banquet halls. 
A seated dinner can be fun, and it doesn't have to last three hours either. Work with your caterer to create a menu inspired by you as a couple and incorporates different elements. 
For example, your guests can be invited to their tables with a shot glass of gazpacho or a demitasse mug of bisque.
Select Modern Florals
A modern design means sleek lines with an architectural feel. Consider using flowers with structure, like calla lilies and orchids, to achieve your desired aesthetic.
Take Your Entertainment to a New Level
In addition to ceremony and reception entertainment, up the ante with feature performances during cocktail hour.
Use Classic in a New Way
Classic elements used in non-traditional ways can make your day feel very modern. \
We used these custom marble tables without runners or linens to give the space a modern, clean look that was beautiful.
Have a Device-Free Ceremony
Today's newest phones and devices will look outdated in a few years, so no matter how unique your wedding ceremony photos are, if these devices are present in them, they'll date your event photos more than any other element. 
So even if going entirely 'device-free feels like too much, an unplugged ceremony is a good compromise to make your wedding modern.
Modern Wedding Etiquette
Weddings may be steeped in tradition, but times change, and so make rules. In the age of wedding hashtags and relationship statuses, wedding etiquette has progressed a little. 
Here are some of the most notable differences between modern wedding etiquette and traditional wedding etiquette:
Who Pays the Wedding Bill?
Traditionally, a bride's family would write a cheque to cover the wedding while the groom's family would pay for the honeymoon.
Of course, times have changed. These days, it's more common for the couple and their families to split wedding costs.
According to an Australian Bridal Survey, 47.6% of couples share the wedding costs with their parents. 42.5% of couples were paying for the wedding by themselves.
The remaining percentage said their wedding was being paid for by either parents or the bride/groom separately.
Who Is at the Wedding Party?
Traditionally, grooms would select their closest male friends or family members to be groomsmen, and brides would choose their closest girlfriends to be bridesmaids. 
These days, however, the bride's bridal party needn't only include women, and the groom's bridal party needn't only have men.
It's increasingly common for the bride and groom to choose members of the opposite sex to be a part of their wedding party. 
Why? Because modern couples don't feel the need to adhere to tradition just for the sake of it. 
These days, it's all about picking the people you want at your side during your big day, no matter what their gender. 
It's one of the most refreshing changes when it comes to modern wedding etiquette.
How Guests Will Rsvp
The only difference in modern wedding etiquette about RSVPing is that there are many more forms of communication to do so with. 
The best thing to do is to follow the instructions on the wedding invitation/RSVP card. 
If it says call, then call them; if it says the text, then shoot them a text message; if it says email RSVPs are acceptable, then email your response.
The couple has specifically come up with their chosen RSVP method to make it easier for them to know who's coming and who isn't. 
But this also makes it as easy as possible for their guests, many of whom may feel perfectly happy directly messaging their RSVP on Facebook!
What About the Plus-Ones?
Modern or traditional, asking for a plus-one at a wedding is not considered polite. 
There is, likely, a reason why your partner hasn't been invited to the wedding — or you've been invited along. 
It could be that the couple only wants their closest friends in attendance, or they are on a budget and can't afford plus-ones. Need help planning your wedding? Check out our list of Wedding Event Planners here. 
Of course, you can ask if you want to — but it may be awkward being told 'no.'