Planning a wedding can be expensive, so it's important to save where you can. Unfortunately, one area that many couples tend to cut corners on is the wedding décor. 
You've seen them on Pinterest: wooden farm tables, cascading bouquets, beautiful chinaware and four-tier gorgeous wedding cakes. It sounds like you're planning your dream wedding — and you've got some seriously trendy decor ideas. 
As you are probably aware, weddings can be costly. 
You will spend a large part of your time puzzling over your wedding budget, looking at ways to cut down on your costs. But, unfortunately, some areas like the venue and the photography cannot be scrimped on. 
However, the wedding decorations could be an area that you can save on. 
You want your photos to show you had a fantastic wedding in years to come, but you also need to make sure you stretch that wedding budget as far as it will go.
From dramatic lighting to inventive backdrops, choosing your decor is an essential aspect of wedding planning. 
Here, we have a few simple tips, and you'll learn how to plan a wedding on a small budget without missing the things you want. 
Begin by creating a wedding spreadsheet and allocating costs to necessities. This will show you items you can cut down on, those you can DIY and others you can skip.
There are many ways to save money on a wedding, from faux cakes to perfect flowers, centrepieces, unique venues, and more. Looking for the ultimate Wedding Reception Venue in Melbourne? Look no further, Cosmopolitan events are here.
However, we all know that all of these little decor details can add up when it comes to your budget. So here are some ideas to help you cut costs.
Tips to Save Money on Your Wedding Decorations
First, a little rundown of what you'll be spending on. 
Typically, brides and grooms book at least one venue, and they usually hire a team of vendors, including professionals like a photographer, wedding planner, and florist. 
From there, there are other elements to rent or buy, from fashion items to decorations and every additional detail that they envision having for their big day. 
With so many different things that couples can shell out on, it's no wonder that bills begin to rack up fast.
Ahead, we give our top advice for saving money on your wedding decorations. 
In the end, it's all about deciding what matters most to you and your partner and then finding a way to make those things work.
Pick the Perfect Venue
Saving for a wedding includes making the right choices at the wedding venue. Venues for wedding gulp money. 
So, instead of picking two different venues for wedding and reception, use only one. 
Choose a venue that has enough space which can be transformed into a reception. You can reuse the flowers and chairs and cut down money for decorating two venues.
Make a Huge Faux Cake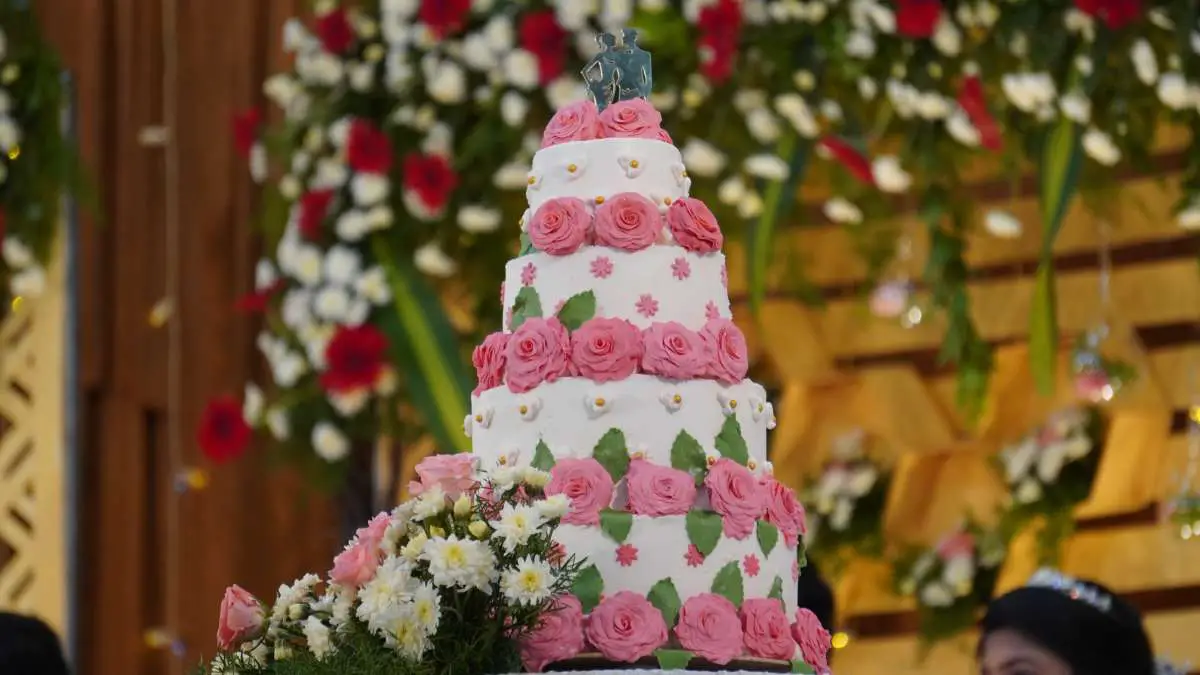 Do you fancy a massive cake with tiers and all? Think about faux cakes. 
You want the look of an extravagant dessert (like the one pictured here), but your budget is tight. 
Good news: The "fake cake" is a popular compromise. This piece of art consists of fondant icing placed on top of a Styrofoam frame. 
Guests will never know they're munching on sheet cake that was hidden in the kitchen! Still, want a cake-cutting ceremony? Make the top tier the real deal. 
This is one of the best wedding ideas on a budget—a cake made from Styrofoam into as many tiers as you want. 
You can leave the real cake at the topmost. Instead, serve guests sheet cakes from the kitchen. They'd have no idea.
Switch up the Centrepiece Game
Centrepieces are beautiful but can cost a bit. So if you're looking for how to save money on a wedding, switch up centrepieces. 
Order lanterns in their place for your tables. They leave a warm glow that will soothe the guests. 
And they can also double as after wedding favours as they will make beautiful household ornaments.
Understand Your Flowers
Flowers can take up a large part of your budget, so knowing your flowers is one of our unique wedding ideas on a budget. 
For instance, if you love peonies, especially when they're not in season, you'd spend a lot. So instead, go for garden roses or vintage roses like a David Austin rose. 
They cost less than, have longer growing periods and look precisely like peonies.
Opt for Recycling
If you insist on regular centrepieces, you can also get creative. Look for Mason jars, tins, and vases around the house that haven't been using for a while. 
Tie ribbons matching your colour palette around these containers. And then put in each stem of the flower to make a centrepiece. This is a minimalist look achieved by spending little or nothing.
Venues With Inbuilt Decor
Choosing venues that need little or no decor at all is a way to save on a low budget wedding. 
Look out for natural spaces that take advantage of the scenery. 
Places like museums, botanical gardens, beaches, recreational parks, etc. You may also opt for an ornate ballroom if you want something indoors, saving colossal cash.
Use Natural Cake Toppers
Sugar crafted flowers don't come cheap, so that natural toppers would suffice. Use natural flora on your wedding cake to give it some attitude and beauty. 
You can also go for naked cakes adorned with tiny buds and greenery. Check out our list of shops to get your Wedding Cake in Melbourne.
This is an understated beauty that many couples are waking up to. The bottom line, you get to cut down on extravagance.
Create a Minimalist Look
For the wedding ceremony and reception venue, you could create a minimalist look that blends in. 
Instead of filling the tables with ornate centrepieces and the walls with orchids, go green. Use well-tended sprigs of greenery and large twigs. 
Use sprays to achieve different pops of colour from your theme—everything blends in to give a beautiful sight.
Reuse Your Bridesmaid's Bouquets
You can save a ton of cash by reusing the stems given to the bridesmaids for the wedding ceremony. 
The trick is to keep the flower scheme similar to the wedding reception decor and bouquet. Then after the ceremony, arrange centrepieces by altering between tiny buds and more giant bouquets for centrepieces.
Create Ambiance With Lighting
You can easily create a romantic aesthetic for your wedding day with the help of lighting. However, this doesn't mean using expensive bulbs or LED lighting. 
Instead, opt for twinkle lights or even bistro lights to amp up your reception. 
These string lights can be displayed across your reception and even your ceremony to create an intimate and elegant ambience. 
They are incredibly budget-friendly and great for outdoor receptions (since they can be hung from tents or even tree branches). 
Wherever you or your lighting designer decide to place these lights, you and your guests will be wowed by their romantic glow.
Shop Locally
Purchasing tablescape items from a nearby store will help you save on shipping and delivery costs.
 Also, you can incorporate a bit of your hometown into your wedding day, too! Perusing your local antique shops or other home stores is fun to find unique decor items that won't be overpriced. 
You'll then be able to work with your florist and other vendors about which pieces you love. 
Your vendors than can use their expertise to find similar decor accoutrements to be used throughout your reception. 
From picking out throw pillows for your lounge to a vintage suitcase for guests to put cards in, we suggest checking out your local stores before browsing online.
Accessorise With Linens
Linens are an inexpensive way to transform your wedding venue because you can rent them. 
Many rental companies can provide a variety of different linen styles for your reception. 
Dress up your venue by draping the fabric from your ceiling or using linens to cover your tables or create table runners. 
Just be mindful of the fabric you choose since some materials are pricier than others, such as silk and certain sequins. 
However, if you want to use a particular fabric but know it'll be too expensive to cover every reception table, opt for table runners instead! 
Table runners call for less fabric. Therefore it'll be a cheaper option than covering your entire tabletops. 
Your tablescape can still be transformed into a gorgeous dining area but without the price of having full linen on each table.
Reuse Florals
Floral centrepieces can be expensive, so you may opt to reuse your ceremony flowers at your reception to help bring down costs. 
Ceremony flowers such as bridesmaid bouquets and altar arrangements can also be used throughout your reception. 
Bouquets can be placed at each table inside vases and will look equally as stunning as centrepieces. 
As for aisle markers and altar arrangements, please place them in the entryway of your reception, or use them to decorate your welcome table! 
Reusing florals is an intelligent way to save money on your reception decor because you won't have to purchase double the amount of florals. 
Just make sure you keep the flowers in water, so they won't start to wilt before your guests have the chance to see them!
Display Family Photos
Family photos are a great way to decorate your wedding venue with the help of cutesy candids and Instagram-worthy throwbacks. 
Not only do they add a vintage touch to your wedding day, but they also are affordable! 
Just place the photos in picture frames that match your colour scheme and display them throughout your ceremony and reception. 
You'll be surprised how a few photos can help personalise your wedding decor, too. 
One of our favourite ways family photos can inexpensively personalise your wedding decor is by using them as table numbers.
Instead of the traditional table number, opt for photos of you and your S.O. from different ages and have them serve as your table numbers. 
Guests will love the charming feel of your tablescape, and the photos will create quite the buzz at each table. 
Family photos are a great way to incorporate yourself into your wedding day and help save on pricey tabletop decor.
Get Creative With Your Food Displays
If you are opting for a dessert buffet or having other food stations at your wedding, then we suggest arranging the displays in a fun and creative way! 
From placing your sweet treats in a three-tiered cake tower to having chalkboard signs label each dish, you can easily decorate your reception with out-of-the-box food displays! 
You'll be surprised by how your food displays can transform your reception with little cost. 
Cheese platters and other appetisers can be placed in a certain way to create a fun pattern, or cupcake confections can be put together to form a heart-shaped design. 
The possibilities are endless!
Make Your Money Back
After the wedding, there's a whole lot of stuff you don't need for. 
Why get stuck with candelabras, dream catchers, wedding chargers, string lights and all when you can sell them. 
Look out for online sites that specialise in 2nd hand wedding goods or Facebook selling groups. 
You'd be making back some money while helping other couples save some.
Other Ways to Save Serious Money on Your Wedding Decor
There are many ways to cut back on all the little details, save cash and still capture those Pinterest-worthy wedding moments. 
Bridal Party Perks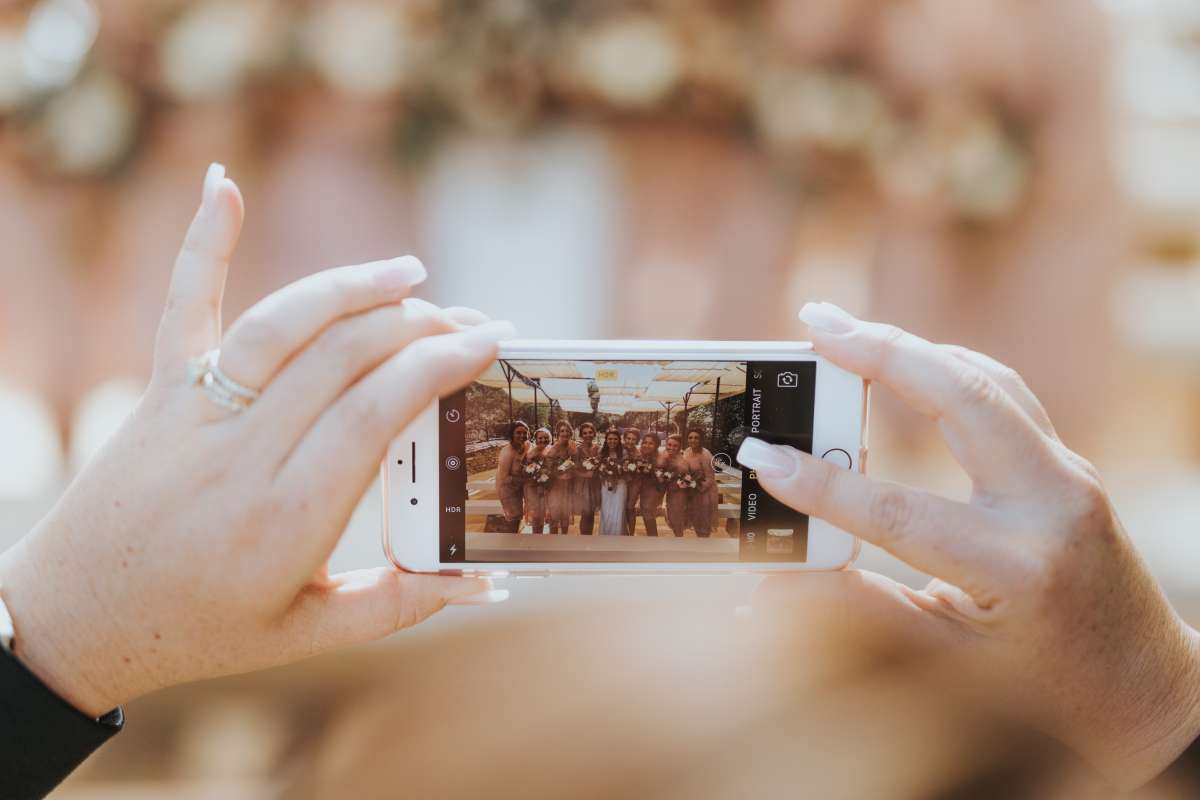 Instead of renting 20 beautiful wooden tables and purchasing large floral centrepieces for each, opt to decorate the table where the bridal party is seated more extensively. 
Then, let your photographer know the setup! They should be able to snap some gorgeous detailed shots. 
Centerpiece Savings 
Flowers are fabulous — but every bud adds up! 
Suppose large floral displays are over your budget; order lanterns in bulk. You'll get to enjoy their warm, flickering glow, and guests will love bringing home their new home decor. 
Know Your Buds 
Do you love lush, romantic peonies? Then, garden roses — also known as "vintage roses" or "cabbage roses" — are going to be your new BFFs! 
They look very similar and won't cost you $200+ for a bouquet. This type of flower also has a longer growing season than peonies.
Word of Mouth 
If you've got a few gal pals who've already gotten married, don't be afraid to ask them for help! Do they have leftover votives — or can they share their best local vendor advice?
Recycle It 
Reuse bottles from around the house or go bargain hunting for cheap glasses. Just add one flower to each bottle, and you'll save a little dough with an on-trend minimalist look.
Catering Cutbacks
A family-style dinner does incredible things for your wallet: It's cheaper than a seated meal, and you won't need to purchase large centrepieces. Instead, everyone will have their eyes on the delicious food!
Get Crafty
Were you looking for gold and silver decor? Consider spray painting knick-knacks for reception tables instead of seeking out real mixed metals. The above were used as beach wedding escort cards!
Diy Booth 
If you love the photo booth idea but don't want to dish out serious dough, consider making your own. 
Flower walls, balloons and strips of ribbon are all Instagram-worthy backdrops. But, don't forget the props! 
The Right Venue 
Consider having your ceremony and reception at the same place. Chairs and flowers can be reused, plus there will be no additional transportation costs. 
Hidden bonus: Your guests will have more time to party! 
Garden Vibes 
Greenery is an excellent way to save with your florist. Plus, the garland is so in style! This particular (all-natural) table runner is made from eucalyptus leaves and is cheaper than large flower displays. 
Cocktail Hour
The cost for passed hors d'oeuvres and alcohol can quickly add up! Food and drink stations are an easy way to trim the number of servers your reception will need. 
Built-In Bonus 
Choose a venue that doesn't need any additional decorations. Instead, think of ornate ballrooms and botanical gardens, like this swoon-worthy ceremony space.
Reusable Buds 
Bridesmaid bouquets make perfect table centrepieces. If your other floral displays are going for $75+ each, and you've got six lovely bridesmaids, that saves you nearly $500 right there! 
The trick? Keep your flower schemes similar and alter between smaller and larger bouquets on reception tables.
Sell it Back 
Don't get stuck with a bunch of candelabras and chargers after your wedding. Instead, try selling your oh-so-fabulous decor! Sites like Tradesy are perfect for both finding and making deals.
Go Minimal 
Be a part of a new reception trend. Instead of ornate centrepieces, stick to sprigs of greenery, large twigs and pops of colour — like these adorable rose-tinted glasses! 
Natural Cake Topper 
Opt to use natural flora on your wedding cake. Sugar flowers can be much more expensive — and naked cakes with tiny buds and greenery are elegant!
Shop Local 
Flowers, rental companies, food trucks — find everything nearby, so you don't spend big bucks on delivery fees. Also, it's a unique experience for your wedding guests! 
Strike a Deal 
If your venue is hosting more than one wedding a weekend, see what vendors other couples are using and if they'll work with both of you for a discount! Too busy with life to really plan your wedding in detail? Have someone else do it for you and check out our list of Wedding Planners in Melbourne to help take the stress away.
For instance, if lighting companies don't have to change their setup, they might be willing to negotiate.