There are numerous reasons to host your wedding ceremony and reception in the same place.
One of the most important decisions you'll make when planning your wedding is the location of the ceremony. 
Many people instinctively think that the wedding ceremony should be held in one location and the reception elsewhere.
Instead of searching for two separate venues, it's lovely to choose one location to host both the ceremony and the reception. 
Guests won't need to travel between locations, and neither will your wedding party. In addition, you only need to book and decorate one venue, which makes your big day easier to coordinate. 
You can also have a later tradition with a ceremony and reception in the same place because you may not need as much time between the two. Check out Cosmopolitan events Wedding Venue for your ultimate wedding reception.
Let's take a look at the perks of celebrating a ceremony and reception in the same place.
Why You Should Have Your Ceremony and Reception at the Same Venue!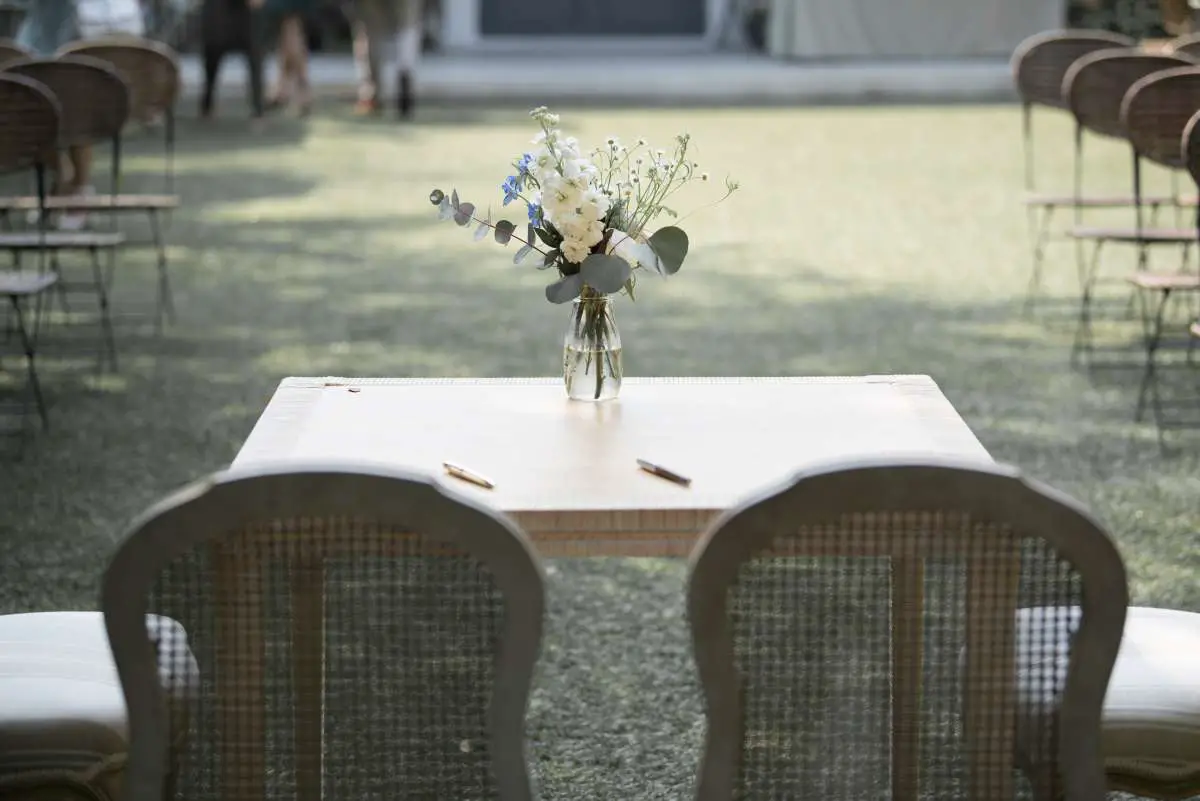 You've decided to choose forever with the love of your life! Now, it's time to get down to the details of wedding planning. 
If you've never planned out a significant event, this can seem a little daunting from the onset. 
Who's paying for what? What type of food should we have? Should we do a first-look photo shoot or use a more traditional approach? Traditional vows or hand-written?
Simply put, there's a lot of questions to be answered! So before you let any stress settle in, let's start with your first step that'll help decide some of your other choices. 
We're talking about finalising the venue. 
Before touring any venues, you and your spouse-to-be will want to discuss whether you'd prefer to have the wedding ceremony and reception at the same place or separate locations. 
While all-in-one venues are certainly much easier for everyone, plenty of couples are intrigued by utilising two different platforms. 
There are several perks of hosting your wedding ceremony and reception in the same place:
One-Stop Shopping. 
Booking one location (with one venue manager!) for your entire event versus trying to orchestrate things at two separate venues streamlines so many aspects of your big day.
Shorter Commute Means Better Attendance
You don't have to worry about the logistics (and extra expense) of transporting everyone from the ceremony site to the party. And your guests don't have to worry about finding parking spots at multiple venues!
If the ceremony and reception are held at two different places, you're instantly placing a dilemma on your guests. 
Did you know that many wedding guests opt out of attending the ceremony when it requires them to drive to another location? 
We already touched on the fact that hosting a wedding reception in a secondary location increases transportation costs for you, but this trickles down to your guests as well. 
On top of increasing the amount of travel required of your guests, having separate locations for the ceremony and reception will lower the attendance rate. 
People who attend your wedding ceremony will be more incentivised to participate in the reception when it's in the same place as your ceremony because it doesn't require extra effort. 
When your ceremony and reception are in separate places, guests might have to choose between one or the other. 
As exciting and vital as weddings are, not everyone you invite will be able to spend the entire day at your event. Keeping everything in one location consolidates time in many ways. 
Guests won't have to worry about sitting in traffic or struggling to find parking at the second location. 
Also, the reception can immediately follow the ceremony with one location, which keeps the excitement alive. On the other hand, asking guests to travel between two places can kill the vibe.   
If they're worried about getting from one to the other, they might consider just attending one of the two. 
More often than not, they'll opt only to attend the reception. With just one location, however, this shouldn't be as big of a decision!
With just one location, guests who may have a problem attending a ceremony and reception at two different venues won't have to choose between them.
Seamless Cocktail Hour. 
There's no awkward gap between saying "I do" and getting yo' cocktails on! And you can relax knowing your nearest and dearest are happily nibbling on apps while you're posing for newlywed pix.
Upcycled Décor. 
It's way easier to repurpose décor when your ceremony and reception spaces are at the same place. For example, your ceremony arch can double as the background of your sweetheart table!
Easier for Out-Of-Town Guests
If you have any guests travelling from out-of-town, having both events at the same venue will make the lives of these individuals so much easier! 
They won't have to worry about finding transportation to get from point A to point B. 
Additionally, if there's any gap between the ceremony and reception, they won't have to worry about finding entertainment to fill the downtime.
While smartphones should ease most of these concerns, there are those "what if?" questions that will pop into your head. 
If there's a wreck on the highway, will they be able to figure out an alternate route? We've all been there when you're in a new area, and Siri struggles with finding the correct location. 
That's yet another possibility to consider. To add to it, when this gap is occurring, you'll be plenty busy with all of the post-ceremony pictures and certainly don't need to worry about being the travel guide! 
Bad Weather!
We hate to say it, but you can't always control "mother nature." Unfortunately, bad weather is just sometimes unavoidable. 
In the case of bad weather, it's essential always to have a backup plan. By planning on holding both the ceremony and the reception at the same place, you're able to make this a reality. 
In short, most all-in-one wedding venues will allow you to do a flip, where you would hold the ceremony inside and then switch to the reception afterwards. 
Since the weather here in Conroe (or anywhere, for that matter!) can be brutal to predict, we always ensure our couples that a plan B is available in case inclement weather were to strike!
While it can be a bummer to have a little rain or drizzle, it can certainly create some fantastic photos!
Looking for the Best Photo Booth in Melbourne? Check out Cosmopolitan event's ultimate list. 
Save Money!
Did you know that celebrating a wedding ceremony and reception in the same place is cost-effective, too? 
This topic doesn't always get as much attention as it deserves, but it will always be noteworthy! 
As you go through the wedding planning process, you'll want to carefully examine any ways you can save a few bucks on areas that aren't necessarily as pressing items as others! 
With this said, one easy spot to save some money on is transportation and rental costs. So, as you might guess, holding both events at the same venue would keep you from paying to transport a lot of people from one platform to the next!
Instead of paying two separate companies, go gentle on your bank account and book a location that allows you to celebrate the ceremony and reception in one place. 
Not only will you naturally save money by only paying for one location, but many wedding venues offer a package deal when you host both your ceremony and reception at their location. Since weddings are such expensive experiences, it's essential to save money where you can. 
Choosing a venue that doubles as a location for both the ceremony and the reception are unbeatable. 
Not only is the rental cost lower when you celebrate in one location, but the amount of money you spend on decorations and vendors will be lower, too. 
You will find yourself saving money left and suitable when you host the ceremony and reception in one place! 
One Location, One Venue Manager, One Call!
Throughout your wedding planning process, you'll likely have your fair share of meetings with vendors. 
Can you imagine trying to coordinate with two venues in one day? Picture how much easier everything would be when you only have one platform to communicate with! 
Coordinating the end of the ceremony with the start of the reception is tricky, but having both events at the exact location simplifies everything. 
Additionally, if the ceremony runs overtime, you won't have to call a distant venue and update them on your later-than-anticipated arrival. 
The venue hosting your reception will already be in the loop because it's the same venue as your ceremony. So it's a perfect scenario! 
From the photographers and videographers to the caterers and florists, you'll have plenty of meetings. 
Most likely, the first vendor that you'll meet along the way is the venue manager! 
Well, if you're considering the all-in-one approach, you'll only need to make sure that one venue is open on the date you plan to get married. 
No back-and-forth calls to the ceremony venue and then to the reception venue. If your all-in-one venue is accessible, you're good to go! This is one-stop shopping at its finest!
Easy Day-Of Schedule
One of the primary responsibilities of a wedding planner is to create a timeline and schedule for the actual wedding day. 
Depending on the wedding itself, this can be easier said than done. 
When couples opt to hold the ceremony and reception at different places, you'll need to make sure to account for travel time, which, as you might guess, also isn't always easy to predict! 
On the flip side, any wedding planner would tell you that a "Day-Of" schedule is much easier when you don't have to worry about getting everyone from one location to the other. 
Once the ceremony concludes, the cocktail hour starts and post-ceremony photos are held!
Smooth Transition to Cocktail Hour!
You might be starting to notice a trend throughout all of these points: it makes everyone's life easier on the big day! 
This next one falls right in line. You don't have that weird gap between the "I do's" and everyone getting to cocktails and apps. 
While you're taking all the wedding pictures, you can rest assured that your guests are all being taken care of! The whole process is seamless.
While same-venue weddings have become the norm, you may have good reasons for mixing things up. 
(And for couples with a solid spiritual background, having a ceremony at a place of worship may be non-negotiable!)
Having a Ceremony and Reception in the Same Place Is More Convenient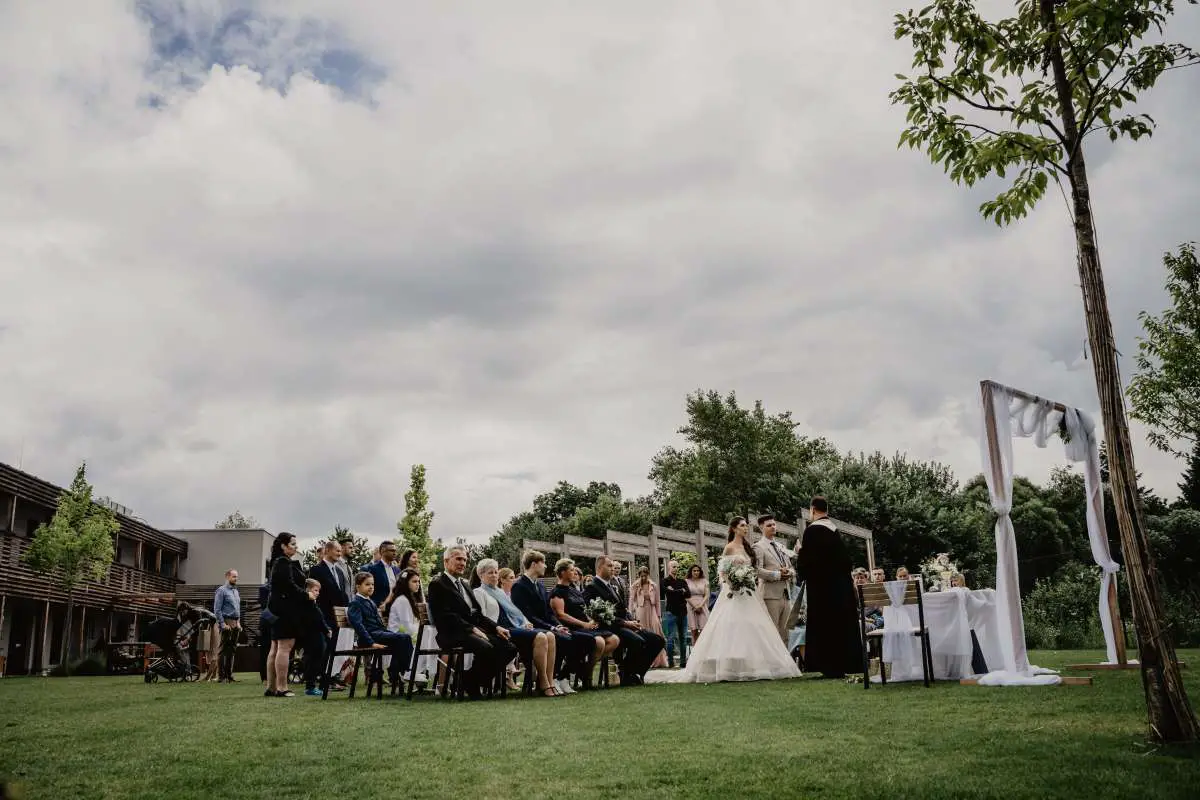 Instead of requiring everyone to get into their vehicles and drive to a second location for the reception, consider having both your wedding ceremony and reception in the same place for the sake of convenience. 
After a wedding ceremony, it is easier to walk a few feet to the reception than to drive to a secondary location. 
When you prioritise convenience, you will experience a more excellent turnout at your wedding reception.
Your guests will be relaxed rather than stressed out, and the convenience will make it an enjoyable day for everyone involved.
You'll soon notice that all five of these perks reduce stress levels for the married couple and guests alike. 
You Have the Option of Getting Married in Nature
The majority of religious spaces cannot accommodate couples that wish to celebrate their wedding ceremonies outside. 
Indoor religious spaces offer a certain level of sacredness, so it can be challenging to convince church leaders or rabbis of synagogues to celebrate a wedding outdoors. 
As a result, couples are limited to an indoor wedding ceremony when celebrating at a church, synagogue, or other holy space. 
This might be a conflict of interest for you if your dream is to celebrate your wedding day outdoors.
Luckily for you, an outdoor wedding is possible when you have your wedding ceremony and reception in the same place. 
Tips for a Wedding and Reception in One Place
Use these tips to make sure your single-venue wedding goes off without a hitch!
Let everybody, including your guests, know that your wedding ceremony and reception will be in the exact location. 
For that, the simplest way is to get it mentioned on your wedding invites to have no confusion for your guests later. 
Besides, you can also get the same announced by your wedding officiant.
Make sure you rent a more prominent place with indoor and outdoor space that you can utilise for your ceremony and wedding reception. 
For instance, you can use indoors for the wedding ceremony and outdoors for the wedding reception if your wedding is scheduled for late evening.
Get an elevated platform made at your wedding venue where you two can say your wedding vows, and along with that, your guests will be able to see you taking your wedding vows. 
Or if you have a small space and want to save on space, you can use your dance floor to say those words, which you have been dreaming of!
If your venue is not so big, make sure you utilise the space intelligently, instead of using big planters at the wedding venue that can create hindrance while walking. 
It's better to use décor pieces that do not hinder the path and look unique at the same time.
If your wedding venue seems small to manage two things, then better chuck round table seating arrangements. 
Instead, go for a rectangular style seating arrangement; it will help you utilise a lot of space and accommodate as many guests as possible.
When planning the wedding ceremony and reception at the same venue, make sure you plan for an elaborate wedding. 
Having few guests will help you transition from a wedding ceremony hall to a wedding reception hall in no time; otherwise, it will be difficult for you to manage things with too many people.
If you plan your wedding in a reasonably large area, you can consider dividing your venue into two distinct spaces. 
You can use one space for your wedding ceremony and the other space for your wedding reception. 
Having a large area divided into two distinct spaces would make your efforts less, as you will no longer need to rearrange your décor.
Make separate seating arrangements for your elderly wedding guests so that they do not have much problem moving or are not disturbed by other guests while walking.
Whether you are planning a summer wedding, spring wedding or fall wedding, let me remind you that arranging your wedding during these seasons in a compact space can be troublesome for you and your guests. 
So, make sure you arrange for proper air-conditioning in the hall. It will help you and your wedding guests have a good time without being troubled by summers.
Make sure your vendors are well-informed in advance that you will host both your wedding ceremony and wedding reception in the same place. 
So that there is no chaos, your vendors would be able to adjust with the transition of the space from ceremony to reception. 
They'll know how to arrange the space properly and ensure that your wedding celebration goes without a problem and your guests are comfortable.
Ensure your guests are adequately taken care of, especially during the venue's transition from the wedding to the reception. 
The best you can do to make that time an excellent time for everybody is to arrange some activities for your guests.
You can arrange for some outdoor games such as tug of war, treasure hunt, outdoor dance floor etc. 
These outdoor games are top-rated these days; they will add PIZAZZ to your wedding. Check out our ultimate list of Wedding Planners in Melbourne to help you organise a stress free wedding.
Also, you can consider having cocktail hours and food trucks during the transition period. It will help you have your guests engaged in some or other fun activity and avoid any boredom.