Rustic weddings are always a popular wedding theme choice, especially among couples who want a calm, relaxed vibe on their big day. 
But what is a rustic wedding? We explain below – and show you how to pull off a brilliant one!
There's something innately comforting about a rustic-themed wedding, like the warm feeling of returning home and being cozy. 
What better way to begin your new life with your spouse than by capturing the sentiments of home from the get-go? 
A relaxed atmosphere, soothing neutral tones, all the bounty of nature, and sturdy wood accents to ground the simple palette are all facets that speak to the rustic wedding persona.
A rustic wedding is a perfect opportunity to get back to nature. So if you want a relaxed and effortless wedding day, it's the theme for you. 
Think barns, gazebos, fields, flowers and forests– sounds perfect.
There's a reason rustic weddings are ever popular. One of the most straightforward and affordable wedding themes yet gives off such an effortlessly beautiful and romantic vibe. 
Rustic weddings can work in any season of the year. They particularly suit natural and pastel colour schemes, as well as autumn hues.
If you want to have the perfect rustic wedding, this is the guide for you. Check out Cosmopolitan events Wedding Venue for your ultimate wedding reception.
Whether you're pulling out all the stops or opting for something a bit more laid-back, check out our picks of the best rustic wedding ideas. 
What Is a Rustic Wedding?
Though the idea of a rustic wedding has been of particular interest over the past few years, the fact is: it's a timeless wedding theme that has been around for, well, ages. 
Rustic weddings have a strong country, garden or farm-like influence, and they tend to feature lots of natural textures such as bark and various organic materials and fibres.
Rustic weddings are somewhat casual and are often held in venues such as barns, farms, mountain lodges, or ranches. 
Anywhere that incorporates the great outdoors or the countryside is a perfect fit for a rustic theme.
The décor incorporates lots of natural elements, including wood, burlap, wildflowers, fruits and the like. 
It can be a bit shabby, and using many mismatched elements is not just acceptable but expected at a rustic wedding.
You don't need to have all of these elements to have a rustic wedding; for example, you could be getting married in a hotel ballroom but using rustic decor and wildflowers. 
It's more about the overall vibe than the individual details. Rustic weddings should be relaxed, romantic, and natural.
Rustic weddings aren't all about being trendy (though they can be pretty clever). 
Although earthy and straightforward items such as mason jars, mismatched vases, glasses, and plateware are commonly found at a rustic-themed wedding, the possibilities are endless.
How Does a Rustic Wedding Differ from a Vintage Wedding?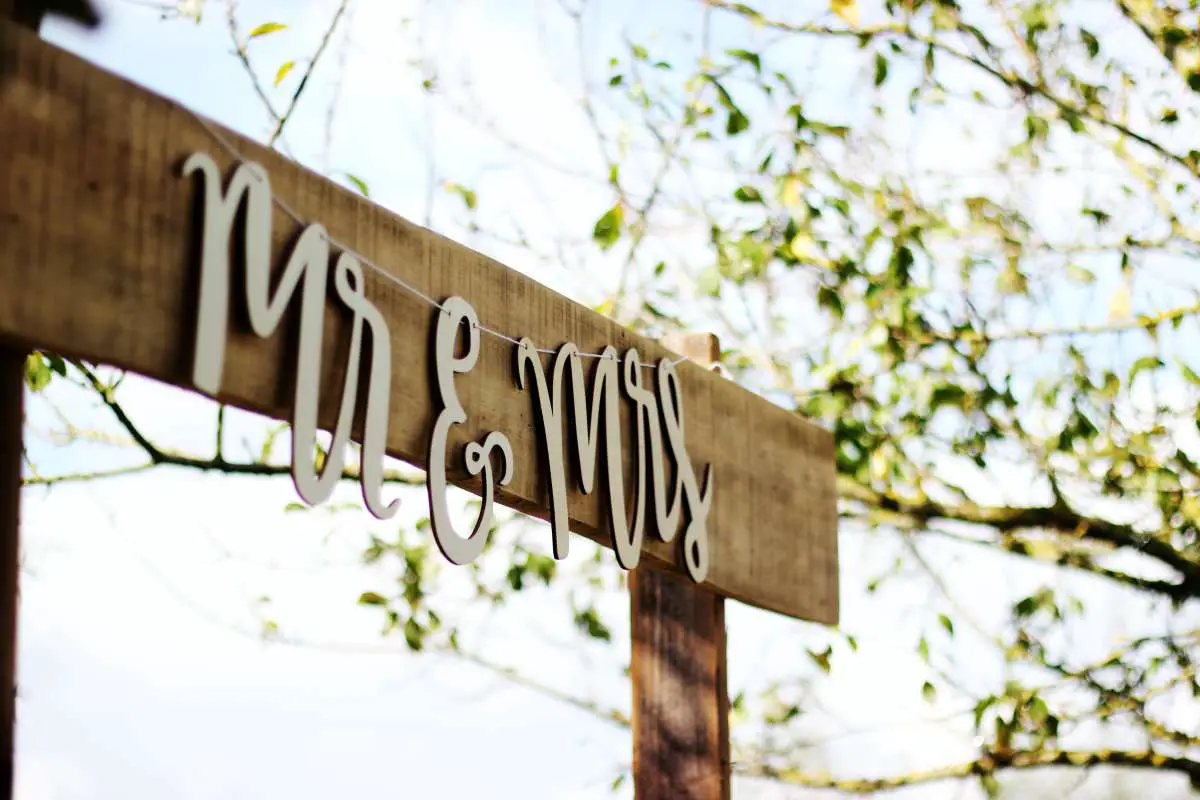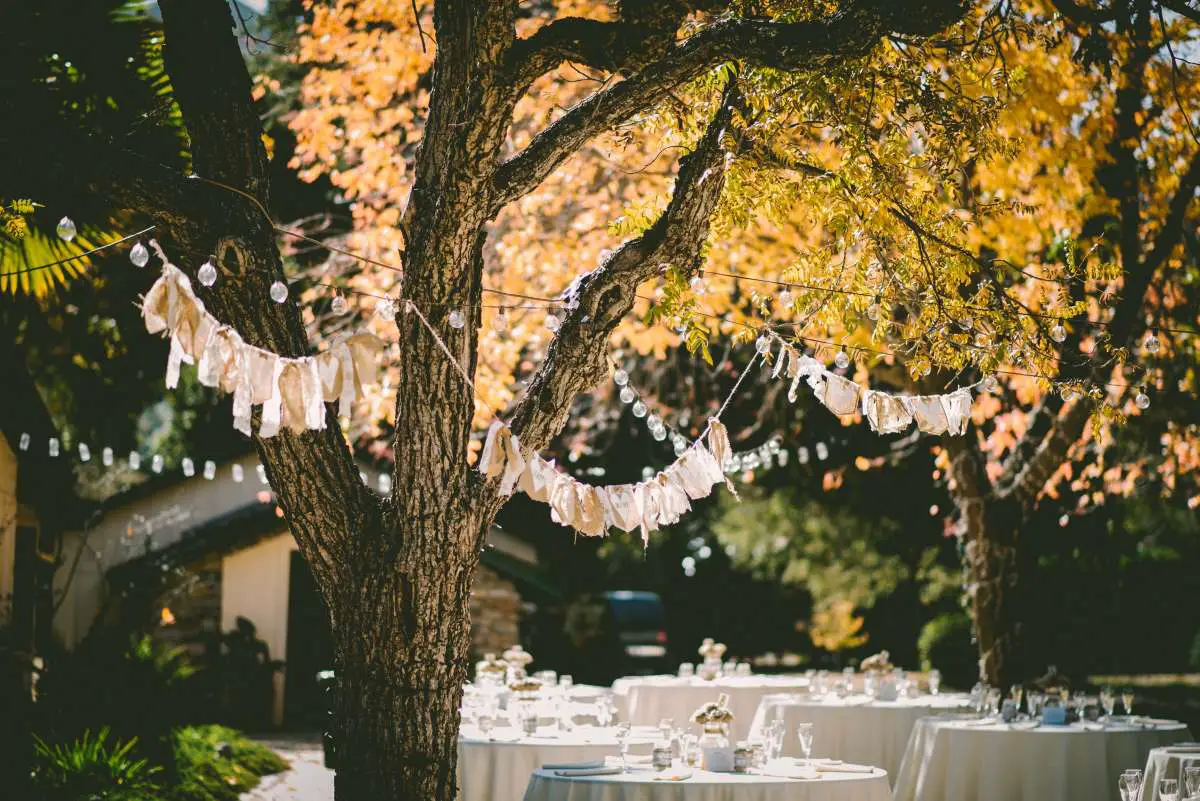 Rustic weddings are often confused with vintage weddings, but they are pretty different. 
While the rustic theme focuses more on the natural elements and the great outdoors, a vintage wedding draws its inspiration from times gone by. As a result, vintage weddings often have an antique Victorian flavour to them.
Where rustic weddings feature mason jars full of wildflowers and burlap table runners, vintage weddings are more likely to have vintage vases, antique pottery and lace tablecloths. 
The two themes have in common that they are about simplicity, nature, and character. Lots of character! 
How to Plan a Rustic Wedding
There are no hard and fast rules around pulling off the perfect rustic wedding, but the ideas below will help get you on your way:
Location Location Location
The easiest way to get your rustic wedding off to a fantastic start is to pick a suitable venue.
Technically, almost any venue can be given some pretty convincing rustic treatment by a clever wedding stylist. However, an actual barn, loft, or garden venue will be more authentic outdoors than one dressed to look rustic.
Some of the places you may wish to consider are barns, farmhouses, breweries and gardens, and mountain or lakeside wedding venues, which abound all over Australia.
However, if you cannot find a venue like that, you can always book a standard hotel ballroom and use decor to bring the rustic element into your wedding.
The wedding venue cost can eat up a budget, so one great way to save money is to select a venue that is not a full-service type of wedding location. 
To secure the site, wedding locations like parks, camps, and gardens might be rented for as little as $150.00. 
There are amazing couples who hosted their wedding at a public park, and it looks as elegant as a more traditional wedding venue. 
Ever think about having your wedding in your backyard – it's free and can be made to look beautiful. 
Guests List
The number one way to save money when planning a wedding is to trim the guest list. 
The fewer people you have at your wedding means, the less you have to spend on things like invitations, food and rentals. Check out our exclusive list of Wedding Invitation Ideas to help you choose the perfect invitation for your guests.
It's simple math; the more people you have, the more cost there will be. So get your guest list down to a reasonable number, and you will see some significant savings.
Diy, but Only a Little
A rustic wedding lends itself to DIY elements. 
So, if you're particularly handy with DIY projects, now's the time to get stitching, glue, and tie!
It will help you add a touch of your personality to your big day but don't take on too much; otherwise, you may become overwhelmed. 
You will have a lot to worry about, so if you want to DIY but don't have the time (or craftiness), there are plenty of professional stylists and wedding decoration stylists who can help out.
You will not save money by trying to cook your food for your day since you will probably either overfeed or underfeed your guests, and you will not be getting the discounts that many catering companies are entitled to. 
If you want to DIY a few essential items at your wedding, think about taking on just the centrepieces, the ceremony decor or the flowers – beyond that, you are better working with the pros.
Timing Is Everything
Afternoon weddings and evening weddings cost the most without question, so if you are looking for an excellent way to save, you might want to think about hosting a morning or brunch wedding. 
Not only will many locations offer you a better price for a wedding at these times, but since it is not at night, you might be able to get away with a dance-free wedding which can help you save on entertainment. 
Can I Borrow That?
Borrowing or renting what you need for your day is a great way to save money because then you are not putting out large sums of money for items you can't do anything with after the big day. 
You really can rent anything you might need for a wedding, including renting bridesmaid dresses from companies to renting linens and vintage goods. 
Borrowing items is always a good solution – items like dresses, shoes, decor and more can be borrowed from friends and family. 
If you are having a backyard wedding, consider borrowing chairs from friends instead of renting tons of them for your backyard ceremony.
Shop Around
Just because you met with one florist does not mean you have to work with them even if you loved all their ideas. 
We guarantee that if you take the ideas to another florist, you will find that they can also produce the look you are going for. 
Not all wedding florists have friendly storefront locations, so make sure you research florists for your wedding.
Use Suitable Decor
The great thing about a rustic wedding is that you can be pretty eclectic when decor.
You will want to focus on natural items, so consider using seasonal fruits and wildflowers, wood, burlap, twine, and moss to create beautiful decor.
You can also bring in-country and shabby-chic elements, including mason jars, lace, hay-bales, and gingham fabrics. 
Many beautiful things can be done with these items, which will bring your venue to life!
Serve up a Little Home-Style Cooking
If you are going to have a rustic wedding, then you want food that matches the theme!
While a lovely three-course meal is always a bonus, think about serving some good old home-style cooking. 
Look for caterers who can cook up some lovely, simple, traditional fare that will be in keeping with your rustic theme. 
Most caterers will happily – and enthusiastically – rise to the challenge.
Think comfort food like mac and cheese, roast chicken, and pasta salads, served with a selection of freshly baked bread.
If you want to keep with the rustic theme, you could tailor your drinks to match by offering lemonade, moonshine, and strawberry wine.
Go for a Relaxed Dress Code
Rustic weddings are more relaxed and casual affairs, and your attire should reflect the overall theme.
Grooms look great in tweed suits and could even lose the blazer favouring a waistcoat or suspenders. 
Meanwhile, brides can opt for a soft, romantic gown complimented by a rustic bouquet of seasonal wildflowers.
Some couples even choose to add some quirky touches like cowboy boots and a hat to their attire.
The Off-Season
Most weddings are held in spring and summer, but you can save a ton of money by having your wedding in the winter months. 
Many venues will offer winter wedding packages or discounts to drive some wedding business at this time so that you can get a good deal on a lovely platform. 
If you are not crazy about a winter wedding, think about having a wedding at the very early part of the spring – you might find a venue that will give you a price break; they are not booked for those early weekends yet. 
What Are the Best Rustic Wedding Venues?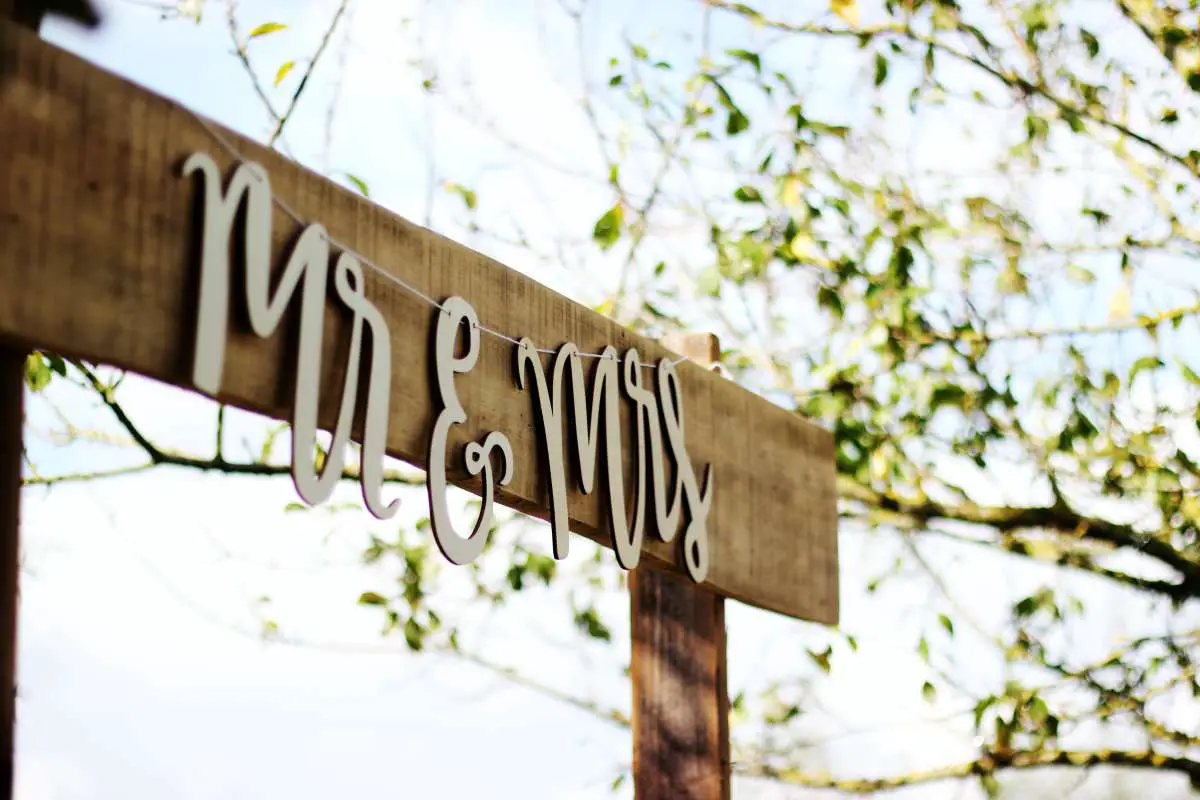 Suppose you want a rustic wedding, the best place to get married in the great outdoors. After all, that's what pastoral means: a rural or countryside affair. 
So, choose a venue that has sweeping lawns and plenty of flowers, trees and greenery.
The best time for a rustic wedding is in the late spring, summer, or early autumn. Of course, a cold or rainy day wouldn't matter much if you're marrying indoors, but for a rustic wedding, the weather is a bit more substantial!
Barn Wedding Venues
There are hundreds of converted barn wedding venues around Australia. They're usually found in rural areas and surrounded by abundant farmland or fields. 
The interior of a barn, with its old-fashioned beams, stone or wood-panelled walls and neutral colours, makes for a perfect rustic wedding.
Barns have high ceilings and are perfect for hanging buntings, fairy lights and floral garlands. 
Most wedding barn venues can be used for the ceremony, wedding breakfast and evening reception too. 
The space outside the barn can be utilised for dancing and beautiful nature photography.
Cottages and Farmhouses
If you don't fancy a barn, an idyllic cottage or farmhouse will make the perfect rustic wedding venue. 
They're usually situated amidst beautiful natural gardens overflowing with wildflowers. 
While cottages and farmhouses may look small and simple on the outside, they can be decorated to your heart's content.
Forest and Woodland Weddings
If you don't need a building at all – for example, if you're getting married during the heat of summer – forsake the 'venue' altogether and get married outdoors! 
Many forests and woodland areas throughout the country are licensed for weddings. The shade of the trees will provide some protection from the elements, and being surrounded by greenery is perfect for any nature-lover.
Rustic Wedding Décor Ideas
The décor is where a rustic wedding makes its mark. With a rustic wedding, you don't want to go too elaborate, ornate or expensive. 
Avoid 'bling' and stick with natural, plain and simple decorations. Everything should give off a very countryside feel.
Floral Decorations
Flowers are the most critical aspect of rustic wedding décor. Stun your guests with gorgeous flower arches, garlands, flower crowns for your bridal party, and cascading bouquets. 
Even your groomsmen can get into the rustic spirit with floral buttonholes.
As you're connecting with nature, try to include a lot of greenery in your floral décor. Leaves, ivy and fern fronds are perfect. (Don't forget the hay bales if you're getting married outdoors!)
Flower petals or dried flowers also make for perfect confetti. Avoid the usual paper or glitter confetti if you're having a rustic wedding.
Fairy Lights
Fairy lights, in our opinion, are essential for any rustic or outdoor wedding. 
They're so versatile – you can buy them in any number of colour combinations and bulb shapes and hang them up exactly as you want to. 
You can transform any plain barn, pavilion or gazebo into a sparkling dream.
If you're getting married under a tipi or gazebo, make sure to purchase the kind of lights that are suitable for outdoor use. 
Nobody wants rain on their wedding day but prepare for the worst, just in case.
Diy Rustic Decorations
If you're having a rustic wedding, it's straightforward to make your decorations. 
Hessian, burlap, twine, cork and brown paper are brilliant materials for DIY rustic wedding decorations. 
Remember that the word 'rustic' means plain and simple, so you don't need to be a craft expert.
For example, mason jars filled with dried flowers make ideal rustic table place markers. Tie a brown paper tag with twine to each one, and hand-write the table numbers. 
Log slices (that you can cut yourself or buy pre-cut) make great wedding place cards.
If you prefer to buy your décor, plenty of rustic themed decorations are available—for example, this beautiful Hessian Just Married Bunting.
What Do You Wear to a Rustic Wedding?
So, you've chosen where you're getting married and what the place will look like.
The next most important aspect of a rustic wedding is the attire. Say goodbye to black-tie, and hello to a much more casual and cosy dress code.
Rustic Wedding Dress Ideas
Modern wedding gowns with strapless sweetheart necklines, princess skirts and bedazzled belts aren't appropriate for a rustic wedding. 
Instead, go for something simple, with a flowing, natural look.
Floral details and lace work well in rustic weddings. Smooth-silhouetted and sleeved dresses with long trains are also trendy. 
Avoid stark white, and opt for ivory or eggshell for a perfect rustic feel.
As for bridesmaid dresses, stick to natural and floral colours such as sage green, dusky pink, or gold. 
Bright and luminescent colours, such as pillar-box red, don't work well with the rustic theme. On the other hand, materials such as chiffon and lace are excellent, whereas satin may feel too formal.
Rustic Groom Attire
Silk suits, tails and bow-ties should be avoided if you're having a rustic wedding. 
The perfect material for the groom's and groomsmen's suits is tweed. It works perfectly with floral and hessian decorations (and is often cheaper, too!).
Go for muted colours such as olive green, brown, grey and navy. 
You could remove the jacket altogether for outdoor weddings and just opt for a tweed waistcoat over a bright shirt. Don't forget the floral boutonnieres.
Rustic Wedding Hair, Makeup & Accessories
Avoid overdoing the hairstyle. You want to look naturally beautiful rather than glam and dolled-up. 
Loose curls and braids are ideal hairstyles for a rustic wedding – you can still fix your do with hairspray so the wind won't ruin it. A flower crown is the perfect rustic hair accessory (and gives you something to attach your veil to).
As for makeup, avoid bright colours and stark lines. 
Go for a natural or "no-makeup-makeup" look. Peachy blush, sheer lip gloss and light mascara are all you need for a rustic wedding look.
Rustic Wedding Invitations & Stationery
You'll want to inform your guests right off the bat that you're having a rustic wedding. That way, they can coordinate their outfits and wedding gifts accordingly! 
So, make sure you choose rustic-inspired weddings, save the dates and wedding invitations.
It's easy to coordinate the rest of your wedding stationery to go along with your theme.
Rustic Wedding Food & Entertainment
When you're planning food for a rustic wedding, you want to steer clear of fancy, catered three-course meals. 
You're not going for a glamorous or swanky vibe. Instead, think simple, wholesome country fayre. For example:
Picnic food, such as homemade pastries, sandwiches, sausage rolls and fresh fruit

American' potluck'-themed buffet: ask your guests to each bring a home-cooked dish for everyone to share (casseroles, stews, pies, and cakes are particularly popular)

Food vans are serving traditional country fair food – e.g. candyfloss, hot dogs and toffee apples. Ice cream is a must if you're having a summer wedding outdoors!

Hog roast served with a variety of help-yourself salads and hot vegetable side dishes (such as corn-on-the-cob)
The best rustic wedding foods are those that guests can help themselves to, buffet-style. 
This incites a friendly, casual vibe rather than catered dinners that can seem too 'posh' for rustic weddings. 
Regarding the wedding cake, a lightly frosted 'naked cake' decorated with flowers and leaves is the perfect rustic option.
For entertainment, an outdoor barn dance would be perfect at any rustic wedding. 
Pick a live musician or band that specialises in acoustic and country music, and you'll be good to go. Looking for the Top Wedding Planner in Melbourne? Look no further and check out our ultimate list of Wedding Planners here. 
And if you want to go the extra mile, a fireworks display at the end of the night is the perfect way to finish off the evening.