What do you give as a wedding favour? It seems like such a trivial question, but it's one that can make or break your day.  
Do you go with something traditional and sweet like chocolate coins or do you find the perfect gift for each of your guests? 
With so many options out there, it's hard to know what to choose! 
These are just some things to think about before deciding on what wedding favours will be best suited for them. 
If you're planning a wedding, you've probably read plenty of articles that share must-haves and must do's when it comes to planning your big day. 
Wedding favours aren't necessary or required by any means, so if you're on a tight budget, don't feel compelled to spend money you may not have on a decorative tchotchke that will likely end up in the trash. 
If you choose between something that will genuinely enhance your guests' experience and wedding favour, we recommend choosing the former. Too busy with life to really plan your wedding in detail? Have someone else do it for you and check out our list of Wedding Planners in Melbourne to help take the stress away.
However, if you're set on sharing a small token of your appreciation with your guests who travelled from near and far to celebrate with you, this post will provide guidance on how to pick the right ones for your guests!
Here are some suggestions from wedding vendors who have been there, seen it all, and lived to tell the tale of wedding favours done wrong and those done right.
What Are Wedding Favours?
Wedding favours are small gifts given by the couple to their guests as a token of gratitude for attending. For centuries sugared almonds were given as a thank you, but they've fallen out of favour.
Traditionally, you'll leave your little gift on the place setting for each person at their table.
What Do You Give as Wedding Favours?
It's all about small gifts: think a little candle, scented soap, packet of seeds or a bottle opener.
Edible ones, like chocolate truffles, pick n' mix sweets, or biscuits, go down a treat, as do little bottles of alcohol.
Try to link them in with your theme or a passion for you as a couple. If you have a rustic article, how about little jars of jam, shot glasses, tea bags or a succulent? If you have a vintage theme, you could have popcorn in old-school striped boxes, polaroid snaps, teacups, or cute milk bottles filled with personalised cocktails.
Below are some common favours that you can give your guests:
Chocolates and Sweets
Chocolates are some of the most common wedding favours. You can always choose to hand out sweets and chocolates in packages that are well designed to guests as favours.
Customised Glassware
Glassware, like shot glasses, are always a good option for wedding favours.
Other types of custom glassware are pint, wine glasses, champagne flutes, ceramic mugs, or tea mugs. However, you have to make sure that the glassware is not too fragile to get destroyed before reaching your guests' home.
Cookies and Cakes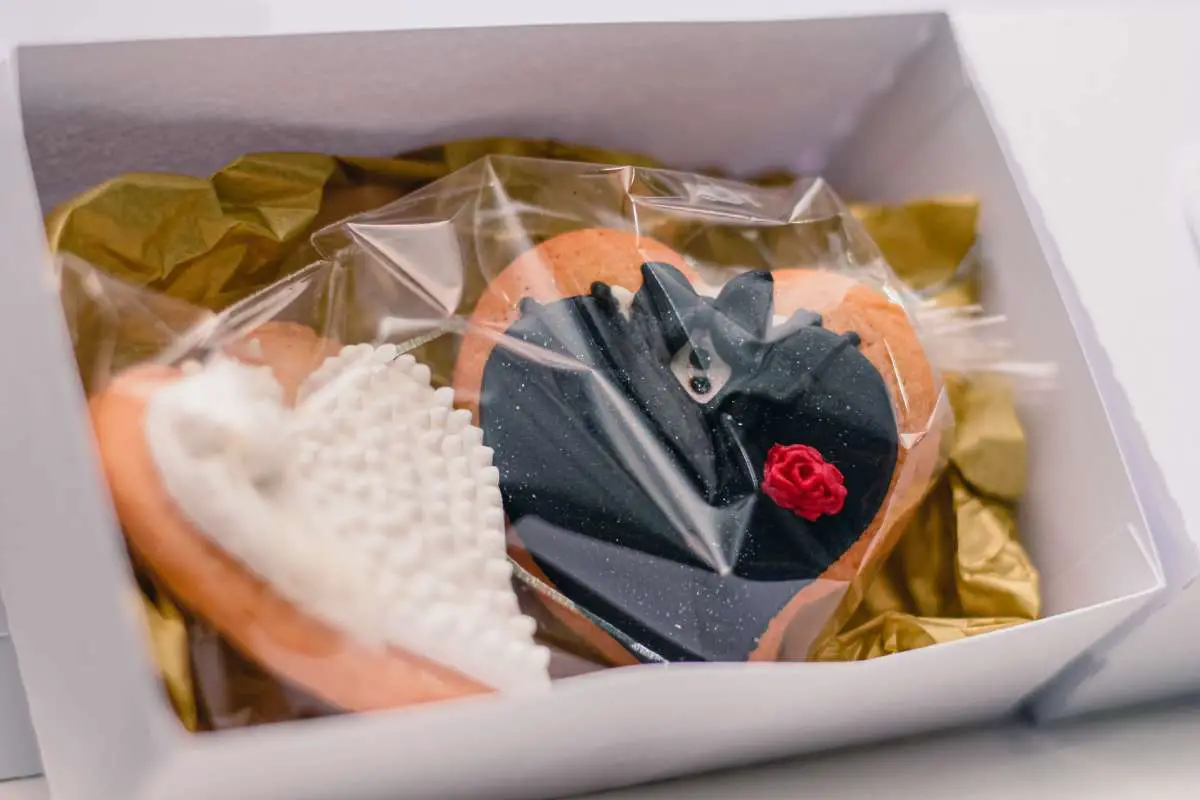 Cookies are the most inexpensive favours to hand out. A custom cookie design is always a good option. You can get the cookies customised with your names, the same colour schemes at the wedding, the wedding dates, and creative shapes.
Cakes are also an ideal option. Other types of wedding favours include bags, beverages, and even sources or gourmet preserves.
How Much Should You Spend on Wedding Favours?
Planning a wedding is very costly, there are a thousand and one things on which you have to spend money. For instance, a wedding dress is one of the most expensive single products at a wedding. It is almost impossible to talk a bride into wearing a cheap gown.
Brides are always looking to stun with custom made designs or designs precisely customised to fit their body shape and type. The aim is to leave a lasting footprint and look your best. The dress is also coupled with accessories, shoes, a veil, and sometimes gloves. The venue is also a costly part of the wedding.
It is more expensive if you are planning on looking for a breathtaking space. Other wedding expenses include the foods and drinks, the photographers and videographers, the wedding planner, and transportation.
Another unlikely cost is wedding favours.
Do You Have to Have Wedding Favours?
That's totally up to you! It's not a strict rule, but it is a cute reminder of the day that your guests can take away if it's something they can regularly use, even better! If you can't afford them, don't get into a panic over it – your guests won't mind at all.
The Budget
Handing out wedding favours means more wedding costs. The cost of wedding favours differs from one form to another. However, the primary determinant of whether or not to give out wedding favours is the wedding budget.
Many times, the wedding budget is too tight to accommodate the added cost, no matter how inexpensive they are.
You can, however, always choose to give out DIY favours.
The downside to this type of favours is that they take a lot of time to make, and as we all know, "time is money." If you have a friendly budget, you can choose to go all out on the gifts.
The Number of Wedding Guests
If you have invited hundreds of wedding guests, wedding favours may cost more. In such situations, you can choose to forego giving the blessings. However, if you have a few guests, you can easily afford to hand out the wedding favours.
As a wedding couple, you can choose to hand out favours to some parties at the wedding. For instance, you can decide only to give your bridesmaids and groomsmen gifts to thank them for taking part in your special day. The most important determinant of whether or not to hand out wedding favours is the budget.
Why Do You Give Favours at Weddings?
Wedding favours are not a mandatory part of a wedding. However, couples may choose to hand them out for various reasons.
Below are some reasons why couples choose to give favours during a wedding;
As a Way of Thanking Guests
Wedding favours are an incredible way to show appreciation to guests for being part of your big day.
Weddings are very hectic; they require so many sacrifices both on the guests' side and the wedding party. The guests sacrifice their time, money and comfort to attend the wedding.
It is primarily a big sacrifice when the guests travel to a destination wedding and leave behind their family and children. It is, therefore, an excellent idea to hand them gifts to show appreciation for all the sacrifices mentioned above.
As a Way of Making Sure That the Wedding Is Memorable
Wedding favours are also a remarkable way of ensuring that the guests have a lasting memory of your big day.
For instance, if you give out novelties like customised glasses and mugs or portraits, the guests get to take home something that will last a long time and constantly remind them of the beautiful time during the wedding.
For parents to the bride and the groom, wedding favours are keepsakes that allow them to memorise the wedding and remind them of the big day.
As a Way of Avoiding Wastage During a Wedding
Some couples choose to hand out wedding favours as a way of utilising the excesses during a wedding. For instance, if the team got a lot of food cooked that not all of it was eaten during the marriage, they can choose to pack the food in to-go bags and hand them out to the guests.
Also, flowers and decorations can be handed to guests as wedding favours. This helps the couple to utilise all the items that they spent a lot of money to purchase. It is no secret that flowers are costly, and most of the time, they wither after a few days. Need help planning your wedding? Check out our list of Wedding Event Planners here.
The Do's and Don'ts of Wedding Favours
Don't: Have Favors Out of Obligation.
If you are only seeking out a wedding favour idea because you feel like you have to, you're better off skipping them altogether. You're already treating your guests to an evening of fun, dinner, drinks, and dancing, so a parting gift isn't required. 
Don't feel bad if you find yourself short on time (or budget) to put together the perfect favour. Is it a fun addition to the wedding? Absolutely. Will the world come to an end if people don't leave with a blessing? Not.
That being said, if you want to give your wedding guests a favour, there are many inexpensive wedding favour ideas to consider.
You could provide them with something small and edible, like some candy or a cookie. It doesn't have to be anything elaborate, just a small token of your love and appreciation!
Do: Choose Something Meaningful
Only do favours if they have some meaning to you! Gone are the days when your guests HAVE to leave with something in hand. A blessing is something to be an item to remember the wedding and a gift to the guests. Experiences are a way better favour than something without meaning.
Use a litmus test for your wedding favour ideas. If you don't have a wedding favour idea representing who you are as a couple or expresses a unique part of your personality, then consider moving your favour funds to another part of your budget. What can you do for the guests to make them feel more comfortable or add another fun element?
Shift the funds to an activity such as a Photo Booth, caricature artist, poem artist, or paying the band to learn your college fight song.
Do: Consider a Donation to Charity
If you're feeling anti-favour because of the waste aspect, consider a donation to honour a favourite charity or cause.
A charitable gift is a meaningful gift that ticks that checkbox, especially if you choose a charity that means something to you, personally. 
Do: Choose Something Useful
If you're in the pro-favour camp, consider choosing a wedding favour that is useful to your guests post-wedding day. 
Candles make great favours for wedding guests, as they are easily personalised and make for an excellent addition (post-wedding!) to the home. Rather than providing guests with something that they'll look at once and forget about, sending them home with candles means they'll remember your wedding every time they light it. 
Stick to candles with lighter, more subtle fragrances if you plan on gifting candles to your wedding guests. Everyone has different scent preferences, and some may even have allergies.
You may also want to consider getting soy or beeswax candles, which are trendy in eco-friendly circles.
For an extra special touch, pair your candle favours with a personalised matchbook to complete the set. You can tie it all up with twine or a cute ribbon that matches your wedding colours — your guests will love the thoughtful addition!
Don't: Make Your Edible Favors.
If you're planning on giving an edible wedding favour, do not make them yourselves. Couples always underestimate how busy they are the week of their wedding.
Unfortunately, it would help if you kept freshness in mind when it comes to giving your guests to eat, so you can't take care of this time-consuming project far ahead of time.
Depending on what the item is, most edible favours typically need to be made and packaged the day before or even on the wedding day. 
You likely will find yourself without time to prep and package favours yourself the day before your wedding. It may also be a challenge to enlist your friends and family, as they are also likely to be busy with other pre-wedding tasks.
If you've got your hearts set on edible wedding favours, consider outsourcing that project for the sake of your sanity and the sanity of those closest to you. 
That being said, if you hire a day-of-coordinator or full-service planner, this is a task you could pass along to them while still saving a little money by purchasing the supplies yourself. We suggest sticking to something straightforward if you plan to go this route, like a candy buffet. 
Do: Consider Presentation and Distribution of Your Favors
Keep in mind how and when the favours will be distributed to your guests. Placing them at guest tables is your most efficient way of ensuring plenty for everyone.
Remember to purchase 20 per cent above your guest count if you have general seating, so there is one at every seat. Perhaps you plan to present your wedding favours in a unique and exciting display — depending on what your blessings are, this can create a great focal point and detail for your wedding.
It's essential to make sure your photographer gets some photos of your favourite display before your guests descend upon it. Should you choose to offer favours as your guests leave, you may consider either having someone monitor that each guest only takes one or buy plenty for the guests who grab more than their share.
Do: Think About the Environment
Many couples are turned off from wedding favours because of the waste factor, so think outside the box and consider some eco-friendly wedding favour options. Consider a small plant like a succulent or some plantable papers to write a simple note. Your guests can then plant your favour in a pot and watch wildflowers grow after your big day!
In the same vein, make sure to avoid products that create extra waste or won't break down quickly. We also suggest avoiding glitter on wedding favours because it tends to get everywhere, causing a big, sparkly mess that your guests may be happier without. 
When we talk about the environment, we're not only talking about being eco-friendly; we also mean the setting in which you are displaying or distributing your wedding favours. If your reception is outdoors, be mindful that your blessings are not heat-sensitive. This is especially important for anything edible, as you don't want your guests' gifts to melt! 
Do: Include a Sweet Note
No matter what you choose as a favour, or even if you decide to skip them, you should find a way to share a sweet note with your guests.
Use it to thank them for celebrating with you and express your gratitude for their love and support. A little bit of sweet sentiment can go a long way. 
You are feeling stumped on what to write on your wedding favours? Your wedding favour note or word of thanks doesn't have to be an epically long novel, so feel free to keep it short, sweet, and to the point. Your guests will appreciate the effort and the acknowledgment. 
What Are the Most Popular Wedding Favours?
Couples are spoilt for choices regarding the type of wedding favours to give out at a wedding ceremony. Below are some of the most popular options in the market;
Edible Wedding Favours
Most couples opt for this type of wedding favours because they are the most preferred by guests. Examples of edible wedding favours include chocolates, candy, and cookies.
Baked goodies are a popular option for many guests, and wedding ceremonies are the best place to cheat on diets and enjoy life with all forms of meals, including sweets. The fact that weddings only take place once also gives both guests and the wedding couple a chance to cheat on healthy diets.
Some couples even choose to prepare to-go bags for their guests. These bags mostly contain food from the ceremony, especially cake.
Usable Gifts
Examples of usable gifts include candles, glasses, mugs, flowers, and soaps, to mention a few. These gifts are accessible for the fact that they are helpful and can last for a long time.
This factor also speaks to the purpose of the wedding favours, giving the guests a lasting memory of the ceremony.
Factors to Consider When Choosing the Most Suitable Wedding Favour
Some most appropriate factors of consideration include;
Preferences of the Guests
Choosing a gift that goes against the guests' preferences will result in most guests leaving it behind.
The Personality of the Bride and Groom
The favour must represent the character of the couple because this is what makes it unique.
The Cost
The cost of the wedding favours should always match the wedding budget.
Time
The amount of time required to prepare the wedding favours is also an essential factor to consider. It is always wise to choose favours that do not take up a lot of time and work.
Is it Ok to Not Have Wedding Favours?
While giving visitors wedding favours is a decent way to express gratitude toward them for going along with you for the festival, and they're not required.
Some couples choose to forego favours because they just served them an incredible supper and went through the night on the dance floor. They provided them with quality drinks and a great experience, especially for destination weddings.
Odds are your visitors won't see that there is certifiably not a table of monogrammed wine glasses or adorably bundled treats holding up by the exit.
What's more, since you'll set aside cash by skirting the favours, you have a small amount of money, if not more, to put toward leasing that photograph stall you truly needed or having the band play for an additional hour.
You'll certainly gain a better experience for the visitors and take away the need for wedding favours.
Wedding favours are not the slightest bit compulsory; However, that doesn't imply that visitors, despite everything, don't hope to get wedding favour when they go to a wedding.
There are two or three explanations behind this.
One of the most evident reasons why guests hope to get a wedding favour is that it is such a typical practice that most of the weddings they have gone to in the past have incorporated a wedding favour.
The other motivation behind why visitors hope to get a wedding favour is that a wedding favour is for the couple to offer their thanks to the visitors for going to the wedding and gathering. Check out our ultimate list of Wedding Planners in Melbourne to help you organise a stress-free wedding.
Even though the couple will probably still convey notes to say thanks to the entirety of the visitors after the wedding, giving a little wedding favour is another way the couple can thank their visitors for their help. Some couples consider wedding favours a waste of time and money as some guests tend to leave them behind.