The wedding dress is the most important decision a bride will make. It's also one of the first decisions that she'll have to make with her soon-to-be spouse. 
There are many different styles, colors, lengths, and fabrics for you to choose from. The dress can be worn again as well which makes it an investment in your future happiness! 
We recommend looking at my blog post below for some ideas on what dresses might be perfect for you! 
During your wedding dress appointment, one of the first things the bridal stylist asks you is which type of wedding dress shape or silhouette you'd like to wear. 
You might already have an idea of how you want your dress to look—comfortable and flowy, curve-hugging, etc.—but knowing exactly how to describe your dream gown can go a long way when working with your stylist. 
We've created this post explaining the differences between popular wedding dress shapes you'll want to know, including the best wedding dresses for your body type and the benefits of each silhouette. 
Most importantly, once you've narrowed it down to one or two dress shapes, we recommend trying on at least one dress that's the total opposite, to be sure! Check out our list of Wedding Dress Shops to help you choose your perfect gown.
Here's what you need to know about wedding dress shapes and silhouettes. 
Ball Gown Wedding Dress
If you've ever dreamed of having your fairytale moment, then this is the silhouette for you. Ball gowns are one of the most classic wedding dress shapes and will instantly give you the Cinderella effect on the big day. 
A ball gown features a fitted bodice (often with a corset) and a wide, full skirt, most often achieved by using crinolines or layers of tulle. Since the full skirt glides over your lower torso, this silhouette is great for brides who want to cinch in their waist, prioritise bust support, or create the illusion of wider hips. 
The ball gown is one of the most regal silhouettes—the Duchess of Cambridge, Grace Kelly, Jackie O, and Princess Diana all wore ball gowns for their weddings.
Mermaid Wedding Dress
The mermaid wedding dress shape is known for being one of the most flirtatious silhouettes since it's highly fitted throughout the bust, waist, and hips—almost like shapewear. 
If you want Beyoncé-worthy curves for your wedding day, look no further! A mermaid gown will enhance whatever your mama gave you, or it will create the illusion of an hourglass figure if you're naturally slim. 
This attention-grabbing silhouette flares out at the knees and is often paired with tulle, ruching, or ruffled skirts for the added wow factor. 
It's considered one of the more restrictive wedding dress shapes since your legs won't be able to move as freely, but it's guaranteed to give you a red-carpet-ready look.   
Trumpet Wedding Dress
At first glance, the trumpet wedding dress shape looks very similar to the mermaid silhouette, but there are a few subtle differences. 
For starters, pay close attention to where the skirt begins to flare out. 
The trumpet silhouette is less fitted through the hips and gradually gets wider at the lower thigh, while the mermaid silhouette doesn't flare out until just above or at the knees. 
As a result, a trumpet wedding dress gives you a little more freedom to move around while still creating a dramatic look. 
This is another silhouette that's ideal for creating or enhancing curves, no matter your body type.
Sheath Wedding Dress
A sheath wedding dress is fitted in the waist and falls straight to the floor below your hips, with a very minimal flare. 
This wedding dress shape is perfect for brides who want an effortless gown since it requires less fabric and layering than other silhouettes (and is therefore very easy to move around in!). While you can find sheath wedding dresses with long trains, they're often designed without them. 
This silhouette lacks in volume, and it makes up for its versatility—the sheath silhouette works well with nearly every type of fabric, from beaded materials to lace, satin, and stretch crepe. 
Sheath wedding dresses are a flattering option for hourglass figures or slim and petite brides who don't want to be overpowered by their gowns.  
A-Line Wedding Dress
Consider the A-line as the halfway point between sheath and ball gown silhouettes. 
An A-line skirt, which is named for how it creates an "A" shape on the body, flares out from the waist more than you'd see on a sheath gown, but not as dramatically as the ball gown. 
This universally flattering silhouette is ideal for all body types and wedding styles, whether yours is bohemian, classic, beachy, or something in between. 
A-line wedding dresses often feature organza, lace, or tulle, but you'll also see them made from structured fabrics, such as Mikado silk. 
Tea-Length Wedding Dress
Midi dresses and tea-length dresses are popular options for pre-wedding events, like engagement parties and bridal showers, but they look just as chic when worn for your actual wedding. 
This wedding dress shape is more extended than cocktail dresses and mini dresses—the skirt stops mid-calf, about six inches above the ankles. 
Shorter hemlines have long been the go-to for elopements, civil weddings, and minimises or for brides who don't want the fuss of a floor-length gown. 
Tea-length wedding dresses are retro and playful and flattering for curvy and petite brides alike. (Plus, everyone will get to see your fantastic wedding shoes, which would otherwise be hidden when wearing a long dress). 
Fit-And-Flare Wedding Dress
Brides who want to show off their figure without committing to the dramatic mermaid or trumpet silhouettes should consider a fit-and-flare wedding dress instead. 
This toned-down version still hugs your body through the bust and waist while being a little more forgiving through the hips, bottom, and thighs. 
The skirt flares out mid-thigh, giving you plenty of freedom to walk, sit, and dance as you please. 
Fit-and-flare gowns are flattering on many different body types, which is why they're among the most popular wedding dress shapes. This silhouette looks incredible when paired with a sweetheart or deep V-neckline.
Column Wedding Dress
This sophisticated wedding dress shape is similar to the sheath, but the opening at the bottom is more narrow and structured. 
Column wedding gowns can be slightly fitted or loose at the waist and fall straight to the floor without flare, creating a straight up-and-down look (hence the name!). 
These wedding dresses are ideal for petite brides since minimal material won't overwhelm more miniature figures. 
They're typically made from sturdier, thicker fabrics, such as silk charmeuse, crepe, or beaded satin. 
Tips for Finding the Perfect Wedding Dress for Your Body Type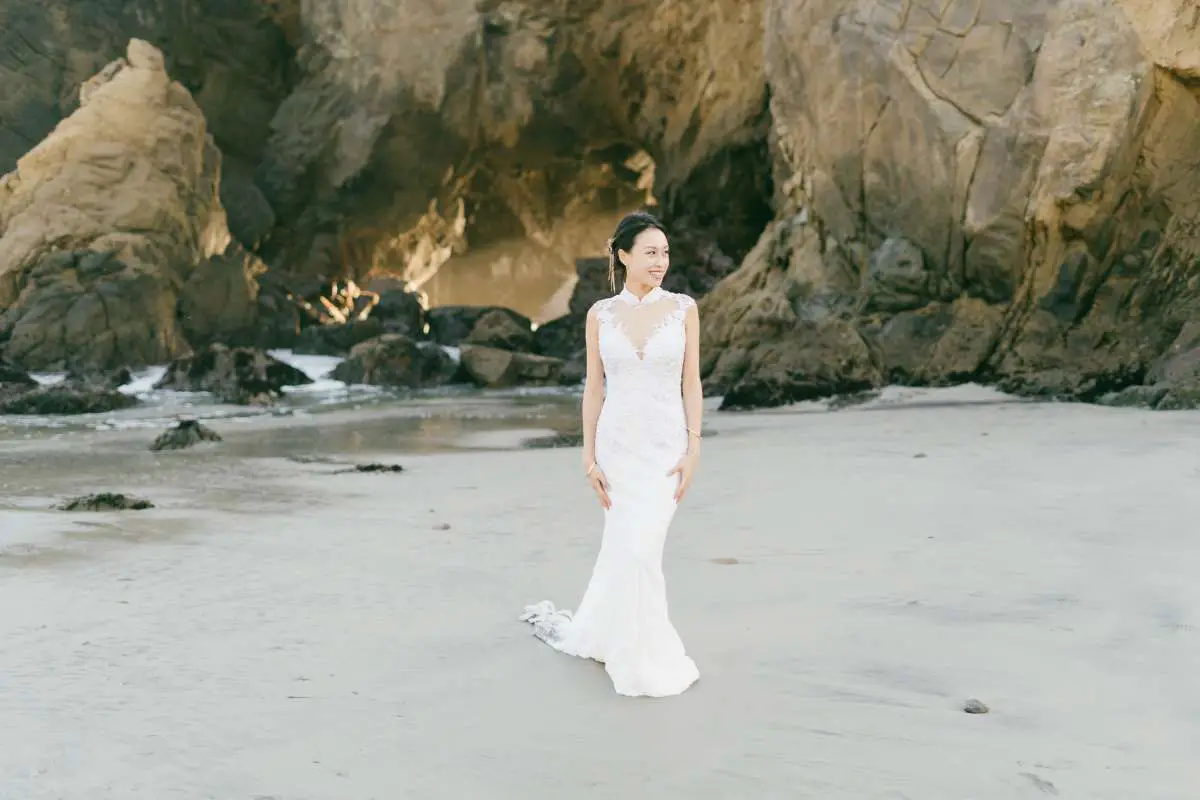 Trust Your Bridal Consultant. 
During your dress-shopping appointment, they may pull a wedding gown silhouette that feels outside of your comfort zone. We have compiled a list of Melbourne Wedding Dress Shops to make the search as easy as possible for your perfect gown.
Remember to keep an open mind: stylists are trained to help each of their brides find "the one!" 
Do Your Hair and Makeup Before a Bridal Appointment. 
You don't have to go all out with the contour, but a little zhoosh will boost your confidence and help you imagine a complete bridal look for your big day.
Shop With Your Trusted Bride Tribe Only. 
Buying a wedding dress is a big deal, so you have every right to exclude people who don't love, support, and cheer for you at every step of the way. 
Use a few simple references and style tips to help you find the perfect wedding dress for your body type. 
Wedding Dresses for Hourglass Figures
A corset-style and the mermaid wedding dress is designed to flatter and accentuate your natural curves. A relaxed fit-and-flare wedding dress (less structured but equally glamorous) is also an attractive option for hourglass brides.

If a ball gown wedding dress strikes your fancy, opt for a structured bodice and full skirt to cinch in your waist and play up your red-carpet silhouette.

A sweetheart or portrait neckline complements your feminine shape, especially when paired with a fit-and-flare profile.

Avoid loose-fitting sheath styles that tend to drown out your figure.
Wedding Dresses for Small-Chested Figures
Find the perfect wedding dress for your body type by adding structure and form in strategic places. For example, ruching, wrapping, and embellishment help play up your décolletage and add visual interest to your bodice and neckline.

Consider that instead of trying to make your breasts look more extensive, you could wear something only a small-busted bride can rock: a deep plunging V-neck and low back!
Wedding Dresses for Petite Brides
Choose smooth, monochromatic fabrics with flowy layers and vertical details. Heavy embellishment tends to add bulk to your silhouette.

Ball gown wedding dresses can overwhelm a more petite figure, but a narrower A-line silhouette plays up your curves and elongates your frame.

Certain fit-and-flare styles work well for petite brides—opt for relaxed construction and subtle embellishment.

A high or natural waistline helps you avoid looking "scrunched up" or bottom-heavy. Watch out for dropped waists: they tend to shorten you by visually lowering the starting point for your legs and hips.
Wedding Dresses for Pear-Shaped Body Types
An A-line or ball gown wedding dress looks great on most body types, but we think they look incredibly dreamy on a pear-shaped figure.

Find the perfect wedding dress for your body type by focusing on the bodice: embellishments and details help to accentuate your décolletage and waistline.

If you like, flaunt your bottom assets with a fit-and-flare wedding gown in a chic and comfy fabrication.
Wedding Dresses for Tall and Slender Brides
Find the perfect wedding dress for your body type by focusing on elegant details and a pretty silhouette. Showy wedding gowns are gorgeous, but they might feel like overkill on your lithe and graceful frame.

Play up your height with an elegant sheath wedding gown. You'll look like a Roman goddess!

To downplay your size, stay clear of empire waists; opt for a ball gown wedding dress with a low waist, or try out a fit-and-flare to lend focus to your curves.
Wedding Dresses for Athletic Body Types
Create a sexy silhouette with a slimming A-line or fit-and-flare wedding dress.

Work with angles: a unique neckline, swirls of beading and embellishments, and a tiered skirt help add visual interest to your silhouette.

Show off your toned arms and shoulders with a halter top or strapless style.
Wedding Dresses for Full-Chested Figures
Styles with wider straps or sleeves help to support your chest and hide your undergarments.

Choose your neckline wisely. A sweetheart, portrait, or bateau neckline, or even an off-the-shoulder look, can hide a strapless bra and flatter your natural curves.

Opt for a gown with a higher back or corset. These styles can hide a bra and also provide extra support. You can still wear illusion; wear nude garments underneath for remote support.
How to Choose Your Dream Wedding Dress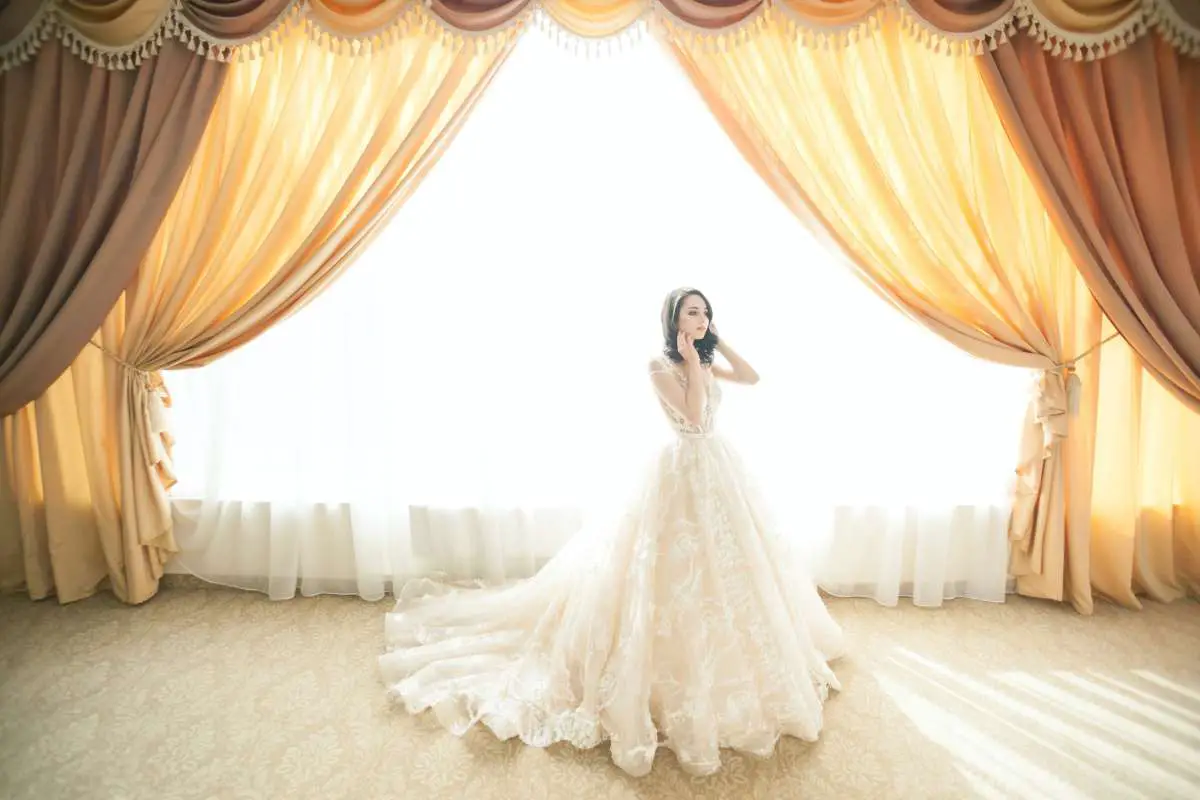 Do Research to Find What You Like
Rip pages out of magazines, click through bridal boutiques online, explore on Pinterest, and check out what celebrity brides are wearing to compile a visual file of your favourite dresses. 
Then look for a connecting theme—are they all very embellished, lacy, or voluminous? Do they all have open backs? 
Find a couple of commonalities of styles you like and bring your ideas to your first appointment.
Be Open
Bridal consultants will tell you that they constantly see women come in with a set idea of what they want for a gown, then try it on and don't actually love it—and instead, fall for something completely different they'd never considered. 
Keep an open mind while wedding dress shopping. You may find your dream dress that you didn't know would be your dream dress.
Brace Yourself for Bridal Sizing
Bridal sizing means your gown's number will often be one to two sizes higher than what you wear in your regular clothes. 
Even if going more prominent sounds horrifying, remember that no one will know the number but you and your consultant.
Shop True to Your Size
Even if you plan on losing weight before the big day, shop for dresses in your current size rather than going smaller. 
It's much easier to take a dress in than trying to work with one that's way too snug.
Shop Early
Many gowns take four to eight months to be produced, and once it arrives, you still have to factor in more time for alterations and accessorising.
But Not Too Early
If you're having a long engagement and immediately start shopping for gowns, the one you end up buying might be out of style by the time your wedding comes around, or you might find one you like even better closer to the date.
Figure Out Your Budget
Yes, it's uncomfortable to talk numbers, but it will save you from heartache later on. 
Before your first appointment, figure out who is paying for the gown (your family, your partner, you?).
If You Don't Love It, Don't Panic—you Can Salvage It
If the dress arrives and you're iffy on it, you don't need to scrap it. Gather your trusted style advisers and try it on with totally different accessories, like a new belt, or add a bolero. 
If that doesn't help, a sewist can change the look by shortening it, changing the neckline, taking off sleeves, or adding sleeves.
If You Must Start Over, Save Some Cash
Say you really can't fall back in love with the dress, but you can't afford to scrap it and start from scratch buying a second one. 
Re-sell it online, emphasising that the dress is brand new and unworn. That way, you can recoup more than the average 50 per cent resale and get back 60 to 80 per cent of the retail price.
Think About Adding a Bustle
If the dress of your dreams has a long train or hem, decide whether you want to get a bustle sewn into the gown. 
This will help you pick up your train during the reception, but keep in mind that it will alter how the back of the dress looks. 
Research the different bustle styles to see if one is right for your dress before undergoing fittings and alterations.
Decide Your Dress Preview Policy in Advance
Of course, you don't want your partner to see your pick, but what about friends? 
Make a rule before you start sending pics of the gown of how widely you'll share it—just with the people at the appointment? Just with the bridal party? 
If you don't set the rule in advance, you could feel trapped later into showing everyone and lose some of the magic of the reveal on the big day.
Keep the Dress Away from Home
Especially if you live with your partner, you don't want him or her to stumble upon your gown and ruin the surprise. 
Ask a relative or very trusted friend (perhaps someone you'd like to bring with you when you take the shift for tailoring appointments) if they'll let you keep the dress at their place until the big day. 
Plus, if it's not in your closet, you won't be tempted to wear it every day until the wedding.
Relax and Stop Looking
Now that you've found your dream gown stop shopping—it will make you nuts if you keep looking at dresses. 
Yours is great! Now, we look forward to showing everyone on the big day.
More Questions to Consider When Looking for the Perfect Wedding Dress for Your Body Type
What makes you feel comfortable for your day job? What makes you feel sexy for a special occasion? 
It's a delicate balance of both when getting dressed up for your wedding: you want to feel like yourself on your big day without playing it too safe. 
Think about dress styles and aesthetics that make you feel like the best version of yourself—elegant and sophisticated, but still true to your personality.
Think about beauty routines that make you feel confident. Does a structured updo make you feel fit for the occasion, or do natural waves help you go with the flow? Do accessories elevate your look or distract from it? 
Does the thought of wearing heels make you want to dance all night or bail on the situation entirely? Clues like these help you find a wedding dress that synthesises your body type, personal style, and overall vision for your big day.
Also, can you let go of some insecurities and listen to feedback from your close friends and family? 
Every bride has things she likes and doesn't like about her body. It's essential to find a dress that fits these preferences, but you can't let your inner critic dominate your decision-making. 
We're willing to bet your loved ones—and most importantly, your sweetheart—have a much more glowing perception of your attractive features than you do!
Conclusion
No matter which wedding dress shape you choose, the gown should make you feel confident, beautiful, and comfortable—don't worry about being trendy or only choosing the silhouette that's "right" for your body type. 
The dress you choose might end up being different than what you originally envisioned or what you thought you would like, and that's perfectly okay, too! Looking for Wedding Dress Shops? Look no further, Cosmopolitan events have you covered.
When shopping for your wedding dress, the best approach is to understand enough of the basics to know what you're looking for while also keeping an open mind.