You're planning your dream wedding, putting extensive thought and effort into every minor detail. After all, it's going to be a day to remember for the rest of your life. But years from the wedding, all that remains are the moments, emotions and memories captured by your photo and video team.
Aside from hiring a quality photographer, there are numerous steps you can take as a bride to guarantee incredible photos. From incorporating a first look to picking that long flowy veil in the bridal shop, we've narrowed down the top 13 wedding photography tips you should follow as a bride. Looking for a wedding photographer in Melbourne? Look no further. Cosmopolitan events has compiled an ultimate list of wedding photo companies to help you choose.
Your wedding photos are something you will hold dear for decades to come. If your house is burning down, the chances are good that a photo album is one of the few things you will grab at a moment's notice before dashing to safety. 
WEDDING PHOTOGRAPHY TIPS FOR BRIDES
Create A Mood Board
To deliver personalized photography and videography, your photographers and videographers need to understand your personalities, preferences, and relationship. To help your creative team get to know you, it is best to create a mood board. This mood board is created on a website or app like Pinterest, where you can save images that you like and even images you don't like. This is a way for you to visually communicate the style of photos you love for your engagement and/or wedding day photos.
Hire Photography and Videography From The Same Company
Choosing a photographer and videographer from the same studio is often the better choice for many reasons, including:
The Shared Incentives and Accountability

Better Communication, Workflow & Positioning

The Common Shared Vision and Style

Fewer Contracts & Admin for a combined Photography and Videography Package

Wedding Photography and Videography Package Discounts
Schedule Enough Time For Each Section Of The Day
You must create a timeline for your wedding day, something your wedding planner can help you organise. There should be an estimated start and end time for hair, makeup, reception setup, etc. Within that timeline should include all your photo sessions such as the first look, bridal party photos, and couple's session. 
Minimize Your locations
To maximize photo time on your wedding day, we recommend minimizing the number of photoshoot locations. You don't want to spend more time travelling from point A to point B than actually taking pictures. A great photographer should be able to make almost any location work. Even if you don't love your venue's background options, trust in your photographer's creative abilities.
Hire Quality Vendors
Quality vendors can influence the flow of your day. This is why we emphasize the importance of selecting the right vendors. You wouldn't want a makeup artist showing up 2 hours late or a photographer with no wedding experience, would you? We suggest quality vendors to avoid the stress that may carry over into your wedding photos.
Hiring a wedding planner is a great way to make your planning process easier and allow you to enjoy your wedding day without any unnecessary distractions. Your wedding planner is there to handle any mishaps while you and your partner go unbothered.
It may be difficult to determine the right companies for your big day with so many vendor options. Before hiring each vendor, do your research, check your venue's preferred vendor list and most importantly, follow your instincts. 
Plan Enough Time for Hair & Make-up
Delays with hair and makeup can set the whole day behind. Plan to finish the process well ahead of schedule. Too often do we see brides rushing because of unexpected delays. Many great hair and makeup artists will create a schedule to follow during wedding preparations.
Your creative team will typically ask for one hour to document final touch-ups, detail shots, and candid moments with your closest friends and family.
Wear a Long Veil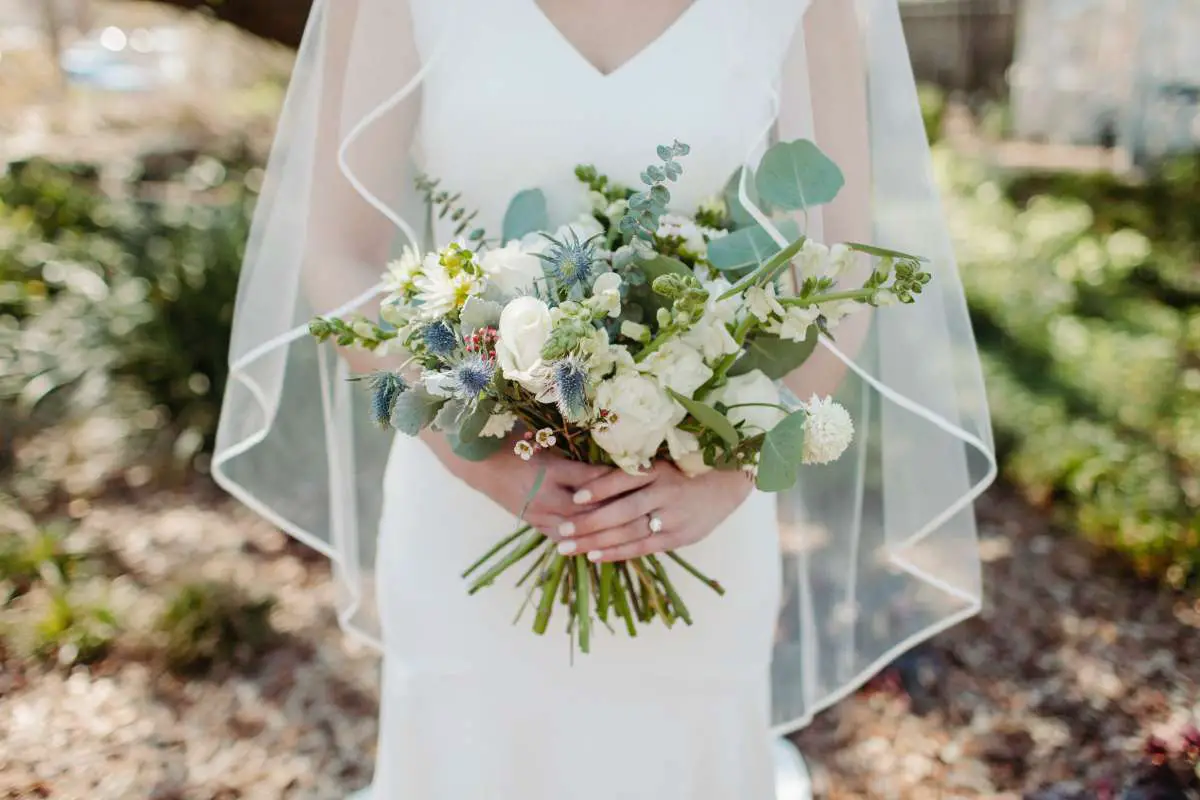 There is something about putting on that wispy piece of fabric that makes you finally feel like a bride. That beautiful long veil makes for some of the best pictures; this is why we encourage brides to choose a long veil on their wedding day. The veil can be incorporated in numerous ways during bridal portraits and couples session. Enjoy the video below for some serious veil inspo!
Include Toss Items
Whether it's in your group photos, during your first dance or grand exit, toss items add that extra touch to your photos. Confetti, flower petals, paper planes, rice, the list can go on and on! These pictures radiate bliss, excitement and results in genuine smiles and laughter from you and your guests.
Intentionally craft your timeline.
Be sure to schedule enough time for each section of the day. Most wedding days run a little bit behind schedule, so ensuring that you have ample time for each part of the day is extremely important. This gives you the ability to fluctuate times as needed and overall creates a much more relaxed day. Be sure to consult your photographer for realistic time frames for each part of your day, and if you have a coordinator or director helping you formulate a timeline, make sure that they are consulting the photographer/videographer as well.
Incorporate a First Look Session
One of the most memorable events of a wedding day is when the bride and groom see each other. Suddenly all the jitters and anticipation fades away, and just the two get the chance to enjoy this remarkable moment. The first look makes for some of the most heartfelt photos, a tradition you can't forget on your wedding day.
Schedule The Couples Session During The Best Lighting
If you booked your venue because of the spectacular view of the ocean or the gorgeous vines in the winery, it's essential to schedule your couple's session 30-45 minutes before sunset. The romantic hues during Golden Hour make it our favourite time of day to capture the new Mr. and Mrs.
Schedule Time In Your Ballroom
This is when you finally get to see the reception you've been dreaming about for months. It's a great opportunity for your photographer to capture a genuine reaction, as well as a quick couple's session. This is the perfect moment to capture photos on the dance floor and throughout the reception area without wandering guests in the background.
Include A Sneak Away Session
The beauty of twinkling stars and dark skies makes for a great photo backdrop. The Sneak Away session lasts no more than 20-30 minutes and is typically scheduled during your reception and after dinner. Another suggestion would be to get these shots at the very end of the night once all the guests have departed. The night sky adds a touch of romance and gives your photographer the opportunity to create dramatic images with lighting.
Make space for intimate memories. There are so many ways to make space on your wedding day for each other. I know you're thinking, "Make space for each other? It's OUR wedding day!" Yes, yes it is, but it will be a full day! Choosing to do a first look with just the two of you and your photo and video team or taking 15 minutes away from dancing at the reception to take some sunset photos can be some of the sweetest moments to remember. It is also a great way to invest in connecting. Your wedding day will be full of time with everyone else, and it's tough to stay focused on each other, so be sure to make some intentional time for just the two of you.
Incorporate A Sparkler Exit
You've planned your grand entrance, but have you thought about a grand exit? Sparkler exits are a great way to end a day of celebrations. Not only are sparklers unique and exciting, but it makes for stunning photos. We've seen nothing but smiles from guests as they send off the newlyweds. Although many venues allow the sparkler exit, others may not. Confetti, bubbles, and flower petals are alternative options to include in your grand exit and will still look great in photos.
Things Your Wedding Photographer Wants You to Know
Your wedding is about you. Do what you want.
Rules are made to be broken. Don't feel constrained by tradition, or allow yourself to be pushed around by your wedding planner/mother/auntie etc. Do what you want on your wedding day.
A perfect example is where you stand during the ceremony. Why stand either side of the celebrant? Why not stand off to the side? You might be breaking with tradition, but now you won't have the officiant in all your photos – better yet, he or she won't be grinning in the background when you kiss.
Another example is bridal parties. They can be fun, and you may feel obligated to have them, but they're not essential, and from a photographer's point of view, they can be difficult to manage. It's one thing to take the bride and groom away to get some photos, it's entirely another to manage a ten-person bridal party, particularly when you have a few locations in mind for photos and there's champagne involved. And they can be expensive.
If you choose to have a bridal party, allow some time away from them with just your photographer. Grooms can feel embarrassed when they're being intimate with their partner and their friends are watching on. As a photographer, there's nothing worse than trying to get that magic, romantic warmth from a couple when the best man is heckling the groom, for example. Or taking well-meaning advice and suggestions from the bridesmaids while you're trying to get the photos you've spent days planning. A wedding is about you and your partner. Everything else is important but ancillary. At Cosmopolitan events we have compiled a list of the Best Photographers in Melbourne to help you choose who captures your magical day.
Good photos take time.
Good photos rarely happen in 20 minutes, so allocate a reasonable amount of time to get them. Some venues have great locations very close by, but often there are places down the road or across town that can help make your wedding photos even more special. This time doesn't have to be a trial. Think of it as a break from guests and family, and enjoy it.
Get ready somewhere quiet and nice, and try to keep it clean.
Prep time can be stressful, and it can be doubly stressful when many (well-meaning) people are crowding you. Try to cut the crowd down to relax a bit so that your makeup artist and the photographer can do their work. Also, be aware of all those packets of crisps and water bottles lying around the place – it's not always easy to photoshop them out after the fact.
Your dress is probably going to get dirty.
If you resign yourself to this, it will be much easier to come to terms with it when it happens. Dresses and shoes are expensive, but you don't want to be fretting all day over them. Your photographer may take you to some tricky locations. Those beautiful images of newlyweds strolling in sunlit fields and lounging about in old barns don't happen by magic – you may need to shuffle through some muddy paddocks and clamber over a fence or two.
If you want, you can always choose to get your photos in the local garden. But be realistic about the result. It's also fun to let go a bit at the end of the night, and it's much easy to do that when you're not worried about getting beer or wine spilled on your dress.
Consider banning iPhones, pads etc., at the ceremony.
iPads are particularly horrid, but any camera phone held up in the air during the ceremony – particularly at inopportune times – are anathema to wedding photographers. It's not too much to ask guests that they hold off from taking their photos during the ceremony and instead simply enjoy the occasion.
Write a list of family formals, and keep your photographer abreast of any family issues that might crop up.
Your photographer won't know your family, so it helps a great deal if they have a list to work with when taking family photos. Let them know about divorces and/or deaths – this could help avoid some embarrassing moments. Most photographers will ask for this information before the day, but it pays to be ready if they don't.
Pick the right photographer and ditch the other lists.
Family photo lists are great – shot lists, not so much. The worst thing you can do is hire a photographer to shoot like someone else. It will never work out. It's ok to show him or her what images appeal to you and to give him some examples, but micro-managing a photographer's post-processing and/or giving him a long list of images you want to be taken is a bad idea.
A photographer needs freedom to be creative, to shoot what he sees in front of him. All couples, all locations, all moments are different. It's the photographer's task to capture them as they happen, not manufacture an image from a different place and time, shot by another person. The last thing a wedding shooter needs to be doing is looking through lists and Pinterest photos at your wedding to make sure that they've ticked off all the items you've asked of them, because in the time that it takes sweating those details, they've missed what's happening in front of them. Choose well, give them creative freedom, and then trust them.
Light is Everything.
Light can make or break your wedding photos, so it's important to try to plan your wedding to give your photographer the good stuff. Late in the day is best for your wedding photos, specifically the hour before sunset. Try not to plan your photos in the middle of the day or early afternoon. Unless it's overcast, you're asking for trouble. Strong sunlight = harsh shadows.
Additionally, if you're planning an outdoor ceremony, consider the sun. An early ceremony in dappled light is a killer. It's very hard to fix up a patch of shadow on your face, and walking from sunlight to shadow as you walk down the aisle is a very tricky scenario for any photographer to manage.
Give yourself some time alone on the dance floor.
If you have a first dance / bridal waltz with your partner, make sure you allow yourself a bit of time alone together on the dance floor. Savour it. It's a minute or two that you should enjoy alone, and it makes for some beautiful photos. If your bridal party swamp the dancefloor too early, you may miss out on that one magic image that could be a treasure to you for the rest of your life.
Enjoy your day – your photos depend on it.
Weddings are stressful, and some brides have planned for their big day their whole lives. But when the day arrives, don't sweat the details. Things will go wrong – they always do. Your task now is not to stress over minutiae but to enjoy the day as it unfolds.
Be happy. Smile. Slow things down and enjoy all the moments. But mostly, enjoy the company of your new husband/wife. This is the first day of the rest of your life. Happiness = radiance = beautiful wedding photos.
You pay for the experience
We've all heard the saying, "you get what you pay for." It is especially true with the memories that you will look back on for the rest of your life. More experienced photographers will book up quickly and are less willing to negotiate, BUT they can deliver beautiful work despite imperfect circumstances like dark lighting or rainy days. It's helpful to remember this when booking someone new and less expensive, or if you're considering using a family member or friend for free. Lack of experience could result in missed moments or poorly exposed photos.
Sometimes it is helpful to ask a photographer to view some of their work on a rainy day to gauge their experience with different conditions.
Pay attention to the time of day.
If you've researched photography for any amount of time, you've probably come across the phrase "golden hour." This is because certain parts of the day are better for lighting than others. Most people think that a bright sunny day is great for photos, but the bright sunshine can create harsh shadows on the face at the wrong time of the day, especially under the eyes. Paying attention to the time of day, and consulting with your photographer about the best times, will always equal better photos.
Go easy on the posed shot lists.
During your posed shot list, every guest is going to be thinking the same thing: "I hope this doesn't take forever!" If it does take a while, the photographer usually gets blamed, even though they are just trying to capture all the things you said you wanted! When planning for posed pictures, less can be more. Only take the pictures you will hang in your home, probably with immediate family and grandparents, and otherwise be more aware of who you want to grab quick shots with within the moment. You will have so many opportunities throughout the day to grab the other people you love for a quick candid that will a lot of times turn out looking a lot more fun and authentic and will require less photo retouching than a rushed posed photo. Making candid moments a priority throughout the day will create more genuine moments versus staged memories.
Don't forget about reception candids.
While we are talking about candids, it's important to remember that your reception time is the perfect opportunity to grab a quick photo with your second cousin John, who didn't make the posed shot list cut. You've invited so many people to your wedding, and you will see people there that you may not have had the time to add to your formal shot list, but that doesn't mean you can't grab a picture with them! The reception is the perfect opportunity. 
It's also important to think about positioning yourselves for success to be captured as the life of the party. You don't want the night to end, and there be very little to no pictures of you dancing and enjoying your party! It's great to catch up and talk to people, but be sure to pull them on to the dance floor with you so that you can have as many pictures with as many people as possible!
Minimize your locations
Every location you have takes time, and time is money. When planning your special day, maximizing time becomes vitally important since most vendors and venues have 8-10 hour limits. Different locations take travel time, and if you are moving people from one place to the next, inevitably, people will not all leave and show up together. Minimizing locations creates more time in your day, making it more relaxed, making all-inclusive venues much more valuable. 
Treat your vendors well.
You're paying for a service. Your photographers, and all of your vendors, are there to do a job they are being paid to do. But most, if not all, really deeply care about your wedding day and making it as easy and enjoyable for you as possible. Thanking them, feeding them, and looking out for them with disruptive guests, will make the day much smoother and enjoyable for them too, and eliminating anxiety and obstacles for your vendors, will ultimately lead to better results from your vendors. You might even gain some new friends! Here at Cosmopolitan Events, we have compiled an exclusive list of Melbourne Wedding Photographers to help capture your special day.