Wedding videographers really do have a pretty special role, enlisted to capture the memories from your day as it unfolds. Your wedding film will be one of your most treasured possessions after the day, so we think it's time to shine a light on some of the amazing cinematographers we have around the country!
If you are based in Mornington Peninsula and on the hunt for a highly reputable wedding videography studio to shoot your big day, you're in luck! We have compiled a list of the most popular wedding videographers in the Mornington Peninsula, ranked here by their customer reviews. 
Add a header to begin generating the table of contents
Ultimate List of Best Wedding Videographers in Mornington Peninsula
Wild Romantic Wedding Videography Mornington Peninsula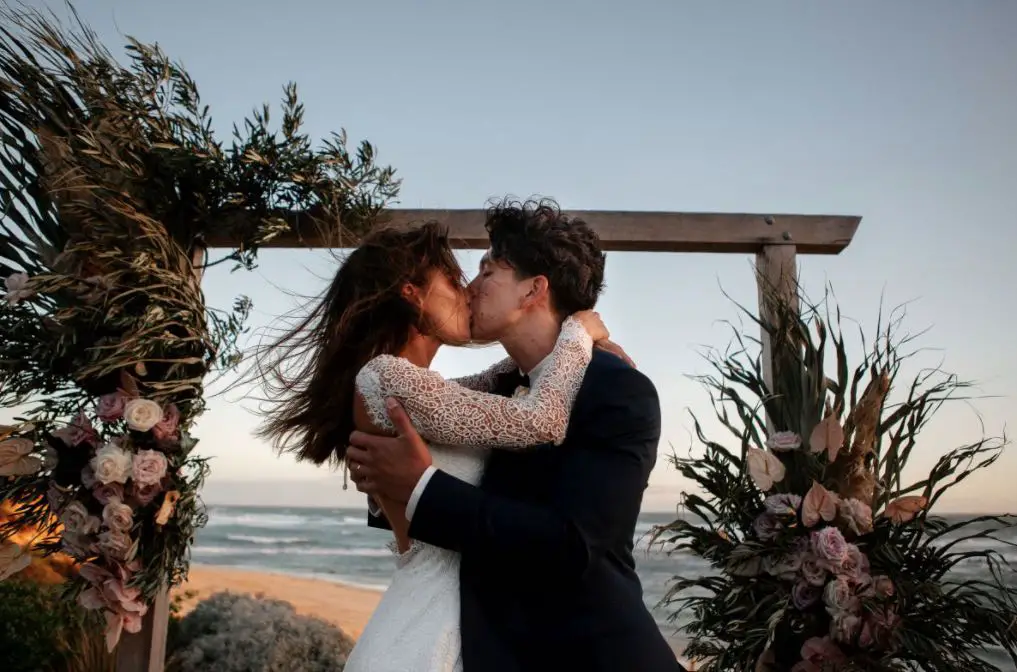 Call Elle today on 0434 484 811 or on info@wildromanticphotography.com
Of earth and salt, petal and pearl, of sweeping horizons that sing forever, we bring to life the passion and authenticity of true romance and capture moments that you will cherish always...
We are passionate about telling the story of your wedding day with original and romantic videography that's made to last a lifetime.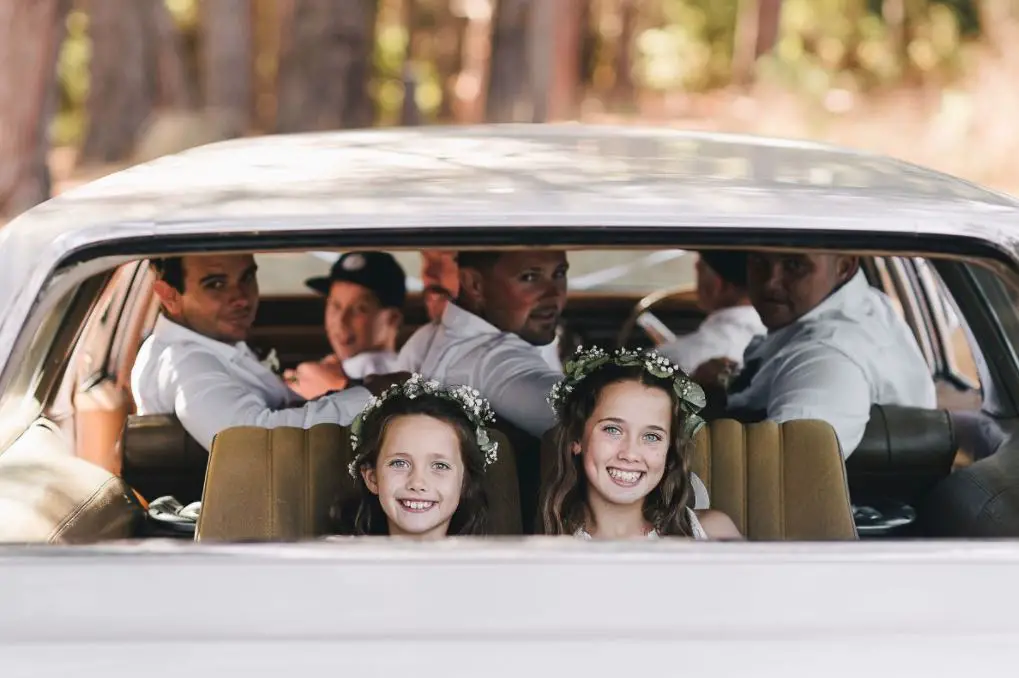 Our creative collective specialises in documentary-style videos that express love, joy, community and connection.
Our wedding videos look beautiful, but they're raw and genuine, too – with timeless landscapes, divine portraits, colourful fashion shots and dreamy reportage.
We're all artists, and our clients are our muses. Based in Melbourne, we can find beauty in locations across the world and those closer to home. We've shot on windswept beaches and city rooftops in secret gardens and historic homesteads.
Wild Romantic offers bespoke photography packages that perfectly match your needs.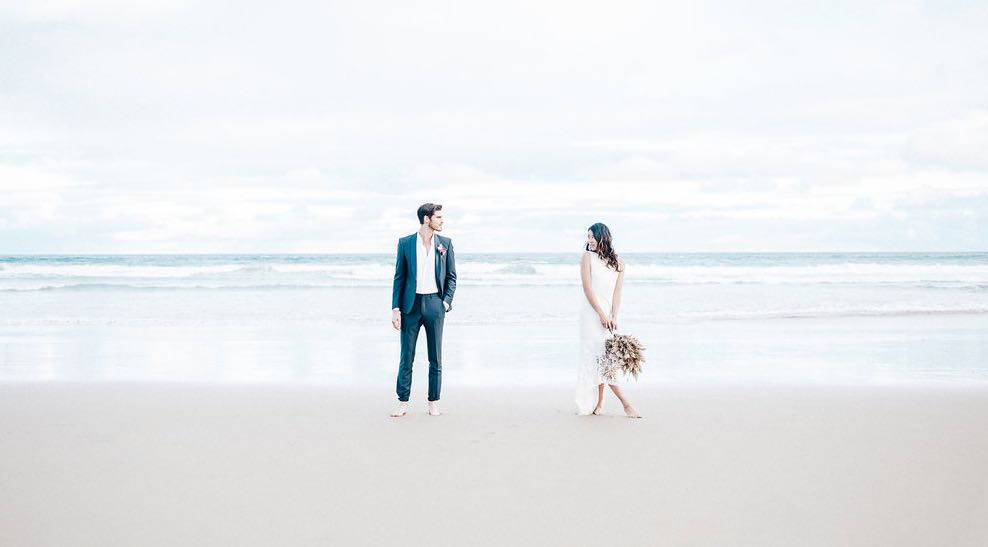 From quaint weddings in Sydney to lavish weddings in Melbourne – our professional wedding videographers are trained to capture those priceless candid moments of love, laughter and joy. We even offer pre-wedding photography should you wish to display your love through photos on a special day proudly.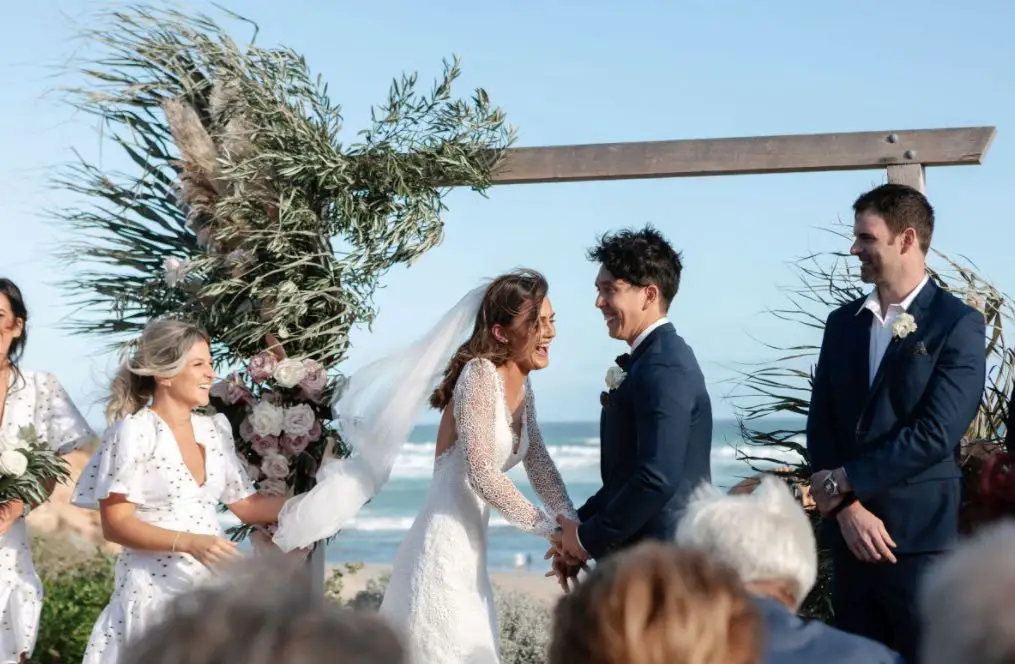 Wild Romantic Photography is a collective of inspired artists, photographers, videographers, and dreamers passionate about capturing precious moments that will forever speak to your heart. Our creative documentary style photography packages are meticulously tailored to the unique elements of your special day and include beautiful retouching of the memories we photograph to instil blissful nostalgia.
Call Elle today on 0434 484 811 or info@wildromanticphotography.com
Wedding Movies Videographer Mornington Peninsula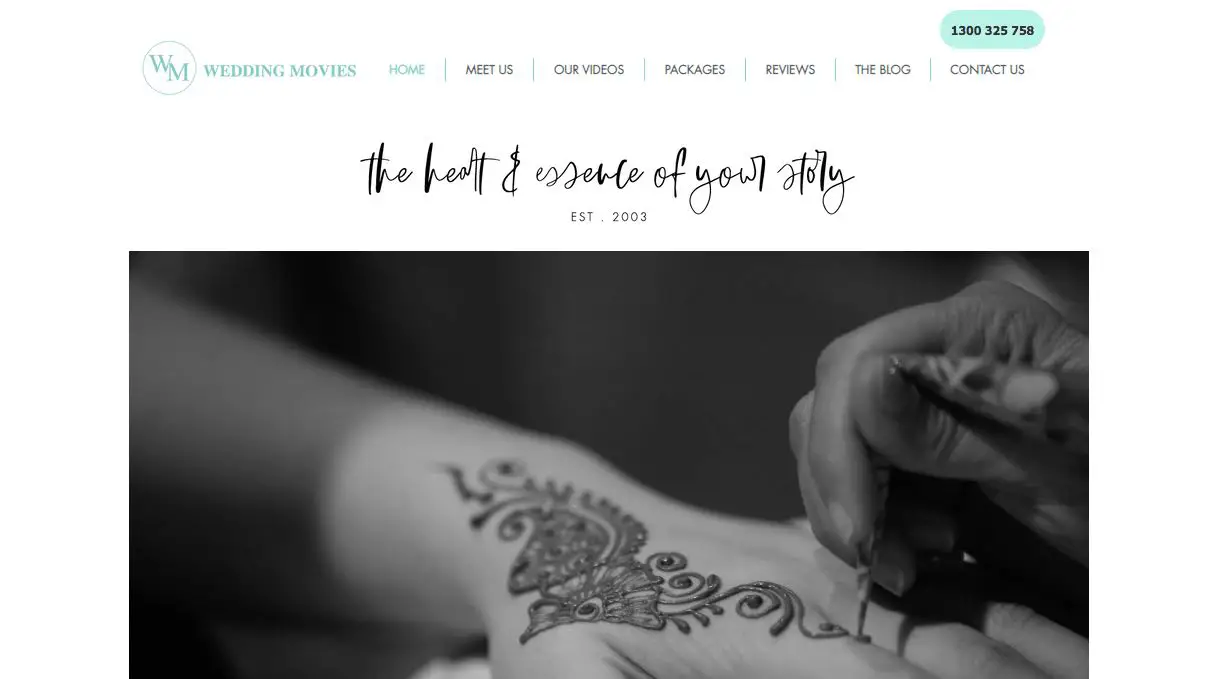 1300 325 758
Every Wedding Movie is as unique as the couple getting married. We love capturing and telling the heart and essence of your story, so why not let us tell yours today? 
Your wedding is undeniably one of those iconic events that you most look forward to in life. After all, this is perhaps the most important day of your personal life, one that you never want to forget. At Wedding Movies, we just want to play our part in making sure that your memory of this defining day is just as perfect as the wedding itself.
Our experience has made us perfect.
Nobody wants the same old generic wedding pictures anymore. The world is different today – it truly is your oyster. Why not make your wedding videos just as unique as the pearl in that oyster? Wedding Movies brings to you the individuality and distinctiveness that you crave in your wedding film. Our professional wedding videography promises to be a true-blue depiction of the potpourri of emotions that define any wedding day.​
At Wedding Movies, we love capturing stories, and we love what we do. We have over 17 years of experience in carefully collecting and curating your memories. With our extensive and diverse experience, we can confidently say that we are the wedding videographers in Melbourne we should hire. Our team comprises several talented videographers and editors. Leave it to them to capture the emotions that transform your life on your wedding day. Each day, they keep adding to our portfolio of your beautiful memories and special moments.
So, are you ready to present to the world the heart and essence of your story? Because we sure are.
The White Tree Wedding Videographer Mornington Peninsula 
0422 052 070
Creating & Capturing Epic Memories since 2010
The White Tree has been filling dance floors and capturing epic memories for over 10 years, and you can rest assured that we will be doing so for another 10! We know that planning weddings or events are challenging during this current landscape, but we are here to help you. And things are on the up! We are back showcasing at live venues across Sydney, Melbourne, Perth and Brisbane, exciting. Jump onto our showcases page to see when we're next performing near you.
We have also recently launched our Triple Treat Package, which offers some great adds ons and value for new couples and clients.
We Create & Capture Epic Memories
The White Tree launched back in 2010, and to this day, we're the only company that offers all three creative services. This makes perfect sense, like live music, photography, and film are the main creative ingredients for any great event – and they should work together in harmony. They also have the collective power to build incredible memories for you and your guests long after you've downed your final champagne!.
Our work is carried out by a select team of musicians, photographers and filmmakers based right across Australia, who are on a mission to cut through the sea of "same-same". Our young, passionate creatives are all incredibly talented, progressive and professional, and they're also great fun to hang out with. Essentially, we take our work seriously, but not ourselves.
The White Tree is a unique wedding business that strives to keep the product cool and creative and the process fun and easy. We take huge pride in our knack for entertaining, a craft for creating good times and a vision to see good memories become great.
Film
Traditional wedding videography has a bit of a negative stigma. We realised this when we launched The White Tree back in 2010. Since then, we've worked hard to develop a wedding film product that is genuinely cool and cinematic and dynamic without being cheesy.
We've handcrafted many wedding videos that adopt our distinct modern style. But at the same time, we also love to finesse our storytelling and create a film narrative that is boldly unique for every couple.
Videoboutique Wedding Videographer Mornington Peninsula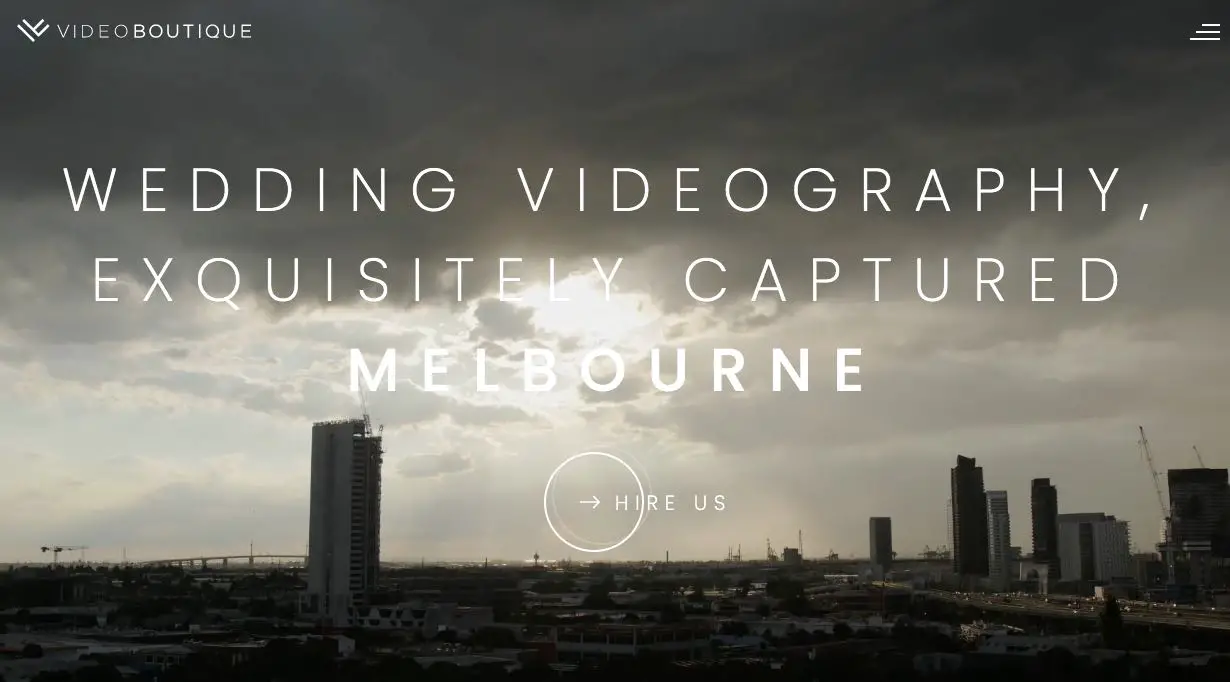 03 9044 6547
Refining our craft for over 10 years
Every choice you make for your wedding, from the venues to the styling and outfits, are all a reflection of who you are. Your wedding videography should be no different. It should reflect both your families and the wedding celebration in the most honest way possible.
We know that the best moments of your day will be those unplanned, and your family and friends will be the soul of your wedding celebration.
With thousands of weddings captured across Melbourne and around Australia, our craft has been well refined. We will capture your day's uniqueness as it happens with direction from us only when it matters.
From preparations to your walk down the aisle, your first dance and speeches. It's all about the nervous anticipation, spontaneous laughter, the tears of joy and of course, the splendid moves on the dance floor!
Our Films
Let's be straight; you're not going to like every one of our videos. You may only truly connect with just a few! But that's to be expected. Every couple is different, with different music tastes, different requirements for the level of effects we apply, and a different opinion on using live audio from their day.
But that's the point; hiring us means that you'll determine how we craft your wedding films; we work closely with you to ensure each Edit is one you'll be proud to share with your family and friends.
On this, we promise to deliver!
Below are only a select few of the many film highlights we have produced over our 10 years. Weddings from many different regions, including the Yarra Valley, Mornington Peninsula and Daylesford, and cultural weddings including Chinese, Jewish, Greek and Indian 4 day jam-packed rituals and celebrations.
To help you have a more meaningful engagement with our below work, we have enabled filters so you can find the highlights that best fit your vision for your wedding.
Get To Know Us
If you're reading this, you've probably worked out by now what it's going to take to plan a memorable wedding. You'll need a vision for how you see it all coming together, a comprehensive to-do list and lots of energy. One thing for sure is that it will certainly challenge you.
But you don't shy away from a good challenge, and as you already know, there is no other celebration that brings family and friends together quite as a wedding does. It will be a fabulous memory you'll have with you for a lifetime, yes, sentimental indeed! 
We have gotten to know hundreds of couples over our 10 years who have planned their very own memorable wedding across Melbourne and interstate. We know how important it will be to you not only to hire a team of suppliers you can have full trust in but also who can offer their own industry experience with you as you plan your big day.
You and your partner have a unique and special connection, and your wedding day will reflect this. Our job will be to capture it in the most honest way possible, from the most subtle gestures to the most outrageous moments. Your love for work well crafted is proof you already identify yourself with our style. A style born out of a dedicated team of video professionals in Melbourne with a 10-year history and a love for a craft has given us much joy in this time.
Allure Productions - Wedding Videographer Mornington Peninsula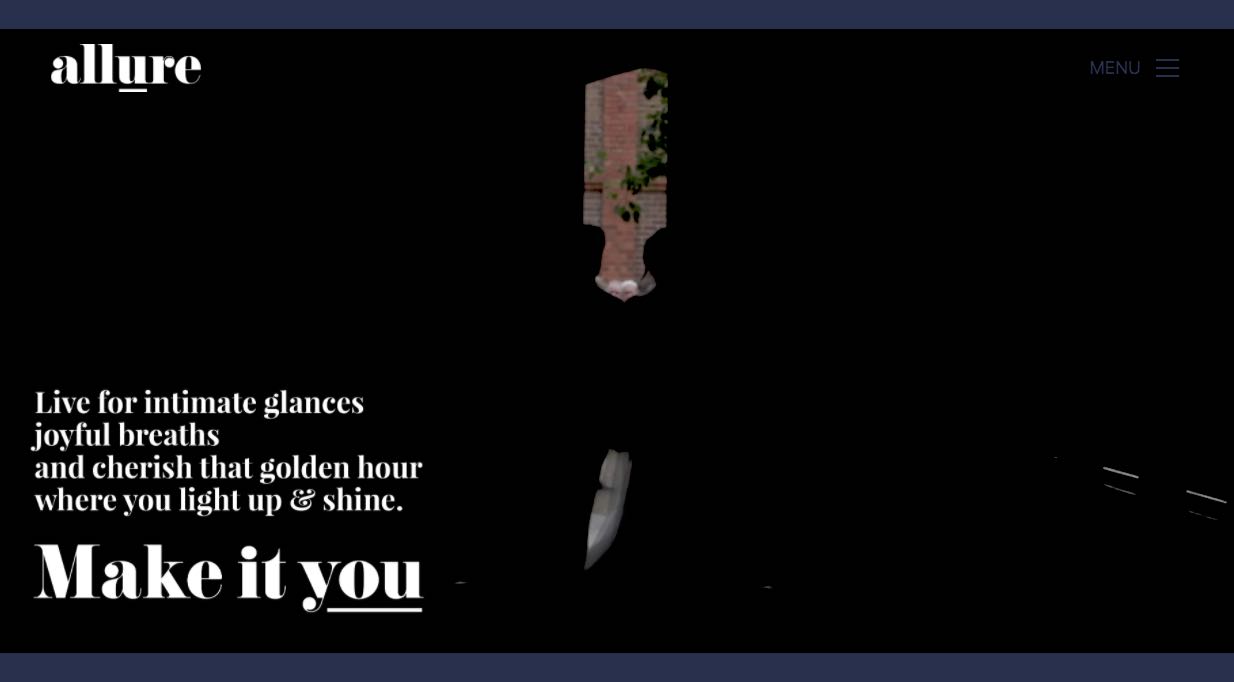 1300 69 8433
Your Films
With that quirky smile, that loving glance and that funny thing you do. That's the level of depth we work to. We capture your essence, not an event. Real moments, not a running time. True feelings, not a function. Forever your day. Make it to you.
Feature Film
It's the intimate moments and heartfelt words that write the story you've known your whole life. Your 10 – 15 minute Feature is for those stories where a Short Film just isn't enough.
Other Products
Once you've chosen your style of the film, customise the number of cinematographers, hours, and add any of the following to make it truly you.
Additional Cinematographers
Multi-Camera Formalities

1 Minute Instagram

Long Form Documentary

Drone
Wedding Flix Videographer Mornington Peninsula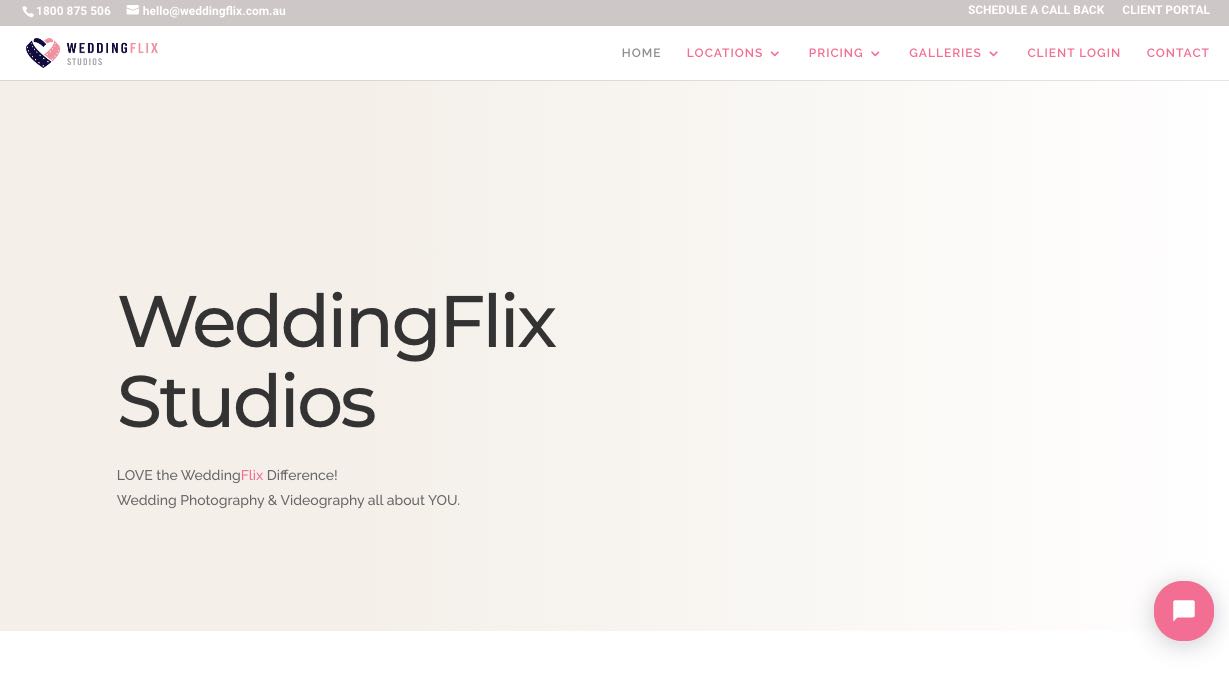 1800 875 506
Let's Capture Your Wedding Day Celebrations!
Professional Wedding Photography & Videography has never been this easy or affordable.
You've dreamt of your wedding day for years, and you know exactly what you want. No stone has been left unturned, and everything is coming together, except for one thing, you need someone amazing to document the experience!
The Dress. The Flowers. Your First Dance. The "I-do" moments.
We're all about the small details, the grand moments and the spontaneous happenings that make your wedding day truly YOURS.
Videography Packages
Our Videography packages are ideal for couples wanting to capture all the celebrations of their wedding day beautifully.
Your PERFECT package
This is your wedding! Your photos, your films, your day, and your memory. We're here to create YOUR memory, not ours. Simply choose a package that best fits what you are looking for and customise it make it PERFECT. It's that simple and easy. 
Your Wedding - Your Style!
Every wedding is different, and every couple has their style. That's where you'll love our amazing team of Film and Photo Editors. Like the look of your photos & films all comes down to the editing, and we've got Australia's best ready to create your perfect wedding day memory. All our Highlight Films include 2 FREE edit reviews ensuring your film is just perfect.
Your memories in 14 Days
We've been capturing couples wedding day memories for over 10 years, and the #1 thing we get asked is, "when do I get to see my photos/ films?" The answer is, "we can make everything available for you to watch, print, share, and play within 14 days of your wedding".
We're the only company in Australia to have a dedicated in-house production team to edit your photos and films and have them available for you within 14 days of your wedding.
Bottle Brush Films - Wedding Videographer Mornington Peninsula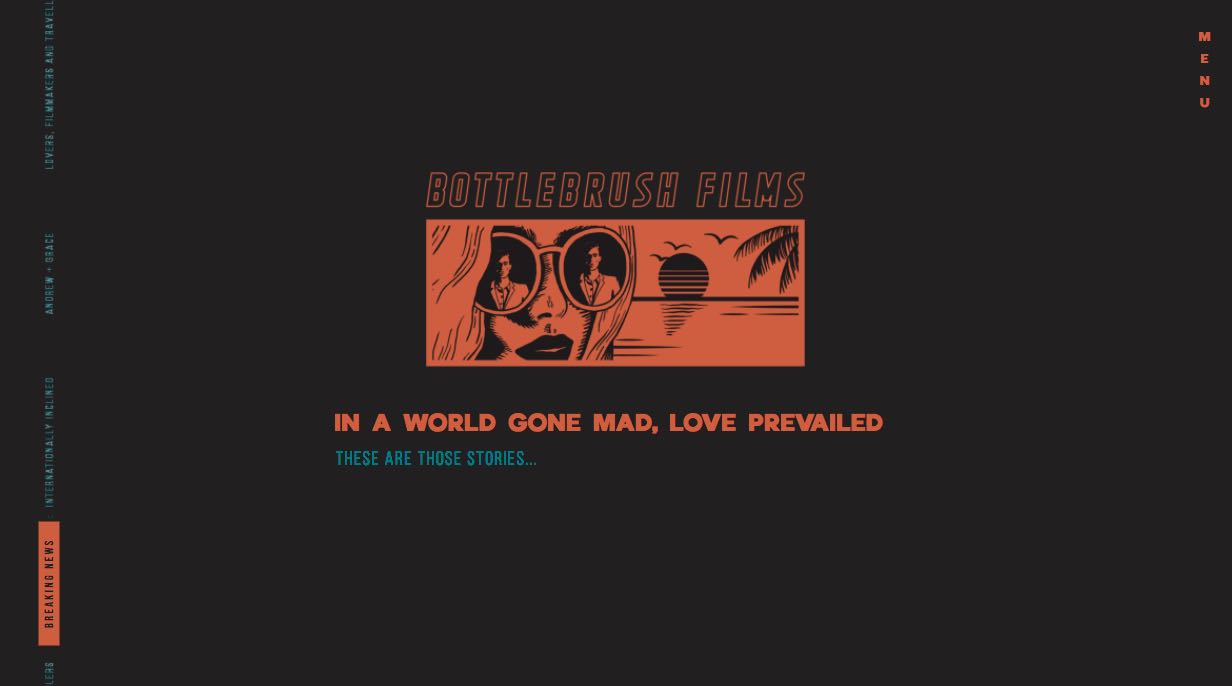 andrew@bottlebrushfilms.com.au
Pay No Attention To That Man Behind The Curtain.
With their powers combined, Grace & Andrew become GRANDREW - your classic codependent relationship. One does not function without the other and their unique skill set. You see, Andrew does all the filming, and grace does all the editing. Andrew attends the wedding and samples your cake; Grace waits at home for Andrew to feed her the cake. Andrew suits up every weekend, and grace puts on her sweat pants and creeps through your footage - you getting a general vibe here?
Grandrew met in film school in 2011, and naturally, Andrew spent a good two years trying to get grace to go steady. She finally caved despite her plan to stay single and ready to mingle until 30 (sorry mum), and here we are. Two halves to a whole, individually, they have mastered their craft. Together, they have created an International Award Winning Wedding Cinematography Studio named after the great Aussie native 'Bottlebrush', which surrounded them both growing up.
A story is only as good as the person who tells it, and we've spent years becoming master storytellers, professional spinners of shite and maestros of getting all the good goss out of your mum (yes, even the things you made her promise not to tell).
This ain't business it's personal, it's the history of how you met your lobster and lived to tell the tale
- let's get personal.
Let us celebrate what makes you too weird or too normal; let us happy dance to our differences. We are not that business that posts only their 'best weddings'; we share every one of our films because we believe in every one of our couples. Come forth the awkward, the quiet, the loud, the shoes drinkers and tea-sippers - whatever your schtick we'll make you a film that is unapologetically you. 
Cupid Wedding Videographer Mornington Peninsula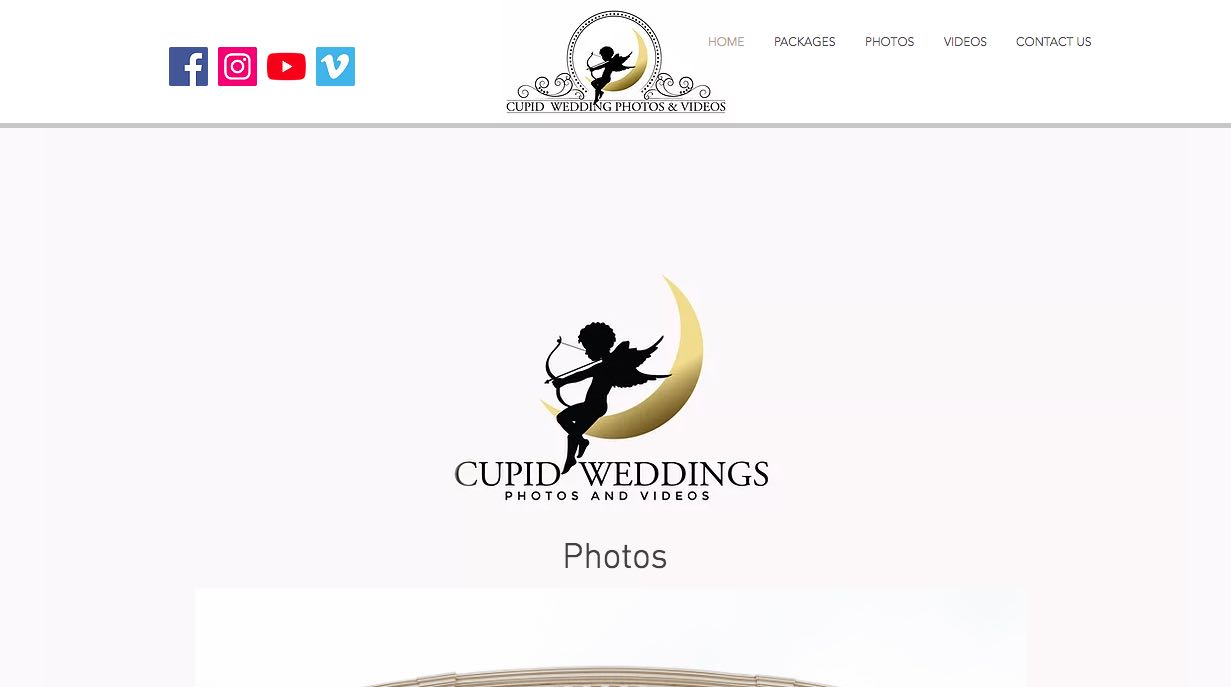 419692692
Videos
We use 4 cinematic video cameras to cover every angle. All videos are delivered in a crisp 4K resolution.
Please contact us for links to samples of the different types of videos we make as part of our most popular packages.
Packages
Cupid Weddings would love to cover the photos and video for your big day. All packages include a dedicated photographer and videographer. We use 4 cinematic video cameras to cover every angle. All videos are delivered in a crisp 4K resolution. All selected photos from the day will be individually retouched. Packages can be tailored to suit your requirements. Please contact us for links to samples of our different types of videos.
Ceremony Package
2 hours of photography and videography

Drone footage (weather, location and time permitting)

A 60-second Teaser Video edited with licensed music

A Ceremony Video containing all the good footage from the day

All selected photos individually edited and enhanced

Videos and photos delivered on a USB stick and digitally online

$1400
Full-Day Package
8 hours of photography and videography

Drone footage (weather, location and time permitting)

60-second Teaser Video edited with licensed music

6-8 minute Highlights Video edited to 2 songs of your choice

All selected photos individually edited and enhanced

Videos and photos delivered on a USB stick and digitally online

$2900
Josue Films - Wedding Videographer Mornington Peninsula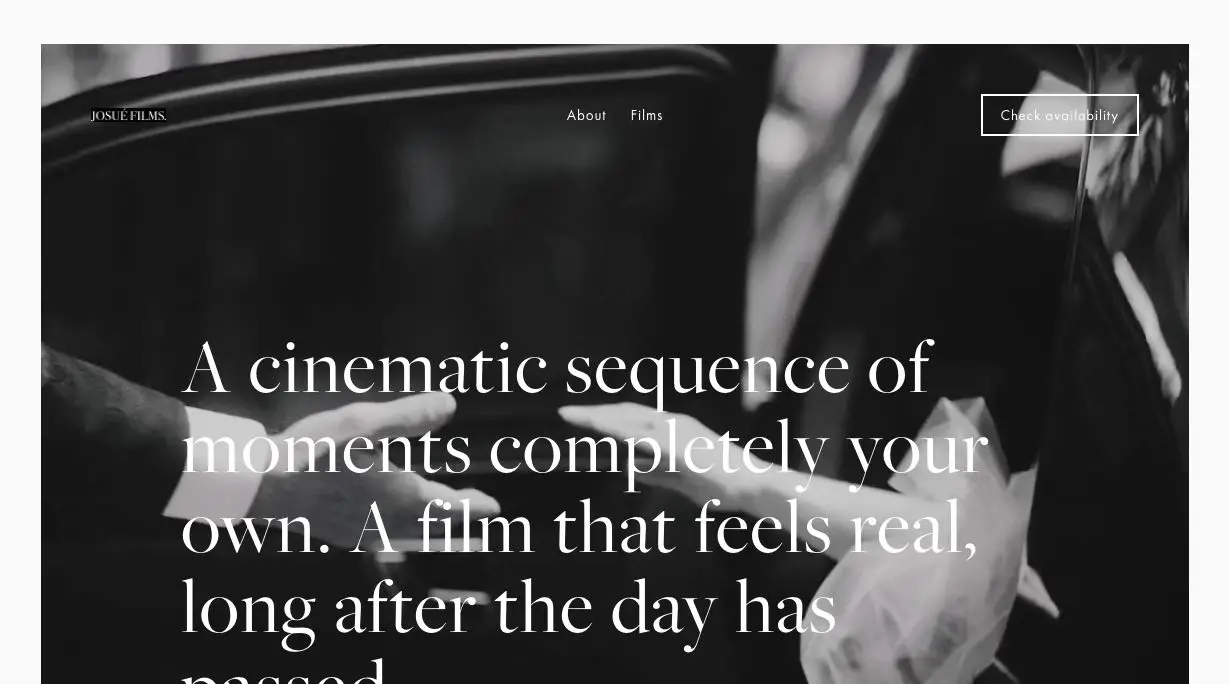 A cinematic sequence of moments completely your own. A film that feels real, long after the day has passed.
Josue Films is made up of David and Jules, two digital creatives with a passion for storytelling, travel, equality, sustainability and creating films. We are the type of creatives that love to support you in your wedding planning journey, so you feel like the wedding planning was a fun experience as we know it can be tricky at times. We were hoping you could think of us as an extension of your guest come your wedding day so that you can invite us for a bbq, and we can randomly surprise you with something like the video below years after the wedding has passed.
Check our availability
Crafting beautiful stories doesn't happen by accident. We love to connect with our couples before their day; we believe the work we produce is by creating a relationship with our couples—that way, we are not just a wedding videographer but a friend on the wedding day.
What's next? We know wedding planning is fun but tricky at times, so we want to make this simple, transparent, and fun journey for you, so we invite you to say "hello" and tell us about your day, even if you are in the early stages of planning, we are happy to let you know our availability and pricing.
SMC Studios Wedding Videographer Mornington Peninsula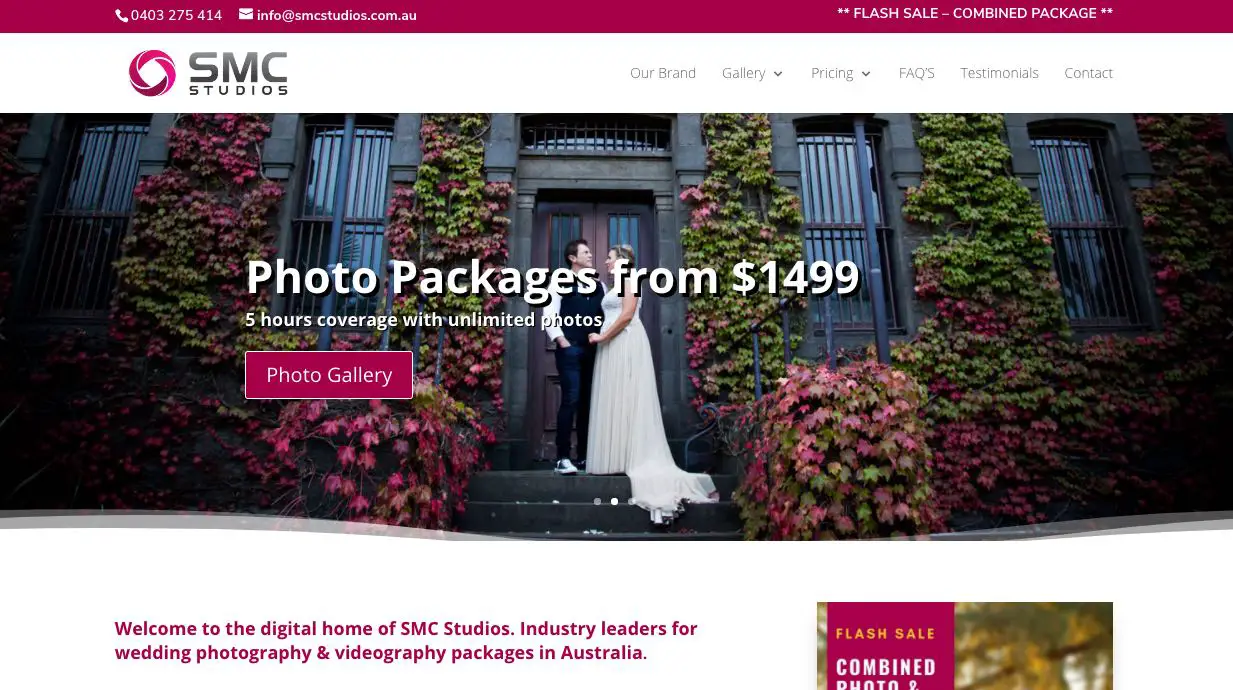 0403 275 414
Welcome to the digital home of SMC Studios. Industry leaders for wedding photography & videography packages in Australia. 
You have landed at the right spot if you are after a fully inclusive package that contains style, creativity, flair and, most importantly, is at the right price! Browse our extensive photo and video galleries to see our style & quality. Be amazed by the list of inclusions in our packages. We have a team of talented local photographers and videographers in your area who are ready and waiting to capture your day!
Our mission is to bring our valued clients a level of service & quality of the product that is unparalleled in the industry. Our brand's ethos is also about supporting local artists (the photographers & videographers) in a sustainable & holistic way with regular work and ongoing training and development. Our brand's buying power means that at the end of the day, the client wins – because we can bring you a quality, finish and long list of inclusions that are not available elsewhere.
Videography Packages
Quality, price & inclusions are our specialities. Highlights reels, feature-length film and music of your choice – we decided to add a wedding video easy. All packages can be customised to suit your needs. Contact us today to tailor a package for your day!
Phenomena Weddings Videographer Mornington Peninsula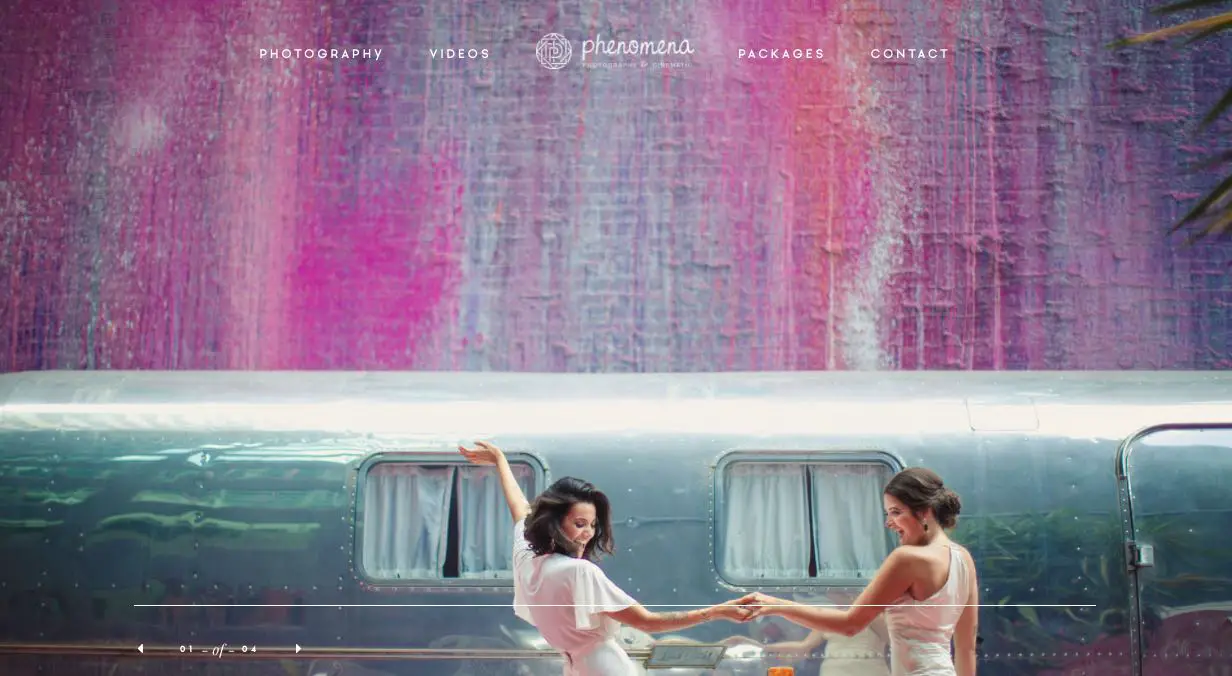 03 9867 2259
What was once a dream is now a reality with the birth of the best wedding photography company—Phenomena Photography & Cinematic. Brides have long awaited a Melbourne based boutique wedding company that offers personalised services, striking imaging and gorgeous final productions all at an affordable price. With combined experience amounting to over 10 years, our wedding photographers and cinematographers at Phenomena Photography & Cinematic are the epitome of a highly stylised wedding photography & wedding videography approach. Our focus lies on candidly capturing the momentous events throughout one of the biggest days of your lives. Using only state of the art technology and techniques, Phenomena wedding Photography & Cinematic is at the forefront of individualistic photography and unparalleled high definition films. Located in the chic hub of South Yarra, Phenomena Photography & Cinematic is well placed to cater for weddings throughout metropolitan Melbourne, Greater Victoria and South Australia. Consultations are free and can be scheduled for the evenings or weekends in our trendy studio.
Wedding Videography Mornington Peninsula 
Every moment in your life is precious and deserves to be remembered. A crucial lifechanging moment – your wedding day deserves to be recorded. Our Melbourne based expert team of cinematographers are here to capture every second of your special day. With many years of experience, Phenomena provides you with individuals with skills spanning from filmmaking to media communications with a strong focus on wedding videography. Each wedding cinematographer team has accumulated over a decade of wedding videography experience to know exactly the perfect angles and shots to record and enhance your wedding day seamlessly. We focus on technical aspects and the mood and ambience naturally surrounding the bride and groom. In doing so, Phenomena can capture and accentuate the richness of sounds, beauty and love in each moment of the day to produce a holistic record of your big day. Just as each couple possesses a unique story of their own, each wedding is distinct from any other. With you at the centre of our focus, each wedding videography produced by Phenomena emphasises each couple's subtle and unique qualities to create an intimate and personal cinema record.
Valley Peak Wedding Videographer Mornington Peninsula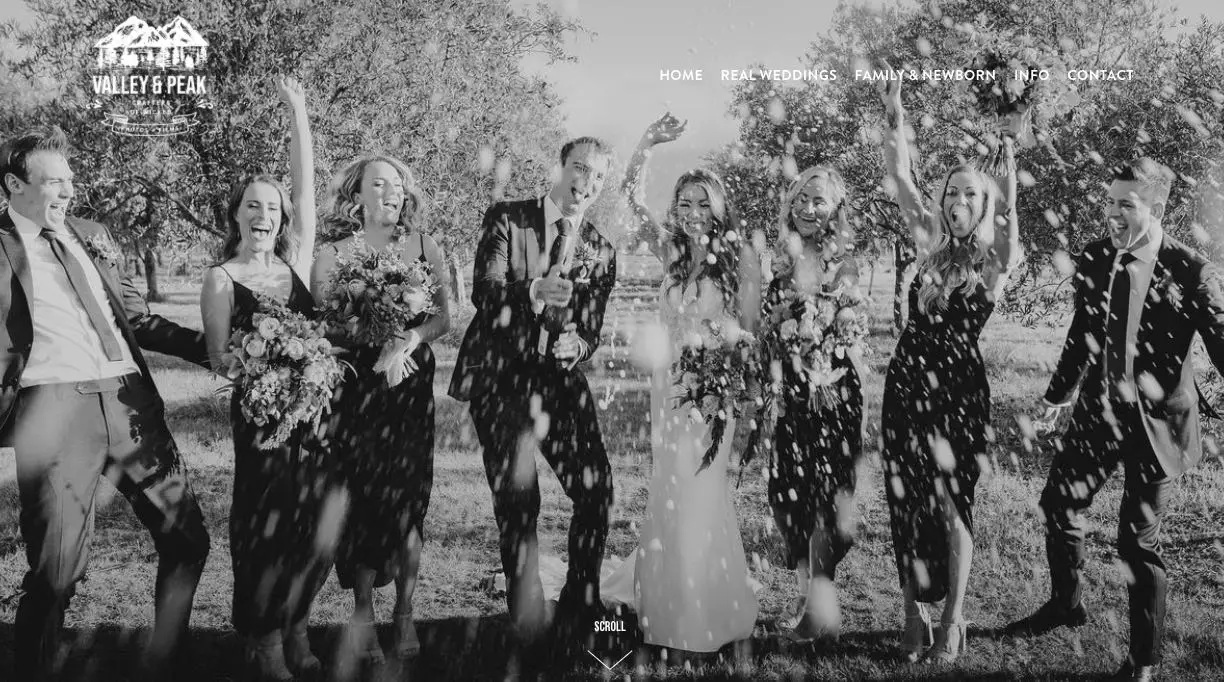 0405 137 960
You've Found Your Dream Team.
With over 700 weddings covered, rest assured that you've found the right people to look after you on your big day.
Our approach to capturing a wedding is simple: tell it the way it happened. We're not in the business of creating the moments - we don't need to. We leave that up to you. What we will do is make sure we're there to capture every emotion, every hug, every tear - the whole lot.
We get to know everyone on the day and make sure they're comfortable with us so that we can blend in. Making sure we aren't a couple of strangers is the secret sauce for walking away with amazing photos + films. Often you won't even notice that we're
Real Weddings
Weddings are made up of thousands of little moments, with no two days ever being the same. Our style of storytelling is best viewed as a full collection of those moments. Take a walk in our couples shoes, and check out weddings as experienced by valley & peak.
C2 Films - Wedding Videographer Mornington Peninsula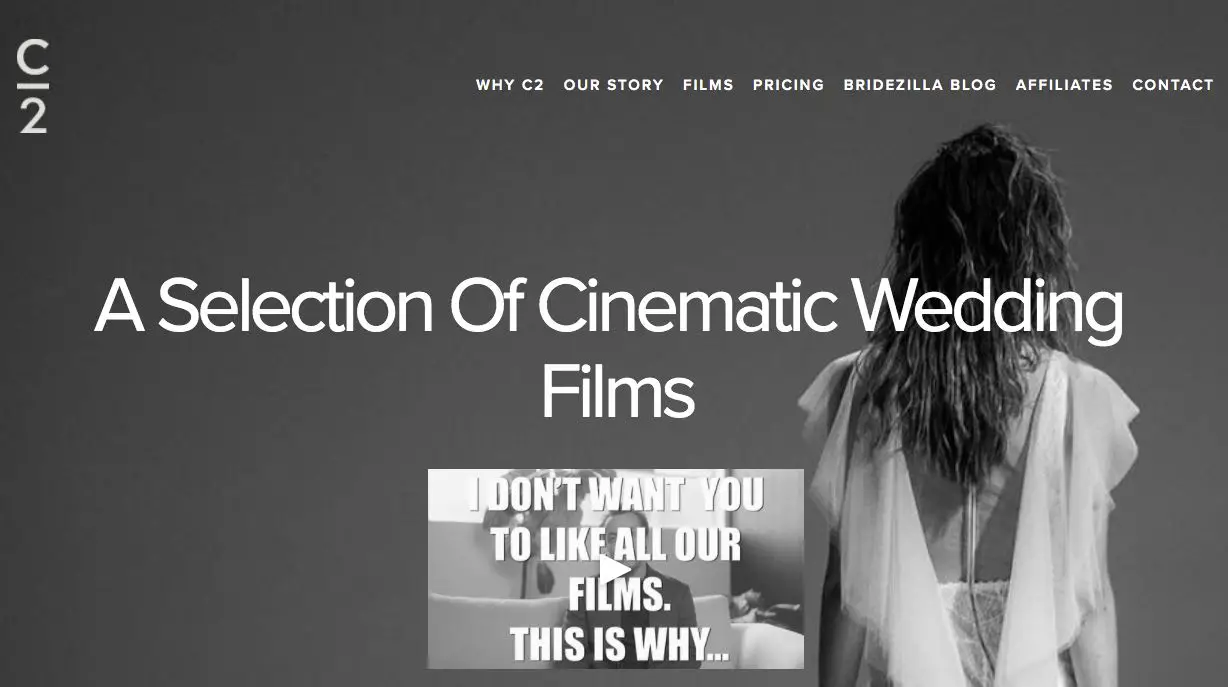 0421 533 848
Our Wedding Films Will Captivate The Mind and Enrich The Soul.
At C2 Films, we want to make it possible for you to immerse yourself completely and relive your wedding day time and time again. Driven by a passion for turning heartfelt stories into exceptional films, we believe our wedding videos will allow you to do just this. We will capture each precious moment and intimate detail to produce a wedding film that is a raw, honest reflection of your connection with your partner. From the minute you begin your hair and make-up to the very last dance at the end of the night, we'll be there to capture it all on film.
Whether it's a Lebanese, Jewish, Indian, Greek or Asian wedding, we've had extensive experience catering to each unique style and culture. We understand that weddings cannot be defined by one type, so we offer a mix of distinct genres to reflect your individuality and, at times, traditions. That's what sets us ahead for wedding videography in Melbourne and Sydney. See below, just a small selection of some of our wedding films.
We Create The Most Beautiful, Unique, And Premium Cinematic Wedding Films In Mornington Peninsula
There Are No Retakes In Wedding Filming, So You Need Someone You Trust To Capture All The Important Moments Without Fail. Featured In Elle And Vogue, Our Wedding Films Are Unforgettable Because We Truly Take The Time To Understand What's Important To You. Whether It's Priceless Footage Of You Dancing With Your Grandmother, An Inside Joke With Your Partner, Or Maybe A Piece Of Sentimental Jewellery Or Important Cultural Tradition, We're On Top Of It. We, Will, Create A Story Plan For Your Cinematic Film That Encapsulates It All, So You're Blown Away Every Time You View It. Put merely, and We Create The Beautiful Wedding Films Your Friends And Family Will Want To Watch Again And Again.
Why Choose C2?
Since 2003, We've Led The Space Of Wedding Videography In Melbourne And Sydney. We Know How Much Work It Is To Plan Your Wedding, And We're Here Now And On Your Big Day To Make Everything Just That Bit More Magical. We Aim To Delight And Thrill From Start To Finish, And Our Hundreds Of Incredible Clients And All Five-star Reviews Tell Us We Are Right On Track As The Very Best In The Industry.
Our Passion Is Delivering A Flawless And Artful Cinematic Film Experience That Brings You Right Back To Your Wedding Day, And We Take It As The Highest Compliment When You Choose C2 To Create Those Memories
Beautifully Edited, Cinematic Style
Just as with any feature film, the real magic of wedding videography happens in post-production, and we create some of the most stunning wedding films in Australia.  
We know how to artfully combine every piece of footage into a single perfect narrative that tells the story of your ideal wedding day, capturing the emotion and transporting you back to that moment every time you view it.
No Regrets, Only Perfect Memories
One of the most regretful aspects of a wedding is not investing in a professional wedding videographer. You only get one chance to create the perfect wedding film that will be a treasure for years and generations to come.
Done correctly, a wedding should be an epic production itself, and there is no reason why the video of your wedding should be anything less.
Real Nice Films - Wedding Videographer Mornington Peninsula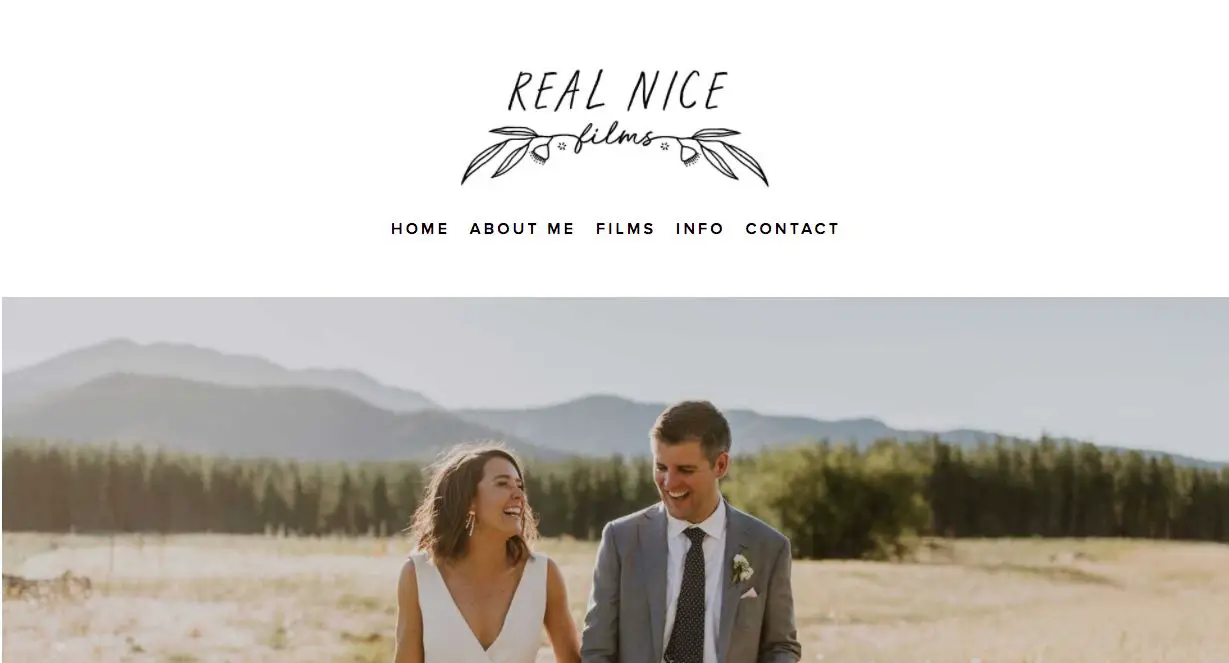 tom@realnicefilms.com
Congrats on the engagement, you crazy love birds; I'm stoked to have you here! I hear you're putting together a killer party to celebrate with your family and friends; well, I'm here to capture that in all its beauty!
So, what will you get from me? The sole aim of Real Nice Films is to weave seamlessly into your wedding. I believe that your big day should be, first and foremost, a fun-filled celebration of your love spent with your friends and family.
This isn't achieved with a big Hollywood vision, but by merely capturing what's most natural; being silly, dancing, laughing, crying with those closest to you; therein lies what's most beautiful and what makes a real pleasant film.
So check out some of the films I've made for some incredible couples, and let me know what you've got in store for your special day! 
There are no bronze, silver, gold, diamond or platinum packages here, just a straightforward package to make things easy! I don't believe in constraining your coverage to a strict amount of hours that I have to capture and tell your story. Instead, I'll be there from getting ready, all the way through to when the dance floor is pumping at the reception. Whilst every couple is different, and I'm happy to discuss any additional things you may desire, this is what I offer every couple I have the pleasure of working with.
Film My Wedding Videographer Mornington Peninsula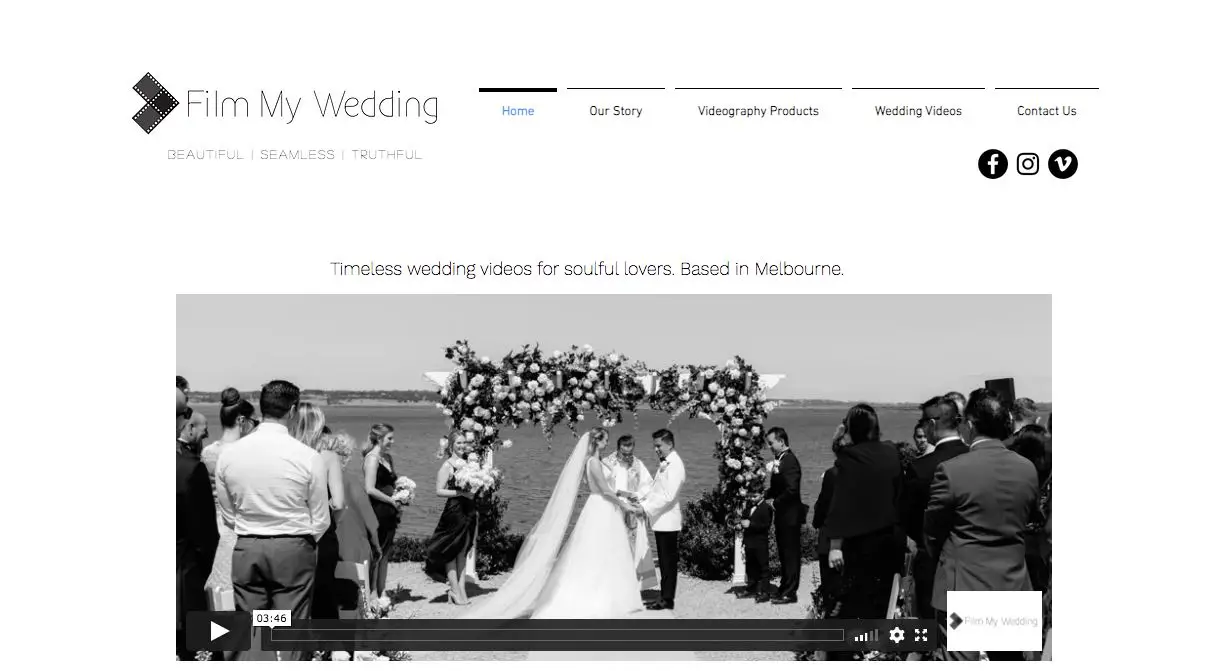 03 9653 7436 
A Timeless, And Truly Candid Wedding Videography Approach.
Established in Melbourne and inspired by the need to capture timeless human emotion, Film My Wedding has grown to become Melbourne's premier videography team. Our firm belief is that moments must be captured as naturally as possible to ensure that the Wedding Video doesn't age with time. 
We capture these moments by utilising a candid and human-focused videography approach, which ensures that you can enjoy every moment of your beautiful wedding film years down the track while things are moving seamlessly behind the scenes on your actual wedding day. 
Mornington Peninsula's Premier Videography Team
Our clients speak about our seamless approach and how this contributes to the great vibes on the day. Feel free to read our more than 100 reviews on Google and Facebook that will attest to our way of work. 
First Look Studios Wedding Videographer Mornington Peninsula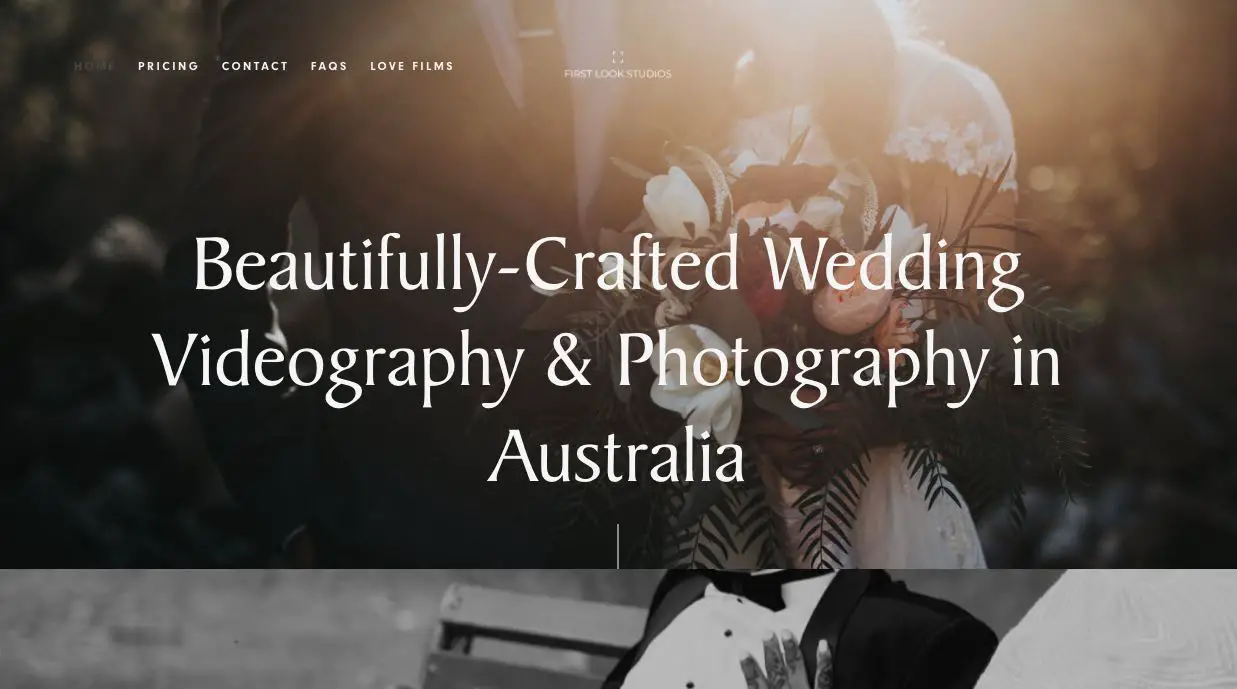 Why Choose First Look Studios?
We've crafted a genuinely cinematic, modern and warm wedding film and photo product, and we bring it to every edit.
We understand that every couple is unique and has its own story, so we've worked hard to build our skills over the years and enjoy bringing our expert storytelling to every one of our couples.
Welcome to First Look Studios, Australia's luxury wedding videographer.
On your wedding day, you want a trusted team to capture everything, and there are no second-takes after all. But just as important is for that team to be awesome enough to have fun and be positive energy whilst recording a killer video.
We're fans of our couples. Every year, First Look Studios is capturing couples celebrate one of the best moments of their lives.
Nathan Kaso Wedding Videographer Yarra Valley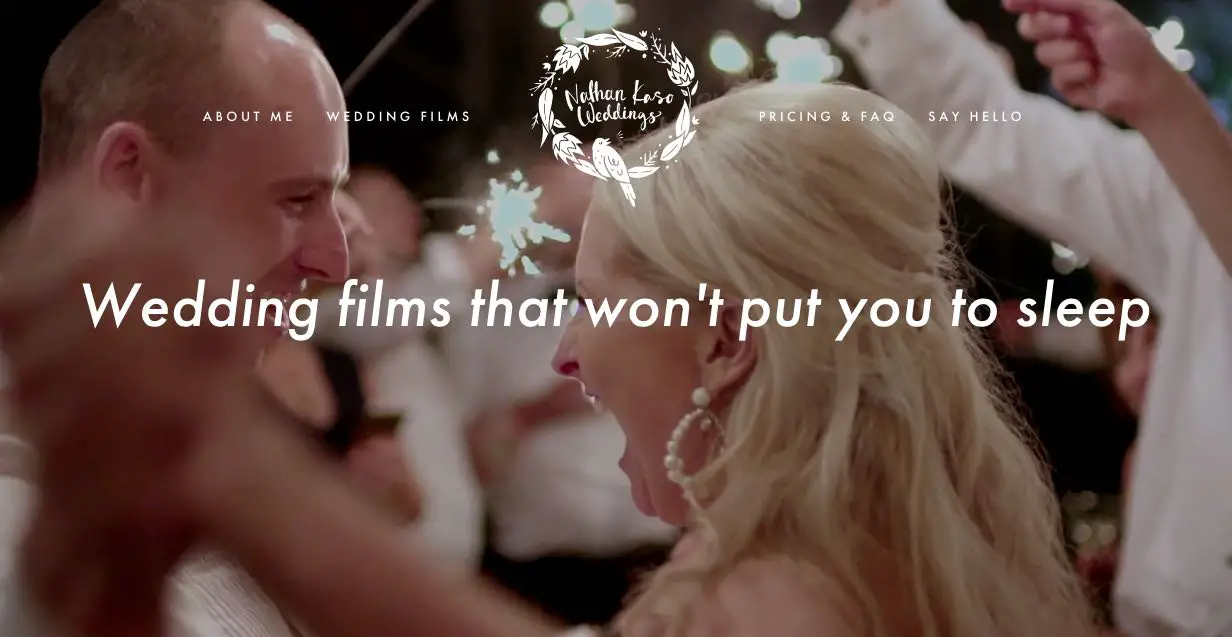 hello@nathankasoweddings.com
Weddings are fun, so your wedding video should be too!
I can guarantee you will spend your wedding day having fun, in fact probably having the best day of your lives to date, so your wedding video should be a true reflection of that, not a feature-length snooze-fest that will knock you out quicker than one of your Grandma's stories about her cat.
If you're after slow and soppy or cheesy and posed, I'm afraid you've come to the wrong place. I use energetic music combined with candid, docu-style shooting and a bit of Kodak super 8 (yep, real film) to produce unique wedding videos that are fun to watch and capture all the excitement and emotion that make the day so special.
Check out my showreel to see some of my favourite moments from all the weddings I've been lucky enough to be a part of, or keep scrolling for a few featured celebrations.
My face might be hidden behind a camera all day, but this ain't no faceless corporation.
I've been producing Melbourne wedding videography for a while now, and the thing I love the most is getting to meet new people and being given a window into their lives on one of their most special days.
It's so important to find a videographer that you connect with and feel comfortable having around, which is why I love meeting couples before the day to get to know each other better. Click below to find out a bit more about me and see if I might be the kind of guy you would like to hang out with.
Daniel and Shannaya Films - Wedding Videographer Mornington Peninsula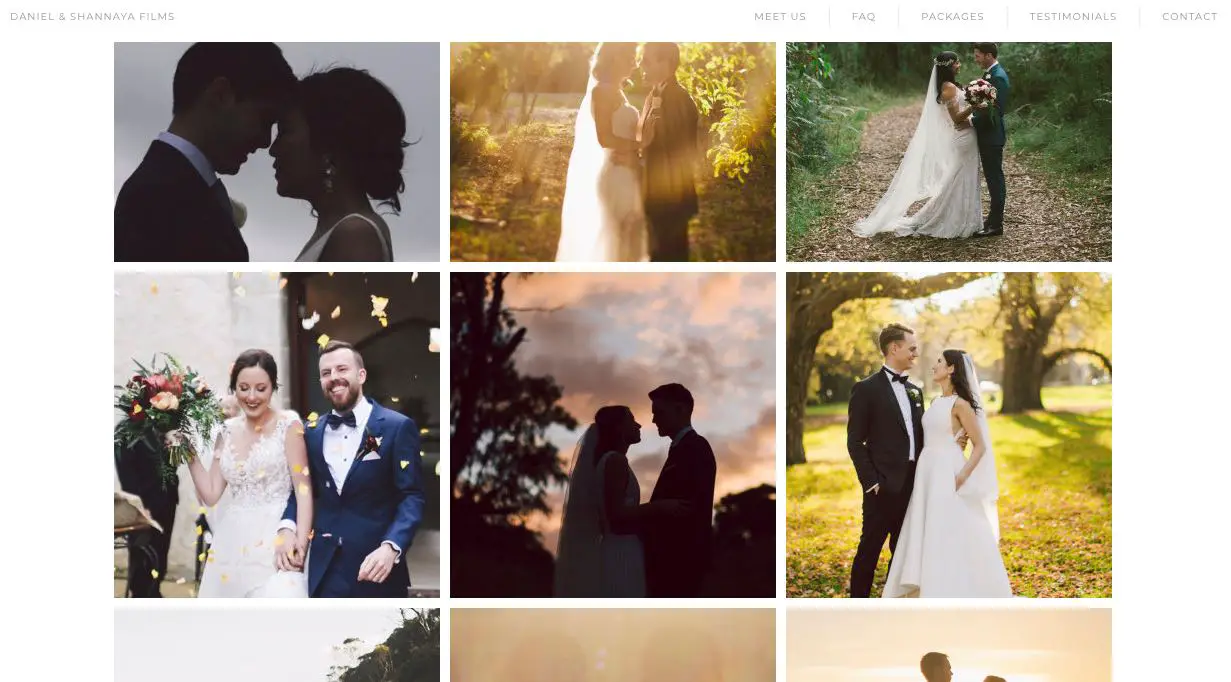 We are Daniel & Shannaya - a duo creating beautiful short wedding films. we love adventuring, travelling,
and catching raw, un-scripted moments on film. 
PACKAGES
To make things easy, we offer one base package which includes full day coverage so we don't miss out on anything! (up to 10 hours). It also consists of one song highlighting the day and a beautiful extended film set to music, which is just like the highlights film, only longer!
Pre-wedding meeting and communication
Two Videographers (Daniel & Shannaya)

Full-Day Coverage (Up to 10 hours)

Highlights Film (1 song in length)

Music Licensing Fee for 1 piece (So you can share your highlights film online)

Extended movie (5-7 songs in length)

Delivered on a Custom USB

Travel within 2 hours of Melbourne area

$3800 (includes GST)

The following extras can also be added to your package:

Speeches (audiovisuals presented as a separate film)

Vows (the audio of your vows can be recorded and included in your extended film)

Extra Hours
For more information and a full price list, get in contact with us via the 'Contact' link above, or shoot us an email at shannaya@live.com.
We LOVE to travel and have valid passports, so we'd still love to talk if your wedding is outside of Melbourne or even in Australia! We currently offer discounts for destination weddings and elopements.
Crystal Studio Wedding Videographer Mornington Peninsula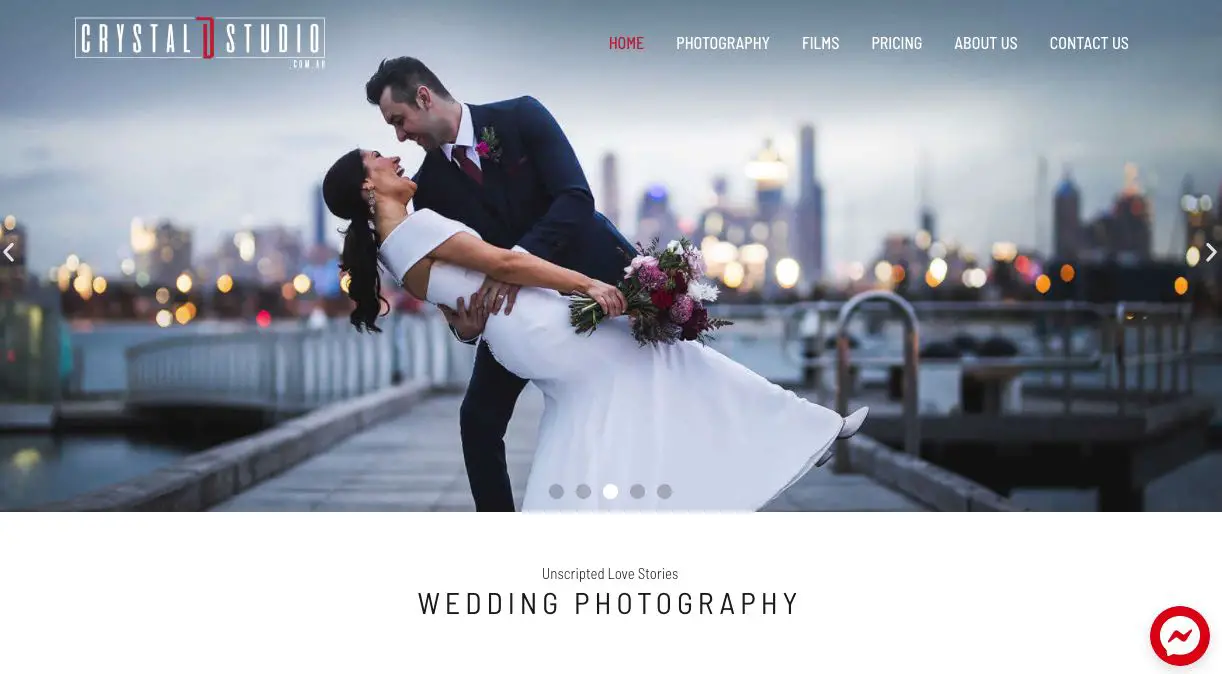 0424 56 77 33
Emotions And Magical Moments Carefully Crafted.
Your wedding is who you are and your reflection as a couple. The same facts are our priorities when making memories for our brides. We don't try to mould your precious day into ours; instead, we adjust to yours.
Editing Styles
Cinematic Film
This 3-5 minutes clip includes all the highlights from the day and edited to one song. We will be using visual effects and professional colour grading to get that cinematic look. This clip is ideal for sharing with your friends and family through social media.
Feature Film
This 15-20minutes clip Includes all major events of the day. Highlights from the getting ready, vows, outdoor shoot, cake cutting, first dance and the best parts from the speeches.
Documentary
This clip will be ranging from 60 to 180 minutes, depending on the total hours we cover on the day. RAW footages will be edited by lining up the whole day as they happened with live audio. Background music/songs will be added according to your preference.
Who We Are
We are a small team of well-experienced Photographers and Cinematographers, maintains the quality of work consistently when capturing your magical day.
Wedding Photography and Cinematography is our passion. Our team is a full time dedicated to weddings, trying to do something new in each wedding, as we highly believe that each couples' love story is different. 
Why Use Experienced Photographers And Cinematographers?
It is vital that you have experienced photographers and cinematographers to capture your wedding, which will work under pressure and with different lighting situations.
We are trusted to work under pressure and adjust to any situation and capture your day in the most natural way. Once you book us, you have the peace of mind of knowing that your precious day will be well captured as the day cannot be repeated. We also guide and help you in planning your wedding (timing) to have a smooth day. This will help you to look more natural without worrying about too many things.
Why Us?
Your wedding is who you are and your reflection as a couple. The same facts are our priorities when making memories for our brides. We don't try to mould your precious day into ours; instead, we adjust to yours.
We carefully pick the filming and editing style to reflect your vision and personality of the couple. Attention to detail and listening to our client's needs is our priority. Using high-end professional equipment and updating the latest technology also provides quality and timeless final video to cherish a lifetime.
Flexible Payment Options
Step 1
Initial Payment
You must pay a $500 deposit for each service to secure the date.
Step 2
Second Payment
50% of the remaining balance must be paid 2 weeks before the wedding date.
Step 3
Final Payment
After the wedding, you can settle the balance amount once you receive the sneak peek photos or video trailer.
Aisle Productions Wedding Videographer Mornington Peninsula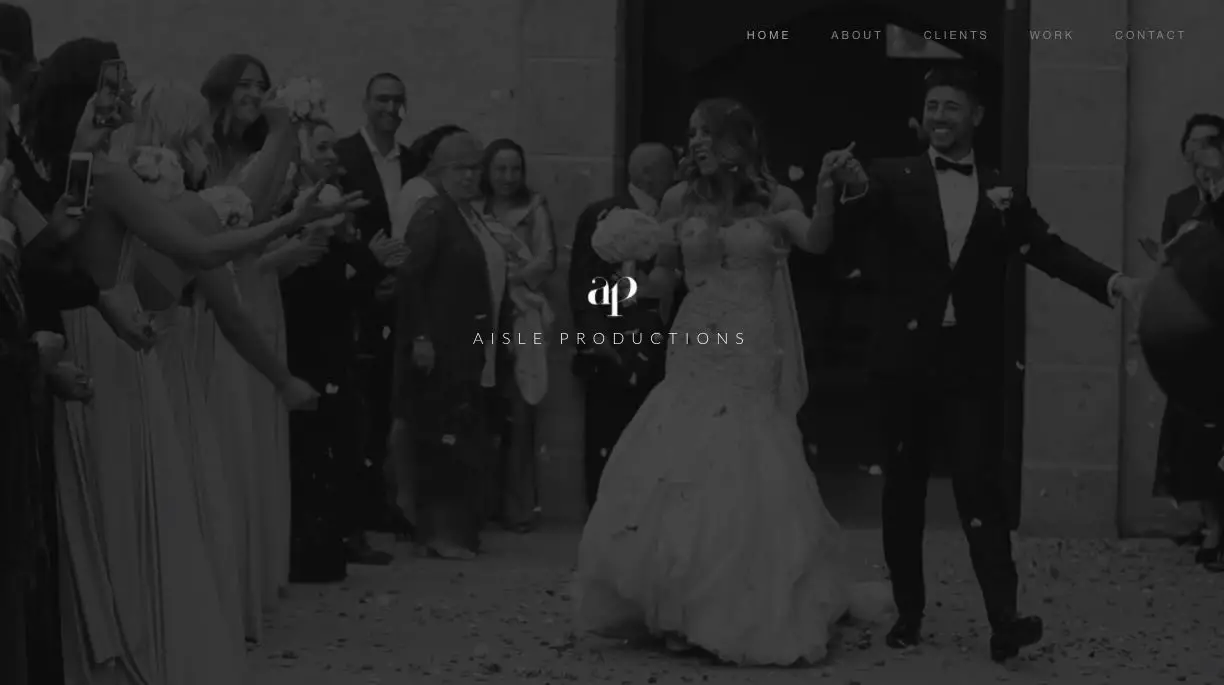 428250210
We are a creative couple who connected through a love of film and movement. Since the meeting, we have captured countless love stories as a duo, making what we do even more special. Our style doesn't ask much of the bride and groom. We want to capture the essence and true beauty of the day as it is, no posing, no acting, no performing for us. We pride ourselves on the natural beauty that is marriage.
Lunar Red Wedding Videographer Mornington Peninsula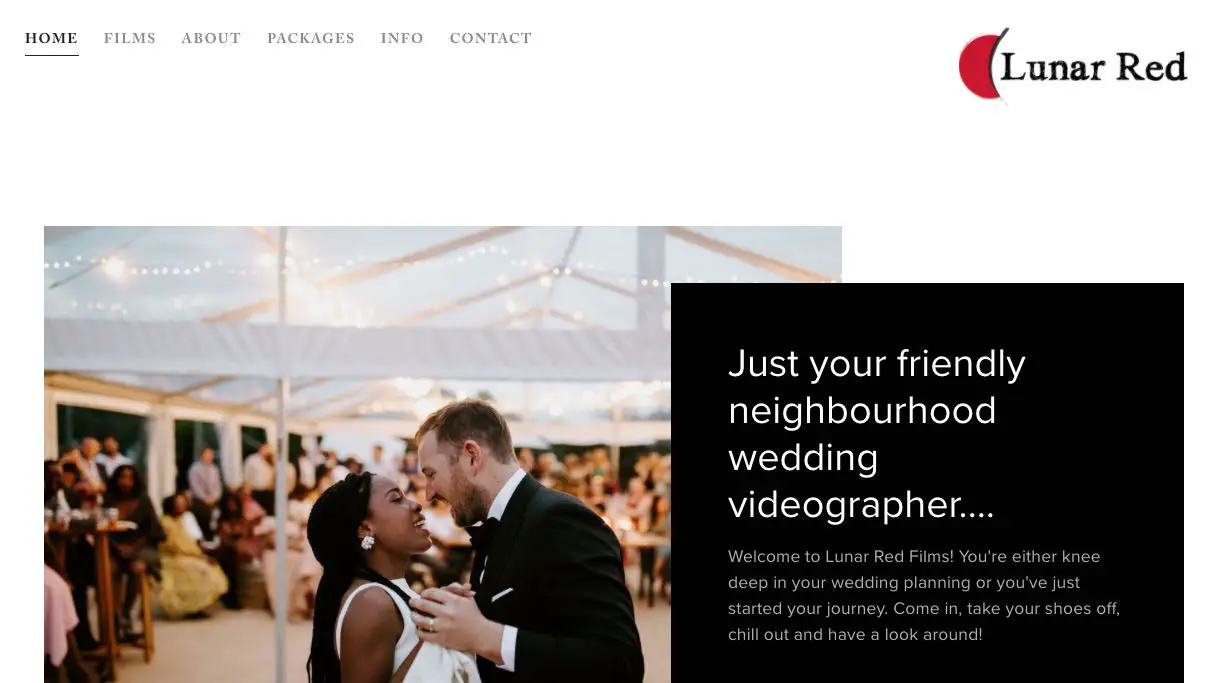 Just your friendly neighbourhood wedding videographer. 
Welcome to Lunar Red Films! You're either knee-deep in your wedding planning, or you've just started your journey. Come in, take your shoes off, chill out and have a look around!
It's nice to meet you.
See that tall glass of handsome (at least, according to my mum)? That's me. I'm Carlo, and Lunar Red Films is my baby. I've been shooting weddings since 2013.
Once upon a time, I started life as a professional photographer, but I worked out that 24 frames a second was more my jam somewhere along the way.
The name "Lunar Red" comes from a 50's Italian song called "Luna Rossa". The song is a big part of my childhood and one of my father's favourite tunes of all time. My business name is a tribute to him as he was a major factor in me picking up a camera in the first place.
Why weddings? In the creative industry, we talk about pursuing a career with passion. "Do what you love." The truth is every week, and I get to go out and share in the experience in one of the happiest days in someone's life. I then get to take all of that emotion, that love, that joy, that pure smile-till-my-cheeks-hurt happiness and craft it into a short film that my clients get to relive over and over again. 
How is that not the coolest thing ever?
About pricing/packages
I'm all about flexibility (metaphorically speaking, physically, I can barely touch my toes). Rather than your standard gold, platinum, silver packages that throw in everything but the kitchen sink, I offer a base package that you're able to add on to. Each base includes a short highlight and speeches, and from there, you're able to pick and choose exactly the features you'd like. Wedding videos are not just a product for purchase; they're also an investment. And like any investment, you want to make sure that it's right for you. Shooting wedding videos is as much about personality as it is about making pretty pictures with gorgeous, happy people, so below are just a couple of tidbits that should illuminate you about how I work. 
Twenty One Studio - Wedding Videographer Mornington Peninsula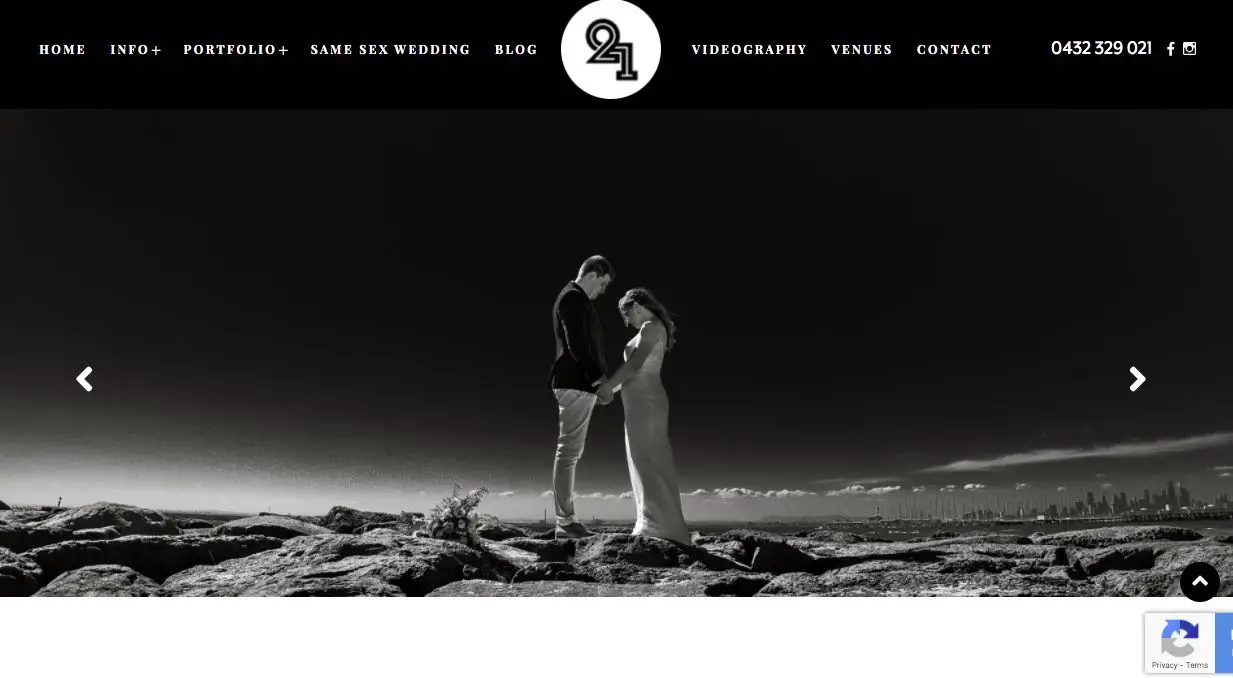 0432 329 021
Twenty One Studio
We are a team of wedding photographers who passionate about telling your story honestly and artistically to create long-lasting memory that you will cherish for years to come. We photograph weddings, engagement sessions as well as same-sex weddings in Melbourne and Interstate.
Videography
Wedding videography captures your love story in motion, along with all the tears, laughter, and unscripted moments that you will look back and cherish for years to come.
Moon and Back Wedding Videographer Mornington Peninsula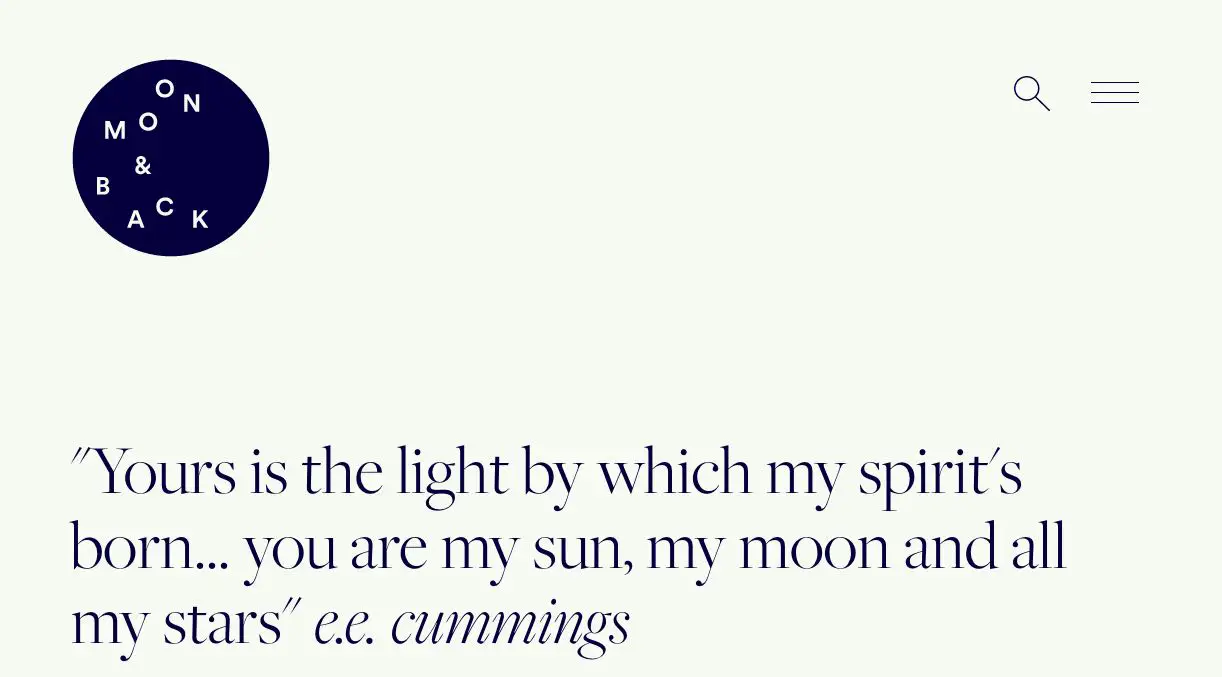 hello@moonandback.co
Born from family and close friendships, the Moon & Back team are spread worldwide and love to travel near or far to capture your day.
Bound by a unique but shared vision, we're passionate about the couples we work with, the weddings we shoot and the stories we tell. 
Each celebration is a completely different adventure for us, an exciting story waiting to unfold. From 5000 frames, we'll distil your day into a cinematic sequence of moments completely your own. A film that feels real, long after the day has passed.
Over the past 10 years, Moon & Back Co. has been recognised both nationally and internationally through acclaimed magazines and blogs, including:
The Moon And Back Approach
Unobtrusive, natural and candid. Watch Sam & Saasha talking about their experience below.
Tips On Hiring The Right Wedding Videographer
Know the style you like.  
There are so many ways to shoot a wedding, but here are the three main ones:
Music video: It focuses on cinematic shots and is a visually driven film with lots of time-shifting through parts of the day with effects and music with lyrics. This style has little to no audio such as vows, speeches or any other voice-over dialogue.
Candid/minimalist: The opposite of the music video: This style is like a professionally shot home movie– it focuses on candid moments with a more handheld style and is more about moments of guests laughing, speeches, natural audio and interactions between people over visual flair. These films have a more organic natural feel with instrumental music driven by dialogue.
Cinematic Story Telling: I feel this style is the best of both worlds, and this is how I shoot my films. It has the visual production quality of the music video and the Candid style's feel and emotion. In this style, there are stunning cinematic shots and the day's emotional feel with dialogue from the day.
Meet Them in Person Before You Decide
You need to feel at ease with your videographer. (They'll be following you around on your wedding day, after all!) It's best to meet them in person, but Facetime or Skype also works well in a pinch. Once you've met with one or two potential pros, ask to see a full video or two (clips only tell part of the story, and you want to know what your entire film might look like).
Check multiple places for reviews.
Couples with great experiences are likely to leave great reviews so that future couples can enjoy similar experiences.
Places like Facebook, Google, The Knot and Wedding Wire, even videographer websites are great places to see how other couples felt about their videographer (or any vendor, really). Some videographers will even provide contact info for references to answer any questions that may not be found in the reviews.
Get the most out of your contract.
Almost every wedding vendor will create a legally binding contract to make sure the couple and vendor agree with the expectations. Make sure the wedding videographer's contract includes the key items mentioned above — the chosen package, price, what the down payment is and when it's due, when the rest of the payment will be due, and especially what cancellation policies are in place.
Trust your videographer.
You've researched them, met them in person, discussed your wedding details and their vision for capturing them; now it's time to let them do their work. If you have done all your homework and found a wedding videographer that suits your needs, one who outlined everything in meetings and in your contract, then trust them to handle the wedding day.
The best videographers will have discussed the itinerary for your wedding day, hopefully even set time aside to get some extra footage, so they know when to be where throughout the day. They will be getting all of the best shots and moments from the big day.
Don't be afraid to search beyond your city.  
Certain wedding vendors, like florists or caterers, make more sense to hire local. However, don't be constrained by location when choosing your videographer. While filmmakers do need a certain amount of equipment, it's usually not more than they can take with them on a plane or in a car. Love Stories TV team member and bride-to-be Vanessa is getting married in Baltimore but found and hired a filmmaker based in Colorado! Every filmmaker has a different travel policy, but if you find someone you love who isn't from your area, you should still reach out!