Located in Melbourne, Victoria, planning a wedding and looking for wedding fireworks supplier? When you are planning your big day, you probably want everything just perfect. One of the best ways to make sure that it all turns out the way you dreamed is to select every vendor yourself personally. This way, you can choose the ultimate location, the best entertainment and the most delicious food, and craft your ideal wedding day.
How do you announce your newly married status to the heavens? Wedding Fireworks are the sure-fire way to do it in style. Enjoy this visual spectacular to end all spectaculars. We can create your own shooting stars with our pyrotechnical display of pure magic in the night sky above you and your guests. Ignite the enthusiasms of friends and family, as they witness some boom crash opera lighting up the cosmos.
This is the ultimate homage to a special event. Make your wedding day something truly memorable with a beautiful and awe-inspiring firework display. Our professional pyrotechnics are sensational and safe for your guests and all those around. Contact us now for a quote on something sensational, produced, especially, to celebrate your wedding day.
Wedding Fireworks Suppliers in Melbourne, Victoria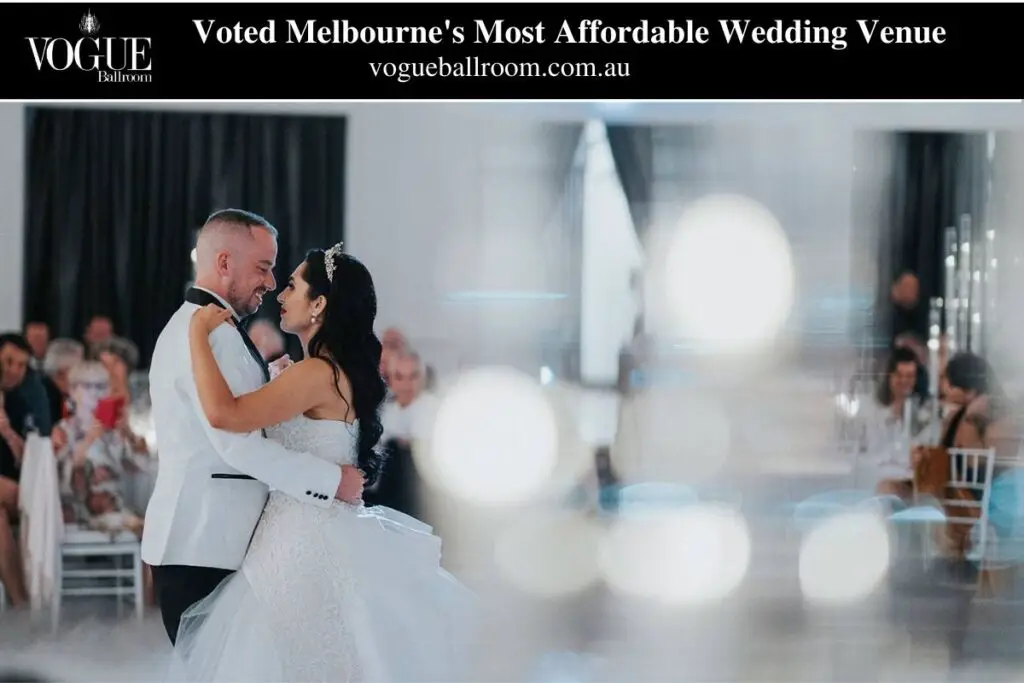 Add a header to begin generating the table of contents
Best Wedding Fireworks Suppliers in Melbourne, Victoria
Pyrotek Effects - Wedding Dry Ice, Fireworks Supplier Melbourne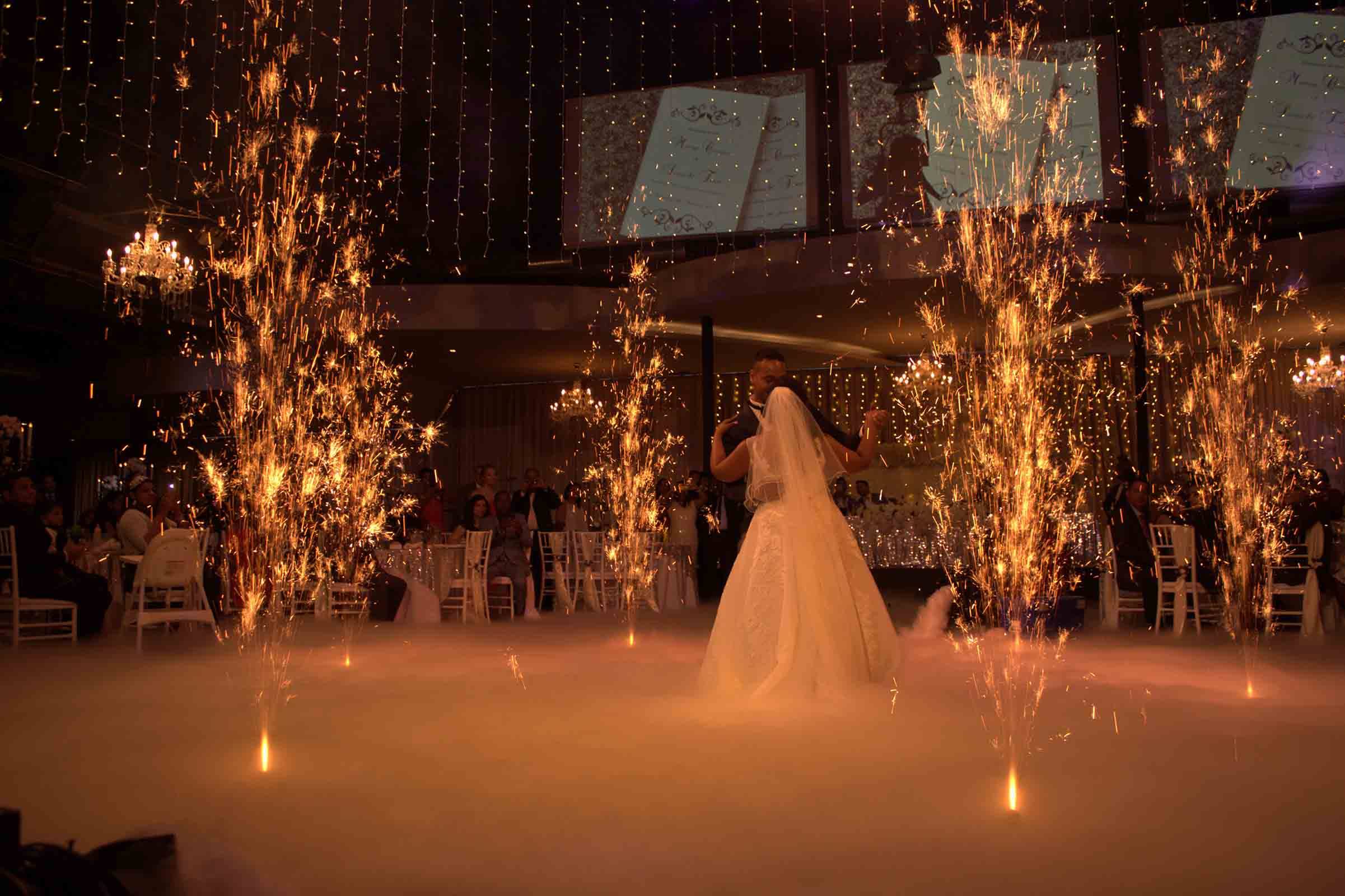 http://www.pyrotekfx.com.au/
Daniil - 0424-270-723
info@pyrotekfx.com.au
If you're after a highly skilled service for your event or want to have your worksite safe and complaint, please call or email us to get a quote and more information.
Industry standard equipment!
All our equipment is the highest quality and considered industry standard to ensure the best show for you.
Safety Matters!
At Pyrotek FX, your safety is the most important thing to us, we will make sure any effects we provide are as safe as possible.
Unique Effects!
We love a challenge and love making new effects that will your guests say WOW and envy your show.
HD Fireworks 

Wedding Fireworks Supplier Melbourne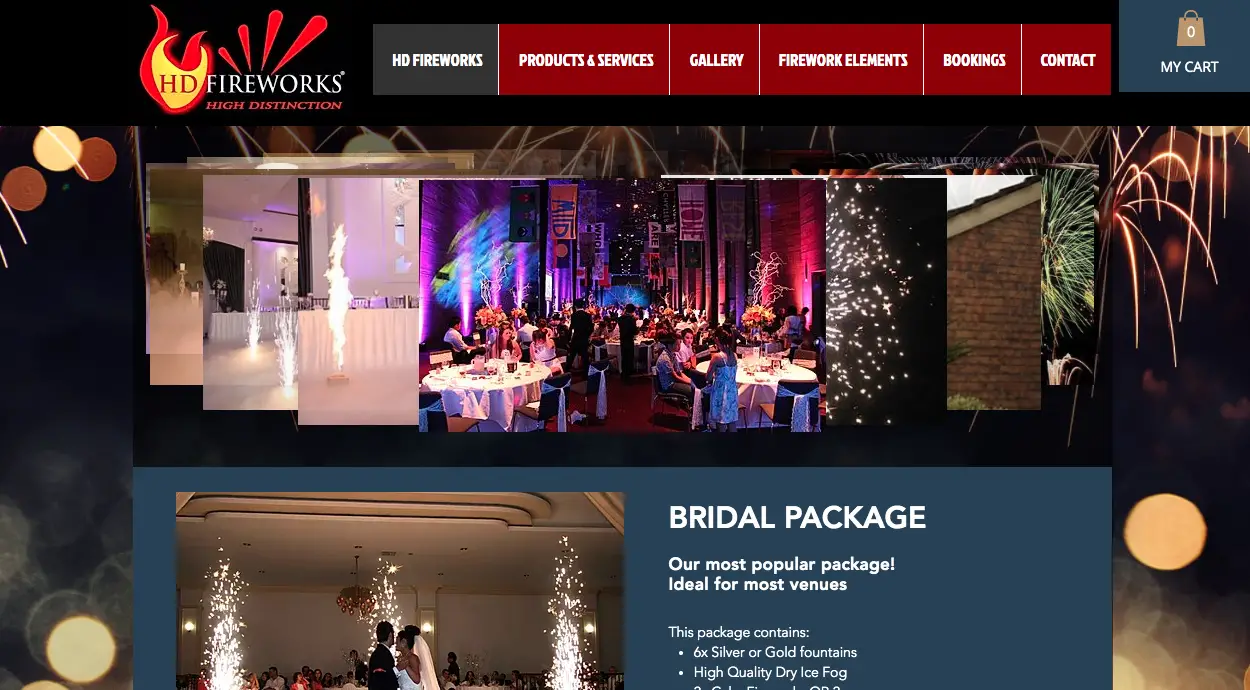 41367244
HD FIREWORKS offers unique products and services to all our clients.
HD FIREWORKS services all areas across Melbourne and Victoria regional areas. Our fully licenced team can handle any job. We offer best value and a professional service.
We use state-of-the-art firing equipment and highest quality products that produce the least smoke or are smokeless based on monitored testing. All waste is recycled or disposed of thoughtfully. 
With over 12 years experience, we are known for our professionalism, attention to detail and we thrive working under pressure to deliver outstanding results. 
HD FIREWORKS is a member of the Australian Pyrotechnics Association Incorporated.
PRODUCTS & SERVICES
Experience High Distinction Visual Effects For:
Indoor fireworks (for Weddings, Engagements, Birthday Parties, Any Celebration)

Outdoor fireworks (for Weddings, New Year Eve, Lunar New Year, Community Festivals)

Pyromusical (Indoor and Outdoor Shows)

Water Fireworks (Fireworks on Lakes, Rivers, Sea)

Waterfall Effects

Flame Fire Fireworks Effects

Fire Flame Projectors

Fireball Effects

Chinese Fire-crackers

Dry Ice Fog (Highest Quality)

Smoke Effect

Haze Effect

Fog Effects

Bubbles Effect

Snow Flakes Effect

Confetti Cannons

Streamer Cannons

Rose petal Cannons

Sparkular Machines (Fireworks Simulator Machines)
Howard & Sons Pyrotechnics

Wedding Fireworks Supplier Melbourne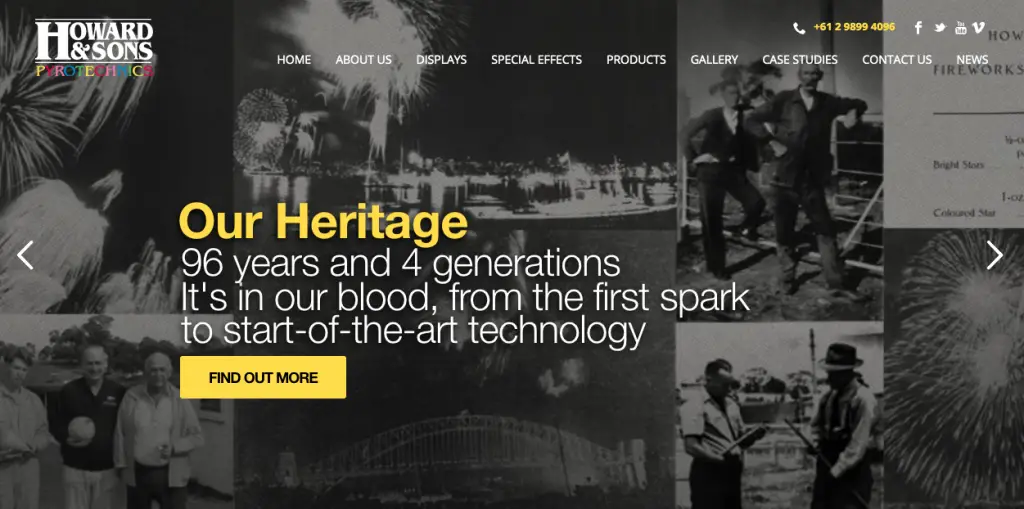 129899409
Excellence at every stage
Howard & Sons Pyrotechnics: World-Class Imagineers and Pyrotechnicians
Howard & Sons has been a family-run company since 1922. Growing from a one-man business to a national enterprise over four generations, we use our vast experience and insights to our – and your – advantage. By forging our place in pyrotechnic history over many years, we know exactly what we are doing and why. You are not only safe with Howard & Sons, you are in the company of pyrotechnic experts who fully understand firework past, present and future .
Mission Statement
Through the provision of excellence in product quality, customer services, safety standards and creativity, Howard & Sons aims to become the premier ranked pyrotechnics company in Australia and beyond by our customers, audiences and suppliers.
Company Vision
Our vision is to awe and inspire through the implementation of creative innovation and state-of-the-art technology.
Safety & Quality Statement
To continually improve pyrotechnic safety systems and ork practices for all work sites and the greater pyrotechnic community.
We make it our responsibility to adhere strictly to every national and, where necessary, international guideline, measure and law relating to firework and pyrotechnics safety as well as integrating our own excellent standards of safety within our factory and on the field.
We guarantee quality products manufactured under national and, where necessary, international guidelines, measures and laws.
We provide our qualified pyrotechnicians with the appropriate training in every aspect of our work and offer significant opportunity to study and operate new technology, together with regulated quality and safety controls during daily working activities. We include in this four generation's worth of pyrotechnics expertise.
Environment Statement
We aim to make every one of our actions sustainable through limiting our use of short-term materials and always opting for long-term solutions, taking the appropriate care to ensure longevity. We choose to exercise greater efficiency across the board, using those products, suppliers and procedures that have significantly less of a negative impact on our planet.
Howard & Sons – A global leader in pyrotechnic effects for celebrations, events, and national and international tours
Howard & Sons Pyrotechnics has become one of the best-known fireworks artists and producers in the world. This has never been due to pure chance or luck; four generations and coming up to one hundred years of experimentation, trials, errors and successes have brought us to this happy point. Our position as global leader in pyrotechnic design and presentation, proved by our achievements at some of the world's most fantastic events, ensure that we amaze and inspire time and time again.
Grand Spectaculars
Howard & Sons Grand Spectaculars – large-scale multimedia fireworks displays
The Bang Collective
The Bang Collective is a live performance company that produces explosive live performances featuring spark, fire, water, light. 
Community Events
Ever since 1922, Howard & Sons Pyrotechnics has been lighting up the night skies for a broad spectrum of national events and festivals for local and wider-spread communities and groups…
Sporting Events
Sporting events are synonymous with excitement, noise and large gatherings of enthusiastic fans…
Special Events
Howard & Sons Pyrotechnics can add the ultimate 'wow' factor to any sponsored or corporate event, making your company
Tours & Concerts
The Howard & Sons Pyrotechnics entertainment productions department consists of a passionate team of firework experts completely dedicated to designing…
Waterscreen Shows
The creative team at Howard & Sons Pyrotechnics has developed a new multimedia production combining fireworks, music, lasers, lighting, waterscreens and projections…
Weddings
A social highlight in every culture, weddings have moved from simple services and buffets to ground-breaking events created to instil a feeling of joy and happiness in every member of the wedding party…
Funerals
Ashes can be carefully placed into hand made aerial shell fireworks, that are launched high into the sky and burst in spectacular style 
Team Building
This is a special and extremely unique service offered by Howard & Sons Pyrotechnics. Our corporate team building package is the ideal, highly unusual way to bring your team members together
Howard & Sons Pyrotechnics has undoubtedly become one of the best-known fireworks artists and producers in the world Howard & Sons Pyrotechnics has extensive experience in providing large, medium and small-scale pyrotechnic spectaculars and produces more than 600 successful displays annually. With a national and international network, we have the organisational structure, equipment, infrastructure, business systems and personnel to deliver any scale event to the highest possible standard.
Show FX

Wedding Fireworks Supplier Melbourne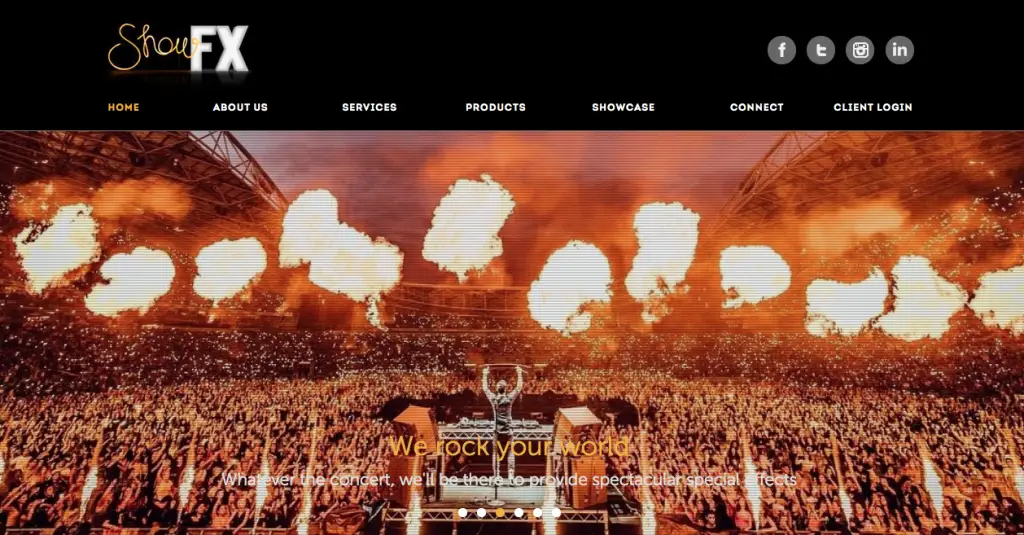 139338130
HISTORY
ShowFX is one of Australia's most progressive and well regarded fireworks and special effects companies. Since 1995, we have successfully delivered fireworks and special effect spectaculars both across Australia and internationally.
The core business of ShowFX is display fireworks, indoor pyrotechnics, confetti, and special effects such as flame and CO2 effects. These special effects have a wide variety of uses including large fireworks displays, outdoor festivals, sporting events, concerts and tours, product launches, community and corporate events, film and television.
The main operation of ShowFX is run from our Tullamarine warehouse in Victoria Australia, which is where we design and build equipment to suit the specific needs of our customers' shows. ShowFX enjoys the reputation as one of Australia's premier, specialist pyrotechnic and special effects companies. This is due to its high integrity, customer driven service ethic and a vision to strive for exciting and excellent value for money entertainment.
With ever changing technology, our imagination and enthusiasm inspire our clients to add diversity to their events and we continue to work with our clients to create new and innovative ideas.
With our experienced and dedicated team, ShowFX will continue to entertain for many years to come.
Safety is our first consideration as part of all our services we provide. ShowFX works closely with all government and relevant authorities to improve safety standards and procedures in the industry.
We negotiate all necessary statutory and legal approvals as individualised by each state, territory and venue. ShowFX also uses various risk management plans and tools. These are tailored to provide WHS documentation to our clients, venues and authorities. This assists in the planning and operation of safe practices. ShowFX provides appropriate insurance and indemnities to all clients and displays.
We ensure that all ShowFX displays comply with Occupational Health and Safety regulations relevant to the state or territory the it is being operated in.
ShowFX is a member and actively involved in the Pyrotechnics Industry of Australia (PIAA) and International Special Events Society (ISES).
SERVICES
For the right special effects to make any event unique, ShowFX can create and design all you need to produce that "WOW" factor. With over 20 years experience in display fireworks, sporting events, concerts and corporate events our purpose is to create mind blowing special effects tailored to your needs and aspirations.
Whatever your event, from big outdoor festivals to small corporate awards nights we have the expertise and knowledge to create a memorable experience for everyone.
Concerts




We have worked with the world's biggest artists and entertainers on their world tours. ShowFX can accommodate all touring requirements utilising our comprehensive and premium special effects products.

Festivals




Showcasing the performance of an artist or an iconic moment of a festival, is ShowFX's specialty. We create unique effects and powerful moments using pyrotechnics, large confetti and streamer shots, flames and CO2 jets.

Sporting Events




Highlighting a score or raising a trophy we triumph at colouring the excitement. Our passion is to deliver a full fan experience from start to finish.

Community Events




With years of experience working with local councils and community groups, ShowFX acknowledges and respects the importance of these events to the community. ShowFX can create a memorable experience with a fireworks or special effects display.

Special Events




Your significant moment will come alive with our impressive array of special effects, from product launches to gala dinners, ShowFX can reveal the magic using our technology.

Government Events




From iconic public holidays to national events we have a strong history and reputation working with Federal and State Government departments. Our winning tenders are always prepared to excite and impress.
Foti Fireworks

Wedding Fireworks Supplier Melbourne
1297566661
Foti Fireworks Family Displays of Excellence
Entertaining has been a family tradition for the Foti Fireworks family since 1793 commencing in Italy before moving to Australia over half a century ago. Now in its 8th generation, the family's knowledge and passion for the art pyrotechnics has laid the foundation for a business and operation that is the most awarded in Australia with an enviable production portfolio and reputation that spans the globe.
Pyrotechnics Fireworks Company Total Entertainment
The knowledge and passion of the Foti family is matched by the professionalism and energy of their experienced crew and support staff. The team is supported by offices in, Melbourne, Brisbane and Hong Kong as well as a state-of-the-art manufacturing, storage and operations facility in Marulan located approximately 170 kilometres south-west of Sydney.
Environmental Policy
Foti's environmental policy aims to design and manufacture products, conduct operations and provide services in a manner that is responsible to the Earth's environment, protect its natural resources and is protective of its employee's health and safety.
Safety and Risk Management
To achieve ultimate safety, Foti International Fireworks practices Total FX Project Management. This approach means that the principles and practices of Risk Management are applied to all stages of every production. Foti International Fireworks are intensely involved in every stage of the project management process. 
These stages include; manufacture- both in Australia and China, importation, quality assurance and testing, staff training, display design, display preparation, pre-display risk and environmental assessment, transportation, on-site risk management, display operation, post display surveys, record keeping and procedure.
Foti believe safety management is an ongoing process that involves all members of the Foti team. Policy methods, procedures and safety management plans are continually monitored and updated.
All Fired Up Fireworks & Stage FX

Wedding Fireworks Supplier Melbourne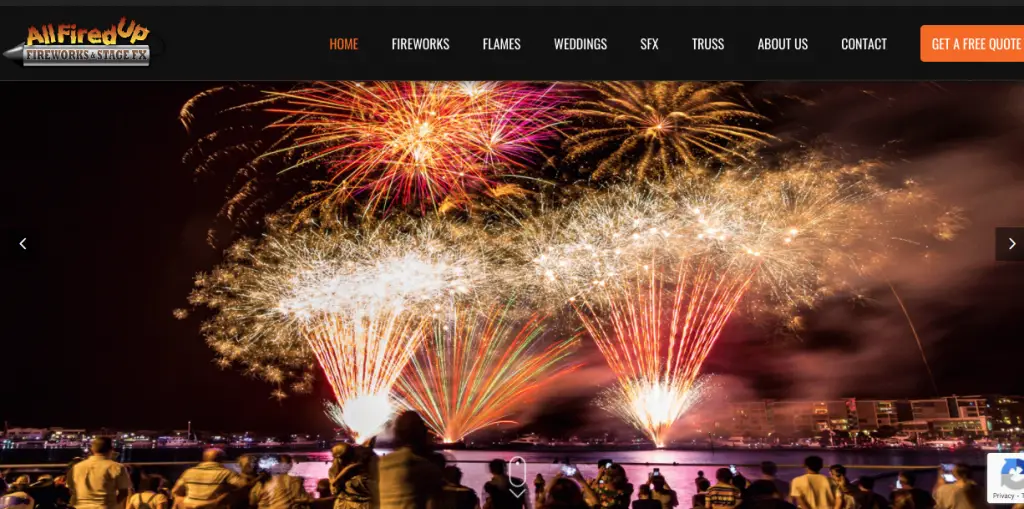 1733810788
GIVE YOUR EVENT THE WOW FACTOR
All Fired Up Fireworks & Stage FX is Melbourne's best Fireworks and Special Effects Company.
With over 20+ years experience, we have the expertise to make your dreams a reality.
Specialising in large scale firework displays, tours / concerts & entertainment, sporting events
and life celebrations; contact our experts for a free quote on your next event!
THE EXPERIENCE
20+ years and going strong: We have been captivating and dazzling audiences with unique and individually crafted Brisbane fireworks displays since we were established in 1997. As a Brisbane fireworks company, we proudly offer a vast array of experience, ranging from International Stage Productions, Concert Tours, Wedding Fireworks, and Community Festivals to more intimate private functions.
THE EQUIPMENT
We use state of the art technology and the best and latest products. At All Fired Up we source our products from the best suppliers available. Premium quality products, combined with the latest computer controlled firing technology ensures we can offer our clients something special. With our type B gas licence we organise certifications for most LPG flame projectors in Queensland.
THE EXPERTISE
A professional award winning team. At All Fired Up we strive to use our artistic creativity to make every display unique, spectacular and mesmerizing. We have extensive experience with an array of displays. We are continually challenging ourselves to produce something better, something different, something outstanding. Something we can be proud of.
LIGHT UP THE SKY WITH ALL FIRED UP
All Fired Up Fireworks & Stage FX specialise in world class fireworks.
Our firework displays are renowned for providing jaw dropping entertainment and we pride ourselves on leaving your audience speechless.
Looking to add the 'wow' factor for a corporate event? Perhaps you need help adding the explosive touch to a concert or are ready to light up the sky at a community event or festival; we can give you what you're looking for.
Whether its from the roof of a stadium, from the edge of a bridge or out on a floating barge, each firework display features the very best in production design and the highest quality fireworks available in Australia.
We strive to use our artistic creativity to make every firework display unique, spectacular and mesmerising. Talk to one of our experts today or request a free online quote.
Full Throttle Photography
FIREWORKS TAILORED TO YOUR STYLE
When planning each firework display, our expert team work closely with you to design and craft a show that will be 100% tailored to your style.
With a wide range of fireworks to choose from, All Fired Up carefully plan with you the style of shells and colours that you want to include in your show and each show if fired using the worlds #1 firing system FireOne TM.
Community events & festivals often include fireworks that are choreographed to your soundtrack to add the extra wow factor. Community events, weddings and even corporate events are eligible to start each firework display with a countdown and plunge box to get everyone involved. All Fired Up can also provide lance work to create firework signage which is a popular choice for weddings.
Our specially trained pyrotechnicians have traveled and performed extensively throughout Australia and around the world to provide impressive, value for money firework displays.
EXPLOSIVE EVENTS TO REMEMBER
All Fired Up Fireworks & Stage FX has had the pleasure of working with some of Australia's most exciting sporting events.
Fireworks and sport are the perfect combination of entertainment for the whole family and with a custom firework display; your event will be one to remember.
We carefully plan each sky display to your running schedule. Whether you're looking to include fireworks and effects during the sporting event, or finish things off with a grande finale; our team can make your vision a reality.
All Fired Up only require 10 days to fully organise your show, or 42 days if an aquatic permit for waterways is required. We also organise all legal permits & notifications and ensure that all your obligations are met.
Contact us today and let's discuss what ideas you have for your next event. Contact us via phone on 07 3381 0788 or request a free quote online today.
WEDDINGS THAT TAKE YOUR BREATH AWAY
All Fired Up can turn the most important and memorable day of your life into a truly magical moment that will be remembered forever.
Depending on the style and atmosphere you're wanting to portray, we can assist with a range of special effects tailored to your wedding.
Our expert team work closely with you and your wedding planner to carefully design and orchestrate the wedding of your dreams.
All Fired Up wedding packages are also competitively priced and we have packages for all budgets. For more information, request a free quote online and one of our experts will be in touch!
HUGE RANGE OF SPECIAL EFFECTS
Our range of special effects and years of experience ensure we offer the very best value for money wedding packages.
Fog machines can make you appear as if you're floating across the dance floor, perfect for the first dance. Our confetti cannons and streamers can rain a flutter of confetti down on you, highlighting one of the special moments of the day.
Confetti and Streamers are often used during reception entrance and after the first dance and we can even provide CO2 jets or flames if you're looking to go that extra step.
Also available are the very popular Sparkulars which are a Spark machine (non-pyrotechnic) that produces the same effect as traditional stage pyrotechnics without the smoke or smell and can be fired multi times.
Close proximity fireworks & indoor fireworks can also be incorporated to ensure a grand entrance or exit for the happy couple.
PACKAGES TAILORED TO YOUR BUDGET
All Fired Up carefully prepare, action and pack-up all special effects needed on your special day to ensure a hassle-free experience.
Our special effects and fireworks can even be synced to your wedding soundtrack so if you have a requested list of songs, our team will tailor the show to make it an unforgettable experience.
Since the inception of All Fired Up, our team has provided special effects and fireworks for weddings as south as Sydney NSW and north as Gladstone QLD.
We love weddings and we love making your vision a reality. There are so many options to choose from, talk to us today to see how we can turn your day into a special memory for years to come.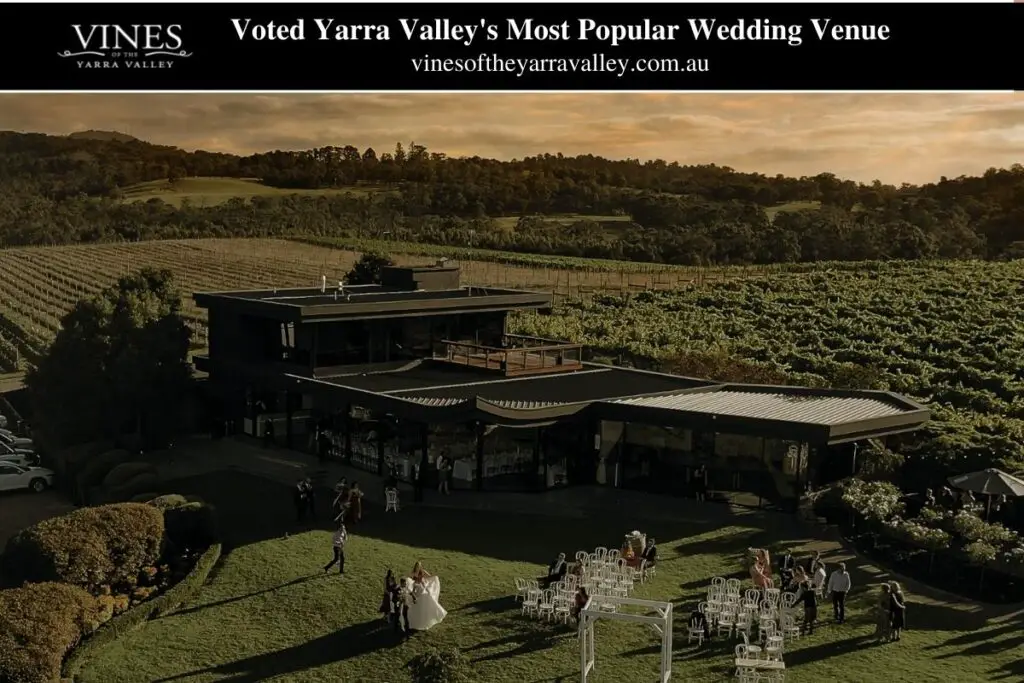 Mr.  Boom Boom Fireworks

Wedding Fireworks Supplier Melbourne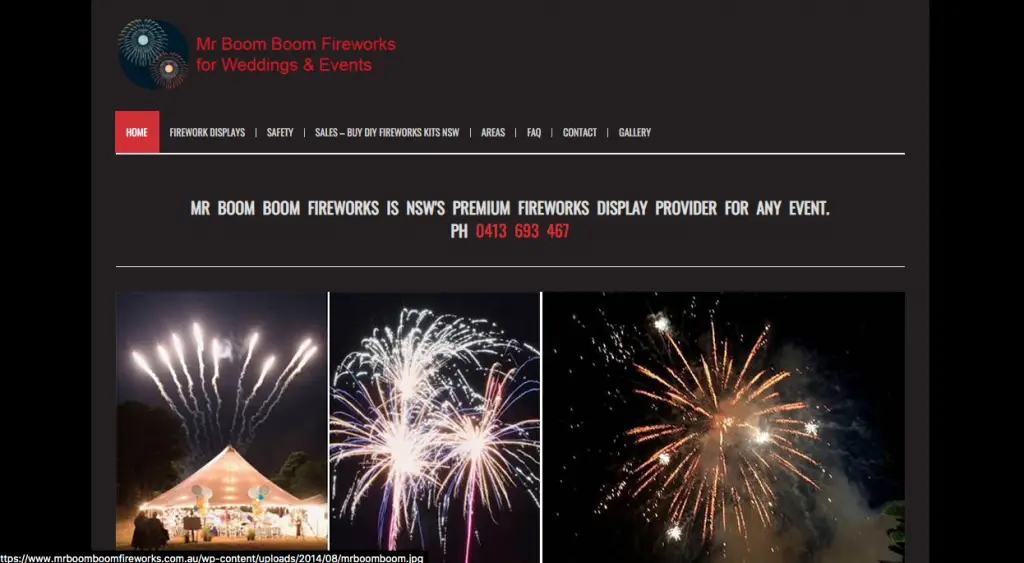 041369346
Wollongong, Southern Highlands and NSW Wedding and Event Fireworks
Our aim is to provide the ULTIMATE Firework Experience, whether it be a birthday party to a large wedding or Australia Day event.
We only use the biggest and the best quality products, following all mandatory safety guidelines to produce a completely flawless state of the art display each and every time.
Call the team now for an obligation free quote or download our free "How to Organise a Firework Display" checklist.
Mr Boom Boom Fireworks can provide fireworks displays for all the events below, or for any that you require:
Agricultural Show

Anniversaries

Australia Day

Birthday Parties

Chinese New Year
Community Events

Concerts

Corporate Events

Easter

Engagement Parties
Festivals

Fireworks Nights

Fundraising Displays

New Years Eve
Product Launch

School Fates/Fundraisers

Theatre Film

Weddings
Indoor Fireworks
Indoor/theatrical pyrotechnics can add a whole new element to your function. Whether it is a concert, theatre, product launch, corporate function or awards night.
Our Indoor Fireworks are safe and designed to be used indoors.
Multiple effects are available.
Outdoor Fireworks
Our aim is to make every show the best our client has seen.
We use state of the art products to plan each of our productions, we ensure each and every individual feels as though they've witnessed something incredible.
This is our personal commitment to each of our clients, making sure they are blown away emotionally every time, but never, ever skimping on safety.
Wedding Events
Mr Boom Boom Fireworks are the premium wedding fireworks provider in New South Wales.
Providing indoor and outdoor displays at numerous venues all over the state.
We work with venues, wedding planners, management, and most importantly the couple and their guests celebrating the most important day of their lives.
Our aim is to provide the ultimate firework experience. We have various packages available, which can be tailored for all religions and cultures.
We offer the following outdoor packages:
Platinum – Outdoor and indoor fireworks – Quality and opulence – Exclusive pyrotechnic show

Gold – Outdoor fireworks only – Artistic masterpiece – Art in the sky

Silver – Outdoor fireworks only – Quality show
Combined with indoor effects for the ultimate wedding fireworks experience. For example, indoor fireworks can be used for:
Bridal Party Entrance

Cutting of the Cake

Wedding Finale
Fundraising Displays for Sporting & Community Groups
Many clubs and organisations are finding it harder and harder to raise funds.
Why not try something different and host a fireworks night? It's guaranteed to attract attention to your organisation and by charging a cover charge, running bar, BBQ etc. you will be pleasantly surprised by how hosting a fireworks night could boost your clubs budget.
Call to discuss how we can make an event work for your club, suitable for:
Church Groups

Sports Clubs

RSL/Ex Servicesmans

Bowling Clubs

Community Clubs

Support Groups

Scouts/Girl Guides
Abracadabra Events

Wedding Fireworks Supplier Melbourne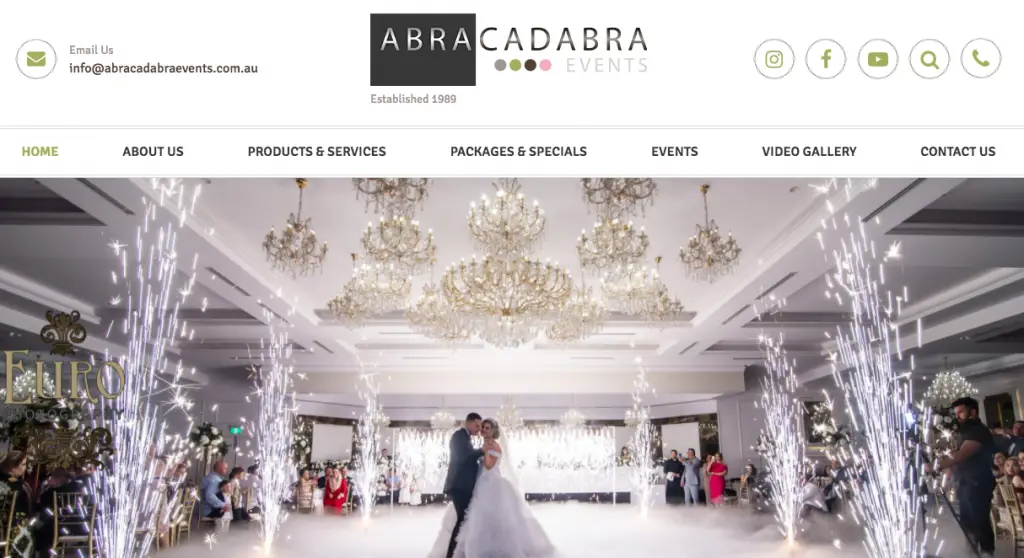 139310484
Abracadabra Events was established in 1989. A small family operated business which is now in its second generation with over 30 staff consisting of pyrotechnicians, stylists, event coordinators, a development and Planning officer, lighting technicians, floral designers, warehouse managers, project managers, drivers and casual assistants who all make a very successful team.
Our business ethos is driven by our passion and enjoyment in assisting our clients to plan their event and make it something truly magical. We take great pride in providing a high standard of service with an emphasis on building positive relationships with our customers. Customer satisfaction is our priority, and we truly believe word of mouth is the best form of advertisement. Majority of our referral's come from our past and present clients, we have expanded our clients to include large scale weddings and corporate functions.
Come into our showroom to browse our products or make an obligation free appointment for a one on one consultation with one of our event stylists or special effect technicians.
Appointments for consultations are available midweek and Saturday. You will be able to view our latest photos, video footage and sample decorative ideas of our products. We also open late on the first Thursday of every month for evening appointments. This is a great opportunity to observe our centerpieces lit up on display so you can see the mood they will create for your evening event.
So, come in, have a latte and chat with one of our team. We are sure we can help inspire you to create your perfect event.
If you are considering having fireworks for your wedding reception, you need to book Abracadabra Events. We have specialised in wedding fireworks for over 25 years. We are the preferred supplier for special effects at many of Melbourne's busiest reception venues, as we are well known for our professionalism, service reliability and experienced pyrotechnicians.
Getting married is one of those once in a lifetime events, so why not have something to absolutely dazzle and entertain your guests. We work in conjunction with your M.C, D.J, Videographer and Photographer to ensure everything runs smoothly and that you get the best photos and video footage to look back on for some truly amazing memories.
Not only can we cater fireworks for your Waltz but also for entry, cake cutting or farewell.
In conjunction with our wedding waltz fireworks we also have state of the art equipment to produce our thick rolling fog which is like dancing on clouds, absolutely sensational.
We have a number of our most popular original firework formats to choose from such as our Fan Fare, Diamonds Are Forever, Showtime, Eternity, Star Maker and Wonderland. For those who want something different, our professional team of pyrotechnicians will work closely with you to choreograph a truly unique and amazing visual spectacle.
Industry Recognised
Awarded by the Australian Bridal Industry Academy.
Winner – Special Services Victoria 2017

Finalist – Wedding Stylist Victoria 2017

Finalist – Wedding Hire Victoria 2017

Runner Up – Artificial Floral Design Victoria 2017
Planning an event can be stressful but it can make a world of difference if you are working with a great team.
Our core values of integrity, teamwork, commitment and customer satisfaction are the foundation on which our Company was built and we continue to work hard to maintain these values.
Abracadabra consists of a close-knit team of highly motivated and knowledgeable staff who are truly excited to do what we do. We listen to our clients, and offer professional advice based on a strong understanding of the industry.
Our professional event stylists can assist you in bringing your vision and ideas to life. Don't know where to start? They can also provide their own design ideas and concepts that are inspired by originality and imagination to transform your event into a memorable occasion.
Come in and see us at Abracadabra Events. Meet our staff and feel secure in knowing your event is in capable hands.
There are a few points during your wedding reception that we regularly use special effects these are the arrival of bride & groom, cake cutting, the first dance, during the disco / band and not forgetting Entrances & Drive aways. Make your wedding photos pintrest worthy with our effects.
Confetti and Confetti Cannons
Most people think of confetti being used outside the church, we often supply loose confetti or even confetti cannons for this use but we mostly provide confetti for the wedding reception. The first dance is the perfect time to shower the bride and groom with confetti, whether its your bridesmaids and groomsmen firing handheld confetti cannons or a swirl fan rigged above the dance floor dropping a continuous flow of confetti this always makes for beautiful photos and videos.
Pyrotechnics
Our most popular request is for spark jets (gerbs) during the arrival of the bride and groom then again during the first dance or the cutting or the cake.
We can do this with traditional pyrotechnics or now with Sparkulars, these are a regulate-able cool spark effect which can create a columns of glittering silver sparks up to 5m high and be turned on and off by our technicians making them safe and keeping your venue happy!
Low Smoke
Who doesn't want to start their night of dancing by having your first dance on a cloud of low smoke, lights will swoosh over it making it glow and swirl around your wedding dress like your on strictly come dancing! We have different machines depending on the size of your venue but I think you'll agree the low hugging fog always looks spectacular and makes for gorgeous pictures to cherish for years to come. Teamed up with Sparkulars the fog will hide the units and during the song will start up creating a true surprise for your guests making this a real wow moment.
CO2 Guns
Not everyone wants a traditional wedding, say you met at a rock concert or love festivals and you want to bring that vibe to your wedding reception. We supply our CO2 Guns for weddings giving the bride and groom a chance to have some fun spraying CO2 around during a DJ set being the center of the stage is awesome! CO2 Guns and jets provide a loud noise and instant dissipating cloud of CO2 which is very cold helping keep the temperature down while your guests are dancing.
Fireworks Displays & outdoor pyrotechnics
Now fireworks aren't always allowed at all venues but this doesn't mean you have to rule everything out. Before we get to full scale fireworks displays we haven't accounted for entrances and drive away effects, often weddings reception venues don't have the space for a fireworks display, have grumpy neighbors or livestock to worry about. With a pyrotechnic drive away there are no noise issues no cables or wires we drop the pyro on the drive away route and start each piece as the car slowly drives by sending you off in style.
We have provided some beautiful wedding fireworks displays, some as total surprises to the bride and wedding reception all planned by the groom and others choreographed to the couples favourite song including all their favourite colours topped off with some heart shaped fireworks to finish. All of our fireworks displays are totally bespoke to your event we don't offer standard packages as we believe your display should be unique.
What You Need to Know If You Want Fireworks at Your Wedding
Fireworks are a staple for the Fourth of July, but they're also becoming more and more common at weddings! Many Inside Weddings couples choose to surprise their guests with a fireworks display during the reception, and other brides and grooms are surprised with the romantic spectacle during their event by a family member. No matter how the fireworks show comes about, it's an incredible opportunity to add even more drama to the biggest day of your life.
Since she has planned many events featuring exquisite fireworks shows – including a Fourth of July welcome party for a wedding that took place over the holiday weekend, we asked Mary-Frances Hurt of DFW Events to share five of her top tips for couples desiring fireworks at their wedding celebrations. While it may seem like all you need to do is contact a fireworks vendor, there are actually a number of things couples should to keep in mind in order to ensure the entertaining showcase is picture-perfect.
If you're planning on having fireworks at your celebration, read Mary-Frances' expert tips first:
Most locations require permits for fireworks that can take several weeks to process, so be sure to book well in advance.
Research "burn ban" laws that are applicable to your wedding or event destination. Some places do not allow fireworks at all, meaning that putting on a beautiful display could incur a not-so-beautiful fine.
Talk to your event planner to help gauge the appropriate amount of time for your fireworks show. If your guests will be standing up for the duration of the show, you don't want it to be too long.
Coordinate your fireworks display with music to take the show over the top!
Give your photographer and videographer advance notice that you will be treating guests to a fireworks display. This will ensure that they bring the proper lenses and equipment and are prepared to capture the right shots at the perfect angle!
Get more wedding planning tips here and be sure to browse through hundreds of real weddings by your preferred color palette, style, location, and more! Take a look at our photo galleries for even more wedding inspiration, and follow Inside Weddings on Pinterest for daily wedding ideas!
There are so many ways to add a touch of sparkle to your day; will a wedding fireworks display be one of them?
From twinkling sparklers to show-stopping displays, fireworks at your wedding can be as big or small as you wish. But, there are certain things to consider when planning to ensure your wedding fireworks display goes without a hitch. Here are five of them.
Consider the season
Remember that in the winter months, night falls far earlier in the evening than in the height of summer. This means that you could hold your wedding fireworks display at an earlier hour with a winter wedding – ideal if you've got children attending who will enjoy the display.
Tie the knot in the summer and you'll have to wait until around 10pm for darkness. By this point the dancing and Champagne will have been flowing for hours – will you really be able to get your guests organised outside to enjoy the show? A master of ceremonies will come in handy here – leave the ushering and organising to them!
On the other hand, in the autumn and winter months, you're more likely to encounter rain. Many fireworks displays are weather dependent, so don't pin all your hopes on it going to plan.
Check with your venue
Outside space will be essential for any wedding fireworks display to be possible. Beyond that, you'll need to speak to your venue about what they do and do not allow. Some are happy for you to hold a pyrotechnic extravaganza, while others prefer you to stick to sparklers.
There's no point planning an enormous display, and investing money in it, only to discover that your venue does not permit it. Plus, your venue can probably recommend companies they've worked with before to make organising your wedding fireworks display a breeze. And if a sparkling show is a deal breaker for you, best to have that conversation before you book – either the fireworks or the venue!
Brief your photographer
Once you've got the go ahead from your venue and found the company to make it happen, it's time to share the exciting news! Undoubtedly you'll be desperate to tell your guests, but don't forget to discuss it with your photographer, too.
Not all photographers stay beyond the first dance, so check what is included in your package. If you want the fireworks to be captured, why not negotiate extending their coverage until after the display?
A full-scale wedding fireworks display offers the perfect opportunity to capture incredible group photos against the illuminated backdrop. You can also snap dreamy couple portraits as you watch. If sparklers are the order of the day, grab your bridesmaids and groomsmen for enchanting pictures together. Have them surround you, draw letters for long-exposure photography or simply act naturally for reportage shots.
For more wedding photo ideas with magical lighting, check out these 11 pictures and prepare to be blown away.