Who gives a speech at a wedding? Engaged couples often ask this question. It can be overwhelming, but this guide will help. 
Now you can easily reference who you should ask to step up to the mic and speak at your wedding. 
The speeches and toasts are some of the most iconic parts of any wedding celebration. 
Their most important function is to thank guests for attending and show appreciation to the wedding party for all of their help. 
They also provide opportunities to share funny anecdotes and sentimental moments.
Today, we're going to look at the all-important wedding speeches in detail. 
We'll discuss who traditionally gives speeches at a wedding, what each address typically consists of, when the speeches happen, and in what order. Cosmopolitan events are your ultimate Wedding Reception Venue to create your dream wedding. 
Finally, we'll take a look at some more recent speech ideas for our readers that prefer to shake up the tradition!
Who Traditionally Gives Speeches at Weddings?
At a traditional wedding, three people give speeches. 
These are the father of the bride, the groom, and the best man. If the bride's father is deceased or not in attendance, someone else may speak in his place. 
This may be the bride's stepfather or the mother of the bride, for example.
You shouldn't feel as though you have to stick to tradition, however. You can ask anyone you like to make a speech on your special day. It's your wedding, so feel free to play by your own rules!
Many couples, for example, ask the maid of honour and the father of the groom to make a speech as well. 
Though it's a little less common for the bride to give a speech, nothing is stopping you from doing this, too.
When Do Wedding Speeches Happen?
At most weddings, the speeches take place after the wedding breakfast. 
It would be a mistake to have the speeches before the meal, as they take quite a long to get through. 
Your guests will grow increasingly hungry while they're waiting, and their minds will be preoccupied with food!
You can either hold your speeches between the main course and dessert or after dessert. 
This way, your guests will be complete and happy and ready to relax and have some fun. 
And since every speech ends with a champagne toast, your guests should have a little food in their bellies.
If you prefer, your speeches could alternatively take place during the evening reception. 
This idea may appeal to you if you have additional evening-only guests, and you want everyone to be present when the speeches happen.
Wedding Speech Order Explained
Let's now take a look at the traditional wedding speech order and what each speech typically involves.
Before you get to the dancing, there's a big wedding tradition you won't want to miss: the toasts. 
If they're done well, they can be one of the most memorable and cherished parts of the reception, so make sure to carve out time for them when you're arranging the evening's timeline. 
Not sure how much time to allow or who to tap to give a speech? We're here to break down the toast basics.
Successful wedding toasts are all about proper planning. 
While impromptu speeches can be sweet, you won't want to keep your guests away from the dance floor for too long, so leave the open mic at the rehearsal dinner and begin by designating precisely who you want to speak to at your reception. 
The key speakers are:
Your parents

The maid of honour

The best man

The two of you
Here's how to break down who gives speeches at weddings.
The Welcome Toast
Whoever hosts the event should speak first and take the microphone as soon as guests have found their seats. 
This first toast is most often made by the bride's parents (or father) and should combine both a toast to the happy couple and a welcome message to the guests.
If you would like the groom's parents to speak, they should follow the bride's parents. 
For same-sex weddings, it's up to the couple to decide whose parents should kick off the evening.
The Blessing
If you invite someone to bless the meal, do so immediately after the welcome toasts, but before dinner.
The Best Man and Maid of Honour Toasts
The best man and maid of honour usually speak toward the end of dinner while guests are still seated but after entrées have been served. 
This way, there are no interruptions from waitstaff clearing or serving, but guests are still paying attention. 
If you aren't having a seated dinner, wait until the servers have settled from making the rounds of passed hors d'oeuvres or until you see that everyone has gotten something to munch on from the buffet table or food truck.
The Newlyweds Toast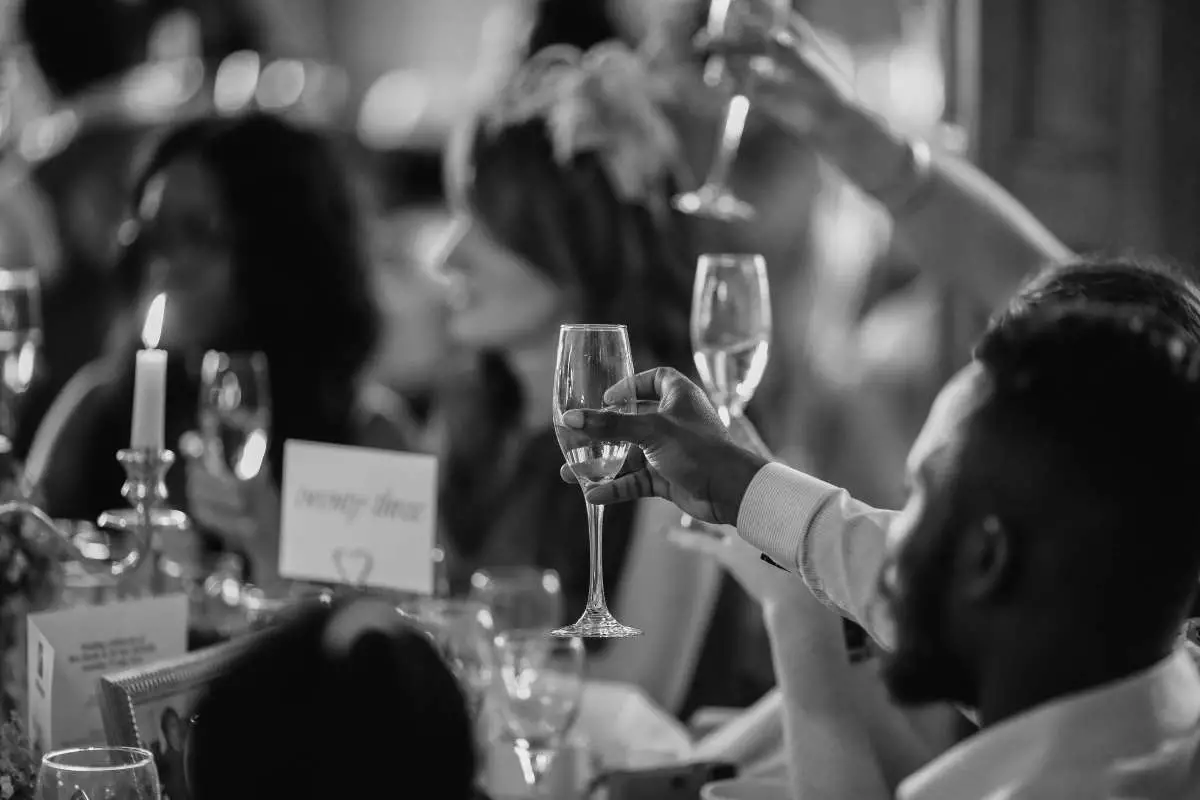 Of course, the two of you should take the mic to thank your parents and your guests for celebrating with you. 
You can speak right after your maid of honour and best man or wait to make a speech once you've gotten up to cut the cake.
Wedding Speech Order Explained
Let's now take a look at the traditional wedding speech order and what each speech typically involves.
The Father of the Bride's Speech
Traditionally, the father of the bride gives his speech first. After that, the bride's parents are the wedding hosts (and they usually make a significant financial contribution). 
The bride's dad kicks off the speeches just after the wedding breakfast is over.
He starts by welcoming everyone to the wedding and thanking them for their attendance. He then includes the groom into his family. 
His speech usually contains heart-warming (and often funny) anecdotes about the bride's childhood. 
He finishes by praising the newlyweds and asking everyone to raise a glass to them. He then introduces the groom.
The Groom's Speech
The groom's speech is second and starts immediately after the father of the bride's speech is over. 
The groom's speech begins by thanking the bride's father for his speech, and he's toast. Then, the guests are thanked again for their attendance and their gifts (if applicable).
The groom then thanks both sets of parents and the rest of the wedding party (the ushers, bridesmaids, flower girl and page boy). 
If you've bought thank-you gifts for anyone at the wedding party, the groom's speech is an excellent time to give them out. 
The groom toasts the bride's parents, the bridesmaids, and finally, his new bride!
The Best Man's Speech
The best man's speech comes last. With all the serious stuff out of the way, the best man's main job is to make his audience laugh, and he does this by telling funny stories about the groom. 
However, it is essential not to make the jokes too inappropriate (remember that the bride's parents and grandparents are in attendance)!
The groom also compliments the newly married couple and thanks to the bridesmaids once again. 
If anyone important wasn't able to attend the wedding, he reads out messages from them. Then, finally, he toasts the bride and groom once again.
My Father/groom/best Man Doesn't Want to Give a Speech!
We would never advise forcing anyone to make a speech if they don't want to do it. But, let's face it: some people just don't make good public speakers. 
Things like social anxiety, stage fright, and even dyslexia (making it difficult to read from a cue card) can get in the way. This may be the case no matter how old the person is! If someone at your wedding party really can't face the idea of making a speech, you have a few options.
Have someone else give a speech in their place. For example, the mother of the bride could speak instead of the father of the bride.
Ask the nervous person to pre-record their speech as a video message, and then play it on a projector screen for your guests to watch.
Skip their speech entirely. It's not a big deal!
If it would mean a lot to you to have your father/groom/best man speech at your wedding, you can consistently offer to help them prepare (or have someone else at the wedding party help them). 
The key to feeling comfortable giving a speech is to write it well in advance and practice it repeatedly until they can recite it from memory.
Wedding Toast Tips
While you can't ensure that every toast will be memorable, there are a few steps you can take to help it all run smoothly. Check out our list of some of the Top Wedding Cake Shops in Melbourne here.
Give Your Speakers Notice.
A few months before the wedding, invite them to say something. This will give them plenty of time to jot down their ideas and perfect what they're going to say.
Provide a Time Limit.
The sweet spot for a toast is three to five minutes—enough time to share a story and a lovely sentiment, but not so long that guests lose interest.
Let Each Person Know When They'll Be Speaking.
This way, they can make sure to be ready when their time comes and maybe hold off on that extra glass of wine until after they've made their remarks.
Who Should I Ask to Speak at My Wedding?
Traditionally, the maid of honour and best man give a toast at the reception just before dinner is served. 
It's also common for at least one parent to give a speech. 
How Long Should the Wedding Speeches Last?
All of your wedding speeches combined should last no longer than 20 minutes. Otherwise, you'll have hungry guests, and the rest of your wedding reception timeline will be affected. 
No one wants their time on the dancefloor stripped away from them because the best man spoke for too long. 
If you plan to have three or more people speaking, be sure to communicate a time limit for their speeches. 
It's acceptable for you to notify each person that they have three to five minutes for their wedding toast.
Do the Maid of Honor and Best Man Have to Give a Wedding Speech?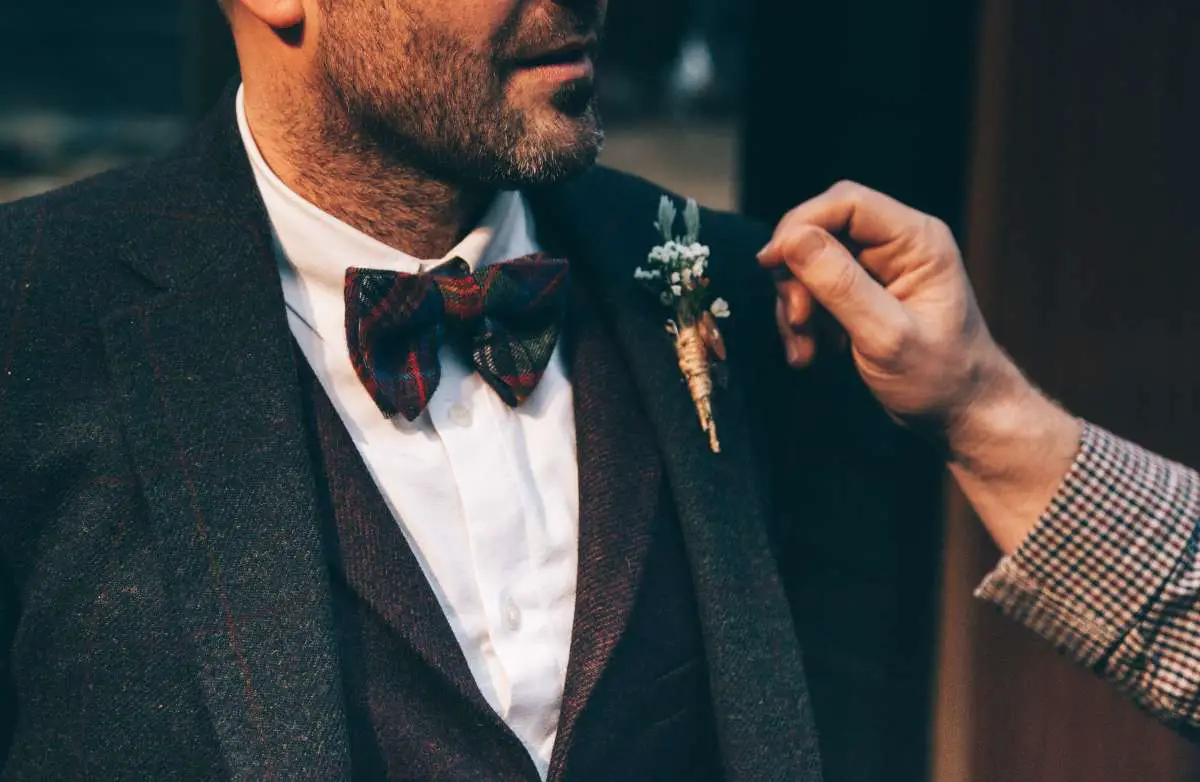 While it is common for the maid of honour and best man to give a wedding speech, it's not required. 
There are several reasons why you might want to ask someone else to give a speech at your wedding. 
For example, I've worked with brides and grooms who know that their best man or maid of honour would give a very inappropriate speech. 
In this case, they ask them to speak at their bachelor or bachelorette party. Then they have another friend or favourite cousin to talk to at the wedding. 
Sometimes the maid of honour or best man has a debilitating fear of public speaking. In this situation, toss the toast-making responsibility to another wedding party member who shines in the spotlight.
Should My Mom or Dad Give a Speech at My Wedding? 
Historically, the father of the bride prepares a wedding toast. This is partly because, in many cultures, the father of the bride pays for the wedding. 
Because of this, he is seen as the host. As a host, the bride's father gives a toast to thank guests for attending his daughter's wedding.
However, like with many wedding traditions these days, toast etiquette is something you can play with and make your own. 
The father of the bride does not need to give a toast. There are many weddings where the bride's father is not present or even a bride. 
You can ask any of your parents to say a few words. It does not matter if it's the father of the bride, mother of the bride, father of the groom, or mother of the groom—you decide who should give a toast.
To make it easier, choose one parent from each side to speak for three to six minutes at your reception. You can even leave it up to the parents to decide who makes the toast. 
Can My Parents Give a Speech Together?
It is more common for one parent to represent his or her side of the family. However, parents can give a wedding speech together. 
Be aware of potential challenges, though. 
For example, when two people speak together, the speeches tend to go on for much longer. 
Just because two people are speaking, this does not mean the speech should be twice as long. The wedding toast should still be between three to six minutes. 
Also, if two people give one toast, they need to ensure each person has equal speaking parts. Otherwise, it can feel and look disjointed for one person to do the majority of the speaking. 
Should the Bride or the Groom Give a Speech at Their Wedding?
The short answer? Yes! You are the guests of honour. It's a nice touch to have at least one person from the couple say a few words. 
Here is an example of an outline you can reference for your bride or groom speech:
Address your guests: John and I are so thankful to share this special day with the people we love most. 

Communicate what their presence means to you: Every one of you has shown us love, support, and encouragement. Today would not be the same without you here.

Create a closing: We can only hope to feel as much love in our marriage as we think in this room tonight. Cheers to you all! 
Who Can Speak at the Rehearsal Dinner? 
The rehearsal dinner should have one or two speeches. 
If the groom's father or mother would like to give a toast, this is an ideal time to speak since the groom's parents are traditionally responsible for hosting the rehearsal. 
You can also use the rehearsal as an opportunity to ask anyone close to you to speak. 
Since this event tends to be more casual than the wedding reception, have fun with speeches. 
Set aside 20 to 30 minutes for "open speeches." Guests can take turns at the mic during this designated period. 
Guests don't feel the pressure of preparing for a big speech while still sharing a unique story about the couple. 
Plus, the open bar usually helps to get those creative juices flowing for guests.
Does the Mother of the Groom Give a Speech at the Wedding or the Rehearsal Dinner?
She is not required to give a speech. However, mother of the groom speeches is becoming much more popular. 
Do you already have three to four people speaking at your wedding reception?
Another option is to have the mother of the groom speak at the rehearsal dinner. This is especially nice if the groom's parents are hosting the rehearsal. 
Who Should Not Speak at My Wedding?
Make a shortlist of confident people you do not want to speak with at your rehearsal or wedding reception. 
This can include anyone. From your wildcard uncle who veers on the side of inappropriate to your father who you have been estranged from for most of your life—write them all down. 
Next, design a wedding that does not give anyone on your list an opportunity at the microphone. 
This is your wedding. It's entirely up to you who you want to give a wedding speech to. 
Are Wedding Speeches Necessary?
You don't need to have any speeches or toasts at your wedding if you don't want to. But, it's your big day, so you call the shots. 
If you're having a small half-day wedding, or nobody in your wedding party is that fussed about public speaking, feel free to skip the speeches entirely.
The only important thing is that you make time to thank your guests for coming, and thank your wedding party for their help organising the wedding (if applicable). 
There are many ways you can do this instead of speeches. For example:
Find some time throughout the day to speak to each of your guests personally and thank them for coming. (This may be unrealistic if you're having a huge wedding, but it's a nice touch.)

Write a note with each of your wedding favours for your guests to read.

Ask your DJ (or band) to make an announcement, thanking everyone on your behalf.

Make a thank-you video or slideshow to play during your reception.

Need help planning your wedding? Check out our list of

Wedding Event Planners

here. 
And don't forget to send thank you cards after your celebration is over!