While your wedding shoes may be one of the last things you organise, they can be a significant factor in your bridal look. 
That's why you need to pick something that is not only fabulous but also suits all of your bridal needs and requirements.
On the long list of bridal accessories to shop for to complete your wedding day ensemble, determining the best type of bridal shoe to go with your gorgeous gown—and finding the perfect pair—is a top priority. 
For some brides, it's the ultimate fashion quest—almost perhaps even rivalling that of the search for the dress—while for other brides, scoring a solid wedding shoe is as simple as considering comfort (which is vital no matter how much you value style).
Whatever your priorities might be, your wedding day shoes have a significant role in fulfilling. 
You have to like them, yes, but you also have to want to wear them—often for long periods over a solid, 15-plus hour day (think about that for a moment). Let Cosmopolitan events Wedding Venue help you create the most magical day of your life. 
So how do you figure out what type of bridal shoe is best for you? Here are some factors to consider when selecting your wedding shoes.
How To Choose Your Wedding Shoes
Define Your Bridal Style.
Since it's unlikely that you're buying your wedding shoes and gown at the same shop, having a firm grasp on your overall bridal style is key to ensuring consistency. 
If you're going for a more vintage or retro look, make sure to match the style of your shoes to the same era. 
Pay attention to any detailing or embellishments in your gown that could be echoed in your bridal footwear, as well as specific materials (lace, satin, tulle, etc.) that could be matched.
Find Your Dress First.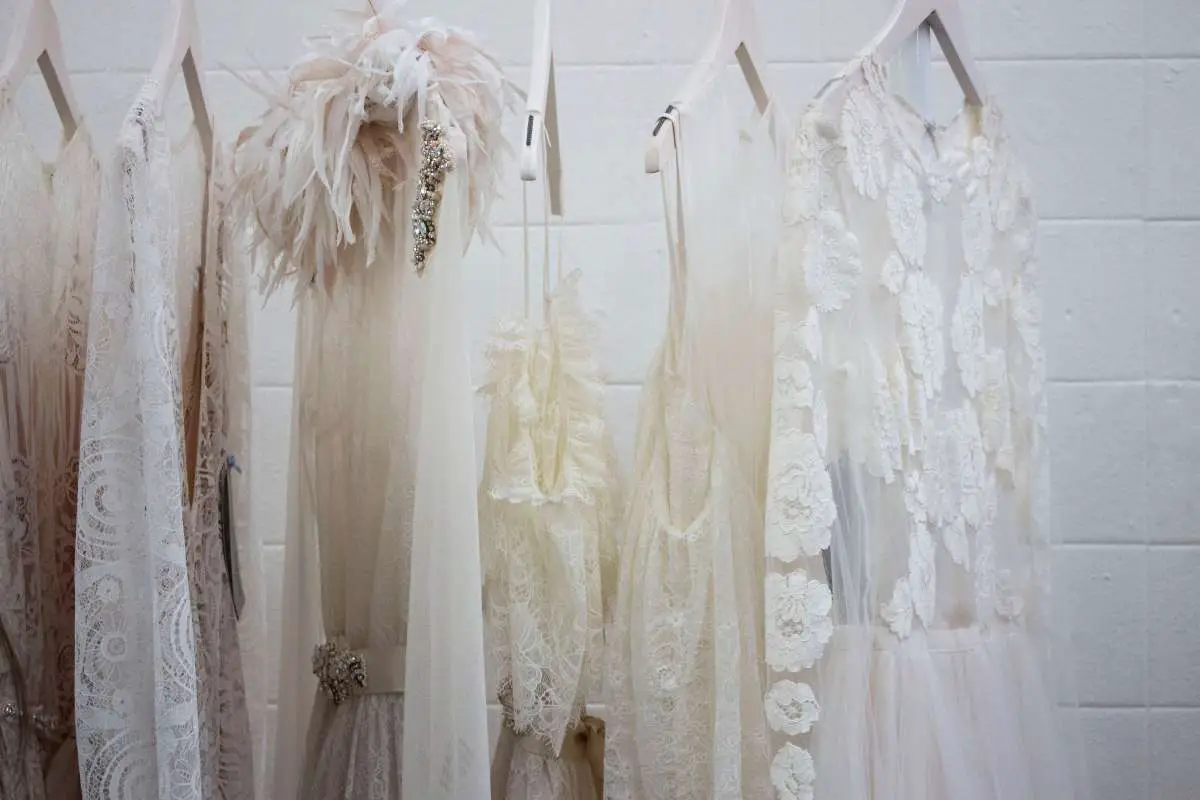 Even if you've stumbled upon the wedding shoes of your dreams, hold off from purchasing them if you haven't yet found the wedding dress to match. 
(Although, if you love them, you could buy them "just in case.") 
You want your bridal footwear to complement your dress in every aspect—style, colour, down to every last detail and embellishment—and the length of your dress matters, too. 
Suppose you're going in a shorter dress. In that case, your shoes can be a significant statement accessory, adding colour, glitz, glam, whimsy, romance—or simply a dose of modern elegance—to your ensemble. 
Whereas, if your dress is a full-length gown, they're not going to be nearly as visible.
Start Researching Bridal Shoe Options.
While wedding dress shopping is the priority, there's no reason why you can't start researching wedding shoe styles and the websites of large-scale retailers. 
Many stores carry far more inventory online than in-store, so browsing online gives you access to a broader range of shoes, which helps you figure out what details you like and dislike. 
Once you've narrowed your search, it will be a whole lot easier to start shopping for your wedding day shoes after you've found the dress.
Don't Commit Without First Trying Them On.
While retail websites are a great way to explore styles and get a feel for what you like, some experts warn against purchasing your actual pair of wedding shoes online. 
This is a pair of shoes that you'll be standing in for hours, so it's imperative to try out the shoes first and feel how comfortable they are to stand and walk around in before you swipe your card. 
(Although, if an online retailer has a particularly customer-friendly return policy, there's no harm in trying out a few pairs at home and returning the ones that don't cut.)
As long as your shoes are returnable, try them on at home (preferably indoors on a clean, carpeted surface) for at least an hour while standing. 
If you cannot stand on your feet with them on for at least an hour, they are probably not the right option for you.
Don't Be Afraid Of Color.
Like every other style decision you make for your big day, what colour of shoes you'll ultimately wear will depend on what kind of bride you are. 
Classic and traditional brides will likely be drawn to clean white, champagne, ivory, and nude tones, but if a bit of footwear flair intrigues you, don't be afraid to go outside the box in the colour department. 
If you want to step it up, consider metallics, which add a little more glitter and shine to catch the eye.  
A playful twist on tradition, "something blue" bridal shoes ranges in shades from pale blue to deep royal hues.
Consider Your Venue.
Just as you check the weather to make sure you're wearing the appropriate footwear before venturing outside each day, brides should not forget to consider their venue when selecting their day-of shoes—especially if you're having an outdoor ceremony, on a grass lawn or the beach. 
Your wedding venue will influence how many heels you should wear. For example, trying to look graceful walking through sand on a beach is much more difficult in heels than strolling down an aisle in a church!
Keep the location of your wedding in mind when choosing your wedding shoes. For example, a high heel pair of shoes likely isn't the best choice for a beach wedding.
Be mindful of your venue: Many sets of stairs? Gravel pathways? Slippery dance floor? Consider these essential details and how certain types of shoes will hold up in these environments.
Prioritise Comfort
Remember that the shoes you decide to wear are the ones you'll have on from your first look straight through your big exit—unless, of course, you plan and choose another pair that works with your dress's hemline. 
If you don't want to go through the hassle of finding a stiletto and a comfy pair afterwards, consider choosing a shoe that will keep your feet happy all day long. 
Tying the knot on grass or sand? Pick a pair with a sturdy heel that won't sink. 
Planning to dance from the moment the band starts up until the very end of the final song? First, make sure you can comfortably cut a rug wearing those heels.
We always focus on style, but if your feet are in so much pain that you need to take your shoes off to enjoy yourself, well, what's the point of having them?
Your first consideration should be heel height: The higher the heel, the more pressure on the ball of your foot. 
A low-to-mid-height heel and even a chunkier heel will keep you standing and dancing comfortably that much longer, and there are plenty of gorgeous bridal flats out there, too. 
Also, consider width—especially if you have narrow or wide feet, shoes with laces or buckles offer adjustability in width, which allows a perfect fit for anyone.
Consider whether your perfect wedding shoe will be comfortable enough to wear throughout the day and most of the night, too. 
Looking back on your wedding day, you'll want to remember all of the special moments, not how much your feet hurt.
Try preventative tactics for avoiding shoe pain, like applying liquid Band-aid in sensitive areas or taping your third and fourth toes together (trust us, it works!).
Have flats or even chic sneakers on hand just in case your arches need to take it easy after a few hours on the dance floor.
The bottom line: On a day and night when you'll likely be on your feet twice as long as you usually would be—if not three or four times—you need comfortable shoes.
Consider Your Dress's Hemline
Assuming you're like most brides and have to have your wedding dress altered, it's imperative to select your shoes before your first fitting. 
Your seamstress will hem the dress and create your bustle to work with the height of that shoe.
If your skirt has an asymmetrical hemline, choose a shoe that you'll be excited to see in photos.
Think About Making Them Your Something Blue
Stumped on what to choose for your something blue? Make it your shoes! A powder blue shoe is an excellent option for keeping up with tradition and making your shoe buying process more manageable.
Don't Wait Until The Last Minute.
While it's best to find your dress before deciding on your bridal shoe, you should be shopping for them and honing in on a few critical styles around the same time—not just because you need to figure out how to match your shoes to your dress, but because you will need to purchase them in advance of your dress fittings and alterations. 
Your dressmaker or tailor needs the exact height of your wedding shoes before they can get started. 
That way, they can adjust the length of your dress based on your wedding shoe height for a perfectly polished look!
Buy Your Wedding Dress First
Your wedding shoes should complement the style and formality of your dress first and foremost. 
You can't guarantee that will happen if you purchase the shoes before finding your wedding dress.
The length and cut of your dress will determine how much of your shoes will be visible and what type of shoe (and heel height) you should wear. 
If you're wearing a tea-length gown, your shoes will get a lot more attention than if you're wearing a floor-grazing dress with a long train.
Set Your Shoe Goals (And Budget)
Before you begin browsing, determine how much you'd like to spend on your wedding shoes. Having a budget will help narrow your search.
Think about what you want to achieve with your wedding shoes:
Do you want your shoes to make a statement or be more conservative?

Are you matching shoes with your partner?

Does style or comfort matter most to you?

Do you want to wear one pair of shoes all day?

Do you want to invest in a quality pair?
While some couples pick a blue wedding theme, many brides choose to let their shoes serve as "something blue." 
Think about where you stand on the bold colour vs. neutral or white wedding shoe spectrum.
Ask yourself if you're a high-heels kind of person. 
If you often wear heels comfortably throughout your regular life, you will probably be fine wearing heels to your wedding. Check out our list of wedding videographers to help you capture your special day.
If you can barely walk in heels, however, opt for a pair of comfortable wedding shoes.
Watch The Weather
In case of inclement weather, have a plan B in mind for your wedding shoes. Wet grass, mud, or puddle-filled sidewalks won't work well with dainty flats or sky-high stilettos.
For soggy weather situations, consider wearing a pair of cute rubber rain boots under your wedding dress—at least during the outdoor portions of your day, such as while taking portraits. If you face snow on your big day, furry winter boots make for fun photos when paired with your wedding gown. Having the proper footwear, in this case, is more important than anything else.
Shop Around
It can be tempting to purchase the first pair of shoes you fall in love with, but we encourage you to shop around and weigh all your options before buying.
Online inventory tends to be broader than what you find in stores, so it's a good idea to begin your search on the web and then shop in stores for your favourite styles.
Take Them To Your Dress Fittings
If your dress requires alterations, make sure to take your shoes with you to each dress appointment. 
The seamstress will be able to tailor your dress to match the high heel height.
Seeing your shoes with your dress will also confirm that you like how they look together before the big day (and while you still have time to keep shopping).
Wedding Shoes Tips And Tricks
If You Can See Your Shoes
If your feet are visible when you wear your wedding dress, you will need to find shoes that work well with your outfit. 
The first place to start is to determine the style of your wedding dress and what style of shoe will match the proportions of your dress and your build. 
For example, if your dress is tea-length, a pair of points or open-toe heels will match well.
If you would like to match your shoes to your dress perfectly, it is a good idea to take your wedding dress or a swatch of your wedding dress fabric with you when you go shopping for your wedding shoes. 
If you can't colour match precisely, try to match the embellishment on your dress or jewellery with your shoes. 
If this is proving difficult, you can always have your shoes made or even ask the wedding dress designer to give you extra fabric to cover your shoes.
If You Can't See Your Shoes
If nobody can see your feet, chances are they aren't going to care if your shoes perfectly match the colour of the lace on your dress or not. 
This means you can opt for a shoe that may be more practical and comfortable, rather than having to wear something that perfectly matches but is uncomfortable to wear for an extended period.
In saying this, a safe choice is to pick at least a shoe that won't appear too out of place if you flash your feet at some point. 
Colours like nude, tan, ivory, white, or even pastel shades of pink, lavender and baby blue are safe choices. 
However, if you aren't a big fan of dancing all night and the likelihood of anyone seeing your feet is pretty low, you can always opt for a pair of comfy heels, espadrilles or flats in any colour you desire.
If You Want A Pop Of Colour
If you would like to add a touch of colour to brighten up your bridal look, a great way to do so is to incorporate a new colour with your shoes! 
Many brides use their bridal shoes as a way to have their 'something blue, but there are so many other colours out there to choose from too.
You can choose a colour that matches your flowers or bridesmaids dresses, or even select a colour that matches your wedding colour scheme. 
Metallic colours like gold, silver, rose gold and copper can have significant visual effects when contrasted against white and provide an exquisite and glamorous element to your outfit.
If You Want To Elongate Your Legs
Brides with shorter legs should avoid shoes with an ankle strap feature, mainly if the strap is quite chunky. 
This style of shoe can make your legs look much shorter. But, of course, a high heel of 2 – 3 inches will always provide a little extra height.
Just remember; although it may be tempting to opt for towering heels to give you the extra height you desire if you aren't used to very high heels, your special day may just be spoiled by sore feet.
If you're tall and aren't interested in increasing your height, beautifully embellished flats are a great option. 
However, if you don't want to wear flats, a small heel such as a kitten heel will give you the look of a heel without giving you too much extra height.
The Heels Vs. Flats Debate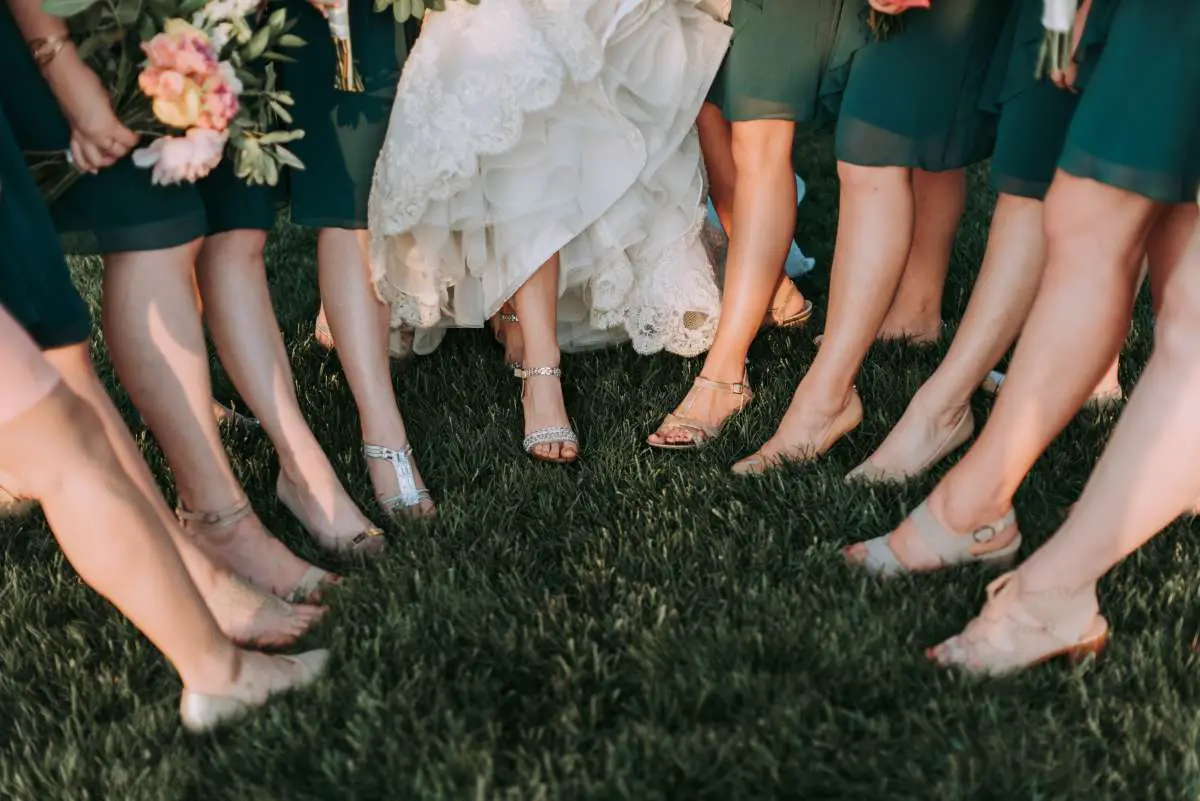 This is entirely up to you and comes down to several factors. 
Firstly, are you comfortable wearing heels? 
Are you having a very formal and traditional wedding, or are you getting married on the beach? 
Are you trying to appear taller, or are you looking not to add any extra height? 
Ultimately both styles of shoes can work, and while a pair of strappy heels are fantastic with a sexy, mermaid-shaped dress, a couple of jewelled sandals can look just as good when paired with a sheath, Grecian-inspired or empire-waist style gown.
The Bridesmaid Factor
If you have selected shoes for your bridesmaids rather than having them wear something they already own, you may have to consider how comfortable the shoes you have chosen are. 
If you think the shoes you have selected may become uncomfortable throughout the evening, chat to your bridesmaids and see how they feel.
A simple solution? Have your bridesmaids bring a pair of their comfortable heels or formal flats, so they can change shoes after the formalities and photos are finished.
Do's & Don'ts Of Wedding Shoes
Do's
Break Them In.
Regardless of comfort level (but especially if you're wearing heels), practice wearing them around the house to break them in before your wedding.
Have A Backup Pair. 
Even if the shoes you've chosen are highly comfy, it's always a good idea to have a backup pair on hand. 
That way, if a shoe disaster (such as a snapped heel or lousy weather) arises, you have another pair to slip on.
Don'ts
Wait Until The Last Minute To Buy. 
The longer you wait to purchase your wedding shoes, the less time you have to determine if you like them with your dress and to break them in before the wedding.
Buy Without Trying Them On. 
Even if you prioritise style over comfort, it's critical to know that your wedding shoes fit and feel comfortable before buying. 
Remember, as the bride, and you'll need to be on that dance floor all night long.
Conclusion
Whether you lace, strap, slide, or shuffle into your wedding shoes, make sure they complement your wedding venue and formality, the length and style of your dress, and your level of comfort. 
Most of all, make sure your wedding shoes reflect your personality. Check out our ultimate list of Wedding Planners in Melbourne to help you organise a stress free wedding.
Then make sure to show off the perfect pair in proper style, and have a toe-tapping good time getting married to them on your big day.