Have you ever been to a wedding and found yourself wondering what etiquette is when it comes to gift-giving? 
When a wedding is on the horizon, there can often be confusion about gifts for the bride and groom. Cosmopolitan events is your perfect wedding venue in Melbourne delivering fairytale weddings for the bride and groom.
Our handy guide to proper wedding gift giving etiquette answers common questions about which occasions require gifts, whether the bride and groom must have a registry, how much guests should spend on gifts, and more!
Wedding Gift Etiquette Rules Guests Should Always Follow
Every time you accept a wedding invitation, you're inevitably faced with the question of what to give as a gift. 
While traditional wedding etiquette indicates that giving a gift isn't technically mandatory, it is highly encouraged. 
Plus, weddings are huge milestones that deserve to be celebrated, and you probably want to shower the couple with love to honour their big day. But what should you get? And how much money should you spend? 
To help you be the best wedding guest ever, we're breaking down everything to know about proper etiquette for wedding gifts. 
Below, find six wedding gift etiquette tips all guests should follow. 
By sticking to these tried-and-true rules, you'll find the perfect present for the newlyweds without running into any accidental faux pas. 
Use The Couple's Registry
This rule is wedding gift etiquette 101. 
When it comes to gifting, most guests will take all the help they can get—and that's precisely why you should take advantage of the couple's wedding registry. 
Browsing the internet for wedding gifts can feel overwhelming at first, especially if you're not sure exactly what the couple wants. 
And, while we've curated this roundup of great wedding gifts, every couple has different needs and preferences, which is why we recommend checking their registry first. Their curated wish list will include plenty of wedding gift ideas at a variety of price ranges, giving you tons of flexibility when it comes to picking something they'll love.
If you try shopping off-registry, you run the risk of getting the happy couple something they already have or something they don't need (or have space for). 
Save yourself from potential shopping stress by using all of the resources available to you. 
And, if you plan on buying multiple presents in addition to the actual wedding gift, guests are encouraged to use the couple's wedding registry to find an engagement gift, a bridal shower gift, and a beach party gift. 
Contribute To A Cash Fund 
In addition to registering for traditional wedding presents, some couples also set up cash funds or honeymoon funds, allowing you to contribute to something special beyond a classic registry item. 
Monetary gifts are no longer taboo when it comes to weddings. 
Most to-be-weds will appreciate having some extra cash on hand after the wedding day. 
So, if you'd instead put your wedding gift budget to something a little more personal than common registry gifts like pots and pans or a new duvet set, consider donating to the cash funds on their wish list. 
We promise your generosity will be greatly appreciated.
Check Their Wedding Website For Gift Clues
While the couple's registry is the best place to look for wedding gift inspiration, you can also find clues on their wedding website. 
Not only is their custom site a hub for all relevant wedding details, like the date, time, location, dress code and transportation logistics, it may also include extra information about their registry picks. 
Plus, some couples use their website to share their love story, which can help spark great gift ideas for you. 
If they wrote that their first date was over Italian food, you might consider getting them something sentimental, like a pasta maker or a gift card to their favourite local restaurant. 
You never know precisely what you'll find on a couple's wedding website, which is why we encourage guests to take a peek before deciding on a gift.
Spend What You Can Comfortably Give
What's the etiquette for a wedding gift in terms of how much to spend? The answer to this common question has evolved over the years. 
And, believe it or not, there's no magic number that dictates how much you should spend on a wedding gift. 
According to our data, guests generally spend about $120 on a wedding gift, though some say they spend more on close friends and family members. 
Ultimately, though, you should spend what you're able to afford on a wedding gift comfortably. 
Use your relationship as a guide—while you might want to spend more on a gift for your best friend, it's completely okay to spend a little less on someone you're not as close with, like a coworker or a distant relative. 
Plus, if you have a busy wedding season full of events or you're also a member of the wedding party, it's lovely to lower your budget. 
Consider looking into gifts that fall in the range of $50-$200+, and use your budget to find gifts that fit what you can reasonably afford. 
Chip Into A Group Gift
When it comes to wedding gift etiquette, group gifts are always acceptable—in fact, we encourage them. 
Couples will likely add a few big-ticket items to their wedding registry, which are perfect candidates for group gifts. If the to-be-weds registered for something that's out of range for just one person to afford, ask some other guests to go in on it with you. 
Your generosity will touch the couple, and you might even be able to save some money, depending on how big your group is. 
Just be sure that everyone who chips into the gift signs their name on the card. 
This wedding gift etiquette rule is essential because it's the only way the couple will know exactly who to thank for it in their thank-you cards.
Send It Within Two Months Of The Wedding Date
Punctuality plays a significant role in proper wedding gift etiquette. Ideally, gifts should be sent to the couple before the wedding. 
According to various etiquette experts, though, guests should do their best to send a gift within two months after the wedding date at the very latest. 
While this is a recommendation, it is a nice gesture to send your gift promptly. 
And, while you can bring something on the big day, online registries streamline the shopping process by allowing you to shop online and ship the gift to the couple's address. 
Not only is this the most convenient option for couples, but it also helps guests by eliminating extra shipping hassles. 
When it comes to knowing the proper etiquette for wedding gifts, giving what you can is a kind gesture—but doing so promptly will make your present that much sweeter.
Wedding Gift Giving Etiquette
Engagement Party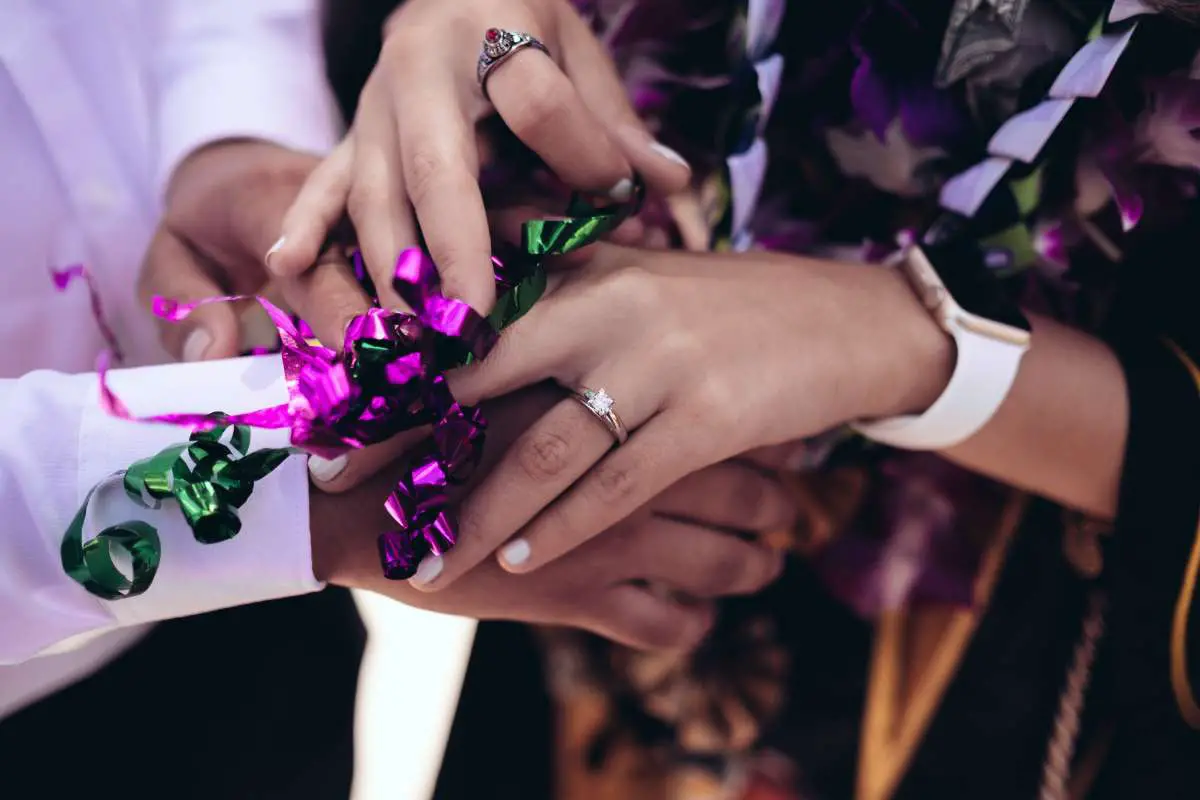 What It Is: 
These optional parties are a fun and typically informal way to announce your upcoming wedding.
Who Attends: 
Family and friends of the bride and groom.
Are Gifts Required? 
Guests invited to the engagement party are not obligated to bring gifts. 
They may choose to, especially if the couple announces an engagement party explicitly ahead of time.
Gift Etiquette: 
To avoid singling out guests who did not bring gifts, the bride and groom should not open any gifts received at the party in front of guests. 
Keep in mind that the more formal the engagement party, the more the implication exists that gifts are expected. 
To avoid this assumption, invite people to a party and make the engagement announcement a surprise. 
However, guests may send presents to the couple after the announcement, and each gift should be recognized with a "thank you" note. 
Another way to thank your guests is by handing out engagement party favours for everyone to enjoy. 
Bridal Or Wedding Shower
What It Is: 
The bridal shower is thrown for either just the bride or for the bride and groom together. 
The first wedding shower was thrown for a deeply in love couple but lacked the money to marry. 
Their friends and family got together and "showered" the couple with gifts to help them start their new life together. 
The tradition lives on, but these days it's more of an opportunity for friends to celebrate with the bride and groom before their big day.
Who Attends: 
Showers are usually more minor, more intimate get-togethers for close friends and family.
Are Gifts Required? 
Bridal shower guests generally bring gifts, but they are not usually from the couple's wedding registry. 
Wedding shower gifts tend to be specific presents for either the bride or groom (or both) or geared toward helping them with something other than the household.
For example, some showers are themed around the couple's honeymoon destinations. At these events, guests bring gifts that are related to the theme. 
These can be travel books, maps, pocket dictionaries, luggage, etc.
Gift Etiquette: 
Bridal shower gifts can be practical or fun, depending on the theme and the people invited. 
Many female-only bridal shower attendees give the bride unique gifts to make her husband happy. 
Often, bridesmaids will give gag gifts or presents designed to make the bride laugh – it's a great way to relieve stress before the big day! 
Many couples offer their guests bridal shower favours to show appreciation to the loved ones who attended and gave gifts. 
Wedding Gifts
What It Is: 
Wedding gifts are given to the couple to help them start married life out on the right foot.
Are Gifts Required? 
When you receive a wedding invitation, it is customary to send a gift, whether or not you can attend. 
A gift is a great way to express best wishes to the couple for a long and happy life together.
Depending on your relationship with the couple, the gift can be small or something more substantial. 
A gift should be a token of affection and is not intended to pay for the wedding. Looking for the Top Wedding Planner in Melbourne? Look no further and check out our ultimate list of Wedding Planners here.
Contrary to popular belief, the value of the gift is not determined by calculating the amount of money spent on the reception divided by the number of guests.
Gift Etiquette: 
Registries can be helpful, but avoid making guests feel like they must purchase something from it – some people may wish to surprise the couple with something personal. 
It is considered presumptuous to list wedding registries in your invitations. 
Guests who wish to find out where the couple is registered can ask a family member, someone at the wedding party, or others helping out with the planning. 
Last but not least, if the wedding is cancelled for any reason, returning each gift to its sender is a must.
Rehearsal Dinner/Lunch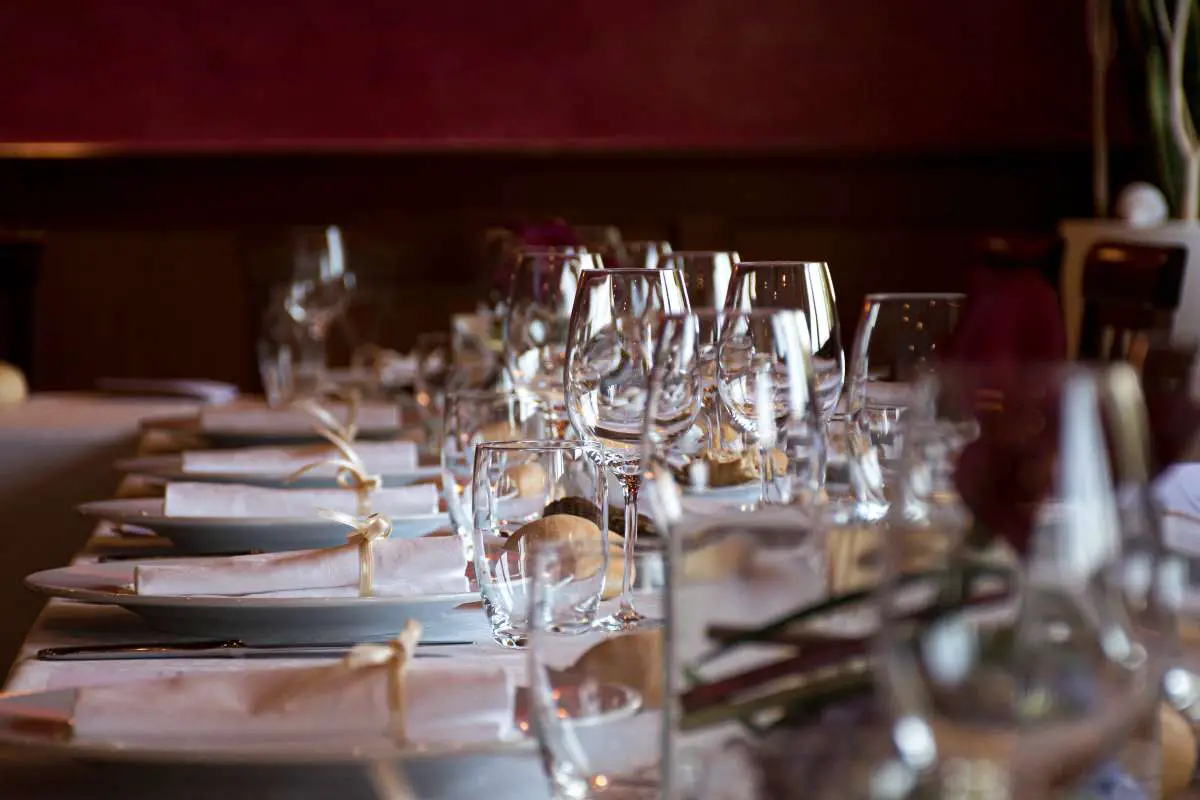 What It Is: 
Before the wedding, the bride and groom enjoy a meal with the bridal party and immediate family after rehearsing for the big day.
Who Attends: 
Bride, groom, immediate family, and wedding party attendants.
Are Gifts Required? 
Typically the bride gives gifts to her bridesmaids and maid of honour, and the groom will provide groomsmen with gifts to his best man and groomsmen. 
The attendants can also give a gift to the couple to wish them well in their lives together.
Gift Etiquette: 
It is customary for the bride and groom to give a gift to each individual in their wedding party as a "thank you" for their involvement. 
Being in a bridal party can often be very time-consuming and, in some cases, very expensive, so a gift for each of the bridesmaids and groomsmen is a great way to show your appreciation.
Day Of The Wedding
What It Is: 
The big day!
Who Attends: 
Bride, groom, family, friends, and other invitees.
Are Gifts Required? 
Wedding favours are entirely optional, but they are a fantastic way to send your guests home with a token of your love and friendship and to thank them for being a part of your wedding day. Couples often prepare gifts for their guests as a personal thank you to each person for attending.
Gift Etiquette: 
Preparing favours for guests is meant to signify your appreciation and should only be what you're comfortable with giving. 
Don't feel obligated to measure up to someone else's standards of etiquette – whether you give one per guest or one per couple is entirely up to you.
Wedding favours can also serve as souvenirs for the occasion. However, when it comes to picking out your blessings, the choices are virtually limitless. 
There are some traditional favours still preferred in sure cultural weddings. Still, for the most part, couples have the freedom to use their imagination and come up with something that their guests will enjoy and that truly reflects their personalities.
How Long Do I Have to Send a Gift?
While tradition once suggested you could send gifts within a year following the wedding, the age of free two-day shipping has pretty much killed this rule. 
Instead, gifts should be sent between the time you receive the invitation and up to three months after the wedding. 
Ideally, though, the bride and groom will have received your gift before the big day. 
(Early gifting also allows the couple to get a jumpstart on thank you notes—and who wouldn't appreciate that?)
Is It Appropriate to Bring My Gift to the Wedding?
It depends on the couple. In some communities, it's expected that you'll bring your gift to the wedding and there will be a table at the reception where you can leave it. 
But for the most part, these days (again, this is the age of two-day shipping), you can purchase a gift off the registry, and the registry site will ensure it is shipped directly to the couple's preferred address.
Plus, shipping the gift ahead of time means the couple and their families won't be loading up a carful of facilities following the reception.
Do I Have to Send a Gift If I'm Not Going to the Wedding?
The answer depends on your relationship with the couple. 
If you are close friends or family of the bride or groom, you'll want to honour their marriage with a thoughtful note and a lovely gift. 
If you aren't incredibly close to the couple, you can likely get away with dropping just a nice note in the mail with good wishes—no gift required. 
That said, recognize that a wedding invitation is a gracious gesture that demonstrates how the couple views their relationship with you. 
A wedding invitation signals that they appreciate your friendship and want to include you in the celebrations; even if you can't attend (and even if you don't reciprocate their feelings), sending a gift is an easy way to demonstrate your recognition of their thoughtfulness.
Am I Expected to Give a Gift for a Destination Wedding?
This is one scenario where your presence truly is present enough. 
The bride and groom recognize the financial undertaking that attending a destination wedding can be and, as such, likely do not expect a gift. 
A thoughtful handwritten note is a lovely gesture in place of a gift. But, of course, if you'd like to give the couple a gift and are financially able to do so, you should. 
Nothing beats presence and presents. 
Finally, if you'd like to give a gift, but finances are tight because of the wedding travel expenses, it's still acceptable to send a gift up to three months after the wedding so that you can give your budget a little breathing room between expenditures.
How Much Should I Spend on a Gift?
Somewhere along the way, someone suggested that you should spend as much on a wedding gift as was spent on you, the guest. 
So if you were attending a $100/head wedding, you should spend that amount on a gift. 
Let's go ahead and bury this one: What you spend on a wedding gift should not be determined by the wedding itself. 
Instead, let your relationship with the couple and your financial situation guide you in the gift selection. 
All that matters is that your gift is chosen thoughtfully and with care; as long as you do that, how much you spend doesn't matter.
Is It Okay to Give a Group Gift?
Absolutely. Going in on a big-ticket item with a group is an easy way to give the couple something they'll love without totally breaking the bank. 
This is an excellent idea for members of the wedding party, who have already bought multiple shower gifts and sprung for bridesmaids' dresses and bachelor parties as well. 
Should you choose to give a group gift, stay away from the smaller, more inexpensive items: Spending $2 each may, indeed, be a bargain, but, that's plain tacky.
Do I Have to Buy a Gift from the Registry?
While you aren't required to buy the couple a gift off the registry, shopping the registry will make your life infinitely easier: 
A) You'll know that your gift is something the bride and groom want, and B) You don't have to deal with getting the gift into the couple's hands. 
All you have to do is write a little note to go inside the tag, submit your credit card info, and you're good to go! Piece of cake. 
That said if you choose to shop off the registry, be thoughtful in your selection and make sure that you're buying the couple something special that they want or need, rather than something that's just convenient for you to give them.
How Do I Know If They Received My Gift?
A thank you note from the couple is the best way to know if your gift has been received, notes the Emily Post Institute. 
And if you don't receive a thank you note from the couple three months after the wedding; it's okay to check in with the newlyweds to ensure they received your gift. 
Just don't be passive-aggressive about it. 
If you don't want to bother the couple, you can always ask for delivery confirmation from whoever shipped the gift.
Is It Acceptable to Give the Couple Cash?
Indeed, if you'd instead give the couple money than a gift, it can be given to them via cash or check, along with a nice note. 
Should you write the couple a check, include only one of their names on the bill to avoid confusion at the bank, and have on the memo line (and your note, of course) that it is a wedding gift for both. Too busy with life to really plan your wedding in detail? Have someone else do it for you and check out our list of Wedding Planners in Melbourne to help take the stress away.
Some couples will also register for honeymoon funds, which simplifies monetary gift-giving, whether you find them appropriate or not.