Discussing finances is both the most awkward and vital part of being a maid of honour. While there are certainly some expenses that you are expected to cover, it's up to you to set an overall budget that you're comfortable spending. Before doing so, you need to answer the question that most are too embarrassed to ask: what does the maid of honour pay for?
The responsibilities assigned to the maid of honour aren't quite what they used to be. In case you hadn't noticed, weddings are a lot different from when our mothers were young. In fact, in olden times, bridesmaids were included as decoys for the bride in an attempted kidnapping! Since most bridesmaids now are more girl squad than ransom bait, serving as the bride's number one means that you'll be on your toes in a very different way. Don't know where to look for hens ideas? Check out our packages for ladies night at Magic Men.
Maid of Honour Financial Etiquette
Be open about your budget from the start. A bachelorette party in Vegas or a destination wedding in Fiji both sound great but make sure you can do it all of it without maxing out your credit card. If you simply can't afford it, it's time to shift into a heart-to-heart mode and explain your current financial situation to the bride.
When it's your best friend, sometimes saying "no" isn't an option. Brides want their closest friends to walk down the aisle and probably help pad some of the expenses to make the experience more affordable. Though it may be slightly uncomfortable, you should also open up to the rest of the bridal party. Splitting the planning and financial details amongst all members of the group has become an accepted practice.
Bride Financial Etiquette
Asking someone to be your maid of honour can serve as both a privilege and a burden. The key to being a gracious bride and friend is transparency. Though it may take some of the excitement out of the moment, you and your husband-to-be should sit down and determine a realistic cost estimate before contacting any wedding party candidates. If most of the details are still up in the air, consider setting a maximum amount that you indeed won't exceed.
You never want to cause your closest friend undue hardship. Suppose your maid of honour can't handle the financial responsibility of being at the wedding. In that case, you can help lighten the load by offering to cover some of the expenses, such as her bridal attire or lodging expenses. You can also consider cutting back on some of the more extravagant purchases. It's a pivotal moment of your life, and having her by your side will probably be more critical than designer bridesmaid gowns 20 years down the road.
Expenses Maids of Honour Should Expect to Pay For
Ahead, you'll find a list of all the maid of honour responsibilities that you'll be expected to carry out as the bride's go-to "wing woman" (especially if you don't want to get fired). Take a peek below, and get ready for the experience of a lifetime. 
Wedding Attire
The maid of honour and the rest of the bridal party are expected to cover all wedding attire costs. This includes the dress (plus any necessary alterations), shoes, and any jewellery you'll be wearing the day of. Occasionally, the bride will gift her bridesmaids with whatever accessories she wants them to wear.
Bridal Shower
When it comes to the bridal shower, it's the maid of honour's responsibility to split the expenses with the rest of the bridal party. This includes the cost of all decorations, activities/games, food and beverages. That being said, it is perfectly acceptable to ask for contributions from both the mothers of the bride and groom or any other close family members.
Bachelorette Party
For destination bachelorette parties, each bridesmaid is expected to cover their travel expenses. The entire bridal party should split the bill for accommodations (this includes protecting the bride's portion as well) and any additional accessory costs (decorations, attire, food, etc.) Discuss beforehand if you and your fellow bridesmaids will be splitting the bride's portion on all, or any, food and drink bills.
Gifts
As the maid of honour, you are expected to give both a bridal shower and wedding gift. Because you are already spending plenty of money on other expenses, don't feel obligated to go overboard or over budget. For the bridal shower gift, pick one or two things off the registry and for the wedding gift, cash (or check) is considered acceptable.
Maid of Honour Responsibilities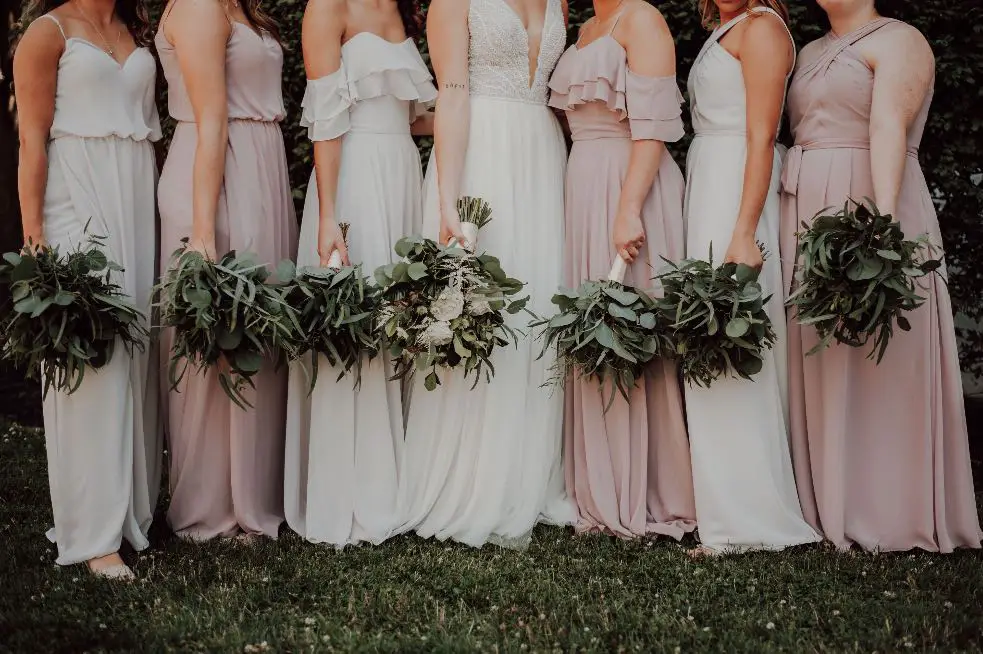 Before the Wedding
Be There for the Bride
The maid of honour should walk a fine line of being supportive, not overwhelming. As the maid of honour, you know your friend, the bride, better than anyone else. After being asked, the maid of honour should initiate a conversation with the bride to discuss how best she can support her during the wedding planning process. Be open about personalities and decide if the bride will delegate and ask for help or if the maid of honour should periodically check-in and offer support without being prompted.  
Discuss the level of involvement and support upfront and be mindful of relationships the bride may need to navigate with family.
Don't Forget to Have Fun.
While your primary responsibility to the bride is to lend an extra set of hands, don't forget to pencil in some fun, too. From an afternoon spent getting mani-pedis to a full-blown girls' night out, the bride is first and foremost, your best friend, and that's the role you should take most remarkably during the planning process. As the maid of honour, the most important thing to remember is you are tasked with supporting and loving your friend unconditionally.
Review the Budget
Before kicking off any planning for the bachelorette party or bridal shower, have a chat with the other bridesmaids to see how much they can afford to spend on these events. Don't assume they'll be able to cover the costs after you already have a girls' getaway to Cancun scheduled in the books.
Go Wedding Dress Shopping
Ah, wedding dress shopping, perhaps the most anticipated event aside from the ceremony itself. Help the bride say "yes" to the dress by accompanying her to dress fittings and providing her with your honest opinion. As she travels from fitting room to fitting room, offer to help zip her up and hang dresses back on their hangers.
Order Your Dress on Time
The last thing you want to happen is to find out that your dress won't arrive on the wedding day. Be sure to order it as soon as you can so that it comes early for alterations and quality time in your closet.
Serve as the Point of Contact
Absorb as much wedding information as you can and let the other bridesmaids, the bride's family members, and even guests turn to you with any questions that they may have. This will save the bride a lot of time and stress of responding to text messages and emails about where and when events are taking place.
Before deciding when and where the bridal shower and bachelorette party will be, ask the bride for a list of dates she's available and then send out an online survey to the bridal party, so you can gauge when the most people are open to attend.
Send a "Getting to Know You" Email
Connect all the other bridesmaids with an email icebreaker that introduces each of you and includes everyone's contact information. That way, everyone can get a taste of who's who before the bachelorette party comes around.
Mediate Conflict Among the Bridal Party
As the maid of honour, you'll be in charge of maintaining peace among the bridal party. On top of that, you'll be assigning tasks concerning any pre-wedding events, and answering any questions; the bridesmaid may have regarding the wedding day itinerary. Let the bridesmaids know they can come to you directly with any questions, comments, or concerns, and then you can jot them down, filter the ones you can answer out, and bring the rest to the bride when she has less on her plate.
Lend a Hand With DIY Projects
Does the bride need help to address wedding invitations or DIY-ing her centrepieces or favours? Volunteer to help by planning a wedding DIY craft night, complete with her favourite bubbly.
Plan the Bachelorette Party
Get ready to lead the charge when it comes to planning the bridal shower and bachelorette party. From reaching out to family members and bridesmaids to helping with the nitty-gritty of planning and keeping everyone's budgets in mind, you'll quickly become the bonafide expert party planner during the wedding process. Plan a bachelorette party that you know the bride will love and enjoy. Don't feel pressure to create an event just to be social media worthy. You don't need to look any further to find perfect Sydney hens ideas; Magic Men is the answer. 
Prepare a Wedding Survival Kit
For every wedding event you attend, bring along a pack of bridesmaid essentials like Advil, Band-Aids, hair ties, safety pins, and other last-minute mini-emergency items that are frequently needed.
Keep Track of Gifts Received
If the bride decides to open gifts at her bridal shower, you'll want to be sure to keep track of who gave her what. One often overlooked responsibility, that the bride will appreciate, is holding a list of who gave the bridal shower to write thank you notes quickly.
Prepare a Speech for the Reception
Some brides opt to have only family members give speeches at their receptions. Others forgo speeches entirely. As the maid of honour, you should always be game to deliver an address—and not embarrass her during it. Start jotting down ideas months before the wedding and then spend a few weeks before the big day finessing it and putting everything together. 
Choose the Tunes
One of the final things the bride will have on her to-do list is coming up with a reception playlist. Make a fun girl's night out of the task, where you blast some tunes, drink some wine, and de-stress.
Offer to Pack for the Honeymoon
If the bride is overwhelmed the week before her wedding, offer to help her out with any last-minute items on her to-do list, such as packing her honeymoon suitcase or running out to the store for an extra bikini or bottle of sunscreen.
Keep Everything Moving
While there's a planner or coordinator to take the helm when it comes to the wedding day timeline—including all the events leading up to the wedding—you should still make an effort to pencil everything in. However, the maid of honour organises her personal life; she should integrate reminders for her honour duties. For example, if you use a Google calendar, add check-in dates for bachelorette planning, checking in with the bride, and sending reminders to the bridal party.
Day of the Wedding
Drop off Any Reception Items
If things like toasting flutes, the couple's registry book, candle lighting, seating cards, or wedding favours have not already been dropped off at the ceremony and reception venues, you should add this to your list of things to do on the morning of the wedding.
Keep the Bridal Suite Spick and Span
Once all of the bridesmaids are done getting ready, it's your job to make sure they clear their belongings out of the bridal suite, so that the bride and groom don't return to a messy room at the end of the night.
Savour Every Moment
First and foremost, your role should be to keep the bride as calm as possible by providing emotional support to the bride. Weddings are an emotional time. A bride designates her maid or matron of honour as her most cherished confidant to share in all the emotions of planning and celebrating a wedding. Alternatively, you'll also want to help her relish in all the excitement. Keep the energy up by popping a bottle of Champagne for sips as she gets ready and having a toast with the entire bride squad before the ceremony.
Make Sure the Bride Remembers to Eat
Throughout the day–and indeed, before she leaves the bridal suite—you should check in periodically to see if the bride needs something to nibble on. While she may be too excited to think about food, a protein-rich snack will help fend off hunger pains.
The bride might not have a proper meal until the reception later so that a little a.m. sustenance will go a long way on this marathon day. Ask her to share some of her go-to snacks (be it croissants, potato chips, or granola bars) so that you can have the bridal suite fully stocked.
Be on Drunk Patrol
If the bridesmaids plan on sipping some bubbly with the bride while they get glam, it's the maid of honour's duty to make sure everyone enjoys the moment but doesn't overindulge. Make sure there are water and snacks readily available, too.
Be There to Assist the Mother of the Bride
Don't forget about the mother of the bride. From lending a hand with her hair and makeup to shuttling her water, snacks, and sips of Champagne, the bride's mom has needs, too. If you or the bride suspect that she may, err, get in the way of things, be sure to have a list of backup plans to keep her busy. Activities may include greeting arriving guests, relaxing with her friends for a pre-ceremony cocktail, or doing a final walk-through to ensure all the décor is set.
Pitch in With Social Media
The bride will likely want the morning of her wedding to be as relaxed and unplugged as possible. Check with her first, of course, but this may be an excellent opportunity to snap behind-the-scenes shots of the champagne toasts, happy tears, and even the moment she slips on her dress. The maid of honour can help keep the celebration going by posting and tagging on social media. The bride usually isn't able to snap photos on the wedding day.
Don't Let the Bride and Her Partner Cross Paths. 
Help the bride out by keeping an eye out for her partner. As you may know, it's viewed as bad luck if he or she catches a glimpse of the bride before walking down the aisle. Touch base with the wedding planner or coordinator to ensure the two don't cross paths before the dedicated moment. If the bride and her spouse opt to exchange gifts ahead of the wedding, do them a favour by making the exchange swift and smooth.
Help the Bride Get Dressed
It's no small task to assist the bride as she gets into possibly the most expensive and elaborate gown she'll ever wear in her life. You'll want to be sure everything is laid out in advance, from undergarments to shoes to jewellery, so there's no last-minute scrambling to find those heirloom earrings or an extra pair of hose.
Provide Assistance in the Ladies Room
This isn't the most glamorous task, but the bride will appreciate it. She'll likely need a little help getting her dress, heels, and hair into the ladies room for a final go before the ceremony begins. It'll be a moment full of laughter and surely some tricky maneuvers, but it sure gives new meaning to BFF. 
Serve as the Bride's Personal Stylist
Don't hesitate to jump right in and lend a hand during the getting ready process, especially if the bride doesn't have a planner or stylist to assist. From steaming last-minute wrinkles to making sure the veil is perfectly placed, there's no shortage of details to keep an eye out for.
Have Your Hair and Makeup Plan Ready
Arrive on the wedding day with your beauty look already approved by the bride and have example photos for the stylists. That way, you can guide other members of the bridal party on how they should look to help move the whole process along.
Keep Her Partner's Ring Safe
It's typically one of the best man's duties to hold onto the wedding bands during the ceremony until it comes time for vows to be exchanged. But there's a good chance you'll be in charge of safekeeping one of those precious rings at some point on the big day—so be sure to guard that thing with your life.
Take Care of the Bouquet
Once the bride walks down the aisle, help her out by volunteering to hold her bundle of blooms. After she says "I do," you can give the bouquet back for her to have as she walks up the aisle.
Keep the Bride Hydrated
As the maid of honour, you'll want to keep the bride hydrated from morning until the last dance. Be sure to check with the bride for her preference—sparkling or still—and remind her to take a few sips of H2O throughout the day. Doing so will keep her energy up and ward off any hangovers that could interfere with the morning-after brunch.
Round-Up Friends and Family for the Wedding Photos
Trying to gather family members to take posed shots before or after the ceremony can get hectic. Offer to be an extra hand in moving the process along.
Keep Tabs on the Wedding Gifts
Help the bride out by ensuring that all her wedding gifts, checks, and cards end up in her car or hotel room at the end of the night.
Dance With the Bride
You've made it to the reception when hopefully all the planning stress has melted away. Now it's time to celebrate on the ballroom floor—grab the bride, your OG dance partner, for plenty of boogying to your favourite jams. Selfies welcome. To help you plan a perfect hens party, check out our packages for ladies night at Magic Men.