New Year's Eve Melbourne is an event in itself in one of the world's best event cities. So you know you are going to find NYE fun! As well as the spectacular city and docklands fireworks, there are lots of restaurants, cruises and parties, and events, both large and small, to cater for all tastes. In Melbourne for New Year's Eve, summertime means typically a very pleasant climate for being indoors and outdoors for the upcoming 31st December celebrations. And the plans for celebrations to see out and welcome the new year at some great New Year's Eve Melbourne and Greater Melbourne party events will soon be underway.
Typically, Melbourne venues range in prices from Free to about $250 per person on New Year's Eve. Over the years, we've seen the average of packaged events is around $140 per person. So there is something for everyone! Even families with kids or large numbers, including the elderly, can be catered for easily in Melbourne. Some fabulous restaurants cater to celebrating New Year's Eve for families! Check out all the details below.
Add a header to begin generating the table of contents
Ultimate New Year's Eve Dinner Ideas Melbourne, Victoria
Dinner At Top of Brighton Savoy Melbourne 
New Years Eve Ball & Dinner Dance Melbourne 
Dance the night away
The best way to celebrate the New Year is by spending it in Melbourne with a dinner dance in the Hotel Ballroom at the Brighton Savoy. Celebrate a night of style and sophistication at the Brighton Savoy's annual New Year's Eve Ball.
Celebrate the New Year with a night of dinner and dancing with music by one of Melbourne's Premier 6 piece band BUSTAGROOVE, playing music from the '60s, '70s, '80s right up to today.
You will enjoy a fun-filled all-inclusive evening:
Three-course dinner with tea, coffee and after-dinner mints

De Bortoli Willowglen Sem. Sauvignon Blanc & Shiraz Cabernet

Debortoli Willowglen Sparkling Brut

Carlton Draught & Cascade Premium Light beers

Soft drinks
All-inclusive price of:
$TBC p.p Join a shared table of 8 - 10 guests

$TBC p.p Group Price B (Bookings of 6 -10 guests)

$TBC p.p Group Price A (Bookings of 11 guests or greater)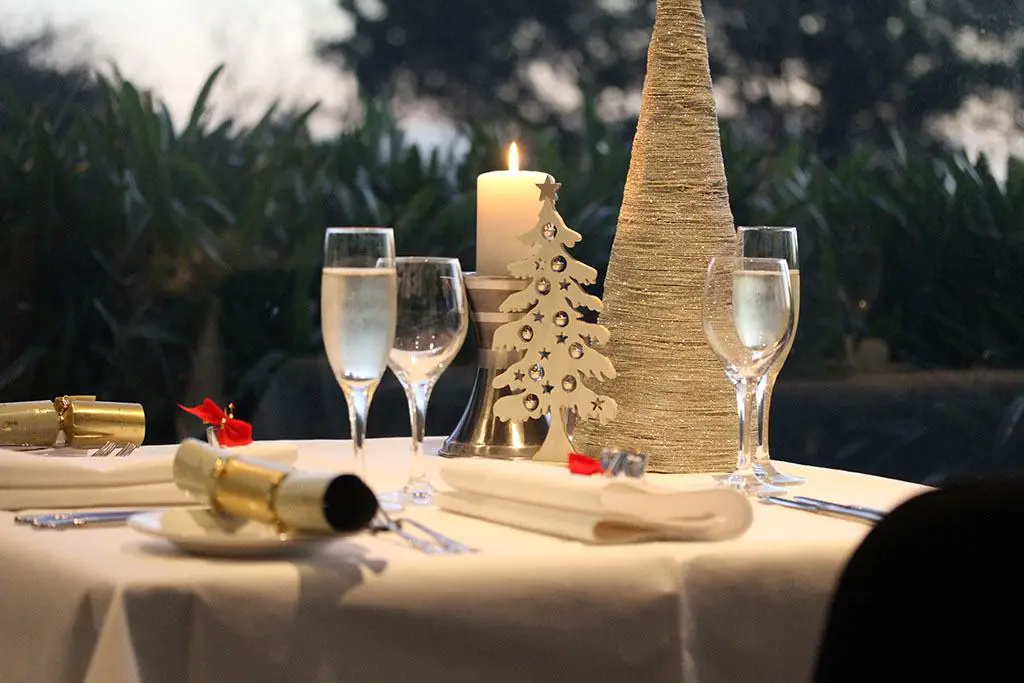 Menu
ENTREE
Mediterranean tasting plate with vegetable frittata, fetta cheese, smoked salmon, olives, sliced Turkish bread and assorted savoury items.
MAIN COURSE
Eye fillet of beef (200g) paprika mash, roast vegetable dice and a red wine jus or Herbed Fillet of Atlantic Salmon served with leaf spinach, roast potatoes and grilled lemon garnish.
DESSERT TRIO
Vanilla Bean Panna Cotta. Eton Mess with Honeycomb & Berries, Passionfruit Icecream
Vegetarian, Gluten-free options are available.
Visit Brighton Savoy Hotel 
Call (03) 9592 8233
Dinner At Arbory Bar & Eatery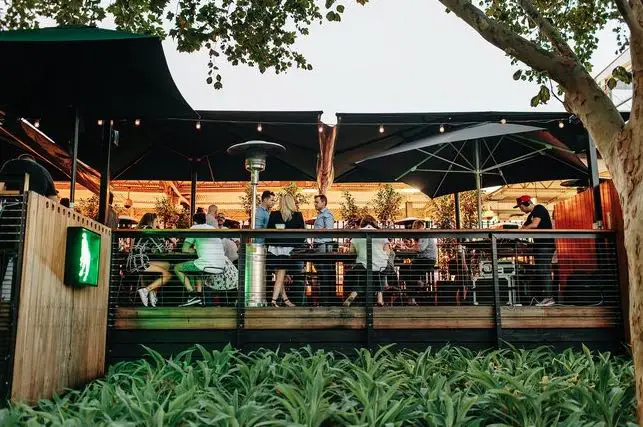 Let's be honest, and the Arbory was made for NYE. With their prime Flinders St location that boasts million-dollar views of the Yarra and their tasty food and drinks offering, it is a no brainer. Raise a glass to 2021 with 2.5 hours of all-inclusive canapés, flowing beer, cider, wine, Champagne and premium house spirits over two sittings. The early sitting from 5 pm is kid-friendly with packages to accommodate the whole family, while from 8:30 pm onwards, it's an adults-only affair. 
Arbory is a lively all-day outdoor bar and eatery located between Melbourne's Flinders Street Station and the world-famous Yarra River, at the epicentre of Melbourne's riverside arts and entertainment precinct.
Boasting over one hundred meters of absolute uninterrupted river frontage and situated beneath a line of iconic plane trees, Arbory Bar & Eatery caters to a wide variety of tastes, offering guests a considered, craft-focused, and comfort-driven food and beverage selection from early morning through to late evening.
Built on the old disused Sandridge railway platform at Flinders St Station on the North bank of the Yarra River, Arbory Bar & Eatery was built to bring life back to Melbourne's iconic part by bringing people back to the Yarra River for all to enjoy.
Visit Arbory Bar & Eatery
Call 03 8648 7644
The BoatBuilders Yard Melbourne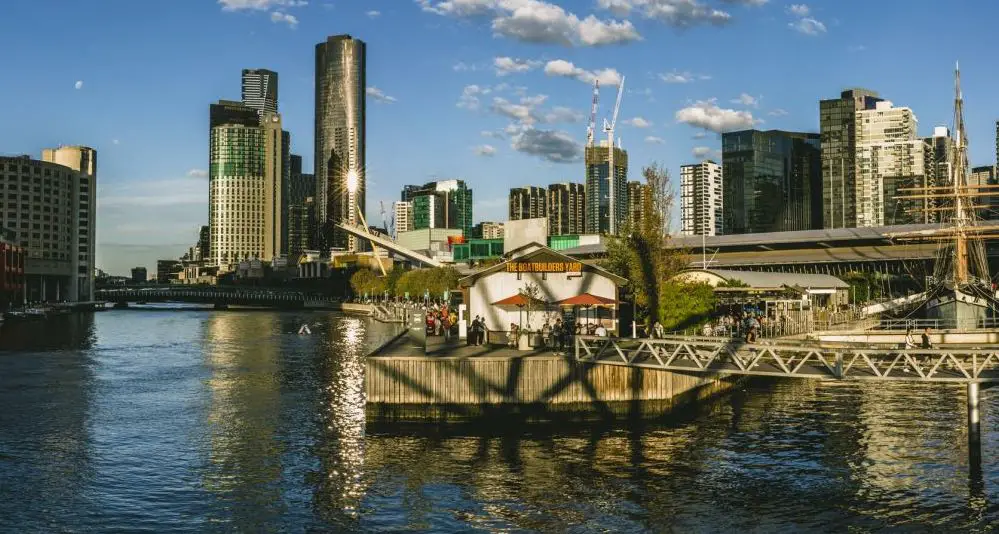 Celebrate New Year's Eve on the south bank of the Yarra with an incredible view of the fireworks and all-night entertainment. The Boatbuilders Yard usually offers an all-inclusive package for a magical New Year's Eve Melbourne experience. Tickets typically include entry, substantial canapes and drinks package.
Visit The Boatbuilders Yard
Call 03 9686 5088
Try The Emerald Peacock Melbourne 
Say hello to 2022 with a spectacular rooftop NYE party at the Emerald Peacock. Be treated to an all-inclusive package featuring canapes, sparkling wines, craft beer and house spirits. Be entertained throughout the night and over 2 levels by a line up of DJs spinning the best house, commercial, old-school funk & RNB. Finish off 2021 with some great memories at the Emerald Peacock.
Fantastic Rooftop Party in the Melbourne CBD. Great Value All-Inclusive Package.
Visit The Emerald Peacock 
Call 03 9654 8680
Dinner At Bourke Street Imperial Melbourne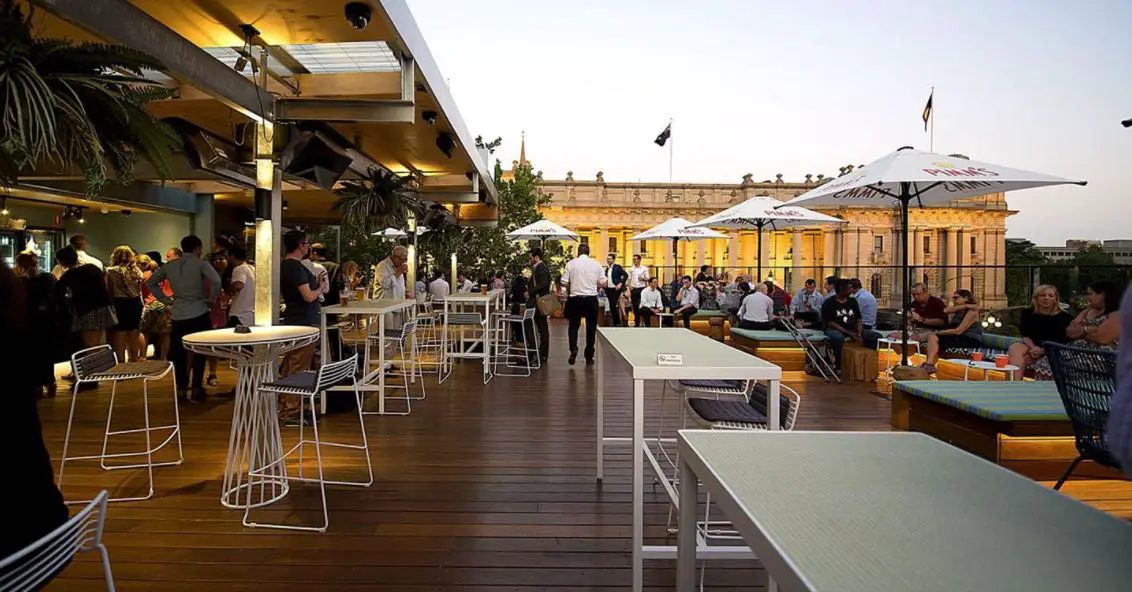 Enjoy New Year's Eve 2021 on one of Melbourne's Largest Rooftops. Be treated to exclusive views over the Melbourne Skyline, including Parliament House and gorgeous park views. The all-inclusive package tickets give you access to drinks including beers plus wine, sparking, basic spirits and gorgeous food, including roaming canapes. To top it all off, The Imperial will get you Partying into 2022 with LIVE entertainment featuring DJs all night long.
Great venue at the top of Bourke St. Unique Views of the Melbourne rooftop fireworks.
Looking for the perfect spot to stop for a bite to eat & cheeky foam in the sun? We've got you covered.
We have all you need on Imperial Rooftop; Parliament views, sun-soaked seating, delicious share bites &, of course, cold froths!
Located in the heart of the CBD & a stone throw away from the Princess Theatre, there is no better place to stop by pre/post-performance or for a knock off or 2 after a hard day of work!
Visit Bourke Street Imperial 
Call (03) 9810 0062
Dinner At The Toff Melbourne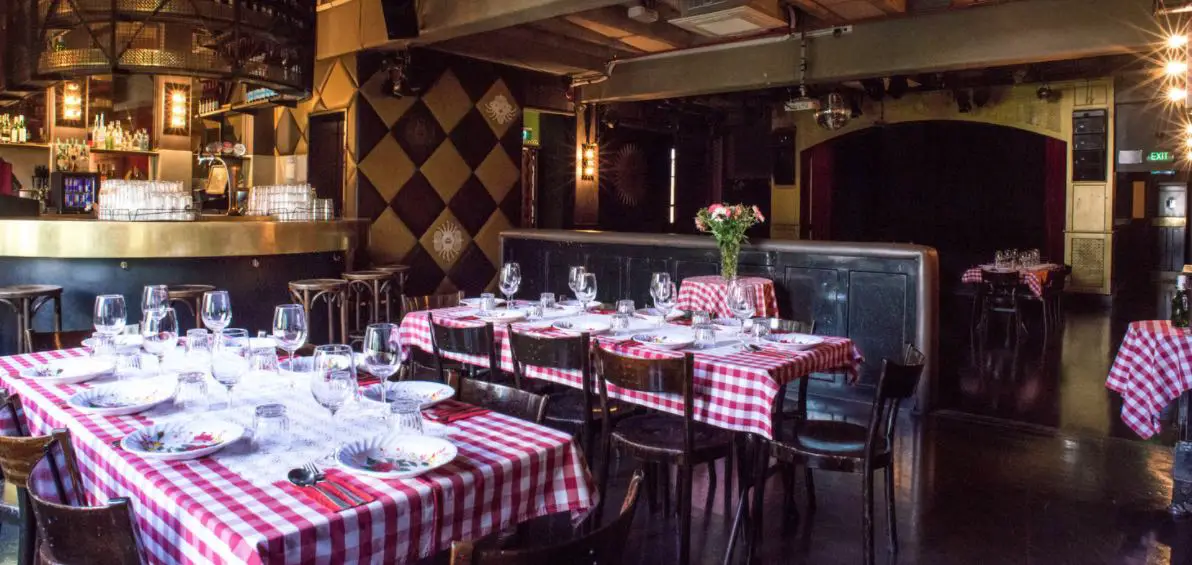 That NYE Party!
Party at the Toff in Town this New Year's Eve and welcome in 2022 in style. Located right in the Melbourne CBD centre, The Toff in Town offers a range of options when it comes to New Year's Eve. Party in the Club till late, up the ante with canapes and drinks stage-side, or indulge with some NYE Dining carriage side.
Visit The Toff Melbourne 
Call 03 9639 8770
Try New Year's Eve Dinner At H2o Docklands Melbourne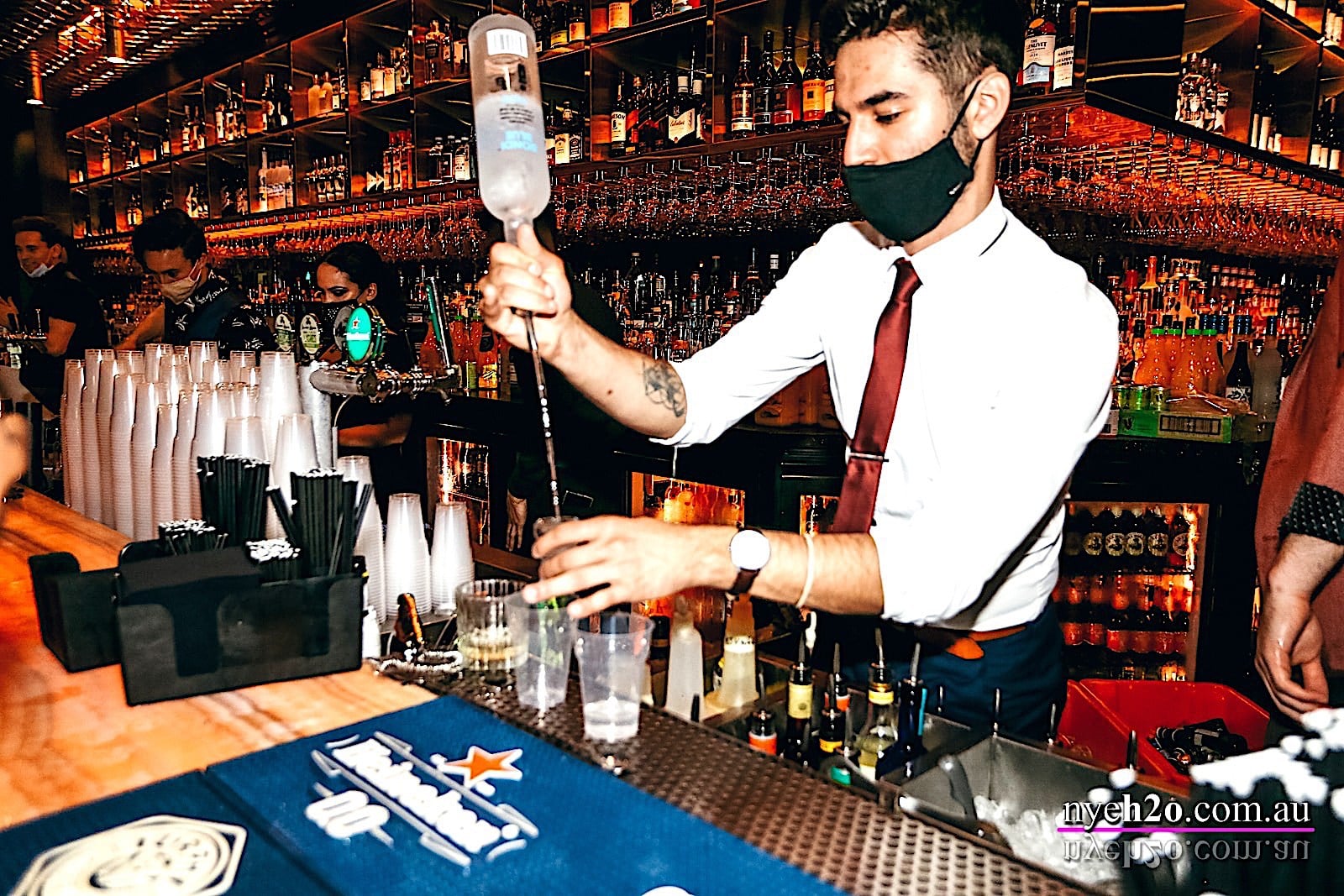 H2o Harbourside Summer Party
NYE H2o is a staple of the Melbourne NYE scene! This event sells out every year and always has an awesome Melbourne location to call home. Featuring a massive open-air terrace on the Waterfront with amazing panoramic views of Victoria Harbour & the City Skyline with the fireworks right there too. This is an all-inclusive event with extensive drinks & food package like no other!!
Large dance party event accommodating over 1000 people plus. The Melbourne Fireworks surround it.
Visit H2o Docklands 
Call 0418570337
Dinner At Temperance Hotel Melbourne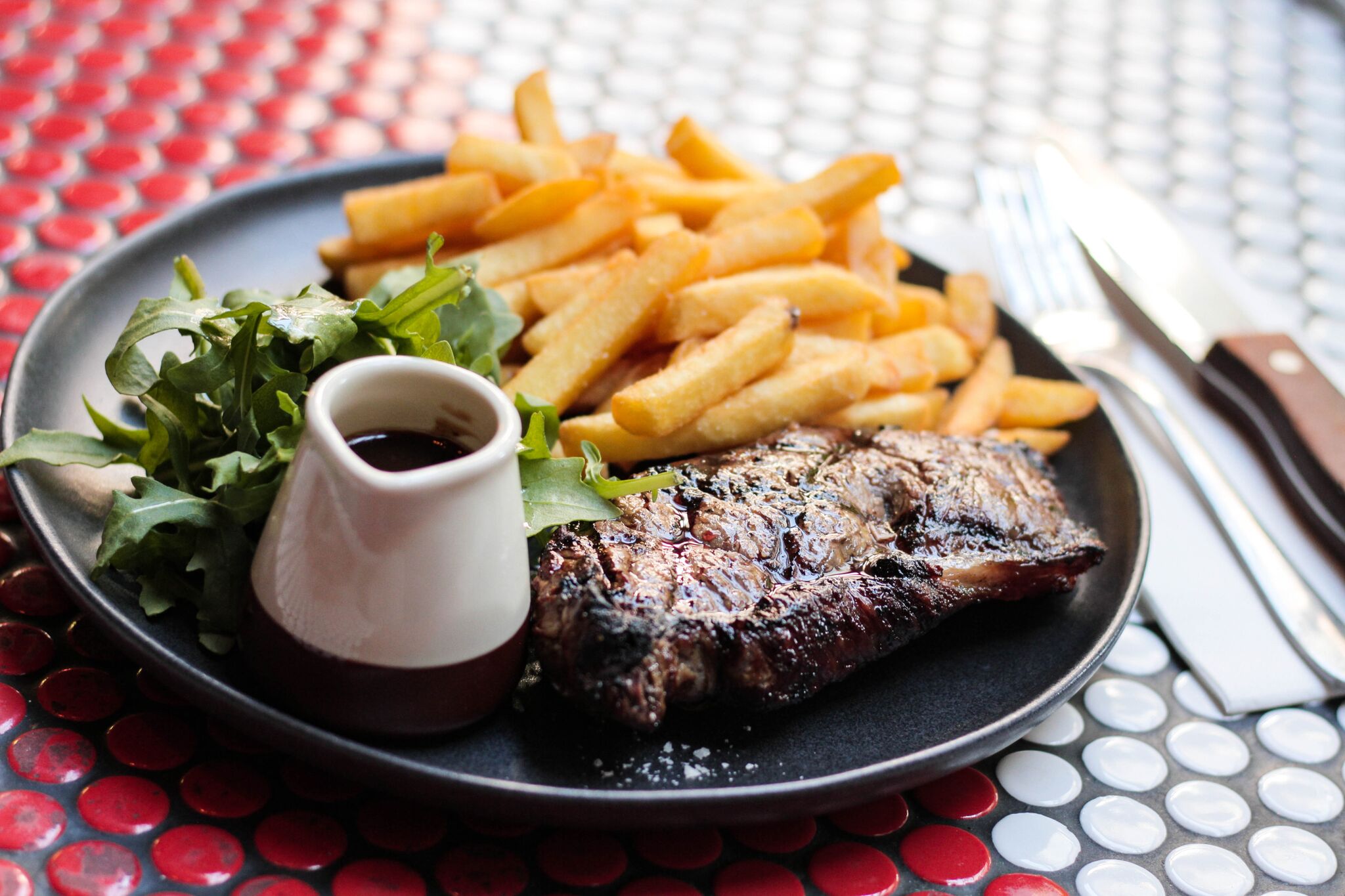 New Year's Eve Taco Times
Yes, people, it will be time to sparkle this New Years at Chapel St's favourite hotel. We can't wait to find out what they have planned for this year. So watch this space for the fantastic details for Temperance Hotels NYE offerings when they become available.
We love this venue, having spent some NYE time here. Great staff too!
Our function venue spaces cater to a range of events from intimate dinners for 6 up to memorable celebrations of 100 guests.
Each space has its unique personality and style to suit your event, both indoor or outdoor.
Perfect for birthdays, Christmas celebrations, anniversaries and corporate events.
We have 4 spaces available with various packages on offer, including cocktail, sit-down, and VIP Party options.
Our Upstairs Function Room offers a private space for up to 100 guests inspired by the Spiegeltent with red velvet and chrome finishes and your bar.
Our Booth Bar is great for casual dinners or, after 9 pm on weekends, an exclusive VIP Party experience for 6 to 18 guests.
Are you looking for something outdoors? Our relaxed Beer Garden can host up to 60 guests and be sectioned off for your private garden party.
We offer a semi-private dining space for up to 14 guests, and it's sectioned off with a curtain for privacy without losing the lively atmosphere of a busy night at Temperance Hotel.
Visit Temperance Hotel 
Call 03 9246 1200
Dinner At Amora Hotel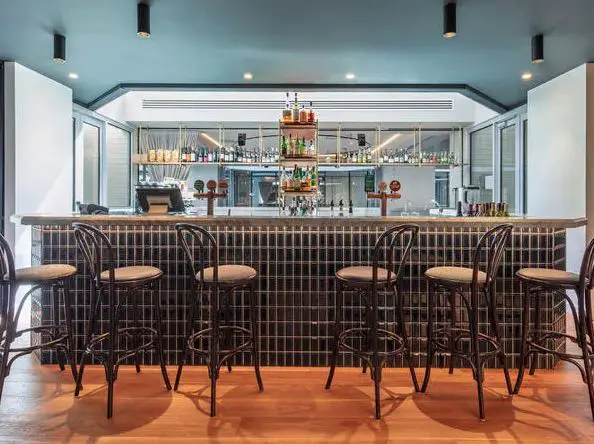 New Year's Eve Dinner at Amora
The Amora Riverwalk Melbourne is located just a little outside the CBD but still on the Yarra River. You can see the Melbourne fireworks and if staying, ask for a room with city views. Fabulous dining with an exquisite menu. Great staff reports and fun for all. Families are welcome and catered for. It sells out, so make sure to be quick once on sale. Inclusive packages.
Great food and entertainment. A terrific option for those also wanting accommodation. Caters for families as well.
Visit Amora Hotel.
Call 03 9246 1200
Dinner At The Posty Melbourne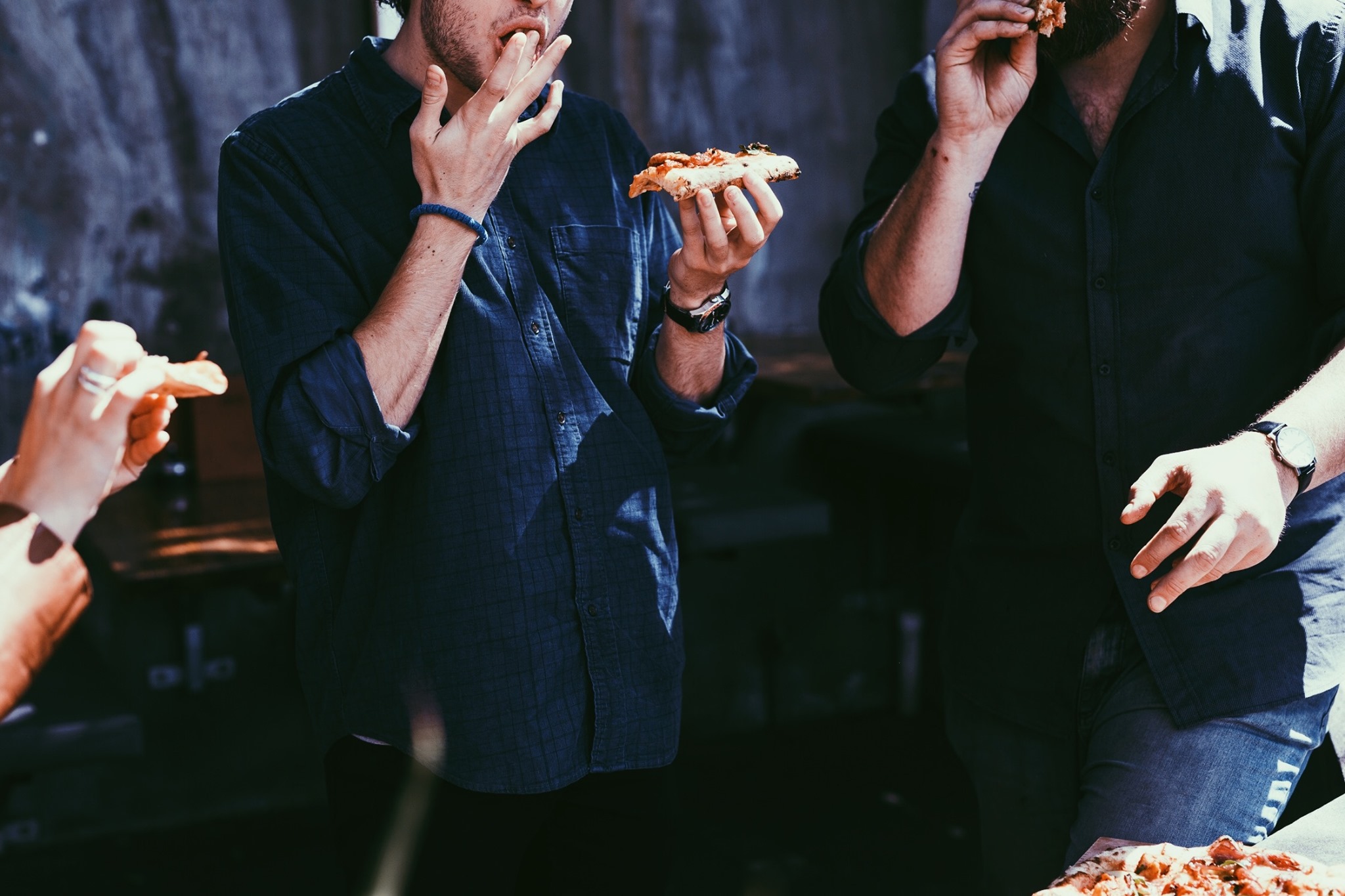 New Year's Eve Pizza & Drinks
For New Year's Eve, Posty likes to serve up it's delicious wood-fired pizza's paired with fantastic drinks specials and LIVE entertainment to party the night away. All this and more at this unique venue housed in a converted Post Office featuring intimate dining and a beer garden,
The great boutique venue on Richmond's Swan St just a short trip from the CBD.
An intimate space calls for an intimate menu, so we limit what we do, and we do it well.
From a classic Margherita with tangy passata, creamy fior di latte and fresh basil, or signature faves like The Posty, piled high with ricotta, asparagus, artichoke and spinach, and guilty pleasures like the meatball-laden meat lovers, there's a pizza for every person. Using the freshest seasonal produce and signature dough recipe, The Posty is your good-times destination whenever a pizza craving strikes.
Visit The Posty 
Call 03 9428 6674
New Year's Eve Dinner at Campari House Melbourne 
The Best Melbourne Rooftop Bar on Hardware Lane
Venture up the stairs of Campari House Melbourne to the Rooftop Bar, located on Hardware Lane in Melbourne CBD. This rooftop bar is nestled amongst the skyline and is the perfect retreat from the city's hustle and bustle.
Party across 4 levels this New Years Eve at Campari House. Start your night in the restaurant before heading up through the venue finishing at the Rooftop Bar, where you'll party under the stars with entertainment from a LIVE DJ. This centrally located Venue in Melbourne also has Private Booths options with table service available in the Cocktail Lounge on Level 2. For something truly unique, try the exclusive premium drinks package.
Three party levels and a rooftop! A great venue with an awesome feel for NYE. Grab your friends and get in early on this one.
Visit Campari House 
Call 03 9600 1591
New Year's Eve Celebration at Melbourne Public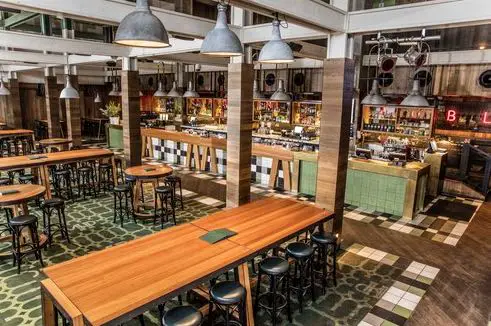 Melbourne New Year's Eve
Celebrate New Year's Eve at Melbourne Public and enjoy all-inclusive premium food and beverage packages. Great location on the south side of Yarra set just back from the Yarra River, and an easy wander down to the river at Midnight for a front-row view of the Melbourne fireworks. Dining is available too. Featuring LIVE bands and DJ's playing all your favourite pop hits. So this NYE chooses from Dinner and Beverages or Canape and Beverages package options.
South Wharf NYE location with good views of the fireworks. Great Venue! Enjoy fantastic food and drinks packages to celebrate 2021!
Set in and around the lovingly restored heritage cargo sheds on the Yarra's edge, Melbourne Public (affectionately known to regulars as 'MP') can be found on the banks of Melbourne's newest drinking and dining secret – South Wharf.
With iconic interiors inspired by 1920s industrial flair of polished brass, exposed beams and heritage features, Melbourne Public celebrates the best of Melbourne's past and present in the true Australian style.
A warm sense of hospitality at its core, MP consistently delivers great food, premium drinks and a vibrant atmosphere.
Visit Melbourne Public
Call 9268 7600
Try Dinner At Garden State Hotel Melbourne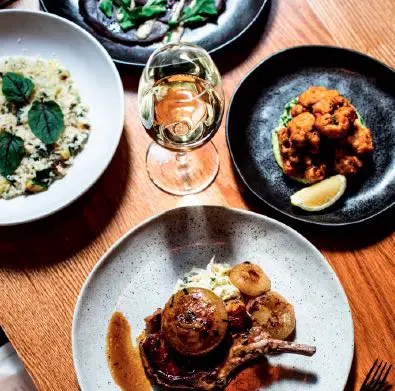 NYE: Welcome in the New Year
See in the New Year at one of Melbourne's favourite hotels. The Garden State Hotel has bars and beer gardens and generally puts on inclusive drinks, and canape packages food stations with DJ entertainment for the NYE Garden Grill party. And then the Observatory VIP package with DJ & Dance Floor.
Options galore for this upmarket NYE experience. Awesome restaurant-quality food, and the staff are super. The great vibe where quality is key.
EAT & DRINK
From tried and true pub classics to spectacular produce-driven dishes, local craft brews, carefully curated cocktails, and impeccable wine lists, we're here to water and feed your every need.
GATHER
Whether it's a simple boardroom lunch, a cocktail party with an iconic backdrop, a deluxe urban wedding or a casual gathering, we believe that every event has its own story to tell. For that story, we have the perfect space.
Visit Garden State Hotel Melbourne 
Call 03 8396 5777
Try European Bier Cafe Melbourne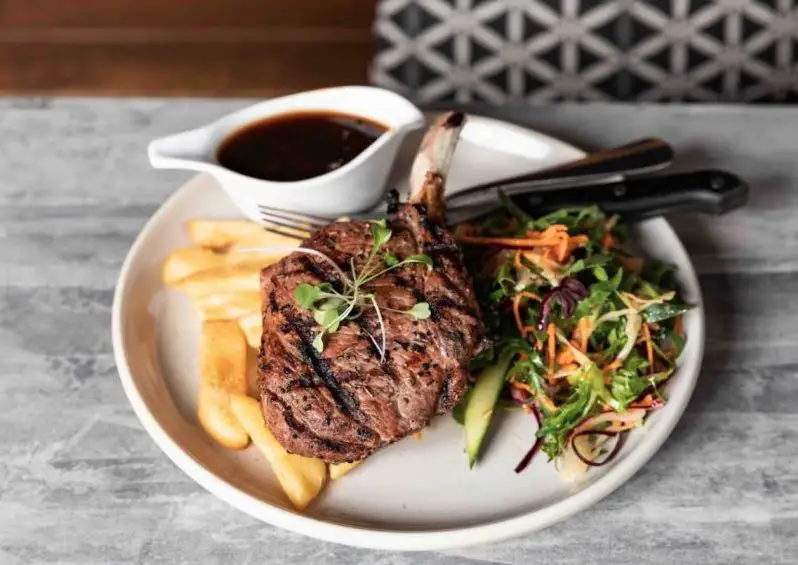 New Year's Eve Party
With 4 levels, including a rooftop bar, this venue always turns on 31st December. This event always sells out and is normally very well priced. It's a fab location near the centre of the city and close to many accommodation options. The past NYE packages were all-inclusive of food & drinks and LIVE entertainment. This place will rock, so be quick, and one NYE tip is to get the early bird options!
This is a large party event over three levels of the party plus a rooftop! In the past, all 15 tap beers and ciders included in packages.
The Euro's extensive menu is designed to fill you up, no matter how hungry you are. Our Modern Australian cuisine is filled with classic pub meals through gourmet options for those who want something different.
The European Bier Café boasts some delicious local and international beers for you to try. We're also known for our extensive wine list and cocktails on our rooftop bar, and we can shake, stir or pour your perfect drink anytime.
Visit European Bier Cafe.
Call (03) 8563 0080
Dinner At Fargo and Co. Melbourne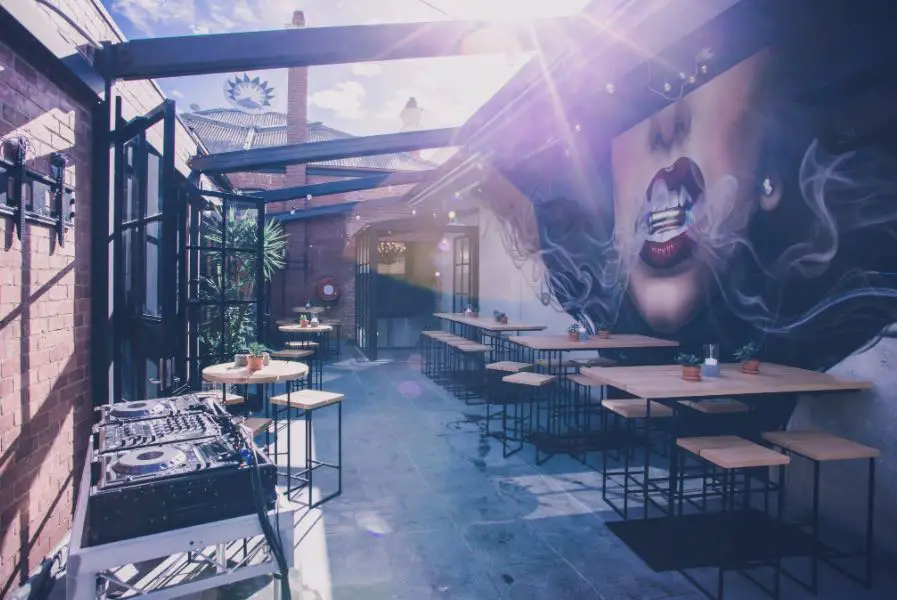 Fantastic New Year's Eve venue in Richmond. Party over 2 levels with DJ all night and enjoy NYE food and drink specials. The venue usually offers early bird and general admission pre-sale ticket for priority access.
So the heist was a success; this swan street state bank didn't see us coming. I haven't seen my partner in crime since, but I know he'll come back here for me.
Nowadays, the vault is full of liquor & my cocktail assassins make a killer sip. Let's get offline, meet me at the bar.
Check out my pop-up palm springs inspired rooftop; here for the summer, Fargo-Chella has arrived. 
Visit Fargo and Co. Melbourne 
Call (03) 9810 0077
New Year's Dinner At Duke of Wellington Melbourne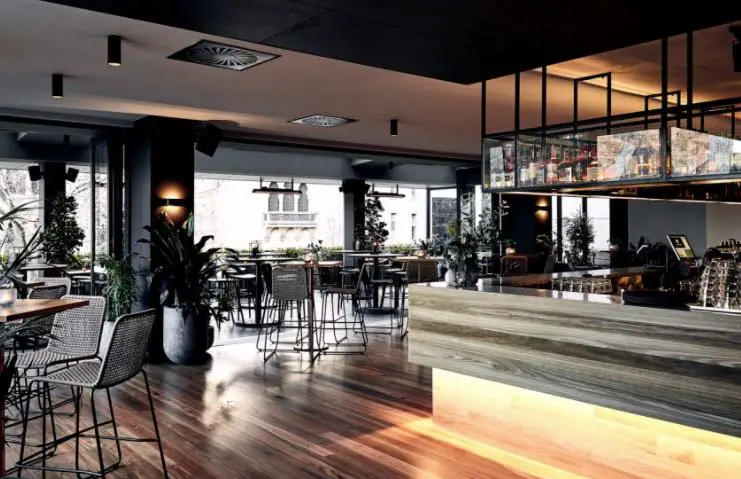 New Year's Eve at the Duke
Multi-level New Year's Eve party at the Duke in the heart of Melbourne. Head up to Duchess on Level 2 or ground floor fun in the Duke main rooms. Drinks and canapes packages plus LIVE entertainment all night long. In the past, packages have run from 8 pm to Midnight. So enjoy a great night out this New Years at the Duke. Private Booths Available for Groups of 6-10 aswell as General Entry aswell. It also has a restaurant available for early dining.
Stop by The Duke for breakfast, lunch or dinner and enjoy our modern food menu.
Choose from pub classics such as The Duke parma with chips & slaw, the 300g Darling Downs scotch fillet with chips & aioli and The 1853 classic cheeseburger with Victorian beef, cheddar, burger sauce, pickles, lettuce & tomato.
Or share some plates with your mates- enjoy salt & pepper calamari, beef Wellington croquettes & charcuterie board.
Visit Duke of Wellington Melbourne 
Call (03) 9810 0066
Dinner At Hopscotch Bar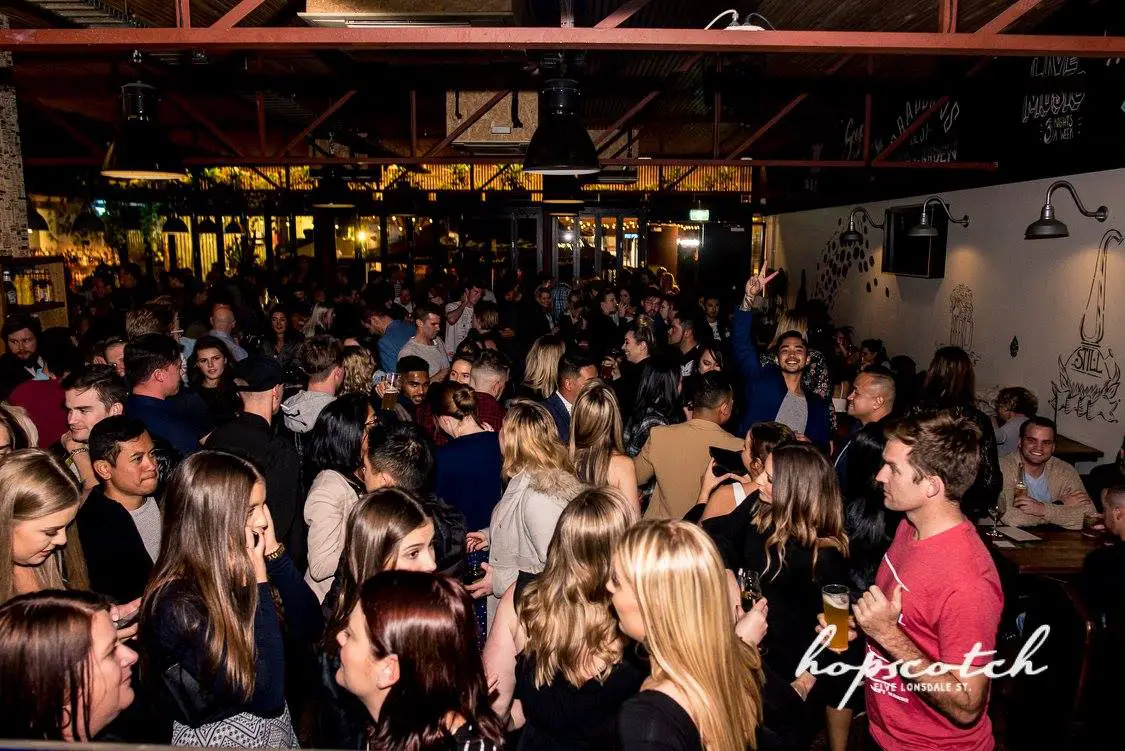 The Hopscotch venue is only a few years old, but it has gained an awesome New Years Eve celebration reputation in such a short time. Located right on the south side of the Yarra River in Southbank, it will provide spectacular views of the Melbourne NYE fireworks display. This is an indoor and outdoor venue. In the past, this Hopscotch has provided inclusive NYE packages featuring food and drinks and entertainment. These packages have been well priced and well received by the patrons, with this event sold out last year.
Great reputation for good food with creative options and broad drinks offering. Indoor & Outdoor Event.
A long-lived favourite, Hopscotch at 5 Lonsdale St is one of Braddon's largest spaces. Providing good times, great food and even better company, space is decked out with an expansive beer garden with specials and live music happening every week in Canberra's CBD. Serving up an extensive cocktail menu with hoppy signatures, a wide selection of fine wines and craft beers on tap coupled with the ultimate pub classics and their delicious wood-fired pizza menu, it is obvious why it has become a Canberra favourite.
Visit Hopscotch Bar 
Call 02 6107 3030 
Try The Smith Melbourne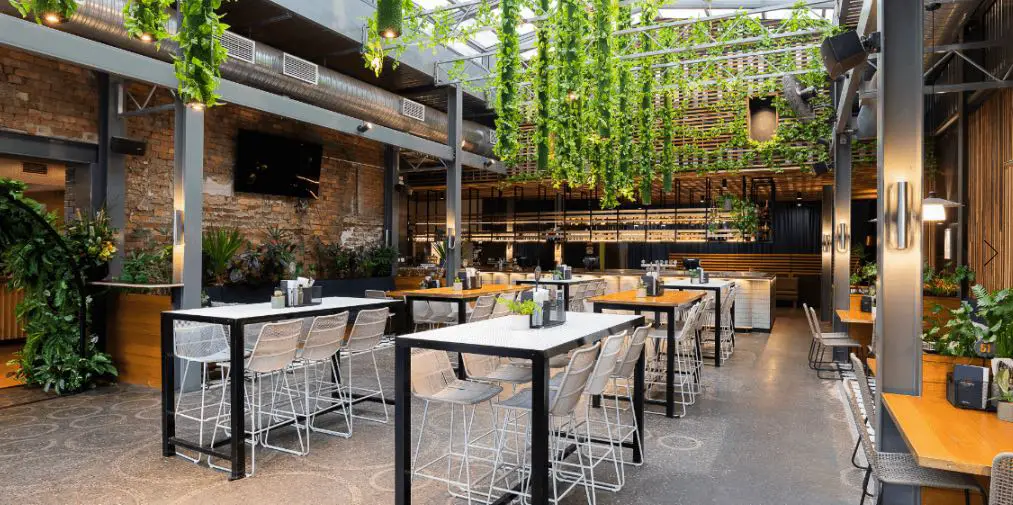 It's always happening on New Year's Eve at the Smith. Celebrate the start of 2022 by enjoying a multi-hour drinks and canapes package. You can expect to be entertained throughout the evening by LIVE music.
The great venue just a stone's throw from Melbourne's iconic Chapel St.
With a menu dedicated to celebrating fresh seasonal ingredients accompanied by a carefully chosen wine list and classic cocktails with a twist, our desire is first and foremost to provide the best possible dining experience.
We have gone digital! Scan the QR code on our menu with your camera to see each dish's photos, with the option to pay and order with your phone.
Visit The Smith  
Call (03) 8563 0044
Dinner At StoryVille Melbourne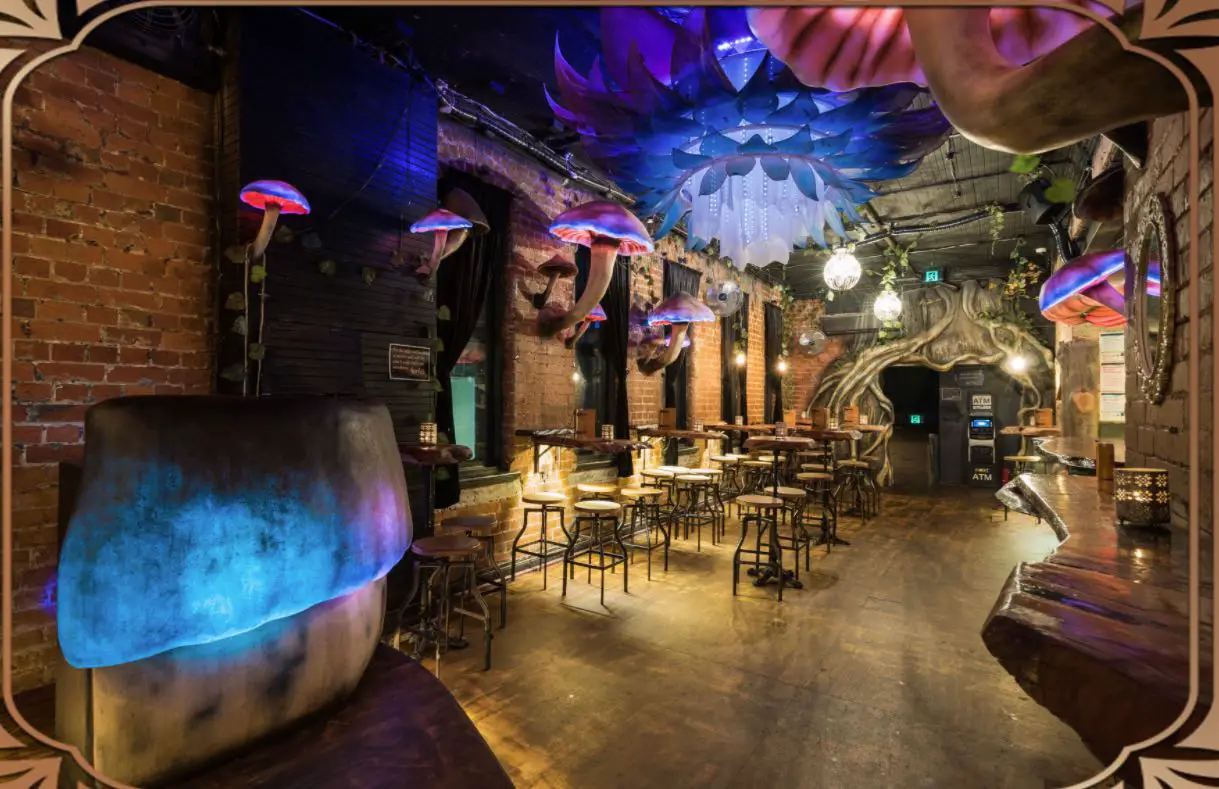 Enjoy New Year's Eve 2021 with 2 floors of music and entertainment surrounded by the stories and fables of your childhood. An intriguing location with magnificent decor. Expect an all-inclusive drinks package as you party into 2022 with a magnificent line up of entertainment to welcome in the New Year.
Fantastic fantasy-themed bar in the heart of Melbourne.
Are you looking for the perfect venue for your party? StoryVille is the answer. A unique themed cocktail bar and nightclub, catering for parties of 15-230 with a variety of beverage & food packages to suit. From corporate functions to more intimate groups, we make any celebration memorable!
StoryVille's cocktails are influenced by celebrated pieces of classic literature and some of our favourite children's books. From 'Down the Rabbit Hole' Inspired by Alice in Wonderland to The 'Goblet of Flames' inspired by Harry Potter's tales, our signature cocktails will ignite your imagination and taste buds. So... pull up a mushroom as we welcome you to our fantasy land where spirits are shaken, and cocktails are stirred for your pleasure.
Visit Storyville Melbourne 
Call 03) 9993 9034
Dinner At Pilgrim Bar Melbourne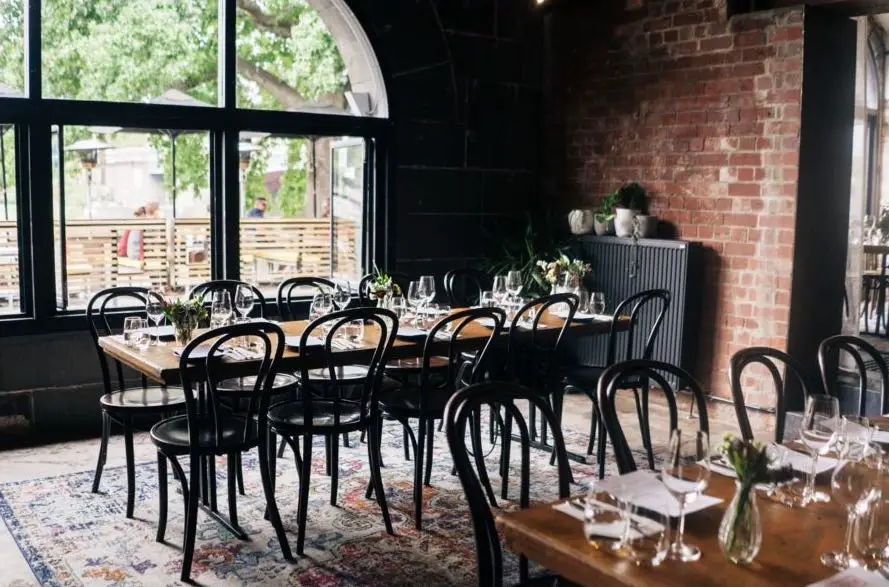 Pilgrim Bar is located on the banks of Melbourne's famous Yarra River near Federation Square. Enjoy fantastic views of the Melbourne NYE fireworks at this all Inclusive Cocktail Party event. Tickets include Fabulous food and Premium Drinks Package featuring Beer Wine and Selected Spirits. Riverside location.
Indoor and outdoor NYE party that overlooks the Yarra River. Love the food at this venue.
Located alongside the historic Federation Wharf vaults and Yarra River right in Melbourne's heart, Pilgrim is an intimate waterfront venue that proudly engages producer authenticity through its unique range of all Australian wine, beer and spirit lists. This producer engagement drives our seasonal share plate dishes, a focused menu that encourages grazing. From vineyard, distillery and brewery to your glass, from farmer to plate, the entire process and experience is a genuine one which makes our relaxed bar environment the ultimate place to laze and graze, all year round, while taking in one of the best views of the Yarra.
Pilgrim acknowledges the traditional custodians of the land on which we stand.
Visit Pilgrim Bar 
Call (03) 9654 9575
Dinner 772 Wine Bar Melbourne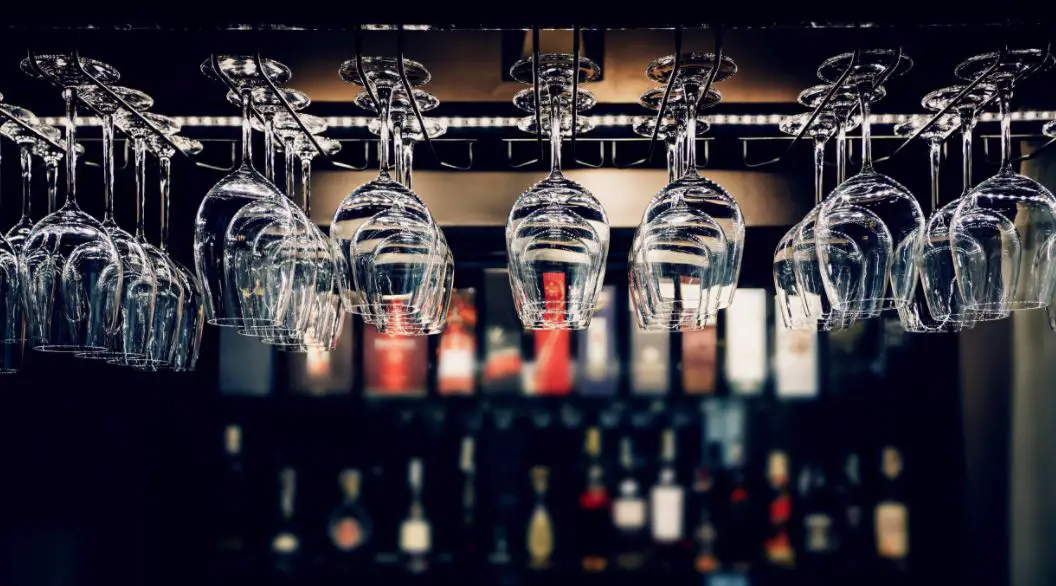 For $100, you get four hours of endless cocktails and food as you wait to usher in the new year. You also get Live entertainment. What more would you ask for during these times? Book now; tickets are limited!
Located 772 Glen Huntly Road, Caulfield South, 772 Wine Bar is inspired by old school hospitality with a creative modern twist.
Uniting wine and craft beer lovers of all ages with local eateries, 772 uniquely positions itself by supplying the beverages while you bring or order the food. The concept of BYO is flipped on its head, allowing customers to support the local community and enjoy delicious meals from the local eateries whilst tasting the finest wines, craft beers and bubbles we have to offer.
Visit 772 Bar Wine 
Call 03 9523 1995
Dinner At Richmond Club Hotel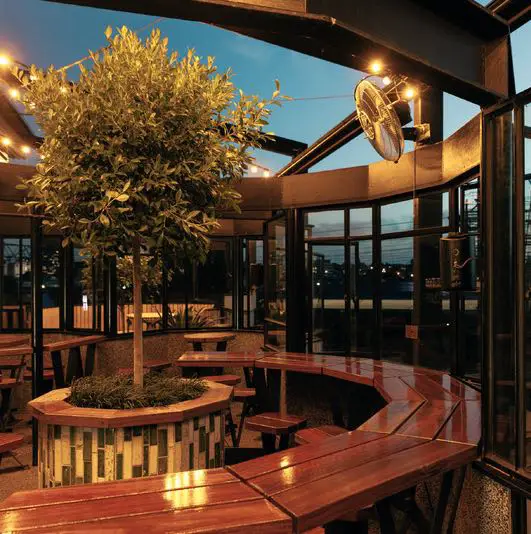 NYE Party & Dining
The Richmond Club Hotel is the ideal NYE venue to party this New Year's Eve. Party packages and access level one and the rooftop all evening and cocktails, house beer, cider, wines and canapés.
The restaurant normally will be open on New Year's Eve for dinner bookings at this venue. Great food and service. Great views of the City Fireworks. Great food.
Richmond Club Hotel is a pub, pure and simple. So, you can expect to find all your favourite pub classics on the menu, re-imagined and interpreted with a modern twist.
Visit Richmond Club Hotel 
Call 03 9428 6722
Try Wharf Hotel's Riverside Pub Melbourne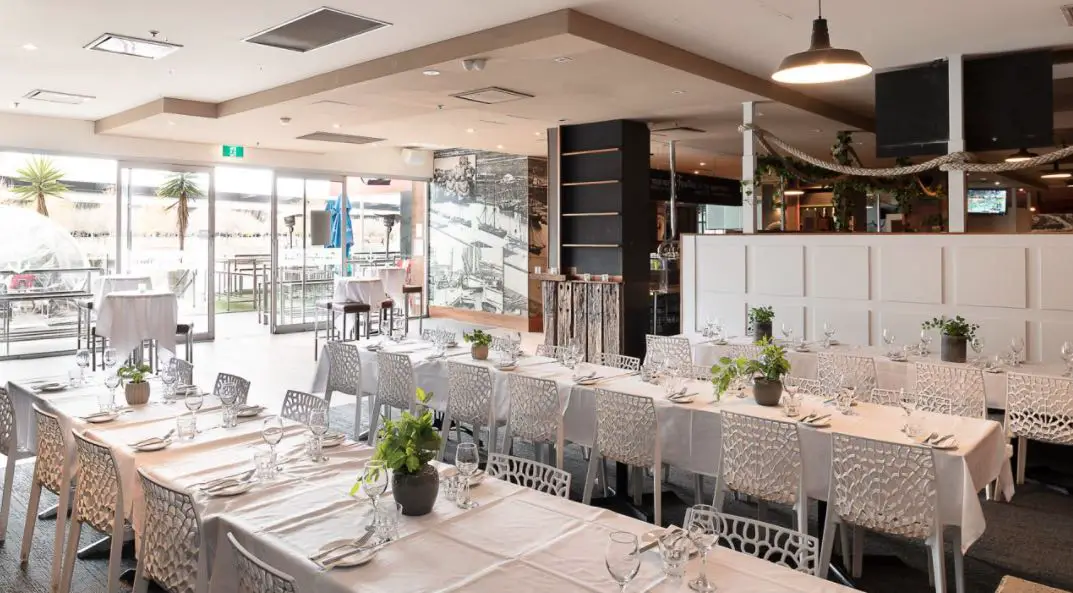 This riverfront venue always has a fun NYE themed party. The super cool Wharf Hotel crew will be thinking up another superb NYE Party. Ring in the New Year at the Wharf Hotel and party the night away on the Yarra River banks. All-inclusive food and beverage party packages are the norms for these venues NYE's. But be quick once the details come out for this awesome Melbourne Riverside location.
Waterfront views. Indoor & Outdoor Event. Normally have great NYE Party themes and well packaged and priced.
 We love their pub classics here at Wharf! The menu is jam-packed with all the usual suspects – we're talking pizzas, burgers, fish & chips, Parma and all the rest! A few new favourites, too, plus options for the kids. Try it share-style or all to yourself. Fancy a nibble with a drink? Try our many grazers – we promise one won't be enough!
The best way to enjoy their food? Match it with our extensive drinks list, from international and local brews to wines or a cocktail or two. If you like to share, our tasty cocktail jugs are for you; sit back and soak up the stellar riverside views.
Visit Wharf Hotel Riverside Pub
Call (03) 9810 0097
Healthy Ways To Celebrate New Year's Eve
Host A Pampering Party
To help get your healthy intentions off to a great start:
Try hosting a party with a difference.

Rather than the usual drinks and a buffet, get all your close friends around for a spot of pampering.

Hire a mobile beauty or massage therapist to provide treatments for you and your guests or stock up on face masks and manicure kits for a bit of home pampering.

For refreshments, provide healthy snacks such as vegetable crudités and dips, and serve your guest's healthy smoothies and mocktails.
Make Some Healthy Cocktails
If you can't resist seeing the New Year in with a drink in hand, you can still do it in the healthiest way possible by drinking in moderation and making your healthy cocktails using fresh fruits and juices. Not only will making your fruit cocktails ensure you are at least getting some nutrients and antioxidants with your alcohol, but the process of making your cocktails (rather than simply ordering at the bar) will help to slow down your drinking.
Movies And Popcorn
Do all these ideas sound too much like hard work? Well, the good news is you can boost your health right from the comfort of your couch. While watching television might not be quite as good for you as hitting the streets for a run, there are still health benefits to be had. Watching a comedy show or movie is beneficial for your heart, immune system and mental well being while snacking on popcorn will give your body a boost of antioxidants, nutrients and fibre.
Go Dancing
Most of us love to dance, and the good news is that celebrating the New Year with a boogie on the dance floor could help you burn off hundreds of calories.
While hitting the dance floor in a club or bar is as good an option as any, if nights in the town aren't your thing, there are plenty of good alternatives. If you fancy a relaxed night in, you could get your friends round for a dance session on the Xbox. Or, for something a little more formal, book tickets for a New Year's Eve ball. Alternatively, get in on one of the year's hottest trends by hosting or attending a New Year Zumba party.
Play Some Family Board Games
Research findings published in the journal Plos Medicine have indicated that having strong ties to family and friends can help you live longer, so why not boost your health this New Year's Eve with a bit of family bonding? OK, board games may be a little bit cheesy, but they can also be a whole lot of fun and a great way to get the whole family involved. Try not to get too competitive, though – we want everyone still on speaking terms once the clock strikes Midnight!