Alongside a house, a car, and an education, an engagement ring is one of the most significant purchases in a man's life. And, like all significant things, an engagement ring (and the gesture that accompanies it) carries far more value and meaning than the ring itself. An engagement ring is more than a piece of jewellery: it's a promise, a commitment to spend the rest of your life with someone, for better or worse, in sickness and in health. Bending the knee is a big moment, and not one to take lightly. Speaking as someone who recently popped the question, it's not a day you'll forget any time soon. When it comes to engagement rings, Melbourne has plenty of stores to choose from.
Now, we are pretty confident in saying that keeping up with the latest engagement ring trends is probably not very high on your to-do list. But even if you don't have the ring of your lady's (or man's—love is love, people) dreams memorised, don't fret. The stores on this list are some of the best jewellers in Melbourne, and they're pros at helping you select or design the perfect ring.
These master craftsmen, jewellery designers, and diamond experts have dedicated their career to helping you navigate this purchase. They'll walk you through the 4 Cs, help you stick to a budget, and pick the right materials. Here are 15 of the best places to buy an engagement ring in Melbourne.
Add a header to begin generating the table of contents
Temple and Grace Wedding Jewellery Melbourne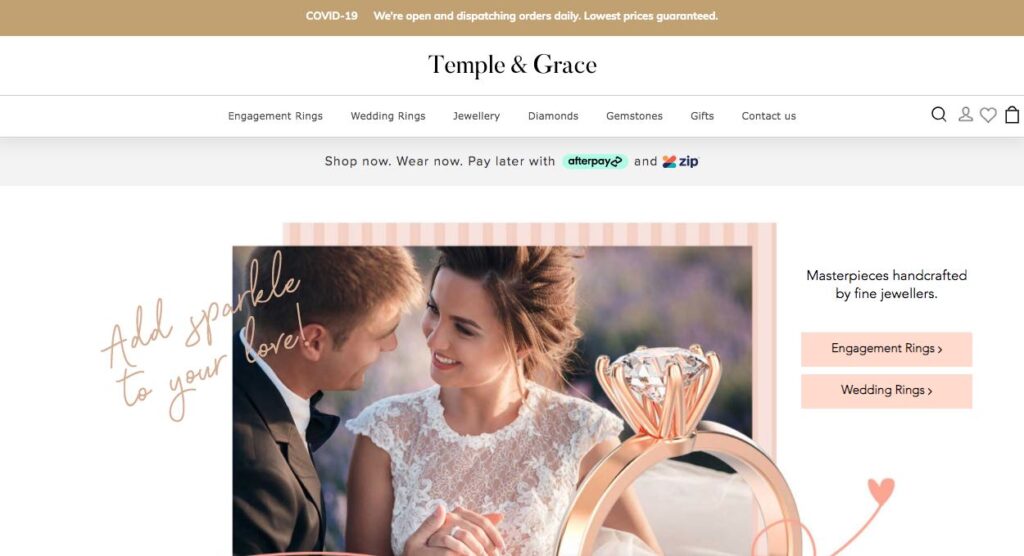 0414 500 999
Australia's finest engagement and wedding rings
Planning for your big day is exciting and Temple and Grace can ensure that your special day is celebrated in style with finely crafted engagement rings and wedding bands. Temple and Grace take pride in being trusted Sydney based engagement and wedding ring specialists. Being master jewel-smiths themselves means that every piece of jewellery is handmade with careful attention to detail. If you're planning for your big moment, you can visit Temple and Grace in Sydney or buy wedding rings online. Temple and Grace have over a thousand wedding bands and wedding ring sets to choose from. While the look of the engagement ring and wedding ring is important, it is recommended that you keep both, your choice of precious metal and lifestyle in mind.
To ensure that you get the best value for your money, it is pivotal to note that when you buy engagement rings, diamond rings and wedding rings online from Temple and Grace, you will save over 40% when compared to high-street jewellery retailers. So how do you save so much? It's simple. All Temple and Grace jewellery is made in-house. Every diamond ring, engagement ring and wedding band that you see online is handcrafted directly at the Temple and Grace jewellery boutique in Sydney. We are renowned goldsmiths and loose diamond specialists. With in-depth understanding of precious metal such as gold and platinum, we guarantee that we can make you the finest diamond wedding bands and gold wedding rings. Visit us or shop online to experience finesse and high quality wedding and engagement jewellery.
The difference between high-end and classy fine jewellery and cheap looking jewellery is the finesse with which it is made. Temple and Grace jewellery is crafted with much needed passion and precision. Trading in fine jewellery is very different from making fine jewellery. Being skilful jewel smiths, Temple and Grace understand how to make gold and diamond jewellery to exacting standards. When you open a Temple and Grace wedding ring box, you can see how beautifully the ring has been made. The smiles on the clients' faces keep Temple and Grace in business day after day. A wedding is a special occasion and choosing a reputed jeweller is vital. A perfect wedding ring cannot be bought off-the-shelf. Even if you like a certain ring style, it needs to be customised precisely to your finger size. A well-crafted platinum or gold wedding band looks extraordinary and feels ultra-comfortable. Since 2015, Temple and Grace has been passionate about handcrafting the finest gold rings, platinum rings and diamond rings for men and women. You will also find a fine selection of women's jewellery including gold bracelets, diamond bracelets, necklaces, earrings and gemstone rings.
The success of Temple and Grace is due to continually striving to design, handcraft and retail the most stunning wedding bands and engagement rings online. If you're looking for cheap wedding rings, Temple and Grace have Australia's largest range of titanium wedding rings, zirconium wedding rings and stainless steel wedding rings. No matter what metal and budget you have in mind, Temple and Grace are Australia's finest online jewellers for good reason.
The Temple and Grace team take immense pride in knowing that every day they are part of someone's special moment. This joy of playing a role in a couples' dreams and their commitment of a lifetime together makes the team at Temple and Grace come to work everyday.
For your special day, the wedding band should be spectacular. Whether you're looking for wedding rings for women or men's wedding bands, Temple and Grace have the best collection. A well-finished gold wedding band can handmade in 9K as well as 18K gold. Some of the designer wedding bands we stock include PW Beck and Dora. Both of these brands have a wide selection of gold wedding rings, platinum wedding rings and diamond wedding rings.
Selecting the right metal for your wedding ring is extremely important. Some of the popular metals used in the making of a wedding ring include Gold, Platinum, Silver and Platinum. Temple and Grace often use these precious metals in combination with each other to produce a unique wedding ring.
Gold wedding rings
Since generations, Gold has been hight sought after. It has grown to be known as a symbol of wealth. One of the reasons that Temple and Grace clients' prefer having a gold wedding ring is because gold does not rust, corrode or tarnish. Alloyed gold comes in a choice of various colours including White, Yellow and Rose. The purity of the gold in the wedding band will depend on the carat you select online. You can identify the carat of the gold by reading the carat stamp on the inner circle of the wedding ring. Temple and Grace Gold wedding bands are made in 9K and 18K. It is important to note that the higher the carat selected, the higher the fine gold content in the ring.
White Gold wedding rings
White Gold is an alloy that is created from 24K Yellow Gold and other naturally white precious metals. Like other Gold alloys, White Gold comes in a range of carats and is often plated with Rhodium. This makes the White Gold ring look even whiter and shine brighter.
Rose Gold wedding bands
Rose gold or pink gold again is an alloy of 24K Yellow Gold. Copper is used in amalgamation with Yellow Gold to create a pinkish hue to create magical rose gold rings.
Platinum wedding rings
Platinum is the rarest and one of the most valuable precious metal. Only a small amount of platinum is produced each year and this enhances its' value. Platinum is hypoallergenic and does not lose it's lustre or tarnish with time.
Titanium wedding rings
Titanium is a light weight hypoallergenic metal which is known for it's high level of durability and strength.
Looking for GIA certified loose diamonds at the lowest prices in Australia? Buying a loose diamond for your jewellery is now easy. Temple and Grace have a large selection of certified as well as non-certified diamonds in Sydney. No matter how big or small your budget is, Temple and Grace guarantee to beat any quote. Choosing the right diamond and setting for your diamond engagement ring or diamond wedding band is an important decision. Temple and Grace have the reputation of providing incredible value for money for a loose diamond in Sydney.
H & H Jewellery Wedding Store Melbourne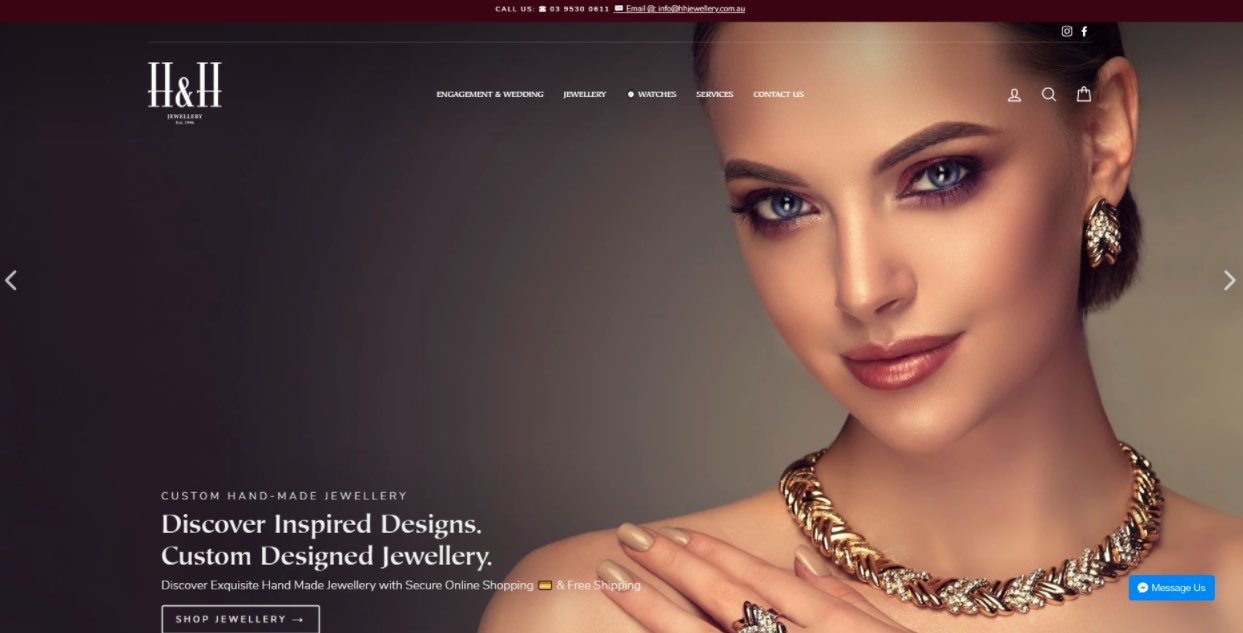 03 9650 2727
Your Diamond Engagement & Wedding Ring Specialist.With three bespoke jewellery stores in Melbourne, H&H Jewellery is a trusted and well-known Master Jewellers and Diamonds Specialists with a 25 Year heritage in the Manufacture and Design of Bespoke Unique Diamonds & Jewellery.
Established in 1996 by Melbourne's Master Jewellers & Diamond Specialists - Chris & Harry, they boast 40 years' experience in the jewellery trade between them.
H&H Jewellery prides itself on its extensive collection of stunning opal, opal jewellery, rings, earrings, pendants, necklaces, bracelets, bangles and chains encrusted in diamonds and precious gems, meticulously crafted into timeless pieces sure to meet your every desire and suit any occasion.
Whether you're shopping for a loved one, purchasing a gift for yourself or simply looking for something special, a visit to H&H Jewellery is a must. Experienced in fine jewellery and a keen eye for detail, a friendly team of diamond consultants will ensure you find the perfect piece.
For a classically themed ring with a difference, you can choose from classic solitaires, glistening halo, meaningful three-stones to a range of wedding bands – your eyes will sparkle as you look through these beauties, available Shop Online or In-Store.
Wedding Bands
A wedding band is a symbol of the eternal promise you are making to each other and is worn to represent the love and devotion of marriage. There is beauty in the simplicity of the design. H&H Jewellery wide range or Wedding Bands rage from white gold, yellow gold and platinum. We can also work with rose gold, palladium, titanium and other materials upon request.
Diamond Bands
When beginning the first chapter of the rest of your life with the stunning diamond engagement rings from H&H Jewellers, matching wedding bands to ensure your engagement and wedding rings match perfectly. H&H Jewellery diamond bands include feature gemstones and can be crafted from traditional yellow gold or white or rose gold for those who want a piece as unique as their love.
All pieces are available in both men's and women's sizes to ensure that you can find a matching pair if desired.
Are you Looking for a Custom Diamond Ring Design with GIA Certified Loose Diamonds?
H&H Jewellery is also Leading Diamond Wholesaler & Supplier sourcing Ethically Produced, Conflict-Free, GIA Certified Diamonds and Precious Metals & Gems.
You can purchase Loose Quality Diamonds for your ring at by Weight, Color, Clarity, and Price. Talk to a H&H Certified Diamond Consultants to view an extensive range of loose diamonds to inspire you as you search for the perfect expression of your lasting love.
Once you have found your perfect gem, H&H Master Jewellers also provide Custom Jewellery & Diamond Design Services, specially handcrafted using the finest materials.
H&H Jewellery Repairs, Restorations & Valuations Services Melbourne
A Talented Team of Specialist Diamond Consultants & Master Jeweller's are on hand to offer a comprehensive range of Professional Specialist Jewellery Services that include:
On-Site Jewellery Repairs - such as ring resizes, chains, re-tipping and claws, replacing stones, fitting new clasps, polishing, rhodium plating and soldering charms.
Product Care & Cleaning- With some basic professional care you can preserve and protect your jewellery for years to come. Pieces should be stored in a jewellery box and professionally cleaned once a year.
Remodelling- Bring your old or damaged jewellery to H&H Jewellery for restorations and remodelling. This is perfect for pieces that hold sentimental value.
Valuations: H&H Jewellery Valuation Services are completed by an independent gemologist at all of our diamond jewellery store locations. Each item is carefully examined to assess the quality and arrive at a retail replacement value based on current market conditions. Valuation Certificates are also provided are proof of purchase.
Insurance Appraisals & Claims: H&H Jewellery understands how important it is to have your jewellery covered for the correct amount for Insurance & Claims. Contact H&H Jewellery and get professional help replacing items that have been stolen or destroyed (e.g. remakes).
Contact H&H Jewellery
Phone: 03 9530 0611
Shop Online at www.hhjewellery.com.au or
Visit In-Store at one of three conveniently located stores in Melbourne:
Elsternwick : 414 Glenhuntly Rd, Elsternwick Vic 3185 | South Yarra : 586 Chapel Street, South Yarra Vic 3141 | Melbourne CBD : 192 Collins Street, Melbourne Vic 3000
GS Diamonds Wedding Jewellery Shop Melbourne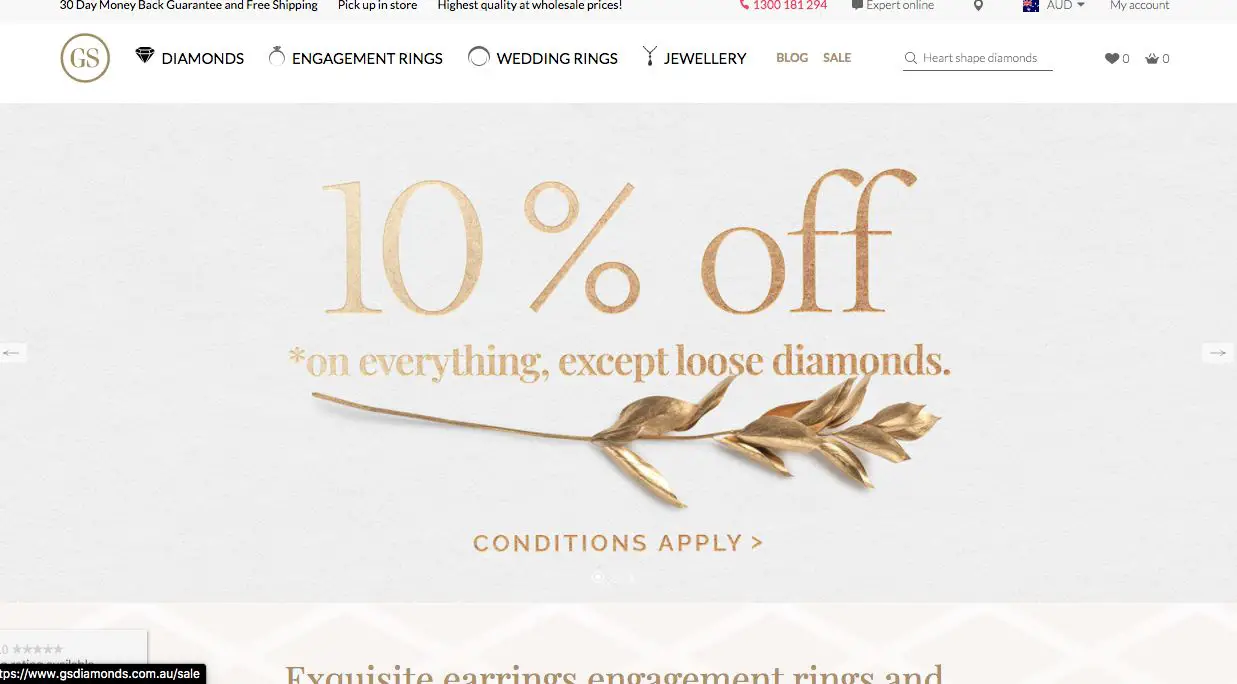 gsdiamonds.com.au
1300181294
GS Diamonds Proud to be an Australian owned family business
If you love diamonds, wearing them is enough. If you are passionate about diamonds, you want to wear them, work with them, design them, spend your working hours with them, and share them with the world. This is exactly what husband and wife team, Julia and Tony, did. The couple founded GS Diamonds and have over 30 years' experience in the design and diamond industry. With multiple awards between them Julia and Tony are surrounded by a dedicated team, who have very high credentials, when it comes to their expertise in diamonds, making each design that is created a work of art, made with GIA-certified diamonds that bring out the sparkle in each woman who wears them.
Tony uses his expertise to bring the best stones to the design studio in Sydney where they are handcrafted using state-of-the-art technology to guarantee high quality at a good price. GS Diamonds also understands that each customer often has an idea of the dream diamond ring, therefore we offer an exciting choice. Discover precious stones in various shapes and sizes, different settings, innovative design and, of course, customization. We are committed to finding the perfect diamond for you.
We welcome you into our home of GS Diamonds.
Care Guide: How to Keep Your GS Diamonds Jewellery Looking Beautiful
As with anything you love, you want to look after it. The same goes for those diamonds you've just bought. Treat them right and you can wear them for a lifetime, then pass them down to the ones you love. Yes, there might be a few scratches along the way but to make sure you don't do any real damage, develop these good habits, below.
Remove rings, necklaces and earrings before you do any practical jobs around the home, go to the gym or take part in any sports. This includes swimming. Chlorine can be harsh on delicate jewellery.
Keep household cleaning products well away from precious items. Get into the habit of wearing protective gloves if you are cleaning at home. Or simply take off rings etc. to be on the safe side.
Put your make-up and hair potions on first, then accessorize. This keeps creams and perfumed liquids away from jewellery. It helps to avoid any chemicals reacting to your metals. It keeps your sparkle bright, too. Some products can take the shine off diamonds.
When you're not wearing it, return your jewellery in its original box to keep it away from sunlight. It is also a good way to prevent rings and necklaces from becoming tangled in a jewellery box.
Don't keep your diamond rings in the cupboard or on the shelf in the bathroom. A damp, steamy atmosphere is not great for precious metals and diamonds.
Use warmish water and a drop of gentle soap to wash and clean rings and other jewellery. You can also use a soft brush (like a toothbrush). Leave them to dry, then buff and shine with a lint-free cloth.
It is worth paying to have your jewellery cleaned by the professionals every six months to a year. Our specialist team will expertly clean and polish your GS Diamonds.
Jasmine Fraser - Wedding Jewellery Melbourne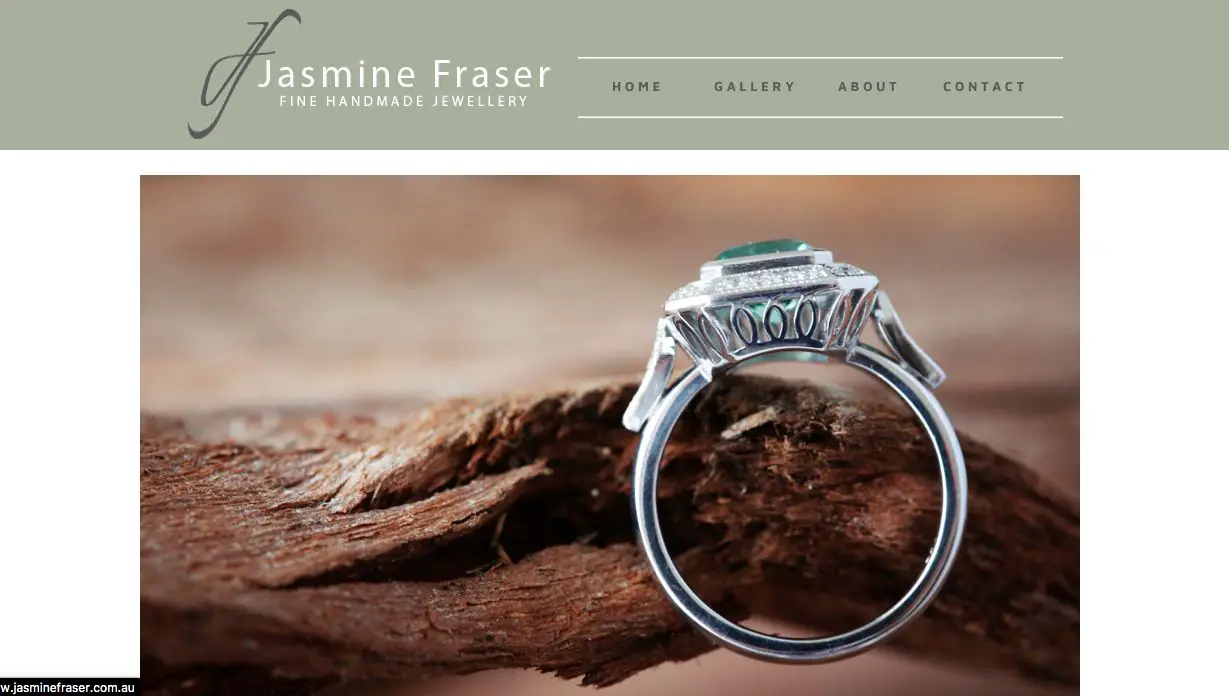 jasminefraser.com.au
1396636111
Jasmine Fraser specialises in designing and creating beautiful, timeless jewellery.
Centrally located in the heart of Melbourne, for over 15 years, Jasmine Fraser has been respected for honesty, quality and design.
Jasmine Fraser jewellery pieces are handcrafted on the premises, allowing clients to explore all aspects of jewellery manufacturing. A wide variety of precious metals and gemstones are used to meet your individual needs. With the additional gemmology and diamond grading qualifications Jasmine is able to offer one-on-one expert advice to create an original designed piece for any occasion.
Enjoy the personal approach by taking the time to make an obligation free appointment with Jasmine to discuss your jewellery requirements.
SERVICES
Design and Manufacturing of Fine Handmade Gold and Platinum Jewellery, including wedding rings and engagement rings
Independent Valuation Certificates
After sales service, a professional cleaning of your jewellery every six months free of charge
Remodelling Service
Restoration
Repairs on your existing jewellery
Pearl Rethreading
Ramzi's Custom - Wedding Jewellery Melbourne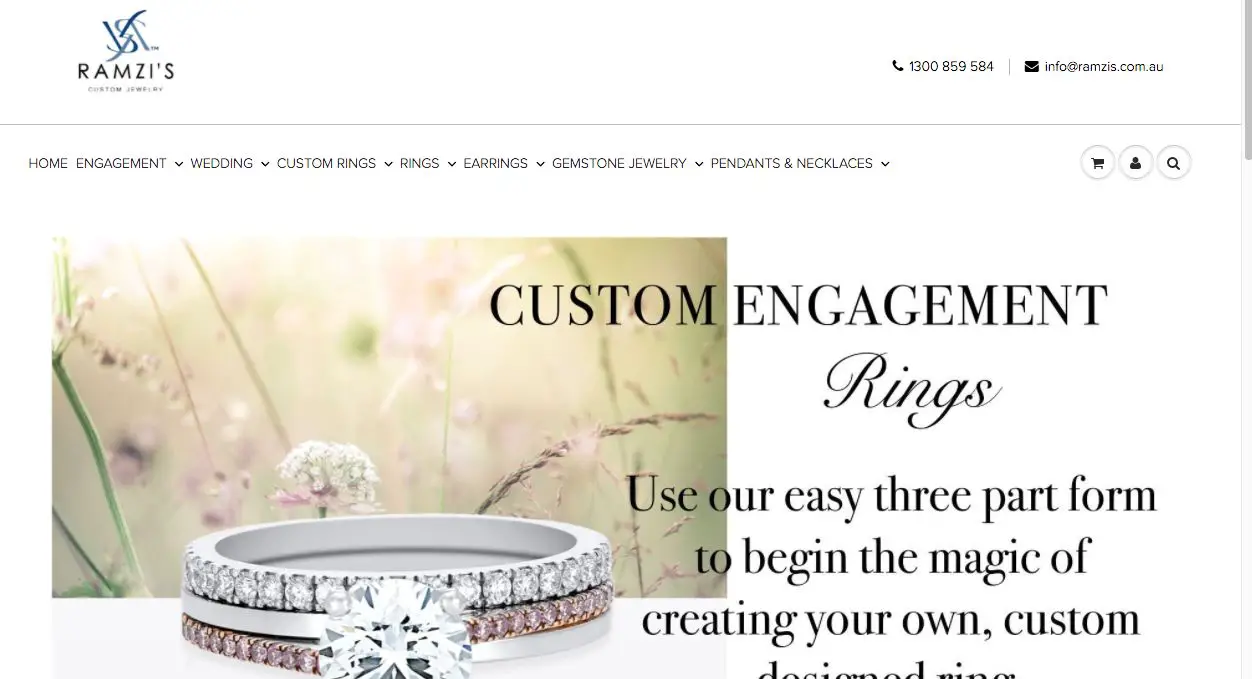 ramzisjewelry.com.au
1300859584
Our Story
Ramzi's Custom Jewelry is a family affair, and we hope you will come to trust us like family. We've come a long way from our humble, earnest start as Ramzi Gems in Sri Lanka over two decades ago.
We are proud to be one of the premier jewellers in Melbourne and manufacturers of unique engagement rings and custom jewellery online.
Our professionalism, attention to detail, and ethical business dealings helped us grow our brand to renown status and allowed us to start doing business in Australia and now, worldwide.
Each one of our gems is natural and 100% conflict free. Every sapphire we sell is hand picked from our family owned mines and polished and refined in our in-house lapidary.  We acquire our other gems like GIA certified diamonds straight from the source: conflict-free mines around the world.
Our standards are exacting and we believe you will see the quality and craftsmanship. We have a relationship with the gems at every step of the process and our investment shines through in our unique, custom jewellery designs.
Quality' at Ramzi is of supreme importance. Each gemstone that we cut and polish is strictly supervised at each stage by Our Quality Control team.
We only work with a trusted network of established dealers in the industry to ensure all of our gemstones and jewellery is sourced from conflict free environments. You can shop with us guilt free.
In addition to providing high-quality gems and custom jewellery designs to the world, we have competitive prices- up to 40% less than our competitors. Our business is self-sufficient and independent, and that results in savings for our customers.
A Gem's Journey With Ramzi's
Every beautiful gemstone featured in our Jewellery begins its journey waiting to be discovered in our family owned, conflict-free mines in Sri Lanka or one of our direct sources around the world.
The stone then travels to our Lapidary for some TLC and self discovery. Our skilled gem handlers cut and polish the stone with extreme care and precision and the gem finds its full expression.
Now empowered, the gem is set beautifully and packed lovingly for shipment. When the Ramzi sapphire or GIA certified diamond custom ring, necklace, or bracelet finally arrives at its new home, you will have a cherished piece of wearable, custom art.
Lifetime Guarantee
All our jewellery comes with a lifetime guarantee against faults in materials and workmanship. We guarantee that all fine diamonds, coloured gemstones, platinum Jewellery and gold Jewellery that we sell is genuine, authentic, and of the same quality and value as represented at the time of purchase and is inspected prior to shipment. Every diamond purchase comes complete with an Independent Lab Certificate from GIA for authentication.
We promise to repair or replace any purchase with manufacturing defects. Just contact us.
Note: Our guarantee does not cover defects relating to general wear and tear, scratching, damage caused by accidents, neglect or misuse, exposure to harmful, abrasive or corrosive substances or any other factors outside of normal expected use or any resulting loss of the item or precious stones from the item. Any unauthorised repairs or alterations by someone other than Ramzi's Custom Jewelry would void the guarantee.
Ramzi's Difference
We Are Locally Owned and Family Operated
Ramzi's Custom Jewelry is a 100% Australian owned company with over 25 years history in the custom jewellery and precious gemstone mining industry.
Ramzi Offers Top Quality and Affordable
Jewellery We love what we do and we value your business. We are proud to deliver only the highest quality jewellery and gems to customers, at affordable prices. To us, these two features go hand in hand and we wouldn't dream of sacrificing design or the quality of our work just to sell cheap engagement rings online. Strict quality control is the cornerstone of our business and we apply it to every step of the acquisition, production, and process of selling rings online. We only source the finest, most exquisite stones from conflict free environments and take great care polishing, cutting and mounting them to display their natural beauty. Our constant involvement in every facet of the process ensures that we can pass significant savings of up to 40% off retail to customers. Choose any item from solitaire rings, halo engagement rings, pave set engagement rings, GIA certified diamonds in unique settings, rose gold rings, white gold rings, and more and shop with the ultimate confidence and savings.
We Have The Widest Selection of Custom Jewellery Online in Australia
Our focus on quality and affordable prices encompasses our wide selection of unique engagement rings online. Our website is easy to shop and sort so that you find the perfect statement piece for any occasion.
Join our customer family and see for yourself why so many customers worldwide turn to Ramzi's Custom Jewelry for their engagement rings, sapphire rings, diamond and gemstone stud earrings, pendants and bracelets. Choice is the first luxury we offer all of our customers.
You Can Save Up To 40% Off Retail Prices At Ramzi's Custom Jewelry Online
Whether you seek a great selection of filigree engagement rings, pave rings for a special occasion, diamond halo rings to celebrate an anniversary, or stunning statement pieces like sapphire rings, you will find them all right here. On top of increased selection, our healthy business means we bring diamond rings and sapphire rings to you at 30-40% off retail prices. Every piece is hand tended and crafted, available in a full range of sizes, styles, and settings.
Every beautiful stone receives a proper frame to show it off. Our involvement in every step of the gem process means we can create custom orders just for you that cost less than cheap engagement rings online from other retailers. Imagine presenting your closest loved one with a one of a kind gemstone in a setting created just for them.
These are keepsake pieces that are handed down for generations, and we are honoured to be a part of that special bond. All of our rings, necklaces and earrings featured gems sourced directly from reputable mines in conflict-free areas. Ethics, Distinction, and Reputation Our history is over 20 years long, and in that time we've developed strong relationships within the gem industry.
Our reputation has grown together with our customers and we are well known for our quality, attention to detail, and artisanship as well as our responsibility to our homeland of Sri Lanka. We proudly offer Ceylon (Sri Lankan) sapphires together with responsibly-sourced diamonds, morganite, tanzanite, emerald and ruby . Sri Lankan sapphires are known to be the most vibrant and beautiful anywhere in the world. We love sharing a piece of our homeland with the world through our creations and hand selected jewellery.
Our Quality & Craftsmanship
Unique Diamond and Gemstone Jewellery Delivered From Melbourne to Anywhere in Australia
Find the perfect token of your love at a valuable price. Ramzi's Custom Jewelry has a wide selection of affordable engagement rings with sparkling GIA diamonds, vibrant Ceylon sapphires, and many other unique gemstones including morganite and tanzanite.
Our rings look exquisite, but cost up to 40% less than you'll pay at a retail location. We have a wide range of sizes, cuts, styles, and settings available for you to choose from. Because our relationship with our gems extends to the mines themselves, even our custom rings cost less than most engagement rings online.
Our Priorities
Utmost Customer Satisfaction
Your satisfaction is our top priority and that goes for every member of our team of qualified and dedicated personnel. We value the task of creating a treasure for you to cherish your entire life.
Offering Quality Custom Jewellery Online
The quality of our work is also paramount to everyone at Ramzi's. We have a keen attention to detail and incredibly high standards because our name is our bond. It is because of our customers that we are able to offer such a wide range of elegant, unique engagement rings and jewellery at the lowest prices. Our success grants us access to a large inventory and dealer network.
The Finest Affordable Engagement Rings And Custom Rings Online
All of our custom rings and other pieces are affordable because of the volume of business we do and our direct relationship with mines and wholesalers. You'll pay 30-40% less than retail at Ramzi's Custom Jewelry and we'll deliver to your door for free.
Ethical Business Practices and Conflict Free Diamonds
We only work with a trusted network of established dealers in the industry to ensure all of our gemstones and jewellery is sourced from conflict free environments. You can shop with us guilt free.
Free Australia wide shipping
We now offer worldwide shipping options. Build a ring online or choose one of our many styles of engagement rings and keepsake pieces from anywhere on the planet.
For queries, Call us today on 1300 859 584 or email us at info@ramzis.com.au and our knowledgeable staff will assist you in any way you need.
Janai Jewellery -Wedding Jewellery Shop Melbourne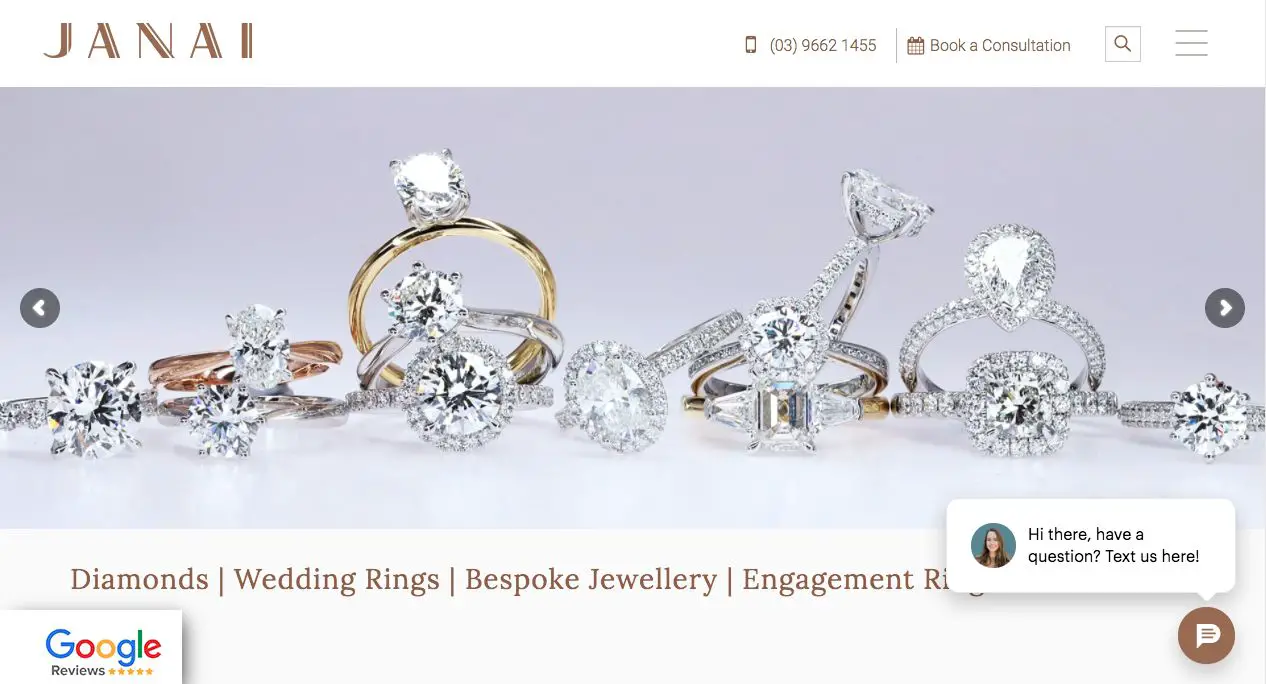 janai.com.au
396621455
Custom Engagement Rings Melbourne
From behind the doors of our Collins Street boutique, we've been carefully fashioning one-of-a-kind jewellery and engagement rings. As a bespoke diamond ring designer, Janai Jewellery has been hand-crafting custom diamond rings for over 35 years. Made to your exact specifications and style, we take pride in creating some of the best engagement rings Melbourne has to offer. Our passion lies in creating beautiful memories for our customers with stunning jewels, high-quality craftsmanship and superior design service.
Our team of jewellery designers, sketch artists and diamond setters will walk you through the production and planning of custom engagement rings. For those looking for something ready-to-wear, we also house a collection of jewellery from international and local jewellery designers in Melbourne.
Quality Service, Superior Jewellery
From our CBD boutique, diamond rings and custom jewellery are crafted to make jewellery that's unlike anything our customers have seen elsewhere. Our friendly team of expert jewellery designers, sketch artists and diamond setters can create anything you want to see on your finger, the only limit is your imagination. From precious metals to superb gemstones, we only carry the highest quality of materials to ensure that your jewellery is crafted to our high standards. Besides producing weddings rings and diamond engagement rings Melbourne couples adore, we also provide exceptional after-care services including unlimited cleaning for your Janai Jewellery.
Melbourne Diamond Rings Designer
From the very beginning, you will be involved in every step of your diamond ring design. Made to celebrate one of the most beautiful and important moments in a couple's relationship, our diamond wedding and engagement rings are Melbourne approved. Couples often come to us for custom designs, carefully and exclusively fashioned for someone special. At your initial consultation, the ring will begin to come to life, and our team will work closely with you at every stage to ensure that you're a part of the process and completely happy with the end product. Highly trained and experienced in the art of jewellery design, our expert staff will bring a touch of elegance to any diamond or engagement ring in Melbourne.
About Janai Jewellery Melbourne
Our Craftsmanship
With well over 35 years of industry experience,  Janai Jewellery specialises in engagement rings & unique custom design jewellery made to the highest of standards in Melbourne.
Janai Jewellery offers true craftsmanship at its finest.
We combine quality craftsmanship, expertise and skill to create the perfect piece of jewellery done to meet your specifications. We are dedicated to delivering a service that guarantees your full satisfaction and works to go above and beyond your expectations.
At Janai Jewellery we can handcraft any design you have in mind and make it a reality you never thought could be. From strikingly elegant engagement rings, stunning wedding bands, to memorable gift pieces such as intricate gemstone earrings or pendants. We can do it all.
Our services include restoring, remodelling and resizing your precious pieces as well as re-using your stones in a new piece at your request.
We only have the most experienced and extensively trained designers, sketch artists, jewellers and diamond setters involved in the craftsmanship process. Our team have a thorough understanding of the process of making jewellery and can provide a sketch that is not only detailed and precise but also structurally sound.
What's special about our craftsmanship that differentiates us from other jewellers?
What is unique about Janai is that our consultants are involved throughout the entire process. From helping you find your diamond to helping you design your piece, our team of specialist will constantly be in touch with you and the jewellers, production team and diamond setters to ensure all your design details are being met.
Why choose Janai Jewellery?
Our in house team of master jewellers and diamond setters have decades of experience and are highly qualified in structurally making your ring. So if you or someone special in your life is looking for a one of kind and truly personalised piece of jewellery, why not choose Janai Jewellery.
Our services offer:
30 years of industry experience
A customer service dedicated to making customers priorityOnly the most experienced craftsmen
Unique custom design jewellery made to the highest of standards
Our Process
We know the importance of giving the utmost attention to detail when crafting for our clients. That's why our meticulous production department also undergoes quality control to ensure each jewellery item is made to the highest of industry standards.
But before we start production, we always start with the client. Clients can arrange a time with us to discuss any specifications they have in mind about the piece they wish to design.
Our jewellers can explain in detail the variety of diamond, metal and gemstone options available and will happily answer any questions regarding the process.
Once we gain a thorough understanding of our client's concept our team of very creative designers will produce a scaled, three-dimensional sketch and cross-check with clients to ensure all the necessary specifications are being met.
Our highly skilled CAD designers will then engineer the approved concept into a highly accurate rendered CAD image. Our expert jewellers and diamond setters will subsequently collaborate to make the concept into reality, with a finish that boasts the utmost precision and quality.
Joseph George - Wedding Jewellery Melbourne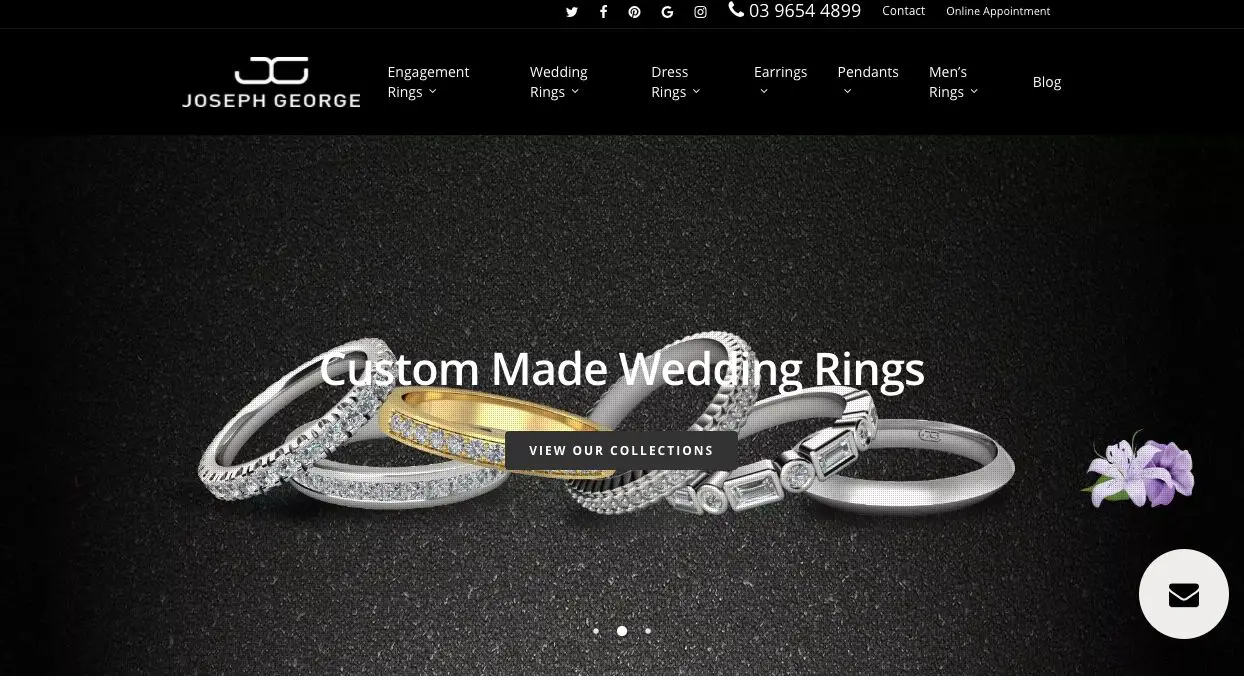 josephgeorge.com.au
1396544891
40 years of crafting experience
With more than 40 years of experience in the art form that is jewellery design, comes a range of special, custom-made collections from Joseph George himself. Precious and bespoke, each piece of intricate hand made jewellery brings something unique and special to you. As custom gold ring makers, our promise is to create intricately designed pieces that are as sentimental as they are beautiful.
Affordable Prices, Luxury Pieces
At Joseph George, we create and deliver pieces as individual and unique as you are. Whether you're looking for mens jewellery or women's gold jewellery in Melbourne, we can create everything you've dreamt of, and more. Every stunning and quality piece is made especially for you, and can't be bought anywhere else.
At Joseph George we work with you through the entire process from the initial discussion, to the moment your jewellery is ready to shine. From every detail of your design, we are there to educate you on the metal or stone you have in mind and assist you in any way he can, to make sure the piece is exactly what you've been looking for, and more.
Every item is custom-made to suit each customer and their budget.
Joseph George has kept his business running costs low, so he can provide his customers with the highest quality jewellery at the best possible price.
Long lasting
As handmade jewellery and custom gold ring makers, our diamond engagement rings offers exceptional levels of design and quality, carefully crafted in order to last. Through our free cleaning and polishing service, we'll help you provide the right level of love and care to your jewellery, ensuring that it will last the distance.
A Guide to Ordering your Custom-made Ring
Ready to order a custom-made ring as unique as you?
We're here to help you every single step of the way, starting with a guide to ordering your custom-made ring.
Our Personalised Approach
At Joseph George Jewellery in Melbourne CBD, we offer you one on one, personalised service through direct interaction with the designer and jeweller, Joseph George.
Envision your Dreams with Joseph George
During the design process, we will work with you collaboratively to design a piece that reflects your individual style. After all, your complete satisfaction is our ultimate goal. We will provide you with the guidance of an educated jeweller to ensure your custom piece of jewellery truly reflects your inspiration.
At Joseph George Jewellery in Melbourne, we are certain that you will become a customer for life. Our objective is to provide you with a stunning piece of jewellery inspired by your visions and completed with our specialised skills.
MDTdesign Wedding Jewellry Melbourne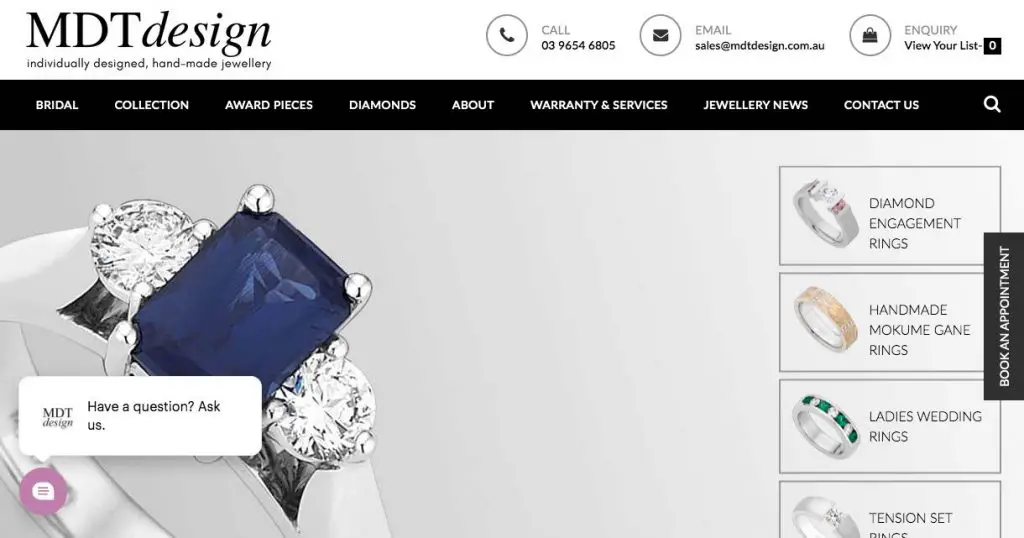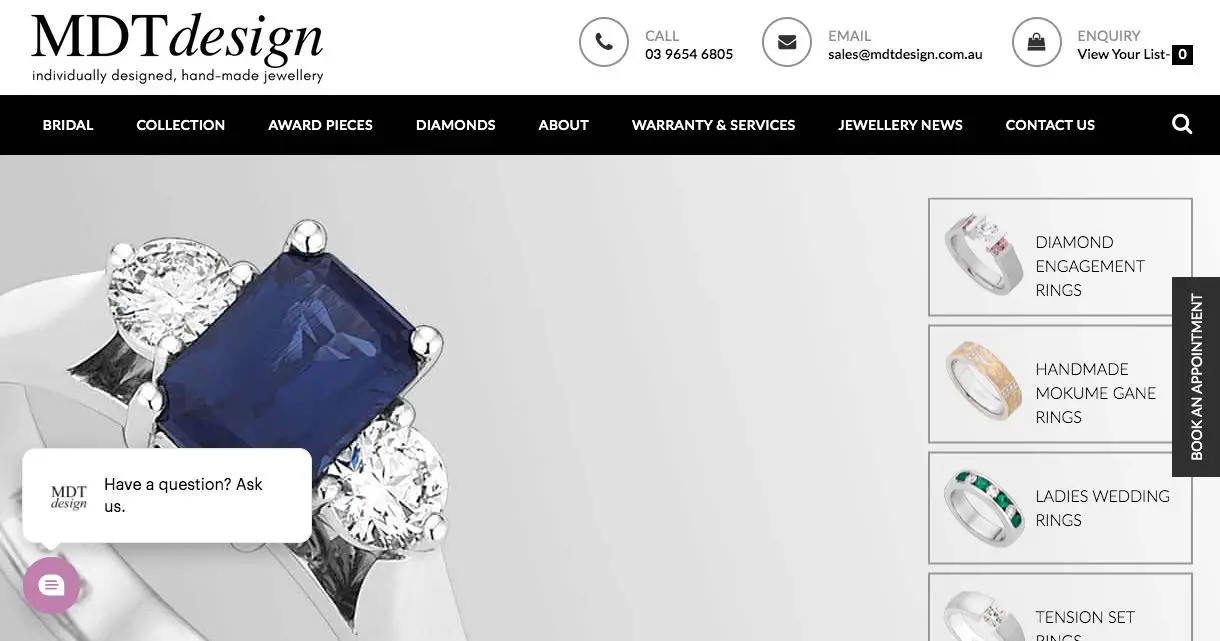 mdtdesign.com.au
1396546801
Custom Designer Jewellery Melbourne
Are you looking for a Melbourne jeweller to make you a gorgeous handmade diamond engagement ring that is unlike any other you've ever seen? Do you want something stylish and sophisticated? Unique and edgy? Classic and timeless? Whatever your heart desires you must come meet me and my team of diamond graders, jewellers and designers at MDTdesign. We have been handmaking our jewellery since 1981 and every piece of jewellery is made in our on-site Collins Street Melbourne workshop located behind our boutique in the heart of  Melbourne and pride ourselves on bringing your dream ring to life!
At MDTdesign we Handmake all of our stunning diamond engagement rings, wedding rings, pendants and earrings all right here in our Melbourne CBD jewellery store. All of our custom jewellery is hand-made on-site and is 100% Australian-made with your choice of using Australian diamonds.
Please come and talk to me, Nicholas Theochari, and my team of experienced and professional designers, diamond graders and jewellers. Our jewellers will individually design a ring for you that you will love for life. Whether you prefer traditional or contemporary designs, we can create a custom made jewellery piece that is exactly what your heart desires, using only the very finest precious metals and stones.
Our jewellers make diamond ring designs to suit your style & budget
We love custom made and bespoke jewellery and creating coloured and shaped rings that highlight your unique personality, but we truly feel that nothing shines like a diamond. Which is why at MDTdesign we are the diamond engagement ring specialists and one of the best jewellery stores in Melbourne CBD for all of your diamond ring needs. We will help educate you on a diamonds cut, colour, clarity, carat weight and answer all your questions about which diamond is best for you. We give you the education you need to be able to make the choices that are correct for you.
We use only Conflict free diamonds with your choice of using a fully certified Australian diamonds, and the best stones our In house diamond graders can find. We'll show you a stunning range of sparkling stones that will take your breath away. You are guaranteed to find a diamond that's perfect for you when you meet with our experienced ring designers and jewellers. We can create a design that will make you truly happy. When it comes to custom-made diamond rings in Melbourne, you can trust MDTdesign to fulfil your heart's desire. So please come and experience why we are one of the best jewellery stores in Melbourne.
Visit our store for bespoke jewellery, the choice is yours
Whether you're shopping for gold engagement rings, custom designed jewellery pieces or are taking the next step and need an ideal wedding ring, you can trust MDTdesign's experienced jewellery designers and passionate Melbourne jewellers to provide you with the very best service and advice on designs that speak to you. Not all jewellery stores are made equal, and we pride ourselves on continuously offering our customers excellent service and creativity to help make their jewellery memorable and special.
If you're looking for something special we have a large selection of pieces in-store but also can customise a truly unique custom designed piece of jewellery, you can find us in the heart of Melbourne CBD. Please come and meet our team and experience the true individuality and style of our stunning designer jewellery and engagement rings, along with an array of tension set rings, diamond jewellery, and custom rings.
Made in Melbourne Engagement Rings
Made In Melbourne Engagement Rings MDTdesign is a Melbourne Jewellery design boutique and workshop located in the heart of Melbourne at 348 Collins Street. Having been established in 1981, our primary focus is to personally hel ...
The 4Cs – Diamond Colour
The 4Cs refer to the four characteristics by which diamond quality is judged. These are diamond colour, clarity, cut and carat weight. However, it's important to remember that these factors are just a general guideline.
A Guide To Find The Perfect Diamond Engagement Ring
When looking for the engagement ring that she is going to say yes to and wear it for the rest of her life, there can be a lot of pressure on to finding the perfect one! We understand that it can be a hard process, especially if ...
A lifetime of passion for creating beautiful things
In 1975 I was just a young man starting an apprenticeship. I had a passion for creating beautiful things, and a dream to one day start a business.
At the age of 21, my dream became a reality when I started my own wholesale manufacturing jewellery business. But my real passion was to open a retail jewellery store where I could personally design and create exquisite jewellery directly for my own customers.
In 1988 I happily opened the doors to my first store, originally called Melbourne Diamond Traders. From the beginning, as head salesman and head jeweller, I was finally living my dream. Dealing directly with people, designing simply stunning rings and other jewellery that they had only dreamed of – then going into my workshop and bringing it to life.
To this day, nothing makes me and my team happier than to see the look of delight on your face when you see your ring for the first time – your dream made a reality that you can hold in your own hands.
In 1992, I changed my business name to MDTdesign. (After all designing what was I was really loved doing, not trading diamonds!) Now operating in my new boutique store in the heart of Melbourne, I'm very proud to have established our reputation as one of Melbourne's leading bespoke jewelers. Everything we create at MDTdesign is personally designed and hand-made by my team and I.
Walk into my store and I promise you will always be greeted by a smile as bright as the dazzling diamond jewelry we have on display. From ladies and gents engagement rings, to wedding bands and dress rings, and an array of earrings and necklaces in 18ct white and yellow gold and platinum, we have it all. Use anything you see in the store as inspiration for your own dream creation or tell us your thoughts and we can start from scratch.
We pride ourselves on making you feel special, cared about and your ideas and inspirations listened to and understood. You will be pleased to know that once we start working on your ring, it will never leave our hands. All our designs are hand-made on our premises by our award-winning team of qualified jewellers.
We focus on quality in our workmanship at all times. We are sad to see so many jewellers moving away from hand-making jewellery.
I personally have always believed that a hand-made ring will hold its value and a special place in your heart far longer than anything mass-produced. Because when it's made by hand, it's a much better piece, simply because the metal is more compact and stronger after a jeweller works to harden it.
And being made with heart and love, means it has a lot more meaning attached to it than something that simply comes off a manufacturing line.
We pride ourselves on our rapidly expanding repertoire of unique designs. We promise to always give you exceptional customer service. And we look forward to you sharing your dreams, hopes and ideas with us, so that we may create for you, a precious, hand-made piece of jewellery, you will treasure you entire life.