The tradition of wearing wedding rings goes a long way back, and is even believed to have been practised by the ancient Egyptians! The wedding ring is traditionally worn on the fourth finger of the left hand, as this particular finger was believed to have the "vena amoris", Latin for a vein that is directly connected to the heart. Although science proved this wrong many centuries ago, we think the ring finger and the wedding ring around it are still really important. After all, your wedding ring symbolises the union of two people in the sacred bond of marriage.

Since you and your spouse will wear only one pair for the rest of your life, choosing your wedding rings is not something to be taken lightly. Before pinning down one ring style to use forever, get to know the different types of wedding rings that can fully suit your personality.

There's so much talk about engagement rings that sometimes, wedding rings don't seem to get the attention that they deserve. After all, a wedding ring will be worn every single day for the rest of your life! It signifies the greatest commitment that you have made and is an enduring visible symbol of your marriage.

Throughout history, wedding rings have symbolised love, loyalty and faithfulness. This tradition springs from ancient times and is widely found in almost every culture. Wedding rings are often considered a sacred piece of jewellery that is highly valued.

When buying a wedding ring, the approach is quite different from an engagement ring. Most couples buy their wedding ring together, and there is no element of surprise attached to this. It is a sensible, practical decision that is made by both parties. What's more, often it is the most important piece of jewellery that you both will buy together and is an exhibition of your love, style, personality and values.

You've got the engagement ring (after dropping a few hints of course), now it's time to pick out the perfect wedding ring to go along with it—and we've got all the help you'll need. Before saying "I do" to the perfect wedding ring, check out our guide on every important factor to consider.

Cosmopolitan events has proven itself to be an iconic wedding venue and function centre in Melbourne. Book today so you don't miss out.

Narrow Down Your Wedding Ring Choices
Diamonds or gemstones, platinum or gold—narrowing down your ring options may seem overwhelming, but don't panic. Just take it one step at a time. Start with style: Are you envisioning a simple band or one with embellishments? Do you want your wedding ring to be the same metal as your engagement ring? Do you think you and your partner's rings should match? Work out these kinds of questions beforehand so you can zero in on exactly what you're looking for, then start shopping around.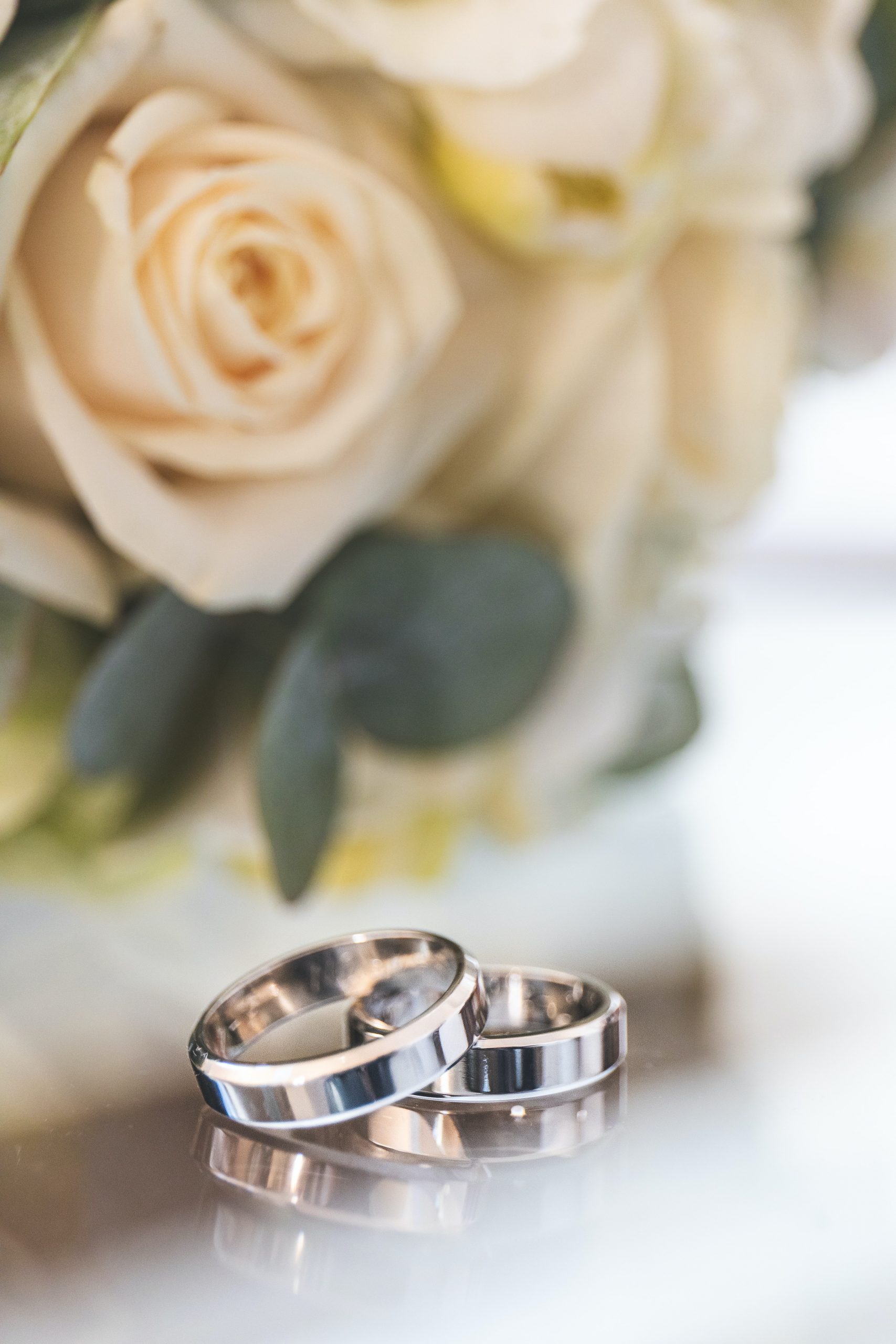 Consider Buying Your Ring and Your Bands Together
If you prefer to be surprised by the engagement ring, this may not work, but knowing what bands go with the engagement ring can help you make a decision. For example, if you have a unique engagement ring, you may want a simple, no-fuss band, whereas a simple engagement ring may call for the added sparkle of a diamond pavé band. Also, think about how the rings fit together. If you're planning on wearing your engagement and wedding ring side by side, 24/7, look for a contour or shadow band designed to interlock with the matching engagement ring. If you're planning on wearing your wedding ring alone, you may want a more intricate style that will look great with or without your engagement ring. Talk to your jeweller about finding a band that works with your ring (some can even create both at the same time).

Start Your Ring Search Early
Once you have a basic idea of what kind of ring you'd like, it's time for the fun part: trying them on! Give yourselves at least two to three months before the wedding date to ring shop. You'll need this time to browse, research prices and revisit rings that catch your eye. If you have your heart set on a custom ring, you'll probably need even more time. And keep in mind: Extras, like engraving, can take up to one month.

Looking for wedding rings check out our list Wedding Ring Shops in Melbourne.
Mix It Up
Don't fret if you like platinum and your partner likes yellow gold. There's no rule that says you have to choose the same metal or even style. You could compromise with braided bands that blend the two metals together or just be totally different—the key to finding something you both love is choosing wedding bands that reflect your individual styles.

Set a Budget
Shop with the assumption that you'll spend about 3 per cent of your total wedding budget on the rings. Depending on the retailer, plain, 14-karat gold or simple platinum band can cost around $1,000. Embellishments, like diamonds or engraving, will quickly add to the cost, so factor that into your budget if you plan to personalise your rings with any of these extras. The price of engraving is usually based on the number of characters, the font used and whether it's engraved by hand or machine (hand is usually pricier).

Keep Your Lifestyle in Mind
Remember: You're going to wear this band every day, so the goal is to choose something that seamlessly becomes a part of your life. If you play sports or an instrument, a slimmer ring with rounded edges (appropriately called the "comfort fit") may make the most sense. If you work with your hands, you may want to search for a simple, solid metal ring and avoid gemstones that can come loose or carvings, which can trap dirt. If you're super active, go for platinum, which is extra durable (when scratched, the metal is merely displaced and doesn't actually wear away).

Try Something Different
You may love the idea of a braided rose gold ring or a diamond eternity band, but once you get to the store, try some rings that aren't on your inspiration board. Chat with the jeweller, then let them make suggestions based on what you like and don't rule anything out. Just like with wedding dresses, you may end up loving something you never thought you would. Wear it around the store for a few minutes and while you have it on, try writing and texting as a comfort test.

Think Long Term
While you shouldn't be afraid of being trendy, make sure the style you choose is something you'll want to wear for, say, the next 40 years. Just don't stress too much: You're not married to the ring and can always make changes to it (add diamonds or go from white gold to platinum) later on to mark a special anniversary.

Consider the Maintenance
To keep a wedding band with stones clean and sparkling, you'll need to wash and soak it in warm, sudsy water, then gently brush it with a soft toothbrush or eyebrow brush (too much pressure can loosen the stones from their setting), rinse it and pat it dry with a soft lint-free cloth. Sound like too much upkeep? You may want to opt for a fuss-free gold or platinum ring—simply rub it with a soft, lint-free cloth (chamois works well), and you're good to go.

Size It Right
Most people rarely take off their wedding bands; they wear them through summers, winters, exercise, pregnancies—all times when your fingers swell and contract from heat, cold, water retention or weight gain. To find the right size that will best weather all of those changes, schedule your final ring fitting at a time when you're calm, and your body temperature is normal. That means you should never finalise first thing in the morning (you retain water from the night before), right after you've exercised (fingers swell) or when you're extremely hot or cold (which can cause your hands to expand and shrink).

Check for Quality
Quality control applies to all rings, not just your wedding bands. Make sure the ring has two marks inside the band: the manufacturer's trademark (this proves they stand behind their work) and the quality mark, 24K or PLAT, for example (this proves the metal quality is what the retailer says it is).

Tips for Grooms Buying a Wedding Ring
Many men wear a wedding ring these days, so it is vital to find a style, metal and shape that suits you perfectly:

Don't feel obliged to buy matching rings – you may have completely different tastes, and that's fine! You won't be together every minute of every day so choose a style that you love, even if it is very different from your bride's.
Although it's traditional for the bride to buy your ring, it makes sense to shop for it together: a wedding ring should be just as you want it and surprises rarely work.
If you have a family heirloom that doesn't fit or isn't quite to your taste, take it to a jeweller before discounting it completely – they may have ideas on how to re-size and renovate it, so it becomes the perfect wedding ring, with added sentimental value.
Think about your occupation and hobbies when you're buying and ask your jeweller for advice on the right kind of style and metal to cope with your daily activities – and always make sure the ring is insured in case anything does happen to it.
Both wedding rings should be ordered around six months before the wedding – don't leave yours until the last minute!
To match or not to match?
When it comes to matching, there are two aspects to consider:

Firstly, do you want your wedding ring to match your partner's? Although the bride and groom wore traditionally matching or complimentary wedding bands, there is no hard and fast rule regarding this. A connection between the two rings is always a nice touch, and this can be achieved in other ways. For example, a heart-felt engraving could be a personal touch between the two of you even though the outward appearance of the rings doesn't match.
The other aspect is whether you wish to match the wedding ring with the engagement ring. Again, there is no rule for this. However, the two rings should look good together and complement each other. Experts say that having the same metal is a crucial way of achieving this unified look, but it depends on whether this look is what you are after.
Most jewellery retailers offer bridal sets, where matching wedding and engagement rings are sold together. You may also be interested in a trio set, where the groom's ring is also included. This is a coordinated and well-matched set if you are after a perfectly matching look.

How and where to shop?
Shopping for wedding rings can take time because there are two people involved. The best way to go about this is first to be familiar with the various styles, metals and designs available to you on the market.

Grab a cup of hot chocolate, cozy up and together browse through the endless online wedding ring options! Narrow down your choices as you discuss what you like and don't like. You can then decide whether to purchase from a brick-and-mortar store or buy online.

Buying online is easier and more affordable, as you can instantly compare the merits and prices of hundreds of rings from the comfort of your own home without any pushy sales tactics.

But you won't have the advantage of actually trying on the ring to see how you feel about it. One way to get around this is to check at a physical store, decide on your preferences and ring size and then take that search online.

However, the main advantage of buying at physical stores is that you tend to build a relationship with the jeweller, and they often offer free lifetime maintenance of your rings. You can take the ring back to them if you have any issues and they will assist you as it is in their best interest to do so. However, these days online jewellery retailers offer very competitive after-sales policies which are just as good as those of physical stores.

One thing you can do to prevent dullness on diamonds is to avoid beauty products and lotions when wearing your jewellery. Also, take your jewellery off when you're swimming, as the chlorine inside the water can corrode the diamond or any gemstone you're wearing. Another common mistake people usually do wearing precious stones while taking a shower. Hygiene products contain some amount of soap. The soap will form a layer of film on the diamond that causes it to look dull. So, you should always take your jewellery off before taking a shower.

Finding The Perfect Wedding Rings
Every bride has an idea of what ring she wants and, if possible, the ring that he'll be wearing too. If your man is hesitant about wearing a ring, then put aside your plans for matching bands. Though having rings that match can be a wonderful public expression of your love for each other, that shouldn't be a critical point. Many men find rings to be uncomfortable, so if your platinum round paves set diamond wedding ring doesn't come in an equivalent ring for him, don't fret – wear the ring you want and let him pick out the ring that he likes.

Traditional, Contemporary, or Both?
Styles of rings vary from the traditional to the contemporary, with many women choosing to blend both. Fashion designers such as M Danhov understand what brides want, and that includes diamonds – lots of them! For example, the Ladies 18k White Gold MY4 by Danhov Diamond Wedding Band represents the ultimate wedding band: four rows of 2.15 carats of pave' set diamonds in white gold. Stunningly elegant, yet amazingly refined, rings from the Danhov Collection are admired and desired worldwide.

Men have many choices, too, when it comes to wedding bands. The rules have changed to the point where any man if he likes them, can have a wedding ring that is encrusted in diamonds too. A customised ring can be made that fits his personality and, if you are one lucky woman, match your ring too. One special note: many men prefer comfort-fit rings, those wedding bands which have rounded inner edges to them.

When Ordering Your Rings
Online ring buying has grown in leaps and bounds because consumers have discovered that they can get the same rings through mail order that they can buy at the local jewellery store. Because retailers like James Allen have a small overhead, the savings are passed on to the customer in the form of lower prices. Moreover, in many cases, online purchases are delivered state tax-free, translating into additional savings for the happy couple. That ring selling for $6000 at the mall jewellery shop could retail for under $5000 online!

No matter where you choose to buy your wedding rings, finding a pair that satisfies you both is very important. Your wedding day is a once in a lifetime event, and a day you'll want to cherish forever. Find the right pair of rings, and you'll have a forever reminder of your commitment to each other, rings that will satisfy both husband and wife.