Given the staggering divorce rates, one of the best things you can do to help save your marriage before it begins is premarital counselling. Couples that are involved in a specific church or those that want to be married within the walls of a church are often required by the minister or pastor to receive counselling before he or she agrees to officiate the ceremony. Those couples that are not religious may miss out on this procedure simply because it is not required. According to Psychology Today, studies suggest that couples that choose to receive counselling have lower divorce rates than those that do not. This guide will provide you with seven reasons why you should consider some form of counselling.

What is premarital counselling? What to expect in premarital counselling?

Premarital counselling is a type of therapy that helps couples prepare for marriage and the challenges, benefits, and rules that comes with it.

Counselling before marriage helps to ensure that you and your partner have a strong, healthy, non-toxic relationship which gives you a better chance for a stable and satisfying marriage.

It can also help you identify your weaknesses that could become a problem after marriage and also tries to offer a solution.

Looking for the ultimate Wedding Reception Venue in Melbourne? Look no further, Cosmopolitan events are here. 

So, when should you start premarital counselling?
Most couples think they should start premarital counselling two or three weeks into their marriage. But, this sort of mentality should not be encouraged. Pre-wedding counseling should be started as soon as possible.

You should start going for therapy sessions as soon as you are sure of your stand in the relationship.

You should also note that marriage counselling before marriage is not just for couples who are planning to get married in a month or two; it is also for couples who are into a new relationship.

It gives the partners in the new relationship a chance of identifying their weaknesses that could become problems in a relationship.

It also ensures that partners have a strong, healthy, non-toxic relationship that gives them a better chance for a stable and satisfying marriage.

Hence, premarital counseling should be started as soon as possible.

Starting couples counselling before marriage with a certified therapist or marriage counsellor gives you an edge over those starting a few weeks to their marriage.

You might have started with your wedding plans months (even years) before the big date, but you might be wondering when to start premarital counselling. The simple answer is – the sooner, the better. Although the majority of couples starts with their sessions a few weeks before the wedding, it is better if you got into this process earlier than that.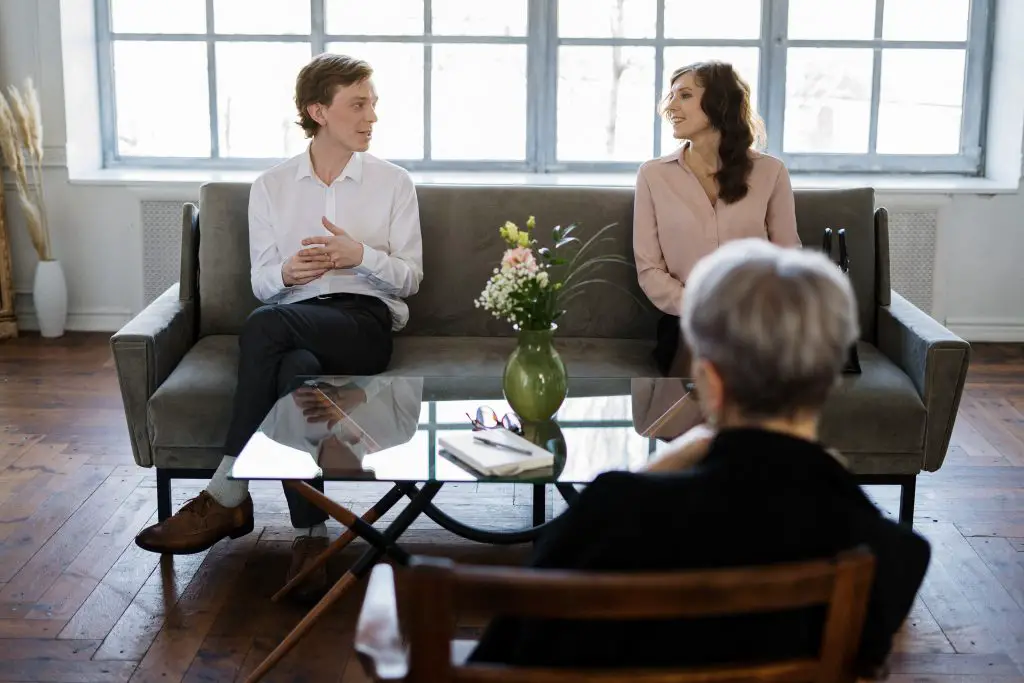 There are several reasons for this. Let's begin with the simplest
It's the first step to improve the quality of your marriage
You don't want the counselling to get in the way of your wedding organization, and the opposite is also true. Premarital counselling is a significant step that you are willing to take to improve your marriages' chances of being the most fulfilling relationship of your life, and you do want to have a clear head for it.

It helps in changing unhealthy habits prior to the marriage
Whether it is religious counselling or sessions with a certified therapist or counsellor, you should set aside enough time for what might be the deciding factor in changing unhealthy habits prior to the marriage. You probably aren't too keen on thinking about the things that might, somewhere along the line, ruin what you are so eager to build.

Yet, the sooner you locate the possible hindrances in the future, the sooner you'll be able to implement and get used to the changes. For example, if you and your fiancée have trouble assertively communicating your wishes, this won't go away once you say your yeses.

When it comes to your special day, Cosmopolitan events has proven itself to be an iconic wedding venue and function centre in Melbourne

Helps to remove any pressure that can impair the relationship
Even though we all love to believe that we are realists and that we don't have unsubstantiated ideas about reality, it seems that the majority of us still secretly believe that wedding rings have some magical power to make it all good. They don't.

If any, they might have the power to put additional pressure on everyone and impair the relationship. But even if no such thing happens, being defensive, aggressive, or passive-aggressive in your communication is a problem that won't go away on its own. And it also takes some time to practice new ways of talking to each other assertively, which is why you shouldn't leave your sessions for the last minute. Why not start as a married couple with the right foot?

Helps you address all the small or serious snags with your partner
Premarital counselling sessions will involve some testing and some interviewing by the counsellor, together and separately, to determine the state of your relationship and how suitable you are for each other. This step is not intended to scare you or to pick your flaws, and it merely shows the counsellor what to focus on.

Sometimes one session is enough, although more is always better, mostly somewhere between three and six sessions are the ideal number of sittings with the counsellor. Which is also the reason why you might want to start with them as soon as possible, to be able to absorb everything and also address all the small or more serious snags you and your soon-to-be husband or wife are having.

What is it that you can expect from these sessions? Here are some main advantages of premarital counselling when done right:

You will talk about the foundational facts and norms in marriage
It may sound strange at this moment, but sometimes just discussing some important issues every married couple faces can both prepare you for and also pinpoint potential issues that need further discussing. These topics will include communication, resolving conflicts, issues regarding your families of origin, finances, sexual and emotional intimacy, etc.

By hearing your partner speak about these subjects, you will have a chance to compare your expectations and determine if there is a potential problem ahead and ask the counsellor to assist in resolving it.

You will be able to hear about some common issues from the mouth of a person who does this for a living and has developed extensive experience in resolving them so that you don't have to find your way through once the difficulties arise.

It will help you know your future life partner better
You might be surprised by the new facts you will come to learn about him/her, and you might love them or hate them – but you will be in the just right place to address any doubts.

It is the right place to resolve the existing resentments
Yes, ideally, when people get married, there are no unresolved issues that hover over their heads. But this is not a realistic picture. In reality, couples wed with many persistent problems, and premarital counselling is where these can be addressed so that you commence your future without the past lingering around.

The Types of Premarital Counseling
A variety of premarital counselling types exist, ranging from Christian PMC options to actual premarital counselling sessions provided by a licensed therapist. Of course, there are also legal options for this route as well, along with premarital counselling books and online premarital counselling courses. Here's how we break down each below.

Religious Premarital Counseling
Christian premarital counselling options are oftentimes available through churches. If you are marrying in a ceremony conducted by a pastor, it's a common practice for the church to require the couple takes premarital counselling courses.

Books and Resources
Premarital counselling books exist, and it's up to the couple to use them oftentimes to supplement the process. It's not recommended to use the books alone as a guide since a licensed mediator or therapist can help facilitate healthy discussions where necessary.

A Certified Therapist
Premarital counselling is often provided by a licensed therapist, which means you'll want to find an LMFT (licensed marriage and family therapist) to lead the appointments. You'll be asked a range of questions, which will impact how long each session will take, plus the payment structure.

Legal and Financial Premarital Counseling
A family law attorney and certified financial planners are also touching this very important space. At the same time, not the same as psychological counselling, financial and legal planning is rather important for couples prior to marriage. In over to get on the same financial page, couples will discuss everything from retirement plans to prenuptial agreements; Plus, healthy financial spending habits.

The Topics
Communication
Finances
Beliefs
Values
Roles
Responsibilities
Sex and Intimacy
Family relationships
Possible children
Decision-making processes
Conflicts and results
Hobbies and leisure time
Common Premarital Counseling Questions
The following are foundational questions you will likely face in premarital counselling. While some might find these conversations to be daunting, couples will increasingly find a breakthrough in communication habits and styles if they are open to sharing healthy discourse about important topics.

The Basics
Why are we getting married?
Who are we as a couple, and what are our goals?
How do you describe your relationship?
How about yourself?
How do you think I see you?
The Inside
What are your household habits like?
What types of role and responsibilities will you take in the household?
Do you have any kind of criminal record?
Have you ever resorted to physical violence?
What are your drinking habits like?
What is your mental health history?
Faith
Does religion have a role in your life?
Do you believe in God?
Do you see us raising a family under an umbrella of faith or religion?
Finances
Do you save or do you spend?
What is your perception of money? How do you view it?
How much debt do you have?
How about assets?
What are your future financial goals?
Let's talk about accounts—what types will we go for in marriage?
What is your weekly budget?
How do you ensure your bills are paid accordingly? What is your system like?
Have you ever met with a financial adviser?
Family
How were you raised?
What is your family like?
Let's talk about values—what does your family prioritize?
What do you see our future family prioritizing?
Do you have kids or want kids in the future?
How many, if so, and what does your timeline look like?
What and how do you view yourself parenting?
Intimacy
What are your expectations when it comes to sex?
Do you feel affirmed by it?
What makes you secure or insecure?
Do you believe in monogamy?
Trust and Forgiveness
What are the pillars in a relationship with you?
How do you face conflict?
What is the right way to resolve issues to you?
Are you able to forgive, and if so, what is your philosophy?
Face Issues
Couples who attend premarital counselling have the opportunity to discuss issues that most couples argue about and most often lead to divorce or separation. Marriage counselling can help you address hot issues before they arise and assist you in discovering what the other person believes about the issue so that you may agree before you walk down the aisle. For example, you may discuss under what religion you will raise your future children or talk about what you will do if in-laws try to interfere. Having a plan of action on how you will handle serious issues can help you prevent altercations later. In counselling, you will also address the main issues that are currently affecting your relationship. Little problems can turn into major arguments if they are given a chance to fester. Counselling can help you work through any negative feelings before they turn into something bigger.

Counsellor Wisdom
Oftentimes, it helps to have someone to talk to that has already been through the issues you will be facing. A great marriage counsellor that has been married can provide you with an experience that can only come from being married and living with another person. It also helps to talk to someone who may have felt some of the same feelings about family and relationships. Someone older and wiser can also clue you in on the qualities that make another person a good match for you. This will give you something to consider before deciding to take that big step. You don't have to follow someone's advice and call off the wedding because the bride or groom likes to do things you don't agree with, but it does help to listen to someone who can give you insight on problems that may arise.

All Marriages Benefit
Everyone knows that one couple that seems to have it all together. These two people love to spend time together and always seem to be happy regardless of what they are doing. In spite of outward appearances, even that couple has had an argument at one time or another and possibly contemplated breaking up. All couples can benefit from premarital counselling, even the ones that seem perfect on the outside. In reality, the perfect couples are probably the ones that have sought help from outside parties or modelled their behaviour toward one another from others who have been in successful relationships. No marriage will ever be perfect or problem-free, but premarital counselling can help you work through your difficulties and learn to keep your love alive even through adversities. Essentially, with counselling, you will learn how to compromise and work with the other person to ensure happiness and longevity.

Effective Communication
One of the most important aspects of any marriage is effective communication. When a couple stops caring and stops talking to one another, the marriage will eventually fall apart. Counselling can help you learn how to be a good listener, so you know what the other person wants and needs. When you live with someone day after day, it's easy to take each other for granted, but by keeping an open line of communication and expressing love, you build a relationship that can withstand the test of time. One-on-one therapy helps couples learn to talk to one another and express feelings in a way that will not damage the relationship. You learn to hold your tongue when it's appropriate and how to speak with honesty. It's a good idea to sit with one another and discuss what you want to achieve during the meetings, which is your first step toward effective communication.

Review Finances
Many individuals enter into marriage in debt because they financed a wedding that they really couldn't afford. Counselling can help you create a budget, find out about the credit of the person you will marry, and discover any loans and outstanding balances the person may have. Ongoing financial problems can destroy even the healthiest of relationships, so it helps to sit down with a marital counsellor and draw up a plan of action for how you handle your bank accounts and how you will handle paying for your responsibilities. You should already know ahead of time the major issue of paying for the wedding and whose responsibility it will be. If you do not have relatives that intend to cover the cost, it's wise to plan the wedding well within your means so you won't argue about the cost later. Learning about your spouse's spending habits before you say I do can help you avoid arguments about money in the future.

Discover Something New
Premarital therapy sessions will give you the opportunity to discuss things that do not come up in normal conversations, such as hurtful past experiences, sex, and expectations. Too often, we think we know our spouse well, but we may not learn of past abuse or how the person expects the marriage to be. The relationship your spouse has with your in-laws will usually reflect on how your children will be disciplined and treated, so pay attention to other relationships. If the person suffered from abuse as a child or young adult, it's a good idea to seek individual therapy to resolve any underlying issues.

Divorce Prevention
One of the most important reasons to seek premarital counselling is to prevent divorce. Studies show that couples that attend counselling sessions are 30 per cent less likely to entertain the notion than those who do not. This lowers your risk of divorce to around 20 per cent, which is why many churches and religious leaders encourage counselling for couples. Premarital counselling will help increase your likelihood for happiness because you will identify your fears, values, beliefs, needs, and desires and learn how to communicate them to your partner. Many couples cite the reasons for divorce as infidelity or financial issues when, in reality, the major cause of a marriage breakdown is lack of communication. Premarital counselling will help empower you with the tools you need to build trust for one another and the techniques you can adopt to support one another. Counselling will also help ensure an 80 per cent success rate, which can give you an advantage over those who decide to go into marriage without help. With these statistics, it's hard to see why someone would choose not to seek counselling before deciding to take that big step.

Would you try flying a plane without proper training? What about skydiving? Would you jump out of a plane after only a quick explanation? Premarital counseling is not "optional" to the wise. You are doing something you never did before. Starting your new marriage w/out premarital counselling is crazy! Start premarital counseling as early as possible. Or your chances for lifetime happiness are very small.

If you wanted to sail a boat, would you want just to learn how to raise the sails and go. You may think you can handle the first set of waves. But that is a great way to die.

Getting out of the safe harbour of your courting and engagement changes everything. If you want to have a happy married life of clear sailing, you need to be well prepared. Too many things, subtle things, change when you get married; even if you have been living together.

Start premarital counseling as soon as you can. It will improve everything, even if you are still in the dreamy phase. Trust me. When you know what to do your marriage will be great, not just good.