There are so many factors that go into planning your dream wedding. From the venue to your choice of food and decorations, it's easy to get overwhelmed with the details.
But one detail you certainly can't afford to gloss over is your wedding entertainment. You can't forget that your wedding is, after all, a party. For many folks – yourself included – this will be their biggest party of the year!
A professional belly dancing show is elegant and vibrant. If you have never seen great belly dancers before, prepare to be captivated by the grace of the dance form, impressed by the control and intricacy of the movements, and swept away by the beauty of the costuming. It's fun and family-friendly.
Are you located in Melbourne, Victoria, planning a wedding and looking for Belly Dancers? When you are planning your big day, you probably want everything just perfect. One of the best ways to make sure that it all turns out the way you dreamed it to select every vendor yourself personally. This way, you can choose the ultimate location, the best entertainment and the most delicious food, and craft your ideal wedding day.
We've created an ultimate list of Best Belly Dancer Hire to save you time and money.
Add a header to begin generating the table of contents
Best Wedding Belly Dancers in Melbourne
Elisa Jade Belly Dancer Melbourne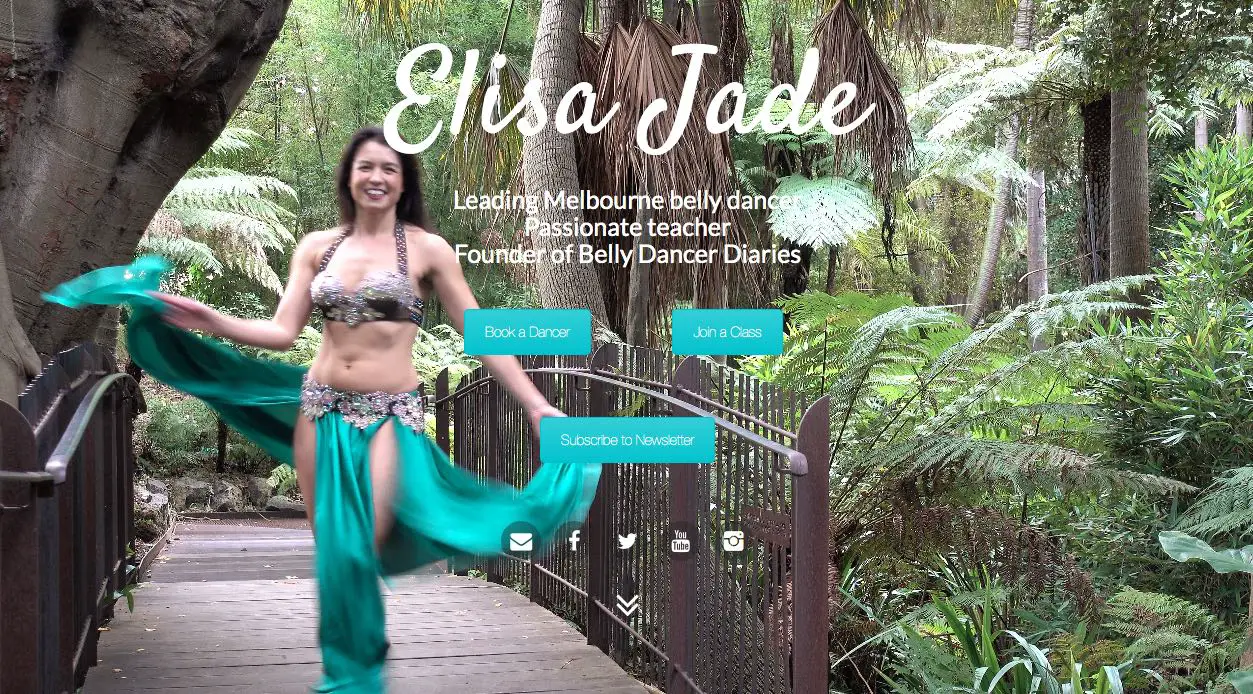 info@elisajade.com
Elisa is one of Melbourne's top belly dancers, having trained and worked in both Melbourne and Egypt. She has performed at hundreds of events in Australia and internationally. That's a lot of experience to bring to your party!
Book a spectacular belly dance show
Wedding entertainment and zaffe
Solo and troupe Bellydance shows
Recorded music or live drumming
Teaching and workshops
Elisa loves sharing her passion for her art form. Elisa teaches in a way to extend all students' technique and expression, no matter what their level from beginners to professional. Book her for a workshop or join her upcoming classes.
ELISA JADE
Belly Dancer
"I love the sensual melodies of Egyptian music. Belly dance is the essence of natural and feminine movements, no matter what age or body shape, every woman is beautiful when she dances."
Belly dancing is a fantastic way to get fit and have fun!
There are many benefits of this ancient dance form. It has proven to build strength, improve fertility and even reduce back pain and PMS. As it is a low impact physical exercise, it is great for all ages. Not only that but belly dancing lets you unleash your inner creativity, grow self-confidence and stimulate your mind through learning new moves.
Never tried it? Elisa will have you feeling comfortable and enjoying this beautiful dance in no time.
An expert dancer? Join us for our performance classes where we perfect techniques and work on stage presence and expression.
Learn how to belly dance with Elisa's free online tutorials. Elisa offers a range of tutorials to help you perfect your techniques. Remember always to maintain correct posture.
Learn Choreography Online
Join our Patreon group and learn beautiful choreographies step by step. Each choreography is broken down into technique, steps and timing and then run through with music and voice prompt. Repeat the lessons as many times as you need. This is perfect for those wanting to extend their dancing to the next level, or for performers wanting choreographies for their shows.
Elisa is currently in Melbourne, Australia and available for privately booked individual and group lessons.
Achieve your belly dance goals with specifically tailored private lessons. Elisa specializes in belly dance technique and how to extend and enhance moves for your body. She is also an expert instructor for performance presence and choreography. If you have been struggling to progress your dancing to the next level, or if you have a special performance coming up, private lessons with Elisa are guaranteed to help you reach your goals.
Private lessons cost $95 per hour with an additional charge for studio hire (if required).
Join a group class
Learn the beautiful movements of Egyptian dance, whilst practicing performance techniques and how to capture audiences on stage. All levels welcome, from beginners to professional. Elisa teaches focusing on individuals' own levels and concerns, perfect for all stages and ages.
Wednesdays 12:10 pm, Aqualink Nunawading
Please see the links to the venues above for group classes prices.
Zabelle Belly Dancer Melbourne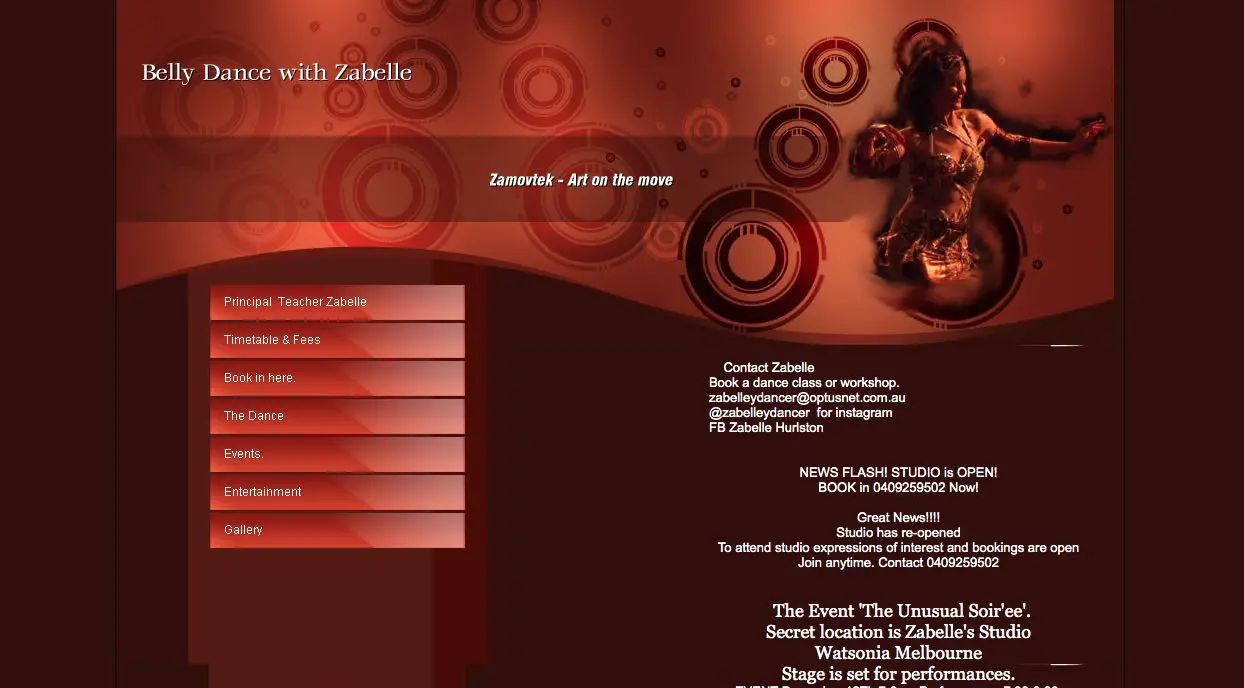 409259502
Zabelle, the dancer, the teacher and the artist.
Australian born to anglo-Mediterranean parents Zabelle has had a passionate commitment to this terpsichorean art. She has been sculptured by masters of various genres and styles of dance.
In 1998 she discovered Middle Eastern dance. This journey began unfolding wisdom and skill that was already inherent in her style. A professional and qualified dance teacher trained both in Melbourne and interstate. Concentrating on techniques given first hand by the masters and great artists of belly dance.
Zabelle is highly respected in traditional and contemporary styles. Her unique, elegant techniques, and interpretation of belly dance. She is dedicated to delivering a class filled with encouragement, projecting a supportive atmosphere.
Zabelle admits to being an expressive and untamed performer. A choreographer was a memorable season displayed for Melbourne Opera. Melbournes Moomba festival the main stage 'Royal Bellydance' showcase, besides numerous documentaries and folk festivals.
Proudly, Zabelle has achieved ongoing education throughout her career in dance. Bellydance has been a dedicated style since 1998, searching for answers with continual training.
This training can now be added to Zabelle's extensive experience in Ballroom and Latin American dance. Accredited teacher in all styles Dancesport, Australian Dance Society. Australian Sports Commission accredits fusion. Zabelle is a creative and original choreographer.
Zabelle is passionate about the dance and honours all people and aims to educate with ethics. To make moving graceful and with ease.
Wedding Dance Classes are private and available.
Never danced before? Fees are scheduled per hourly rate of $70.00.
Are you getting Married? Would you like to surprise your guests? dance together well.
Choose your favourite love song and let us create your own special choreography.
The traditional entrance Zaffa for Arabic wedding couple.
Bridal training available.
Nadira Johara Bell Dancer Melbourne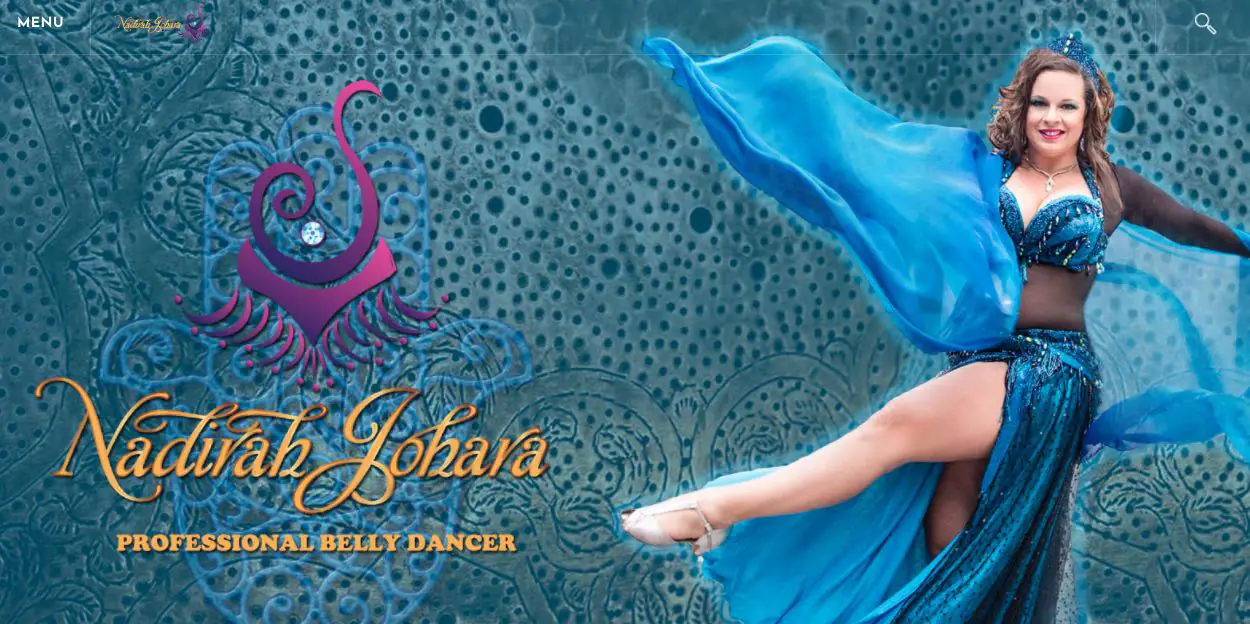 About Nadirah Johara
Nadirah Johara's captivating style, versatile technique, and compelling stage presence make her a dancer that truly sparkles! Her dynamic performances, innate musicality, and charming presence have made her a favourite with audiences everywhere. Whether performing classical belly dance with veil and finger cymbals, or using other props such as sword, wings, or cane, her exhilarating and powerful performances will leave you breathless!
She is a passionate perpetual student, dancer and instructor who works hard to keep this living art form alive. Nadirah Johara has trained under the best instructors in the world, is certified in Hadia's Belly Dance Teacher Training, and has frequented Egypt to deepen her knowledge and experience of the societal and cultural links to Raks Sharqi (Belly Dance). She is certified in Sahra Saeeda's "Journey through Egypt" series.
Nadirah Johara is a featured dancer at the Middle Eastern and Mediterranean restaurants in the Melbourne and Space Coast areas of Florida. In addition, she performs regularly at cultural festivals, corporate events, stage shows, and private celebrations all across Central Florida.
​Professional dancer Nadirah Johara founded Melbourne Belly Dance (MBD). MBD is a collaboration of dedicated Belly Dance Instructors who strive toward common goals. Located on the Space Coast, Florida's East Coast, MBD seeks to lead the extended Melbourne and Space Coast area belly dance community by continuing to elevate the artistic integrity of belly dance as an art form through the education and training of all aspects of belly dance via classes workshops, retreats, teacher training and event/studio-to-studio support. We aim to develop new standards of achievement for the art form as a whole and redefine the spectrum in which belly dance is perceived, strive to educate both students of dance and the general public by providing a cultural exchange through dance. MBD encourages sharing among community members to increase the success of the community and dancer-sponsored events and is committed to the growth and diversity of the Melbourne and Space Coast Area Belly Dance community.
​Nadirah Johara offers a wide variety of Bellydance workshops ranging from fun Bellydance Fitness for beginners to advanced professional masterclasses. Workshop length can be designed anywhere from a couple of hours to multiple day or weeklong workshops. Nadirah Johara can customize a workshop package to meet all of your requests and needs. You can mix and match any of Nadirah Johara's formatted workshops or have her design one special for your group.
Contact us for a media packet of topics and promotional materials.
Sarayi Belly Dancer Melbourne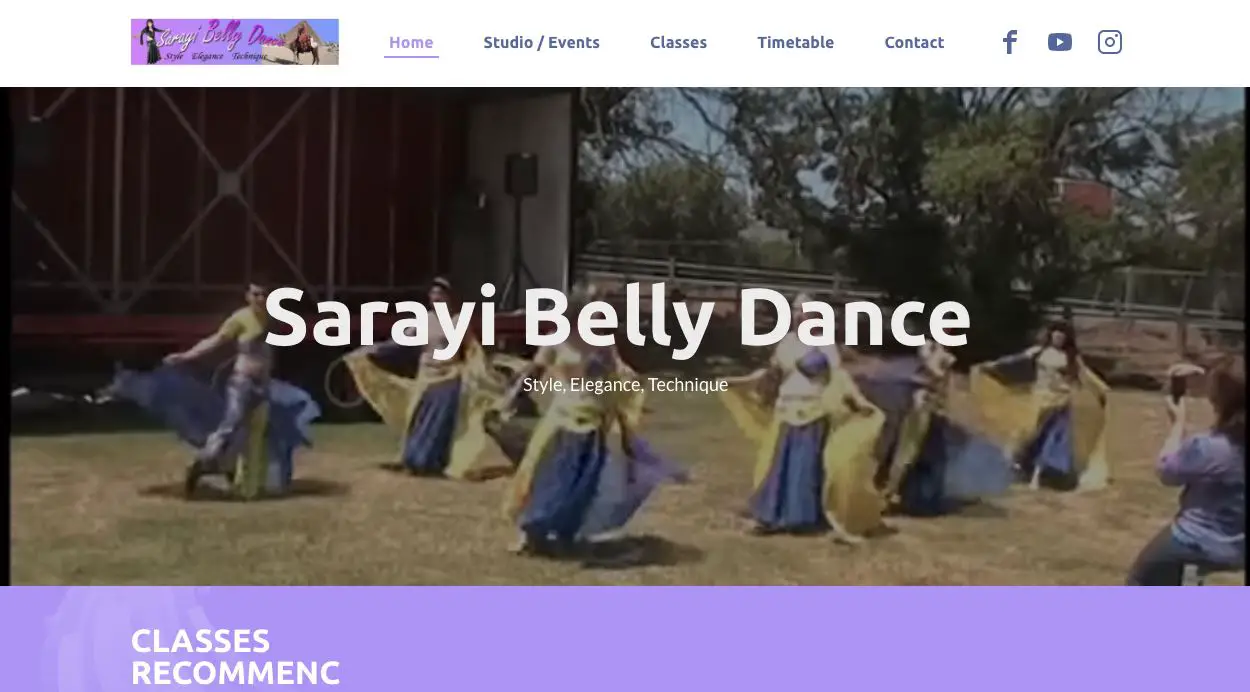 400618609
Welcome to Sarayi Dance Studio
Sarayi belly dancing school is located in Dandenong/ Dandenong North in Victoria. It started to operate in 2005. Teachers at Sarayi belly dance school are dedicated to their passion for dancing and do everything possible to ensure that students of Sarayi belly dancing schoolmaster the technique of belly dance. Our annual trips to Egypt enable us to keep updated with the latest techniques as we train with the most popular male and female belly dancers in Cairo.
Every year we have an annual charity concert which is a major event of Sarayi belly dancing school. Charities we have supported in past shows include Children with Cancer, Agapi ( children with special needs), The Salvation Army Bush Fire Appeal, Tyler Fishlock, Children with Impaired hearing and The Anti Cancer foundation.
All students have the opportunity to perform in a variety of events happening during the year. Sarayi, John and the students perform at hostels, nursing homes, school fetes and festivals to entertain and put a smile to many faces.
Belly dancing is for everyone. Whether you are Male/Female, Young/Old, Tall/ short, belly dancing is suitable for all shapes and sizes. Belly dancing keeps you fit and healthy. It releases stress and anxiety and reveals the beauty within each individual. So come on everyone, don't put it off any longer. Enrol at Sarayi belly dancing school today and begin your journey towards a firmer, happier more confident you.
Dance Baladi Belly Dancer Melbourne
407770164
Book a Bellydancer Melbourne
Eugenia has been performing and teaching Egyptian belly dance since a young age and has visited Egypt on many occasions to study the art of belly dance.
Eugenia is passionate about this art, and her performances are lively and dynamic.
To enquire or get a quote contact us with information about location, date and approximate time.
Kaylah Belly Dancer Melbourne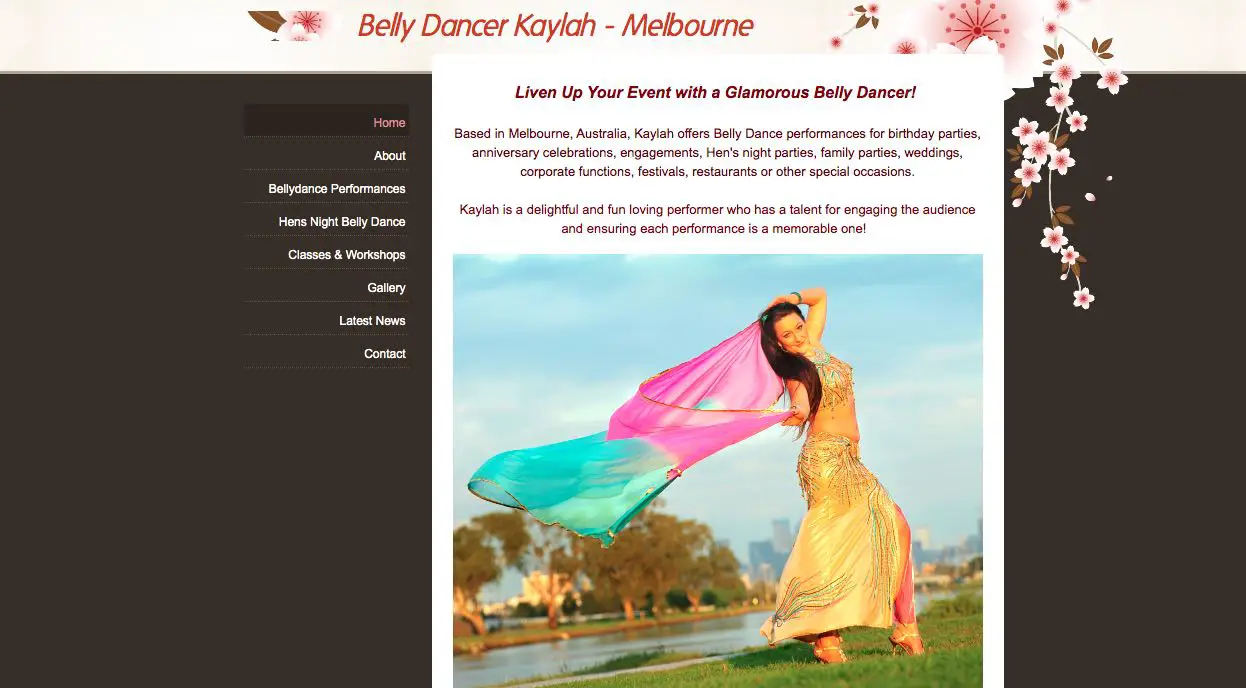 427081723
Liven Up Your Event with a Glamorous Belly Dancer! 
Based in Melbourne, Australia, Kaylah offers Belly Dance performances for birthday parties, anniversary celebrations, engagements, hen's night parties, family parties, weddings, corporate functions, festivals, restaurants or other special occasions.
Kaylah is a delightful and fun-loving performer who has a talent for engaging the audience and ensuring each performance is a memorable one!
About Belly Dancer Kaylah - Based in Melbourne
Kaylah is a delightful and fun-loving performer who has a talent for engaging the audience and ensuring each performance is a memorable one!
Kaylah has been studying Middle Eastern dance for fifteen years and performing professionally for over a decade.
She is passionate about her art and continues taking classes and workshops with leading International and Australian dancers and musicians. In addition to her solo work, Kaylah dances with a professional troupe of Melbourne's top belly dancers.
Kalyah is a cabaret-style belly dancer and her specialties include:
classical Egyptian belly dance
dancing to accompany musicians
belly dance / Bollywood fusion style
silk veil, finger cymbals, cane &
pharaonic wings
Golden Sand Belly Dance Melbourne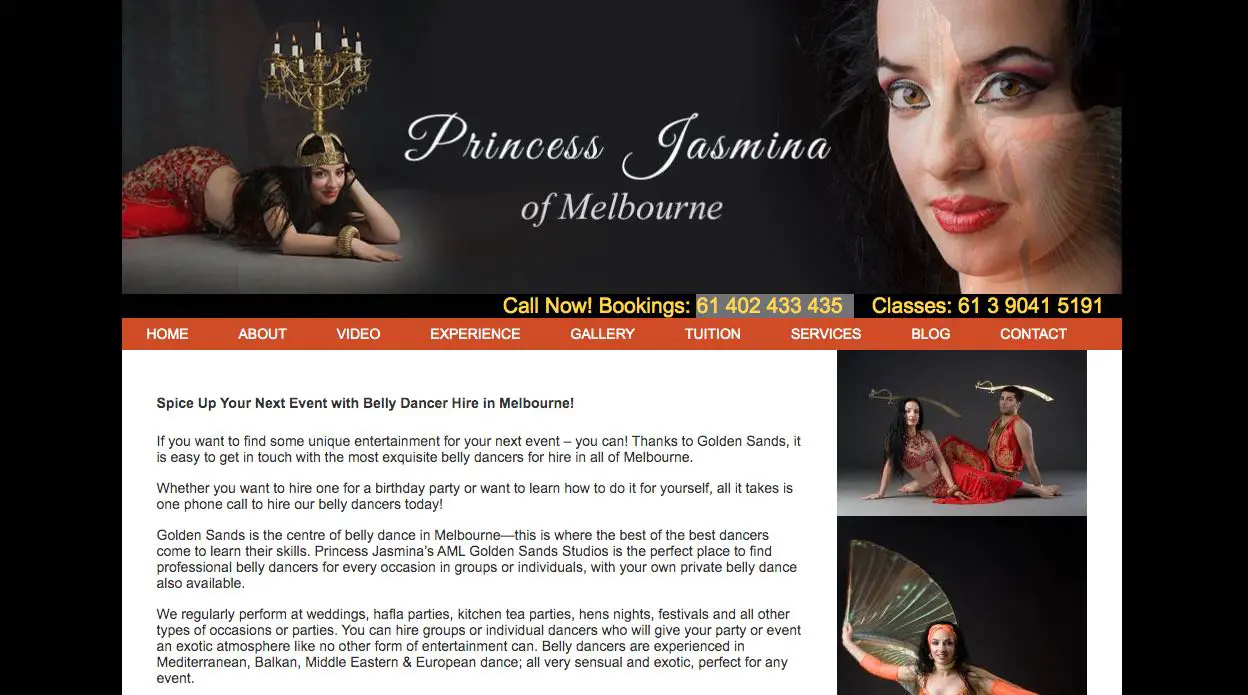 61 402 433 435
Spice Up Your Next Event with Belly Dancer Hire in Melbourne!
If you want to find some unique entertainment for your next event – you can! Thanks to Golden Sands, it is easy to get in touch with the most exquisite belly dancers for hire in all of Melbourne.
Whether you want to hire one for a birthday party or want to learn how to do it for yourself, all it takes is one phone call to hire our belly dancers today!
Golden Sands is the centre of belly dance in Melbourne—this is where the best of the best dancers come to learn their skills. Princess Jasmina's AML Golden Sands Studios is the perfect place to find professional belly dancers for every occasion in groups or individuals, with your own private belly dance also available.
We regularly perform at weddings, hafla parties, kitchen tea parties, hens nights, festivals and all other types of occasions or parties. You can hire groups or individual dancers who will give your party or event an exotic atmosphere like no other form of entertainment can. Belly dancers are experienced in Mediterranean, Balkan, Middle Eastern & European dance; all very sensual and exotic, perfect for any event.
Hire a belly dancer for your birthday party, festivals and functions
Princess Jasmina has danced in all kinds of shows and displays. She continues to perform as a regular professional belly dancer in Melbourne club venues, bars, nightclubs, restaurants, festivals, cultural events, and university open-days. From your birthday, wedding, or engagement party, to mitzvahs, circumcision celebrations, private parties, corporate functions, RSLs and Television, our belly dancer Jasmina is the best you could hire in the business.
Solo Performances
Call us now for an exciting, sensual and sizzlingly fast LIVE SOLO PERFORMANCE from one of Melbourne's hottest and most sought-after belly dance sensations PRINCESS JASMINA! She is the ideal guest artist to have at your next event or celebration: Wedding Celebration, Engagement Party, Kitchen Tea Party, Hafla Party, HENS PARTY, Birthday Party, Christening, Circumcision Celebration, Dance Festival, Music Festival, Arts Festival, Exhibition, Concert, Night (Venue) Club Party, Night (Venue) Bar Party, etc.
Princess Jasmina's live solo performances:
Live, energetic belly dancing
Princess Jasmina performs in All styles and genres:
Greek, Turkish, Lebanese, Gypsy, Egyptian, Indian, Arabic, African
Tribal, European Folkloric, Latin, Samba and Bollywood.
Highly professional, artistically skilled
Beautiful and elegant presence!
Props used in her performances:
Veil, 1 to 4 Swords, Wings, Zills, Cane, tarabuca (tabla drum),
Tef (skinned tambourine), daggers, shamadan (candelabra)
Interaction and involvement with audience participation
Indoor and outdoor (except in cold and wet weather climates)
Small or large scale dance floors and on-stage solo performance
routines (non-choreographed)
Dance to CD music compilations and CD long tracks & audio
Hire belly dancers as a duo, trio and more
Princess Jasmina & Chris are currently Melbourne's most highly requested duo. Their show caters for live floorshows at big receptions, corporate functions, celebrations and parties. Both belly dancers complement each other's skills with years of experience behind them. The female and male duo is a much-requested combination to please all onlookers.
Their dance is high-charged with loads of fun and excitement, skill and audience interaction. Their presentation and services are very professional and respectable. Both dancers are dressed in colourful belly dance costumes and animated with varying props listed above. Clients may request a preference of costume colour and props preferred at their celebration.
We also cater for an all-female cast of dancers should clients make the proposed request. Our dancers are very professional, exciting, fast, and highly skilled in their craft. They are beautiful and very appealing in appearance.
Belly dance troupe
Why not consider surprising your guests with a bigger surprise by booking a live belly dancer troupe show with Princess Jasmina, Chris and the Golden Sands Bellyrinas. Our performances are colourful, highly skilled, and well presented with exotic feminine beauty. Shows are animated with props, original troupe choreographies and improvised dances.
Amera's Palace Belly Dancer Melbourne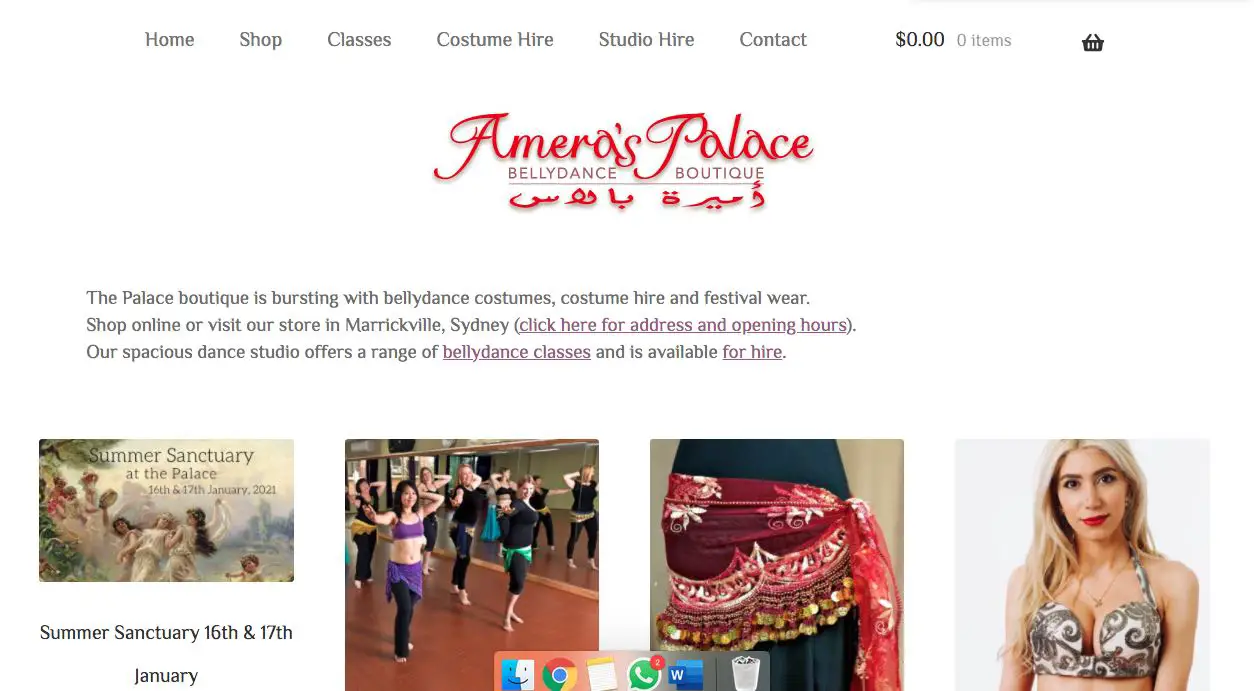 0411 387 188
The Palace boutique is bursting with belly dance costumes, costume hire and festival wear.
Shop online or visit our store in Marrickville, Sydney.
Our spacious dance studio offers a range of belly dance classes and is available for hire.
The Palace Studio is fast becoming a top location for Sydney dance studio hire and venue hire. Housed within the Amera's Palace Bellydance Boutique complex, the studio offers 200 sq metres of clearspan rehearsal and performance space. It is sunny, modern and airy, with 14 metres of full height mirrors. Space has a kitchen, two bathrooms and two lounge/meeting areas. The Palace Studio is close to all the cafes and amenities of Marrickville and has on-site parking at the rear.
Belly Dance Bohemia - Belly Dancer Melbourne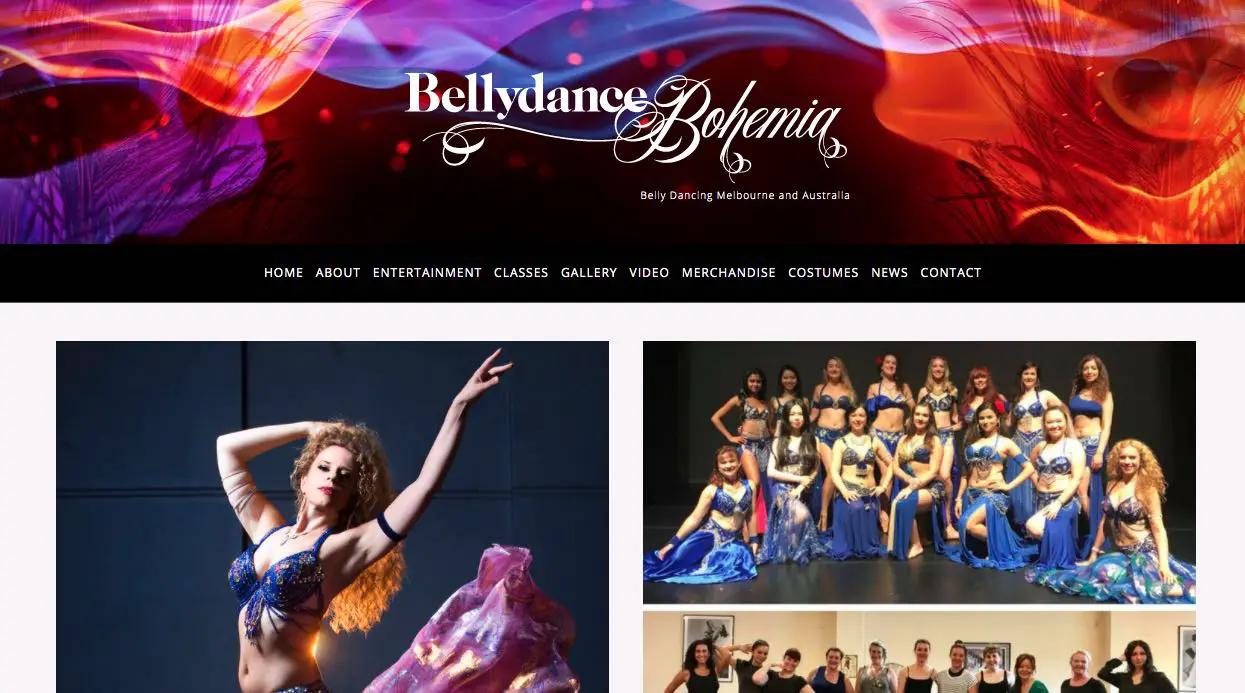 ekaterini@bellydancebohemia.com.au
Ekaterini is a renowned belly dance performer, instructor and choreographer and has been involved in the art of Middle Eastern dance since 2001. Established as one of Melbourne's most highly sought after professional belly dancers, she has performed countless shows in the region and across Australia.
Ekaterini has been a popular choice at festivals, weddings, corporate events and special occasions as a solo artist as well as a duo with Middle Eastern percussionist George El-Azar, and the Bellydance Bohemia, troupe.
Founded by Ekaterini in 2010, Bellydance Bohemia has rapidly grown to be one of Melbourne's most recognized belly dance schools and entertainment agencies, hosting an annual school concert which showcases the talent of students as well as local Middle Eastern musicians and professional dancers.
Ekaterini travels often and has spent many years training with accomplished teachers in Australia and abroad which have been influential in the development of her own unique style of belly dance.
Ekaterini has travelled extensively through the Middle East and recently visited Lebanon where she trained with belly dance superstar Amani. In 2014 Ekaterini travelled to Turkey and trained with some of Istanbul's most respected belly dancers including Ozlem Idilsu and Serup Su. In 2010 she travelled to Egypt and completed private belly dance workshops with master dancers Madame Raqia Hassan, Randa Kamel, and Soraia Zaied. Her training has also extended to workshops with world-renowned dance artists Jillina, Aziza and Tamalyn Dallal from the US, and Mohamed Kazafy from Egypt.
In 2011 she collaborated with celebrity Jason Coleman (TV judge on So You Think You Can Dance) to perform at a high profile event held at the Grand Hyatt and has since been invited to teach belly dance workshops to the full-time students at Jason Coleman's Ministry of Dance.
Ekaterini was also been selected to be one of the new faces of Ausdance Victoria, representing belly dance in 2013.
Her expression of belly dance is elegant, authentic and polished, bringing an enchanting presence and a natural musicality to her performances. Her style of dance and choice in music can vary from classical and modern Egyptian, Turkish Oriental, Lebanese and Greek Tsiftitelli.
Ekaterini is dedicated to promoting the beauty and integrity of belly dancing. With its graceful control and discipline, belly dance is a magnificent expression of feminine power.
HIRE A BELLY DANCER TO SPICE UP YOUR NEXT EVENT!
We provide Melbourne's most elegant and skilful belly dancers that have trained and performed internationally and have years of experience in quality entertainment.
Our entertainers wear dazzling haute couture belly dance costumes in a variety of colours and are in high demand for their technical and performance skills, as well as their incredibly attractive presentation.
We use a variety of traditional props including colourful silk veils, Isis wings, zills (finger cymbals), saiidi canes and scimitar swords! Our shows create a visual feast that will leave a lasting impression.
Our performances can also include audience participation, where appropriate.
Belly dance is an incredibly enchanting art form that is appropriate for all ages, bringing joy to your event like nothing else can.
BELLY DANCE PERFORMANCE OPTIONS
BELLY DANCE FLOORSHOW
A stunning 15-20 minute belly dance performance that will liven up your event and delight your guests.
Traditional belly dance props including colourful silk veils, Isis wings, zills (finger cymbals), Saiidi canes and scimitar swords are used throughout the performance as well as audience participation when appropriate.
Suitable for: Weddings and engagement parties, corporate events, birthday celebrations and Christmas parties.
BELLYGRAM
A belly gram is a shorter performance by a belly dancer ranging from 10-12 minutes in length.
Traditional props, including colourful silk veils, Isis wings, zills (finger cymbals), saiidi canes and scimitar swords, are used as well as audience participation.
Suitable for: Smaller gatherings at birthday parties, corporate events, bridal showers, product launches as well as restaurants.
BELLY DANCE PERFORMANCE AND WORKSHOP
A 10-15 minute belly dance performance followed by a mini-workshop to get your guests up and dancing, laughing and having a wonderful time!
The duration of the performance and workshop is flexible to your specific request. The workshop works best when it runs between 10 - 30 minutes in duration.
Azra Belly Dancer Melbourne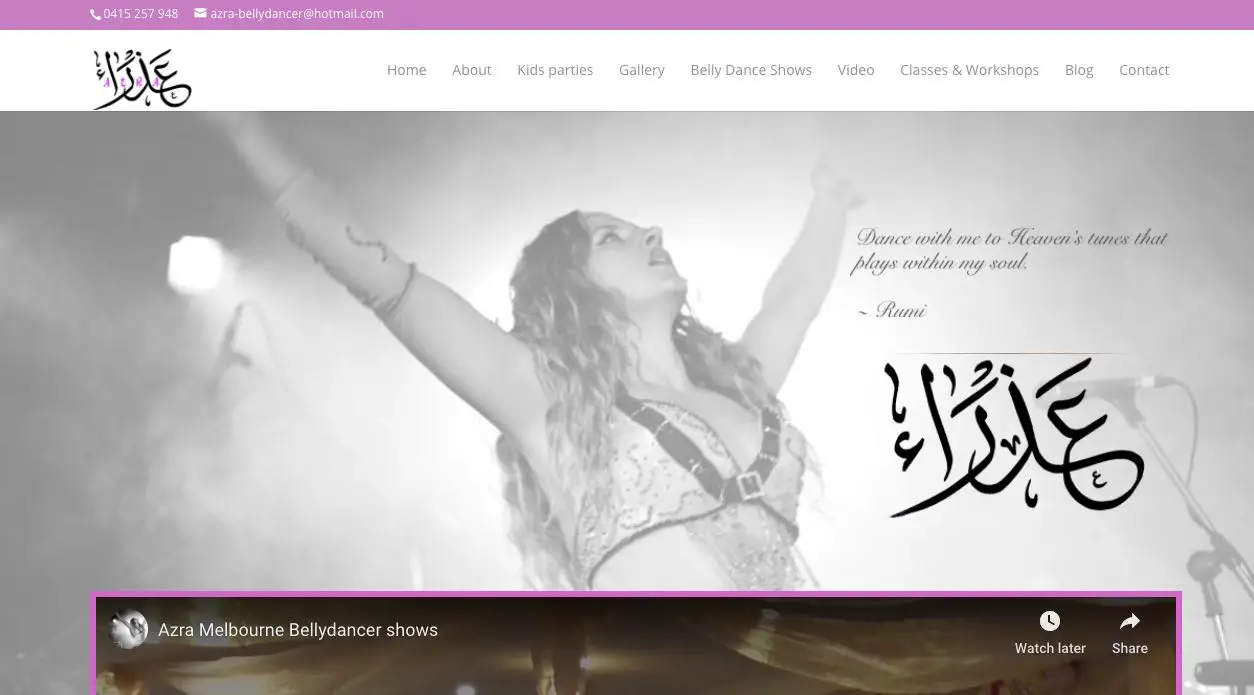 0415 257 948
Azra is a vibrant and captivating belly dancer available for any occasion as a solo belly dance performer using swords, wings, veils or a cane (Turkish, Egyptian or Arabic style, Tribal, modern or traditional) or as a part of a group belly dance performance. Both female and male dancers are available.
Azra has been enchanting Melbourne with her beautiful belly dance shows since 2007 at venues and events such as birthdays, exhibitions, artist gatherings, hen's nights, corporate functions, public events, bands, festivals, weddings & restaurants, as a solo artist and in group belly dance choreographies.
Azra is available for any event requiring a Middle Eastern touch as she will ensure to provide the best Middle Eastern entertainment in the city.
Besides belly dance shows and classes as a versatile artist, she offers entertaining and energetic Bollywood and Zumba workshops. Azra is also a Butoh performer.
Azra had started studying Hatha Yoga and various dance styles 10 years ago and fully committed to belly dance 7 years ago. Since 2004 Azra has actively explored: Bollywood Street Latin, Salsa, Contemporary, Flamenco, West African dance, healing through dance methods and Zen Zen Zo physical theatre and Butoh dance.
Only a few of the places where Azra has performed or performs: Moomba festival, Woodford festival, Diwali festival (Sandown racecourse), Riverview Function Centre, Laila reception, Masquerade Ball, Fringe festival Restaurants: Pinarbasi, Minzaman, Rumelis, Safi, Adanali, Little India, Mod Oz Cafe, Tandoori Flames, Biva, Cupido, Taksim, Ancient Memories, Riverview Function Centre
Spice up your party with the most captivating belly dance show! Make your event memorable explosion of music and colours mixed with the sensuality and cheekiness that Azra brings to your birthday, Christmas party, hens night or any other event.
Azra is a very versatile, experienced belly dance performer that performs in restaurants, dinners, functions, weddings, hen's night, children parties, with bands, for the council etc. using various props like swords, veils, candles, wings, cane and she easily adjusts to any of your needs.
She is available solo or with other dancers and musicians (darbuka and sitar players).
Besides belly dance, she can add to your event some flamenco, Bollywood and modern vibes.
Guide On How to Choose the Right Wedding Entertainment for Your Big Day
Consider your Guests
It might sound obvious but, when planning your wedding entertainment, it's important to think about what your guests will enjoy. After all, happy guests will result in a great party! If you're inviting children, plan some entertainment to suit them. This might include a treasure hunt in the gardens at Curradine Barns or even an evening facility. If many of your guests don't know each other, you might consider something like a ceilidh in the evening, a great way to get your guests mingling and dancing together. Equally, a band or DJ playing a range of music to suit most tastes is a good idea.
Watch your entertainers perform elsewhere.
Modern technology has made it possible for you to watch past performances of wedding DJs and bands from the comfort of your own home, thanks to YouTube.
But nothing compares to seeing these entertainers live in action. If you have the time and ability, we strongly encourage you to check out your entertainment prospects at one of their events. That way, you can assess how well they do with the crowd, and if their entertainment value remains consistent throughout the evening.
Don't take their word for it. Ask around!
Wedding DJs and entertainers are just like any other business out there: they do well to talk themselves up to their customers and clients.
Don't just believe everything these folks feed to you. Getting unbiased reviews and feedback from past clients should be a non-negotiable. If a band or DJ isn't willing to put you in contact with a previous client, that's your cue to move on to the next option.
Be Practical
As with all elements of your wedding, it's important to address a few practicalities when planning your wedding entertainment. The first consideration might be your budget. While it's a wonderful idea to have a live band or an incredible wedding singer, make sure you stay within your planned spend. Keep prices down by perhaps choosing a digital playlist instead of having live music for the entire day.
It's also important to think about the size of your wedding and the entertainment that will work most effectively. A large band could overpower a smaller, more intimate wedding while a lavish celebration needs equally grand entertainment!
Sign a contract. Always.
Having a contract in place is a good idea for every single one of your wedding vendors, entertainment included.
Your entertainment contract should include the performer's fee, arrival/finish times, and any other extras you want to include.
For example, some performers bring their supplies, but others may wish to use existing speakers or cabling.
You also want to outline cancellation fees, while establishing a fail-safe in case someone in the band falls ill.