The combination of late nights and the occasional major technical blunder from time to time can be draining, so you have to have the right mindset and constitution for the job. The rewards, we think, justify becoming a wedding DJ. One cool thing is that a wedding DJ is that as a job they are ALWAYS in demand. 
But before you can get yourself that first wedding DJ gig, you need to know – what is your ideal DJ setup for weddings?
It can be overwhelming to think about in the beginning, but we'll give you an elemental equipment checklist. Well, as simple as we can make it since you will need a few "little" things.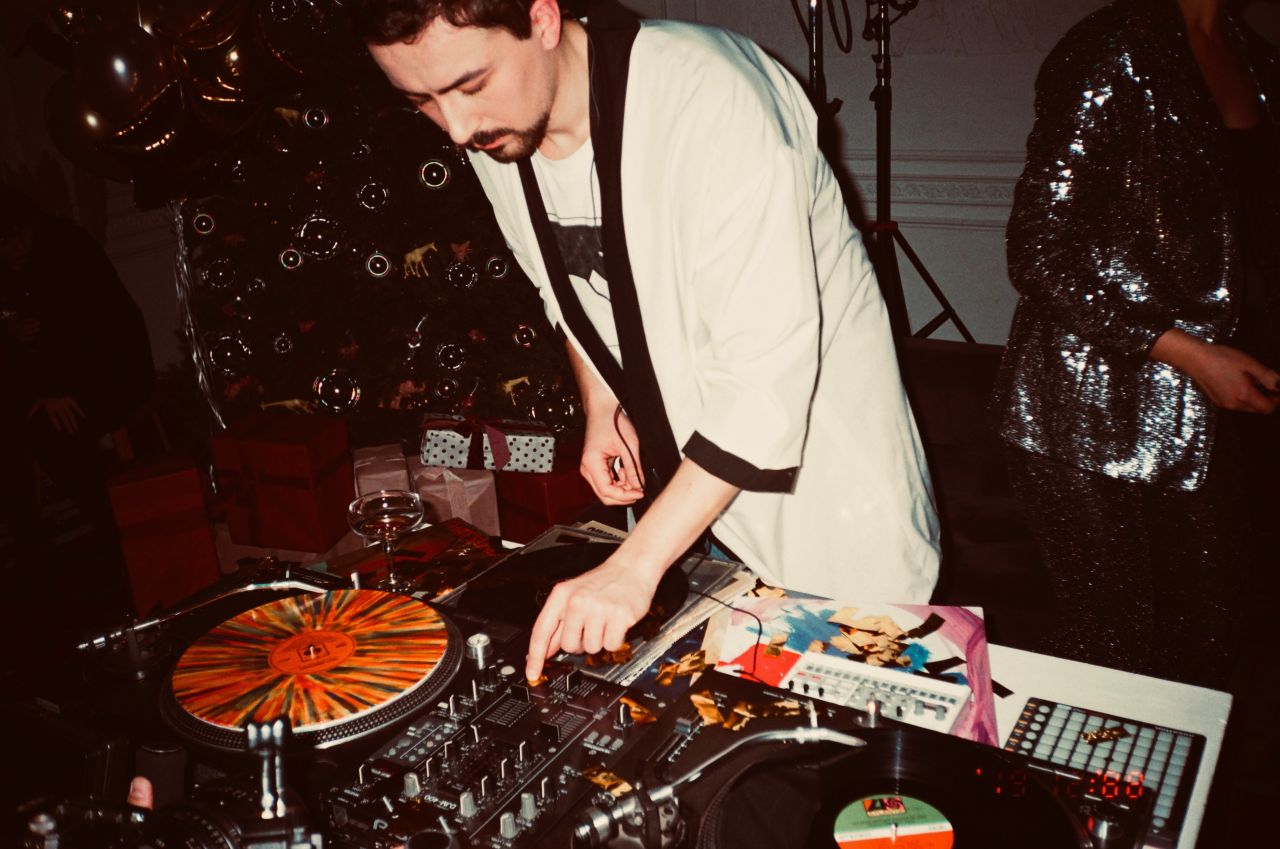 Deck / Controller / Mixer
What Is A DJ Deck? Let's get this straight. They're sometimes called DJ decks, they're sometimes called DJ controllers, and they are also called DJ mixers.  
These terms are generally referring to the same device, which is in the integrated music player. Given the advances in DJ gear over the past few years, it's no longer necessary for wedding DJs to lug around flight cases containing heavy turntables and a mixer. You won't be doing any competitive scratching at a wedding, so keep it practical and light. Of course, if you're from the true-school era and prefer to spin on the wheels of steel, that's okay too, because we've got some equipment carts to make your life easier. For everyone else, there are a number of excellent DJ controllers on the market. These controllers sync with popular DJ software titles such as Serato, Traktor, Rekordbox and Virtual DJ. Because you are a professional getting paid to be reliable, it's recommended that you go with a quality controller designed for gigging, not your bedroom. The Pioneer DDJ-SX3 is Pioneer's latest flagship controller.
CDJs
CDJs are another choice when it comes to DJing. CDJs have initially been meant to play CDs, working as the digital version of a turntable.
Nowadays, most modern CDJs can also read flash drives. This allows you to manipulate your digital tracks in the same way you physically manipulate types of vinyl on a turntable. With a high-quality sound card and a gorgeous tactile screen to search your best tracks on your collection, these babies feel –and hear! – like a charm.
The 2000NXS2 offers you a plethora of possibilities to take your DJ set to the next level. They can play SD cards, CD's, flash drives and can work as controllers for DJ applications.
Offering a whopping 96khz sampling rate, you can take your digital audio quality to the next level to have the crowd in the palm of your hand.
Before we move on to talking about DJ mixers for wedding DJs which I will do later down the page, it's worth mentioning that at this point that you don't need to buy separate CDJ decks and mixers. It's my preferred setup as a traditionalist, but alternatively, you could look at buying a fully-integrated DJ system.
DJ systems come with an in-built mixer, meaning you won't need to buy separate pieces of kit. The Pioneer Pro DJ XDJ-RX DJ System is probably my favourite of the current ones on the market. They probably suit the life of a wedding DJ quite well, as it means you don't have to carry as much around and can just set them up on your table with no additional cabling and you're ready to go – so they can save you time setting up too.
Software and controllers – Cheap and easy DJ setup
Since most weddings might take place in different cities or outdoor locations such as a beach or a farmhouse, it is important that your equipment doesn't get damaged in transit. With DJ controllers, you don't need to worry about carrying the heavy mixers or turntable. A DJ controller and a Laptop with DJ software are quite sufficient. There are a couple of different software options available such as Serato, RekordBox, and Traktor.
The wedding couple trusts you as a professional, and we recommend you use professional controllers. These can include the Pioneer DDJSX3 or others. If you're planning on DJing at a wedding more often, we recommend that you buy a professional laptop as well, one that is compatible with all kinds of DJ software.
As much as old-school DJs rant about them, laptops have become basic equipment for many DJs.
Weddings are no exception since a laptop running software is much more mobile to carry around than crates and crates of CDs or vinyl records. To use a laptop for your wedding gigs, you'll need specific DJ software and a controller, a piece of gear that you plug to a computer to have a more hands-on control – like a DJ joystick, essentially!
Another good thing about software DJing is that you don't necessarily need a mixer since you can mix inside your program.
Nowadays, there are a plethora of software applications for DJing. Traktor and Serato are the oldest players, but tons of other programs have appeared since they arrived on the scene.
Vinyl Turntables for Wedding DJs
Every single wedding that I have been, without fail, has featured a DJ playing cheesy classics. A lot of this music might not be available digitally, and if you have been DJ'ing for many years, chances are you will have a large collection of tracks on vinyl which you haven't yet ripped to digital, or have in CD format.
And let's be honest, who doesn't love seeing a wedding DJ playing on the old ones and twos with a classic vinyl turntable setup?
You really can't get any better than the classic Technics 1210s. These are the standard and have been for years. Forget anything new coming to the market, if you invest in a set of 1210s, then you should need to look no further.
They are the iconic DJ deck and make up part of any wedding DJ equipment and setup. 
Over the last few years, some new brands have entered the market offering more budget vinyl turntables, with some stunning designs and products to be had. Some of my more favourites brands include names such as Numark, Reloop, Audio Technica, Stanton, and Gemini. Depending on how much you want to spend, depends on how serious you want to make it as a wedding DJ.
One option, although it will result in carting crates of vinyl everywhere, is some sick vinyl turntables. 
Having vinyl as an option is becoming increasingly in-demand at weddings as the vinyl itself is seeing a resurgence. Vinyl these days isn't just seen as old school, but actually new and fresh and facing the future. 
That said, you should know that bringing a vinyl turntable to your next wedding DJ gig doesn't mean ripping grandma's old record player out of the wall and throwing it in the van.  
These new vinyl turntables are definitely looking dope, but they can still play whatever vinyl you like, whether it be hip hop or some old dusty jazz record.
And remember, vinyl = high-quality audio, and it is going to impress the blatant audiophiles at the wedding. It's going to treat everyone else to higher quality audio whether they are aware of it or not.  
Traktor
 It's a classic among DJ software, and as such, it's compatible with a lot of controllers.
This allows you to remix on the fly and gives DJing you a new horizon. When getting started on wedding gigs you may want to keep it simpler, but STEMS prove that Traktor is a great program that pushes the industry forward.
If you get started with Traktor for your wedding gigs, you know you'll be working with industry-standard professional software.
Serato
Serato is another classic DJing application, heavily rooted in hip-hop and scratch tradition. It pioneered the digital vinyl system, where you can use a vinyl turntable to control tracks stored on your computer.
Fans swear by Serato because of its stability: Used as one of its selling points, the software is known to run day in and day out without hassle or problems.
This makes it a "rearguard" program: New functions usually aren't added until the company is sure that stability won't be compromised.
Korg Kaoss DJ
Korg is known for offering budget-friendly solutions that work amazingly well. Small and cheap, the Korg Kaoss DJ is Traktor and Serato compatible. 
It comes with a kaoss pad, the classic Korg tactile interface to add effects on the fly to your DJ set.
Coming with audio interface and hardware inputs (in the case you want to plug a phone or another audio source), the Kaoss DJ is perfect for a very mobile equipment DJ setup!
PA Speakers
PA Speakers can help you and your mix truly shine. Since some weddings are held in large cathedrals, and receptions might be held in huge banquet halls, you need to make sure that you have powerful speakers. They will allow you to crank up the volume without the fear of losing the quality.
About two or four 15-inch speakers or subwoofers would serve you well in an average-sized banquet hall. The best part is that you won't need to carry around amplifiers if you have subwoofers. Some powerful speaker and subwoofer brands include JBL PRX, the QSC K-Series, and PioneerDJ.
Arguably the most important element of your setup is the PA rig. You can't be one of the best DJs around if you have poor sound coming out of some cheap speakers that you bought at a yard sale. Many banquet halls and ballrooms are large and can require quite some power to fill up space with quality sound. Even if you're playing a more intimate setting, it's always good to be prepared to crank the music up without losing quality.
At a minimum, it's smart that your PA system consists of at least two, if not four, 15″ powered speakers and subwoofers to accompany them. Powered speakers are great because they eliminate the need for carrying around hefty power amplifiers and other rack gear designed for passive systems. Subwoofers are important because they take a huge load off of the main speakers, driving all of the low frequencies (aka, your bass) through a highly specialized woofer. This will make your entire system sound bigger and better. Quality powered speaker families include the QSC K-Series, JBL PRX Series and Electro-Voice EKX Series. Important accessories to include are speaker stands and extra-long cables. Before you make your purchase be sure to verify that everything is compatible with your system
Ideally, a whole PA system is probably what you will need at some point, but some good speakers are a must-have to start out.  
You might luck out, and they'll offer to supply you with a PA / Sound System, but this is NOT something you should expect from anyone. You and your company need to be responsible for bringing ALL the gear – that basically goes without saying.    
That said, think about it. If you have a good PA system, that will have speakers, not to mention many of them come with a mixer and a microphone.  
Even if you aren't required to do any MC'ing, someone is going to want to use a microphone at some point, and this means that having the whole PA setup is kind of crucial.  
It might not be a bad idea, once you secure the gig and know who you're dealing with, asking if there is anything you should not bring because they might not want you to bring every piece of gear imaginable. Still, we suggest you be able to bring whatever is needed at the drop of a hat.
A basic set of Hi-Fi speakers may suffice for a house party, but birthdays, weddings, and other events may require something more powerful. While a whole industry is built around live music reproduction, a basic public address (PA) system such as the Peavy audio performer pack or Behringer Europort EPS500MP3 should be enough to get you started without breaking the bank.
If you find yourself in need of a bigger speaker system, it's possible that large venues may have their own systems, and you can always hire or upgrade at a later date if your system is no longer making the cut. Speakers are one of those key pieces of gear that you cannot be caught dead without.  
Wireless Microphones
Another fundamental element of your setup should be wireless microphones. Weddings and formal events often consist of speeches, announcements, and someone who MCs the shindig. The last thing you want is someone tripping over a 30-foot microphone cable which can result in damaged gear, or even worse, an injury to one of the guests. Reliable wireless microphone systems are made by brands such as Shure, Sennheiser, and AKG. Remember to have the appropriate cables to send a signal from the receivers to the PA. Also, remember to have extra batteries on deck at every single event.
Weddings often involve speeches, toasts or different announcements. You need to come prepared with wireless microphones that have a large signal range. This prevents guests and speakers from tripping over the long wires. Some reliable brands include Shure, AKG, and Sennheiser. We do recommend that you check for batteries and cables. Furthermore, check beforehand to see if the microphone is connected.
Music
A good wedding DJ set needs to have a large, engaging, and wide-ranging collection of music pieces. If you want to keep your audience entertained, it is mandatory to engage them through the right tunes for the occasion, and this applies to every DJ.  
Remember, this isn't about you taking over the party with your tastes. You'll get more work the more you try to figure out what kind of music they want to hear.  
Adjusting to all these changing tastes in music is a challenge to any wedding DJ. So you need to be ready with iPods, iPhones, hard drives, vinyl, and much more, because as you seek out various wedding DJ gigs, you just know that everyone is going to want different songs played in different ways, in different formats.  
And then other people will have no clue what they want and expect you to know everything there is to know about music. So be ready!
In terms of tune-age, you should focus mainly on the safe bets, such as the 80s, 90s or top 40 hits, especially with some disco and familiar dance tunes, for when the ambient gets a bit loudmouthed later.
Lighting
Lighting is an important part of the DJ equipment as well, especially when it comes to the reception. Adequate lighting on the venue stage will help draw attention to that space, and it will help improve the overall ambience of the venue.
The reception usually involves a dance floor where everyone will groove along to your mixes. You should pair up the music with strobes and lasers to help enhance the experience. We recommend that you buy lights that can be programmed to flash with the music. This will help intensify the effect.
If you want to really excite people up and get them in the partying mood, think about lighting and some special effects. 
Each of these really deserves their own post, but, suffice it to say, you will probably be expected to have at least a mirror ball kicking around in your truck somewhere. It all depends on the type of wedding you're DJing, and whether you are required to go classy, or full-on get-down-get-funky party mode.  
Here are, at least, a few ideas for cool lights you could have on hand should the need arise.
Lighting is an integral part of a DJ's gear-list and is something that should not be overlooked. Lighting provides event spaces with ambience, energy, and vibe. It's essential to have a wide array of lights in your rig. Effective lights include washes, strobes, and lasers. Lighting significantly adds value to your services and may even allow you to charge a premium as a part of your package. Lighting takes some time to learn and understand, so it's definitely a skill that event DJs should spend some time learning.
No party would be complete without a lighting show. Professional and even amateur lighting rigs are remotely operated using DMX control. Also though you may not want or be able to remote control your lights right now, it's important to consider DMX compatibility for future expansion. When using DMX, it's possible to sync all your lights up to change uniformly at the same time, as well as create complex light sequences.
A Backup
If your equipment stops working, it might not necessarily be your fault. Whatever the case, you could still end up ruining someone's special day. Trust us, and you don't want to end up being the sole reason for ruining a wedding. We recommend that you have backups ready for all your equipment. This should include cables, speakers, mics, and even a spare laptop. The great idea is to carry an iPod or iPad with you so that the music never stops — even if your gear stops working.
Being a wedding DJ can be a hugely rewarding hobby or job. You get to really make a difference to people's lives, providing them with a night that they will hopefully never forget.
The type of equipment that you use depends on so many factors. These include budget, long-term plans, and how often you plan to perform.
All in all, DJing at someone's wedding is a huge responsibility that you don't want to mess up. It can be a great opportunity for you to expand your profile and network with newer folks. Your gear plays the most important role in this! With the best gear by your side, you are bound to impress everyone at your next gig!