How you plan a themed wedding depends on what extent you wish to commit to your chosen theme. If you don't want to go 'all out,' you can include touches of your chosen theme in certain elements of your day, such as the catering or how you and your bridal party are dressed.
For example, a bride who chooses a movie-themed wedding such as Breakfast at Tiffany's may include eggshell blue in her wedding colour scheme and wear pearls and a beehive hairstyle on her wedding day.
In contrast, another bride with the same wedding theme may choose to execute the aesthetic and style of Breakfast at Tiffany's with more enthusiasm. For example, she may have an eggshell blue wedding colour scheme, as well as choose Breakfast at Tiffany's-themed invitations and decorations, and may even request her guests to dress up as characters from the film.
Ultimately, how you plan and execute a themed wedding is a different experience for each couple, and it all depends on how wholly you wish to commit yourself to the theme.
Does your wedding need a theme? There's been quite a shift in the last 6 to 10 years – it used to be quite common for a bride to make two decisions first – the theme and colour scheme. Eek. For many, the colours were hard enough! But then, the themes mellowed out. Nowadays, they seem to be much more subtle. Of course, brides still go for favourite colours, but now it's more about personalisation than theatrical decoration.
So for all of you struggling with this question – does your wedding need a theme? – let's consider a few things.
There's no law stating that you must theme every single wedding. But, of course, you don't need a theme – you can pick a variety of decorations that look nice together and match your colour palette.
The Colour theme.

Your shared interests. 

The Season of Your Wedding. 

Your Budget.

Take advantage of the Internet.

Read Wedding Magazines. 

Look back at Old Photos of you and your Partner.
Whether minimalist or avant-garde, this wedding style is high on style. Modern weddings are sleek, sophisticated, and refined, typically using a monochromatic colour palette, on-trend florals or foliage, geometric lines, and pared-down décor.
Every wedding is centred around a specific theme other than colour or a pattern that connects different aspects of that wedding. That theme is called, you guessed it, a wedding theme.
Often a more formal celebration, a classic wedding frequently features beautiful green and white florals, refined colour schemes, plenty of clean lines, and sophisticated elegance. Translation: Total. Bridal. Bliss. There are plenty of ways to incorporate a classic wedding theme into your big day.
Personalisation – The Magic Word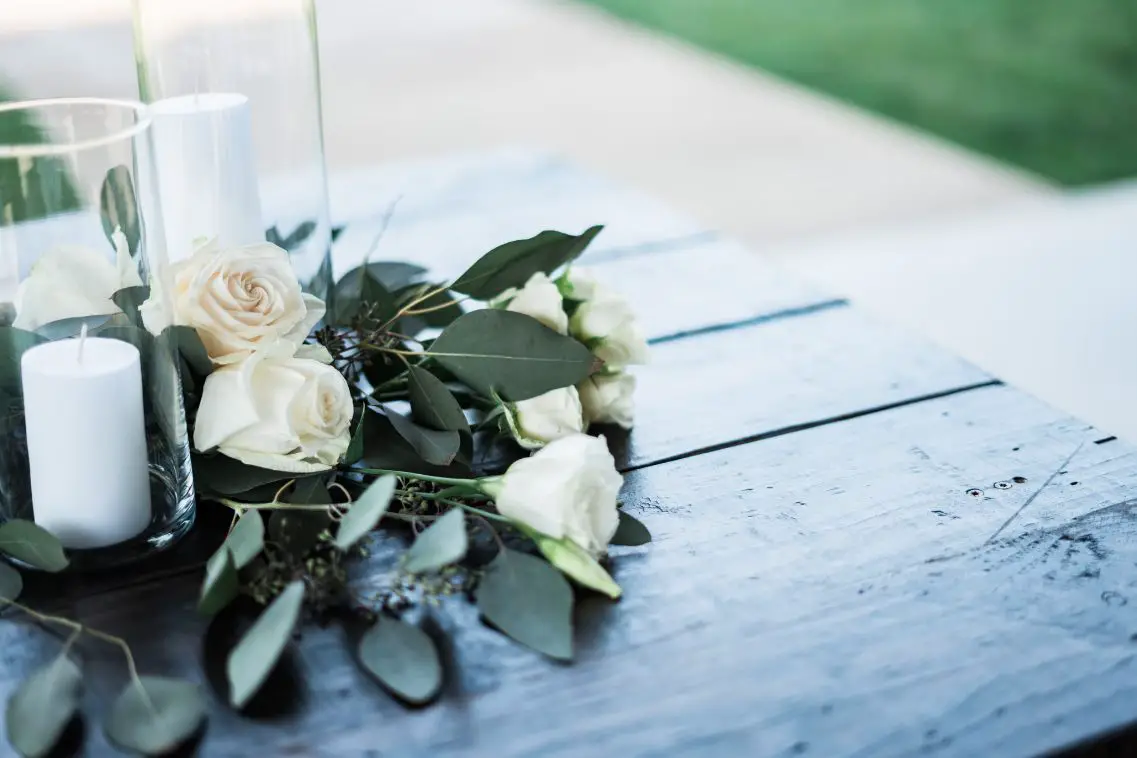 Now let's say you like this idea, but you're not a travel person. Not everyone is, and that's perfectly alright! Think practically – is it worth spending several hundred euros on travel-related trinkets, stationery and decor when you could be getting something much better you'll love remembering in the years to come? The thing you want is the one worth spending the money on.
The Colours Are Enough.
Consider this: if you already know your wedding will be mint-and-silver or lilac-and-purple, could that be enough? Of course, it's enough. That's already a whole distinctive look in itself. You'll probably match lots of things, like dresses, bouquets, cake, flowers and invitations. When the guests walk into the reception room, they'll be impressed with the result, and that's all you need. Does your wedding need a theme? A theme on top of a beautifully coordinated colour palette may be too much.
Make It Whisper, Not Shout.
Let's use an example for this one. Say you both like books, and you'd like a book-themed wedding. You go on Pinterest, and there are a million ideas, including getting married in a library. You truly could incorporate books into every part of the day until it becomes less than a celebration between two people in love and more like a theatre play. You'll spend more time shopping for just the right things than actually looking forward to your vows and spending the day surrounded by people you love.
Make it whisper, not shout – you don't have to apply the theme to absolutely EVERYTHING. Instead, pick just two or three things. For example, book-stack centrepieces and bookmark favours. Or cake and table numbers. It is more than enough, and everyone will still notice it.
Mind The Guests
Spare a thought for your guests. Some of them will be up for dressing up as Regency ladies, Spanish senoritas or gangsters. But not all guests can afford this, and some don't think much of fancy dress. The more they have to do to fit in, the more they'll lose sight of the real reason they've been invited to witness you and your other half making a true commitment.
Think In Broader Terms
Rather than making your theme one strong statement, consider something subtler and broader that's far easier to work with.
For example, elegant, sparkle and casual. There are many more.
Just imagine your guests talking after the event. They'll be saying stuff like 'it was so elegant', 'we had the best food we've ever had at a wedding, there was so much variety, or 'it was great hanging out in the gardens'. Yes, this is what you want.
Pick A Date That Already Has A Theme.
There are a few on the calendar! You know what we're talking about.
Did we miss Christmas, New Year's Eve, Valentine's Day, St Patrick's Day, or Halloween?
You will already decorate most venues for the occasion, so that's a huge chunk of the budget you can put back in the piggy bank. And, doncha know, out-of-season dates (from October to April) are also quite a lot cheaper.
Don't Know What You Want?
Does your wedding need a theme? If you can't even begin to answer this question or don't know what you want, there's just one thing left: think about it, like changing your hairstyle.
You are bored with your hair, but you aren't booking a hair appointment because you know they'll ask you, 'what are you looking for?' and all you have to offer in response is a shrug.
So what would you do? First, you'd look at lots of photos to discover the styles you like best. Then, you'd probably take a few to see the stylist, so they can tell you which one would suit you best.
It's the same with weddings! Look at lots of pictures first. Our real weddings are an ideal place to start. Please note what you like, then take it to your wedding planner or venue coordinator, and work from there. You can also ask your mom or best friend – don't get too many opinions because you'll be back at square one. Remember – you don't need a theme as such. It would be best if you had something to keep the look uniform, or you risk turning your special day into a country fair. When in doubt, choose the simpler option.
We hope the above has given you a few things to think about. So, does your wedding need a theme? If it's going to cost a lot of money, give you endless hours of stress, and detract from the importance of the day itself, then NO.
But if you do have a theme in mind and don't want to give up on it, go for it! Just remember: it doesn't have to be huge to be memorable. A theme could go from just enough to too much in a heartbeat, so we recommend keeping it small and sweet.
So, Do You Need A Theme For Your Wedding?
The Golden Question: Do you need a wedding theme or style? If you're not drawn to a particular wedding aesthetic, you might wonder if you have to categorise your big day with a style or theme name. Ultimately, the choice is up to you—but choosing a theme or style may make your wedding planning process easier. It is beneficial for couples to choose either a theme or a style, if not both," says wedding planner Ayanna Stephens. The theme and style help with a few things: It creates the opportunity for a cohesive design for your wedding, it sets the tone for the type of experience your guests will have, and it also helps inform your budget.
A clear wedding theme idea or style will guide subsequent planning decisions about colours, decorations, entertainment and food. But beyond that, a wedding aesthetic will dictate what your big day feels like for loved ones. "Selecting the right style can also be related to the type of experience you want for your guests," Stephens explains. For example, a classic wedding tends to be more formal, while a boho wedding is usually less traditional. It's important to narrow down your overall style and the experience you want to create."
Following a wedding style or theme takes careful planning and organisation, so it's necessary to lean on your team of vendors—especially a planner or a coordinator—to keep your style cohesive across all elements. For your wedding to be executed effectively, it's very important for the vendors to work together," explains Stephens. Your planner or coordinator's role is to partner with you to identify a team of vendors capable of executing the vision and working together to ensure success. For my couples, I typically create a mood board with inspiration for all aspects of the wedding, which I share with all the vendors so that they can understand what we're aiming to accomplish."
Here are three reasons why it's super helpful to have one.
It Gives You Somewhere To Start
It gives you a starting point. Of course, you can do anything you want to, but that can be overwhelming! So coming up with a theme gives you somewhere to begin looking.
It Gives Your Wedding A Cohesive Feel
A subtle theme done right won't necessarily be apparent to your guests. But what it will do is allow your décor and details to "make sense". Each element of your day works together to tell a story and set the scene, and having details that clash against each other causes confusion.
It Helps You Make Decisions
Having an overarching theme for your wedding day certainly helps decide the details. You can run your options through the filter of "does it fit my theme" and quickly make a call on whether the flowers are a good fit, the bridesmaid dresses are the right colour, or the invitations are perfect.
Here's an example: you may find four or five invitations that you like – they fit your style, you like the colour, whatever. If you have a specific feel to your special day (say – rustic) and perhaps a particular colour or two, you can ignore the invites that don't suit you. It leaves you with only a couple of options, and you are less overwhelmed by decisions. Instead of presenting your partner with half a dozen options and saying, "what do you think?" you can present two and say, "Which one?".
What Are The Pros And Cons Of A Themed Wedding?
Pros
Opportunity To Have Fun And Be Creative.
A themed wedding is a great way to explore your creativity and treat your family and friends to a unique and fun experience. Particularly, for brides or grooms that have been dreaming of their wedding since they were young, it's an opportunity to bring your ultimate wedding to life!
Incorporating a theme in your wedding can make the planning process more fun, and the results on the day will be, no doubt, appreciated by your family and friends. Additionally, having a themed wedding is a great way to express your and your spouses' personalities,
A Memorable Experience For Your Guests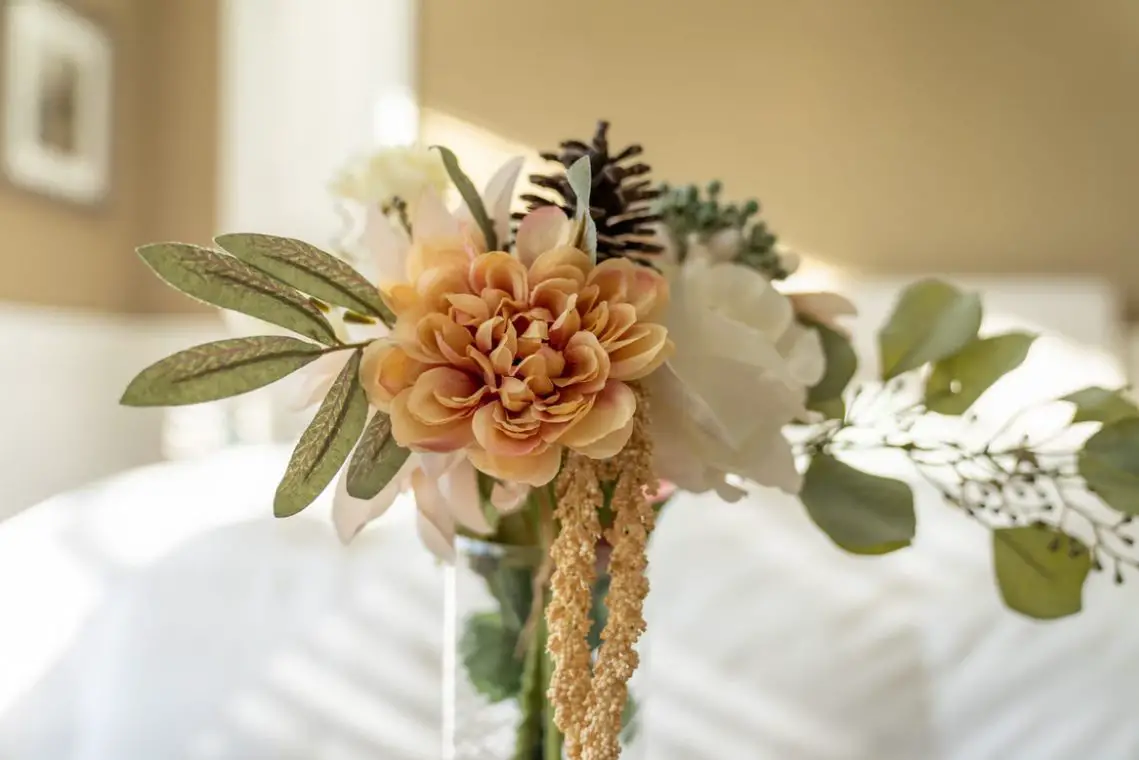 Choosing a theme you love will make your wedding an enjoyable and memorable experience for yourself and your guests.
Your guests are more likely to remember your wedding if you request they attend wearing costumes or if you include unusual styling elements and decorations on the day.
You Can Get Everyone Involved.
Having a themed wedding allows you to get all your guests involved by asking them to dress up to match your theme. A themed wedding can also encourage interaction between guests, as, often, a particular theme may lend itself to including relevant games, traditions and formalities.
For example, if you were to have a festival-themed wedding, you may want to include outdoor games or entertainment to emphasise your festival theme.
It May Be Cost-Effective.
It entirely depends on your chosen theme, but you may find that your theme lends itself to D.I.Y decorations or wearing clothes you already own. For example, having a vintage wedding theme may mean that you can borrow accessories from your grandmother and even wear her pre-loved wedding dress.
Cons
It Can Sometimes Be Costly.
Depending on your theme, sourcing certain costumes, props, decorations and booking services can become costly if rare or hard to locate. However, costs don't have to escalate if you set a budget.
Additionally, if going 'all out with your chosen theme may prove a little too costly, you can still have a themed wedding by incorporating touches of your theme here or there. For example, you can give your guests themed Bomboniere or include themed music or food.
The Result May Not Meet Your Expectations.
Many brides are warned that even after all their best efforts and meticulous planning, sometimes, not everything will turn out exactly as they expected on the day. The same notion applies to themed weddings and is even more applicable, as a themed wedding often requires sourcing not-so-typical costumes, props and services.
Your Guests May Not Want To Cooperate.
There is a possibility that some of your guests may not like or wish to participate in dressing according to your chosen theme, especially if it requires elaborate costumes.
Some guests (and even your bridal party) may not feel comfortable dressing in a costume and feel forced. Guests may also be unhappy about purchasing or hiring an expensive costume.
Additionally, a certain theme may even offend some of your guests, particularly if it goes against their social or religious beliefs.
It Can Take Time To Source The Right Clothing, Props, And Services
To get things right, you may spend a lot of time and energy hunting for that particular hat or period costume to make your theme come to life. Planning any wedding, particularly a themed wedding, requires lots of time and energy so that it may become a little stressful for some.
Conclusion
While there are no definitive rules for creating an elegant wedding theme, you can create an unforgettable event that reflects your style by considering a few key factors. By choosing the right venue, selecting tasteful decorations and food, and carefully planning the timing of your celebration, you can create an elegant wedding theme that guests will remember for years to come.