Located in Melbourne, Victoria, planning a wedding and looking for the best beauty salon? When you are planning your big day, you probably want everything just perfect. One of the best ways to make sure that it all turns out the way you dreamed is to select every vendor yourself personally. This way, you can choose the ultimate location, the best entertainment and the most delicious food, and craft your ideal wedding day.
We've created an ultimate list of best wedding beauty salon in Melbourne, Victoria to save you time and money.
To help you get started on your salon hunt, we've rounded up our favourite beauty salon from right across Melbourne, Victoria.
Read on to discover where to start your search.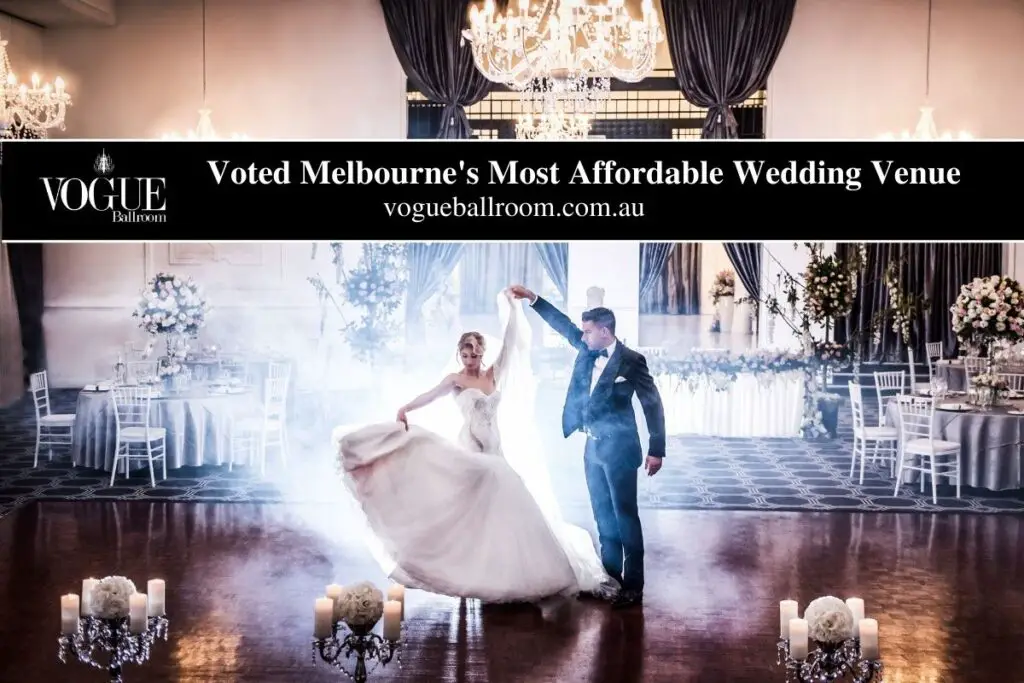 Add a header to begin generating the table of contents
 HM Allure Wedding Beauty Salon Melbourne
Hmallure.com.au
422215405
Being part of your wedding day has to be the highlight of my profession. Every wedding is different. I love creating a flawless vision of hair design and makeup on my brides and their bridal party. Fulfilling their dreams on their special day. With 20 years of experience in the bridal hair and makeup  industry and recognised by Australia's wedding platform award winning artistic educator Helen Donchos is the co-founder of the company H M ALLURE Hair And Makeup Melbourne  and trainer educator of HAIR.DO ARTISTRY.
​Trained by the best in the wedding hair and makeup industry, her  creativity and inspiration has developed her own brand of styling creating elegant bridal hair and makeup designs. Her philosophy is to '' create the most natural look that makes the bride look feminine'' Helen and her dedicated team of hair and makeup artist  will work closely with you to assist in creating a look that brings out the most beautiful bride in you. ​To receive a prompt bridal hair and makeup quote for your bridal party please fill in the contact form. For Bridal Wedding Hair And Makeup Touch Up Services ,price is upon request.
Classic Beauty - Melbourne Wedding Beauty Salon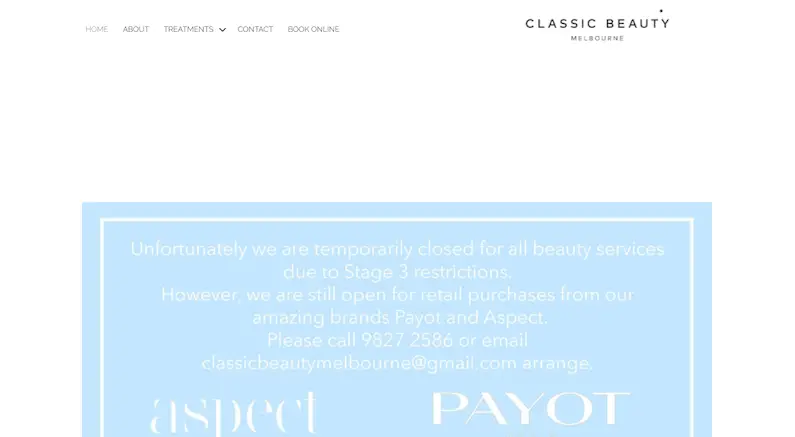 classicbeautymelbourne.com.au
98272586
At Classic Beauty Melbourne, we offer an extensive range of beauty treatments ranging from manicures and pedicures, to specialised facial treatments such as skin needling and clinical peels, skin rejuvenation, and everything in between.
Our focus is on our clients, offering a wide varying scope of treatments, we have something for everyone. If your looking for a tailored skin care regime or a quick spray tan, we can help you.
Mae Allure Wedding Beauty Salon Melbourne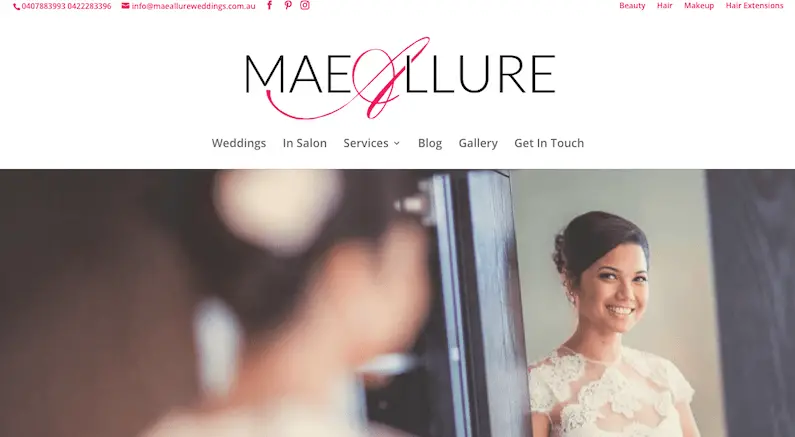 maeallureweddings.com.au
0422283396/0407883993
M.a.E Allure and Team promise to always fully carry out the bride's/client's wishes and totally understand that it is all about her been relaxed & looking her absolute best, at all times, on her special event. Magda Sidiropoulos teamed up with her best friend and now collegue Evie Lozanovski to form M.a.E Allure Weddings and together with their team, they offer event planning, hair, make-up and total beauty services right through out Victoria.
Magda and Evie are both award winning, qualified hair & make-up artists, along with the rest of their team, and have tended to hundreds of brides & clients. Specialising in bridal, with a wealth of experience in the industry, including photographic, advertising, formal, film and television, your expectations will be exceeded. With professional products and careful preparation, your hair & makeup will look unique, natural and will outshine, whatever the occasion.
We pride ourselves on our work, versatility, customer service and reasonable pricing. By booking M.a.E Allure for your wedding or special event, you can be rest assured, you have booked the best in Victoria! To this day M.a.E Allure Weddings has yet to have a disappointed client!
Shine ON Wedding Beauty Salon Melbourne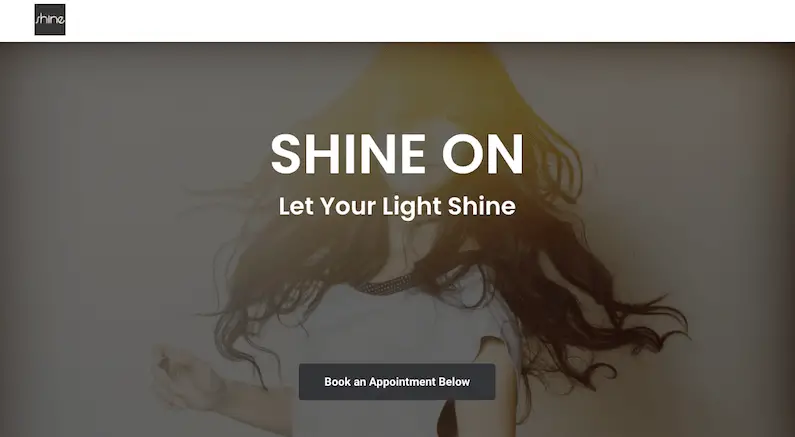 shineon.com.au
0396708770/0391913835
Why Choose Us
We have celebrated more than a decade of success in the heart of Melbourne CBD. We are the first Korean specialty hair salon in Melbourne CBD, with the opening of our first salon in the heart of Melbourne's Chinatown at 107 Little Bourke Street. Six months later, our second salon opened near Hardware Lane at 306 Little Lonsdale Street. We take pride in creating fantastic hair all these years. That's why our extremely satisfied clients keep on coming back
Passion
We are passionate about our craft. We have honed our skills through many years of hard work and training to be the best we can be. Our team is brimming with creativity and has excellent skills to boot, gained through many years of experience, overseas in Korea, and here in Australia.
Trust
Benefit from our years of experience. We won't sell or promote anything we won't use ourselves. We stand by our products and services. So when you book an appointment with us you will get a hassle-free and relaxing experience without all the hoo-hah.
Value
We like the fact that we have been able to provide quality services at very reasonable prices. You will find no pretentious stuffiness and overpriced hairdressing at our salons. We are known for our excellent customer service and the friendly, down-to-earth atmosphere at our modern and fresh salons.
Tidy Hair & Beauty Wedding Beauty Salon Melbourne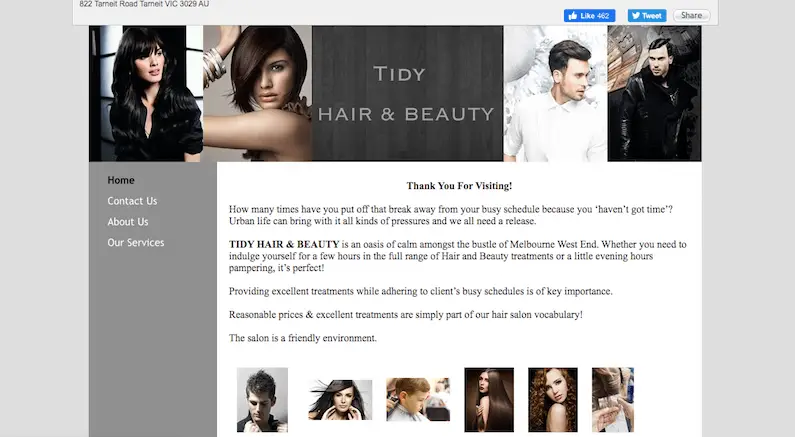 tidyhairandbeauty.com.au
1421329125
How many times have you put off that break away from your busy schedule because you 'haven't got time'? Urban life can bring with it all kinds of pressures and we all need a release. TIDY HAIR & BEAUTY is an oasis of calm amongst the bustle of Melbourne West End. Whether you need to indulge yourself for a few hours in the full range of Hair and Beauty treatments or a little evening hours pampering, it's perfect!
Providing excellent treatments while adhering to client's busy schedules is of key importance. Reasonable prices & excellent treatments are simply part of our hair salon vocabulary!
Foresta Wedding Beauty Salon Melbourne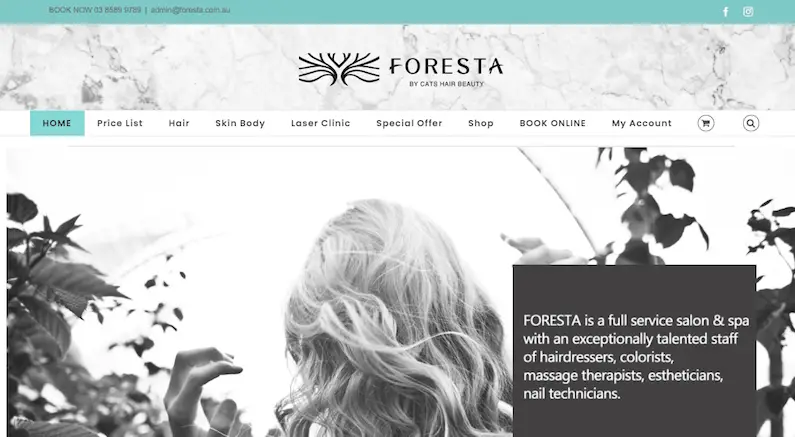 foresta.com.au
1396505535
Welcome to "FORESTA by Cats Hair.Beauty"
Melbourne based Korean salon spa.
We listen, we discuss and then You Choose today's trendiest style or the best classical look. The finest service, satisfaction guaranteed.
Hair Service
We don't believe haircuts are just decoration. We operate with a complete understanding of the functional and emotional aspects of our service to create beautiful hairstyles with purpose and suitability. Our stylist are specialists of free hand colour work, cutting, occasion styling, perming and hair extensions.
Instyle Hair for Brides Wedding Salon Melbourne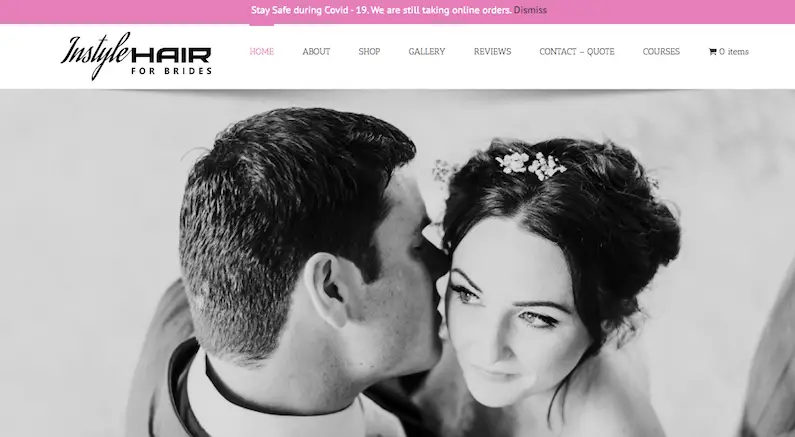 instylehairforbrides.com.au
422327176
My introduction to bridal hair styling was founded in my early childhood, 'Ever since I was 8 years old, I've wanted to be a hairdresser'. I would not have dreamt at such a tender age that one day I would be the chosen hairstylist for a Miss Australia finalist and a large handful of A-List Celebrity American musicians who come to Australia.
As an apprentice hairdresser in a very large salon back in 2003, I realised that I was one of only two, in a staff of twenty, who was trusted with arduous bridal styling. Since then I have gone on to establish my own business, 'Instyle Hair for Brides', which is a small hand picked team of 10 stylists operating as a mobile hair and makeup service all over Melbourne to better meet the needs of our clients.
Our team spends an hour per person, perfecting each hairstyle and makeup look to ensure that it will 'last all day, but look great from every angle in those all-important photo sessions'.
The Instyle Team do regular photo shoots and training days throughout the year to ensure their products and techniques represent the up-to-date and modern looks requested today.
Instyle Hair for Brides has recently expanded into providing their brides-to-be with a beautiful Hair Accessories range to compliment their chosen wedding hair style. It doesn't just stop there; we now also provide a Hair Extensions range for those brides wanting longer, thicker and more voluminous hair on their big day.
The Do Salon-  Wedding Beauty Salon Melbourne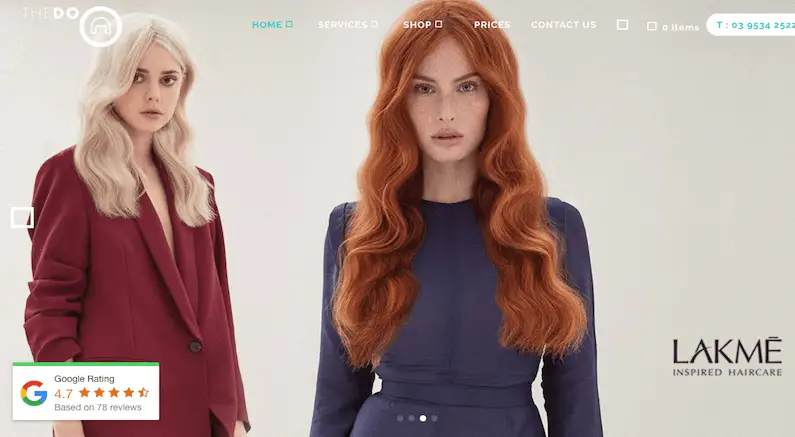 thedosalon.com.au
1395342522
A Dynamic Hair Salon in the Heart of St Kilda
The Do Salon has embodied the vibe and flair of St Kilda since opening in 2006. Over the years, it has evolved from a hair salon in the south of Melbourne into an inspiration centre for the area's style scene. During that time, our team of Melbourne hair stylists have created an environment of innovative and cutting-edge style.
We are the go-to hair salon for the South Melbourne region, with our hair stylists servicing clients from the Bayside suburbs St Kil da, Albert Park, Elwood, South Yarra, Windsor, Port Melbourne and more. Our experienced stylists will work with you to provide the best style to suit your tastes and lifestyle.
Here at The Do Salon we also do men's haircuts. Every member of our team is trained in men's cuts and latest barbering techniques, with styles finished using products from the luxurious men's hair care range Tucker Brown. If you're looking for stylish men's hairdressers in Melbourne, contact The Do Salon today.
Our Melbourne Hair Stylists
You will not find a finer team of hair stylists in St Kilda, South Yarra, Albert Park, Elwood, Port Melbourne – in fact anywhere in south Melbourne. The Do Salon team consists only of senior stylists. This means that whoever touches your hair – whether it's for a colour or a cut – is a fully qualified hair stylist with a minimum five years' experience.
We pride ourselves on working with our clients to understand their individual needs and lifestyle. Our hair stylists can guide you on the best styles and provide expert advice on home maintenance. Maintaining top-quality hair condition is our priority. Before beginning any service, we make sure our clients understand what is required to keep their hair looking its best.
Our senior stylists are masters of all trades including colour application, fashion and classic cutting, balayage, foil application, and hair extensions and maintenance.
Lajeen Artistry Wedding Beauty Salon Melbourne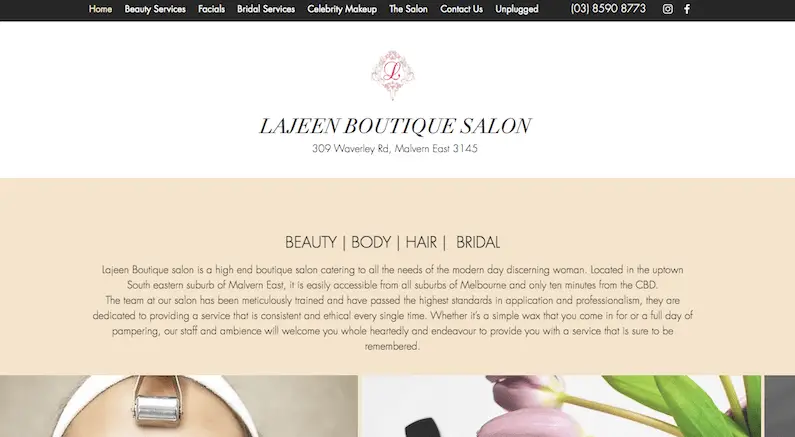 lajeen.com.au
385908773
Lajeen Boutique salon is a high end boutique salon catering to all the needs of the modern day discerning woman. Located in the uptown South eastern suburb of Malvern East, it is easily accessible from all suburbs of Melbourne and only ten minutes from the CBD.
The team at our salon has been meticulously trained and have passed the highest standards in application and professionalism, they are dedicated to providing a service that is consistent and ethical every single time. Whether it's a simple wax that you come in for or a full day of pampering, our staff and ambience will welcome you whole heartedly and endeavour to provide you with a service that is sure to be remembered.
Hair & Makeup Network Wedding Beauty Salon Melbourne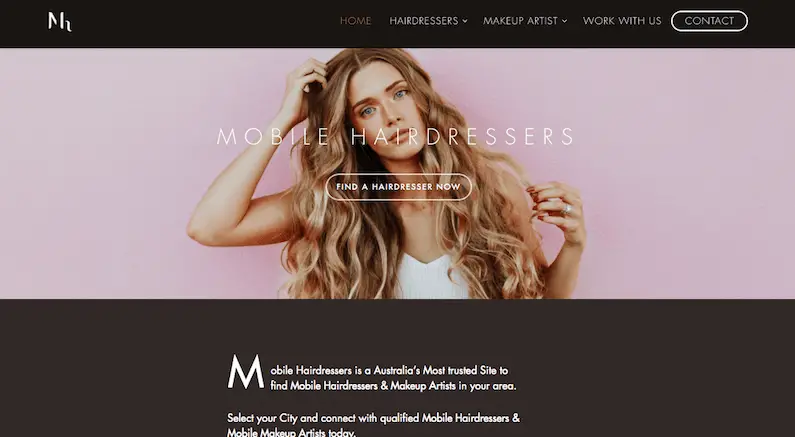 mobilehairdressers.net.au
Mobile Hairdressers is a Australia's Most trusted Site to find Mobile Hairdressers & Makeup Artists in your area. Select your City and connect with qualified Mobile Hairdressers & Mobile Makeup Artists today.
HAIR AND MAKEUP ARTISTS MELBOURNE
Amanda is a highly qualified hair and makeup artist with over 20 years industry experience. All hairstyling and makeup jobs lashes come free. Amanda's friendly and reliable approach has seen her styling hair for many type for events from formals to wedding, there's no job to big for Amanda's Hair Salon in Melbourne CBD.
Kochou Hair & Makeup Wedding Beauty Salon Melbourne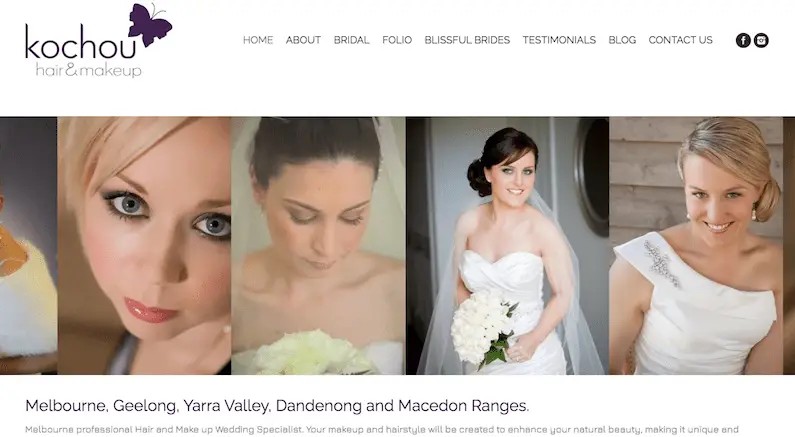 Kochoubeauty.com.au
61404877649
Melbourne, Geelong, Yarra Valley, Dandenong and Macedon Ranges Melbourne professional Hair and Make up Wedding Specialist. Your makeup and hairstyle will be created to enhance your natural beauty, making it unique and perfect for you. Relax and Enjoy your Pampering!
Mobile Wedding Hair & Makeup
Melbourne, Geelong, Werribee, Point Cook, Yarra Valley, Dandenong and Daylesford.
As a Professional Makeup Artist and Hair Stylist, Fiona created Kochou Hair & Makeup from a passion for all things makeup and beauty. Following an ethos to make every woman feel confident and beautiful, not only for a special occasion, but for every day, Fiona strives to create a personalized touch.  Understanding that your Wedding day is such an important milestone, Fiona provides the extra attention and care required for wedding hair & makeup to ensure you and your bridal party can relax and enjoy all of the celebrations.   With a reputation for being reliable, talented, efficient and calming, she has become in high demand with Brides.  For some Bridal makeup and hair style inspiration please check out the Bridal gallery.
SNS Nails and Lashes Wedding Beauty Salon Melbourne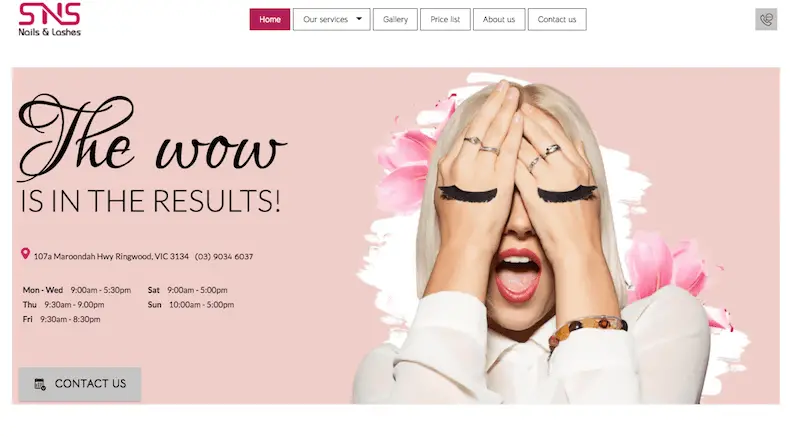 snsnailsandlashes.com
390346037
LADIES' HAIRCUTS
Choosing a hair salon can be as daunting as choosing a hairstyle.
We understand that most women have a precise look in mind when it comes to changing their hairstyle or colour. So, whether you're visiting us for a regular haircut or a complete hair makeover, our skilled hairstylists are dedicated to giving you the results you're looking for.
MEN'S HAIRCUT
SNS Nails & Lashes offers a great hairdressing and grooming experience for our male clientele without the high price tag. We also provide a thorough consultation that allows our specialists to examine your hair texture, face shape and other traits to make sure you find the perfect hairstyle. Get a stunning new haircut and let our hairstylists at SNS Nails & Lashes treat you to professional shampooing and deep conditioning!
HYGIENIC NAIL SHOP
Our team is made up of professional beauticians who adhere to the highest industry standards. We strive to keep our nail shop clean, not only to impress customers but also to reassure them that they are receiving hygienic treatments in a safe environment. At SNS Nails & Lashes, we are equipped with the appropriate tools, including cuticle pushers, scissors, nail clippers, etc. and always make sure to dispose of single-use items.
Laibas Wedding Beauty Salon Melbourne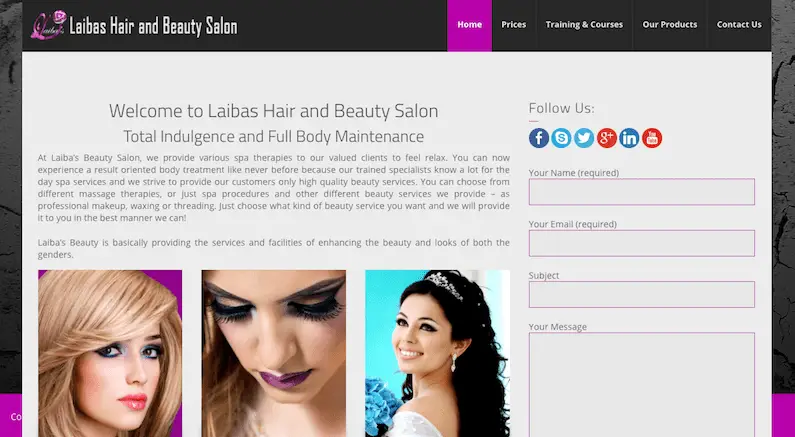 laibasbeauty.com
1390777561
Welcome to Laibas Hair and Beauty Salon
Total Indulgence and Full Body Maintenance
At Laiba's Beauty Salon, we provide various spa therapies to our valued clients to feel relax. You can now experience a result oriented body treatment like never before because our trained specialists know a lot for the day spa services and we strive to provide our customers only high quality beauty services. You can choose from different massage therapies, or just spa procedures and other different beauty services we provide – as professional makeup, waxing or threading. Just choose what kind of beauty service you want and we will provide it to you in the best manner we can!
Laiba's Beauty is basically providing the services and facilities of enhancing the beauty and looks of both the genders.
Heading Out Wedding Beauty Salon  Melbourne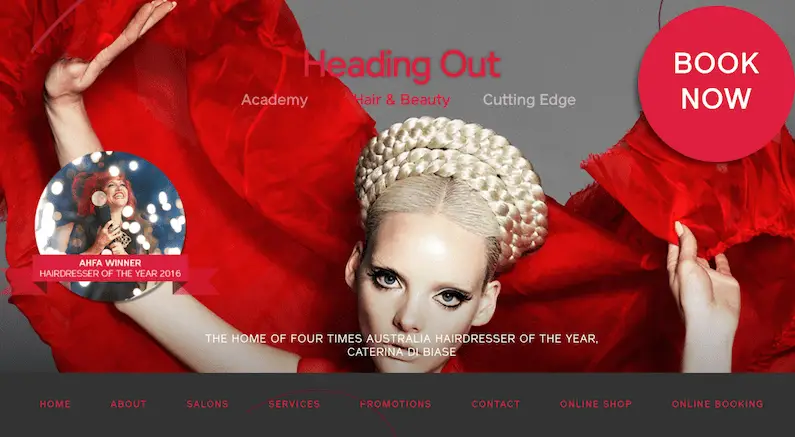 headingout.com.au
1300797547
Heading Out Hair and Beauty will continue to be open at this time.
We know there is community concern about (COVID19) Coronavirus and public spaces, and we are proactively taking measures to ensure our salons continue to be a safe place to visit, relax and pamper yourself. The health, safety and wellbeing of our clients, team members and community is always our highest priority. In addition to our standard practices, we've proactively introduced the following precautionary measures, to ensure you can visit us with confidence:
We want to assure our customers and communities that we are monitoring and acting on current and future government and relevant health authority's advice. We will continue to keep you updated on a regular basis about how we are responding to Coronavirus through our social channels, email and website.
Hair
We don't believe haircuts are just decoration. We operate with a complete understanding of the functional and emotional aspects of our service to create beautiful hairstyles with purpose and suitability. Our stylist are specialists of free hand colour work, cutting, occasion styling, and hair extensions. BOOK AN APPOINTMENT
Beauty
We believe in style that that always leaves room for individual self-expression. Our beauty salons are designed to make you feel as comfortable, pampered, and beautiful as you can be. With specialists across our beauty services you can relax knowing you are in the best hands.
Airs and Graces Wedding Beauty Salon Melbourne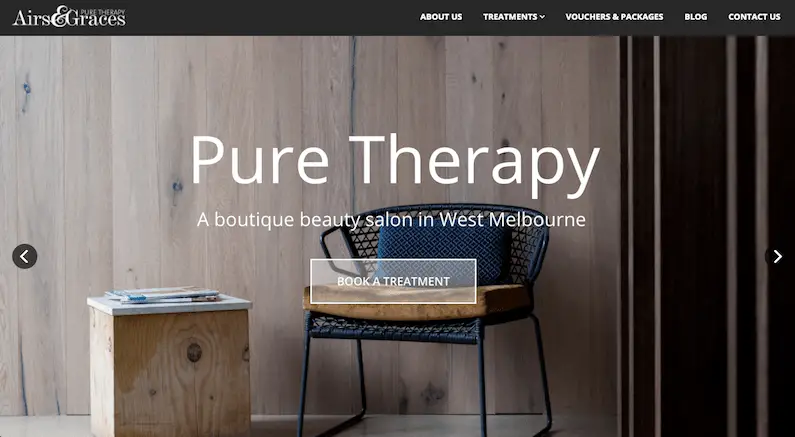 airsandgracesbeauty.com.au
61393489655
We're a small boutique beauty salon in the North / West Melbourne area offering a personalised service like no other. Airs & Graces first opened it's doors 15 years ago and has established a firm reputation in the area for delivering high quality skin and beauty therapy.
Grace has over 20 years experience in the industry so you can be assured that you're in good hands with her and her team. Our recently renovated salon has been created to offer you an urban retreat so you can lay back and let us pamper, primp and rejuvenate you.
Gift Vouchers
Gift your loved one some beauty time out, with an Airs & Graces gift voucher. We have gift vouchers ranging from $50 – $1000 and can be purchased in seconds with a couple of clicks of your mouse.
Our vouchers are valid for 12 months.
Once the payment has been confirmed, if you haven't received an email in your inbox, please double check your spam folder. We use PayPal as our payment gateway with the option to use a credit card or PayPal account for payment.
Daisy Deluxe Nails & Beauty - Wedding Beauty Salon Melbourne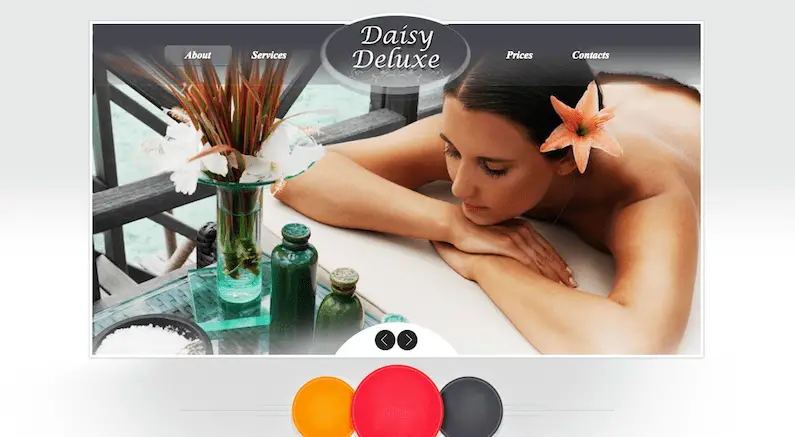 daisydeluxe.com.au
396207722
Packages for Her
Daisy Deluxe has a fantastic range of treatments, you can choose to pamper and indulge with something to suit everyone, you can be guaranteed you'll enjoy your Deluxe experience. Manicures, Pedicures, Nails, Waxing, not to mention various luxurious facial treatments are on offer as well as many other treatments and products.
Packages for Him
We offer a comprehensive list of Male Grooming suitable for men of all ages, whether it's for everyday basics like Manicures or Waxing, to various massages, facial treatments and spray tanning. Nowadays, men want to look after themselves, to look and feel their best. We make it easy for you to do so at Daisy Deluxe!
Skincare
Allow us to create a personalised skin care regime to suit your lifestyle, one that allows you to look good and feel good. Our experienced staff will assist in your choice. We offer a range of waxing, facial treatments for you to select from.
Massage
Relax and enjoy a blissful massage, facial and much more. If you have an hour or a whole day, allow us to pamper you. You will leave our salon feeling relaxed and ready to float away! The largest, most complete selection of beauty treatments at reasonable prices.
Voir Hair - Wedding Beauty Salon Melbourne
voirhair.com.au
96548892
Voir hair is an exciting new establishment from award winning hair stylist and salon director Harry Lee. Our highly trained team provides clients with luxurious, relaxed service in a comfortable, friendly environment. We specialise in creative cuts, color, color corrections, perm - whatever's needed for your hair to look fantastic.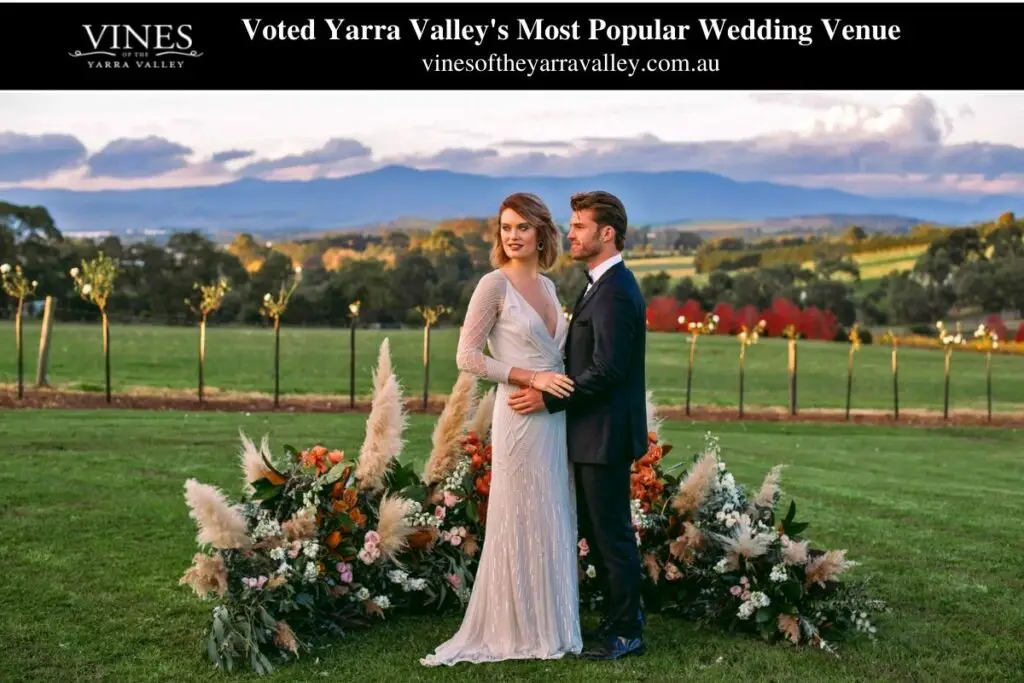 TrenzUn Hair Wedding Beauty Salon Melbourne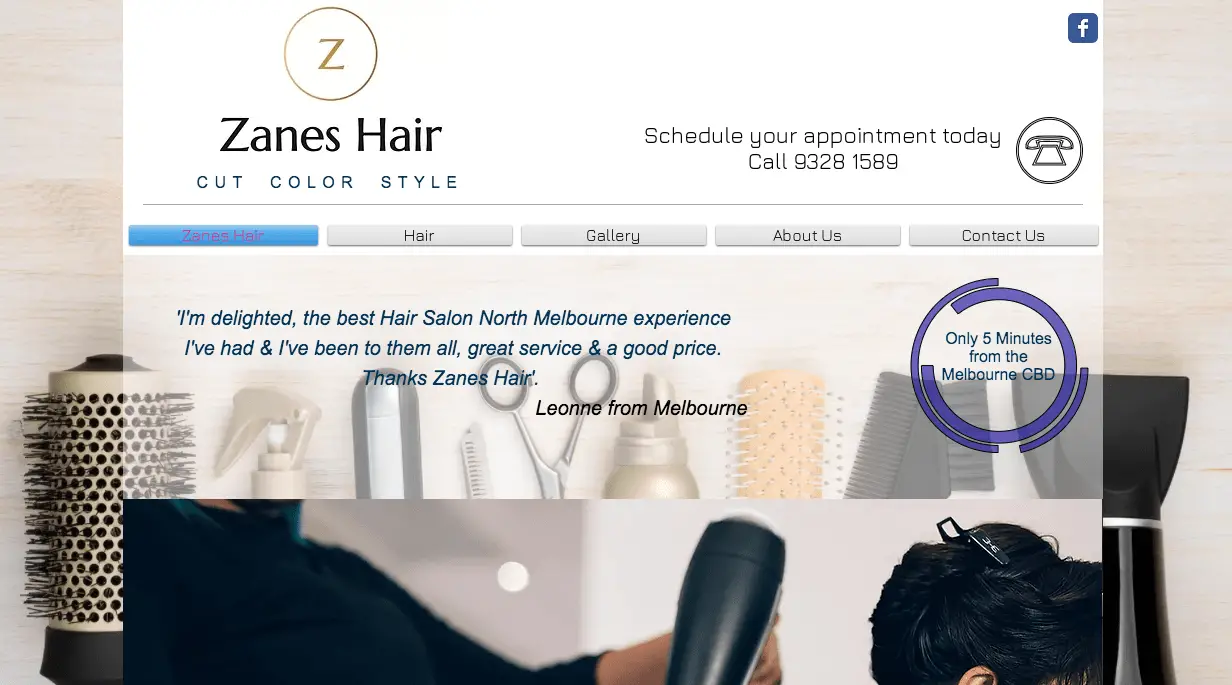 trenzunhair.com.au
93281589
Tony Conto has always been extremely passionate about hair, after he completed his 4 year apprentiship under Johnny & Paul in Chapel St he was offered their salon in North Melbourne, secure in the knowledge that Tony would maintain and build on their hard won and highly respected reputation. Over the years Tony further developed his skills particularly as a color specialist to the extent that his clients travel from all over Melbourne to experience his quality and standards of service and expertise.
Tony has always enjoyed being part of the local North Melbourne community and has been providing an outstanding experience for his clients for over 30 years. The team of staff are proud to provide only the highest standards of hair styles, colors and beauty services available.
Ella Baché Wedding Beauty Salon Melbourne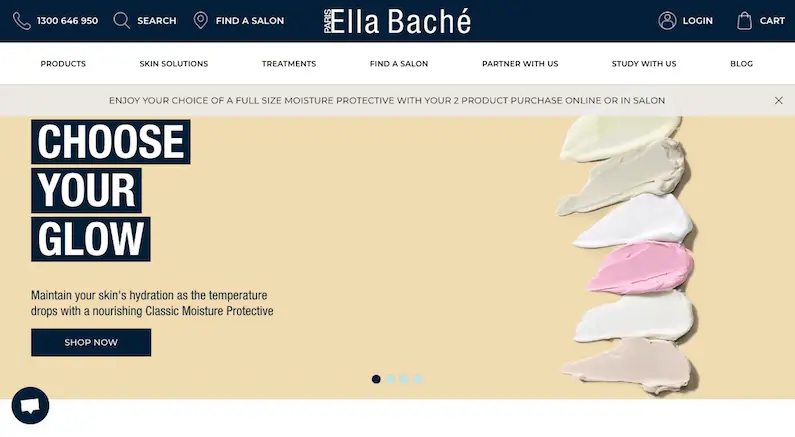 ellabache.com.au
1300647103
The story of Australia's largest skincare franchise network . Our philosophy of personalised skin care has been with us from the very beginning.
We were created by Madame Baché in Paris, 1936, a revolutionary cosmetic chemist who believed just as we are genetically different, the same holds true of our skin. Her skincare philosophy was based on the belief that "because no two skins are alike", every client's skin is uniquely individual. Her immense passion for skin care has laid the foundations for who we are today. We've carried forward Madame Baché's philosophy of individual skin care, to provide skin diagnosis and personalised skin solutions so you get exactly what your skin needs to restore it to perfection.
We now have over 140 locations nation-wide. Every employee you meet in these stores is a trained Ella Baché Skin Therapist, and carries on the Madame Baché philosophy into the future.
Ella Baché products are not tested on animals by Ella Baché, nor on our behalf by any independent laboratories. Our company is the proud holder of the 'Personal Care with Principle Award' presented by the National Anti-Vivisection Society. The citation reads, "To Ella Baché Inc., for its compassion for animals and dedication to the public by offering credible answers for a cruelty-free world".
A&J Hair Trendz Wedding Beauty Salon Melbourne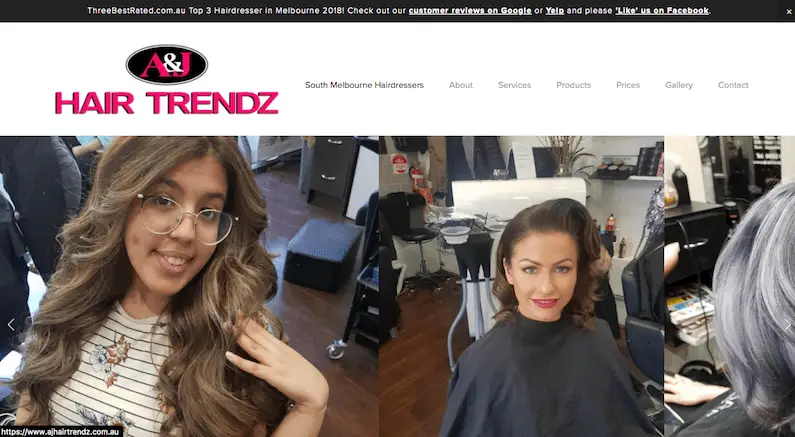 ajhairtrendz.com.au
396828574
About A&J Hair Trendz
Here at A&J Hair Trendz hairdressers salon in South Melbourne / Southbank, we pride ourselves on making all of our clients feel special.
Our mission
Our aim is to ensure that every visit is an enjoyable and relaxing experience. We do this by concentrating on always carrying out our work to the highest level whilst understanding that each client needs the individual attention they deserve. By providing a personal treatment through an individual consultation, this allows us to not only suggest hairstyles and colour, but to also recommend products and treatments that will always leave your hair looking and feeling its best.
What we do
At A&J Hair Trendz we transform the way our customers look and feel, every day. Come and visit us for a hair makeover or simply a tidy and trim and you will leave our salon feeling like a million dollars!
Whether it's a cut, colour, conditioning treatment or special event styling that you're after, our A&J experts will get to the heart of what it is that you want to achieve for your hair, the look that's 'on trend' and what best suits your individuality. And don't forget, we play great music!
The result
With hair by A&J, you'll walk out of our doors feeling confident, vibrant, beautiful and, thanks to our styling tips, able to recreate your special look at home.
LUXM Wedding Beauty Salon Melbourne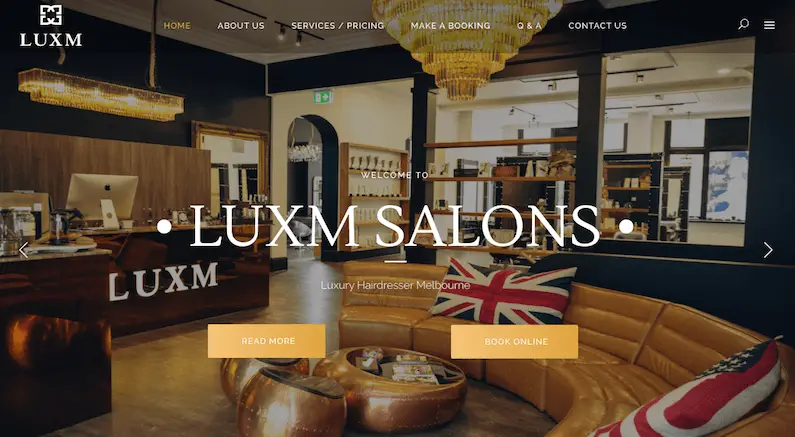 luxmsalons.com
61390099306
LUXM is one of Melbourne premiere hairdressing salons.
Launched in 2016 by Sam and Mina and staffed by a team of multi-award winning hairdressers, LUXM has quickly grown a reputation for excellence in hairdressing. While LUXM welcomes all new clients, both men and women, to the salon, it is unique to Melbourne in its provision of specialist styling and colouring services for all hair types.
Our team is highly experienced in hairdressing for Japanese, Chinese, and Korean clientele.  We understand the distinctive qualities of Asian hair and what an exceptional haircut requires. We also realise that no two heads are the same, so work hard to ensure every client has an incredible experience no matter their hair type.
Paint 'n Powder Wedding Beauty Salon Melbourne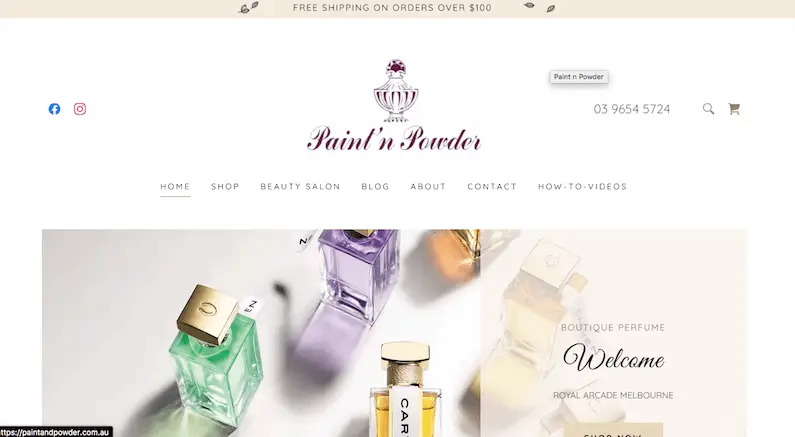 paintandpowder.com.au
61396545724
Welcome to our Beauty Salon Salon menu and price list Please feel free to call with any inquiries or to book an appointment
In 1969 Diane and Neville opened Paint 'n Powder, a boutique French perfumery in Royal Arcade, which was unique to Australia. Ten years later they opened their second Paint 'n Powder store at the Jam Factory, South Yarra, which included the Christian Dior beauty salon.
Fabulous Fashions & Perfume
Shortly after this, because of their expertise in the perfume industry, Diane and Neville were approached by the International Cultural Corporation and were involved in an exhibition at the Art Gallery of both Melbourne and NSW called 'Fabulous Fashions'. Fabulous fashions was brought here from The Metropolitan Museum in New York featuring Haute Couture designers such as Balenciaga and Chanel.
Royal Arcade
With the changing of the Jam Factory precinct from boutique stores, including Georges, to an entertainment complex, Paint 'n Powder is now exclusively located in the Royal Arcade where they first begun.