Sometimes the best Hens night, doesn't have to be a wild night filled with debauchery and saucy stories. More often than not, the bride will want an intimate, fun event with her closest friends around someone's home. There are a huge number of benefits to having a hens party at home. For one, your bridesmaids will save money, time and won't be relying on the punctuality of low-cost air carriers. 
Not to mention, within your own home, you can do whatever you want – so you can let your creative flair shine. You can have something low key with crafts and activities or still go big with cocktails, dancing and partying in your living room. The best hens nights are those that start at home, and hey, if some of your guests want to go out after, they still can. So we've put together a great list of unique, fun hens party ideas to have around the home. 
Cosmopolitan events has proven itself to be an iconic wedding venue and function centre in Melbourne. Book today so you don't miss out.
Start planning early
Planning a hen's party is quite a time-consuming job. It will be obvious to everyone involved if the event is thrown together last minute. Rather than putting immense pressure on yourself to plan something amazing in only a couple of weeks (or risk disappointing your beautiful best friend), it's best to get started early.
So if you haven't already, put together a group conversation (or email thread) with the other bridesmaids and get brainstorming. This will result in a well thought out, meaningful event that will be remembered for all of the right reasons!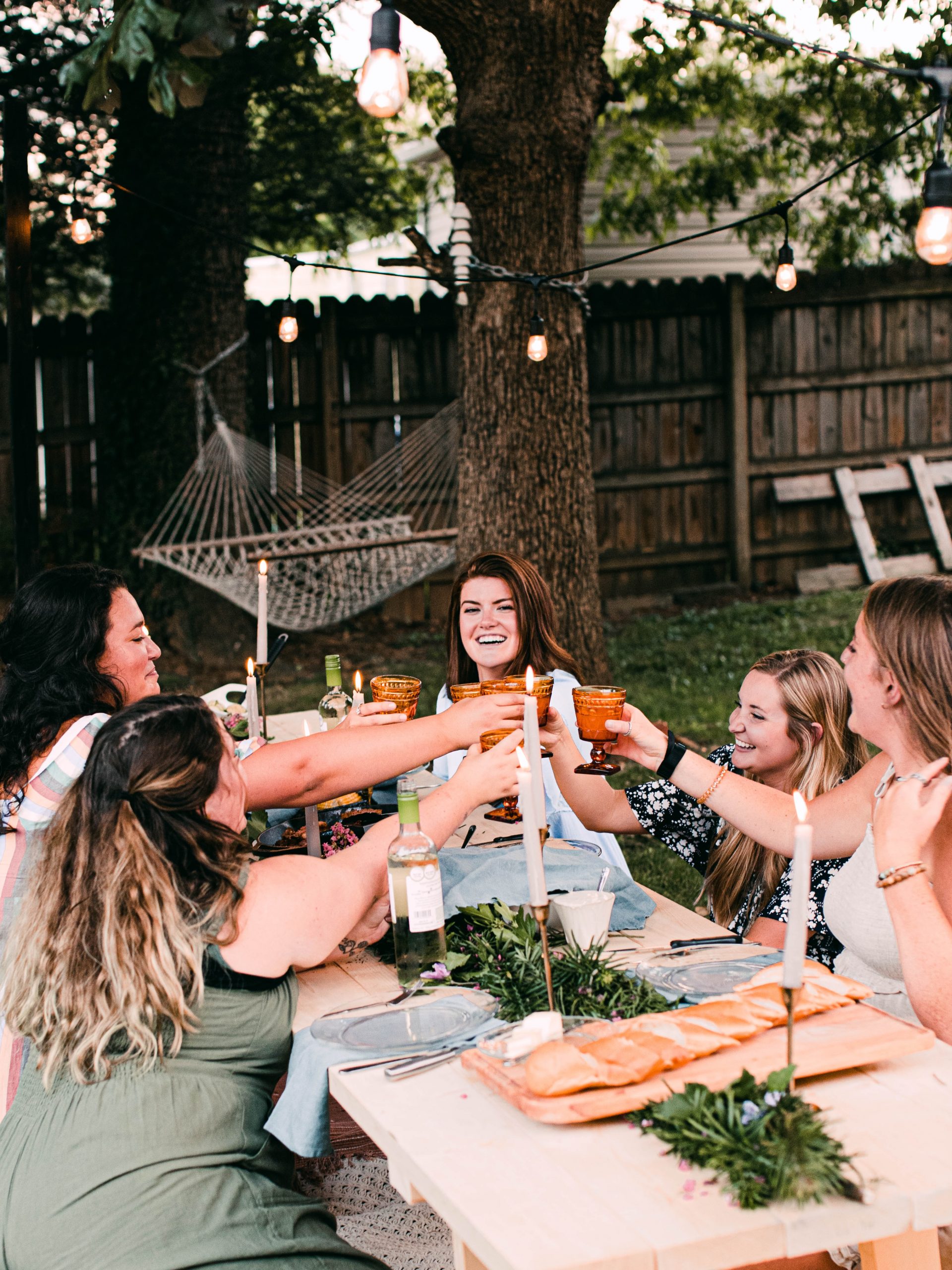 Talk to the Bride
These days we're spoilt for choice when it comes to hen parties and how we choose to celebrate. And whilst being part of the bridal party means you know the bride extremely well (her likes, dislikes, etc.); before planning anything, it's worth having a chat and making sure you're both on the same page. After all, you don't want to put all of your time and effort into creating the party you thought she wanted only to discover that she was hoping for something else.
When does she want to have a party?
Let the bride pick a date that suits her. If possible, make sure the celebration is at least a couple of weeks before the big day. She'll need this time up her sleeve in case there's any last-minute decisions, orders, wedding dress fittings, etc. It also gives her time to recover from an incredible night with the girls!
Who does she want to invite?
This is an important one. You want to make sure that everyone she cares about has the opportunity to share in this special day; so rather than guessing who the bride-to-be would like to attend, have her write out a guest list for you.
What type of celebration is she after?
Get an idea of the type of party the bride is after so that you have a starting point for your planning. Whether she gives you very specific instructions (e.g. 'I want a weekend away full of pampering, cocktails and fancy dinners') or a vague outline of events (e.g. 'I'm after a more casual celebration during the day that my grandparents can attend, before some mischief at night with my friends') is up to her. Either way, you'll have a great base to work from – making your job that much easier!
Save the date
Once you have all of the details outlined above, send out a 'Save the Date' with a note that more information is to come. This can be done via Facebook (create an event), email or physical post.
Getting a group of adults together on the same day can be quite difficult. But planning like this is one way to get around the business of everyday life. Being notified early also means more guests will be able to attend, and the more that attend, the more likely it is that the bride will have a fantastic time (I mean, is it possible to catch up with your closest friends and NOT enjoy yourself?!).
Set a budget
Hen parties can add up quite quickly, so you need to be on top of your spending. You also have to be mindful that guests may not be in the financial position to fork out loads of cash for just one night.
So, set a realistic budget and stick to it as best you can!
Set a theme
A themed celebration/dress-code is a great way to bring your group together and make the event even more memorable (think of the fantastic photo ops!).
Does the bride love a bit of fancy dress? Incorporate some sort of costume with anything from a simple headpiece (e.g. every guest wears a matching flower crown) to elaborate outfits (e.g. every guest arrives in devil horns, and black/red clothing, while the bride arrives in all white and is turned into an 'angel' complete with halo and wings). You can find some fun yet extravagant wedding themes here that are easily adaptable to hen parties!
For those who don't enjoy costumes, consider a predefined colour palette instead. A black and gold party, for example, would allow for classy decor, delicious champagne, delectable desserts, etc. You could even ask guests to arrive in black and have the bride arrive in gold (thus making her stand out without the need for additional paraphernalia).
Select some activities
From wine tours, pamper parties and hilarious dance classes, to hypnotists, caricature artists and topless waiters. There's a vast array of choices out there when it comes to hen party activities. The trick is to select those that cater to your bride's interests and requests.
It's also important to remember the rule 'less is more'. Rather than rushing through a day jam-packed with exciting outings (which would be not only expensive but also exhausting), it's better to stick to two (maybe three) activities that everyone can fully enjoy.
Make a schedule and send invites
Plan out the day!
How much does it cost? Where is the meeting point (i.e. bridesmaid's house, hotel in the city, a restaurant)? What is the first activity of the day? What's the second activity? What happens when the pre-planned activities are over (i.e. are you going out dancing, eating, going home)? Will, there be food, drinks and/or transport included? Etc.
Map out the entire event, making sure you include all of the important details. You can then transfer the information onto invitations so that guests know what to expect from the event and whether or not they have to make arrangements for the night (such as a lift home or extra cash for meals).
Handy Hint: When it comes to the schedule, I like to provide different options for guests. This means those who can't afford the entire event can still be part of the celebration; or those who don't want to attend part of the event can go only to the sections that they're comfortable with (for example Phase 1 $25: Games, drinks and nibbles at Bec's house, Phase 2: $70: Minibus to the city where we take part in a burlesque dance class, Phase 3 $55: Dinner, drinks and dancing).
We have created the ultimate list of Hens Party Ideas for you and the girls to create a day and night she'll never forget.
Have some games up your sleeve
Whether they're classy, thoughtful, hilarious or a little bit cheeky, hen party games are not only great ice-breakers but also fantastic for any lulls in the celebration (when you're waiting for food or travelling between locations, for example). Just make sure you don't overdo it; aim to play two or three (with a few extra up your sleeve in case of emergencies!).
Create an avenue for adventure
There's something deliciously decadent about sitting in a lounge drinking champagne and cocktails. And if that's the kind of celebration your bride likes best, then that's exactly what you should do. But, with the addition of a little competitive spirit, you can transform the celebration from enjoyable to unforgettable – and help guests work up a thirst in the process.
One idea many brides currently love is a hen's party treasure hunt, where you divide your guests into groups – with appropriate badges and insignia, of course – and then send them off to find and/or collect a wide range of essential items on a checklist. As per normal, the first team to tick all the boxes wins.
So what could you include? Well, the best advice is to think of things that are a bit quirky. Say the signature of a man with a 1960s moustache, a croissant from a bakery or even a photograph of someone walking their dog. In short, be challenging but not impossible – this is supposed to be fun, remember?
Put a new spin on games
We all know about the kind of games you traditionally find at a hen's party. Pin the veil on the bride, making a wedding dress from toilet paper, bridal bingo the list goes on. And the reason these activities have lasted through decades of weddings is that they're appropriate, inclusive and fun. But who wouldn't want to up the ante?
Gail certainly would. And she knows exactly how to do it – with a funky innovation called Hen's party scratch cards.
Sourced from America, these DIY kits feature readymade greeting-style cards that come with a purpose-built space in which to write a message. After this is done, the words are then covered by an accompanying golden sticker, which guests can then scratch away.
The idea with the cards is you can use them in a variety of ways, say handing one out to the winner of each game, the idea being that only one will emerge as the 'golden ticket' with a fantastic prize. And yes, it can be something a little cheeky.
Help her look the part
There's a massive difference between a bride-to-be who enjoys a little special attention and one who wants to be at the centre of it. Sometimes it's about age, sometimes it's about personality, and sometimes it's about the venue. Fortunately, there's plenty of ways to cater for both.
For girls who are a little bit shyer, you can skip the traditional veil adornment and instead mark them with a gorgeous rosette that defines their status as a VIP without screaming it to the world. Pop matching designs on the bridal party and, among other things, you have great readymade photo props.
Meanwhile, for engaged girls who are a little bit more comfortable in the spotlight, a bride to be sash always goes down a treat and is an absolute magnet for a few free cocktails if you settle down at a bar. The trick is to think of classy colours and patterns, such as the golden starburst or elegant floral pattern available on Whimsy Chuffed. You know, the kind that will enhance, rather than draw attention away from, the woman of the hour.
Live past the moment
In amidst all the fun and games, sentimentality has its place at a hen's party. This can be via the sharing of stories about the bride or, even more meaningfully, a look forward to her new life. Gail says one lovely idea is to make use of an I Do kit, which has readymade 'wishes' cards that are carefully stored in a tin and then a cloth bag. These invite guests to leave predictions such as "I hope you always…" and "I hope you treasure…"
One charming approach is to make a ceremony of it – asking everyone to find a chair before you supply them with a glass of bubbles and encourage them to spend 10 minutes filling theirs out thoughtfully. Depending on guest numbers, you could even give people two cards each – one to fill out from a heartfelt perspective and the other a bit more fun. With this approach, a question such as "I hope you always…" could be answered in two ways. Firstly, with a traditional approach, such as "I hope you always… remember how excited you were to discover he loved all the same classic movies as you" and then, for something cheekier, go with this: "I hope you always… let him get the last words in an argument. As long as those words are 'Yes, dear'.
To learn more, check out our post on Hen's Party Ideas
DO:
Ask the Hen what she'd like to do
Organise comprehensively and well in advance. Like organising any other event, it's key to remember that entertainment venues usually get the book up early, especially if you have a large group (and telling the bouncer that it's your best friend's Hen's isn't likely to sway him)
Keep in mind the other attendants. If you have particularly old, young, or reserved attendants, consider devoting a portion of the night to a G- Rated celebration. This part of the night usually focuses on the bride-to-be: celebrating her as a person as well as her upcoming nuptials. It can also consist of fun activities that you may be doing later on anyway, such as meeting for dinner, a movie, bowling, etc.- the difference here being that the intention is to keep the night as open and comfortable as possible. Once this part of the night is over, and these guests leave, the naughtier version of the night can begin!
Consider everyone's budgets. It's important to openly establish this while planning the night to avoid confusion, embarrassment and resentment. If some of your group have more expendable cash than others, settle on the lowest figure that everyone is willing to spend- those who want to spend more on things like extra games, drinks, etc., will still be able to do so.
Start a pre-payment system. Want to avoid keeping count of who's turn it is to buy a drink or pay for the next cab? Start a communal kitty in the weeks leading up to the event, where everyone contributes the same amount to be used on the night to avoid this problem.
Remember that it is the bride's day. Any game or prank should not leave her looking bad or feeling embarrassed. She must remember this evening as a highlight in the run-up to her wedding day.
Think about where you'd like the party to be based. Someone's house, or a hotel? Consider whether you know all the girls who'll be attending, and how this will affect their comfort as well as the hosts. Meeting in a neutral ground like a hotel is not only a great equaliser, but no one has to worry about the cleanup. Also review whether you'd prefer to sleep at home or the hotel, depending on your location and what state you expect to be in by the end of the night.
Be prepared for the morning after the night before. Pack some Nurofen/ Panadol, Berocca, stomach settlers and anti-heartburn medication, along with plenty of water.
DON'T:
Plan the event within a week of the wedding itself. The bride will need some recovery time as well as some prep time to ensure she looks as beautiful as possible on her big day.
Expose or expect the bride to participate in anything that will make her uncomfortable. This includes those on the list of people being invited (ex-girlfriends of the groom are a no-no).
Deal with finances in front of the bride. Costs should be covered by all who attend the hens night, and the bride should not be expected to contribute.
Try to visit more than 2-3 locations. It's easy for someone to get inadvertently left behind, and it's also quite disruptive to have to stop what you're doing to visit your next destination.
Let anyone go off with another group or a single individual. The chances are that they'll be considerably inebriated, and in an adventurous mood that could end up getting them into trouble. It's up to every person in your party to keep an eye out for each other and make sure everyone gets to the wedding!
Post any incriminating photos anywhere on the internet! While some photos of the tamer parts of the night are perfectly acceptable, nobody's particularly happy being immortalised with some of the more compromising positions they're bound to get in.
Hesitate to buy a little token of memory of the night for each guest. This can be as fun or silly as you want, as long as it reminds you of a brilliant night spent together in celebration of your friend!
Make sure the activities are tailored to suit her tastes. After all, it is her big day, and if you have her camping in a muddy field when she is a more of a get her nails done kind of girl, then she will not thank you for it. You know her the best. What does she love to do? If she loves to dance then maybe a fabulous dance party could be an idea.
Make the bride feel special
This is a day to celebrate your best friend – so making her feel extra special is a must!
There's plenty of ways you can do this; from serving her favourite foods/drinks, playing her favourite music and creating thoughtful keepsakes (e.g. sticking polaroid photos from the party into an album along with memories, quotes and messages are written throughout the day), to spoiling her with experience, she's always spoken about but never tried. Put your heads together and think of things that will mean the world to her, and then incorporate them into the day.
It's the little things that count.
Have an amazing time!
It can be a big job, but seeing the pure joy on the bride's face when you surprise her with this well-thought-out celebration will be worth every second of your time!
If you're ready to plan the details of your event, a free resource called For Every Hen is a great place to start. With activity ideas, game instructions, party hacks and more, you'll have all the information and inspiration needed to create an amazing party for YOUR Hen!