Ah, the wedding favour. Part sweet gesture, part knickknack your guests will feel sort of guilty throwing away in a few years. And while it doesn't have to be that way (edible wedding favours exist for a reason), it can still feel like a lot of money to spend on mementos that might not even be something your guests want. The question is, do you have to give out wedding favours at all? Our experts weigh in.

While giving guests wedding favours is a nice way to thank them for joining you for the celebration, and they're not required. After all, you just served them a great dinner and spent the night on the dance floor—not to mention the bar—so much more of a thank you isn't required (beyond the handwritten thank-you cards, of course). Chances are your guests won't even notice that there isn't a table of monogrammed wine glasses or cutely packaged cookies waiting by the exit. And since you'll save money by skipping the favours, you've got hundreds of dollars, if not more, to put toward renting that photo booth you wanted or having the band play for an extra hour—making memories your guests will really cherish.

If you're currently planning a wedding, you've probably read plenty of articles that share must-haves and must do's when it comes to planning your big day. One thing that isn't an absolute essential? Wedding favours. To be frank, they aren't necessary or required by any means, so if you're on a tight budget don't feel compelled to spend money you may not have on a decorative tchotchke that will likely end up in the trash. If you're choosing between something that will truly enhance your guests' experience and wedding favour, we recommend choosing the former.

However, if you're set on sharing a small token of your appreciation with your guests who travelled from near and far to celebrate with you, these are the do's and don'ts you should know. Here are some suggestions from wedding vendors who have been there, seen it all, and lived to tell the tale of wedding favours done wrong and those done right.
Cosmopolitan events has proven itself to be an iconic wedding venue and function centre in Melbourne. Book today so you don't miss out.
Wedding favours History
One of the earliest accounts of a wedding favour dates back to 16th century England. It was common for couples to give love knots constructed from lace and ribbon to each of their guests as a favour and to represent their bond of love. Throughout history, favours have evolved into a tradition that can be seen around the world.

The custom regarding giving favours to wedding invitees went back centuries and was to say thank you to guests for helping to make the occasion special. We tend to carry on this custom today; however, wedding favours differ significantly, exactly what were the initial wedding favours which were bestowed 100's of years ago? This article talks about the history and relevance of wedding favours.

In the past, European aristocrats, particularly those from Italy and France, would give each and every wedding guest a sugared treat presented in a trinket box. Sugar symbolised prosperity and royalty and was an expensive commodity. The trinket boxes were made of ceramic or metal and decorated with precious stones.

They encased these sugared candies known as Bonbonnieres. Gradually, sugar became less expensive and less of a luxury. As a result, the principle of giving wedding favours passed on to those of lowlier means and so was no longer exclusive to the wealthy.

As time went on, Bonbonnieres was succeeded by almonds, and these were given to instead. In the 13th century, the almonds became sugar-coated and were known as Jordan almonds. These favours are still commonly given at today's wedding receptions.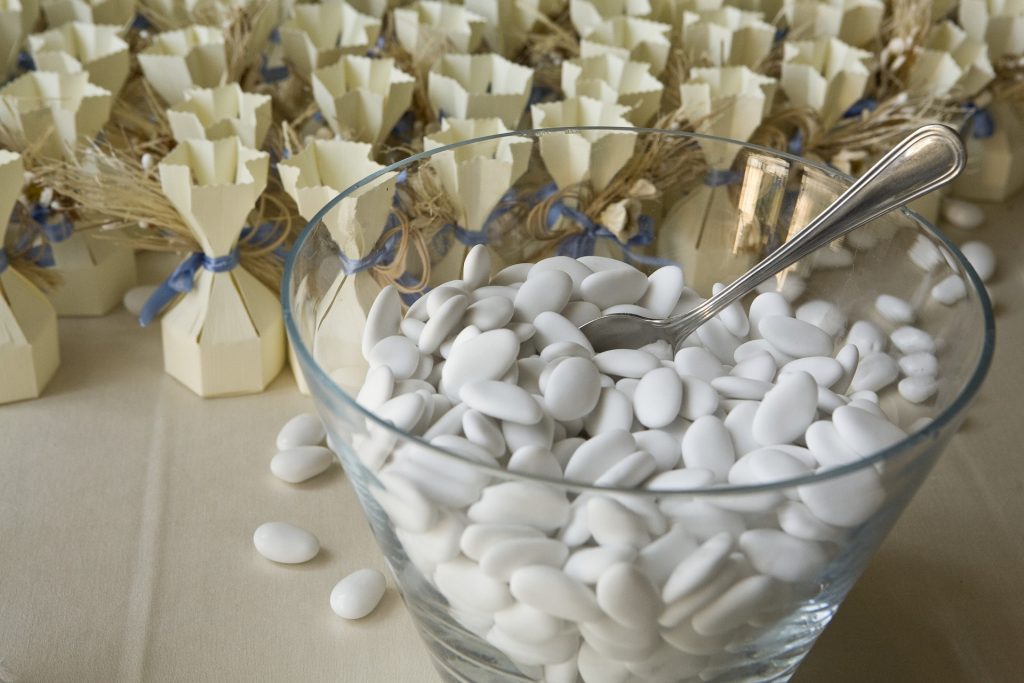 Bonbonnieres
Centuries ago, European aristocrats, most notably those in France and Italy, would send their wedding guests home with a small gift called a bonbonniere, or as it's called in Italian, a Bomboniere. These weren't exclusively a wedding staple since they were also given out at birthday parties and other celebratory occasions.

A bonbonniere was actually a box made of porcelain, crystal, precious stones or metal. Inside one would find delicacies made of sugar. It was from these boxed and gift wrapped confections that today's wedding favours are derived.

Good Luck
A wedding was considered a lucky occasion way back when. Bypassing bonbonnieres and other treats onto wedding guests, the couple felt they were also bestowing their good luck upon their guests. In most cases, these lucky gifts consisted of five almonds or pieces of candy which represented fertility, health, wealth, happiness and longevity.

Jordan Almonds
Bonbonnieres evolved as confectioners began making candied almonds by dipping them in sugar or some other sweet coating. This tradition is kept alive today with the brightly coloured Jordan almonds given out at many of these joyous occasions. If you count, you may find these tulle wrapped treats – still represent the five wedding wishes.
Looking for the best Melbourne Wedding Decorators to help make your day as magical as possible. Cosmopolitan events, have you covered. 
The Do's and Don'ts of Wedding favours
DON'T: Have favours out of Obligation
If you are only seeking out a wedding favour idea because you feel like you have to, then you're better off skipping them completely. You're already treating your guests to an evening of fun, dinner, drinks, and dancing, so a parting gift isn't required.

Don't feel bad if you find yourself short on time (or budget) to put together the perfect favour. Is it a fun addition to the wedding? Absolutely. Will the world come to an end if people don't leave with a favour? Definitely not.

That being said, if you want to give your wedding guests a favour, there are many inexpensive wedding favour ideas to consider. You could provide them with something small and edible, like some candy or a cookie. It doesn't have to be anything elaborate, just a small token of your love and appreciation!

DO: Choose Something Meaningful
Only do favours if they have some meaning to you! Gone are the days when your guests HAVE to leave with something in hand. A favour is something to be an item to remember the wedding by and a gift to the guests. I vote that experiences are a way better favour than something without meaning.

If you don't have a wedding favour idea that really represents who you are as a couple or expresses a unique part of your personality, then consider moving your favour funds to another part of your budget. "What can you do for the guests to make them feel more comfortable or add another element of fun? Shift the funds to an activity such as a Photo Booth, caricature artist, poem artist, or paying the band to learn your college fight song."
To know more tips and ideas about your wedding, check out our post on Wedding Decoration Ideas & Tips.
DO: Consider a Donation to Charity
If you're feeling anti-favour because of the waste aspect, consider a donation in honour of a favourite charity or cause. A charitable gift is a meaningful gift so that ticks that checkbox, especially if you choose a charity that means something to you, personally.

The bride and groom didn't like the idea of giving a favour that their guests wouldn't really utilise and would probably throw away. Hence, what they did was the bride and groom each picked their favourite charity, and they donated the budgeted amount of money between the two charities. There was a twist though, and the guests actually got to pick what percentage of the budgeted amount went to which charity. There was a table by the sweetheart table that had two receptacles on it to represent each charity, and the guests voted for the charity of their choice.

DO: Choose Something Useful
If you're in the pro-favour camp, consider choosing a wedding favour that is useful to your guests post-wedding day.

Candles make great favours for wedding guests, as they are easily personalised and make for a nice addition (post-wedding!) to the home. Rather than providing guests with something that they'll look at once and forget about, sending them home with candles means they'll remember your wedding every time they light it.

Sticking to candles with lighter, more subtle fragrances if you plan on gifting candles to your wedding guests. "Everyone has different scent preferences, and some may even have allergies. You may also want to consider getting soy or beeswax candles, which are trendy in eco-friendly circles."

For an extra special touch, pair your candle favours with a personalised matchbook to complete the set. You can tie it all up with twine or a cute ribbon that matches your wedding colours — your guests will love the thoughtful addition!

DON'T: Make Your Own Edible favours
If you're planning on giving an edible wedding favour, couples always underestimate how busy they are the week of their wedding. Unfortunately, you need to keep freshness in mind when it comes to something you are giving your guests to eat, so you can't take care of this time-consuming project far ahead of time. Depending on what the item is, most edible favours typically need to be made and packaged the day before or even on the day of the wedding.

You likely will find yourself without time to prep and package favours yourself the day before your wedding. It may also be a challenge to enlist your friends and family, as they are also likely to be busy with other pre-wedding tasks. If you've got your hearts set on edible wedding favours, consider outsourcing that project for the sake of your own sanity and the sanity of those closest to you.

That being said, if you hire a day-of-coordinator or full-service planner, this is a task you could pass along to them, while still saving a little money by purchasing the supplies yourself. We would suggest sticking to something very simple if you plan to go this route, like a candy buffet.

DO: Consider Presentation and Distribution of Your favours
Keep in mind how and when the favours will be distributed to your guests. Placing them at guest tables is your most efficient way of ensuring there is plenty for everyone. Remember to purchase 20 per cent above your guest count if you have general seating, so there is one at every seat.

Perhaps you plan to present your wedding favours in a unique and interesting display — depending on what your favours are this can create a stunning focal point and detail for your wedding. It's important to make sure your photographer gets some photos of your favour display before your guests descend upon it.

Should you choose to offer favours as your guests leave, you may consider either having someone monitor that each guest only takes one or buy plenty for the guests who grab more than their share.

DO: Think About the Environment
Many couples are turned off from wedding favours because of the waste factor, so think outside the box and consider some eco-friendly wedding favour options. Consider a small plant like a succulent, or some plantable papers (like from Botanical Paperworks) on which you can write a simple note. Your guests can then plant your favour in a pot and watch wildflowers grow after your big day!

In the same vein, make sure to avoid products that create extra waste or won't break down easily. We also suggest avoiding glitter on wedding favours because it tends to get everywhere, causing a big, sparkly mess that your guests may be happier without.

When we talk about the environment, we're not only talking about being eco-friendly; we also mean the setting in which you are displaying or distributing your wedding favours. If your reception is outdoors, be mindful that your favours are not heat-sensitive. This is especially important for anything edible, as you don't want your guests' gifts to melt!

DO: Include a Sweet Note
No matter what you choose as a favour, or even if you decide to skip them, you should definitely find a way to share a sweet note with your guests. Use it as a way to thank them for celebrating with you and express your gratitude for their love and support. A little bit of sweet sentiment can really go a long way.

Feeling stumped on what to write on your wedding favours? If you're looking for inspiration, check out these creative wording ideas for wedding favours. Your wedding favour note or word of thanks doesn't have to be an epically long novel, so feel free to keep it short, sweet, and to-the-point. Your guests will appreciate the effort and the acknowledgment.

The wedding favour also served as a token of the celebration and still does today, something which the guests could retain and remember the day by. The sort of wedding favours used these days vary significantly; nonetheless, the custom still proceeds and is common amongst cultures worldwide.

In recent times the type of favour presented to guests may focus on the theme of the wedding and reception or simply relate to the bride and grooms way of life, there's no limit. Together with providing decoration for the dining tables, the wedding favours might also provide a source of entertainment for the guests or a talking point.

Favours were also given to guests at other events. At various other significant events and birthdays, guests were given a souvenir of the event. Giving favours was a gesture of thankfulness and was a significant part of any wedding reception or special event.

There really isn't any limit to what you can give guests as favours nowadays. Even though the custom of giving a present to say 'thank you' to the guest carries on, there are no formal recommendations to what the favours ought to be. There's an extensive range of ready-made wedding favours to purchase, or you could easily create your own, whichever you choose it should be particular to you and your wedding.