Your bridal bouquet may seem to be one of the more straightforward choices to make in the lead-up to the wedding, but with so many different styles to choose from, you may leave your florist with your head spinning.

From romantic, whimsical cascade bouquets to traditional hand-tied bouquets, brides have options when it comes to choosing their wedding bouquets.

Your bridal flowers are such an essential part of your wedding day, so it's necessary to pick a type of bouquet that will complement your overall look and theme.
Check out our post on WEDDING FLORAL ARRANGEMENTS

When planning the floral design for your wedding day, you'll have plenty of choices to make! Besides your ceremony and reception flowers for the big day, one of the most important decisions you'll make will be related to wedding bouquets. Brides, bridesmaids, and sometimes flower girls traditionally carry wedding bouquets, and the flower arrangements can even be repurposed in different parts of the décor.

Take a look at the different types of bouquets and flower arrangements that come in many forms and varieties and maybe even try your hand in arranging the flowers yourself.

Fresh flowers always make the perfect gift. It is a simple way to speak the language of love, and the world has acclaimed it for centuries. Be it a wedding ceremony, birthday party, anniversary or even a funeral service, presenting your loved one with a flower bouquet is a sure-fire way to bring a smile on their face.

Believe it or not, your wedding bouquet is an integral part of your big day. The arrangement has a few functions—the longstanding wedding tradition (brides have been carrying blooms down the aisle for centuries) can complete and polish a bride's ensemble and often references the event's overarching floral palette. The gist? It simultaneously identifies you as the woman of the hour and ties you into your big-day décor. Choosing your bridal arrangement, then, becomes one of the more significant decisions you'll make while planning.

But where do you start? Do you choose a few of your favourite blooms and then ask your floral designer to create an arrangement based on your selections? Or do you work backwards and base the clutch off other significant floral moments, like centrepieces or flower walls? While the latter two options are perfectly valid, we'd like to propose another method: Start by selecting your bouquet's shape. It's a simple enough approach—one that can make your wedding bouquet the best it can be. The reason? You can't choose a shape until you know a few critical details about your big day: Your wedding dress silhouette (you don't want to select a bouquet shape that conflicts with your gown) and your wedding style.

How do you choose a wedding bouquet for the ceremony?
Two questions brides often ask while wedding planning: How do you choose a wedding bouquet? What are the different types of bouquets? To non-brides who aren't planning a wedding, all bouquets likely appear the same. They're simply an arrangement of flowers tied with ribbon, right? Not all flower bouquets are created equal! There are a variety of styles that a wedding bouquet can fall under, depending on the shape of the bridal bouquet and the type of flower used. It's up to you to decide which bridal bouquet style complements your wedding gown and the style of your wedding ceremony. For example, a more massive bouquet may be a better fit for a formal vow exchange at a church. At the same time, a smaller, looser flower arrangement will complement a casual garden celebration. Your wedding florist and the floral designer will thank you for being able to tell her exactly which type of bouquet you want – whether or not you have a colour palette in mind for the flowers already!
Check out our exclusive list of the Top 66 Wedding Flower Shops in Melbourne.

Even if you don't have a colour scheme in mind, you may have a particular flower that you want to be showcased in the bridal bouquet – and this can influence which type you choose. Roses and peonies work well for round bridal bouquets. At the same time, brides who want to focus on greenery may choose a cascade style or arm sheath for a more glamorous celebration, or a hand-tied bouquet that fits beautifully with an alfresco garden ceremony or rustic fête.

Others decide on their bouquet style first – perhaps you've always envisioned walking down the aisle at your ceremony with a perfect round arrangement of orchids. For these brides, we recommend letting your florist know so they can support the flowers that will work well depending on colour choices, season, location, etc. If you have a colour scheme in mind, that's even better since your floral designer will be able to narrow down choices for flowers based on the hues available. Usually, an event has more than two shades as part of the overall aesthetic, and there's no reason to limit the bouquet to those. Throw in some blooms to represent your accent colour – or keep a more traditional look. Soft, romantic bridal bouquets are lovely, but including more of the rainbow can help to serve better the celebration and joy that your special day brings.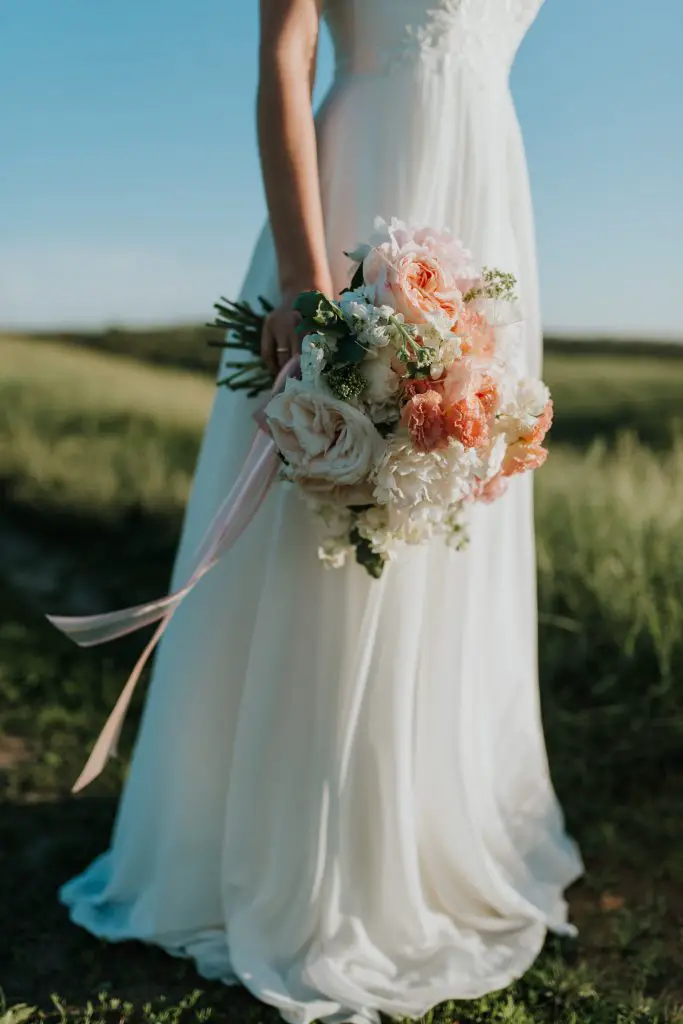 Specific bouquet shapes connote different wedding types. A round iteration, for example, feels decidedly classic, while a crescent (like this Wild Green Yonder beauty seen here) or the dramatic cascade of blooms give off boho-chic vibes. To help you break down which bouquet shape best suits your event, we tapped two industry experts: Victoria Ahn of Designs by Ahn and Alicia Rico of Bows + Arrows. With their sage advice, you'll be able to identify the arrangement shape that best suits your bridal look and overarching wedding theme. Click through for your comprehensive guide to wedding bouquet shapes.

When it comes to wedding florals, few things are as iconic as the bridal bouquet. It's one of the aspects of a wedding brides love designing most—and many brides opt to press or dry their bouquet after their big day is over, ensuring they can hold onto those precious petals for years to come. But, with so many bridal bouquet styles to choose from, how do you know which best complements the overall aesthetic of your wedding? Not to fear, brides-to-be! Today, we're breaking down the ins and outs of seven iconic bridal bouquet styles. Get ready to see the florals through the trees finally. Because committing to a spouse is one thing, but committing to the right set of stems? Now that can be scary.

There are different bridal bouquet types, so which style is perfect for you? Bridal bouquets are things of beauty, and in the eye of the beholder, your wedding bouquet style is up to you.
Start your search with bridal bouquet pictures for inspiration and endless design possibilities, and these are some of my personal favourites.
With the many bridal bouquet styles, choose unique bridal bouquets and floral arrangement to make a lasting impression. It's your day, and you're the STAR of the show. Below are the different bridal bouquet styles.

Garden design isn't merely about choosing the type and colour of the flowers you want. How those flowers are combined and arranged produces a dramatic difference in the overall effect and style you achieve. One area where this can be easily seen is in the shape of a wedding bouquet. When you're planning your bridal look, the type of scent you pick is essential in nailing the vibe you're looking for.

Cascade: In this classic "waterfall" style of the bridal bouquet, flowers and foliage taper from a full top into a point at the bottom. Trailing greens and herbs that feature a natural cascading form (think ivy and orchids) work well with this shape. This style gives off a lush, romantic air that can work well for either a formal wedding or a garden-inspired theme.
The cascading bouquets were initially referred to as shower bouquets. Also known as a teardrop bouquet or trail bouquet. These replaced the fashion of posies around the time of 1910. This style became exaggerated by 1920, with much larger aromas, so large they almost concealed the bride. They reached their peak from 1920 – 1930's until WWII.
The Cascading bouquet, which is the most formal and most traditional of perfumes, is designed to spill gracefully over the bride's hands as it flows downward for a sophisticated and stylized look, almost any flower can be used in this style.
The bouquet is roundish at the top but pointy at the bottom. The traditional shower bouquet is known as the sizeable multi-trail bouquet, subsequently renamed the princess in honour of the late Princess Diana and her impressive bridal bouquet. The modern smaller version is called the teardrop bouquet or trail bouquet.

The dramatic cascade bouquets for wedding ceremonies look like a "waterfall" of flowers that drapes down the front of the arrangement. Also known as presentation bouquets or pageant bouquets, these types of wedding flowers are a lovely choice! Groups of fresh greenery and various kinds of long-stemmed orchids or long-stemmed calla lilies look particularly pretty spilling out of a bouquet on your wedding day! This type of bridal bouquet makes a strong style statement, so make sure to keep your wedding dress and other accessories reasonably simple. Photos by Aaron Delesie Photographer (left) and Justine Ungaro (right).

"The Cascades can range in length and fullness, and they typically work best in a more organic style (think trailing, vine-like greenery)," notes Ahn, who recommends adding in orchids, since they have a natural cascade to them already. You have a ton of options, though, notes Rico—think peony, hollyhock, Japanese anemone, clematis, sandersonia, scabiosa, poppies, lupine, foxglove, and fritillaria. She would know: The cascade bouquet, like this one by Petals and Hedges, is her all-time favourite type to create. "The bouquet can look different from all angles and be held in so many different ways," she says. "I'm also able to use so many different blooms, making it so detailed and intricate with lots of blended colours."

The cascade or shower bouquet is a very traditional and stylish form of a bouquet. The flowers are arranged to look as if they are flowing over the bride's hands and down towards her feet. This style of smell can be substantial, but the smaller modern versions are often known as teardrop or trail bouquets.
Teardrop
Think of a teardrop bouquet as the precursor to the cascade trend. As evidenced by this Gardena clutch by Keith J. Laverty, it's tighter than its successor, and though it has that signature slope, doesn't end in a floor-length sweep of vines and blooms. It's overall style comes down to the way it's styled, says Ahn: "This shape is round at the top and comes to a point at the bottom. It can be arranged tightly for a classic teardrop or more loosely for an organic feel."

Posy
If your style is sweet and straightforward, this petite bouquet sized to be easily carried one-handed is an attractive option. Posies are usually styled with a round top and ribbon-wrapped stems and feature flowers primarily, rather than complementary foliage.
Nosegay
Similar in style and size to a posy, a nosegay differs in that it incorporates more foliage, perfect if you like the interest that a mix of blooms and greenery can create. This compact arrangement also makes an excellent choice for bridesmaids' bouquets.

Nosegay bouquets are one of the most popular types of wedding bouquets. They are usually round in appearance and small and compact in size. Nosegay bouquets consist of different flowers arranged in a neat and tidy manner. All the flowers are cut to a uniform length and then wrapped tightly together using a piece of any fancy fabric or a silken ribbon. Sometimes a pure wire can be used instead.

A nosegay bouquet typically features a large focal flower that draws attention to the floral arrangement. They look best when formed using a mix of different species of herbs with complementing tones. Nosegay bouquets are somewhat similar to posy bouquets except the fact that in nosegays, more emphasis is placed on the greenery.
Round Bouquet
It's all about the shape for this bouquet! Round wedding bouquets are formed into perfect domes, often using a single type of flower bouquets – such as roses or peonies. Round bouquets are also often monochromatic when used as bridal bouquets for weddings. However, round bouquets look just as beautiful featuring flowers in a variety of colours for a unique bouquet option. Photos by Darin Fong (left) and Clane Gessel Photography (right).

This bouquet looks precisely the way it sounds, with flowers formed into a structured dome shape. It's larger than a posy, and will often use a monochromatic palette, a limited range of flower types, or both to create a smooth, harmonized appearance ideal for either a traditional or modern wedding. Roses work well in this type of bouquet.
Natural
By far the most popular wedding bouquet shape, "natural bouquets are arranged more loosely to create an organic-looking shape," notes Ahn, adding that though the design is technically 360 degrees, there is typically a distinguishable front and backside. Bohemian brides, you'll likely gravitate towards these natural arrangements for the effortless, earthy aesthetic—but it's worth noting that the shape can skew classic, "depending on the flowers used and the way the bouquet is arranged," says Ahn, who actually arranged this beauty herself!

Composite Flower Bouquet
The Composite Flower Bouquet, or Carmen Rose, as it is sometimes known, is one of the more modern types of a bridal bouquet. In this type of arrangement, the smell is constructed from hundreds of individual petals, wired together to look like one gigantic flower. Though it may appear very simple to the casual observer, this is a very specialized type of bouquet and can prove to be one of the most expensive simply because of the hours of work that go into creating it.

The composite-flower bouquet dates from the early 20th century, mostly used for brides with an unlimited budget. This bouquet is a variation of the round bouquet.
A flower constructed of hundreds of real petals wired together to look like one enormous flower. This style is simplistic in design but graceful and elegant. It works well in more intimate, sophisticated weddings.
Although featured recently in high fashion magazines, this specialized and time-consuming technique is yet to regain its former popularity. However, a single large daisy stands alone with its striking colour, adding the finishing touches of satin or organza ribbons to bring out its natural beauty. Perfect for the bride who loves simplicity.

Crescent
Another bouquet shape that toes the line between traditional and boho? The crescent. "This shape mimics the shape of a horizontal crescent moon," explains Rico. The arrangement may be tight and manicured at the top and cascade slightly on both sides and is traditionally held front and centre. If you're a bride looking to recreate this bouquet, one of Rico's personal creations, bookmark the following blooms: roses, calla lily, clematis, tulips, and fritillaria, all of which work well for this type of arrangement.

Hand-tied bouquet
A hand-tied bouquet, also known as a posy, is one of the most straightforward styles of a bridal bouquet. As the name suggests, it is a bunch of flowers with stems grouped together in an unstructured way and tied; usually with a ribbon. Minimalist hand-tied bouquets are popular, with many brides choosing to carry just three or four of the same long-stemmed flowers.
Freer than other bouquet styles, hand-tied bouquets can include a wide assortment of flowers and greenery, and as their "hand-tied bouquets" name suggests, are secured simply using ribbon, fabric, or twine (other bouquet styles utilize wire to achieve a precise look). Hand-tied bouquets are a popular choice as they have a "fresh-picked flower" feel and are ideal for bohemian, rustic, or garden weddings. Photos by Elizabeth Messina (left) and Heather Kincaid (right)
The Arm Sheaf Bouquet or Presentation Bouquet
The arm sheaf bouquet first became popular in the early 1900's under the name of Bernhardt bouquets; inspired by the presentation bouquets given to the actress of the day, Sarah Bernhardt. They are long-stemmed flowers and foliages that the bride carries cradled in her arm, also known as a presentation bouquet.
It is a stunning alternative to more traditional styles of bouquets, and it is very chic, and best suited to modern style weddings. Tastefully designed to be cradled in the bride's arm and can be as straightforward or as elaborate as she likes.
They can be single-ended, with stems showing at one end, or double-ended with no stems showing. A gorgeous ribbon provides the finishing touch. Popular floral choices for arm bouquets are calla lilies, gladiolus, orchids, long-stemmed roses, delphiniums, and larkspur.