As one of the biggest expenses in your overall wedding budget, some couples find catering costs to be a bit more than they'd anticipated. While every couple should expect to allocate about half of their total budget toward reception costs—catering services included—there are ways to save money on wedding catering without sacrificing a delicious meal for all. Experts agree that if a couple is willing to build a strategic menu, skip the plated dinner, and think outside the box, there's plenty of room to keep catering costs right on track.

There's no way around it—weddings are expensive, plain and simple. Sure, you can decide to elope and eliminate all those costs associated with a big wedding, but in general, if you're having a wedding, it'll cost a pretty significant chunk of change. And often, the food is one of the biggest expenses.

Unlike expenses related to extras, like decor and favours and things like that, food expenses are kind of a requirement. After all, you need to feed your guests, and if you're only being quoted huge amounts, well, that's just what you have to pay, right? Well, kind of. Yes, the catering cost for weddings is always going to be pretty high, especially if you have a big guest list. However, there are a few ways where you can try to trim costs a bit so that you're not required to pay quite as much for the privilege of inviting all your guests to dinner.

The good thing is, there are so many areas of the meal you can examine, from appetisers to entrees to desserts. You can play around with the type of meal that you serve and even the way you serve it—as well as which specific ingredients you choose to dish up. If you look close enough, there are plenty of opportunities for you to cut costs on the big day and still have a celebration where your guests will leave satisfied from having a great meal. Here are ways for a budget-savvy bride to save money on a catering bill.

Cosmopolitan events has proven itself to be an iconic wedding venue and function centre in Melbourne. Book today so you don't miss out.

Moderate Your Bar
If having a fully stocked open bar is on your must-have list, you can go ahead and skip this tip. But if cocktails aren't that high of a priority to you, consider cutting costs here. Instead of hosting a bar stocked with every imaginable liquor, mixer and condiment, skip the hard stuff and serve only beer, wine and champagne (sparkling wine works too). If your heart is set on serving a true cocktail, add one signature drink to your beverage menu. You may also choose to create a semi-soft bar, adding one or two versatile spirits to the drink menu or serving hard liquor for cocktail hour only. (We recommend going with vodka or whiskey—both are extremely flexible and work alone or in a cocktail with a variety of mixers.)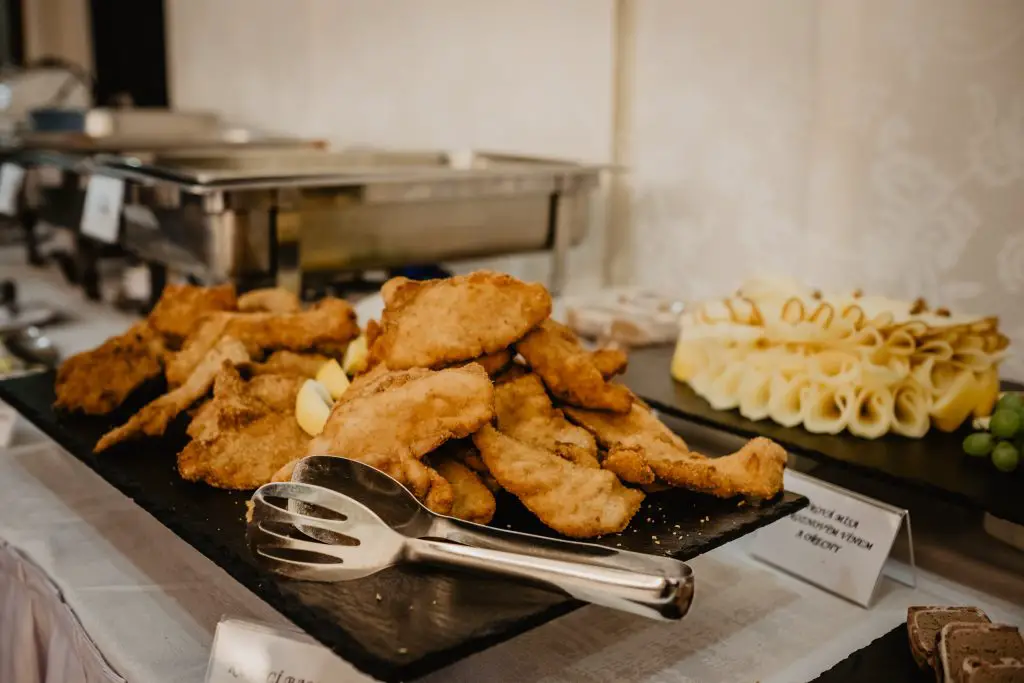 Serve Only Two or Three Courses
After a sampling of hors d 'oeuvres and drinks, a three-course meal that includes a soup or salad, entrée and finishes with a wedding cake is plenty of food for your guests. Remember, most people don't even order this much food at their favourite restaurants. So if your caterer asks about including expensive additional courses in your reception menu, don't be afraid to veto them. They're not necessary (and people will want to get to the dance floor anyway).

Go Easy on the Hors D'oeuvres
It's common for caterers to recommend several choices, but you can save a little here by selecting a maximum of three prepared appetisers to offer during cocktail hour. Of course, you want to give your guests something to nibble on, but an abundance of food this early in the festivities is an extra expense you don't need.

Looking for Wedding Caterers in Melbourne? Look no further, Cosmopolitan events has you covered. 

Skip Passed Appetisers
Avoid both preparation and serving staff expenses with spreads of crudités, dips, cheese plates, gourmet crackers, fresh breads and colourful fruit. Plus, guests generally like to help themselves instead of waiting for a server to wander in their direction.

Stick to the Basics
Certain menu items are notorious for raising the catering bill. Forgo expensive entree options like lobster, oysters, filet mignon, Ahi tuna, caviar and truffles. If you absolutely must include one of these flavours in your event, ask your caterer to create an hors d'oeuvre that celebrates the ingredient, but uses it sparingly. A mini blini with a tiny dollop of crème Fraiche and a smidge of caviar is a perfect example.

Simplify Entrées and Limit Choices
Labour-intensive or time-consuming dishes like a decadent beef Wellington or a multi-ingredient cassoulet will be more expensive than other equally delicious choices. To keep costs down, choose simple, easy to prepare entrées. And there's no rule saying your reception guests need a lengthy list of dinner options. To stay within your budget, ask your caterer to create one widely appealing main course and one diet-specific choice (like a vegetarian or gluten-free dish).

Supplement With Stations
Feed a crowd on a budget by adding one or two cost-friendly food stations to your reception. Anything from a sushi bar to a build-your-own grilled cheese station will impress your guests.

Bring Your Own Bottles
Many caterers will allow you to bring your own wine and spirits, charging a nominal corkage fee for a wine served during dinner. If you can, choose a wine and spirit supplier who has a "buyback policy," which says they'll purchase any unopened bottles of alcohol back from you after the festivities.

Choose Local and In-Season Ingredients
Just as you might with your florist about wedding flowers, work with your caterer to choose amazing ingredients that will be in season and grown locally around the time of your wedding. Fresh strawberries won't be cheap or easy to find if you're hoping to toss them into a mid-winter salad.

Educate Yourself
You don't need to become a seasoned chef, but don't be shy about familiarising yourself with things like which cuts of beef or types of fish cost more than others. For example, organic produce often costs more than non-organic fruits and veggies. Work with your caterer ahead of time to determine which corners you're happy to cut, and which menu elements are non-negotiable.

Offer Theme Stations
When it comes to the fare on offer at a wedding, many people immediately think of the traditional dishes like chicken in sauce, pasta, steak, etc. However, you definitely should be thinking outside the box and looking to theme stations as an option. No matter what food you love, you can create a theme station based on it, from fajitas to food from Thailand crafted fresh in a wok to butter chicken and tikka masala served alongside rice. A theme station is a ton of fun for your guests, and it allows it to feel extra special—and is usually cheaper than a traditional plated dinner.

Forget The Filet — Find More Inexpensive Protein Options
We know, we know—you only have one wedding, so it can be incredibly tempting to splurge on every little detail. After all, your guests will remember that perfect filet you picked for the main course, right? Wrong. We hate to break it to you, but your guests probably won't remember what was served a week after the wedding, unless of course, the food was so bad that they can't help but remember. So, when it comes to selecting your proteins in particular, look for more cost-effective options than your standard filets or different cuts of pork or lamb that are a bit friendlier on the budget.

Provide Your Own Appetisers
Here's the thing with appetisers: they can cost a ton of money, and often, they're actually not that tough to pull together yourself. You shouldn't exhaust yourself making 300 mini tarts or anything crazy like that. However, if you're okay with going a little bit simpler, it's quite easy to pull together a cheese board or perhaps some fancy crudités and dips. You can prep it all in advance and just arrange to have someone set it up—and you'll likely save a pretty considerable amount by eliminating the need for the first course alone. I mean, why bother to get that Costco membership if you're not going to use it?

Choose Not To Have Servers For Part Of The Evening
When it comes to food, there are two expenses: the food itself and all the human resources involved with preparing it and then the servers who bring the food to your hungry guests. It's easy to get wrapped up in the glamour and decide it'd be a great touch to have beautifully dressed servers passing out the appetisers during the cocktail hour. However, let's get real—your guests won't notice if they're being handed an appetiser or if they have to walk over to a table to get it. They'll care about how it tastes, not about the fanfare involved with getting it. So, to save a few bucks, choose not to have servers for the entire evening.

Hire A Food Truck To Provide Fresh Fare
Okay, this one might not be an option if you have your wedding during a snowstorm, but for those getting married in the warmer months, a food truck might be the perfect solution. The majority of food trucks can be rented for private events, and they're usually way more inexpensive than a catered meal. Sure, your options will be a bit more limited, but the food truck obviously knows how to make the items it specialises in perfectly, so your guests will be thrilled with their tasty meal. And it's a perfect option for venues where the lack of a kitchen is an issue—food trucks don't need space to set up beyond a parking space.

Go For Barbecue
Guests from the South may consider BBQ a given, but for many others, it's an unconventional choice. However, if you're looking to keep your budget in check, it can be an amazing option. It may not be the best pick if you're going for a more formal vibe, but for a fun, casual wedding, barbecue can feed your guests with a great meal for a relatively low cost. Get a few types of meats, get some comfort food sides like macaroni and cheese or baked potatoes, and you have a delicious meal that your guests will be talking about for weeks. After all, who doesn't love barbecue?

Pick A Venue That Allows Outside Catering
You find the perfect venue that seems like it's a dream come true, you go to sign the contract, and you realise that they only allow their own caterer to serve food at any event. Yikes! It may not seem like a big deal, but losing the chance to at least shop around for caterers and compare budgets has a major impact on your catering bill. If you're more interested in sticking to the budget than you are in committing to one specific venue, make sure you find a venue that'll allow you to use an outside caterer. That way, you can find one that fits your budget exactly, and you won't have to compromise simply to get the location you want.

Serve Your Meal Family Style
Weddings are supposed to be a happy occasion when a bunch of friends and family get together to celebrate a happy couple. So, why not take that feeling of closeness to another level and decide to serve the meal family-style? With this type of catering, you can still get whatever food you want, and it can be presented beautifully. However, rather than paying to have each serving plated separately, your guests will have the chance to pass around the food as if they were eating at a family dinner together. It's a slightly more informal style, but it can be a great option for a budget-conscious bride.

Don't Serve Food Out Of Season
Caterers pretty much have any option you can desire available—if you're willing to pay for it. However, if budget is an issue—and if you're really into food—you absolutely need to look into serving food that's in season. First of all, when food is out of season, it costs way more to transport it from wherever it's grown to wherever you are. Additionally, it probably won't taste as good as whatever's in season. So, though your caterer may have a ton of dishes you can choose from, pay special attention to what's actually in a season when it comes to choosing your menu.

Have A Candy Bar Instead Of A Cake
Okay, let's get real for a moment—when it comes to wedding food, cakes are pretty overrated. The bride and groom may enjoy the process of cutting the cake and picking out the flavour they love, but it's not usually the course that your guests will leave remembering. So, if you're looking to avoid the expense of a huge, fancy wedding cake, why not opt for a nostalgic crowd-pleaser and offer a candy bar instead? You can pick out all your favourites from a bulk store and present them in a way that's cute and will have your guests feeling like they're enjoying a special treat rather than a slice of store-bought sheet cake cut up in the back.

Have A Daytime Wedding With Brunch Or Lunch Served
For many people, the time a wedding takes place is a total non-negotiable. They want an evening wedding so their guests can drink and dance into the wee hours of the night—and for many, it's the only option. However, if you're willing to think outside the box for your wedding and you're also looking to save a few bucks, a daytime wedding might be the perfect solution. If your wedding takes place earlier in the day, you can serve lunch or even brunch, which is usually way more inexpensive than serving dinner. Plus, come on who wouldn't absolutely love to feast on waffles and mimosas?

For one of the biggest days of your life, you want everything to go as smoothly as possible. And of course, you want your guests to leave overfilled with joy for your new marriage — and well-fed.

Choosing a caterer who fits your budget and your vision for your wedding can save you headaches — and hopefully some cash — down the road. Careful planning can help you relax and enjoy this one-of-a-kind day.