Your wedding vendor team can make or break your wedding. They're the ones who will help you bring your vision to reality. The best professionals are brought together to pick the ones you deem are the right fit for your wedding.
Perhaps the essential part of wedding planning is building your vendor team—hiring a group of professionals who will make your vision a reality. 
If you're just getting started, you're probably asking yourself the big question: Who should be on your wedding vendor list? What types of vendors do I need to make my big day a success? 
If you're new at this and don't know which vendors you'll need, we'll help you with that. Here's a general list of wedding vendors categories that you can streamline based on the kind of wedding you intend to have. 
Your input is essential here because it's your wedding. You can also add more vendors to this list if the sort of wedding ceremony you're having requires that of you.
In no particular order, this wedding vendor list will help explain which pros you'll need to hire and why each one is important.
Wedding Planner
A wedding planner is essential, especially in trying times like these. They'll help you take the stress off wedding planning and make things easier for you. They're very vital for the success of your wedding. 
A planner should take a top spot on your wedding vendor list. Too busy with life to really plan your wedding in detail? Have someone else do it for you and check out our list of Wedding Planners in Melbourne to help take the stress away.
Why? Not only can a planner help you stay organised and on budget during the pre-wedding process, but they're also absolute pros at keeping things on schedule and handling any snafus on your big day. 
Whether you choose a full-service planner or a month- or day-of coordinator, hiring a planner is definitely worth the cost.
Some brides say it's the best overall money spent. You will also want to get a Wedding Organiser to keep all your wedding documents safe in one place.
It is recommended to use a three-ring binder as it makes it easier to add and remove pages. You will be amazed at how much stuff will end up being in there.
To make your wedding celebration come to life without a hitch, begin by contacting someone who will help you organise the whole event. 
A professional wedding planner will save you time, maximise your budget and ensure everything runs smoothly on the day without a glitch.
Photographer and Videographer
You don't want to leave this to chance. The images of your wedding will be cherished for a lifetime. 
Pictures are mediums to preserve your marriage forever, so you must hire a professional photographer whose style falls in line with what you want to capture your moment and how you want it to be remembered; the same applies to the videographer. 
You'll need these professionals to document your wedding memories so you can relive and share that day in the future.
Whether you're hosting an enormous celebration or simply eloping, your wedding day is one you'll want to remember. 
A wedding photographer will creatively capture all of your wedding day memories, so it's essential to hire an experienced professional. That's why 90 per cent of engaged couples hire a wedding photographer for their event.
Your Wedding Venue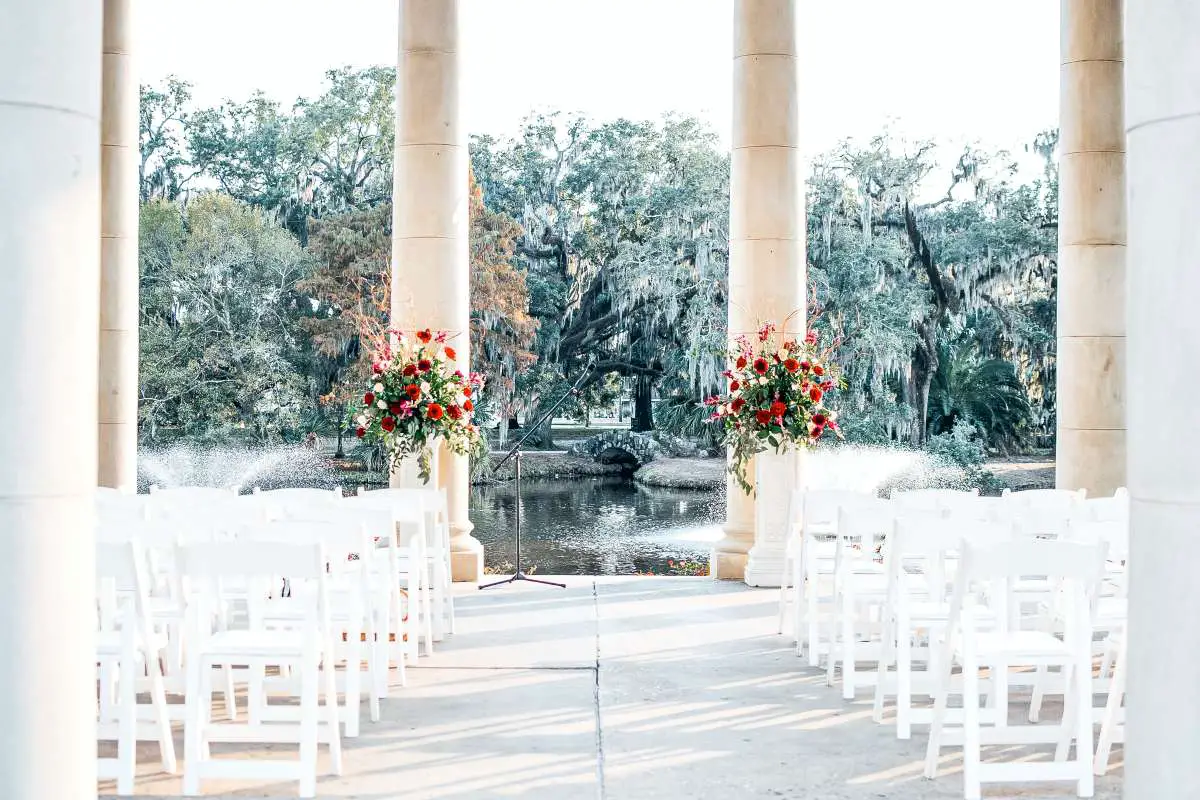 Deciding where to host your big day is one of the most critical steps in planning a wedding. 
Before you start searching for a reception venue, make sure that you have the guest list ready and know the theme or colour scheme you want to create. 
From the cosiest and most intimate venues to the most glamorous of ballrooms, we have a vast selection of reception venues across Australia, as well as some hand-picked destinations overseas.
Where will you be holding your wedding ceremony and reception? Have you contacted them yet? Your wedding venue is also an essential part of your wedding planning. 
Everything revolves around the venue. Once you secure your venue, the timeline for your wedding will begin to fall in place. So make sure you confirm that first.
Hair and Makeup Professionals
They'll help you look and feel fabulous on your big day, so they're as important as the rest of your vendor team. 
With all the videos and photos that will be shot that day, you should hire experts with a wealth of experience and talent. 
Some of your favourite moments of the day will be captured here while getting your Hair and Makeup done. It's a magical time with your closest friends and family surrounding you.
You'll want to look and feel your best on your big day, so hiring a professional hairstylist and makeup artist to work their magic is an absolute must. 
Attire
There's a lot of pre-wedding shopping to do, from wedding dresses to tuxedos, wedding party attire, and more; 
there's a lot of pre-wedding shopping to do! Couples generally purchase new ensembles for their big day, and according to a report, 78 per cent bought a wedding dress, and 66 per cent purchased a groom's attire. 
It's a good idea to research dress salons and tux shops by reading online reviews before shopping to ensure you receive the best possible service when making these large purchases.  
Cake baker
Who doesn't like cake? Cakes have become edible art while telling a story. 
There are so many flavours to choose from, and one of the best wedding planning meetings is, of course, the cake tasting.
A wedding cake isn't just a delicious treat; it can also be a focal point for your event's décor. 
Seventy-six per cent of couples hire a professional cake baker to create a dessert that's almost too pretty to eat—almost.  
Florist
From bouquets to boutonnieres, ceremony arrangements to centrepieces, your wedding flowers are an essential part of any wedding's décor. 
And your wedding florist, a critical part of your wedding vendor list, will help bring your theme and colour scheme to life.
A florist will handle anything that involves flowers for your wedding. Tending to your bouquet, your flower décor, and your centrepieces are their job. 
They know what the best flower wise for the time of the year your wedding will take place. Experienced florists will make your wedding look and smell amazing.
Music pros
Music truly sets the mood for your ceremony and reception, and it's not something you'll want to DIY. 
Whether you choose to hire a band, a DJ, and live ceremony musicians is entirely your call, but we wholeheartedly recommend leaving your tunes to a pro to keep your dance floor rockin' all night.
Excellent wedding entertainment is always a good thing, well, a great thing. You can choose to either go with a wedding DJ or a Band. 
Both have their benefits, so it's a personal choice. Most of your guests will remember the entertainment. It's a massive part of the reception. 
When you meet with them, see who you vibe with, look for experience and who you feel will deliver the best entertainment for you.
Stationer
One of the most fun parts of planning a wedding is choosing your stationery. 
From your save-the-dates to your invitations, escort cards, and other stationery items, an experienced stationer can help you select the correct paper products and ensure everything is prepared and sent in a timely fashion.
Caterer
Aside from celebrating your new marriage, guests want to do two things during your reception: eat and drink. Looking for Wedding Caterers in Melbourne? Look no further, Cosmopolitan events has you covered.
Your wedding caterer will ensure that the food at your event will be both plentiful and delicious. While some venues include catering in their packages, others do not—and you'll need to hire a separate caterer to prep and serve food and beverages.
Your wedding menu is essential. It's no secret that food is the one thing most people look forward to when attending a wedding. 
So choose wisely. The food is what your guests will be talking about. It's the centrepiece of the reception. When meeting with your caterer, make sure you have a solid timeline in place for them.
Celebrant
Without a celebrant on your wedding vendor list, you and your partner won't be able to get married! 
You'll first need to decide whether you're having a religious or secular ceremony and then find a celebrant who can perform a ritual that feels personal and appropriate for your special day.
Whether you want to tie the knot on a beach, in a beautiful garden, tropical rainforest, or any other setting, you will need a marriage celebrant. 
Finding the right one can be a time-consuming task. It would help if you found a celebrant who understands you and your partner's needs and wants to turn your wedding dreams into reality.
Jeweller
Your wedding bands are an important symbol of your marriage—but they should also represent your style. 
A trusted jeweller will help you find the perfect rings for both you and your future spouse.
Picking out your wedding bands is a particular time in your life. The symbol that represents your love forever. 
You'll need a jeweller for some of your bridal fashion pieces, bridesmaid and groomsmen gifts.
Favours vendor
Whether your guests have travelled across the country or town, they deserve a heartfelt thank-you for attending your special day. 
That's where wedding favours and gifts come in. From edible treats to meaningful keepsakes, there are so many favours to choose from.
Rentals company
A rental company provides tables, chairs, dinnerware, décor, and more for your big day. 
While some of these items may be available through your caterer, rental companies tend to have more variety to ensure your tablescapes compliment your wedding style. 
And if you're hosting an outdoor wedding, add a tent rental company to your wedding vendor list, as well.   
Depending on your venue, you might need to rent things like your linens, serving pieces, tables, chairs, tents, dance floors, etc., a rental company will cater to your needs. 
Sometimes it's overwhelming to go into a showroom to choose your items. Tip: have your colour
Transportation Company
Weddings can be logistically complex events and ensuring that everyone arrives safely and on time can be tricky. That's where an experienced transportation company comes in. 
Yes, you'll undoubtedly feel like a celeb in that stretch limo or party bus, but more importantly, you (and your VIPs) won't have to worry about travelling from your hotel to your wedding and back again.
Lighting designer
Good lighting can make a huge difference when it comes to your wedding's look and feels. Yes, your flower arrangements are probably quite lovely. 
Still, the proper lighting can make them look genuinely spectacular and your wedding photos even prettier—that's where an excellent lighting designer comes in. 
Vendor Etiquette
Without key vendors, your wedding day won't happen. They're crucial to making the day a success, from delivering rented furniture to snapping those incredible wedding photos to decorating your cake. 
When it comes to working with wedding professionals, there are a few essential things every couple should know, including how to tip your vendors appropriately and which vendors you should plan to feed—the last thing you need on your wedding day is a low-energy DJ or a photographer who misses your first dance because she's in the back grabbing a snack from her bag! 
These guidelines will help to ensure your wedding day goes off without a hitch.
Which vendors do we have to feed?
Making sure your vendors are appropriately fed is incredibly important—and might even be specified in their contract. 
You will need to provide your wedding planner, photographer, videographer and band or DJ/emcee, plus their assistants. (On the other hand, you won't need to feed your baker, florist, or anyone working only at the ceremony). 
Talk to your Caterer about what they offer for vendor meals—most have a set list of options, whether it's a "chef's choice" or the same main course your guests will be eating.
Sometimes it's included in your catering fee, while other times it's a lower set price, depending on what's offered.
When you're confirming your final wedding guest count, be sure to give your caterer the last count for vendor meals, too—and remember to include any allergies or special diets your vendors might have.
When should our vendors eat and take breaks?
Timing is everything. When it comes to your wedding planner, photographer and videographer, plan to have them eat while dinner is being served at the reception—that way, they won't miss anything significant. 
While you won't schedule specific breaks for these vendors, expect them to be "on" until the dancing is underway, at which point they may sneak into the back to sit down, have some water and perhaps even a slice of cake.
Your wedding band or DJ/emcee is another story. Ideally, they should be fed during cocktail hour—so before your guests are seated for dinner. 
This will ensure that they're ready to go as soon as it's time to announce the bridal party's entrance, the newlyweds, and set the mood for the reception's festivities. 
Depending on how long they're contractually scheduled to entertain, the band will likely play in sets, with small breaks in between; the wedding toasts also offer an opportunity to take a discrete break.
Should we tip our vendors?
In one word: Yes! 
If you loved their services, definitely tip your vendors—and their assistants or staff. Just make sure you check their contracts first, as some vendors will include gratuity in their total fee, in which case a separate tip isn't necessary. 
Also, if your photographer, videographer, baker, florist or wedding planner owns their business, providing the information is unnecessary—although you should tip their assistant(s) anywhere from $50-$150 per person.
And of course, you can tip the company owner as well, if you'd like.
Some vendor tipping guidelines
Catering and waitstaff: The gratuity or service fee is often included in the bill; if it's not, aim for $10-$20 per person. And don't forget the banquet manager! If they aren't also serving as your wedding coordinator, a tip of $250 or more is a kind gesture for their services.

Bartenders: If a bartending service fee is not included in the catering bill, tip 10-15 per cent of the pre-tax account to be split between them.

Hair and makeup stylists: Just as in a salon, you should tip your stylists 15-20 per cent for their services.

Musicians: For both ceremony and reception musicians, check the contract for gratuity. If it isn't included, plan to tip between $25-$50 per person.

Wedding day transportation: If you've arranged for transportation services, most likely the company has included gratuity on their invoice, but if not, tip 15-20 per cent of the pre-tax bill.
What should we do if we're unhappy with something?
After spending so much on your wedding day, the thought of not loving your services is a tough pill to swallow. 
If you don't love what you see as samples or during a trial, speak up! Ask to see different types of flowers, try another cake and frosting combination, or make changes to your hairstyle or makeup during the pre-wedding trial run. 
Don't be afraid to ask to consult with the company's owner if you're working with a particularly challenging employee. 
They should know if one of their employees leaves you, the customer, unsatisfied with their services.
If your wedding day rolls around and things don't go the way you thought they should have, first check your contract and then say something to the vendor. 
If they billed you for huge, flowing floral centrepieces and you got bud vases, you should be reimbursed. And if someone was unprofessional or didn't show up at all, you have recourse. 
Schedule a meeting and bring along photos of the event if they're relevant. Know your rights and where you stand, and be prepared to negotiate. Looking for the Top Wedding Planner in Melbourne? Look no further and check out our ultimate list of Wedding Planners here.