There are so many things that need to be planned and prepared for a wedding that one can be forgiven for overlooking a thing or two. One such often overlooked part of the wedding day is the wedding menu. Many couples quickly decide that they have no idea how to choose their wedding menu, so they settle for whatever's offered at the venue or whatever the caterer provides them.
Unfortunately, this is why most weddings have the same boring and simple menu that's also usually cooked in a mediocre fashion. Hopefully, you'll choose to break the mould and come up with something a bit more special. And how do you do that? By starting the planning process early and giving careful consideration to everything.
As more and more couples become confessed foodies, couples are raising the stakes when choosing their wedding menu. Whether you desire the ultimate five-course dinner, paired with wines and finished with petit fours and coffee, or you want to embrace global cuisines in a cultural celebration, you'll find caterers and venues alike offering all of that and more. Check out our ultimate list of Wedding Planners in Melbourne to help you organise a stress-free wedding.
But, with choice comes a challenge – when you could have almost anything your heart desires included in your wedding menu, how do you choose what makes it onto the plate?
So, to help you out, we've compiled a list of the most important tips we could think of when it comes to choosing your wedding menu. 
What Should You Consider When Thinking About Your Wedding Menu?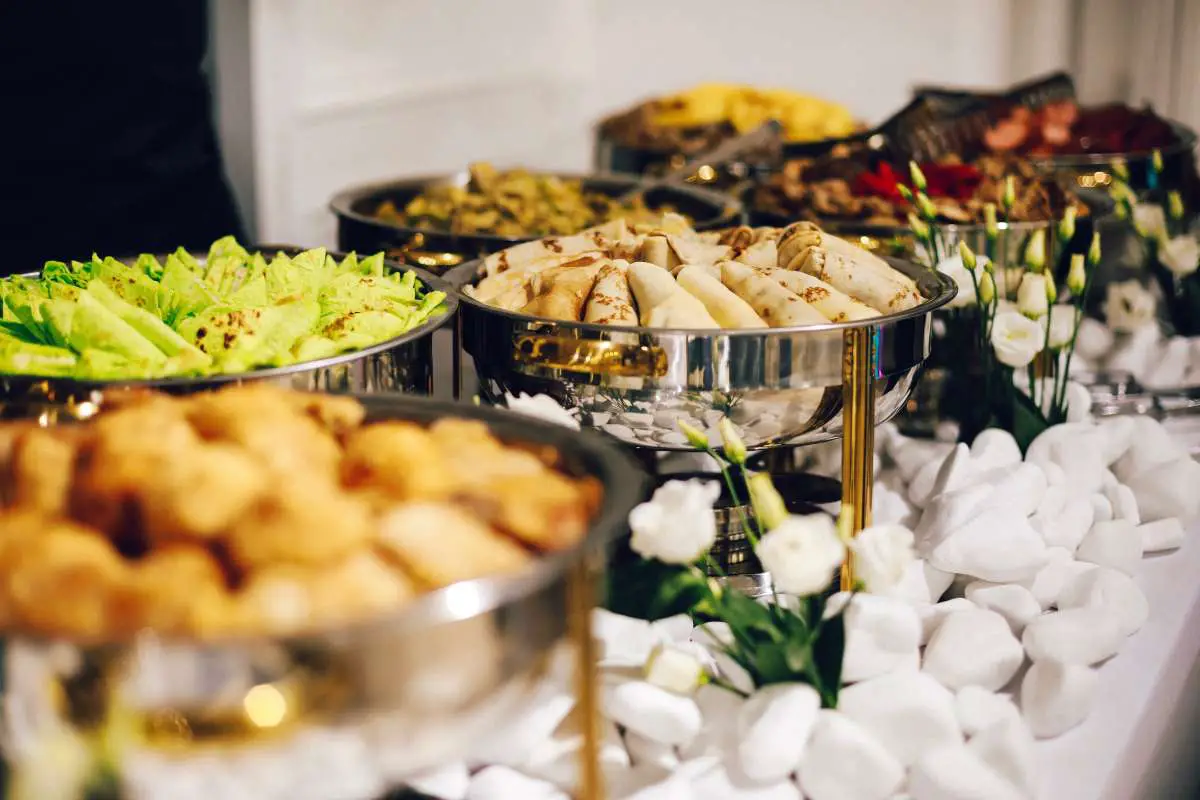 As with choosing a wedding venue, settling on the wedding menu can be quite a complicated process with many things to consider. Here are the main points you shouldn't skip:
Start planning as soon as possible. As we said above, giving yourself enough time to consider everything is critical here. Too often, when planning a wedding, couples are forced to make dozens of last-minute decisions because they didn't give themselves enough buffer ahead of time. Simply put – there's always one aunt that decides she's becoming a vegetarian two days before the big day.

Figure out what you, as a couple, both love. Whatever you choose for the menu, it's essential that you're both happy with it. Or, at the very least – that neither of you is unhappy with it. Doing this is easy – draft a list of what you dislike and give it to your caterer or wedding chef. Those will be the things he or she is going to have to work without.

Your budget. We didn't mention this first so that we don't start our list with unpleasantries, but, unfortunately, the budget needs to be considered every step of the way. Even if you have all the money in the world, there's no point in wasting – settle on a budget and make sure you're keeping to it.

Think outside the box in terms of the types of meals you can serve. The traditional wedding venue consists of a single two- or three-course meal. This doesn't need to be the case. However – more and more weddings have an outdoor standing buffet, two or three separate but smaller meals that go with the prolonged wedding day schedule, or other, more unorthodox menu choices. In other words – if you're going to have a "weird" wedding, choose a weird wedding menu as well.

Are you going to use a caterer or what's offered on-location? The easiest solution most of the time is to use the kitchen and chefs provided by the venue. This will save you a lot of time and effort, but it's often the lamest and lowest-quality option. Fixed venue kitchens are also typically quite stiff and are not versatile in terms of their choices. Picking a caterer that you like can allow you to customise your wedding menu more but keep in mind that most wedding venues don't qualify for outside food services.

Figure out your guests' preferences way in advance. This is important not only in terms of their dietary preferences but also for their potential allergies. Most caterers and venue kitchens know to avoid common food allergens. Still, it pays to double-check with each of your guests about their allergies as well as their particular dietary preferences. This is a big reason why it's essential to start planning – things like these can be very annoying if you have to do them in the heat of the wedding preparations but are not a problem if you've still got months to go.

The more choices you can offer – the better. Most wedding venues and caterers offer just two or three options in their menus. Finding a caterer that provides more diversity is usually more challenging and can cost more, but most guests also highly appreciate it.

Try not to skimp on the size of the portions. Another annoying cliché about most wedding menus is that the pieces are usually too small. If you want your guests to remember your wedding fondly and especially if you want them to dance non-stop on the dance floor, make sure they are happy with the quality of the food and quantity.

The season is important too. Weddings are typically prepared months in advance, so it's easy to forget about the season your wedding is about to be in when choosing its menu. Especially if you're planning an off-season wedding (winter/spring), you should keep in mind that the menu should be appropriate for it.
Think about what personal touches you can add to the menu. If you're going to offer the same old menu that everyone else provides at their weddings, you wouldn't be here still reading this article. You probably want a unique wedding menu, and one way to do this is to add some personal touches to it. The inscriptions on the cake and customised napkins are common ways to customise the tables and the menu, but there are other, more creative things you can think of as well. Let's go over some of them below.
What Type of Food Do do You Like?
If you find ordering at a restaurant tricky, you'll find planning your wedding menu even harder. Do you go for something light, something heavier, or something utterly indulgent? Do you go for vegetarian, fish dishes, lots of spice? Do you keep it traditional or go for a full-on fusion of flavours?
The easiest way to narrow down your choice of dishes is to start with what you as a couple both love. If one of you isn't a big fish fan, and there will only be one main course on the menu, your wedding day probably isn't the day to try to change it – you both need to enjoy your first married meal together!
If you've decided to offer several choices for each course in a menu sent out with your invitations, you'll have a bit more flexibility, so if you and your new husband or wife-to-be don't have the same tastes, you can still both be happy.
Will Your Guests Like it Too?
While we believe that you should put yourself first on your wedding day, you will be spending a lot of money feeding all your guests, too. By choosing dishes that most of them will like, you'll be spending that money far more wisely and ensure that your guests have as good a time as you do. For this reason, it can be good to avoid some more robust flavours or more fatty dishes.
It's also worth asking guests to disclose any allergies or dietary requirements beforehand and choosing caterers who can adapt to these. There is nothing worse as a guest than sitting down in eager anticipation of a decadent and delicious three courses only to find that you can't eat them.
How Do You Want Your Wedding Breakfast to Be Served?
Once you've narrowed down your flavours and dish choices based on what you love and what will work for your guests, you can fine-tune your wedding menu by throwing the dining experience into the mix!
While the days of an obligatory sit-down banquet have passed, couples who have chosen more traditional and formal weddings often opt for a three or four-course meal. In contrast, relaxed and outdoor weddings will often embrace picnic, barbecue or buffet-style dining arrangements. Those with a sweeter tooth might like to mix traditional with contemporary trends and opt for an afternoon tea instead!
If your heart is set on a global feast and you don't want to limit yourselves to a set of three courses, why not have multiple food stations? They can serve up everything from popcorn and hot dogs to sushi and curries. They can cater to all tastes and all cultures, guaranteeing that there will be something for everyone.
How to Pick Your Wedding Menu.
Budget
As with most aspects of wedding planning, you should begin by consulting your budget. Food can get costly, so make sure you know your limit before diving into selecting hors d'oeuvres and mains for your wedding meal menu. 
Number of Guests
In addition to the budget, the size of your wedding guest list will dictate how to choose your wedding menu. A more significant number of guests means more mouths to feed. If you want to save a bit of cash, consider spending less per plate. If you've got some extra room in your budget, splurging for more impressive dishes isn't out of the question.
Serving Style
The catering serving style you choose will help determine what types of food make it onto the wedding menu. If you're going with the budget-friendly option of cocktail style catering, you'll be serving eats like sliders, veggie skewers and crostini. On the other end of the spectrum is the traditional – but costly – plated dinner. These have virtually endless options to choose from, so the world's your oyster when it comes to wedding menu ideas.
Consult Your Caterer
If crafting your menu is proving to be more stressful than fun, consult your caterer. They probably have dozens of dishes to suggest for your menu and will be up to speed on wedding food trends. They may also be able to help lower the cost of your plates by offering up cost-efficient substitutions like food station ideas. If you need to know what exactly you should be asking, check out these tips. Check out our list of ultimate Wedding Caterers in Melbourne here.
Wedding Theme
While this isn't completely necessary, matching your wedding menu to the overall theme of your reception is a nice touch. If you're having a rustic farm wedding, you may want to consider a buffet or family-style meal complete with options like roasted new potatoes, mac n' cheese, salads and fried green tomatoes. Are you hosting something with a touch more elegance? Maybe choose a more refined plated meal with a primary like seared ahi tuna steaks with seasonal veggies. 
Match Meals to Your Relationship
Another option is adding a touch of sentimentality to your dishes by having them point to essential points in your relationship. If the two of you are breakfast people, maybe include a cereal bar (they're very "in"). If you got engaged in Italy, pizzas, pasta, and arancini could be featured in your wedding buffet. Feel free to be creative but make sure not to mix too many flavours.
Seasonal Foods
We're blessed with all four seasons, and each affects which fruits and veggies are available (and at what cost). Those tying the knot in the winter may want to take advantage of root vegetables and squashes, while summer ceremonies call for a bounty of fruits and leafy greens. And good news, using locally sourced, seasonal items will make your wedding menu more eco-friendly, too!
Dietary Restrictions
There's a good chance that one or two of your guests will have dietary restrictions. You don't want to add chaos to your reception by triggering one of your guests' nut allergies or accidentally feeding meat to a vegan friend, so getting this info ASAP is critical. Often caterers are up to the challenge of creating separate dishes for them, but they'll need to know in advance so that they have the supplies on hand. If you don't want to go around asking everyone personally, you will want to leave space for them to indicate dietary restrictions on their wedding RSVP card.
The More the Merrier
While you don't want to go overboard, ordering a few extra dishes is a good idea. You have no idea how hungry your guests will be, so having a backup is imperative. No one should be hitting the open bar on an empty stomach or leave the venue hangry. Pro tip: you can keep your guests fueled into the wee hours with some late-night snacks.
Don't Forget the Drinks.
Speaking of the open bar (or cash bar), ensure you've also hashed out your drink details. You'll want to consider everything from crafting signature cocktails to making sure your liquor license is in order.
Where Can You Look for Inspiration for a Unique and Special Wedding Menu?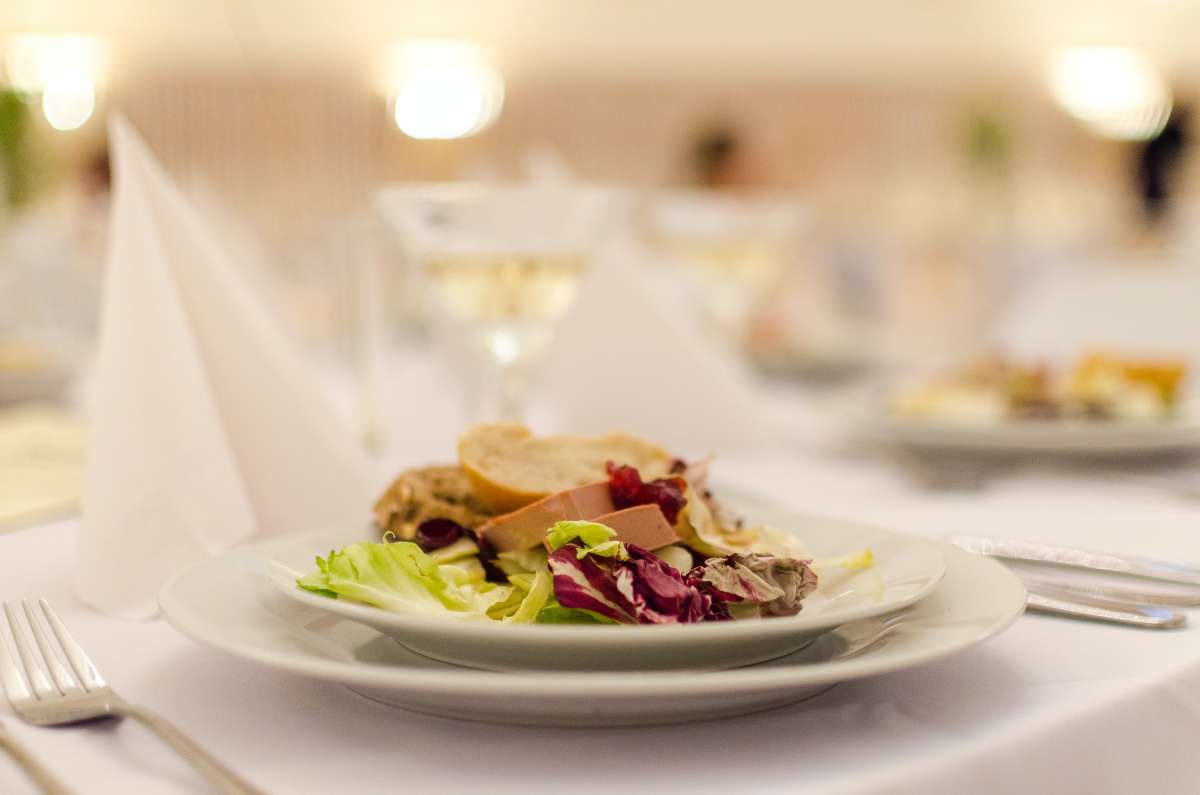 Looking for creativity mere weeks or days before a wedding can be challenging because of all the stress you'll likely be under. However, if you've managed to give yourself a bit more time, it's a good idea to spend some of it thinking about how you can diversify your wedding menu. Here are some excellent sources of inspiration that might apply to you:
Ethnic Heritage
There are people from literally all over the world here, making it one of the most diverse countries in the world! So, why not delve a little deeper into your and your partner's ethnic heritage and look for something special there? Maybe you have a Polish grandmother, and he/she has a Nigerian grandfather? Or, perhaps, there's another excellent ethnic combination that can make for a unique menu? We're not saying you should go and do a DNA ancestry test or anything like that, but your heritage may be something you can think about.
Themed Food
Think about something you both love. It may be a music genre, a historical era, or some fictional universe, you both love. How awesome would it be if you find a way to celebrate the start of your married life with a menu that's themed on something you both enjoy?  
Food That Evokes a Favorite Place
Similarly, basing your wedding menu around a place that you both love can also be excellent. Did you meet somewhere special, be it abroad or in another state? Or, you met in a specific restaurant? Making this the focal point of your wedding menu can make it all the more remarkable for both of you.
Food With a Story to Tell
Everything can be used to tell a story, and food is no exception. Furthermore, almost everyone has interesting family stories about food. If you can't think of a food-related family story, then chances are you haven't been paying attention when your grandma was rambling on about the time she met your grandad – all 17 times she rambled on about it.  Too busy with life to really plan your wedding in detail? Have someone else do it for you and check out our list of Wedding Planners in Melbourne to help take the stress away.
Alternatively, food can tell a different story – about how you and your loved one met, even if it wasn't in a restaurant of any kind. It could be about a weird food combination you used to joke about – whiskey-soaked cookies or something silly like that. How hilarious-yet-romantic would it be to add something like that to the wedding menu, much to the horror of both the caterer and your parents? After all, that's what weddings are all about – celebrating you.