Bridal makeup is one of the many decisions that a bride must make before her big day. Natural, bold, vintage, classic, glamorous, boho, edgy – many different looks to choose from, but how do you prefer? Like most wedding-related decisions, there isn't one correct answer.
If you're planning on wearing makeup for your weddings, it's best to select your look beforehand. But where do you even begin your search? We tapped pros to determine how to choose the perfect wedding makeup look (plus the most significant mistakes they see in selecting your wedding day glam). If you're feeling overwhelmed by all of the options available, we have good news. There are several factors you can take into consideration to narrow your search. The weather forecast and your wedding day outfit, for example, can influence what kind of makeup look you'll rock on the big day. If you are looking for the perfect wedding makeup artist then look no further? Check out our ultimate list here.
As a general rule, you'll want to wear more makeup than you usually do. Sweat, tears, and hugs are all hard on your makeup, so you'll want to make sure you start by wearing enough. This will also emphasise your features in photos and ensure that your bridal beauty will shine through even in bad lighting and during ugly cries.
How to Choose Your Wedding Makeup Look
You don't have to spend hours scrolling through pictures online to find your wedding makeup look. Pros suggest drawing inspiration from the plans you've already made. Of course, you can rock whatever wedding makeup look you want. But if you're having trouble making a decision, these tips might help.
Choose Your Makeup According to a Style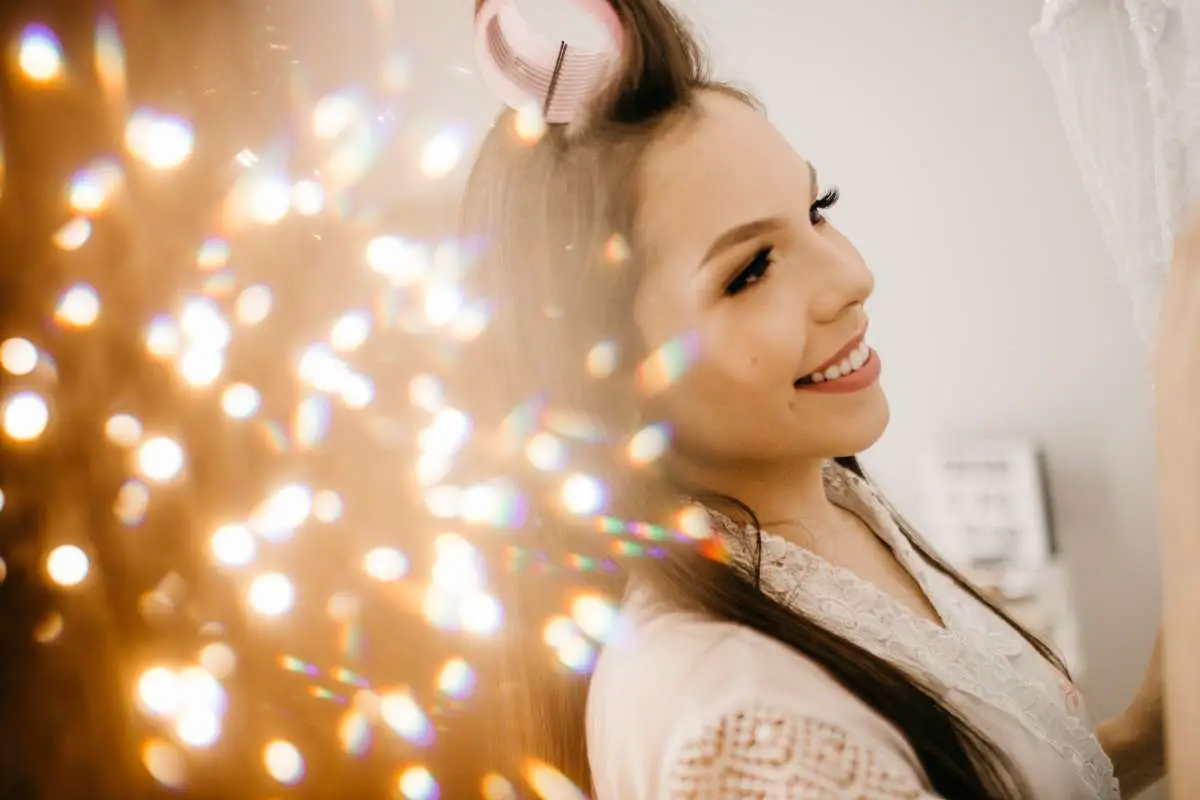 If choosing makeup for your big day overwhelms you, start by finding looks that you gravitate towards. Search Pinterest or Google for "bridal makeup" and pin or keep track of looks you like best. Once you've collected at least 30 images, examine the entire collection and see what connects them – dewy skin? Posy pink blush? Long and luscious lashes? Whatever it is, hone in on those commonalities, and you'll eventually uncover your inspiration.
Generally speaking, there are three critical bridal beauty looks with countless variations:
The Look: Feminine & Natural
Dewy skin

Medium coverage

Nude or pink lips

Neat and brushed brows

Peach or pink blush

Highlighted cheekbones

Light eyeliner

Iridescent eyeshadow in natural, earthy tones

Natural-style false eyelashes
The Look: Vintage
Winged black liquid eyeliner

Medium coverage

Nude eyelids

Red lipstick

Light or no blush

Bold brows

Half or a complete set of false eyelashes

Orange lipstick on a bride.
The Look: Glam
Smokey eyeshadow and liner

Heavy coverage

Complete set of false eyelashes

Bronzer

Contoured cheekbones

Bold brows

Lipstick of choice
Summarise Your Wedding Day in Three Words.
The first thing she asks her clients to do is describe their wedding in three words. If you're going for tranquil-relaxed-beach vibes, you don't want your makeup to be too formal. Instead, you'd likely want breezy, natural-looking makeup to match the setting. The same goes if your three words are formal-classic-black tie—you want your makeup to reflect that. So, narrow down your vision to three words and visualise from there. It'll help you hone in on your dream wedding makeup glance.
Pull Inspiration from Celebrities.
Send your makeup artist a few pictures of celebrities' makeup that you admire. This is an easy way to narrow down makeup looks that would match not only their dress or venue but one that best suits their personality. The goal is for the [to-be-wed] to feel beautiful and comfortable in [their] own skin, so knowing what they think is beautiful is most important. Round up some of your favourite red carpet moments and look for similarities. Are you attracted to their neutral smokey eyeshadow? Their stunning red lipstick? Once you figure out what you like about their looks, then you can personalise it to suit you.
Choose Your Makeup Based on Your Venue & Theme
If you already have your venue and theme, consider building your beauty look around it. Whether it's a beach or a backyard, your platform can give you cues on what type of beauty you naturally gravitate towards. For example, a beach wedding would be the perfect location for a dewy highlighter, a touch of bronzer, and a soft, pink lip. A vintage style wedding would pair perfectly with a bold cat eye and vibrant red lipstick.
Check the Weather Forecast.
It may seem silly, but checking the weather forecast can help you decide on a wedding makeup look. If you're in a hot climate, your MUA will focus on lighter makeup and all waterproof products. If you're exchanging vows on a cold wintery day, you might want to use products that hydrate the skin to keep your day-of glow going. Once you check the weather forecast for your wedding day, consult a professional makeup artist to get their expert opinion on what kind of products you should be using.
Choose Your Makeup Based on Your Dress
One of the most common ways to choose your bridal beauty is to base it around the overall style of your dress. If your dress features lace and flowing material, consider a soft, romantic look; a slinky, sexy dress calls for a smouldering smokey eye; and bold eyeshadow perfectly complements a non-traditional gown.
Take Your Wedding Day Outfit Into Consideration.
Your wedding day attire can influence your wedding makeup look. Draw inspiration from your outfit. That way, there's a theme to the entire face. For example, a glamorous ball gown pairs well with a classic cat-eye and red lip, while a breezy jumpsuit might go better with a barely-there makeup look.
Choose Your Makeup Based on Your Signature Look
If you're lucky enough to have a signature beauty look, simply step it up a notch on your wedding day. Go a little stronger and bolder with all of your makeup to make sure it shows up in photos and lasts all day.
Ask a Pro
If you've hired a makeup artist for your wedding day, don't be afraid to ask for their advice. After all, they're the experts. Most makeup artists offer consultation and a trial session, so this is the perfect opportunity to find out what looks best on you. Don't forget to show them images that you like so they can get a clear idea of what you're envisioning.
Ask Your Loved Ones for Their Opinions.
If you genuinely can't decide on a wedding makeup look, lean on people you trust. Your close family and friends will always give it to you straight and will never steer you wrong. Gather your favourite looks and go through them with your loved ones (Create "yay" and "nay" piles to narrow down your options). If you have more than one favourite, pick your favourite feature and modify the overall look to fit your personality.
Go With Something Classic.
All the pros agree you can't go wrong with a classic wedding makeup look (think: Dorothy Dandrige or Audrey Hepburn). Old-school Hollywood glam was simple and highlighted one facial feature. Meaning the focus was either the eyes or the lips (never both), which resulted in an understated, timeless look. If you have no clue where to start, go back in time—these looks will never go out of style!
Be Intentional With Your Selections.
Pinterest and Instagram are excellent sources of inspiration. However, you can narrow down your choices in an endless sea of images. We encourage to-be-weds to make sure they select makeup looks on women with similar skin tones and features. That way, you'll have a better idea of how the glam will look on you.
Prioritise Your Preferences.
These are all suggestions if you're feeling lost. Your wedding makeup look doesn't have to match your outfit—these are simply tips to help with your search. If you want to rock neon eyeshadow, a dark purple lip or a sparkly glowing complexion, that's precisely what you should do. Your opinion is the one that matters, so wear whatever makeup you make feel like you.
Wedding Makeup Ideas for Every Kind of Bride
Whether you choose lush, look-at-me lashes, a dramatic cat eye, a cheek colour that'll turn you into the very definition of a blushing bride, or any combination of the three, we just know you're going to be gorgeous. Ahead, we've rounded up wedding makeup ideas from stunning real brides.
A Gradient Look With Ombré Eyeshadow
Ombré eyeshadow and lush lashes give this bride a flirtatious vibe—what a gorgeous look for a daytime wedding on the beach.
A Sheer Face With Thin Eyeliner
This bride opted for barely-there makeup with thinly lined eyes and long lashes for her outdoor wedding with a bohemian vibe. Armed with lipstick in a natural shade, she pulled off the look effortlessly.
A Contoured Look
A contoured complexion, mauve lip, and glam eye give this bride an alluring appeal. This is a stunning look for an early-afternoon wedding.
Bronze Lids With Red Lipstick
Romantic red lipstick married with defined eyes and a gorgeous glow creates such a stunning look for this bride. This was the perfect look for the couple's wedding in Italy, saying "I do" as the sun set around them.
Distinguished Eyes and Brows
This winter bride stands out amongst the snowfall with stunningly defined features. Pull off something similar by opting for solid brows, a nude lip, and rich eyeliner.
Classic Neutrals
We love this beaming bride's neutral aesthetic. A light smokey eye combined with a nude lip is always a classic.
A Gilded Eye
Consider adding gilding for some modern-boho flair. Party-ready metallic accents and bold ruby red lipstick ensure this bride is the star of the show.
A Retro Look With Gold Eyeshadow
We love this soft glam with a pop of shimmer. Gold eyeshadow and graphic liner harken back to the golden age of glamour.
Bronze Eyes and a Bold Lippy
Sultry bronze eyes meet a scarlet pout for a vixen-like appearance. This is a gorgeous combo for a subtle vintage vibe.
A Subtle Glow and Mauve Shades
This is a timeless choice that will work for any time of day. Softly defined features and a subtle glow are the perfect pairings for dusty mauve shades.
Simple Sophistication
This elegant composition was the perfect complement to the couple's wedding historical locale in Italy. Clean and classic, with subtly lined eyes and a light pink lip, this bride's style is absolute sophistication.
A Bold Red Lip
There's always room to incorporate a bold lipstick, especially when it's paired with a wedding drenched in Southwestern hues. We love how this bold red lip colour perfectly matches the saturated notes in this couple's bouquets.
Shimmery Eyes With a Nude Lip
An enchanting tropical garden celebration calls for an ethereal aesthetic. With shimmery eyes, simple mascara, and nude lip colour, this look comes together flawlessly.
Gilded Radiance
Despite the matte complexion, Josiane's skin is still all aglow with a captivating gold radiance. A subtle gold eye and strong brow let her natural sparkle shine through—quite literally.
A Bright Pink Lip 
Who says you can't incorporate a bright pop of pink? We love the way this bride blends defined eyes with a bright pink pout.
Winged Eyeliner With Pink Lips
We can't get enough of this composition. Winged liner, pale pink lipstick, and eye-catching highlight make for the perfect complement to this bride's berry-hued bouquet.
A Neutral Palette With a Smokey Eye
Keep a natural face but add just a little bit of drama with a smoked shadow. A charcoal-hued eye takes centre stage as the rest of the palette remains neutral.
Natural Tones With a Nude Lip
Soft browns and a nude lip make for a sun-kissed appearance. This is a gorgeous look for a nature-inspired ceremony.
A Glowing Look With Glossy Lips
A gorgeous evening soirée calls for a stunning look to match: glowing skin, stand-out eyes, and a soft lipgloss complete this beaming bride's style.
Winged Liner With a Subtle Pink Lippy
We love the way winged liner adds drama to a look—muted tones and a subtle lip colour pair ideally without overdoing things.
Wedding Makeup Mistakes to Avoid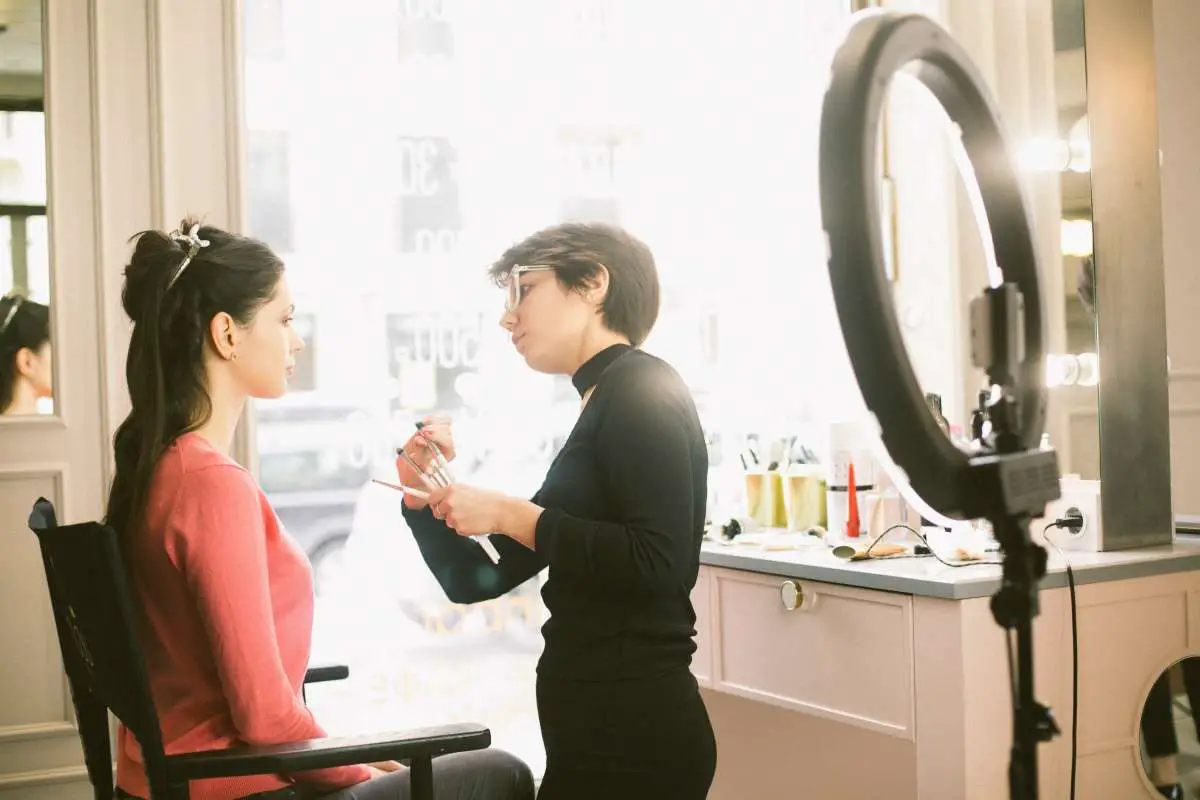 As you're selecting your wedding makeup look, there are a few blunders you'll want to avoid. The pros share all of the biggest wedding makeup mistakes they've seen throughout their careers.
Ignoring Your Gut
Picture this: You say you've always dreamed of rocking a classic red lip at your weddings, and your friend says she doesn't like the way that looks. Those kinds of offhand comments may cause you to question your preferences. Ignoring your gut is a huge mistake. The best thing you can do is to do what's most comfortable for you. If you're not into makeup, it may not be wise to start with a full face, smokey-eye look with bold lips and lashes. Trust your instincts and select a makeup look that makes you feel confident and beautiful. Finding your perfect Wedding Makeup Artist doesn't have to be difficult. Check out our ultimate list here.
Skipping Your Wedding Makeup Trial
If you're having your makeup professionally done, a makeup trial beforehand is mandatory. By having a makeup trial, you can specify exactly what you want to look like, and you can rule out any looks or concepts you're not comfortable with. A makeup run-through also allows you to test out the longevity of your wedding makeup look. You'll be able to see if the mascara you've chosen is waterproof or if the foundation you used looks good in photographs. Plus, it's an excellent opportunity to bond with your wedding makeup artist before the actual day.
Assuming Someone Else's Wedding, Makeup Look Will Look the Same on You
Have you ever brought a picture of a celebrity's haircut to the salon only to realise it looks different on you? The same goes for your wedding makeup look. It's a mistake to believe a celebrity's makeup will look the same on you as it does on them. For instance, a dramatic, smokey eye that a [to-be-wed] spotted on a celebrity's night out will probably not look the same on a [to-be-wed] having a beach wedding. Everything from your bone structure to your skin type to your setting can change the way the makeup looks. But that's where hiring a professional comes in handy. A makeup artist can always come up with a look inspired by the celebrity look and tailor it to flatter your overall face.
Not Prioritising Your Skin Care Routine
Great makeup starts with a great base, which is why it's a mistake to overlook your skincare routine. Having an effective skincare routine that addresses your specific skincare needs and glows is essential for that radiant glow every [to-be-wed] deserves. Wedding prep is an excellent opportunity to get a routine together, and the earlier you start, the better because it will take your [wedding] glow to the next level.
Using Regular Makeup Products
A wedding is a long, emotional event—which means your products have a lot of work to do. Seek says it's best to use long-lasting, waterproof makeup products, so touch-ups are kept to a minimum. Waterproof eyeshadow, eyeliner and mascara are essential for your wedding day, as they'll stay put through any tears you might shed. We recommend locking it all in with a long-lasting setting spray. 
Expert Tips for Doing Your Makeup
While we recommend hiring a professional makeup artist for the big day to achieve your wedding makeup look, many people choose to DIY their beauty for the rehearsal dinner, wedding shower or other pre-wedding events. Here's what to know, according to experts.
Invest in the Right Tools.
Set yourself up for success by investing in brushes and sponges to help apply your products. Brushes are such a significant investment because, with proper care, they last forever, and you couldn't do your eye makeup looks without them. Plus, you'll have those tools after your wedding day for any other special events you'll attend in the future. Pick up a beauty blender sponge, as it'll help you achieve a flawless finish. Here's a pro-tip: Be sure to wet the BeautyBlender until it's moist and 'bouncy' before applying your foundation. This will help give you that radiant, flawless finish every time.
Nail Down Your Skin Care Routine.
Your complexion is the canvas for your wedding makeup, which is why it's worth investing in your skincare. It's the first step in beautiful skin and long-lasting makeup. Now is not the time to be experimenting with a million different products. Instead, scale back to the basics and get your skin on a consistent routine. If you need extra help, consult a board-certified dermatologist.
Keep it Simple.
There's one rule to doing your wedding makeup: Keep it simple. With so many things to think about on a wedding day, the last thing you need is added stress. Use multi-tasking products to keep your makeup bag (and your mind) clutter-free. She says a monochromatic look is on-trend and easier to achieve if you're doing DIY wedding makeup. Multisticks are the star of the show here. They can be used on the lips, eyes and face—and they can be tossed in your bag for quick and easy touch-ups. You don't have to be a professional makeup artist to use these.
Find (or Bring) Your Light.
Not all lights are created equal. Certain kinds of light alter your makeup looks, which can cause you to use incorrect colours. Luna says natural lighting is ideal, as it gives you the best idea of what your wedding makeup looks like. However, not all getting-ready rooms have excellent access to natural light, so she suggests investing in good lighting. Thanks to the internet, you can find some inexpensive portable ring lights and tripods. An illuminated vanity mirror is also a great thing to have.
Focus on One Feature of Your Face.
This tip has several benefits. First, highlighting one feature of your face will look balanced and timeless. Whether it's a focus on the eyes or lips, classic and elegant makeup looks best, especially when you look back on your wedding photos. But this advice also ensures a simpler (and easier) look for you to create. Rather than worrying about every part of your visage, you can simply focus on the part of your face. If you're doing your makeup for your wedding day, focus on one part of the face to enhance, be it eyes, lips, or cheeks…and perfect the heck out of that one feature. This approach also provides an opportunity to practice some self-love before your event. Spending extra time on your gorgeous eyes or lovely smile will boost your confidence in a matter of seconds.
Tap a Pro.
While you may be left to your own devices for certain wedding events, you can still get the help of a professional makeup artist. Many pros offer virtual consultations where they'll walk you through everything from what kinds of products to buy to how to apply them expertly. After learning the ropes, you'll be able to use your wedding makeup look confidently.
Practice, Practice, Practice.
If you're nervous about doing your makeup for your pre-wedding events, practice is critical. Once you've figured out how to achieve your wedding makeup look, Pay close attention to how it wears throughout the day and how you feel in it. Practice your face several times beforehand and see how long it lasts. Did the eyeshadow disappear after a few hours? How did the foundation hold up? Make adjustments wherever necessary so by the time the event happens, you know exactly what products to use and how to use them. Looking for a Wedding Event Planner? Look no further, Cosmopolitan events have you covered.